Havasupai Reservations 2023 – How to Get a Havasu Falls Permit?
Have you ever dreamed of seeing Havasupai Falls? But you don't know how to get a Havasu Falls Permit? Or Havasupai Falls Permits are sold out? What now? Yes, it's challenging to obtain a Havasu Falls permit because it's a unique place. However, it's possible! In this article, we will tell you everything about Havasupai Falls Reservations and how to get a permit to Havasu Falls – the hidden gem of Havasu Creek in the Grand Canyon area, Arizona.
This article may contain affiliate / compensated links. For full information, please see our disclaimer here.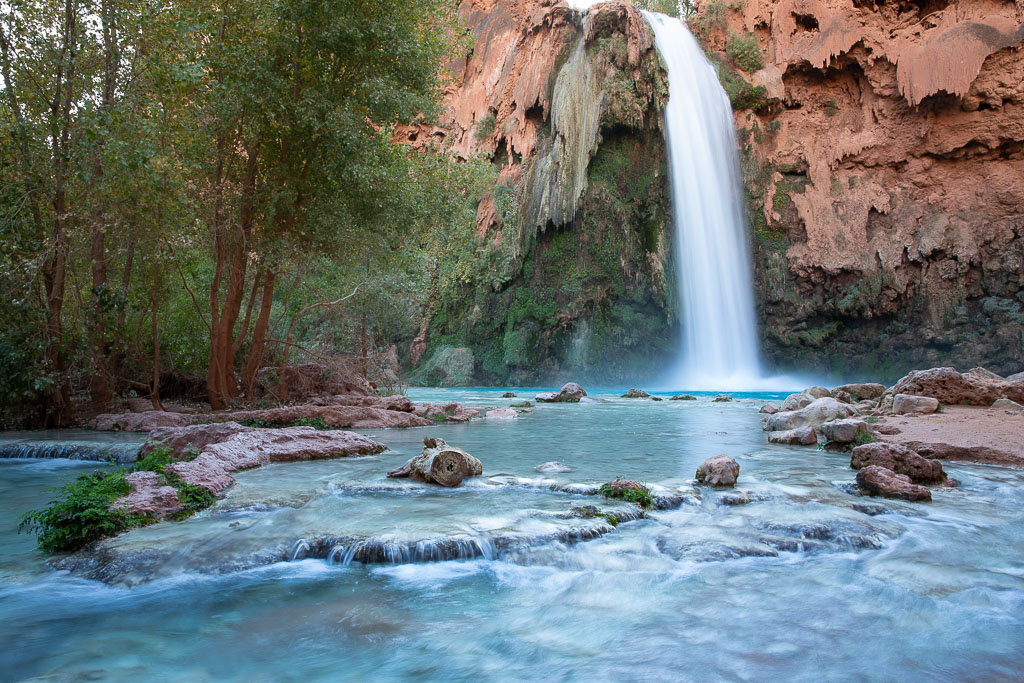 Havasu Falls Permit for 2023
Update: The best information we could receive at the end of 2022 from the Havasupai Tribe, which you can read on their official website, is that on February 1, 2023, the fantastic Havasupai Reservation with Havasu Creek Waterfalls is reopening for tourists. So, if you have a permit, you can explore impressive waterfalls, including the most popular, Havasu Falls.

According to the Havasupai Tribe announcement, "they are eager to welcome tourists back to our beautiful Reservation starting February 1, 2023, for current reservation holders."

Due to the Covid-19 pandemic and the extreme health and life risk to the isolated Havasupai tribal community, the Reservation, Suppai Village, and Havasupai Waterfalls have been closed to tourists since March 2020. The flood also damaged the area.

But there are no NEW reservations/permits for 2023. Only those reservation holders that were impacted by the COVID tourism suspension have a confirmed reservation. The only way to get a reservation for 2023 is to purchase off the official transfer list. Open an account at www.havasupaireservations.com to see what is available. Below we give you details on how to do that and how to check what is available.

Also, the Havasupai Tribe has launched its official Facebook tourism page, so follow them for current updates.
The natural wonder of Havasupai Waterfalls
The aqua-blue waterfalls are spilling over deep-orange travertine cliffs in a desert oasis. In the middle of nowhere, after 10 miles tough hike through a deep canyon, there is an isolated desert paradise, tropical Havasupai Waterfalls. It's difficult to believe that you are in the desert of Arizona. Havasupai Waterfalls in Havasu Creek are breathtaking. The waterfalls of the Grand Canyon are like no other in the world. It is an iconic natural wonder. The beautiful azure waters of Havasu Creek and the Little Colorado River offer unreal contrast to the rocks. Havasu Falls creates an eye-popping desert oasis between towering red canyon walls. High calcium carbonate concentration in the water creates a vivid blue-green color and forms the natural travertine dams that occur in various places near the falls. Due to the effects of flash floods, the appearance of Havasu Falls and its plunge pools has changed many times. The last wave was in 2008 and altered waterfalls a lot. Seeing them is probably, for most of us, the opportunity once in a lifetime.

There are five main Havasupai Waterfalls: Little Navajo Falls, Fifty Foot Falls, Havasu Falls, Mooney Falls, and Beaver Falls. Swimming in the stunning vibrant blue waterfalls of Havasu Creek was one of the most beautiful experiences for us.

A hike to Havasu Falls is challenging, but it's worth taking. Havasupai Campground is one of the most beautiful and peaceful places we have ever been so far. Because it's a surreal, magical place, it's worth getting a Havasu Falls permit. Does it seem like a paradise? For us, indeed, it is paradise. In the chapter below, Havasu Falls Permit 2023 – how to make reservations to Havasu Falls?, you will find all information on how to buy a permit for 2023 if Havasu Falls reopens for tourism.
Havasu Falls Permit – How to Get to Havasu Falls?
Where is Havasu Falls?
First of all, you must get a permit to visit Havasu Falls. You must reserve your permits on February 1, when the permit reservation period opens up. Havasu Falls is on tribal land that belongs to the Havasupai Indian Tribe. So, respect their rules. The Havasupai Indians require that all visitors reserve a Havasu Falls Permit in advance.
Havasu Falls are on the Havasupai Indian Reservation on the Southern Rim of the Grand Canyon. The Havasu Falls trailhead starts at Hualapai Hilltop.
How to Get to the Trailhead of Havasu Falls?
From Las Vegas, take the 93 South towards Kingman, Arizona, and then head east on Route 66. After 57 miles, turn left on Indian Road 18. Drive for 60 miles until you reach the end of the road. Driving from Las Vegas takes 4-4.5 hours.
Peach Springs, Arizona, is the nearest place to the trailhead with essential services like gas, food, and water. Then you can buy food after a roughly 8-mile hike down from the trailhead on the rim, in Indian Supai village. But the choice is limited, and prices are higher because everything must make the 8-mile trek in and out of the village either by foot, on horseback.
From Supai Village, it's 2 miles hike to Havasupai Campground. If you have a Havasu Falls permit, make sure to bring a printed copy of your campground reservation email confirmation and a valid ID. Or at least a screenshot of your booking on your phone. Also, make sure you know your vehicle's license plate number. These things are all required at check-in.
So, if you are lucky and you have a permit to Havasu Falls, you have three options to get there.
Hike to Havasu Falls
How long is the Havasupai hike?
Visiting Havasu Falls requires a strenuous hike, so pack only must-have gear. Hike to Havasu Falls is a 10 miles long and tough hike one way. And it's 2400 feet of elevation change. Havasupai Trailhead Elevation is 5,174 feet starting at Hualapai Hilltop Parking Lot. The walk to Havasu Falls is all downhill, which means that the hike back out to parking will be all uphill and is very difficult. How much time it will take depends on your condition and the weight of your luggage. Approx. 4-5 hours on average. However, the return can be much longer. We share our experiences about the Havasupai hike in a separate article.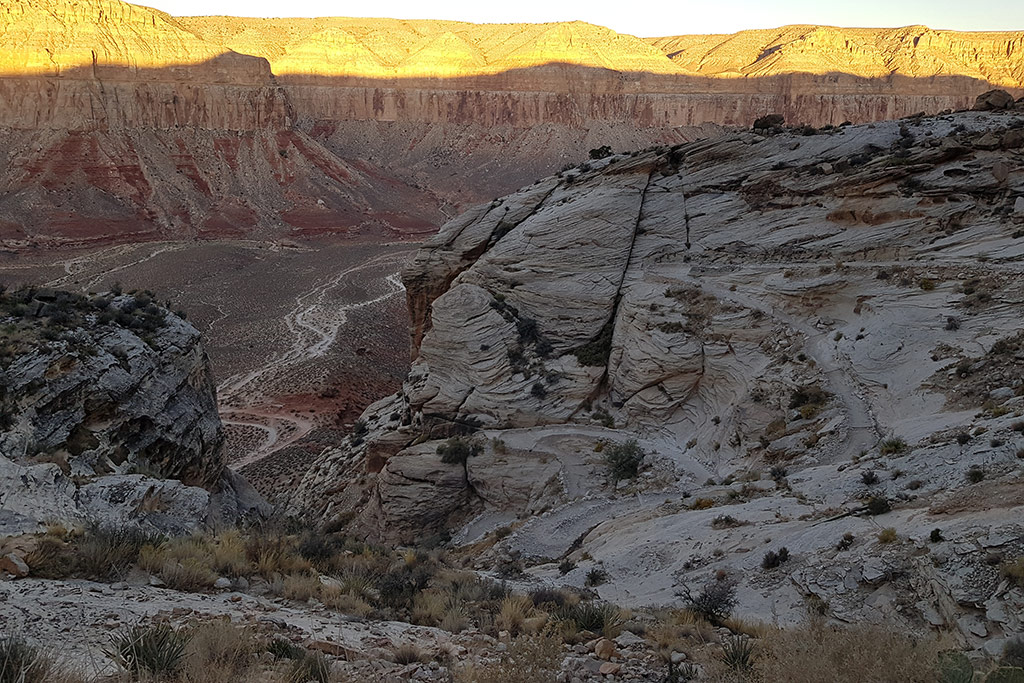 What is the best time to hike Havasupai Falls?
It is a very remote wilderness. And you have to be prepared to do it, especially during the summer. From Hualapai Hilltop, it is 8 miles to the Supai village and two additional miles to Havasu camping and green-blue waterfalls. It's best to start the hike before sunrise so the temperatures are more relaxed. The most important thing – take a lot of water with you. For 8 miles, there is no water along the way. You go through a deep canyon in the desert. Hiking at night is not recommended. The 8-mile section of trail between the Hilltop Trailhead and the Village of Supai is closed each night between sunset and 4:00 a.m. Pack yourself comfortably. Take only the things you need. It's hard to go with a backpack through the desert. But the backpacking hike to Havasu Falls is the best trip ever for us. You can check our Havasupai Packing List to prepare perfectly for your hike to Havasu Falls.
Helicopter to Havasu Falls
Take a helicopter if you cannot hike for health or fitness reasons. However, planning to take the helicopter in or out of the village can be risky.  Helicopter travel is weather-dependent. The helicopter doesn't fly every day, so first of all, check if you fly during your visit to Havasupai. The cost for a helicopter ride into the canyon is $85 (cash) or $95 (credit card) per person each way. Reservations for helicopters cannot be made. You must show up at Hualapai Hilltop and sign in before 10 am. Tribal members receive priority boarding. Tourists are boarded on a first-come, first-served basis. Each person is allowed one carry-on bag. A helicopter will take you to Supai village. Then you have to hike 2 miles to Havasu Falls camping. For more information, you can contact Airwest Helicopters (623) 516-2790, which provides flights. But it may turn out that you will not catch a helicopter on a given day, and you will lose your booking at the Havasu campground. So we advise against taking this risk. Choose a hike.
Pack Mules to Havasu Falls
Your baggage can be delivered by mules. But we don't recommend it, because we are against the use of animals. We don't like this idea. We read stories about how the mules stumbled with exhaustion from excess luggage, often young and healthy tourists. Pack Mules must be reserved online before your visit. All Pack Mules must be booked in advance of your visit at HavasupaiReservations.com. Between Hilltop Trailhead and Campground Entrance and Back, it costs $400 round-trip (2020). Fees are per Pack Mule. One Pack Mule can carry up to 4 bags. Maximum weight: 32 pounds per bag.
The maximum baggage size is 36 inches long, 19 inches wide, and 19 inches tall. Visitors should drop bags off by 10 am at Trailhead and 7 am at Campground. Packs arrive up top around 11 am and down below at around 2 pm.
Again, we are absolutely against the use of mules, especially by young, healthy people. We give you lots of tips on what to pack to Havasu Falls. By following our tips, you can carry your backpack yourself without tormenting the animals.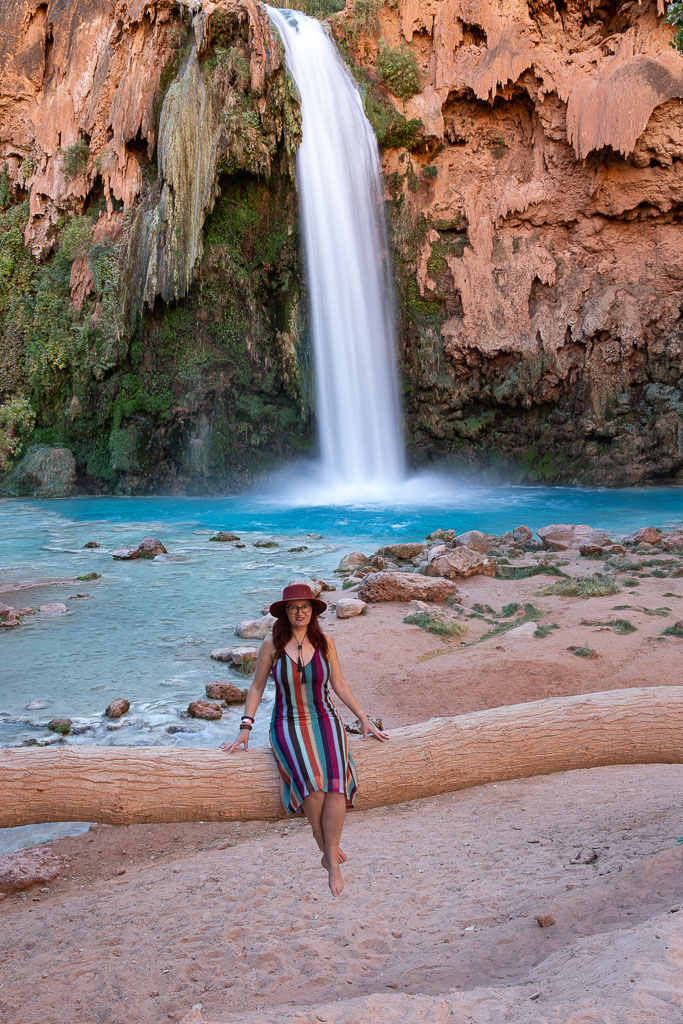 Approximate Trail Distances to Havasu Waterfalls
One-way distances are:
Hualapai Hilltop Parking Loot (Trailhead) to Supai village and Havasupai Lodge: 8 miles / 12,8 kilometers
Supai village to Havasupai Falls Campground: 2 miles / 3,2 kilometers
Hualapai Hilltop Parking Lot to Havasupai Falls Campground: 10 miles / 16 kilometers
Havasupai Falls Campground to Mooney Falls: 0.5 miles / 0.8 kilometers
Havasupai Falls Campground to Beaver Falls: 3 miles / 4,8 kilometers
Mooney Falls to the Colorado River: 8 miles / 12,8 kilometers
Havasu Falls Permit – When is the best time to visit Havasu Falls?
Any time is good if you only get your Havasu permit. So the best time to visit is whenever you can make a reservation.
You must have the proper hiking and camping equipment to visit this place safely. First of all, Havasu Falls Permits are available from February 1 through November, and peak season is from May to September. The monsoon season is from July-August. Summers are sweltering, with temperatures exceeding 100 – 115 degrees F and even more (38 C – 42 C). In July and August, monsoon storms and flash floods are frequent. So check the weather well in advance, and take a lot of water for your hike. Peak tourist season is May through September. Water temperatures average 60 -70 degrees Fahrenheit during these months. The season of September through November, March, and April tend to have comfortable air temperatures; however, the water will be chilly. Fall (September-November) is an excellent time to visit Havasupai.
Havasu Falls Permit – Havasupai Tribe
The Havasu waterfalls are administered and are located in the territory of the Havasupai Tribe. It is the Tribe that decides the number of Havasu Falls permits issued and their price. They are the ones who set the rules at Havasu Falls. So we kindly ask you to respect and follow their rules. Waterfalls are a miracle of nature. Therefore the limited number of Havasu Falls permits is due to care for the pristine preservation of this miracle for the next generations.
The Havasupai Tribe has lived among the blue waters of Havasu Creek for 1000 years. The native tribe to this area was first known as the Havasu Baaja, "People of the Blue-Green Waters." The Havasupai tribe's reservation consists of 188,077 acres of canyon land and broken plateaus abutting the western edge of the Grand Canyons South Rim. The reservation was established in 1880. The Supai village, located on the Havasupai Indian Reservation, is currently the most remote in the United States. There is no road. All Indian supplies and mail are brought in via pack mules, horses, and helicopters. In addition, this is tribal land, and you must make a reservation with the Havasupai Tribe. It's essential to respect the Havasupai Tribe's rules and wishes. Havasu Creek, the waterfalls, and the land are sacred to the Havasupai Tribe. Do not photograph the Supai Village and the community.
Havasu Falls Permit 2023 – how to make reservations to Havasu Falls?
Update: Havasupai Tribe is eager to welcome tourists back to the beautiful Reservation starting February 1, 2023, for current permit holders.

Below you have the process from 2020 presented, and it is assumed that it will look similar when tourist traffic is restored. So below, you have a detailed process of obtaining Havasu Falls Permits in previous years. Step by step. As soon as Havasu Falls opens up to tourists, we will update the date for you with the Tribe's current guidelines for 2023. Havasupai is opening starting February 1, 2023, only for current permit holders. Some people have been waiting for this day for two years!

There are no NEW reservations/permits for 2023. Only those reservation holders that were impacted by the COVID tourism suspension have a confirmed reservation. The only way to get a reservation for 2023 is to purchase off the official transfer list.

If someone resigns from the permit to Havasu (which he didn't use because the Havasu was closed, and now he can't travel for various reasons), you can take your chance and get his permit! So carefully analyze what you have to do!
When to apply to get Havasu Falls Permit?
Getting a Havasu Falls Permit is not easy because it's an iconic site in the Southwest. It's the hidden gem of the Grand Canyon, and permits are limited. Why? Basically, the Havasu permit system ensures that this magical landscape is preserved and respected. In other words, be warned, Havasupai camping permits often sell out for the entire season (February 1) within one or two hours. But it's possible to get there! So, how do you make reservations for Havasu Falls? Above all, you must plan your trip well in advance and be flexible.
All visits to Havasupai and Havasu Falls require a reservation made before arrival. You must stay overnight for a minimum duration of 3 nights at Havasu Falls. No "day hiking" allowed. Campground reservations for all arrival dates from March 1, 2023, and onwards will become available on February 1, 2023, after 8:00 a.m. (Arizona time) here at HavasupaiReservations.com
How to apply for Havasu Falls Permit and make reservations to Havasu Falls?
Apply online! It is the only method for applying for permits for the Havasu Fall hike.
To make camping reservations in Havasupai Waterfalls and get your permit, you must reserve it online at The Havasupai Tribe website at the beginning of February.
The camping reservations for the entire year fill up quickly within the first day of booking.
You cannot make a reservation over the phone anymore. After a Campground Reservation has been finalized and paid for, no further changes can be made.
First of all, you must Create an Account before February 1, 2023. RESERVATIONS AND ACCOUNTS ARE REQUIRED FOR ALL VISITORS. After that, make sure your account is created and you're prepared to log in and start searching the reservation system, which opens on February 1, 2023, after 8:00 a.m. (Arizona time). An account is required to create a campground reservation.
There is only ONE name on a Campground Reservation – and a reservation is only valid if the person named on the reservation (the "Trip Leader") is present at the Tourist Check-in Office in the Village of Supai (on the way to the Campground) with valid photo ID – otherwise, the reservation is NOT valid and will NOT be honored.
ALL visitors (even if they are not a Trip Leader) must have an account on HavasupaiReservations.com made PRIOR to arrival so that they have confirmed their understanding of, and agreement with, Havasupai Rules and Laws.
ALL visitors must have proof of their account (a printout or screenshot of their Account Information Page), proof of their Campground Reservation (a printout or screenshot of the Campground Reservation that they are visiting under), and their photo ID available at all times while on Havasupai lands.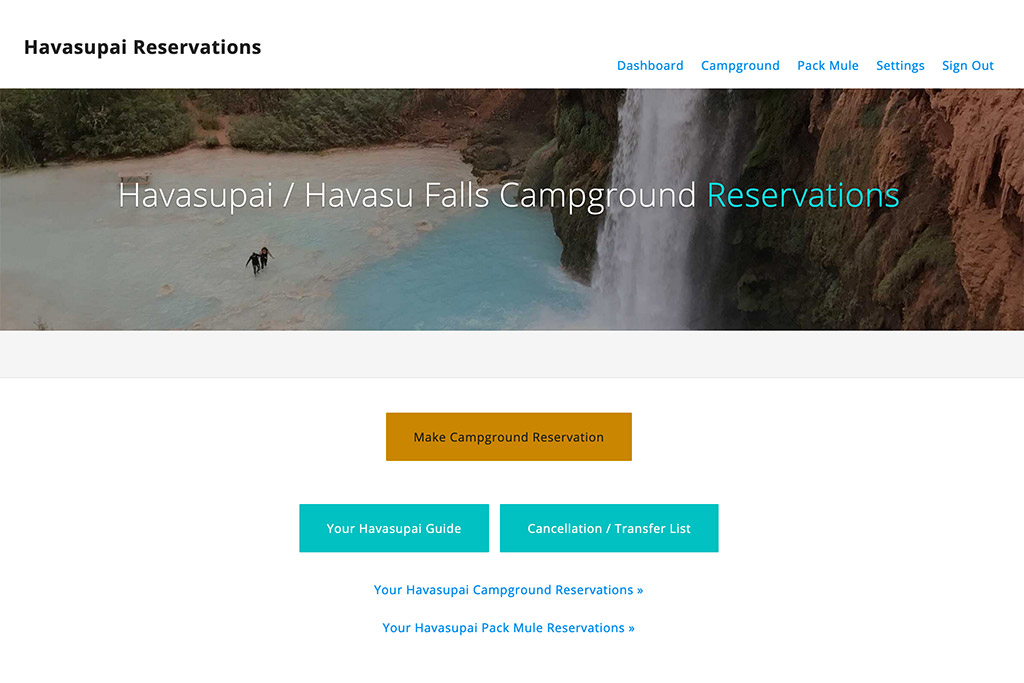 Havasu Falls Permits & Havasu Falls Camping – Reservation Fees
How Much do Havasu Falls Permits Cost For 2023?
We don't have the exact Havasupai permit cost for 2023 yet, because is still closed. There is no information on the official Havasupai Tribe website, however. Probably the Havasupai permit cost in 2023 will be likewise in 2020: around $350 to $450 per person. In 2020 it was $375 per person for a four-day / three-night visit. Havasupai Tribe will continue with their minimum stay of 3 nights and 4 days in 2023. But to be sure, we will check the official website and inform you about the changes. However, below are the exact prices and rules for 2023. Consequently, Havasu Falls Permits for 2023 will be challenging to obtain.
Havasu Falls Permits and Reservation Fees
All campground reservations are 3 nights / 4 days. In other words, even if you want to stay only for one night, you have to pay for 3 nights permitted. However, even 3 nights aren't too much, because there is a lot to do and see.
It's cost $100 per person per weekday night and $125 per person per weekend night (Friday/Saturday/Sunday nights).
It means that a 3 Night / 4 Day stay will be between $300 and $375 per person (depending on how many weekend nights are included). These prices include all necessary permits, fees, and taxes.
Havasupai Permits Fees can change, so check the Havasupai Tribe website: https://www.havasupaireservations.com/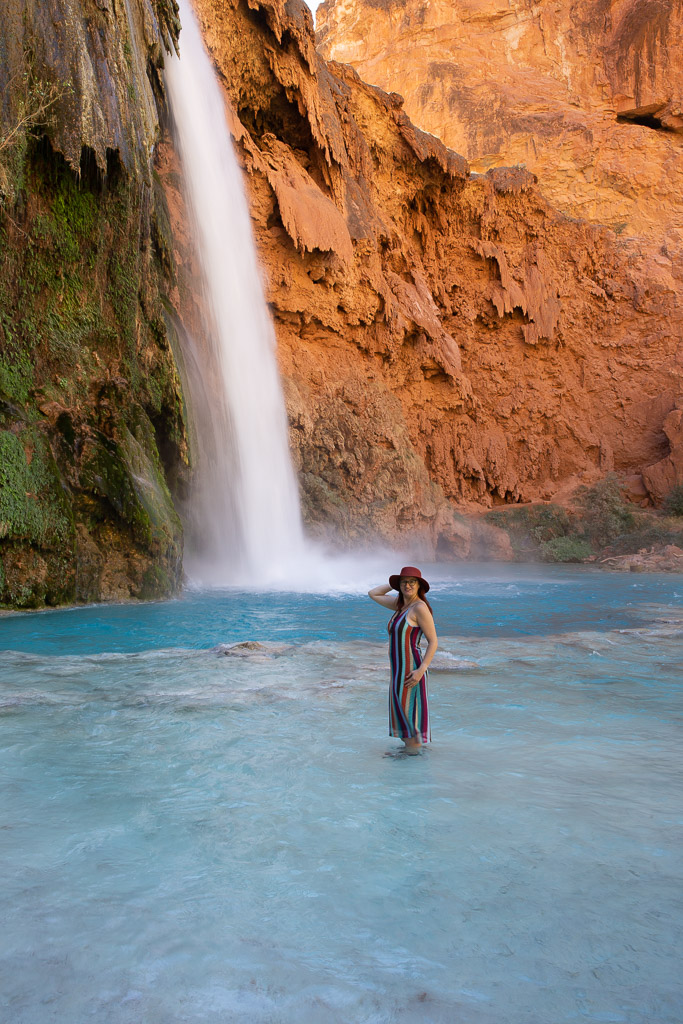 Where to stay at Havasupai Waterfalls?
Havasu Falls Camping
Most important about Havasu Falls Camping
As we mentioned above, Havasu camping requires reservations that costs 300-375 dollars per person (2020). And you have to stay for 3 nights. You can actually stay for one night, but you pay for three. It's a beautiful campground. Camping in Havasu Falls brings lots of joy in the sun with swims, hikes, and waterfalls, unlike anywhere else. And all visits to Havasupai and Havasu Falls require a reservation made PRIOR to arrival. The campground is a "camp wherever you want" campground running for over a mile on both sides of Havasu Creek between Havasu Falls and Mooney Falls in the Grand Canyon. There are no designated or assigned camping sites, and you are welcome to set up camp anywhere within the campground area that is safe and respectful of the land and other visitors. Check our tips to get the best campsite. There are enough campsites to host 350 campers per night. In addition, sites are available on a first-come, first-served basis. Lastly, you can't make campfires in the Havasu campground. Do not photograph the village or residents of Havasupai.
Facilities available at Havasu Falls Camping
Havasupai Waterfalls is a remote wilderness area.
There is no:
running water,
showers,
shops,
hospitals,
restaurants,
coverage,
wi-fi,
electricity.
But there are composting toilets throughout Havasu Campground.  There is one drinking spring in the campground – Fern Spring. You are responsible for bringing all the necessities for sleeping and cooking for yourself. You have a store in the village that provides basic needs. There is also a bar in the village. Another option is buying a simple hot meal 5 minutes from the campground. Next to Havasu Falls, every day from noon, you can purchase Indian tacos prepared by an Indian family.
Havasu Falls Camping Rules
Most important is to respect Havasupai Tribe's rules. It's their land. Detailed tips you will find here. First of all, remember that you can't take and use alcohol or drugs in all areas of the Havasupai Reservation. Another, you can't use drones. It's impossible to campfire, too.
Furthermore, it's crucial to respect the environment. Do not pollute the water in the river and waterfalls with any chemicals or cosmetics. You can't feed wild animals. Above all, don't litter. Take your garbage with you to the village after camping. Finally, do not jump or dive into waterfalls because it is highly dangerous. In other words, be careful. It is possible to swim behind the falls and enter a small rock shelter behind it (see more in our article about the Havasupai campground).
Havasu Falls Permit – Havasupai Lodge Reservations
Havasupai Lodge
Instead of the Havasupai campground, you can stay in Supai village in Havasupai Lodge. From the lodge, there is a 2-mile hike to Havasu Falls. The lodge offers necessary accommodations and only one hotel near the Havasu Falls area. The hotel has only 24 rooms. To make reservations at the Havasupai Lodge, visit the official website. Havasupai Lodge reservations are now online only at HavasupaiLodge.com. And you must create an account to apply. Havasupai Lodge becomes available from June 1. And you must hurry with the booking. Similar to the campground, it's challenging to get there. 
Finally, there is no kitchen or food at the Havasupai Lodge. So, you'll need to come prepared to cook all your meals. You can buy food at the Supai Café or the Supai grocery store in the village. However, the prices are higher.
Information Needed for Havasupai Lodge Reservations
First and Last Name
Full Address
Phone Number
Dates requested
Credit Card Information
Havasupai Lodge 2020 Fees
According to the Havasupai Tribe official website, Havasupai Lodge 2020 Fees were:
Deposit is $100 per room per night.
$440 per room per night; rooms accommodate up to 4 people.
A $110 entrance/environmental fee per person.
All fees include taxes
Havasupai Lodge Cancellation Policy
2 weeks prior to reservation: Full Refund
After 2 weeks prior to reservation: Non Refundable
Havasupai Falls Permits are sold out. What now?
Cancellation policy to Havasu Falls
It seems like a miracle to make Havasupai Falls reservations. If you are unable to get a Havasu Falls permit and they are sold out for the year, it is recommended to continue checking back for cancellations.
You may spend hours online trying to get a permit to Havasu Falls on February 1, and you won't be lucky because it's a kind of lottery. But you still have a chance to get there as we did. Consequently, try! Thanks to a new transfer process for people who can no longer use their reservations, you can find a list of cancellations up for grabs on the official Havasupai reservations website. First of all, remember that you have to create an account to access the reservations page. Above all, check the page frequently for updates on new cancellations, as we did.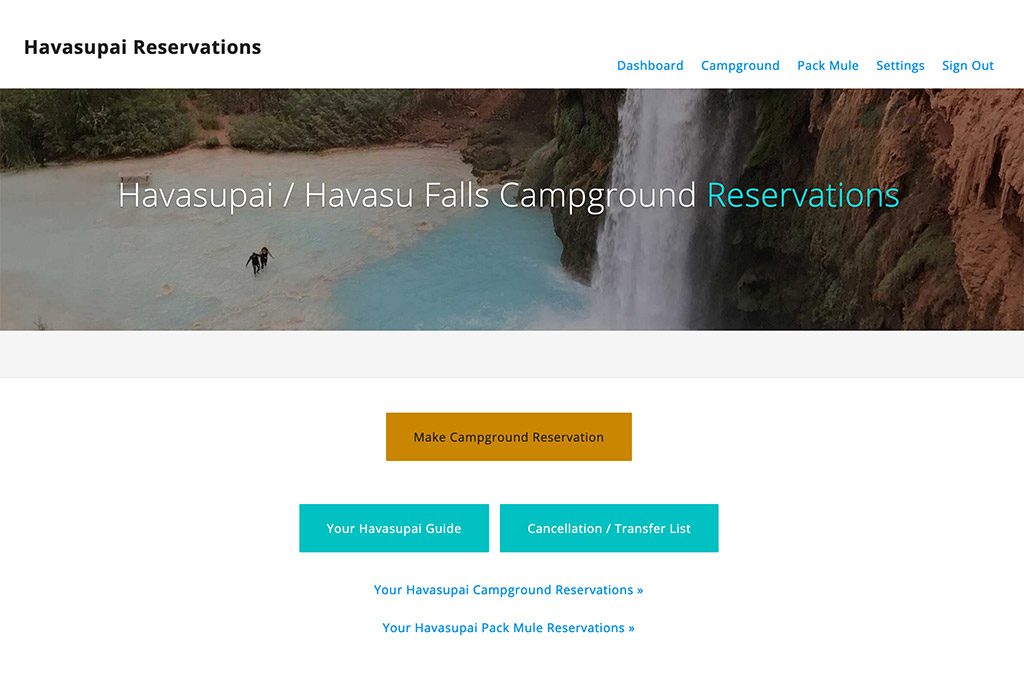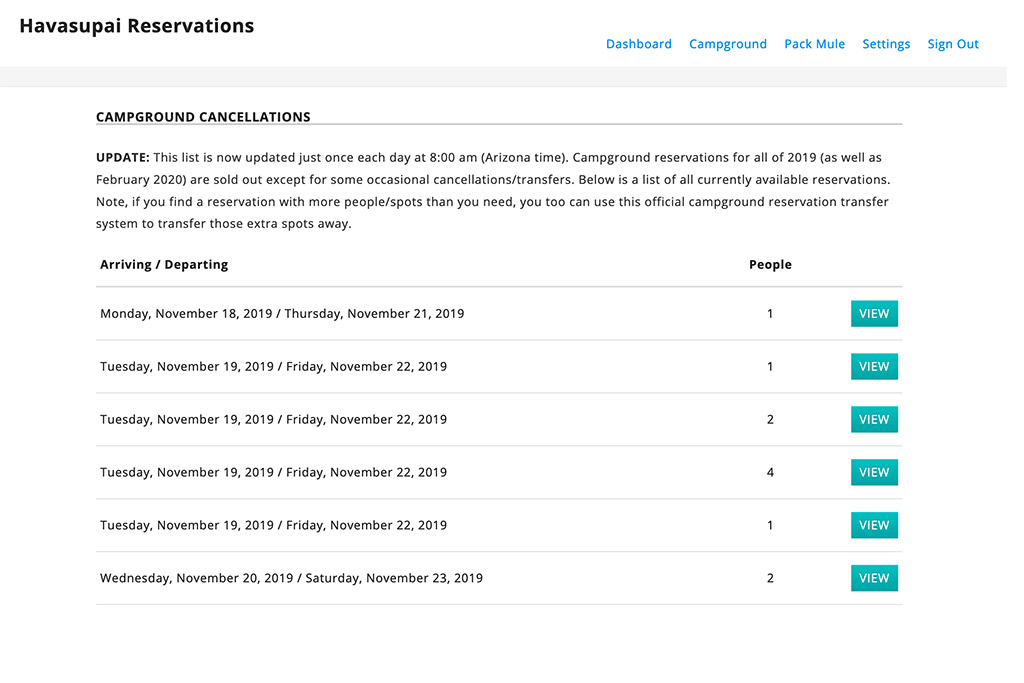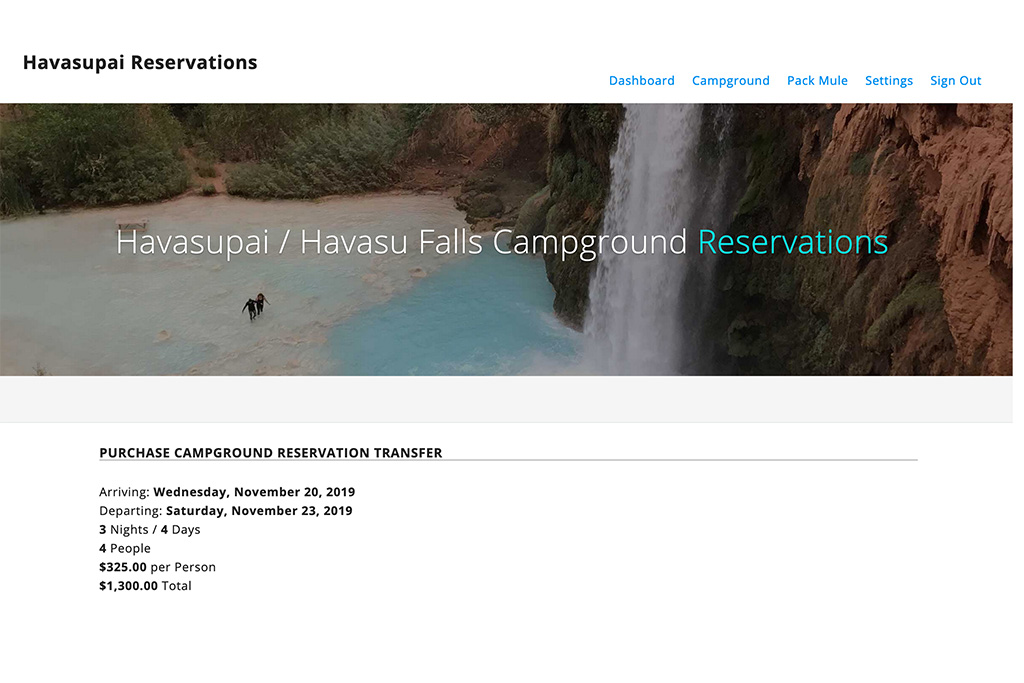 Be flexible and ready to go to Havasu Falls
Try getting a Havasu Falls permit for dates later in the year, October or November, not for the high season. Most noteworthy, you must check the cancellations page often. Even several times a day because resignations appear quite often. But they require your quick decision. Above all, when you see the booking, do not hesitate. Click and pay. Therefore thousands of people want to see Havasupai Waterfalls for the reason that this is a miracle of nature.
We succeeded. As we were in Oregon, when we checked the website, there was one cancellation we could book. We didn't think too long. We bought a permit and went to Havasu Falls. Certainly, you will manage, too, and we wish you your dream comes true and you see Havasu Falls.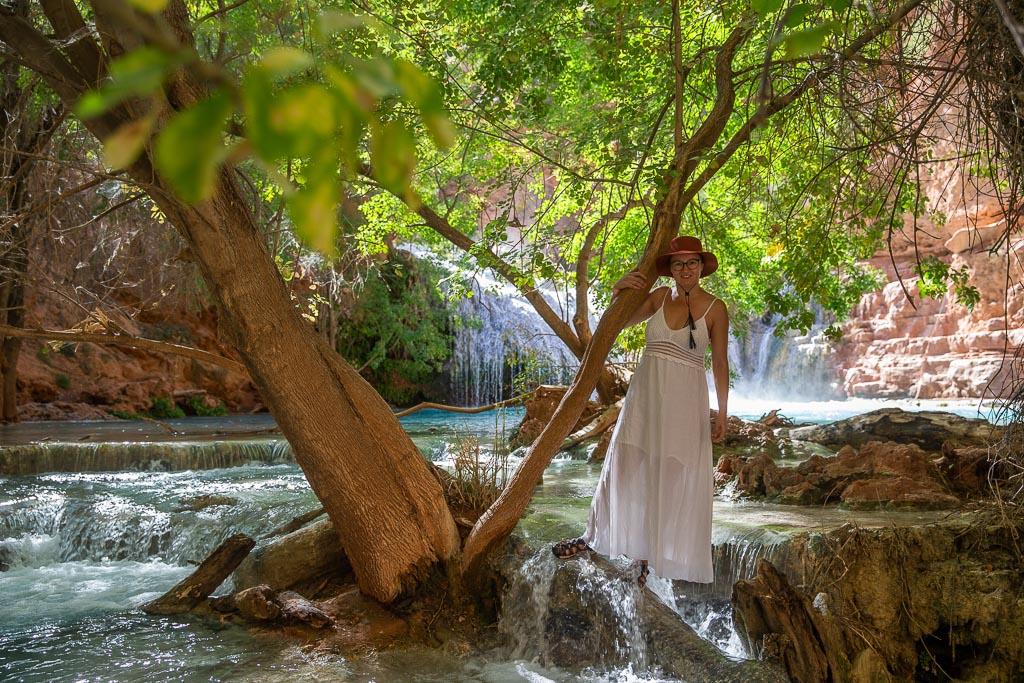 Remember about June 1 and Havasupai Lodge near Havasu Falls
In 2023 Havasupai Lodge is open for current permits holder for those who have booked from previous years when Lodge was closed due to Covid. But if someone resigns, you can stay in the Lodge.
Another option to get a Havasu Falls permit is Havasupai Lodge. On June 1, reservations at Havasupai Lodge become available. Check the official website of the Tribe to make a reservation. Even if you can't call on 1 June, remember to call often and check if there are any cancellations at Lodge. And People reserve these places one year in advance, and often they have to resign, because of random reasons. Maybe if you are trying, consequently you will be lucky. You might not get a permit this year. And you might not get one next year. But above all, keep trying!  And if you have no luck with Havasu and are nearby, also check tours to Grand Canyon.
Finally, we keep our fingers crossed! Good luck!
Inspired? Pin it!