Oregon Proxy Falls Hike & Photo Tips
Oregon Proxy Falls Hike is one of our favorites. Proxy Falls, AKA Lower Proxy Falls, is a dazzling cascade waterfall hidden in the Three Sisters Wilderness. It's near McKenzie Pass and McKenzie River in the Willamette National Forest, Oregon. It's, for sure, one of the most stunning Oregon waterfalls and one of the best Oregon photography locations. Furthermore, it is one of the must-do sites in the Pacific Northwest for nature photographers. As waterfalls enthusiasts, we have prepared this detailed Guide to the Oregon Proxy Falls Hike & Photography Tips. All you need to know before you hit the Proxy Falls trail. We hope it will help you prepare for your adventure.
This article may contain affiliate / compensated links. For full information, please see our disclaimer here.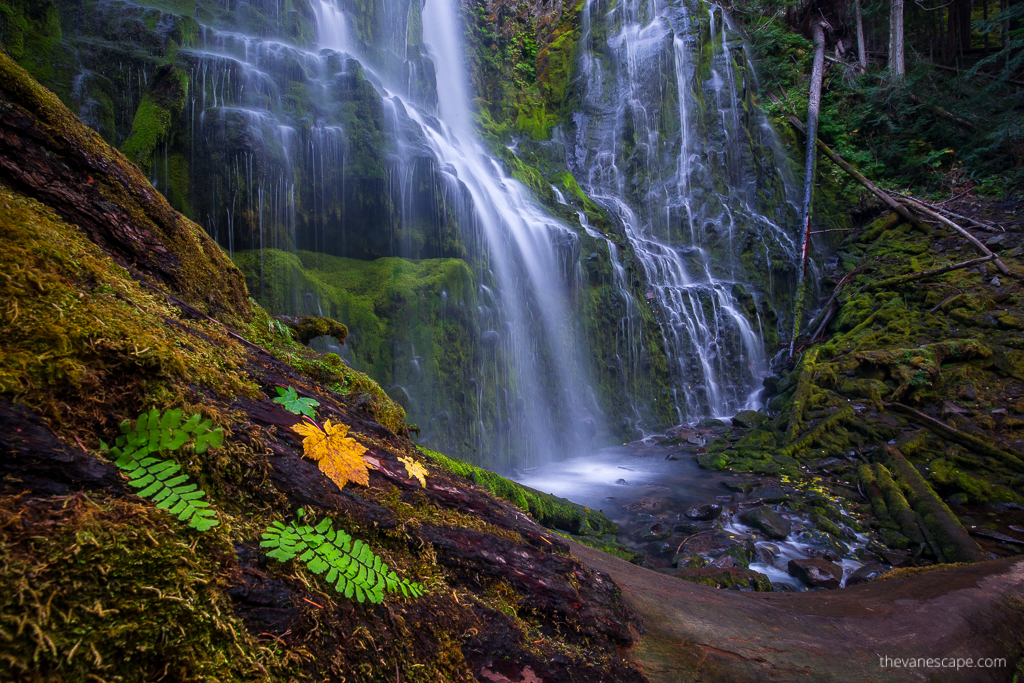 What is Proxy Falls in Oregon?
Proxy Falls is located in Lane County, Oregon, in a gaping canyon near McKenzie Pass in the Willamette National Forest. The closest town is charming Sisters. The waterfall is famous for its main drop of 226 feet (69 m), making it one of the highest plunge waterfalls in Oregon. The roar of this majestic over 200 feet waterfall is impressive. The elevation is 3,286 ft (1,002 m). Proxy Falls run-down off glacier-cut cliffs surrounded by lava fields from cinder cones near North Sister that filled the valley floor. The falls get their name from Proxy Creek, which tumbles over a moss-covered basalt column of the rock face. The waterfall was created 6000 years ago. There are actually two different waterfalls here: Proxy Falls, AKA Lower Proxy Falls, and the smaller Upper Proxy Falls.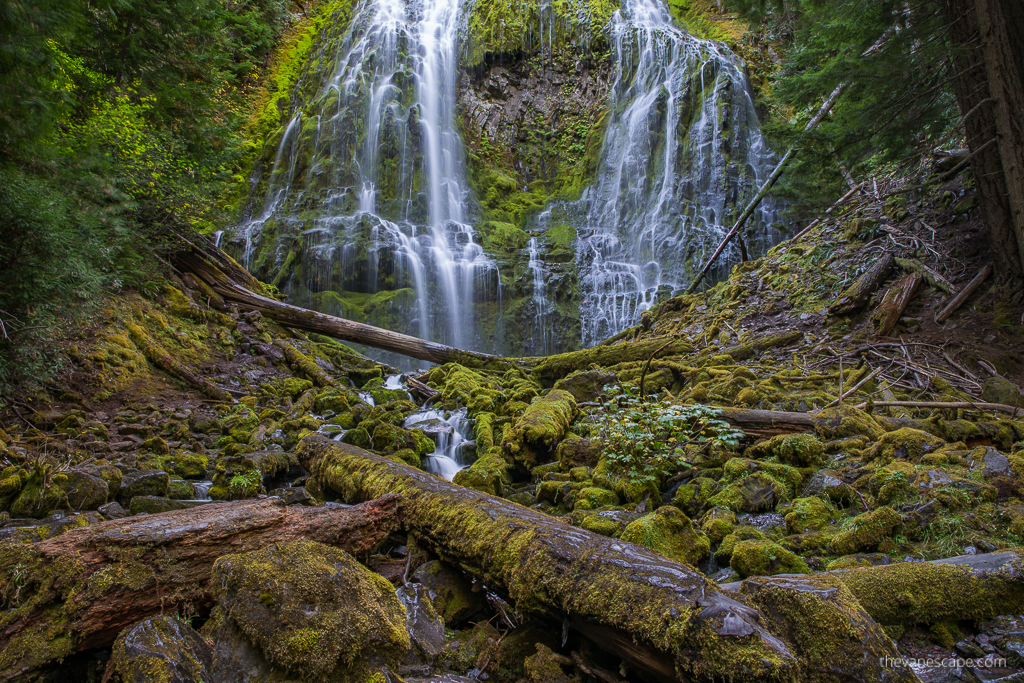 How long is the hike to Proxy Falls?
There is an easy (but not ADA accessible) 1.5-mile loop hike and 250 feet elevation gain from the trailhead. The hike crosses old lava fields and dense conifer forests through an unpaved foot trail. After crossing the lava field, you will come to a trail split. The trail to the right will take you down to Lower Proxy Falls, and the trail to the left will continue the loop and take you to Upper Proxy Falls. If you walk the route counter-clockwise, you'll first encounter the trail leading off to Lower Proxy Falls. There are the viewpoints of Proxy Falls and the smaller Upper Proxy Falls.
The level of difficulty the Proxy Falls Hike
The hike to the falls is relatively easy. Definitely have to climb over and under logs and rocks to access each of the waterfalls' bases. So, the more difficult part of the hike is once you get to Proxy Falls, where you have to hike down a steep incline to the falls base. So, take hiking boots with great traction and trekking poles. Boots should also be waterproof because if you plan to take pictures, you will be wading in the water a lot. Or you can consider taking water shoes for changing. There are huge amounts of water, it can be slippery, and there is a lot of moisture. So waterproof hiking shoes and poles protect you against slips and falls.
The trail is short, but if you plan to take photos, it will take some time, so in this humid and cool forest, you will need a cup of hot coffee and some snacks. Remember not to leave any garbage.
Even in summer, dress in layers and pack a raincoat to protect yourself from a breeze of water and possible rain.
If you plan other hikes in the area, check out our Day Hiking Packing List.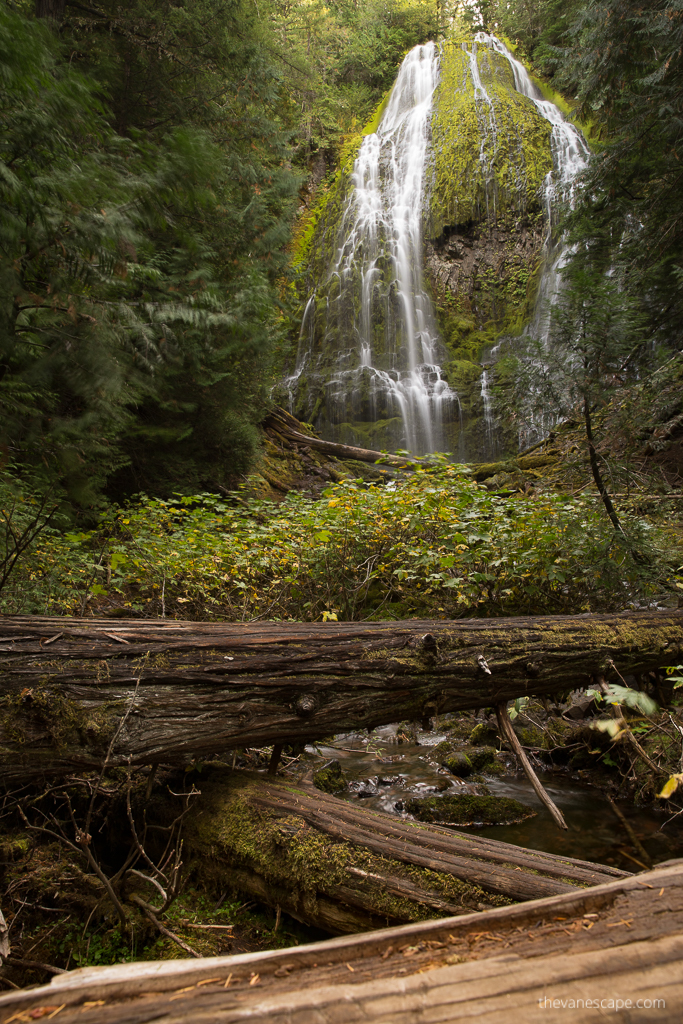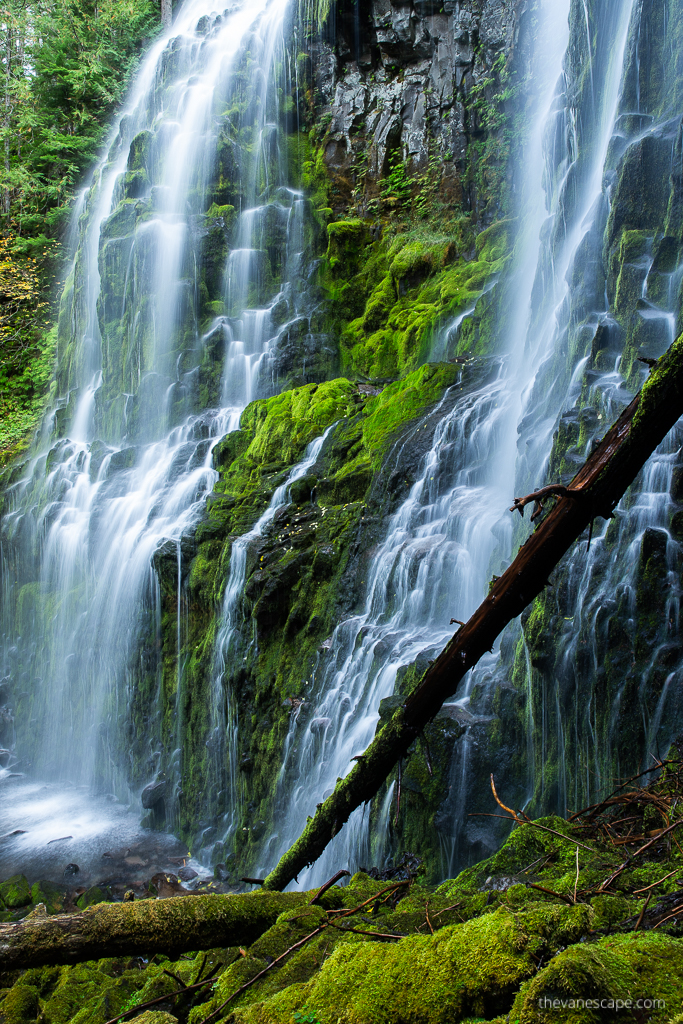 Where is Oregon Proxy Falls Trailhead?
How to get to Proxy Falls Hike starting point? Proxy Falls Trailhead provides access to Proxy Falls Trail #3532. Access depends on McKenzie Highway (OR Hwy 242), which is closed in the winter (it depends on snowfall). So, before traveling, check if the road is open and current alerts on the Oregon Department of Transportation.
The fee is $5/vehicle/day, or you must have a valid recreation pass. Dogs are welcome on this trail on a leash. The parking lot offers space for about 15-20 cars, so be early during summer. There are a picnic table and pit toilets. There is no water available in the parking lot. The loop starts at the southwest end of the parking lot next to the information sign.
The Trailhead is well-marked, and you will see a sign from the road.
See below for detailed tips.
Directions to Proxy Falls from Eugene
From Eugene are 66 miles and approximately 1 hour 20 minutes driving via OR-126 E. From McKenzie Bridge, OR, travel east on Highway 126 to Highway 242. Travel east on Highway 242 for 9 miles to Proxy Falls Trailhead.
Directions to Proxy Falls from Sisters
From our favorite Sisters, it is only 28 miles and an approximately 50-minute drive via OR-242 W. If you have time and visibility is good, stop at the Dee Wright Observatory. It is located in the Cascade Range at 5,187 feet. It offers panoramic views across 65 square miles of black lava rock that looks so much like a moonscape that in 1964, NASA conducted drills with astronauts as they prepared to travel to the moon.
Directions to Proxy Falls Hike from Bend, Oregon
From Bend are 50 miles and approximately 1 hour 20 minutes driving via US-20 W and OR-242 W.
Directions to Proxy Falls Hike from Portland
From Portland, it's a minimum of 3 hours drive and 171 miles. You must go to Eugene / Springfield via I-5 S and then OR-126 E. From McKenzie Bridge, OR, and travel east from Highway 126 to Highway 242. Travel east on Highway 242 for 9 miles to Proxy Falls Trailhead.
Is the road to Proxy Falls Hike open?
Oregon Route 242, known as a portion of the McKenzie Highway (Oregon Hwy 242), is closed during winter—generally from November 1 until about mid-June every year due to snow. So, before you go, check the conditions on tripcheck.com.
However, bicycle access is still possible during the shoulder seasons. Winter adventure enthusiasts also use snowshoes to get to Proxy Falls during snowfall when road 242 is closed.
PRO TIP: If you have time, take The McKenzie Pass-Santiam Pass Scenic Byway, which takes you on a journey through a land of contrasts. Driving offers amazing views. It's a great idea to start this route in Sisters. You'll encounter lush forests, crystal-clear lakes, and lava fields on the west side of the Cascades. Sometimes you will feel like you are on the empty moon, sometimes in the deep and wet jungle. Broken Top Mountain, Mount Washington, and The Three Sisters tower above the Scenic Byway.

You can plan your road trip with Oregon Road & Recreation Atlas. It is very informative and detailed. Thanks to this atlas, our trip was more interesting, as we could quickly learn what was nearby and plan our route. It's also a useful alternative to GPS maps when traveling.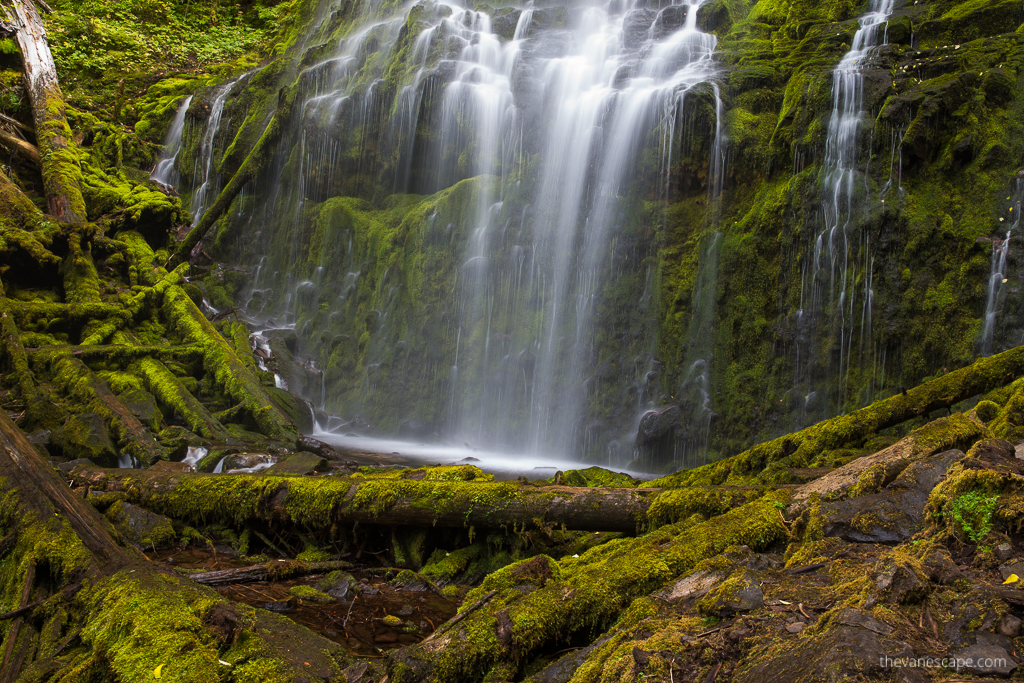 Oregon Proxy Falls Weather
Where is the best time to visit Proxy Falls?
The best time to go to Proxy Falls is late spring (June), when the waterfalls are raging. And it is also a fantastic idea t visit these waterfalls during autumn, September – October. Fall in Oregon is incredibly picturesque; vine maple gives beautiful colors. There is still a lot of water flowing down with a roar from the lava rocks.
Due to the popularity of the trail, it is worth starting the hike early in the morning. It's much more crowded during weekends. So, midweek mornings are the best time to visit with fewer people around.
Proxy Falls Camping & Lodgings
If you want to stay overnight in the area, the nearest campsites are simple & rustic Alder Springs Campground (tents only) and Scott Lake Campground. There are no advance reservations. All sites are first come, first serve. They are open from early July – Late October (dependent on McKenzie Highway 242).
However, the closest town with a wider offer of camping and lodgings is Sisters. It's only 28 miles from the trailhead. Staying overnight in this old-fashioned western movie town is a great adventure. So, check our lodgings recommendations in our separate post.
Furthermore, you can also find great deals in Bend, which is 50 miles off the Proxy Falls trail. On the map below, you can find the best deals.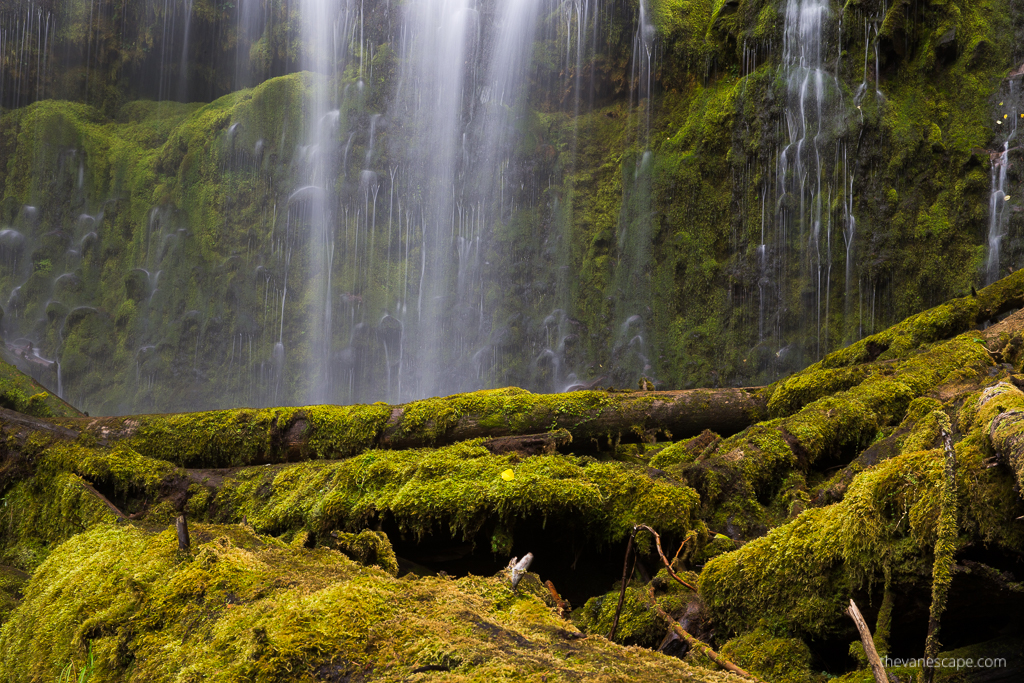 Oregon Proxy Falls Hike Photography Tips
Take a Tripod and remote shutter release
You need a stable tripod with a proper head and remote shutter release. You need to use a longer exposure to make the water in Proxy Falls stand still and look beautiful in the picture. The best idea is to try a variety of exposure to different effects of the flowing water.
Play with compositions of Proxy Falls
Use wide and short telelens, to have different shots. We used 24-70 mm for these waterfalls. Chris uses Canon 24-70, and Agnes Nikkor 24-70.
Make use of the nature surrounding you, especially mossy trees, rocks, trunks, and leaves on the base of Proxy Falls. Put them in the foreground of your frame. Use the polarizer filter to reduce reflections on the water and other surfaces. Some filters may warm up your scene a little bit.
You will get great shots just at the base of the waterfall. A good idea is also to approach the waterfall from the right side to shoot close-ups of the falls cascading over basalt rock columns.
Be careful not to trip over wet stones and slippery roots.
Be prepared to clean your lens
When photographing Proxy Falls from a close distance, you might encounter a situation when your lens will be getting permanently wet. So, don't forget the cleaning cloth. Finally, after setting your scene, please gently clean your lens front element to ensure no drops are on it before pressing the shutter release.
Cover your camera and lenses against getting wet
Proxy Falls is a very wet area, so if you don't have waterproof photography gear take a so-called camera rain cover or raincoat to protect your camera and lens.
Start early in the morning on sunny days
Early morning light is best; waterfalls are in the shade. So, you will avoid sharp contrasts. Moreover, you will also avoid tourists who come here to relax with their whole families during the day. Finally, you will have more time to enjoy this beauty.
Oregon Proxy Falls Hike – Take long-exposure photos with iPhone
You can do a long exposure shot also with your iPhone. Just tap the round icon on the top of the screen (LIVE ON/OFF) and turn it on. Take a photo of the waterfall. Go into your Photos directory and find the picture then swipe up. You will have four choices: Live, Loop, Bounce, and Long Exposure. So, please select the last one and see the effect.
Look for inspiration in the books
We always look for inspiration in books. Our favorite is Photographing Oregon. We have all the books in this series from different states and can honestly recommend them. It depicts the most beautiful places in Oregon, including hidden gems, many photo tips, information about reaching the place, the trail's difficulties, etc. Beautifully issued with great inspirational photos.
As waterfalls fans, we also use Hiking Waterfalls Oregon: A Guide to the State's Best Waterfall Hikes. It features over 60 breathtaking waterfalls in Oregon. We still have many places on our bucket list from this book.
If you like photographing waterfalls, check out our related post about Havasu Falls in Arizona: Havasu Creek Waterfalls Travel & Photography Guide
Photographing Oregon (Phototripsusa)
Photographing Oregon covers the most photogenic natural locations in beautiful Oregon, from the rugged coastline to the fertile Willamette Valley, through the Columbia River Gorge and over the Cascade Mountains, across the Great Basin high desert and Columbia Plateau to the eastern border. Come explore coastal cliffs and beaches, sand dunes, lighthouses, wildlife refuges, gardens, waterfalls, verdant valleys, volcanic peaks, unique rock formations, the deepest canyon in North America and remote desert outpos
If you're planning a trip to Oregon, please check out some of the other great places we describe in related posts: