Crystal Crane Hot Springs Reviews & Guide
If you are looking for a hot springs resort in Oregon, one of the coolest and most fabulous places to relax is Crystal Crane Hot Springs, AKA Crane Hot Springs near Burns. You can immerse yourself in the rustic hot spring pond or private bathhouses. Moreover, you can stay overnight at the RV campground, tent camping, or in the climatic cabin. Furthermore, you can rent an idyllic Crystal Crane Hot Springs Teepee with a private soaking tub. So, check our Crystal Crane Hot Springs Reviews & Guide to know what to expect and how to prepare for your hot springs adventure.
This article may contain affiliate / compensated links. For full information, please see our disclaimer here.
We share our opinions. This is not a sponsored post. We decided to take this vacation on our own and did not receive anything from this Resort.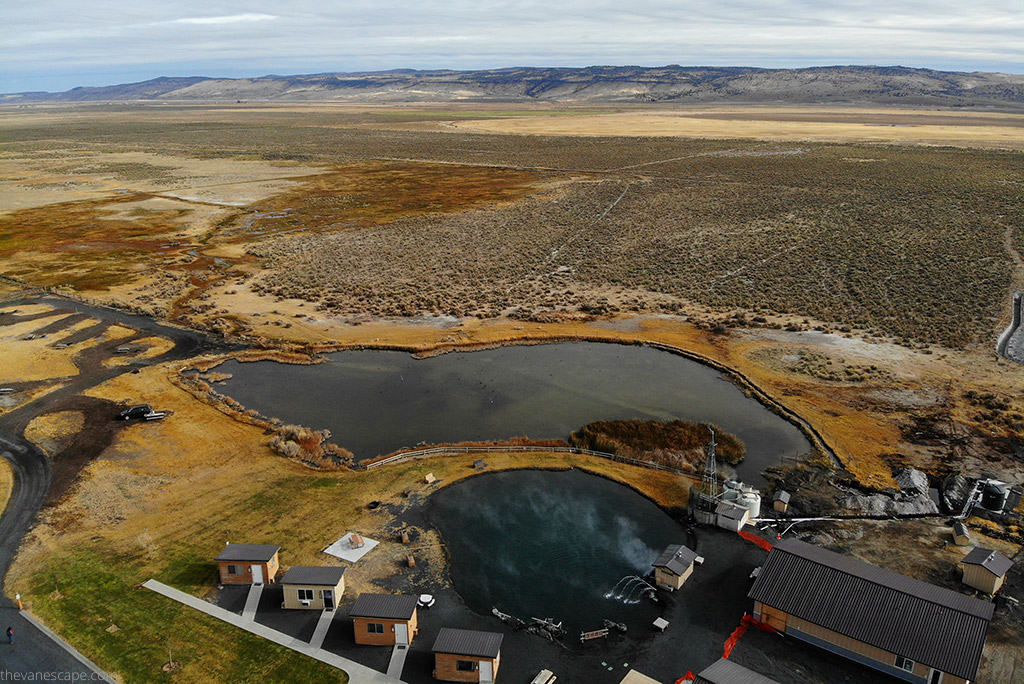 What is Crane Hot Springs?
If you read our previous posts, you already know that we are fans of hot springs. And Oregon is full of unique natural hot springs. We have described detailed guides on Umpqua Hot Springs and Alvord Hot Springs in the Alvord Desert in Oregon.
Crystal Crane Hot Springs is another source of mineral hot waters that we immersed ourselves in during our Oregon road trip. They are in the arid desert of southeast Oregon. They are slightly different as they include a large swimming pond and private soaking tubs. Moreover, you have a variety of accommodations to choose from, including a glamping teepee. The place charmed us with its atmosphere and coziness. Water temperatures are dependable on the outdoor temperature but usually vary between 97°F (36°C) and 103°F (39°C).
Crane Hot Springs is just one of many places to soak in eastern Oregon, but it's one of the few that comes with an amenity for travelers, making this place unique.
Crystal Crane's motto is, "It's about the water."
Soaking in mineral springs is something more than relaxation. It affects physical, mental, and emotional well-being. If you feel tired, stressed, or overwhelmed, you will get better after soaking in hot springs. Crystal Crane Hot Springs is filled with minerals such as calcium, sodium, magnesium, silicate, potassium, iron, etc. So, that is perfect for your health, body, and smooth skin.
PRO TIP: You can learn more about hot springs, their properties, and how they affect our well-being and health in the Oregon and Washington Hot Springs guide. You will find detailed descriptions of plenty of hot springs, their locations, and stories. The author consults on geothermal energy projects and assists hot springs resort owners with design and marketing.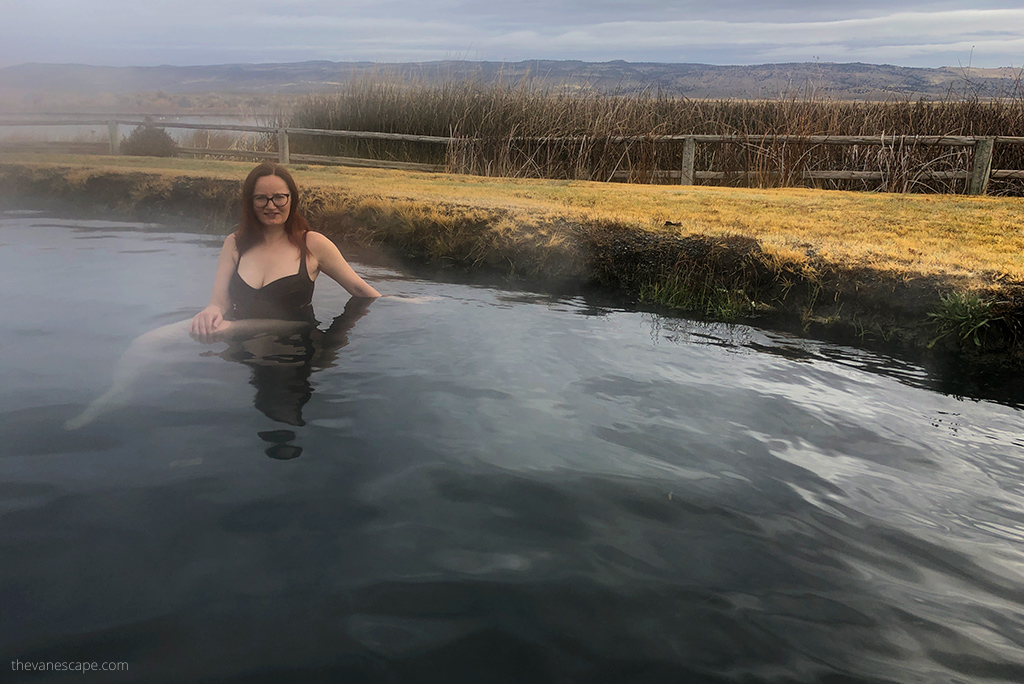 Where is Crystal Crane Hot Springs?
In the middle of nowhere, amidst the sagebrush, on the barren landscape is a magical oasis of natural hot springs. It is located in the sparsely populated Eastern part of Oregon, in Harney County, at the gateway to the Steens Mountains. The nearest town is small Crane, 4 miles away, and little bigger Burns, 25 miles away.
The address is 59315 OR-78, Burns, OR 97720.
Open 365 days a year except for Thanksgiving and Christmas, 9 am – 9 pm.
Crystal Crane Hot Springs Directions
From Burns, the road is easy and will take about 25 minutes. It's 25 miles. Take Steens Hwy; it's OR-78 E. There is a sign to Crane Hot Springs. Your destination will be on the left.
From Bend is 156 miles via US-20 E. The road will take you about 2 hours and 30 minutes. You need to get to Burns and then drive OR-78 E.
From Boise (Idaho) is 185 miles via I-84 W and US-20 W. So, it's about 3 hours of driving. For 165 miles, follow I-84 W and US-20 W to Crane-Buchanan Road in Harney County. Then turn left onto Crane-Buchanan Rd and continue 20 miles to the Crystal Crane Hot Springs.
PRO TIP: If you are looking excellent paper map to plan your Oregon road trip, we can highly recommend Oregon Road & Recreation Atlas, which we use. It is very informative and detailed. Thanks to this atlas, our trip was more interesting. There is also lots of information about less popular places. It's a useful alternative to GPS maps when traveling because, in this area, coverage is limited.
Crane Hot Springs History
As you can read on the Crane Hot Springs website this place is almost 100 years old. In the 1920s, there were three hot springs here. Because water from natural hot springs is therapeutic and relaxing, a local doctor and entrepreneurs have founded a resort here with a hot spring swimming pool. The water was so hot (180 degrees F) that they had to wait for days to cool the water. At the beginning, the name of the resort was "I and C Hot Springs". Unfortunately, it was a fire around 1930 which destroyed the dance hall and restaurant. New owners gave a new name to the resort. The name was "Crane Hot Springs," then "Crystal Crane Hot Springs." In 2019 was a return to the phrase "Crane Hot Springs." So, now the name is Crane Hot Springs to eliminate confusion with Crystal Hot Springs in northern Utah.
Since 1997 the owners are Dan and Denise Kryger. They built the cedar-enclosed bathhouses, dug out the almost 7-ft deep hot spring pond, upgraded the RV facilities, renovated the motel and cabins, and completed various other improvements.
There is an enjoyable and friendly atmosphere in the Crane Hot Springs resort. The service is at the highest level, making you want to stay here for more than one night. They offer warm memories for families and a romantic stay for couples. Moreover, the place is pets friendly.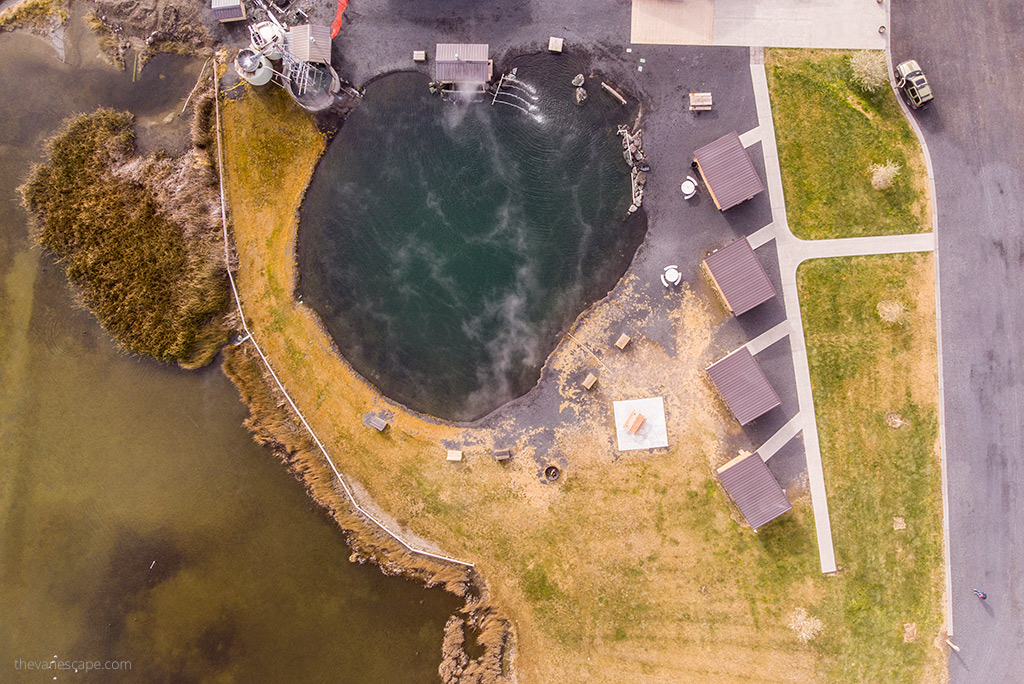 Soaking Pools at Crystal Crane Hot Springs
Hot Springs Pond
There is a large open-air public pond. Hot Springs Pond is perfect for swimming and relaxing. The area of the pond is 9728 square feet, and 7′ deep in the center. The average water temperature is around 101 degrees F. So, Crane Hot Springs is the perfect place to visit any time of year. In the morning and the evening, mists rise above the water, giving this place a fairy-tale atmosphere. A swimsuit is obligatory. There are also changing cabins by the pond and hooks where you can hang a towel. So, take a quick-drying towel, because the humidity is significant.
It's open day and night to overnight guests, but you can also purchase a day pass to soak in the pond.
Day Use Outdoor Pond cost $10.00 per Adult person/per 4 hours.
Kids 5 to 12 years – $5.00 per person/per 4 hours.
0 to 4 years – free. All fees can check on the official website.
Private Soaking Tubs
You can also rent private bathhouses and soak up the healing minerals in private tubs. Each of the Private Soaking Tubs has a beautiful, cedar-enclosed soaking tub that comes with a bench area to change, and a freshly cleaned bath with a natural hot water tap that can be filled to the temperature you desire.
Private Soaking Tubs cost $15.00 per person/per hour.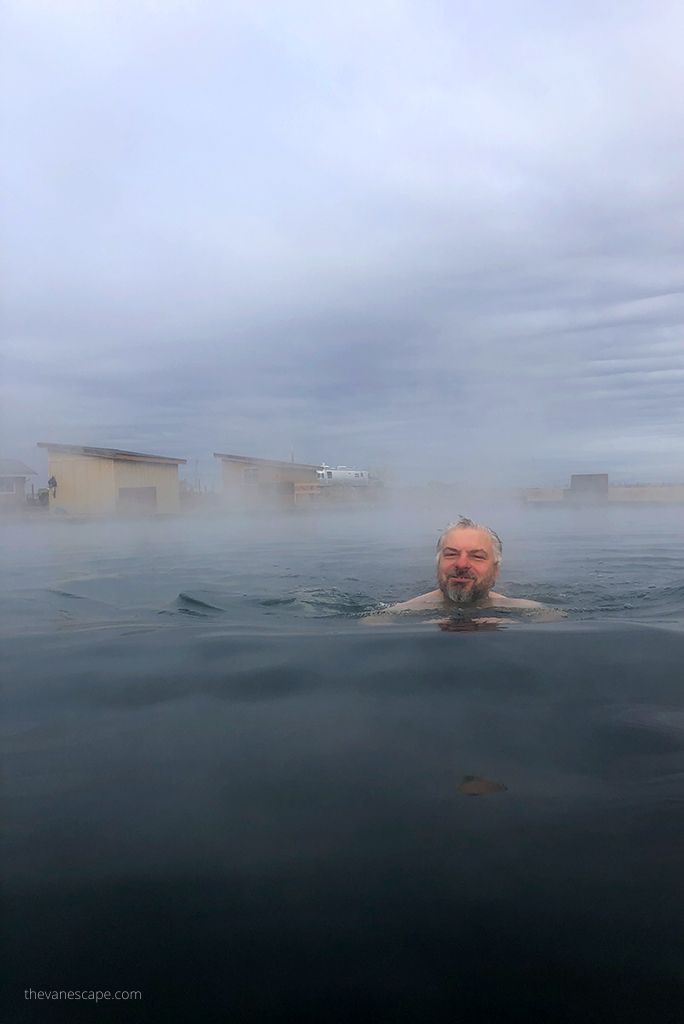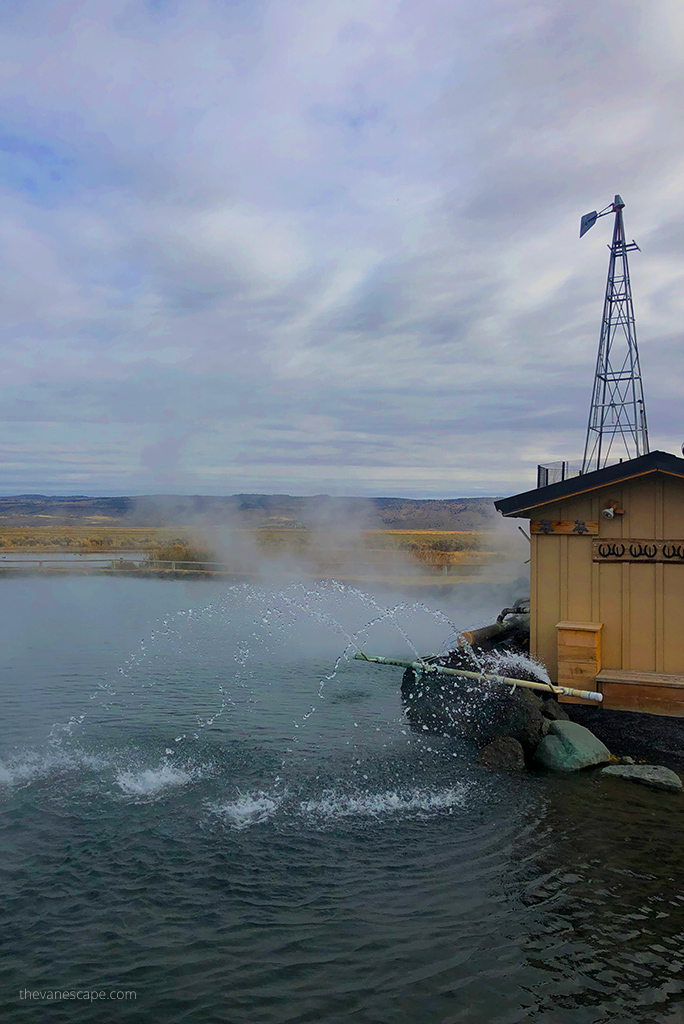 Variety of Accommodations
Regardless of whether you are planning a romantic weekend or a family holiday with kids, you will find several accommodation options to choose from. But this is not an exclusive spa. The cabins are simple, and rustic but cozy. Most of all, the service provides a great atmosphere. Serenity all around, the immensity of the area, soaking in the pond make that no more comfort is needed. It's worth staying here for the night. And we hope to be back there one day. If you have a tent, you can pitch it to the tent campsite.
If you stay overnight, you have access to the kitchen and common room also. The commons room features couches, free wi-fi, books, games, and cable TV. Crystal Crane's camp kitchen comes complete with a stove, fridge, microwave, sink, and utensils. The showers and bathrooms are clean and pleasant. There are fire pits and picnic tables in the camping area.
Crystal Crane Hot Springs Teepee
If you are looking for unusual and luxurious lodging, maybe for a romantic night, you can stay at the private Crystal Crane Hot Springs Teepee. It cost around $150 per night. Book it directly on their website.
Teepee has a private patio and a soaking tub. 2 of the teepees have their private enclosure complete with a soaking tub and fire pit. The third teepee has a soaking tub right in the middle of the teepee.
If you like glamping, you can also choose authentic Sheep Herders Wagon native to the area dating back to the 1930s.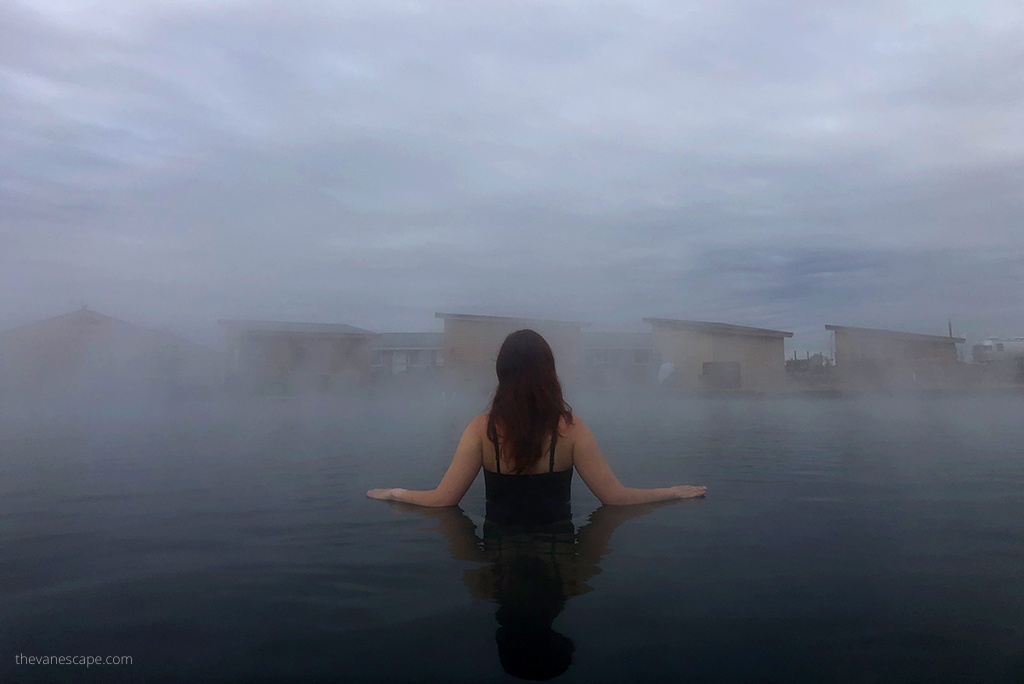 Crystal Crane Hot Springs Cabins
You have several accommodation options in cabins. They are simple but comfortable and atmospheric. One of the options is a bunkhouse with a private bath. Another option is waterfront cabins close to the pond, located next to the shower and bathroom facilities. The other option is the 5th wheel camper, which you can rent, with 1 Queen bed and a couch that pulls out into a double bed. There is also a three-bedroom Ranch House, perfect for families.
Prices vary depending on your choice. They start at $ 99 for a room in Sage Inn without a bathroom. Check the details on the official website.
So check the possibilities best suits your needs at the Crane Hot Springs or call (541) 493-2312
Crystal Crane Hot Springs RV Park
There are ten RV sites, and all have access to the hot springs pond from check-in until check-out. They have water, hookups, and sewer. Access to showers and bathrooms is provided. The cost is $45.00 per night. There is also a camp kitchen you can prepare your meals; it's open 24/7. There is also fresh hot coffee available and sweet homemade cupcakes. Furthermore, if you stay at the RV park, you can still rent a private soaking tub. You can book it at reception. So, check availability and prices for other amenities on the website.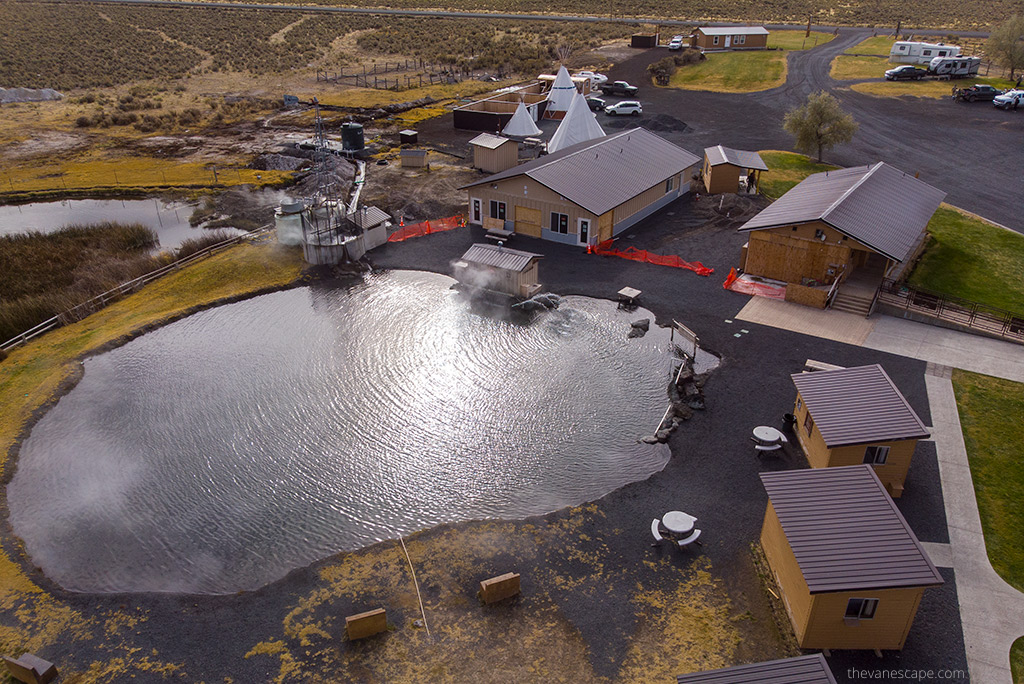 Rules & Tips in Crystal Crane Hot Springs
No alcohol or glass containers are allowed in or around the hot springs.
No pets in the hot springs.
The swimsuit is obligatory in an outdoor hot pond, so don't forget it.
Littering is not allowed.
Diving isn't allowed.
Don't use soap or shampoo in the hot springs.
Crystal has a strict policy not allowing also in the hot springs: smoking, eating or drinking, use cosmetics, excessive noise, sexual behavior.
Remember to hydrate yourself. If you are in hot springs, take a water bottle and drink often.
Take a quick-drying towel.
Pack your food; the nearest store is 25 miles away in Burns.
It is also a good idea to pack bathrobes and flip-flops or slip-on shoes for easing the exit from the pond. It's great to wrap yourself in a bathrobe after leaving the water because the temperature differences can be significant, and it's easy to catch a cold.
The Crane Hot Springs area is also home to two wildlife refuges for burrowing owls and American avocets. Don't leave any food scraps and be respectful of nature.
So, respect all these rules so that the place remains beautiful and friendly, and enjoy your stay in the Crane Hot Springs.
If you're planning a trip to Oregon, please check some of the other great places we describe in related posts:
Alvord Hot Springs, which are only 81 miles from Crane Hot Springs, so it's worth combining the two fabulous places.
Are you a fan of hot springs? So, check out our favorite hot springs in Nevada: Spencer Hot Springs, and Arizona: Natural Arizona Hot Springs.