Alvord Desert Oregon: How to Plan a Trip?
Oregon is surprisingly diverse in its landscape. When you think Oregon, you see beautiful coast, dense green forests, and snowy mountains. But, one of Oregon's hidden gems is its desert. Alvord Desert is a vast, most isolated area of the state, with cracked earth under your shoes. The Alvord Desert is a place far from the tourist routes, off the beaten path. Visiting this desolate, alien landscape, full of mesmerizing silence, it's a perfect idea for a road trip for adventure lovers. So, we share all the tips on preparing for a trip to Alvord Desert Oregon. How to get there, what to do, and more you will find in our Ultimate Guide to Alvord Desert Oregon.
This article may contain affiliate / compensated links. For full information, please see our disclaimer here.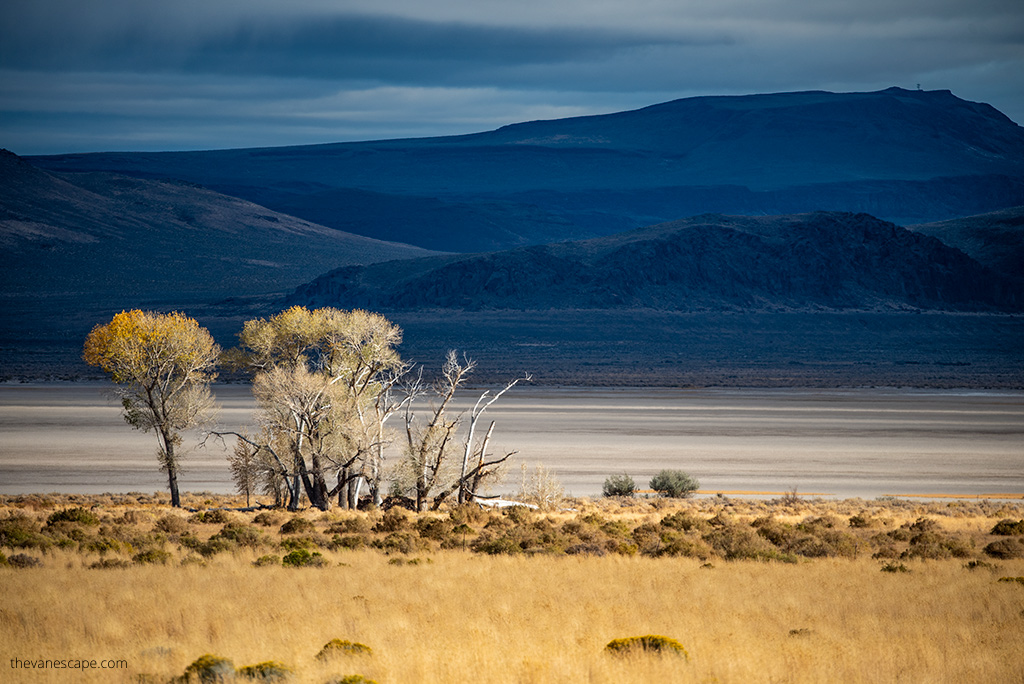 Facts about Alvord Desert
The Alvord Desert is a remote desert located in Harney County, in southeastern Oregon. The closest town is Burns. At the west of the desert is Steens Mountain looming over the lake bed, which makes a fabulous backdrop.
The Desert lies at an elevation of about 4,000 feet (1,200 m).
In the past, it used to be a lake extending over 100 miles but it dried up.
Now, the Alvord Desert is 12 miles long and 7 miles wide (19 by 11 km) dry lake bed. This desert landscape is now known as what is called a Playa.
It's the driest place in the state, with averages of 7 inches (180 mm) of rain a year.
It's the most isolated and unique land formation in Oregon. It is s dry because two mountain ranges separate it from the Pacific Ocean—the Coast Range and the Cascade Mountains with Steens Mountain.
Alvord Desert Oregon is a perfect place for an outdoor adventure for hiking, camping, star-gazing, and soaking in eclectic and rustic hot springs.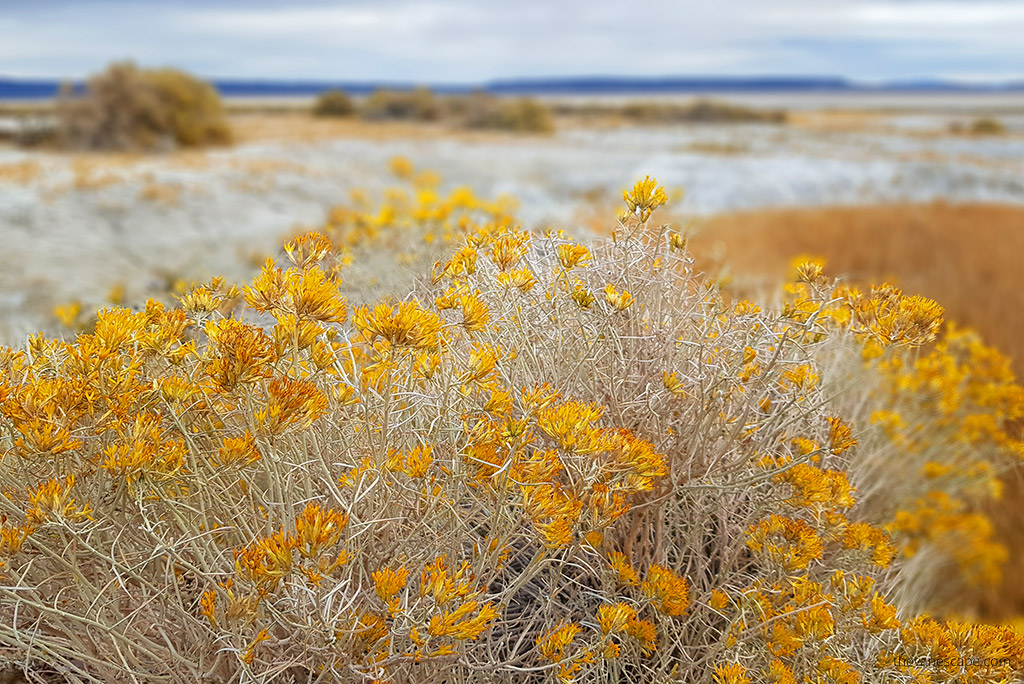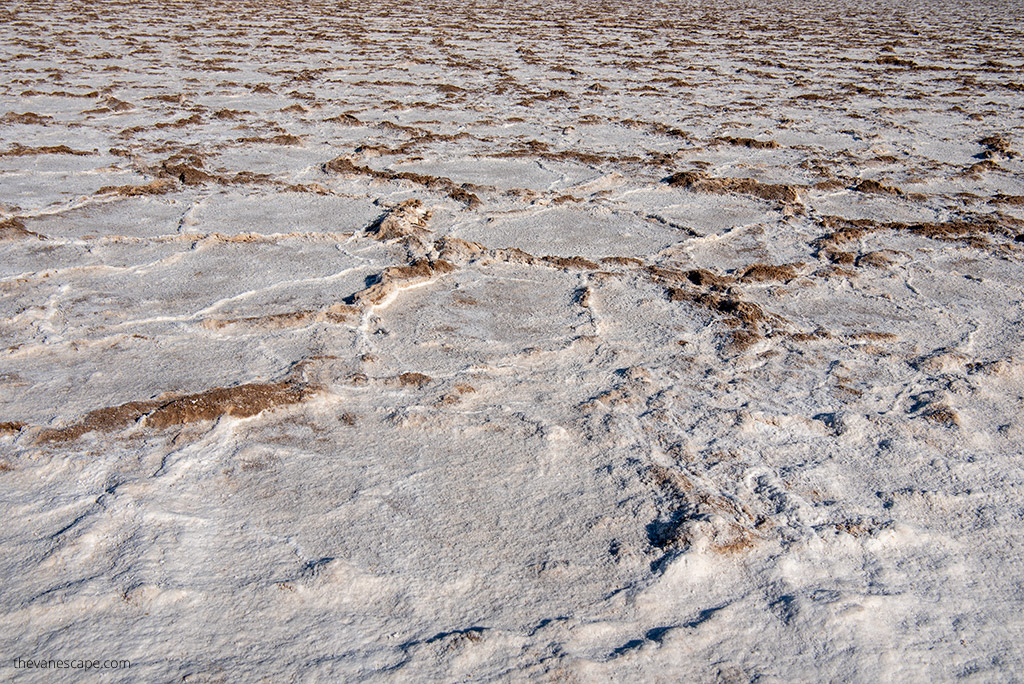 How to Get To the Alvord Desert?
First of all, you need to know that the Alvord Desert is a remote, isolated area. Moreover, there is no coverage most of the time, so you should take a good paper map, and a good GPS. Before you go for the trip, fill up with gas, there are no services on the road for a long time. If you will explore the area for a few days, it is worth taking an additional gasoline canister.
Gas stations
You will find gas stations in Burns. Then after Alvord Desert Oregon south toward the Nevada border, at Fields. The gas station in Frenchglen is only open during the summer.
How to get from Burns or from Fields to Alvord Desert?
You can get to Alvord Desert Oregon via the Fields-Denio Road from either Burns if you're coming from the north, or the town of Fields if you're driving up from the south (close to the Nevada border).
It is about 40 miles on unpaved Fields-Denio Road from Highway 76. From the south, it is 23 miles on Fields-Denio Road. You can drive onto the Desert from several different dirt access roads, one of which is the road from Alvord Hot Springs. Access to the Desert cost $10 from this road. If you stay overnight at their campground, you don't have to pay to enter the desert.
But you can also take one of the public roads. Frog Spring entrance is a free entrance about 2 miles before Alvord Hot Springs.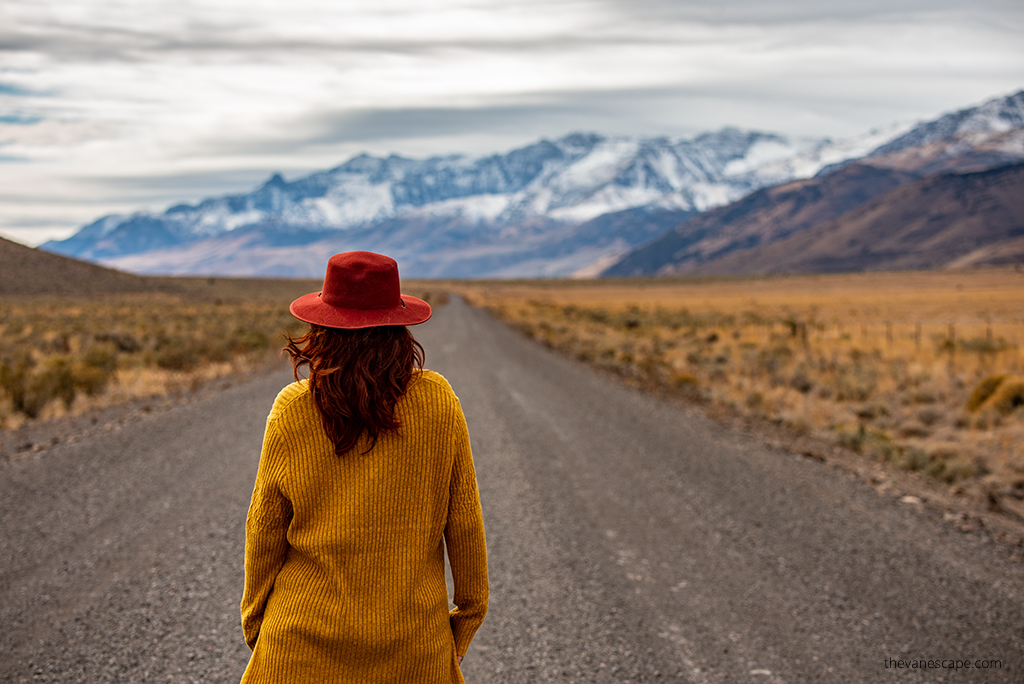 How to get from Bend to Alvord Desert?
From Bend you have 234 miles; 4 hours and 50 minutes driving. So, head east on US Hwy 20 toward Burns. Fill up with gas in Burns. Do your grocery shopping and buy more water, because it's the last place where civilization is. Continue straight/east on OR Hwy 78/E Monroe St toward Crane. After 64.6 miles, turn right onto Folly Farm Rd/Fields-Denio Rd toward Fields. After 11 miles the road turns to a gravel road. Then, after an additional 30 miles (5.6 miles past Alvord Ranch), turn left into the Alvord Hot Springs parking area. Or you can use the public Frog Spring entrance, 2 miles before Alvord Hot Springs.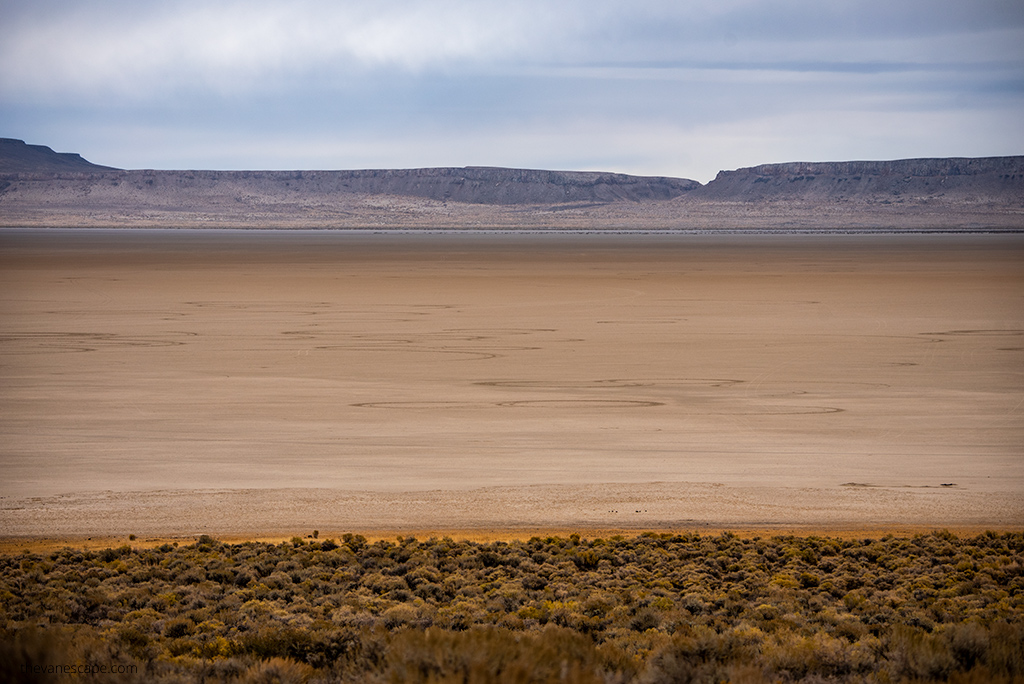 Alvord Desert Weather
What is the best time to visit the Alvord Desert? The Alvord Desert has a cold desert climate. Mountain ranges stop the rain in the area.
Winter temperatures in the Alvord Basin are moderated. Daily average temperatures are between 40 and 50 °F (4 and 10 °C). Rare temperature fails to 32 °F (0 °C). At night, the temperature falls between 20 and 30 °F (−7 and −1 °C).
Spring months have storm rainfall in April, May, and June. Cold overnight temperatures are between 30 and 45 °F (−1 and 7 °C), but days are much warmer, between 50 and 60 °F (10 and 16 °C) in early spring and 70 and 80 °F (21 and 27 °C) in late spring. Rainfall might turn the playa into a small lake, which makes travel across it difficult.
Summer has the hottest temperatures in Oregon. The heat begins by late June when reaches between 85 and 90 °F (29 and 32 °C). In July and August, the average daily temperature is between 90 and 100 °F (32 and 38 °C). Night temperatures during summer are between 50 and 70 °F (10 and 21 °C).
Fall is the driest time of the year. Temperatures during the day are between 60 and 80 °F (16 and 27 °C). At night are between 40 and 50 °F (4 and 10 °C).
So, Spring isn't the best idea for a visit because of storms which make the desert sticky and muddy. The best season is Fall, the beginning of Winter, and Summer. But during Summer, prepare for the heat and bring plenty of water, and during Winter, take warm clothes.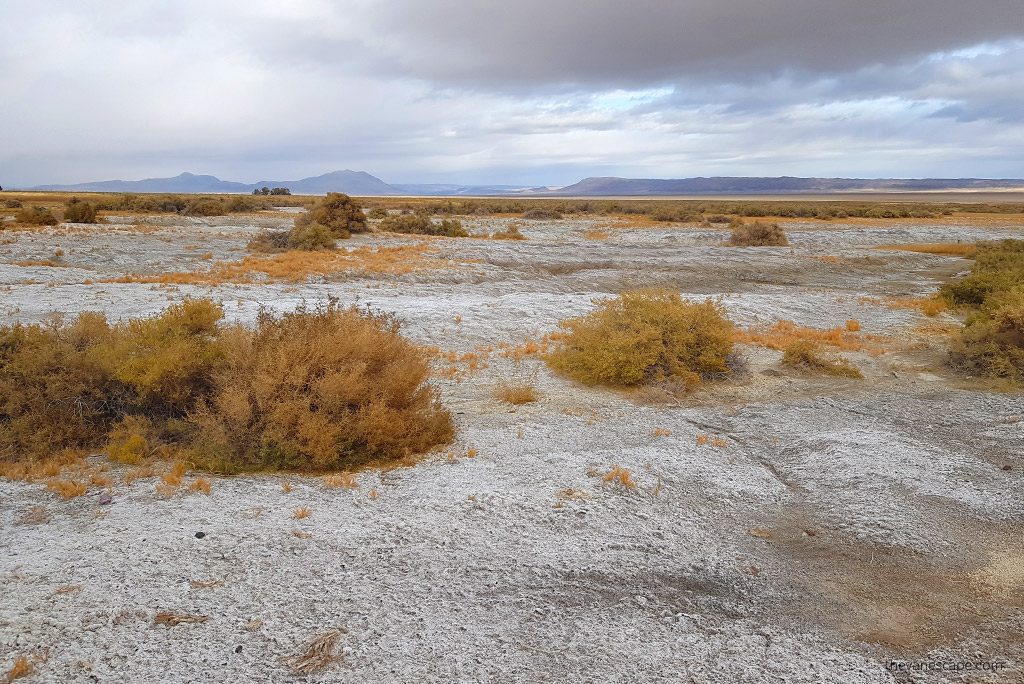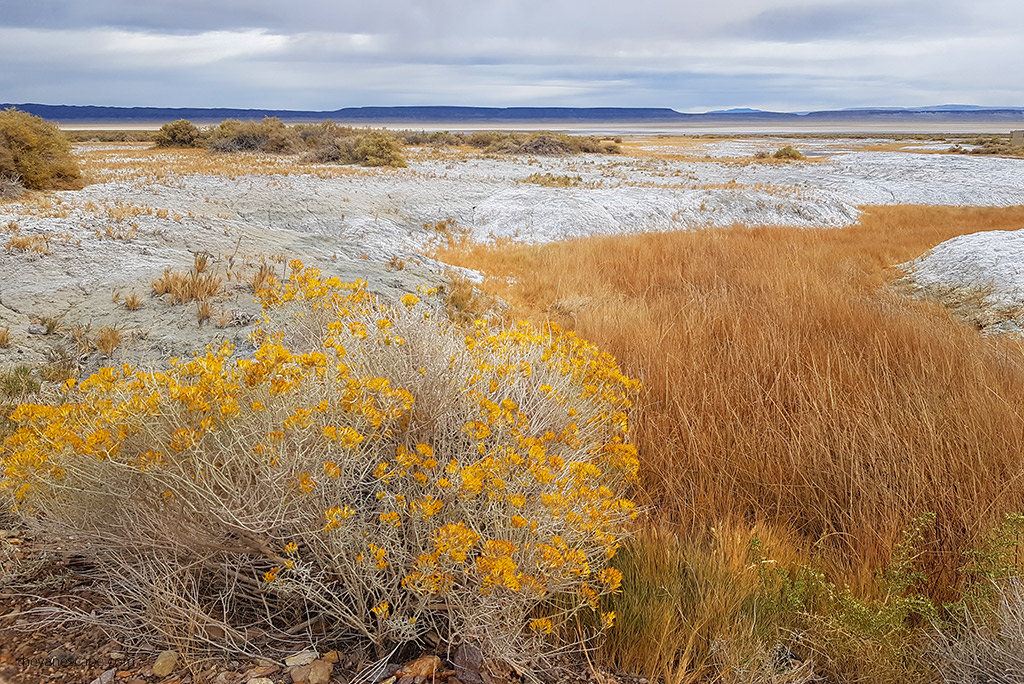 Things To Do In The Alvord Desert
Drive on the Playa
The Alvord Desert is mostly public land. So, you can drive, hike, or bike throughout the desert on public lands. Take a map with marked public lands so as not to enter private property. Fill your tank up with gas. It's recommended to drive from July through November, during the driest season. Another month's desert might be muddy. Always check the weather before you go on the trip. It's an unforgettable experience. It's like driving on the stark surface of the moon.
Camp on the Playa
You can camp on the Alvord Desert Playa for free. It's a great idea to stay overnight in the desert. But always check the weather before you go. If it's dry season, it's safe. But during even small rainfall, it might be dangerous. Water may flood your camp, or you can wake up in the mud. The Desert is generally dry for nearly two-thirds of the year.
Camping on the Alvord Desert Oregon Rules & Tips
You can camp on the Playa, but you must remember that the part of the west side of the desert is private property as well. Private lands aren't fenced, so keep a distance so that you don't trespass on private property. There are many ranches along Fields-Denio Road, so be careful of cattle on the road.
Remember that there is no phone reception, and no electricity, so pack an accurate map with marked public lands (we use & like this Oregon Atlas) and good GPS. We can recommend Garmin GPSMAP 64sx, which has proven itself well in many challenging conditions.
If you camp in the middle of the desert, there is no protection from strong wind and moisture. So, consider camping at the edge of the desert. Moreover, people like to drive wild on the Playa and may not see your camp until it's too late.
Check the weather forecast. If there is rain predicted, the road might be challenging even for 4×4 vehicles.
Campfires are not allowed. Respect this rule.
Respect this wilderness and LEAVE NO TRACE. Pack all your rubbish and all your feces. Desert does not have a toilet, and if you camp in a tent or a van without a toilet, pack all, including excrement. There is a bin and restroom next to the Frog Spring entrance, so you can use it. You can also consider taking a portable toilet. Which is an ideal solution if you love camping and van life, but don't have a bathroom in your van.
There is no cell service, so mark a point on GPS your localization and where you enter the desert. It's easy to get lost.
Keep an eye out for wildlife and other people. Be respectful of private properties and your neighbors.
Check if your car is capable of driving in the desert and possibly mud. The temperature differences might make the area wet. Large RVs can have a problem, especially between December and June. The roads to the desert are bumpy. 4 wheel drive vehicle is perfect for this adventure.
If you're entering through Alvord Desert Hot Springs, don't turn left onto the desert from the access road. It is a place where the hot spring water runs off, so it's a very muddy area, and there is a risk you stuck on it. So, drive straight for a while, and when you enter the desert, then turn where you want.
What to pack for a trip to the Alvord Desert in Oregon?
The temperature difference between day and night can be significant, so dressing in layers is the best idea. Thermal underwear for the night will come in handy. We like Merino 250 base layer, which is warm and pleasant to the body. Moreover, it helps maintain comfort, whether the climate is warm, cold, or in-between. Prepare for lower temperatures and wind even during summer.
Depending on whether you sleep in a tent or the car, take warm sleeping bags. You may also need an extra blanket, especially when there are strong winds at night, or you can use it in the desert to have a romantic dinner with stargazing.
The winds are intense, so if you stay in a tent, you should have a durable one.
You certainly do not need to be reminded of a small camping stove, camping cookware, mugs, and utensils. But if you want a special night and you want to surprise your partner, don't forget about camping wine glasses, a bottle of wine, and your partner's favorite snacks. We have been using these Stainless Steel Nesting Wine Glasses for several years. They travel the world with us and are great!
Waterproof hiking shoes with a perfect grip will be the best. The clay surface might be slippery and muddy.
A Flashlight or headlamp and extra batteries are a must. At night, mostly if the sky is covered with clouds, it will be completely dark.
Quick-drying towel & swimwear. Immersing yourself in the hot springs will be a wonderful experience after a night in the desert!
A first aid kit. It should be in the first place. After the documents, the first aid kit is the most important thing for us on every trip and even an easy hike.
Bring plenty of water. You never know what will happen, maybe water will be needed to help someone. Bring more water than you intend to drink. You are in a desert.
Food. Bring what you like and enjoy a romantic dinner under the star. But don't leave even a banana peel. The two grocery stores you will find in Burns. The nearest restaurant is in Burns and Fields Station.
You are on a desert, so everything you bring will get very dusty.
Admire Wildlife
This barren landscape is full of life. Wild horses sometimes drink from the springs on the eastern edge of the Alvord Desert. Around the Alvord Hot Springs are nesting long-billed curlew. Coyotes howling pierces the silence of the Desert.
You can see killdeer and snowy plover, and occasional American avocet. At Steens Mountain Wilderness are bighorn sheep, mule deer, and elk. If you like wildlife photography, or would you like to bring the background closer to the subject bring long lenses (we use Nikkor 80-400 and Canon 100-400), and take a solid tripod. The snow-capped peaks of the Steens Mountain range towering above a cracked desert floor are fabulous.
Relax in Alvord Desert Oregon Hot Springs
There are five springs in the Alvord Desert Oregon: Mickey Hot Springs, Tule Springs, Buckbrush Springs, Borax Hot Springs, and Alvord Hot Springs. However, Alvord Hot Springs is the only one that you can soak in and relax. We were charmed by this place, and we described it detailed in this post, so check more of our photos & how to get there here. It's private land, and it cost $10 per person to use soaking pools. It's one of the best outdoor adventures in the Alvord Desert. Don't forget a quick-drying towel. Swimwear is optional.
There is also a free hot spring far away from the Playa: Willow Hot Springs. It's one small natural pool located 35 miles southeast of Fields. GPS coordinates are 42.275 x 118.265. But it's not as eclectic and rustic as Alvord Hot Springs. There is no rustic charm.
Go For a Hike or Take a Drive To Steens Mountain
You can walk through the Alvord Desert in Oregon, or you can go for a hike to Steens Mountain. There are a lot of hikes in the Steens wilderness, but you must have a permit. You can buy your Day Use Permits for Hikes on the private property owned by Alvord Ranch. It would help if you stopped by their office to buy a permit.
Steens Mountain is the highest mountain in Eastern Oregon however it is very little known; the elevation is 9,733 feet (2,967 m).
You can take a drive along the 52 mile loop road which begins in Frenchglen. There are fantastic views from the Kiger Gorge lookout or from the East Rim lookout. The loop is the highest road in Oregon, reaching almost 10,000 feet near the summit of Steens.
Visit Diamond Crater
On the way south from Burns, you can stop at the Diamond Craters, which is a 27-square-mile basaltic volcanic field with basaltic lava flows, cinder cones, and a giant gaping crater you can walk around and into.
Alvord Desert Camping
If you want to find Alvord Desert camping, one of the best is Alvord Hot Springs Camping, which we described in this related post. You can book it on the camping website. They offer also bunkhouses, so check it. The Steens Wilderness has also a few campgrounds.
Alvord Desert Oregon – Lodging
If you don't want to camp on the Alvord Desert, you also have a few hotel options nearby, but it requires some driving. In our opinion, Burns is a great place. There are several hotels to stay in. You can also stay at Crystal Crane Hot Springs Resort in Burns.
There is also Frenchglen Hotel (70 miles from the desert).
If you're planning a trip to Oregon, please check out some of the other great places we describe in related posts: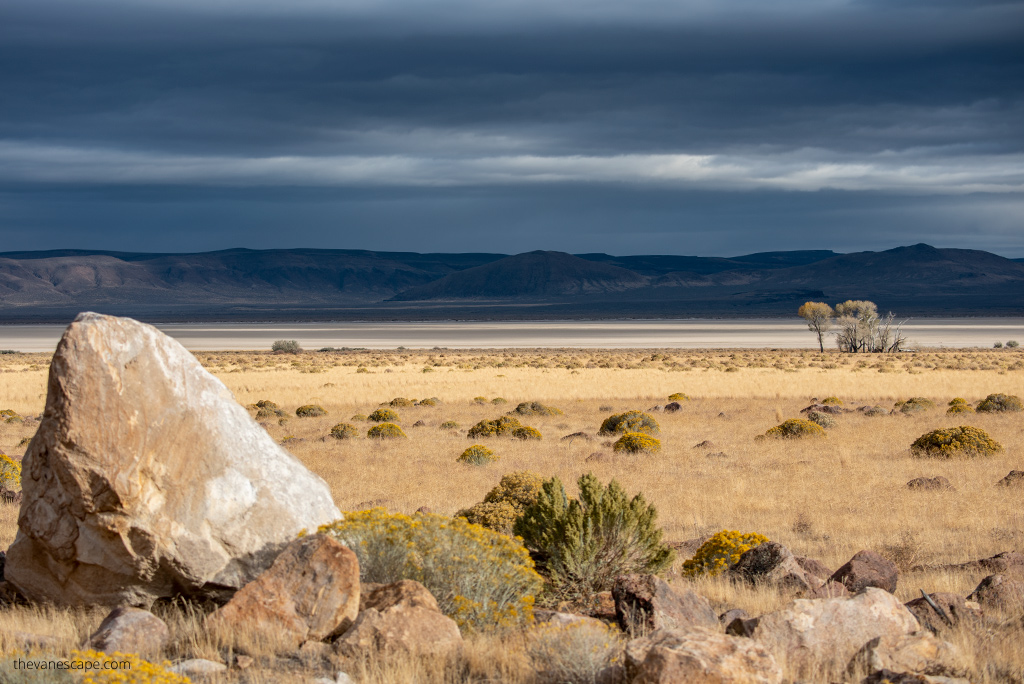 Do you like it? Pin it!