Guide to Umpqua Hot Springs in Oregon
Umpqua Hot Springs in Oregon is one of our favorites. Natural hot springs are addictive. Once you soak yourself in their warmth, especially in the beautiful scenery, you want to experience more and more hot pools. Umpqua Hot Springs in Oregon was the first thermal pool of water in the US. Since then, during our road trips, we have tried to check all the hot springs on the way. Umpqua is one of the best Oregon hot springs, for sure. Moreover, Umpqua Hot Springs is clothing-optional. So, what should you know before soaking in thermal pools? How to get there? How to prepare for the hike to Umpqua Hot Springs & what to bring? We share all the necessary hints in our Ultimate Guide to Umpqua Hot Springs in Oregon.
This article may contain affiliate / compensated links. For full information, please see our disclaimer here.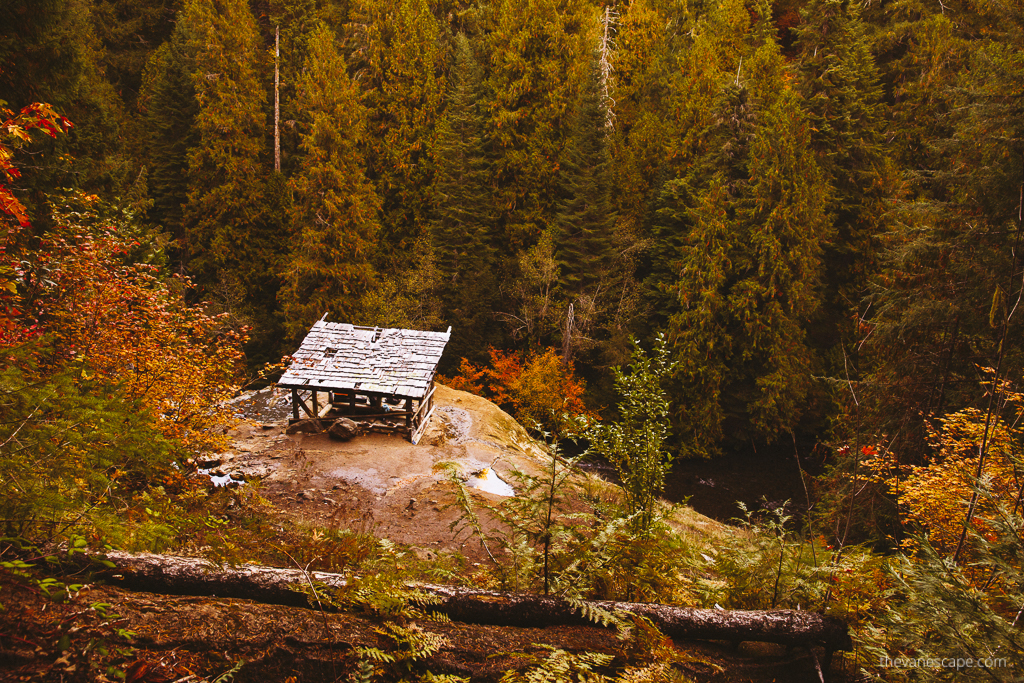 What is Umpqua Hot Springs?
Umpqua Hot Springs, aka Toketee Hot Springs, is one of Oregon's most photographed hot springs locations.
This set of 7 geothermal pools sits right on the edge of a rock face, spilling 108-degree water into the North Umpqua River below. The view is breathtaking. It's truly worth adding Umpqua Hot Springs to the Pacific Northwest bucket list! So, check out our essential tips for visiting Umpqua Hot Springs in Oregon.
Where is Umpqua Hot Springs?
Umpqua Hot Springs is located in the central Oregon Cascades in the middle of Umpqua National Forest between Roseburg at the west and Bend on the east. The closest town is Glide. These natural hot springs are a welcome stop on the 79-mile North Umpqua Trail, open to hikers, mountain bikers, and horseback riding. Other attractions in the area are Toketee Falls, Surprise Falls, and Misty Grotto Falls.
Touring Hot Springs Washington and Oregon
Scattered from the rainforests of the Olympic Peninsula to the dry desert lakebeds of the Alvord Desert, the hot springs of Washington and Oregon provide some of the most unique vacation opportunities in the western United States. This guide describes 40 of the regions best soaks, including firsthand descriptions of each soaking location, along with detailed maps and directions, best seasons to visit, and intriguing histories and legends.
Umpqua Hot Springs Directions
Situated 150 feet over the North Umpqua River and close to Crater Lake National Park, it is perfect for a stop during your Oregon holidays.
From Roseburg: it is about 60 miles east of Roseburg. You must take OR-138 east/northeast Diamond Lake Boulevard. Continue east on Highway 138 and turn left at milepost 59 onto Forest Road 34. At the bottom of the hill, turn left across the concrete bridge. Go 2.2 miles and turn right onto Forest Road 3401. Proceed 0.7 miles to a parking area on the left.
There is often no coverage, so take a paper map. We use and can recommend Oregon Road & Recreation Atlas. It is very informative and detailed. Thanks to this atlas, our trip was more interesting, as we could quickly learn what was nearby and plan. It's also a useful alternative to GPS maps when traveling.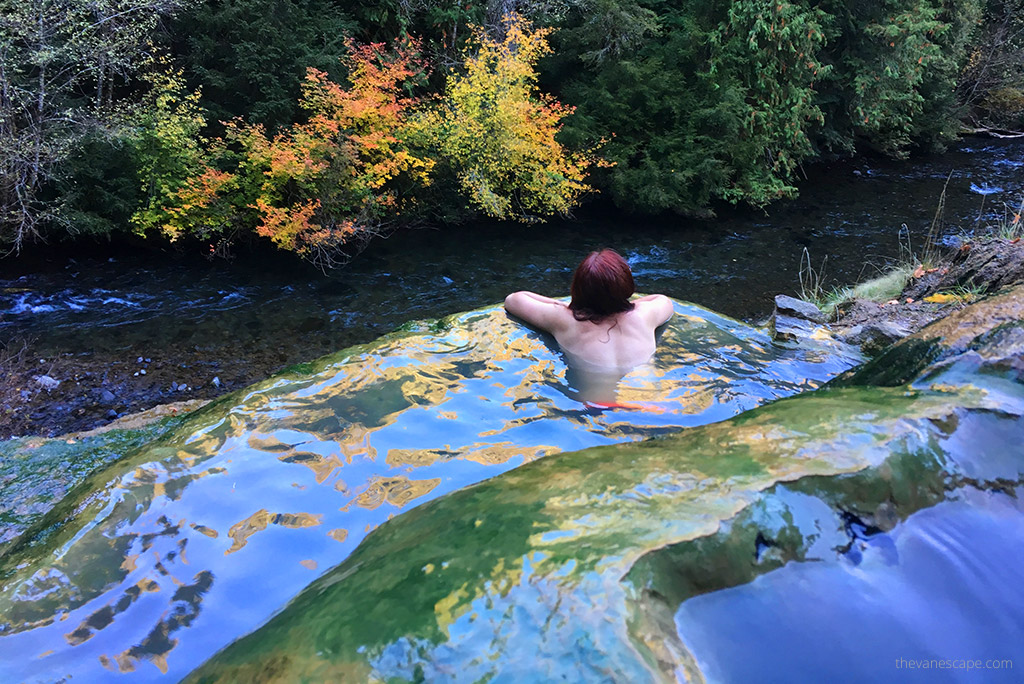 Umpqua Hot Springs Trailhead
GPS coordinates are Latitude 43.2956 N, Longitude -122.3613 W.
The elevation is 2,600 feet. The road to the parking lot for the Umpqua Hot Springs trailhead is made of dirt and gravel and full of potholes. So, drive carefully.
The car park is small for 10 vehicles, so it's better to arrive early in the morning to find a spot. A fee is $5/vehicle/day or Northwest Forest Pass.
So, don't forget to pay a $5 parking fee. Take cash and a pen. It is a day-use-only area.
Umpqua Hot Springs is year-round accessible unless there are dangers, such as fires.
Umpqua Hot Springs Contact
PROTIP: Before going, check the official Umpqua National Forest website to see if the area is open. The road might temporarily be closed due to bad weather conditions or threats like wildfires. You can also call the Toketee Ranger Station at +1 541-498-2531 to check if the area is accessible.
The gate to Umpqua is often closed during the winter season, so you must add additional 1.5 miles to reach the trailhead that leads to the hot springs.
It's only a composting toilet, two campsites, and picnic tables near the parking area. Garbage limited is disposal, so pack all your trash with you. The place becomes increasingly popular every year, so that it can be crowded. Unfortunately, some people do not clean up after themselves. Don't forget the garbage bags. So leave no trace & protect this amazing place.
There is no drinking water available so bring plenty of water with you.
Hike to Umpqua Hot Springs
If you want to enjoy the serenity of the hike, start it early in the morning. The scenery will be magical due to the fog above hot pools. You cross the bridge and venture through the deep woods when you get to the trailhead.
You must cross the footbridge over the North Umpqua River to the trail. Then turn right, and proceed 0.1 miles to a junction. Turn to the right and start to climb a steep trail for 0.2 miles. Hiking poles are handy in this area because it is humid, slippery, and muddy. You should wear shoes with a good grip or a waterproof climbing sandal that will allow you to immerse yourself in the hot springs later. At the next fork, turn right and climb a narrow trail for 0.2 miles. At the final fork, take the path leading uphill and to the left. Look for the wooden shelter over the hot pool.
The hike, while steep, is definitely short. It is a moderate, quarter-mile hike one way. It should take you 20 minutes to get to the pools.
However, when the gate is closed during the winter season, it is a 2-mile hike one way.
Clothing is Optional in Umpqua Hot Springs, Oregon
The key to pure relaxation is not being surprised. So, you should know that the place is clothing-optional. You have to be prepared that people in the hot springs might be naked or part-naked. No one stares at you or snickers, and no one expresses surprise. People come here to relax, to enjoy nature and breathtaking scenery. Nudity is something familiar, and folks in Umpqua Hot Springs want to feel this pure nature in all their senses. So, expect plenty of nudity. If you decide to stay in a swimsuit, it's also okay. It is acceptable, so go with whichever makes you comfortable. Just relax and feel free in your decision and respect others. Go with a sense of humor and appreciation for nature.
What to Pack to Umpqua Hot Springs?
Enter the water in water shoes or waterproof hiking sandals. It's slippery and dangerous there.
Bring a waterproof bag or waterproof backpack to store your mobile, documents, camera and dry clothes! This area is naturally wet, but the area around the pools is even wetter.
Bring plenty of water to keep you hydrated. The pool water temperature can be 105-108 F, so be careful not to dehydrate.
Take some snacks. However, remember to take all the rubbish with you. So, pack a trash bag.
Don't forget a quick-drying towel. You don't want to catch a cold after getting out of hot water into cold air.
The temperature differences after leaving the hot pools are vast. Therefore, it is worth packing thermal underwear and extra dry clothes, and extra pair of dry socks.
A hat and a scarf might be useful too.
If you are going in autumn or winter, a thermos with hot coffee or tea will also be perfect when you finish your bath.
Soak in The Umpqua Hot Springs
The wooden shelter protects the main pool from the elements. The main pool sources hot water from the spring beneath the hillside to the rest of the pools. It is 3 feet deep. Six smaller and shallower pools are on the hillside. They are terraced down toward the river. The water from the upper pools flows through the lower ones, which means that the higher pools are both warmer and cleaner.
The water temperature is 108 °F (42.°C)
On slopes and in cascades between pools, it is very slippery. It is easy to trip, so wear water shoes or waterproof hiking sandals with a good grip. Wearing proper shoes will also prevent you from accidentally stepping on broken glass or garbage.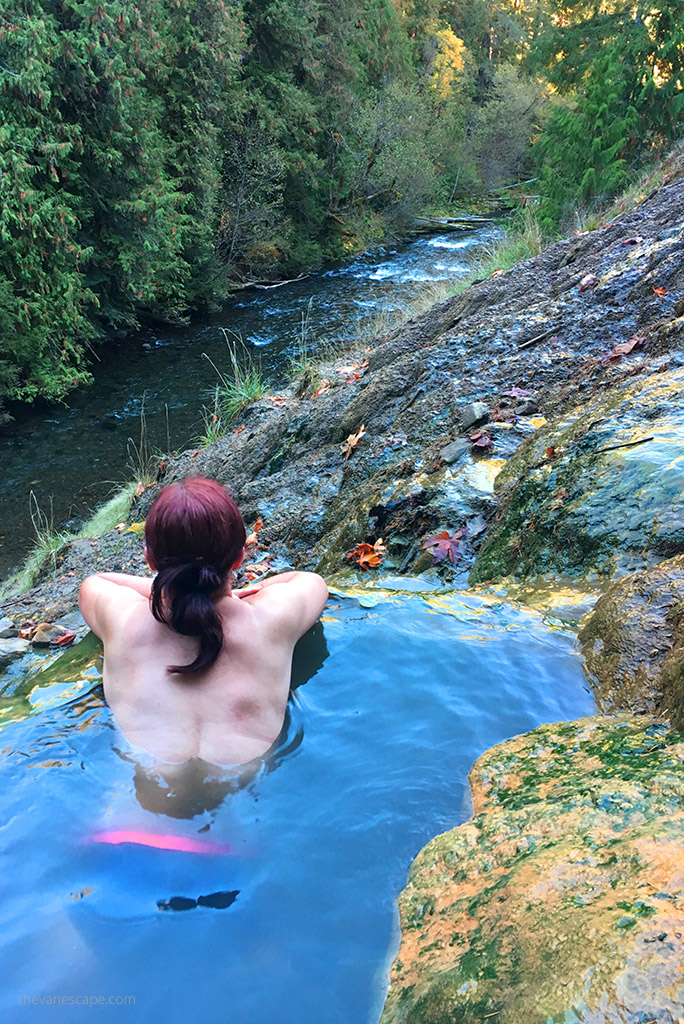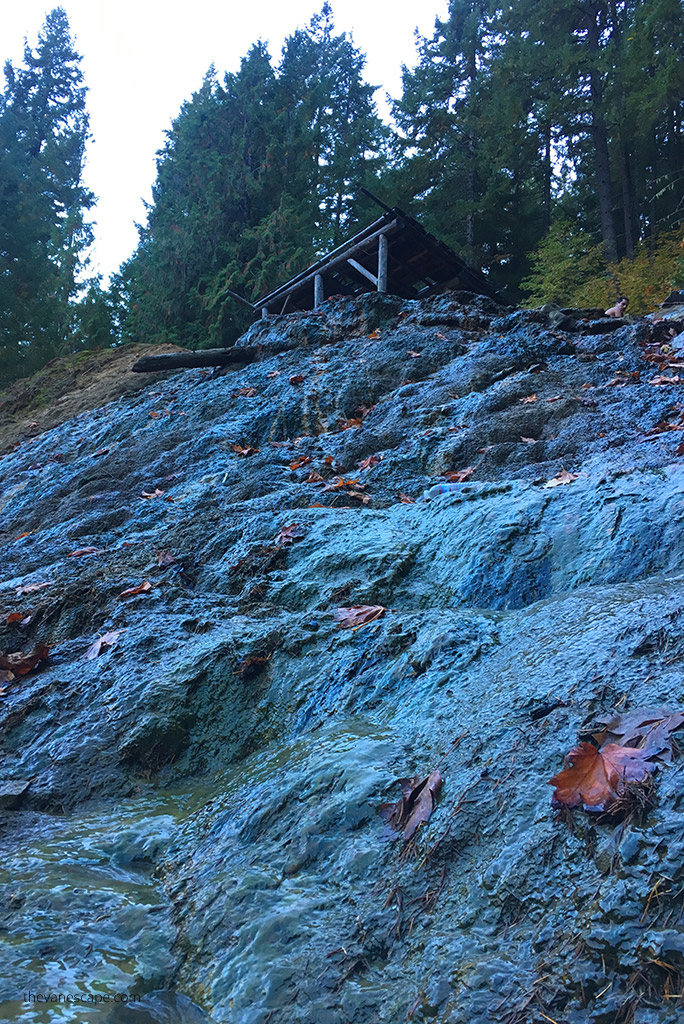 Umpqua Hot Springs Etiquette & Tips for Responsible Hikers
Leave No Trace in Umpqua Hot Springs
Respect this place and take away all your rubbish. Keep things clean.
It happens that irresponsible folks leave garbage, cans, and bottles. Be responsible and clean up. Don't leave any food waste, not even the banana peel. So, bring a trash bag and pick up left-behind trash. Don't bring a glass. Broken glass in a pool can seriously injure someone.
Keep it Clean
Don't use cosmetics in the pools—even the biodegradable kind. Don't use soap or shampoo. Natural springs and connecting waterways cannot support cosmetics. So respect this.
Keep Quiet in Umpqua Hot Springs
People want to soak themselves in hot springs, relax, and admire nature. So, everyone should respect of the serenity and no one should be too loud.
Be nice to other people.
Be Open Minded
If you do not like nudity, choose other hot springs. Please do not comment on the appearance of other folks. Be respectful. If you're taking pictures, don't photograph naked people. The place became popular, so you will probably share the pool with other visitors. If you want to be in the pool, try going there at dawn or in the low season.
Use a Pit Toilet
There are vault toilets available, so please use them. It is terrible and disgusting that folks leave their human waste somewhere else than toilets.
Take Care of Your Dog
You can take your dog on this hike as long as it is on a leash. When you get to the hot springs, you also have to keep it on a leash. Your dog should not disturb others relaxing in the pools. Respect that not everyone wants to be friends with your pet. People hike here for serenity and to enjoy nature.
And most importantly, clean up after your dog.
Do Not Camp Next to Pools in Umpqua Hot Springs
Remember that this place is open from sunrise to sunset day use only. It is forbidden to camp because people destroyed this area and left trash. You can't stay overnight at the parking lot too. So, if you want to camp, choose the quiet and beautiful Toketee Lake Campground, located just four miles down the road.
TRIP TIP: Want to see and soak in more Oregon hot springs? Check out our posts about Alvord Hot Springs in the Oregon Desert and Crystal Crane Hot Springs. Or buy this amazing Touring Hot Springs Washington and Oregon!
Umpqua Hot Springs Lodging
Toketee Lake Campground
Toketee Lake Campground in the Umpqua National Forest is the only camping near Umpqua Hot Springs. It is a dry campground with vault toilets, no electricity. You must bring your water. There are 32 sites available by reservation only. The maximum vehicle length is 30 feet. It costs $10-15 per night. You can make a reservation at the Toketee Lake Campground website.
How to get there?
From Roseburg, OR, travel east on OR-138 East /NE Diamond Lake Boulevard for 59 miles, turn left onto Forest Road 34. Keep left at the bottom of the hill and cross the bridge. Proceed 1.5 miles to the campground entrance on the right.
Camping near Umpqua Hot Springs
If you need a campground with water, electricity, a dump, and other amenities, we recommend Rising River RV Park in Roseburg. It is a friendly, family-run park on the bank above the Umpqua River.
Another one is a Seven Feathers RV Resort in Canyonville. They offer dining, wine-tasting tours, a spa, pool.
Another great camping is Diamond Lake.
Hotels near Umpqua Hot Springs
If you need a hotel, you will find the best offers in Roseburg, Bend/Sisters, and the Crater Lake National Park area.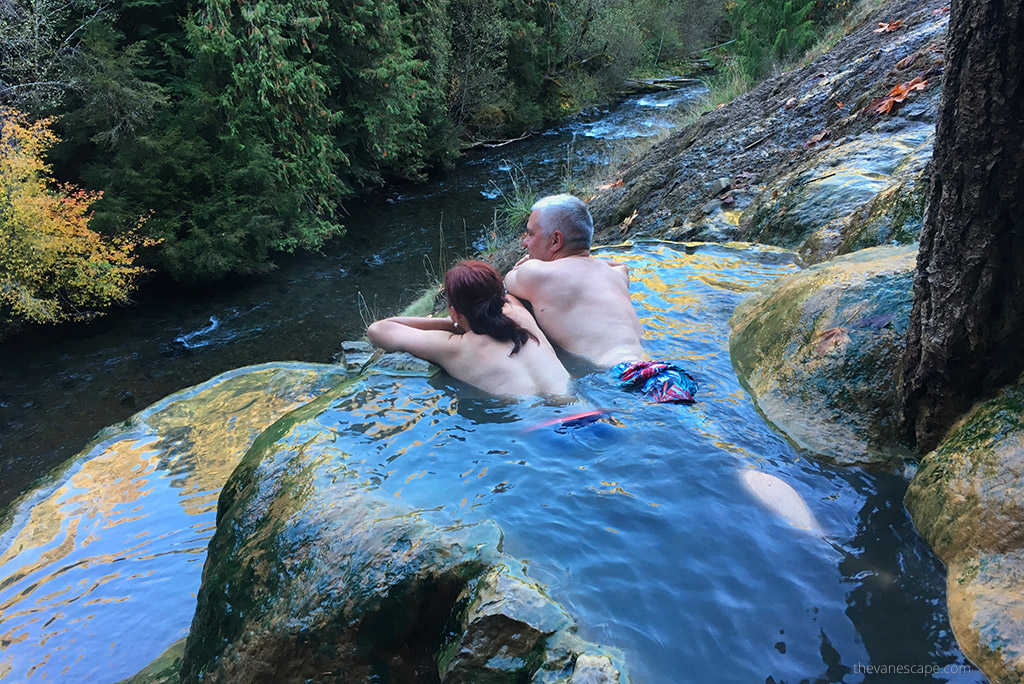 Oregon Hot Springs Map
Are you a fan of natural hot pools like us? Would you like to experience more hot springs? We like to immerse ourselves in their water, especially during the colder months. We often arrange our road trips in such a way as to reach as many hot springs as possible. So, if you like hot springs too, we recommend the following books, which contain maps and detailed descriptions of directions that will help you get to the real hidden gems of Oregon's forests and a desert. These books help us plan our road trips.
So, Touring Hot Springs Washington and Oregon is a must-have for hot springs fans. It featured over forty of the best hot springs in the Pacific Northwest remote wilderness hot springs and spas. You will find detailed directions, maps, and descriptions of each hot pool.
The other one we love is Hiking Hot Springs in the Pacific Northwest: A Guide to the Area's Best Backcountry Hot Springs. Because it also describes hot springs in Idaho and British Columbia. It lists over 162 unique hot springs and over 80 amazing hikes—well-documented book with good descriptions, advice, and tips. We still have dozens of places on our bucket list with this guide. So, If you want to find the best and the hottest springs in the Pacific Northwest Region, this book is number one.
| | | | |
| --- | --- | --- | --- |
| | | | |
| Hiking Hot Springs in the Pacific Northwest | Touring Hot Springs Washington & Oregon | Hot Springs and Hot Pools of the Northwest | Hot Springs and Hot Pools of the Southwest |
| View Item | View Item | View Item | View Item |
If you're planning a trip to Oregon, please check out some of the other great places we describe in related posts:
Are you a fan of hot springs? So, check out our favorite hot springs in Nevada: Spencer Hot Springs, and Arizona: Natural Arizona Hot Springs.