Alvord Hot Springs Ultimate Guide
Most travelers focus on the beautiful green coast of Oregon. Hardly anyone knows and reaches the remote Alvord Desert in Oregon. And even fewer people know that there are Alvord Hot Springs in this wilderness, far from the beaten track, far from civilization. Alvord Desert Hot Springs is a hidden gem of Oregon. The road is long and challenging but worth your effort. So, check out our essential tips on how to prepare for this adventure. In our Ultimate Guide to Alvord Hot Springs in Oregon Desert, you will find how to get there, and what to expect.
This article may contain affiliate / compensated links. For full information, please see our disclaimer here.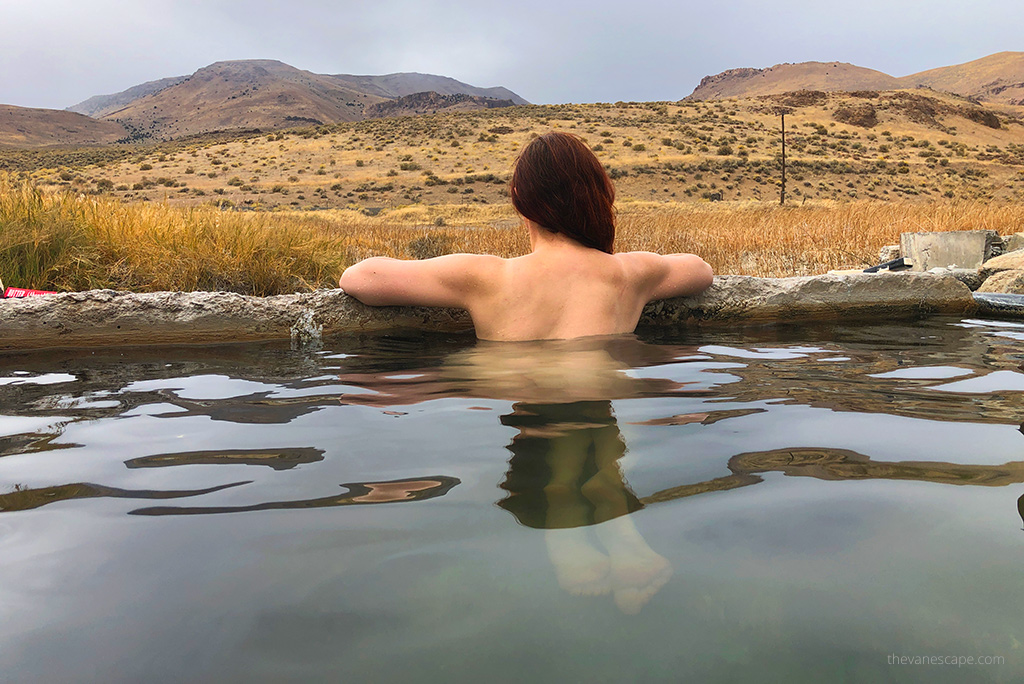 What is Alvord Hot Springs?
It is a geothermal spring located in Harney County in southeastern Oregon, on the western edge of the Alvord Desert into which the spring flows and, in the end, evaporates. To the west of the springs is Steens Mountain Range. Alvord Hot Springs lies at 4,078 feet (1,243 m) elevation. The closest know attraction is Crystal Crane Hot Springs near Burns.
Two concrete pools offer a simple rustic structure, desert air & mountain view. When you are soaking in the hot pools of Alvord Hot Springs, you can feel the serenity and the spirit of the old days.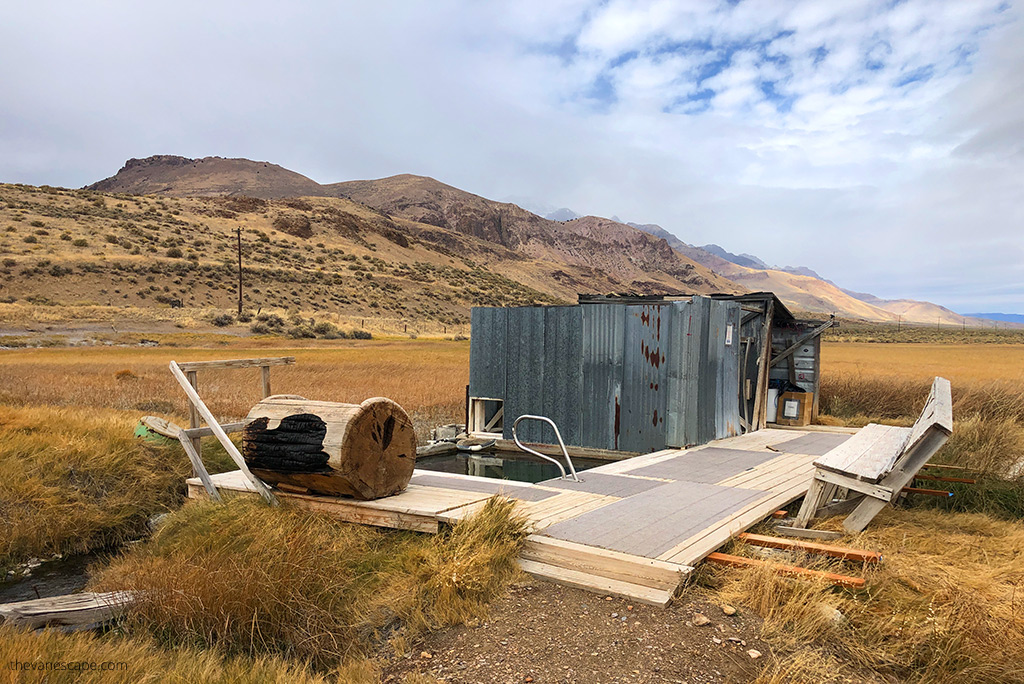 How To Get To Alvord Desert Hot Springs?
First of all, you need to know that Alvord Hot Springs is located in the middle of nowhere. It is a remote Alvord Desert area. Moreover, there is no coverage most of the time, so you should take a good paper map or GPS. Before you go for the trip, fill up with gas, there are no services on the road for a long time.
You will find gas stations in Burns. Then heading south from Alvord Hot Springs toward the Nevada border, at Fields. If you are in Burns, stop also at Crystal Crane Hot Springs.
From Bend is 237 miles, and driving takes you about 4 hours. Take US-20 E to Burns and then in Burns, turn Highway 78 (OR-78 E) until Folly Farm Road and take it south for 43 miles. This road turns into Fields-Denio Gravel Road. It is a dirty, gravel road, so be prepared for a slow ride.
If you are going from the south – from Fields, drive 23 miles north to reach the signed Alvord Hot Springs.
Even though the road is quite long and challenging, the views are fabulous. The Steens Mountain Range and the Steens Mountain Wilderness will run along one side. On the opposite side, you will have the emptiness of the Alvord Desert.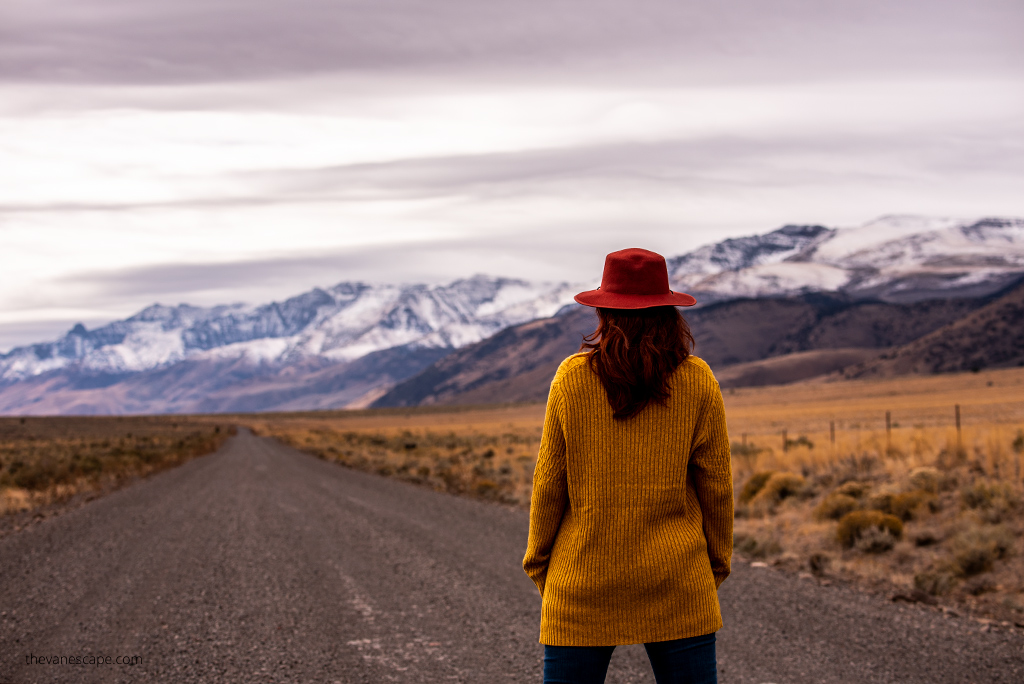 Alvord Hot Springs Rules
Fees
The place is the private property of the Davis family. There is a small reception with the store where you must pay for your visit. It's open during normal business hours.
Day-use admission was $10.00 per person during our visit.
Children under 12 and all US Military – Soak Free.
Small General Store sells drinks, ice, bath towels, propane, and bottled water. There is also a restroom next to the store.
The Soaking Pools
There are two soaking pools side by side. They were built in the 1940s and were modernized since then over the years. One is under a simple shelter, and the other is open to the elements.
Rectangular concrete soaking pools are 3 feet (1 m) deep. One is 25 by 50 feet (7.5 x 15 m), and the second pool is 10 by 20 feet (3 x 6 m).
All construction is straightforward & rustic with corrugated sheet metal and wood elements.
The water comes out of the ground at 174 degrees F (79 °C) and gets cooled when mixed in the soaking pools. Both pools seasonally fluctuate between 100-110 degrees. The average water temperature is 105.0 °F (40.5°C). Moreover, there are two pipes feeding water into the pools one is hot and one cold. So, you can control the temperature of the water to feel comfy. The smell of sulfur, characteristic of natural hot pools, is very delicate and does not interfere with soaking.
There is a tiny changing room with a bench where you can leave your belongings next to hot pools. There are also outside benches by the pool.
Clothing Optional Hot Springs
Twin pools are separated from each other with a sheet of metal and wood, so you can't see your neighbors. But if more people come at the same time, you have to share the hot pool with them. Swimwear is optional. It depends on you and others whether you want to bathe naked or in a swimsuit. Just be respectful and polite. We soaked naked and enjoyed the view of the Alvord Desert and Steens Mountain.
Be Aware of Hot Pools Capacity
Concrete tank pool capacity is limited. It can fit 2-6 people in one pool. If there are more folks, it is worth waiting to respect the space of other people.
Keep Quiet & Be Open Minded
People want to soak themselves in hot springs, relax, and admire nature. So, everyone should respect the serenity and no one should be too loud.
Be nice to other people. If you're taking pictures, don't photograph naked people.
Keep it Clean
Don't use cosmetics in the pools. Even the biodegradable kind. Don't use soap or shampoo. Natural springs and connecting waterways cannot support cosmetics. So respect this.
Leave No Trace
Respect this place and take away all your rubbish. Don't leave any food waste, not even the banana peel. So, bring a trash bag and pick up left-behind trash.
What to pack?
Unlike Umpqua Hot Springs, there is no challenging hike here. There is a simple flat path. And it will take you three minutes to walk from the parking lot to the hot pools.
So, don't forget a quick-drying towel. You don't want to catch a cold after getting out of hot water into cold air. There are large temperature differences in the desert.
Bring plenty of water to keep you hydrated. The water temperature in the pools can be 105F degrees, so be careful not to dehydrate.
If you are going in autumn or winter, a thermos with hot coffee or tea will also be perfect when you finish your bath.
Pack extra dry clothes and extra pair of dry socks.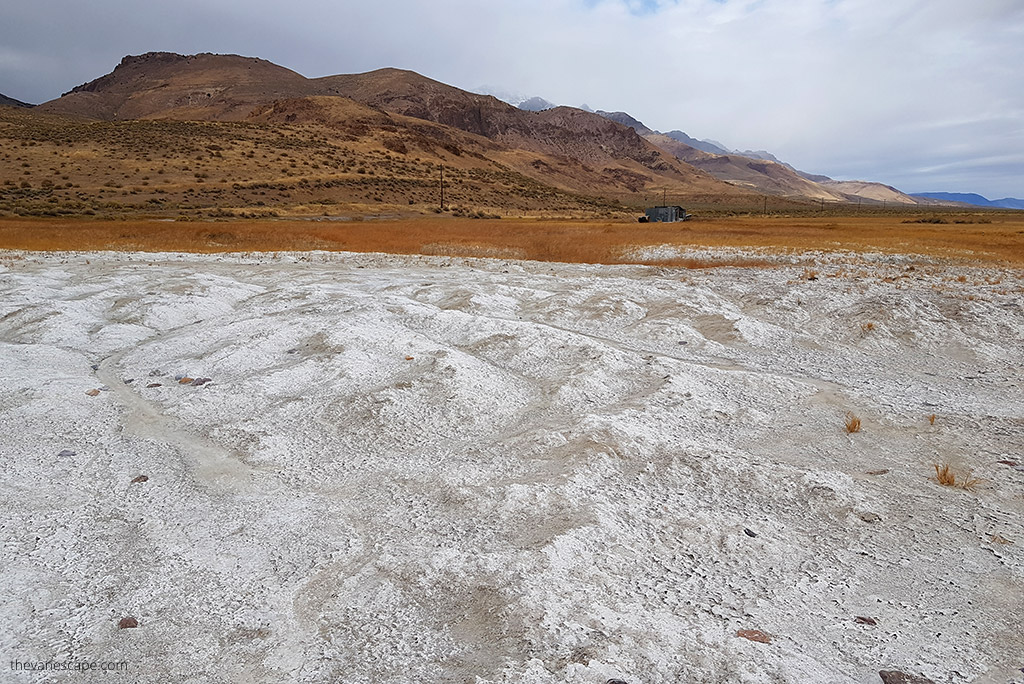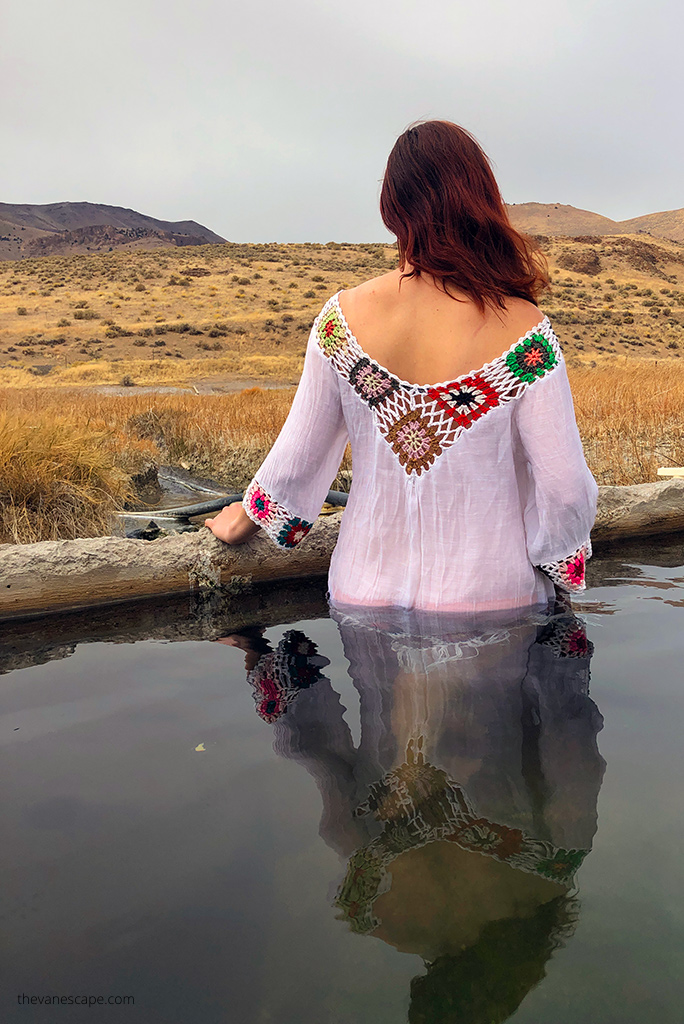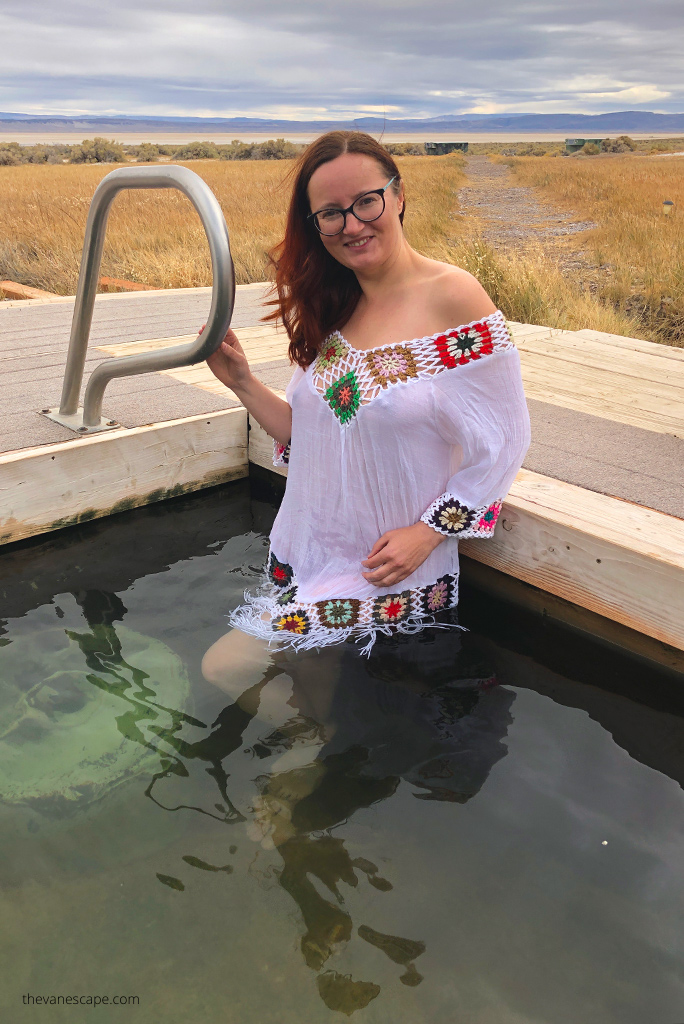 Alvord Hot Springs Camping
If you want to find Alvord Desert camping, there is one of them next to the Alvord Hot Springs. It's also private property. Campsites start at $50 per night. They have sites located close to the hot springs as well as throughout the property, allowing for a variety of settings. Most of their sites are located in a level gravel area and include a picnic table and a fire ring. Thay can accommodate RVs (no hookups). Check more details on the official website.
It is an excellent idea to stay there overnight. After a long drive, it's an ideal place to enjoy serenity and nature. It's only 8 campsites available, so it's worth booking it online, directly on the Alvord Hot Springs website. The amenities offered at the site include a parking lot, bathroom, showers, and a store.
Alvord Hot Springs Bunkhouses
Moreover, there are 6 simple bunkhouses you can rent for a night. But bedding is not provided.
Bunkhouse starts at $100 per night for 2 people and includes A/C.Can accommodate up to 4 adults. Check details, and the bunkhouses photo gallery, and book them on their website.
Oregon Hot Springs Map
If you like hot springs, Touring Hot Springs Washington and Oregon is a must-have for hot springs fans. It featured over forty of the best hot springs in the Pacific Northwest remote wilderness hot springs and spas. You will find detailed directions, maps, and descriptions of each hot pool.
The other one we love is Hiking Hot Springs in the Pacific Northwest: A Guide to the Area's Best Backcountry Hot Springs. Because it also describes hot springs in Idaho and British Columbia. It lists over 162 unique hot springs and over 80 amazing hikes—well-documented book with good descriptions, advice, and tips. We still have dozens of places on our bucket list with this guide. So, If you want to find the best and the hottest springs in the Pacific Northwest Region, this book is number one.
If you are looking excellent paper map to plan your Oregon road trip, we can highly recommend Oregon Road & Recreation Atlas, which we use. It is very informative and detailed. Thanks to this atlas, our trip was more interesting, as we could quickly learn what was nearby and plan our trip. There is also lots of information about less popular places. It's a useful alternative to GPS maps when traveling because, in this area, coverage is limited.
| | | | |
| --- | --- | --- | --- |
| | | | |
| Hiking Hot Springs in the Pacific Northwest | Touring Hot Springs Washington & Oregon | Hot Springs and Hot Pools of the Northwest | Hot Springs and Hot Pools of the Southwest |
| View Item | View Item | View Item | View Item |
If you're planning a trip to Oregon, please check out some of the other great places we describe in related posts: