10 Best Las Vegas Photo Shoot Locations
Check our 10 Best Las Vegas Photo Shoot Locations if you plan to visit this fabulous city! When you go to Las Vegas, usually, the reason is not to take pictures. But we treat Las Vegas not only as the capital of hazards in Nevada but also as a starting point to something more – Southwest travel and photography trips. Because Las Vegas is often on the way, why not check the Top 10 Places to Take Photos in Las Vegas? Las Vegas, like in fairy tales with thousands of colors, fountains, lights, and neons, is full of great photo spots. After many visits, we choose for you our favorite 10 best photo spots in Las Vegas.
This article may contain affiliate / compensated links. For full information, please see our disclaimer here.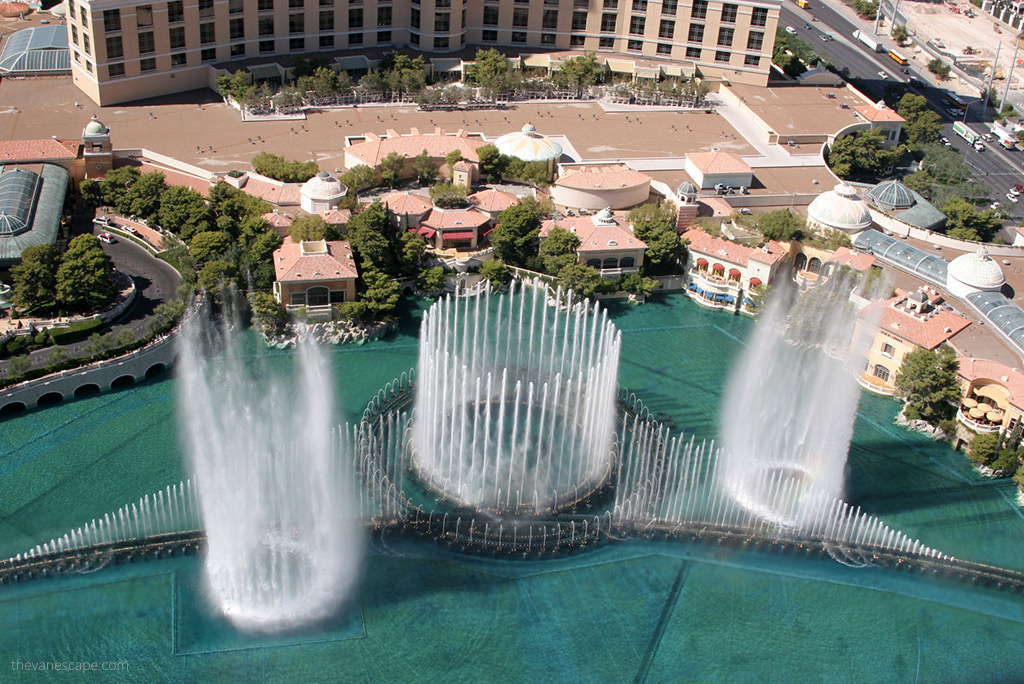 10 Best Las Vegas Shoot Locations – Introduction
We don't know how often we've been to Las Vegas because we stopped counting after ten visits. This city is an excellent base for an Arizona road trip or a Utah road trip, so we visit it often. And although we do not like gambling, we are never bored in Vegas. We take cameras in hand and photograph the city or go to a concert or show for which Las Vegas is famous.
This article shows you our top 10 Best Photo Shoot Locations in Las Vegas.
But if you are planning a visit to Las Vegas, Nevada, then we encourage you to check out our other related posts: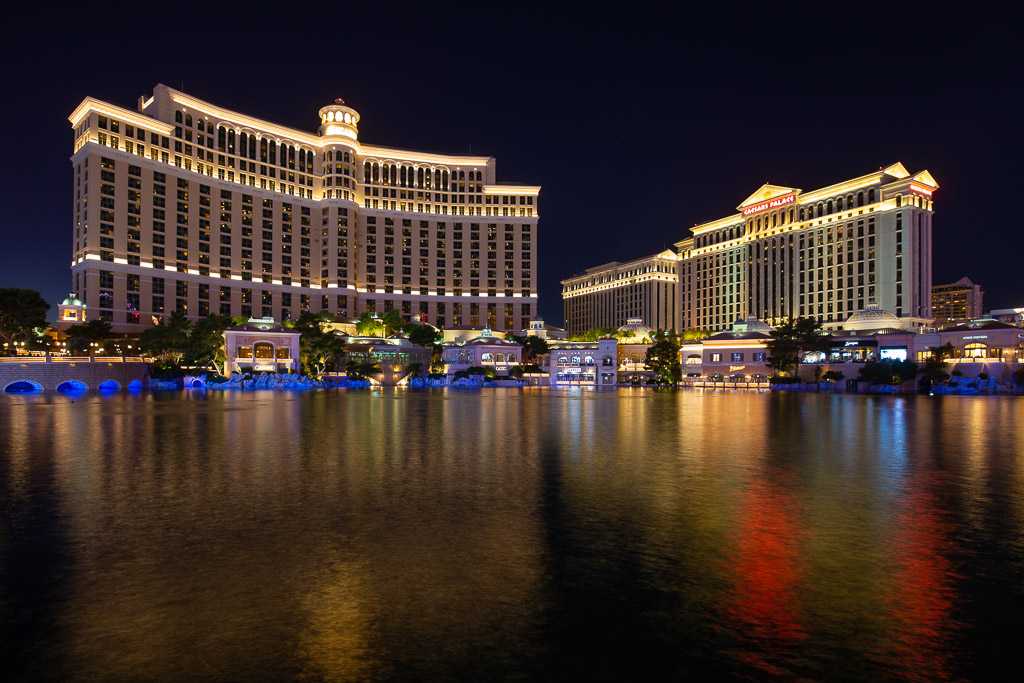 Top 10 Places to Take Photos in Las Vegas – a quick overview
Our 10 Best Las Vegas Shoot Locations, which we describe in detail below, are:
Eiffel Tower Viewing Deck
Bellagio Hotel
The Strip
New York-New York Hotel
Paris Las Vegas
Mandalay Bay Hotel
The Venetian Hotel
The Strip and Flamingo Crossroads
Encore and Wynn
Neons of Las Vegas Streets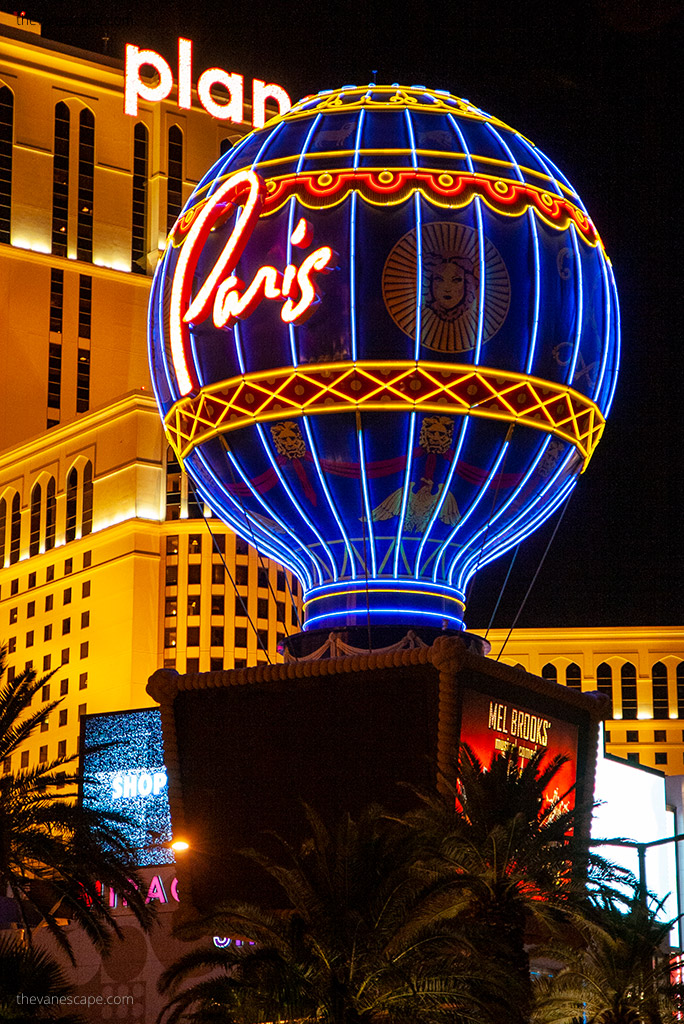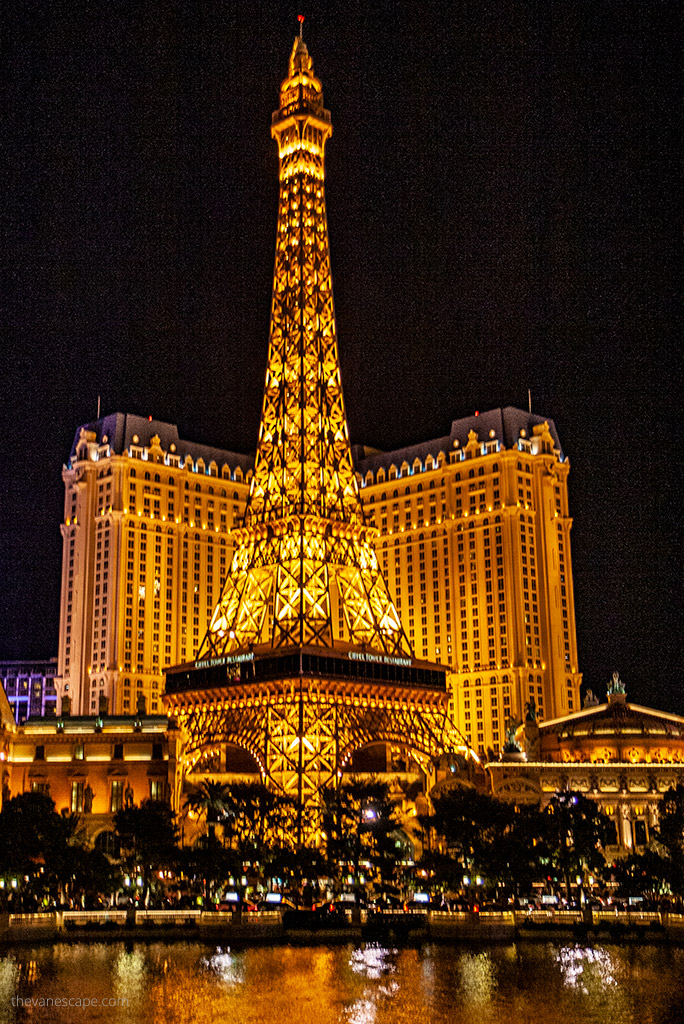 1. The Best Las Vegas Photo Shoot Locations – Eiffel Tower Viewing Deck
The Viewing Deck of the Eiffel Tower is our favorite photo spot location in Las Vegas. It gives you a great perspective and view of the spectacular fountains in the Bellagio Hotel and Las Vegas Strip from above. You must have a ticket to get there, so book it ahead, as the place is trendy. Fortunately, the price is affordable, as the views make you speechless.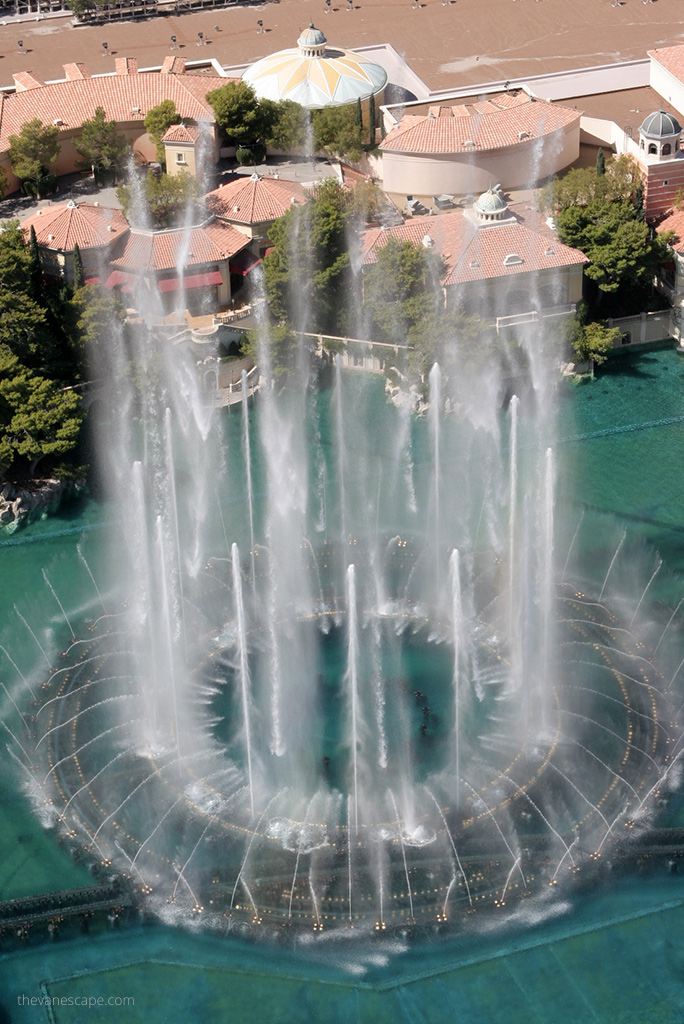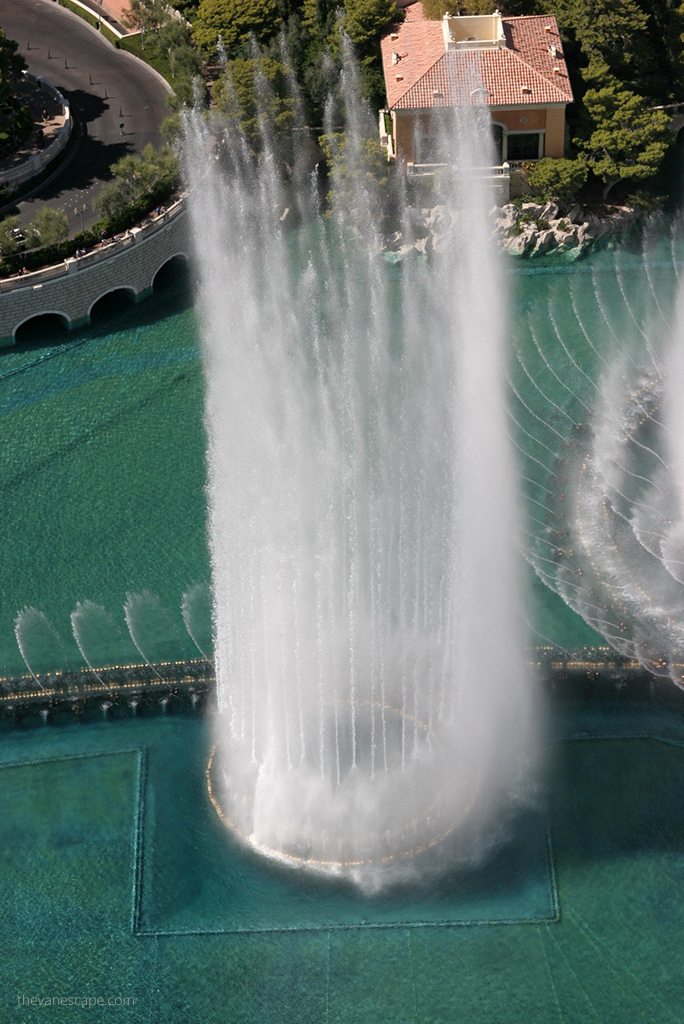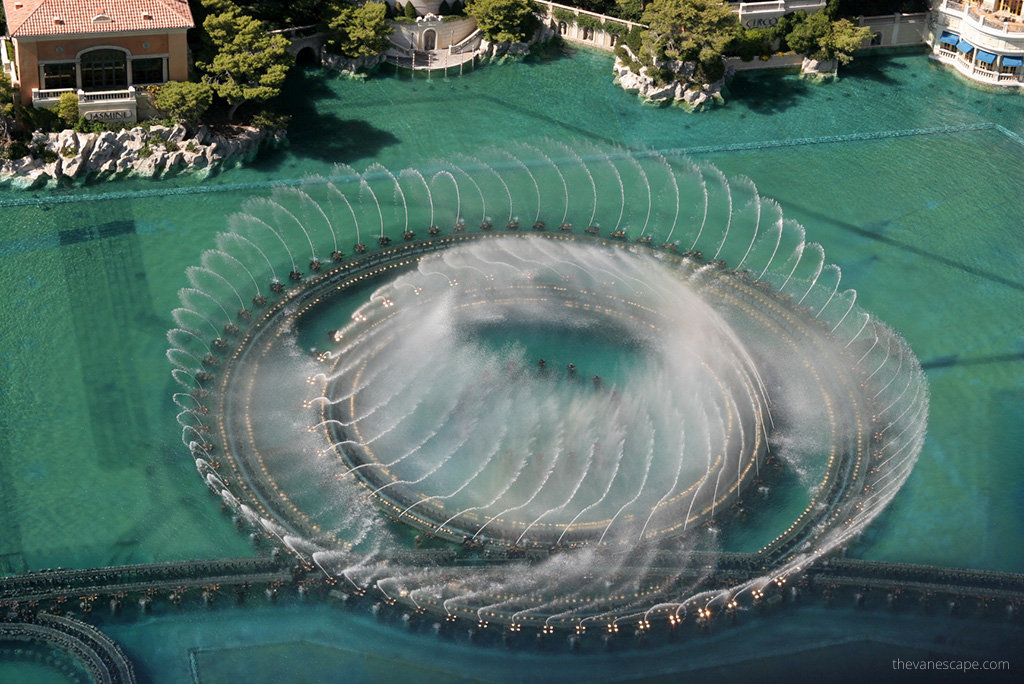 2. The Best Las Vegas Photo Shoot Locations – Bellagio Hotel
This hotel is probably the most overused photo spot in Las Vegas. But Bellagio Hotel deserves it. The fountain during the day or at night is still considered the most beautiful and sophisticated in the world. And with accompanying music, there is like a concert. You can stand there forever, waiting for another and another song. For a photographer, there is a couple of options to photograph the Bellagio Hotel with the fountains. First is very classic – just stand in front of the hotel with an ultra-wide lens and tripod and catch a symmetrical frame. Another idea is to catch a little bit of the Caesars Palace and have those two beauties in the frame.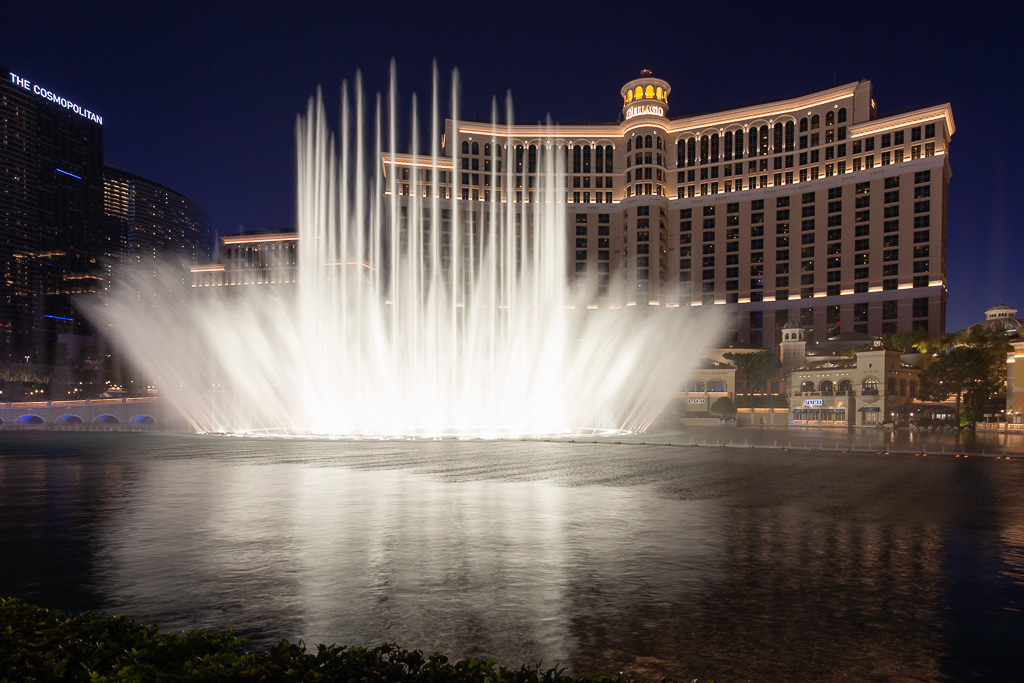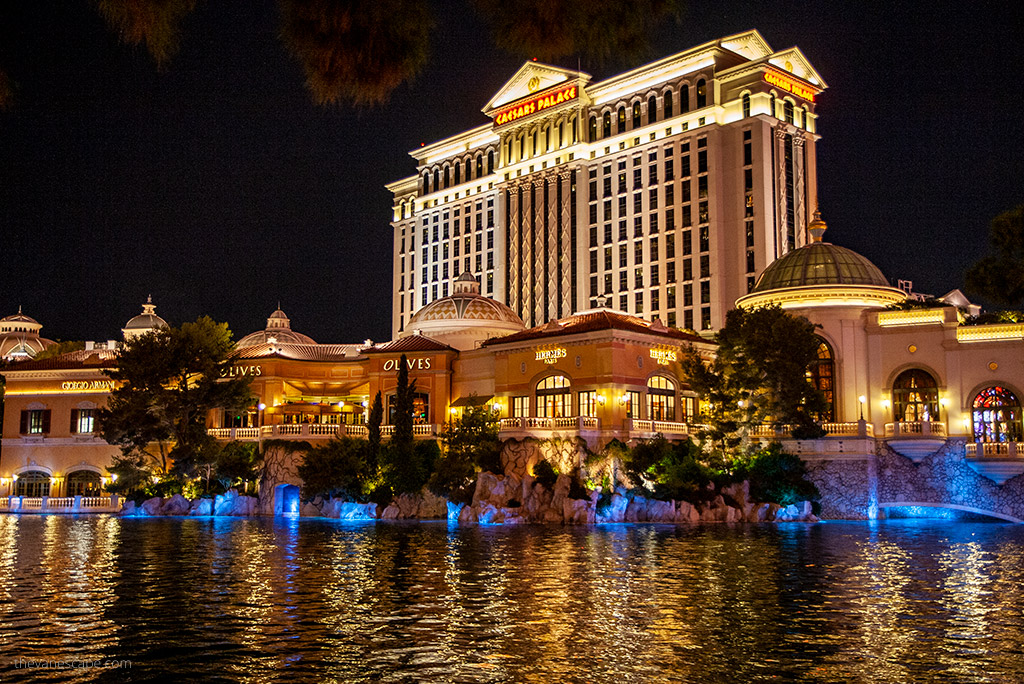 3. The Best Las Vegas Photo Shoot Locations – The Strip
The Strip generally is one of the best spots for Las Vegas photography. In the further part of the article, we will focus on more exact spots, but do not underestimate this huge street. If you move to the MGM Grand/New York-New York and stand on the bridge just before sunset, you have a fantastic spot for a photo! There is more like that in the city, just wander for yourself and find what fits you. It will depend on the time of the day or even the year's season because the light changes. Do not try it during the day because most of the year, it is too bright, and colors will be washed out. Try mornings around sunrise, evenings before sunset, or even nights (with the tripod). You can think about long exposure to better show the dynamism of the street.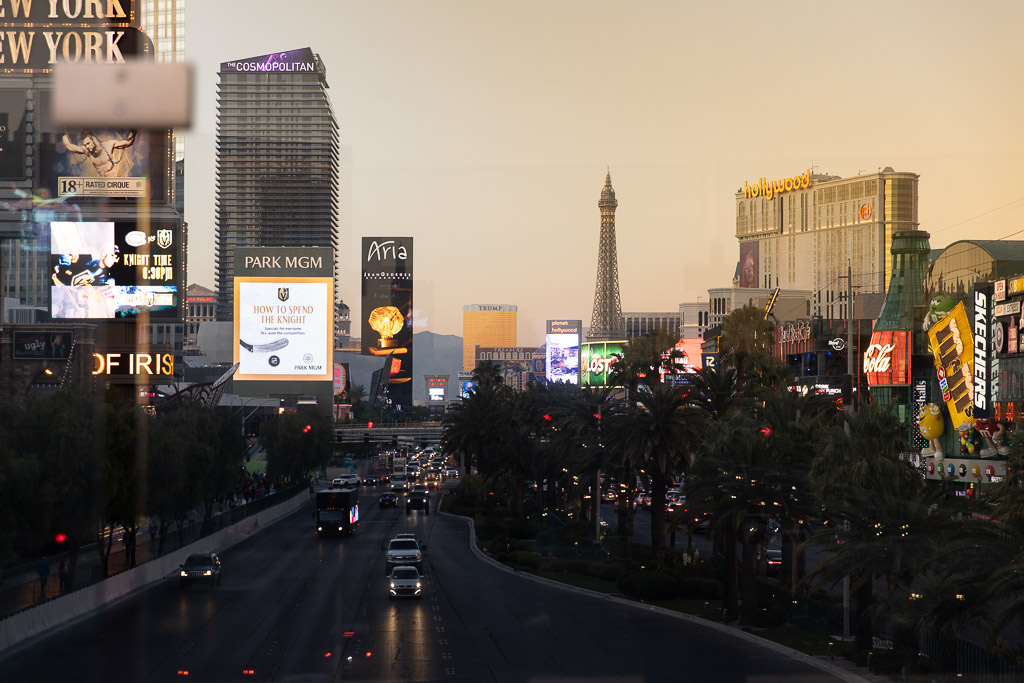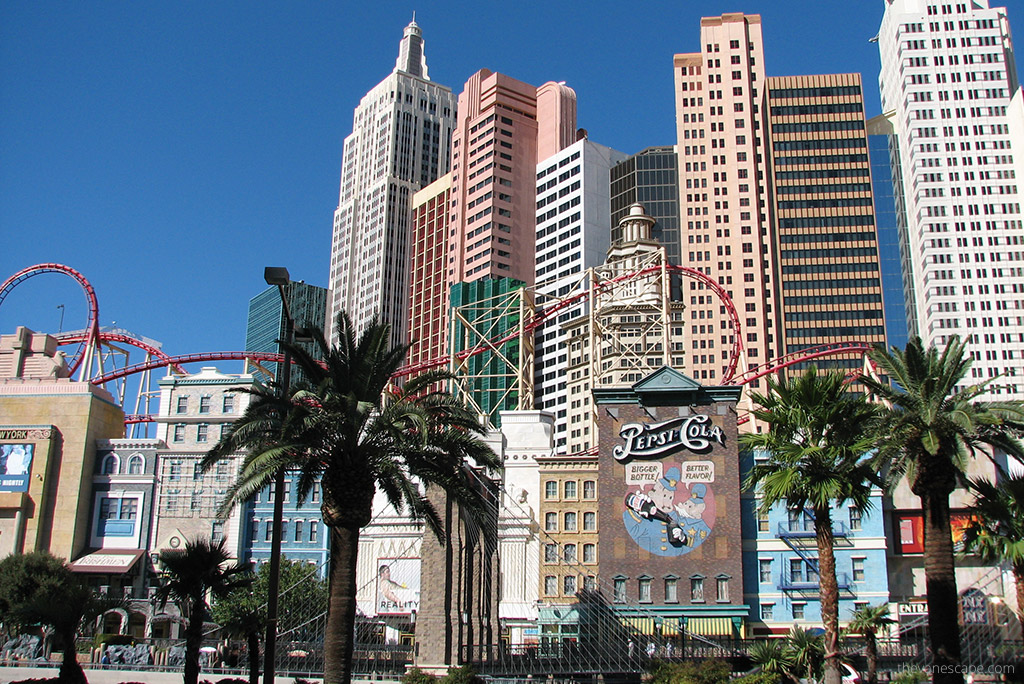 4. Las Vegas Photo Shoot Locations – New York-New York Hotel
One of the most exciting hotels to photograph in Las Vegas is probably New York-New York. The hotel is not located in very tight buildings. Due to this, you have plenty of spots around to find the best one for shooting at the proper time of the day when the light is excellent. You can also focus on details- plenty of them (including Brooklyn Bridge). It's a good idea to wait for the roller coaster train and have it in the foreground. You will need an ultra-wide lens for this idea. You can try to find a frame from one of the bridges around the hotel – there are at least two – one to MGM Grand, and the second to Excalibur. A good idea to consider is using the water reflection around the Statue of Liberty. Everything depends on your creativity and imagination.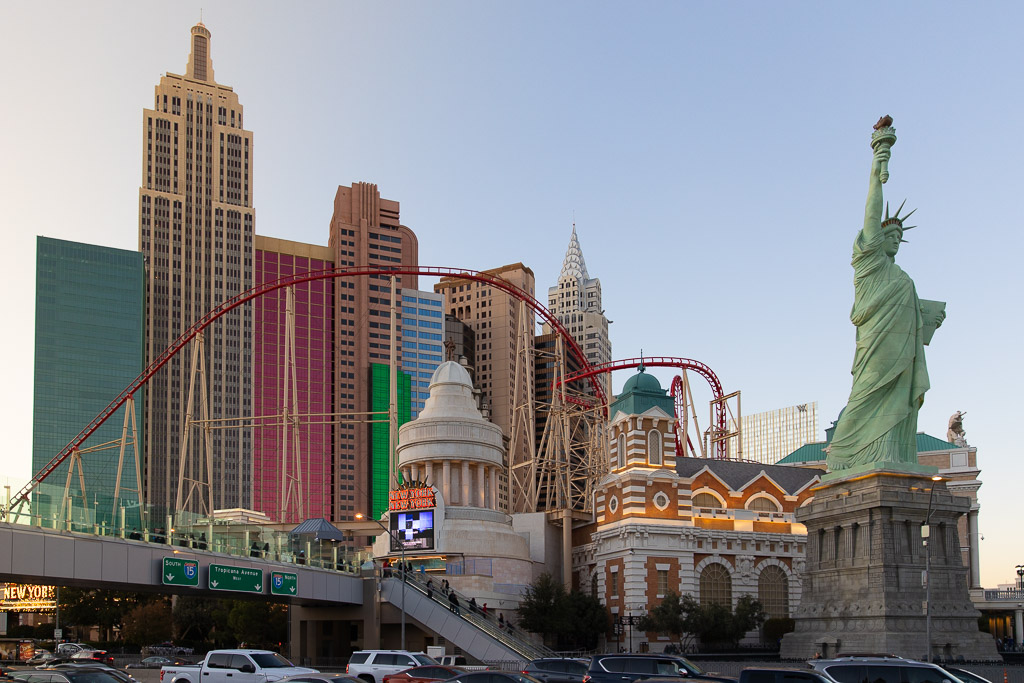 5. Las Vegas Photo Shoot Locations – Paris Las Vegas
This hotel is located exactly opposite the famous Bellagio. You can try to photograph those two places at once if you are a little bit lazy. Paris Las Vegas Hotel is very characteristic due to its copy of the famous Eiffel Tower and Baloon. Make sure to book your ticket to Eiffel Tower Viewing Deck. The hotel itself looks like a high XIX-century building from France or another European city. Nothing particular, but the Eiffel Tower makes the deal. It's so specific to Las Vegas that you can try to frame it from different locations. One of them is on the opposite side of the street, as we mentioned, and it's easy to frame the tower with trees. You can try to get to one of the top floors of Planet Hollywood and find a great perspective from above.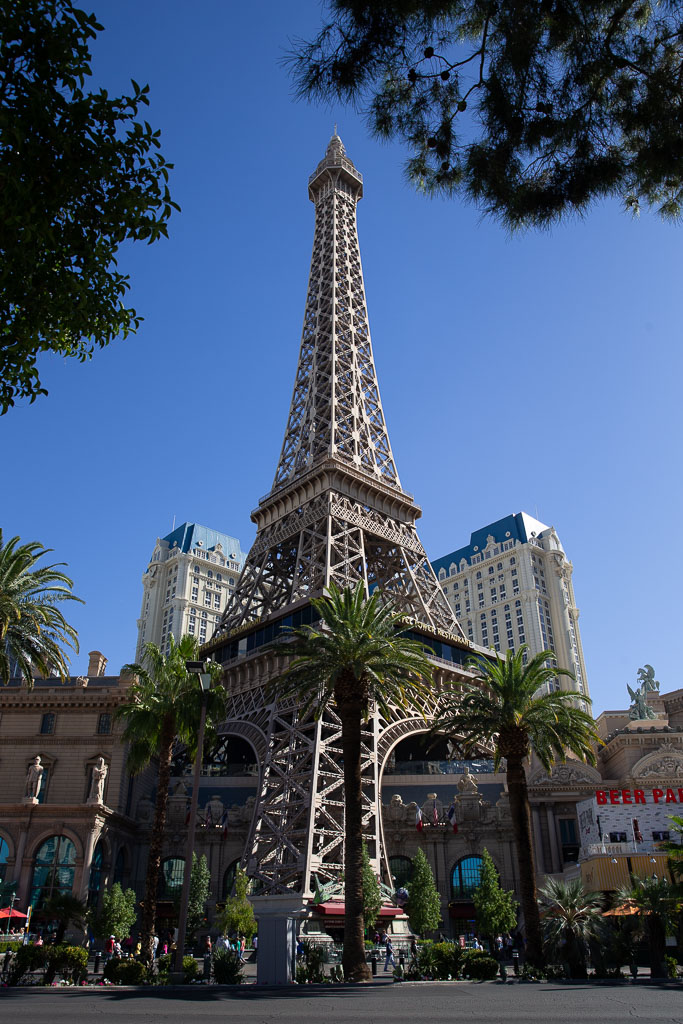 6. Las Vegas Photo Shoot Locations – Mandalay Bay Hotel
One of the most beautiful hotels on The Strip is for us, Mandalay Bay. In the setting sun, it looks like a golden mountain shining in this color. Being surrounded by palms give a lot of photo opportunities. We recommend researching during the day to find the best spot for the afternoon. With such an approach, you will not lose valuable time later and can sit and wait for the perfect light.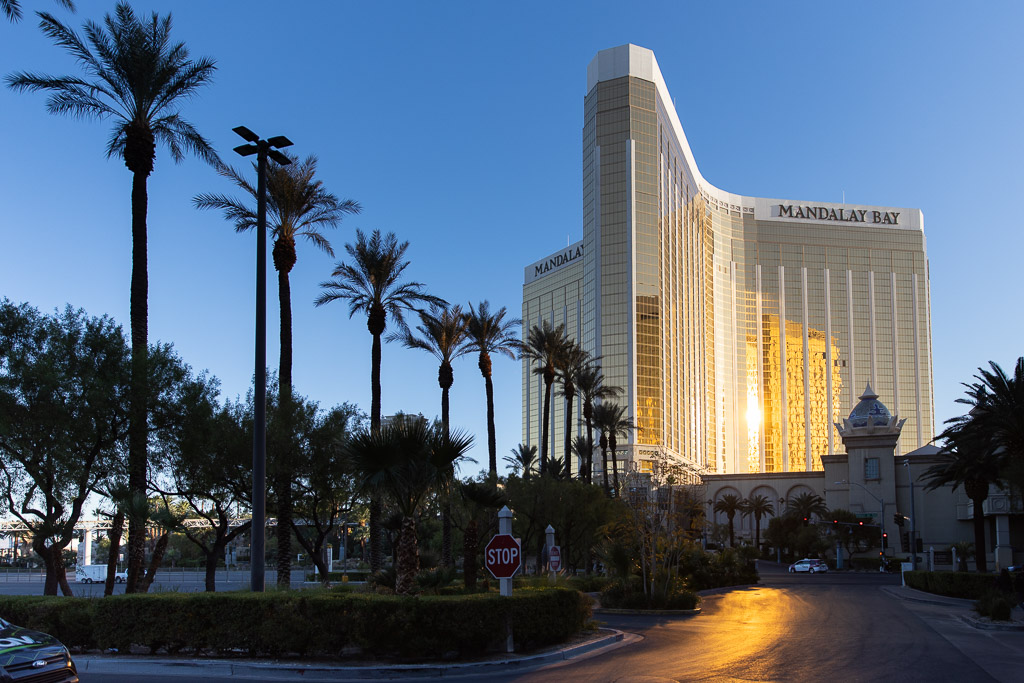 7. Las Vegas Photo Shoot Locations – The Venetian Hotel
The Venetian is one of our favorite hotels to stay in Las Vegas. The interiors are classic, and you feel like you are staying in original Venice. But for photographers like you, there are many options as well. We were not very creative this time and left you plenty of ideas to use in your picture. We recommend focusing on the front of the hotel, where there are gondolas and pristine clear blue water. There is a significant chance to take pictures that inexperienced people can be treated as taken in Venice. If you don't like this idea, you can try to photograph the architecture of the hotel itself, but you will need a really ultra-wide lens because buildings are very tight in this part of Las Vegas, and there is not too much distance to catch everything you want in the frame. The other option is to use a crazy perspective with no parallel lines. For example, focus on one of the lanterns or fountain in front of The Venetian.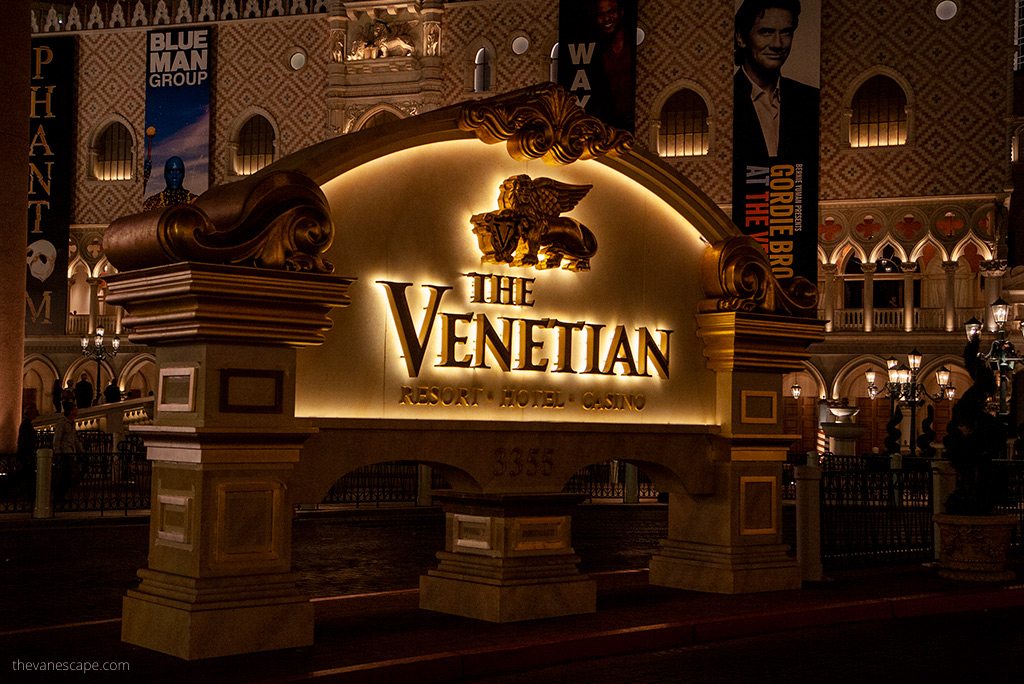 8. The Strip and Flamingo Crossroads
There's a lovely photo location on the crossroad of The Strip and Flamingo. You can view some of the most original hotels from the bridge, like Ballys, Paris, and Planet Hollywood. With a good tripod and little creativity at night, you try to catch cars turning at the crossroads. Using long exposure, you can have light shafts (red and white) created by car lights. Try a couple of times to get the expected effect. Use the ultra-wide lens when possible to cover more buildings in the frame.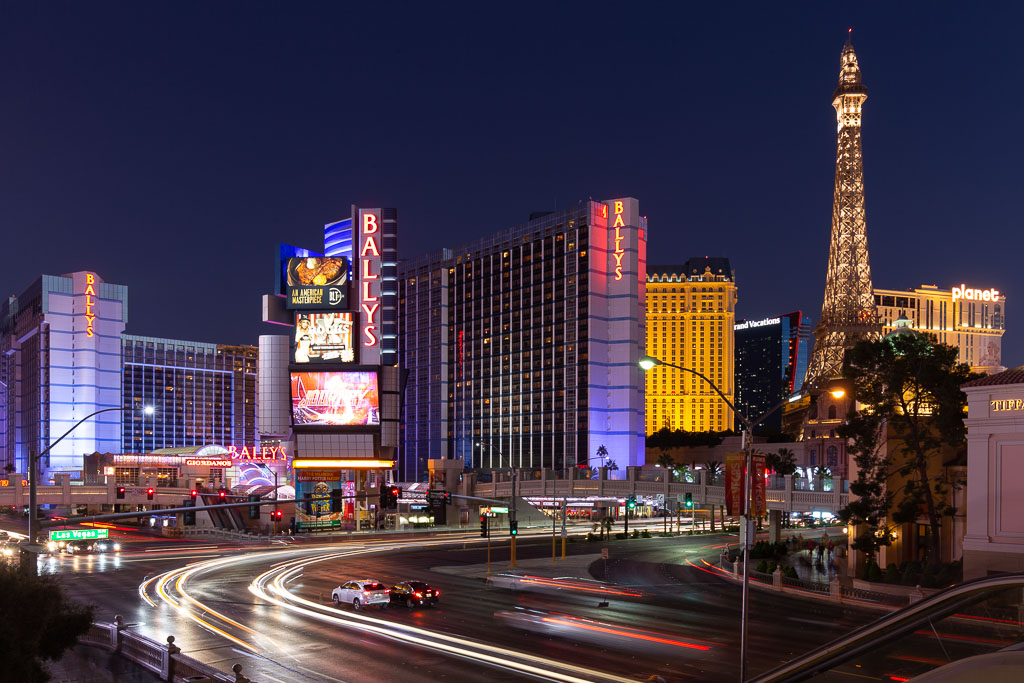 9. Las Vegas Photo Shoot Locations – Encore and Wynn
In good light, those two hotels, Encore and Wynn, look like giant bars of gold in front of you, ready to pick up. There's so much golden color that nothing else in the world doesn't look more golden than those hotels. Your only task is to find the best spot and wait for the beautiful light. And we must say that our favorite time to take pictures of those two hotels is just before sunset when everything is very goldy.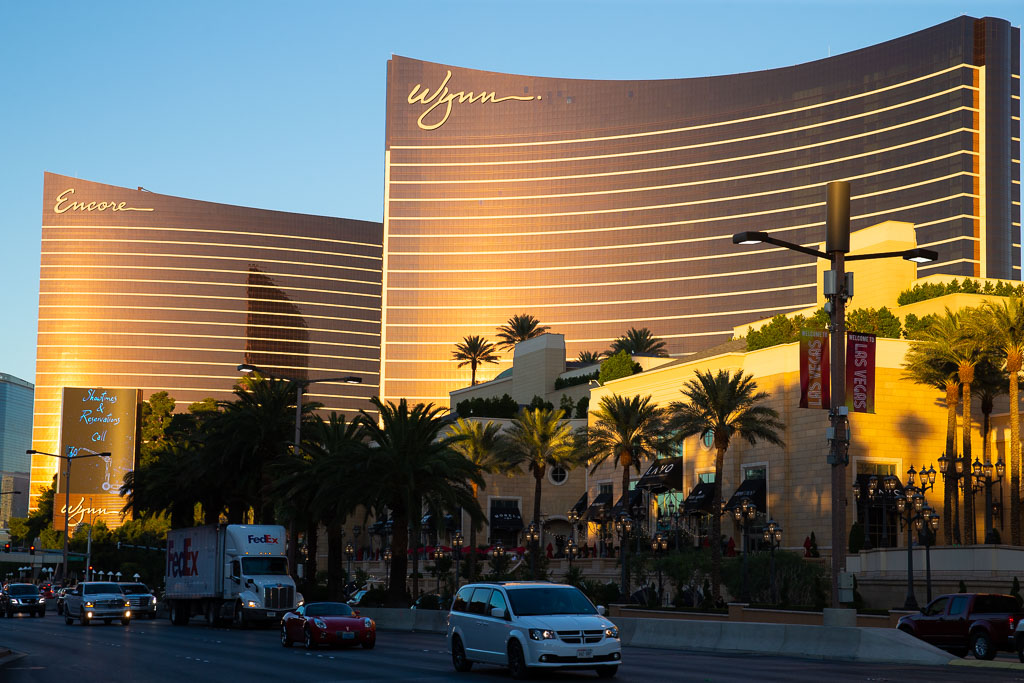 10. Las Vegas Photo Shoot Locations – Neons
Las Vegas at night is so bright that it is visible from a very long distance. Among others, it is due to thousands of neons. So why do not photograph those neons at night? It's great to wander the streets, look for the best neons, and take pictures. It's a good idea to take a tripod with you.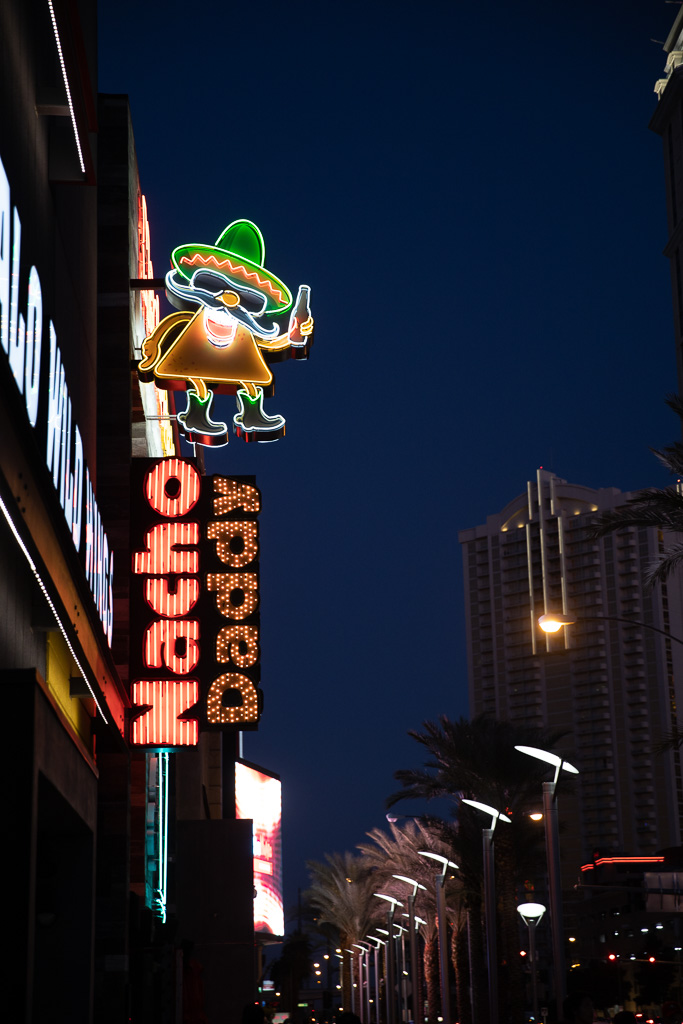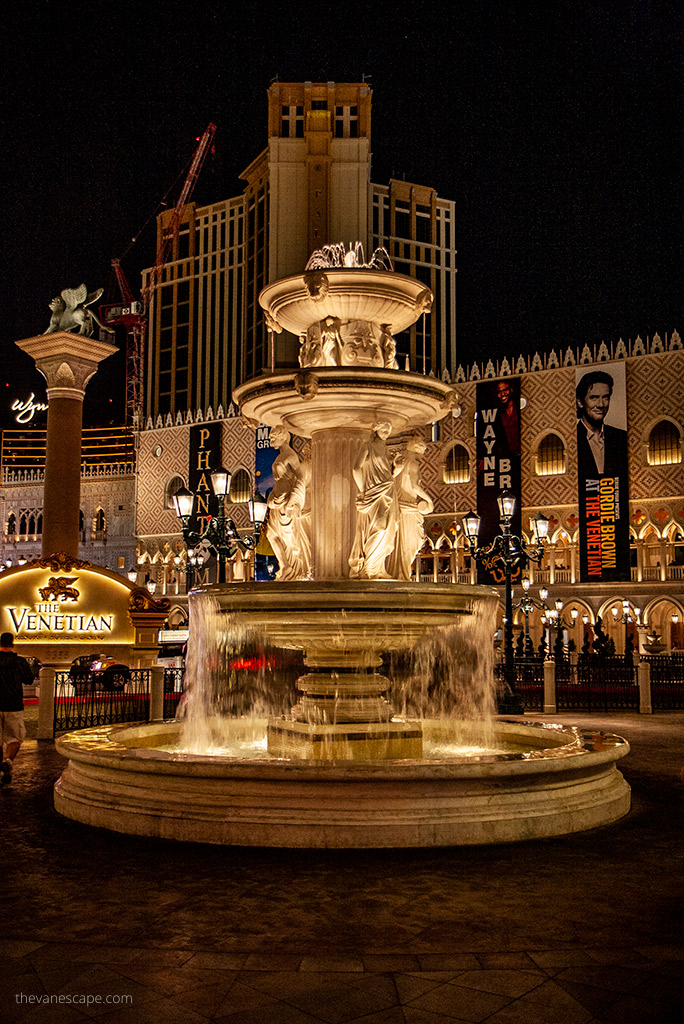 Las Vegas Photo Shoot Locations – Halloween in Las Vegas
Las Vegas is a city of never-ending joy. It's no different during a great Halloween Holiday. You can wander the streets of the town and look for funny-dressed people. There is more late afternoon than during the day. Try to focus on the Strip – there is the most popular destination for Halloween parties and the biggest crowd.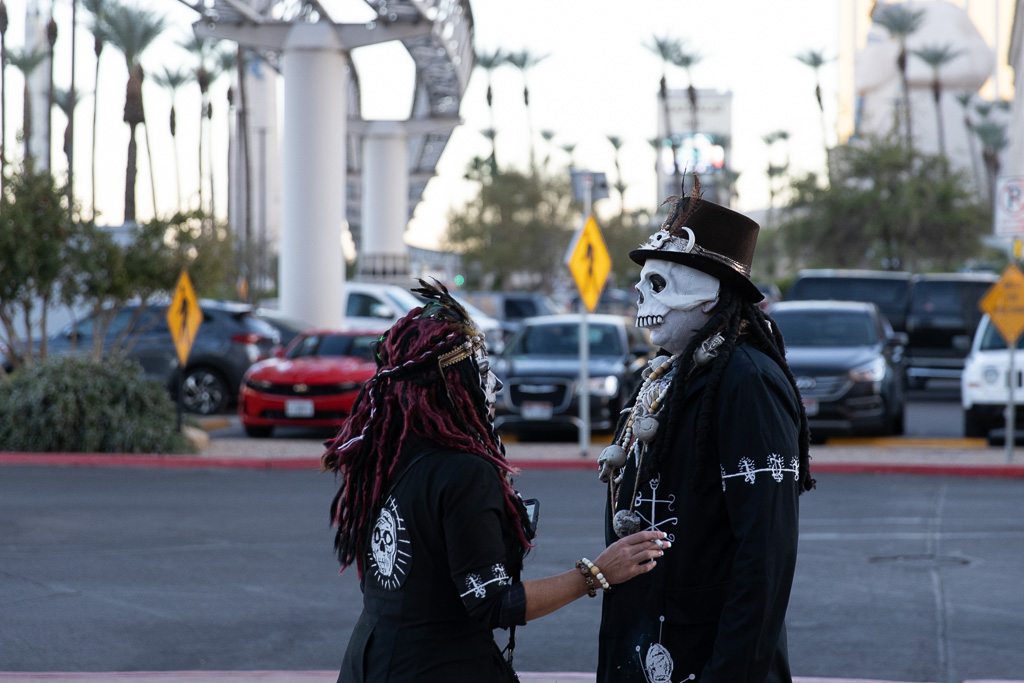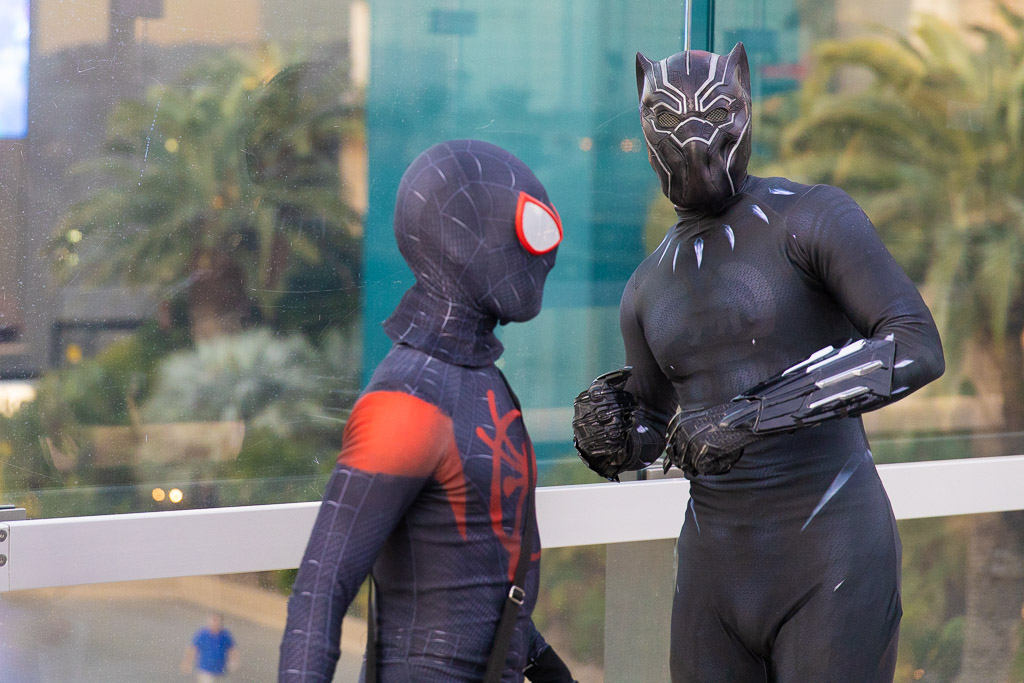 Practical Photo Hints to photograph The Best Photo Locations in Las Vegas
You might be wondering how to prepare to photograph Las Vegas. The answer is easy. You will need your favorite camera with a preferably ultra-wide lens (16-35, 14-24, or something similar) and a good tripod (we use Sirui). Besides that, you will need the plan. It's good to plan your day correctly. We suggest walking a little bit during daylight and doing the research. Find the spots that are good for late afternoon, just before sunset, and after sunset (night shots). Of course, you must somehow manage communications between those spots. We highly recommend taking a Hop-On Hop-Off Sightseeing Tour with Live Guides or Open-Top Panoramic Night Tour with Live Guide. The prices are affordable, and thanks to these trips, you will get acquainted with the best photo spots in Las Vegas and know where you want to return to take pictures.
If you are in Las Vegas and still have a spare day, maybe it's a good idea to visit Arizona Natural Hot Springs?
Like it? Pin It!