Lake Tahoe Attractions & Bonsai Rock
What are the best Lake Tahoe attractions? How to get to Bonsai Rock Lake Tahoe – one of the most inspiring photo spots on this fabulous lake? What things to do in Lake Tahoe in summer? What things to do in Lake Tahoe in winter? Where to stay in Lake Tahoe and where to eat? Check out our article for answers to these and other questions. You will find tips and inspiration for planning an amazing Lake Tahoe vacation, as we love this spot.
This article may contain affiliate / compensated links. For full information, please see our disclaimer here.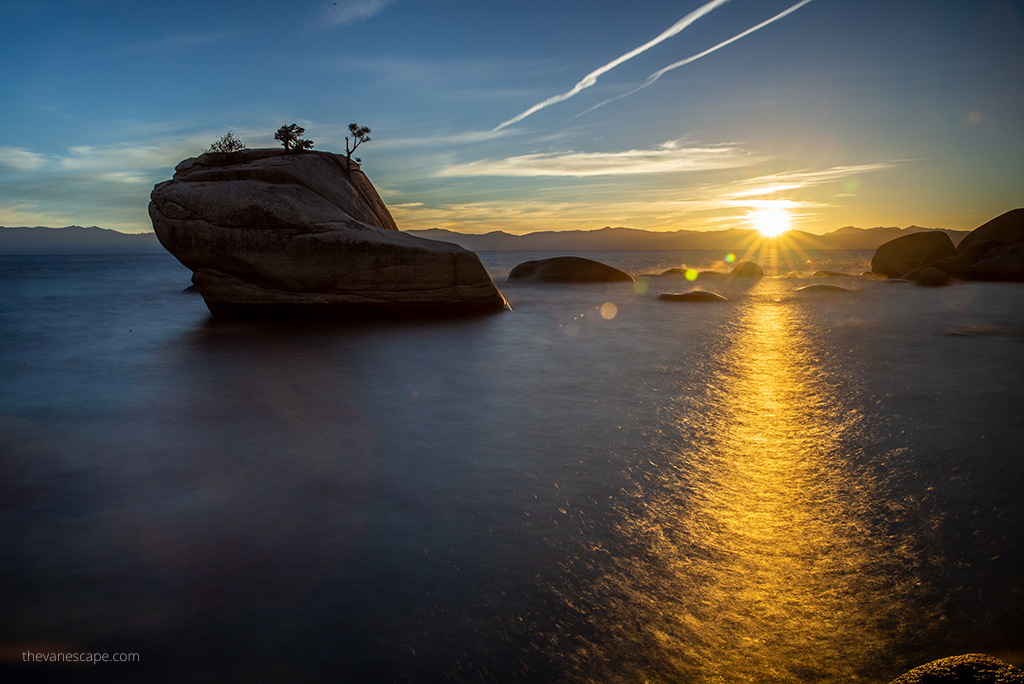 What is Lake Tahoe?
Lake Tahoe is the largest alpine lake in North America. It lies in the Sierra Nevada at 6,225 ft (1,897 m), and straddles the state line between California and Nevada, west of Carson City. Lake Tahoe is a perfect vacation spot during all four seasons.
What makes Lake Tahoe special?
Lake Tahoe is the second deepest in the United States after Crater Lake in Oregon. Its depth is 1,645 feet (501 m). The lake amazes the clarity of its water and the panorama of surrounding mountains on all sides. Tahoe Lake is about 22 mi (35 km) long and 12 mi (19 km) wide and has 72 mi (116 km) of shoreline and a surface area of 191 square miles (490 km2). So, even in crowded summer months is easy to find a nice space for rest.
Lake Tahoe attractions are perfect for families, outdoors, and adventures lover of any age. You can do water sports, hiking, or winter skiing overlooking the lake. Moreover, you will find several lakeside casino resorts on the Nevada side.
Remember to leave no trace by always packing everything you bring.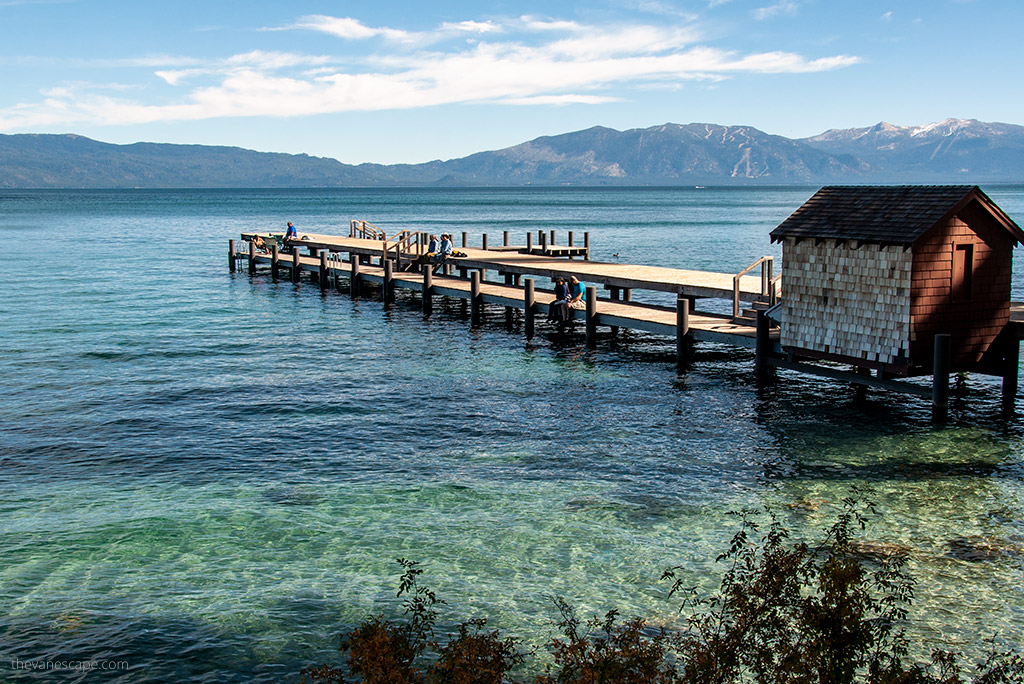 Getting to Lake Tahoe
Two-thirds of the Lake Tahoe shoreline is in California. The lake's largest city is South Lake Tahoe on the California side, close to Nevada's border. Famous Tahoe City, California, is located on the lake's northwest shore. In Nevada, the most popular cities are Stateline, Round Hill Village, Skyland, and Lakeridge.
San Francisco to South Lake Tahoe is 188 miles and 3 hours and 25 minutes driving via Sacramento (the fastest route is via I-80 E and US-50 E/El Dorado Fwy). Check out our San Francisco Itinerary and where to stay in San Francisco.
From San Francisco to Tahoe City, you can go via I-80 E. It's 199 miles and approximately 3 hours and 25 minutes of driving. But you can also go there along the coast of the lake via I-80 E and US-50 E/El Dorado Fwy. It's about 215 miles.
From Las Vegas to Stateline is 443 miles via US-95 S. It's about 7 hours and 20 minutes of driving. Or you can combine its road trip through with visiting Death Valley National Park and Yosemite National Park. Check out our Las Vegas itinerary.
Lake Tahoe Hiking Map
Regardless of which side of the lake you are stopping on, it's worth making a loop. Go on amazing hikes. The lake's Tahoe shores and surrounding forests are full of wonderful trails, with varying difficulty levels. The best set of maps with detailed hiking trails descriptions, tips, and photos is this Best Easy Day Hiking Guide Lake Tahoe.
There is also a new edition of Tahoe Rim Trail. It presents detailed maps and tips for the entire 165-mile trail divided into 8 sections.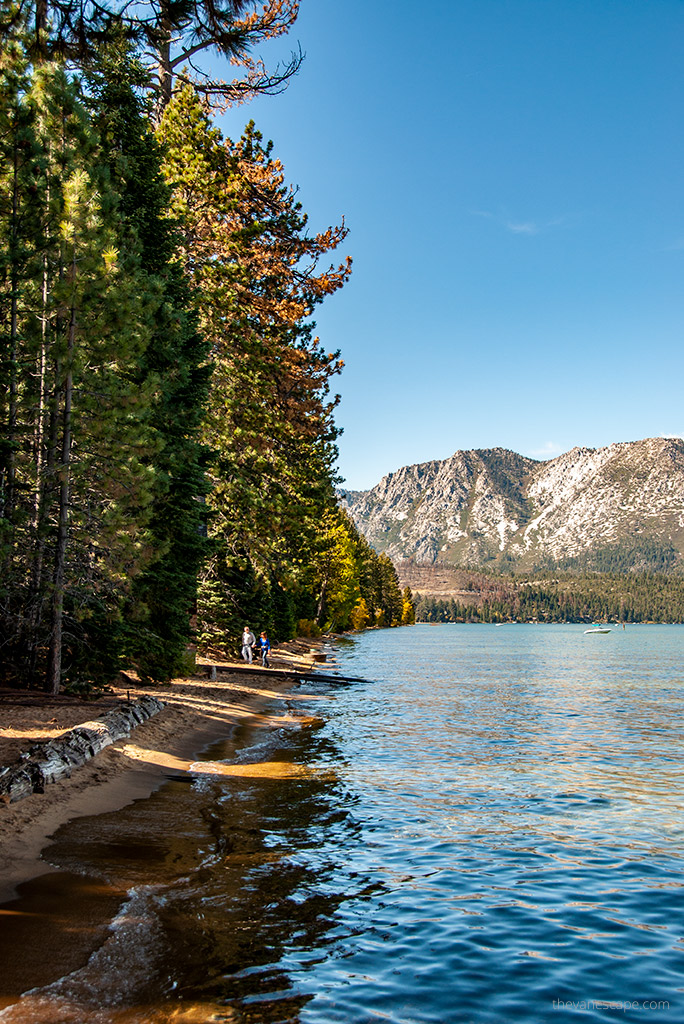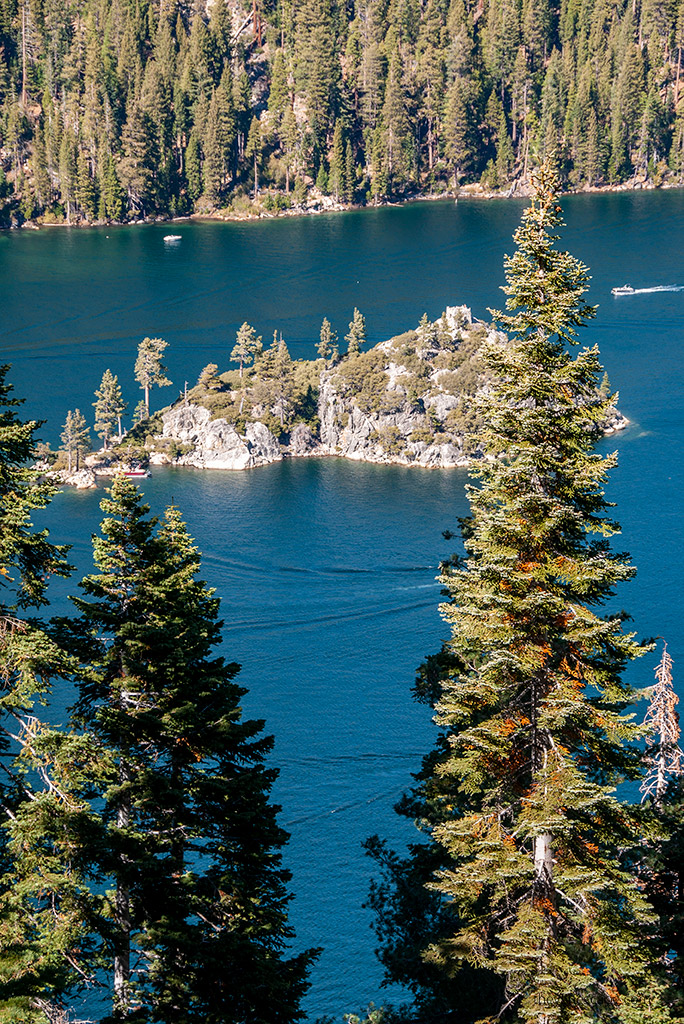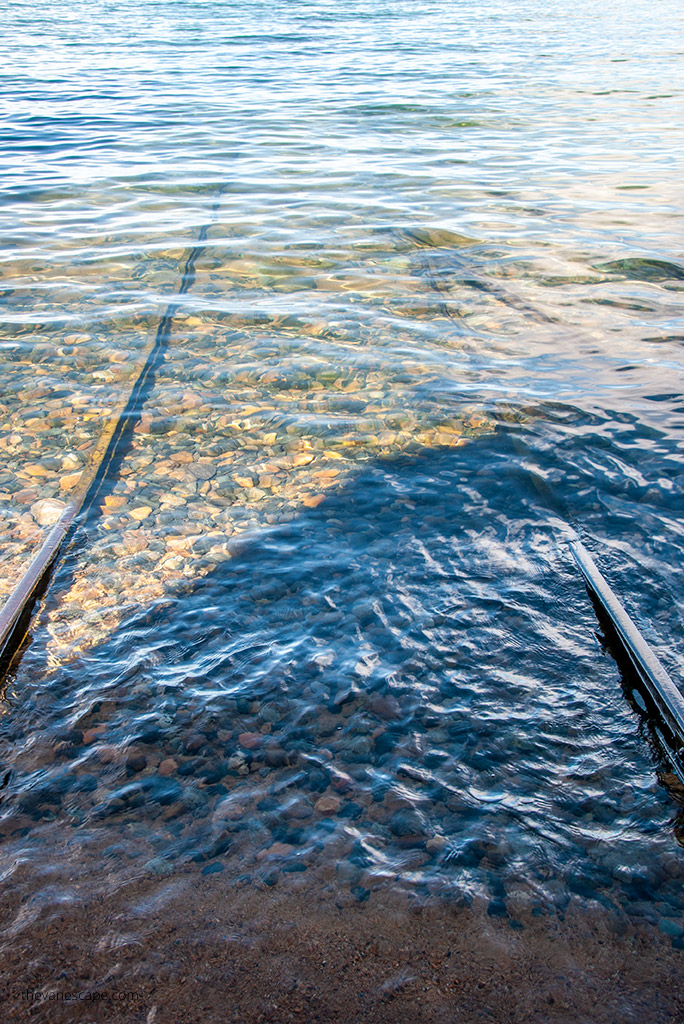 Lake Tahoe Attractions
Things To Do in Lake Tahoe in Summer and Fall
Take Lake Tahoe's Emerald Bay Cruise on M.S. Dixie II
One of the best summer Lake Tahoe attractions is an Emerald Bay Cruise on M.S. Dixie II. For sure is one of the lake's most scenic spots. During the cruise on M.S. Dixie II, you can admire the surrounding Sierra Nevadas. Moreover, you will see Emerald Bay's Fannete Island, the lake's only island. If you plan a romantic surprise for your partner, consider M.S. Dixie II Sunset Dinner Cruise.

Book it on Viator.com, a TripAdvisor company, so you are sure of a great adventure and your booking security.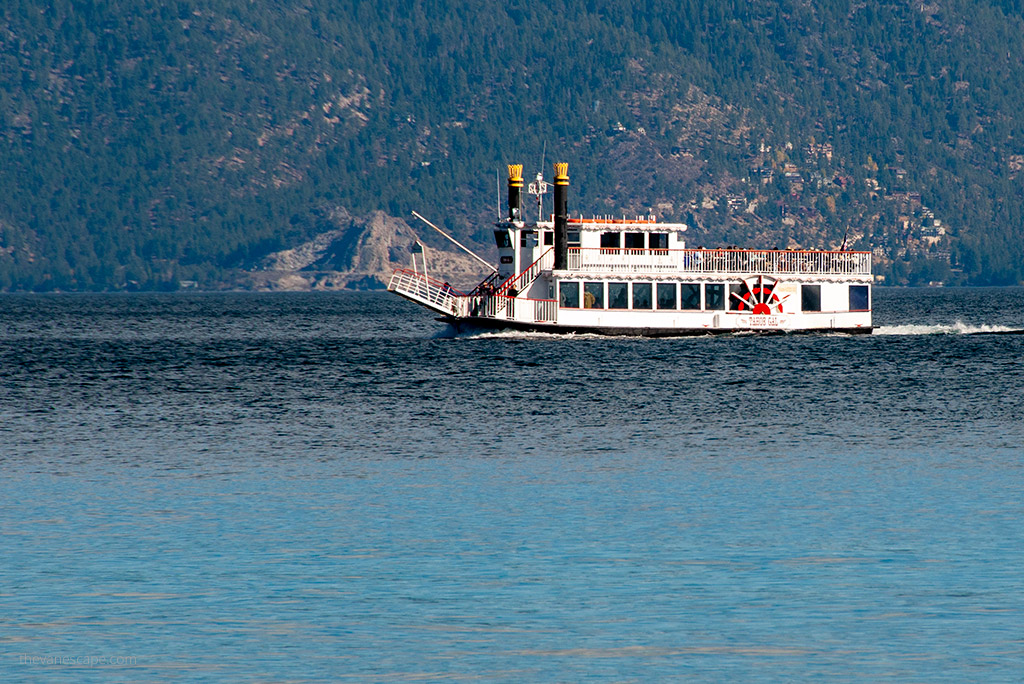 Rent a Boat at Lake Tahoe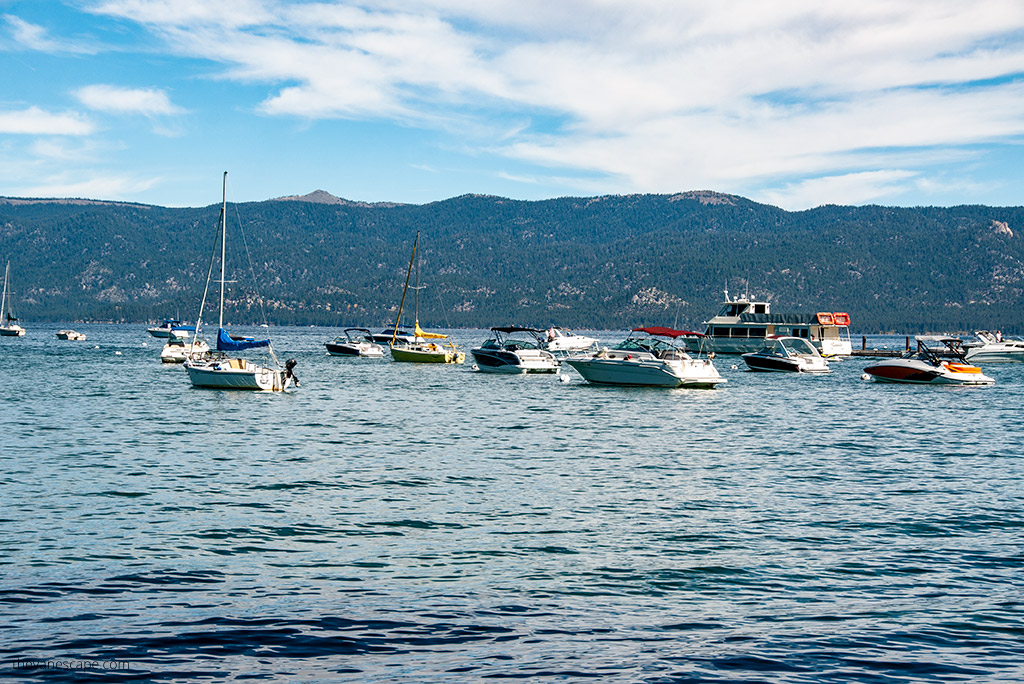 You can also rent a boat to explore the lake. Powerboat Rental from South Lake Tahoe is one of the most popular Lake Tahoe Summer attractions. You can use the boat for water sports like skiing or wakeboarding. Or just sunbathing and relaxing in a peaceful cove. But if you decide to swim in Lake Tahoe water, remember that the lake is nearly 1,650 feet deep. Moreover is the alpine water so that it can be dangerously cold.
Do water sports like Paddleboarding or Kayaking on Lake Tahoe
The lake is an ideal place to practice various water sports. Kayaking and stand-up paddleboards become very popular last years. If you consider buying your own paddleboard, read this article, How to Choose a Stand-Up Paddle Board. Other popular Lake Tahoe activities include parasailing, jet ski rentals, paddle sport rentals, and fishing. There are rentals around Lake Tahoe.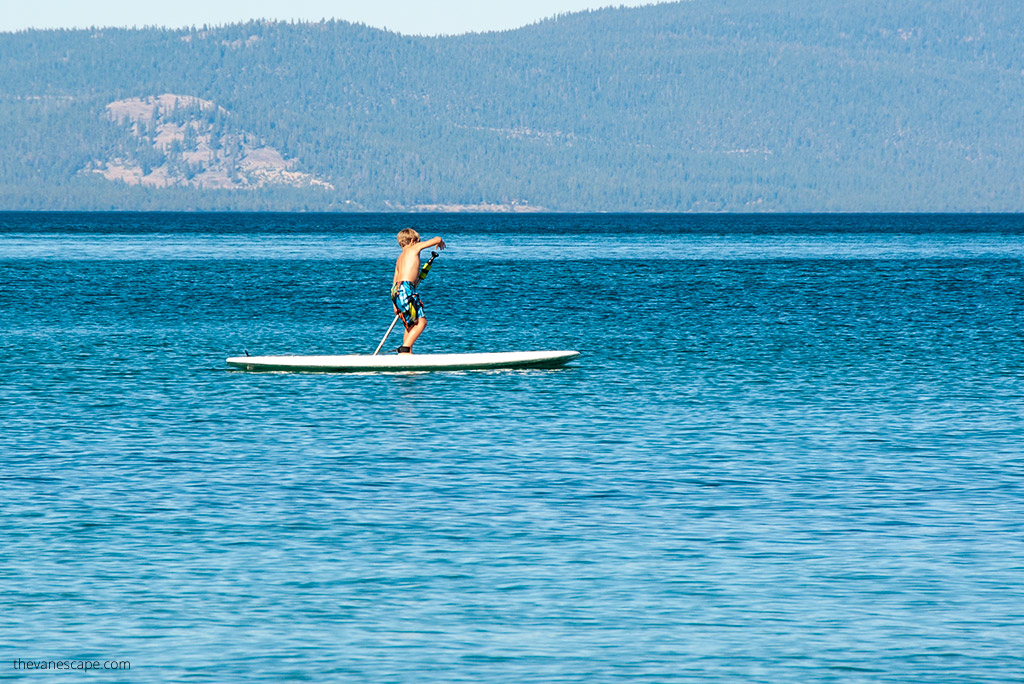 Rock in a Hammock or Rent a Bike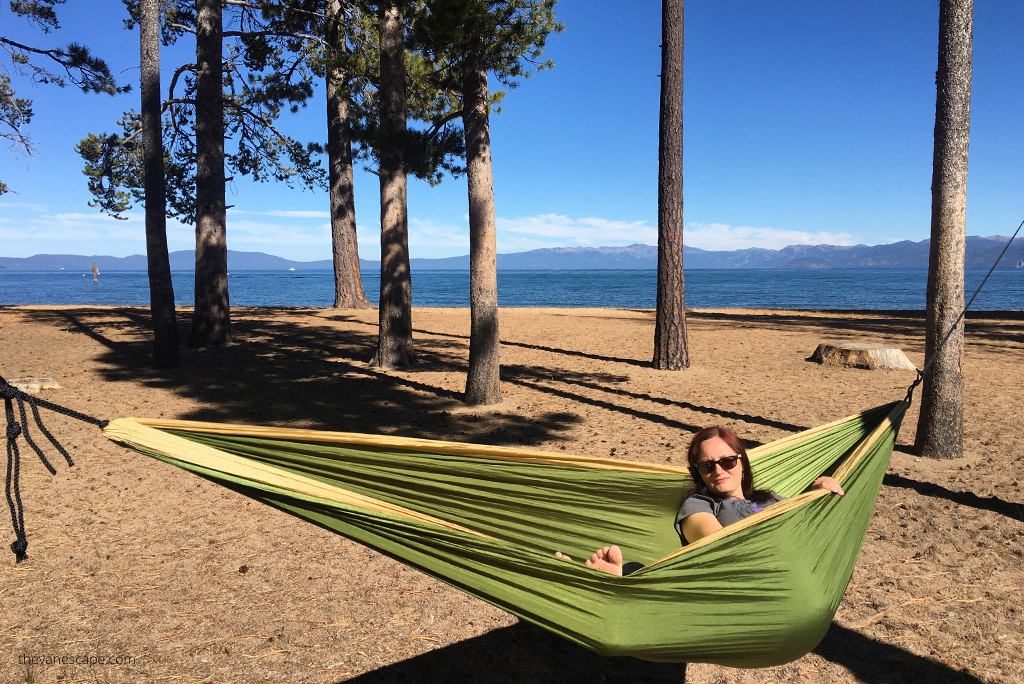 When you are already a bit tired from water activities, you can always hang a hammock between the trees and rest, enjoying the space and fresh air. We have a light, a slight double hammock that we always pack in a backpack. Another idea is to rent a bike and go on a breathtaking coastal ride.
Go for a Hike at Lake Tahoe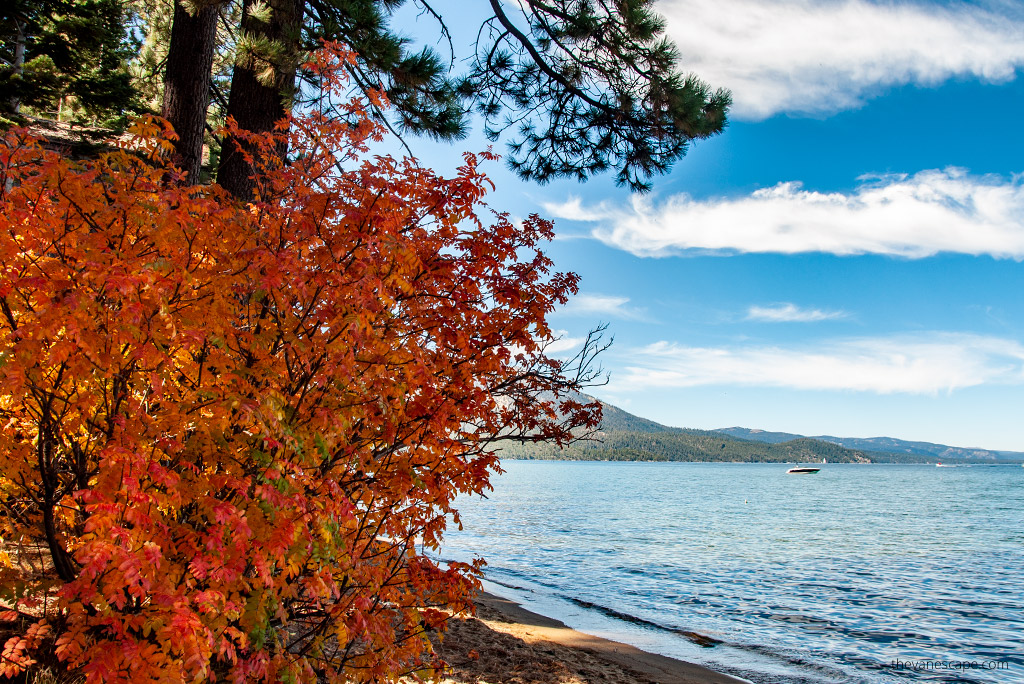 Things To Do in Lake Tahoe in Winter
Lake Tahoe is the perfect destination for winter vacations. Its climates feature dry summers and chilly winters with regular snowfall. Mean annual precipitation ranges from over 55 inches (1440 mm) on the west side of the basin to about 26 inches (660 mm) near the lake on the basin's east side. As winter activities are also popular cross-country skiing, snowmobile riding, and snowshoeing. The winter season runs from November to the end of March.
During ski season, you can go downhill skiing with the lake view.
You can rent a piece of winter equipment for active recreation, like:
Some of the most famous ski areas in Lake Tahoe include:
If you plan for a Lake Tahoe vacation, book your accommodation in advance. Due to the excellent winter conditions, Lake Tahoe is very popular.
Lake Tahoe Attractions – Bonsai Rock
What is Bonsai Rock Lake Tahoe?
One of the most famous Lake Tahoe attractions is Bonsai Rock. It's also It is one of the favorite places for photographers. Bonsai Rock is a giant boulder that sits in Lake Tahoe's clear blue waters less than 40 feet from shore. It looks fabulous due to the small trees sprouting from the cracks in the granite. Like a Bonsai Tree, and that's why the place's name is Bonsai Rock Lake Tahoe. It's a magical place, especially when the sun goes down. So, add Bonsai Rock to your itinerary.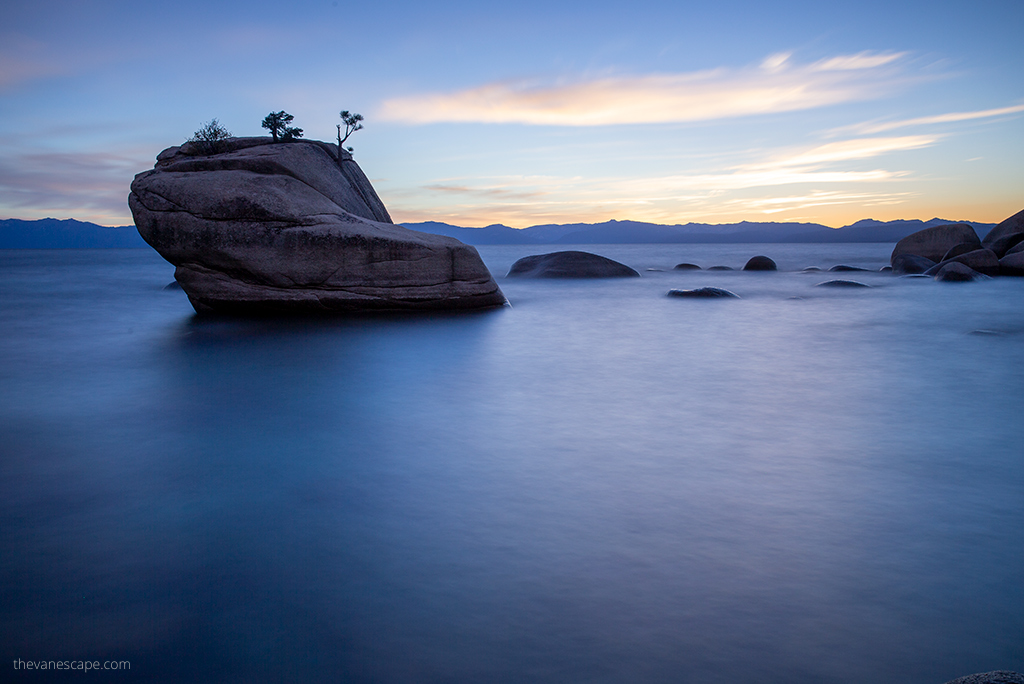 Directions to Bonsai Rock Lake Tahoe?
Bonsai Rock is located about 20 miles from Carson City on the Nevada side. It's halfway between Hidden Beach and Sand Harbor on the northeast side of Lake Tahoe. From Stateline, take US-50 E and NV-28. There is a paved pullout on the southbound side of Highway 28, about 1 mile south of Sand Harbor.
How to Find Bonsai Rock Lake Tahoe?
There is a short trail to Bonsai Rock Lake Tahoe. A sandy, rocky path leads to the famous rock. It will take you 10-15 minutes to descend. It is not difficult. But it can be slippery after rainfall. Nearby is also a rock formation called Whale Rock. It's not as spectacular how Bonsai Rock, but if you have time, you can enjoy the view. Whale Rock is located less than 100 feet to the south of Bonsai Rock.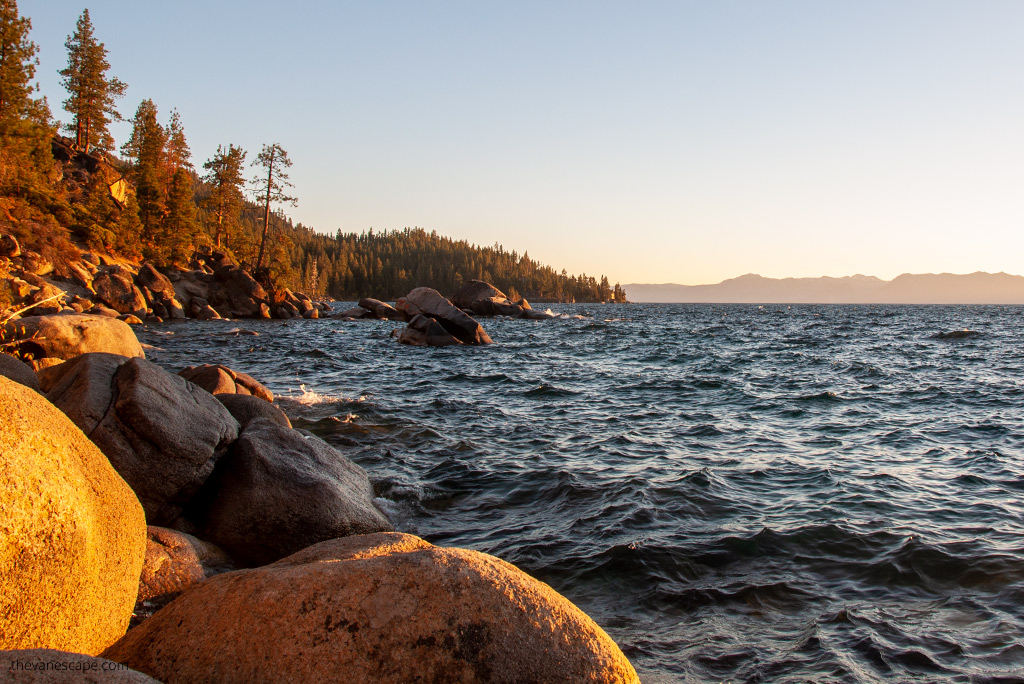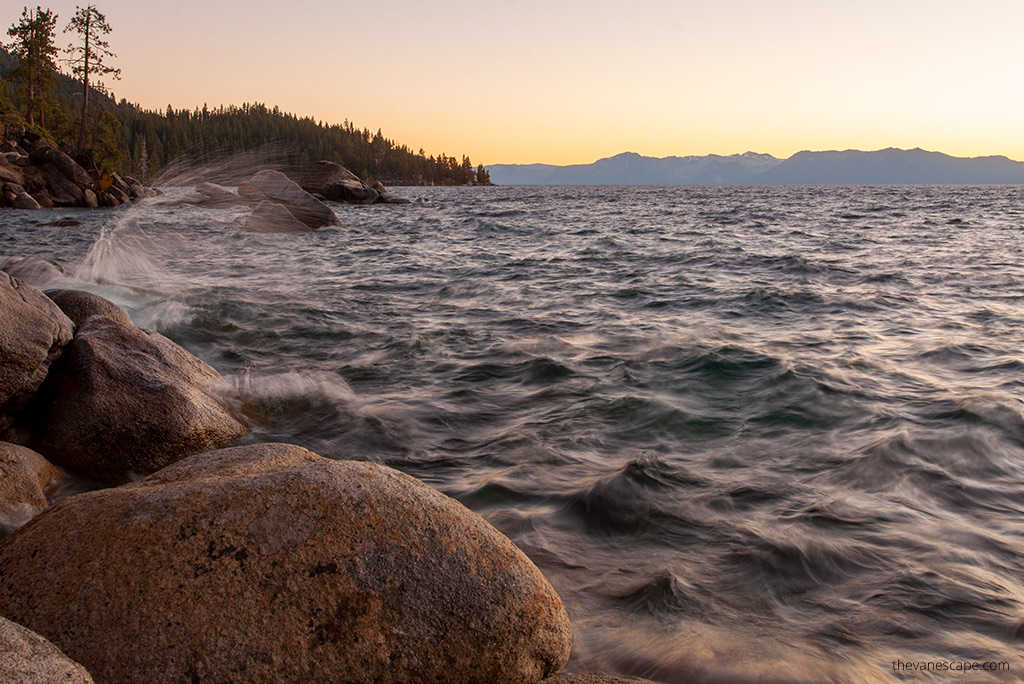 Tips for photographing Bonsai Rock Lake Tahoe
To take good photos of these Lake Tahoe attractions – Bonsai Rock – go there for the sunset. Preferably an hour before sunset.
Be sure to take a reliable Tripod (we use Sirui) and a Remote Shutter Release to take pictures of Bonsai Rock with a long time exposure and get blurry water.
Pack also a powerful ND filter to get a mirror lake water surface. It's pretty chilly before sunset, so use the ND filter is a must to get no motion on the water.
A polarizing filter is also a must to control reflections, glare, and saturation.
Take good grip shoes to not slip on stones and damage your equipment or hurt yourself. In summer, waterproof trekking sandals or trekking shoes are perfect. This short trail to Bonsai Rock Lake Tahoe is steep in places.
Don't forget to pack a lens cleaning cloth. Water droplets may sit on the lens.
The Bonsai Rock is quite close, so a standard 24-70 zoom is enough for shooting. We use Nikkor 24-70mm and Canon 24-70mm.
Dress up a warm sweatshirt. It gets chilly quickly in the evening.
It's a black bear territory, so never leave food. Tightly pack the food you have in the car and want to take as a snack on Smell Proof Pouches. Pack all your trash and take it with you.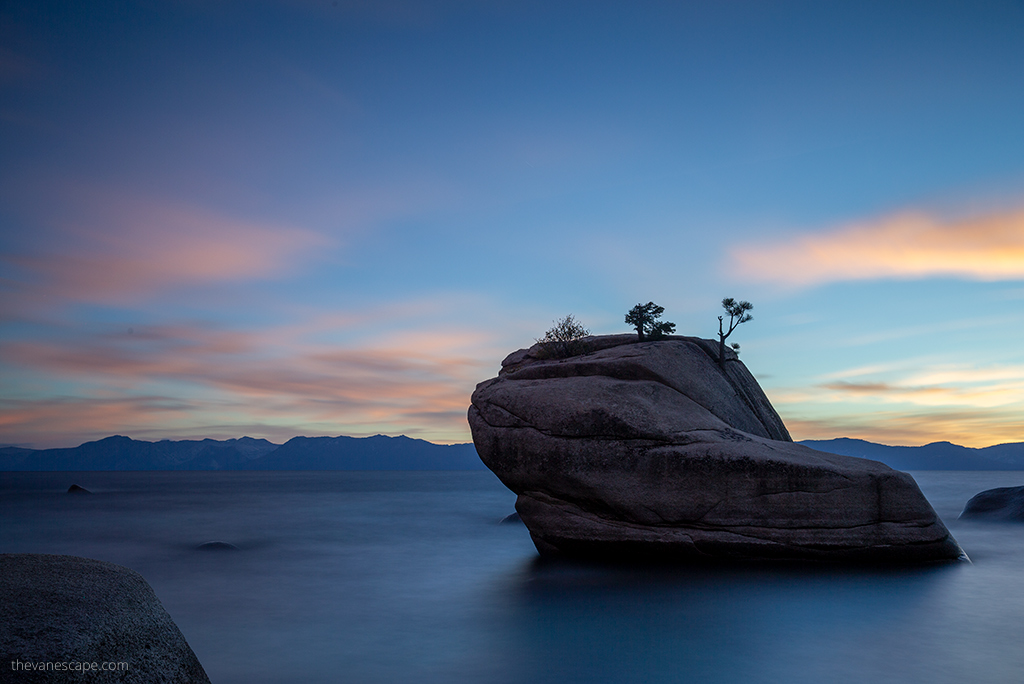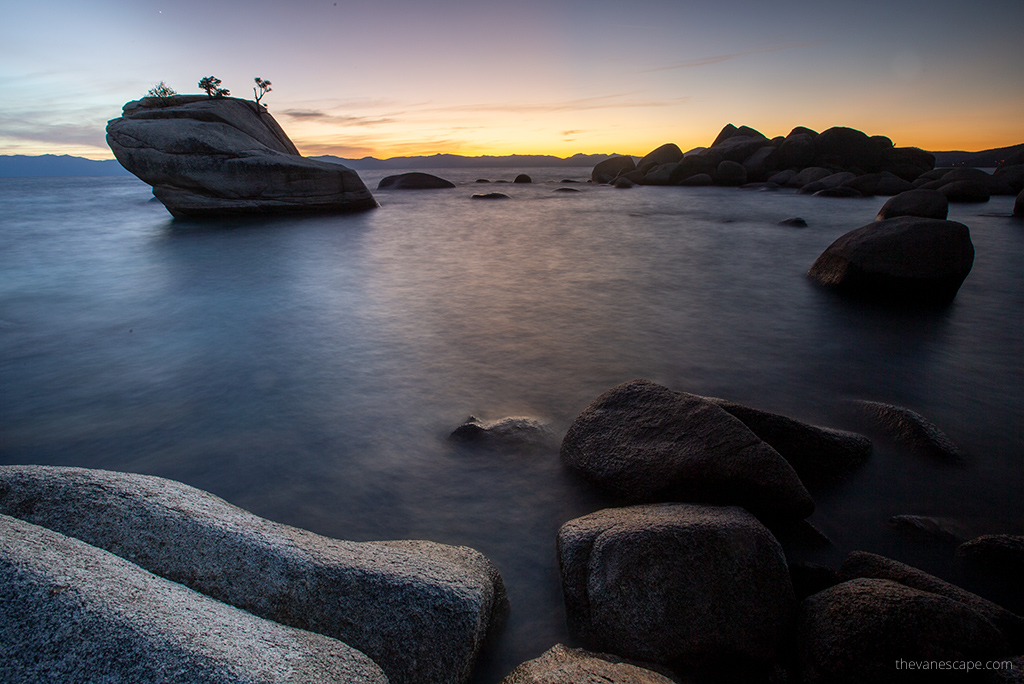 Where to eat in Lake Tahoe?
Around Tahoe Lake, you will find plenty of bars and restaurants with delicious food and drink. Many places offer a great view of the lake. Below are a few of the Lake Tahoe restaurants that we can recommend.
North Lake Tahoe Restaurants:
South Lake Tahoe Restaurants: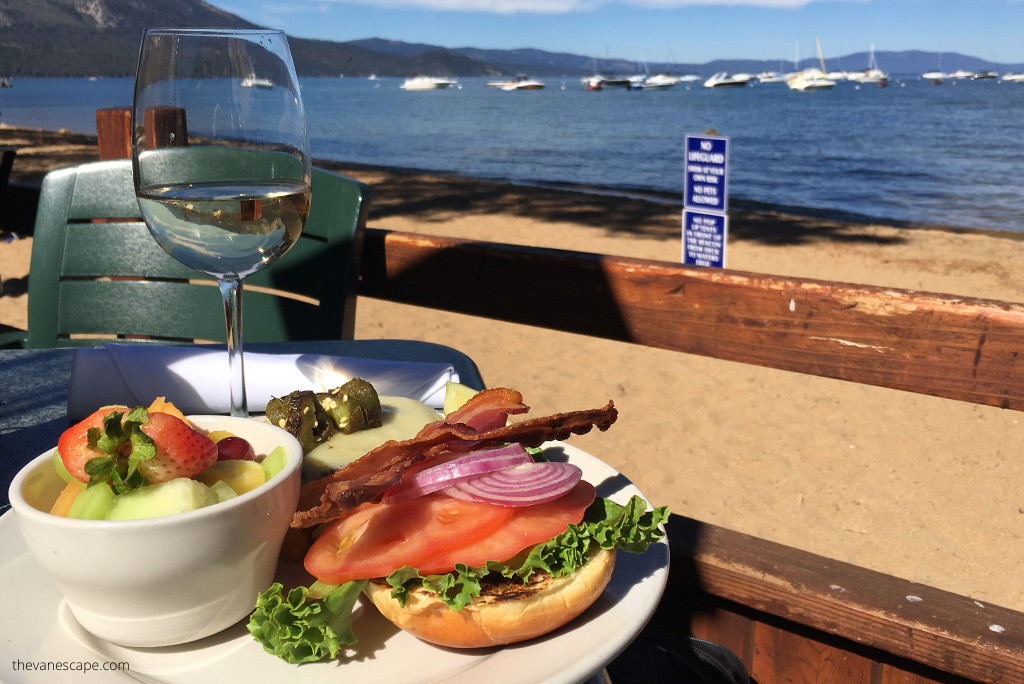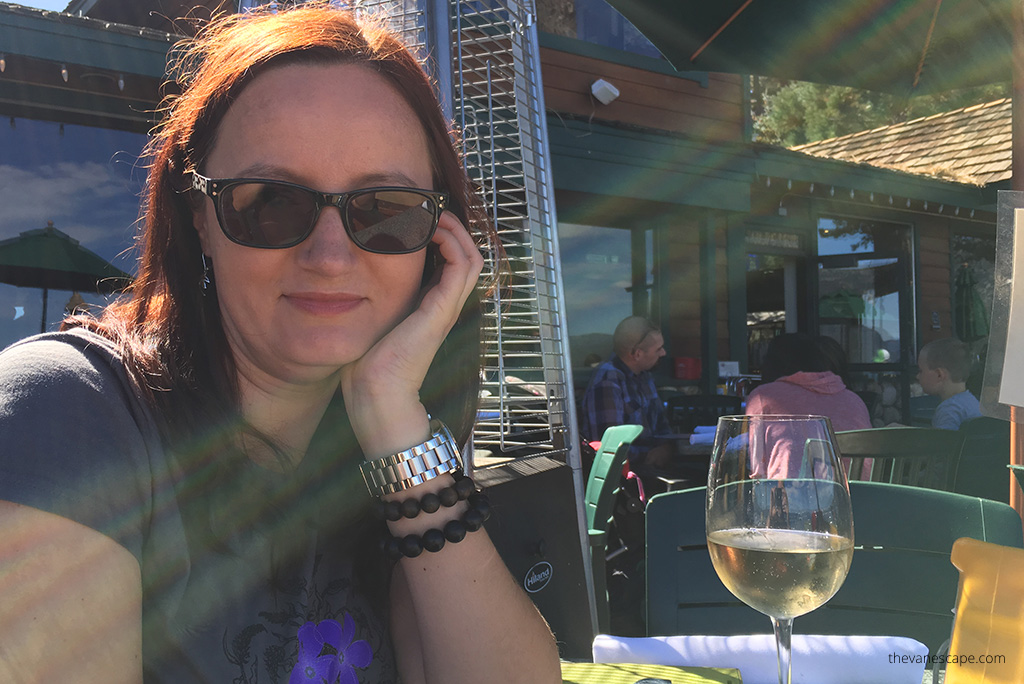 Lake Tahoe – Where to stay?
Where to stay in Lake Tahoe depends on your budget and style of travel. You will find luxury facilities, budget hotels, cabins, and campsites by Lake Tahoe. Lake Tahoe accommodation prices also differ depending on the season. The great idea is to find the best cabins in Lake Tahoe, as they are cozy, have a charm, and are close to nature.
North Lake Tahoe Accomodation
On Lake Tahoe North's Nevada side, check Incline Village accommodation.
On the California side of Lake Tahoe North, check accommodation in Tahoe City.
South Lake Tahoe Accomodation
On the Nevada side of Lake Tahoe, check accommodation in Stateline, like:
On the California side of Lake Tahoe, check accommodations in South Lake Tahoe, like: