Where to Stay in San Francisco 2023
Where to stay in San Francisco in 2023? Check our suggestions! San Francisco is one of the most popular cities in the United States. People come here all year round – the weather is favorable. We also love this city. It is in our USA top 5 list. Unfortunately, this popularity has led citizens to move out of the city and skyrocket prices for downtown accommodations. So, many people have a common problem – where to stay in San Francisco? Where is the best place to stay in San Francisco? And the answer is not that simple. That's why we decided to create this short guide based on our years of experience.
This article may contain affiliate / compensated links. For full information, please see our disclaimer here.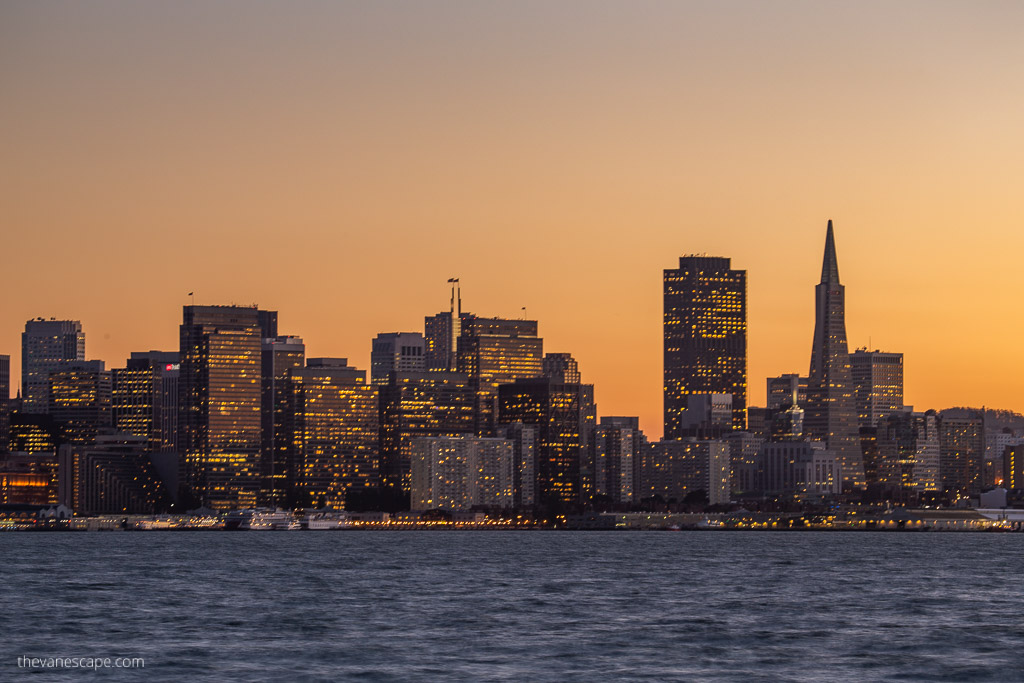 When to book your stay in San Francisco?
California is one of the most visited states, and San Francisco is its most famous city, so book your accommodation ahead. The demand for hotels, motels, and apartments in San Francisco is the same almost all year round. So the answer is simple – book as soon as you know your dates. There's no point in waiting because prices never go down. They can only go up. If you are unsure if you can go on the trip, it is better to book with a cancellation option. It's still cheaper than booking last minute. If you are wondering where to stay in San Francisco on a budget, the answer is rather when to book. Below you can find the best deals.
Where to Stay in San Francisco? Additional Booking Considerations
Due to the high prices and high demand for accommodation in San Francisco, it is usually not easy to decide and book. There are a few things you should consider before making a final decision.
Parking in San Francisco
Finding a parking space in San Francisco can be a challenge. They are costly, the number of places is limited. So, check if your hotel has a parking lot. Or get around the city on public transport. Most downtown hotels have no or very limited parking. At best, they have a parking lot, but it's expensive. We recommend not driving to San Francisco. This city is much better explored on foot and by local transport. However, if you must take your car, check the rules and prices for hotel parking. Sometimes you need to reserve your parking space in advance. And sometimes, leaving your car on the street is not such a bad idea. It depends on the place.
Additional taxes and fees in San Francisco
Hotel prices in San Francisco as of 2023 consist of the following components:
Room price;
14% Occupancy Tax (includes 8.5% of Sales Tax);
0.195% California Tourism fee
1.5-2.25% Tourism Improvement District assessment (depends on location)
Some hotels charge resort fees on top of that. They specify how much these should be and explain that they are for pool use, cleaning, etc. So make sure everything is included in the price before booking – you will not be disappointed when you check-in. Some accommodations charge a damage deposit at check-in, which you get back at check-out if everything is in order. As a rule, we avoid such accommodations.
Where to Stay in San Francisco? Location & Safety in San Franciso
Another important point is the location of the room. Which neighborhood and area are the best places to stay in San Francisco? Two factors matter to most people – distance to attractions and safety. San Francisco is generally a safe city – the crime rate is lower than many other cities like Las Vegas or New York. However, they are increasingly struggling with homelessness and car break-ins. And, of course, there are areas you are better off avoiding.
It would be best to be extremely careful when passing through popular neighborhoods like the Tenderloin, the Mission, and sometimes Union Square. Tenderloin is known for street drug dealing, so we recommend you be careful during the day and avoid this area at night. Be especially wary of pickpockets if you are out and about in the Mission or at Union Square. And also try to limit your walks at night.
However, if you are wondering how to stay safe in San Francisco, stick to the safest parts of the city. Walkthrough the fantastic Chinatown or Fisherman's Wharf. That's where the crime rate is lowest, and the main attractions are not far away.
Hotel or Airbnb in San Francisco?
As you already know, hotels in San Francisco are quite expensive. Airbnb might be the cheaper option, but is not too supported by the city. It has put various restrictions on hosts, resulting in a drop in the number of homes available. But still, it's not a bad option. For starters, you can find some gems that offer amazing views or amenities unavailable in hotels. Also, there is a better selection of locations for Airbnb reservations. You often need to book with Airbnb for a minimum stay of 2-3 days.
The average price for Airbnb is 100-150 USD+tax. But these cheaper apartments are in more remote locations. If you want to be in the center, you must pay 200-300 USD/per night. Very often, it is useful if you are in a bigger group and can share the apartment. Please pay attention to any additional fees, such as cleaning or service fees, which are sometimes very high.
For hotels, the average price for a double room is 100-250 USD+tax but can be 500 USD or more if you want to book closer to the city center. The price also depends on the quality, so the lowest prices are found in mediocre motels. If you add parking and fees, the city becomes very expensive.
TRAVEL TIP: If you are planning a few days in San Francisco, also check out our related articles to best spend your time: The Best Alcatraz Tours, Things To Do in Point Reyes National Seashore, Lake Tahoe Attractions & Bonsai Rock, Yosemite National Park Itinerary. All our California articles are here.
Where to Stay in San Francisco? Special Events & Federal Holidays
If you plan to visit San Francisco, make sure your date does not coincide with a major event in the city (such as Oracle World or Cup America). There are so many people at these events that prices are rising rapidly, yet accommodation availability remains very limited. Please also remember Federal Holidays while American citizens like to visit the city and prices also increase.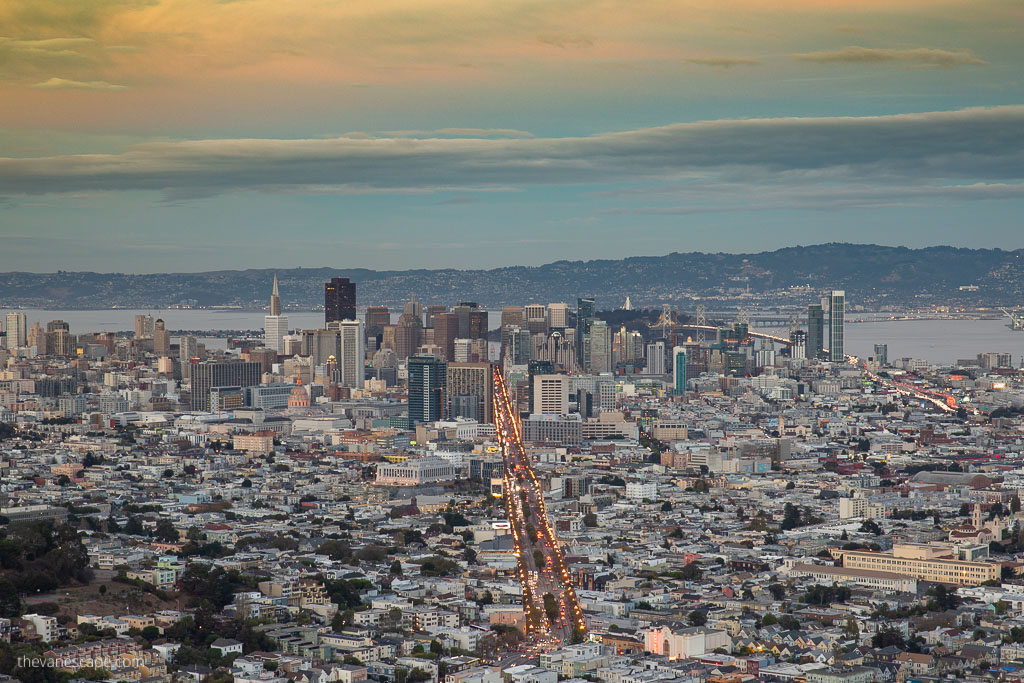 Best places to stay in San Francisco – Our Hotel Selection
Below, we have selected some of our favorite accommodations in the city and grouped them for those who travel by car and those who do not. We have also tried to give you an answer to the question of where to stay in San Francisco on a budget or which hotel to choose in San Francisco. Since we are fans of motorhomes and caravans, we have also created a small guide for people who travel with a motorhome.
Where to stay in San Francisco with a car?
($) Economy Accommodation (100-150$+tax/night)
At this price, you can usually find hotels in the city center or in slightly more remote areas. Sometimes they have shared bathrooms and not the best reviews, but you can get something nice in the off-season. Here you can find out how to stay cheap in San Francisco.
King George (rating 8.2) – Located in the heart of vibrant Union Square, an upscale shopping and global dining destination. Moscone Center is 10 minute's walk away. Fisherman's Wharf is 3.2 km away. The Financial District and Chinatown are within 2.4 km of the King George Hotel.
Coventry Motor Inn (rating 8.3) – Coventry Motor Inn offers accommodation between the Golden Gate Bridge and Fisherman's Wharf in San Francisco. Free WiFi and free covered parking are offered to guests.
($$) Average Accommodation (150-250$+tax/night)
For this price, you get your own bathroom, a much more comfortable stay in the city center and the possibility of parking your car in the hotel car park.
Orchard Garden Hotel (rating 8.8) – Located next to Chinatown, this eco-friendly hotel is 3 km from San Francisco Art Institute. It boasts a rooftop garden and patio. The parking rate is subject to change without notice, and you have to add it on top of the bill.
Chancellor Hotel Union Square (rating 8.7) – This boutique Union Square hotel, located on the Powell Cable Car Line, is just 2 minute walk from cafes and shopping at Tiffany's, Macy's, Niketown, and other popular Central San Francisco stores. They can offer you several parking options, including secured parking, regular parking, or garage parking.
($$$) Luxury Accommodation in San Francisco(>200$+tax/night)
At this price level, you can choose where exactly you want to stay and what view you will have from your room. You can find some hidden gems here if you book well in advance.
Hilton San Francisco Union Square (rating 8.0) – We had a chance to stay in this hotel on one of the top floors, and the view is impressive. The location is also high. However, we are not sure if all those things are worth paying so much money. The hotel offers you a valet parking garage that works really effectively.
Palace Hotel (rating 8.6) – We had a chance to stay in this hotel, and it's our favorite. The pros of the hotel is the location just next to Market Street but also room and amenities quality. This place is a real gem, but you must pay a higher price. They also have a valet parking garage paid separately.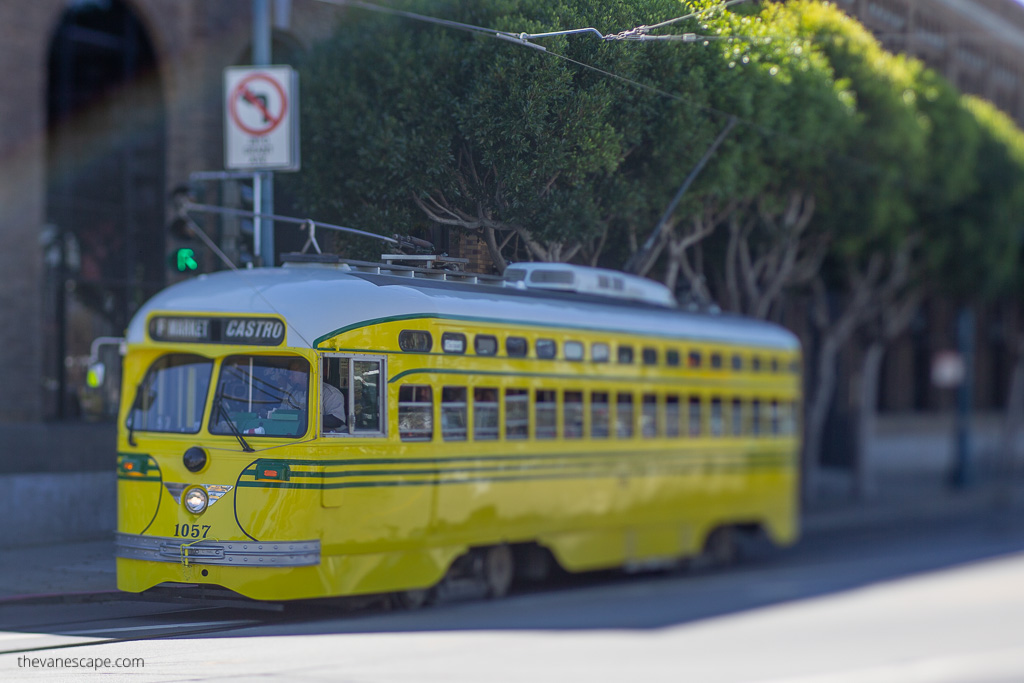 Where to stay in San Francisco without a car?
($) Economy Accommodation (<100$+tax/night)
At this price, you will usually find hotels downtown with shared bathrooms and low ratings.
Cable Car Hotel (rating 6.5) – This hotel is located next to the Cable Car path on California Street and close to Nob Hill. If you can book a room here, you should catch the rare opportunity. The hotel is very classic from 1907 and has a perfect price/quality ratio. Usually, you will have to share the bathroom.
Edwardian Hotel (rating 7.6) – This hotel is located on Market Street, not far from Castro District. In front of the hotel, you will have an F tram stop for convenient communication with the city. If you book well in advance, you can find a room with a private bathroom at an affordable price.
($$) Average Accommodation (100-150$+tax/night)
For this price, you get your own bathroom, a much more comfortable stay in the city center and the possibility of parking your car in the hotel car park.
Aida Plaza Hotel (rating 6.6) – This hotel is located in the crossings of 7th Street & Market Street next to the Subway Station which makes it an ideal choice if you don't have a car. Complimentary doughnuts are available each morning from 07:00 until 09:00, and free coffee 24 hours a day.
Kensington Park Hotel (rating 8.4) – Situated 2 minutes from Union Square and a classic Cable Car stop, this San Francisco hotel is in the heart of downtown San Francisco shops, galleries, and restaurants. Styled in fine white linens, each room features black-out drapes, mahogany furnishings, and a light-up mirror. Pets are not allowed, but there is a parking option paid separately.
($$$) Luxury Accommodation (>250$+tax/night)
At this price level, you can choose where exactly you want to stay and what view you will have from your room. You can find some hidden gems here if you book well in advance.
Powell Place Hotel (rating 9.3) – This hotel is dedicated to walking. Attractively set in the Nob Hill district of San Francisco, situated 400 m from Union Square, 1.2 km from Moscone Center, and 1.2 km from Coit Tower. The property is around 1.9 km from Ghirardelli Square, 2.2 km from Oracle Park, and 4 km from Alcatraz.
Argonaut Hotel, a Noble House Hotel (rating 8.7) – This is a hotel for people that would like to stay in the heart of Fisherman's Wharf. You will be within walking distance to all the city's most exciting attractions. The hotel is eco-friendly, so book it immediately if it is an essential factor.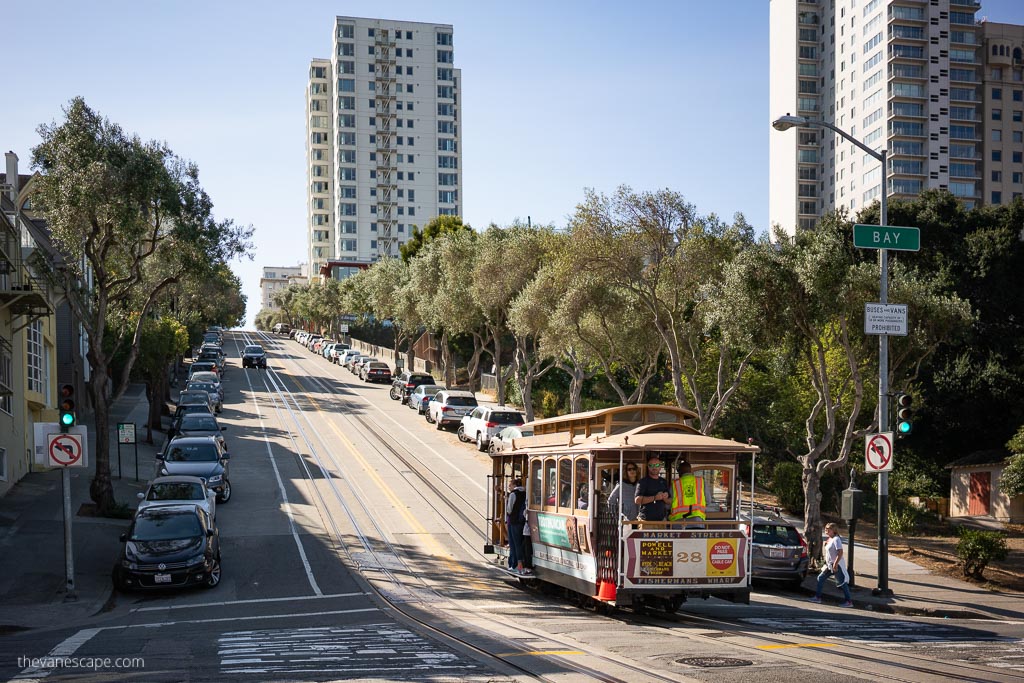 Where to stay in San Francisco with Motorhome or RV?
Since we are van lifers and often travel with different RVs, we would also like to share our experiences with this type of stay at San Francisco. And as you can imagine, finding a parking space in the city is not easy. It is even more difficult to find a place for an overnight stay.
Street parking
If you do not plan to stay overnight, you can park your RV in the street parking lot. Just make sure there are no signs prohibiting RVs. And remember to park 100 feet away from any intersection to keep visibility clear. Also, please plan your route in advance to avoid narrow and hilly roads. It will be a challenge to navigate these with your RV.
RV Parking Lot
Finding a place to park your RV downtown is not easy. Usually, it's a good idea to find something outside the center and take an Uber or bike there. There used to be a parking lot where RVs were allowed to park. It is located at Pier 48, owned by Impark, and called Lot 39 Bus Parking – Lot #12. As of 2022, it is only available for baseball events. There are some spaces there for large RVs, and the cost is $35/day. Unfortunately, this parking lot is on the east side of town (near Oracle Park), and you have to get downtown somehow. You can always try calling there; maybe they will give you an exception.
RV Overnight Camping in San Francisco
You will not find a place to stay in downtown San Francisco. But if you can drive a little south, you have 3 options to choose from (call ahead and ask if there are any places left and what the price is):
Candlestick RV Park ($$$) – They are located at 650 Gilman Avenue, San Francisco, CA 94124. They offer 184 sites, all year, al ages. The maximum rig length accepted is 50 ft. You can choose from 36 pull thru and 165 full hookups. They have toilets, showers, propane, wi-fi, and laundry.
Treasure Island RV Park ($$) – They are located at 1700 El Camino Real, South San Francisco, CA 94080. This campground is even bigger and offers 300 sites. The maximum rig length is 50 ft, and they offer toilets, showers, and laundry. It is more residential-style than an overnight campground.
San Francisco RV Resort ($$$) – This campground is located on 700 Palmetto Avenue, Pacifica, CA 94044, next to Highway 1. They offer 182 sites, and maximum rig length is 65 feet. You will find here the toilets, showers, dump station, laundry, wi-fi, cable tv, pool, and playground. You can try to book your oceanfront spot as well.
Rest Stops (Free) – If you don't need a dump station, water, or electricity, you can try to stay overnight in one of the Rest Stops (in California, it's allowed to stay 8 hours until signed otherwise). You will find one Rest Stop just north of the Golden Gate Bridge on your right – it's called Welcome Center On 101, and you must use exit 442 to get there. You will find limited parking spaces here, but amazing view of the Golden Gate bridge.
Another Rest Stop that you can consider is close to exit 36 on Highway 280 (south of San Francisco). It has only 10 truck parking spaces and restrooms available.
You can try to find more spots like that using AllStays Camp & RV application for your mobile phone.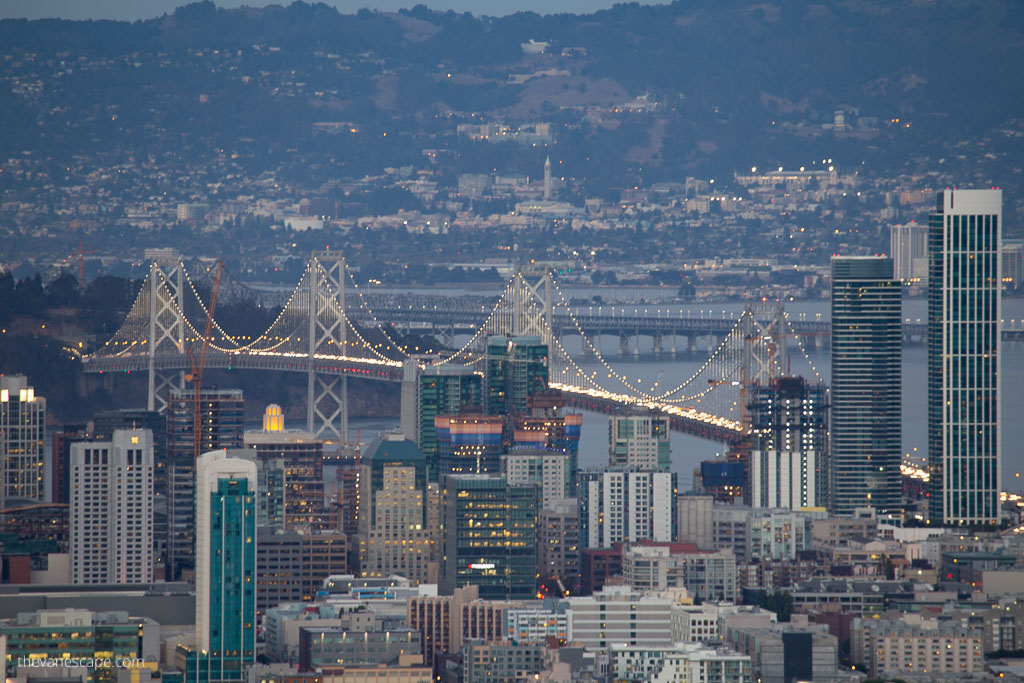 Where to Stay in San Francisco Airbnb?
This section found the most exciting places to stay if you prefer Airbnb. Not for everyone's price, and the location is equal In this section, we have found the most exciting accommodations for you if you prefer Airbnb. Price is not for everyone, and location is just as important. For some people, design and style are key – they want to enjoy the atmosphere of the city and local architecture or just experience something different. They are just bored of all the classic motels and hotels. For these people, we have selected some interesting places. I hope you will find something here that you like. And this is also an excellent choice for those who are wondering where to stay in San Francisco with kids.
Delmar Street Guest Suite with a View ($$) – This is room with a fantastic view of the city and the rooftop. We love those hills and how you can spot details from the balcony. This room is even equipped with a telescope to have a better view. The apartment is located between charming Cole Valley, historic Haight-Ashbury, and within walking distance of Golden Gate Park and UCSF. Minimum stay 2 nights. Please check the prices and availability here.
Where to stay near San Francisco?
You may want to trade location for cost or luxury and not stay in the city center. This section is for you. We have compiled our experiences with the best accommodations near San Francisco, where you can stay cheaper or better and commute comfortably.
Oakland
If you agree to commute to San Francisco from Oakland, you can find cheaper lodging there. Prices can be even 25-30% lower than in the town. It's also easier to park your car, and usually, it will be free. From Oakland, you can travel by BART (depending on the route 4-10 USD) or ferry (from 7.2 USD/one way).
Bay Bridge Inn Oakland ($) – Bay Bridge Inn is an economy property in Oakland conveniently located 2 blocks from a BART (Bay Area Rapid Transit) station, which puts it in easy reach of San Francisco and Berkeley. Check prices and availability here.
Imperial Inn Oakland ($) – This Oakland is located just 1 block from BART station that offers easy access to San Francisco City. Check prices and availability here.
Sausalito
We love this charming little town. Especially early in the morning, just after sunset, when fog spreads over the water and you can see San Francisco awakening from afar. Life in this small town is different, no one is in a hurry, and many people prefer to ride their bikes rather than drive. It's a fantastic idea to have breakfast with a view. But it's also a nice place to stay near San Francisco. Maybe it's not as cheap as Oakland, but it's certainly more original.
Mediterranean Home with a View ($$) – In this home, you can feel like in Italy. It is a 1930 vintage sunny home with water views from every room and 3 bedrooms/2 baths. It can accommodate 6 people very easily and is furnished with contemporary and antiques—a really lovely place for a family stay. Check prices and availability here.
Immaculate Vintage Airstream in Mill Valley ($$) – This fantastic place is located in Mill Valley – 10 minute drive to Sausalito. The owner says, "Capture the spirit of 1960s American wanderlust in a gleaming Airstream trailer. The curvaceous interior has been painstakingly restored with period-correct decor. New appliances have been selected as much for their retro style as modern function." – and we agree with this idea. If you like it as well, check prices and availability here, please.