Roy's Motel & Cafe in Amboy
As you travel across the Mojave Desert on old Route 66 in Southern California, is worth stopping in Roy's Motel & Cafe. It's located in the abandoned town of Amboy, which glory times passed while opening interstate I-40. Check our tips and photos from visiting Roy's Motel.
This article may contain affiliate / compensated links. For full information, please see our disclaimer here.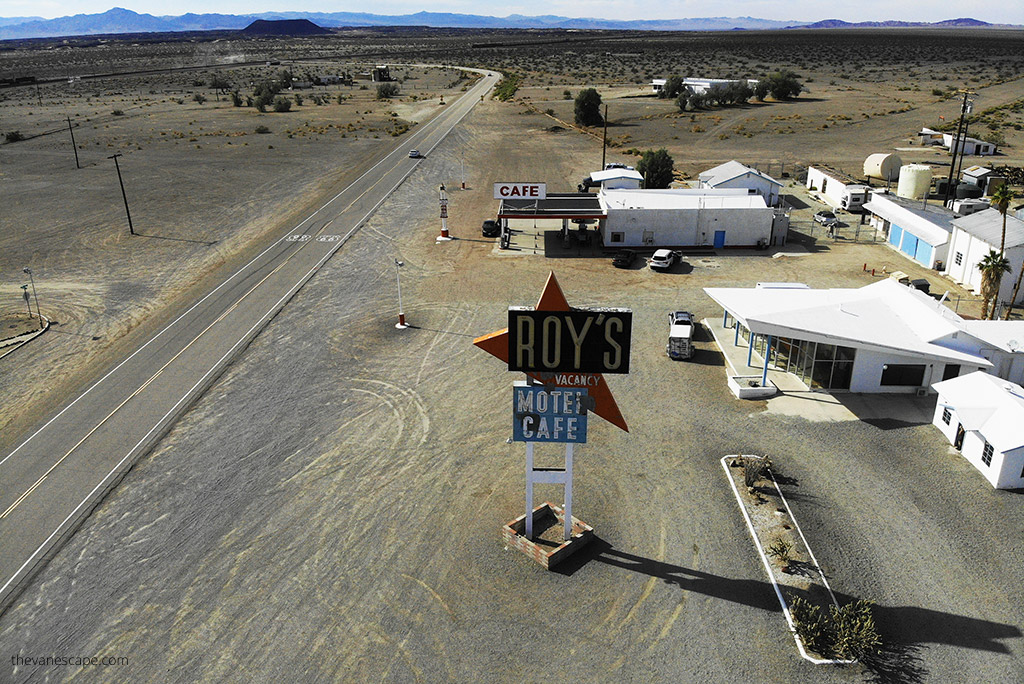 What is Roy's Motel & Cafe?
Established by Roy Crowl in 1938, Roy's Motel and Cafe in Amboy is a motel, cafe, gas station, and automotive repair shop maintained and refurbished as a historic site along Route 66. Amboy is located in the middle of nowhere in the Mojave Desert. Its location adds mystery and a little atmosphere of thriller to the abandoned town. When visiting Roy's Motel and Cafe in Amboy, you can feel like in a movie. Retro-style impressive buildings and neons of Roy's Motel and Cafe are worth visiting during your road trip in California.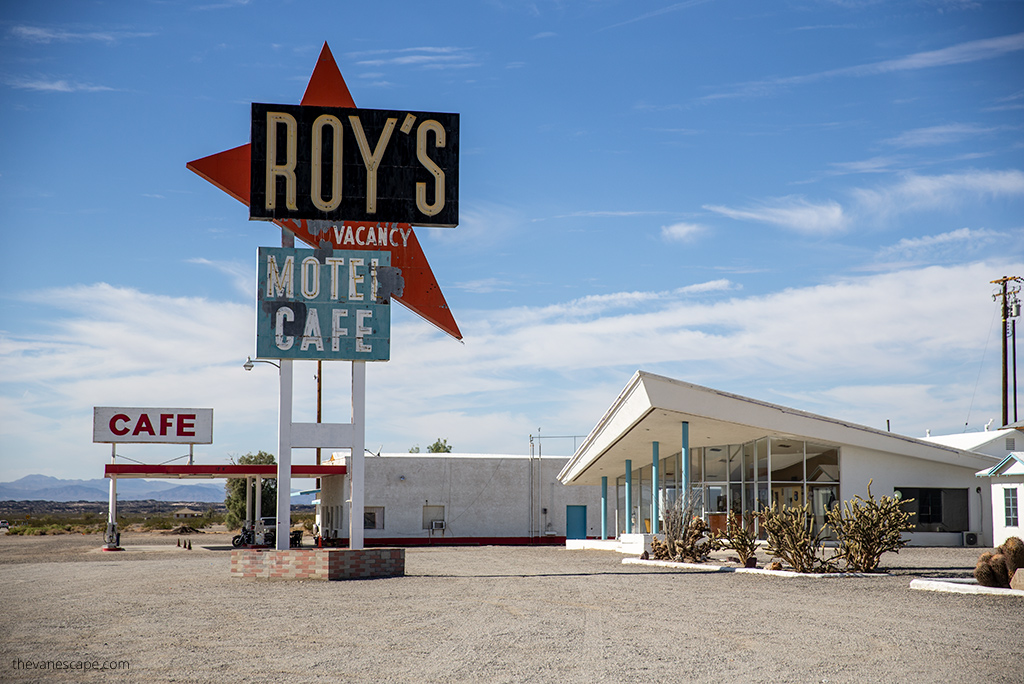 The short history of Amboy
Amboy was first settled in 1858 as a mining camp. In the 1880s, the Southern Pacific Railroad laid tracks across the desert to connect Southern California with the eastern United States. In 1883, the town was officially established. Lewis Kingman, an engineer for the Atlantic and Pacific Railroad, established the town as the first of a series of alphabetically arranged stations to be built in the Mojave Desert.
In 1926, Amboy became a boom town after the opening of U.S. Route 66. The famous Route 66, an interstate highway from Chicago to Los Angeles passed through Amboy.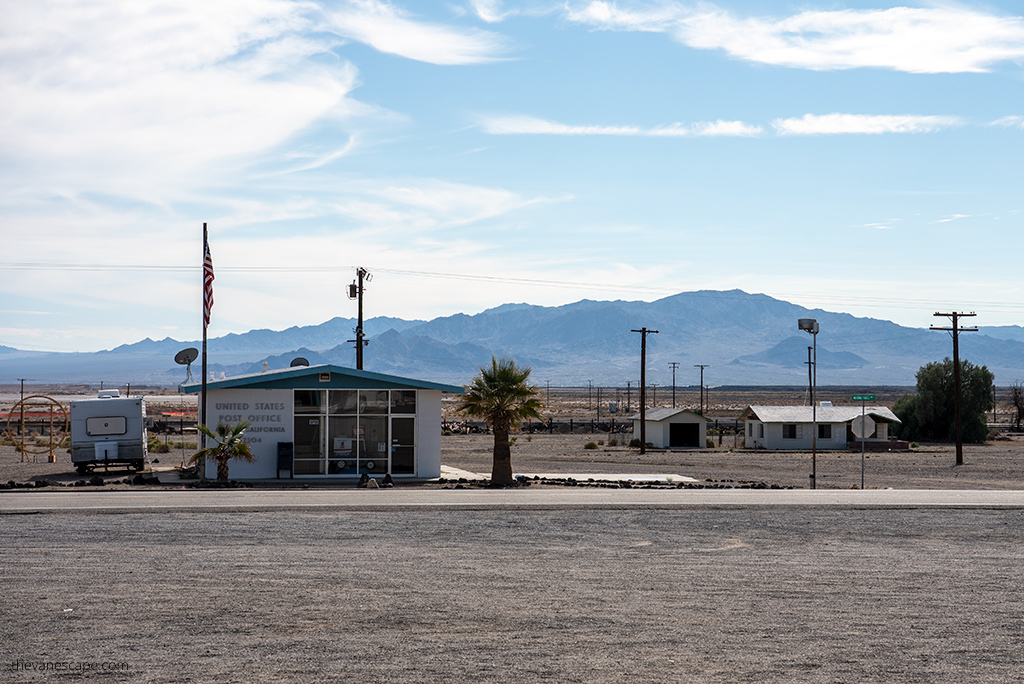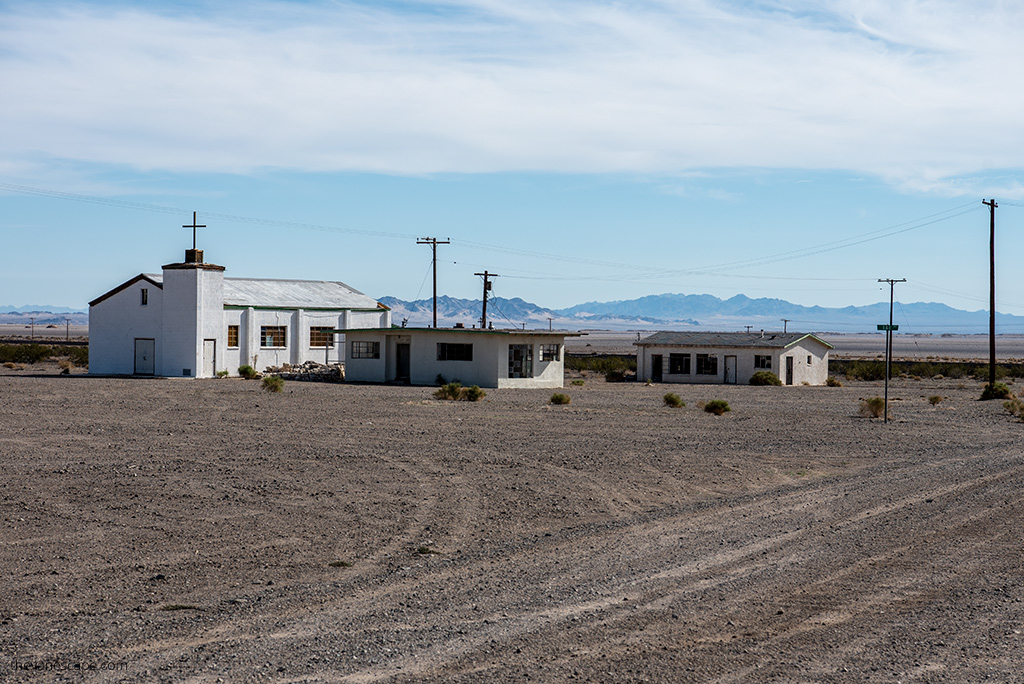 With the increased traffic brought by the new highway, Amboy began to grow. Even during the Great Depression of the 1930s, Amboy flourished as existing traffic needed a stopping point in the middle of the desert. After the Great Depression and World War II tourism declined nationwide. However, the needs of the remaining travelers for lodging, meals, and gasoline kept the city going. By the 1950s, Amboy's population had grown to 700, 10% of whom worked at Roy's Motel and Cafe. The town remained that way until the opening of Interstate 40 in 1973, which bypassed Amboy.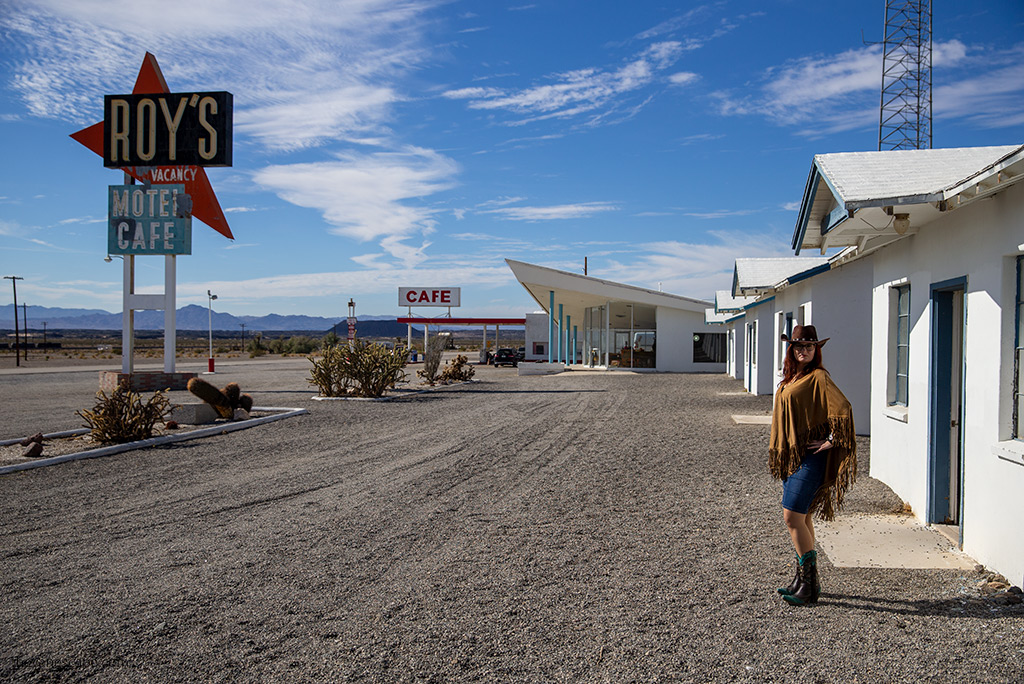 The brief history of Roy's Motel & Cafe
The beginnings of Roy's Motel
Roy's Motel and Cafe is an iconic location on Route 66. The beginnings of this business date back to 1938. Roy Crawl and his wife Velma recognized the need for a gas station and repair store to handle the increasing traffic. So they opened Roy's Garage in 1938. By 1940, Amboy's population had grown to 65. The growth was due not only to tourism, but also to the Santa Fe Railroad, on which freight trains still run between Kingman, Arizona, and the BNSF station at Barstow, California. They added gas pumps next, and in 1940 and later opened a café for travelers. As travel increased, the Roys decided to open a Roy's Motel, and the business became Roy's Motel and Café. In the 1950s, the large, fabulous retro Roy's sign was added to attract travelers.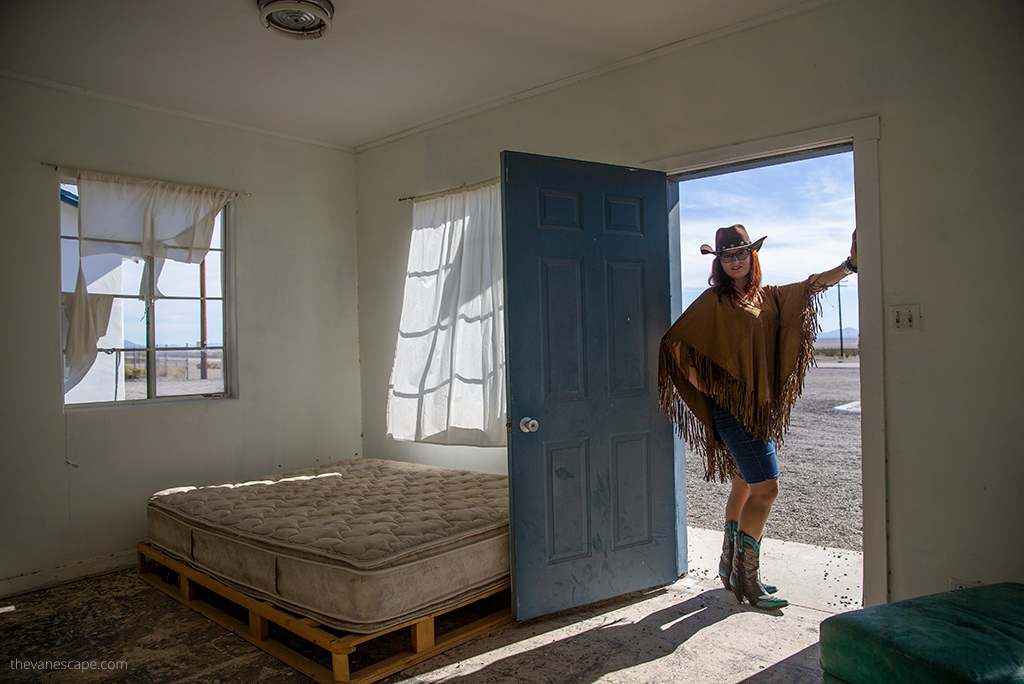 Closing the Roy's Motel and Cafe
Buster Burris became the owner of Roy's when the Crowls retired in '59, as well as the owner of Amboy itself. Roy's Motel flourished for several years, and the company became an icon of Route 66. In 1973, California opened I-40, which bypassed Amboy a few miles to the north. Amboy was a ghost town. Roy's Motel and Café also closed.
Roy's Motel and Cafe was sold a few times and used mainly as a movie set. Vandals began to damage the facility. In 2005, the town of Amboy, including the Roy's Motel & Café buildings, was purchased by Albert Okura, who owns the Juan Pollo Chicken restaurants in California.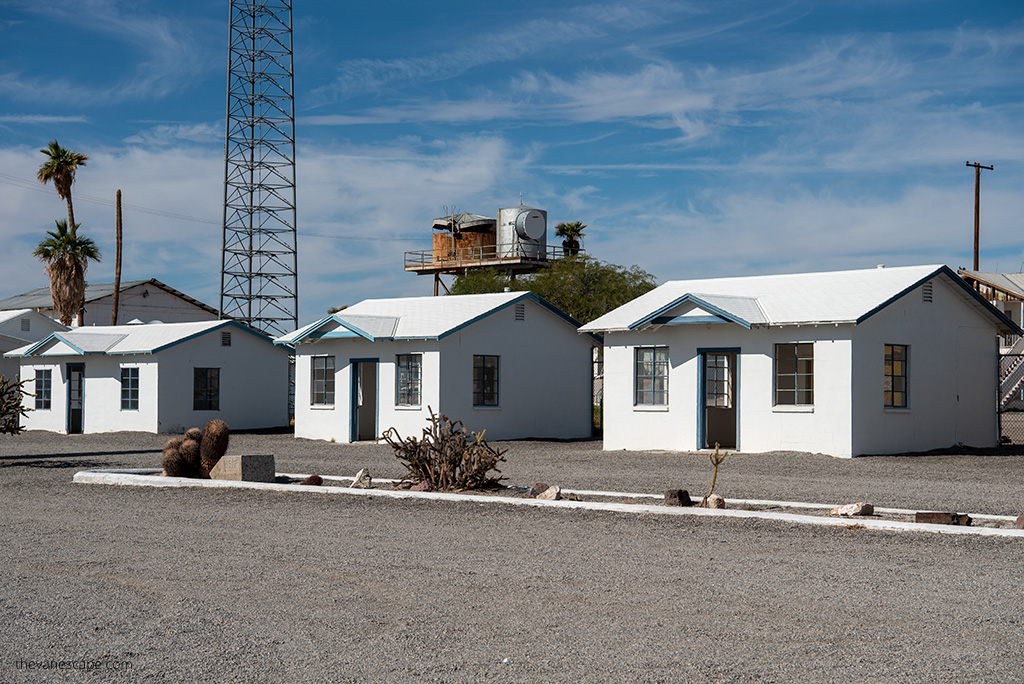 Okura was aware of efforts to revitalize Route 66 and wanted to bring Roy's back to life. In 2008, the gas station reopened after remodeling and restoration. The gas station and convenience store are still in operation today. But don't expect to find gasoline or groceries there. Even when the gas station is open, it's extremely expensive. In 2019, the owner restored an iconic 50-foot Roy's sign. There are plans to remodel the Roy's Motel & Cafe for reopening. The owner would like to return Roy's Motel & Cafe to a destination as it once was.
Pro Tip: More about the Amboy, its history, and Roy's Motel & Cafe restorations you can read on the official website.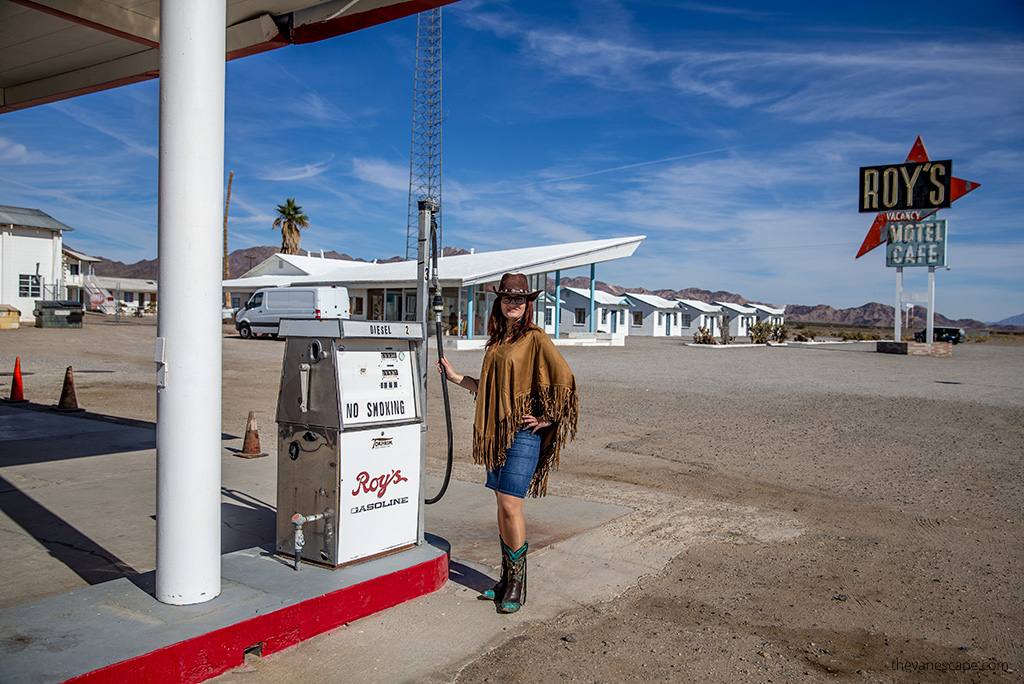 How to get to Amboy?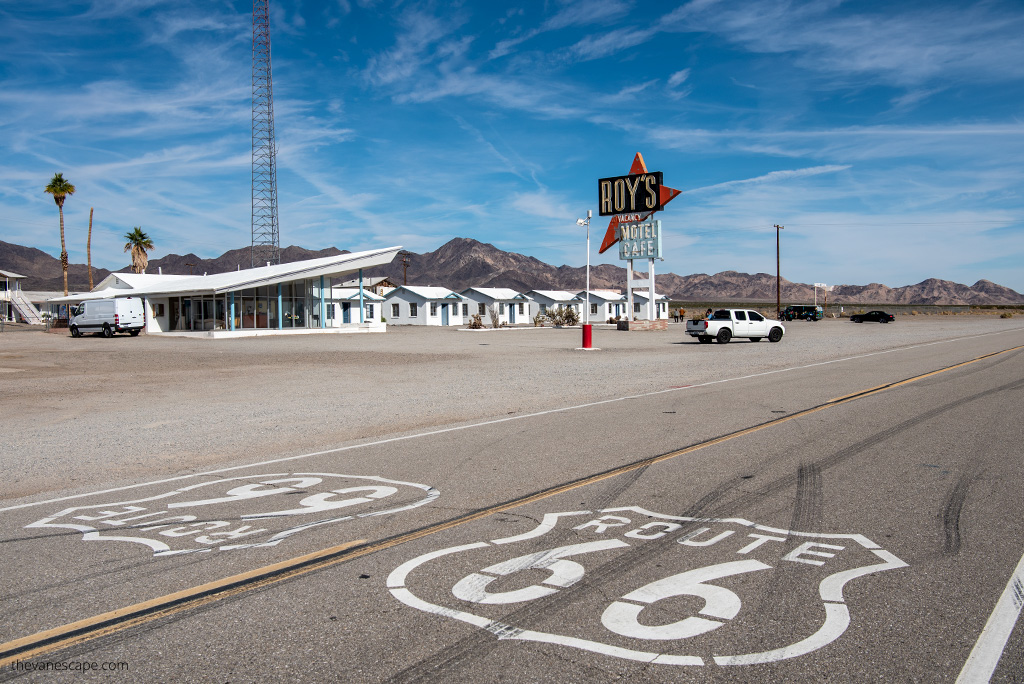 Roy's Motel & Cafe as a Route 66 Stop
If you plan to drive all of Mother Road – Route 66 from Chicago to Los Angeles, or some part of this route, visiting Amboy is a must. Roy's Motel & Cafe is one of the best stops on Route 66 on the Southwest. From Amboy to Route 66 End of the Trail, on Santa Monica Pier, is 210 miles and about 3 hours and 30 minutes of driving. For this trip don't forget to pack the newest edition of Moon Route 66 Road Trip Travel Guide, which is perfect, detailed, and very informative. You won't miss fabulous places on Route 66 and learn a lot about its history.
If you drive to Los Angeles be sure to choose I-40 E and National Trails Hwy and don't miss the famous Bagdad Cafe on the way.
Moon Route 66 Road Trip (Travel Guide)
The newest edition from 2021

38 easy-to-use maps detail the existing roads that comprise the original Route 66

Flexible Route 66 Itineraries

Eat, Sleep, Stop and Explore: With lists of the best stops, best hikes, roadside curiosities, abandoned ghost towns, extraordinary landscapes, and more.
How much cost visiting Roy's Motel & Cafe, Amboy?
There is no admission fee to this abandoned Amboy town which is a reminder of the great glory of Route 66 Highway. You can stop and take some photos. During our visit, some motels room were open, so we could enter them and see the relics of the past. Most of the rooms were completely empty. One had an old mattress and a dusty armchair.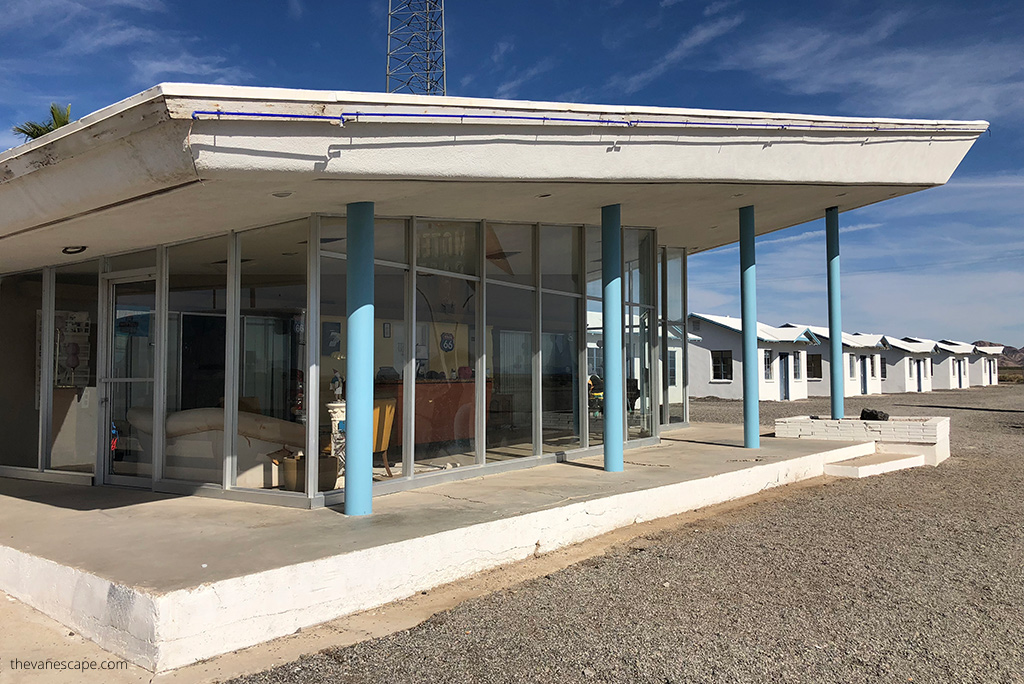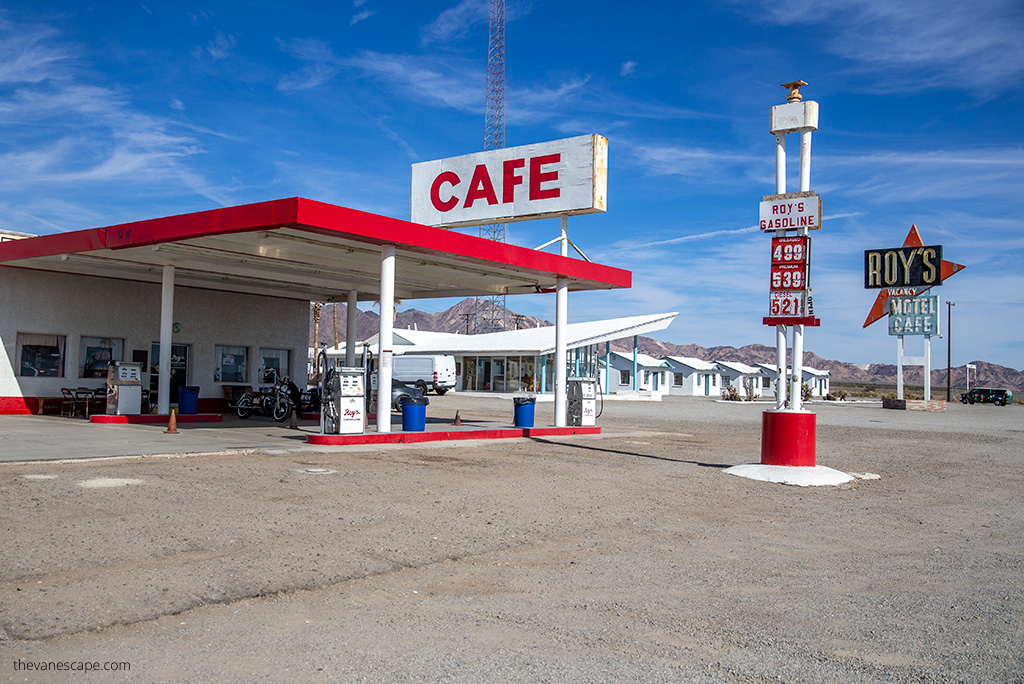 Can you stay at Roy's Motel in Amboy?
No. You can't stay in Roy's Motel but can look through the windows. Most of it is fairly run down, but we had lucky to enter some of the motel's rooms as they were opened. There are plans to restore the motel to its former glory, but it takes money, time, and determination.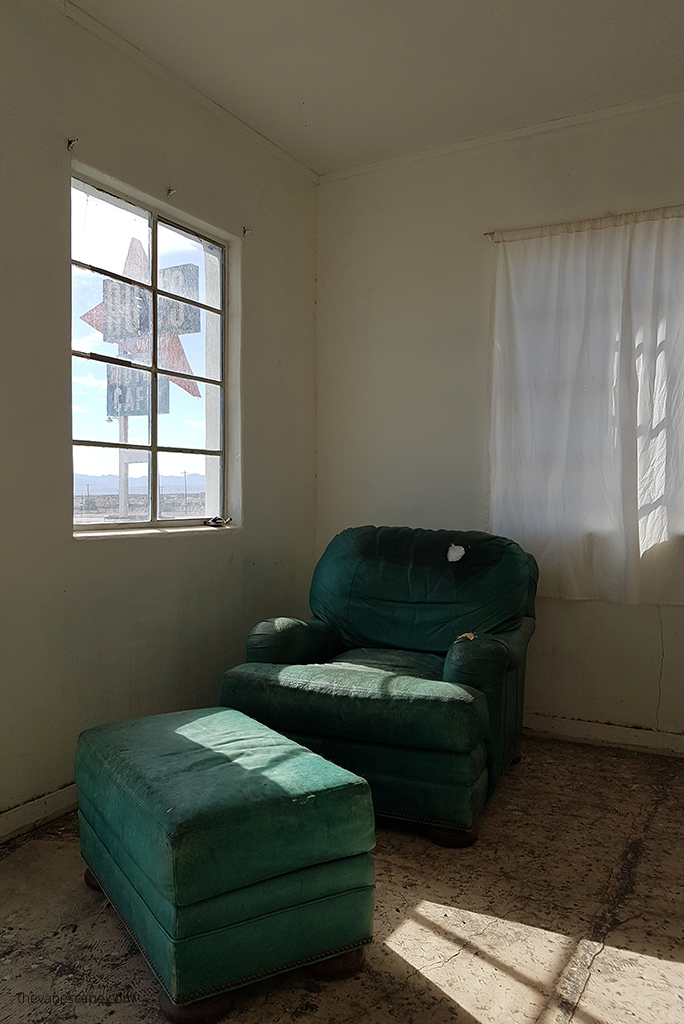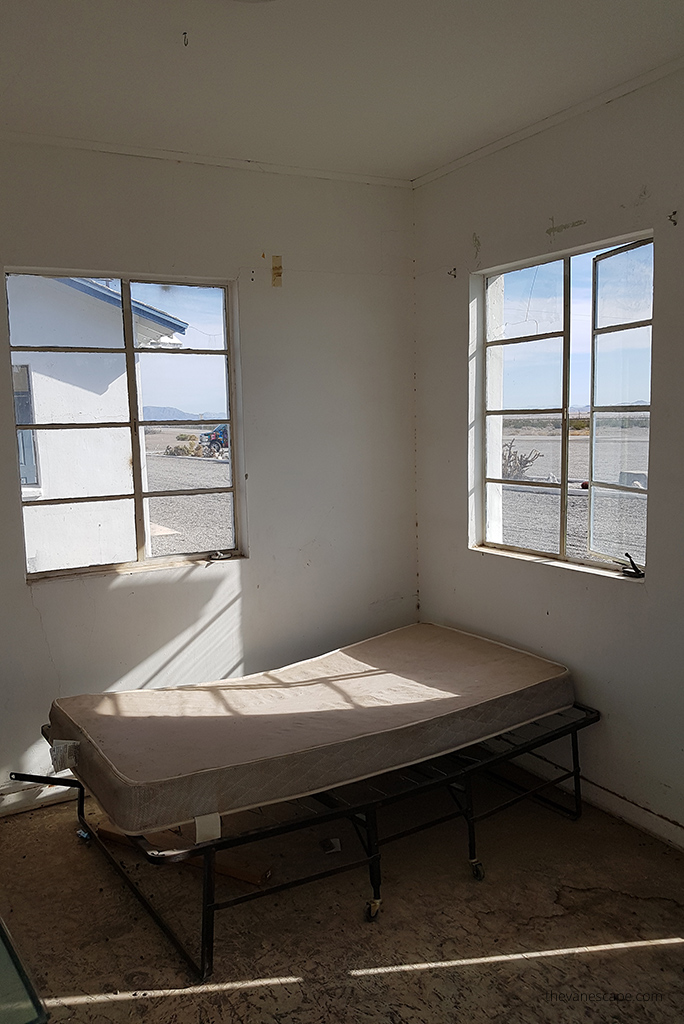 Roy's Motel & Cafe Movies
In the 1980s and 1990s, Roy's Motel & Cafe in Amboy became a popular movie destination. Roy's Motel appeared in several movies. One of the most famous was "The Hitcher" from 1986, directed by Robert Harmon, with Rutger Hauer, C. Thomas Howell, Jennifer Jason Leigh, and Jeffrey DeMunnand. The second one was "Kalifornia" from 1993, which is a great thriller. It was directed by Dominic Sena with stars Brad Pitt, Juliette Lewis, Kathy Larson, and David Milford. We highly recommended to watch them before visiting Roy's Motel.
What's more, Roy's Motel also served as a backdrop in music videos such as Enrіquе Iglesias' 2001 hit "Hero" and Queens of the Stone Age's "Thе Lоѕt Art оf Keeping A Sесrеt."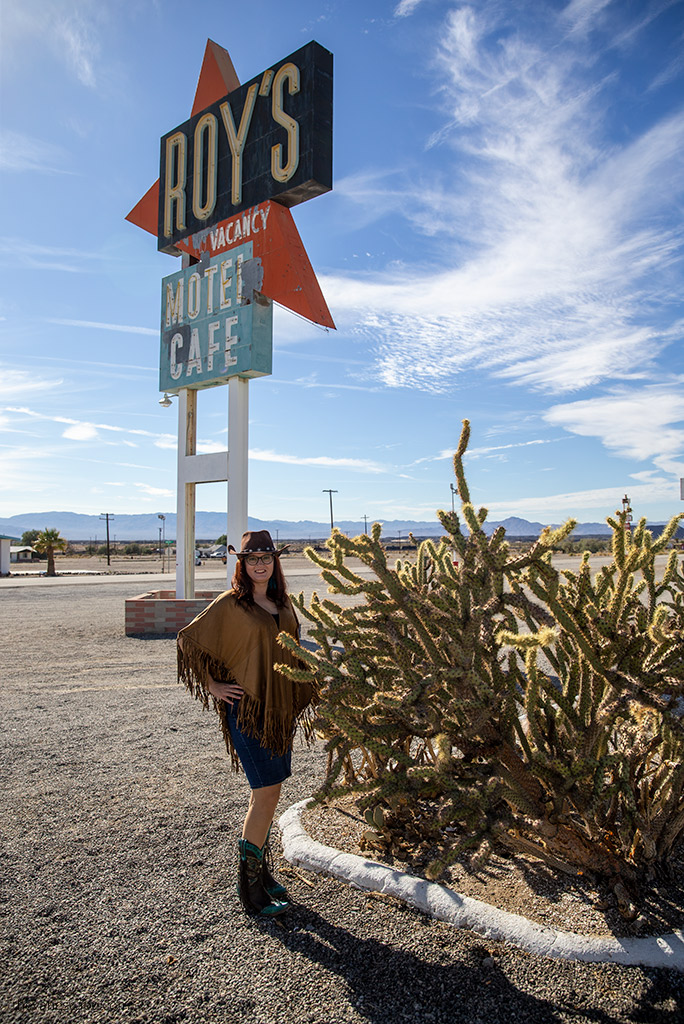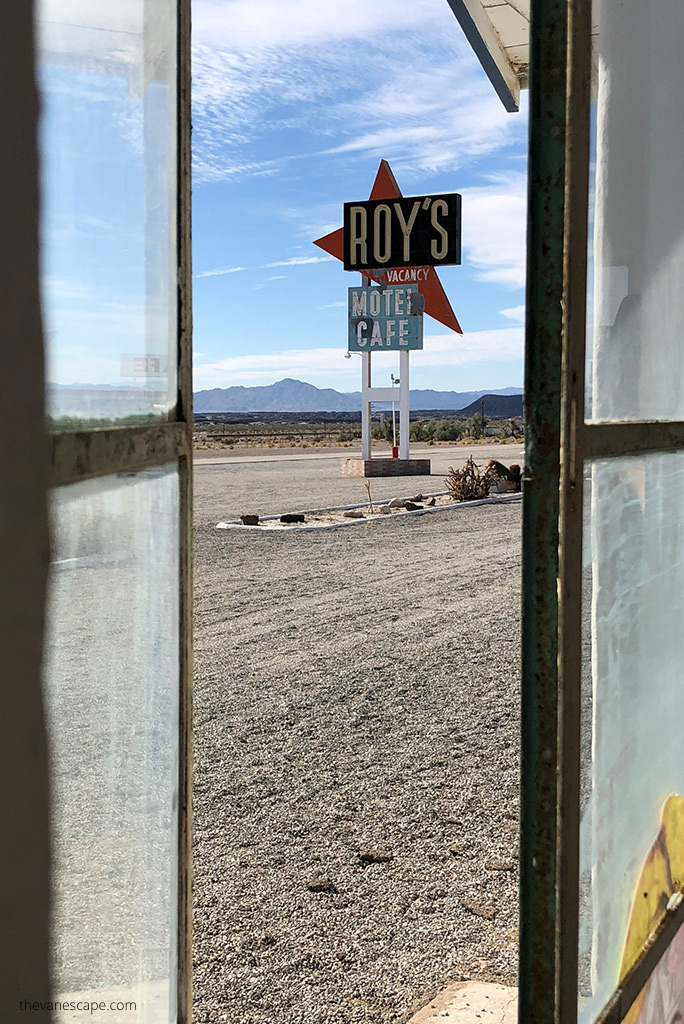 Do you like it? Pin it!