12 Best Things To Do At Crater Lake National Park
Check our list of 12 Best Things To Do at Crater Lake National Park to have a great adventure! The trip to the USA's deepest lake is an unforgettable experience. Crater Lake National Park in Oregon offers many activities to take advantage of. With its calm dazzling waters, the clearest and bluest in America, this place is wonderful and so photogenic that it is difficult to leave it. Our Complete Guide to Visiting Crater Lake National Park helps you immerse yourself in the full experience of this captivating place. We give tips on what to do, where to stay, when to go, and where to eat. We give you a list of the greatest Crater Lake hikes. Finally, we share our photographic experience and give you Crater Lake's best viewpoints and photo hints.
This article may contain affiliate / compensated links. For full information, please see our disclaimer here.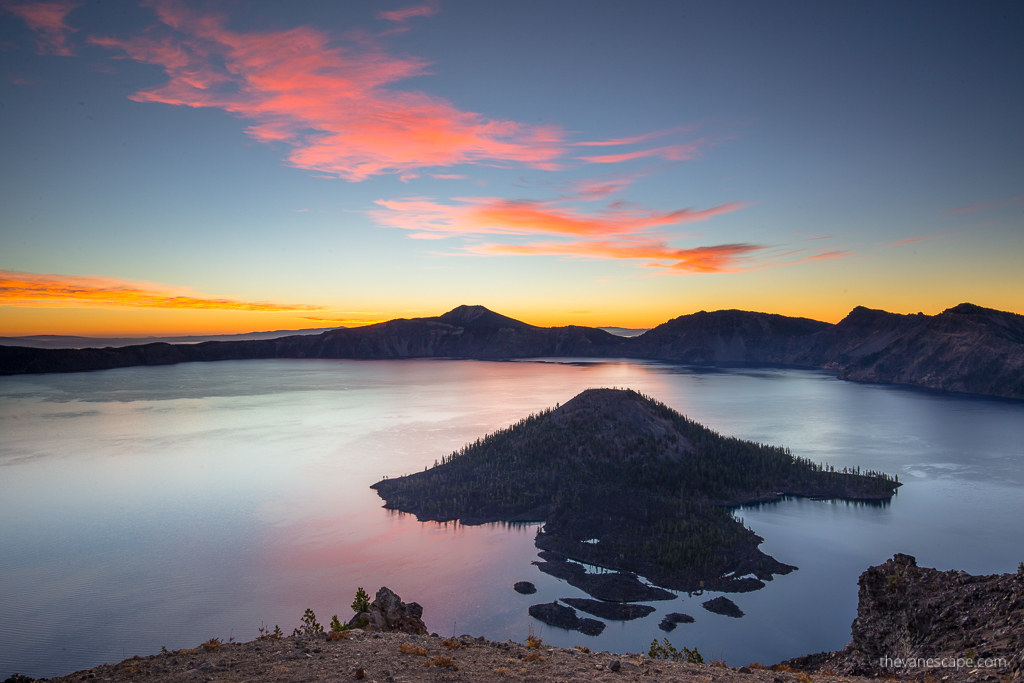 12 Best Things To Do At Crater Lake – Introduction
There are plenty of volcanoes in the Pacific Northwest. We described the fabulous Mount Rainier National Park and the extraordinary Mount Hood area. But for sure, Crater Lake National Park is unique and one of the most mesmerizing places in Oregon. So, it's worth adding to your bucket list if you plan an Oregon road trip. Here we give you tips on preparing for a perfect trip to Crater Lake and a list of the 12 best activities in this park.
Where is Crater Lake National Park?
Crater Lake is located in south-central Oregon in the western United States. Crater Lake is in Klamath County, about 80 miles (130 km) northeast of Medford and 60 miles (97 km) northwest of the county seat of Klamath Falls.
Directions to Crater Lake National Park
From Portland (also check our Portland Itinerary) is 269 miles and 4 hours 40 min driving via I-5 S i OR-58.
From Bend, are about 2 hours and 15 min driving and 127 miles via US-97 S.
Sisters (which we described in this article) is 149 miles and 2 hours and 35 minutes driving via US-97 S.
From Eugene, it's about 164 miles and 2 hours and 50 minutes driving via OR-58 and US-97 S.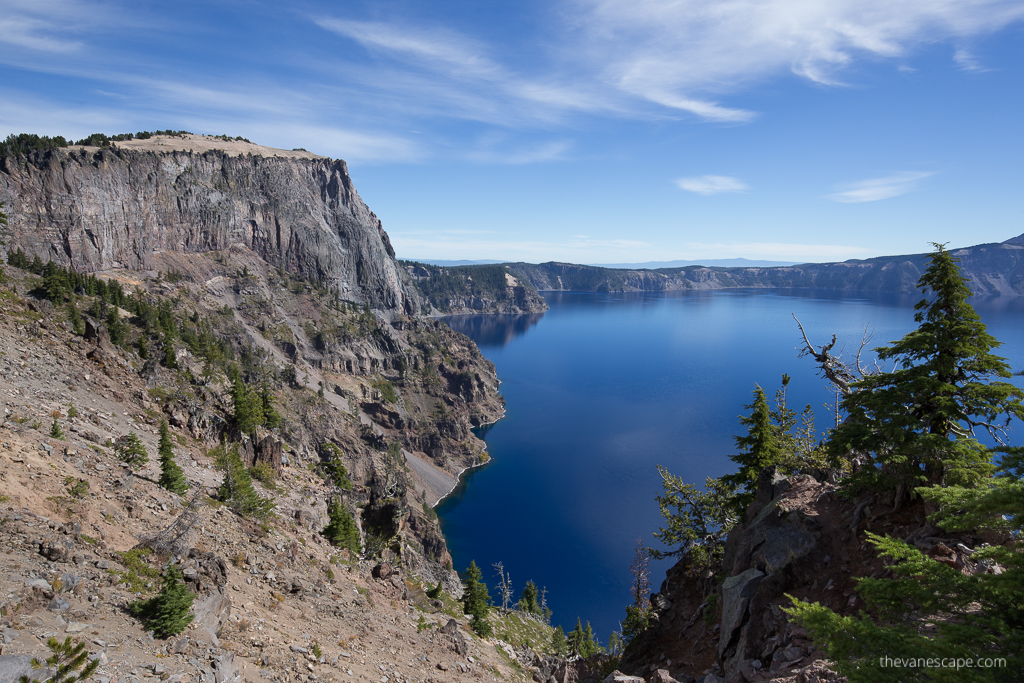 Most Important Facts & Fun Facts About Crater Lake National Park
How was Crater Lake formed?
Crater Lake was formed about 7,700 years ago by the collapse of the volcano known as Mount Mazama. Eruption drastically changed the landscape all around the volcano, forming a caldera, a hole made by the collapse of a volcano. A thousand years after the eruption, rain and melting snow had almost filled the caldera. The Crater Lake partly fills a nearly 2,148-foot-deep (655 m) caldera, up to 1,943 feet. Lava eruptions later created a central platform, Wizard Island, Merriam Cone, and smaller volcanic features.
No rivers flow into or out of the lake. The evaporation is compensated for by rain and snowfall. Due to this, the waters stay so clear since the lake has no other bodies of water. The lack of inflow reduces pollution. So, we can enjoy the intense blue color of Crater Lake due to its great depth and unusual clarity.
The lake is 5 by 6 miles (8.0 by 9.7 km) across, with a caldera rim ranging in elevation from 7,000 to 8,000 feet (2,100 to 2,400m).
Crater Lake features two small islands, Wizard Island, which is accessible by boat tour, and Phantom Ship, a natural rock pillar, near the southern shore.
John Wesley Hillman was the first non-Native American explorer who reported sighting the lake he named the "Deep Blue Lake." It was in 1853. First, the lake was named Blue Lake, then Lake Majesty, and finally, Crater Lake.
How Deep is Crater Lake?
Crater Lake depth is a maximum of 1,943 feet (592 meters), making it the deepest lake in the United States. It's the second-deepest lake in North America after Great Slave Lake in Canada. Crater Lake, Oregon, is the ninth deepest in the world. The average lake depth of 1,148 feet (350 m). Furthermore, when considering the average depth of lakes, Crater Lake becomes the third deepest in the world.
Crater Lake holds 4.9 trillion gallons of water. The lowest point on the rim is 507 feet above the lake.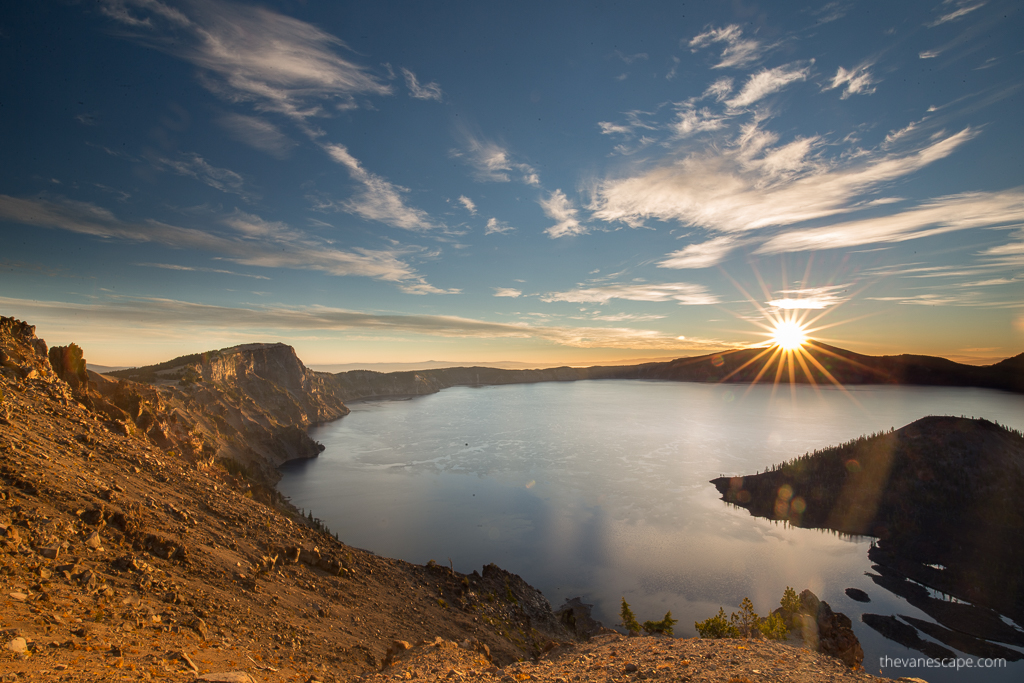 Entrance into Crater Lake National Park
Crater Lake National Park was established in 1902 as the fifth-oldest national park in the United States and the only national park in Oregon. The park protects the caldera of Crater Lake, a remnant of Mount Mazama, a destroyed volcano, and the surrounding hills and forests.
There are two main entrances to Crater Lake National Park. The most important and year-round accessible one is the Annie Spring Entrance Station along Highway 62, located in the southwestern part of the park.
When is Crater Lake National Park open?
Crater Lake National Park is open year-round. However not always easily accessible. Due to snow, many of the park's roads, trails, and facilities are closed seasonally.
Highway 62 and the Rim Village are open year-round. North Entrance Road and Rim Drive are closed for much of the year. Usually, they close around November 1st or earlier if there's snowfall. The North Entrance and West Rim open between mid-May and late June. The East Rim opens between mid-June and late July. You can check Operating Hours & Seasons on the NPS website.
There are two Visitors Centers in the Crater Lake National Park:
Steel Visitor Center (open year-round, except December 25)
Rim Visitor Center (open only in summer).
Entrance Fees for Crater Lake National Park
According to the official NPS website, no reservations are needed to enter the park. Beginning January 1, 2023, no cash will be accepted. When you arrive, you can pay by debit or credit card and Apple or Samsung pay/digital wallet.
Private Vehicles are $30 in the summer (mid-May to October 31) and $20 in the winter (November 1 to mid-May). Valid for 7 days.
However, if you plan to visit at least three national parks unit during a year, it's a better idea to purchase America the Beautiful Annual Pass, which provides access to more than 2,000 federal recreation areas across the United States, including all national parks. It costs only $79.99, and it's valid for a year from the month of purchase. It covers entrance for a driver and all passengers in a personal vehicle at per-vehicle fee areas or up to 4 adults at sites that charge per person (kids 15 & under get in free).
Where are the closest gas stations to Crater Lake National Park?
Crater Lake is in a remote section of southern Oregon. There are no gas stations located within Crater Lake National Park. So, in the summer, you can find gas at the Mazama Camper Store in Mazama Village. During winter and the rest of the year, the closest gas stations can be found in Prospect or Chemult.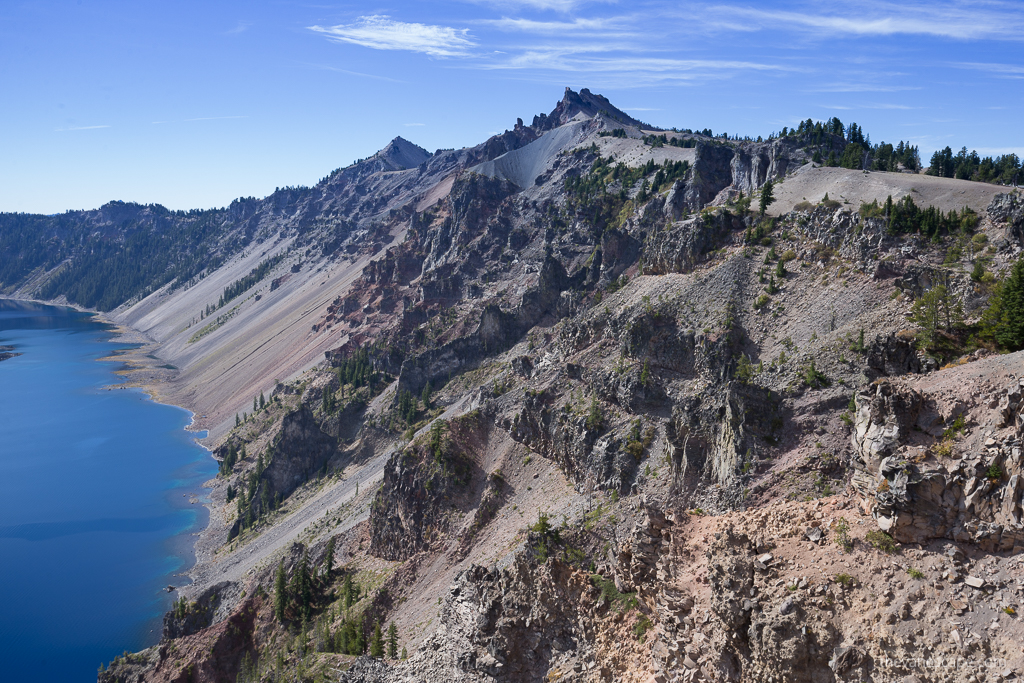 Crater Lake Weather
When to Visit Crater Lake National Park?
Crater Lake National Park has a short summer and long winter.
Winter at Crater Lake
Snow covers Crater Lake National Park for eight months of the year. The average annual snowfall is 533 inches (1350 cm). However, the lake rarely freezes due to a relatively mild onshore flow from the Pacific Ocean. Winter typically begins at the park in late September and runs through June. The scenery during the winter season is like a fairytale. We were the first time in October and the second time in November, and it was fabulous. Snowstorms are quite common, so be careful when driving. 4×4 is recommended. Roads, trails, and facilities begin to open depending on weather conditions. They might be closed due to the weather, so check if it's open on the NPS website.
Summer at Crater Lake
So, the season is pretty short, especially if you want to swim or take a boat tour. The best months are late June, July, August, and September.
You can drive to Rim Village, which overlooks the lake, in May and June. But the road around Crater Lake and the park's North Entrance might be closed due to snow.
Summers are sunny, but due to the altitude, evenings, nights, and mornings are cold, so pack warm things and check our Day Hiking Packing List before you go. July, August, and September offer warm, dry weather. They are the warmest months, with average temperatures for days and nights:
July: day 68.0 °F (20.4 °C); night 40.5 °F (4.7 °C)
August: day 69.7 °F (20.9 °C); night 40.6 °F (4.8 °C)
September: day 63.2 °F (17.3 °C); night 36.2 °F (2.3 °C)
In May, June, and October, sunny days alternate with periods of rain and snow. From October, frosts often occur at night. It is cold. January is the coldest month when highs average about 35 °F (2 °C) and lows average about 18 °F (−8 °C). Before you go, check the accurate weather forecast.
Most of the park's facilities, including restaurants and campgrounds, are closed all winter, so ensure you have plenty of gear, gas, and food before setting out.
12 Best Things To Do At Crater Lake National Park
Drive the Crater Lake Rim
The best thing to do at Crater Lake National Park, Oregon, is to take Rim Drive. The historic Crater Lake Rim Drive is a 33-miles (53-km) long road which offers breathtaking and panoramic vistas of the lake, forests, and meadows.
Along the way, there are 30 overlooks with ample car parking, which provide opportunities to stop for views, admire it, relax, taking photos. Furthermore, Rim Drive also provides access to picnic areas, hikes, geologic formations, and some waterfalls. In the last part of the post, we share the Crater Lake best viewpoints list with you if you don't have time to stop at all overlooks.
How does the Rim Drive look?
You should reserve at least half a day to enjoy this scenery. 2 hours is the minimum. Each stop is different. Some are easy, and you can enjoy the view. Some have higher places so that you can hike a little. At the same time, others offer signs with terrific geological, historical & ecological information worth reading. The road is narrow and winding and does not have shoulders. The speed limit is 35mph or less. It would help if you were careful because Rim Drive is shared with bicyclists, and traffic goes both directions.
When is it open?
The full loop of Rim Drive (East and West) is usually open from July through October. Depending on snow removal, rockfall, and special events such as Ride the Rim, partial closures may occur. So always check if the road is open and current conditions and alerts on the NPS website.
PRO TIP: This detailed Crater Lake Map is great for trip planning. In addition to Rim Drive, it includes all hiking trails in the park. Furthermore features the best viewpoints and stops, and more.
Crater Lake National Park (National Geographic Trails Illustrated Map, 244)
Illustrated map of Crater Lake National Park is designed to meet the needs of outdoor enthusiasts by combining valuable information with unmatched detail of Oregons only national park. This expertly researched map provides a variety of useful information to help you get the most from your visit, including summaries of featured summer hikes and cross-country ski trails. Additional maps highlighting winter recreation at both Crater Lake and Diamond Lake, and the Pacific Crest National Scenic Trail is included as well.
Rim Drive by Trolley Tour
Trolley Tours are also available, so it's another way to experience Rim Drive. It's a great idea, especially during the high season, as you can avoid traffic on the way. You can get to board a trolley at Rim Village. The Trolley captain drives the 33 winding miles around the lake with a minimum of five stops along the way. Each trolley tour lasts two hours. A park ranger is on board each tour, narrating stories about park history and the landscape. You must reserve Trolley tours ahead.
Trolley Tours will start July 1st. Here is a Trolley trip reservation website.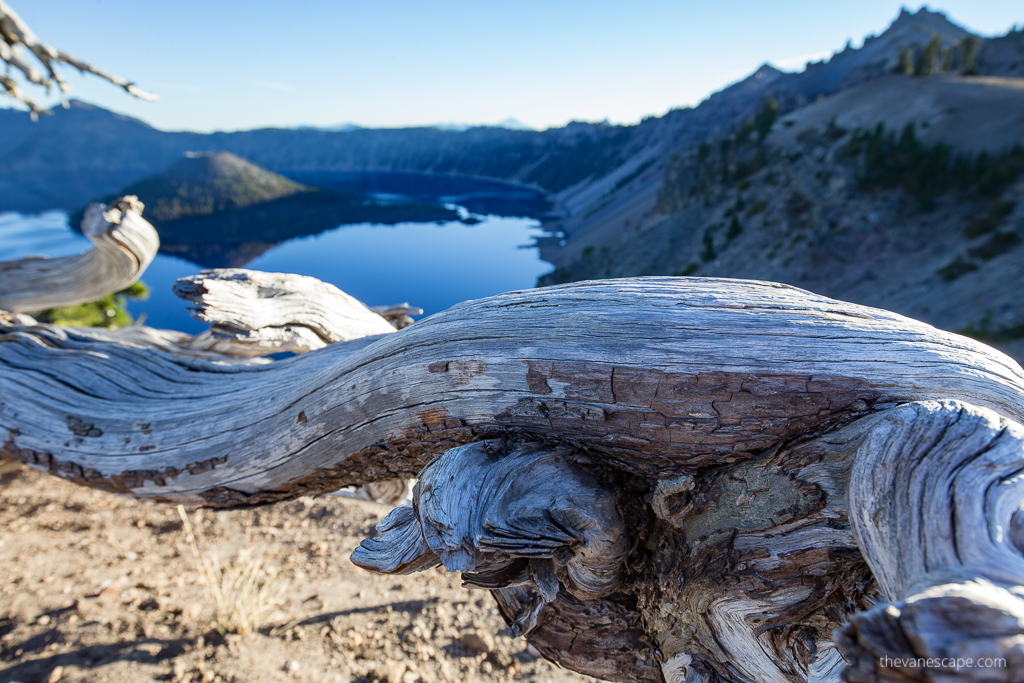 Stop For A Picnic With A View
The scenery of Crater Lake Rim Drive is absolutely fabulous. And it's worth collecting magical moments in life. One of the best ideas is to stop for lunch or a picnic during your drive. Pack for your trip some favorite snacks and drinks. Choose a place, enjoy the beauty of nature, and relax. Give yourself time to chill out. It's one of the best things to do at Crater Lake.
There are picnic tables at some stops. But you will also find a fallen log where you can sit. Or take a waterproof picnic blanket and sit on the ground. There is a lot of space. Furthermore, you can also hang a hammock between the trees and swing. If you are looking for some camping gear inspiration, which might help prepare for your road trip, check out our camping gift ideas.
Remember not to leave a trace. Take away all garbage, even banana peel.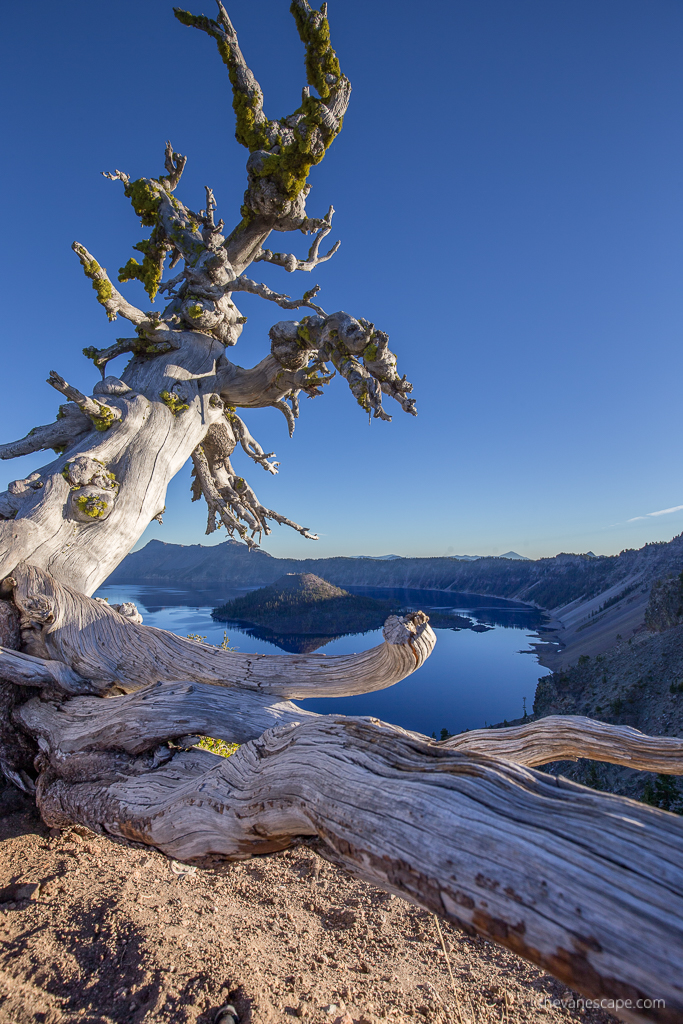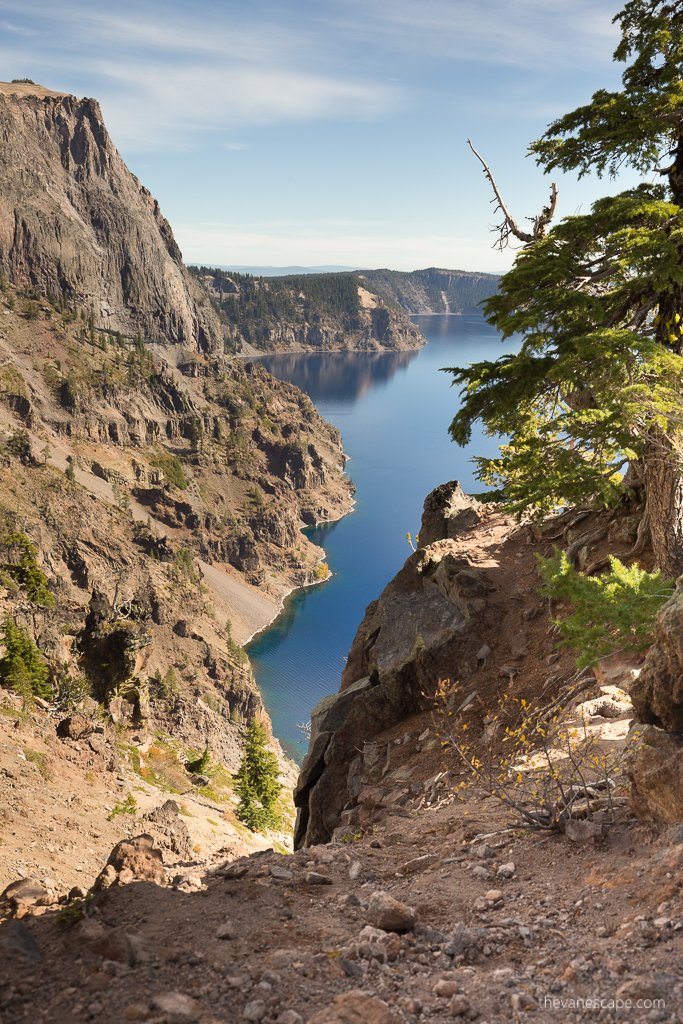 Swim in the Crater Lake Water
Can you swim in Crater Lake? Yes, you can. There are two places to swim in Crater Lake. One is at the bottom of Cleetwood Cove Trail, near where the boats take off for the tours. The second place is anywhere on Wizard Island. For extremely adventurous lovers is Cleetwood Cove, which has a 15-foot cliff. You can dive off, but be careful and reasonable.
How cold is the water in Crater Lake?
Crater Lake water is icy. The Crater Lake water temperature is 55 °F (12.8 °C) degrees in summer on the surface. The average temperature (below 300 feet deep) is 38 °F (3.3 °C), so it's a lake for experienced cold bath lovers. The water was too cold for us, so we were not swimming.
If you wade in, remember that it is a volcano. You are not on the beach. It's extremely dangerous as the water gets deep very fast.
It is one of the deepest lakes in the world. It also has one of the clearest and bluest waters in the world.
If you decide to swim, remember to pack a quick-drying towel. A thermos with hot coffee or tea will also be useful to warm up after leaving the water. Be careful and take no risk if you are traveling alone and no one is close.
Wait for Sunset
In our opinion, one of the best things to do at Crater Lake, Oregon, is to enjoy the sunset. It's truly a magical spectacle of nature. So, stay for the sunset. It's worth the time. The high 2,000 feet cliffs that surround the lake make an impression.
Stay for Sunrise
For us, the best of Crater Lake National Park is watching the sun climb over the rim, slowly illuminating the landscape with yellows and oranges. Even more beautiful than the sunsets are the sunrises over Crater Lake. These views will always remain in our memory. This is one of the most beautiful sunrises we have ever experienced. And despite the frost in the morning, this miracle of nature is worth seeing. Dress up warm. Check out our list of things worth packing. Even if you are going in the summer, pack a warm fleece blouse, a hat, gloves, and a thermos with hot coffee for the sunrise. Believe us, coffee with such a view tastes delicious. One of the best overlooks for sunrise is the Discovery Point Trail area.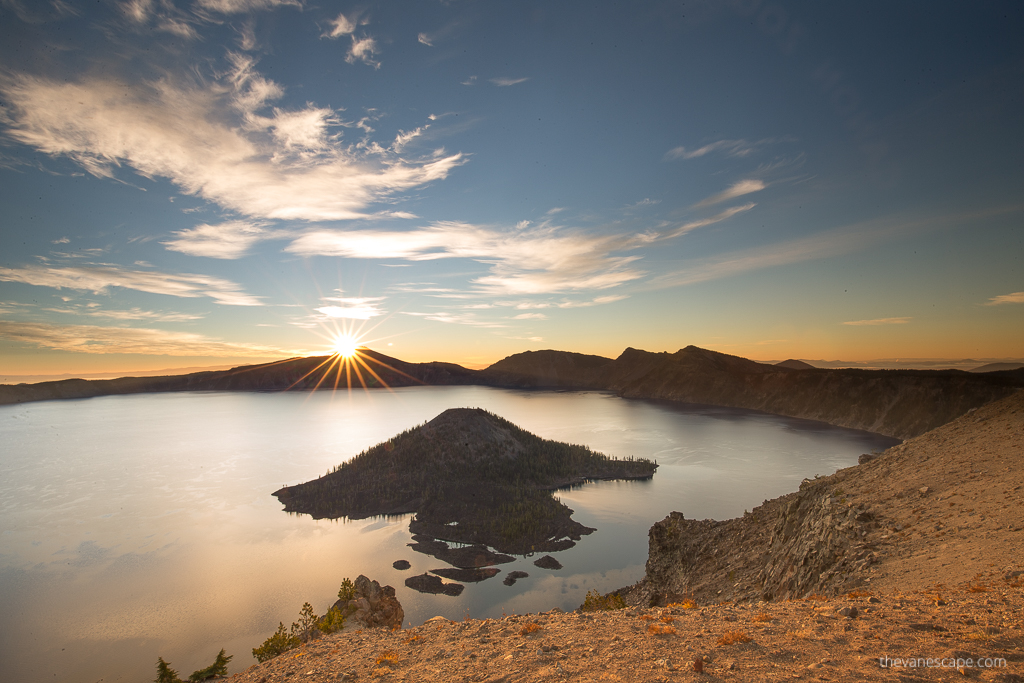 Go For a Crater Lake Hikes
If you have more time than a day, it is worth going on one or two trails in the national park. The scenery is beautiful. Below are our recommendations and short descriptions for the best Crater Lake hikes. Before you hit the hiking trail, check what to pack for a one-day hike. There are 90 miles (145 km) of hiking trails at Crater Lake. Hiking trails are open in summer. If you are visiting in June or early July, be aware that some trails might still be closed by snow. Don't forget Crater Lake Trail Map. So, below you find 7 Best Day Hikes in Crater Lake National Park, from easy to strenuous.
Crater Lake National Park Easy Hikes
The Pinnacles
Roundtrip: 0.8 miles (1.3 km), 30 minutes
Elevation Gain: 10 feet (3 meters)
Trailhead Location: End of the Pinnacles Road, 6 miles (9.7 km) southeast of the Phantom Ship Overlook.
Short Description: It's an easy walk along the rim of Pinnacle Valley. Offers great views of volcanic spires. Furthermore, it's accessible to an all-terrain wheelchair user with assistance.
Sun Notch
Roundtrip: 0.8 miles (1.3 km) loop trail, 30 minutes
Elevation Gain: 150 feet (46 meters)
Trailhead Location: East Rim Drive, 4.4 miles (7.1 km) east of Park Headquarters.
Short Description: It's an easy and short uphill walk through a meadow to the rim of Crate Lake. It offers great views of the Phantom Ship. Furthermore, it's accessible to strong, all-terrain wheelchair users with assistance.
Crater Lake National Park Moderate Hikes
Discovery Point Overlook
Roundtrip: 2.0 miles (3.2 km), 1 hour
Elevation Gain: 100 feet (30 meters)
Trailhead Location: West end of Rim Village, where the paved walk becomes a dirt path.
Short Description: We love this hike because it's the perfect spot for sunrise. The trail leads along Crater Lake's rim through a pretty forest of whitebark pines and mountain hemlocks. Offers spectacular views of the lake and Wizard Island. Be careful near cliff edges. Gold prospector John Wesley Hillman first spotted Crater Lake near this point in 1853.
Watchman Peak
Roundtrip: 1.6 miles (2.6 km), 1 hour
Elevation Gain: 420 feet (128 meters)
Trailhead Location: Watchman Overlook
Short Description: We love this short, moderate hike because it's a great place to watch the sunset. Moderate ascent to a fire lookout above Wizard Island. It offers spectacular views in all directions. The trail may be closed until mid-July due to snow. You'll also discover the Watchman Observation Station. Constructed in 1932, the historic lookout tower was once used to watch for wildfires and is now listed on the National Register of Historic Places.
Crater Lake National Park Strenuous Hikes
Cleetwood Cove Hike
Roundtrip: 2.2 miles (3.5 km), 1.5 hours
Elevation Gain: 700 feet (213 meters)
Trailhead Location: Northside of the lake, 11 miles (17.6 km) from Rim Village if traveling clockwise on Rim Drive.
Short Description: It's the only legal access to the shore of Crater Lake. It's a strenuous hike with a steep grade leading to a rocky shoreline. Hiking poles might be very useful. Take trekking shoes with a good grip.
Garfield Peak
Roundtrip: 3.6 miles (5.8 km), 3 hours
Elevation Gain: 1,010 feet (308 meters)
Trailhead Location: Follow the paved promenade behind Crater Lake Lodge.
Short Description: This hike offers panoramic views. But it's a rocky climb to a high peak. Spectacular views along the way and at the top are worth the effort. However, use caution near cliff edges.
Mount Scott Hike
Roundtrip: 4.4 miles (7.1 km), 3-4 hours
Elevation Gain: 1,250 feet (381 meters)
Trailhead Location: East Rim Drive, 14 miles (22.5 km) east of Park Headquarters.
Short Description: Mount Scott is the park's highest peak. It is 8,929 feet (2,721 meters) in elevation. So, it's a challenging hike, possible only in summer. The trail leads gradual ascent of the park's highest peak. Great views in all directions. Start it in the morning, when the light is ideal for lake viewing. Take hiking boots with great grip, trekking poles, plenty of water, and snacks.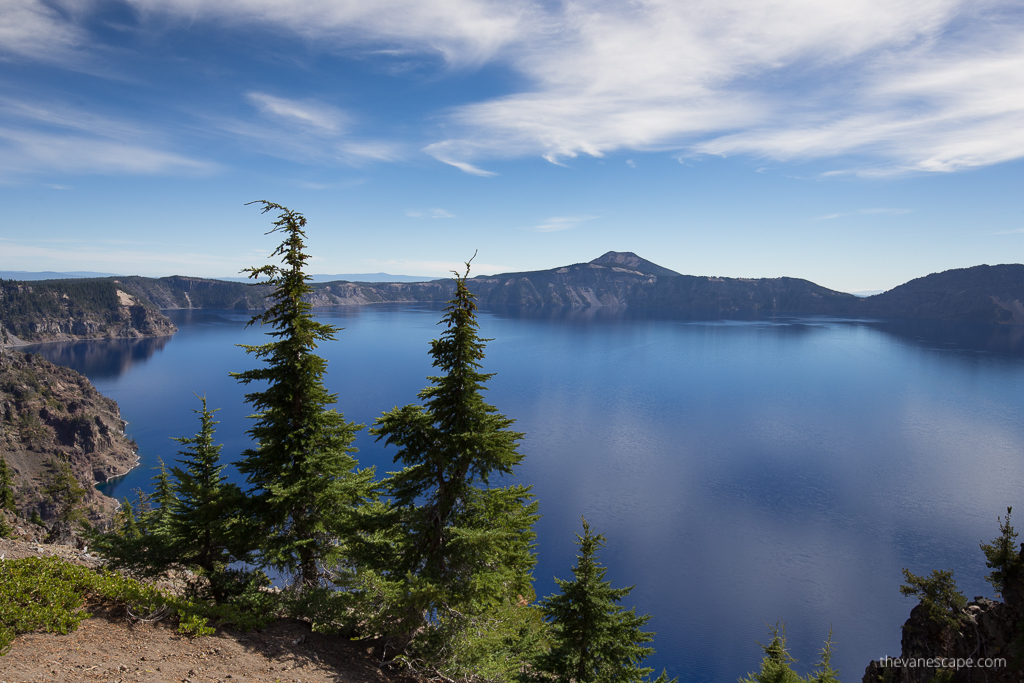 Sit on the veranda of the Crater Lake Lodge and soak up the beauty
Crater Lake Lodge is an absolute must-see during your trip to Crater Lake National Park. The building, originally opened in 1915, has historical value, charm, and atmosphere in the early 20th century. It's a historical architectural gem. Furthermore, it offers great meals and drinks. Finally, it features some of the lake's most beautiful views, overlooking the lake at Rim Village. So, this is another top of the best things to do at Crater Lake, Oregon. You can have lunch in the dining area or take a drink and admire the lake from the patio.
You can also stay overnight at the Lodge. There are 71 rooms you can choose to stay in. Prices start at $200 per night.
Take a Crater Lake Boat Tour
A boat tour is one of the best things to do at Crater Lake. You can purchase it via the official ticket booking page.
There are two selections for a boat tour: a standard lake cruise with a 2-hour tour around the lake. The second choice is a Wizard Island tour with a shuttle. It includes a 45-minute tour while shuttling patrons to the island. Then you have 3 hours on Wizard Island for independent exploring and, in the end, a 75-minute boat ride around the lake's perimeter. The best is the Wizard Island tour.
Before you book your boat tour, you must know that to reach the dock for boarding the boats, you must be capable of descending and ascending the Cleetwood Cove Trail. It is only a one-mile trail that drops 700 feet (213 meters) to the lakeshore. But the steep, dusty trail is challenging for some people, so prepare for this hike. The hike down to the dock takes approximately 30-45 minutes. The trail is 2.2 miles round trip.
Visit Wizard Island
As mentioned above, you can get to Wizard Island by boat or a quick shuttle ride.
Wizard Island is a volcanic cinder cone that forms an island at the west end of Crater Lake in Crater Lake National Park. The top of the island reaches 6,933 feet (2,113 m) above sea level, about 755 feet (230 m) above the lake's average surface.
According to Wikipedia, the cone is capped by a volcanic crater about 500 feet (150 m) wide and 100 feet (30 m) deep. The crater was named the "Witches Cauldron" by William Gladstone Steel in 1885, who also gave Wizard Island its name at the same time.
If you get to Wizard Island, you have time to hike to the summit, take in the panoramic view, swim or fish, and explore this unique part of Crater Lake National Park. It is worth hiking the Wizard Island Summit Trail.
Take a Ranger-Guided Snowshoe Walk
During winter, the area is also incredibly beautiful. In an average winter, Crater Lake National Park receives 43 feet of snow. Ranger-guided snowshoe walks through the meadows and forests near Rim Village are offered in winter when sufficient snow is on the ground. There is no previous snowshoeing experience necessary. Aside from the park entry fee, there is no cost for the snowshoe walk, and snowshoes are provided free of charge. Space on each tour is limited, and reservations are required. For more information and to sign up, call the park's visitor center at 541-594-3100 or check the NPS website.
Camp nearby Crater Lake
Staying overnight in the Crater Lake National Park area is amazing to experience. There is so quiet and peaceful that you can rest and enjoy pure nature. So, there are several places to camp in and near Crater Lake. Some campgrounds are primitive, without facilities, for tents only. But some have full RV hookups and showers. The park has two developed campgrounds: Mazama Campground and Lost Creek Campground.

You can admire the sunrise and sunset. If the sky is clean, you can admire millions of stars above your head and surround by nature. You can hike and admire woods, lakes, and waterfalls. Worth considering. If you are wondering what to pack for camping, check out our list of the best camping items.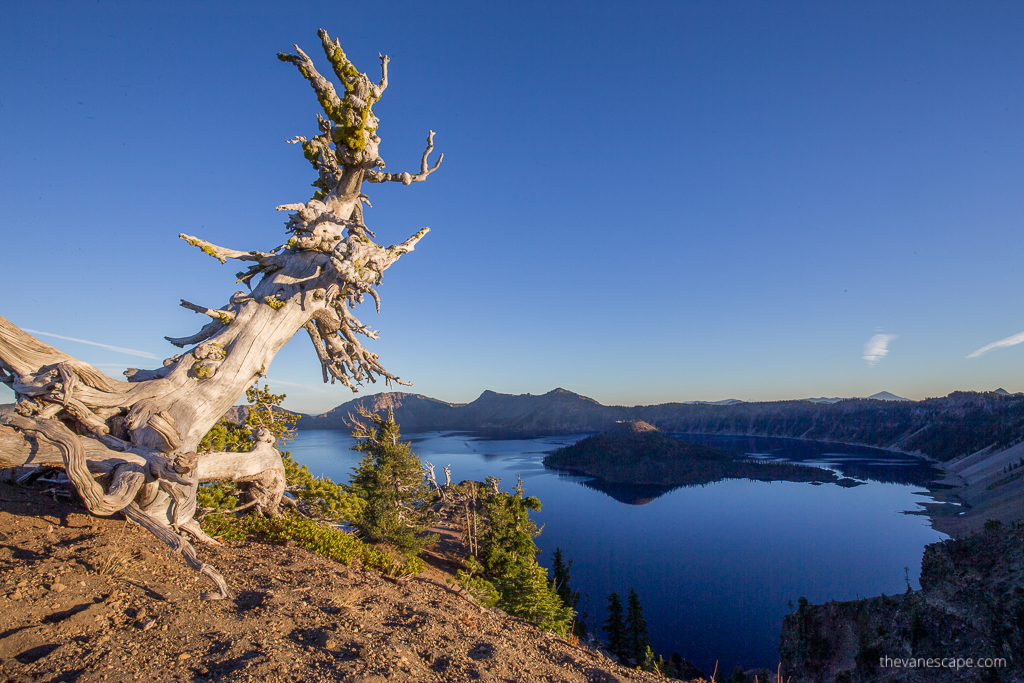 Lodging near Crater Lake National Park
In addition to the two NPS campgrounds mentioned above, you have a few other interesting options to stay overnight near Crater Lake. But we suggest making reservations well in advance due to the short season.
How many nights should you book to visit the park? Crater Lake National Park is a perfect idea for a weekend gateway. So, 2-3 nights should be optimal for enjoying the beauty of this place.
Hotels near Crater Lake National Park
Crater Lake Lodge is perfect for staying because it's a historical lodge inside the Park. Unfortunately, it's not easy to book it. It's expensive, and it's open only from May to September, so it fills up with guests quickly. But it's worth stopping for lunch in its dining or a drink with the lake view from the patio.
Crater Lake Resort is an excellent choice. It is a 3-star mountain cabin with balconies in Chiloquin. It's only 8.5 miles from Crater Lake National Park. The cabins are nicely and comfortably furnished. Very cozy, offering great views and nature all around. It is one of the best options in this area. A great choice will also be Melitas Crater Lake and Klamoya Sleep Inn & Suites.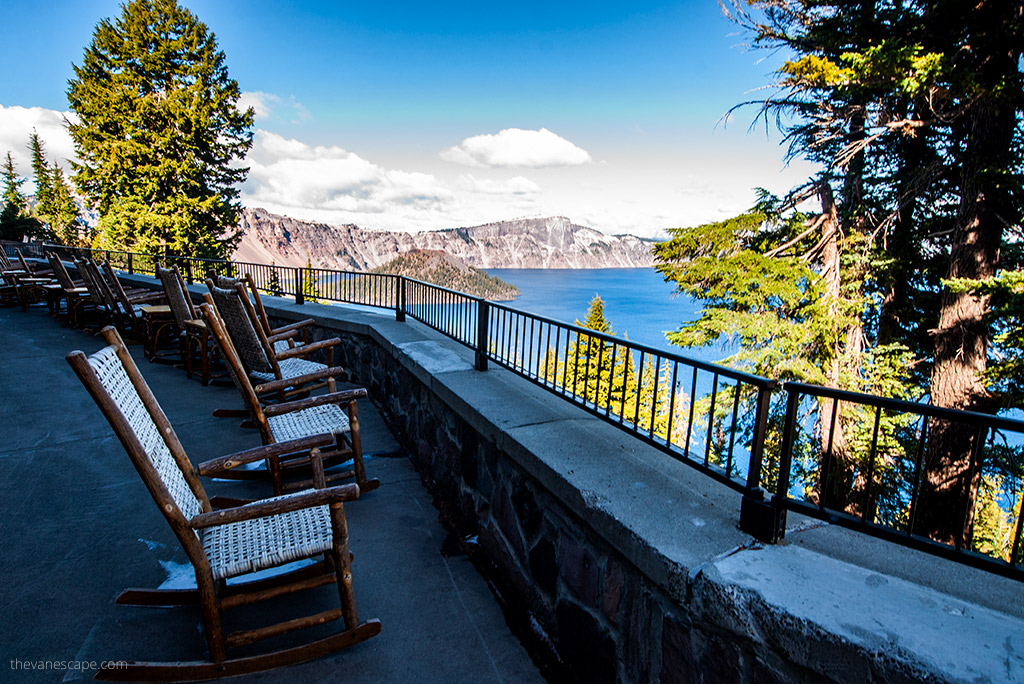 Crater Lake RV Park
Diamond Lake Resort & RV Park is a great place to relax. RV guests can enjoy the beach, marina, boat, paddleboard & kayak rentals, cafe, restaurant, lounge, and store. Plus, pet friends can stay in this park. The facility is well-conceived and clean. The staff is pleasant and well-organized. The sites are gravel, and most appear to be level. The park is part of the Resort, and we really enjoyed visiting Diamond Lake with an incredible mountain view. It's only 4 miles to Crater Lake park entrance, so the location is perfect.
Mazama Campground is open only in summer. It offers 75 sites for RV, and 18 electric hookups. In June, sites are only available on a first-come, first-served basis. In July, August, and September, 75% of the sites can be reserved in advance, either online or by calling 866-292-6720.
Where to Eat While Visiting Crater Lake?
When it comes to dining at Crater Lake, food is as limited as lodging. So, the best idea is to pack some snacks, like breakfast bars, sandwiches, and beverages. The park has three restaurants and one general store with a limited supply of groceries. The Rim Village Café is open year-round. The others are open seasonally. Opening hours, you will find on the NPS website. Above all, water and snacks are a must during a hike when you lose energy. Always take more water than you need, just in case. Finally, get yourself hydrated the day before the hike. So, check what we usually pack on a hike.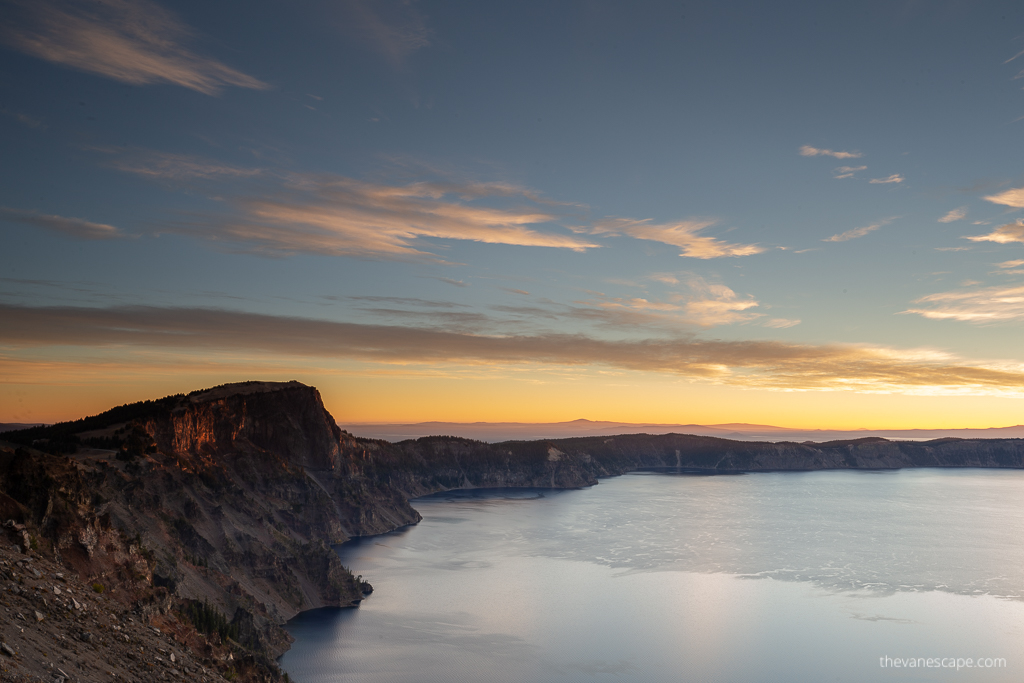 Crater Lake National Park Photography Tips
Crater Lake National Park Best View Points
If you like taking pictures and if you want to take great pictures of Crater Lake, don't miss the following ten Rim Drive highlights along the way. So, they are clockwise from Rim Village:
Sinnott Memorial Overlook
Discovery Point
Watchman Overlook
Devils Backbone
Llao Rock
Cloud Cap Overlook
Pumice Castle Overlook
Phantom Ship Overlook
The Pinnacles and Plaikni Falls
Vidae Falls
Don't forget your tripod for sunrise & sunset
Especially when photographing sunrise and sunset or getting a smooth, even lake surface. So, a tripod is a must. Furthermore, you will take the best photos of the sunrise and sunset from Discovery Point and Watchman Overlook. Above all, these two points are best if you are limited time. Dress warmly for sunrise and sunset. So, check what we usually take with us.
Take a wide glass and standard zoom
If you want to photograph the lake in all its majesty, a wide angle will be necessary. So, we used wide lenses for our photos. To clarify, Agnes used Nikkor 14-24mm, and Chris used Canon 16-35 mm. In addition, the standard zoom is also useful to show details of rocks, islands, and trees. For instance, Nikkor 24-70 (which uses Agnes) or Canon 24-70 (which uses Chris).
Use your imagination
Observe the Crater Lake water's calm surface and look for the reflections of the island and trees. Furthermore, use rocks, trees, and fallen trunks to get an interesting perspective. Take your time and enjoy the scenery. Finally, remember that this place is so phenomenal that you can take interesting photos at any time of the day.