Things to do in Sisters Oregon
Sisters, Oregon, is an outdoor adventure dream destination – a recreation paradise. It offers visitors to the area several outstanding activities to explore. You can choose from hiking trails, casual walks, cycling, mountain biking, and Hoodoo Ski Area. All surrounded by the beautiful scenery of The Three Sisters, as well as other majestic mountain ranges, breathtaking waterfalls & dense forests. Sisters offer annual festivals, county fairs with handicrafts and local fresh food, live music, specialty shops, and historical sites to enjoy. We love the charm of this city. We have been there several times, discovering more magical places around Sisters. It is a perfect place for a weekend gateway or holidays. So, we share the list of The Best Places & Things to do in Sisters Oregon to have an unforgettable trip.
This article may contain affiliate / compensated links. For full information, please see our disclaimer here.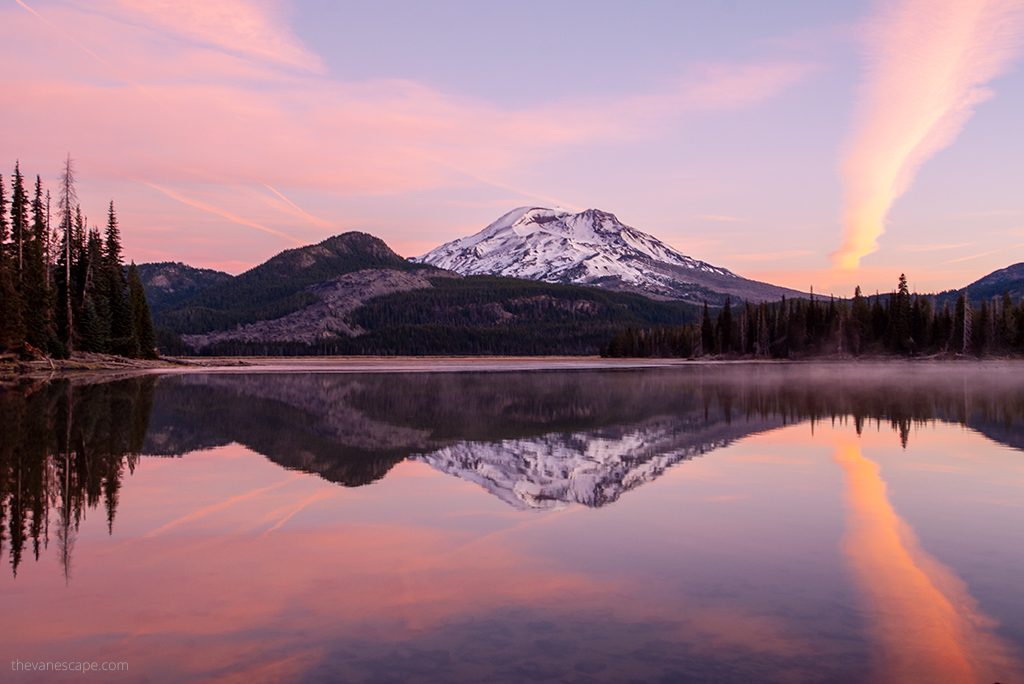 Directions To Sisters Oregon
Sisters is located at the foot of the Cascade Mountains in Central Oregon. The city is a part of the Bend Oregon Metropolitan Statistical Area, in Deschutes County. The population of Sisters Oregon was 2,725 in 2018. It's a charming town, worth adding to your Oregon road trip itinerary. We spent a few days there exploring the area and the town, and we share our experiences with you.
How to get to Sisters from Bend?
Sisters is located around 25 miles north of Bend. The fastest route is via US-20 W, and it takes about 30 minutes.
From Eugene
From Eugene, take OR-126 E and US-20 E. The road leads you through the huge & beautiful Willamette National Forest with the famous Three Sisters Wilderness. It's about 105 miles, and it takes you approximately 2 hours to get from Eugene to Sisters.
Directions from Salem
From Salem, take OR-22 E/Santiam Hwy SE. It's 110 miles, and about 2 hours and 10 minutes of driving.
Driving to Sisters from Portland
From Portland, the fastest route is via Salem. So, take I-5 S and OR-22 E/Santiam Hwy SE. It's about 2 hours, 40 minutes driving, and 152 miles. But if you have time, take a longer scenic route, which offers breathtaking views. It leads through Mt.Hood National Forest. It's about 170 miles via US-26 E and 3 hours and 15 minutes of driving. Moreover, on the way, you can stop at Timberline Lodge, where scenes from the Shining movie with Jack Nicolson were shot. The place is truly unique. So, check our photos in this post.
The closest airport is Redmond Municipal Airport, 22 miles from Sisters. The international airport is in Portland. If you plan to visit Portland, check also our full of tips 3 days in Portland itinerary.
PROTIP: If you plan a road trip around Oregon, we recommend Oregon Road & Recreation Atlas. It is very informative and detailed. Thanks to this atlas, our trip was more interesting, as we could quickly learn what was nearby and plan ahead. It's also a useful alternative to GPS maps when traveling.
If you are looking for a travel guide, in our opinion, one of the best is Moon Oregon. Moreover, it's a new edition published in June 2020. All information has been updated, which is so important in planning a trip. It provides all info you need, and must-sees, including helpful background, tips, maps, itineraries, etc.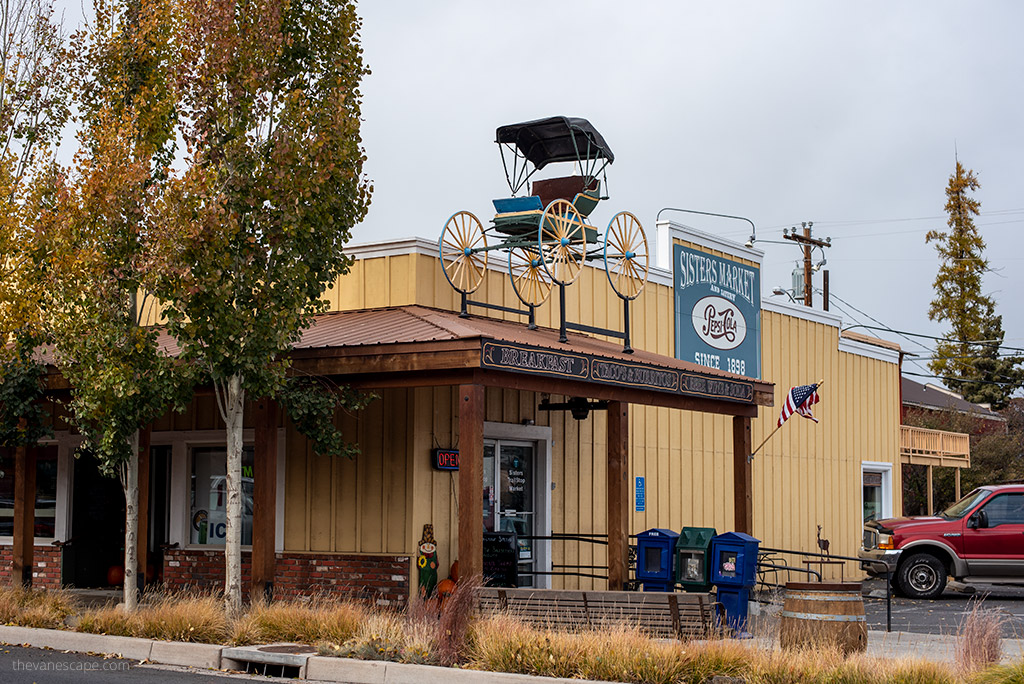 When is the best time to visit Sisters?
Sisters is worth visiting all year round, depending on your interests. At any time of the year, you have plenty of attractions and things to do in Sisters Oregon.
Spring (March-May)
Spring is a beautiful season in the Sisters area. It is the second busiest season for tourism, which makes it a good time for those looking for things to do in Sisters. Humidity and temperatures combine to make this season feel moderately cold. Highs range from 78.6°F (25.9°C) and 51.6°F (10.9°C) with warmer temperatures in the later months. Rain is rare, with 1 to 2 days of significant precipitation per month.
Summer (June – August)
June – August is the busiest season for tourism in Sisters, so lodging and other accommodations may cost more than usual, and you should book it well in advance. Summer has very comfortable weather. This region experiences warm, but not hot, and dry summers. Average monthly temperatures above 71.6 °F (22.0 °C). These months see the least precipitation with 0 to 2 days of rainfall per month.
Fall (September – November)
Fall daily highs range from 85.3°F (29.6°C) and 47.5°F (8.6°C), which will feel chilly given the humidity and wind. It rains or snows an amount: 1 to 2 days per month. Tourism is the slowest during these months due to the weather, so hotels are cheaper. For us, it is the best season to visit Sisters. If you like fall colors and fall leaves, Oregon also has the most beautiful colors in fall.
Winter (December through February)
Winters are mild, so if you like skiing and winter activities, you should choose Hoodoo Ski Area. Moreover, it is the sunniest city in the winter in the area. The average high during this season is between 52.1°F (11.2°C) and 38.9°F (3.8°C).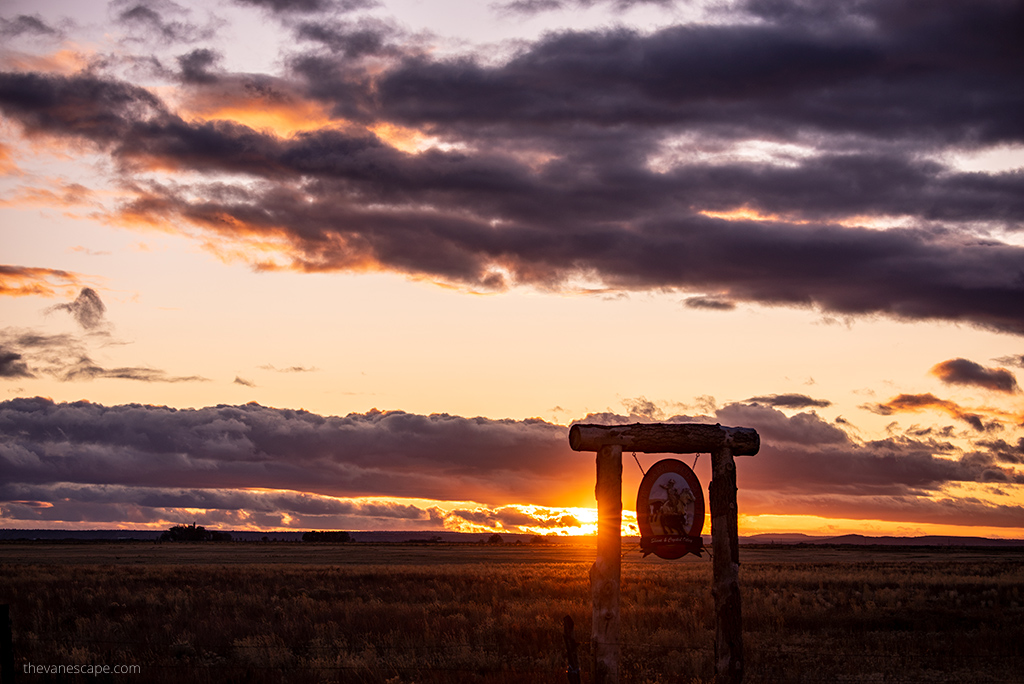 Sisters Oregon Lodging
We have been to Sisters several times so far. We slept in hotels a few times. But during our last 8 months-long road trip in a camper truck from Alaska to Florida, we stayed a few nights at Sisters RV parks. Therefore, below you will find our recommendations for both hotels & camping. It is worth booking accommodation in Sisters well in advance all year round. The town is small and the number of places is limited. The beautiful surroundings attract many visitors. Check the map below to get the best deals!
Sisters Oregon Hotels
Best Western Sisters Oregon is our favorite one. It is a small, charming Ponderosa Lodge with 48 oversized guest rooms renovated in a country theme. Tasty breakfasts and friendly service. Amenities include a refrigerator, microwave, hairdryer, and a club table. Other features include a coffee maker, iron, and high-speed DSL hook-up. There is an outdoor pool & hot tub. It offers free WiFi and huge free parking. The area is wooded, and the outside has a garden with tables and chairs so that you can relax outdoors. So, check availability and prices.
If you have a problem finding accommodation in Sisters or need a budget option, consider staying in Bend. It is only 30 minutes from the Sisters. Bend is a larger city with a well-developed hotel infrastructure. The choice of hotels is more significant, and the prices are often much lower.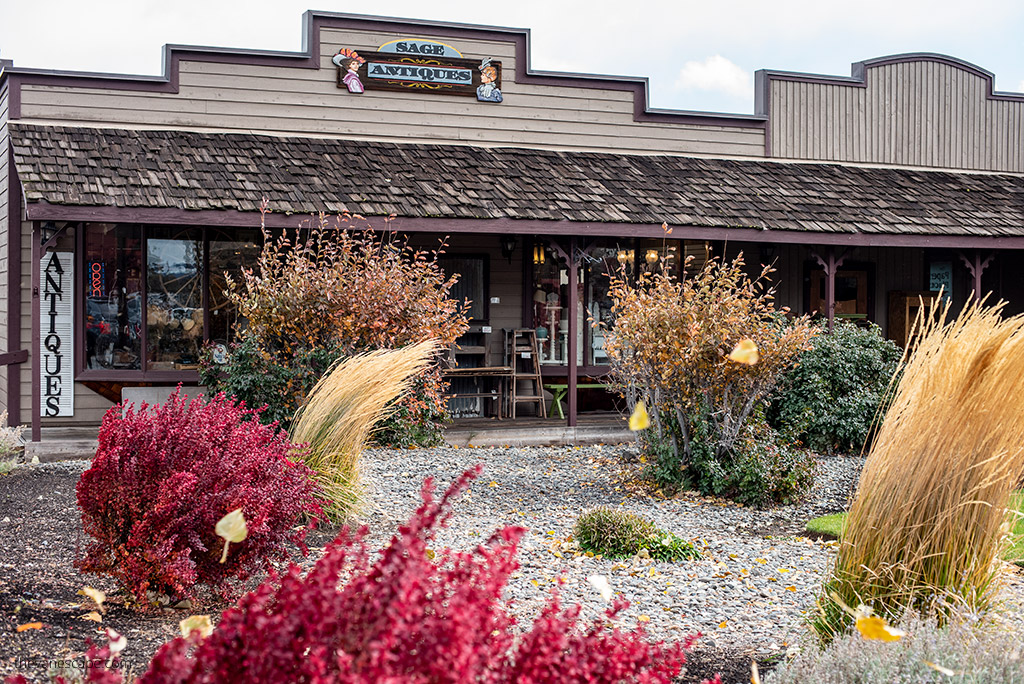 RV Parks Sisters Oregon
The best RV park in the area is Bend / Sisters Garden RV Resort. But you have to book it well in advance. It's closest to the Sisters, located in a beautiful setting, and it's hard to get a spot, especially in high season. There's something for your whole family at Resort. You can enjoy a fishing pond with rainbow trout, a playground, and a heated pool and spa. Amenities: level paved sites, 30/50 Amp Service, Laundry Room, Dog Run Areas, Meeting Areas, and more. We like greenery and lots of trees in this RV Park.
When we visited Bend, we also stayed at Scandia RV Park. It's a small RV park. It is located in the city center, making it easy to navigate around the Bend. It includes all the necessary amenities, relatively fast internet, and friendly service. Book it here.
Things To do in Sisters Oregon
We love Sisters. The town has a fantastic charm, and it is worth staying there for a few days. Moreover, it is an excellent base for exploring the Central Oregon area.
Sightseeing, Shopping, Hiking, Horseback Riding, Bird Watching, Boating, Climbing, Cycling, Fishing, Golfing, Kayaking, Rafting, Running, Skiing, Snowboarding, Snowshoeing, Swimming, and much more you will find in Sisters. Below is our list of the best things to do in Sisters Oregon.
Go for a walk
Sisters is an exciting town. Wooden, colorful facades of buildings attract attention with decorations, details, and beautiful signs. In Sisters, you will find unique shops and art galleries that make shopping a great experience. Handicrafts and souvenirs are of high quality & unique design.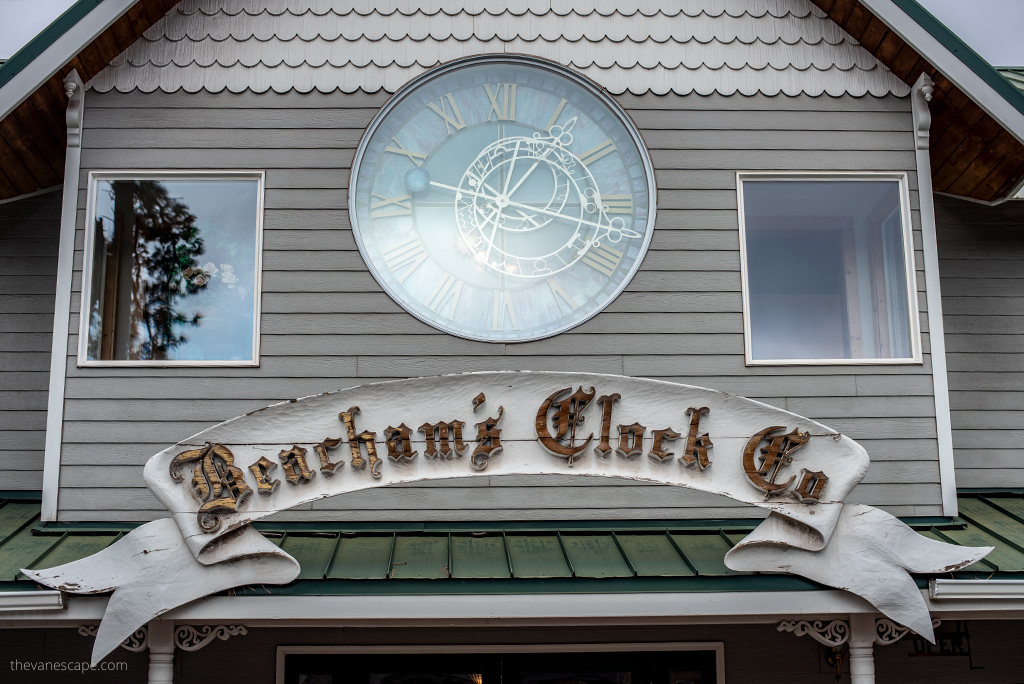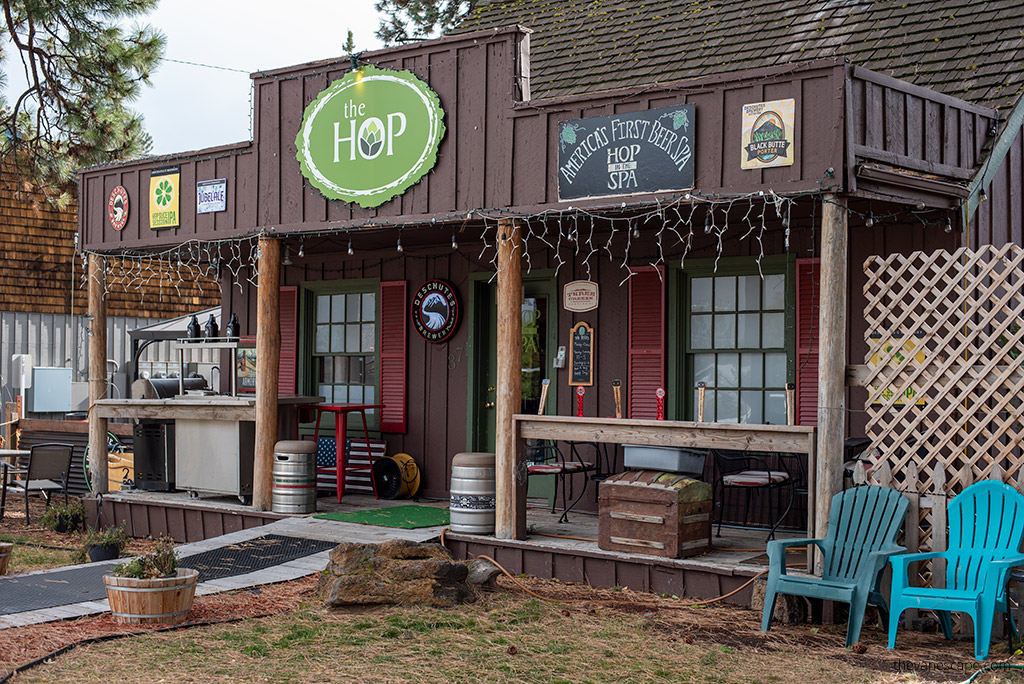 Attend one of the events
Sisters is known for local events. Depending on your need and time of visit you can choose: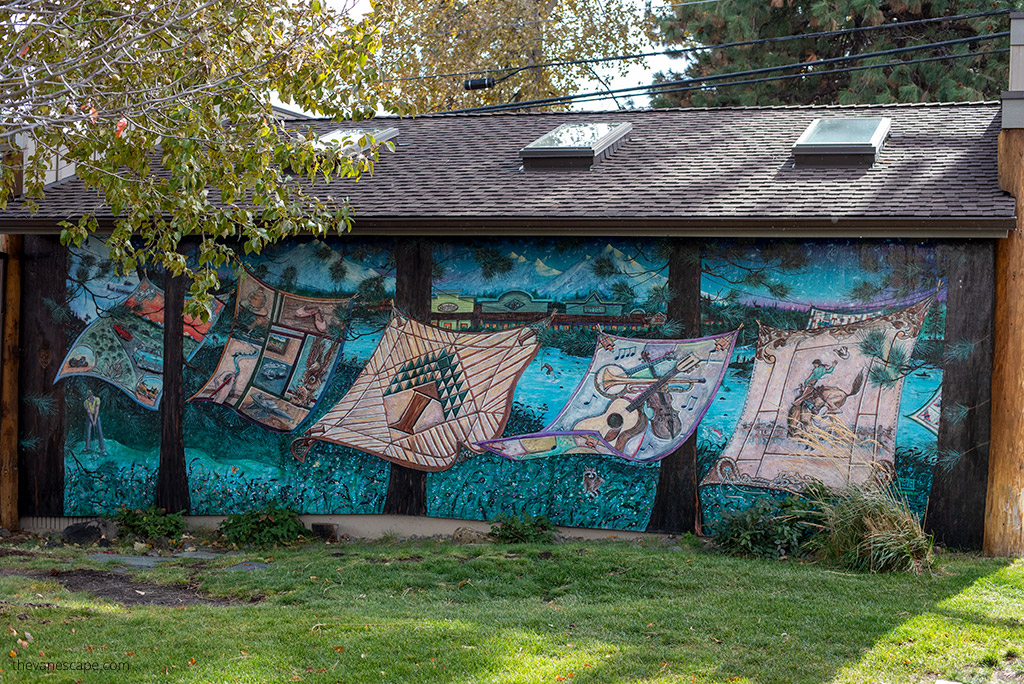 Visit Ken Scott's Imagination Gallery
Ken Scott's Imagination Gallery it's full of magical metal sculptures. You will find extraordinary wall designs, bronze castings, garden features, and lyrical lighting designs all by Ken Scott. You can also admire paintings, glasswork, carvings, and jewelry. The Gallery is located at 222 West Hood Avenue.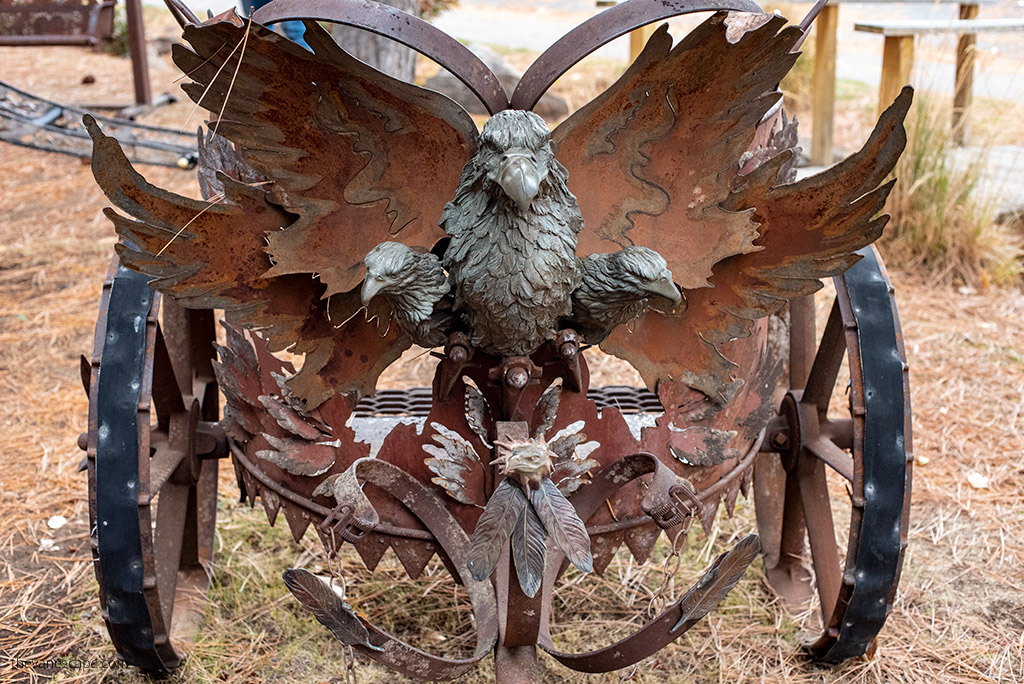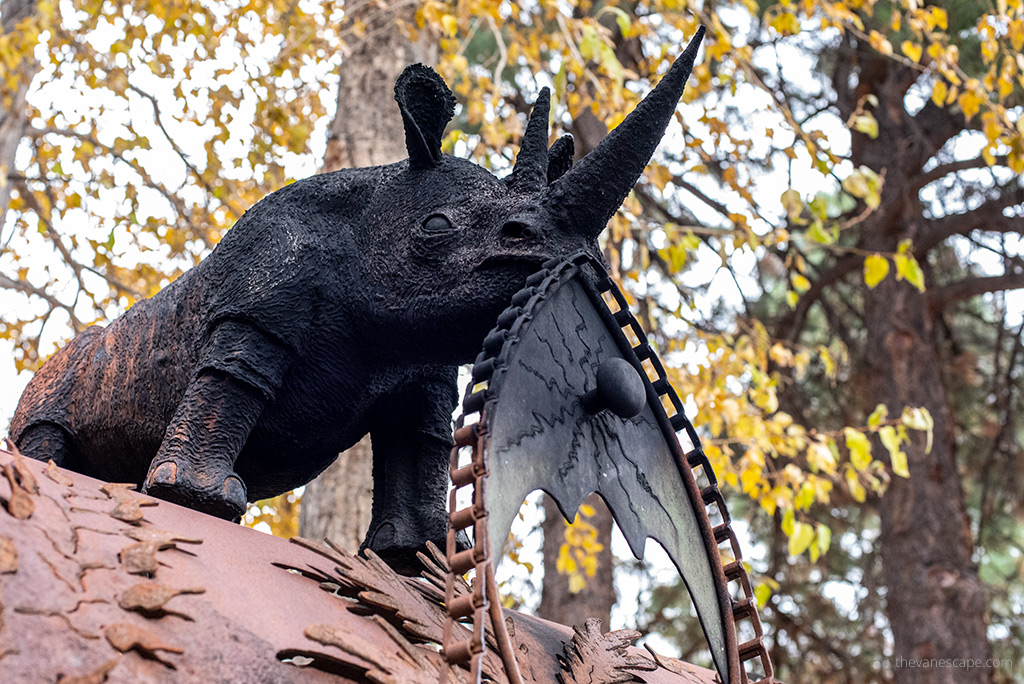 Drive McKenzie Highway
Take McKenzie Pass Scenic Highway to see some of the most spectacular scenery the Sisters Country has to offer. But it's important to know that the route is closed during winter from November to July. The route number is 242. From Sister to McKenzie Pass is 15.5 miles. The total of McKenzie Highway is 37 miles. The views are breathtaking.
Admire Waterfalls near Sisters
If you've read our previous posts (as Havasu Falls), you know we love waterfalls and photographing waterfalls. Oregon is famous for its phenomenal waterfalls. You will find some of the most beautiful in the Sisters area. The most exciting and beautiful in this area are Sahalie Falls, Koosah Falls, Proxy Falls, and Tumalo Falls. Some are easily accessible, and for some, you need to hike. Our favorite (pictured below) is Proxy Falls.
PROTIP: If you love waterfalls, we recommend outstanding books about Oregon and Washington Waterfalls. Hiking Waterfalls Oregon features 64 of the best waterfall hikes in Oregon. Some waterfalls are remote, while others are just a short hike from the trailhead. Inside you will find good maps and good descriptions of trail conditions for each waterfall. The information provided for each fall is clear and concise. Especially trailhead information, nothing worse than driving down a dirt road and not finding the trailhead. We are looking forward to using this book for our next trip because tens of Oregon waterfalls are still on our list. The same series published Hiking Waterfalls Washington. So, if you are planning a longer Pacific Northwest waterfalls trip, it's worth having both. They are great.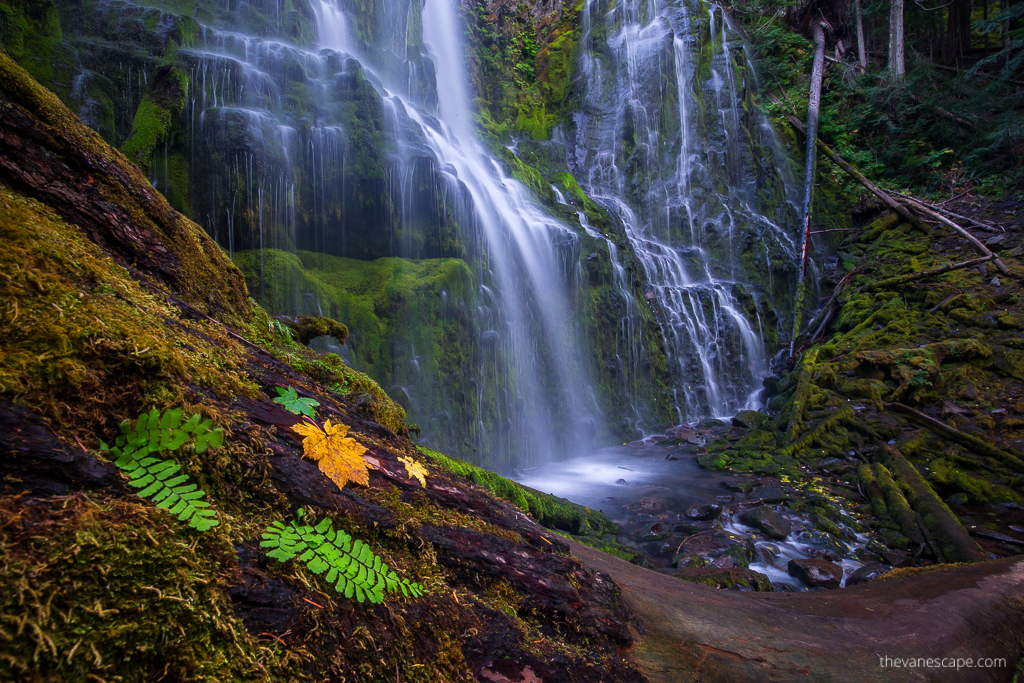 Go for a hike in the Sisters area
It isn't easy to decide which hiking trails in the area of ​​Sisters and Bend are the most exciting and breathtaking. There are hundreds of trails in the area to choose from. Depending on your physical form, skills, and time available, you can choose from easy to demanding routes.
Our favorite hiking trails in the area are:
McKenzie River Waterfalls Loop Trail
It is a perfect family hike in old, magical forests, with views of the spectacular waterfalls of Sahalie Falls and Koosah Falls. It is a highly-accessible three-mile loop. Trailhead is located a half-hour drive west of Sisters. The parking area of Sahalie Falls offers a viewing platform for the falls. Sahalie Falls is 34 miles west of Sisters. To get there, take a left at Santiam "Y," then Highway 126 west toward Eugene.
Black Butte Lookout
It is a moderately strenuous 4-mile hike from the trailhead to the lookout tower and back. It's worth your effort because the views from the summit are spectacular. It's not too tough, with 1,556 feet of elevation gain. To get to the trailhead, drive west on Highway 20 from Sisters to Forest Road 11 (Green Ridge Road). Then turn right and pass the Indian Ford Campground. Next, turn left at graveled Road 1110 and follow it to the trailhead.
Proxy Falls
Proxy Falls Trailhead is located 28 miles from Sisters at McKenzie Highway 242. So, you can get there only from July to November. Proxy Falls is only 2.0 miles hike. It is a family-friendly hike, but not ADA accessible. The dirt and lava-rock trail is an easy loop. The track showcases two distinctly different waterfall views of the upper and lower sections of Proxy Falls. Check out our detailed Guide to the Oregon Proxy Falls Hike & Photography Tips.
PROTIP: Even on a short day hike, you should be prepared with some hiking essentials. Bring water and extra food. Dress in layers takes a map and GPS. Check our Day Hiking Packing List with a PDF checklist, before you hit your trail. It helps you prepare for your adventure!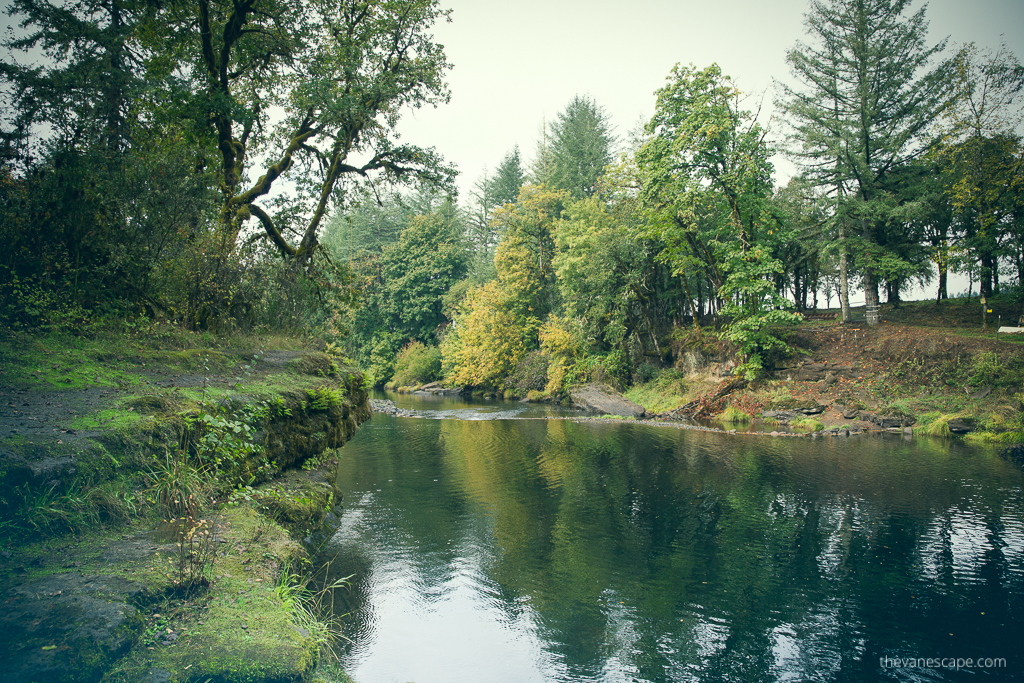 See the sunrise over Sparks Lake
There are several beautiful lakes in this area. But our favorite is Sparks Lake. We love going there to admire the sunrise. We like watching as the first rays light up the peaks, and how the mountains reflect on the clear surface of the lake. The place is magical.
Sparks Lake is 49 miles and an hour's drive from Sisters. You have to drive through Bend. So, take US-20 E to Bend, and then turn onto Cascade Lakes National Scenic Byway. The scenery is breathtaking.
It can be freezing before sunrise, so dress warmly in layers and bring a thermos of hot coffee and sandwiches. It is great to have breakfast at dawn in such a picturesque setting.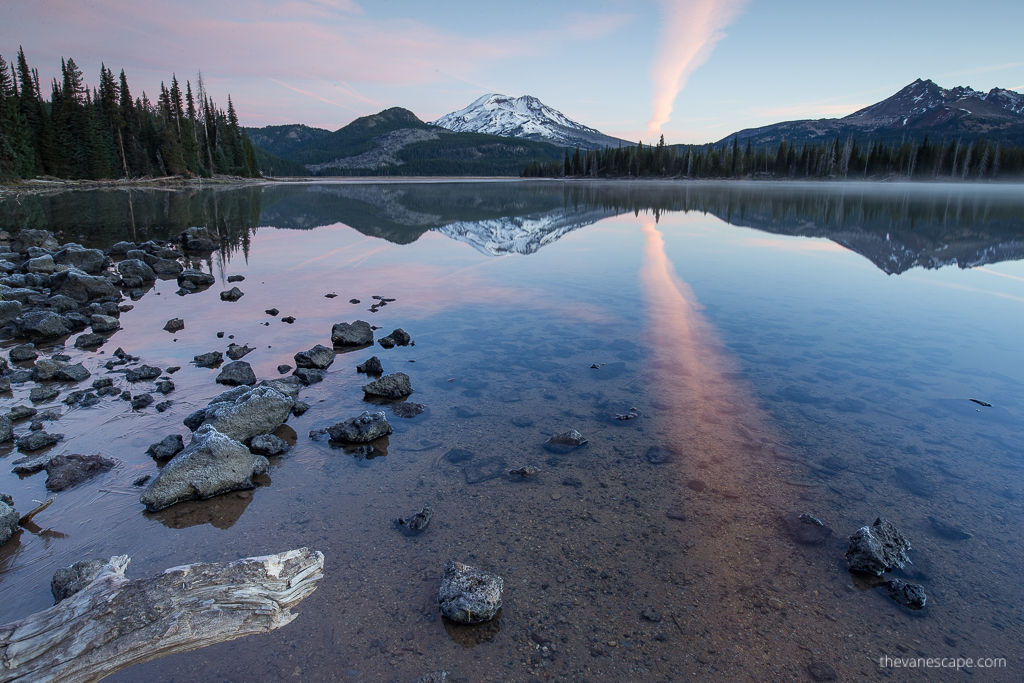 Ride a bike in Sisters
Biking is one of the most exciting options for exploring the Sisters & Bend area. You will find bike rentals in both towns. Bend has approximately 300 miles of continuously linked singletrack close to the city, including classic routes, as well as some little-known gems.
McKenzie Highway,
Peterson Ride,
Cache Mountain,
Trail 99,
Suttle Tie to Suttle Lake
These are just a few examples of the exciting mountain bike routes around Sisters. You will find detailed info in the guidebook, which perfectly describes the bike routes around Bend and Sisters. Mountain Bike Guide around Bend offers 46 routes, ranging from the shortest trail network of fewer than 3 miles to epic rides of up to 30 miles. A route may be composed of a single trail or several connecting trails. Moreover, it is very informative and written well. It is a great book outlining some good rides in the Bend & Sisters area.
If you don't like mountain biking, take a trip on two wheels or a tool around town and the area. It is a perfect idea for outdoor activities, especially if you are with kids.
Just relax with a glass of wine & fresh meal in Sisters, Oregon
Sisters have lots of great choices for breakfast, lunch, and dinner for all tastes and budgets. There are a few places where you can enjoy a coffee drink, beer, or glass of wine.
We can recommend an excellent place for lunch, Sister Meat Smokehouse. You can eat their local snacks: fresh and fragrant cheeses, freshly smoked meats, and sandwiches.
It is also worth visiting Bistro & Wine Bar, and The Gallery Restaurant & Bar.
If you're planning a trip to Oregon, please check out some of the other great places we describe in related posts: