The Epic Oregon Road Trip Itinerary
This Oregon Road Trip Itinerary will help you live an epic and fabulous adventure through this glorious Pacific Northwest state. Mountains, waterfalls, river gorges, dense forests, a fairy-tale coast, wineries, hot springs, wonderful cities, ghost towns, and the USA's deepest lake. Oregon impresses with its attractiveness and variety of landscapes. We show you must-see stops and things to do. Oregon is also a picture-perfect state, so we tell you the best photo spots to catch its wild natural beauty. We give you also hints on where to stay and what to pack. So, check our Epic Oregon Road Trip Itinerary with lots of tips and photos to prepare for an adventure.
This article may contain affiliate / compensated links. For full information, please see our disclaimer here.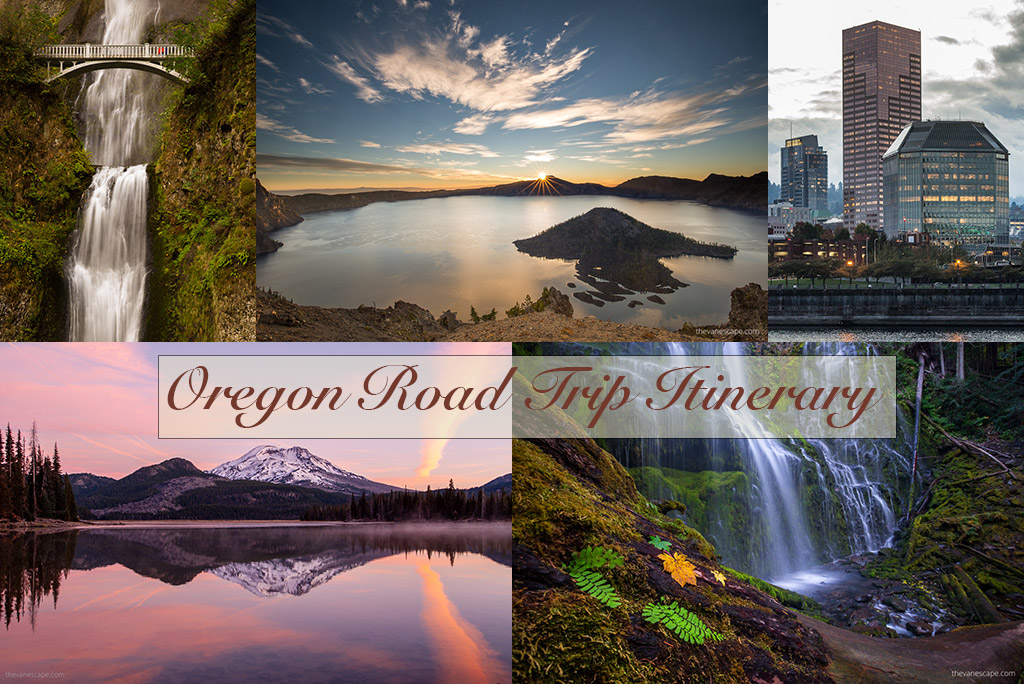 Oregon Road Trip Itinerary – Introduction
We fell in love with Oregon on our first visit to the state and have been to it several times. And we admire this state because of its incredible beauty and variety. Moreover, we love to photograph waterfalls in Oregon, mountains, covered bridges, and original architecture. We have developed this itinerary based on our own experiences. We show you the places you should not miss during the Oregon Road Trip.
How many days do I need for Oregon Road Trip?
Oregon is a beautiful state, so the longer the road trip you plan, the better. Our itinerary includes a 10-day Oregon road trip that begins and ends in Portland. A 10-day Oregon road trip will allow you to enjoy this state, see its greatest attractions, and take great photos. But at the end of this article, you will find tips on what to add to your itinerary if you have 14 days. We also tell you how to shorten this plan if you only have 7 days to travel and want to see as many places in Oregon as possible.
Below you will find our plan at a glance. Later, each day is described in detail with the itineraries, road suggestions, driving time, the most interesting stops, and attractions. We assure you that you fall in love with this state after seeing these places and want to return to Oregon.
The Epic Oregon Road Trip Itinerary Overview
Day 1. Arriving at Portland and exploring Portland.
Day 2. Driving to Mount Hood and hiking in the Mount Hood area.
Day 3. Sightseeing of Shaniko Ghost Town and driving to Sisters.
Day 4. Exploring Sisters and Bend – Willamette National Forest area.
Day 5. Driving to Crater Lake National Park and Umpqua National Forest.
Day 6. Exploring Crater Lake National Park.
Day 7. Driving to Oregon Coast and Oregon Coast Road Trip.
Day 8. Oregon Coast Rod Trip – exploring Oregon Coast.
Day 9. Exploring Oregon Coast and return to Portland.
Day 10. Exploring Portland and Columbia River Gorge/Multnomah Falls.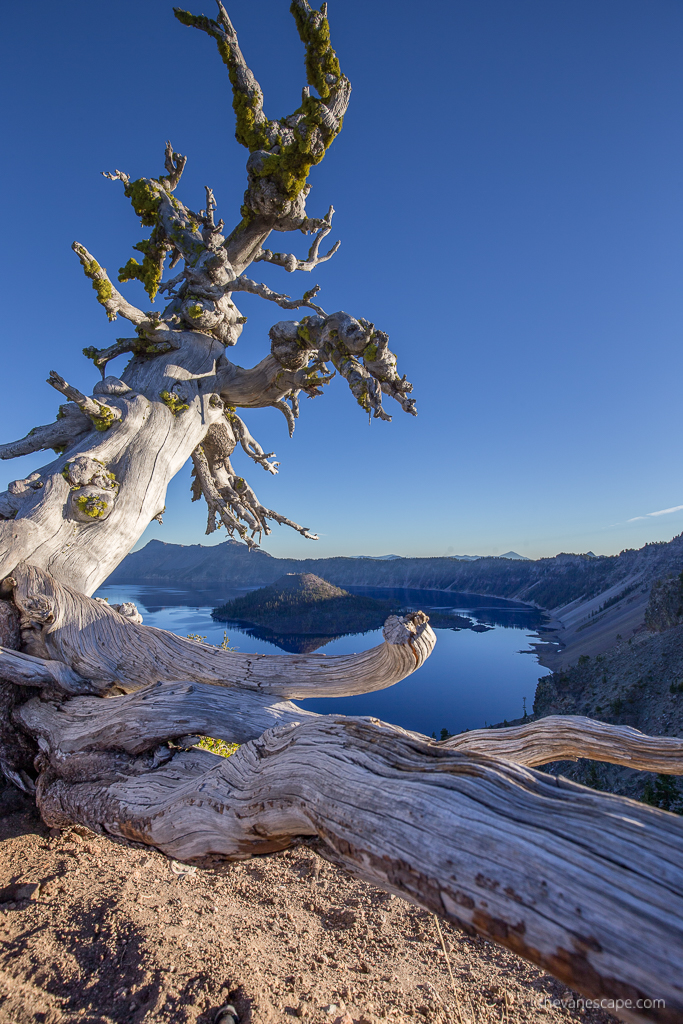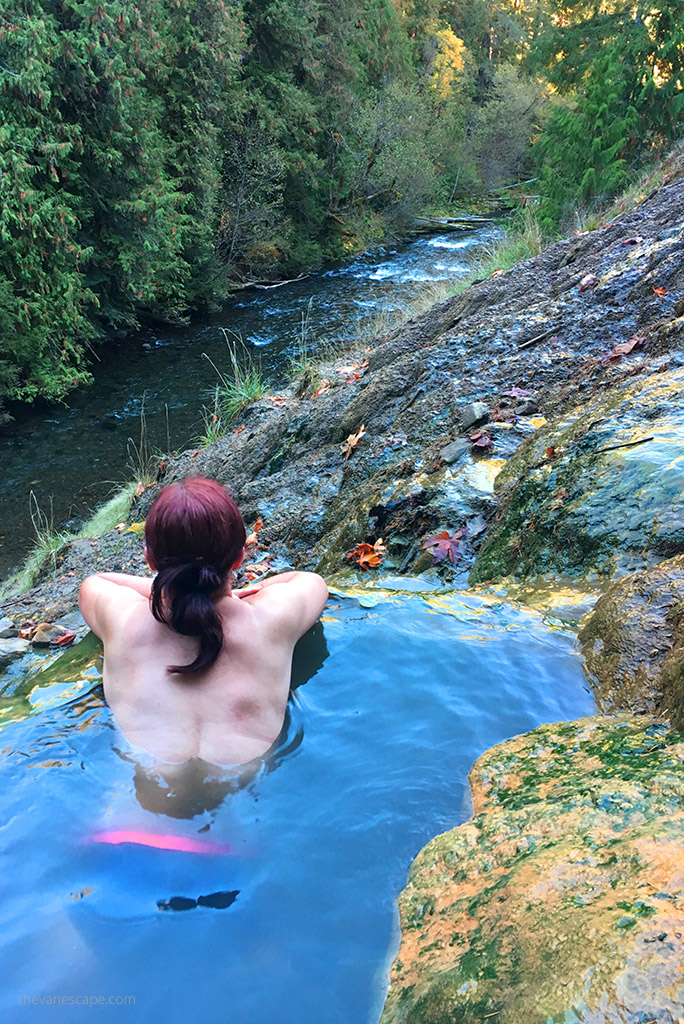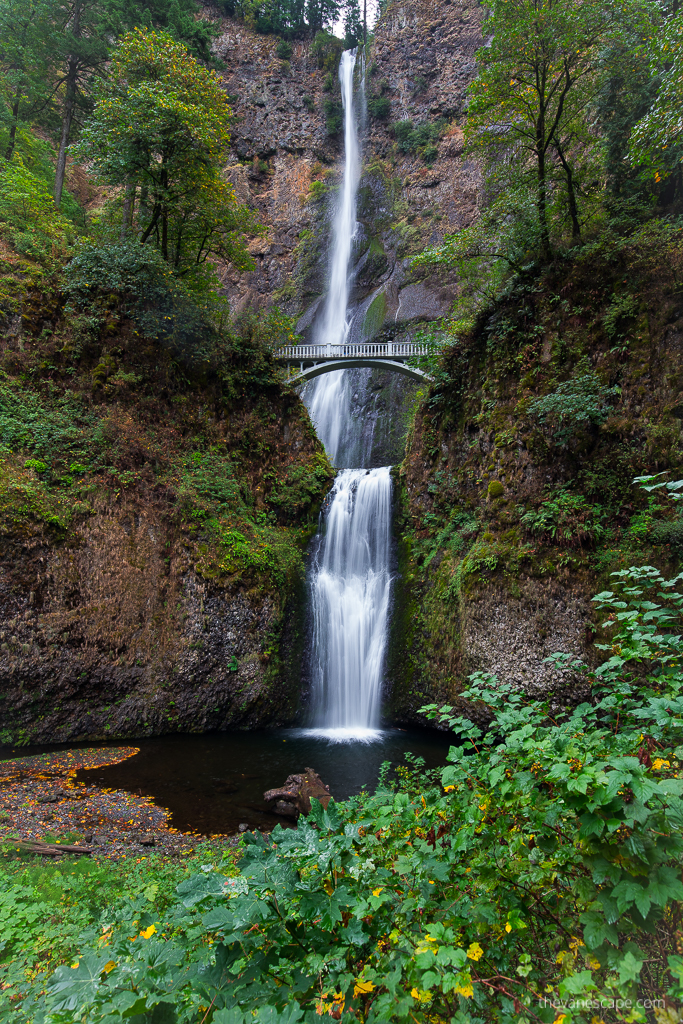 What Should You Know About Oregon Before You Go On A Road Trip?
Oregon is a state where you refuel your car without leaving it. At the gas station, you are served by a gas station employee. Refueling by yourself in Oregon carries a fine of up to $500. It's similar only in New Jersey. It is worth remembering this when planning your Oregon road trip. This rule does not only apply to motorcyclists.
There is no sales tax in Oregon. Therefore, it is a state worth visiting, if only for shopping. Oregon is one of only five states (alongside New Hampshire, Montana, Delaware, and Alaska) where the price you see on the product is what you pay at the checkout. So, it's worth shopping in Oregon. The best shopping in Portland.
What is the best time for Oregon Road Trip?
Oregon is attractive all year round. It all depends on your favorite outdoor activities and the way you travel. But this Oregon road trip itinerary is fully usable during the summer and fall months from May to the end of October. Some of the places recommended to visit are inaccessible in winter due to closed roads. But we tell you which roads are closed in winter so that you can also adapt your itinerary to the winter months.
Summer and Fall months are also the best for all our suggested activities. Pleasant weather will enable longer hikes in the fresh air. The day is also long, so you will see more places and drive longer distances. However, in the high season, most tourists will certainly be in July and August. Therefore, if you are going during these months, we suggest that you start your sightseeing in the morning to avoid the crowds.
Oregon Road Trip Map
Please, take a paper map for your Oregon road trip. You will need it. Believe us, very often, there is no phone coverage, and you must use the traditional map. We love modern apps, but they have become useless in places like mountains, deep forests, and challenging hikes. So, a paper map is best when no cell service exists. We use Benchmark Oregon Road & Recreation Atlas. It is very informative and detailed. Thanks to this atlas, our trips were more interesting, as we could quickly learn what was nearby and plan our route. It's also a useful alternative to GPS maps when traveling.
Oregon Benchmark Road & Recreation Atlas
Atlases: Every Benchmark atlas is specially designed for enthusiasts of outdoor activities. All atlases have Benchmarks exclusive Landscape Maps with large easy-to-read and page overlap, and a useful GPS grid. The categorized Recreation Guide makes planning your next adventure a breeze. The Recreation Maps have public land ownership shown as color tints, and most titles have hunting unit names and boundaries
Where to stay during the Oregon Road Trip?
It all depends on your needs, travel style, and budget. We traveled both by car and slept in lodges/hotels and by an RV, and stayed at campsites. Therefore, we recommend specific lodging options for each day of the trip—only those we checked and were satisfied with—hotels and RV campgrounds for each location.
But no matter what you decide, book your accommodation well in advance. You will get the best prices on booking.com and TripAdvisor.
If you plan camping in Oregon, check our Car Camping Checklist.
What to pack for the Oregon Road Trip?
Our journey leads through the mountains, dense forests, waterfalls, hot springs, and heavenly beaches. So, you should pack properly. Oregon's climate is temperate but fairly humid, with frequent rainfall. In the mountains, in forests, the humidity is felt. So always be ready for rain. Please check our detailed Day Hiking Packing List to see what to pack for hiking trails.
Furthermore, check our Road Trip Packing List Essentials to make your Oregon Road Trip safe and comfortable.
The most important things you should pack for this Oregon road trip are:
Trekking Shoes & Hiking Poles
Waterproof hiking shoes with good grip are a must during an Oregon road trip. Stones and paths might be slippery even if you choose easy hikes from our suggested list. Oregon is full of stunning waterfalls, rivers and dense forests. After the rain, even on easy paths, there can be a lot of mud. We love Keen shoes, which are made in Portland, Salomon, and Merrel boots.
Hiking sandals are also handy, especially if you are planning a trip in the summer months. But they should have a good grip so that you don't slip on stones. You will use them not only on the beach but also when visiting hot springs or waterfalls. Our favorites are Kenn covered toe. Thanks to this, in the summer months, they are perfect for hiking. The cliffs on the coast are steep and slippery, so you need a good sole.
Trekking poles. We use them because they relieve the knees, spine and facilitate the hike. During intensive sightseeing, they are always useful. Thanks to hiking poles, we can make more hikes and see astounding places without feeling tired. Agnes uses lightweight, foldable Black Diamond Trekking Poles. But we can also recommend Foxelli Carbon Fiber Trekking Poles, which are affordable but very durable and comfortable. How to choose and use trekking poles you can check in this post.
Foxelli Carbon Fiber Trekking Poles
100% CARBON FIBER: Foxelli Trekking Poles (also known as Nordic walking poles or hiking sticks) are made from 100% carbon fiber material, which is known for its incredible lightness. Each pole weighs only 7.6 oz, allowing you to move quicker and faster while exerting less energy. Carbon fiber is also shock-absorbent and significantly minimizes the impact on joints. Durable and sturdy, these walking sticks are designed to withstand even the most challenging hikes or backpacking trips.
Backpack & Layers
Daypack. Is a must-have for daily hiking and sightseeing. We prefer comfortable Osprey backpacks with hip and chest belts, which make hiking much easier. How to choose a perfect daypack you can read in this post. It would be best if you packed, among other things, a large supply of water, hiking snacks, additional clothes (depending on the season), and most important: a first aid kit and hiking and road maps.
Due to the epidemic situation, do not forget to pack a travel-size hand sanitizer, and of course, good quality Face Masks with a filter. Buy more before your trip. Not everywhere is easy to buy masks with filters. We have to get used to the fact that they become something normal. And we should take care of our and others' safety.
Waterproof Rain Poncho is very often useful during trips around Oregon.
Layers. A warm sweatshirt and long pants will surely be useful even during summer hiking. Check what we always take on one-day hikes.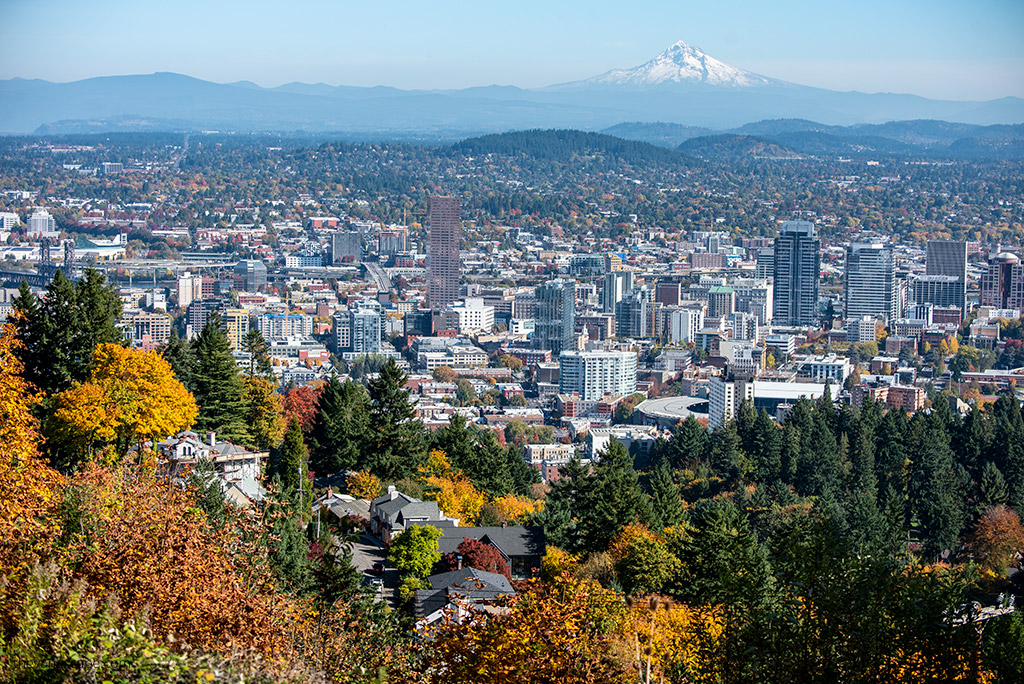 Day 1 Oregon Road Trip Itinerary:
Arriving in Portland and exploring Portland
Arriving in Portland
Our Oregon road trip begins in the capital of the state – Portland. The city has an international airport, so it's the most convenient way to get there. Check flight offers at CheapOair or Skyscanner. CheapOair is one of the fastest-growing online travel companies in the US, so they have great deals. Moreover, if you plan to rent a car for your Oregon road trip, compare the prices on RentalCars.com. We have always used the Alamo rental company and can recommend it. If you plan an RV road trip (we made our last Oregon road trip in a camper), check the offers on RVshare. It offers the largest selection of RV rentals across all 50 states in the US. In our opinion is also the best idea for road trips during the pandemic.
Lodging in Portland
For this Oregon road trip itinerary, we recommend you book 2 nights in Portland – the first and the last. Of course, you can modify the plan to your needs.
During our few trips, we stayed in the Courtyard by Marriott Portland City Center. We really enjoyed staying here. Our room was clean, and it had a lot of space, the service was great. We also stayed in the Mark Spencer Hotel, which is fabulous, in the city's heart. But check below on the Deals finder the best offers.
During the last trip with the motorhome, we stopped at Portland Fairview RV Park.
Sightseeing Portland
Portland is a delightful city, so we've put together a detailed Portland Itinerary. What do we suggest you see during the day after your arrival? Start from Downtown Portland and the river waterfront loop. It's a 2.6-mile loop that runs right along the Willamette. There are 12 fabulous bridges over the Willamette River. If you have time, visit Portland Japanese Garden and go to the Pittock Mansion situated 1,000 feet above the city. For more tips and recommendations on what to see and where to eat, you can check in our post.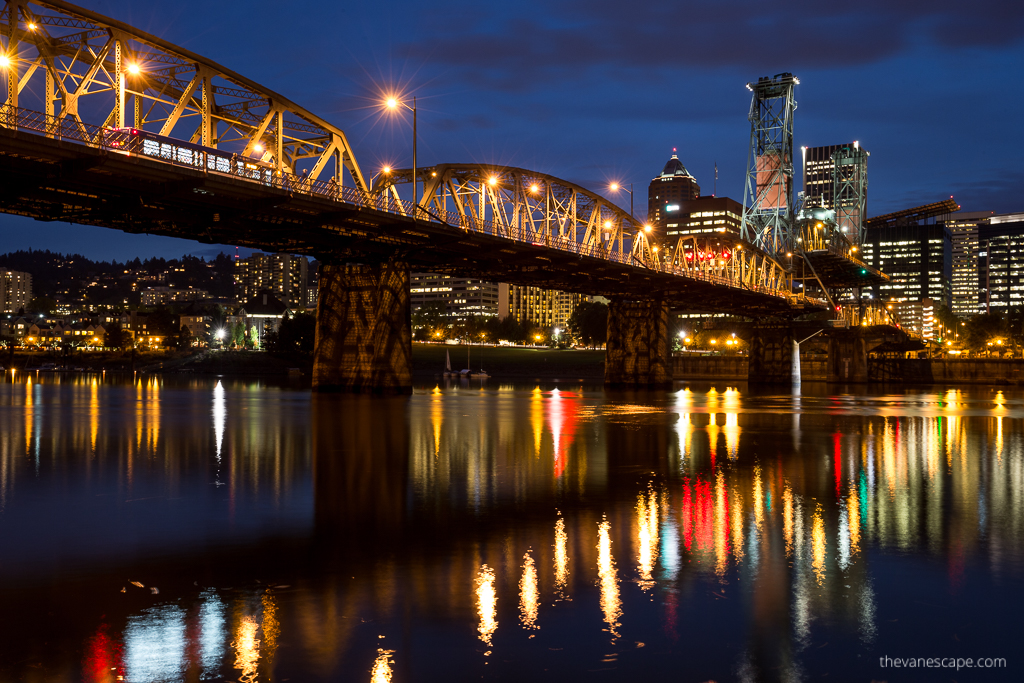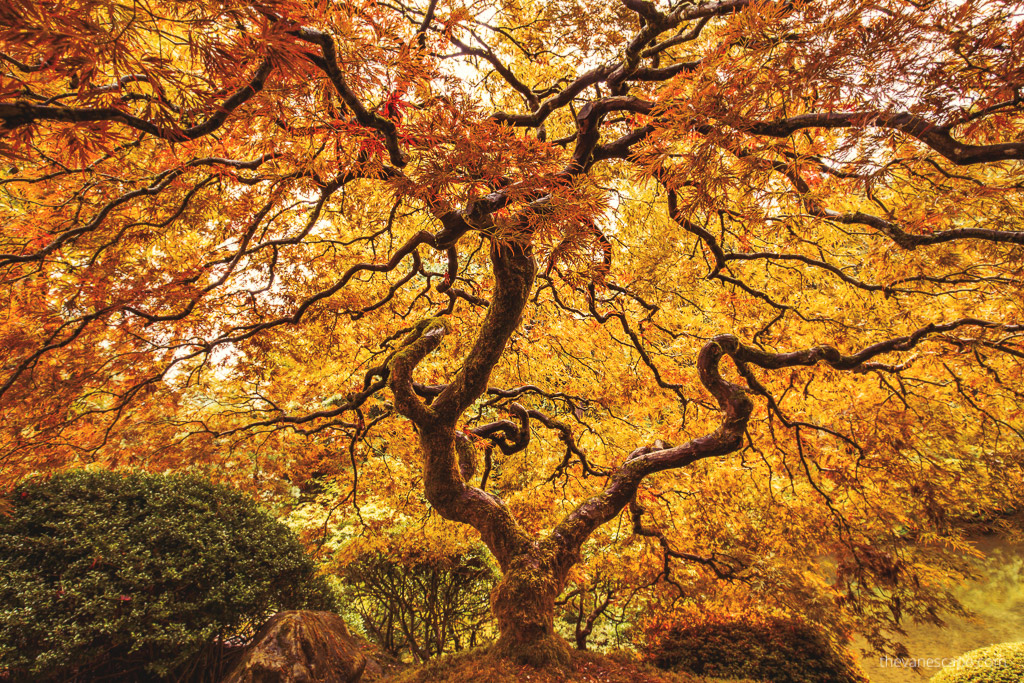 Day 2 Oregon Road Trip Itinerary:
Driving to Mount Hood and hiking in the Mount Hood area
Drive to Timberline Lodge & Mount Hood
Take US-26 W and drive to the Mount Hood area. The drive will take you about 2 hours, and it is a scenic route.
Lodging in the Mt Hood area
We suggest 1 night in the Mount Hood area in this Oregon Road Trip Itinerary.
Timberline Lodge is a historic beauty hotel near the magnificent Mount Hood. Moreover, the psychological horror "The Shining" from 1980, directed by Stanley Kubrick, was shot at the Timberline Lodge. You can check our photos from this fabulous and thrilling filming location here. If you can, stay overnight at Timberline Lodge. If the place is busy, choose one of the nearby accommodations. Nearby are Best Western Mt. Hood Inn, The Mt. Hood Oregon Resort.
Hiking in the Mount Hood area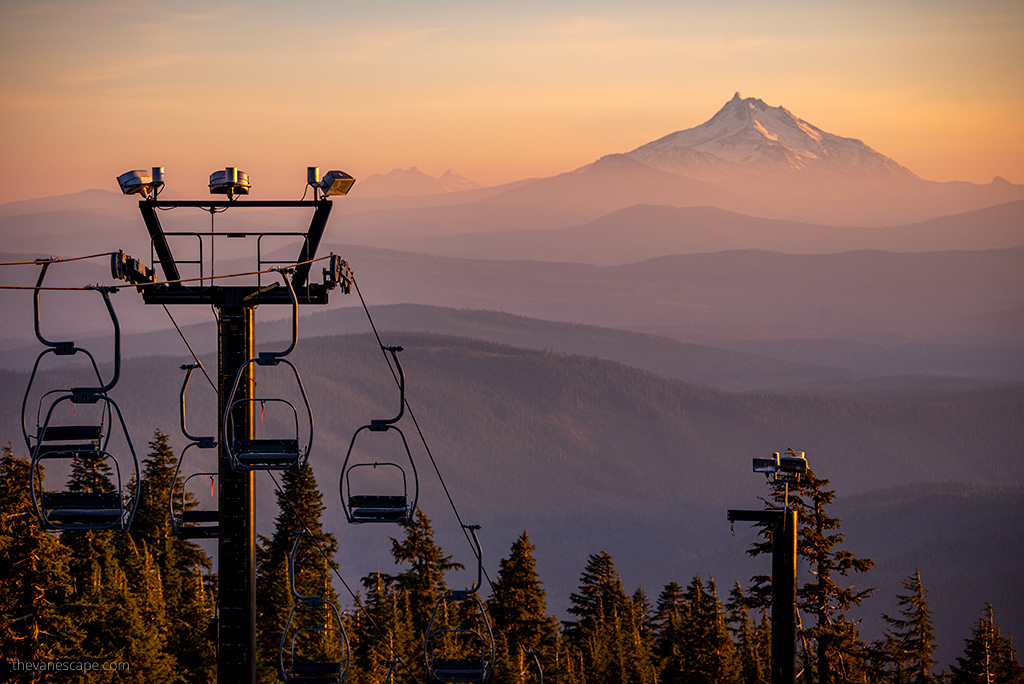 No matter where you stay for the night, head to Timberline Lodge and see this fabulous scenery. Moreover, they have great restaurants where you can have lunch or dinner. Finally, the Timberline Lodge parking lot provides access to many trails on the flanks of Mount Hood. So, you can choose one or two hikes in Mount Hood National Forest.
Mountaineer Trail Loop Hike is a great hike because there is such an easy road that goes so high on the mountain. The distance is 2.7 miles. The easiest hiking opportunity is to stroll in any direction you feel like.
Zigzag Overlook Hike is also easy to hike. The distance is 4.4 miles. You will see the alpine areas of Mount Hood's south side. You'll pass alpine and subalpine meadows to reach an overlook over the deeply gouged Zigzag River Canyon, with the craggy ramparts of Mount Hood above.
Paradise Park from Timberline Lodge Hike is a longer but fabulous hike. The distance is 12.1 miles, and it isn't easy. Is a classic mountain trek. In addition to the mountain vistas and wildflowers, the route passes several waterfalls and offers unique views of the high country south and west of Mount Hood.
Day 3 Oregon Road Trip Itinerary:
Sightseeing of Shaniko Ghost Town and driving to Sisters
Drive to Shaniko Ghost Town and explore it
From Mt Hood, take OR-216 and in Maupin, take Bakeoven Road. It's about 77 miles and 1 hour 45 minutes driving to Shaniko. You need about 2-3 hours to explore Shaniko. From 1903 Shaniko gained the nickname "Wool Capital of the World." You will find an old railway station, antique items, and wooden architecture from over 100 years ago. The town has an amazing history. You can read more about it and check more our photos in our post-Shaniko Ghost Town.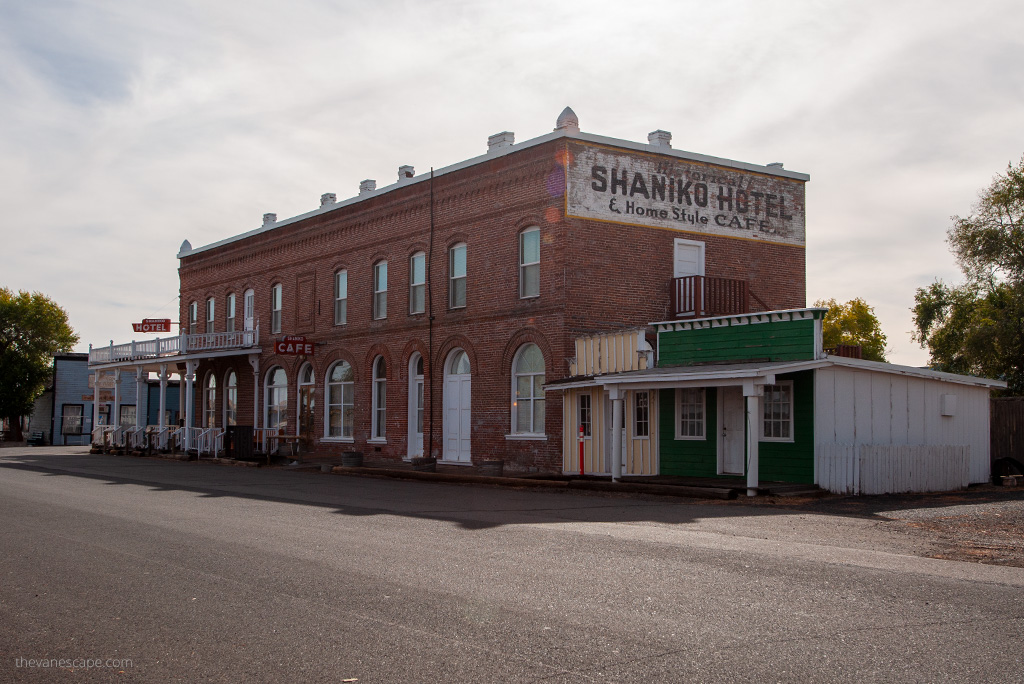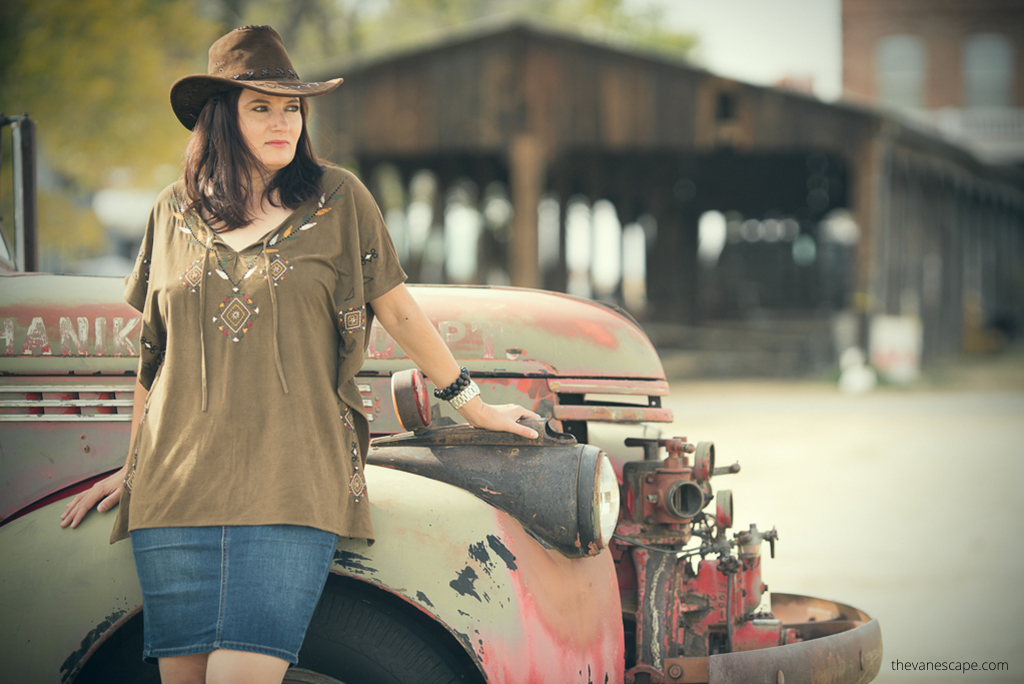 Drive to Sisters
From Shaniko, take US-97 S and OR-126 W to Sisters. It's 84 miles and about 1 hour and 40 minutes driving.
Sisters is a fabulous town, surrounded by mountains and forests. We detailed described its attractions in post Things to do in Sisters. We also described interesting routes in the area there. Situated in the foothills of Oregon's Cascade Range, Sisters and Bend are perfect for holidays. Moreover, it's a great idea to spend here also winter vacation if you like skiing.
Lodging in Sisters or Bend
We suggest 2 nights at Sisters during your Oregon Road Trip. The area is fabulous. However, it might be difficult to stay overnight in the summer. Therefore it is also worth considering the nearby Bend. It's about 25 minutes from Sisters. It is a larger city and has a well-developed accommodation and catering base. It's worth visiting Bend for sure. So, check the lodging option on booking.com and book your stay in advance.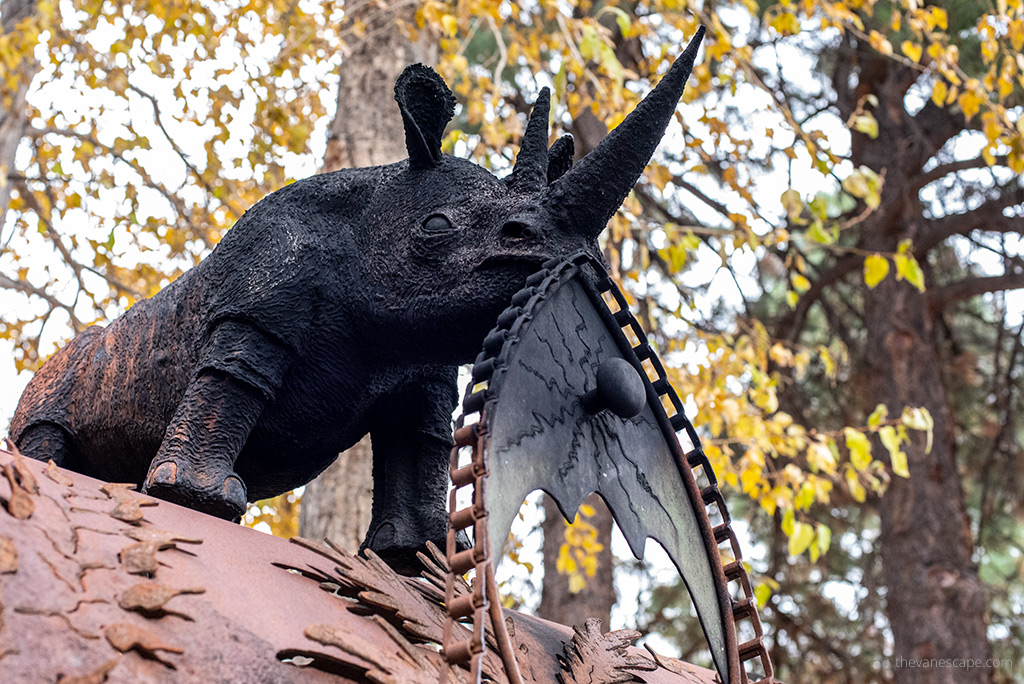 Best Western Sisters Oregon is our favorite one. It is a small, charming Ponderosa Lodge with 48 oversized guest rooms renovated in a country theme. Tasty breakfasts and friendly service.
If you need RV camping, the best RV park in the area is Bend / Sisters Garden RV Resort. But you have to book it well in advance. It's closest to the Sisters, located in a beautiful setting, and it's hard to get a spot, especially in high season.
Hotel rates in Bend are much more affordable than in Sisters, so consider this place for optimizing your holiday budget.
Day 4 Oregon Road Trip Itinerary:
Exploring Sisters and Bend – Willamette National Forest area
We suggest you actively explore the Willamette National Forest area on this day. Below are three of our favorite hikes. They are not long, so it is possible to make them in one day. Or you can choose the ones that suit you best. Prepare some more snacks and lunch.
Sunrise or early morning hike at Sparks Lake
Sparks Lake is 49 miles and an hour's drive from Sisters. You have to drive through Bend. So, take US-20 E to Bend and turn onto Cascade Lakes National Scenic Byway. The scenery is breathtaking. If you like sunrises – they look fabulous in this place. But you can also go there during the day for a walk. This road may be closed in winter.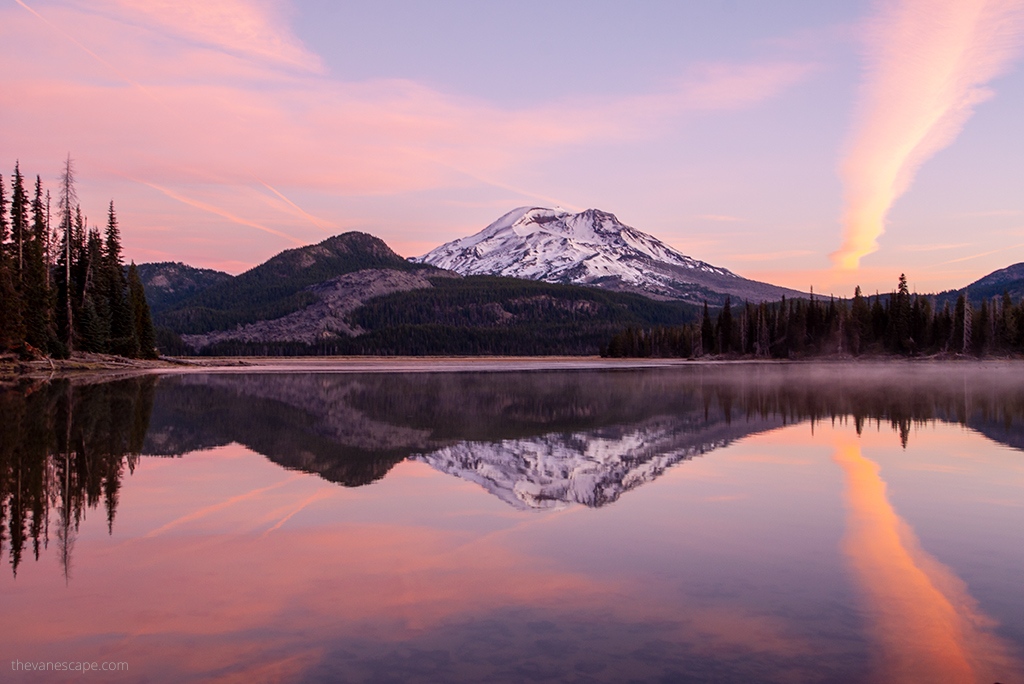 Proxy Falls Hike & McKenzie Pass Scenic Byway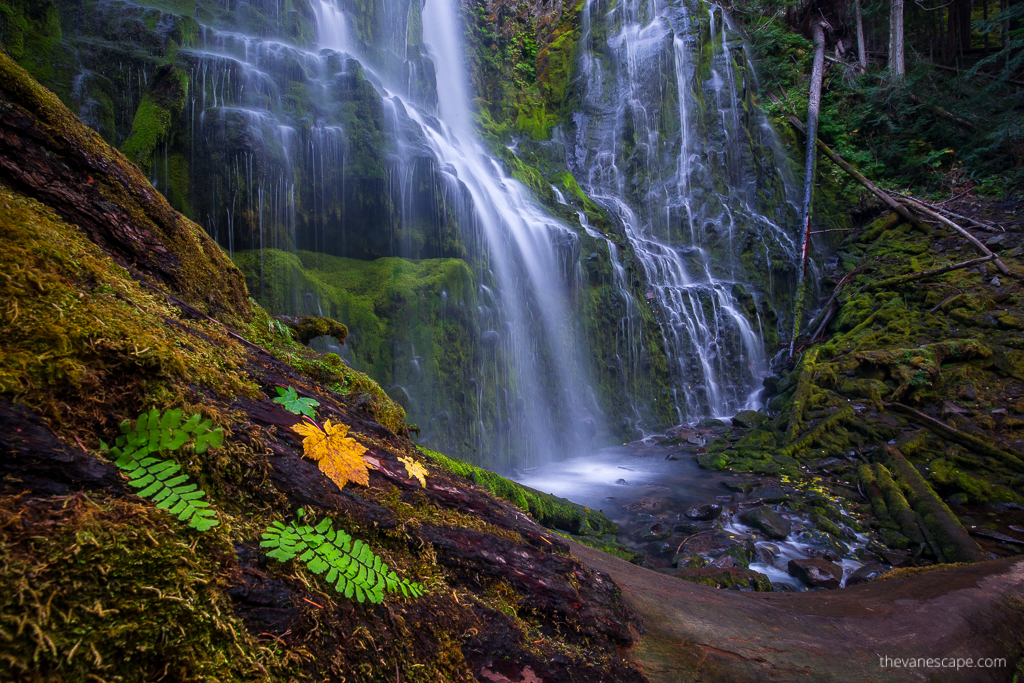 Proxy Falls, AKA Lower Proxy Falls, is a dazzling cascade waterfall hidden in the Three Sisters Wilderness. It's near McKenzie Pass and McKenzie River in the Willamette National Forest. From Sisters, it is only 28 miles and approximately 50 minutes drive via OR-242 W. For more photos and tips, see our Proxy Falls Hike post.
The best idea is to combine this hike with The McKenzie Pass-Santiam Pass Scenic Byway. Oregon Route 242, known as a portion of the McKenzie Highway, takes you on a journey through a land of contrasts. You'll encounter lush forests, crystal-clear lakes, and lava fields on the west side of the Cascades. Stop at the Dee Wright Observatory. In our opinion, Route 242 is one of the most scenics, so it's a must in Oregon Road Trip Itinerary. This road is closed in winter.
Tamolitch Blue Pool Hike
Tamolitch Falls, also known as Blue Pool due to its amazing blue color of the water, is a popular hiking spot in Willamette National Forest, Oregon. The deep turquoise and stunning clarity of the Blue Pool make this place unforgettable. The approximate hike time is 1 hour and 30 minutes one way. From Sisters stay on US-20 West. Then turn onto OR-126 E for 10.8 miles. Turn right at a sign for Trailbridge Campground/Blue Pool. You must cross a bridge and turn right onto gravel road NF-730. After about a third of a mile, park along the right side of the road. Check our detailed hike description, tips, and photos in this post.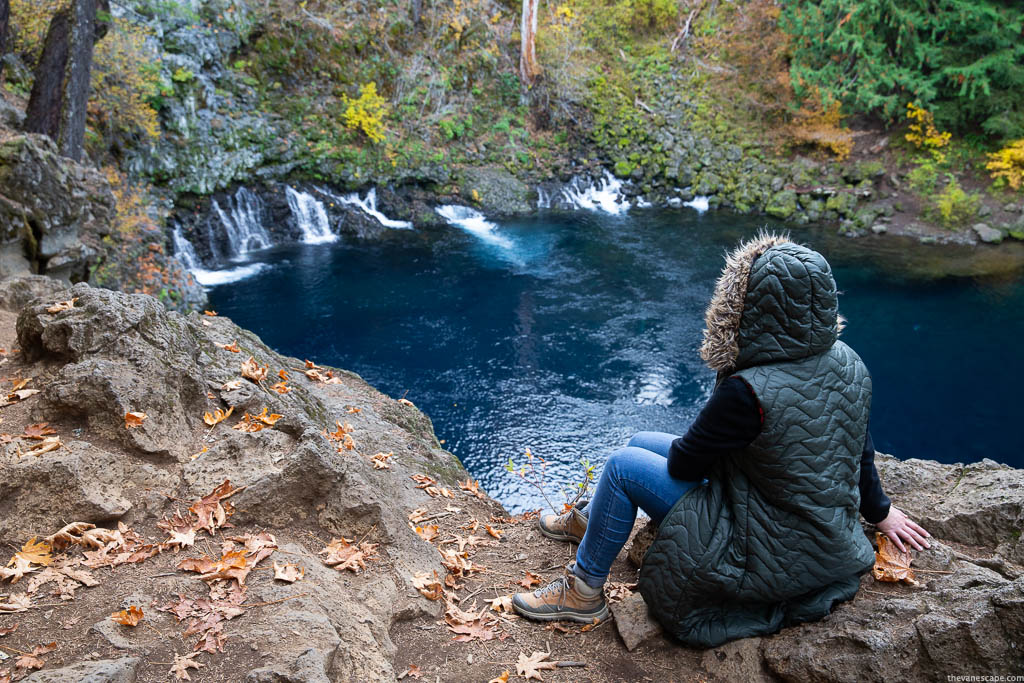 Day 5 Oregon Road Trip Itinerary:
Driving to Crater Lake National Park via Umpqua Hot Springs
Saok in Umpqua Hot Springs
From Sisters is 115 miles and 2 hours 15 minutes driving via US-97 N to Crater Lake National Park. But we suggest you take a bit off course and soak into one of Oregon's best hot springs – Umpqua Hot Springs.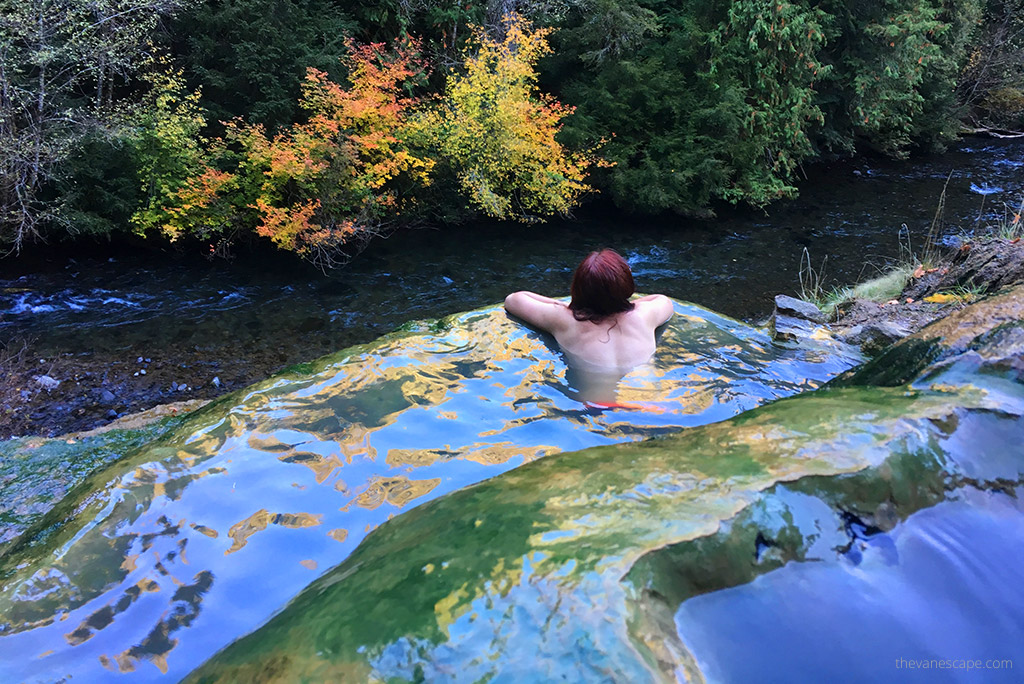 So if you like hot springs, take from Sisters US-97 S and OR-138 W to get to Umpqua Hot Springs. It's 2 hours 45 min driving (143 miles). They are located in Umpqua National Forest. This set of 7 geothermal pools sits right on the edge of a rock face, spilling 108-degree water into the North Umpqua River below. The view is breathtaking. There is a short hike to get to the hot springs. It should take you 20 minutes to get to the pools. For more photos, hike & trailhead descriptions, hot springs etiquette, you can check in our Ultimate Guide to Umpqua Hot Springs in Oregon.
Driving to Crater Lake National Park and Lodging option in the area
The Oregon road trip itinerary would not be complete without a visit to a fairy-tale volcanic Crater Lake. You are less than an hour's drive to Crater Lake National Park from the hot springs, depending on where you are staying. Try to reach the sunset because they are spectacular above Crater Lake. It is the only national park in Oregon. Moreover, it is the deepest lake in the USA with the clearest and bluest water in America. We prepared a detailed guide to this fabulous place with tips on what to do and photos.
If you plan your Oregon road trip in May or the beginning of June, check the weather on the NPS website. Sometimes in May, there is still a lot of snow. You can visit the park, but some roads might be closed.

Lodging option
We suggest 2 nights at the Crater Lake NP area.
Crater Lake Lodge is a historical lodge inside the Park. Unfortunately, it's not easy to book it. It's pretty expensive. Moreover, it's open only from May – September, filling up guests quickly.
But Chiloquin is only 8.5 miles from Crater Lake National Park, so check accommodation there.
If you are looking for a campground Diamond Lake Resort & RV Park is a great place to relax. It's only 4 miles to Crater Lake park entrance, so the location is perfect. Book in advance.
But if you plan a winter trip, 1 night in Crater Lake should be enough because some roads and trails are closed. So, 1 day for sightseeing in winter will be optimal.
Sunset at Crater Lake and Crater Lake Rim Scenic Drive
Crater Lake looks great before and just after sunset. The light is the warmest then. The water surface is flickering. The historic Crater Lake Rim Drive is a 33-mile (53-km) long road, which offers breathtaking and panoramic vistas of the lake, forests, and meadows. Along the way, there are 30 overlooks with ample car parking, which provide opportunities to stop for views, admire it, relax, taking photos. We have listed the best viewpoints in Crater Lake in this post.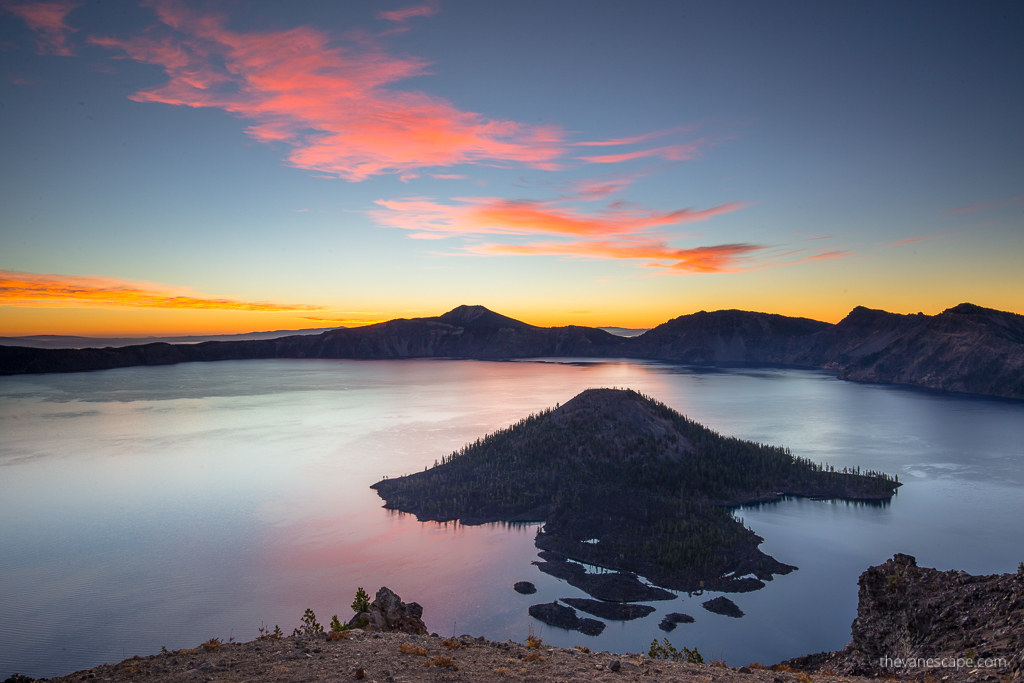 Day 6 Oregon Road Trip Itinerary:
Exploring Crater Lake National Park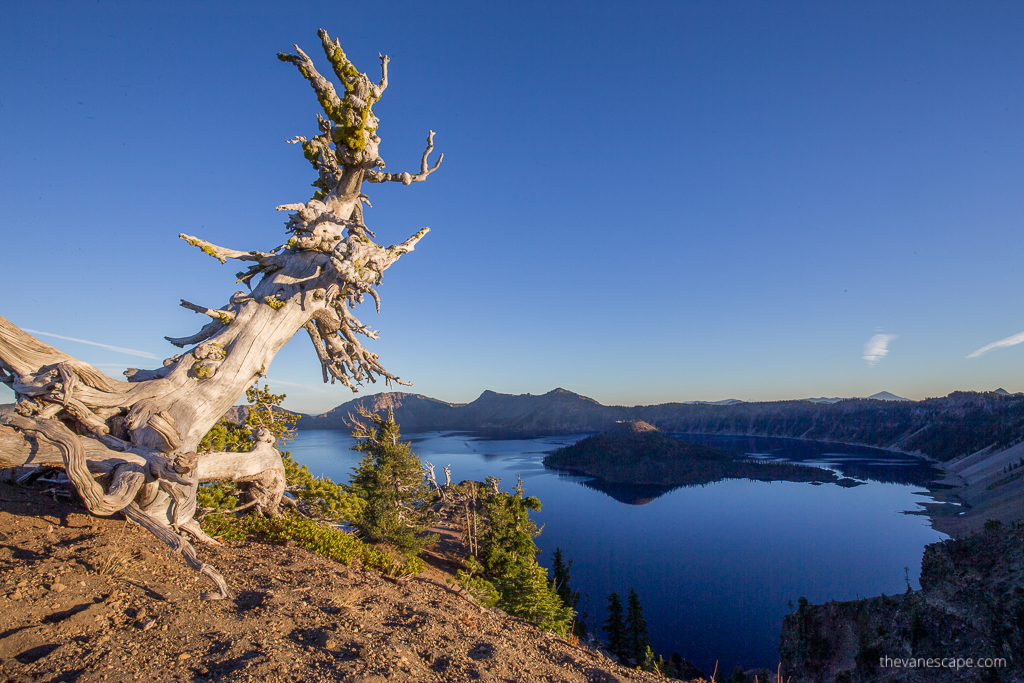 On this day of the Oregon Road Trip Itinerary, we focus on exploring Crater Lake National Park's beauty. If you can do it, get up for the sunrise. The view is worth your effort. Have a picnic at one of the viewpoints. Take one or two trails. We describe 7 Best Day Hikes in Crater Lake National Park from easy to strenuous here. It's worth visiting Rim Village Visitor Center and Crater Lake Lodge.
Moreover, check if there are lake cruises available. There are two selections for a boat tour: a standard lake cruise which includes a 2-hour tour around the lake. The second choice is a Wizard Island tour with a shuttle. Check the updates for 2021 on the official ticket booking page.
Day 7 Oregon Road Trip Itinerary:
Driving to Oregon Coast and Exploring Oregon Coast
From this day, we start the Oregon coast road trip itinerary. The coast of Oregon is very varied. Rocky, sandy, covered with dense forests, often shrouded in fog. Look carefully and you will see seals or sea lions basking on the rocks. Moreover, you can encounter coyotes, roe deer, and deer on the slopes of rocks and in coastal forests. As well as gulls, hawks and other birds.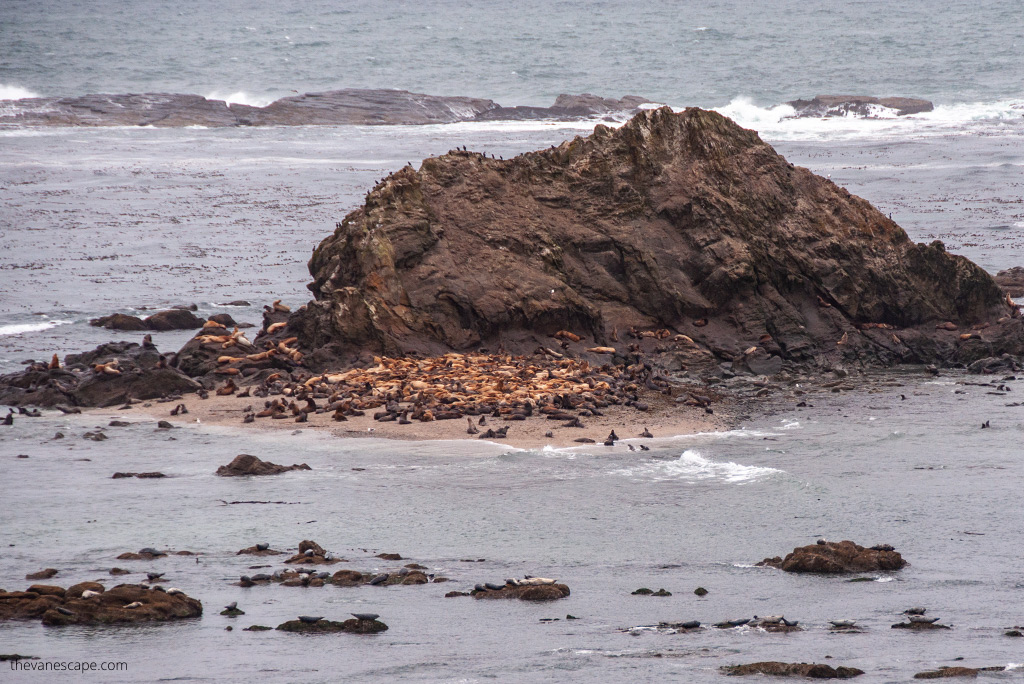 Drive to Oregon Coast
Start driving early in the morning. You have almost a 4 1/2 hours drive to the Oregon coast.
Stop at the Girardet Vineyards
If you have more time and are a wine lover, you can change the route a bit and make a short stop on the way to the coast. You can stop at Tenmile in Girardet Winery and Wine Cellar. The place is unique. You will not only taste and buy excellent wines here, but you will also meet wonderful people who create this winery with a passion. Moreover, if you have more time for your Oregon Road Trip, consider staying in their fabulous Chardonnay Chalet at the Vineyard. The address of Girardet Winery is 895 Reston Road, Roseburg, OR 97471. From Crater Lake, drive via OR-62 W to get there. It's 119 miles and 2 hours 30 minutes driving. They are open Wednesday-Sunday from 11 a.m. – 5 p.m., year-round. Moreover, they are RV friendly and Family & Pet Friendly.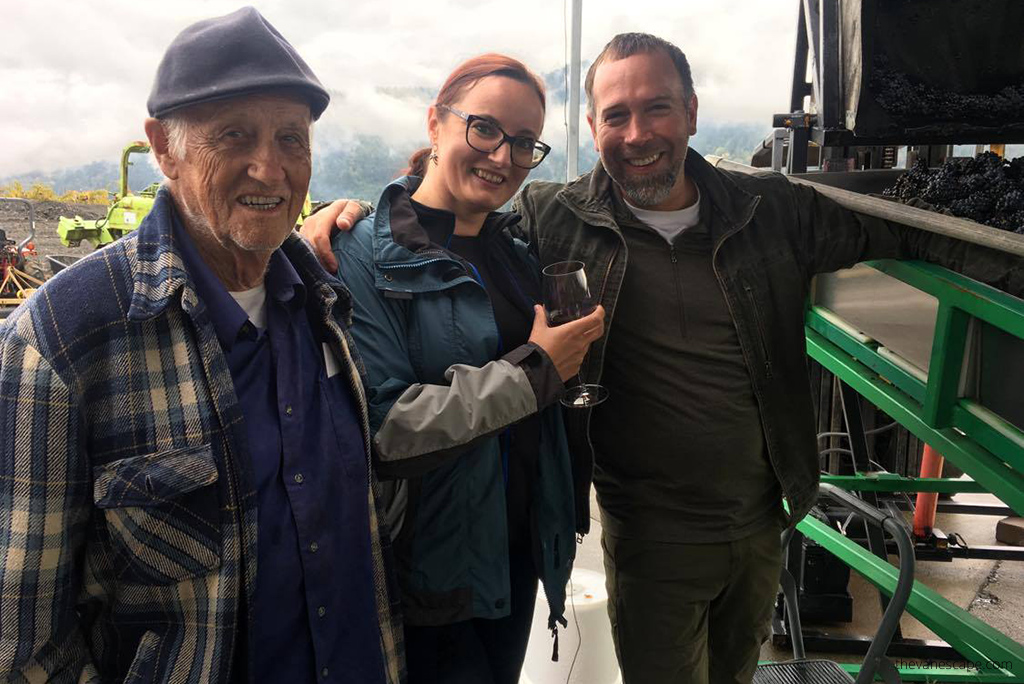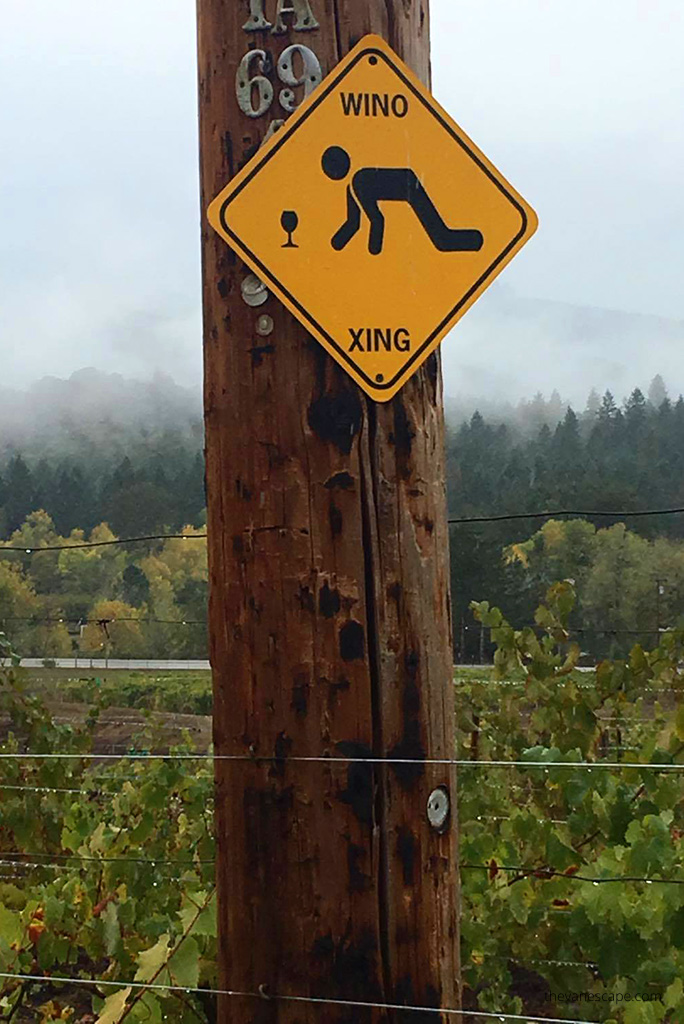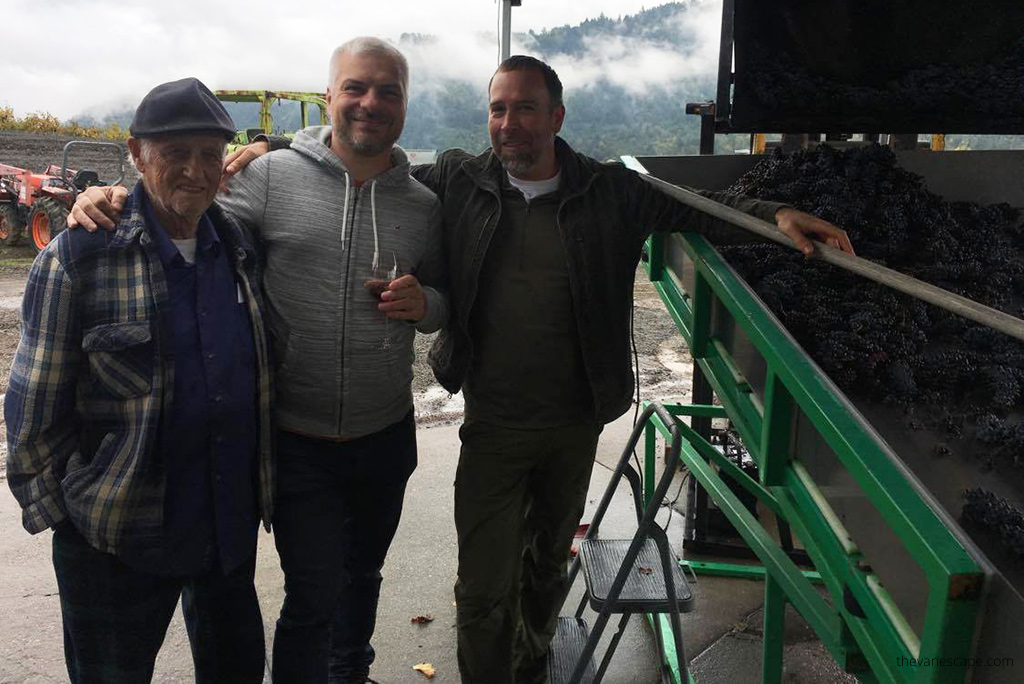 Stop at the Cape Blanco Lighthouse
Cape Blanco Lighthouse is the first fabulous stop at the coast in this Oregon Road Trip itinerary. To get there directly from the Crater Lake NP, take OR-42 E and OR-138 E. It's 205 miles and 4 hours 20 minutes driving. If you are going from Girardet Winery, take OR-42 W and US-101 S. It's 90 miles and 2 hours of driving.
Drive to Cape Arago Lighthouse and lodging
The next stop is at Cape Arago Lighthouse. It's 53 miles and a 1 hour 15 minutes drive from Cape Blanco. Take the US – 101 N. Cape Arago is stunning to get there. Therefore, we suggest accommodation in this area. So, Book 1 night here. You can find Best Western Holiday Hotel in the area.
But, if you are traveling by RV, book an advance spot in Sunset Bay State Park.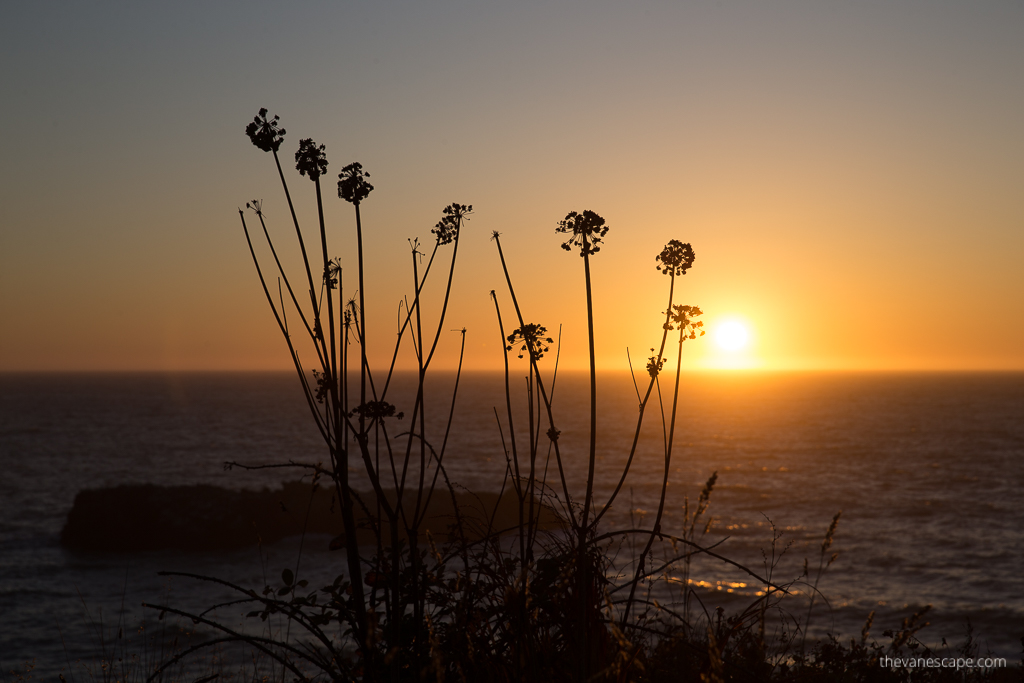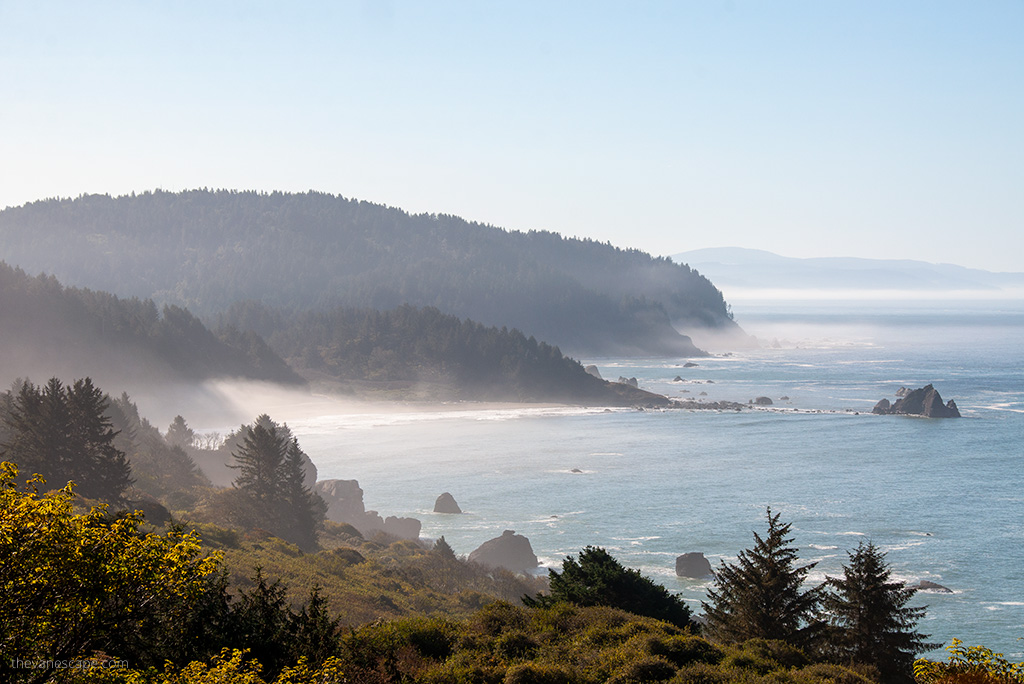 Exploring Cape Arago
We like this place because, in a small area, you have as many as three great state parks offering stunning views of the Oregon Coast.
So, start this afternoon and evening by visiting each of these parks and taking at least a short walk along the coast. Wait for the sunset.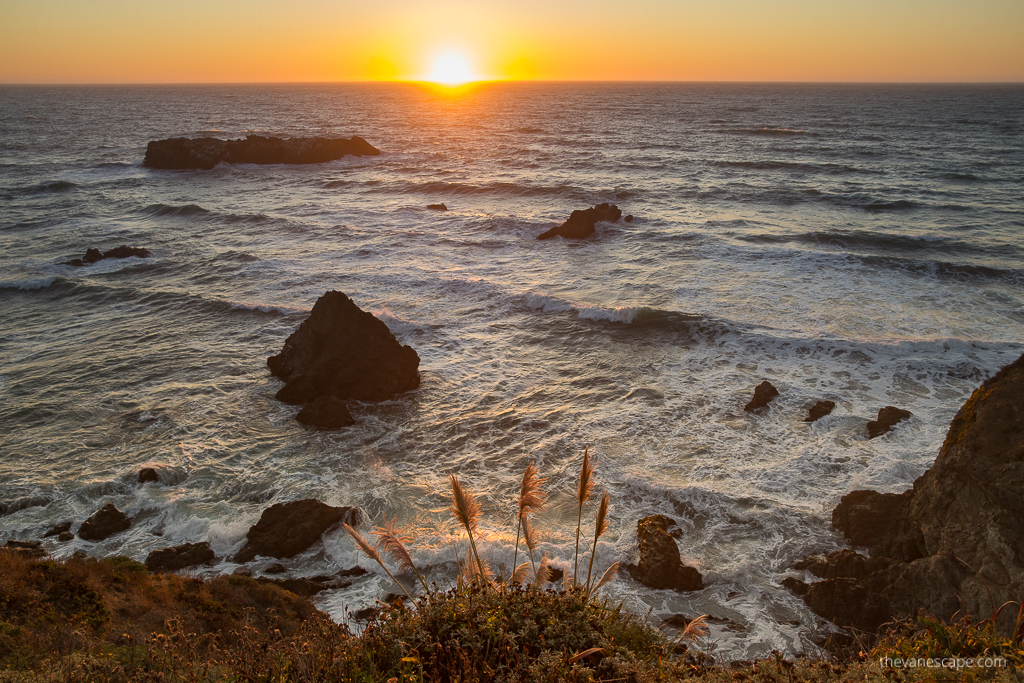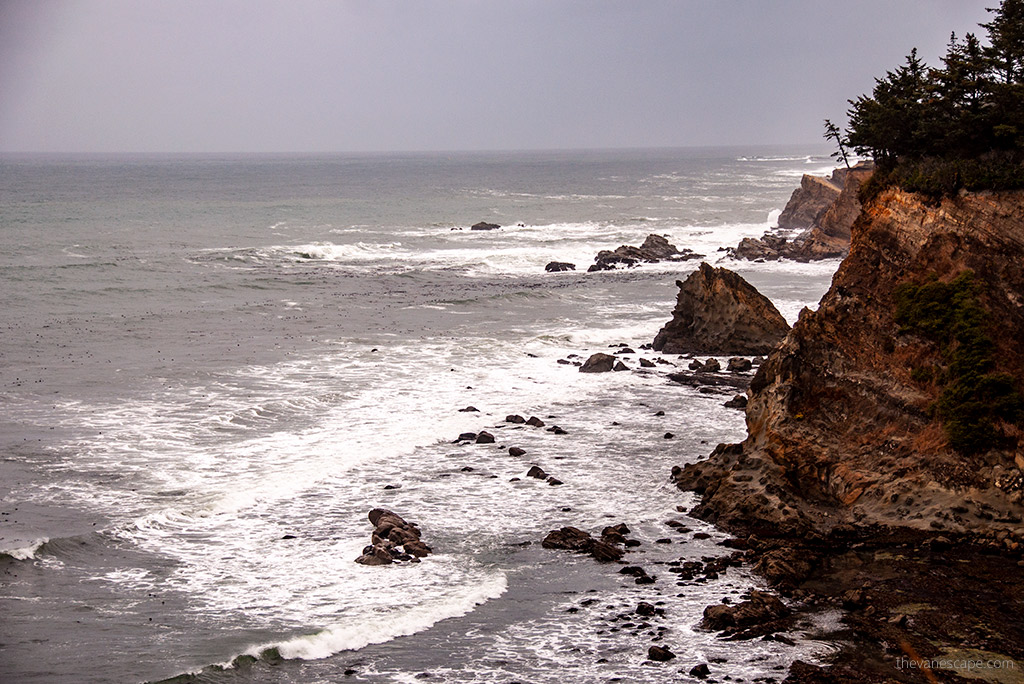 Day 8 Oregon Road Trip Itinerary:
Oregon Coast Rod Trip – exploring Oregon Coast
It's another intense day exploring the Oregon coast and a lot of driving. Therefore, start your day early. Pack some snacks for the road.
Drive and stop at Umpqua River Lighthouse
The next interesting stop we suggest doing in our Oregon road trip itinerary is Umpqua River Lighthouse. It's 45 minutes (32 miles) from Cape Arago via Cape Arago Hwy and US-101 N.
Stop at Heceta Head Lighthouse Scenic Viewpoints
From Umpqua River, take US-101 N and drive about 40 miles (55 minutes) to the next scenic viewpoint: Heceta Head Lighthouse.
Stop at Rockaway Beach
Next stop during this Oregon Coast road trip plan at Rockaway Beach. It's 122 miles and about 2 hours and 45 minutes driving via Oregon Coast Hwy.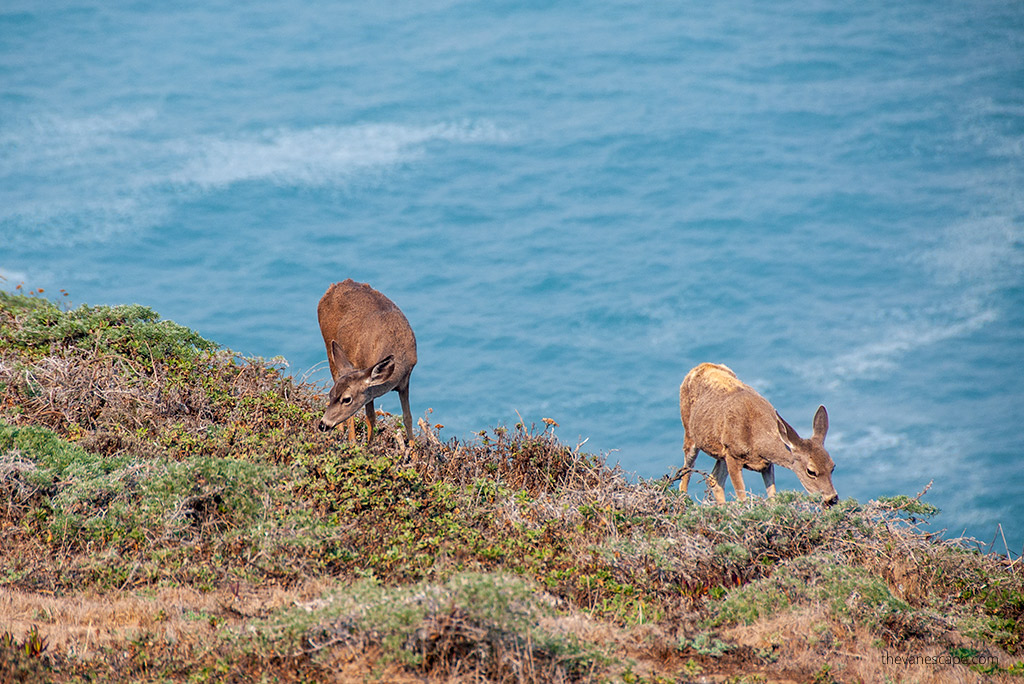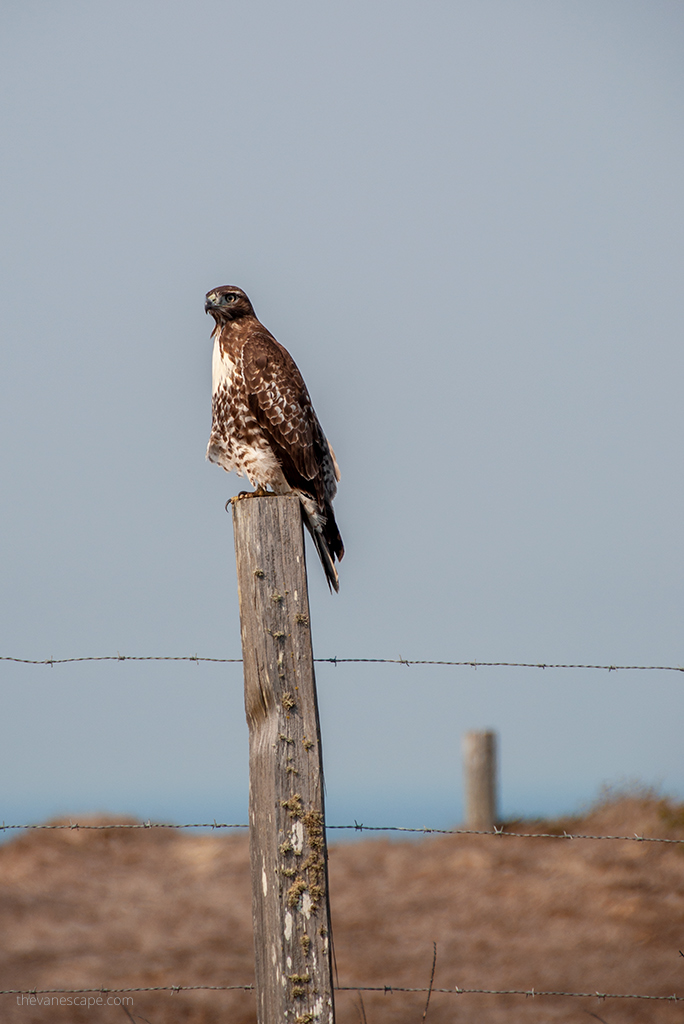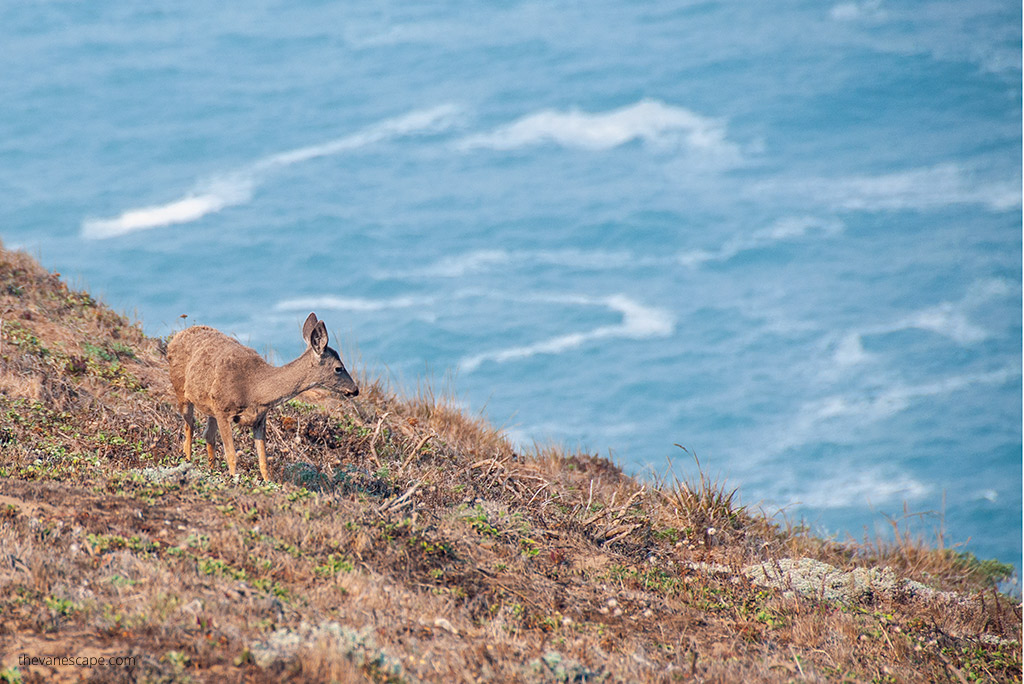 Sunset at Cannon Beach and lodging
Rockaway Beach is just a 40-minute drive and 26 miles from Oregon's famous Cannon Beach. Try to get there at sunset.
We suggest booking 1 night in this beautiful area. If you are looking for something special, you can choose one of the exclusive beachfront hotels as Surfsand Resort or Hallmark Resort.
If you're traveling in a motorhome, a great place to spend the night is Cannon Beach RV Resort. Book it in advance. A great choice is also Seaside RV Resort.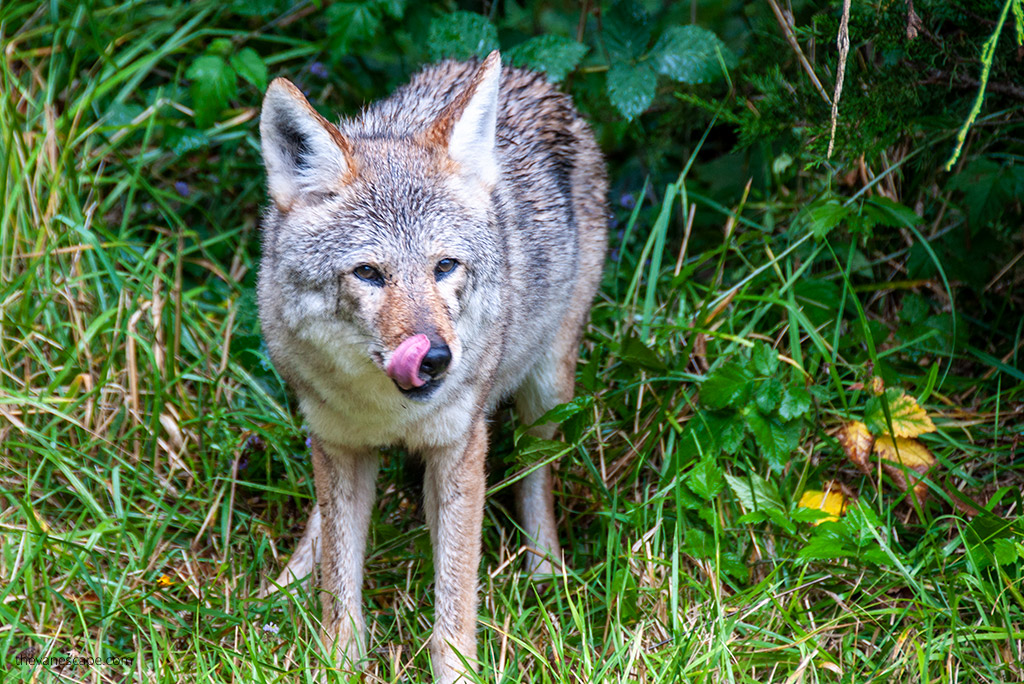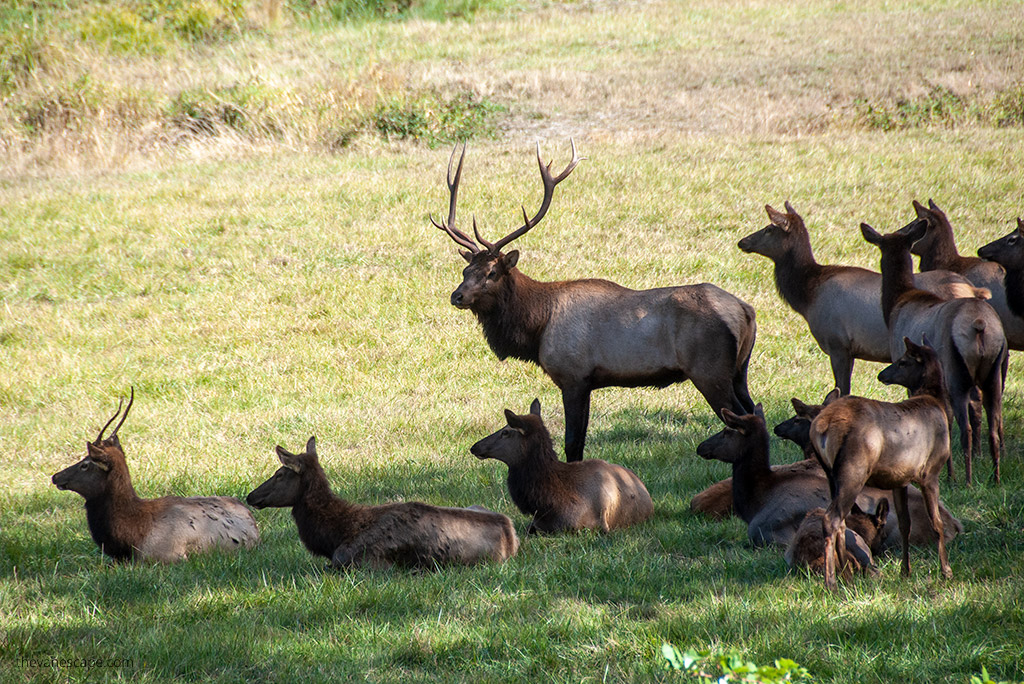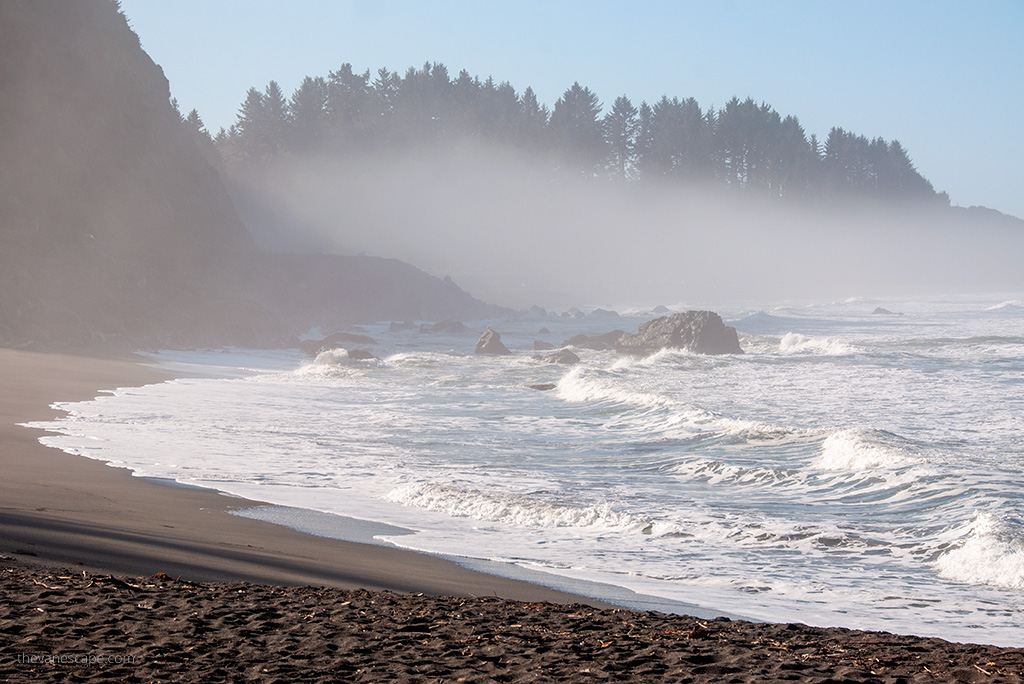 Day 9 Oregon Road Trip Itinerary:
Exploring Oregon Coast and returning to Portland
This is the penultimate day of our Oregon Road Trip Itinerary. We suggest you focus on the rest of the Oregon coast. You can stay in Cannon Beach and relax on the beach. Except for Cannon Beach is worth visiting Ecola State Park and taking Clatsop Loop Trail to see Tillamook Rock Lighthouse.

Or you can continue to go north. You can drive to Lewis and Clark National Historical Park and Astoria (it's about 40 minutes from Cannon Beach). If you decide to go through Astoria, visit Astoria Pier and Marina, Cathedral Tree Trail, and Astoria-Megler Bridge. Moreover, you can check Goonies' film locations. And then, from Astoria, drive via US-30 E and I-5 S and return to Portland. It's 105 miles and 2 hours of driving.
If you have more time, you can go shopping in Portland. Remember that there is no sales tax in the state of Oregon, so it's worth shopping here. It is much cheaper. For more things to do, you can check in our detailed 3 days in Portland Itinerary.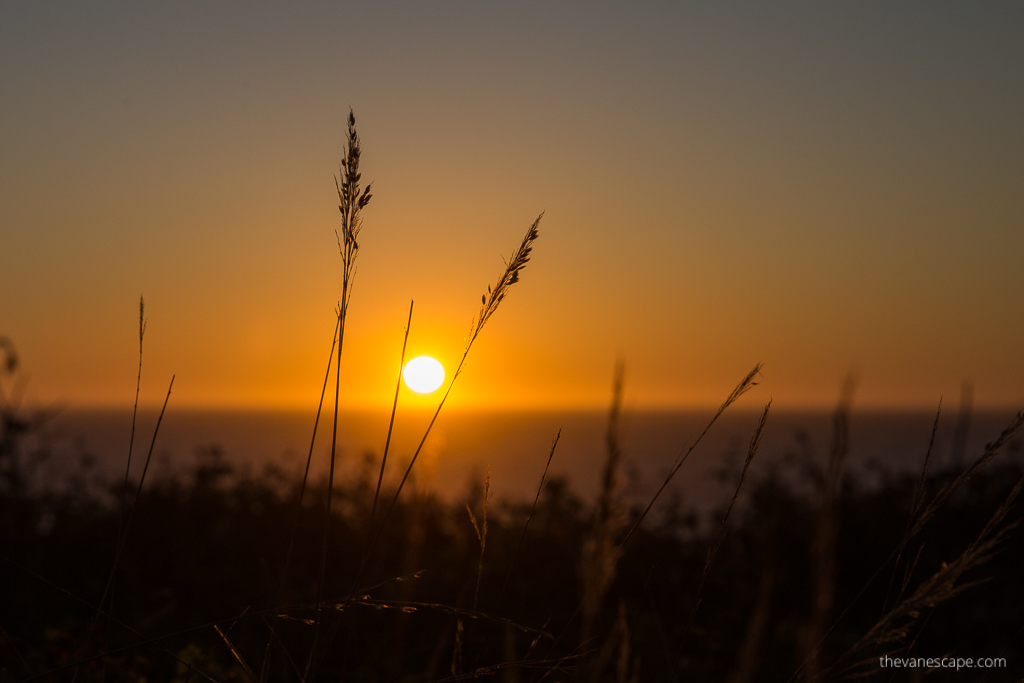 Day 10 Oregon Road Trip Itinerary:
Exploring Portland and Columbia River Gorge/Multnomah Falls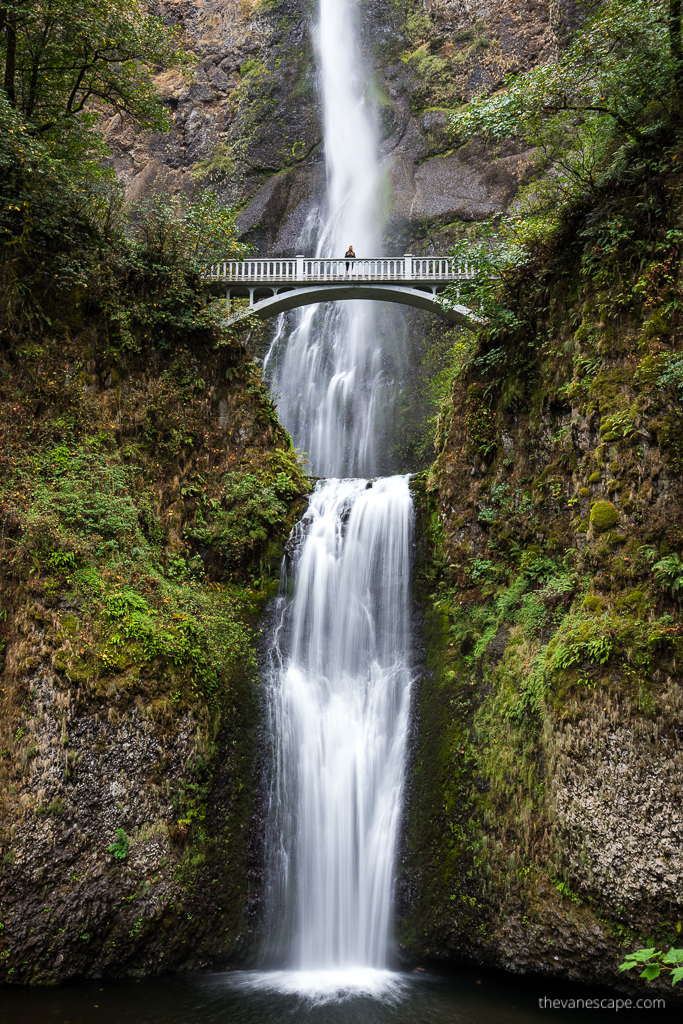 We don't know how much time you have on the last day of your Oregon road trip, so modify it according to your needs. If you do not have too much time on day 10, transfer your visit to Multnomah Falls and Columbia River George to day 9 or 1 of the Oregon Road Trip Itinerary.
Multnomah Falls is an icon of the Pacific Northwest. So, it's worth your visit. It's only 40 minute drive from Portland. More photos, tips, and directions we described in a separate article about Multnomah Falls and Columbia River Gorge.
How to shorten this Oregon Road Trip Itinerary to 7 days?
If you only have 7 days for your Oregon road trip and you would like to see all the places we write about, we suggest the following solution. Book 1 instead of 2 nights in Sisters / Bend. Remove Tamolitch Blue Pool Hike from the plan. Book 1 instead of 2 nights at Crater Lake NP. Make only a scenic drive loop and stop at the park's best viewpoints. Finally, shorten your stay on the Oregon coast.
How to extend this Oregon Road Trip Itinerary to 14 days?
If you have 14 days for your Oregon Road Trip, you can, of course, spend more time in each place we describe. Depending on your preferences, you can spend more time in the mountains or at the seaside.
Add to your Oregon Road Trip Itinerary Alvord Desert and Hot Springs
But you can also visit other interesting places. One of our favorites we suggest adding to your Oregon road trip itinerary is Alvord Desert with Alvord Desert Hot Springs and Crystal Crane Hot Springs. If you want to see the desert and desert hot springs, adding them to your Oregon road trip itinerary is best after visiting Sisters and Bend. So, take US-20 E and OR-78 E to get there. It's about 260 miles and 4,5 hours of driving. Moreover, check our tips and photos in this post to prepare well for this fabulous adventure. Along the way to the desert, near Burns, you will also have the Crane Hot Springs Resort. We stayed in it for the night, and it was perfect! So, check our reviews and photos here.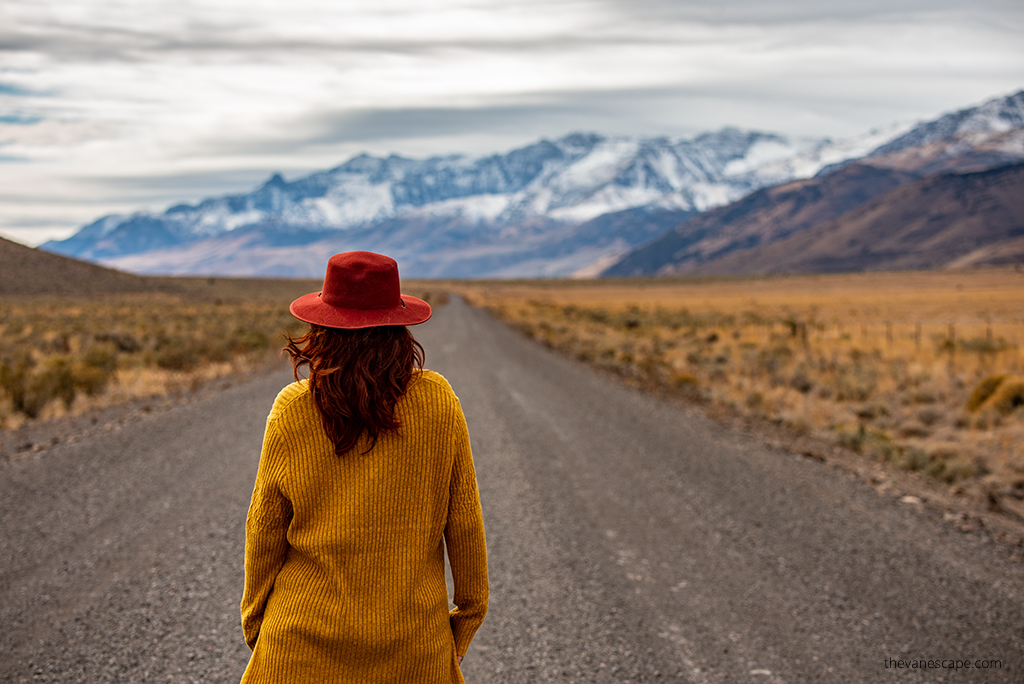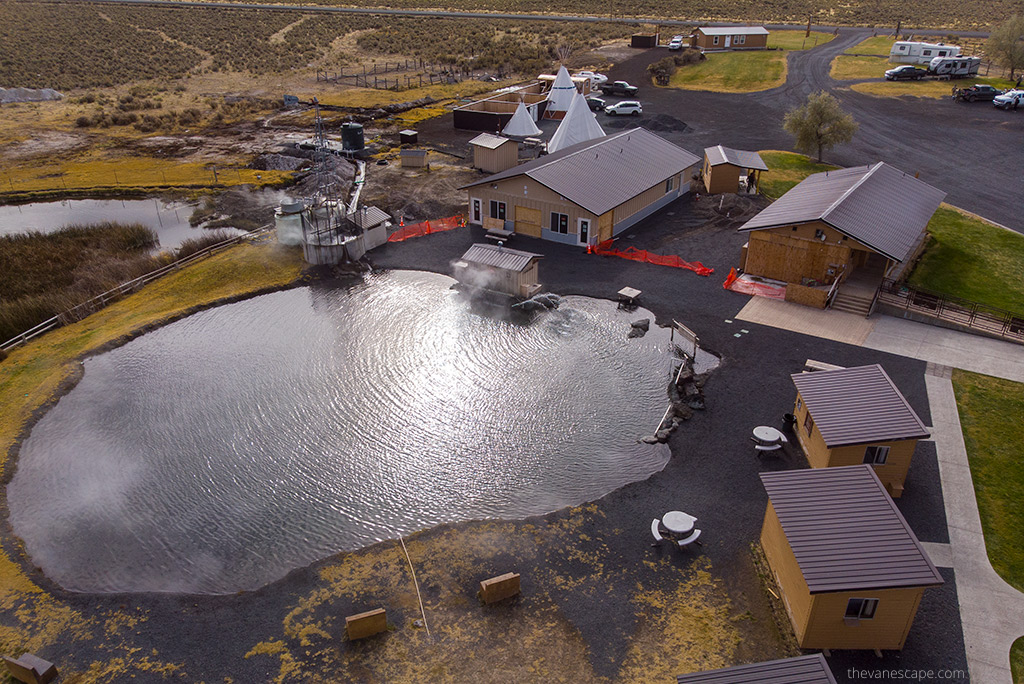 Add to your Oregon Road Trip Itinerary Covered Bridges of Oregon
Another option is adding some covered bridges to your Oregon road trip itinerary. We have described the most beautiful Oregon-covered bridges in this post. It's best to add them to your Oregon Road Trip Itinerary on your way to Crater Lake NP. Detailed GPS coordinates you will in our post.
We hope this article helped you plan your Oregon Road Trip.
If you like our Oregon Road Trip Itinerary, please share it!
We wish you a fabulous Oregon adventure!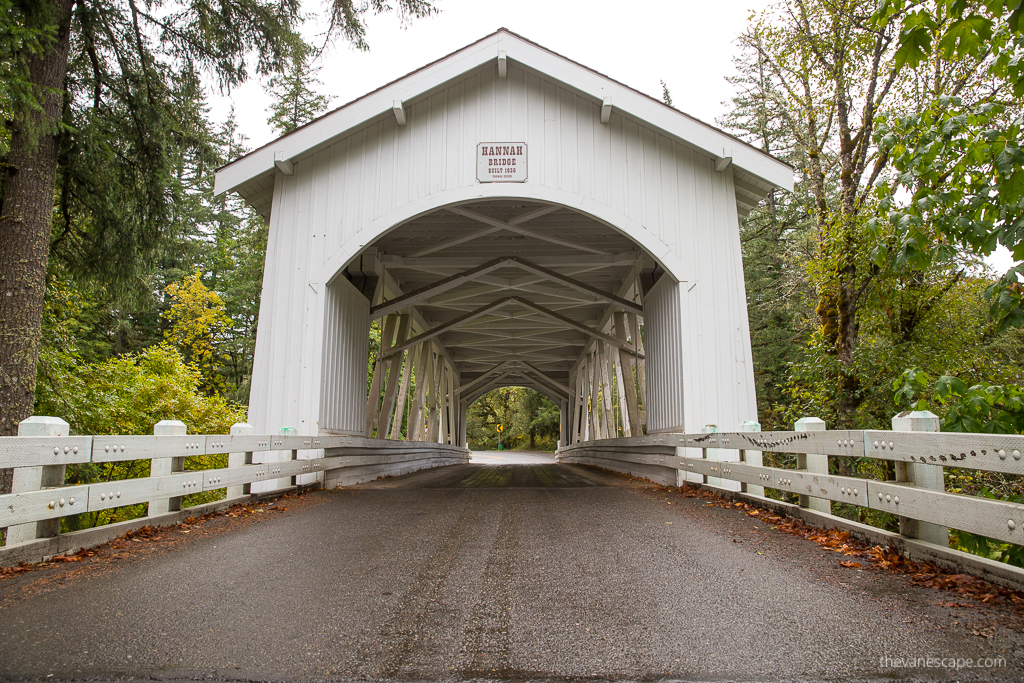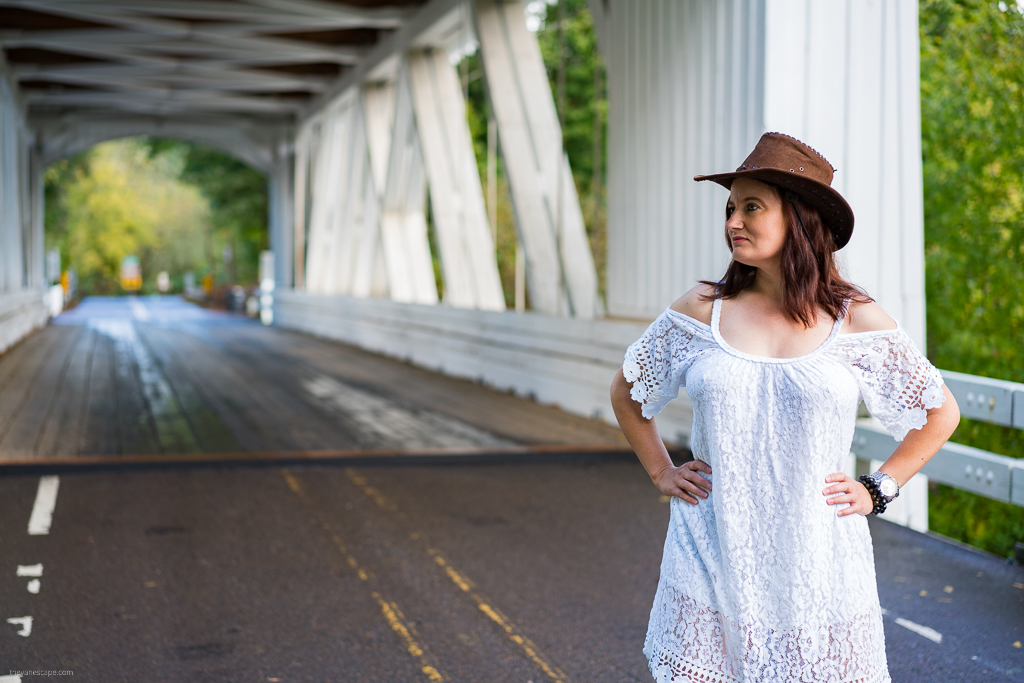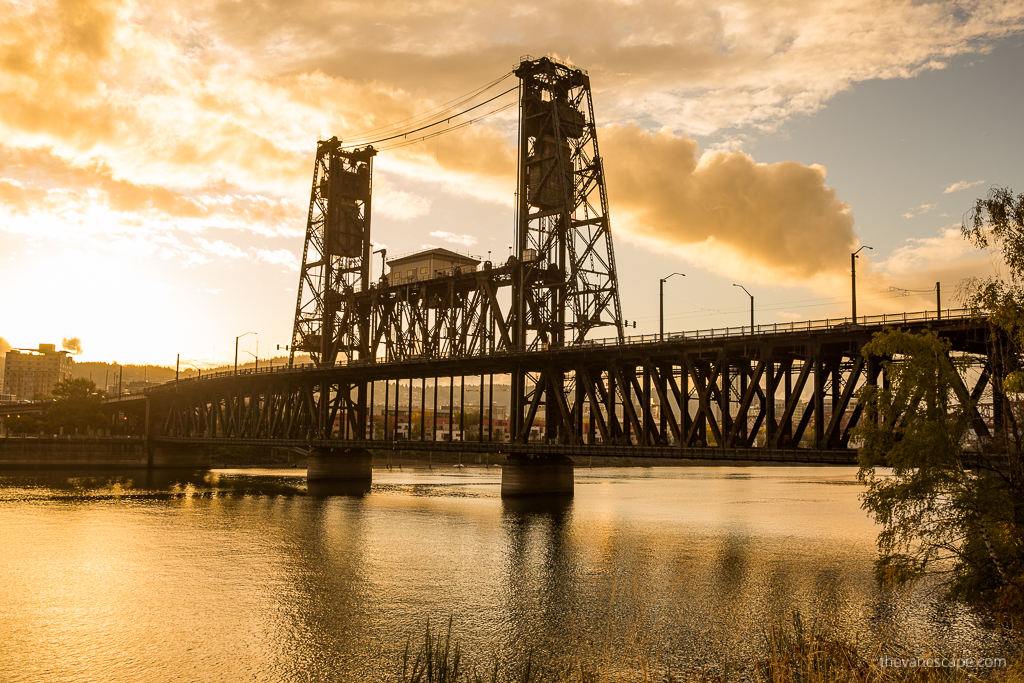 Do you like it? Pin it!