Best Things To Do In Arches National Park
Arches National Park located in southeastern Utah, near Moab, offers more than 2000 natural sandstone arches and unique geological formations. Moreover, the Park contains the highest density of natural arches in the world. Unusual fairy-tale shapes and rusty red colors of the rocks will amaze you, so it's worth to visit this fantastic picturesque place. In this article we share our experience with best things to do in the Arches National Park. And all things to know before you go to Arches. So, we give you recommendations on where to stay, how to get there, and how to prepare for the visit, taking into account Arches National Park weather. Finally, we show you the best hikes in Arches National Park and the best photo spots & photo opportunities.
This article may contain affiliate / compensated links. For full information, please see our disclaimer here.
Arches National Park Fun Facts
Arches National Park is a paradise for photographers, nature lovers, hikers, and families, because of short hiking trails. It is a landscape of contrasting colors and world unique rock forms and textures. Natural stone arches, soaring pinnacles, giant balanced rocks, colossal sandstone fins, and other geological formations are breathtaking. Over 11 films have used a scene from Arches National Park. From westerns such as Rio Conchos, to Indiana Jones and the Last Crusade, and Thelma and Louise. So, if you plan Utah Mighty 5 Road Trip, Arches is a must see!
So below, we prepared for you some facts about this red-rock wonderland.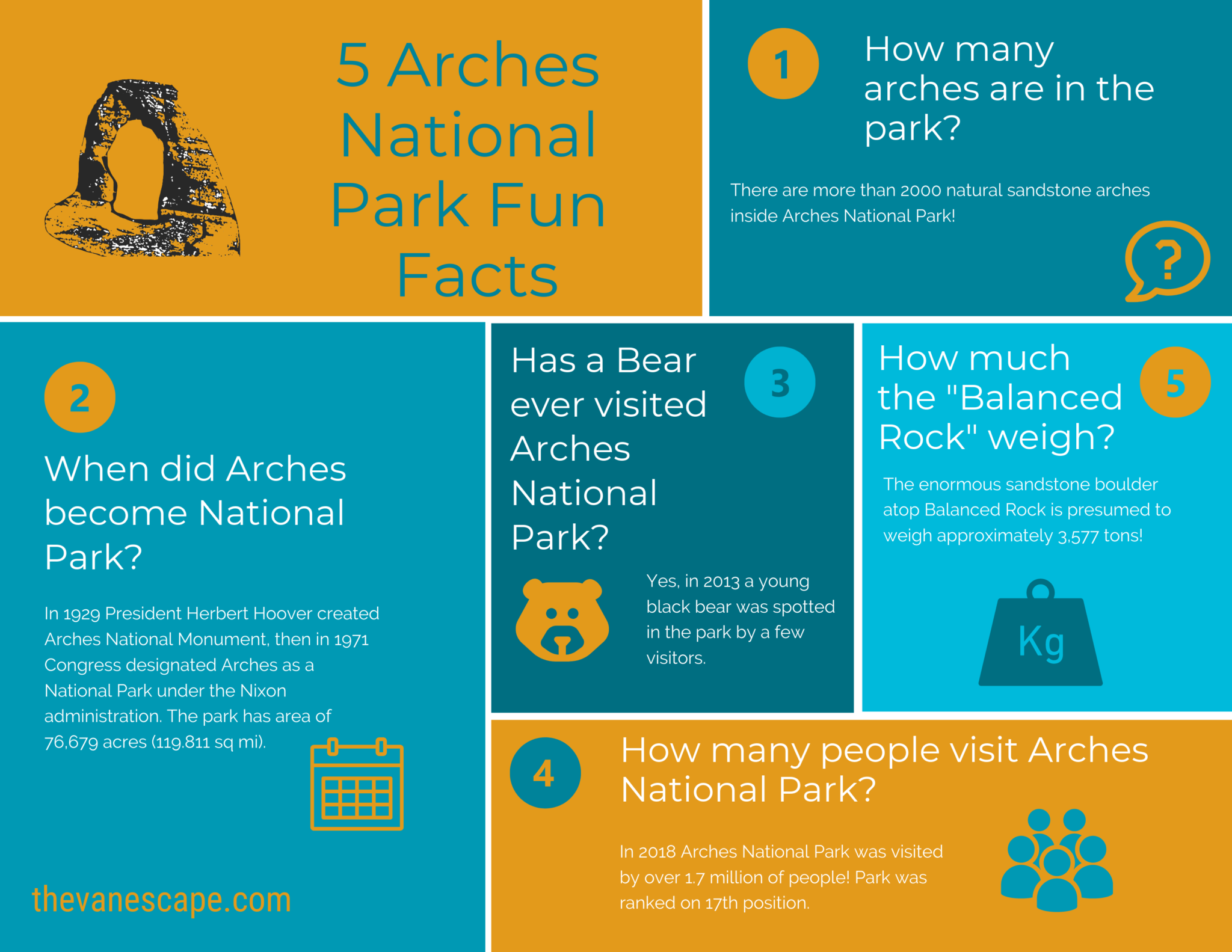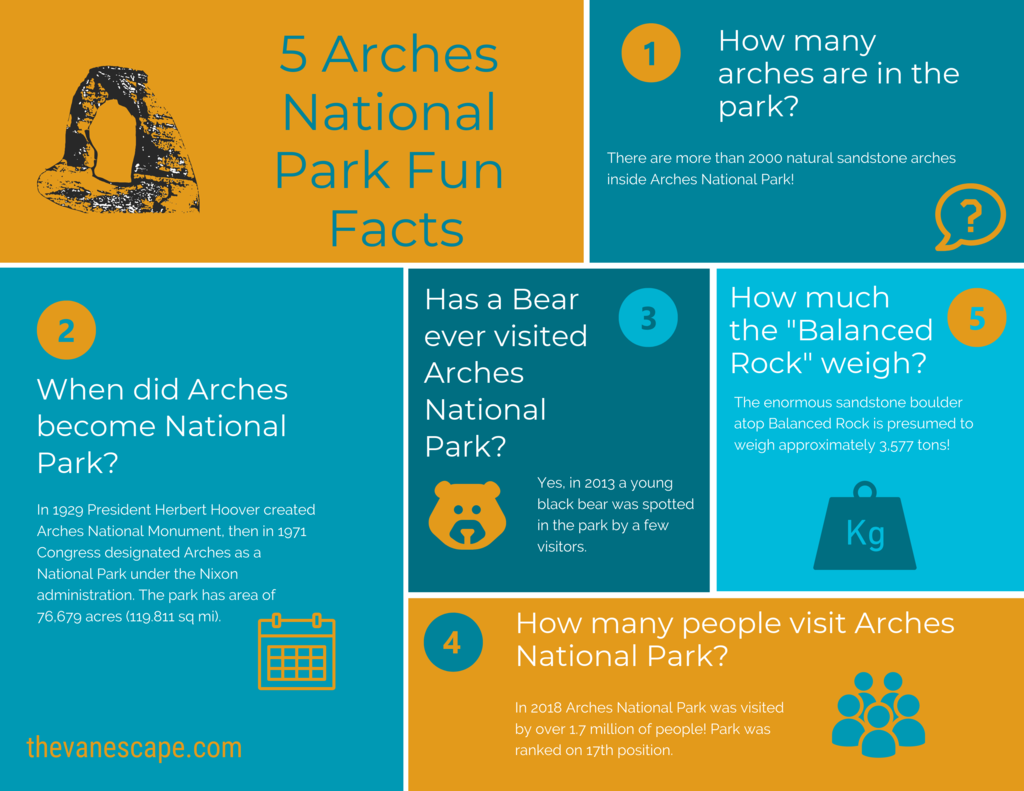 Arches National Park Weather
Southeastern Utah is part of the Colorado Plateau, so it is a high desert region that experiences wide temperature fluctuations, sometimes over 40 degrees in a single day. You need to be prepared for temperature differences. Elevations at Arches range from 3,960 feet along the Colorado River to 5,653-foot Elephant Butte, the park's high point. Below, we've compiled charts with the lowest and highest average temperatures in Arches National Park. Moreover, we have also prepared an average number of precipitation for each month.
Best Time To Visit Arches National Park
So, what is the best time to visit Arches National Park? The best time to visit Arches National Park is from April through May and from September through October when daytime temperatures average about 60º to 80º degrees, and lows average 30º to 50º F. However, we where in November, too, and the weather was pleasant for hikes. So, spring and fall are the best.
Spring brings warm, pleasant days and cool evenings.
Autumn brings amazing deep, rich colors, not just to the trees, but also the red rocks.
In the summer, temperatures can exceed even 100º degrees, which can make your trip a little bit challenging. So if you plan to go during summer, be prepared for the heat. But summer monsoon season brings storm, which often cause flash floods, too.
Winters are cold, with highs averaging 30º to 50º F, and lows averaging 0º to 20º F. However Arches during the winter is also beautiful, there are fewer people, and you can enjoy the place, too.
Check our hiking tips, and our packing list before you go to Arches; it will help you get ready for your adventure.
How To Get To Arches National Park?
Most important is to know, that there is no public transportation inside Arches National Park. So, you may need to rent a car, rent a motorhome, or take a commercial tour to get around inside the park. The nearest town is Moab, Utah (5 miles to the Park). The Park is accessible by air or car from Las Vegas, Salt Lake City, and Grand Junction. The best flight offers you will find and book on TripAdvisor.com.
Food and water is not available within the Park, so you need to be prepared for your trip.
Getting by car
The entrance to Arches National Park is north of the town of Moab, Utah. So, from Moab, drive north on US 191 for five miles.
From Interstate 70 (Crescent Junction), drive south on US 191 for 22 miles.
From Salt Lake City, UT, it is 230 miles to Arches NationalPark. By car, you should take I-15 S toward Las Vegas. Then merge onto US-6 E (exit 258) toward US-89 E Price/Manti. Next, you should take US-191 S (exit 182) toward Crescent Junction/Moab. And finally, turn right onto US-191 S to Moab.
If you want to drive to Arches from Las Vegas, NV, it will be 453 miles driving. From Las Vegas, you should take I-15 N toward Salt Lake City. Then take exit 132 for I-70 E. Next, take exit 182 (Crescent Junction) for US-191 S and follow signs to Arches National Park.
Entrance fee
Private vehicle is $35 per week. But if you plan to visit more than two parks the best idea is to buy America the Beautiful – National Parks & Federal Recreational Lands Annual Pass, for the reason that it costs only $80 per year, and you have access to more than 2,000 National Parks and federal recreation sites in the United States.
Arches National Park Lodging
Where to stay in Arches National Park? You have many options. Are you looking for RV camping, tent space, or a comfortable hotel? Below are some of our suggestions that receive high reviews among guests. We stayed in some of them too, during our several visits to the Moab area, so we can recommend them.
Hotels Near Arches National Park
Best Moab Hotels
Moab, Utah, is home to Arches National Park, Canyonlands National Parks, and Colorado River so it's the best idea to stay in this small charming town, surrounded by stunning red rocks. However, it is one of the most popular destinations in the American Southwest, so book your accommodation in advance. After visiting parks, you will find lots of opportunities to relax in this photogenic town full of great restaurants, bars, souvenir shops, and art galleries. Below we put some suggestions for accommodation in Moab with the highest customer reviews. You can check prices and availability on booking.com or hotels.com.
Luxury Hotels ($$$)
Hoodoo Moab is a luxury hotel in a heart of Moab. It offers swimming pool, restaurant, bar, and fitness center. The rooms are modern and well-equipped. It offers variety of breakfasts as continental, full English, vegetarian, vegan, gluten-free, and American.
Hyatt Place Moab provides accommodations with a restaurant, free private parking, a seasonal outdoor swimming pool and a fitness center. Hyatt Place Moab offers 4-star accommodations with a hot tub and terrace.
Mid-Range Hotels ($$)
Best Western Plus Canyonlands Inn and Best Western Plus Greenwell Inn are our choice. We stayed in both. They are located in the heart of the city, well equipped and have good value for money.
The Gonzo Inn is located in Moab and provides free WiFi, express check-in and check-out and concierge services. Featuring family rooms, this property also provides guests with an outdoor pool.
Budget Hotels ($)
Bowen Motel is located 5 minutes' drive from Arches National Park. It features an outdoor swimming pool and free WiFi access. The air-conditioned rooms have satellite TV and a seating area.
Inca Inn Motel is located in the top-rated area in Moab, and has an excellent location score of 8.8. It offers free Wi-Fi, heated outdoor pool and guest rooms that include a cable TV, fridge, and microwave.
Rustic Inn also has a great location. We like these decorated rooms with oak cabinets and a built-in desk. Rooms are air-conditioned, equipped with free Wi-Fi access and a TV set. There is a kitchenette with utensils, kitchenware, and a microwave.
Other Places to Stay Near Arches National Park
If you are looking for accommodation outside of the city because you are looking for something unique, or originally furnished, we recommend several places a few miles away from Moab, but still close enough to explore the Utah National Parks.
Under Canvas Moab ($$$) is a unique place. It is not a standard hotel, it is a luxury camp. On 40 acres of land, tents offer spectacular views of Arches National Park. Selected tents feature private bathrooms. BBQ facilities are available on site. So, it is a great choice if you are looking for romantic lodging.
Sorrel River Ranch Resort ($$$) is a 4-star resort with spa, it offers 59 guestrooms, restaurant and bar/lounge. It offers 2 outdoor tennis courts.
If you prefer a cheaper apartment ($) or cottage ($$), check offers on airbnb.com.
Arches National Park Camping
Devils Garden Campground
Devils Garden Campground is the only one camping at Arches National Park operated by NPS. So, it's worth to book in advance, especially during peak season (March-May & Sept-Oct). You can reserve standard campsites up to 6 months in advance for stays March 1-October 31. Between November 1 and February 28, all sites are first-come, first-served. The park does not have dump stations, or electric, water, or sewer hook-ups for RVs. There are also no showers. So if you need electricity or other facilities check our campgrounds suggestions below. You can find more suggestions on booking.com
Commercial Campgrounds in the Moab area
If you need facilities, book campgrounds in the Moab area. They offer many conveniences such as showers, running water, RV hook-ups, toilets, Wi-Fi, dump stations, and more. It's good to reserve it in advance because this area of Utah is trendy. Lots of tourists visit Arches National Park and neighboring Canyonlands National Park and stay in private campgrounds. So, below are some our campground suggestions.
Spanish Trail RV Park has great reviews among the guests. It offers 81 sites with WiFi and ather facilities. There is no tents allowed. After exploring the Arches National Park, you can relax in the pool. You can book it online.
O.K. RV Park & Canyonlands Stables is just outside of Moab but still close enough to enjoy the restaurants and shops in the town. It offers 70 sites with WiFi.
Moab Valley RV Resort offers 69 sites with all amenities and WiFi. It has dedicated tenting area, too. There is heated pool and playgraund. You can also rent a cabin. So, check availability and prices on the website.
Archview RV Park & Campground offers 77 sites with WiFi and full hookups. It is also tent camping allowed. It offers restroom and showers, laundry, and swimming pool. You can book it here.
Kane Creek Campground and RV Park has great location and offers sites for RV and for tent also. It is located 3 miles south of Moab between massive 600-foot red rock cliffs and the Colorado River.
BLM Campgrounds in Moab area
There are also the Bureau of Land Management (BLM) campgrounds on the public lands surrounding Moab, but they are popular and fill quickly every day. There are no reservations. Campsites are available on a first-come-first-served basis only. Many BLM campsites are suitable for RVs, although hookups are not available. You will find full list of BLM in Arches area on discovermoab.com.
Arches National Park Map
Our favorites:
Best Things To Do in Arches National Park
Take an Arches Scenic Drive
The fastest option for visiting the Park is driving the 36 mile (58km) round trip Arches Scenic Drive. A paved scenic drive will take you to many of the major viewpoints within the park, as La Sal Mountains viewpoint, and more. If you have time, get out of the car and explore the arches up close. In next chapter we will give you detailed info about best hikes in Arches National Park.
Take a Tour
A great idea to consider is an organized trip. With a guide, you will learn the secrets of the Arches National Park, know the most interesting facts about its rocks formations, you will discover the hidden side of the Arches. So, check commercial tours on getyourguide.com or TripAdvisor.com, where you will find lots of reviews of each tour.
You can take All Day Trip including lunch, dinner and snack. During this tour You will enjoy the most beautiful rock formations, and you will take great pictures of Arches.
If you are looking for Backcountry Experience, take Backcountry 4×4 Half-Day Tour. You will reach remote sections of the Arches National Park, where you can hike among towering sandstone spires and arches away from the crowds. You will see locations for Hollywood movies on this tour.
During Half Day Trip you will avoid the crowds at Arches National Park with this 4×4 adventure. The guide takes you off road to explore the rocky terrain of the park from areas where only rugged vehicles can go.
Also check tours on viator.com
Rent a Bike
If you like biking, Arches National Park is a great park to explore by bike, especially if you come early in the morning when there is less traffic. You can rent a bike in Moab.
Go For a Hike
Arches National Park has many easy trails providing opportunities for kids and adults to get out of the car and explore the arches up close. Hikers can choose from a wide variety of hiking trails, from short twenty-minute walks to moderate hikes. So, do not hesitate, and go for a hike.
Our favourite hikes in Arches National Park are Delicate Arch, Balanced Rock, Landscape Arch, Double O Arch, Park Avenue, Sand Dune Arch, The Window.
So, in the next chapter, we share detailed info about the each of the best hikes in Arches National Park. This will help you choose the right paths for you depending on the time and your hiking skills. Check our hiking tips, before you go for a hike. Furthermore, check our list of essential things that you should take on a day hike.
Best Hikes in Arches National Park
Delicate Arch
Difficulty: difficult
Distance: 3 mi / 4.8 km round trip
Time: 2.5-3 hrs
Elevation change: 480 feet/ 146 m
PROTIP: There is no shade on this trail, so take sun protection, like hat and bring plenty of water and snacks. And most importantly, if you are going for a sunset, take a headlamp for your safe return. It becomes dark immediately after sunset!
The most famous natural stone arch in the world is probably Delicate Arch. Known from photos, this arch has become iconic due to its freestanding shape. Delicate Arch is our favorite sunset spot in Arches National Park. Delicate Arch is an iconic symbol for Utah. This moderate/difficult 3 miles round trip hike (4,8 km) makes a steady climb gaining 480 feet in elevation from the parking lot. So, watch your step on this hike. The last part of the hike follows along a narrow ledge which descends into a huge natural slickrock bowl. In this vast sandstone depression, Delicate Arch stands majestically. Orange rocks glisten in the rays of the setting sun. Check how to enjoy Delicate Arche Hike.
PHOTOTIP: if you are going for the sunset take a tripod for this hike. A telephoto lens 80-400/100-400 mm or standard zoom as 24-70 mm lens for Canon or Nikon will be the best to zoom the Delicate Arch and mountains far away on the horizon. Thus you will also avoid photographing people who are around you.
Landscape Arch at Devils Garden
Difficulty: easy
Distance: 1.6 mi / 2.6 km round trip
Time: 50 min
Elevation change: –
Landscape Arch is possibly even more delicate than Delicate Arch. It looks like a sandstone spiderweb. Landscape Arch has the longest span of any arch in North America, 306 feet (93.3 meters), and is the fourth longest in the world.
PROTIP: After Landscape Arch, the Devils Garden trail becomes moderate/difficult, with rock scrambling, and exposure to heights, so watch your step.
Double O Arch at Devils Garden
Difficulty: difficult
Distance: 4.5 mi / 6.8 km round trip
Time: 2.5 – 3 hrs
Elevation change: –
Beyond Landscape Arch, the trail is more challenging as it climbs over sandstone slabs. The footing is rocky, so watch your step. There are narrow ledges with exposure to heights.
Sand Dune Arch
Difficulty: easy
Distance: 0.3 mi / 0.5 km round trip
Time: 20 min
Elevation change: 0
We love these kissing rocks; they are so romantic. They are hidden in a small slot canyon. It's an easy hike with impressive views. Sand over your foot is warm, and rocks are warm too. You can sit and admire these stones when the sunlight up the orange-colored cliff.
PHOTOTIP: The rocks are hidden in a canyon, so the best light for photos you have in the early afternoon when the most sunlight falls into the gorge. It's also good idea to take a tripod with you.
Balanced Rock
Difficulty: easy
Distance: 0.3 mi / 0.5 km round trip
Time: 20 min
Elevation change: –
The enormous sandstone boulder atop Balanced Rock weighs approximately 3,5 tons. Upper portion of the rock is as large as three school buses! It is a loop trail at the base of a fragile, picturesque rock formation. The beginning of the trail is paved and accessible to wheelchairs. The paved path ends at a viewpoint where you can see The Windows and the distant La Sal Mountains.
PROTIP: don't get too close to the rock, watch out for rock fragments.
The Windows & Turret Arch
Difficulty: easy
Distance: 1 mi / 1.6 km round trip
Time: 45 min
Elevation change: –
The Windows & Turret Arch is an easy gentle climb up a gravel trail, and stone steps lead to the massive North Window, South Window, and Turret Arch. You can return to the parking lot via the same path, or take the slightly longer primitive trail around the Windows by starting at South Window viewpoint.
Double Arch
Difficulty: easy
Distance: 0.5 mi / 0.8 km round trip
Time: 20 min
Elevation change: –
It is an easy, relatively flat, gravel-surfaced. It leads to the base of two large arch spans which are joined at one end. The trail may be accessible to wheelchairs with assistance. This area is featured in the opening scene of Indiana Jones and the Last Crusade.
TRIP TIP: If you are planning a Utah road trip, check our detailed Utah Photography & Travel Guide, where you can find the most exciting & must-see places in Utah and useful hints for trip planning.
Photographing Arches National Park
As you know light is important in photography. So, below are the best times of day to photograph some of the major features in Arches National Park.
Sunrise & Early Morning
Landscape Arch
Double O Arch
Double Arch
The Three Gossips
The Great Wall
Turret Arch
Moab Fault
Late Afternoon & Sunset
Delicate Arch
The Windows
Park Avenue
Balanced Rock
Tower Arch
Fiery Furnace
Courthouse Towers
The Garden of Eden
Gear for Photographing Arches National Park
The appropriate gear would include a wide-angle zoom for panorama shots of the Arches National Park, as well as a standard zoom in the 24-70mm range. In our opinion, the telephoto lens might be useful for photographing Arches National Park, too. You can zoom details of rocks if you wish.
So it's worth to take a minimum of two lenses. One is a wide-angle, and the second is a standard zoom lens. A polarizing filter will help saturate the beautiful reds and oranges on the rocks formations. Below you will find photo gear which we use.
| | |
| --- | --- |
| | Tripod for photographing Arches National Park is crucial if you want to take sunrise or sunset photos. We recommended a reliable and heavy tripod. We use these model of Sirui for years, and it's a high quality, and reliable tripod. Our second choice, the cheaper ones, is this model used by Agnes. It is also fantastic. |
| | Take remote shutter release, too. A remote shutter release allows you to control the shutter through a remote control, which ensures you won't have to touch your camera. As a result, you will eliminate any unwanted blur on your subject. |
| | Chris uses Canon EOS R , it is very light and modern mirrorless camera. |
| | Agnes loves Nikon D750, it is light camera with excellent quality sensor and very ergonomic. |
| | So, in the case of Canon, we recommend EF 16-35mm f/4L IS USM or EF 16-35mm f/2.8L or cheaper 17-40mm f/4L EF Ultra Wide Angle. |
| | In Nikon system, it's good to have Nikon AF-S NIKKOR 14-24mm f/2.8G ED (which Agnes uses) or Nikon AF-S FX NIKKOR 16-35mm f/4G ED VR. |
| | Use the polarizer filter to reduce reflections on surfaces. Some filter may warm up your scene a little bit. So, we recommend Circular polarizing filter, ND grad filters (minimum Lee soft edge 0.9, Lee reverse ND grad and a holder) and full ND (Lee Big Stopper or Little Stopper). |
| | Another important lens in photographing Arches National Park is standard zoom lens or telephoto lens. The telephoto lens is perfect for focusing on rocks details. So in case of Nikon we use AF-S NIKKOR 80-400mm f/4.5-5.6G ED VR lens. Standard zoom which Agnes uses is Nikkor 24-70 mm f/2.8 |
| | In Canon system our choice telephoto is Canon EF 100-400mm f/4.5-5.6L IS II USM Lens. Chris has been using it for years, and it works great in landscape and wildlife photography. As a standard zoom lens Chris uses Canon 24-70 mm f/2.8L |
| | Protecting your camera from the sand and dust at Arches is crucial. Using a camera backpack is a great idea for hiking too. Our favourites are Think Tank Backpacks. |
| | Camera cleaning kit is also important to remove dust that will get on your lens at Arches. |
| | Don't forget memory cards for your trip. Purchase name brand memory cards. We use Lexar and SanDisk. |
Arches National Park Photography Tips
Photography Along Arches Scenic Drive will take you minimum 4 – 5 hours. Viewpoint of Park Avenue is the first stop as you travel along the scenic drive. Moreover, best time to photograph Park Avenue is middle to late afternoon, when the valley is in shadow and the sun lights up the east wall.
La Sal Mountain Viewpoint Photo Spots is the best for sunrise and early morning. From this viewpoint, you can enjoy a 360-degree view. You will see the La Sal Mountains to the east and unique formations like Three Gossips, Sheep Rock, and the Courthouse Towers. On the horizon, you will see Balanced Rock and the Windows Section. You can use a telephoto lens to zoom it.
Photographing Delicate Arch is an amazing experience. Delicate Arch is one of the best sunset spots in Arches National Park. But it is so famous, that it might be crowded. So, start your hike to Delicate Arch at least two hours before sunset to get your spot. Don't forget tripod and headlamp. Walk around the bowl to find a unique composition and use different lenses and filters.
Landscape Arch Photo Spots is the best on sunrise and early morning. Use wide lens to make this Arch.
Photo Spots Along the Devil's Garden Trail are our favourities. Best time to photograph the Devil's Garden area arches is sunrise and early morning. To take pictures of Double O Arch, pass through the lower opening of the arch and climb the slick rock on the other side to photograph the arch with the sky as the background.
Photograph The Windows early in the mornig. A great idea is to have a person in the background to show the size of the rocks.