Seattle Itinerary: 3 Days In Seattle
Check out this detailed Seattle itinerary if you plan to visit this fabulous city. How to spend 3 days in Seattle, Washington? What to see and what to do in Seattle? Where to eat and where to stay? How to plan a trip to Seattle to fulfill time perfectly? We give you all the necessary information in our 3 Days Seattle Itinerary.
This article may contain affiliate / compensated links. For full information, please see our disclaimer here.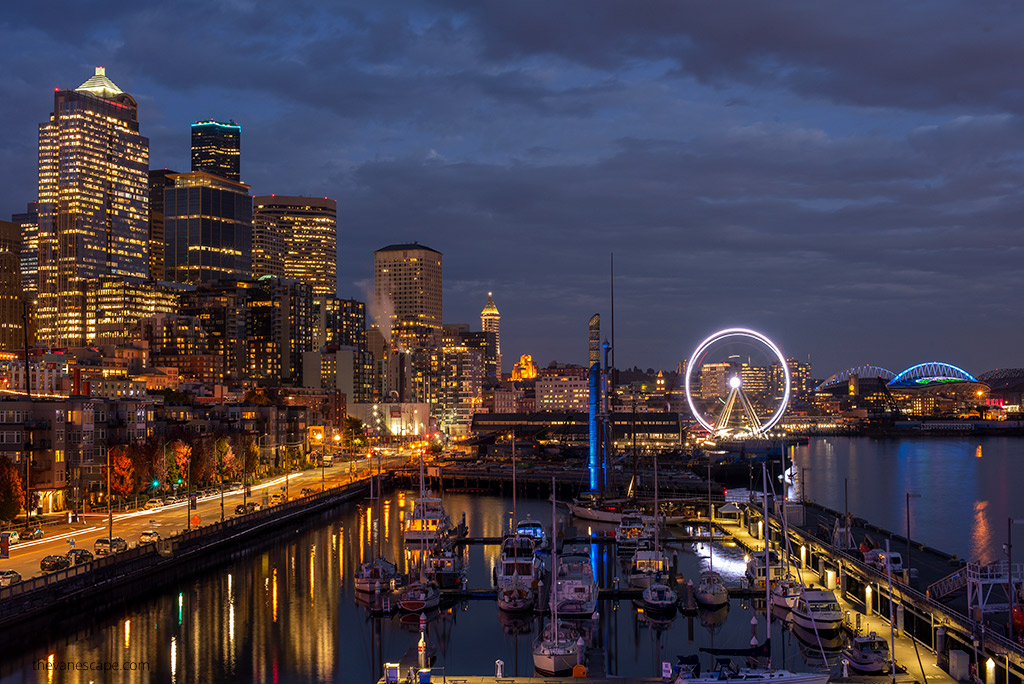 Seattle Itinerary – Our Experiences
In this article, you will find suggestions for spending three days in Seattle. We share many tips on preparing for a great trip on your own. Thanks to this, you will see the most exciting places in this city and feel its fantastic atmosphere. But if you have less time to explore the city's most famous attractions and must-sees, you can find our suggestion on day 1 in the Seattle itinerary.
We have visited this city many times and consider it one of the most beautiful on the coast. Moreover, Seattle is a great cruise port from which you can set sail on your dream Alaska cruise. We recently visited Seattle just before our 10-day Alaskan cruise on the Norwegian Sun ship. So you can spend a more extended vacation here – cruising to Alaska and exploring the city.
So let's dive into our 3-day Seattle itinerary – to see how to get to know its most exciting attractions.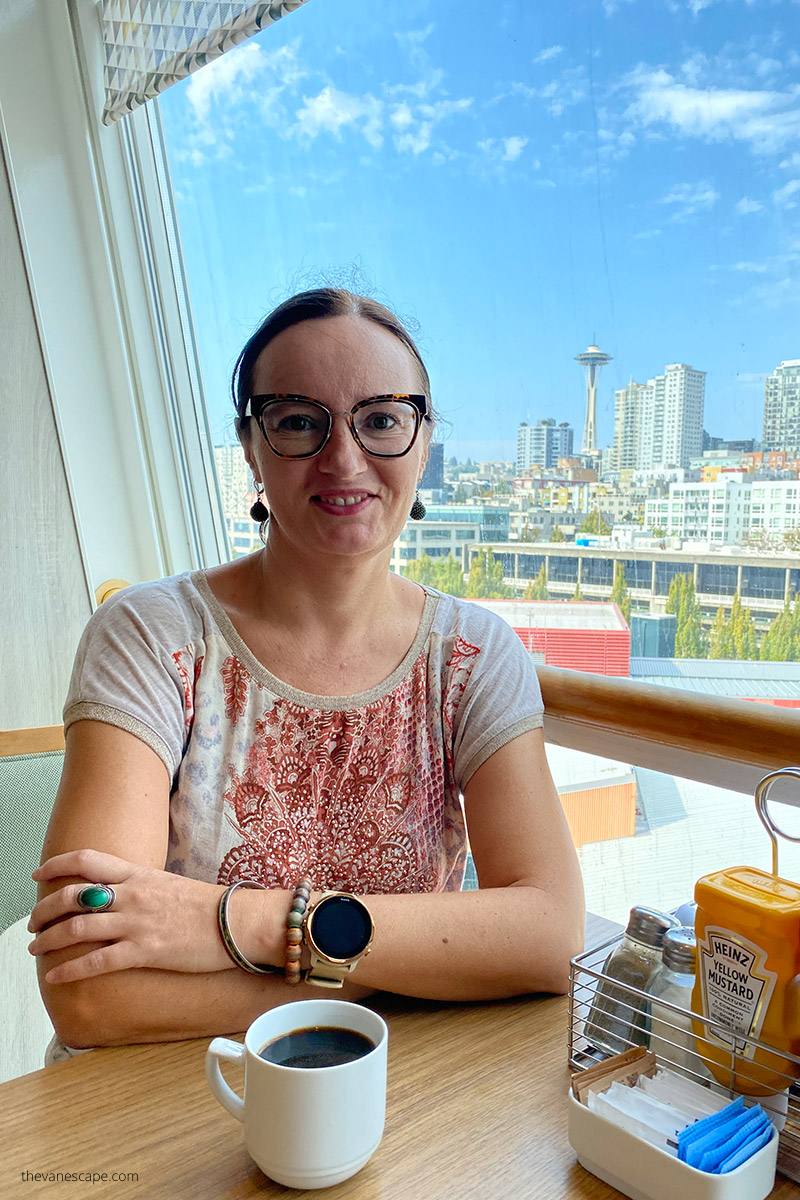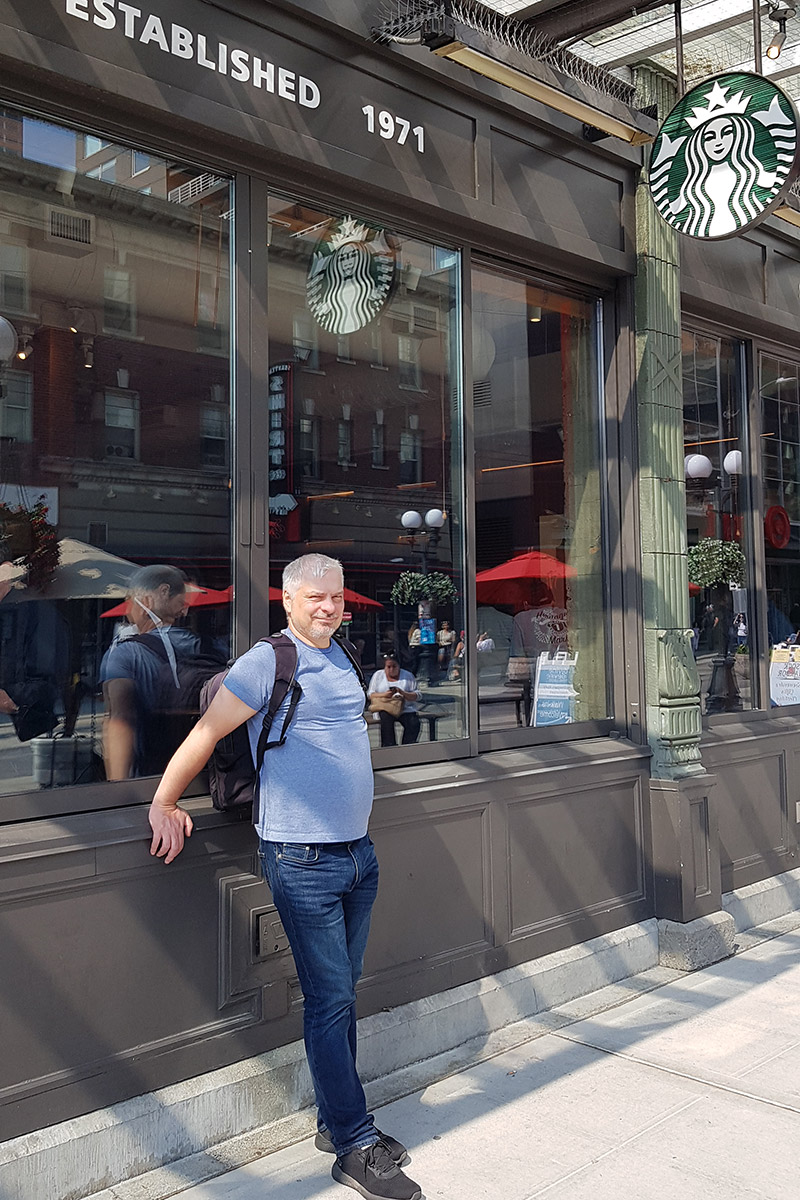 Seattle Itinerary – Why is worth visiting the Rain City?
Seattle has a lot to offer. Modern architecture, Boeing company, great restaurants and bars, exciting nightlife, beautiful beaches, various seasides, forests, and mountains. It is a perfect place for those who like the hustle of the streets. Also, nature lovers will find this green city for themselves. Seattle is the perfect city for spending a weekend or holiday in it. It is also an excellent base to visit Mt Rainier National Park and Olympic National Park if you can stay longer in the area. So, we've put together the perfect itinerary for 3 days in Seattle to help you prepare for your adventure.
Seattle Fun Facts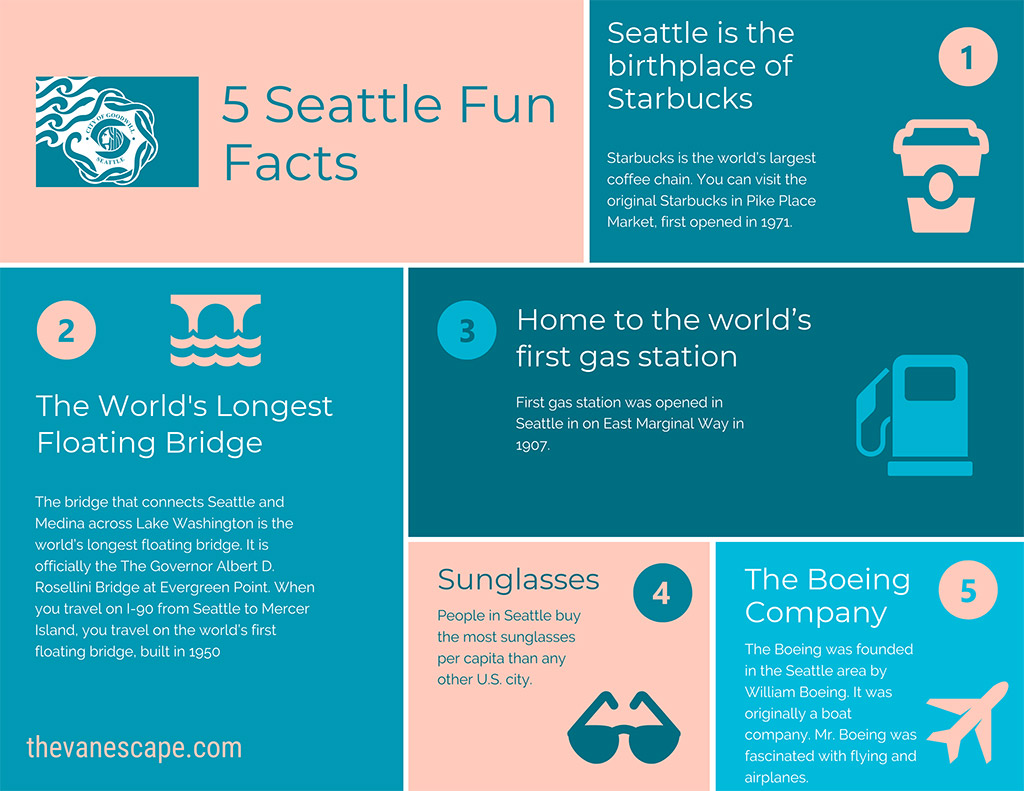 How to get to Seattle?
Seattle is the largest city in both the state of Washington and the Pacific Northwest region of North America, with an estimated 745,000 residents as of 2018. However, the Seattle metropolitan area's population is around 3.94 million and ranks the 15th largest in the United States. It is a seaport city on the West Coast of the United States. Seattle has Seattle-Tacoma International Airport, which is the most convenient airport to get to the city. You have a lot of domestic and international flights. So, you can find the best flights and prices on TripAdvisor or Skyscanner.com.
If you plan to rent a car, we highly recommend Alamo. We have used this company for many years, and it is our favorite one.
All car rental companies providing service at Seattle-Tacoma Airport are located in the off-site car rental facility. Shuttle buses run 24/7 to pick you up to car rental. You can compare prices and options here.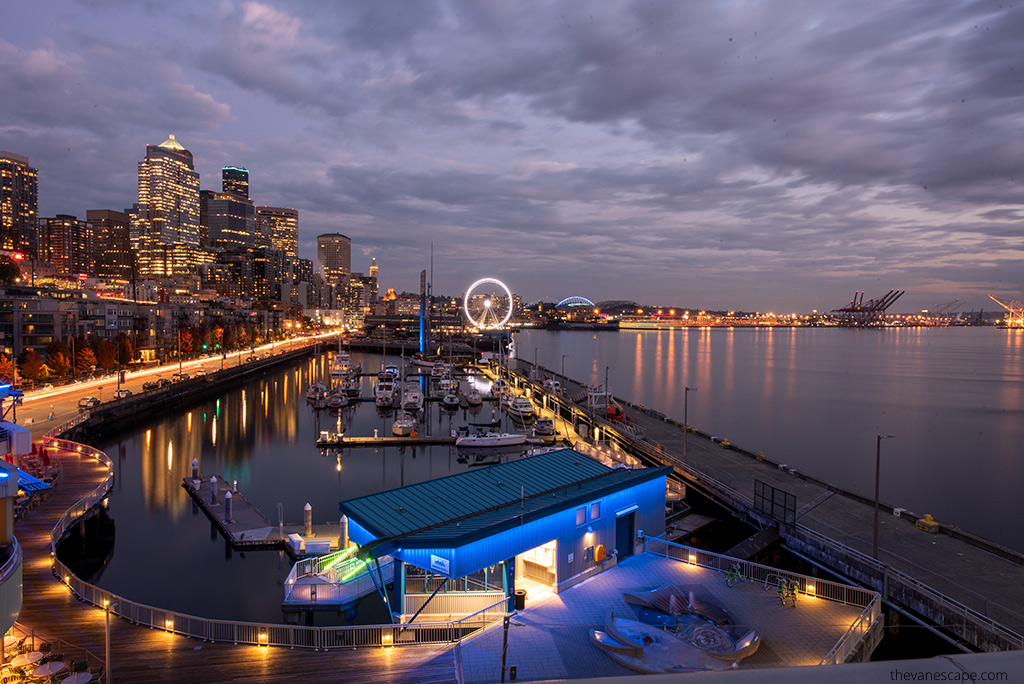 Seattle Itinerary – What is the Best Time to Visit Seattle?
Seattle's weather is unpredictable. The best weather in Seattle is from June to September. July and August are the busiest months when hotels might be full, and restaurants are possibly crowded, too. So, book your stay in advance. May and mid-October usually have beautiful weather and fewer tourists, making them great months to visit. In our opinion, the best time to visit Seattle is from May to mid-October. Below, we've compiled charts for you with Seattle's lowest and highest average temperatures. Moreover, we have also prepared an average number of hours of sunshine in Seattle for each month.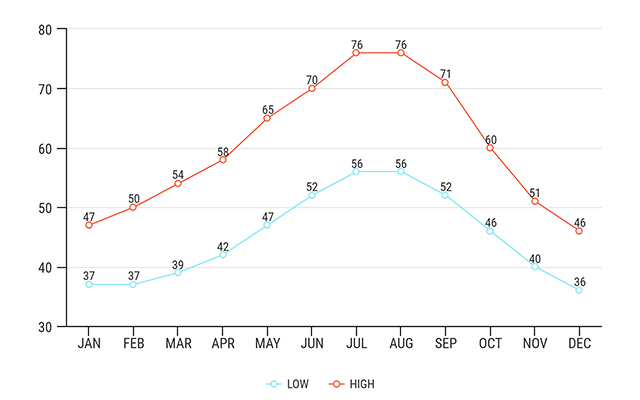 On the graphs below, you can see the average rainfall for Seattle during the year. We have also compiled for you the number of rainy days in individual months in Seattle. It is a seaside city, and Seattle has the nickname Rain City, so you have to be prepared for rain even during summer. November, December, and January are the rainiest and foggy months; so the visibility is poor, too.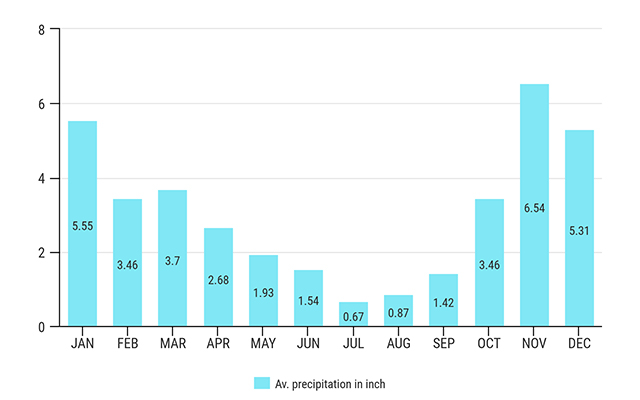 Seattle Itinerary – Best Places to Stay in Seattle
Would you like to stay in a cheap or luxury hotel in Seattle? Are you looking for an RV campsite in the city? Or, maybe you're looking at apartments for rent in Seattle or affordable Seattle suburbs near the city?
The Van Escape was named a local expert of Seattle on Redfin. Check out the article we were featured in 10 Most Affordable Seattle Suburbs to Live In | Redfin
In this part of our Seattle Itinerary, we share our experience in the field of accommodation in Seattle. This city has something for everyone, with plenty of hiking, shopping, tourist attractions, and food. So, below, you'll find our suggestions for the best places to stay in Seattle, with options for every budget and travel style. Seattle is a fashionable and popular city, so book your accommodation in advance.
Check prices and book your lodging at booking.com. You can find the best and most interesting hotel offers on the map below.
Capitol Hill in Seattle – Where to Stay?
Capitol Hill is for sure the best area to stay for a night in Seattle. This part of the city offers lots of restaurants, nightclubs, coffee shops, bars, theatres, and music shows. It's also close to the main tourist attractions in Seattle. Capitol Hill is quite a hipster place, with plenty of trendy, small boutiques and independent fashion labels. If you decide to stay in the Capitol Hill area, it is worth going to Starbucks Roastery & Reserve for coffee, because Seattle is the birthplace of Starbucks. In Molly Moons, you will get delicious ice cream, honey, and lavender cookies. You can buy great books and newspapers in the charming family bookstore Elliott Bay Books.
So, below you will find several best places to stay in Seattle in Capitol Hill for every pocket with the highest customer ratings.
($) Economy Accommodation in Capitol Hill Seattle
Roy Street Commons is only 2 miles from downtown Seattle and the Space Needle. Each private micro-studio includes access to 3 common kitchens on-site, which feature a dining table and lounge area. Free WiFi is available at the property, too.
($$) Average Accommodation in Capitol Hill Seattle
Gaslight Inn Bed & Breakfast is located only 1.4 mi from Pike Place Market. It's a romantic little B&B. Most of the rooms have fireplaces, and terraces with views. It's worth considering this place.
($$$) Luxury Accommodation in Capitol Hill Seattle
Four Seasons Hotel Seattle is 1.2 mi from the Space Needle. This hotel features a full spa, rooftop infinity pool, and outdoor fireplace. Every guest room features Northwest-style decor with wood and stone details.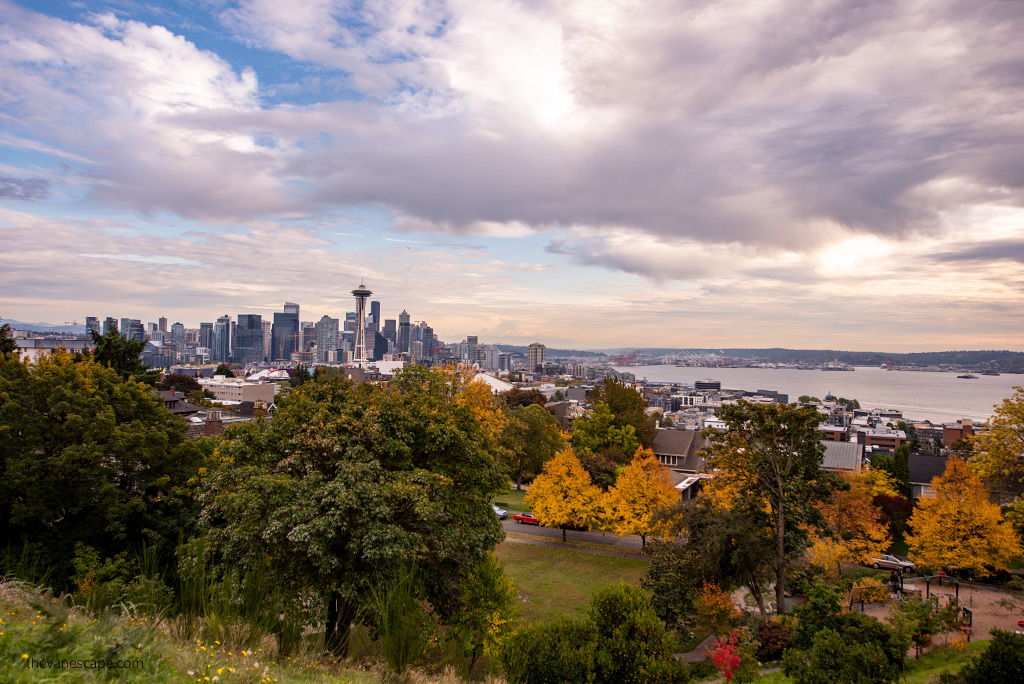 Belltown in Seattle – Where to Stay?
Belltown is the downtown of Seattle. It is an upmarket and trendy area of Seattle. It's one of the best places to stay in Seattle because it is the most walkable neighborhood in the city if you prefer sightseeing on foot or you don't want to rent a car for your trip. You will find lots of bars, great restaurants, and shops here. Space Needle, Pike Place, the Waterfront, Olympic Sculpture Park, and the Museum of Pop Culture are within walking distance.
($) Economy Accommodation in Belltown Seattle
Kings Inn offers many complimentary modern amenities such as parking, coffee in the lobby, and wireless internet. Centrally located in downtown Seattle, this convenient hotel is within walking distance of many of the city's attractions such as the Space Needle and Pike Place Market.
Moore Hotel is situated in the center of Seattle, Moore Hotel is 650 feet from Pike Place Market. Guests can dine in the in-house restaurant, which specializes in local cuisine.
($$) Average Accommodation in Belltown Seattle
Ace Hotel Seattle is a modern hotel, which offers contemporary rooms with free WiFi and a shared breakfast room.
Belltown Inn is a modern hotel and is a great choice for travelers interested in restaurants, food, and markets. Located 15 minutes walk to the Olympic Sculpture Park which overlooks Puget Sound, the Belltown Inn features a furnished rooftop terrace.
($$$) Luxury Accommodation in Belltown Seattle
Hotel Ändra is a luxury boutique hotel in the heart of downtown Seattle located between the popular Belltown district and Lake Union. All rooms at Hotel Ändra feature subtle Scandinavian decor. Hotel Ändra features Lola Restaurant, which serves Greek and Pacific Northwest cuisine. Assaggio Ristorante features authentic Northern Italian cuisine.
Hyatt Regency Seattle offers air-conditioned accommodations and a fitness center. Among the facilities of this property are a restaurant, and bar.
Hilton Garden Inn Seattle Downtown offers a swimming pool, indoor pool, family rooms, rest areas and bars, and a restaurant.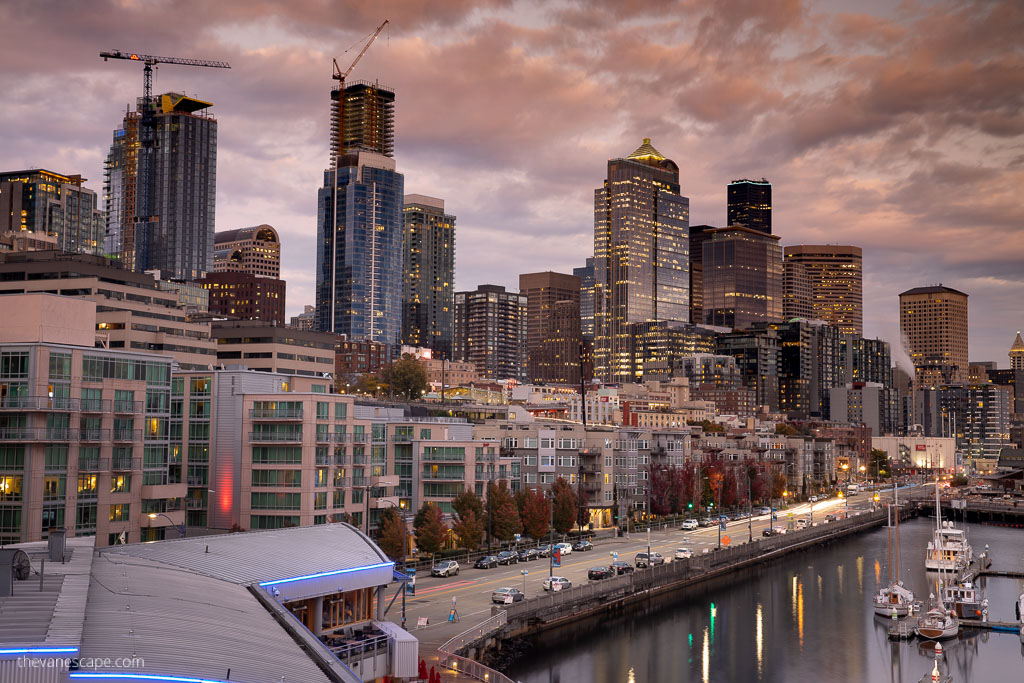 Fremont & Ballard in Seattle – Where to Stay?
Ballard, Fremont, and University District are a little further outside of downtown, but they are super quiet and charming neighborhoods with a lot to explore. Some of the city's best restaurants and bars are here, and there's of course the offbeat art scene. Fremont is home to offices for big technology companies like Google and Adobe. If you stay there watch the sunset at Golden Gardens Park.
($) Economy Accommodation
Marco Polo Motel is a comfortable hotel for a reasonable price. It's close to the Woodland Park Zoo.
Ballard Inn is a boutique inn with 2 indoor pools, near Woodland Park Zoo. It is a great choice for families.
($$) Average Accommodation
Hotel Ballard is a 3.5-star hotel near Nordic Heritage Museum. It is a Boutique hotel with 2 indoor pools. It offers a restaurant and bar and a great rooftop terrace.
Staybridge Suites Seattle is a 3-star hotel with an indoor pool, near Lake Union. Offers 24-hour fitness center.
($$$) Luxury Accomodation
Fremont Oasis is a luxury apartment that features air-conditioned accommodation with a patio and free WiFi. The holiday home has 2 bedrooms.
Seattle RV Parks
It's not easy to park RV in Seattle. Car parks in the center are small and crowded. Similarly, there are no RV campgrounds in the city itself. There are only a few RV campgrounds in the area. The most important is to know that places fill up quickly in the season. So, it's worth booking a place at the campground in advance. The best idea is to leave the RV on the campsite and go to the city by public transport or taxi. However, it was easy in the city to park our RV along Harbor Avenue.
Eagle Tree RV Park is a year-round scenic park in historic Poulsbo. Offers free casino shuttle. It is a short drive to Seattle Ferries. Offers 53 sites with WiFi.
Lake Pleasant RV Park is located in the Seattle area, in Bothell, and offers 119 sites with WiFi.
Issaquah Village RV Park is located in charming Issaquah, just 17 miles from Seattle but with walking & bike paths, historic downtown, great dining, and shops.
Tall Chief RV & Camping Resort is located in Fall City, just 25 miles from Seattle & 10 minutes from Snoqualmie Falls, so it's a great location.
Seattle Itinerary – Plan your trip with Seattle CityPASS
Before you start exploring Seattle, you should consider buying Seattle CityPASS, which helps you save time and money with this multi-attraction pass. It's a great way to get discounted admission to a lot of attractions and make it easier to organize your trip. This multi-attraction package includes access to several top city attractions and a 1-hour Argosy Harbor cruise. On the list are Space Needle, and Seattle Aquarium, too. Moreover, you choose from additional attractions, such as the Museum of Pop Culture or Pacific Science Center, according to your interests. We love this solution because it allows you to save a lot and avoid queues. Enter the date of your trip and the number of participants to check prices and book your cards.
Day 1 of Seattle Itinerary: Centre of Seattle
We divided our Seattle Itinerary into three days of sightseeing. It will allow you to enjoy the city, discover its main attractions, and get to know the best bars and restaurants. In the last chapter of this article, you will find a recommendation for the best places to eat in Seattle. We also tell you where to go for a drink.
The Space Needle
It is a great idea to start your trip from the most famous place in Seattle The Space Needle. You may need to wait in line, so it's best to do this early. You can buy tickets on the Space Needle website. The Space Needle is a 605-foot tall tower. It was built for the 1962 World's Fair. It has a futuristic appearance and UFO-like design. The Space Needle tower's ground observation deck offers spectacular views of the city and the nearby Olympic Mountains, and Mount Rainier. At the top of the needle are a cafe and a wine bar. However, the most exciting is The Loupe, a revolving glass floor, which allows 360-degree views of Seattle. You avoid the steep admission charge ($32.50 to $37.50 for adults and $24.50 to $28.50 for children ages 5 to 12) by purchasing a Seattle CityPASS that includes admission to additional attractions.
The Museum of Pop Culture
The Museum of Pop Culture (MoPOP) is dedicated to contemporary popular culture. It was founded by Paul Allen (Microsoft co-founder) in 2000 as the Experience Music Project. It's located next to Seattle's historic Space Needle on 325 5th Avenue N Seattle. You can buy tickets on-line on the Museum of Pop Culture website, which is cheaper than buying a place. Furthermore, you can avoid the steep admission charge ($28 to $36 for adults, 19$-21$ youth 5-12 years old) by purchasing a Seattle CityPASS. Finally, you can test your DJ skills in the Sound Lab. There are a lot of possibilities for hands-on experiences, and iconic artifacts in the fields of music, literature, television, and film. The Museum of Pop Culture offers the largest collections in the world of artifacts, hand-written lyrics, personal instruments, and original photographs celebrating the music and history of Seattle musicians Nirvana and Jimi Hendrix.
Chihuly Gardens And Glass
The Chihuly Gardens And Glass is a must-see for those who want stunning Instagram photos and love art. It offers a look at the inspiration and influences that inform the career of artist Dale Chihuly. Through the exhibition's eight interior galleries, lush outdoor garden, and centerpiece Glasshouse visitors will experience a comprehensive look at Chihuly's most significant series of works. His work is included in more than 200 museum collections worldwide. Chihuly has created more than a dozen well-known series of works, among them, Cylinders and Baskets in the 1970s; Seaforms, Macchia, Venetians, and Persians in the 1980s; Niijima Floats and Chandeliers in the 1990s; and Fiori in the 2000s. The best idea is to buy tickets online. The ticket costs $32/$22 for adults and $19/$14 for youth. You can avoid the steep admission charge by purchasing a Seattle CityPASS.
Olympic Sculpture Park
The Olympic Sculpture Park, is free and open daily to the public park which consists of a 9-acre (36,000 m2) outdoor sculpture museum and beach. It is located along the Seattle waterfront. So, combining a walk in the park with the sunset on the beach is great.
Seattle Children's Museum & Pacific Science Center
If you're wondering what to do in Seattle with kids in the city center take them to Seattle Children's Museum and to Pacific Science Center.
Seattle Children's Museum offers a lot of fun and educational play experiences for kids. Children can participate in art, culture, and STEM/inquiry-based programming. Kids have a chance to develop creativity and hands-on exploration of the world around them.
You can buy tickets on Seattle Children's Museum website. Admission is $12 for kids and $12 for adults.
Pacific Science Center has a mission to ignite curiosity and fuel a passion for discovery, experimentation, and critical thinking in kids and adults. It brings science to life. Offers hundreds of interactive exhibits and experiences. So, you can buy your tickets on the Pacific Science Center website. General Exhibit Admission is $17.95 for youth (6-15) and $25.95 for adults.
PROTIP: If you have more time, check current Seattle events on TicketNetwork. There you will find sports, concerts, opera and theater tickets, and more.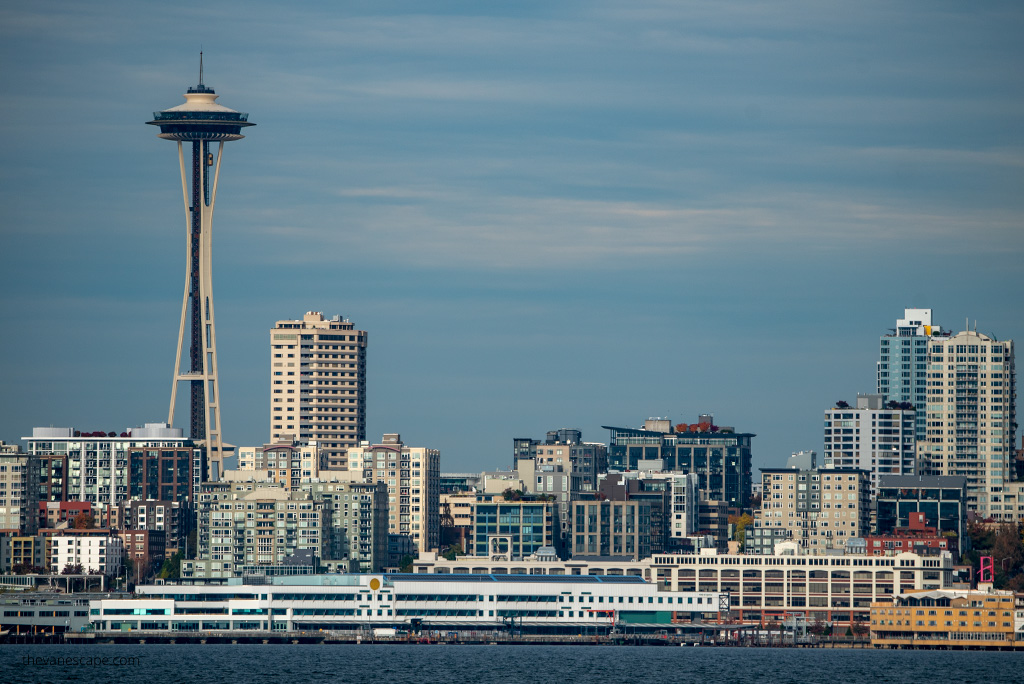 Seattle Itinerary – Take a Guided Tour
It is a great idea to take a guided tour of Seattle to get the best detailed and interesting information about the city. A guided tour is also the best option if you have limited time to visit Seattle, like one day or a day and a half in Seattle.
If you have only one day in Seattle consider 3-Hour City Tour by Bus. You will get a perfect overview of Seattle on a guided tour covering almost 50 miles, visiting the city's top highlights aboard a comfortable mini-bus.
It is also worth considering a cruise to see Emerald City from a different perspective. During this short but exciting City Harbor Cruise, you will see the panorama of the city from the water and take great photos from this perspective. This trip has also an affordable price, so it's a great solution if you are on a budget.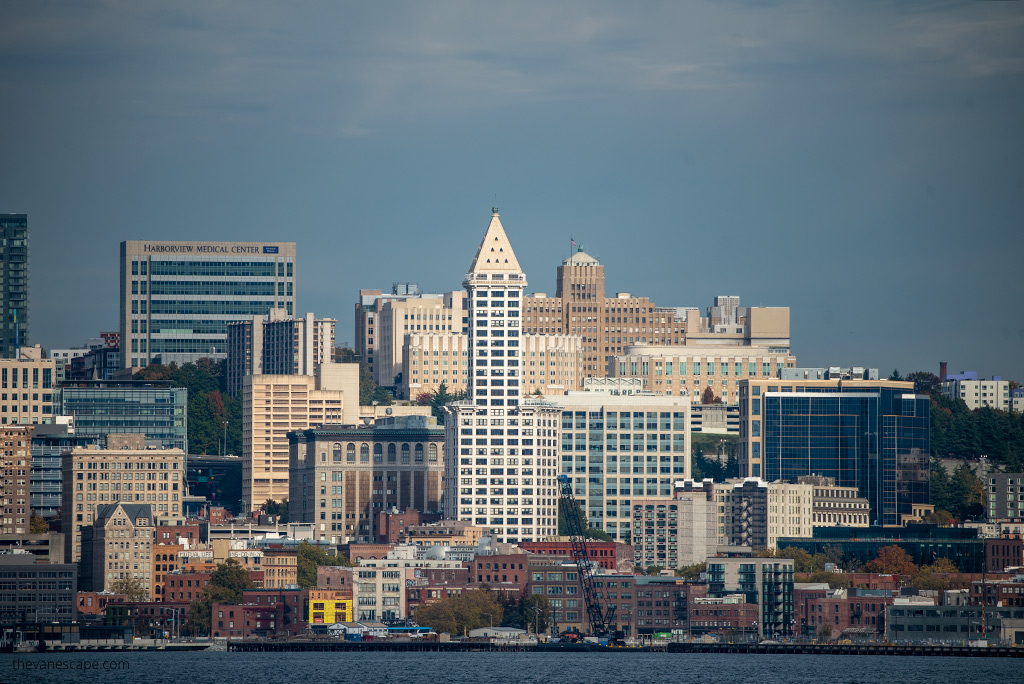 Day 2 of Seattle Itinerary: Downtown Seattle
Seattle Itinerary – Visit Pike Place Market and Enjoy Fresh Food
Your second day in the city is worth starting in the heart of Seattle. Pike Place Market—the 108-year-old farmers' market is one of the most famous Seattle tourist attractions which draws in more than 10 million visitors annually. It is famous for its fishmongers, produce stalls, craft stands, and specialty food shops. You can buy fresh and healthy products there. However, the best idea is to eat something on the spot. Sandwiches, fish, seafood, the choice is vast and everything smells and tastes delicious. If you are a foodie fan it is good to consider the Pike Place Market: Walking Food Tour.
There is also a lot of live music and handcrafted items. We love this market. It's a great place for shopping. Moreover, across the street from the market, you will find the first Starbucks, so it's worth grabbing a cup of coffee. It isn't the actual first Starbucks, but it's the ceremonial one.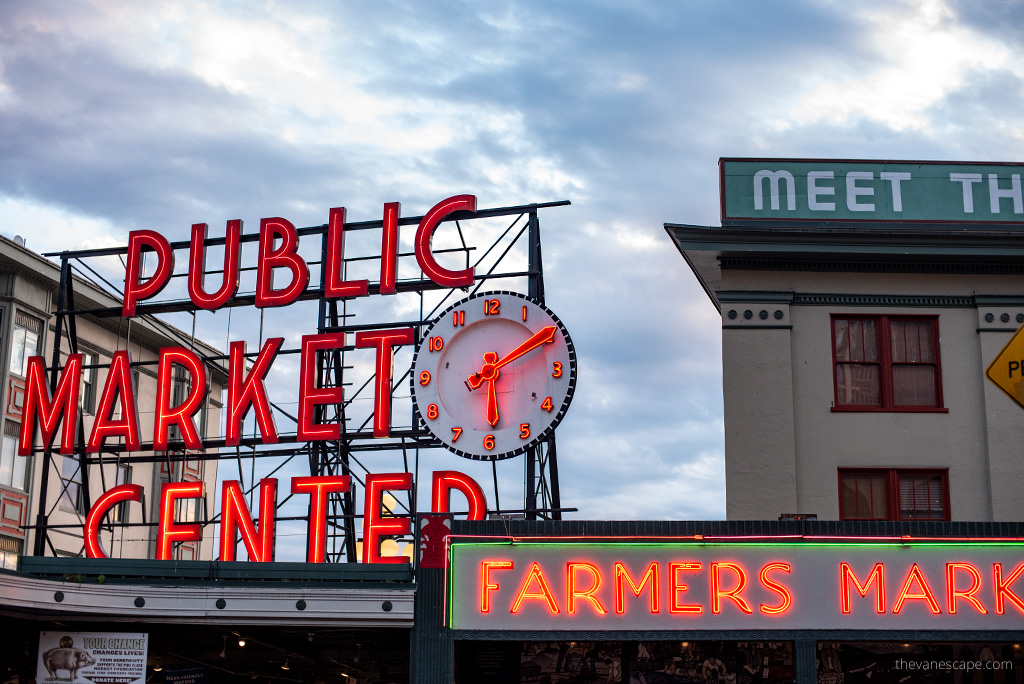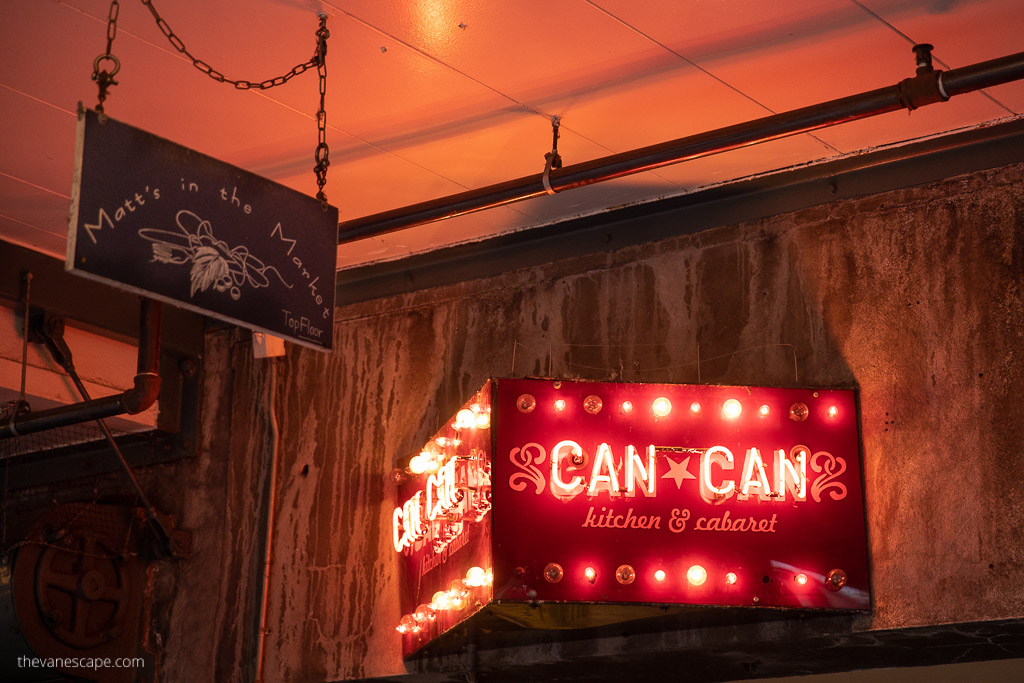 Admire Seattle Waterfront
For us, Seattle Waterfront is a must-see if you have only a day in Seattle. It's the essence of the city. Walking along the Seattle Waterfront is a perfect way to soak up the atmosphere of the city. You will find there the best seafood restaurants. You can enjoy the excellent views of Puget Sound and the Olympic Mountains. A great idea is to visit Seattle Aquarium, especially, if you are with kids.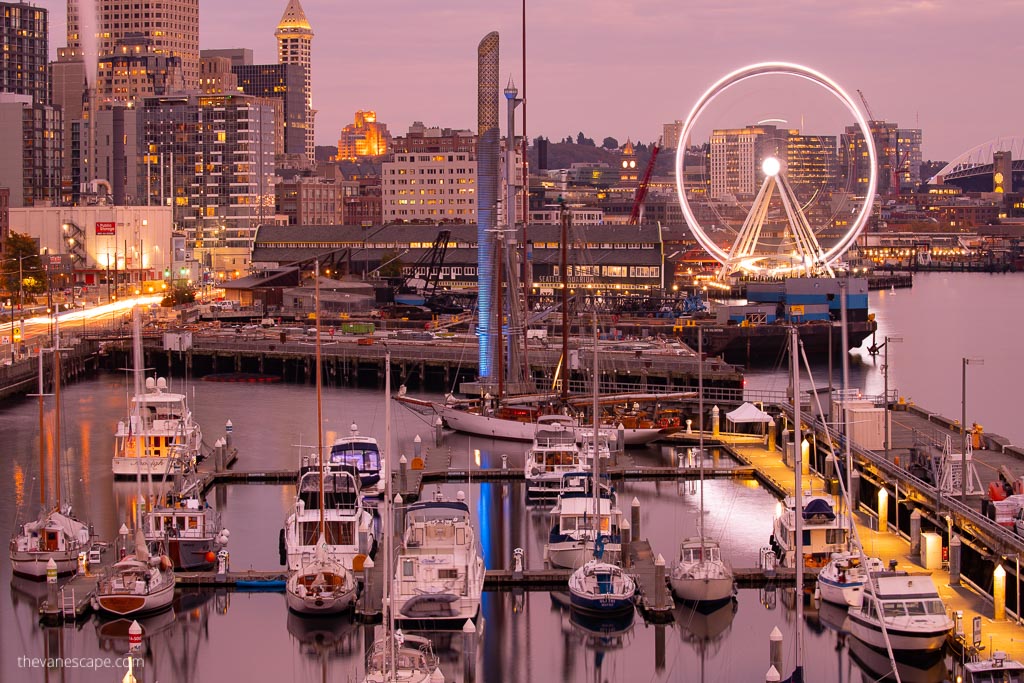 Pioneer Square Underground Tour
Pioneer Square used to be the heart of the city: Seattle's founders settled there in 1852. The best option to feel the spirit of the place is taking a guided Underground Tour, which gives you the chance of walking its underground pathways which existed in the 1890s. So, this unique experience takes you down below the streets into the tunnel system under the city. We love it as the price is affordable, and the adventure is excellent.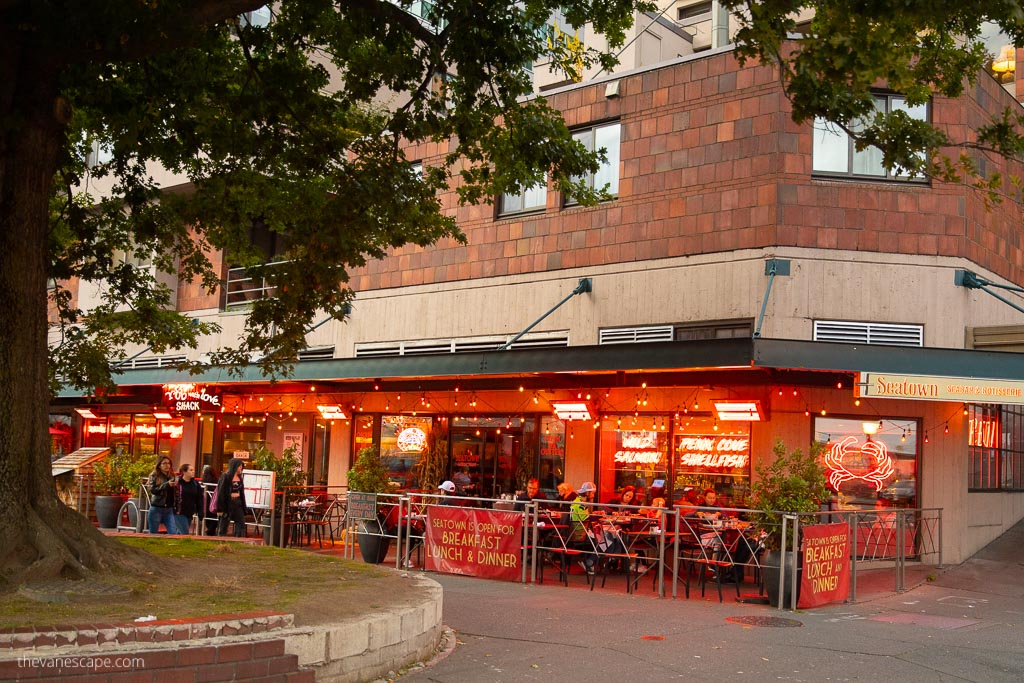 Seattle Itinerary – Visit Kerry Park
However, to see Downtown Seattle in all its glory, you have to leave it and move to the other side of the city. To have the best overlooks in Downtown Seattle you should go to Kerry Park. It is the best viewpoint in the city and offers fantastic sunset opportunities. This small public park and viewpoint on the south slope of Queen Anne Hill is located along West Highland Drive between 2nd Avenue West and 3rd Avenue West. The park's view is the most iconic view of the city skyline, with the Space Needle prominent at the center, Elliott Bay to the west, and Mount Rainier in the background, if the weather is good.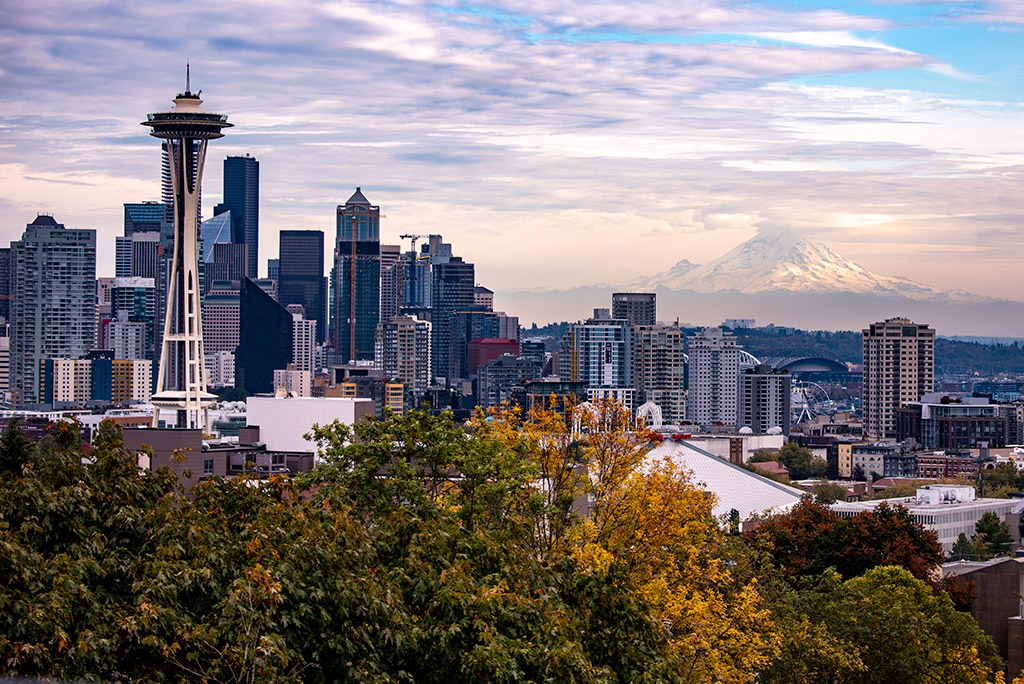 Seattle Itinerary – Take a Tour
Beneath The Streets Underground History Tour. This walking tour is a great chance to see Seattle's first established neighborhood, Pioneer Square, by walking its underground pathways as they existed in the 1890s in the company of a guide. You will learn the city's history, from the beginning to its Klondike Gold Rush days and up through its current state.
Do you like airplanes? So, visit Boeing Factory. It gives you an insider's look at the Boeing factory, where airplanes such as Boeing 747, 757, 767, 777, and 787 Dreamliner are designed and built. It is a great adventure. Moreover, if you are a fan of airplanes is worth visiting The Museum of Flight. It is located at the southern end of King County International Airport (Boeing Field), in the city of Tukwila. It was established in 1965, and it is the largest private air and space museum in the world, it also hosts the most extensive K-12 educational programs in the world. You can buy tickets on the Museum's website.
Day 3 of Seattle Itinerary: Seattle's Neighborhoods
Seattle's Neighborhoods offer much more than you can imagine. It is impressive architecture, great bars, restaurants, and shops. You can feel the spirit of the real city.
Take a walk on Alki Beach in Seattle
The Alki Beach Park is a long beach strip that runs roughly from 64th Place SW to Duwamish Head on Elliott Bay. Alki Beach is the site of the landing of the first white settlers in Seattle on a cold, stormy day in November of 1851. It's a great spot for a long walk at any time of year to enjoy the sun. It is full of joggers, rollerbladers, sunbathers, and bicyclists. So it is a perfect idea to rest from the street bustle. The whole beach offers spectacular views of Puget Sound, the Olympic Mountains, ferries, and sailboats. The Alki Beach was made famous in a scene from the romantic movie "Sleepless in Seattle" where Tom Hanks flies a kite with his son. So, start your day at Alki Beach to catch the sun.
Admire Seattle's Capitol Hill
Capitol Hill is a charming residential district in Seattle. It is one of the city's most prominent nightlife and entertainment districts and is the center of the city's LGBT and counterculture, so it is worth visiting this part of Seattle. You will find there the best bookstores, some great record shops, sample locally made ice cream, and confections. You will find plenty to do from visiting parks to listening to live music at some of Seattle's most iconic and popular venues. So, don't miss charming Volunteer Park. You can visit Seattle Asian Art Museum in Volunteer Park or the beautiful Japanese Garden.
The Crocodile in Capitol Hill has hosted bands like Nirvana, Pearl Jam, Hendrix, and R.E.M. Today it attracts a range of artists from genres of hip hop through electronic to folk. So, if you have time, buy a ticket and add this place to your Seattle itinerary.
Seattle Itinerary – Take a picture of Fremont Troll
Fremont, which has affectionately dubbed itself the Center of the Universe is certainly a fantastic fun place to explore in Seattle. The Fremont Troll is one of the most famous landmarks in the city. Located under the Aurora Bridge, the Fremont Troll is an 18-foot-tall sculpture of a troll grasping a full Volkswagen Beetle, which used to be a time capsule for Elvis memorabilia, in its hand. Don't miss the Fremont Troll if you are with kids. Fremont offers much more. You can see Fremont Rocket (a 53-foot Cold War rocket fuselage mounted on top of a building on North 36th Street and Evanston Avenue North), and the statue of Vladimir Lenin. Finally, you will find a signpost that marks the alleged center of the universe and tells you how far it is to many locations around the globe. It is located at North Fremont Avenue and North 35th Street.
All year round on Sundays from 10 a.m. to 4 p.m., the Fremont Sunday Market fills the streets, at the corner of 3410 Evanston Avenue North, with crafts, food, vintage clothes, antiques, and much more. So, if you are on Sunday it is worth going there.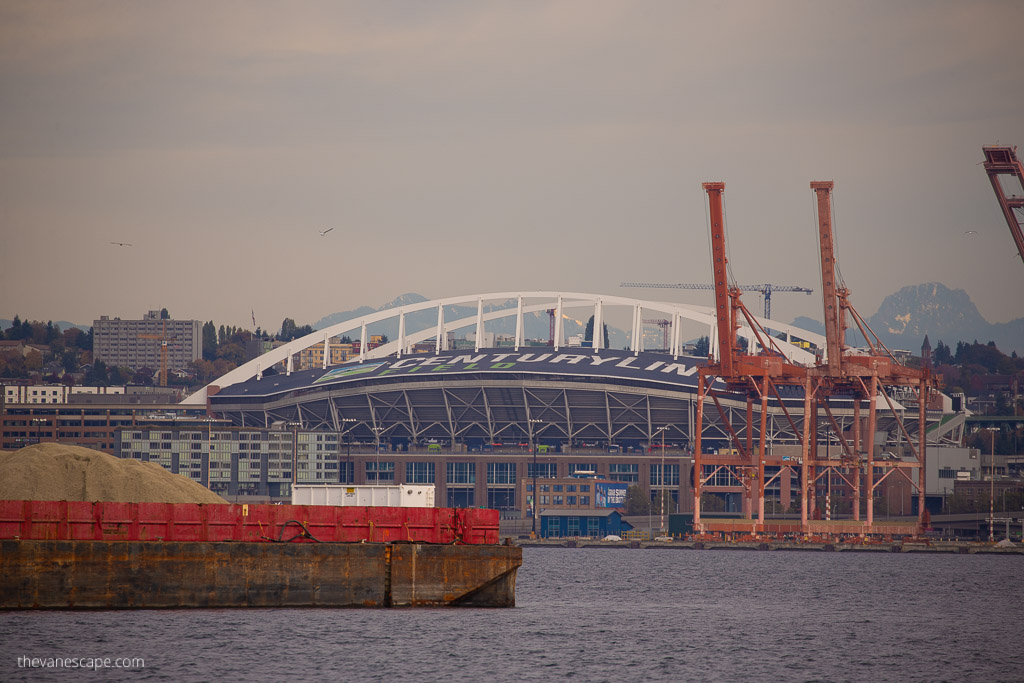 Seattle Itinerary – Take a Tour from Seattle
In this section of the Seattle Itinerary, we recommend the more remote Seattle neighborhood. But still perfect places for day trips out of the city. Seattle is an ideal base to explore Mount Rainier National park or Olimpic National Park. So consider those places in your Seattle itinerary. If you have an extra day or more in Seattle, or you can see the main attractions in two days (it's possible!), consider going outside Seattle. The surroundings are breathtaking. It is worth going for a tour outside of the city. Below you will find our three favorite places & tours: Snoqualmie Falls, Mt. Rainier National Park, and Olympic National Park.
Seattle Itinerary – Visit Snoqualmie Falls and Enjoy Wine Tasting
Snoqualmie Falls and Woodinville Wine Tasting. Snoqualmie Falls is so magical! It is a must-see during even a short trip to Seattle. And if you combine these breathtaking waterfalls with Washington's wineries and wine tasting would be a perfect solution for spending a day. Do you remember the Twin Peaks TV series? An American mystery horror drama television created by Mark Frost and David Lynch that premiered in 1990. Do you remember Laura Palmer's story? So, Snoqualmie Falls is the Twin Peaks series location! Don't hesitate to go on this trip. The place will charm you!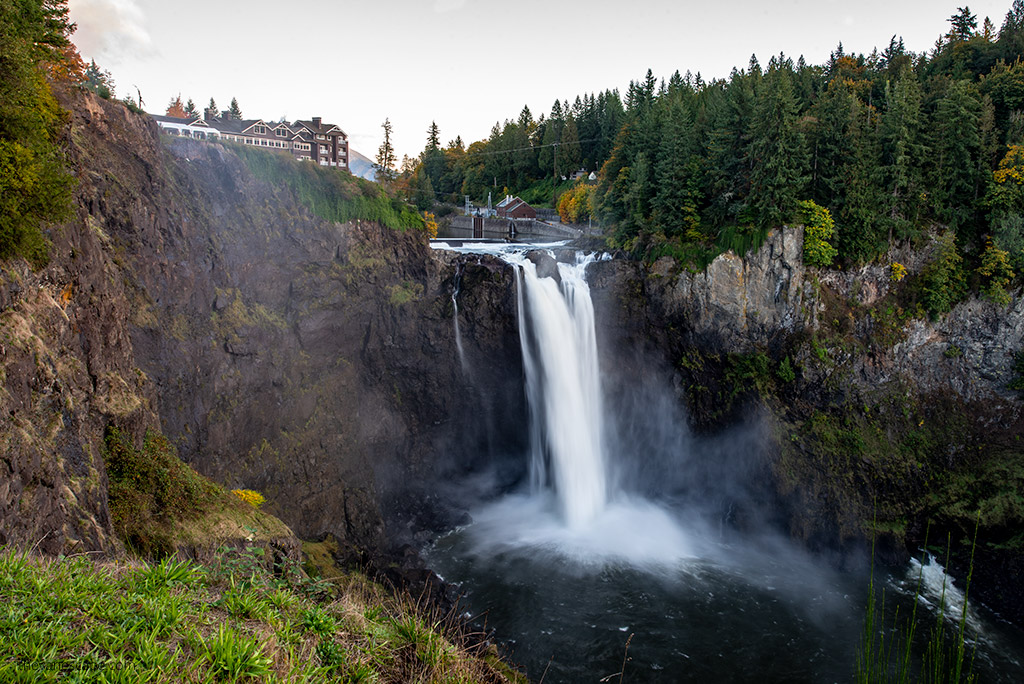 Seattle Itinerary – Visit Mount Rainier National Park
Mt. Rainier National Park Day Tour from Seattle. If a day or two is enough for you to see Seattle, go to Mt Rainier National Park. It's a stunning place. Ascending to 14,410 feet above sea level, Mount Rainier stands as an icon in the Washington landscape. An active volcano, Mount Rainier, is the most glaciated peak in the U.S.A. The mountain is reflected in the water of the lakes surrounding wildflower meadows and forests. So, you can book your trip here. Mount Rainier is one of our favorite national parks in this part of the USA. We assure you that it's worth adding it to your Seattle itinerary.
You can consider an organized trip or visit it on your own, depending on how much time you have.
Check our list of what to pack to Mount Rainier & our related article Things to do in Mount Rainier National Park. We share there our tips on how to visit the park on your own.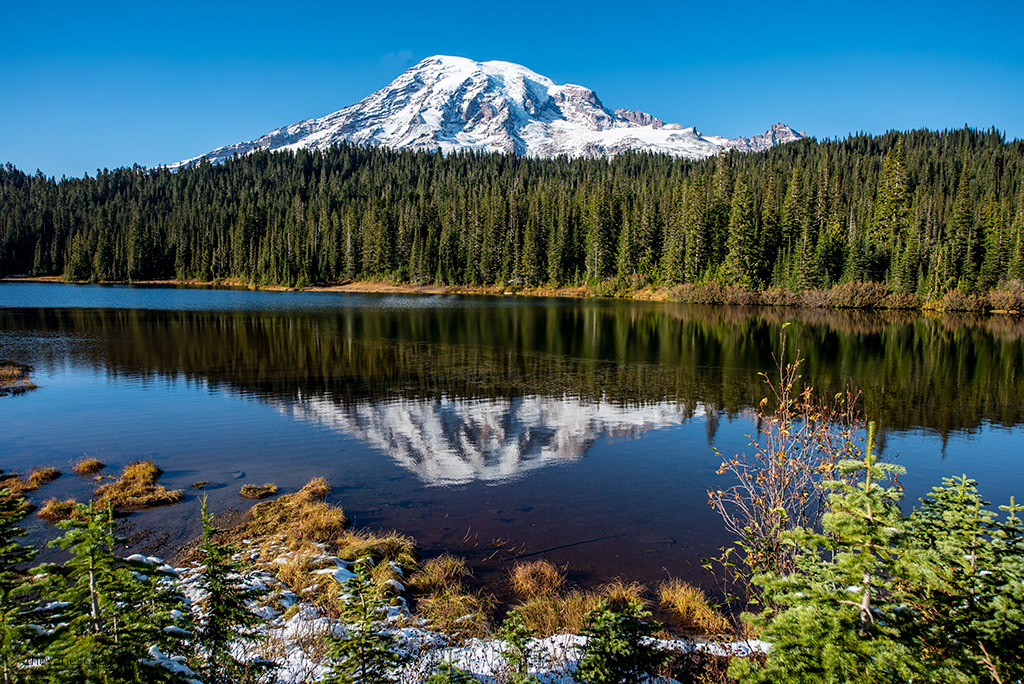 Seattle Itinerary – Visit Olympic National Park
Olympic National Park Small Group Tour. It's another option for spending a fantastic day if you are in Seattle. You have a chance to explore the breathtaking World Heritage Site, the Olympic National Park, with a local guide. Add this park to your Seattle itinerary. The park has four regions: the Pacific coastline, alpine areas, the west side temperate rainforest, and the forests of the drier east side. So, you can experience the lush greenery of old forests. Book your trip!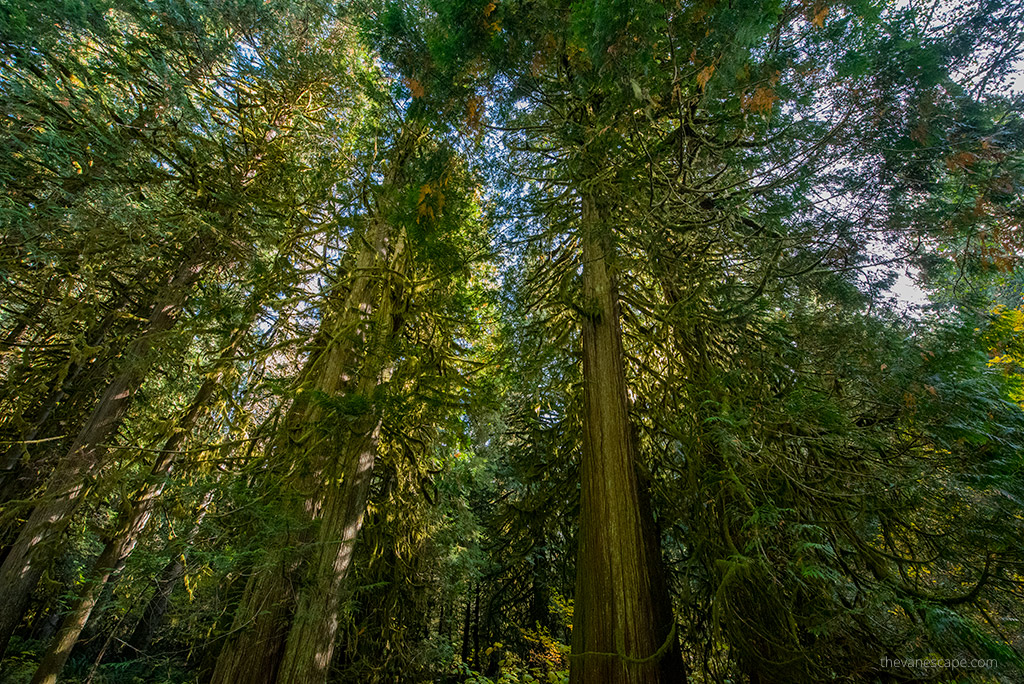 Seattle Itinerary – Where to eat in Seattle?
In this section of the Seattle Itinerary, we tell you where to eat breakfast, lunch, and dinner in Seattle. Only the cafes, restaurants, and pubs we have personally checked in which we were during our stays in Seattle.
Where to eat the best Breakfast in Seattle?
Glo's ($$) – Eggs Benedict accompanied with hash browns are the best you can get in the area. If you prefer an omelet or skillet, you will not be disappointed as well. The coffee here is 1st class. That makes your perfect breakfast for starting a day in Seattle.
Bacco Cafe ($$) – If you are a fan of seafood for breakfast, lunch, and dinner, you should visit Bacco. Egg benedict with crab and fresh juice will give you a great start to the day. You can also drink coffee or famous mimosa, which is fantastic here.
Where to go for Lunch in Seattle?
Palisade Restaurant ($$$) – Is well located in the Interbay and has a fantastic view. It's a great place to have a crab cake in Seattle. Other popular choices are warm crab & lobster dip, fisherman's seafood fettuccine, or stuffed prawns. If you prefer some beef, the right choice for lunch is a prime rib sandwich. One of the best seafood in Seattle!
Tat's Delicatessen ($$) – They serve the best pastrami sandwich in the area. But you can also try an incredible Italian roasted port sandwich or Philly cheesesteak. To avoid crowds, try to get here before 11:30 when the very long line creates.
Where to go for Dinner in Seattle?
Etta's Seafood ($$) – This restaurant is a paradise for seafood lovers. The best seafood in Seattle! Etta's is conveniently located and serves amazing fresh oysters, perfectly cooked Dungeness crab, crab cakes, and our favorite clam chowder. Drinks are also great, as well as the wine selection.
Il Terrazzo Carmine ($$$$) – If you are looking to eat great Italian food in a luxury restaurant it is the place for you. They serve delicious food and the service is excellent. Our favorite choices are rigatoni bolognese, pesto fettuccine, caesar salad, gnocchi, risotto, or insalata portiforno. For dessert, we always choose Crème brûlée. You can't go wrong with this place and its food selection.
Where to go for a drink in Seattle?
Schilling Cider House ($$) – If you are a fan of cider, it will be your paradise. They have plenty of cider available here. Our favorites are chai cider and red pepper. The good idea is to get a cider flight and taste different kinds of cider.
Radiator Whiskey ($$) – They have not only an awesome whiskey menu but also a fantastic Bourbon Margarita that we recommend getting together with Bourbon Cake. If you want to make sure to have a drink here, please reserve your seat because the place is very trendy.
Seattle Itinerary – Get Ready For The Trip
In this section of the Seattle Itinerary, we share our favorite books, maps, and inspiration with you. Not only about Seattle but more about the state of Washington and the Pacific Northwest if you plan a long road trip. We prepare ourselves thoroughly for each of our journeys: read books, and guides, and analyze maps. It is great to know as much as possible about the place we plan to see. We like to know the history of a given location. As photography passionates, we want to have good photos, so we are looking for the best photo spots. Below are some book recommendations that you may like as well.
Photographing Washington is for us the best. We love all the series to each state. This book offers an excellent overview of photography opportunities for Washington State. As with other books in the series, the printing is perfect, and the binding is durable. There's a lot more detail on places than you get in a general travel guide. It's lots of photographic hints & tips.
If you enjoy hiking, consider Moon Pacific Northwest Hiking. A wide variety of hikes and trails are offered. You will find a route to suit every mood, season, and hiking style or ability. Inside are beautiful photographs too. You will find directions to the trailhead, permits required, trail maps, GPS coordinates, mileage and elevation gain, elevation profiles, and highlights of each trail.
We also like Hiking Washington: A Guide to the State's Greatest Hiking Adventures. It's very informative and detailed. Before you hit a mountain trail, check our detailed post with the Day Hiking Packing List. You will find lots of useful hiking tips and a printable pdf packing checklist.
If you are planning a road trip, we recommend a paper map: Washington Road and Recreation Atlas. It's very detailed and informative. Except for roads, you will find useful information about wilderness, forest service, state parks, BLM areas, Tribal lands, national parks and monuments, campgrounds, and more.
Do you like it? Pin it!