The Nautilus Hike, Utah, is fabulous. Many of you are visiting Southwest. Very often on your trip, you stop by slot canyons in Page, unusual rock formations in Paria, or the most famous The Wave or Coyote Buttes South. We are sure that you were traveling many times on route US 89 between Kanab and Page. And we are also confident that most of you missed the hidden gem of Paria Canyon – Vermillion Cliffs Wilderness area – The Nautilus rock formation that needs a short hike and is located in Utah.
This article may contain affiliate / compensated links. For full information, please see our disclaimer here.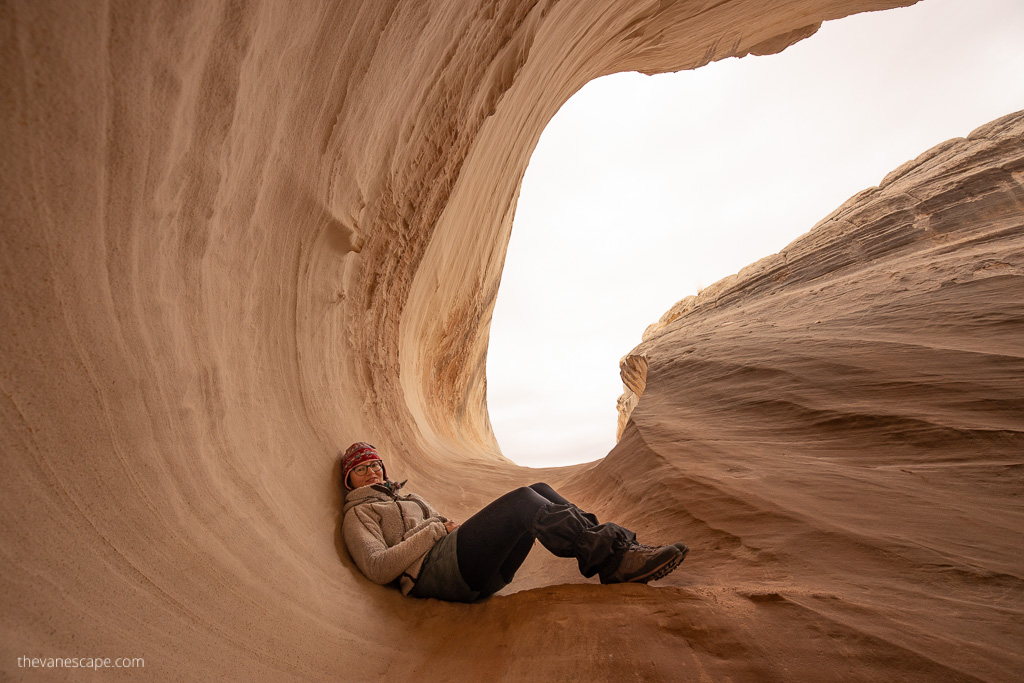 Why it's worth visiting Nautilus in Utah?
Usually, if you are traveling across the Southwest, you have the essential points in your schedule like Upper Antelope Canyon, Lower Antelope Canyon, Antelope Canyon X, Horseshoe Bend, Zion National Park, Grand Canyon North Rim, and more. We are pretty confident that you will be traveling on U.S. 89 between Kanab and Page in any direction on your road trip. It means you will visit the Paria River – Vermillion Cliffs Wilderness. And this area is lovely, but usually not explored enough. It hides plenty of small but exciting gems! One of them is The Nautilus hike.
So, the Nautilus hike is usually on your way, and you just need to add max 2 hours to visit this delicate and beautiful rock formation. You can take amazing pictures there! And the hike is not very long. So make sure to add the Nautilius hike to your Utah itinerary or Arizona itinerary. Also, if you are staying in Kanab (the nearest town to this rock formation), check out other Kanab attractions and hiking trails to have a perfect vacation.
What is The Nautilus Hike?
The Nautilus is a very fragile and delicate rock formation created by water and wind over the years of erosion in the sandstone. You will find this exciting formation on the edge of a small ravine close to the Paria River and not far from the famous The Wave, or Coyote Buttes South Hike. You can even visit this place if you failed in the Wave lottery and enjoy a rippled surface texture reminding the conch shell. Because of this similarity, it is called The Nautilus.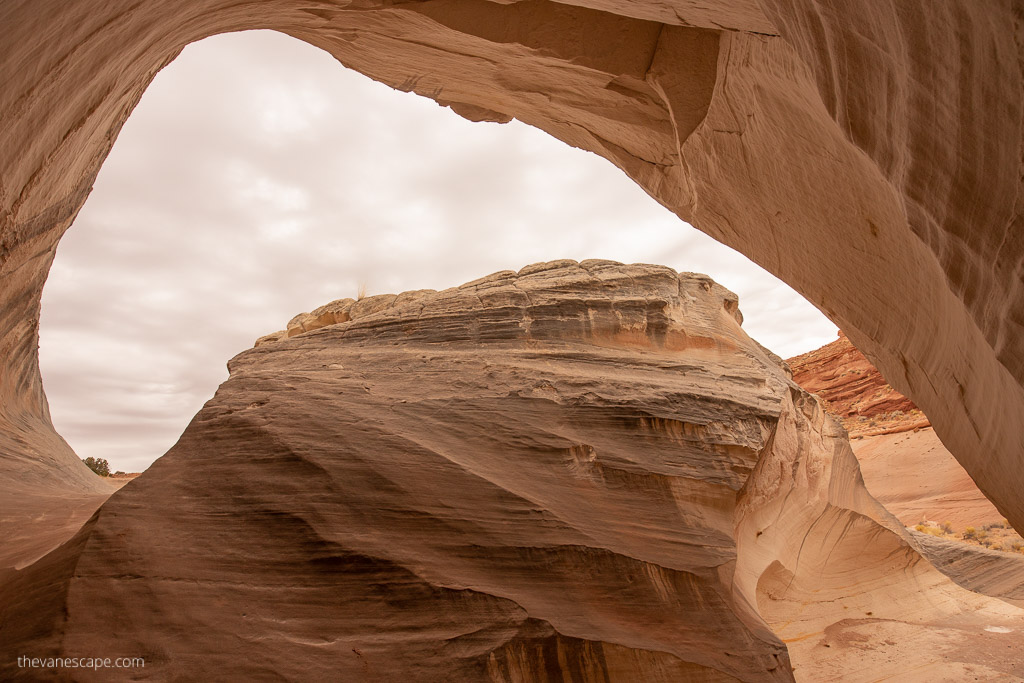 Please be careful visiting this delicate rock formation. Try not to break or damage the rock. As we already mentioned, this is very close to The Wave and fortunately not that popular. However, if it gets more popular, it might be limited because the friability of this rock is similar to The Wave.
Photographic Opportunities during The Nautilus Hike Utah
The main reason to do the Nautilus Hike in Utah and visit this rock is the photographic opportunity. It looks great the whole day, but when you have a chance to visit in the early morning or late afternoon, you might have a chance to notice some red, orange, and yellow tones added to the gray sandstone that will make your pictures more alluring.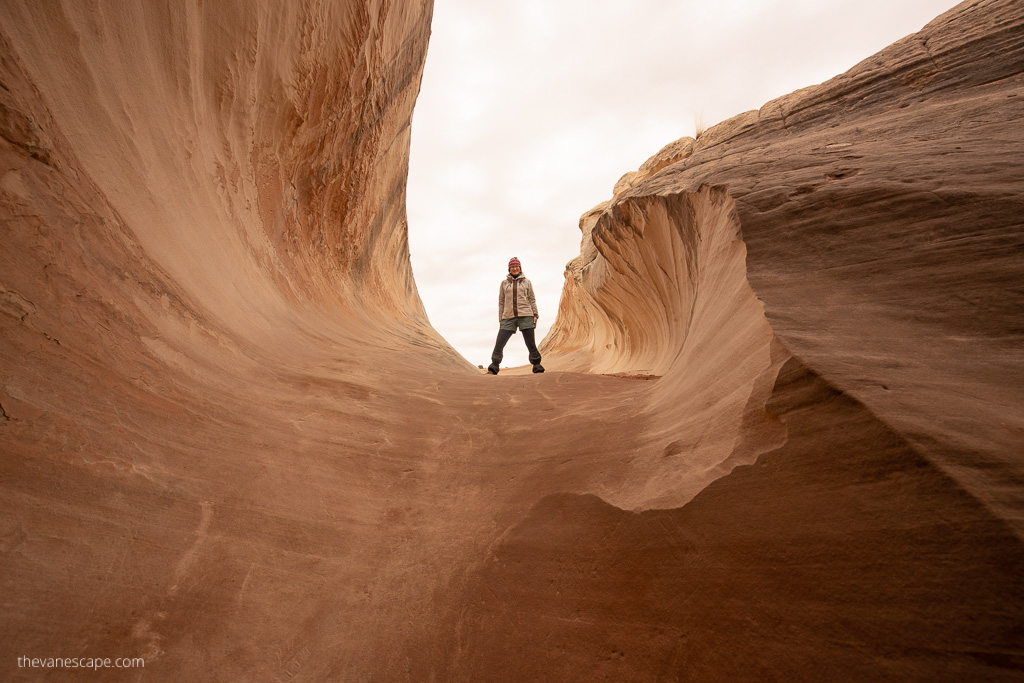 The best idea is to find a frame looking from the top and put someone inside The Nautilus. You can try to find proper shaping curves of the formation to create a unique composition.
The Nautilus Hike Utah – How to get there?
Trailhead
As we already mentioned, it's not hard to find the hike traveling on the U.S. 89 road. Just find the Paria Ranger Station. Take the turn to the station direction and drive. From there, take the way to the White House trailhead. Drive this road about 1.5 miles and cross two washes (check the weather forecast to make sure the road is passable – it might not be in the flood season). After the second wash, you will see a small parking lot just in front of you. It will be able to fit two cars but usually is empty — Park there your vehicle.
From Kanab, you will turn on mile 44. From Page, it will be about 31 miles. In both cases look for the sign for Paria Ranger Station and take that turn.
The Nautilus Hike
While you park your car, it's time to hit the hike. The easiest way to get to The Nautilus is to follow the wash you just crossed before parking your vehicle. You have to go east/northeast. The rocks will have different colors, from yellow, to orange and red. But you are looking for a white formation that stands out. It will be on the right side of the wash, and it's really easy to miss it because of its small size. It will be about a mile walk from the parking lot.
AllTrails application might be useful because it exactly shows you the hike, and if you follow it, you will reach your destination in about 20 minutes.
How to prepare for the Nautilus hike in Utah?
The hike is not very difficult from a technical perspective, so you don't need to prepare in any particular way to get to The Nautilus. But the most important things are to make sure there's a good weather forecast (no rain and no flood risk) because you will be following the wash, and if it's dry, it will be hard to get to this destination.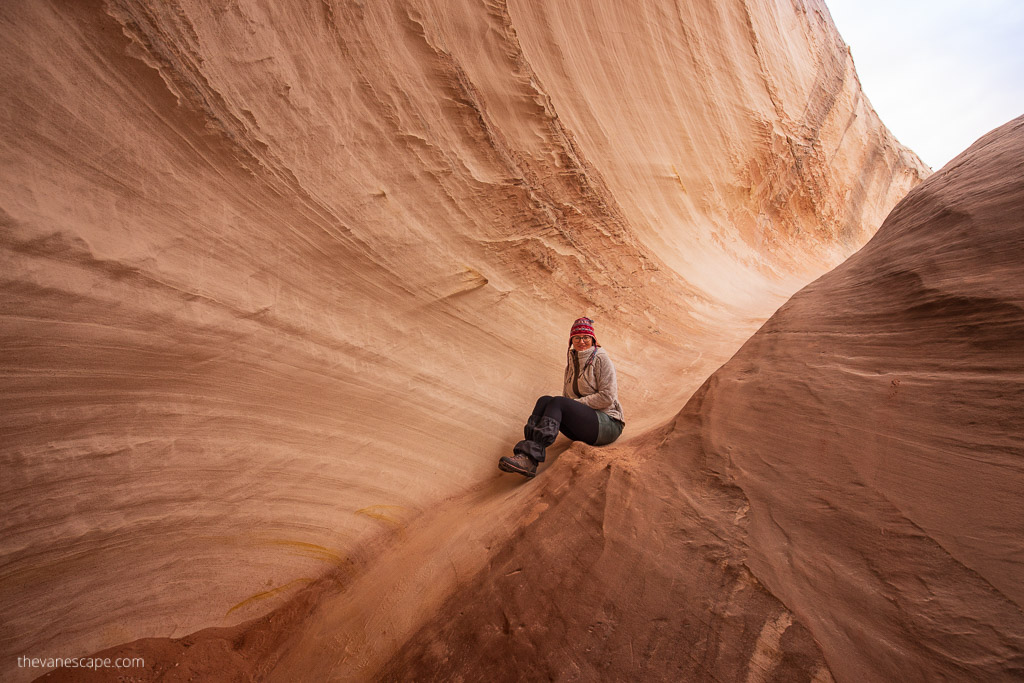 The second important factor is to choose not a very hot day because on this hike you will not find any shade. You will be hiking in open terrain exposed to the sun, so please check our hiking tips before you go. The only shadow you will find in The Nautilus itself. Fortunately, the hike is not too long, so a big bottle of water will be enough even on a scorching summer day. But you can check our Day Hiking Packing List if you plan more hikes during your trip.
Where to stay while visiting the Nautilus formation?
As we already mentioned, The Nautilus Hike in Utah is located close to the U.S. 89 between Page, AZ, and Kanab, UT. So the best places to stay are in those two small towns.
They are an excellent base for exploring the Paria River and Vermillion Cliffs Wilderness. They have great accommodations and restaurants with good food. Our favorite lodging in Kanab is Best Western. If you prefer RV Campground our favorite in Kanab is Hitch-N-Post RV Park.
In Page, we also stayed in the Best Western. They offer good quality at an affordable price. But both in Kanab, Utah, and Page, Arizona, you have a lot of other lodging possibilities. Kanab is charming, so we highly recommend this town. You can check the prices below which offers great discounts.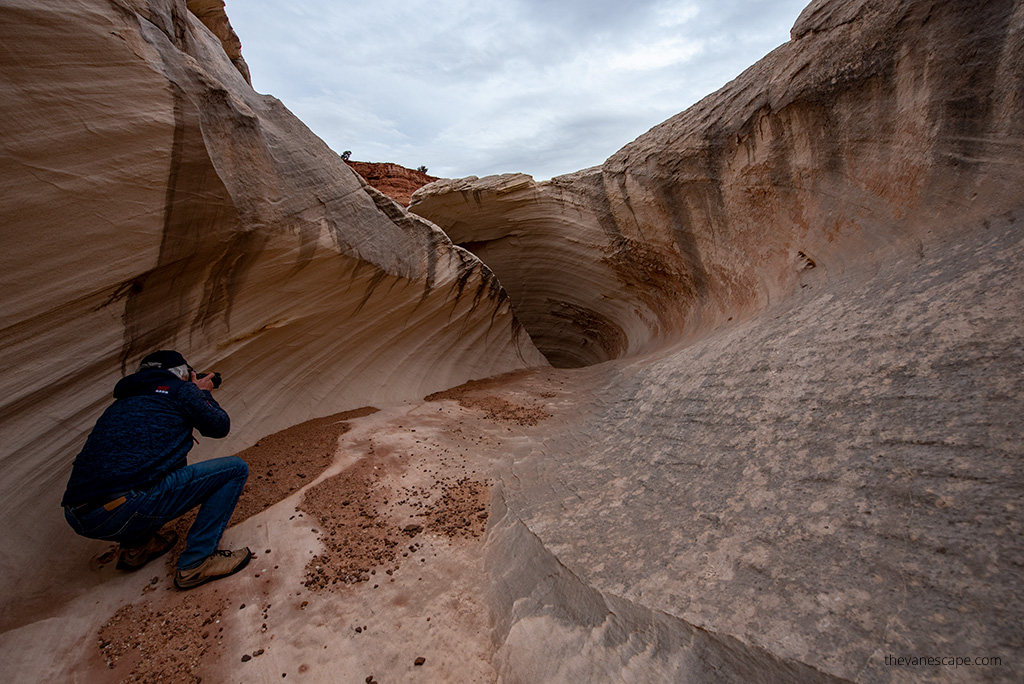 Other information while in the Nautilus hike area
In most cases, you will not need 4WD to get to The Nautilus trailhead. Of course, the road is gravel, but usually passable even with a regular compact car. Of course, if it's wet, you might need 4WD and high clearance, but, in such a case, you don't want to make this hike. It might be too risky. You can also take your dog for the hike. It's allowed even off-leash. The Nautilus is also free – you don't need to pay any fee or get any permits.
You can combine this hike with Paria Rimrocks Toadstool Hoodoos formations. It's doable in a half day. Just check our tips. Moreover, if you are a fan of such rock formations, check out how to get to the amazing Cutler Cove near Kanab.
More inspiration you will find in books: