The Subway Zion Hiking Guide
The Subway hike in Zion National Park is a fantastic adventure. It's one of the best hikes in the park. But it's not an easy trek; it is a backcountry, off-trail route. You will need a Zion wilderness permit and prepare yourself a little bit because it's a long, 8 miles round trip in rough terrain. A lot of this time, you will walk in the cold stream, crossing it from one riverbank to another.
How to get the Subway permit? How to prepare for The Subway Zion Hike? What gear to take? We share our experience in this article.
This article may contain affiliate / compensated links. For full information, please see our disclaimer here.
What is The Subway?
The Subway is a small, uniquely-shaped tube-like tunnel, slot canyon within the Zion Wilderness in Zion National Park in Utah.
It's a short canyon of fewer than 0.25 miles (0.40 km), but it is stunning. The Left Fork North Creek flows through The Subway and the Great West Canyon. In this article, we describe The Subway Zion Bottom-Up route, which is perfect for all photography passionate and experienced hikers. It's a backcountry adventure through remote terrain. It requires navigation skills and a long hike out.
But if you are looking for another best hike in Zion, lodging recommendation in Zion, or advice on how to prepare your trip to Zion National Park, check our article about Zion National Park. The best place to stay overnight before the Subway hike is in Springdale. Book your accommodation in advance.
Most noteworthy is to prepare for this hike. So, check our list of 13 essentials of any hike before you hit this trail.
The Subway Zion Bottom – Up Hike Basic Info & Map
Level/Rating
It is a strenuous all-day hike that starts from descending through some steep slope to the bottom of the Canyon. It's tough terrain; there is no marked trail. The Subway hike includes a trek in a cold river crossed many times. Water is full of slippery rocks, trees, and other obstacles. It's tricky navigation sections of wet rock formations from one riverside to another riverside alternately.
So you need a day to do this hike and you must start early morning. Also be prepared to get wet. Most of all do not do this canyon if there is a threat of rain.
Is Permit Required?
YES, The Subway Zion Hikes requires wilderness permit. All hikes through the Left Fork/Subway require a permit. Detailed info below.
Elevation Gain
It is steep 400-feet descent from trailhead to bottom of canyon.
Hiking Distance – Time Required & Length
8 – 10 hours, 8.0 miles round-way. Start it very early because it's a challenging trail, and it's easy to lose the path.
Trailhead Location
Left Fork Trailhead, it is roughly 8.2 miles up the Kolob Terrace Road from the town of Virgin. Mileage Driving time from Springdale is 45 minutes. The description of this trail can also be found in the book Zion: The Complete Guide.
Seasons
What is the best time to hike the Subway Zion? From late spring through fall, although spring runoff in April and May might make hiking much more difficult, even dangerous. So, ask at the Wilderness Desk in the Visitor Centre about current conditions. The best colors are during autumn, so we highly recommend October – November for the Subway hike. The trek is possible in winter too, but you need drysuit/wetsuit for it or other adequate icy water protection. So, check our gear recommendations below. The most important is your safety. First of all, check the weather, the flow rate, water level, and flash flood potential before you go.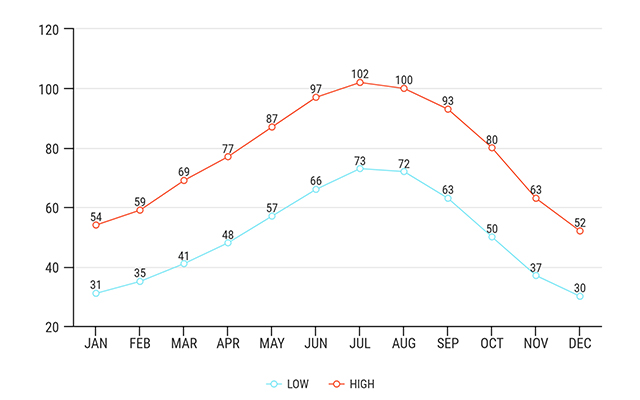 Average temperatures in Zion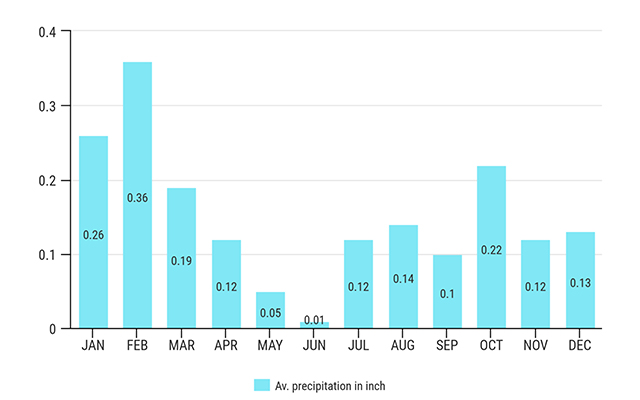 Average precipitation in inch
The Subway Zion Trail Features
The Subway is unique, like an underground tunnel rock formation. The trek offers spectacular views of Canyon through the river; it's breathtaking wilderness, one of the best in Zion National Park. Most of all, the hike provides plenty of opportunities for photography.
Options & Permits for Hiking The Subway
There are two ways to explore The Subway (the Left Fork of North Creek). Permits are obligatory to both of them. Both treks involve extensive route finding; there is no marked trail. The Subway is a one day hike only, overnight is prohibited, so the best idea is to start the Subway hike just after sunrise. Both trailheads are located on the Kolob Terrace Road.
From the Bottom Up
It is a strenuous 8-mile round-trip hike through the Left Fork of North Creek that requires route finding, creek crossing, and scrambling over boulders. This hike begins and ends at the Left Fork Trailhead on the Kolob Terrace Road.
In this article, we focus and share our experience on this hike because we made it twice.
From the Top Down
It is a strenuous, semi-technical 9.5-mile trek that requires rappelling skills, 60 feet of rope, and extensive route-finding experience. The route also requires swimming through several deep pools of icy debris-filled water. The trail begins at the Wildcat Canyon Trailhead and ends at the Left Fork Trailhead. We didn't make this trail, so if you need more info, you can check it on this canyoneering website.
Permit for The Subway – online application
Due to the popularity of the Subway hike, the NPS created an online lottery for reservations. You will find detailed information on the NPS website. The Advance Lottery does not run from November through March due to low demand on permits. The number of permits is limited to 80 people a day only.
The Advance Lottery: 3 months prior
Advance Lottery applications are completed online. Your entries have to be submitted three months before your planned trip. The non-refundable lottery application is $5.00. Applicants will receive notification email on the fifth day of the following month with information about the status of their request. You can apply here. You'll have to pick up the permit in the park the day before your hike, so plan it.
Advance Reservations: up to 3 months in advance
Occasionally, a few spaces remain after the Advance Lottery has been held. These spaces can be reserved through the Canyoneering Reservation System. You can apply for reservations after the lottery has run here.
The Last Minute Drawing: 7-2 days in advance
If no more Calendar Reservations are available, the Last Minute Drawing will become an option 7-2 days before your trip date. In the unlikely event that spaces remain after the Last Minute Drawing, walk-in permits become available the day before your trip date. So, you can apply for the Last Minute Drawing here on the NPS website.
PROTIP: November is a great month for the Subway hike. We made it in November, too. As we mentioned, The Advance Lottery does not run from November through March due to a low demand for permits, so consider this hike in November. But you still need a permit to do this hike from November. The weather is still good, water is cold, but the water level is lower, and the colors of fall are stunning. However, if you fail the Subway lottery, we recommend The Narrows hike Bottom-Up, which is also perfect, and you don't need the permit.
The Subway Zion Hike Detailed Description
Start of The Subway Zion Hike
Start your hike early, just after sunrise. Trailhead is located on Kolob Terrace Road outside of the Zion National Park limits. The Left Fork Trailhead is several hundred feet above the Left Fork of North Creek. From the parking lot, follow the around 0.5-mile well-maintained path as it heads northeast. It's the easiest part. After that, you will reach the cliffs. You have to go down tough and steep 400 feet without a marked trail. But the path is still visible. The descent is zigzagging down into the woods. Take great care to stay on the track as it descends steeply to the canyon floor. The trail is steep and loose. Take hiking poles and hiking boots with great traction.
At The Canyon Bottom
This way you get to the streambed of the Left Fork. First of all, take a look back at where you came down from. Watch carefully for all signs and remember exactly where the trail meets the water. On the way back, you will be tired, and it will be late. So, it might be challenging to recognize the place where you should start to climb up. Like many hikers, we passed the exit sign, too, and we lost the path. We didn't have a GPS back then. So, it was very hard climbing in the dark.
PROTIP: When you get down, remember this place carefully. Most of all, it's easy to miss it on the way back.
Mark this point on the GPS, it's great to take it on this hike. However, in the narrow parts of the slot, it will be losing signal very often.
After you make sure to orient yourself where you will start your exit, you can hike through the canyon. You have to cross the stream and turn left. It is an off-trail route, so there is no official trail. However, there are well-established social trials. So if you are careful and watchful, you will notice the path along the banks. Be prepared for the wet, because you will have to do some significant hiking in the stream itself. If you don't like being wet, consider if this trail is for you.
The Red Waterfalls
After two miles of hiking, the scenery starts to be stunning, but most of all, you have to watch out for your step; it's very slippery. There will be several cascades on your way, and you will get to 15-foot tall waterfalls. It's an excellent photography spot.
These cascades look like a grand staircase leading up to a mystery fairytale because the stream flows down slabs of dark red Kayenta sandstone. But most of all, take great care as the rocks are incredibly slippery. Travel becomes slower and more difficult. Agnes was focused on the photos and slipped on the rocks in the stream. She decided to protect her camera, so she sprained her finger. So check our packing list for this hike, to avoid an accident and prepare for an emergency. Fortunately, we had a first aid kit and extra dry clothes, so finally it was a hike with a happy end. Remember to pack properly, and don't forget your travel insurance. It is essential.
The Subway
You must hike up the slabs, then turn the corner. Upstream from the second waterfall, look for the narrow crack that most of the water flows through. The canyon makes a turn to the south (right), and you will see lower Subway, which is a short section of the canyon, where both walls come together very close, and a larger tubular oval has been cut out by the flowing water. It's a spectacular view. Looks like a railway tunnel, and you are wondering when the train enters the station? It is the perfect spot to take the Subway photos. Water in the pools has emerald color, light warm walls, and gives shining on the tunnel. Ponds and waterfalls are of marvelous beauty. But watch your steps here, the rock can be very slippery.
The lower Subway is the turnaround spot for this hike. However, you can go to the pools to what's known as the "waterfall room" to see a small 20-foot tall little waterfall. The water may be almost waist-deep, depends on the conditions, so be prepared to get wet.
Return from the Subway
After taking photos and eating lunch, it's time to go back. You come back the same way. But save energy for the strenuous hike uphill to get back to the car. Remember that the way is long, and you will be tired, so give yourself enough time to do this. The steep 400-foot ascent back up might be exhausting. Hiking poles will be handy. After the sunset, it's getting dark in the canyon immediately. The hike might be dangerous in the dark, so take a headlamp, and most of all, do not miss the exit point. With the GPS it will be easier.
PROTIP: if you like reading guides, we can recommend our favorite one: Zion: The Complete Guide. It describes all the trails in the park, including The Subway. It not only tells you all the things to see and do in the park- but it has tons of information on the ecology of the park, plants, animals, the history of the park. James Kaiser is an award-winning author and photographer whose work has appeared on the cover of National Geographic. Buy it here.
Zion: The Complete Guide: Zion National Park (Color Travel Guide)
From hiking Angels Landing to exploring The Narrows to biking through Zion Canyon, Zion National Park is filled with outdoor adventures. Zion: The Complete Guide puts the best of Utahs most popular national park at your fingertips, helping you make the most of your time in Zion.
The Subway Zion Gear Recommendations
Most noteworthy is to prepare for this hike. So, check our list of 13 essentials of any hike. But, in this trek, a lot of the time you will spend in the water. So, below you will find a list of the essential water equipment you need for the Subway hike, as best water shoes for hiking. However, we recommend this gear if you are hiking during Spring when the water level is high, and it's cold and during winter (from late November) when the water is icy. Certainly, you can rent this gear from the Zion Outfitter in Springdale. However, if you want to spend more than one day in the water, or you consider The Narrows hike or other slot canyons, where the water level might be higher, or you like water activities, it's worth having your own gear.
But if you are hiking during summer or fall, the water is warmer. In our opinion, for walking in the water hiking sandals with excellent traction and covered toe should be enough. Another option are water wetsuits boots that should be perfect, too. However, for the climb up and climb down, we recommend hiking boots. Because it's very steep and loses terrain, and water boots are not right and safe for it. Trekking poles will be of great help during this hike. It helps you to avoid slipping and falling in the water. Check our list of 13 essentials of any hike before you hit this trail!
| | |
| --- | --- |
| | Water hiking shoes are essential for this adventure if you are going during spring, when the water level is high, or winter when the water is cold. In our opinion, the best water shoes for hiking are Adidas Terrex Hydro Lace Boot. They have neoprene upper, which provides durable comfort and drains well to keep you light on your feet. Neoprene lining offers soft next-to-skin comfort. They offer good foot protection, good grip, and dry quickly. |
| | Neoprene water socks are must-have too for hiking in the water. And it's better to have your pair than rent it. They should be 4-5 mm if the water temperature is moderate, but if the water is cold, consider warmer, as 7 mm. |
| | Neoprene pants 3mm will protect your legs and keep you warm. Most of the time of this hike, water reaches your knee. We like this model because is unisex, and good quality for a reasonable price. But sometimes men prefer the classic pants model or neoprene bip pants, but they are expensive. |
| | This Neoprene Jacket Wetsuit Hoodie it's perfect because it keeps water out. It's warm and has a hood. If you like other water activities like sailing, fishing, surf, kayaking, it's something for you. |
| | We can't imagine this trek without hiking poles. Hiking poles supports you. They help with keeping your stability because the rocks are slippery, and many stream crossings have relatively strong currents. |
| | For a day hike, consider 35l waterproof backpack to stow your gear like maps, headlamp, food, extra clothes, and other items. |
| | Take warm thermal underwear and gloves and a hat, too. A fleece will keep you warm as direct sunlight is sparse. If you are hiking in the cold off-season, a wetsuit is essential. Bring extra warm socks, too. |
The Subway Zion Photography Hints & Gear
As we mentioned before, the best idea for the trek is late fall. The colors are stunning, and the stream level is safe for people and for your photo gear too. The best light and the most light in the Subway tube is around noon and early afternoon. So be in the Subway tunnel around 11 am to start your photos; it takes you around an hour or two to take pictures. Remember, you have a long way back. A tripod for this hike is essential. The canyon is dark, so your shutter speeds may be several seconds long. Furthermore, the water in your photos will look much more natural with a slow shutter speed.
Pack minimally for this hike. We suggest taking only one lens. So, take a wide-angle. With this lens, you will shoot great photos of the Subway.
The trick is that you need to use a longer exposure to make water stand still and look beautiful in the picture (please compare photographs from this article). To get this effect, it's best to use your Tv, S, or M mode (time pre-selection mode or full manual mode). In this mode, you will be able to set your shutter speed to 1/8s-2s. To find proper exposure settings, you will have to take a couple of pictures and observe the desired effect, then adjust your settings accordingly.
The table below lists the equipment we use and which we also used when hiking to the Subway Zion. We took all the pictures by this gear. Agnes uses Nikon and Chris is a fan of Canon; hence we described both of the brands we use.
| | |
| --- | --- |
| | Tripod for this hike is crucial. Canyon is dark, so your shutter speeds may be several seconds long. Furthermore, the water in your photos will look much more natural with a slow shutter speed. But, most of all, you need a reliable and heavy tripod. The stream current might be strong; during spring it is intense. As a result, water can snatch a weak and unstable tripod and destroy your camera. We use these model of Sirui for years, and it's a high quality, and reliable tripod. Our second choice, the cheaper ones, is this model used by Agnes. It is also fantastic. |
| | Take remote shutter release, too. A remote shutter release allows you to control the shutter through a remote control, which ensures you won't have to touch your camera. As a result, you will eliminate any unwanted blur on your subject. |
| | Chris uses Canon EOS R , it is very light and modern mirrorless camera. |
| | Agnes loves Nikon D750, it is light camera with excellent quality sensor and very ergonomic. |
| | So, in the case of Canon, we recommend EF 16-35mm f/4L IS USM or EF 16-35mm f/2.8L or cheaper 17-40mm f/4L EF Ultra Wide Angle. |
| | In Nikon system, it's good to have Nikon AF-S NIKKOR 14-24mm f/2.8G ED (which Agnes uses) or Nikon AF-S FX NIKKOR 16-35mm f/4G ED VR. |
| | Use the polarizer filter to reduce reflections on the water and other surfaces. Some filter may warm up your scene a little bit. It will help to produce that silky water effect. So, we recommend Circular polarizing filter, ND grad filters (minimum Lee soft edge 0.9, Lee reverse ND grad and a holder) and full ND (Lee Big Stopper or Little Stopper). |
| | Another important consideration is to keep your camera equipment dry. There is a common situation in water photography that your gear is getting wet. You can be prepared for such a situation by buying a waterproof camera or just so-called rain cover or raincoat to protect your camera and lens. |
| | Use a dry bag to protect your gear aggainst getting wet. |