Moqui Caverns near Kanab, Utah
Even if you are traveling from Kanab to Zion or Bryce, you might not be aware that you are passing exciting Moqui Caverns on your way. Maybe you will notice Moqui Caves (completely different things!), but we are almost sure you will skip incredible hidden Moqui Caverns. But having only 30 minutes, you can do the hike and visit those mysterious holes in the rocks near Kanab, Utah. Please read why we like it and how to find them.
This article may contain affiliate / compensated links. For full information, please see our disclaimer here.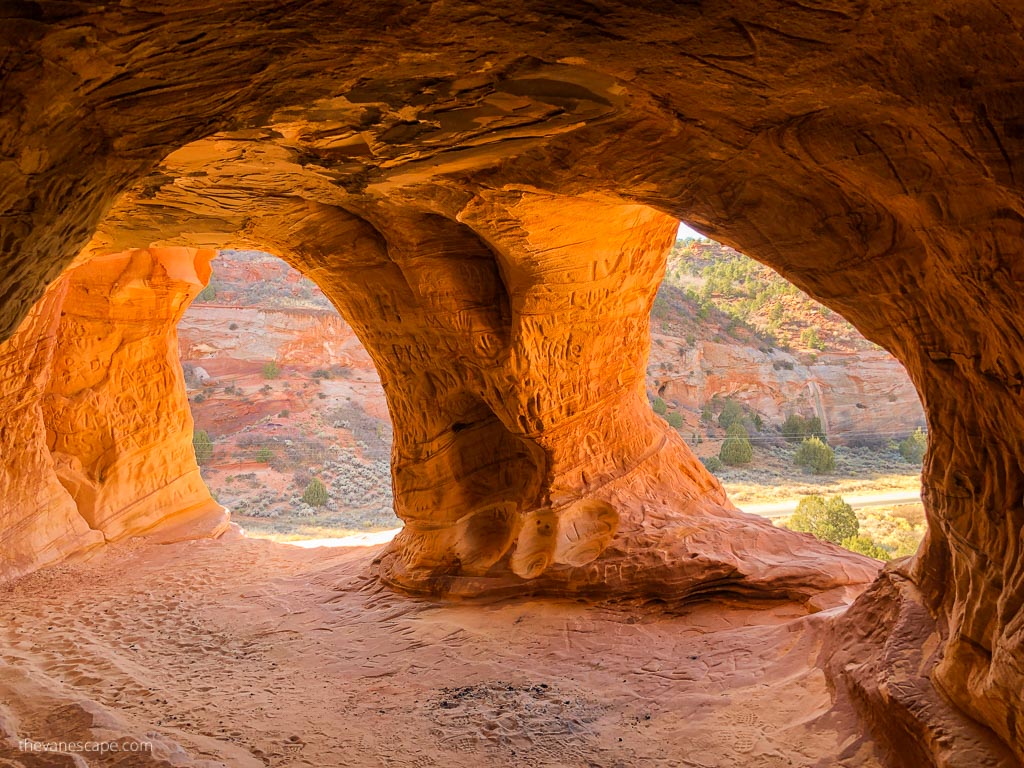 Moqui Caverns – Our Experiences
We often visit Kanab in Utah because Kanab offers many outdoor activities and is one of the most interesting cities in the Southwest. One of the most exciting things to do in Kanab is just a short hike to the Moqui Caverns, details of which are below. But this attraction is often confused with the Moqui Caves, a small museum just down the road in the area of this trail. This is a friendly attraction if you are visiting Kanab with children. But it's not this hike. When you see it, it means that you skip the trailhead to Moqui Caverns.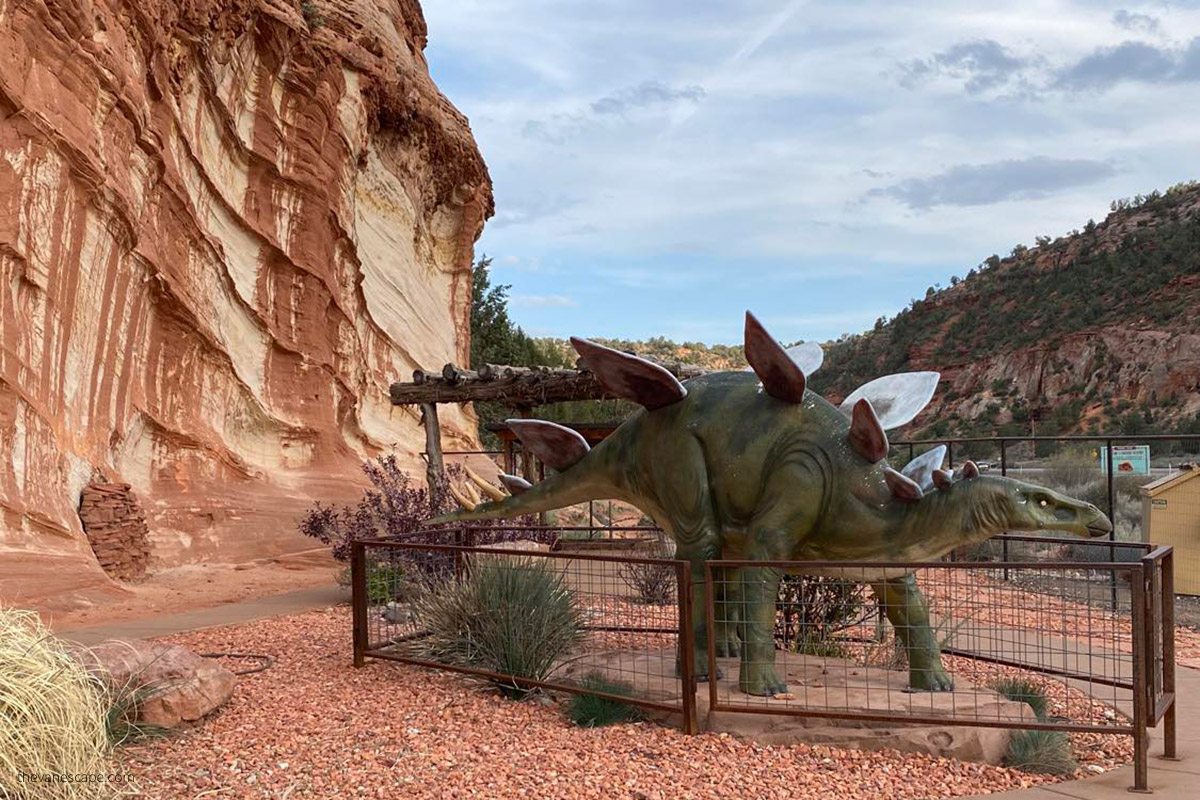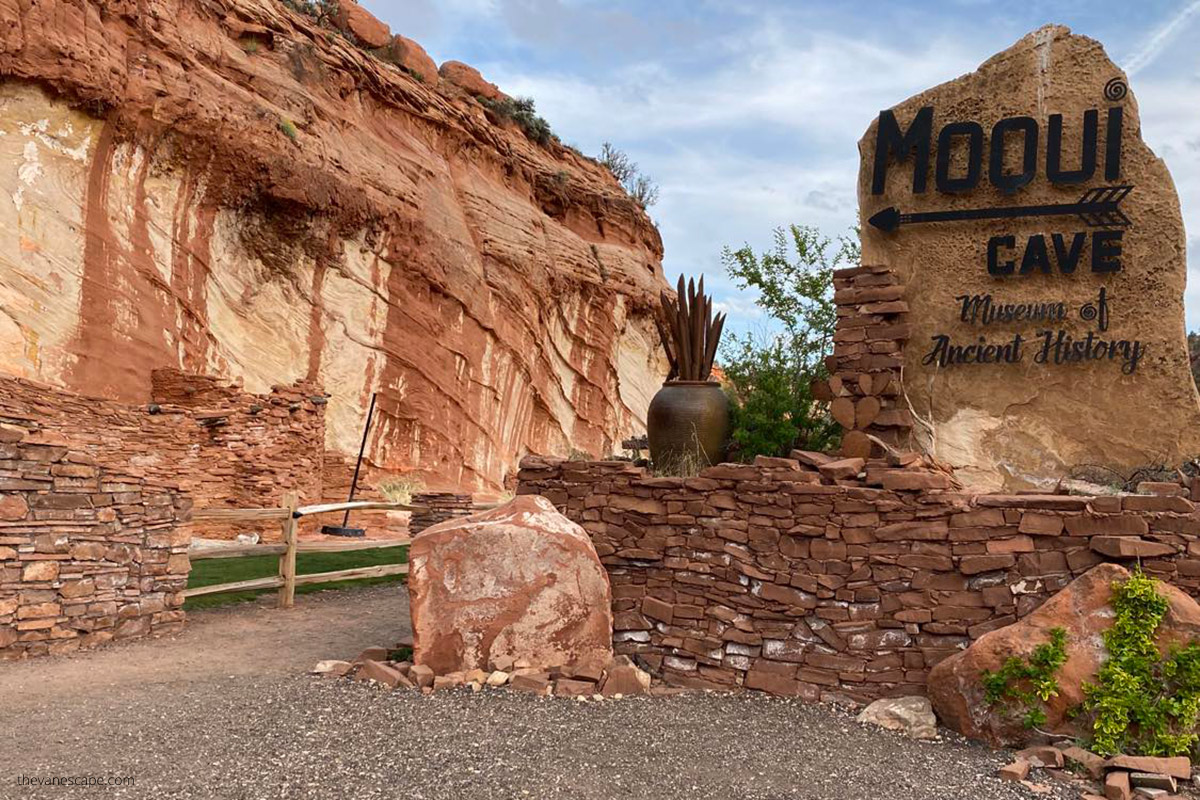 How to find Moqui Caverns in Kanab?
The Moqui Caverns are located about 5.7 miles north of Kanab, Utah. While you are driving U.S. 89 from Kanab to Mt Carmel Junction, you will pass signs for Best Friends Animal Society on your right. Just after that, about 1 mile ahead, you should spot small gravel parking on your left (before you will get to Moqui Caves on your right). Park there and leave your car. From the road, on the opposite side, will see big holes in the wall. It's impossible to miss them. Those are Moqui Caverns (sometimes called Sand Caves).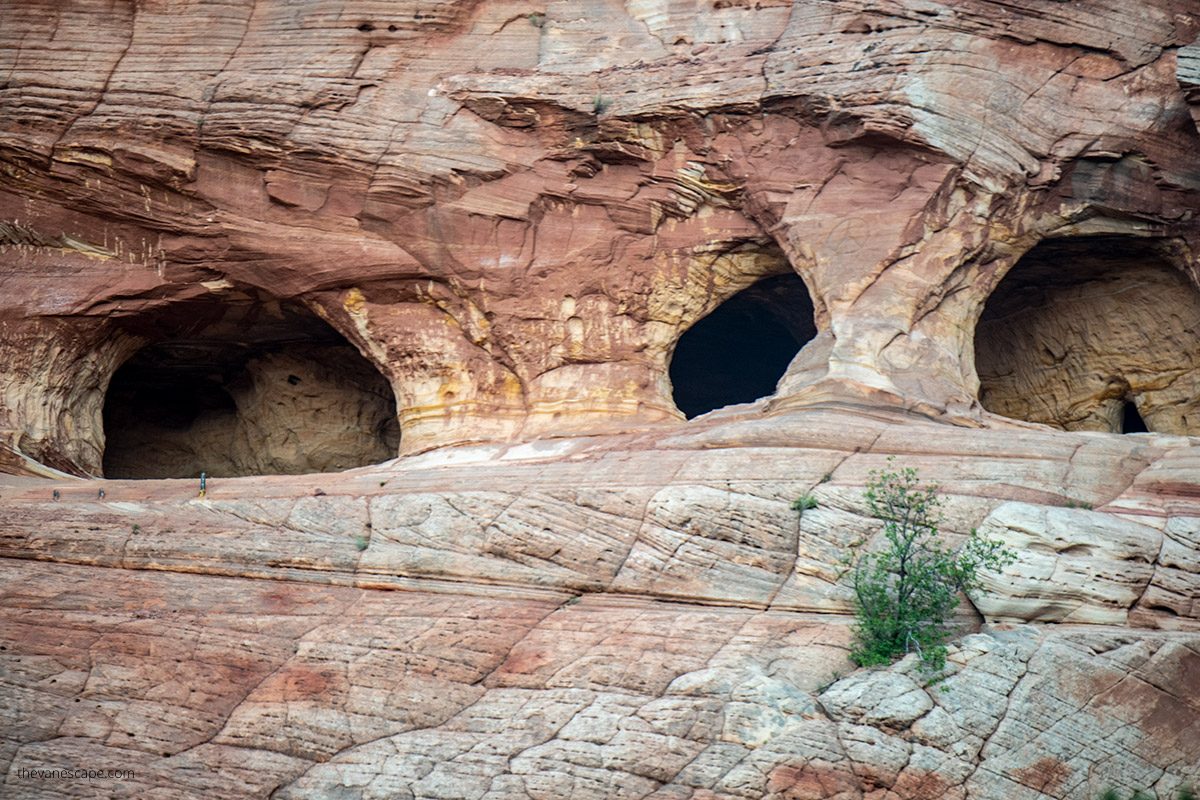 If you are driving from Mt Carmel Junction, please look carefully and notice Moqui Caves on your left, and after that, find the small gravel parking on your right and holes in the rock on the left.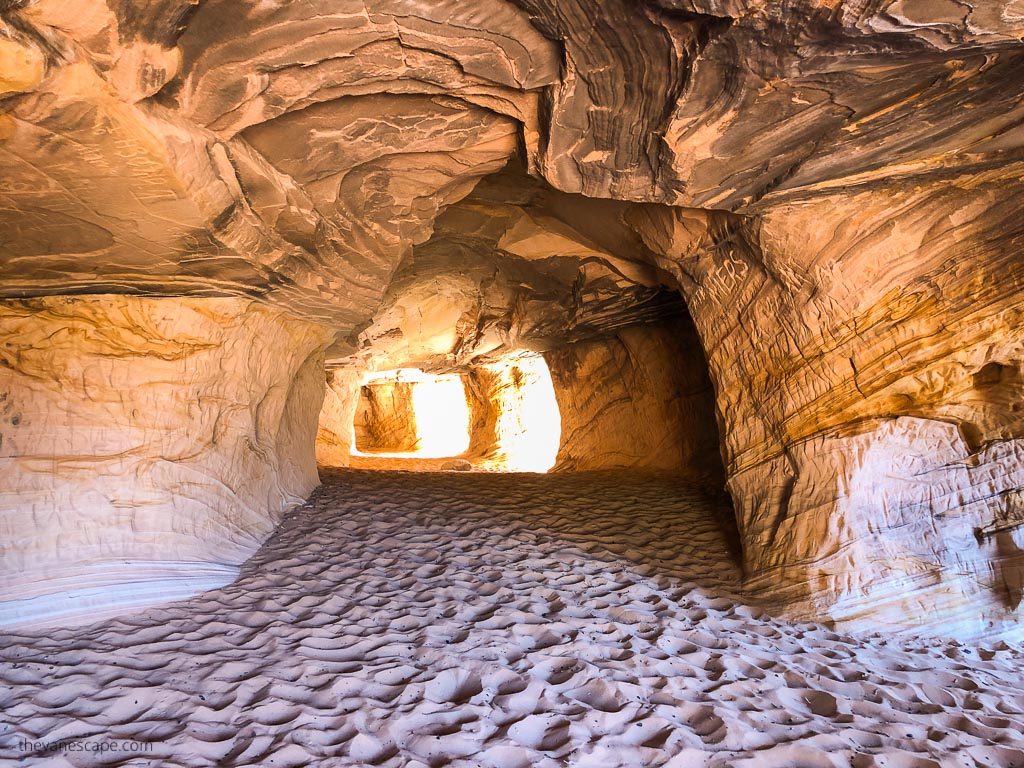 Hike to Moqui Caverns
The hike to Moqui Caverns is pretty straightforward and is about 1/4 miles long. But it would help if you were prepared to climb rocks typical for this area of Utah. So shoes or boots with excellent traction are recommended. It might be a little bit slippery on the sand. The trail is not marked, so you have to choose carefully and find the route that best fits your skills. It looks hard, but at least uphill, it is secure. Just head to the caves you will see on your right.
The hike downhill from Moqui Caverns might be a little bit more challenging, so be careful please and look for even rocks. The way on your left it's maybe a little longer, but more comfortable, so check it, please.
And when you reach the Moqui Caverns, please PLEASE do not add any carvings to the stone walls. We were very upset about the number of carvings damaging the caverns. So please don't do it!
Moqui Caverns is an easy hike, as easy as the nearby Dragon of the Belly hike in Kanab, Peekaboo Slot Canyon, or the Coral Pink Sand Dunes State Park in Kanab. Also easy (but strenuous to reach the trailhead) is a hike to the Great Chamber at Cutler Point. For more inspiration, check out our top things to do in the Kanab article to avoid missing out on the area's top attractions and trails.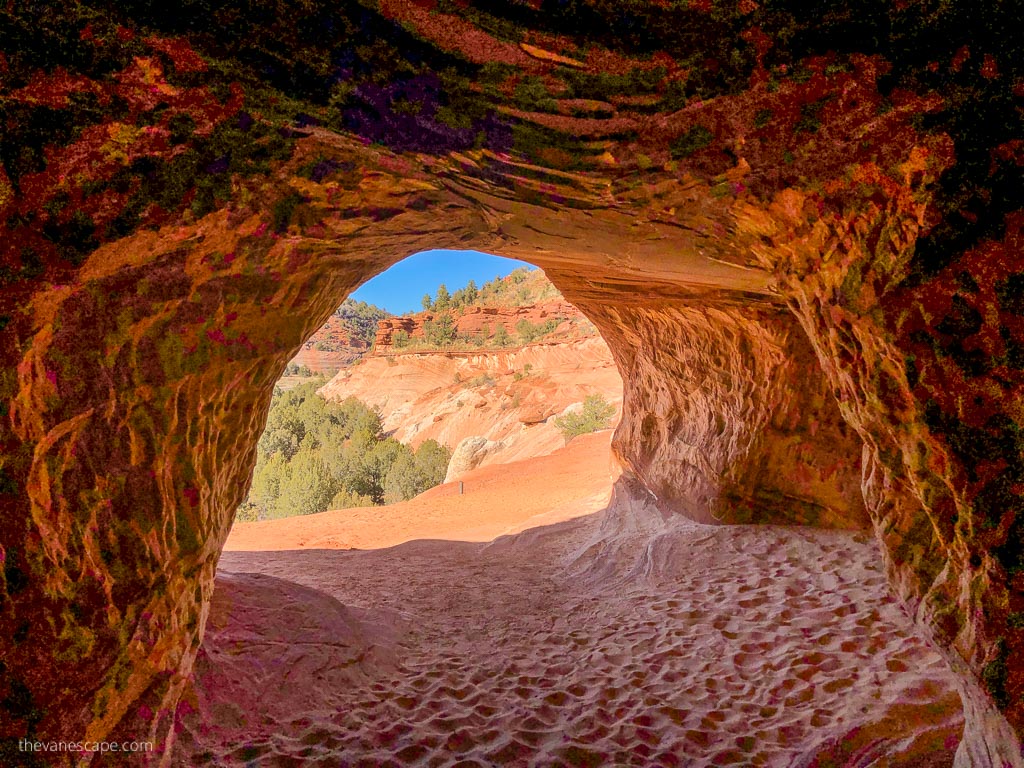 Moqui Caverns History
It's hard to believe, but humans created those Moqui Caverns. In the 1970s, they were used to harvest sand for glass production. It's still a lot of sand in those caves so that you can play with this, or maybe rather, your kids will be more than happy to play.
Photography Hints and Tips
Those Moqui Caverns are a great attraction for photographers. Most of the time, you will not meet crowds here. For sure off-season, you probably will be alone here. It means you can focus on great photos. The best time to visit cavers from the photographer's perspective is just 1-2 hours before sunset when the light reaches the deepest parts of the holes.
Tripod might be useful, but not necessary. Modern cameras with the ability to record good low-light quality pictures should be enough. But it might be a good idea to create HDR images (because the contrast between the light in the whole and shadow in the hollow will be very high). So if you would like to play with HDRs, we recommend taking a tripod with you.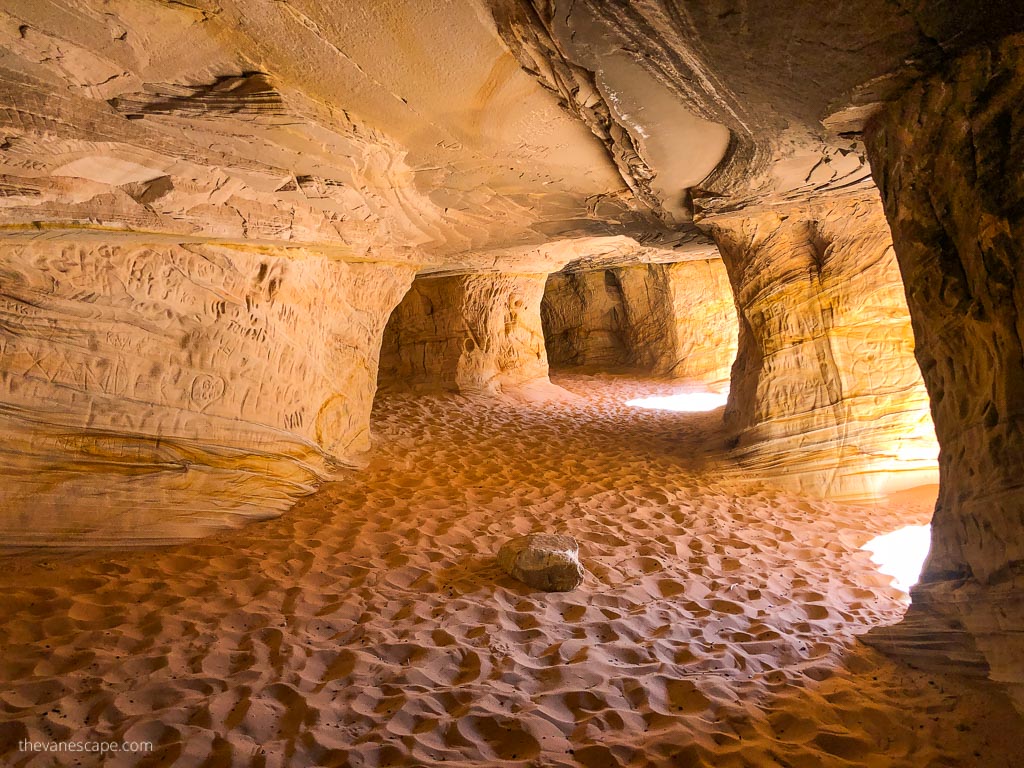 Moqui Caves Museum near Moqui Caverns
The more popular place near Moqui Caverns is Moqui Caves Museum. This is an entirely different place but frequently confused with Moqui Sand Caverns. The Moqui Caves is a natural history museum with Native American artifacts and a collection of dinosaur tracks.
If you like to see rocks, they have a vast collection of those including unique fluorescent rocks and minerals from around the world. They also have a fantastic selection of arrowheads, pots, jugs, bowls, and tools used by Native Americans in the area and other places.
It's worth noticing what means Moqui – it is the term used to name the Hopi tribe of Native Americans. They were inhabiting this region of Utah but also Arizona.
The museum is open during the summer season from 9 A.M. to 7 P.M. from Monday to Saturday. Even if you are driving an RV like us, you can easily find parking space in front. The entrance costs 6 USD per person.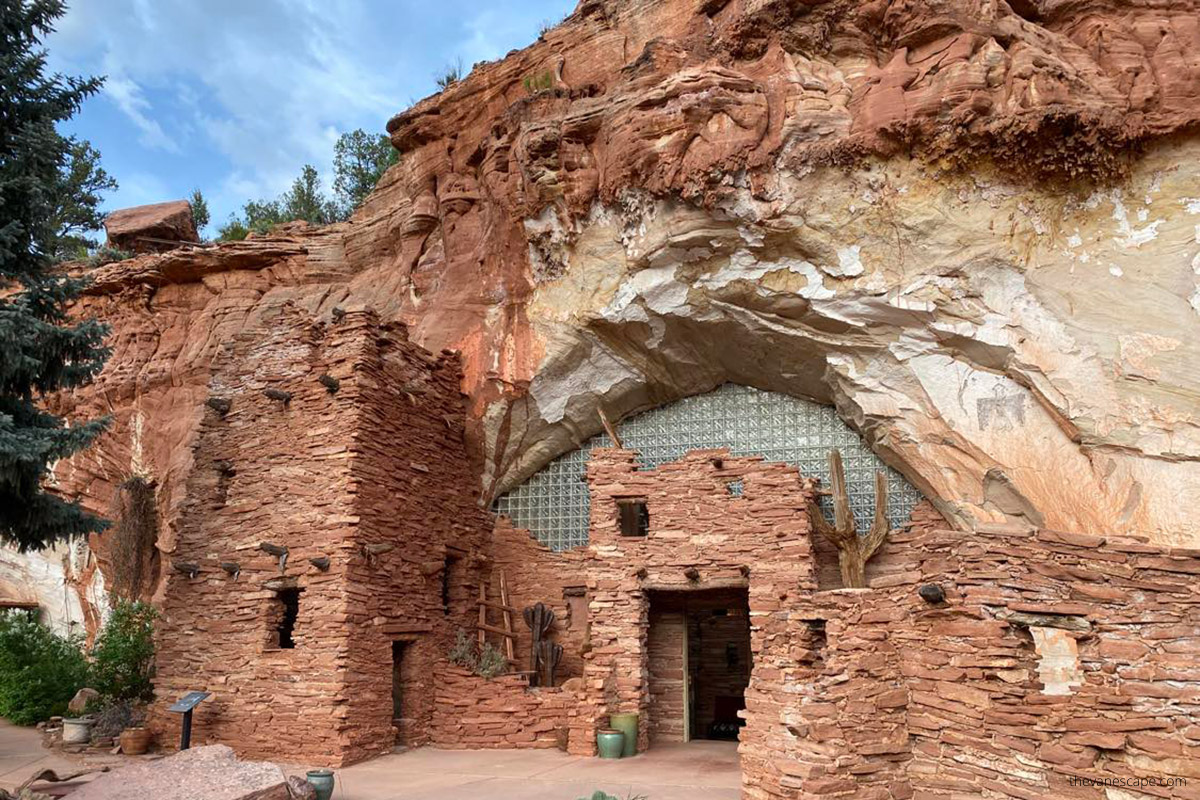 Where to stay while visiting Moqui Caverns?
Usually, you will visit Moqui Caves and Moqui Caverns on your way from Mt Carmel Junction to Kanab or in the other direction. But if you need to stay overnight, the best place is the charming town of Kanab, with some hotels and campgrounds.
Kanab is our favorite town in Utah. Also, it's only 10 minute driving to the Moqui Caves and Caverns. We like its atmosphere and hiking possibilities. We spent there a few weeks. Our lodging choice in Kanab is Best Western Red Hills, but we also like cheaper but clean and comfy Red Canyon Cabins. Book your stay in Kanab.
If you are traveling in RV, our favorite campground is Hitch-N-Post RV Park. They have fantastic staff and fast wi-fi.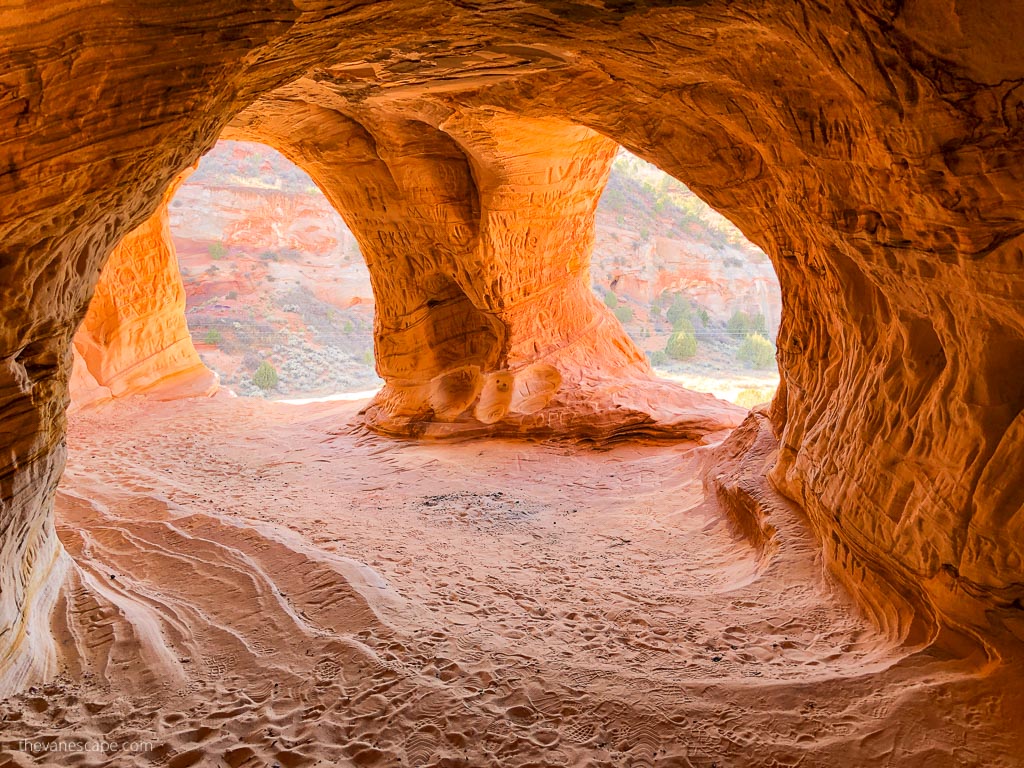 Where to eat near Moqui Caverns?
The best place to eat near Moqui Cave and Caverns is also Kanab, Utah. And we spent so much time in this charming town that we had our favorite places for lunch. Please don't take the risk. Use our recommendations!
Peekaboo Canyon Wood Fired Kitchen ($$) – This place is great for vegan and vegetarian. You can stop by for lunch, and they specialize in pizzas and portobello burgers.
The Rocking V Cafe ($$) – This is an affordable and bustling local restaurant. Good not only for lunch but mainly for breakfasts
Ironhorse ($$) – One of the most popular places in the town. They serve amazing steaks and burgers. If you are a beer fan, you will find something for you from their wide selection of drafts and crafts.
Sego Restaurant ($$$) – This place is a little bit more expensive, so we recommend it for dinner. The food is delicious and service perfect.
Want to refer to this post later? Save it to your Pinterest board!