The Narrows Zion Hiking Guide
The Narrows Zion Hiking Guide will help you prepare for one of the best hikes in Zion National Park and Utah's best hikes. Moreover, it is the essence of slot canyon hikes. For miles, you are in the cold water of the Virgin River, surrounded by steep rock walls. The walls are reddish and goldish. Sometimes the water reaches above the thighs. The water current is strong, and you are fighting with the element. It's a challenging and unique trek, making for a memorable experience. Specialized water hiking shoes, dry gear, and walking poles are essential for this trip. It's one of our favorite hikes. So in this article, we share our experiences to help you prepare for this amazing adventure. We give you a detailed The Narrows Hiking Guide.
This article may contain affiliate / compensated links. For full information, please see our disclaimer here.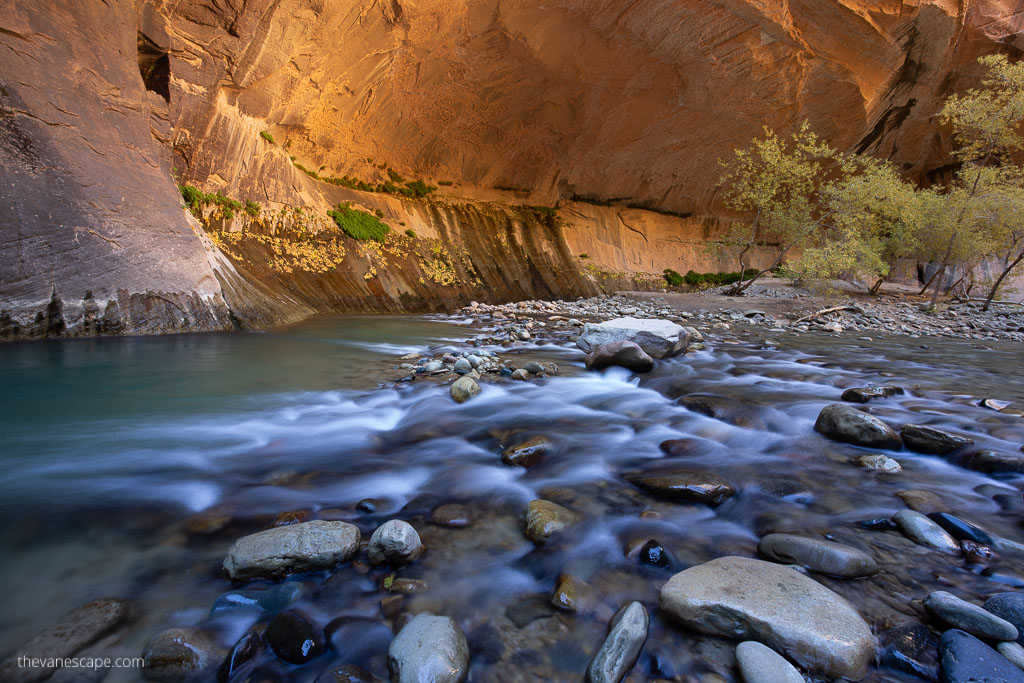 The Narrows Hiking Guide – Introduction
The Narrows hike is no ordinary trip. It is an outdoor dream adventure. Even if you climb mountains and you have hiking experience, this is an entirely different kind of experience. You hike in the water. It is a challenge to walk in a river for many miles. You test your limits. The Narrows hike requires special gear, equipment, and risk management skills. You check the weather, water level, flow rates, flash flood potential, and permits. There is no actual trail. So below you will find all the detailed information. Thanks to that advice and hints, we hope you will have a beautiful and unforgettable adventure and a safe hike. In this article, you can read descriptions of our other favorite hiking trails in Zion.
Narrows Hiking Guide – What is The Narrows?
The Narrows is the narrowest section of Zion Canyon, Utah. It is a 16-mile stretch where the North Fork of the Virgin River carved its way through rock, creating one long slot canyon. So, this gorge, with walls a thousand feet tall and the river sometimes just twenty to thirty feet wide, is one of the most popular areas in Zion National Park. Most of the Narrows is located in Zion National Park, but the first section begins on private property just northeast of the park if you hike from the top-down.
The Narrows refers to the 3.6-mile (5.8 km) bottom-up hike from the Temple of Sinawava to Big Springs and the 16-mile (26 km) top-down hike from Chamberlain's Ranch back to the Temple of Sinawava. Most noteworthy is to prepare for this hike. So, check our list of 13 essentials of any hike before you hit this trail.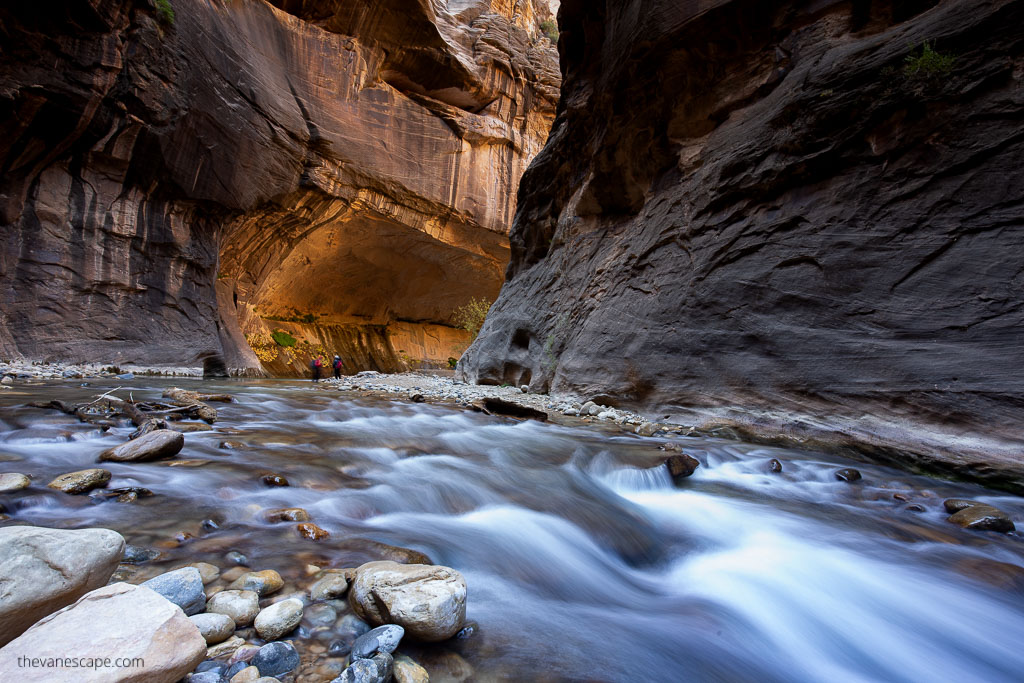 The Narrows Zion Hiking Guide – Options & Permits for Hiking The Narrows
There are 3 Options to Hike The Narrows
Bottom-Up Zion Narrows Day Hike
Bottom-Up Zion Narrows Day Hike – Hike in and out from the Temple of Sinawava via the Riverside Walk to Big Spring and back (10 miles round trip, but you can take a shorter hike). From the Bottom-Up – NO PERMIT REQUIRED
Top-Down Zion Narrows Day Hike
Top-Down Zion Narrows Day Hike (One Day) – Hike the entirety of the Canyon (16 miles) in one day from Chamberlain's Ranch.
From the Top-Down One Day Hike – PERMIT IS REQUIRED. It's a challenge for one day. The average amount of time to hike the Narrows from the top down is 10 to 14 hours. It's recommended only for experienced and strong hikers. The starting point is Chamberlain's Ranch, a 1.5-hour drive from Zion Canyon.
Top-Down Zion Narrows Backpacking Trip
Top-Down Zion Narrows Backpacking Trip (Overnight) – Hike the entirety of the Canyon (16 miles) in two days from Chamberlain's Ranch. You can stay in a tent at one of the 12 campsites along the river for a night. The starting point is Chamberlain's Ranch, a 1.5-hour drive from Zion Canyon.
From the Top-Down Overnight Hike – PERMIT IS REQUIRED.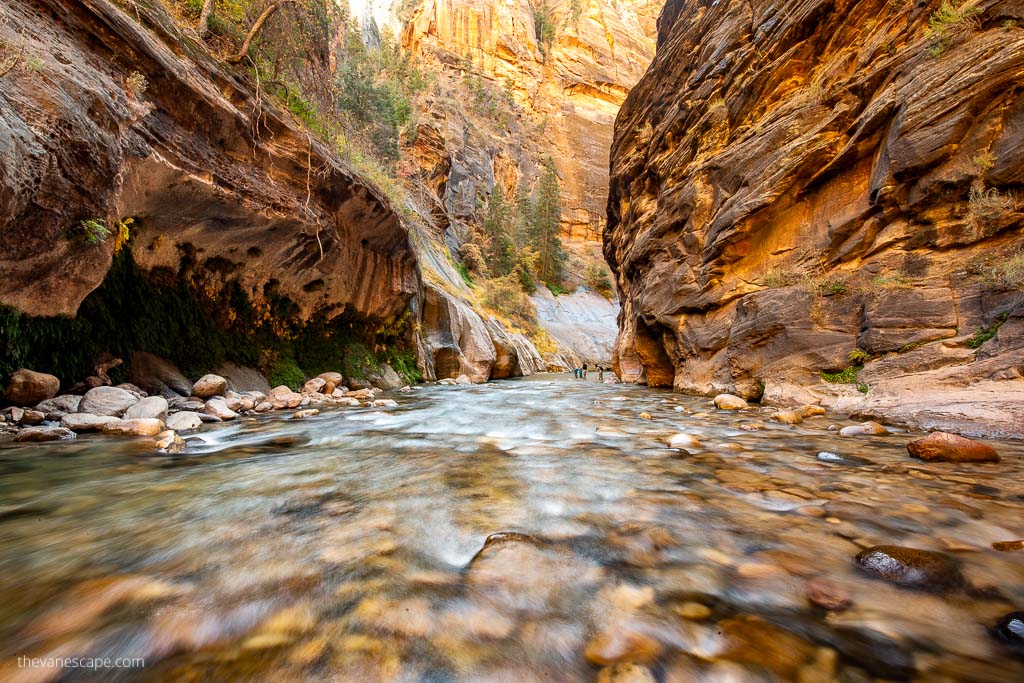 The Narrows Hiking Guide – Bottom-Up Hike From the Temple of Sinawava – No Permit Required
First of all, The Narrows hike upstream as far as Big Spring does not require a permit. You start this hike from the Temple of Sinawava (the last stop of the shuttle bus – number 9). It's amazing adventure, but check out our tips to prepare for it.
This hike allows you to see some of the canyon's most spectacular and narrowest parts. The narrowest section is Wall Street, where 18 million years of river erosion has cut 1500-foot walls into the earth. The views are stunning. And below we give you detailed description of this hike.
So you have two options for Bottom-Up Narrows Hike:
you can hike in the river for an hour or two and have a great experience, or
you can hike as far as Big Spring, which is a strenuous, ten-mile round trip, all-day adventure.
The Narrows Hike – Top – Down Hike from Chamberlain's Ranch – Permit Required
This sixteen miles (yes, 16 miles) downstream hike can take one or two days, but it's required a permit. So you must get a permit by way of the lottery and arrange transportation for the one-and-a-half-hour ride to start the hike outside the park at Chamberlain's Ranch.
Hiking The Narrows from the top-down, either in one day or two days, requires a Wilderness Permit.
How to Get a Permit for the Narrows Hike (Top-Down)?
Over half of the Narrows permits are available using a calendar reservation system. Reservations are available online during a three-month time frame. On the fifth day of every month at 10:00 am MT, reservations for the next month become available. If they are still available, they can be made until 5:00 pm MT on the day before your trip. So, it's a kind of lottery. Permits are very popular, so you only have a few minutes after 10 am MT to make reservations.
PROTIP: Remember and mark the date and the time on your calendar and be ready to make your booking quickly, right at 10 am MT, especially if you plan to hike The Narrows in peak season from May to September.
Here are the dates to make your reservation:
January 5 – for a hike in March
February 5 -for a hike in April
March 5 – for a hike in May
April 5 – for a hike in June
May 5 – for a hike in July
June 5 – for a hike in August
July 5 – for a hike in September
August 5 – for a hike in October
September 5 – for a hike in November
October 5 – for a hike in December
November 5 – for a hike in January
December 5 – for a hike in February
Permit for Top-Down Narrows Day Hike
If you want to make a reservation for The Narrows day hike from top to bottom, visit the NPS website. During the winter months, permits for the one-day top-down hike are not possible to get because there is not enough daylight to complete the hike safely.
Permit for Top-Down Narrows Overnight Hike
To make a reservation for The Narrows overnight hike from top to bottom, visit this part of the NPS website, and secure your online wilderness permit reservations. A permit is necessary, and you reserve your campsite when you reserve your permit. It's only 12 permits per night, so book it in advance.
Last Minute Drawing
Last Minute Drawing: 7 to 2 days in advance
If there are no advanced reservations for the one day available, the Last Minute Drawing will become an option 7 to 2 days before your trip date. If spaces remain after the Last Minute Drawing, walk-in permits become available the day before your trip date.
You can apply for the Last Minute Drawing for the day hike from top to bottom on the NPS website.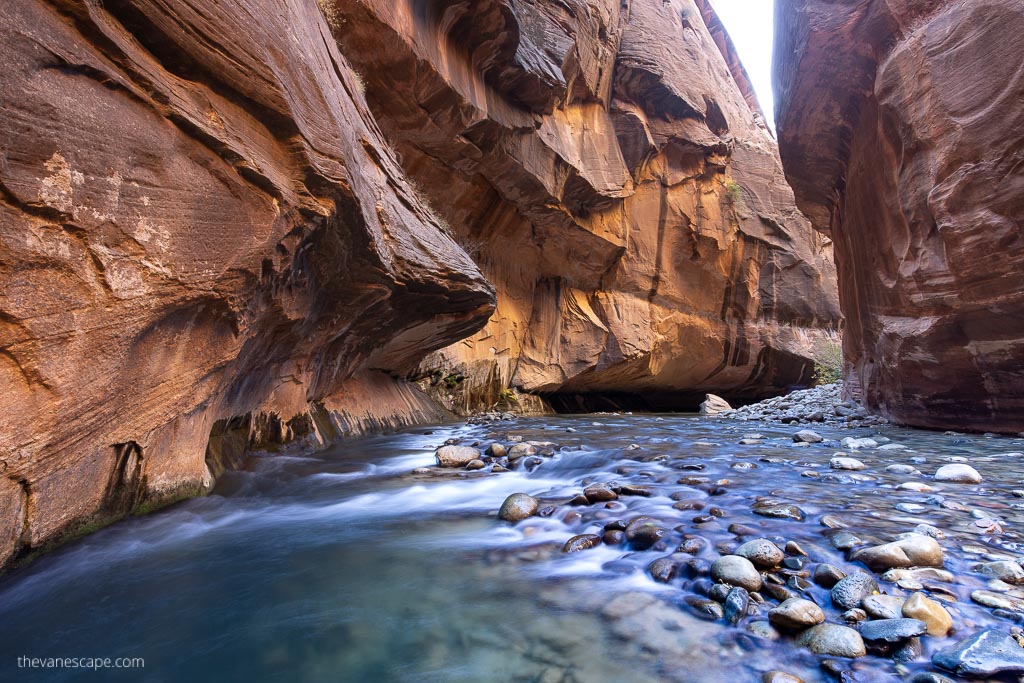 Where is the Best Time to Hike The Narrows Zion
The Narrows hiking Guide – Weather
Please check average temperatures and rainfall levels in Zion National Park.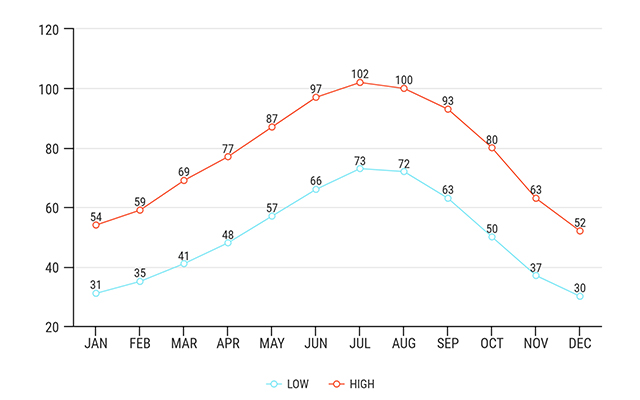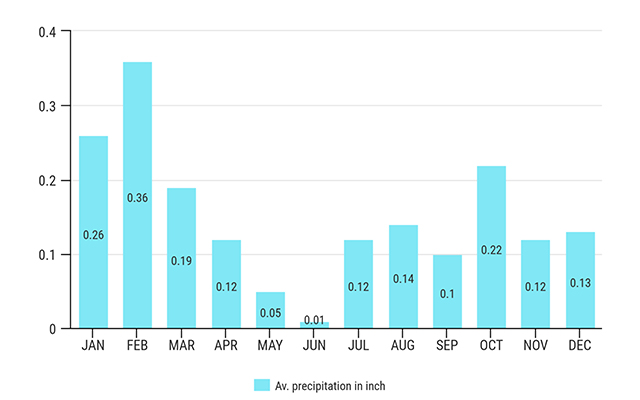 The Narrows Hiking Guide – Water Level & Flash Flood Potential
The most important during this hike is your safety. First, check the weather before you go and check the flow rate, water level, and flash flood potential of the Virgin River. The best idea is to ask about the current condition in the Visitor Center Wilderness Desk. Hiking is prohibited when the river is high from runoff or flash flooding. Runoff mostly occurs in April and early May. Early Spring yields higher water due to snowmelt. In summer is also a possibility of flash flooding. Above all, remember that the water level can change without warning. A rainstorm can quickly turn into a deadly wall of rushing water.
The Narrows Hiking Guide – Water Flow
Most noteworthy is that the difficulty of hiking the Zion Narrows is greatly affected by water flow. The flow rate of the Virgin River is metered, and at specific flow rates, your experience will vary, and at some flow rates, the river might be closed by the Park Service. At flows of 150 CFS (cubic feet per second) and lower, the river is accessible to Bottom-Up hikers. At flows of 120 CFS and lower, the Top-Down Narrows is considered safe to hike. Due to, flow below 50 CFS indicates relatively easy hiking conditions while flow above 100 CFS can be very difficult. To check the current flow rate, visit the National Water Information System website.

PROTIP: Always check the day's weather and flash flood potential at the Wilderness Desk in the Visitor Center before any hike in a slot canyon. Do not do this hike if the forecast calls for rain.
The Narrows Hiking Guide – Water Temperature of the Virgin River
January, February, and March average water temperature of the Virgin River in Zion is 40-45 °F.
April – 45-50 °F
May – 50-55 °F
June – 55-60 °F
July, August – 60-65 °F
September – 55-60 °F
October – 50-55 °F
November – 45-50 °F
December – 40-45 °F.
So the Virgin River stays cool to cold year-round. The most important is to get the right gear for cold, wet conditions. So a wetsuit or drysuit is essential. Below you will find our recommendation. Be prepared for the cold, even during summer because there is a lot of shade in the canyon.
The hiking season for the Narrows in Zion National Park
The best hiking season for the Zion Narrows is typically late summer and autumn, from June through October/November. But in our opinion, the best season for visiting Zion National Park, Utah, is late fall because autumn colors are breathtaking, and the water level is lower. Remember that The Zion Narrows is typically closed to hiking between mid-March and late May. Walking might be challenging several days after flash floods or thunderstorms, too, because it's difficult to see rocks under the water's surface.
The best time to start this hike is early morning because it is a long and tough hike, especially when the water level is high. So it's a great idea to rest before it and stay overnight close to the Zion National Park Entrance, f.e. in Springdale, Virgin, or Kanab (in the article about best attractions in the Kanab area, you will also find some hotel recommendations). If you are looking for a camping or hotel lodging recommendation, check our article Things to do in Zion National Park.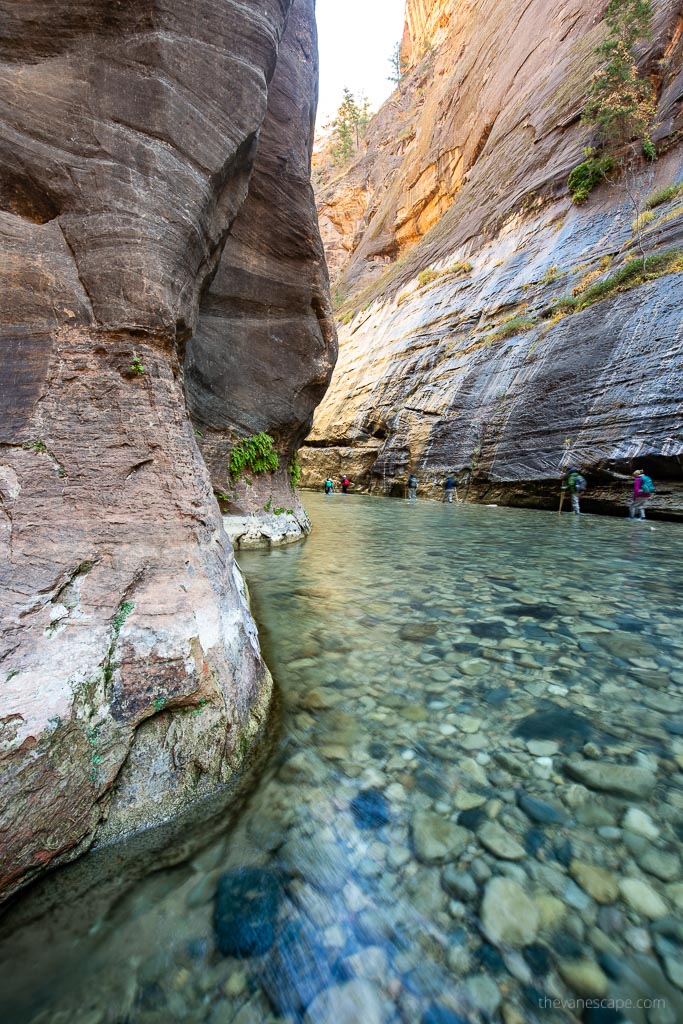 Bottom-Up Zion Narrows Day Hike – Detailed Info
Level Difficulty: moderate to strenuous, depending on water level and hike lengths round-way
Hiking Distance: Maximum 10 miles round trip to Big Springs, 1-6 hours (depending on hike lengths)
Trailhead Location: Temple of Sinawava, the last stop on the free Zion Canyon shuttle
Trailhead for Bottom-Up Narrows Hike
The starting point is the Temple of Sinawava. First of all, you'll need to ride the shuttle bus into Zion Canyon, to Temple of Sinawava (stop number 9), and that takes about 45 minutes. Then you have to take The Riverside Walk. It is an easy path, about 1 mile long leading you to The Narrows hike.
Bottom-Up Narrows Hike
It is usually only 2-3 hours from the parking lot into the section of The Narrows known as Wall Street, where towering walls are 1500 tall, and the river is merely 22 feet wide. Most of the hikers travel 3-4 miles up the canyon and then 3-4 miles back. To see Wall Street, hikers must travel a minimum of 6 miles round-trip, 4 miles of which are in and along the Virgin River and the 2-mile round-trip of the paved Riverside Walk.
Distance of Bottom-Up Narrows Hike
Bottom-Up hikers are only permitted to hike as far north as Big Springs, which is 10 miles round trip. But if you have limited time, in our opinion, hiking around 1-2 hours one way lets you see the beauty and majesty of the slot canyon. There is no marked trail. So pay careful attention to landmarks.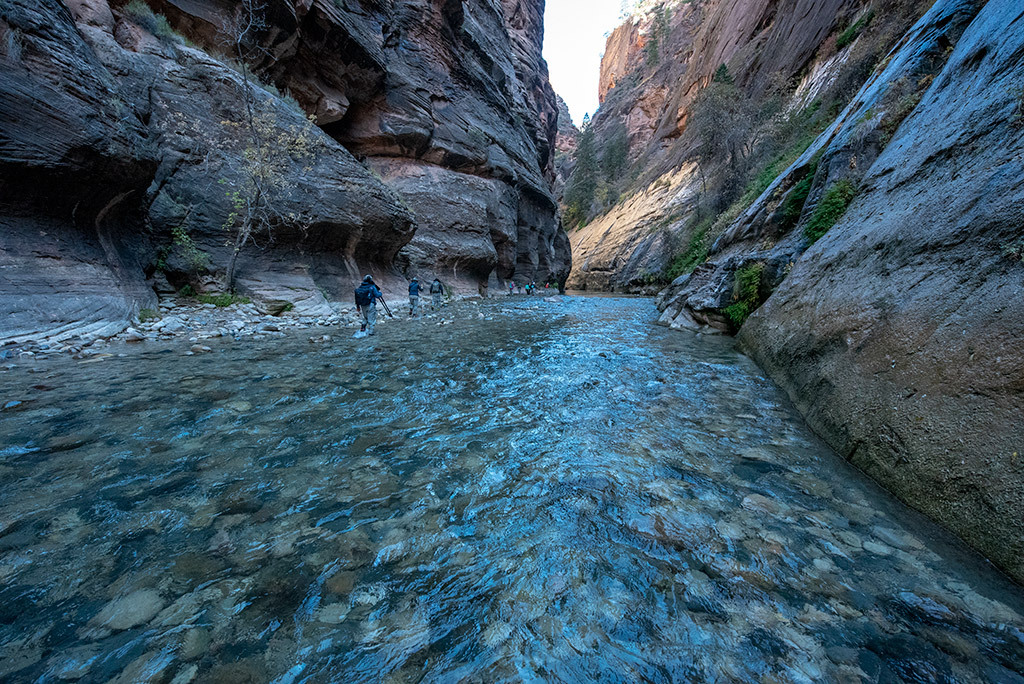 Top-Down Zion Narrows Hike – Detailed Info
Level Difficulty: strenuous
Hiking Distance: 16 miles from Chamberlain's Ranch, 10 – 14 hours / 2 days with an overnight permit.
Trailhead Location: The starting point is Chamberlain's Ranch, a 1.5-hour drive from Zion Canyon. You'll need to shuttle to the trailhead, located along the North Fork Road, on private property on the east edge of Zion Park ((37.385, -112.839)
Basic Info
First of all, you should know that access to this Top-Down Narrows Hike depends upon water levels, and it's challenging to predict it. If you want to do this backpacking experience, book the permit in advance because it's limited – 12 overnight permits to 12 persons per day.
The water source on this hike is Big Spring, which flows out of the canyon wall about ten feet off the ground. It is located just downstream from campsite 12 and is the turnaround point for hikers coming from the bottom up.
Deep Creek is an excellent spot for a more extended break during the hike, which is 5 miles into your hike, The Upper Narrows.
The most important is to pack appropriately. Remember, that night might be chilly. So, check our gear recommendations for this hike. During the second day of the hike, you will admire the lower section of The Narrows. This part is more popular because hikers from the bottom-up visit it.
Directions to Chamberlain's Ranch
First of all, remember that Chamberlain's Ranch is a private ranch outside Zion National Park, so respect private property. It is a 1.5-hour drive from Zion Canyon. From the park's East Entrance, drive 2.5 miles east on Route 9. Turn left on a paved road and continue 18 miles to a bridge that crosses the North Fork of the Virgin River. Turn left beyond the bridge and drive a three-quarters mile to the trailhead at Chamberlain's Ranch. There is a small parking. To start your hike, cross the river and follow the road for approximately 3 miles. Finally, enter the river at the end of the way, just past the old cabin.
Hike Description
Above all, the 16-miles hike as a one-day event is the most strenuous option, only for hikers in strong condition. For this reason, that walking in water is very difficult. The one-day hike takes 10 -14 hours, so a better option is to take an overnight permit, and split the hike into two parts. But you need the extra weight of overnight gear for this experience. You can spend one night under of stars in the canyon in one of 12 designated sites. So, the best idea is to plan on hiking for 6-8 hours each day with enough time to check out Deep and Kolob Creeks on day one and Orderville Gulch on the second day.
Orderville Gulch is a prominent side canyon about 2.5 miles into the canyon. Furthermore, Orderville is a semi-technical slot canyon that requires short rappels, serious scrambling, and much wading.
Zion: The Complete Guide: Zion National Park (Color Travel Guide)
From hiking Angels Landing to exploring The Narrows to biking through Zion Canyon, Zion National Park is filled with outdoor adventures. Zion: The Complete Guide puts the best of Utahs most popular national park at your fingertips, helping you make the most of your time in Zion.
The Narrows Hiking Guide – Description Mile by Mile
So, the first 3 miles from Chamberlain's Ranch are fast and easy on a gravel road.
Between miles 3 – 9, you hike the top section of the Narrows. You should head west from Chamberlain's Ranch until you meet the confluence of Deep Creek. The last mile of this section is really narrow.
Between miles 9 – 11, you should head south toward the heart of Zion National Park. You will find the campsites along the river's edge in this section of the Narrows hike.
Between miles 11 – 13.5 is a spectacular section of the Narrows hike; when around mile 11, you will pass Big Springs. It is the place where you will meet at bottom-up hikers. But the most important is that the water gets more in-depth, and your hiking speeds might slow down here. It is Wall Street, the iconic section of the Narrows hike.
Miles 13.5 – 15. At mile 13.5, Orderville Canyon joins the Narrows. The canyon is more extensive in this part.
Between miles 15 – 16, your adventure is ending, and you easily reach the paved Riverside Walk to get to the Temple of Sinawava and the Zion Shuttle.
PROTIP: if you like reading guides, we can recommend our favorite one: Zion: The Complete Guide. It describes all the trails in the park. It not only tells you all the things to see and do in the park- but it has tons of information on the park's ecology, plants, animals, and the history of the park. James Kaiser is an award-winning author and photographer whose work has appeared on the cover of National Geographic. Buy it here.
Where to stay before the Narrows hike?
The best idea is to stay in Springdale because it is a prime location. Here you can also easily rent the necessary equipment for hiking in the river. However, there is also a wide range of accommodation in the surrounding towns like Verin and Kanab. Check the Deals Finder below to find the best deals. And see our Things to Do in Zion article for more lodging recommendations.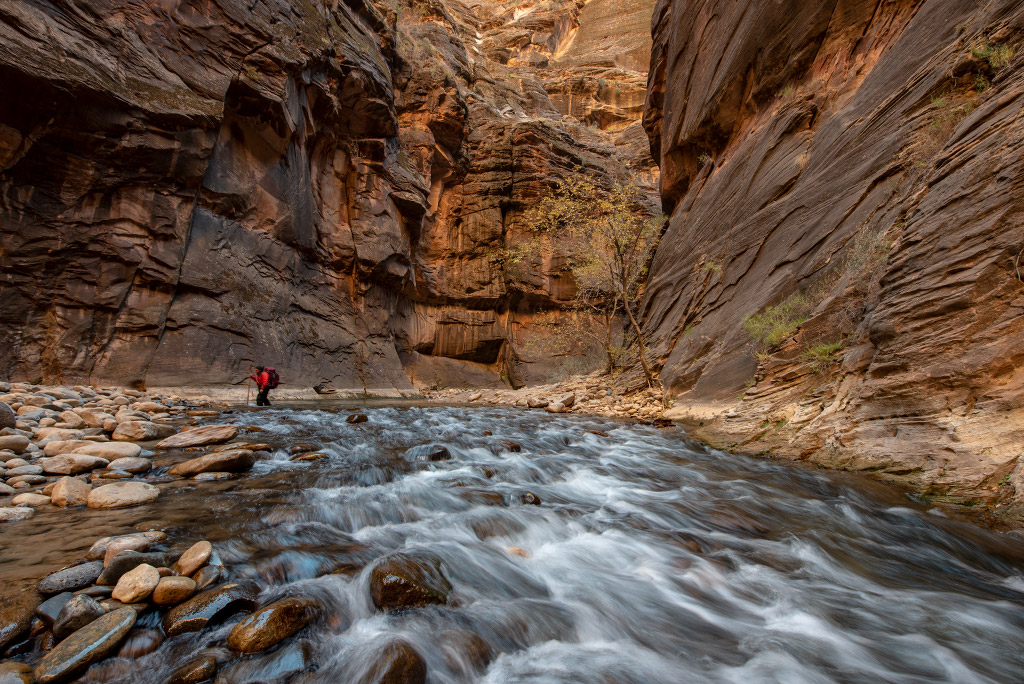 The Narrows Hiking Guide – Equipment Recommendations
Most noteworthy is to prepare for this hike. So, check our list of 13 essentials of any hike. But this experience is unique because most of the time you spend in the water. So, you find below a list of the essential water equipment you will need for the Narrows hike, as best water shoes for hiking, and more. Certainly, you can rent this gear in the Zion Outfitter in Springdale. The basic set costs around $45-55 per day. However, if you want to spend more than one day in the water, or you consider The Subway hike or other slot canyons where is water, or you like water sports and activities, like kayaking, or sailing, it's worth having your gear. While most of the Narrows hike is knee to waist deep, there are a few deeper sections. So, be ready for it.
Water hiking shoes are essential for this adventure. In our opinion, the best water shoes for hiking are Adidas Terrex Hydro Lace Boot. They have neoprene upper, which provides durable comfort and drains well to keep you light on your feet. Neoprene lining offers soft next-to-skin comfort. They offer good foot protection, good grip, and dry quickly.
Neoprene water socks are must-have too for hiking in the water. And it's better to have your pair than rent it. They should be 4-5 mm if the water temperature is moderate, but if the water is cold, consider warmer, as 7 mm.
Neoprene pants 3mm will protect your legs and keep you warm. Most of the time of this hike, water reaches your knee and even higher over tights. We like this model because is unisex, and good quality for a reasonable price. But sometimes men prefer the classic pants model or neoprene bip pants, but they are expensive.
This Neoprene Jacket Wetsuit Hoodie it's perfect because it keeps water out. It's warm and has a hood. If you like other water activities like sailing, fishing, surf, kayaking, it's something for you.
We can't imagine this march without hiking poles. If you rent the gear, you get one wooden stick. For us much better are hiking poles which support you much better. They help with keeping your stability because the rocks are slippery, and many river crossings have relatively strong currents.
If you are going for a day hike, consider 35l waterproof backpack to stow your gear like maps, headlamp, GPS, food, extra clothes, and other items.
But if you are going overnight, take a bigger one, as 55l backpack to pack your camping gear like a sleeping bag, sleeping pad, stove, etc.
Take warm thermal underwear and gloves and a hat, too. A fleece will keep you warm as direct sunlight is sparse. If you are hiking in the cold off-season, a wetsuit is essential. Bring extra warm socks, too.
Lightweight tent is essential if you stay overnight in The Narrows. It's important to have a solid backpacking tent. But should be light and easy to put up. We have 2 person tent, which offers a good amount of space and it's warm inside.
Lightweight sleeping bag. Light or ultralight sleeping bag is a must-have. But most of all it has to be warm even during summer. Above all, it keeps you healthy. Sleeping bag keeps you comfortable, especially in the morning. It's essential to be warm enough for you; otherwise, camping will stop being a pleasure. Our choice is Mummy Sleeping Bag.
Light Thermarest sleeping pad. Insulation is important. Sleeping pad gives you cushion and padding while you are sleeping, so don't forget mattress with you for camping. Our choice is Thermarest Sleeping Pad, which is light, solid type, and we enjoy our nights in a tent with this stuff.
Travel stove or travel stove set is essential after long hike in cold water. We use ultralight backpacking travel stove to prepare our hot meals while camping. Agnes will not get up without a cup of hot coffee, so for us, it is must-have. And don't forget coffee, matches, ultralight camping spork, coffee mug and food. Take a snacks like beef jerky and protein bar.
The Narrows Zion Hiking Guide -Photo Hints
The dramatic patterns in the sandstone cliffs of Zion Canyons are some of the most beautiful landscapes in the U.S., for us, the Zion National Park is one of the best national parks in the U.S., and it is a paradise for photographers. Most of all, the Narrows hike is in a class of its own; it's an icon of slot canyons. So, if you like water photography, you should go to this hike.
As we mentioned before, the best idea for the trek is fall. The colors are stunning, and the river level is safe for people and for photo gear too. Check our list above the water equipment and our list for a one-day hike to prepare well for the Narrows hike. Don't worry, there are a lot of islands and riverbanks along the way, which makes it easy to take photos and take a breath during the hike. Finally, the Narrows hike might be tough and cold, but it is entirely worth the effort – you will be back with great photos and memories.
Shoot from noon to early afternoon
The walls are high, so it's dark in the canyon. The best light and the most light is around noon and early afternoon. After 3. p.m. is getting darker again. It's the best time because the sun is high in the sky and lighting up the orange and yellow walls of the canyon. You should start your hike early in the morning. Furthermore, you should start your hike early in the morning to avoid crowds, especially in peak season.
PROTIP: The best light for photography is around noon when the sun is in the highest position, between 11am – 3pm.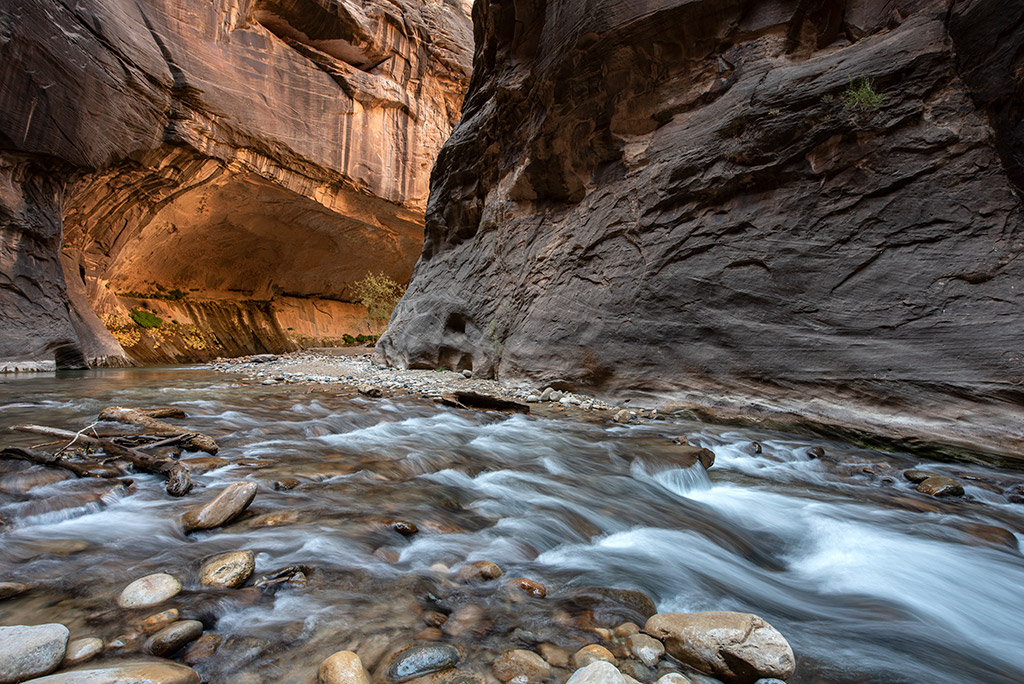 The Narrows Hiking Guide – Tripod is must-have
Well, a tripod for this hike is essential. Narrows are dark, so your shutter speeds may be several seconds long. Furthermore, the water in your photos will look much more natural with a slow shutter speed. But, most of all, you need a reliable and heavy tripod. The river current is strong; in places, it is intense. As a result, water can snatch a weak and unstable tripod and destroy your camera. We use this model of Sirui for years, and it's a high-quality and reliable tripod. Our second choice, the cheaper one, is this model used by Agnes. It was also fantastic in the deep water of the Virgin River.
Take remote shutter release, too. A remote shutter release allows you to control the shutter through remote control, which ensures you won't have to touch your camera. As a result, you will eliminate any unwanted blur on your subject.
Take wide angle lens
Pack minimally for this hike. Moreover, we suggest taking only one lens. So, take a wide-angle. For us, it's essential for the Narrows, and if you take wide-angle you will shoot great photos. Thanks to the wide angle, you will be able to give away the size of the canyon, capture the magic and majesty of this place. The best choice is a light lens, f2.8 if possible. The lower aperture is necessary for places with shifting or low light, as it allows for you to open your lenses wider, and allows for more light in your photograph if you need it.
We use cameras Canon EOS R and Nikon D750. So, in the case of Canon, we recommend EF 16-35mm f/4L IS USM or EF 16-35mm f/2.8L or cheaper 17-40mm f/4L EF Ultra Wide Angle. In Nikon system, it's good to have Nikon AF-S NIKKOR 14-24mm f/2.8G ED or Nikon AF-S FX NIKKOR 16-35mm f/4G ED VR.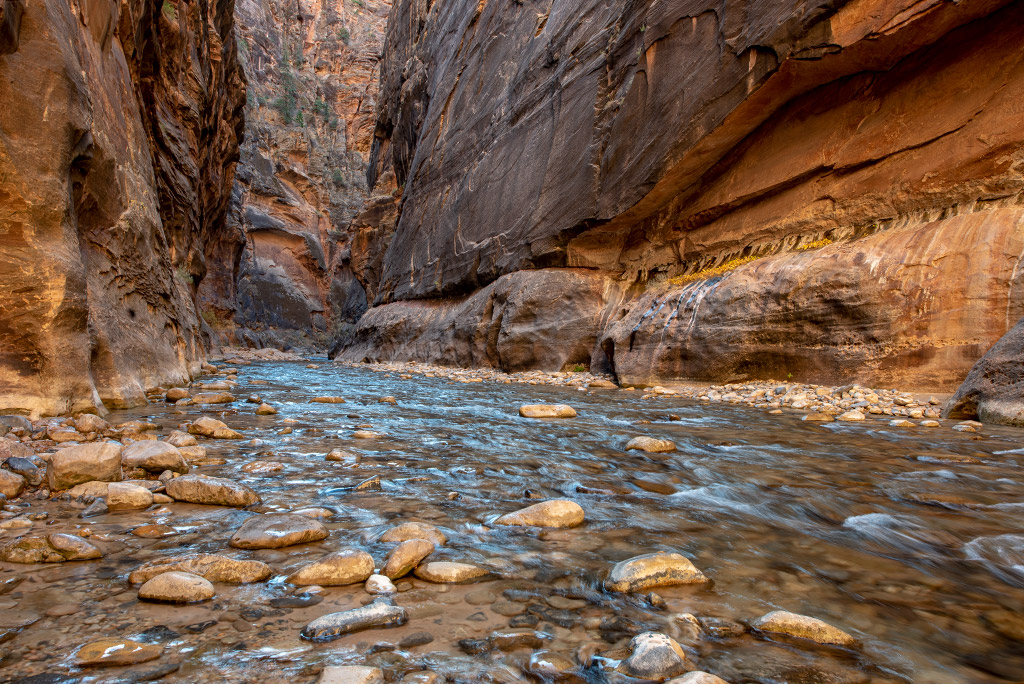 Shutter Speed
The trick is to use a longer exposure to make the water stand still and look beautiful in the picture (please compare photographs from this article). It's best to use your Tv, S, or M mode (time pre-selection mode or full manual mode) to get this effect. In this mode, you can set your shutter speed to 1/8s-2s. To find proper exposure settings, you must take a couple of pictures, observe the desired effect, and adjust your settings accordingly.
Use Polarize Filter
Use the polarizer filter to reduce reflections on the water and other surfaces. Some filters may warm up your scene a little bit. So, it will help to produce that silky water effect. So, we recommend Circular polarizing filter, ND grad filters (minimum Lee soft edge 0.9, Lee reverse ND grad and a holder), and full ND (Lee Big Stopper or Little Stopper).
Cover Your Camera and Lenses Against Getting Wet
Another important consideration is to keep your camera equipment dry. In water photography, there is a common situation that your gear is getting wet. You can be prepared for such a situation by buying a waterproof camera or just a so-called rain cover or raincoat to protect your camera and lens. Use a dry bag to protect your gear.
Frame
So, take your time. Try vertical and horizontal frames. Even during a 2 or 3 hours hike, you have plenty of opportunities to create great photos of The Narrows. Only show a sliver of sky or take photos without the sky. Moreover, don't forget about the people. It's a great idea to have people in your frame. If you set up your tripod lower, you can find a different perspective, too. You can use HDR too. It might help to catch the full range of light.