Trip to Crazy Horse Memorial South Dakota
Plan a trip to Crazy Horse Memorial, South Dakota? This post shares everything you need to know about visiting the Chief Crazy Horse monument in the Black Hills. The Crazy Horse Memorial is the world's Largest Mountain Carving in Progress. It makes an impression. Moreover, it's only 17 miles southwest of Mount Rushmore, so it's worth adding it to your South Dakota road trip itinerary. This non-profit project is dedicated to North American Indians and presents their stories.
This article may contain affiliate / compensated links. For full information, please see our disclaimer here.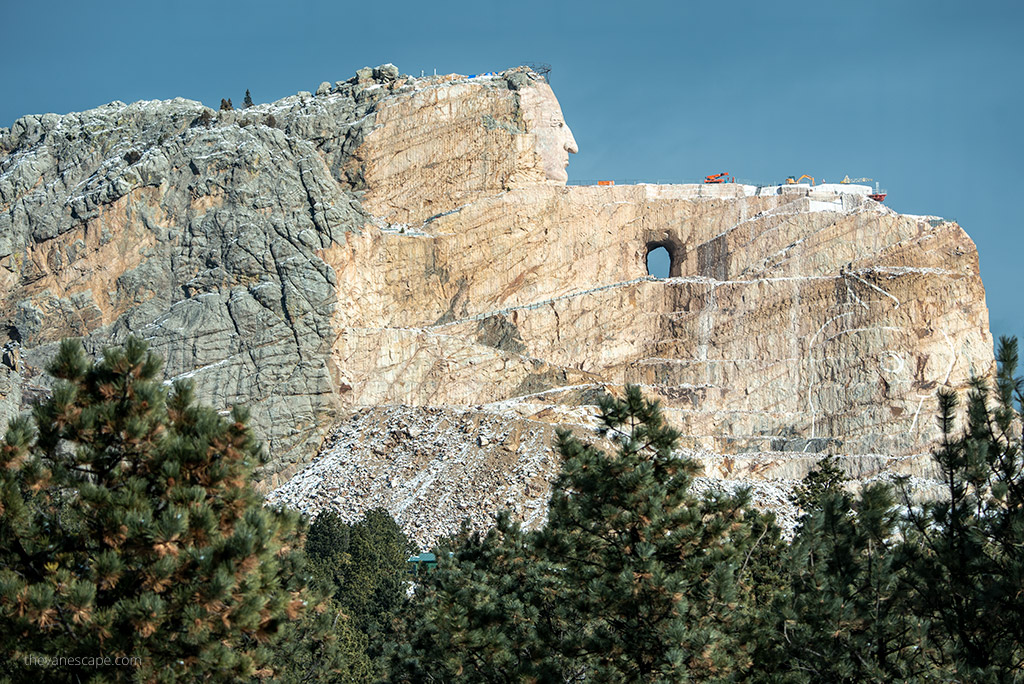 When we were planning our road trip through South Dakota, we didn't know much about this state. We did not think it offered so many wonderful places worth seeing, especially in the Black Hills of the South Dakota area. And it is definitely worth a lot of time and attention.
Of course, we have heard about Mount Rushmore National Memorial with statues of four Presidents of the USA. And it was on our bucket list to see. We knew that is worth visiting Badlands National Park, and we visited it in winter. Which was absolutely fabulous and spectacular, and here you can check our photos from winter in Badlands.
But we've never heard of the Crazy Horse Memorial before. As we sat in a little diner in Wall, eating lunch and telling the locals about our months-long RV adventure through the US and Canada, one of them asked: Have you seen the Crazy Horse already? We had no idea what Crazy Horse was. I answered: No. What is it?
He said: Crazy Horse is a monument of the spirit of the Sioux Nation and their great Chief Crazy Horse. And it's worth the money to see it. Here you can see pictures of the Crazy Horse Memorial. We were surprised and decided to read more about this place add the Crazy Horse Memorial to our plan.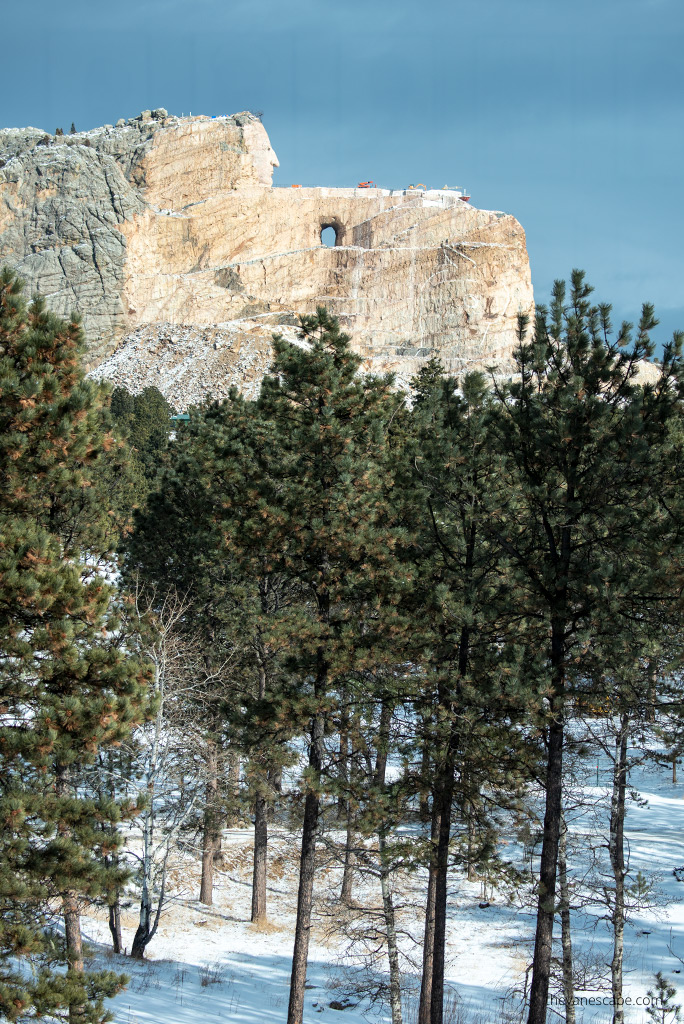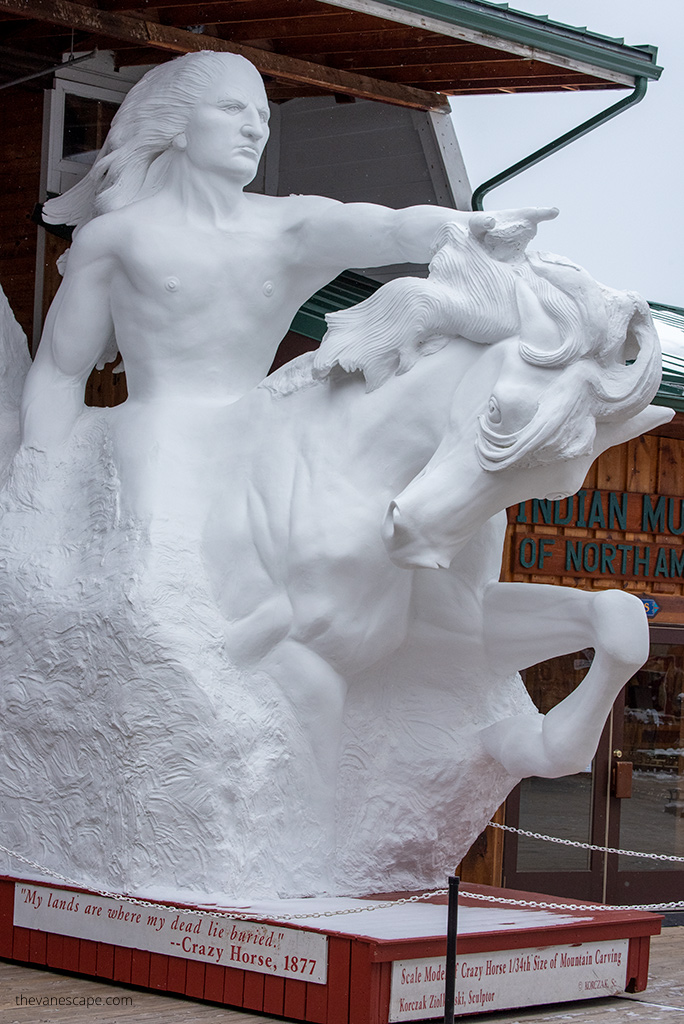 Trip to Crazy Horse Memorial in South Dakota – Facts
Crazy Horse Monument in Numbers
Beginning date – June 3, 1948
Planned Height – 563 ft, 172 m
Planned Length – 641 ft, 195 m
Crazy Horse's eyes are 17 feet (5 m) wide.
The head of Crazy Horse will is 87 feet (27 m) high. To compare – the heads of the four U.S. Presidents at Mount Rushmore are each 60 feet (18 m) high.
The arm of Crazy Horse will be 263 feet (80 m) long.
The granite Thunderhead Mountain, which is carved the Crazy Horse monument, is 6,532 feet (1990 m) and ranks the 27th highest mountain in South Dakota.
End Date – unknown.
When the Crazy Horse Memorial is complete, it will become the world's second tallest statue, after the Statue of Unity. When finished, the Crazy Horse Memorial will stand 8 feet taller than the Washington Monument. And be nearly 10 times larger than Mount Rushmore.
Who was Crazy Horse?
Chief Crazy Horse was a Native American war leader of the Oglala Lakota. He is one of the most notable and iconic Native American tribal members. Crazy Horse fought against encroachments of the US Federal government on the territories and way of life of the Lakota people. What's more, he fought against the U.S. military in the Fetterman Fight in December 1866 and in the Battle of the Little Bighorn in June 1876.
He surrendered to U.S. troops under General Crook in May 1877. He was fatally wounded by a military guard.
The History of the Crazy Horse Memorial in South Dakota
Henry Standing Bear, an Oglala Lakota chief and well-known statesman and elder in the Native American community, wanted to build the Crazy Horse Memorial in the Black Hills of South Dakota. It wasn't easy. He was looking for years for a perfect mountain for the Crazy Horse monument, the funds, and the sculptor.
In 1931, Luther Standing Bear, Henry's brother, wrote even to sculptor Gutzon Borglum, who was carving the heads of four American presidents at Mount Rushmore. According to Wikipedia, Luther Standing Bear wrote that it would be "most fitting to have the face of Crazy Horse sculpted there. Crazy Horse is the real patriot of the Sioux tribe and the only one worthy to place by the side of Washington and Lincoln." But Borglum never replied.
After a few years of searching for the right rock for the Crazy Horse monument, the Indians decided to offer their fertile land in exchange for granite rock, known as the Thunderhead Mountain in the Black Hills. They offered the US government 900 acres (365 ha) and got a positive response.
In terms of funding, Standing Bear didn't want any support from government funds. He asked influential Americans interested in the welfare of the American Indians to fund the project privately.
But they still didn't have a sculptor. So in November 1939, Henry Standing Bear wrote to the Polish-American sculptor Korczak Ziolkowski. He worked on Mount Rushmore under Gutzon Borglum. Standing Bear offered the sculptor participation in the Crazy Horse project and paid honor to Crazy Horse, by carving him in a huge mountain. Korczak Ziolkowski accepted the offer, and in the spring of 1940, he came to Standing Bear for a few weeks to discuss the project assumptions and the appearance of the Crazy Horse monument.
Who was Korczak Ziolkowski?
Korczak Ziolkowski was a self-taught sculptor, architect, and engineer. He was born in 1908 in Boston to Polish immigrants, but he was orphaned after his parents' untimely death. He grew up in foster homes, where he was forced to work. At the age of 16, Korczak set out on his own. He worked hard to finished school.
He worked as a carpenter in a shipyard, which taught him much about carving. Korczak never took a formal lesson in sculpture or art. But he educated himself in the fine arts by studying the Old Masters.
After the death of a well-known Boston Judge, Korczak create a marble bust of him. But the fame gave him a marble portrait of Paderewski: Study of an Immortal. He won first prize for this sculpture at the 1939 New York World's Fair.
When Ziolkowski arrived in the Black Hills in 1946, there was no water, no electricity, or roads. Pure wilderness with huge granite mountains and lots of trees. He cleared the way through the forest by hand. What's more, he lived in primitive conditions. He built primitive wooden ladders several hundred steps to climb to the top of the mountain and work on the Crazy Horse sculpture. Korczak single-jacked or hand drilled the holes for the first blast, which took off only 10 tons of rock. The first blast took place on June 3, 1948.
He devoted all of his adult life to the sculpture of the Crazy Horse Monument. His whole family was involved in the work, including his wife Ruth and his 10 children. He died in 1982 without completing his work.
Crazy Horse Memorial Foundation
After Korczak's- Ziolkowski death, work on the Crazy Horse project was continued by his wife Ruth and seven of their ten children.
The Crazy Horse Memorial is non-profit and does not accept federal or state funding. The Memorial Foundation finances the project by charging fees for its visitor centers and donations.
The federal government offered Korczak-Ziolkowski US$10 million twice for the project. But he refused to accept the funds, being faithful to the will of Standing Bear.
Why? He feared that the memorial's educational and cultural goals would be overturned by federal involvement. The Crazy Horse Memorial is something more than a statue in granite.
Ruth Ziolkowski died in 2014, at the age of 87. Their daughter Monique Ziolkowski, which is also a sculptor, became CEO of Crazy Horse Memorial. The Ziolkowski family continues its work.
The Crazy Horse Memorial preserves and promotes the history, culture, and traditions of Native American people.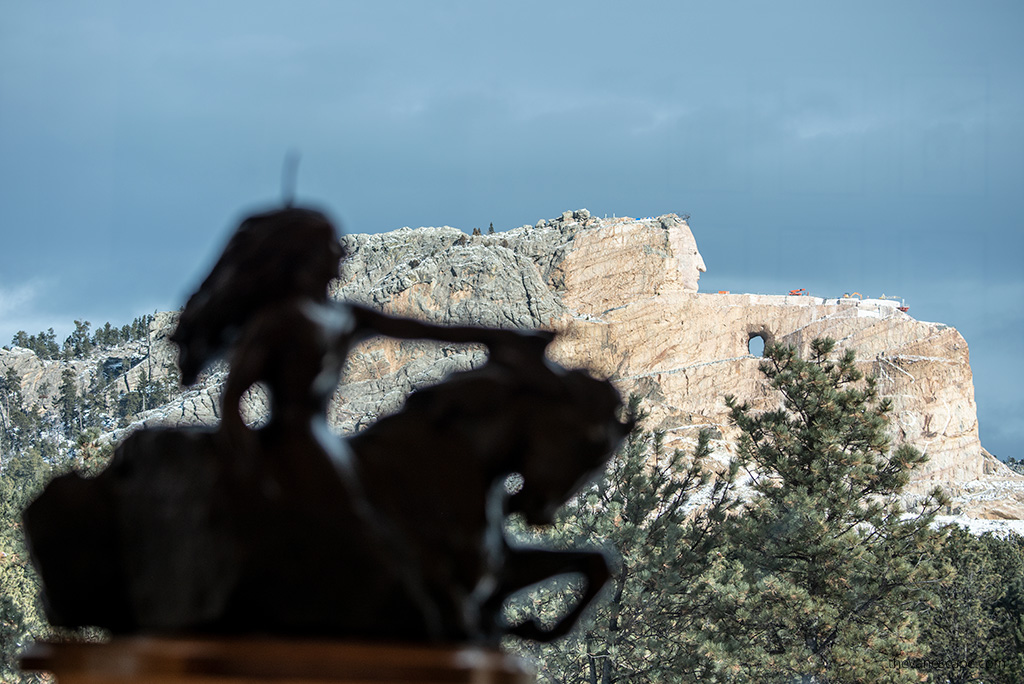 Trip to Crazy Horse Memorial in South Dakota – Directions
Crazy Horse Memorial is in the Black Hills of southwestern South Dakota. Is only 17 miles southwest of Mount Rushmore National Memorial. From Rapid City is 38 miles.
From Mount Rushmore, take highway 244.
If you drive from Deadwood, take highway 385.
From Rapid City, Custer, Hill City, Sturgis take highway 16.
The entrance along US Highway 16/385 (the Crazy Horse Memorial Highway) is 9 miles south of Hill City, and 4 miles north of Custer.
The Crazy Horse monument address is – 12151 Avenue of the Chiefs, Crazy Horse, SD 57730.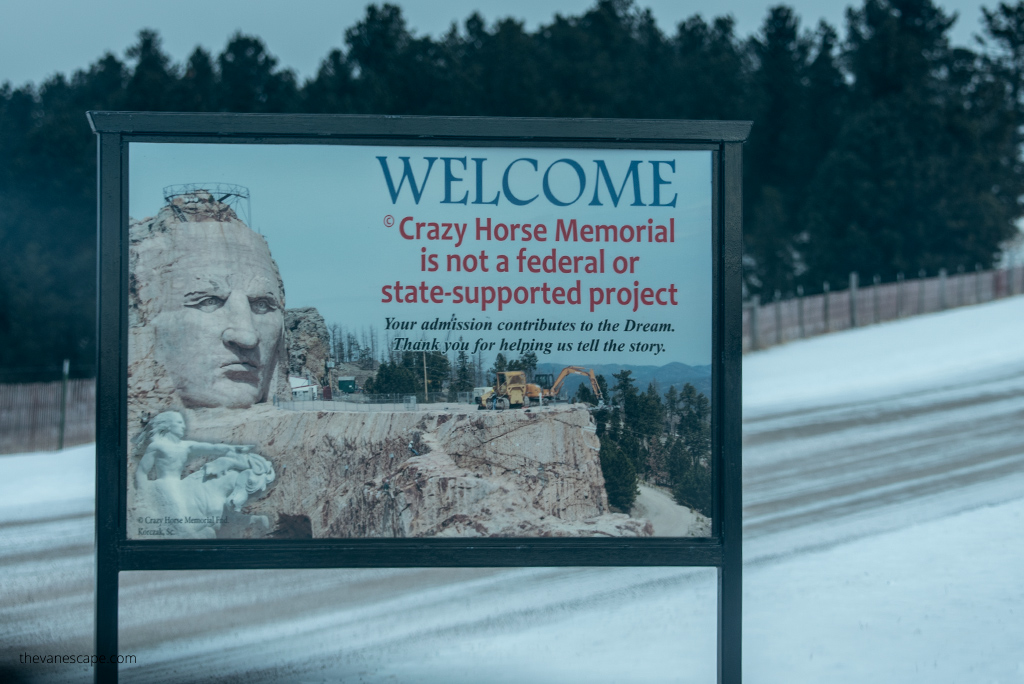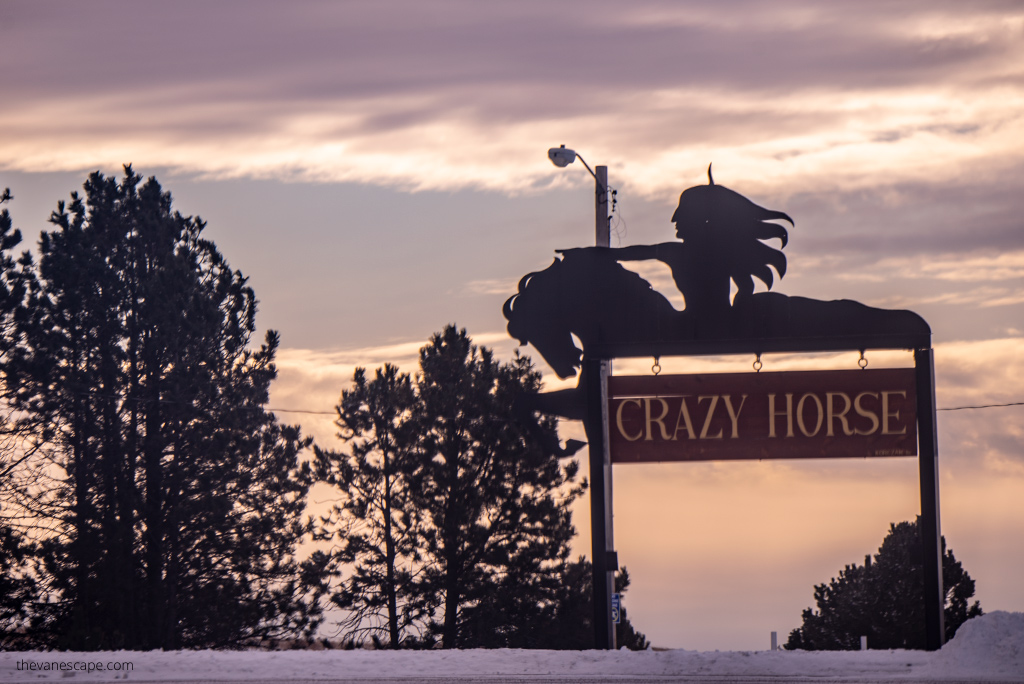 Crazy Horse Memorial Opening Hours
The Crazy Horse Memorial is open year-round.
Welcome Center and The Museums of the Memorial is open:
8 am – 7 pm from March 17th to May 11th
8 am – 8 pm from May 12th to May 27th
from 8 am – approximately 30 minutes after the Laser Light Show from May 28th to September 6th
8 am – 8 pm from September 7th to October 3rd
from 8 am – 6 pm from October 4th
Bus to Base – where you can take a closer look at the Mountain from the base usually runs from 9 am to 6:00/7:00 pm if weather and road conditions permit. But check the schedule on the official website.
There is also a Gift Shop with high-quality souvenirs and Laughing Water Restaurant. Is owned by Korczak's Heritage, Inc., a privately-owned business with royalties to Crazy Horse Memorial Foundation. We ate a very tasty lunch there with a view of a great Crazy Horse monument.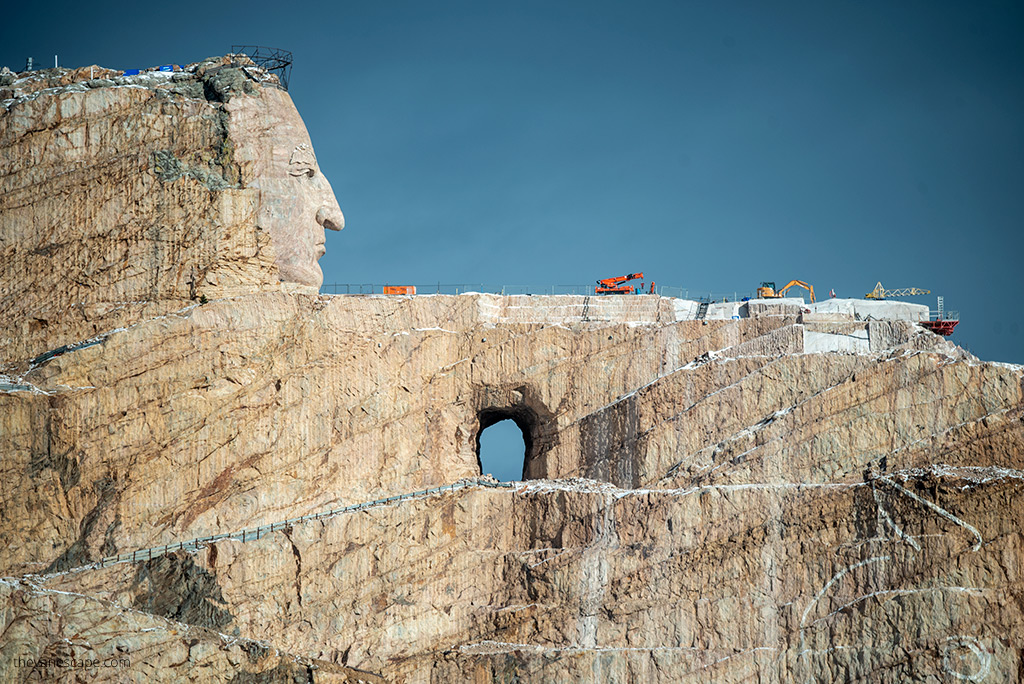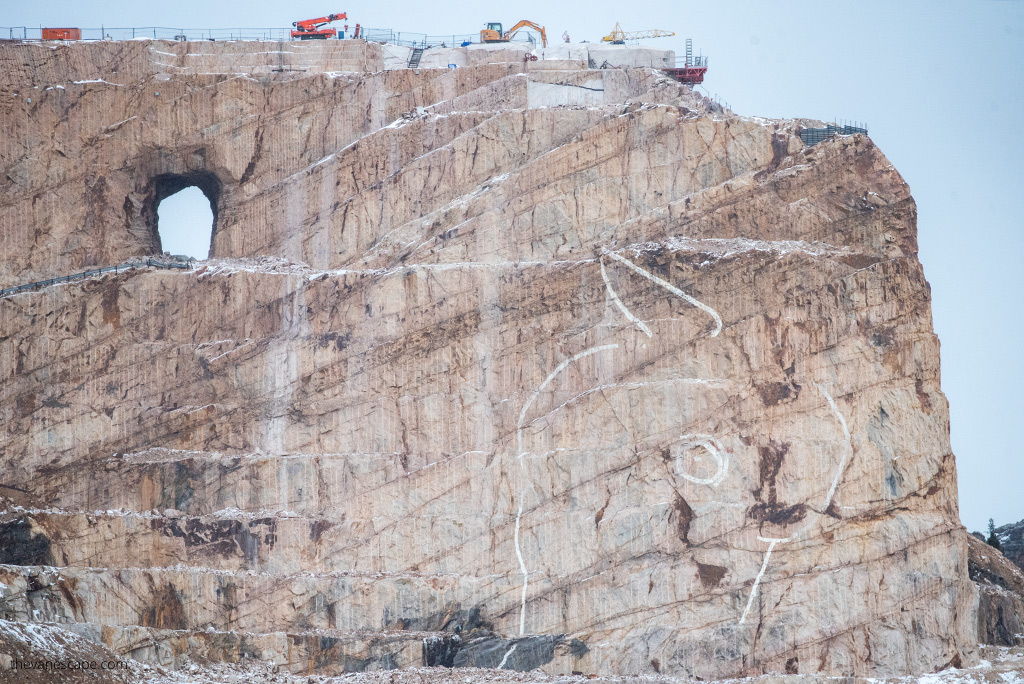 How much does Crazy Horse Memorial cost?
The most important is to know that Crazy Horse Memorial is only sustained by admission and private contributions. So, if you buy a ticket, you support Crazy Horse Memorial's mission to protect and preserve the culture, tradition, and living heritage of the indigenous people of North America.
Admission Fee to Crazy Horse Memorial
Admission to Crazy Horse includes:
access to three museums,
an orientation film,
viewing of the sculpture from the veranda and the wall of windows,
scheduled cultural programming,
the laser light show at dark in season (If you want to watch the laser show, you should go a few hours before sunset to see Crazy Horse Memorial and the museum before it gets dark.)
The Season is from May 28th to October 11th. And the prices are:
$35.00: 3 or more people in a vehicle
$30.00: 2 people in a vehicle
$15.00: 1 person in a vehicle
$10.00: Per person on a motorcycle, bicycle, or walking
In low season, prices are lower by an average of $3-5.
Bus to Base Fee of Crazy Horse Memorial
If you want to see the Crazy Horse Memorial from a closer distance, you can take a special bus to it. It's called Bus to the Base. Rustic bus rides to the bottom of Crazy Horse Mountain for a close-up view. This is an additional $4 per person. It's a 25-minute round-trip.
Trip to the Top of Crazy Horse Memorial
You can also make a donation and take a Guided Van Ride. It's a Trip to the Top of the Crazy Horse Mountain. Where you can see the progress of work up close. You can stay face to face with Chief Crazy Horse and see how huge the statue is. The cost is $125 per person. Call the Memorial at 605-673-4681 to schedule your Van Rides in advance (weather and road conditions permitting).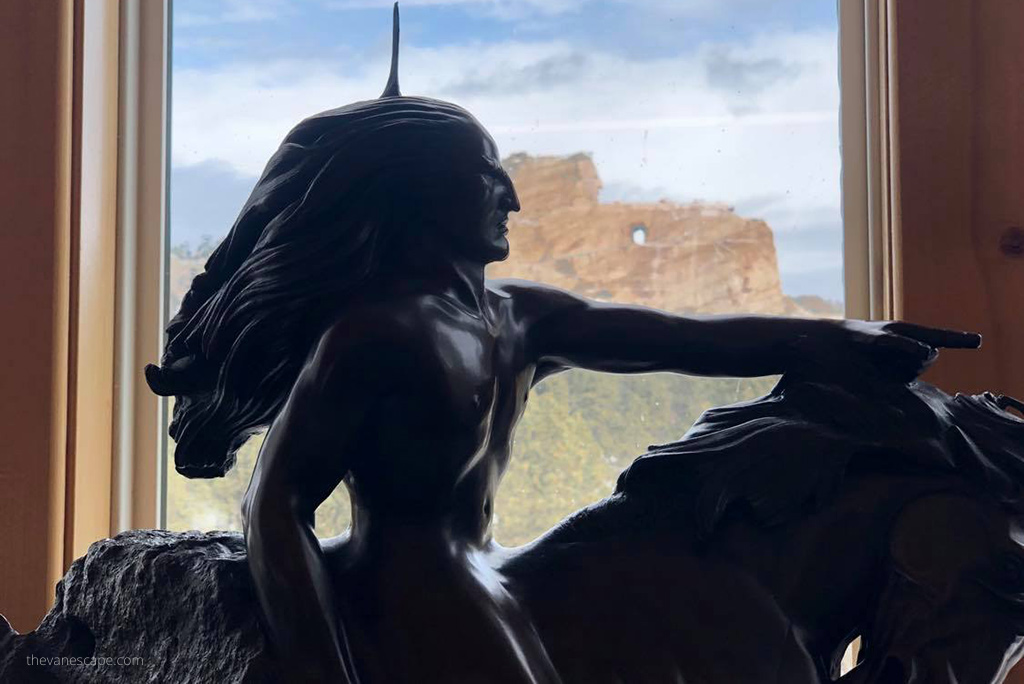 How long does it take to see Crazy Horse Memorial?
You need at least two to four hours to make a trip to Crazy Horse Memorial, South Dakota.
You will be invited to watch a documentary in a cinema room when you enter. It presents the history of the creation of the Crazy Horse monument, the beginnings of its construction. Moreover, it presents the silhouette of Crazy Horse and the sculptor Korczak Ziolkowski. The film is sensational. It also perfectly explains the conflicts with the Indians, their difficult fate in these lands.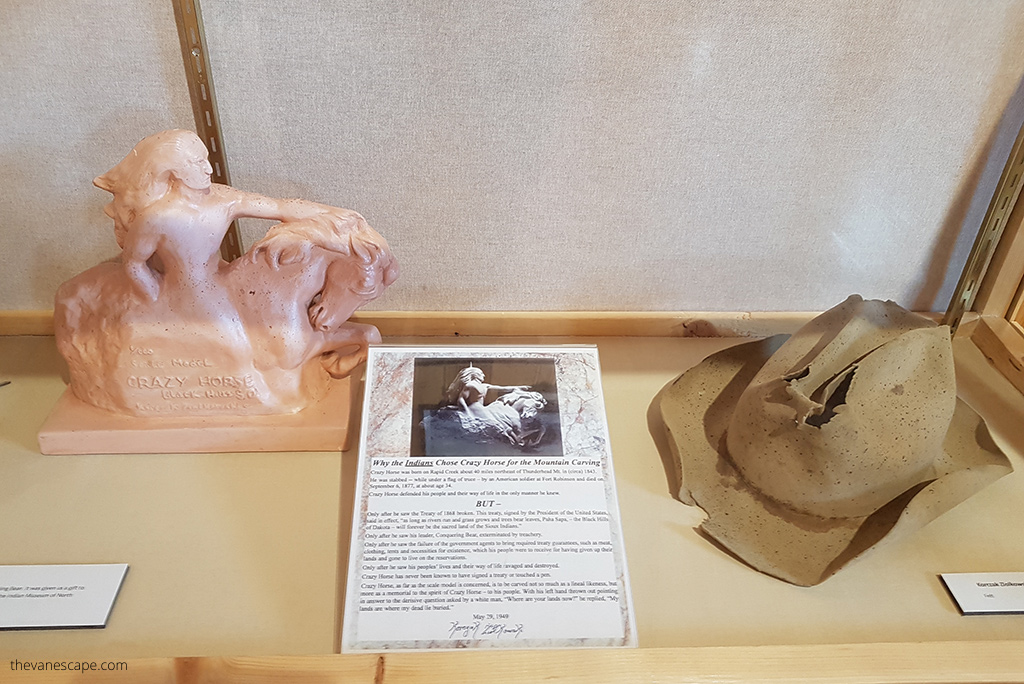 Then you can take a tour up the mountain to see Crazy Horse Memorial up close and personal. Or you can watch it and admire it from the bottom of the museum area. There are no tours at the top in the winter.
The museum is also worth seeing. It contains a vibrant and unique collection of art and the history of North American Indians. It's more than a museum. It's an Indian Museum of North America and the Native American Educational & Cultural Center which also provides educational and cultural programming. You'll be amazed by Native American Indian artifacts, the beautiful wood interior, or teepee replica.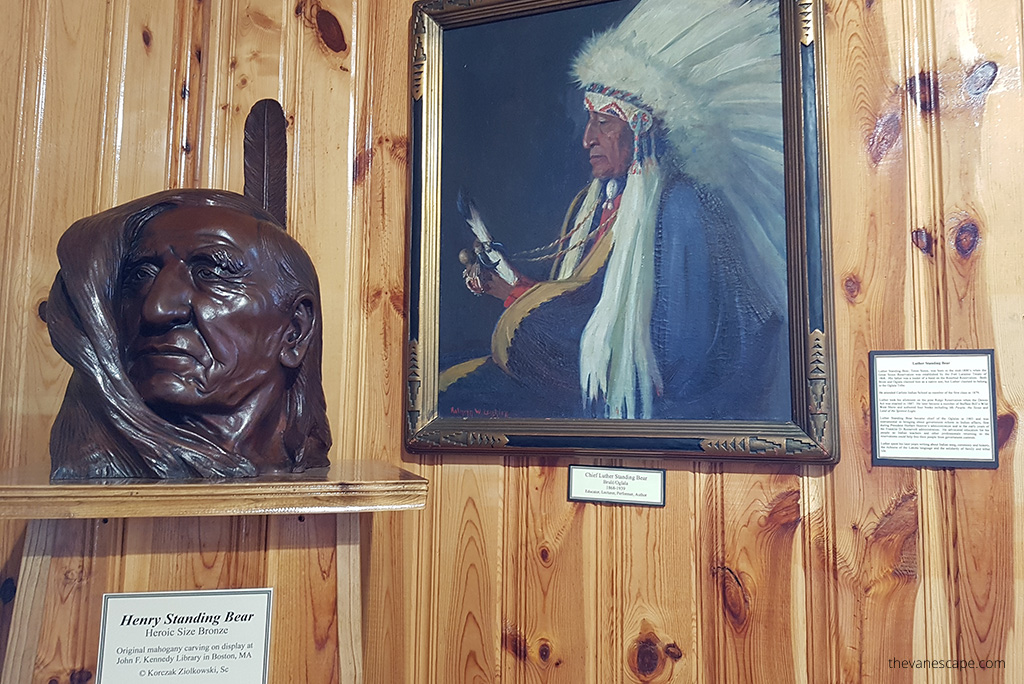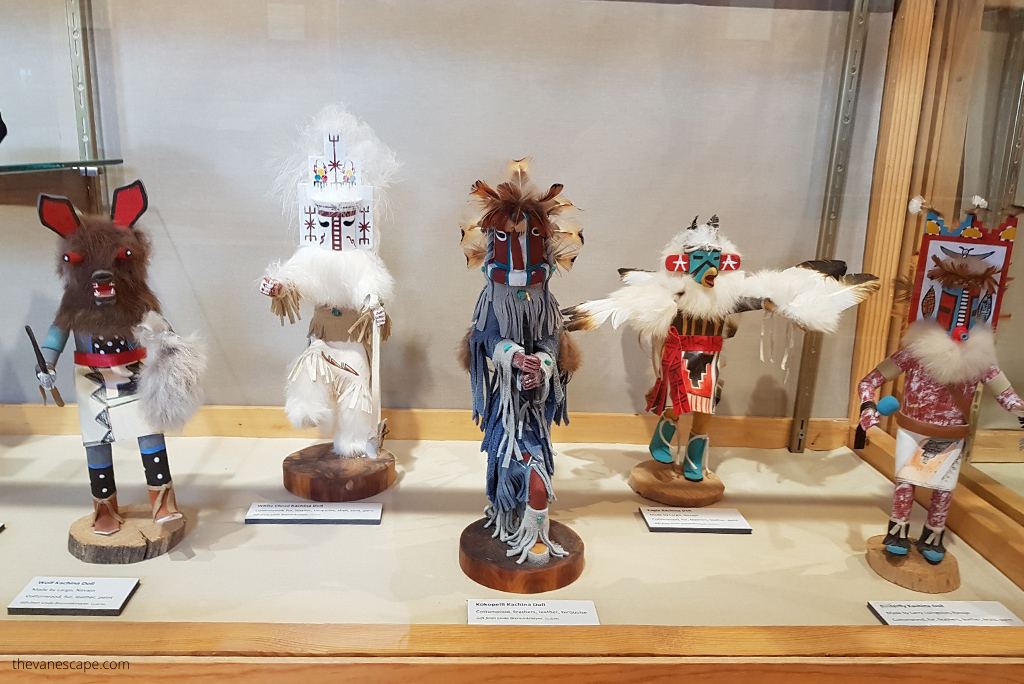 Can you see Crazy Horse Memorial without paying?
Can you see Crazy Horse Memorial from the road? Yes. The Crazy Horse Memorial is visible from a distance. When you drive, before the entrance gates is possible to see a Crazy Horse. You can check it on our photos below. I used a zoom lens to do these pictures. But it's really worth your money and visit. It's amazing to get closer to the Crazy Horse Memorial and see its magnitude. It makes an impression.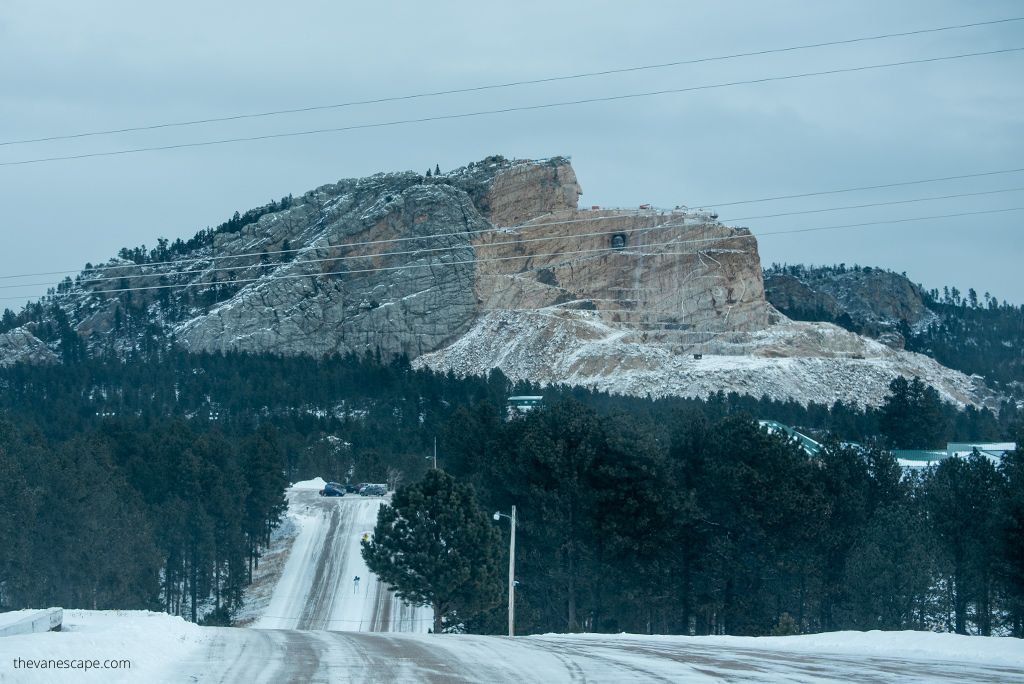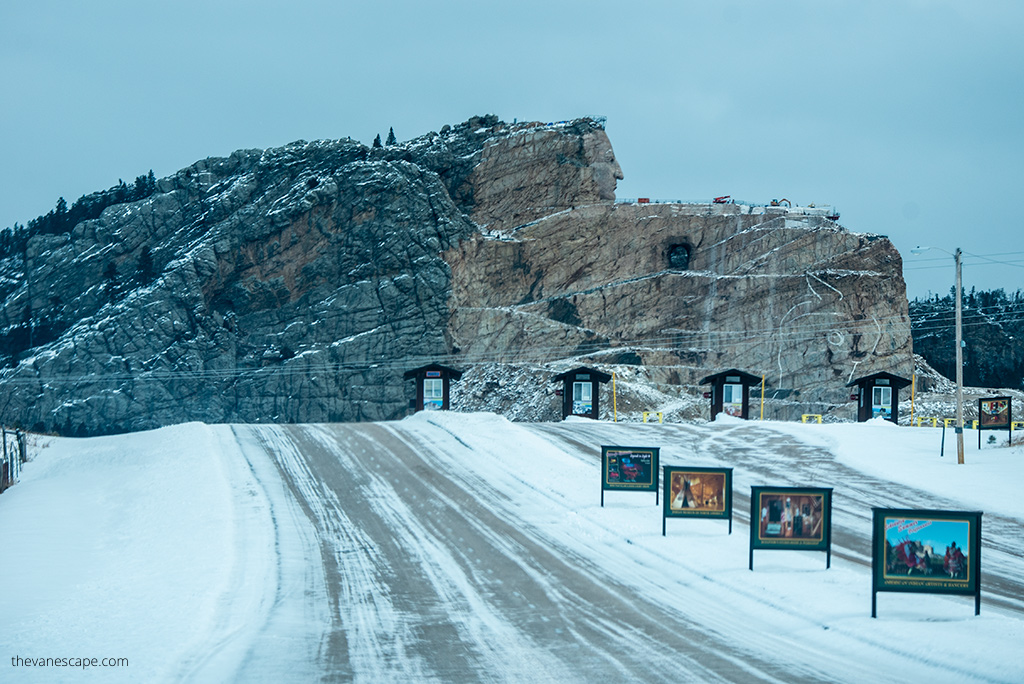 Will the Crazy Horse Memorial ever be finished?
It's a difficult question. A lot of people ask it when visiting the monument and then compare photos from earlier years. It is difficult to notice the differences, so you wonder if there is any progress in the works under the Crazy Horse sculpture at all? The Crazy Horse Memorial in the Black Hills of South Dakota has been under construction since 1948. The monument is far from finished.
The only part of the statue which is complete is the face of Crazy Horse. It took 50 years to sculpture it. A dedication ceremony and unveiling of the face took place on June 3, 1998. On the 50th anniversary of the Memorial's first blast.
It will surely take years to finish the monument. Crazy Horse Memorial's completion date is not known. The Crazy Horse Memorial project is all privately funded from the money from visitors. There is no government funding. So it's all depends on donations and the number of visitors. But work is delayed not only by the lack of funds. Some damage was also found by specialists in the center of the granite rock, which makes the work more difficult than expected.
Some point to the end date of 2050 or even later.
Where to stay when Visiting Crazy Horse Memorial
Rapid City is only 38 miles from Crazy Horse Memorial. It's a perfect place to stop because the city is worth your time and visit. It's known as the "Gateway to the Black Hills." Rapid City is the second-most populous city in South Dakota so that you will find a large selection of lodging for every budget and type. We stayed in Super 8, and it was great for us, clean, and the price was affordable. On the map below you can find best offers.
Where to stay near Crazy Horse Memorial in South Dakota?
When planning a trip to Crazy Horse Memorial in South Dakota, the best choice for staying in the area is Custer. It's 4 miles from the Crazy Horse Memorial.
The great hotels are Bavarian Inn Black Hills and Best Western Buffalo Ridge Inn.