Guide to Coral Pink Sand Dunes State Park
Coral Pink Sand Dunes State Park is perfect for dunes hiking, sandboarding, ATV riding, and camping. This underrated but incredibly picturesque park is located in Southern Utah, near Kanab. Check out our tips on how to spend time there to have fun and fabulous adventure. This guide is all you need to know to enjoy pink sand dunes.
This article may contain affiliate / compensated links. For full information, please see our disclaimer here.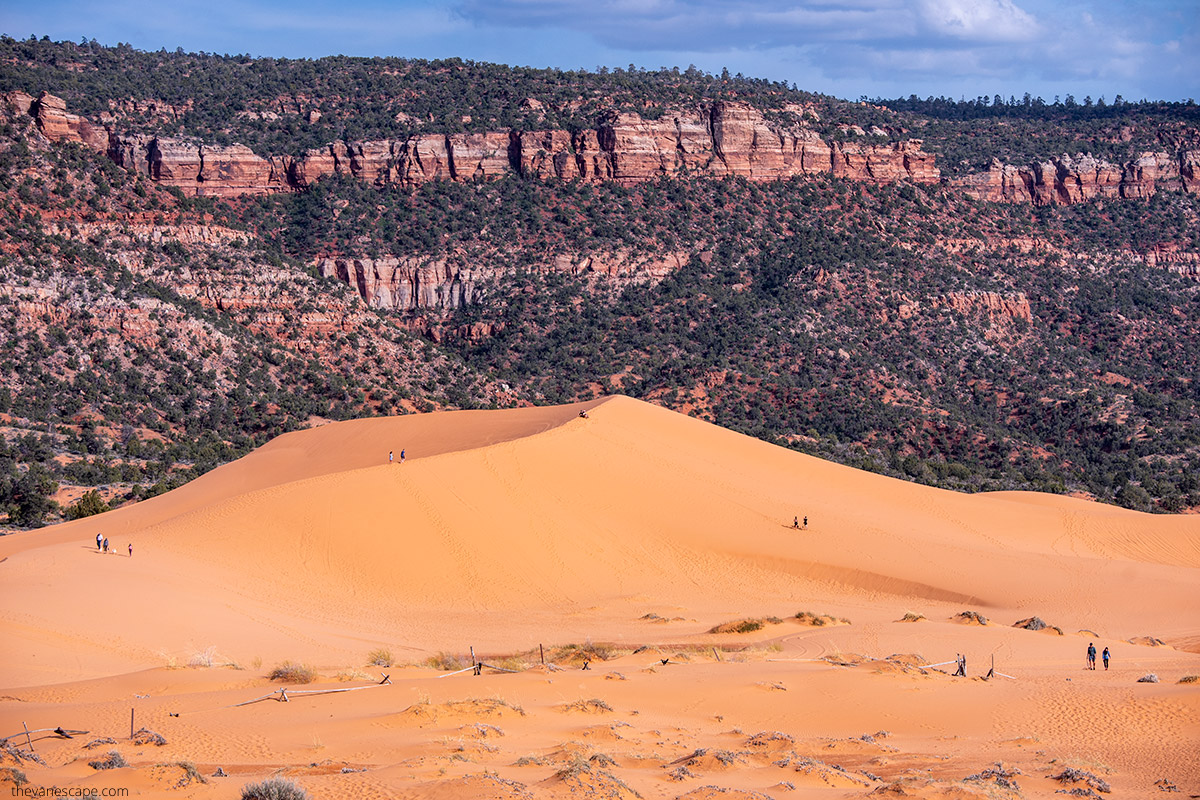 What is Coral Pink Sand Dunes?
Coral Pink Sand Dunes is one of the best Utah State Parks, which boasts stunning sand dunes with a unique pink hue set beside striking red sandstone cliffs. The dunes in the park result from erosion from the pink-colored Navajo Sandstone surrounding it. Loose sand particles are picked up by strong winds that pass through the gap between the Moquith and Moccasin Mountains, which are then deposited onto the dunes. The process at work here is called the Venturi effect. As the wind travels through the notch and into the valley, its speed slows down, accumulating sand. According to the official park website, experts estimate that these dunes are between 10,000 and 15,000 years old.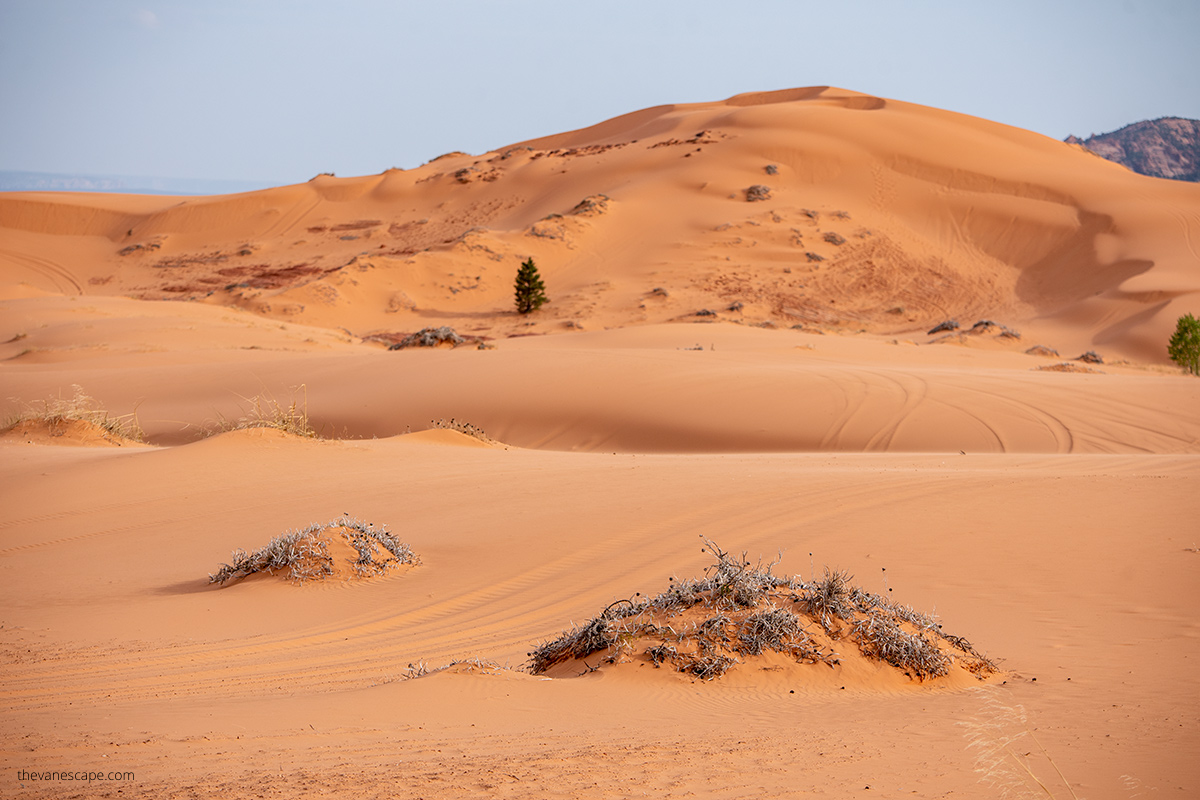 Coral Pink Sand Dunes State Park was established in 1963, it's on elevation 6,000 feet (1,800 m). The Coral Pink Sand Dunes span approximately 3,370 acres (15.1 km2) in total area. The Coral Pink Sand Dunes Tiger Beetle has found its home in the Park and is only found in this area, making it an endemic species. Another significant park inhabitant is the Welsh's milkweed, a rare plant, and a federally listed threatened species. The park is home to many Welsh's milkweeds, making it an important conservation area for this species.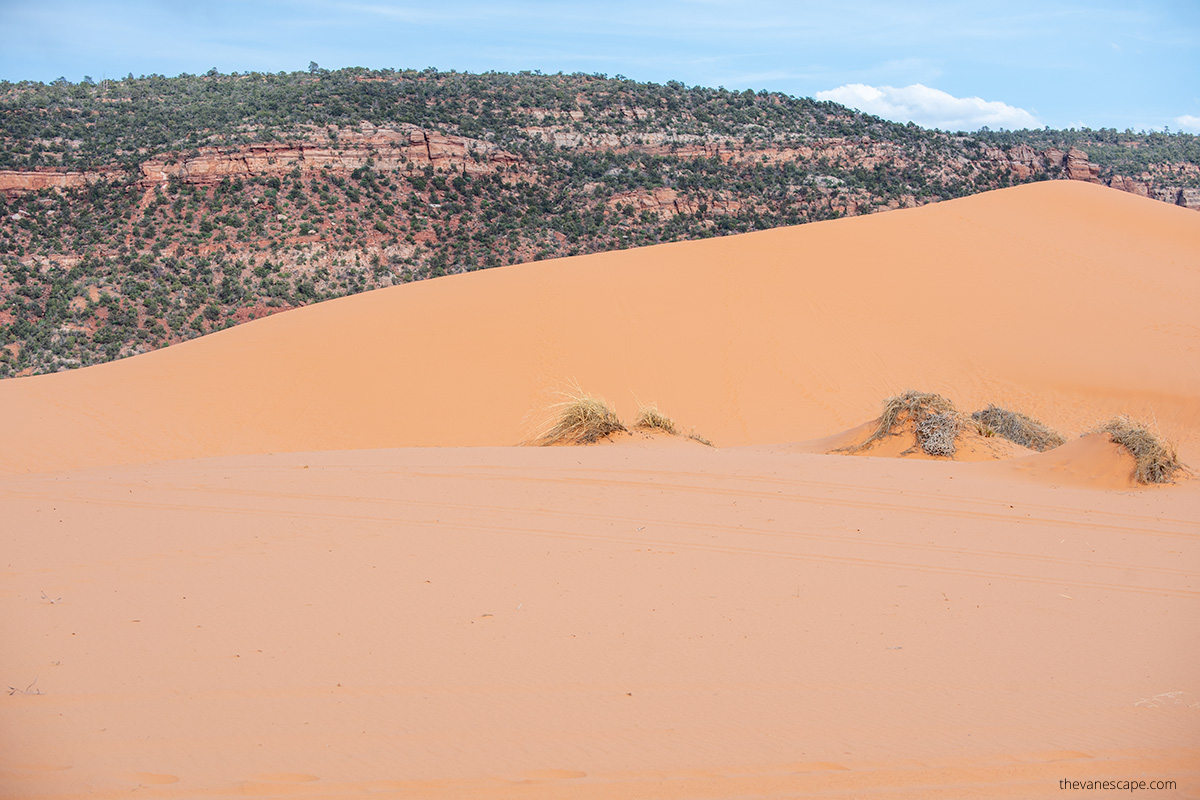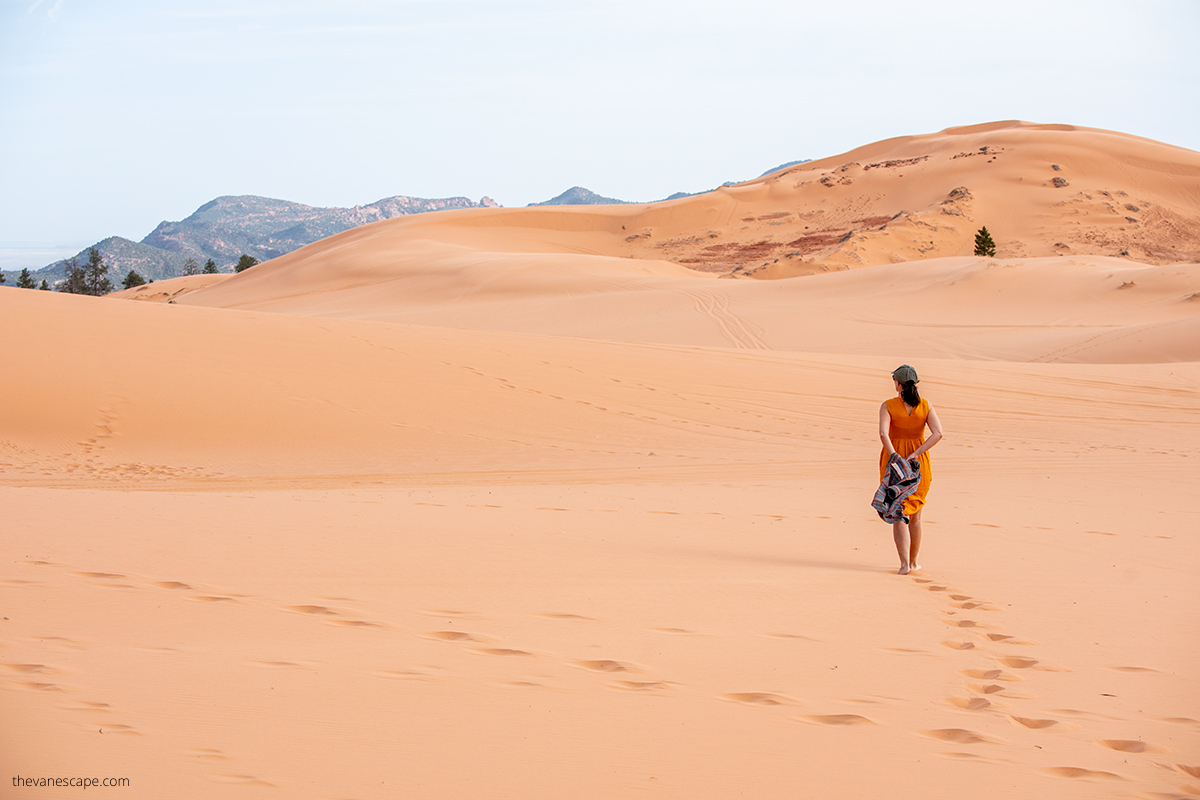 Coral Pink Sand Dunes State Park – Our Experience
We love southern Utah, particularly Kanab and its breathtaking surroundings, which include the picturesque Coral Pink Sand Dunes State Park. This park is an ideal destination for outdoor activities for adventure lovers and families. We visited this place several times. That is why we have compiled all the essential details you need to know about this park, including:
How to get to Coral Pink Sand Dunes State Park
How much is the entrance fee
What are the best activities and things to do
When is the best time for a visit
All to know about Coral Pink Sand Dunes camping
Information and rules about Coral Pink Sand Dunes ATV rental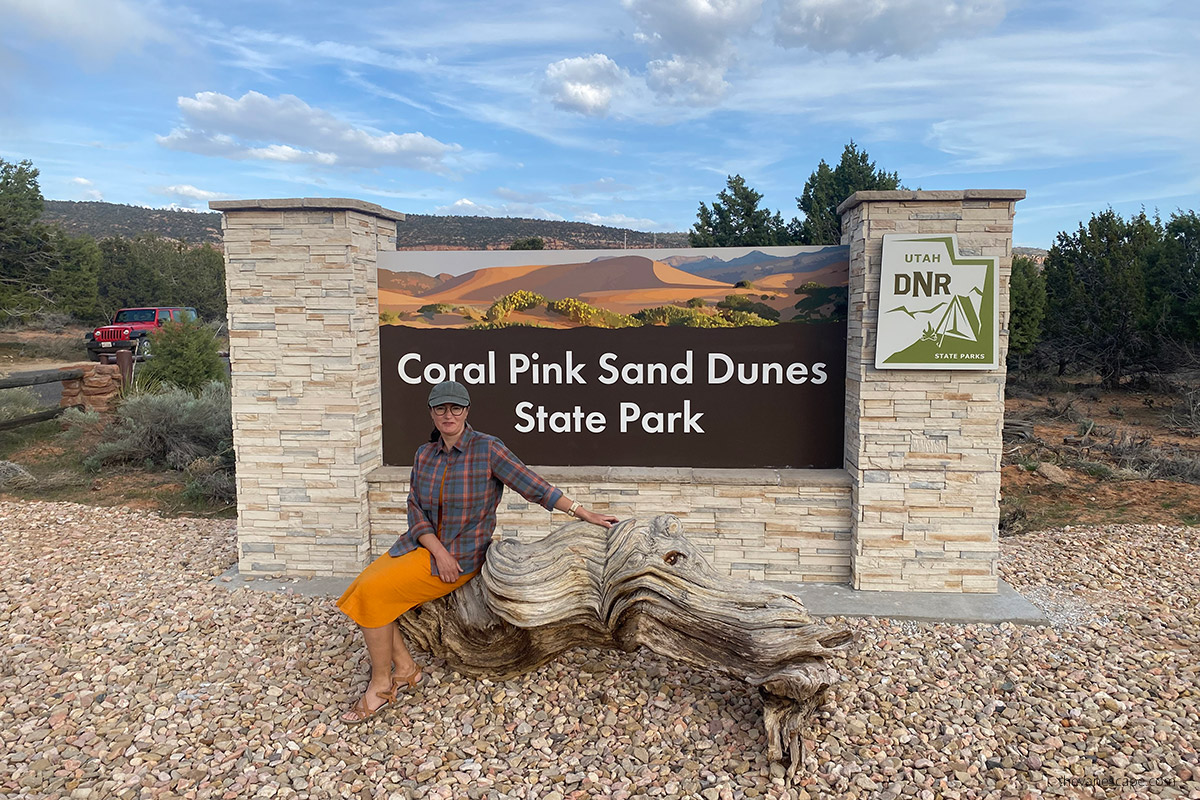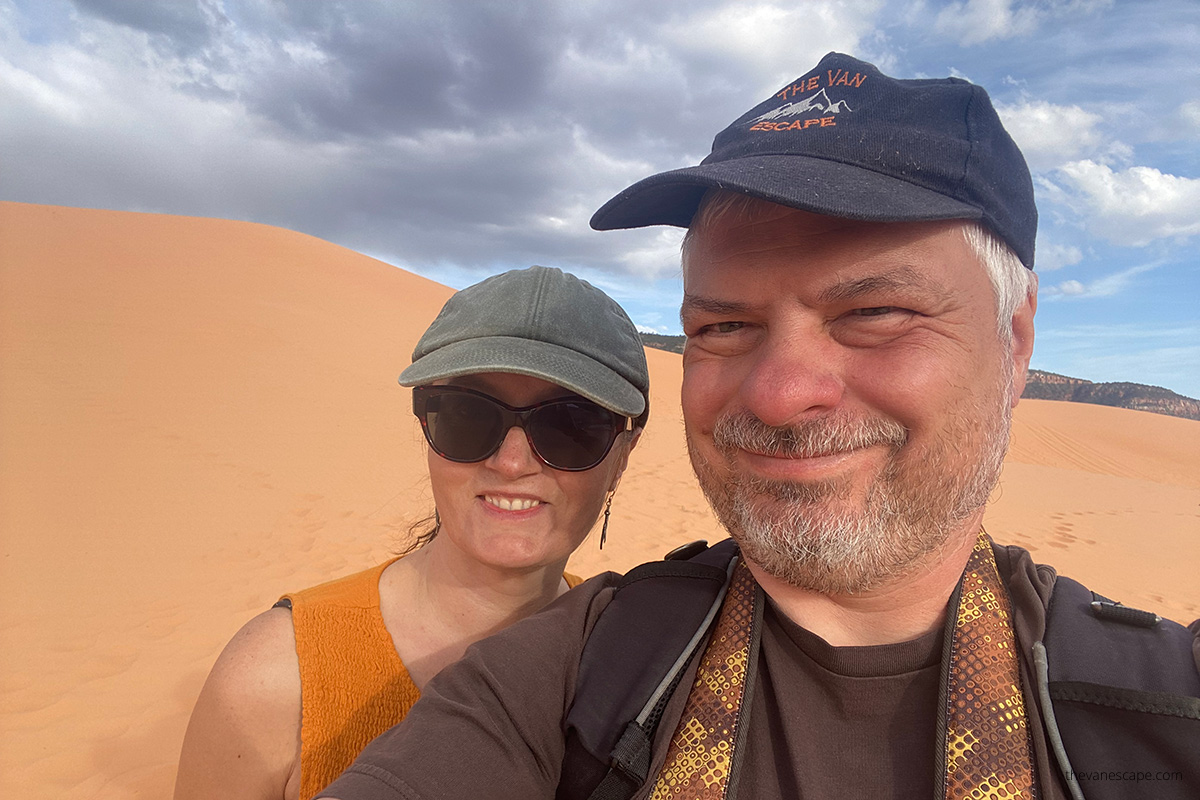 Where is Coral Pink Sand Dunes State Park?
Park is located in Kane County, Southwestern Utah, between Kanab and Mt Carmel Junction, to the west of Highway 89. It's approx 310 miles south of Salt Lake City. Adding this park to your Utah National Parks itinerary is a great idea, as it's located close to Zion and Bryce.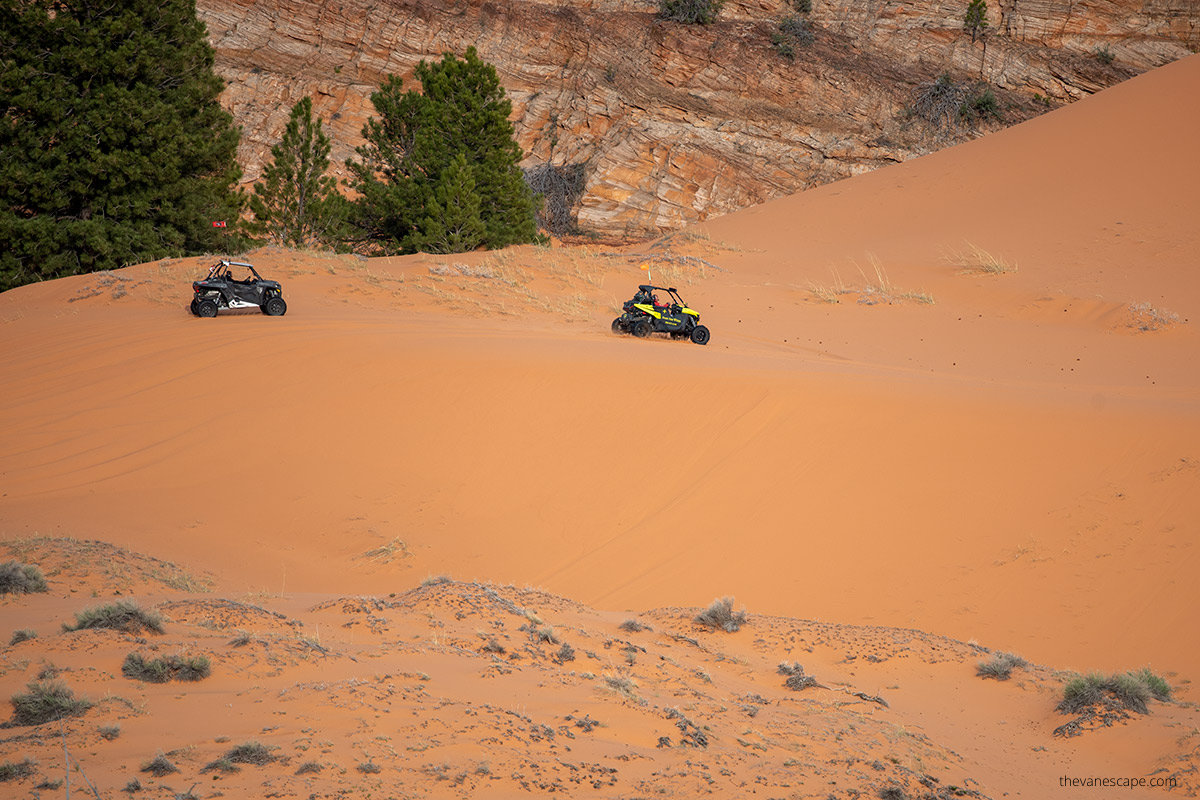 Directions from Kanab
From Kanab, it's only 20 miles and 30 minutes of driving to Coral Pink Sand Dunes. Take US-89 N. After 7.4 miles, turn left onto Hancock Rd, and continue for 9.4 mi. Then turn left to Coral Pink Sand Dunes Rd/N Sand Dunes Rd. The park is well-marked.
Our Tip: Are you heading to Kanab? We are huge fans of this city and spend a lot of time there, so check out our article on the best things to do in Kanab, including the best hiking trails, scenic drives, adventure trips, places to eat, and more. On the way from Kanab, you will find three other exciting places worth a visit in this area. And all these attractions can be seen in one day because they are close to each other: Peekaboo Canyon, Moqui Caverns, and Belly of the Dragon.
Directions from Zion National Park
If you are visiting Zion National Park, and have some free time, only an hour's drive and 40 miles separates you from the picturesque pink dunes. In addition, the route runs along the highly scenic road via UT-9 E (Zion-Mount Carmel Hwy). You will have the chance to ride the famous Zion-Mount Carmel Tunnel. Drive carefully because it is winding, but the views are stunning.
Directions from Bryce Canyon National Park
If you are exploring Bryce Canyon National Park, it's 75 miles from Coral Pink Sand Dunes. It will take about 1 hour and 30 minutes of driving via scenic US-89 S to the park.
Directions from Page
The park is close to Arizona's border, not far from the well-known town of Page. In its vicinity are the famous Horseshoe Band and three spectacular Navajo slot canyons, Upper Canyon, Lower, and Canyon X. It's only 95 miles from Page to Coral Pink via US-89, so you can consider it a day trip. It will take you 1 hour and 30 minutes to get there.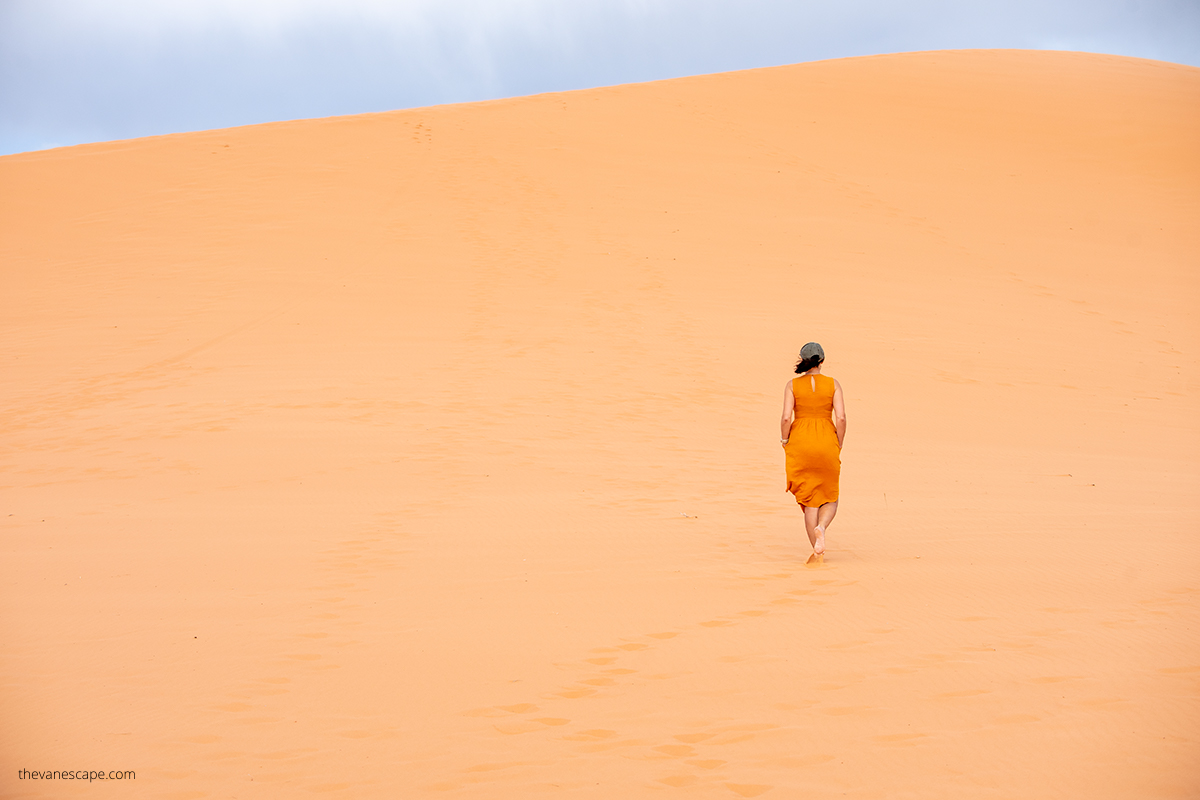 Directions from Grand Canyon
You may also be exploring the North Rim of the Grand Canyon. Then you are also quite close to the sandy pink dunes. It's only 99 miles from North Rim to this state park, so it's doable as a day trip. The drive will take approximately 2 hours and 20 minutes via AZ-67 N and US-89A N.
Is Coral Pink Sand Dunes worth visiting?
Coral Pink Sand Dunes State Park is worth a visit as it is incredibly picturesque and offers various exciting activities like ATV riding, dune hiking, sandboarding, camping, and endless photo opportunities. It's a small paradise for OHV enthusiasts.
The park is small compared to Great Sand Dunes National Park in Colorado or White Sands National Park in New Mexico. The dunes are not so high and so impressive. But that makes Coral Pink Sand Dunes a place for fantastic and safe fun. It's hard to get lost in this small area. The hikes on dunes are not very challenging here. When you get tired of the sun, you don't have to walk far to return to the park's edge and take shelter in the shade. That is why it is a place for active and enjoyable recreation for the whole family.
Our Tip: Are you heading to Utah? It's one of our favorite states, so check out more travel inspiration from Utah.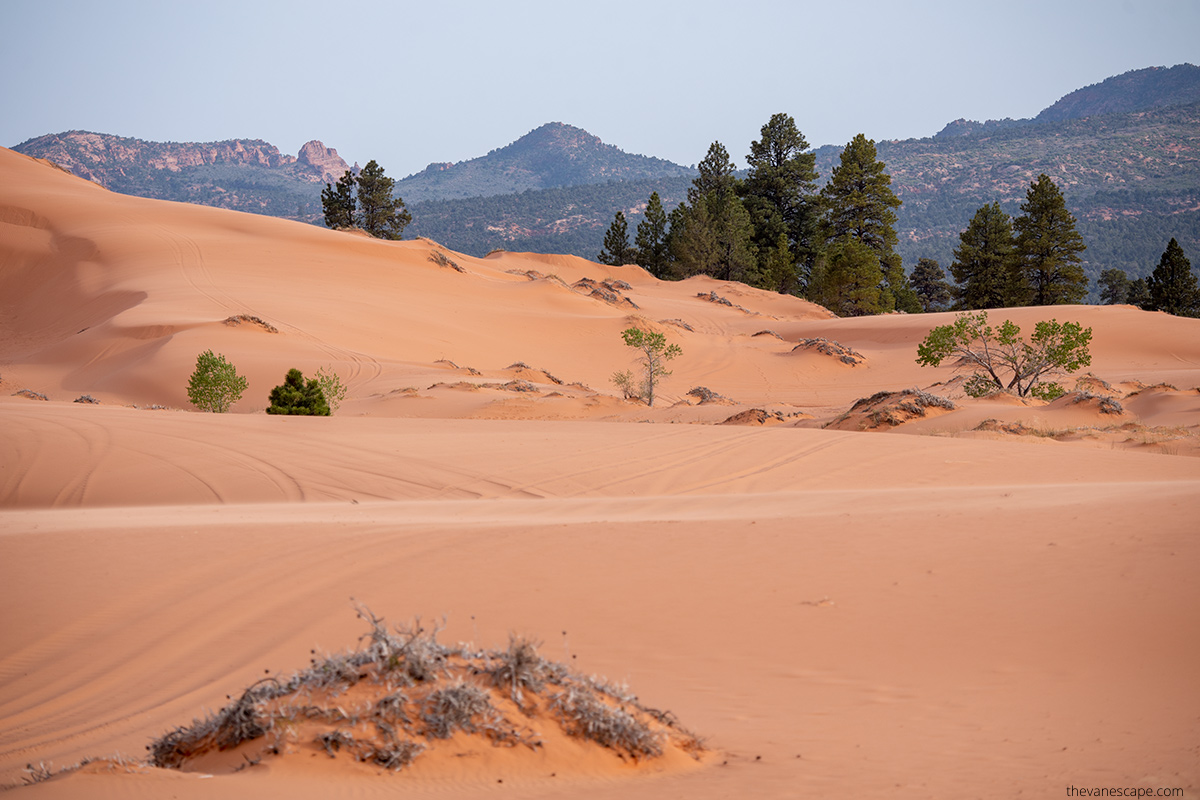 How much does it cost to go to Coral Pink Sand Dunes?
Day-use fee is $10 per vehicle; $5 for Utah seniors 65 and older. You can pay at the entrance of the Visitor Center or online. Park is open seven days a week, year-round, at daylight hours ( from sunrise to sunset). Here you can check the map of the park. The entrance fee includes hiking in the dunes, parking, and using toilets and picnic areas, but it does not include overnight stays at the Coral Pink campsite or renting an ATV (see below).
Are drones allowed at Coral Pink Sand Dunes?
At Coral Pink Sand Dunes State Park, there are currently no drone restrictions in place. This is a rare opportunity as many other parks and monuments prohibit drone usage, including national parks and wilderness areas. You can enjoy flying your drone over the dunes in this park for a small fee of $5.
Are dogs allowed in Coral Pink Sand Dunes?
Coral Pink Sand Dunes State Park is dog friendly. Pets must be leashed. There is no additional fee for a dog.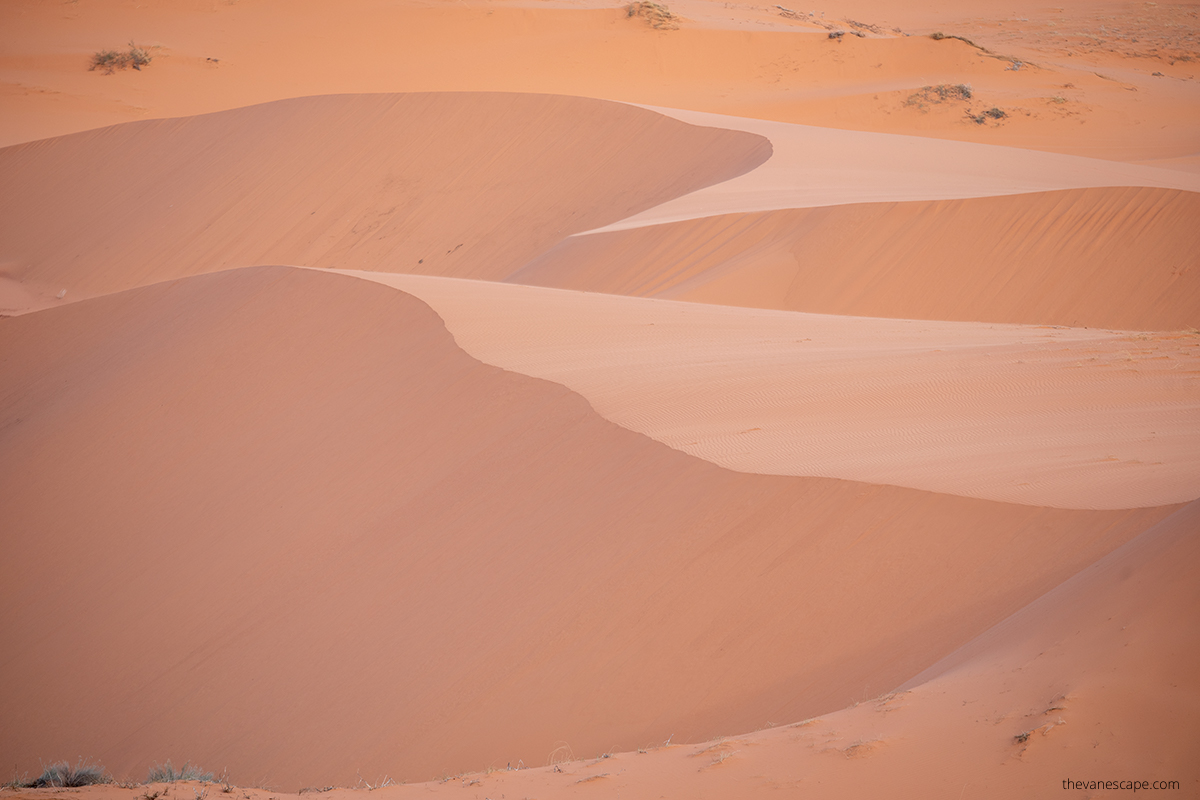 What is the best time of year to visit Coral Pink Sand Dunes?
The best times of year to go are spring, early summer, and fall, as temperatures are mild. Summer might be sweltering, so you should prepare for a hot. We visited this park in April, May, and even early November, and all those months were perfect for fun and outdoor pink dunes activities. Average temperatures in Coral Pinks Sand Dunes by months (source: WeatherWX):
April: high 63°F, low 40°F
May: high 72°F, low 42°F
June: high 86°F, low 59°F
July: high 89°F, low 66°F
August: high 87°F, low 65°F
September: high 80°F, low 58°F
October: high 66°F, low 44°F
November: high 53°F, low 33°F
December: high 41°F, low 25°F
January: high 40°F, low 24°F
February: high 44°F, low 27°F
March: high 54°F, low 33°F
Park is at an elevation of 6,000 feet, so mornings and evenings might be chilly. It can be windy, so pack a light jacket. Rain is rare in this part of Utah, so the chances of you getting wet are not high. The driest month is June, with an average of 1 day of precipitation. The rainiest months, on average 5 rainy days per month, are August, February, and March. Check the weather before your visit. Check also current conditions on the park's website.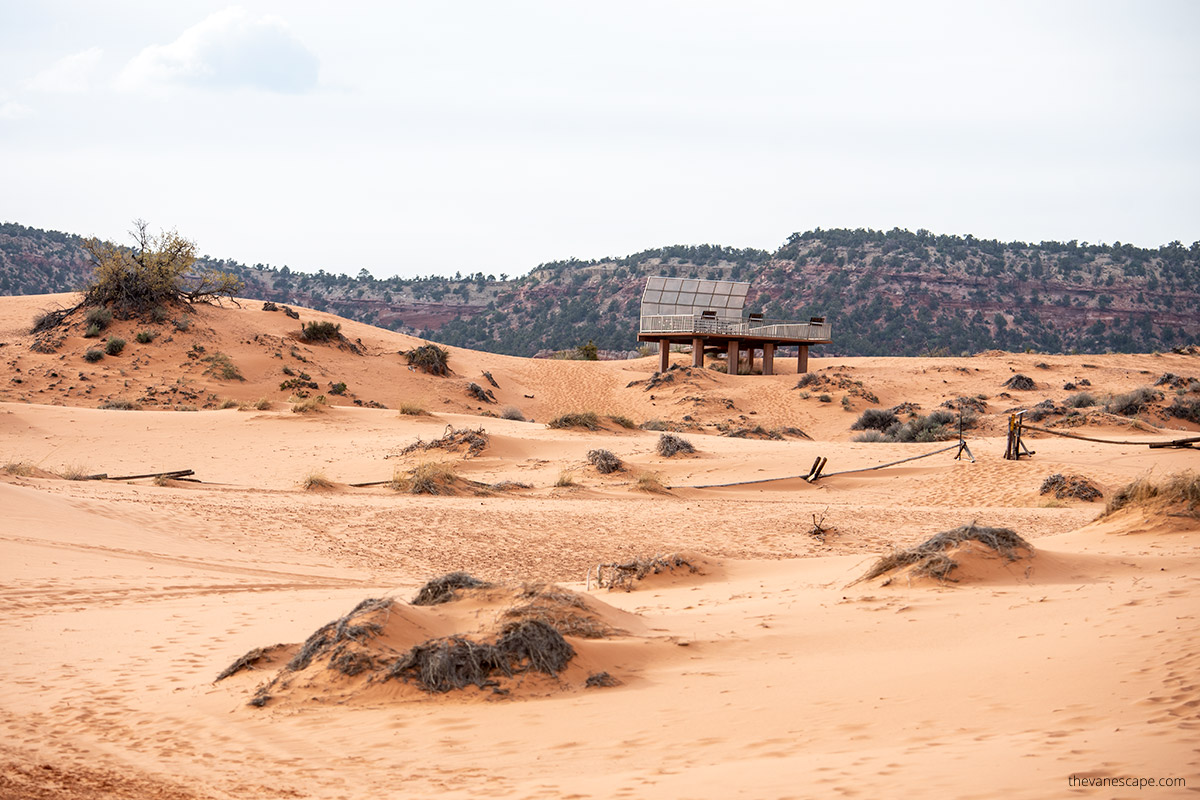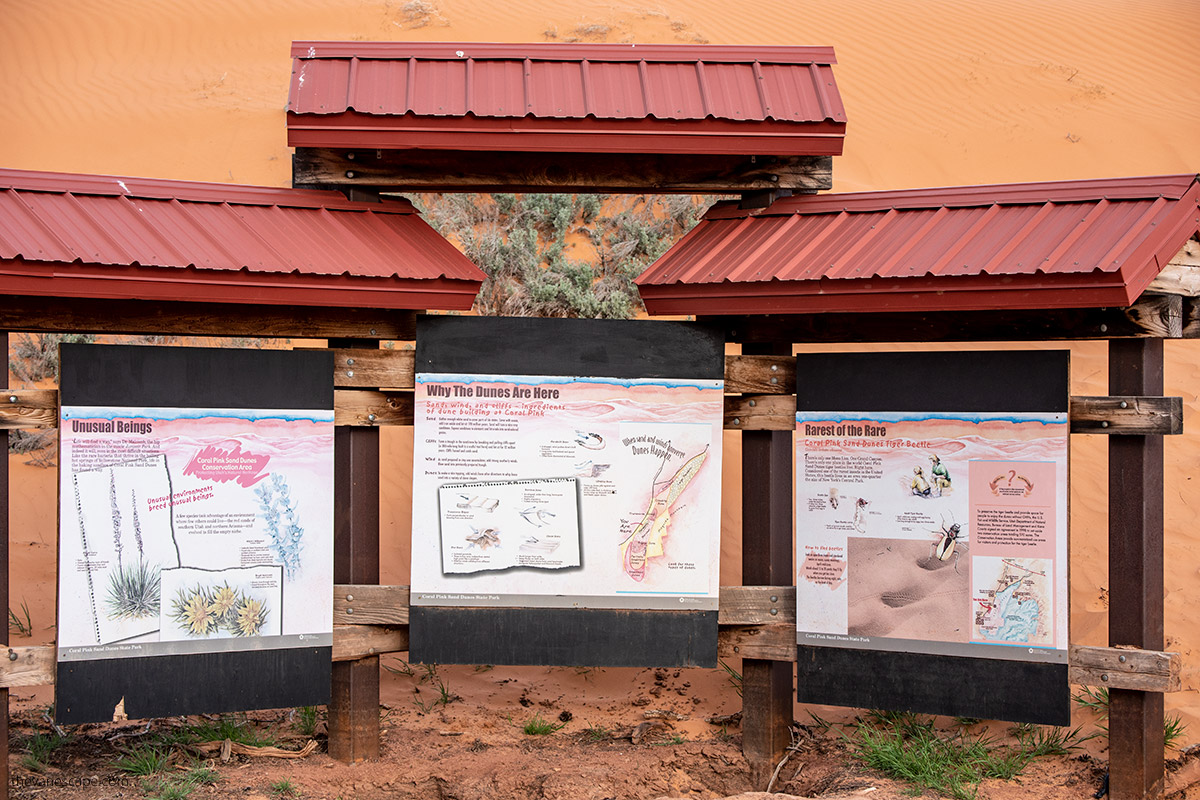 Top Things to Do at Coral Pinks Sand Dunes
Hiking on Dunes
Exploring the dunes is a beautiful activity to experience in the park. You can challenge yourself by climbing the sandy peaks, relishing the sensation of the smooth sand slipping under your feet. During the summer season, it's better to wear light sports shoes or sandals as the sand might be too hot and could burn your feet. It's essential to check the temperature before going barefoot. In other months, you can have fun feeling like a child again, strolling barefoot on the sand. Remember to bring water with you while hiking on dunes.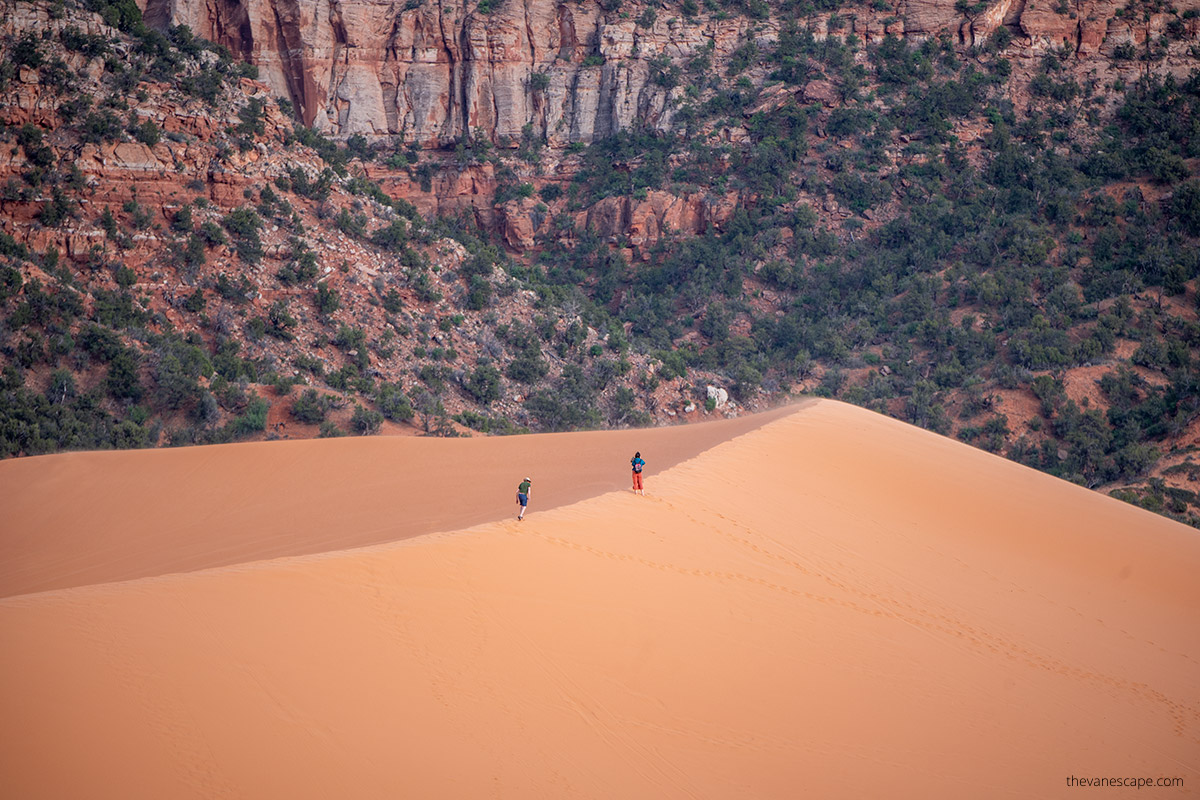 Sand Sledding
One enjoyable activity that kids and adults alike can enjoy is sand sledding. You can either bring your own sand sled or rent one at the park. Sit-down sand sleds are available for rent at the park on a first-come, first-served basis. The rental cost per board is $25, and they can be rented at the Visitor Center. It is important to note that rentals must be returned 30 minutes prior to the closing of the Visitor Center.
Sandboarding
If you plan on sandboarding at Coral Pink Sand Dunes, you can bring your own board. Don't forget to pack some wax as well, as it's essential for a smoother ride down the dunes. But you can also rent sandboards for $25 each at the Visitor Center. These boards come with wax, which can be applied after each run to maintain a smooth surface and minimize friction with the sand.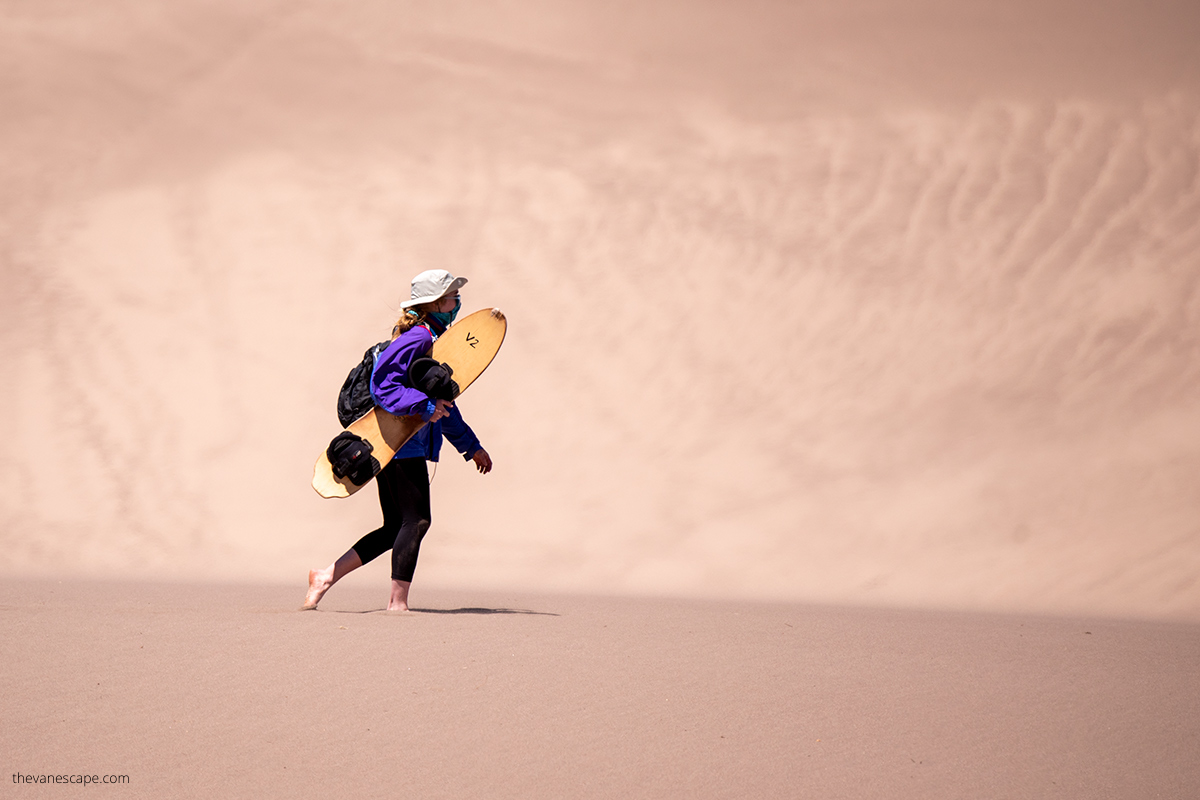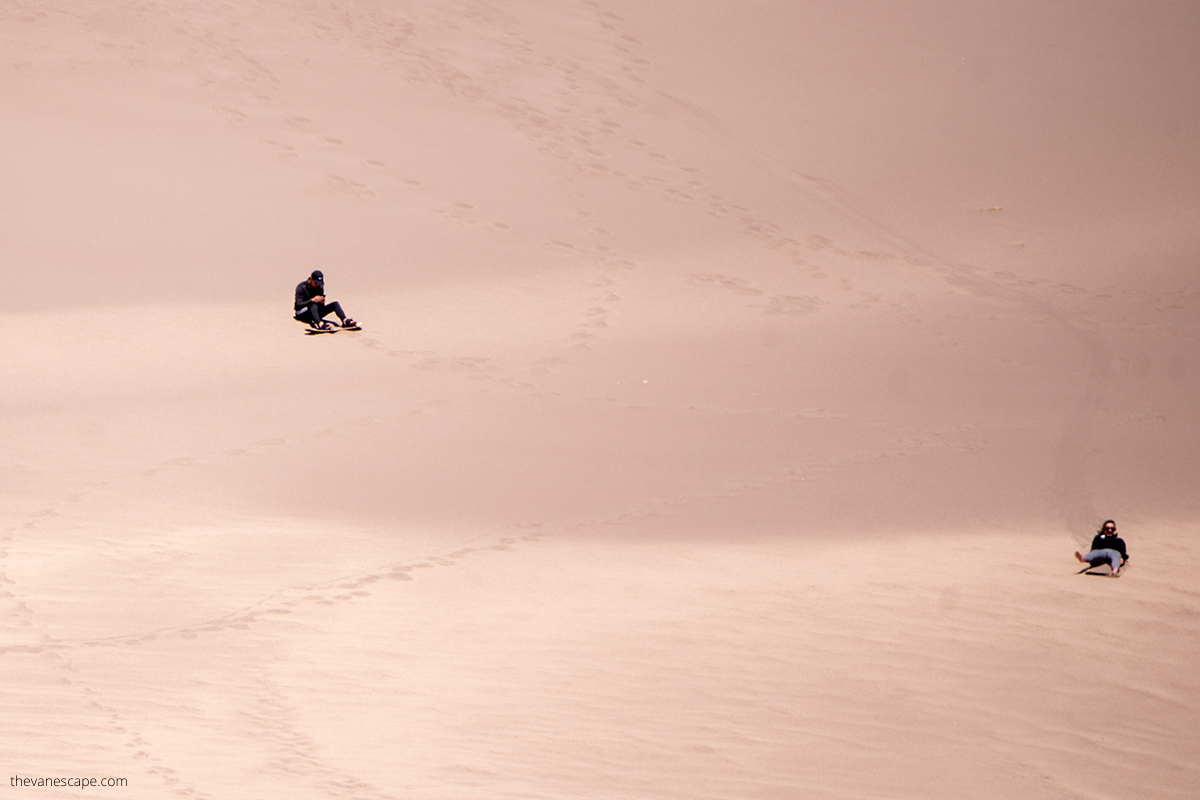 Photographing
Coral Pink Sand Dunes is also an excellent place for photographers. You can take beautiful pictures of dunes, sand pouring over the top, and sunsets.
Rappelling at Coral Pink Sand Dunes Canyon
If you're feeling adventurous, why not try rappelling at Coral Pink Sand Dunes Park? It's an exhilarating activity that can be added to your itinerary. You'll get to hang over the edge of a canyon cliff and take in the breathtaking views of the sand dunes below. Don't miss out on this fantastic local tour! This tour is on our bucket list for the next visit.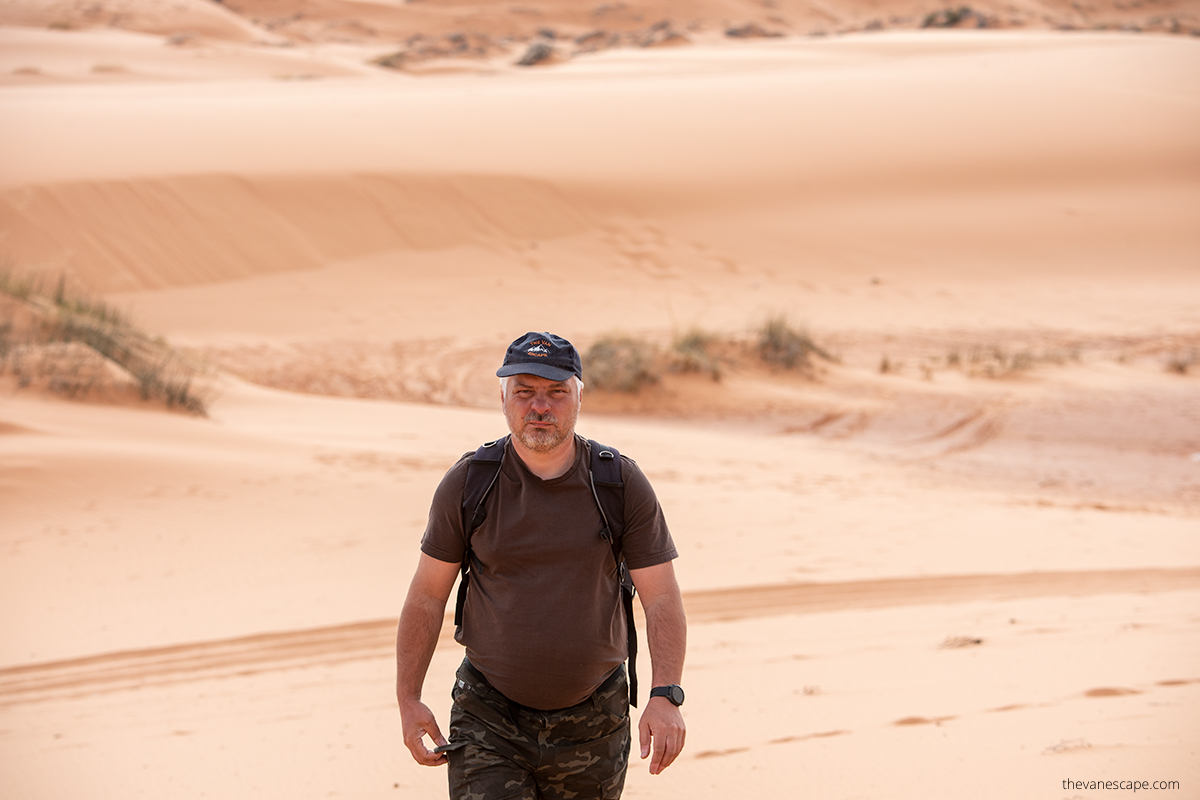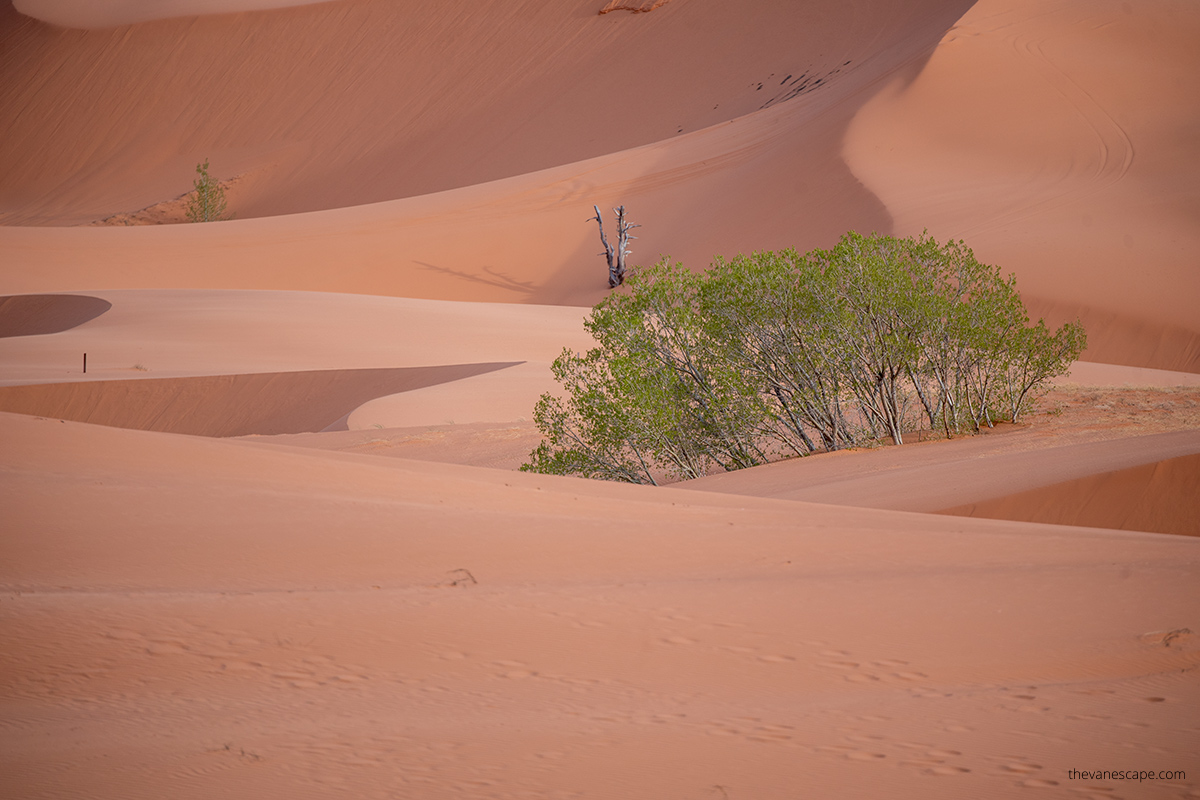 OHV Riding
Coral Pink Sand Dunes State Park became a popular off-highway-vehicle (OHV) destination. One of the best and funniest things to do in the park is an ATV ride. You can enjoy driving OHVs and ATV dune buggies on over 2,000 acres of sand dunes in Coral Pink Sand Dunes State Park. However, this sandy playground has many visitors. Hikers and sand boarders share the land with motorized vehicles, so they should respect each other. Avoid disturbing the natural habitat and maintain a safe environment for everyone to enjoy. Below we give more details about the rules and possibilities of renting ATV vehicles.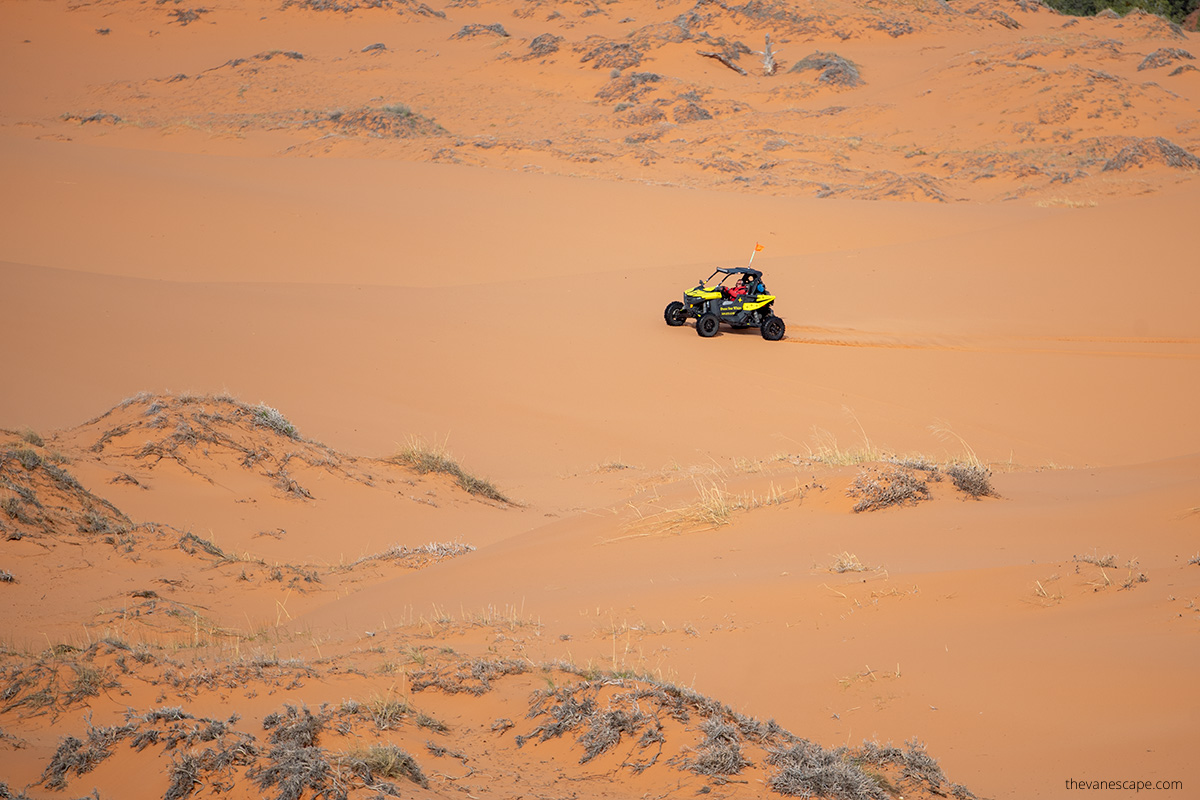 OHV Safety Tips
When engaging in dune riding, please note that it is only permitted between the hours of 7 am and 10 pm.
All riders must have an orange whiptail flag on their off-highway vehicles.
Additionally, it is imperative that all off-highway vehicles (OHVs) are legally registered and that drivers possess a valid driver's license.
Utah law mandates that riders under the age of 18 must wear a suitable and adequately secured helmet while riding an OHV. It is also highly advisable for adult riders to wear a helmet.
Consumption of alcohol or drugs while operating an OHV or before the drive is strictly prohibited.
Additionally, minors must obtain certification to operate an OHV on public lands legally.
You must distance yourself by 10 feet from any vegetation within the park and maintain a distance of at least 100 feet from any pedestrians on the sand dunes for safety purposes.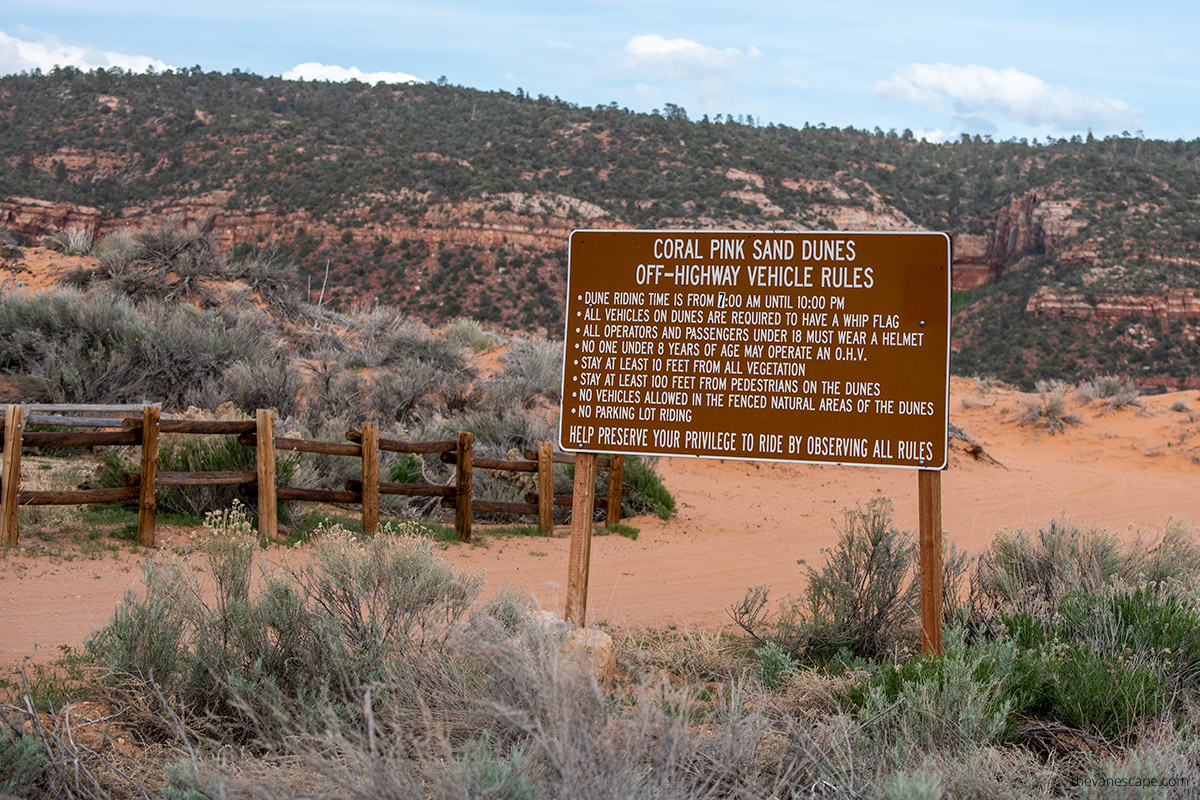 OHV Trails
There are marked trails in the park, you can follow when driving an OHV:
South Boundary Trail
Sand Highway
Sand Springs
Barracks Trail
Indian Canyon Petroglyphs
Elephant Butte Trail
Coral Pink Sand Dunes ATV Rental
If you have no experience in ATV riding but would like to try this exciting activity finally, you've come to the right place. Coral Pink Sand Dunes is the perfect place to start your ATV adventure. You can benefit from the experience of local guides who rent equipment and look after you. Check out: Sand Dune Paradise Tour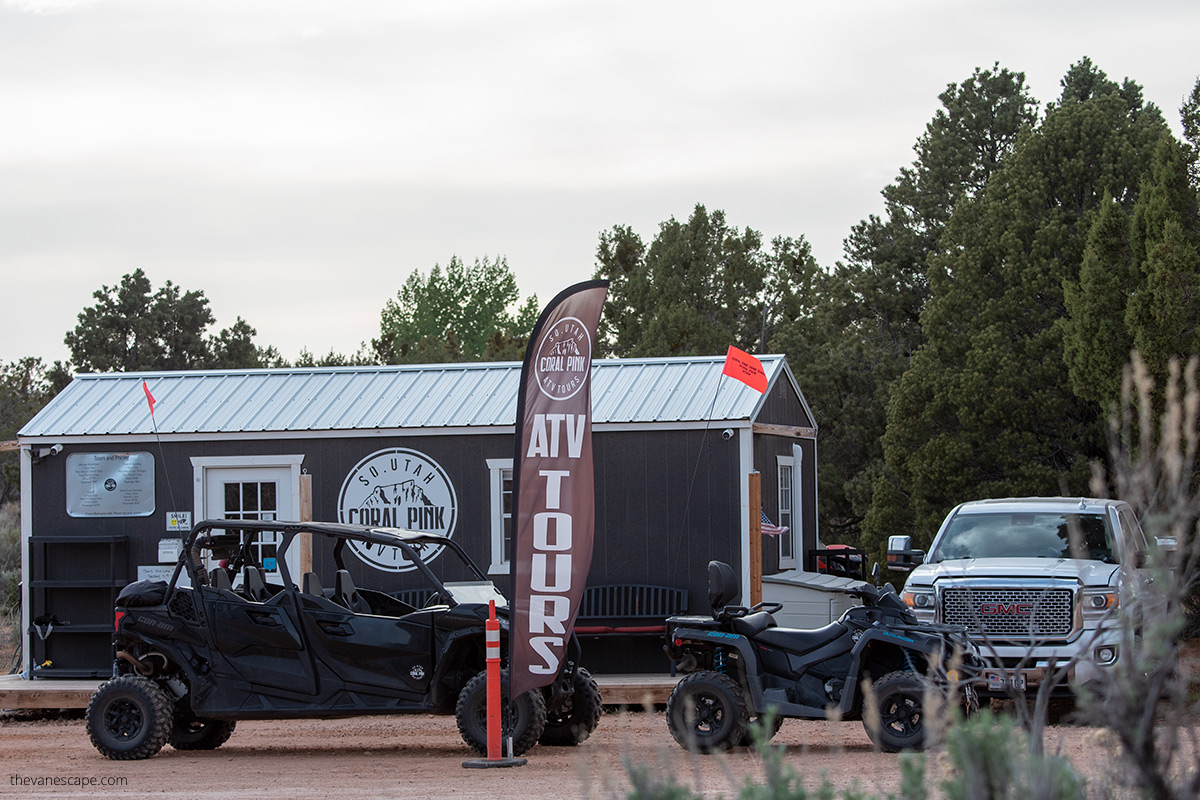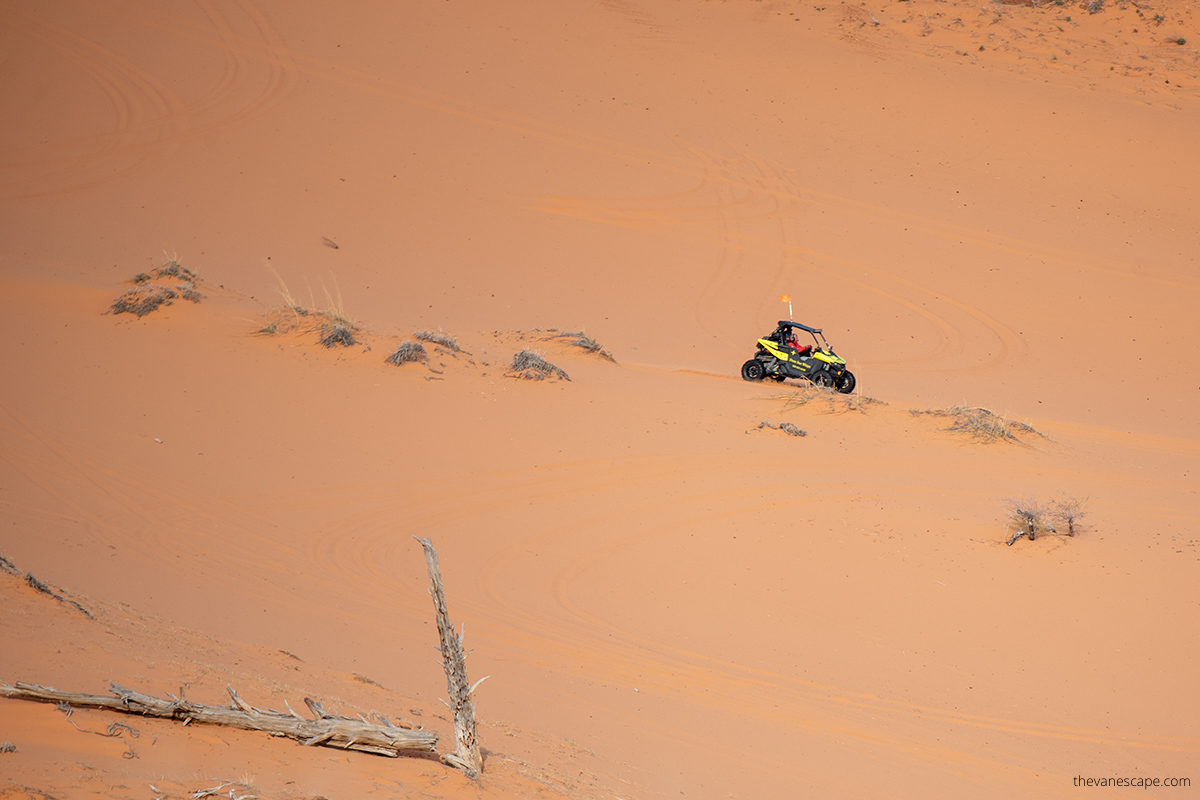 Coral Pink Sand Dunes Camping
If you travel with an RV, you can stay at a campsite in the picturesque pink dunes area. The Coral Pink Sand Dunes camping offers amenities such as restrooms, hot showers, a sewage disposal station, picnic tables, and fire pits for the convenience and comfort of campers. You can book a campsite at Coral Pink Sand Dunes State Park at the official Utah state park reservation website. Coral Pink Sand Dunes Camping fees are:
The Old Campground offers 22 sites without hookups, with a fee of $25 for a single site and $50 for a double site.
The New Campground provides 11 sites with water and electric hookups for $40 per site.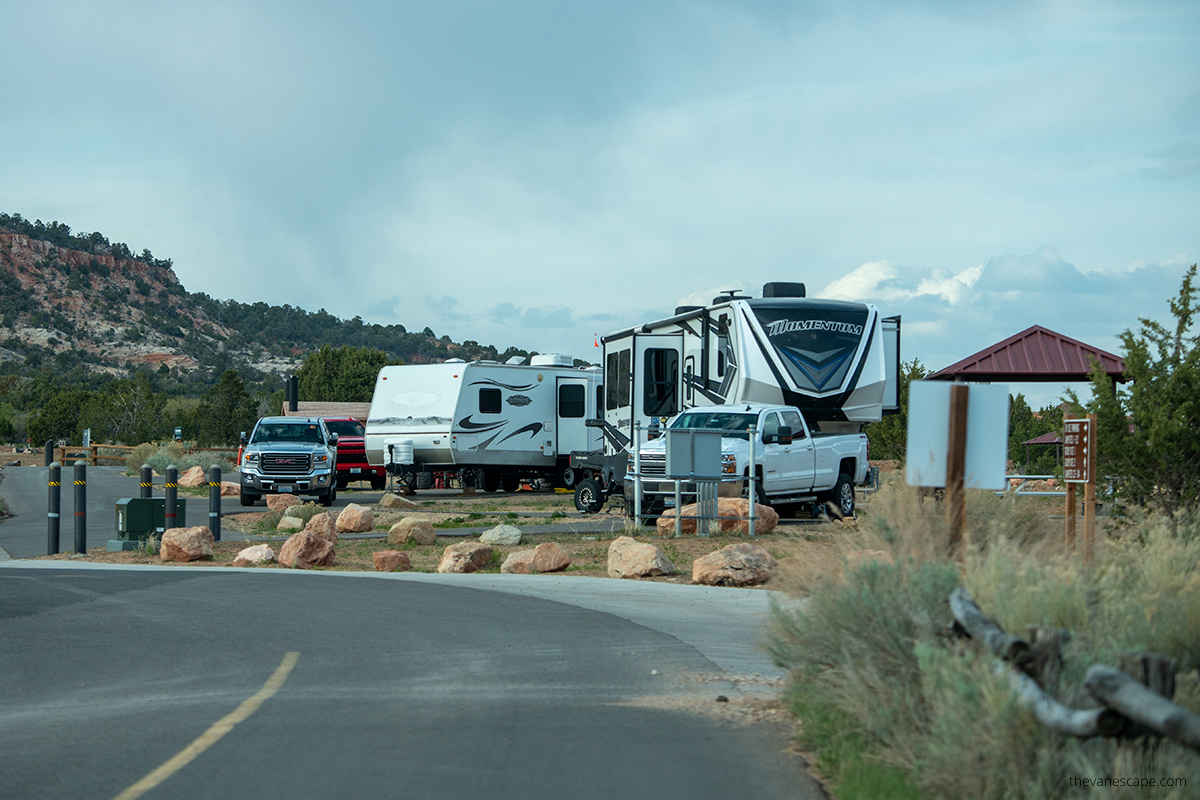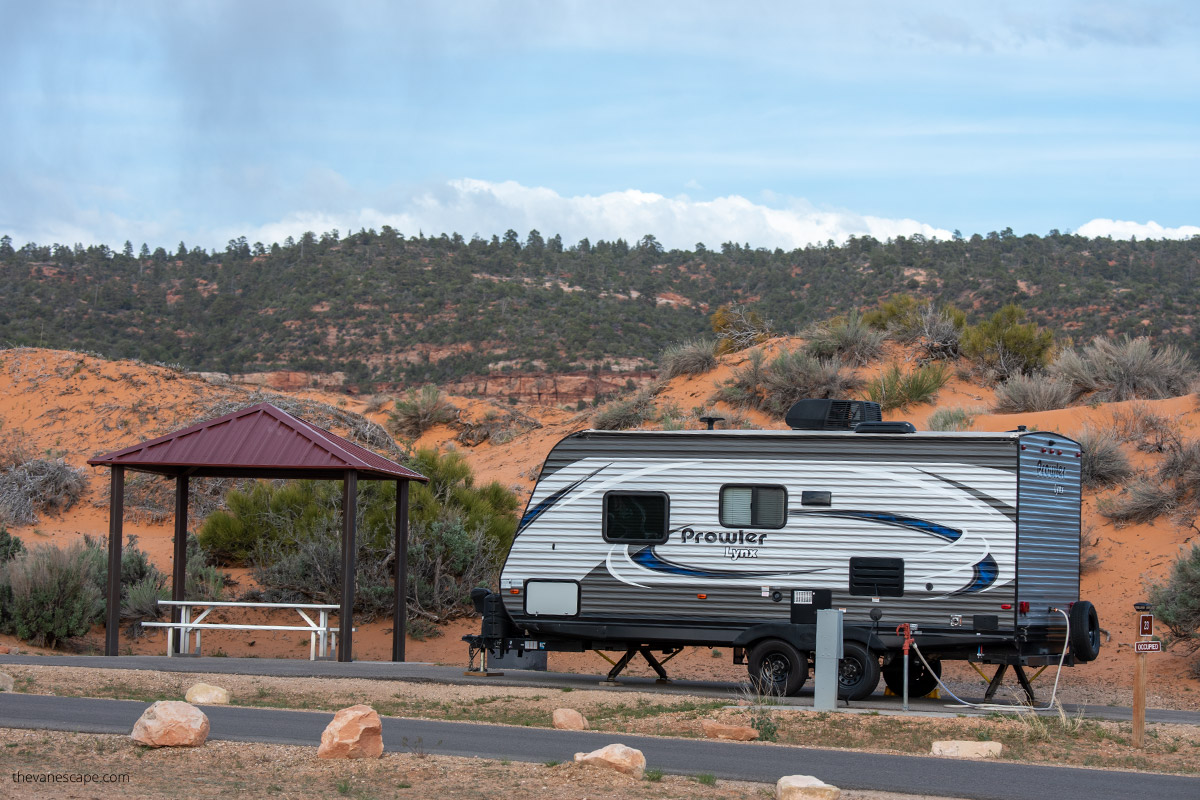 Other Camping Options Nearby
Free Dispersed Camping on BLM Public Lands
Utah is one of the best states to camp for free on public lands if you don't need any amenities. But of course, you need to follow all the rules related to this. Dispersed camping is generally allowed on public land for not exceeding 14 days. Respect public lands, follow leave-on-trace rules, and pack up all rubbish.
Ponderosa Grove Campground
The Ponderosa Grove Campground is on its way to Coral Pink Sand Dunes. It's eight miles northwest of Kanab, and BLM manages it. It's a very lovely located among ponderosa pine trees that shade its campsites. Mornings and nights might be chill, as the campground is 6,300 feet high. The price is only $12 per night per individual site. OHV enthusiasts became frequent users of this campground.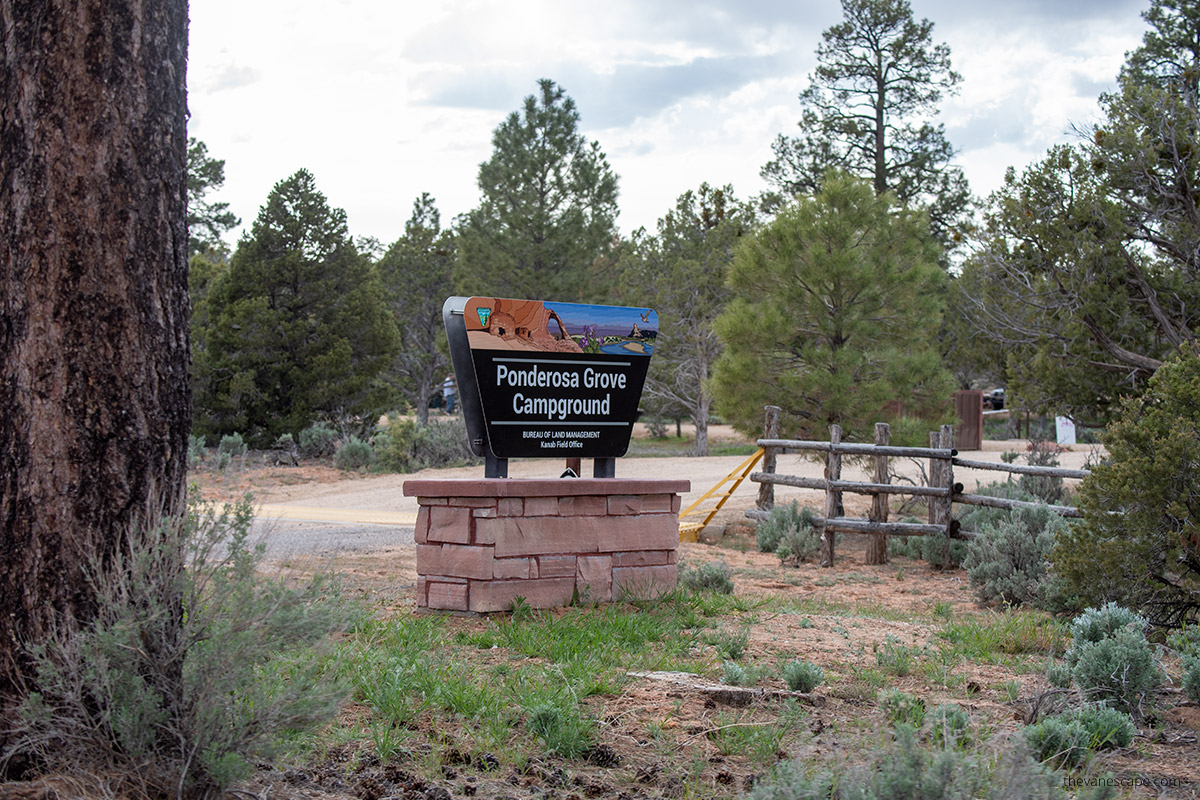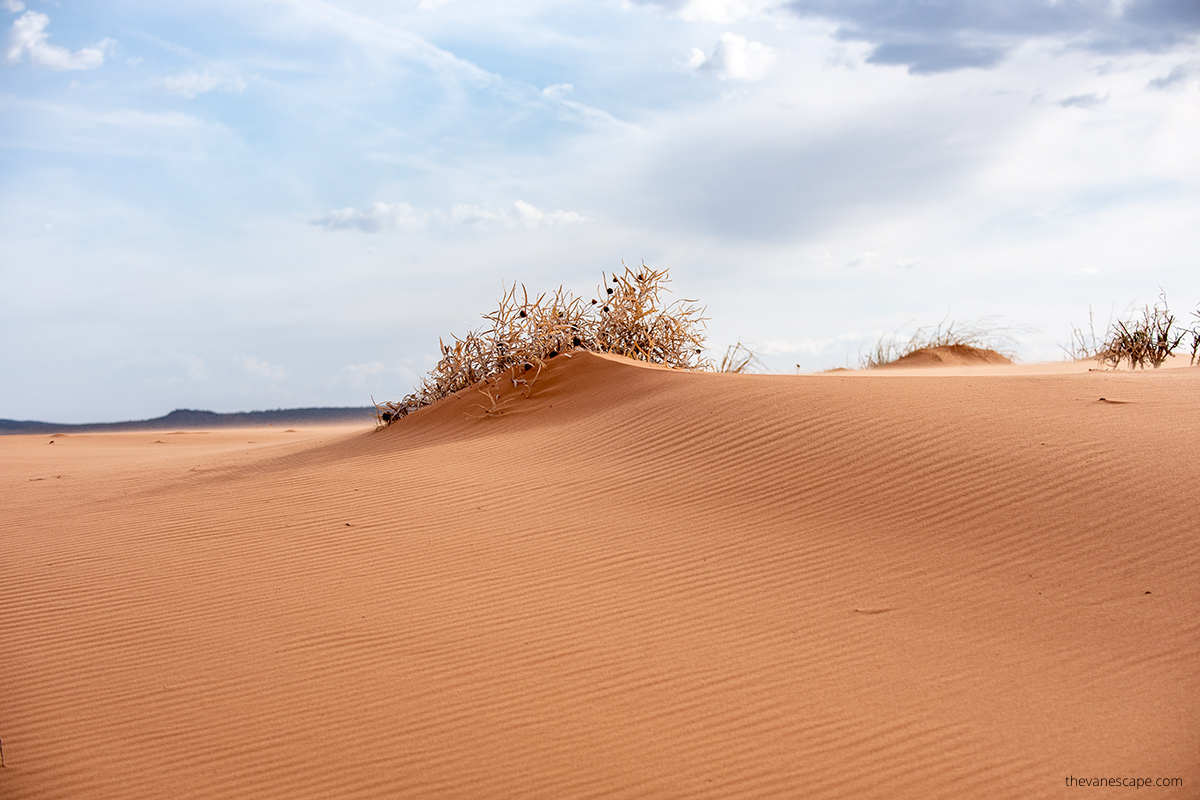 Hotel Lodging Options Nearby
If you want to stay in a hotel, your best bet is to stay in Kanab. We spent many weeks in this city, both in hotels and campgrounds. From our experience, we can recommend in particular:
What do you wear to Coral Pink Sand Dunes?
First, dress comfortably so that your clothes do not interfere with your wandering in the dunes. Protecting your head and body from the sun is vital, so wear a hat, sunglasses, shoulder coverage, and sunscreen (especially in summer). But we used sunscreen in Kanab even in November and in May. In Southern Utah is essential to protect your body to prevent sunburn. Put on light and comfortable sports shoes, flip-flops, or sandals. If you plan to go barefoot, check the sand's surface temperature, as it can be scorching in summer. Take a supply of water with you, and remember to stay hydrated.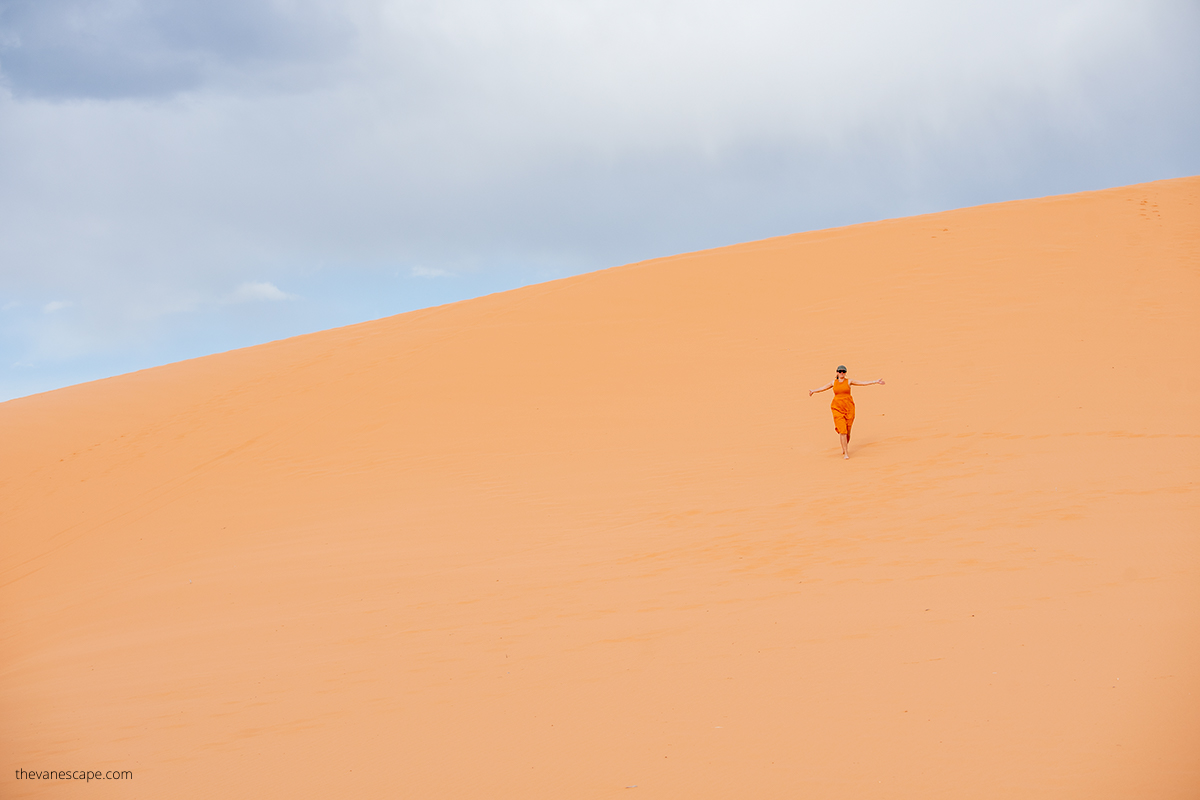 Things to Do Nearby Coral Pink Sand Dunes State Park
If you have a passion for sand dunes and love ATV riding, then Kanab is the ideal location for you. You can opt to rent an ATV or take a guided ATV tour to the breathtaking Peekaboo Slot Canyon. During our recent Kanab vacation, we were amazed by the stunning Cutler Point, also known as the Great Chamber, which we explored on a jeep tour (it was combined tour Peekaboo+Great Chamber). However, it's also possible to visit Cutler Point and Peekaboo on an ATV tour.
If you're looking for other exiting Southern Utah state parks to stay, consider Kodachrome Basin State Park, just 20 miles from Bryce. It has three beautifully located campgrounds and some great hiking trails.