Guide to Visiting NASA Space Center Houston
One of the best things to do in Houston, Texas, is no doubt visiting the NASA Space Center Houston. It is a perfect place for adults and children where science stimulates the imagination and expands horizons. Check our guide and tips on how to get here, what to expect, and how to get NASA Space Center tickets online.
This article may contain affiliate / compensated links. For full information, please see our disclaimer here.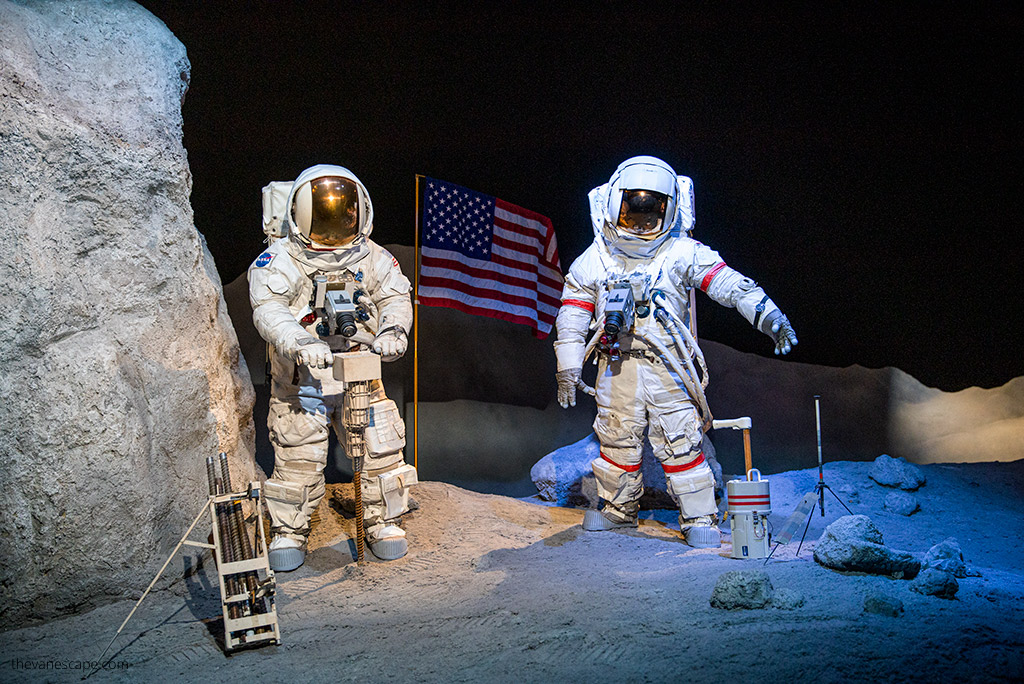 What is NASA Space Center Houston?
Space Center Houston, Texas, is a science museum that serves as the official visitor center for the NASA Johnson Space Center in Houston. It was added to the Smithsonian Affiliate Museums list in 2014. It is owned by NASA and operated under contract by the nonprofit Manned Spaceflight Education Foundation. Johnson Space Center is home to Mission Control and astronaut training.
Interesting Facts about Space Center Houston
Space Center Houston opened in 1992, replacing the former visitor center in Johnson Space Center Building 2.
The museum is 250,000 square feet (23,000 m2).
The museum displays over 400 space artifacts, the Mercury 9, Gemini 5, and Apollo 17 space capsules, Independence Plaza.
There are also permanent and traveling exhibits and theaters dedicated to the history of the human spaceflight program.
Space Center Houston also offers STEM programs for all ages.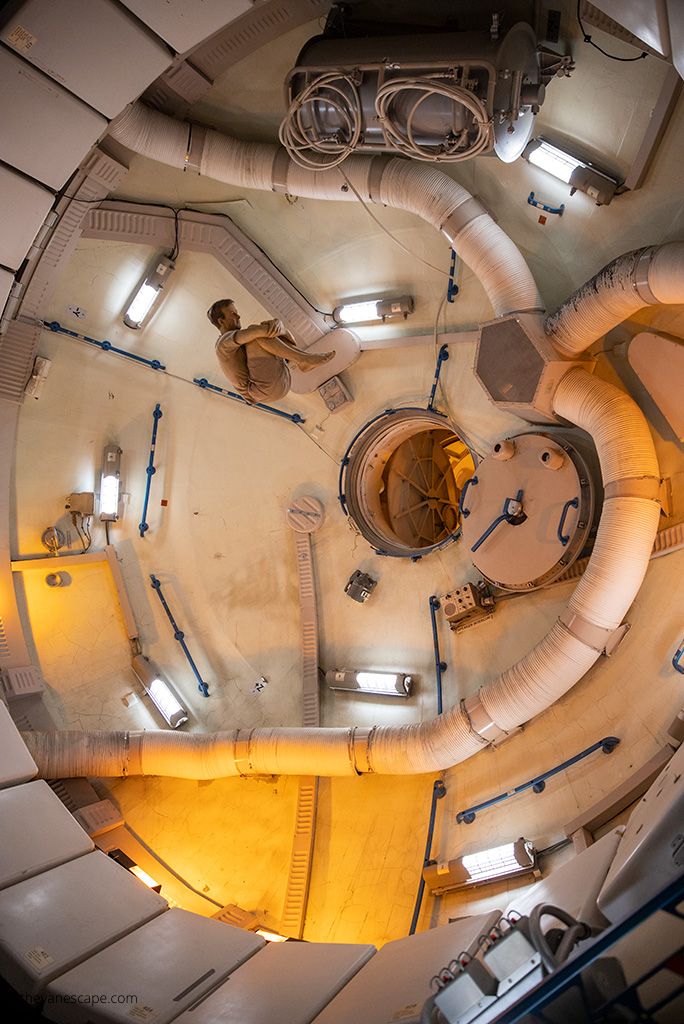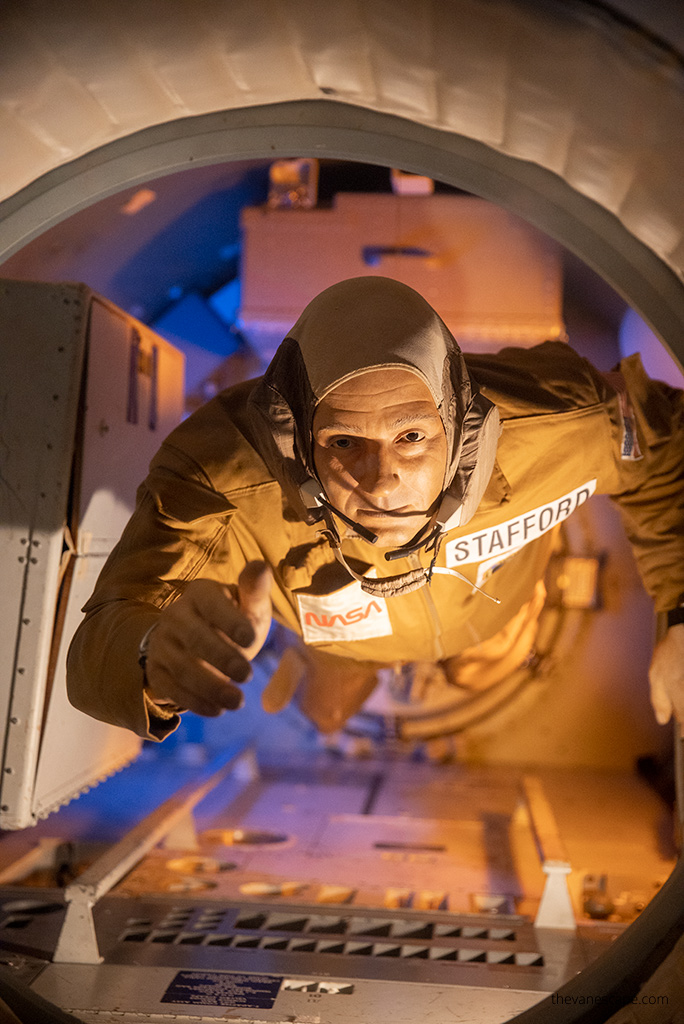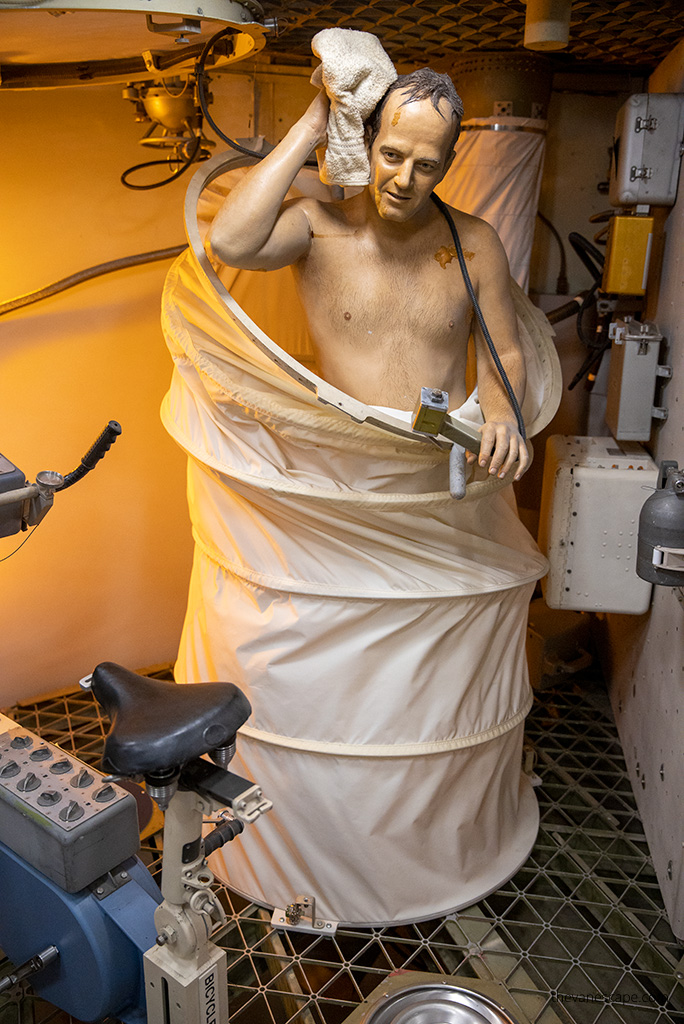 Where is NASA Space Center Houston located?
The address of Space Center Houston is 1601 E NASA Parkway. It's around 26 miles southeast of the Houston city center. Space Center Houston's standard opening hours are 10 a.m. to 5 p.m. It is open year-round except for Thanksgiving and Christmas. During busy periods, it may open at 9 a.m. and close at 6 p.m. Check the official website for opening hours.
From Houston city center take I-45 S. It's about 30 minutes of driving.
If you are driving from San Antonio, Texas, take I-10 E. It's about 223 miles and 4 hours of driving.
If you are driving from New Orleans, take I-10 W. It's about 345 miles and 5 hours 20 minutes of driving.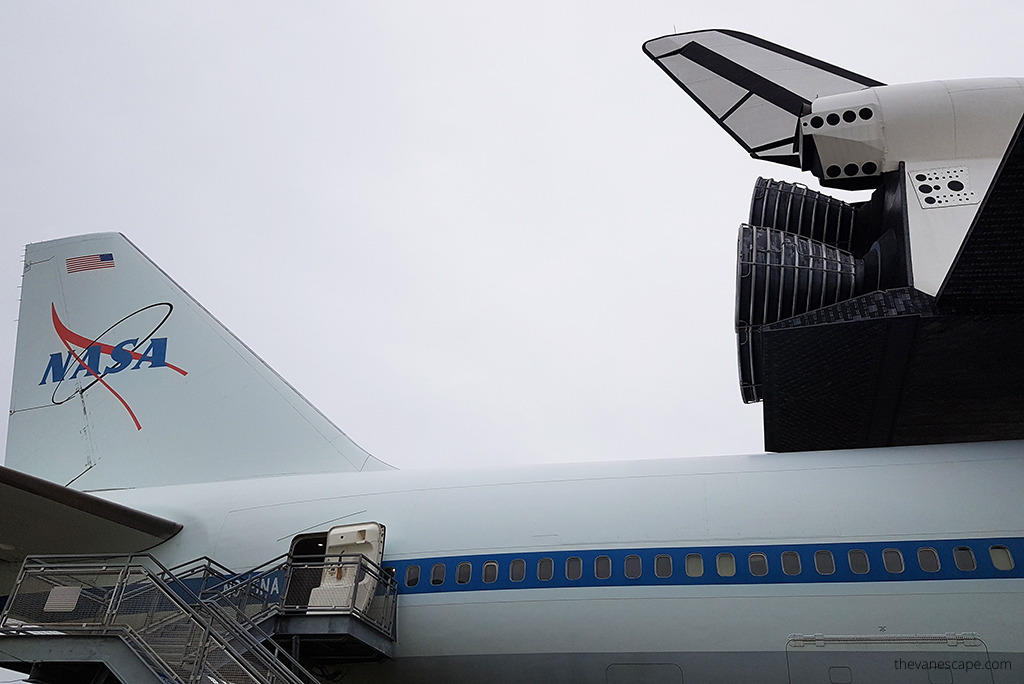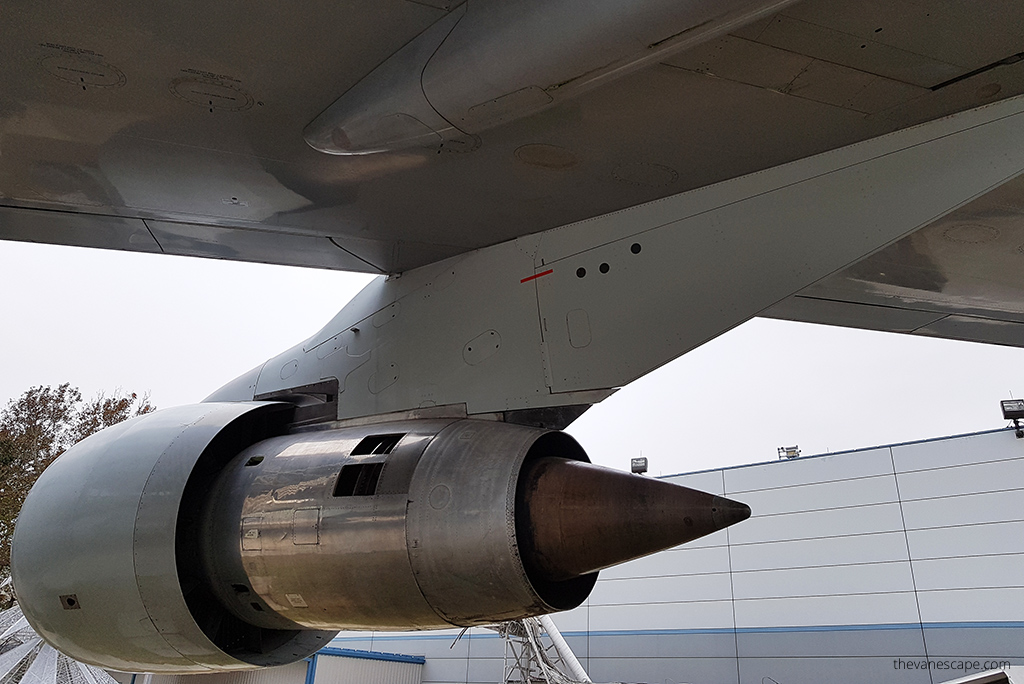 How to get to NASA Space Center Houston?
By Car
Driving from the city center will take approximately 30-40 minutes via the Gulf Freeway, I-45, between downtown Houston and Galveston. There is ample on-site parking, which costs $5 per car all day. You can visit the NASA Center on your own. You can book an entry ticket online to skip the line.
By Public Transport
If you are using public transport, taxi, or Uber, buy an admission ticket via this website. The ticket is $5 more expensive on the official museum page because it includes the parking fee. During the week, you can take public transportation to Space Center Houston. Use the line 249 bus, which runs from downtown to nearby El Dorado Pr, which is close to the Space Center. But it's still 4 miles from El Dorado Pr to the Space Center. So take an Uber or a cab from here. Check the Houston Metro website for schedules and departure times. Public transportation is not available on weekends.
With a Tour
You can also consider taking an organized tour from the city center to Space Center Houston. You can choose:
City Sightseeing Tour & Space Center Houston Entry. This is a great option if you would like to see the most exciting places in downtown Houston with a local guide and visit the NASA Center. You will visit the main sites in Houston, including Minute Maid Park, Houston Museum District, and Buffalo Bayou, with a guide. This tour does not include a guided tour of Space Center Houston. You will explore the center by yourself. The price consists of Entrance fees to Space Center Houston (with NASA Johnson Space Center and the NASA Tram Tour), transportation, and a guided tour of Houston.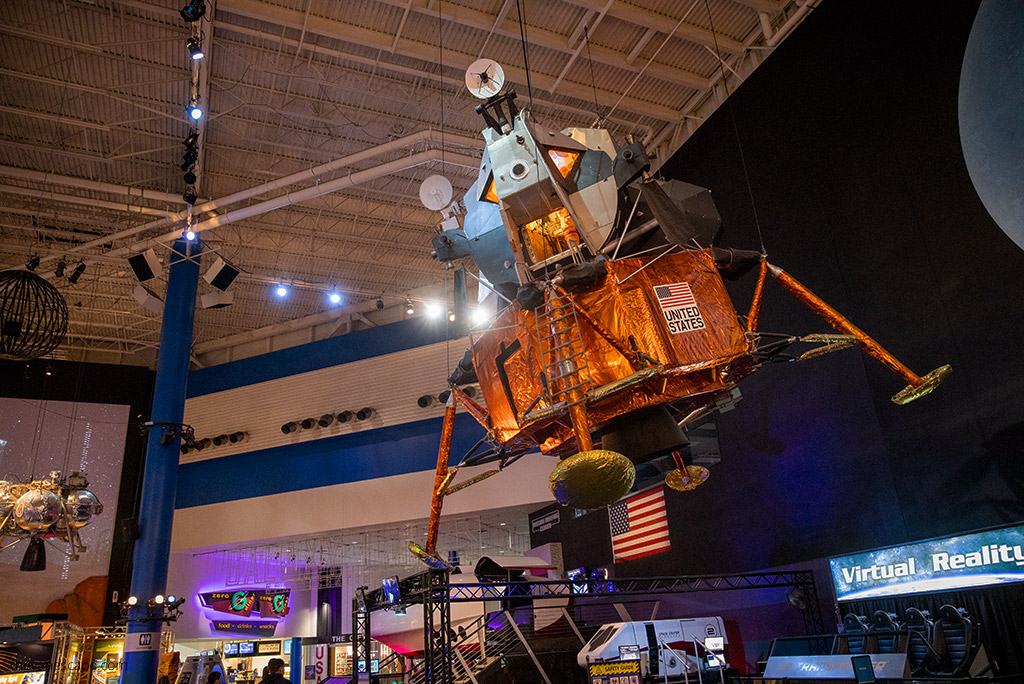 How much does a visit to NASA Space Center Houston cost?
General Admission Tickets are $29.95 for Adults, $27.95 for seniors (65+), and $24.95 for Children (Ages 4-11). Children 3 and under are able to enter for free. You can buy Space Center Houston Admission Ticket online.
What's important, admission to Space Center Houston is also included in the Houston CityPASS. This can save you a lot of money if you want to visit some of the other attractions included in the pass – up to 50% savings. So if you plan to spend some time in Houston and see the highlight, Houston City Pass is a perfect solution to save your budget. Valid for 9 consecutive days from the date of first use, Houston CityPASS lets you spend less and experience much more.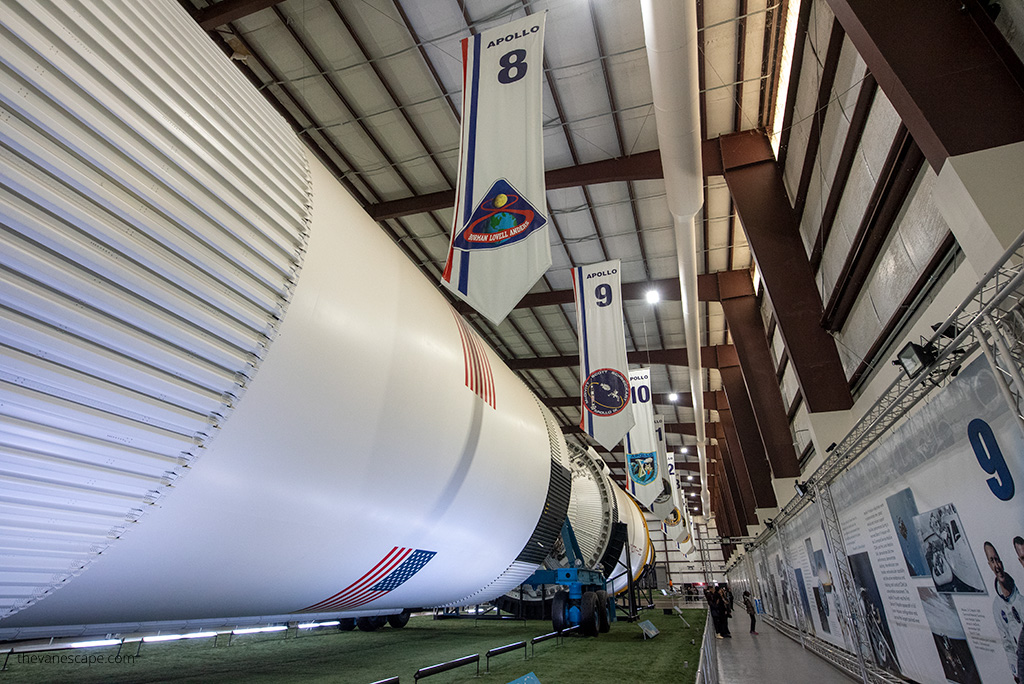 Are there different ticket types at the NASA Space Center Houston?
Yes. There are a number of different ticket options for Space Center in Houston. It all depends on your need, time, and money. We suggest you buy your ticket online before the planned visit to avoid a line at the cash desk. It is worth buying a ticket in advance in the summer months, and it is best to choose the morning hours for your visit to avoid crowds. The vast area is not crowded, but there are long lines for the Tram Tour in peak season. Also, the last Tram Tour departs at 3:00 p.m.
Standard Ticket
We chose General Admission Tickets (the standard ticket) also included in the Houston CityPass.
Our suggestion is to buy:
General Admission Ticket if you don't plan to visit other payable attractions in Houston. With this standard ticket, you have access to all the exhibits in the Space Center Houston and the famous Tram Tour of NASA Johnson Space Center.
But if you plan to sight Houston, consider Houston CityPass. Buying the CityPass helped us save some money during our visit to Houston. It was a perfect solution. It is profitable to buy this Houston CityPass if you also want to visit other city highlights. With this pass, you can save 50% at 5 Top Attractions: Space Center Houston, Downtown Aquarium, Houston Museum of Natural Science, Houston Zoo OR Museum of Fine Arts, Kemah Boardwalk All-Day Ride Pass OR Children's Museum of Houston. It's a great idea, especially if you are with kids. Keep in mind that reservations are recommended for CityPASS holders. First, purchase CityPASS online for immediate, paperless delivery to your mobile device. Next, call (281) 283-4755 or email [email protected] to reserve your time in Space Center Houston. CityPASS guests without an advance reservation can obtain a ticket for the next available time at the ticket window.
TRIP TIP: We suggest that you purchase your tickets through GetYourGuide as we trust them and use their services ourselves. But the most crucial reason it is better to choose it is that you can cancel your trip easily 24 hours in advance to receive a full refund. If you buy a ticket via the museum website, you must contact their Reservations Department (calling or via e-mail) at least 48 hours before the date/time on your tickets.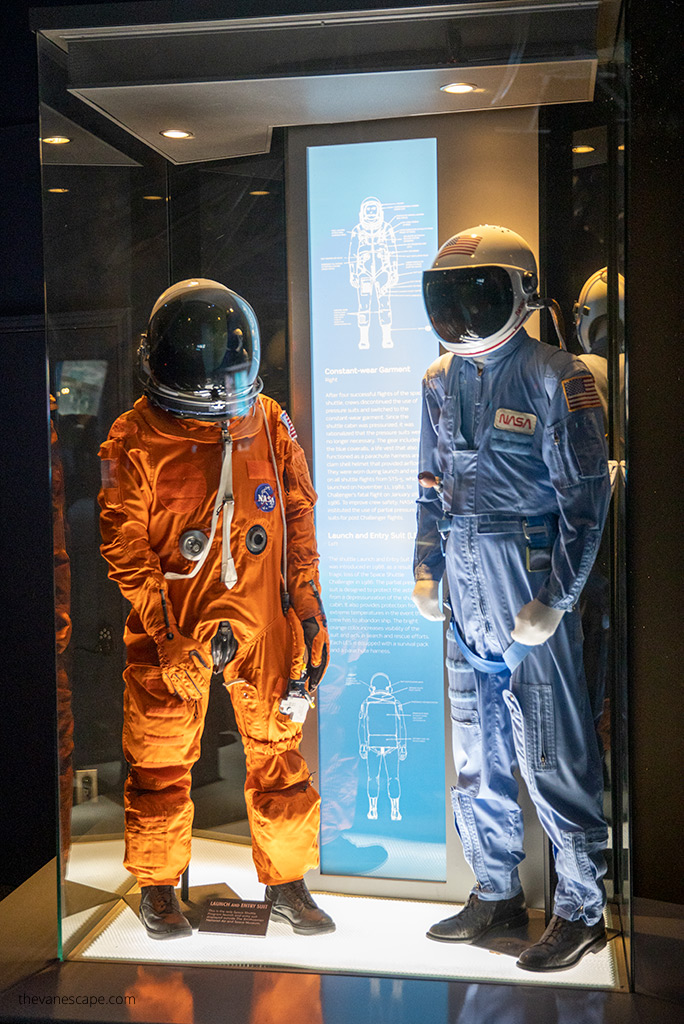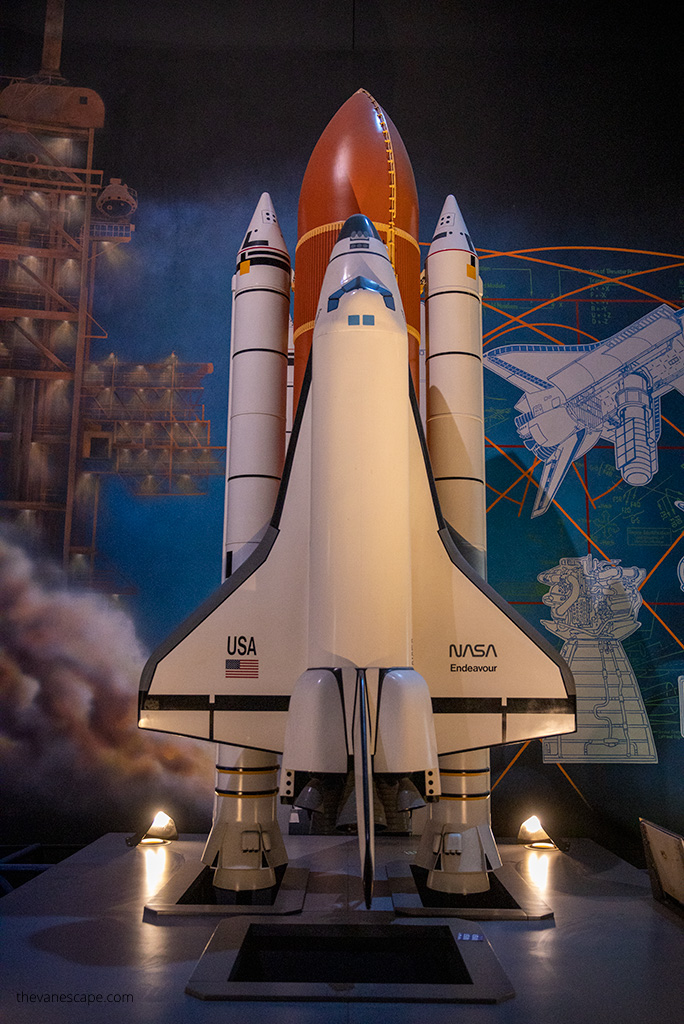 Space Expert Tour
There is also a Space Expert Tour. You can become a space expert on this tour by exploring the Centre's collection in-depth on the new Space Expert Tour. You can learn from experts and take your knowledge of space exploration to the next level. The price is $69.95.
Breakfast with an Astronaut
Having Breakfast with an Astronaut at Space Center Houston is sure to be a great experience. You'll get an inside look at the space program from an astronaut's perspective while enjoying a delicious breakfast prepared by Wolfgang Puck. This tour price is $99.95 for adults and $79.95 for children.
Educational Programs and Experiences
Space Center Houston also offers a variety of educational programs for families, kids, organizations, and groups. Space Center Houston's Learning Innovation Center is among the nation's leading resources for science education. Programs are based on the National Science Standards and focus on science, technology, engineering, and math to help adults and children think critically, learn about the past, present, and future of America's space program and develop a better understanding of the world. So check out the official website for details.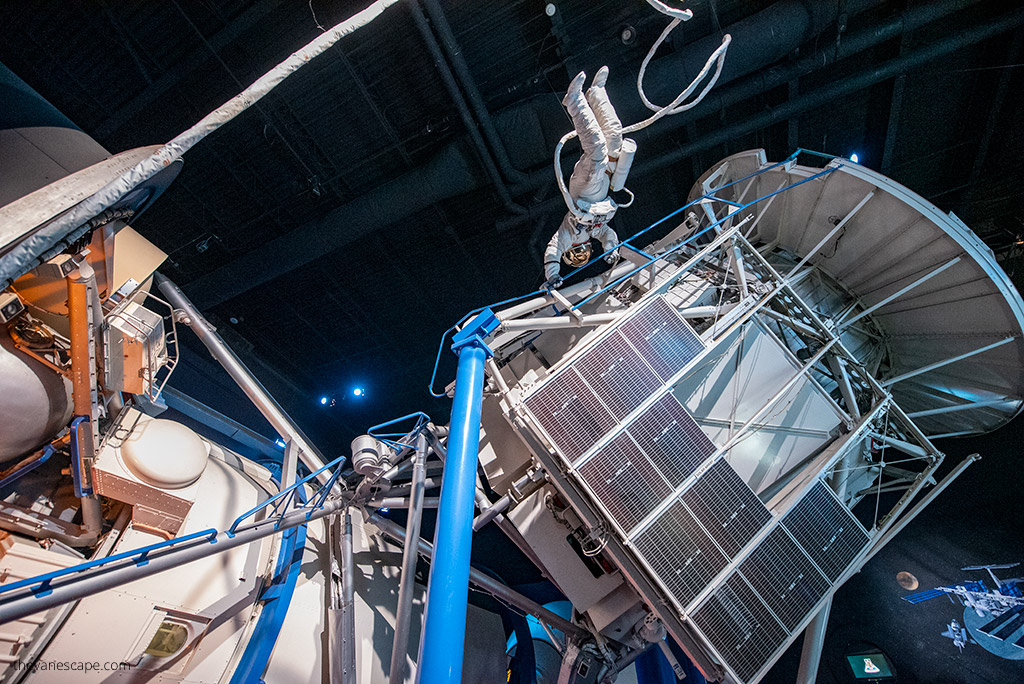 Is there an Audio Tour of Space Center Houston?
Make sure you have your headphones packed before you visit Space Center Houston because Space Center Houston offers the Space Center App for smartphones. This includes an audio tour, GPS maps of the site, AR experiences, and more. The app is available as a free download for Android and Apple smartphones. Download the App here.
Is NASA Space Center Houston worth visiting?
It is worth visiting this place. We spent over four hours in the museum and would love to come back. The number of exhibits and displays is breathtaking. It stimulates the imagination and encourages learning. Some of the exhibits are very interactive. The size of the exhibits and the number of interactive exhibits are impressive. It's a perfect place for kids and teens to engage their desire to learn.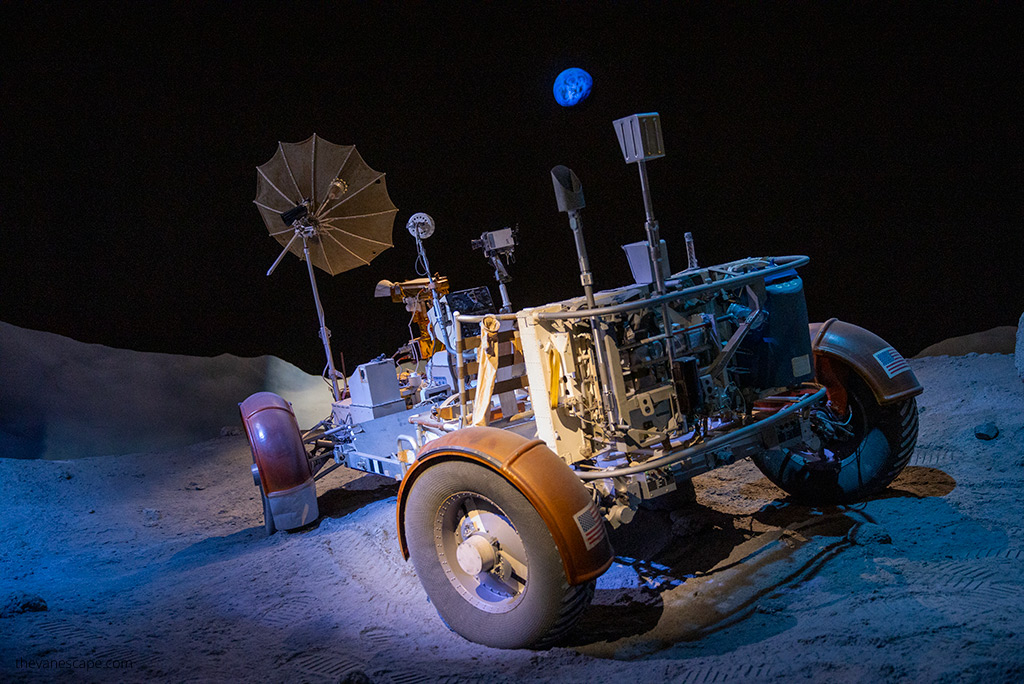 What can you see and do at NASA Space Center Houston?
You will not be bored at this museum. What are the highlights at NASA Space Center Houston? Below is a list of our favorite attractions and activities in the Space Center. Don't miss them during your visit.
Independence Plaza in Space Center Houston
Space Center Houston is home to the unique Independence Plaza exhibit complex. It houses a real Boeing 747 aircraft with a replica Space Shuttle mounted on top. This landmark is home to the world's only replica space shuttle mounted on one of the two original shuttle carrier aircraft. Independence Plaza is the only place where the public can access both vehicles. The replica space shuttle Independence, formerly known as Explorer, used to be located at the Kennedy Space Center Visitor Complex but was relocated to make way for a new permanent attraction hall for Space Shuttle Atlantis.
At Independence Plaza, you can go all the way to the top of the replica shuttle and walk the length of the 747. There are a variety of exhibits and interactive installations that tell the spacecraft's story.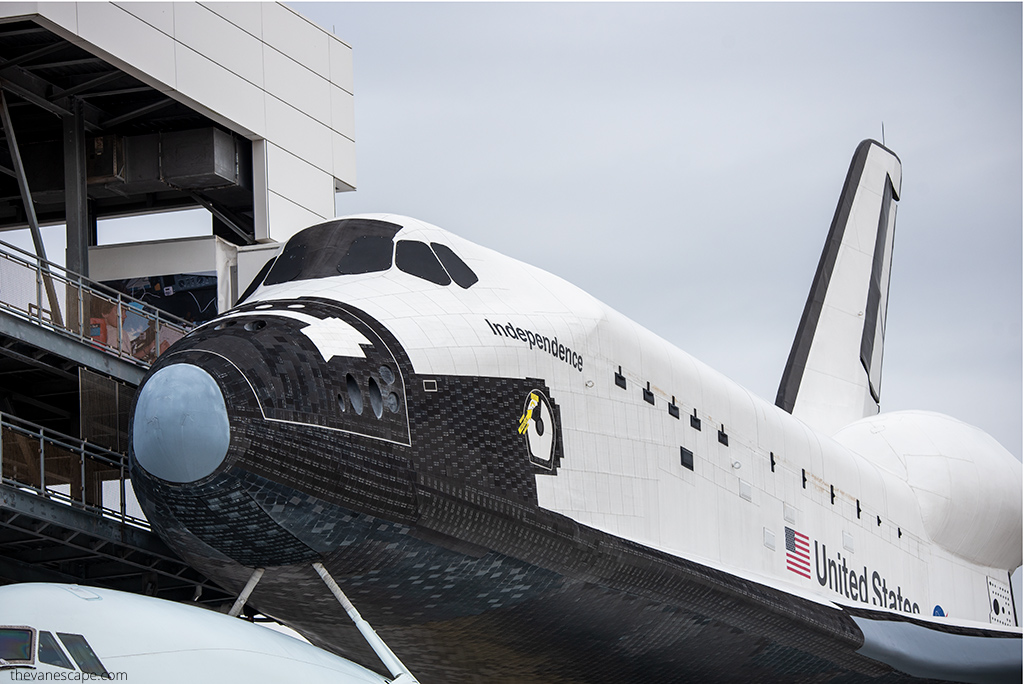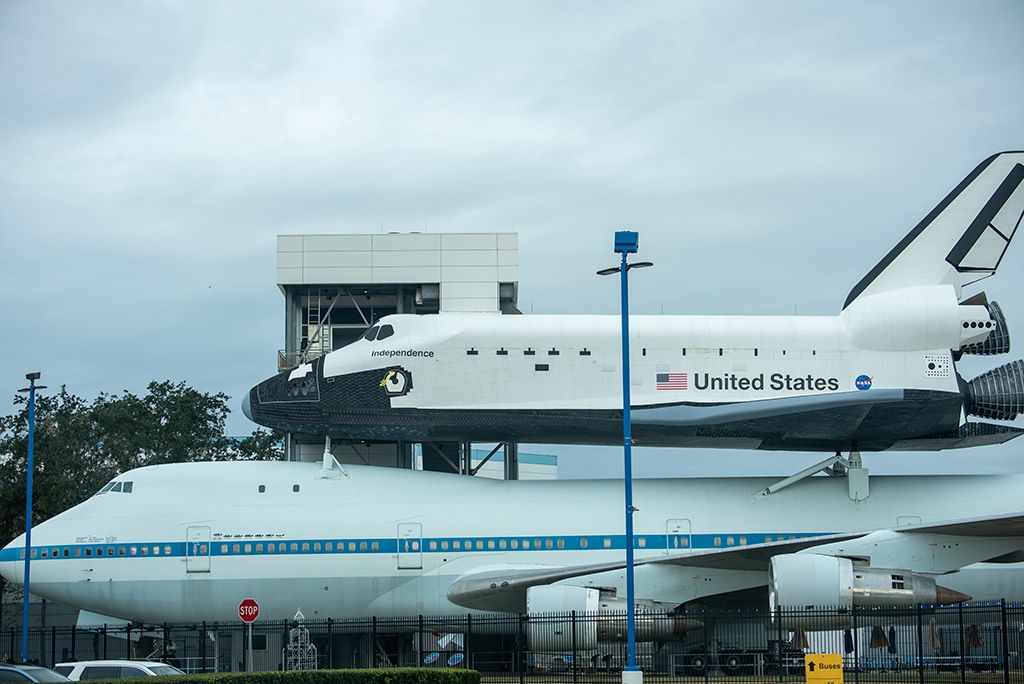 Starship Gallery in Space Center Houston
Starship gallery is located inside the main Space Center building. This artifact gallery includes three flown spacecraft, several used in training, and a display of Moon rocks. The most important exhibits are:
Gordon Cooper flew Mercury 9 capsule (Faith 7) in 1963.
Gordon Cooper and Pete Conrad 1965 flew Gemini 5 capsule.
Apollo 17 Command Module America, flown by Gene Cernan, Ronald Evans, and Dr. Harrison "Jack" Schmitt, and a biological contingent of five mice orbited the Moon 75 times during the last manned Moon mission in 1971.
The lunar touchstone is one of only eight Moon rocks in the world that can be touched.
Apollo-Soyuz Test Project docking module trainer.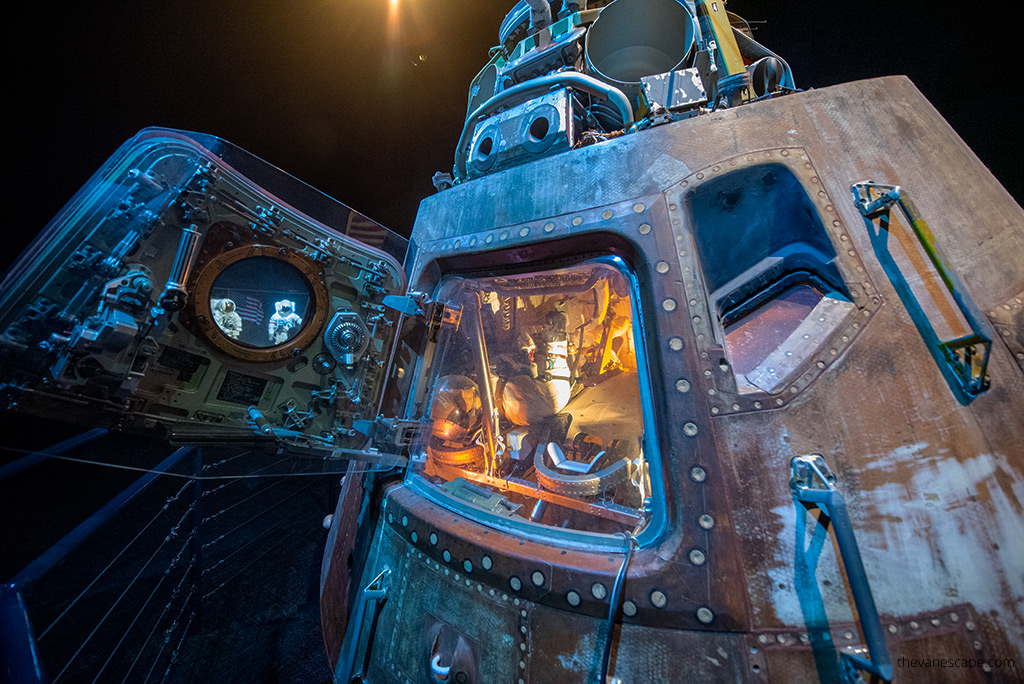 Astronaut Gallery in Space Center Houston
The Astronaut Gallery in Space Centre features astronaut clothing and spacesuits worn on real missions. Highlights of this gallery include Pete Conrad's Apollo 12 suit, Michael Collins' Apollo 11 garment, and Wally Schrira's Apollo 7 suit. The crew wall also features portraits of all NASA astronauts who have flown in space, from Alan Shepherd and Neil Armstrong to those currently on the International Space Station.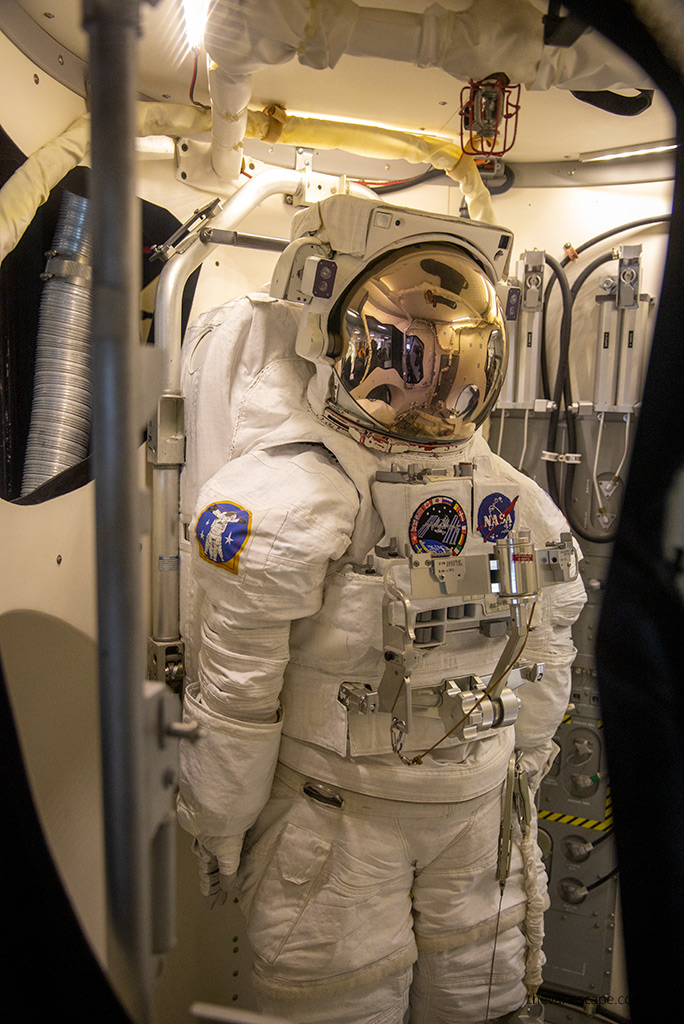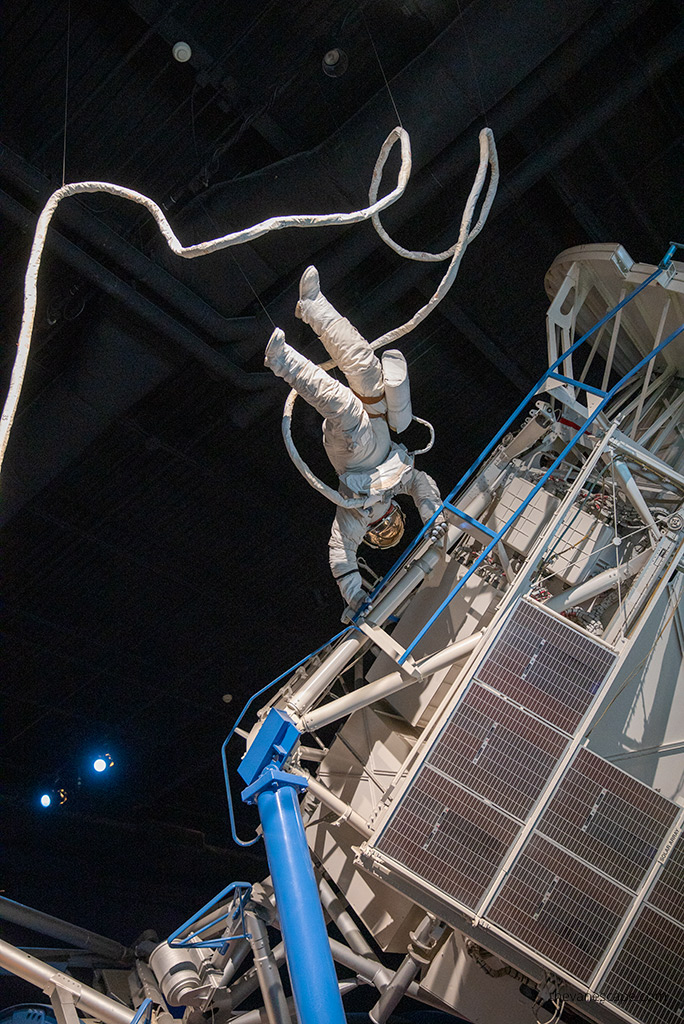 Mission Mars in Space Center Houston
The Mission Mars exhibit in Space Center Houston was developed with the help of NASA. It focuses on the work of NASA to plan future trips to Mars. Mission Mars teaches visitors about the planet through various activities that put them in the Martian landscape, including a virtual reality wall, real-time weather forecasts, and a Mars meteorite that visitors can touch. Visitors can also view a full-size Orion Link research capsule, experience an Orion spacecraft simulator, and get a glimpse of the next generation of Mars rovers.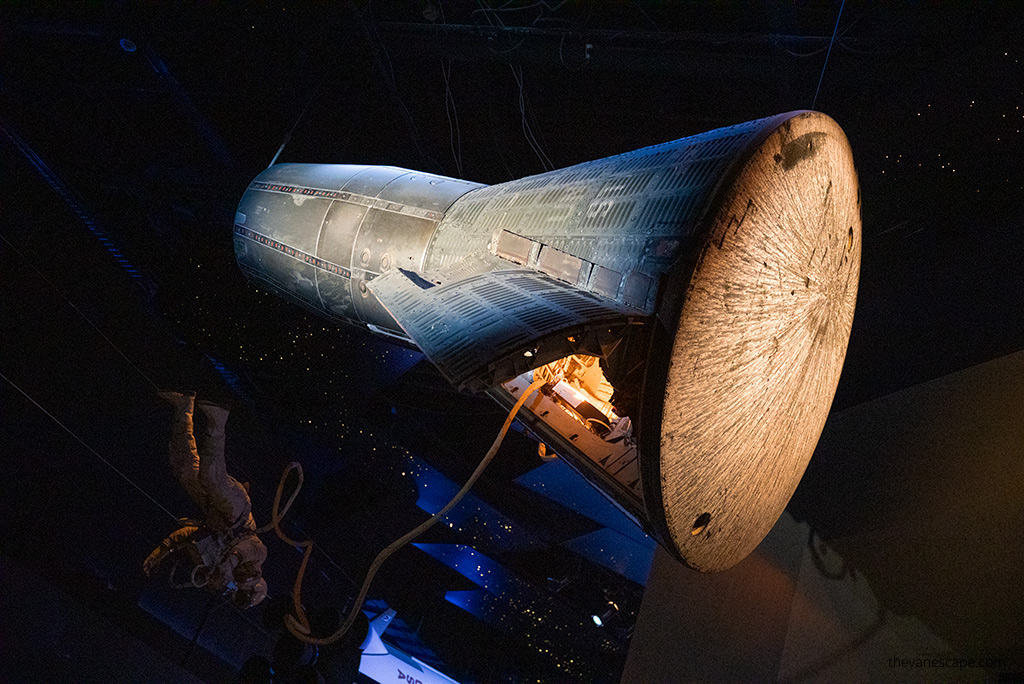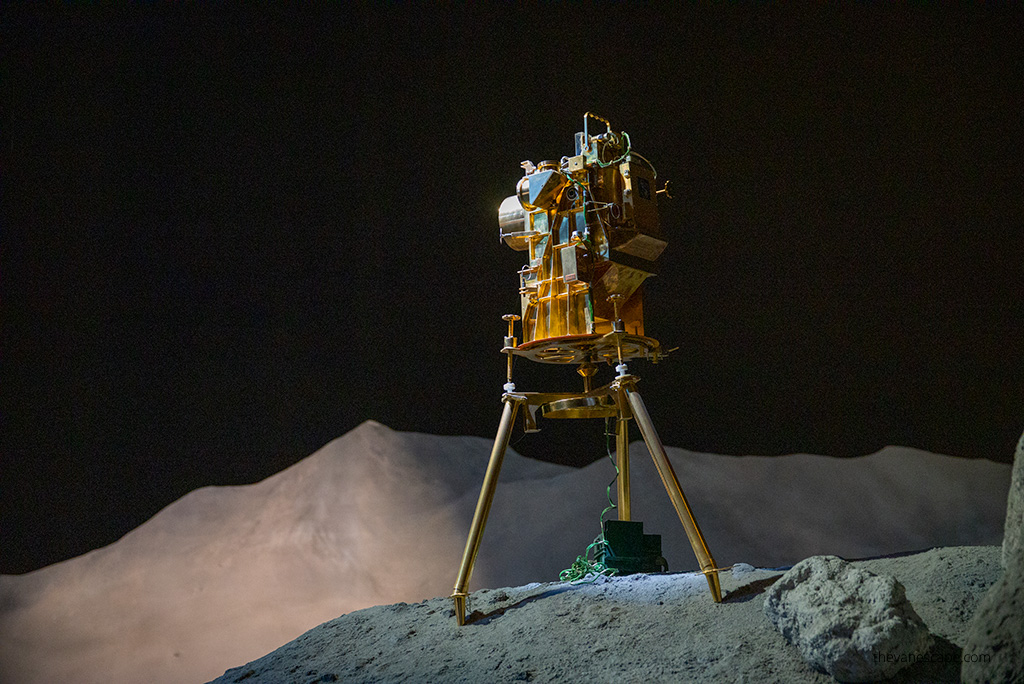 The NASA Tram Tour at Space Center Houston
The NASA Johnson Space Center Tram Tour takes you to some of the highlights of the Johnson Space Center and is one of the highlights. So be sure not to miss a Tram Tour during your visit to the Space Center. An open-air Tram Tour takes visitors into the Johnson Space Center with stops including:

Building 30 with the Christopher C. Kraft Jr. Mission Control Center and the Mission Operations Control Room 2, commonly known as Mission Control, from which the Apollo missions were coordinated.
Building 9 with the Space Vehicle Mockup Facility, where astronauts train on replicas of space vehicles such as the ISS.
Rocket Park houses a Saturn V rocket and many other rockets from various phases of the space program.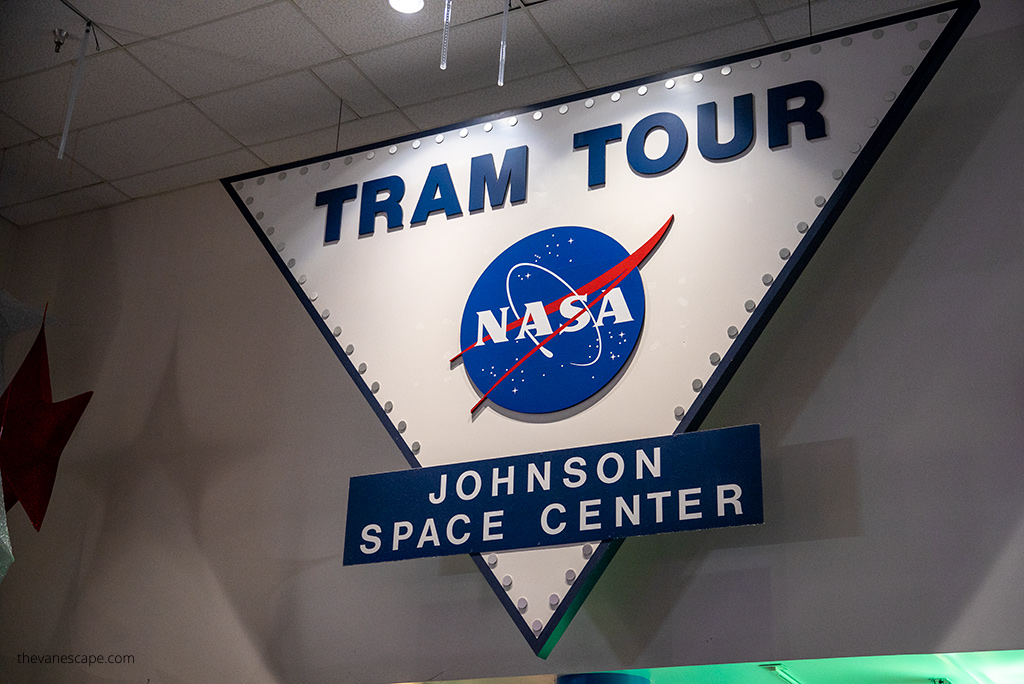 Do you have to take the Tram Tour at NASA Space Center Houston?
Taking the Tram Tour at Space Center Houston is not mandatory. You can spend your time exploring the museum only. But it's worth it. The Tram Tour is fabulous! When planning your trip, take into account that the last tram with visitors leaves at 3 pm.
The Tram Tour is also included in your ticket. So plan your time to visit this place. Depending on your interest, there are usually two options for the Tram Tour. Both Tram Tours visit Rocket Park, where the Saturn V rocket is located. Then you can choose to stay at the original Mission Control or the Astronaut Training Center. We chose the Mission Control tour because it is an iconic location.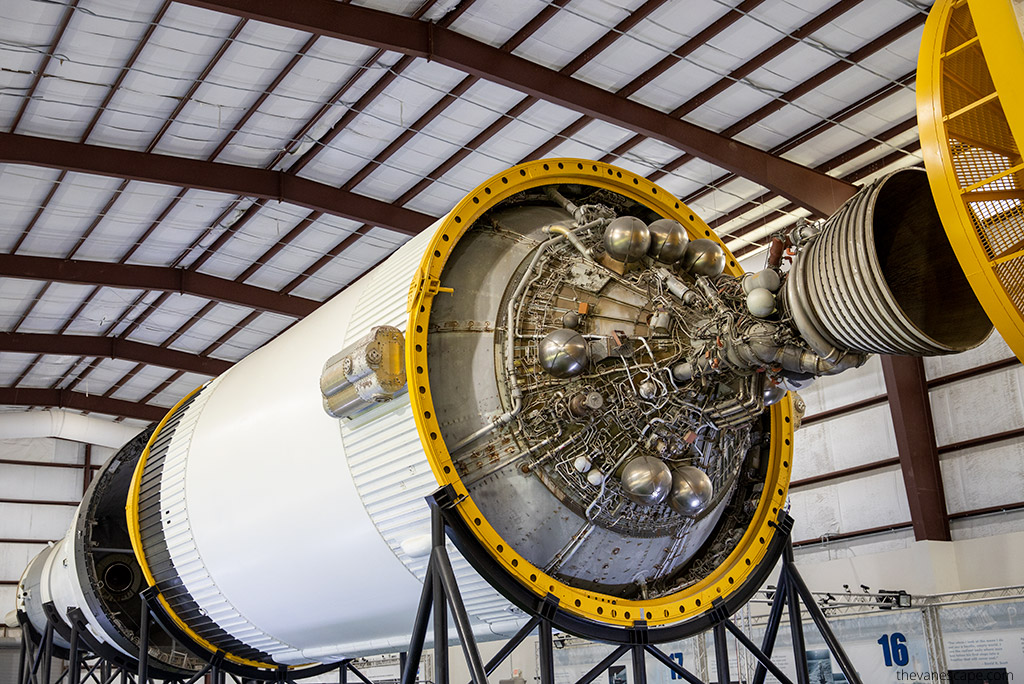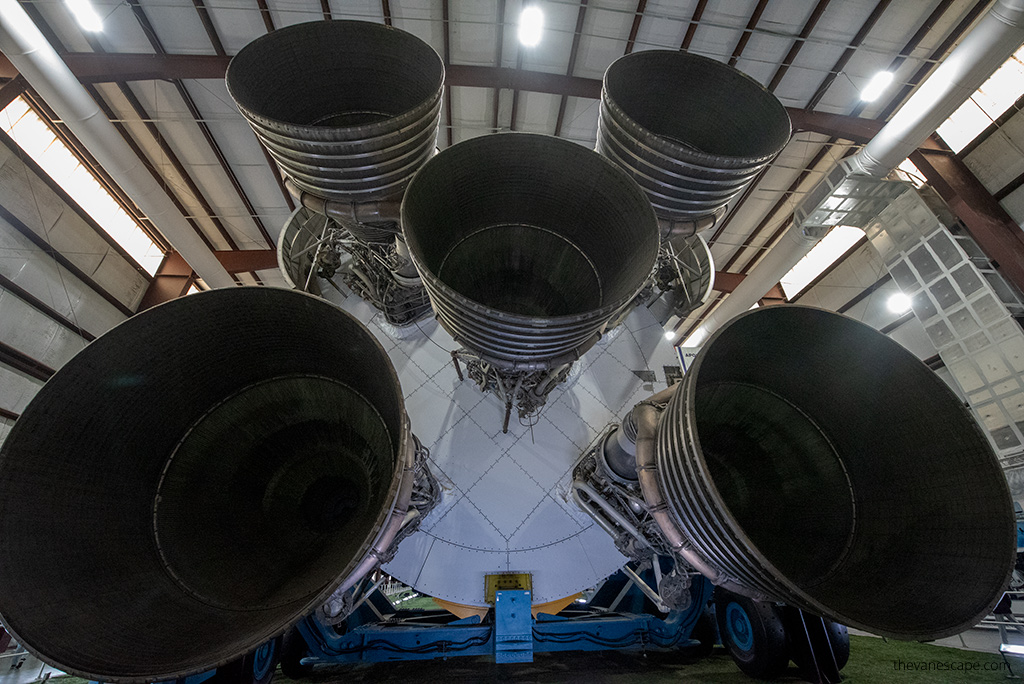 Rocket Park in Space Center Houston
You can visit Rocket Park only during Tram Tour. The place is impressive. Of the three remaining Saturn V rockets on display, only the one at JSC comprises segments intended for flight. The first stage of this Saturn V rocket is from SA-514 (initially intended for the canceled Apollo 19), the second stage from SA-515 (initially intended for the canceled Apollo 20), and the third stage from SA-513, which was not needed after the Skylab workshop replaced it. SA-513 was initially scheduled for the canceled Apollo 18 – the rest of the rocket was used for Skylab. The Apollo Command/Service Module CSM-115a (intended for Apollo 19) completes the rocket as it would stand on the launchpad.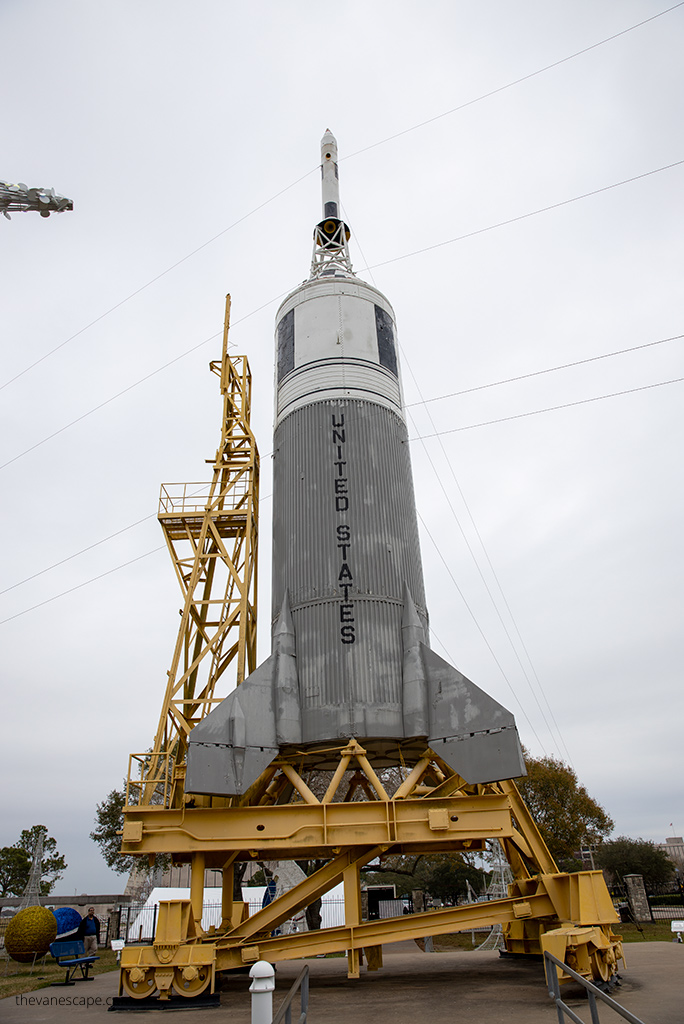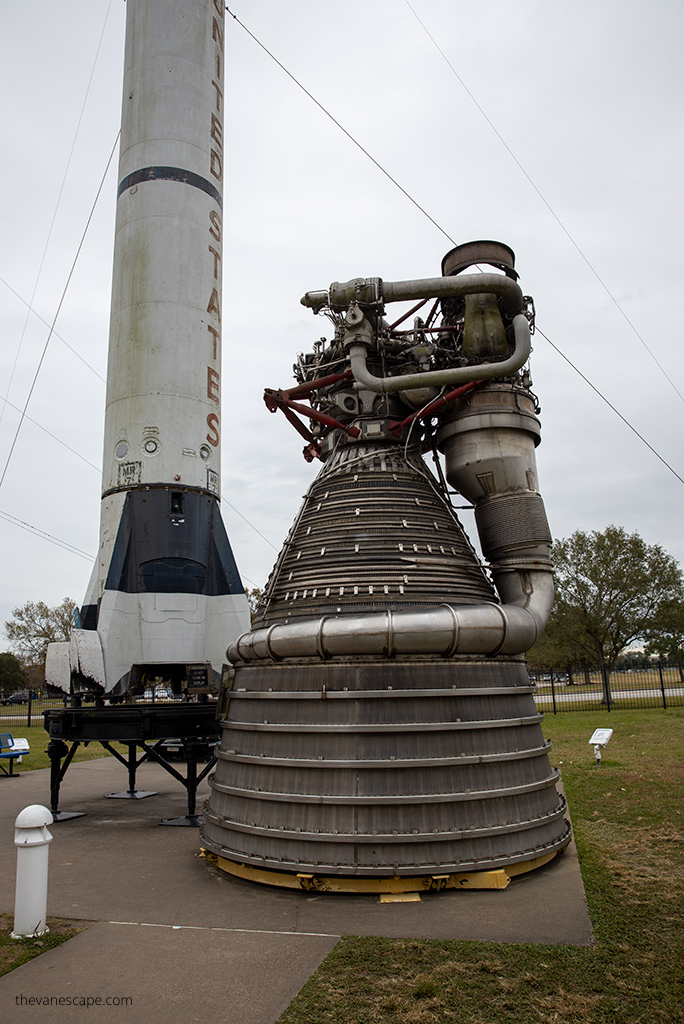 Theatres in NASA Space Center Houston
There are two NASA Space Center Houston theaters, the Destiny Theater and the Space Center Theater. We went to the Destiny Theater.
The Destiny Theater shows the film "Human Destiny," which uses NASA archival footage to tell how NASA came to be, followed by the story of the significant NASA events and accomplishments. The film is about 15 minutes long and will be shown throughout the day. This film is well worth watching as it is an excellent introduction to the exhibits. Also in this theater is the lectern that U.S. President John F. Kennedy used when he gave his landmark speech announcing his intention to land an American on the moon.
The second is the Space Center Theater. It is a state-of-the-art 4K theater and Texas's most significant 4K theater. It shows a variety of space-related movies, documentaries, and animations.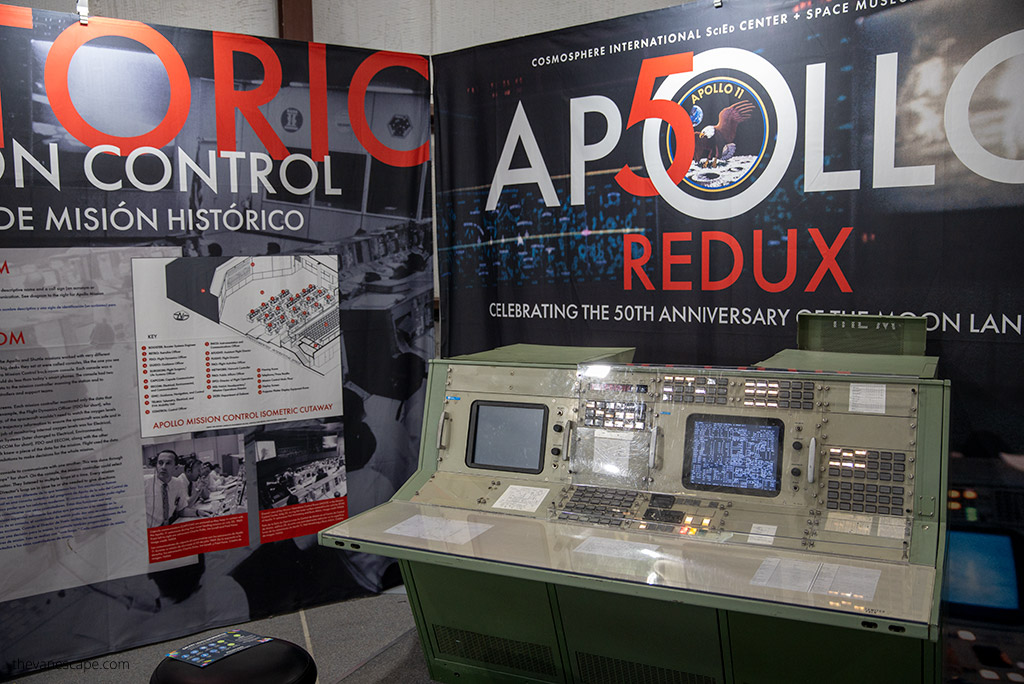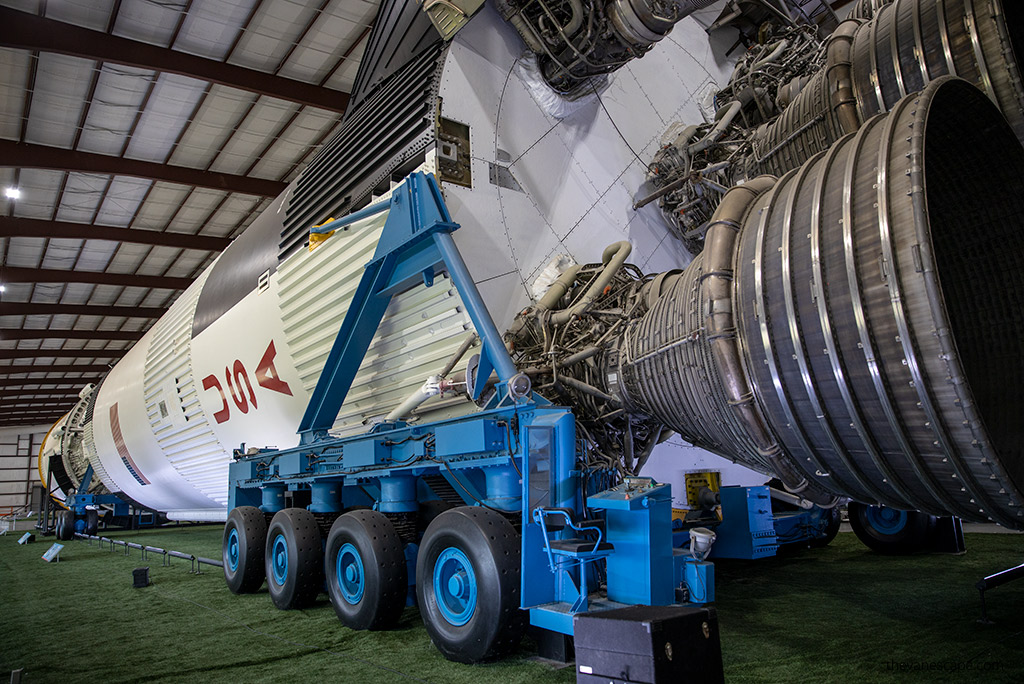 International Space Station Gallery in Space Center Houston
Another interesting place is the International Space Station (ISS), one of humanity's most impressive space achievements. Orbiting the Earth at over 17,000 miles per hour, this massive science laboratory is the largest structure ever built in space. It hosts astronauts from all over the world. The ISS Gallery is designed to give you a feel for life on the ISS and a glimpse of the kind of research and experiments conducted on the ISS. There is also a daily live interactive show, Living in Space, which uses the latest projection mapping technology to explain everyday life on the ISS.
Mission Briefing Center in Space Center Houston
If you have more time and want to know what's happening in space exploration right now, you should visit the Mission Briefing Center. There, daily presentations are offered on current NASA missions with real-time updates on progress and events both in space and on Earth. It's a great way to find out what's happening right now at NASA. In addition, the live briefing will conclude with a question and-answer session with the Mission Briefing Officer. Briefing times are displayed at the entrance to the Mission Briefing Center.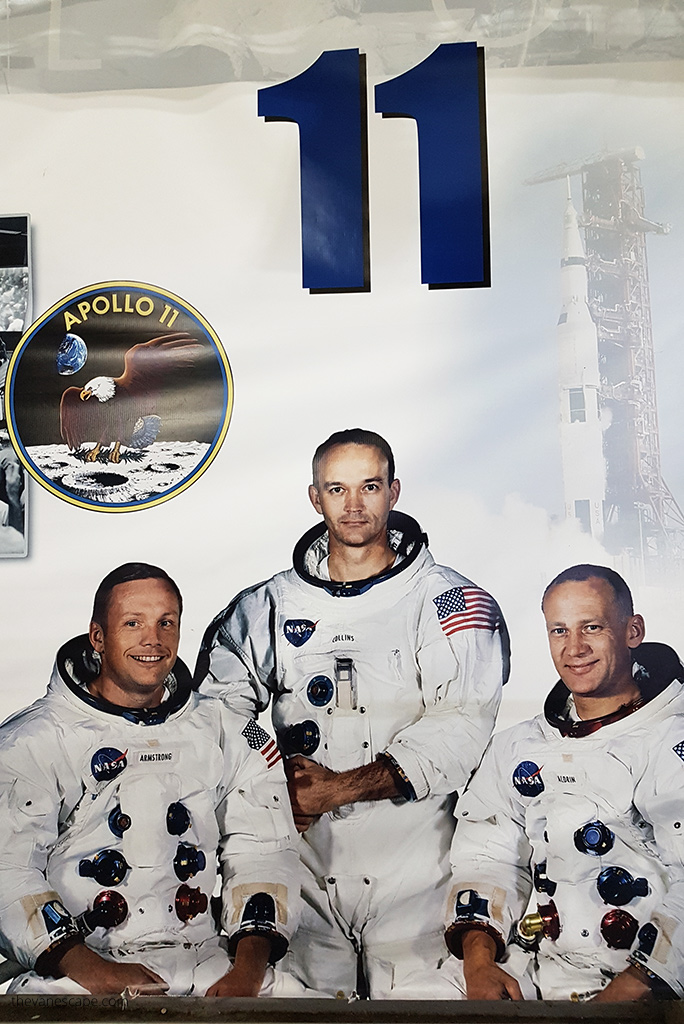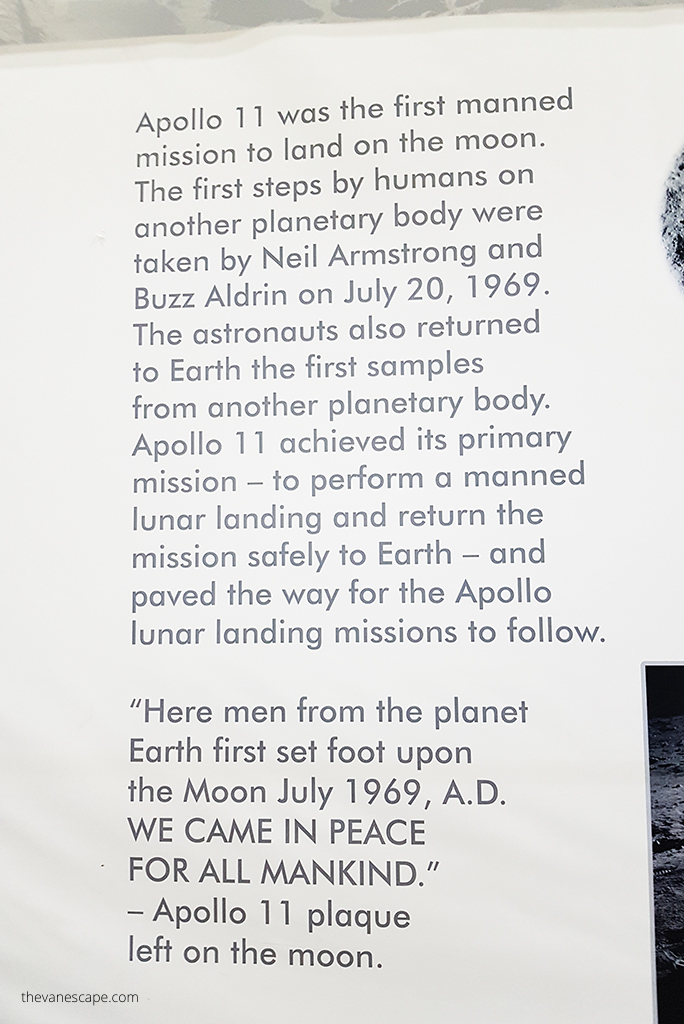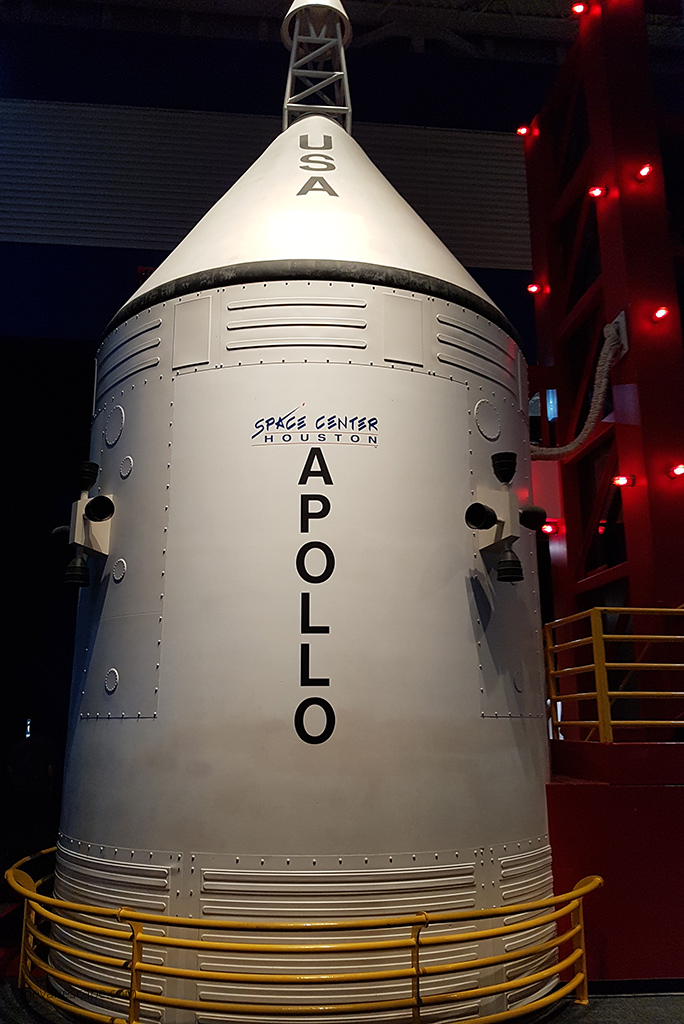 Other places in NASA Space Center Houston
Restaurant in NASA Space Center Houston
Visiting Space Center Houston will take you several hours, and you will probably be hungry. Food is available at Space Center Houston. The dining area is called Zero-G Diner and offers a range of food, from sandwiches and vegetarian options to grilled foods, burgers, and pizzas.
Gift Shop in NASA Space Center Houston
It's worth wrapping up your tour of NASA Space Center Houston with a visit to the Gift Shop. It's more than just a store with magnets or postcards. Here you'll find high-quality science and popular science books about space. You'll find books for adults and children that will spark their imaginations and encourage them to learn science. In addition, you will find various exciting board games, educational toys, t-shirts, sweatshirts, caps, and much more. Everything is of high quality.
How long will it take you to get around NASA Space Center Houston?
Book at least 3 hours for your visit to NASA Space Center Houston. But we assure you that you will not be bored even if you spend 6 – 8 hours. Especially if you plan to visit with children, you should prepare 3 – 4 hours for a visit.
It is worth booking a ticket for visits in the morning. The area is spacious, so there are no large crowds. However, in high season, the queues for the Tram Tour can be quite long, so you should take this into account when planning your visit. Remember that the last tram leaves at 3 pm. So be at the platform 20-30 minutes before the streetcar leaves.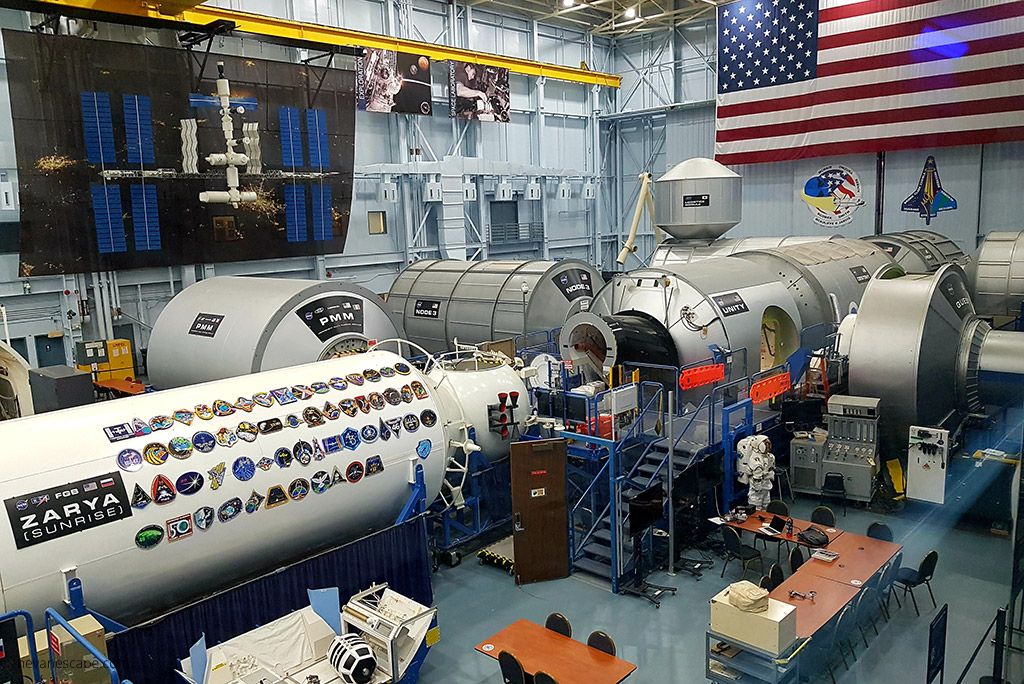 Is Space Center Houston Accessible?
What's important, NASA Space Center Houston is fully accessible. All exhibits, theaters, and tours are fully accessible to wheelchair users. Wheelchairs are also available on-site on a first-come, first-served basis. In addition to physical accessibility, there are many other accessibility features. The Center offers events and programs for autism and sensory accessibility, the deaf and hard of hearing, and visual accessibility. Details can be found on the center's website.
Where to stay when visiting NASA Space Center Houston?
Houston is a great city worth staying in for at least two days. It has a wide range of accommodations to suit all budgets. Please, check the Deals Finder below to receive the best accommodation offers during your visit.