The Best Things To Do In Saguaro National Park
Everywhere you look, you see large cactus and cactus forest! Icons of the American West. Plenty of exotic plants with a wide range of shapes and sizes. Tall and short, slim and fat, each has a different silhouette. There is no chance to find two same specimens. It's a fantastic Saguaro National Park in Arizona, and in this article, we tell you what to do in Saguaro National Park to have a beautiful adventure.
This article may contain affiliate / compensated links. For full information, please see our disclaimer here.
Where is Saguaro National Park
Saguaro National Park is located in southeastern Arizona, about 10 miles from Tuscon, and about 116 miles southeast of Phoenix. The Park has two districts: Rincon Mountain District (East) and Tucson Mountain District (West). Saguaro is the name of giant cactus native to the Sonoran Desert. The saguaro cactus does not grow naturally elsewhere. They are stunning! There are around 1,8 million saguaro cacti in the Park!
Saguaro National Park was created in 1994, and it is the first National Park created primarily to protect a plant species.
Before you start, your large cactus adventure is worth to drop to one of the visitors' centers. The Red Hills Visitor Center in Saguaro West or The Rincon Mountain Visitor Center in Saguaro East to take free maps of the area, check the weather condition learn if all roads and trail are accessible, learn about large cactus. The visitor centers at Saguaro West are open all year from 9:00 am to 5:00 pm every day except Christmas.
Saguaro National Park East and West
Saguaro National Park has two parts. Between them is, as a sandwich, Tucson. The Rincon Mountain District is located to the East of Tucson, Arizona, and the Tucson Mountain District is located to the West of Tucson. It's a great idea to see both parts of the Park because they are a little bit different. You need at least two days, one full day in each district. It takes 45 minutes to drive between the two districts. But if you only have time to visit one part of the park, we recommend Saguaro East. Saguaro currently encompasses 92,000 acres (37,000 ha). In addition, about 71,000 acres (29,000 ha) of the park, including large fractions of both parts, is designated as wilderness area.
Rincon Mountain District (RMD) or Saguaro National Park East
The Eastern Rincon Mountain District rises to over 8,000 feet and includes over 128 miles (206 km) of trails. The larger Rincon Mountain District covers about 67,000 acres (27,000 ha). Rincon Mountain District is much closer to the mountains, so its possible to take a photo with a large cactus against a mountain backdrop. This part has 6 backcountry campgrounds, however, you need a permit. Above all, the eastern part of Saguaro National Park includes the oldest saguaro forests, with higher individual saguaros. There are about 1,400 plant species in the Rincon Mountain District. Highest Point of East is Mica Mt – 8,666 ft.
Tucson Mountain District (TMD) or Saguaro National Park West
The Western Tucson Mountain District is lower in elevation with a denser saguaro forest. The Tucson Mountain District covers about 25,000 acres (10,000 ha). This part has 43 miles (69 km) of hiking trails and no camping areas. The western part is much younger and smaller than its eastern district. The landscape of this area is made up of rocky ridges and desert grasslands, because of its lower elevation. There are about 400 plant species in the Tucson Mountain District (West). Highest Point of West is Wasson Peak – 4,687 ft.
How to get to Saguaro National Park
By Car
The two districts of the park are located just to the east and west of the city of Tucson. To reach the Rincon District (East) from I-10, take exit #275-Houghton Road and drive 9.5 miles north, turn right on Old Spanish Trail, and drive 3 miles to the park entrance. To reach the Tucson District (West) from I-10, take exit #242, drive 5 miles west on Avra Valley Road, turn left on Sandario Road, drive 9 miles south on Sandario Road, turn left on Kinney Road, and drive 2 miles to the visitor center.
If you need to rent a car, above all, we highly recommend Alamo, which we have been using for years. And we are satisfied.
By Air
The most convenient airports for a trip to Saguaro are Tuscon, Phoenix, El Paso, and Las Vegas. For each airport, we give you links for further action to prepare your adventure, as best flight and rental car bookings. In addition, these links already have the destination airport selected for your convenience. For price searches, enter your departure airport and dates.
Where to stay in Saguaro Narional Park
There is no logging in Saguaro National Park unless you plan to camp in Saguaro East. But for camping you need a permit. The best idea is to stay in Tuscon.
Campgrounds
Closer to Rincon Mountain District – East
If you prefer the East side of the park, you can stop in Rincon Country East RV Resort, which is close to the park and has excellent reviews on TripAdvisor.
But we stayed in Crazy Horse RV Campgrounds, which we can highly recommend. The place is very clean, pleasant, quiet, surrounded by beautiful nature. A lot of birds live here (road runners), and in the morning, we run across coyotes.
Closer to Tucson Mountain District – West
Higher standard and good reviews closer to the West have Sentinel Peak RV Park and Rincon Country West RV Resort.
Hotels
There are many possibilities for lodging in Tuscon. Below are some suggestions with high guest ratings. Above all, check the reviews before you book.
Closer to East (Rincon Mountain) District
Hampton Inn & Suites Tucson East – around 8.6 miles to the Park East Entrance
DoubleTree Suites Williams Centre – around 10.2 miles to the Park East Entrance
Comfort Suites Sabino Canyon – around 11.1 miles to the Park East Entrance.
Closer to West (Tucson Mountain) District
Holiday Inn Express Tucson – around 14.6 miles to the Park West Entrance
Holiday Inn Express Marana – around 14.8 miles to the Park West Entrance
Comfort Inn – around 14.5 miles to the Park West Entrance.
Book your hotel now with this link to get the best offer – more than 15% off. Now through to January 4th 2021!
What Is the Best Time to Visit Saguaro National Park?
Saguaro National Park's weather is typical of the desert southwest. Summers are sweltering, with thunderstorms occurring late in the season. Spring and fall are usually warm. Winters are with mild daytime temperatures and cold nights. So, in our opinion, spring is the best for a visit, because of the weather and most of all, it is a wildflower season in Saguaro National Park so that you can admire their beauty. The peak season of large cactus blooming is from April to June. But some of the desert plants start blooming as early as late-February. Summer is hot, with temperatures above 100˚F (40˚C). It's also a monsoon season, so check the weather before you go. Winter is also a good option to visit.
Best things to do in Saguaro
There is plenty of opportunities to appreciate the majestic of Saguaro's large cactus. If your visit is in April – June, you will have the chance to admire the flowering cacti. If you plan a winter visit, you may have an opportunity to see snow-covered plants. Always enjoy the outdoors responsibly, and check the Essential Guide To Enjoying US National Parks.
Popular activities in the Saguaro National Park include hiking on its 165 miles (266 km) of trails and sightseeing along paved roads near its two visitor centers. Both areas are accessible for bicycling and horseback riding on selected roads and trails. Below you find suggestions on how to have a great time in Saguaro National Park.
Admire Large Cactus Diversity
In both parts of the park, you can admire a thousand of cacti. Each one has a different silhouette. All have different shapes and looks. There are no two identical. Because of their human-like appearance, you can imagine their human behavior. When you observe them, it seems like they're holding their hands, dancing, walking – performing human activities.
Learn About Cacti
Saguaro can grow to be over 40 feet (12 m) tall. Saguaros can live for 150 years up to 250 years. They may grow their first side arm any time from 75–100 years of age, but some never raise any arms. Saguaros are a very slow-growing cactus. In Saguaro National Park, studies indicate that a saguaro grows between 1 and 1.5 inches in the first eight years of its life.
A spear is a saguaro cactus without arms. Arms increase the plant's reproductive capacity, as more apices lead to more flowers and fruit. A saguaro cactus can absorb and store a lot of rainwater. It is visibly expanding during this process. Then during dry, it might slowly using the stored water. This characteristic enables the saguaro to survive in the desert. Because they're filled with water, they're more massive than trees. Saguaros don't start flowering until they're at least 35 years old.
If you are interested in cacti, you will learn more about these amazing giants from the books below.
Take a Photo Next to the Largest Saguaro Cactus You Can Find
They are very high, over 40 feet (12 m) tall, and more. The tallest saguaro ever recorded was 78 ft tall but fell in 1986.
It is incredible to stand under a large cactus and look at this plant — its a great perspective.
Take a Drive
Rincon Mountain District – East
Rincon Mountain District has an 8-mile easy paved road known as Cactus Forest Drive. The drive gives you a chance to see plenty of unusual, and park's tallest cacti and taking pictures on spots from the way. The road offers access to trailheads, overlooks and a lot of cacti views. Drive is also open to cyclists.
Trailers longer than 35 feet or any vehicle wider than 8 feet are not permitted on the winding Cactus Forest Drive.
Tucson Mountain District – West
It's a great idea to take a Bajada Loop Drive (West) at Tucson Mountain District. It's 6-mile unpaved driving, which takes you through some of the densest forests of cacti. The views are spectacular. There is a lot of stops where you can take a photo of the cactus. There are picnic areas, viewpoints, and trailheads on this loop so that you can choose something interests you. But if you are going on monsoon season from July to August, check the weather condition before you go because the road might be closed if flooding. This gravel road is also open for mountain biking, so its a great idea to take a bike for your adventure, if you like biking. Trailers longer than 35 feet or any vehicle wider than 8 feet are not permitted on the Bajada Loop Drive.
Go Hiking
There are 165 miles (266 km) of trails in both districts of Saguaro National Park. The rate of the trails is from easy to strenuous. What to choose depends on your time, condition, preparation, and weather. Even a short 2-3-mile walk will allow you to enjoy and admire these unique plants. There are many short and easy trails. Put on shoes with a stiff sole and high enough to protect the ankle and long pants. Cactus spines are everywhere, so be careful. Cacti are sharp and spiky. Besides scorpions and snakes inhabit the area. It may seem funny, but we use hiking snow boot gaiters on our hikes through the desert. They provide excellent protection for the feet and legs against sand, small stones, and, above all, cactus spines, and snakes, spiders, or scorpions. If you are going on an all-day hike, check out our Day Hiking Packing List. You can also print or download our Day Hiking Packing Checklist in pdf from this post.
Below are the suggestions of the best hikes in Saguaro National Park we did on the East and the West side.
Trails in Tucson Mountain District – West
Cactus Wren Trail (1.5 miles, one way). The Cactus Wren trail runs from the corner of Sandario Road and Rudasill Road to the Signal Hill Picnic Area. This area is fairly flat and crosses several washes.
Signal Hill Petroglyphs Trail (.5 miles). This easy climb takes you to dozens of petroglyphs scattered around a rocky hilltop. The trail is rough and uneven in places and contains rock steps.
Valley View Overlook Trail (.8 miles). The Valley View Overlook Trail is located on the Bajada Loop Drive, 3.5 miles north of the Red Hills Visitor Center. While hiking this trail, you will pass through two washes and then gradually ascend a ridge. The view from this ridge is superb, with Avra Valley below and Picacho Peak to the north. The trail is rough and uneven in places and contains rock steps. We like this view for sunset, it was great.
Trails in Rincon Mountain District – East
Mica View Loop (2 miles round trip). It's an easy walk. From the Mica View Picnic Area, go north on the Mica View Trail. Look carefully to see many young saguaros under their palo verde "nurse trees". This area offers excellent views of Tanque Verde Peak and Mica Mountain.
Cactus Forest Trail (2.5 mile one way). For an easy walk, head out on this trail to the lime kilns historic site. Starting from the north trailhead, it is a 2-mile round trip walk; from the south trailhead 3-miles round trip. This 2.5 mile section of the Cactus Forest Trail is the only trail within Saguaro National Park designated for bicycle use.
Loma Verde Loop (3 miles round trip). From the Loma Verde Trailhead, take the Loma Verde Trail north through a grove of mature mesquite trees. Beyond a large, sandy wash you'll climb a bluff onto the bajada, the Spanish word for a gravel plain at the base of a mountain. Turn right on the Pink Hill Trail and climb to the top of Pink Hill for a panoramic view of the cactus forest and the Rincon and Catalina Mountains. Hike east from Pink Hill, then turn right at the Squeeze Pen Trail and head south. The name of this trail recalls the days of cowboys herding cattle into pens for branding.
Enyoy the Saguaro Sunset
The sunset over the large cactus forest is an unforgettable experience. It is worth waiting in the park until then and observe the shapes of plants in the setting sun. The best idea is to climb one of the many cacti hills to see this beautiful spectacle. If you want to take a good photo use a tripod for sunset.
We photographed the sunset from Valley View Overlook – West District.
Another popular spot for sunset on the West is Hugh Norris Trail. Full hike is 10 miles, but short 10-15 minutes is enough to admire the sun over the cacti forest.
On Saguaro East, the most popular for sunset is Javelina Rocks Overlook. It's a short 5 minutes hike from Cactus Forest Drive.
Bird Watching & Wildlife
Cacti are home to hundreds of species of birds that have their hollows and nests in them. Native birds such as woodpeckers, purple martins, house finches, and gilded flickers live inside holes in saguaros. It's possible to observe elf owls, tyrant flycatchers, and wrens.
Observe the cactus, and you will see the birds. They are most active in the early morning. They are shy, so if you want to take a photo of them, behave silently and use a telephoto lens.
Finally, except birds. It's possible to find many typical desert animals like horned lizards, roadrunners, coyotes, jackrabbits, and collared peccaries, also known as javelinas. Saguaro National Park is the state with most rattlesnake species in America, so always stay on the trail, protect your body by proper clothes and boots, observe your surroundings, and you should be alright. If you hear a rattle stop moving and identify the direction, it is coming from and move towards the opposite location, always staying on the path.
Horse Driving on East District
You can enjoy a trail ride through the wonder of a Sonoran desert sunset on horseback. All Around Trail Horses offer rides for the beginners to the advanced riders; a variety of different trips from 1 hour on private property to a 4-hour ride through the Saguaro National Park East among cactuses.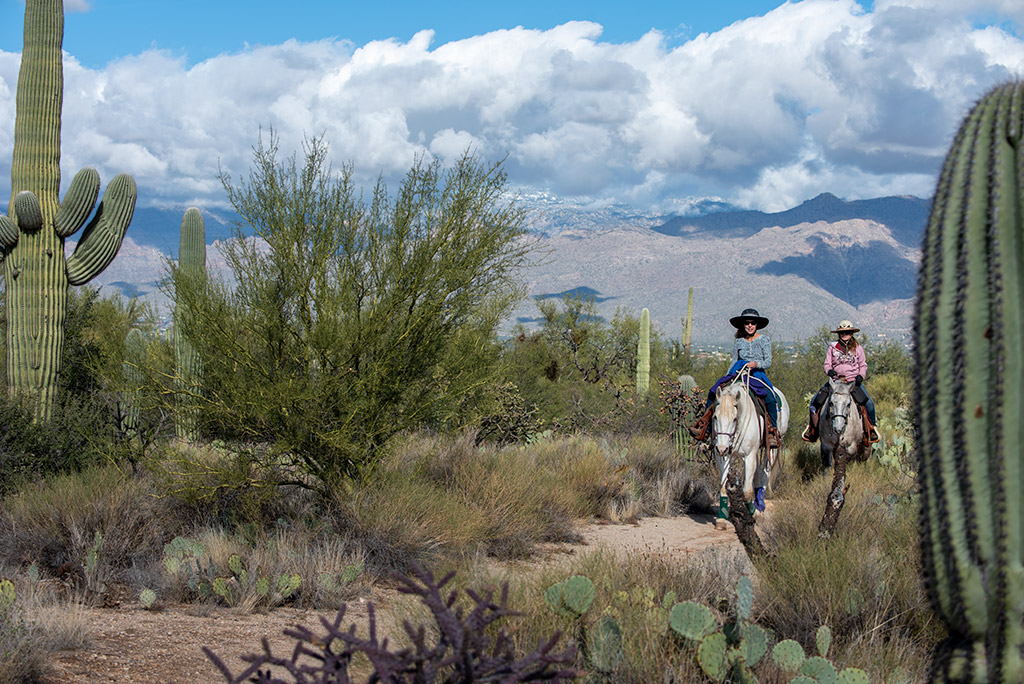 Visit the Arizona Sonora Desert Museum on West District
The Desert Museum is more than a museum. It a fusion experience: zoo, botanical garden, art gallery & classes, natural history museum, and aquarium. So you have a chance to see not only cacti, but also animals and birds. It's located outside the park, but on the way to the Saguaro National Park West, so its worth to stop in, especially if you travel with kids. If you are going during peak season it is good to book your visit in advance.
Visit Tuscon
Tuscon is an excellent city, worth to visit, so it's a good idea to find time for it. You can rent a bike and have Historic Bike Tour in Tucson. It is 2 to 2½ hour guided bicycle tour from old forts to modern art.
Or you can take the Brewstillery Tour. Tucson's craft beer scene has exploded with flavor and local breweries last years. But if you prefer wine, as we, highly recommend tasting Arizona wines, we were delighted!
Take a Tour
Finally, take a tour. If you have time you have a great adventure in this area between Tuscon and Pheonix.
Saguaro Lake Kayaking Tour – you can Paddle through gorgeous Saguaro Lake on a kayak with this guided desert tour. Saguaro Lake is between the Superstition Mountains and towering Four Peaks. You have a chance to see marvel at bald eagles, bighorn sheep and more during this desert journey.
Off-Road Hummer Tour in Tonto National Forest you can explore the Tonto National Forest in the heart of the Sonoran Desert on the hummer. The trail winds through the heart of the Tonto National Forest and Arizona's most beautiful mountain ranges: the 4 Peaks and the Superstition Mountains.
ATV Tour you can take ATV half-way between Tucson and Phoenix and admire Pinal Mountains and Box Canyon.
There is a lots of opportunities. You can check on getyourguide.com