Check out this Women's KUHL PRISM Hoody Review if you are looking for a fleece hoodie perfect for outdoor summer and fall activities like hiking, camping, or traveling. Find out if this hoodie worked well during the summer adventure in Alaska when the weather did not spoil us.
This article may contain affiliate / compensated links. For full information, please see our disclaimer here.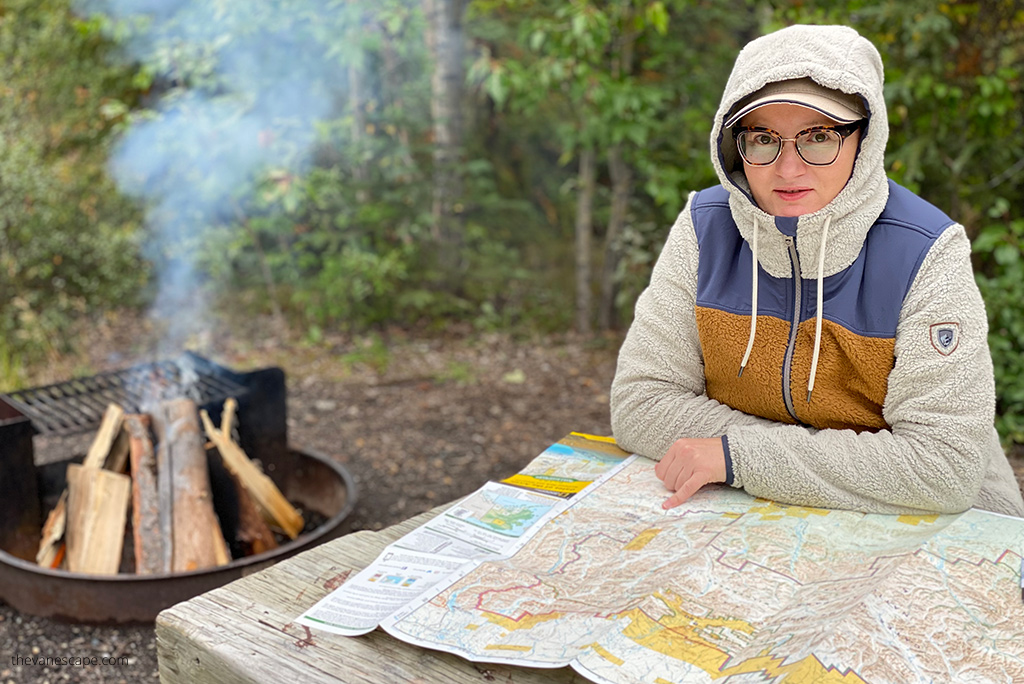 Women's KUHL PRISM Hoody – Introduction to Review
Agnes again chose KÜHL brand clothing when looking for a full-zip fleece hoodie for a summer trip to Alaska. This brand has been part of her wardrobe for some time, as each new outdoor product by KÜHL is an excellent choice.
Agnes' favorite fleece jacket is also the Kuhl flight jacket (check the review). But first, it's a little worn out after five years of using it during each travel. Second, it's made of fairly heavy fleece, perfect for winter conditions. Third, as we all know, a woman needs variety because how many photos can you take with the same hoodie, right?
For August in Alaska, Agnes needed a slightly lighter, full-zip hoodie to protect her from the morning chill at the campsite or during summer mountain hikes in the Gates of the Arctic National Park and Denali National Park. So, she chose KUHL PRISM Women's Hoody. Below is a detailed review and photos of the Kuhl Prism Hoody taken during our last Alaska adventure.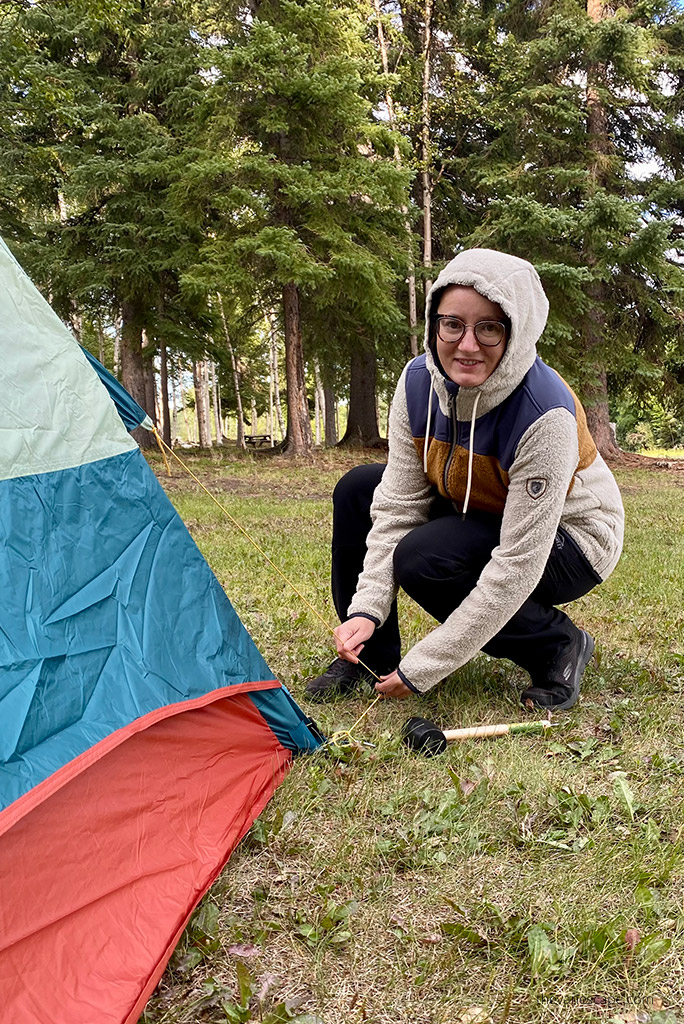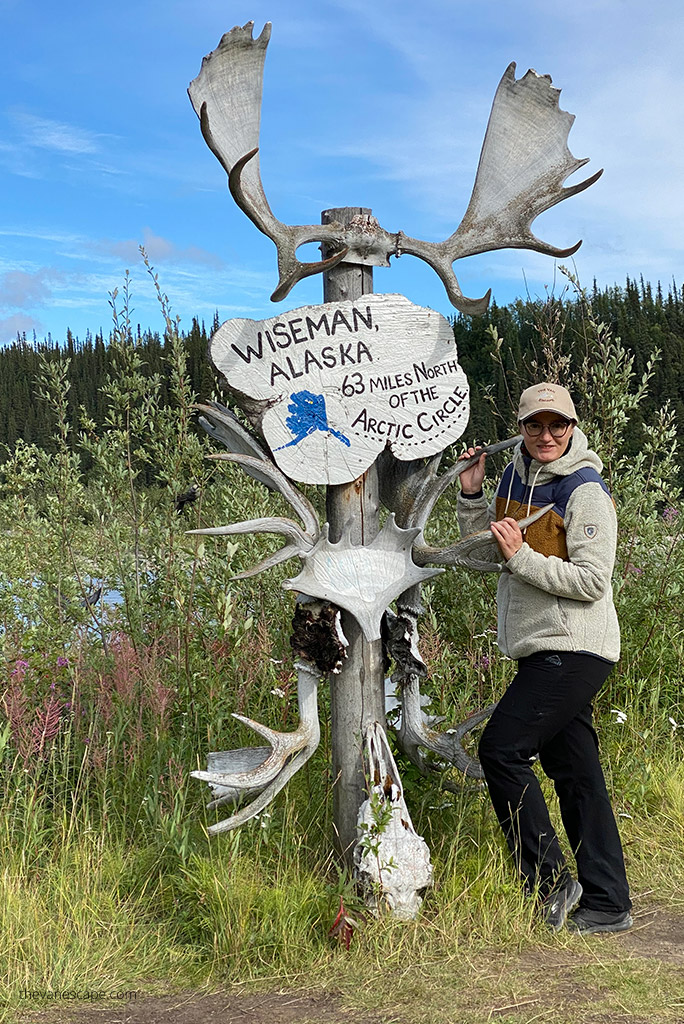 KUHL PRISM Hoody – Specs at a Glance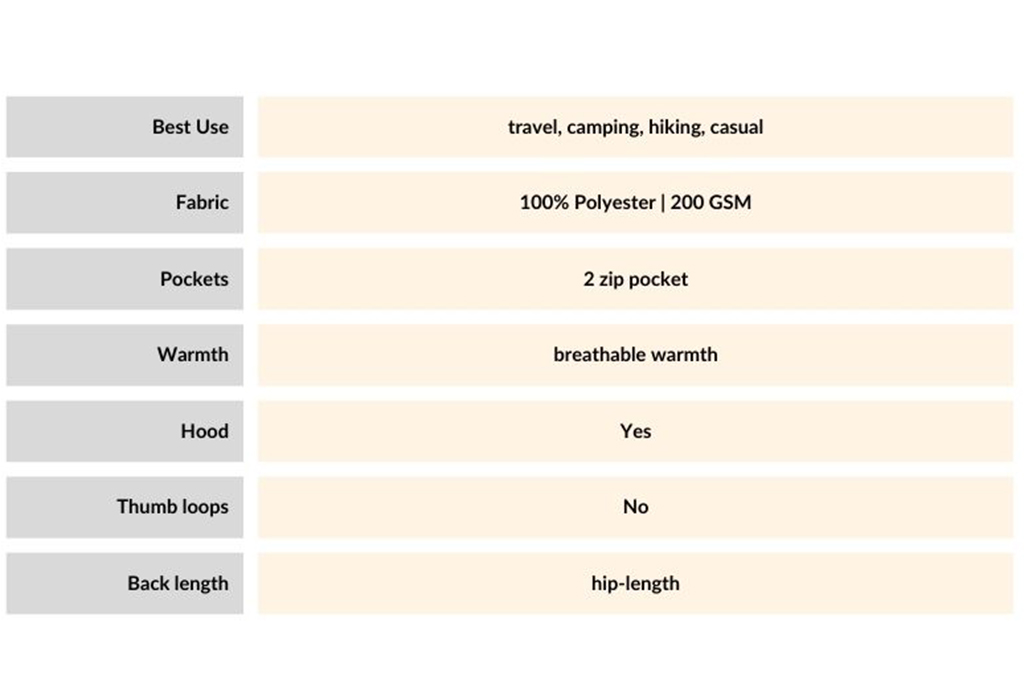 Women's KUHL PRISM Hoody – Notable Features
Lightweight yet super cozy and soft fleece
Breathable warmth with a high warmth-to-weight ratio
Premium Italian Fleece: 100% Polyester | 200 GSM
Reinforced, softshell shoulders for gear-carrying protection
Shoulder overlay: 89% Polyester, 11% Spandex | 90 GSM
Two zip pockets to keep essentials secure
Modern and stylish color-block design
Y2K center zipper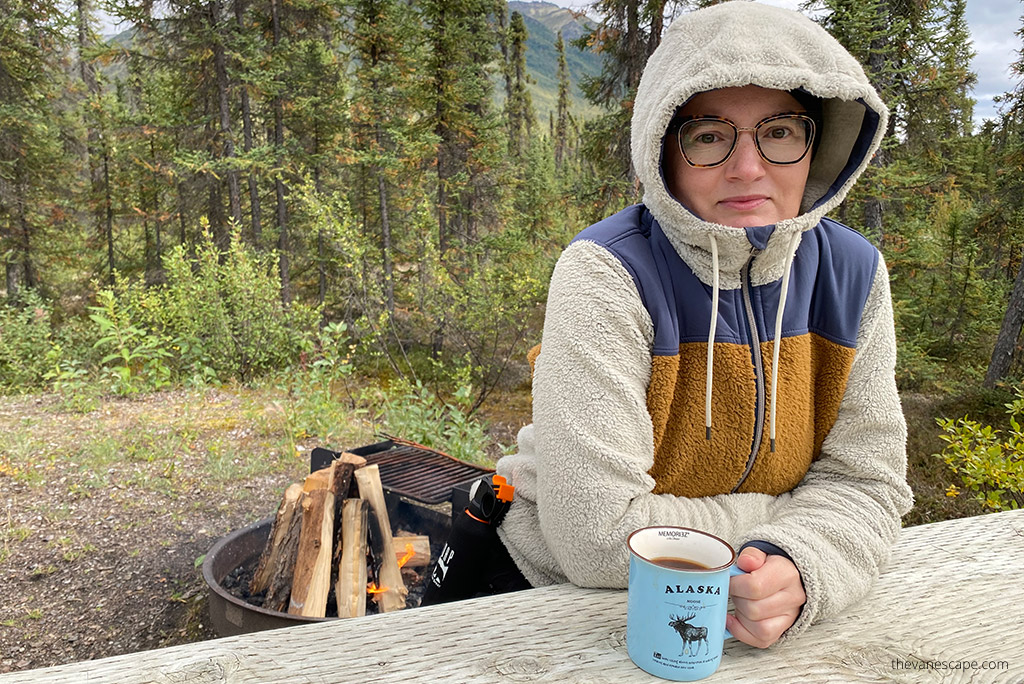 Women's KUHL PRISM Hoody – Review
Design and Fabric
Three versions of Prism Fleece
This PRISM fleece by Kuhl has been designed in three versions so that every woman can choose the version that best suits her needs. Agnes chose a PRISM full-zip hoodie, and her review is about it. But you can also see and choose a PRISM jacket without a hood and a PRISM Pullover with ½ Zip.
Design
The KUHL PRISM Hoody is designed to make you feel comfortable in it, down to the smallest detail. The reinforced, soft-shell shoulders for gear-carrying protection convinced me about this hoodie. I always have a backpack, usually quite heavy because I have photo equipment, and unfortunately, the fleece usually rubs. Thanks to this reinforcement, I don't have to worry about the quality and durability of the hoodie.
Moreover, the hood is soft, perfectly wraps the head, and protects from light wind. It does not fall on the eyes, which is especially important if you wear glasses. It is a full-zipped hoodie with a Y2K center zipper. What's more, it also features zippered hand pockets to keep essentials secure. It's crucial while hiking or camping. The colors of the hoodie are inspiring and eye-catching. Combining several colors means you can wear it in many ways and on different occasions with the right accessories.
The slight con is the lack of thumb holes, which are handy while hiking and camping.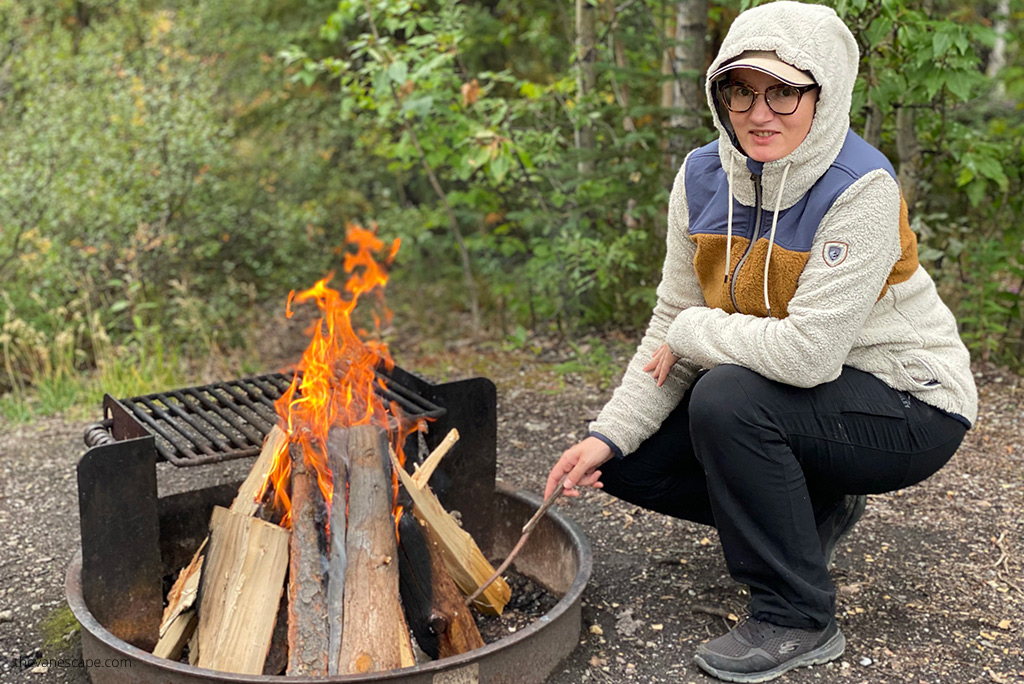 Fabric
The most significant advantage of this hoodie is the fabric. The hoody is made of warm and soft fabric. It's a Premium Italian Fleece: 100% Polyester with a weight of 200 GSM. The most significant advantage of this hoodie is the fabric. The hoody is made of warm and soft fabric. It's a Premium Italian Fleece: 100% Polyester with a weight of 200 GSM. My favorite Kuhl flight jacket is made of the same high-quality Italian fleece, but it is much warmer because it has a grammage of 430 GSM.
KÜHL PRISM Women's Hoody is lighter yet super cozy and breathable warmth. It makes it a perfect choice for spring or summer activities. It also works great as a layer.
Versatility and Pockets
The KUHL PRISM hoody can be worn on different occasions thanks to its modern, exciting design and colors. Wear it with jeans or a skirt will be perfect for going to work or the city. It is an excellent choice for a casual hoodie. But for Agnes, this hoodie is an excellent choice for outdoor activities such as camping, hiking, trekking, and relaxing in the mountains.
Two zipped pockets keep small items safe. You can keep a phone, headlamp, or whatever you like while camping and hiking. It is a pity there is no inside pocket.
Warmthness and Wind Protection
KUHL PRISM Hoody is not a super warm hoodie for frost or winter. But it is a warm and cozy enough hoodie for summer, spring, and fall activities. It's an ideal mid-layer when the temperature plummets. It might be a great choice in winter as one of the layerings. Perfect for hiking in Utah national parks, visiting Colorado in summer, or during a road trip in Arizona. It will keep you comfortable and warm on cooler mornings and evenings. It's perfect for favorable temperatures.
This hoodie has a proof test of time in Alaska this summer. We crossed Alaska south to north, from Homer at the Kenai Peninsula to the Arctic Ocean via the Dalton Highway. The lowest temperature was 33,8 °F (1°C). But then the hoodie served as one of the layers. Underneath, I had a thermal T-shirt weighing 200 GSM. And a windproof jacket over it.
If you need super warm fleece, definitely choose the Flight Jacket by KÜHL. It is an excellent fleece, the review of which is here.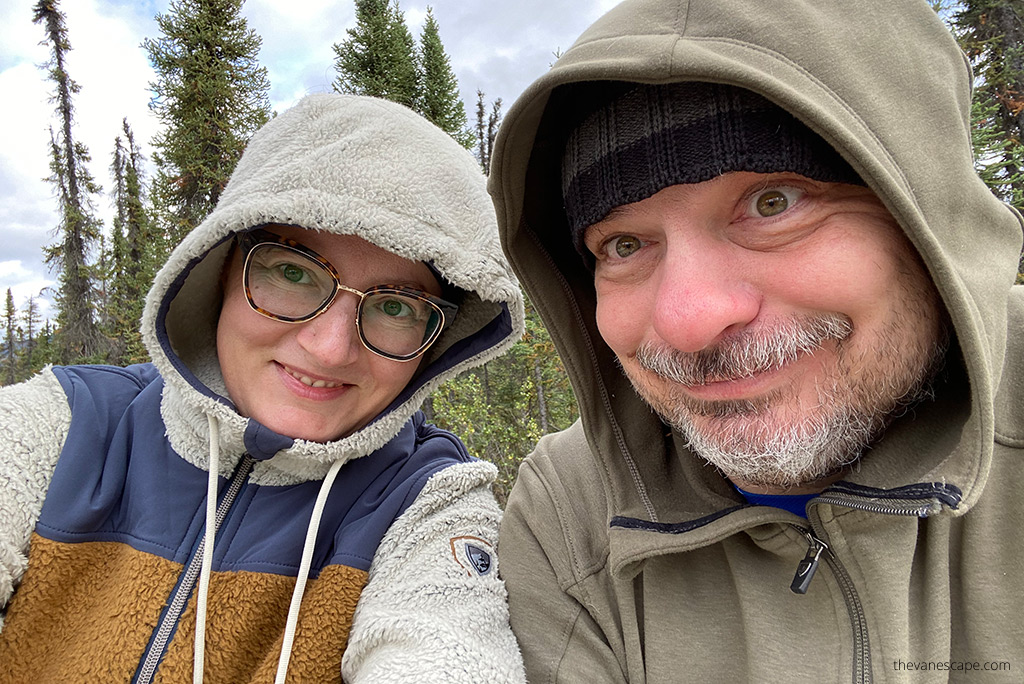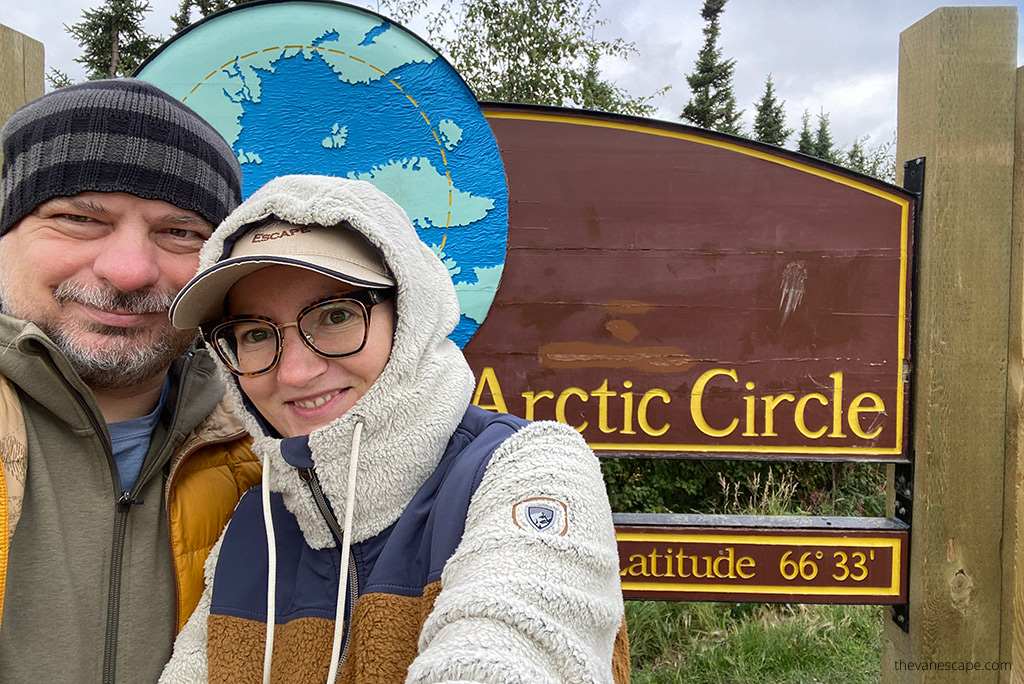 Comfort and Freedom of Movement
The KUHL PRISM Hoodie is very comfortable, perfect for hiking or campsite. It does not restrict movement. In addition, it does not take up a lot of space, so it is worth having it in your backpack in case of cooling. Minus that is the lack of thumb holes.
Durability
The hoodie is durable. It has already been washed several times, and the fabric does not stretch. The colors also remain fresh. Thanks to the reinforcements on the shoulders, the fleece does not rub over the backpack's straps, which is an additional advantage of this sweatshirt.
Venting and Dry Time
The breathability and ventilation of Prims women's hoody are excellent. If you wear a high-quality T-shirt underneath, you won't sweat in it at all.
The hoodie is lightweight, so it dries pretty quickly, but you should not wear it in the rain. It is fleece and does not have any water-resistant features.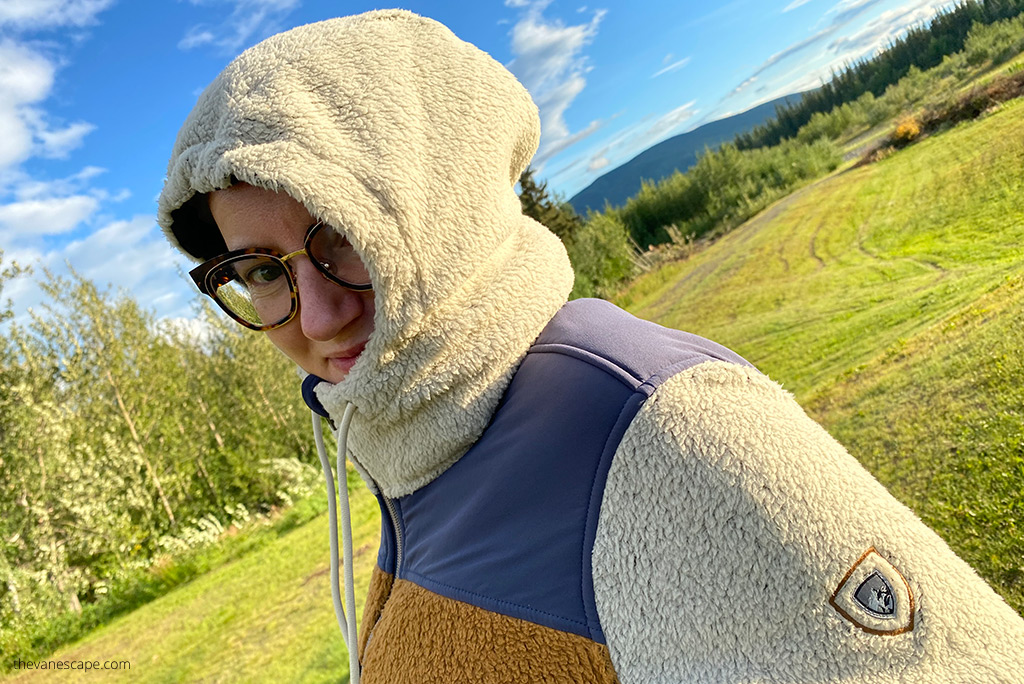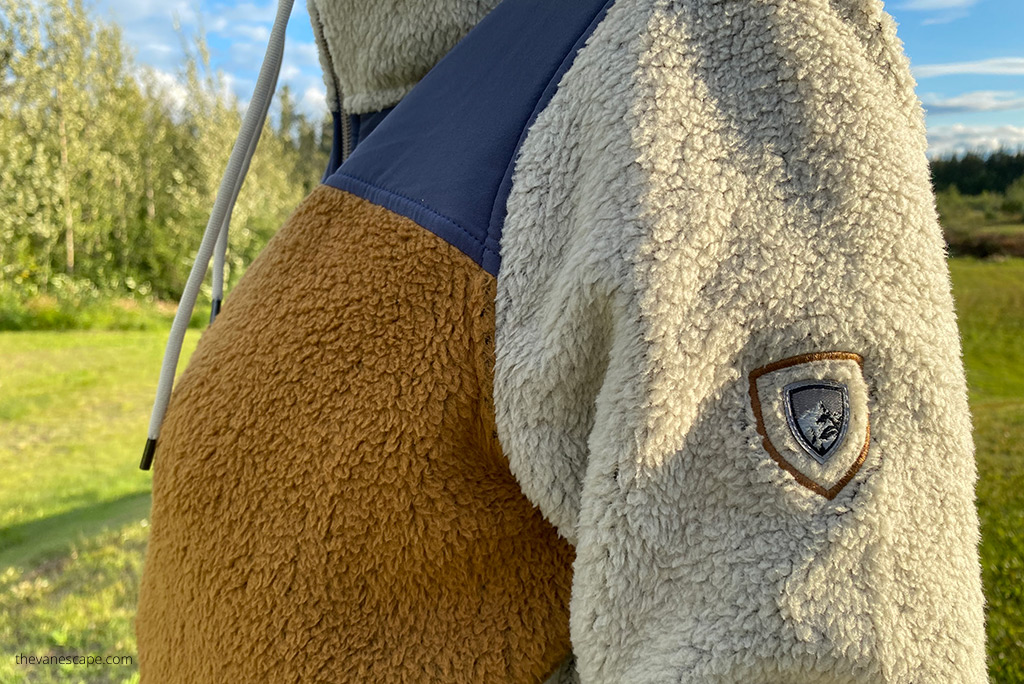 Colors and Sizing
The perfect fresh color-block design drew my attention to the Kuhl Prism Hoody. The colors of this hoodie attract attention, making it look unique and stylish. The hoodie is available in seven color shades: Sea Salt, Ganache, Rose Quartz, Sagebrush, Stone, Kalamata, and Deep Storm. Agnes' choice is Stone.
The size is according to the size table. Agnes took the size L, although M would also be good. Take a smaller hoodie if you want to fit a hoodie into your body.
How to wash KUHL PRISM Hoody?
I have washed his hoodie several times according to the manufacturer's recommendations on the official website. Washed in machine wash cold, and I didn't use fabric softener.
KUHL PRISM Hoody – Verdict
KUHL PRISM Hoody is a great sweatshirt that is worth having in your wardrobe and which, above all, is worth wearing. It will work well on any outdoor trip; it will also be perfect for a trip around the city. Thanks to its lightweight, it is easy to fit in any luggage. The fleece is warm and very pleasant to the skin. It provides excellent wearing comfort. It is also perfect as one of the layers at low temperatures. The advantage is the reinforced shoulders. Perfect for travel, camping, or mountain hiking. Add it to your day packing list!