Trip to Mount Rushmore National Memorial
Are you plan to visit Mount Rushmore in South Dakota? We tell you how to plan a perfect trip to Mount Rushmore National Memorial. How much does it cost, how much time is needed to visit, where to stay, and what other attractions are nearby when visiting Mount Rushmore? Check our ultimate guide to Mount Rushmore, the "Shrine of Democracy."
This article may contain affiliate / compensated links. For full information, please see our disclaimer here.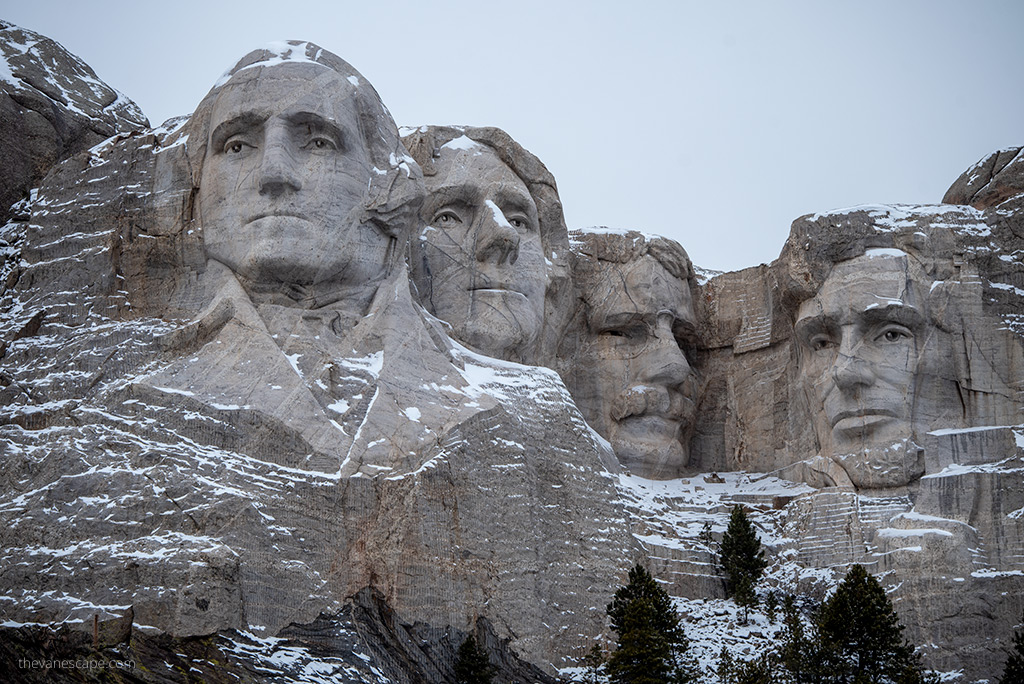 Visiting Mount Rushmore, called the "Shrine of Democracy," is on most travelers' bucket lists. Symbolizing the ideals of freedom and democracy, it is a tribute to four presidents: George Washington, Thomas Jefferson, Theodore Roosevelt, and Abraham Lincoln, and their invaluable contributions to the United States. The purpose of the memorial is to communicate the founding, expansion, preservation, and unification of the United States. How to prepare for a perfect trip to Mount Rushmore? We share our experiences and tips to visit this iconic American attraction.
Where is Mount Rushmore National Memorial?
Mount Rushmore National Memorial is located in the Black Hills area in Keystone, southwestern South Dakota. The region gets its name from the Lakota phrase Pahá Sápa, which refers to the tree-covered mountains' dark appearance from a distance.
Mount Rushmore is 23 miles from Rapid City, 50 miles from Deadwood, and 84 miles from Badlands National Park. Moreover, the Black Hills National Forest is also home to Crazy Horse Memorial, Wind Cave National Park, and Custer State Park.
The history of Mount Rushmore National Memorial
Mount Rushmore National Memorial is an icon of American Democracy. The colossal sculpture carved into the granite face of Mount Rushmore features the 60-foot (18 m) heads of four Presidents. They are (left to right)
George Washington (1732–1799), First President of the United States. Washington led the colonists in the American Revolutionary War to gain independence from Great Britain. He was the father of the new country and laid the foundation for American democracy.
Thomas Jefferson (1743–1826), Third President of the United States. Jefferson was the principal author of the Declaration of Independence, a document that inspired democracies around the world. He also purchased the Louisiana Territory from France in 1803, doubling the size of the country.
Theodore Roosevelt (1858–1919), 26th President of the United States. Roosevelt took the lead as America experienced rapid economic growth in the early 20th century. He was instrumental in negotiating the construction of the Panama Canal, which connected the East and West. He was known as the "Trust Buster" for his support of the abolition of large corporate monopolies and the rights of the common worker.
Abraham Lincoln (1809–1865), 16th President of the United States. Lincoln held the nation together during its greatest test, the Civil War. Lincoln saw his most sacred duty as preserving the Union. He firmly believed that slavery must be abolished.
Sculptor Gutzon Borglum chose these four presidents to represent the nation's birth, growth, development, and preservation, respectively. You can read more about his choice on the NPS.
Sculptor Gutzon Borglum designed and oversaw the project's execution of Mount Rushmore. His son Lincoln Borglum helped him. The works lasted from 1927 to 1941. Over 400 workers worked at the monument. Mount Rushmore has an elevation of 5,725 feet (1,745 m) above sea level.
The trip to Mount Rushmore is important to anyone interested in American history and democracy.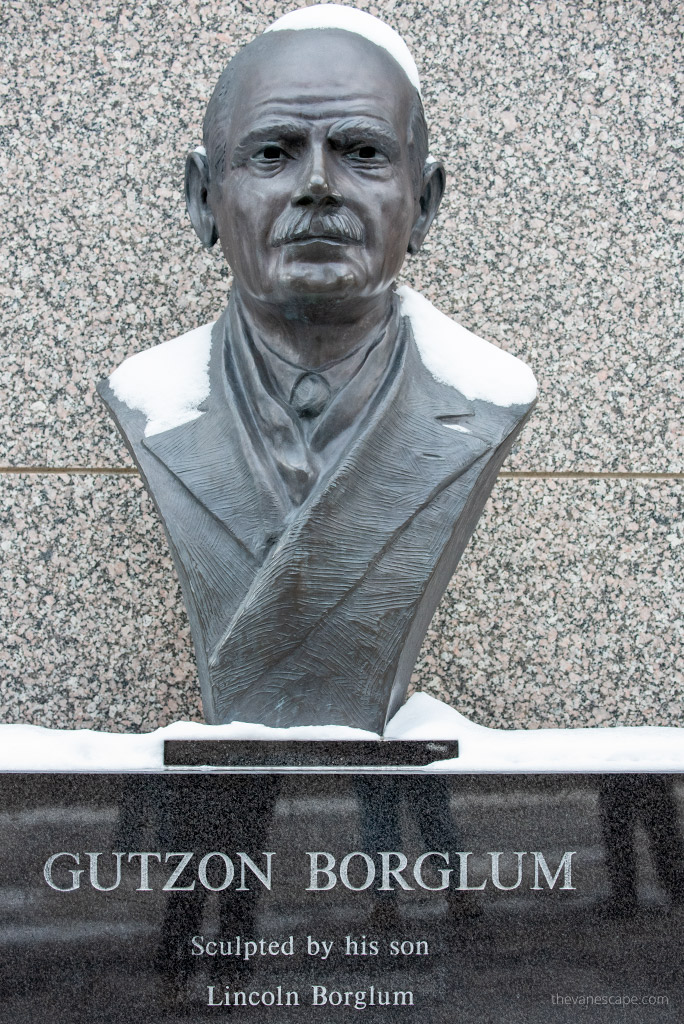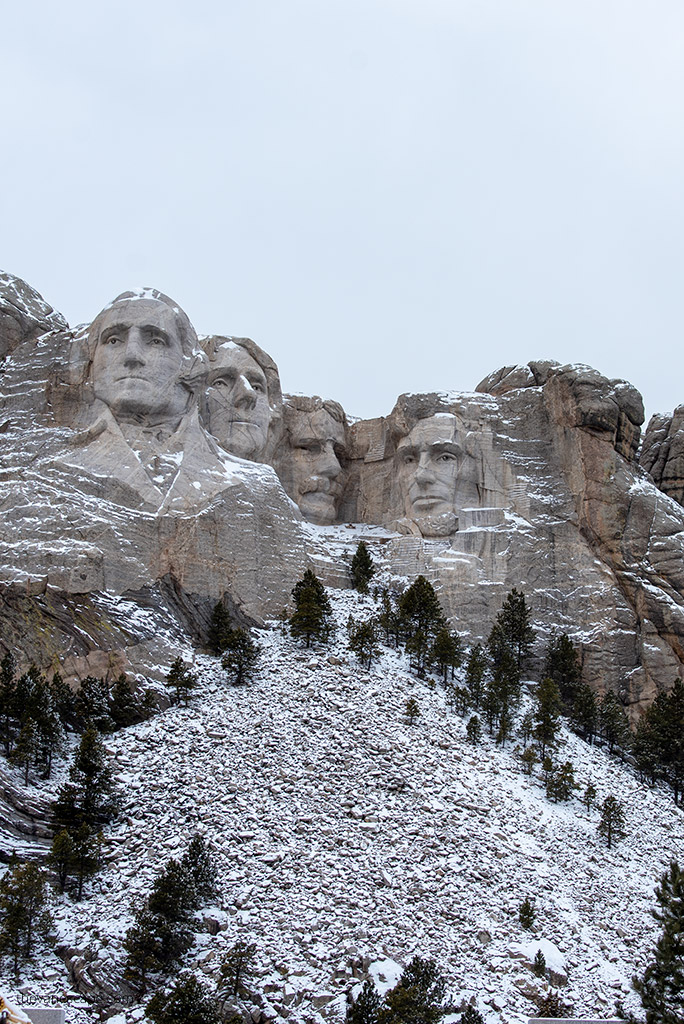 How much does it cost to see Mount Rushmore National Memorial?
There is no entrance fee for Mount Rushmore National Memorial. However, fees are required to park at the memorial.
Mount Rushmore Parking Fee for private vehicles is $10.00 for a day. The parking fee for Seniors, 62 and older, is $5 and Active Duty Military parking is free. Overnight parking is not permitted within the boundaries of Mount Rushmore National Memorial.
What is the best time of year to visit Mount Rushmore?
Plan your trip to Mount Rushmore after high season, if you can. The most crowded months are June, July, and August. Each year the place is visited by three million people.
Mount Rushmore National Memorial is open year-round, seven days a week. The only day the Mount Rushmore visitor center and buildings are closed is December 25. But the grounds themselves do remain open that day.
Spring and Fall months will be perfect for a visit. It's also a great idea to combine visiting Mount Rushmore and the surrounding Black Hills attractions. Winter is cold. January – March are the snowiest months. Some trails might be closed due to the weather. However, visiting Mount Rushmore in winter is still a great idea.
Early morning is the best light for photography. But between May and September, you can admire evening lights and music ceremonies in Mount Rushmore.
Operating Hours changing to season, so check actual details on the NPS website before your trip to Mount Rushmore.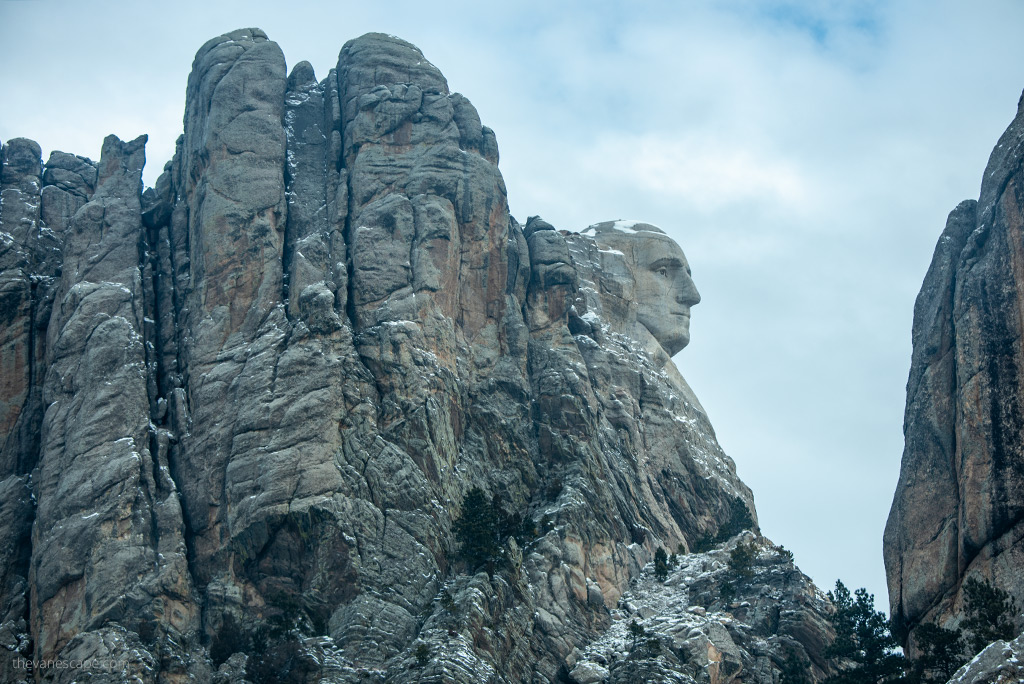 Where to stay when visiting Mount Rushmore National Memorial?
Mount Rushmore lodging in Keystone
Keystone is a small town closest to Mount Rushmore. It's hard to find a place here in high season. It's crowded. It is definitely worth staying there for a while because of the interesting wooden houses, many souvenir shops, and nearby attractions. But if you plan to stay overnight, book it well in advance.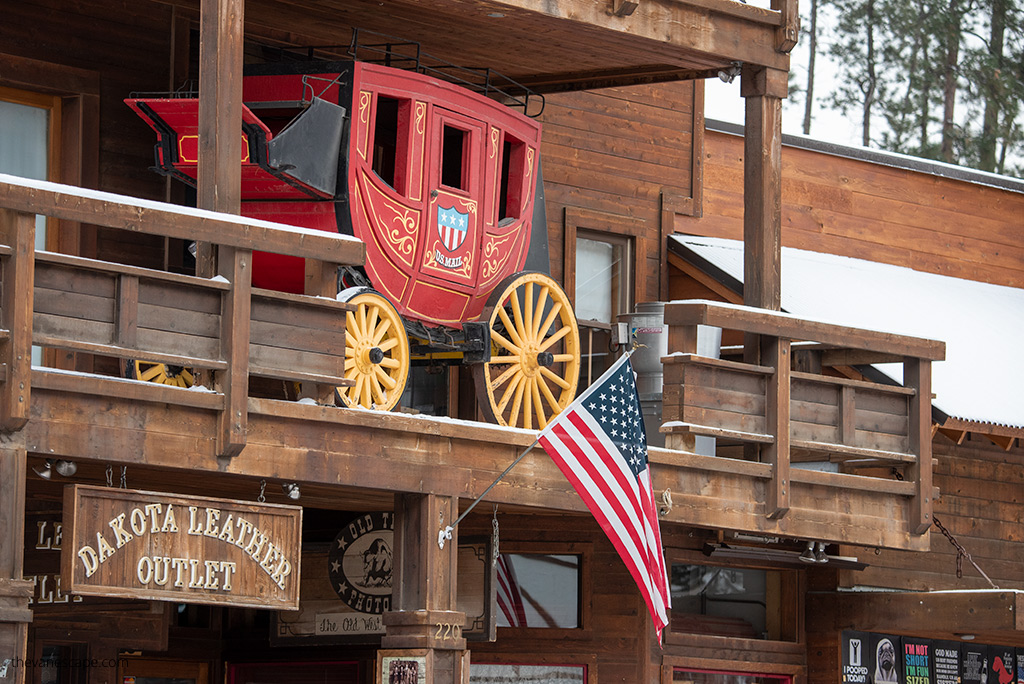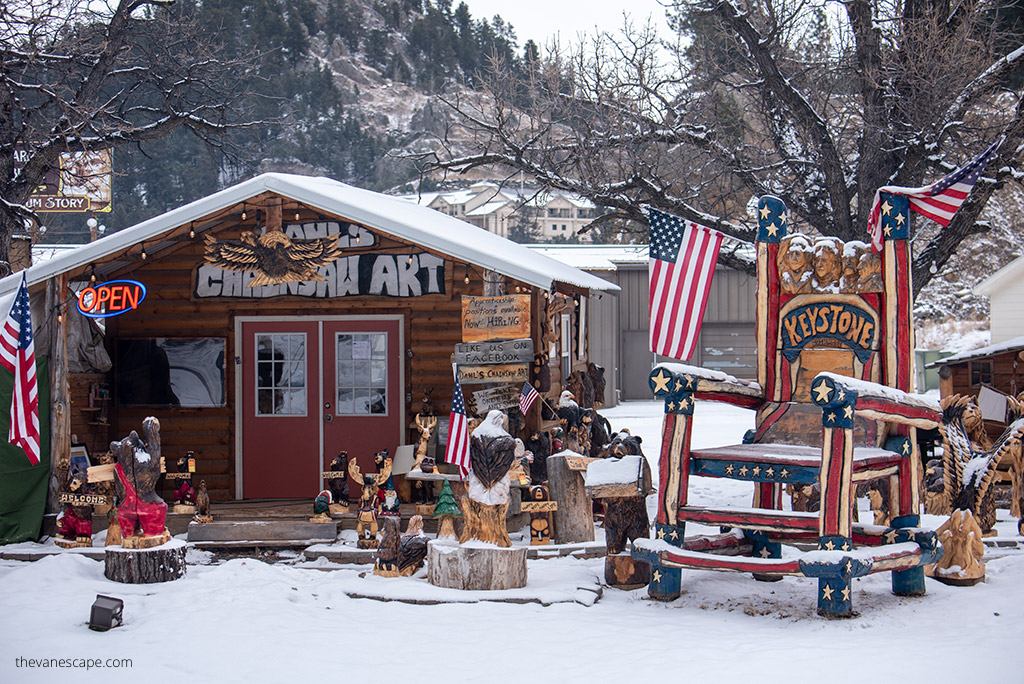 Lodging near Mount Rushmore in Rapid City
Rapid City is only 23 miles from Mount Rushmore. It's a perfect place to stop because the city is worth your time and visit. It's known as the "Gateway to the Black Hills" and the "City of Presidents" because of the life-size bronze president statues downtown.
Rapid City is the second-most populous city in South Dakota so you will find a large selection of lodging for every budget and type. We stayed in Super 8, and it was great for us, clean, and the price was affordable.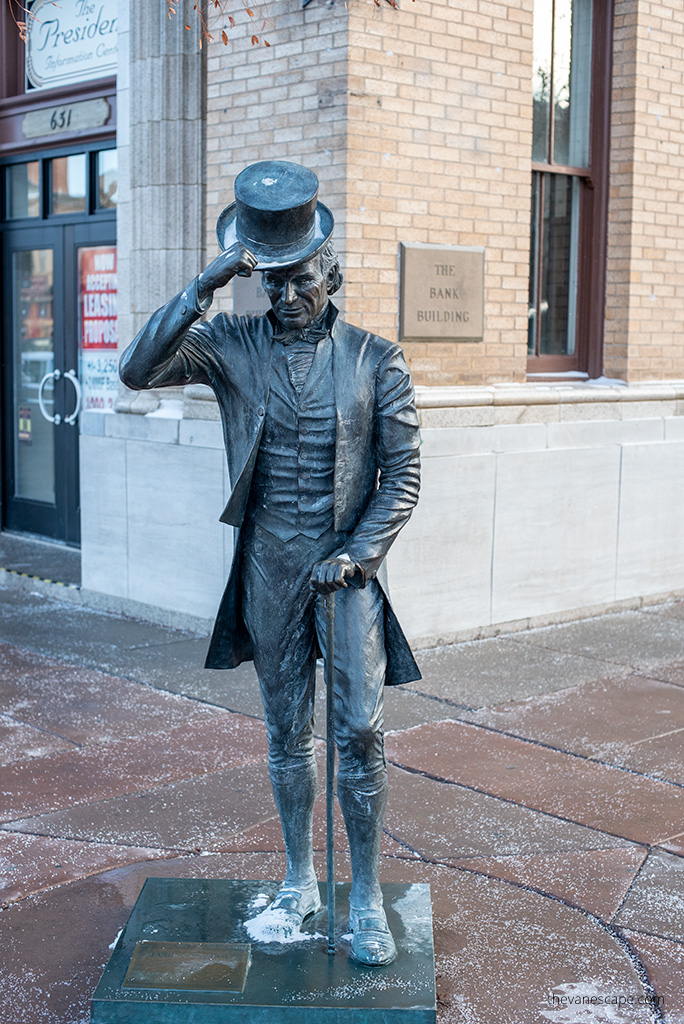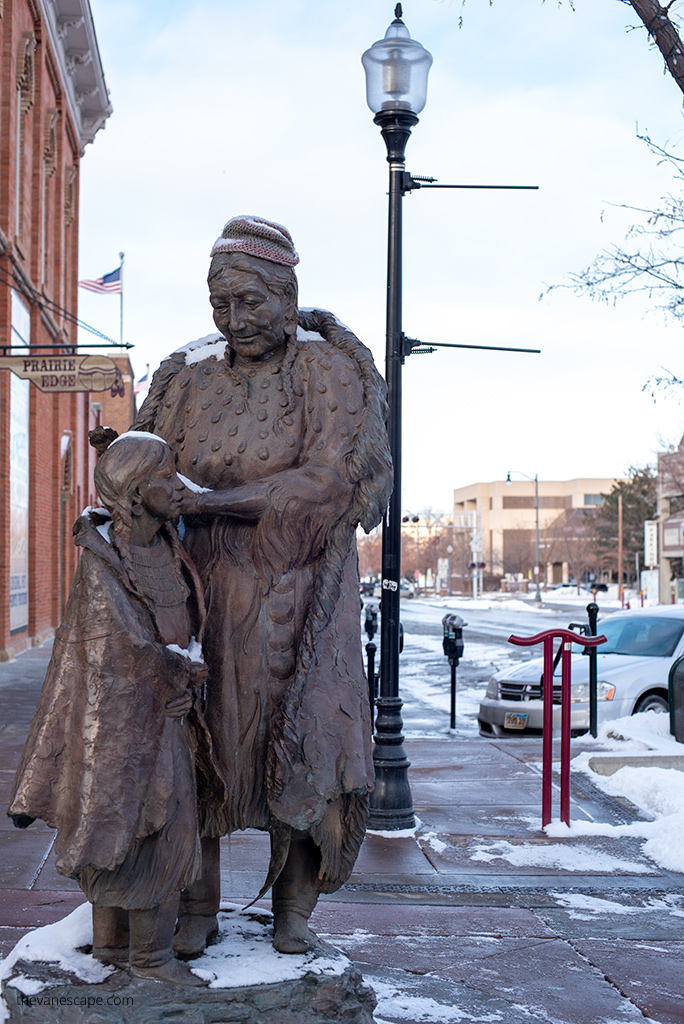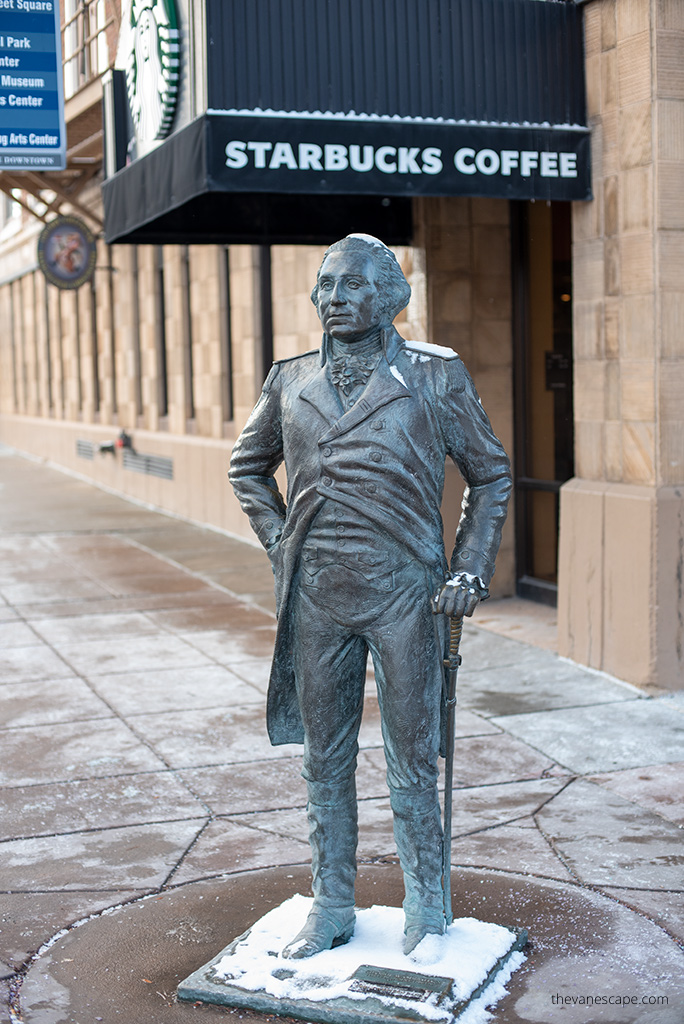 Lodging near Mount Rushmore in Deadwood
Deadwood is our favorite town in South Dakota. It has an excellent atmosphere, architecture, food, and attractions. It is worth staying here longer than one night. But hotel prices are higher than in Rapid City. So, we stayed at the nearby Best Western Black Hills Lodge. Directly on the website, you can get the best prices.
The city has a dark history. In 1874 in the Black Hills area was discover a gold and gold rush begin. Deadwood attracted outlaws, gamblers, and gunslingers along with the gold seekers. Murders were common on the streets and in the saloons. Deadwood became known for its lawlessness.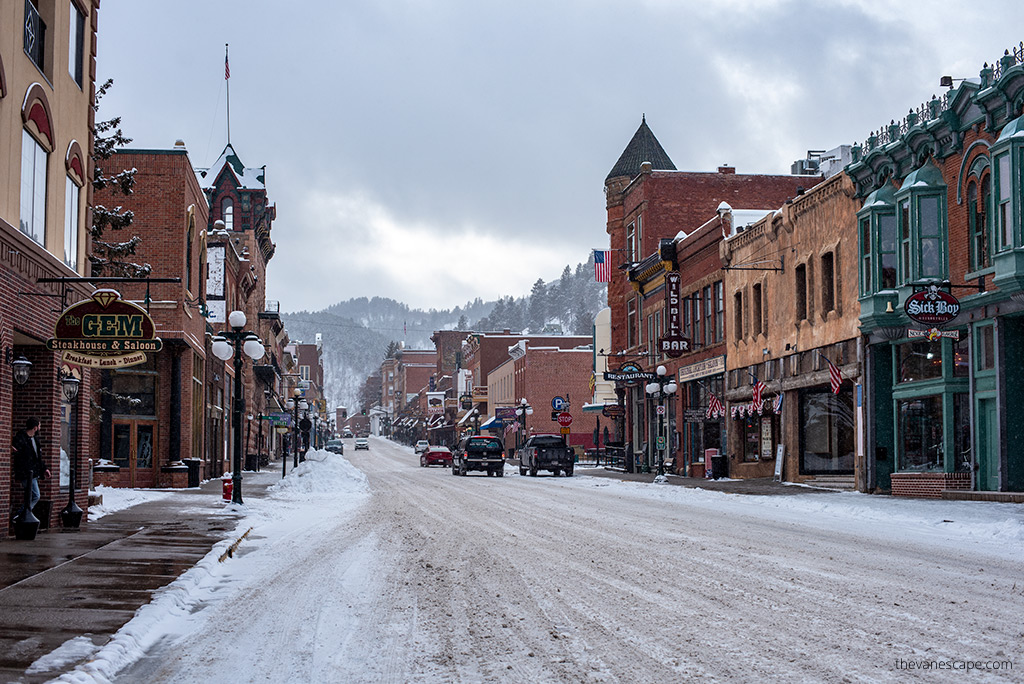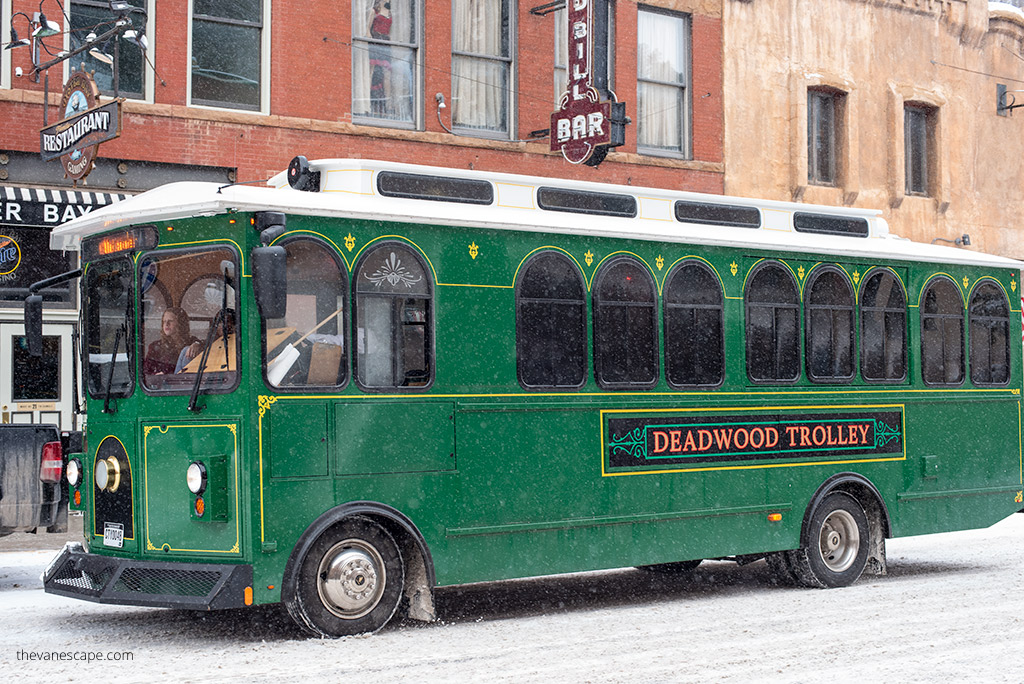 What are the Best Things to do when visiting Mount Rushmore?
Admiration of majestic figures of the four Presidents, it's not the only thing you can do when visiting Mount Rushmore National Memorial.
Stop at Lincoln Borglum Visitor Center in Mount Rushmore National Memorial
The best idea is to start your trip to Mount Rushmore with a stop at the park's visitor center. You will get a park map, find up-to-date weather forecasts and possible park closures. The Mount Rushmore visitor center opens at 8:00 a.m. daily (closed December 25th). Closes at 5:00 p.m. October through May, 10:00 p.m. June through mid-August, and 9:00 p.m. mid-August through the end of September.
But to be sure, check the opening hours before your trip to Mount Rushmore on the official website.
Moreover, at Lincoln Borglum Visitor Center, you can see a documentary film about Mount Rushmore, and museum exhibits, and you will find a great bookstore. It's worth starting to visit Mount Rushmore in this place; see images and videos of its construction.
Admire Sculptures from the Grand View Terrace
Right next to the Lincoln Borglum Visitor Center is an observation deck – Grand View Terrace. This is the easiest way to admire the monumental sculptures of presidents. However, it is worth remembering that the sculptures are also perfectly visible from the road. So, it is worth driving to Mount Rushmore slowly to admire the presidents' faces from a few miles.
Walk through the Avenue of Flags
During your trip to Mount Rushmore, you can admire all state flags on the Avenue of Flags. Moreover, during this walk, you can learn when each state was admitted to the Union.
Walk the Presidential Trail
The Presidential Trail is only 0.6 miles long, but it features 422 stairs. It's open if weather permitting. You can get up close to the mountain sculptures.
Join to Mount Rushmore Ranger Programs
Mount Rushmore offers several exciting Rangers Programs, including the Evening Lighting Ceremony. Most of the programs are free. So, it's worth joining them if you have more time. Check the offer on the official website.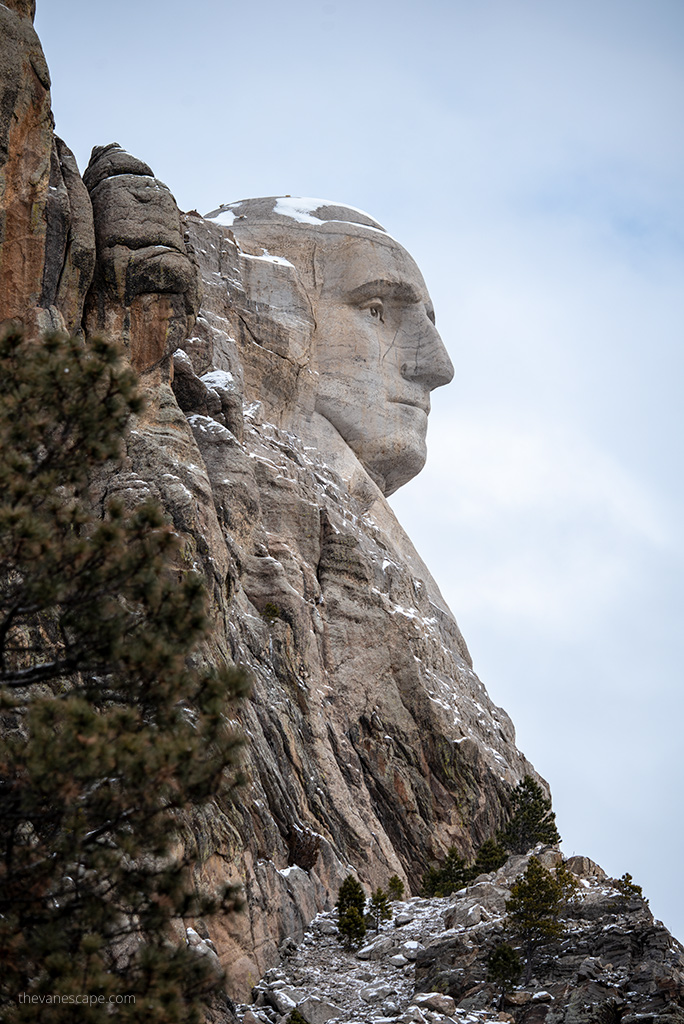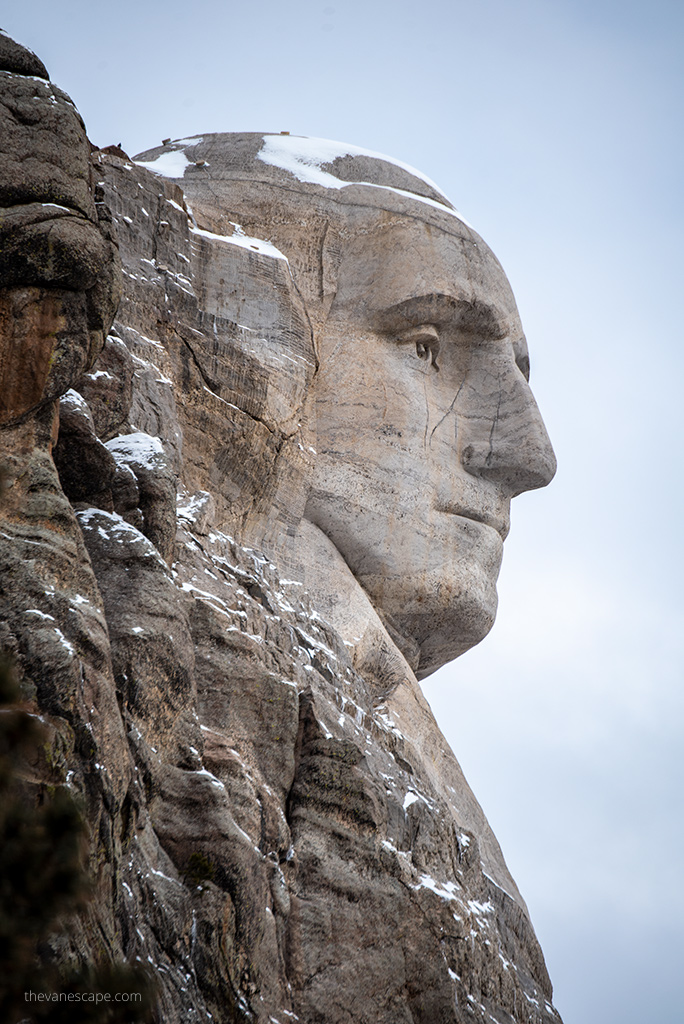 How long should you spend at Mount Rushmore?
It all depends on your interests and needs, but 2-4 hours should be enough to visit Mount Rushmore National Memorial.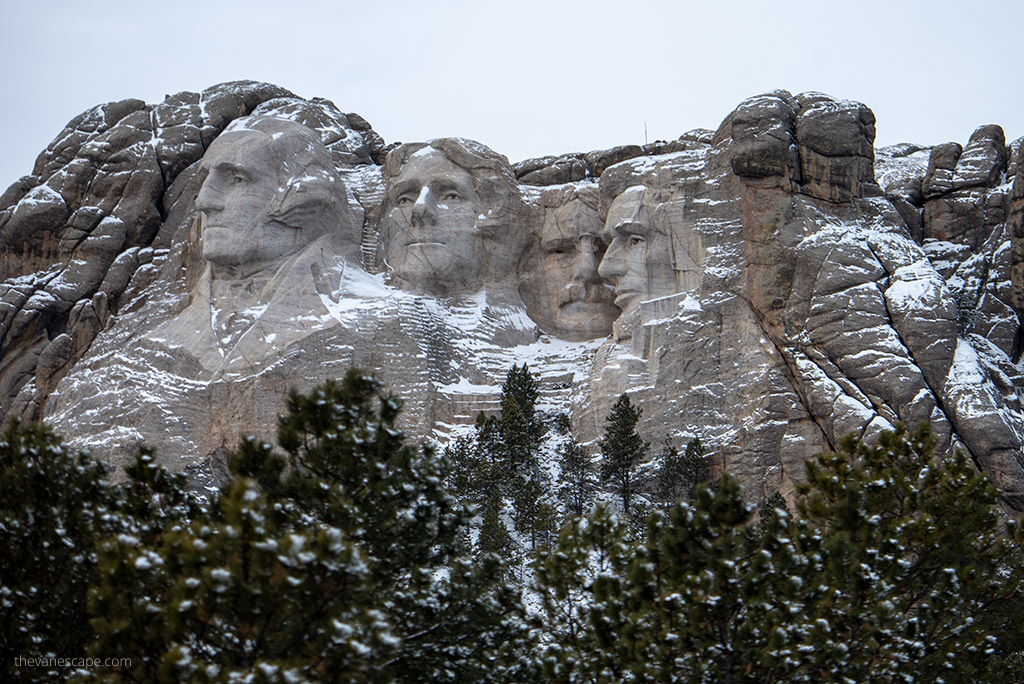 What are other attractions near Mount Rushmore?
Visit Crazy Horse Memorial
After visiting Mount Rushmore, you can drive 40 minutes to the world's largest mountain carving, Crazy Horse Memorial.
The Crazy Horse Memorial is a mountain monument under construction since 1948 and is far from complete. It's a statue of the Oglala Lakota warrior, Crazy Horse, riding a horse and pointing to his tribal land. It is operated by the Crazy Horse Memorial Foundation, a nonprofit organization. The memorial was commissioned by Henry Standing Bear, a Lakota elder. The sculptor was Korczak Ziolkowski. The place is also dedicated to preserving and sharing the living history and culture of all Native Americans.
You will find there an Indian Museum of North America and a Native American Cultural Center.
The sculpture's final dimensions are 641 feet (195 m) long and 563 feet (172 m) high. The head of Crazy Horse will be 87 feet (27 m) high. The heads of the four U.S. Presidents at Mount Rushmore are each 60 feet (18 m) high.
When finished, Crazy Horse will become the world's second tallest statue, after the Statue of Unity.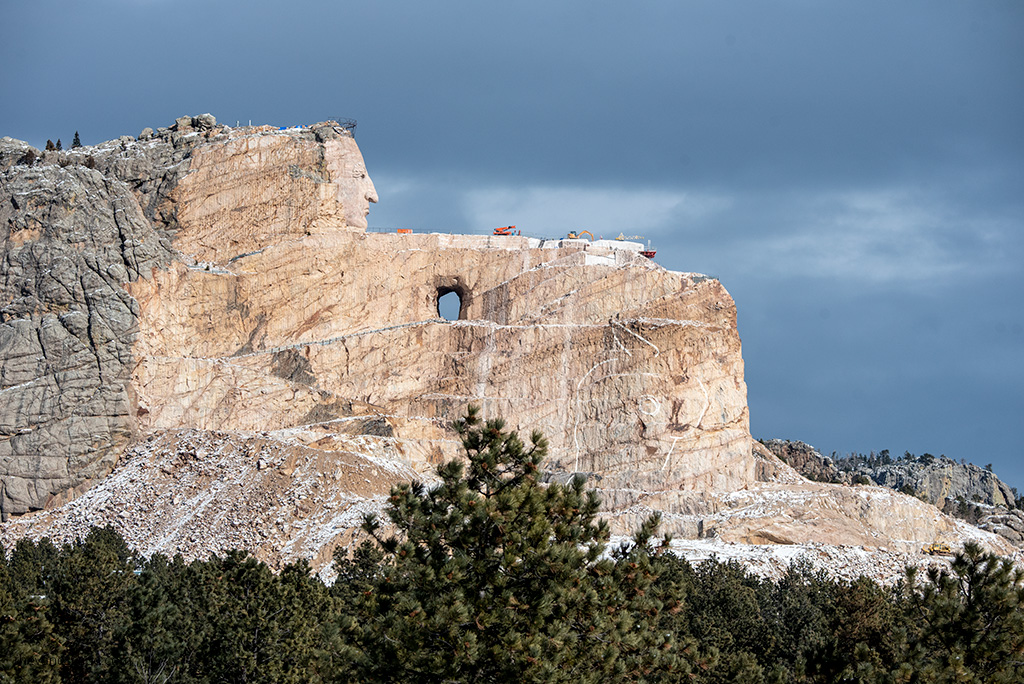 Visit Custer State Park
If you can, add Caster State Park to your South Dakota itinerary. It's a wildlife reserve in the Black Hills. It's home to a herd of 1,500 bison. Moreover, elk, coyotes, mule deer, white-tailed deer, mountain goats, prairie dogs, bighorn sheep also inhabit the park. You can admire prairie grasslands and rugged mountains. It's only a 45-minute drive from Mount Rushmore.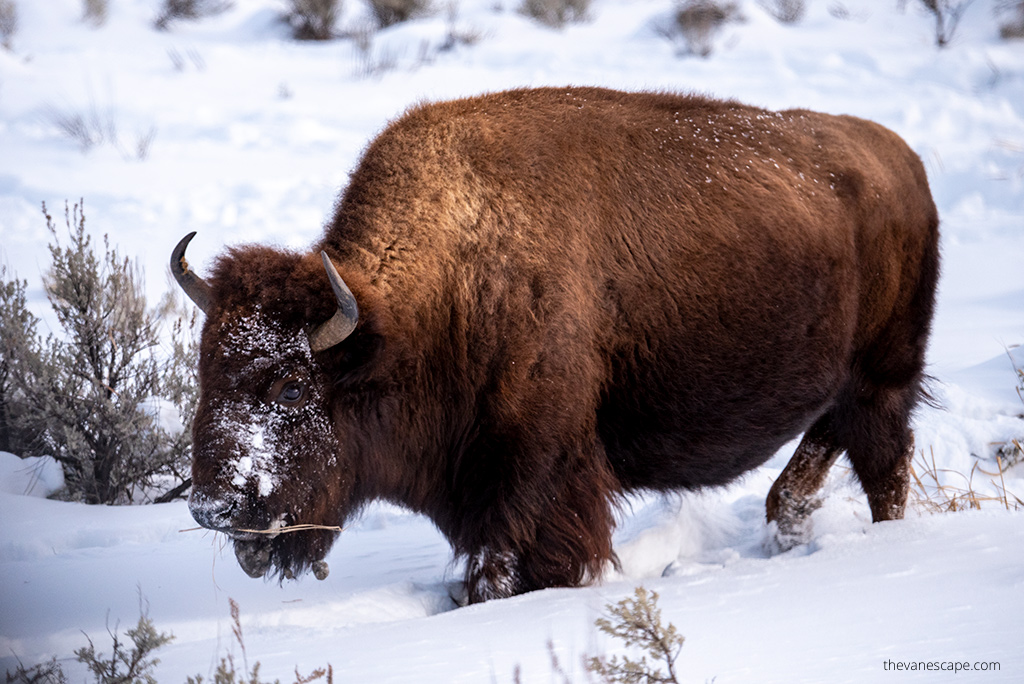 Visit Badlands National Park
Badlands National Park is a stunning, although less popular national park. It's worth seeing it. You can check our wildlife photos from Badlands in the winter scenery. Park is fabulous in summer and fall, and you can do many hikes during warmer months. The park is an hour and thirty minutes drive from Mount Rushmore so you can combine it during one road trip.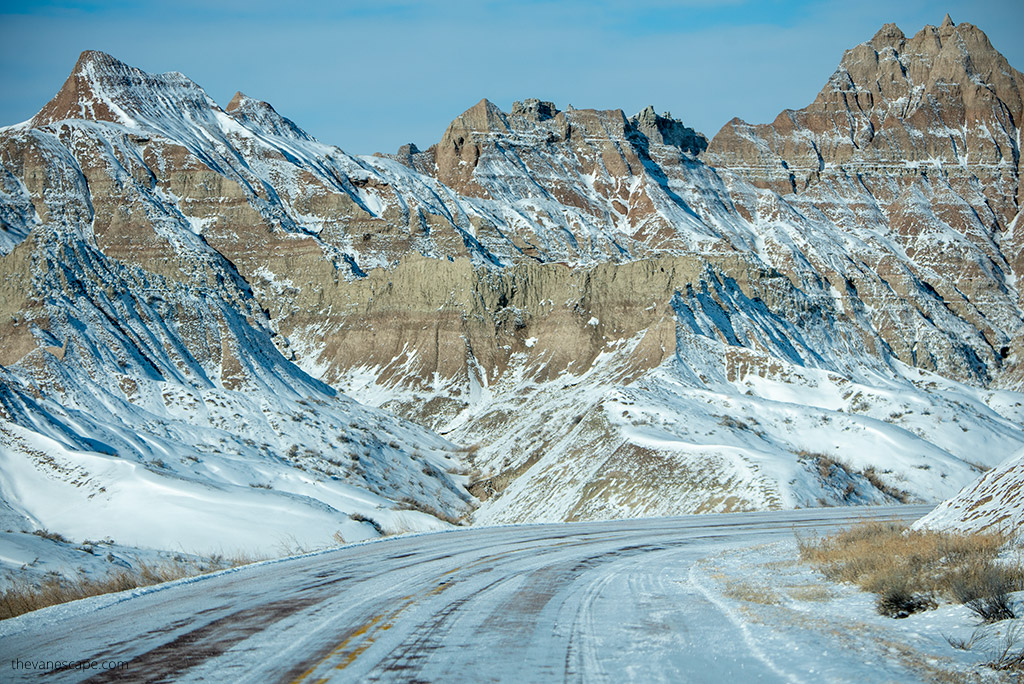 Visit Yellowstone National Park
A trip to Mount Rushmore is often combined with visiting Yellowstone National Park. And it's a perfect idea if you have more time for your road trip. We did it as well. On March 1, 1872, Yellowstone became the first national park in the USA. And now we can enjoy the unique hydrothermal and geologic wonders. Yellowstone features canyons, alpine rivers, lush forests. But most of all, it's famous for its hot springs and gushing geysers, including Old Faithful.
It is a long journey of about 430 miles and 8 hours driving from Mount Rushmore to Yellowstone. But there are also interesting attractions along the way and, above all, beautiful views.