Badlands National Park in Winter
Is Badlands National Park open in winter? Can you visit the Badlands in the winter? Are the Badlands worth seeing in winter? The answer to these questions is YES. Definitely YES. South Dakota's Badlands National Park is worth your visit in winter when snow blanket covers the buttes. The Badlands scenery in the wintertime is fantastic. There are very few people and a lot of wildlife. But winter visit to Badlands requires careful consideration and preparation. So, check our tips on what to do and how to prepare to visit Badlands National Park in winter.
This article may contain affiliate / compensated links. For full information, please see our disclaimer here.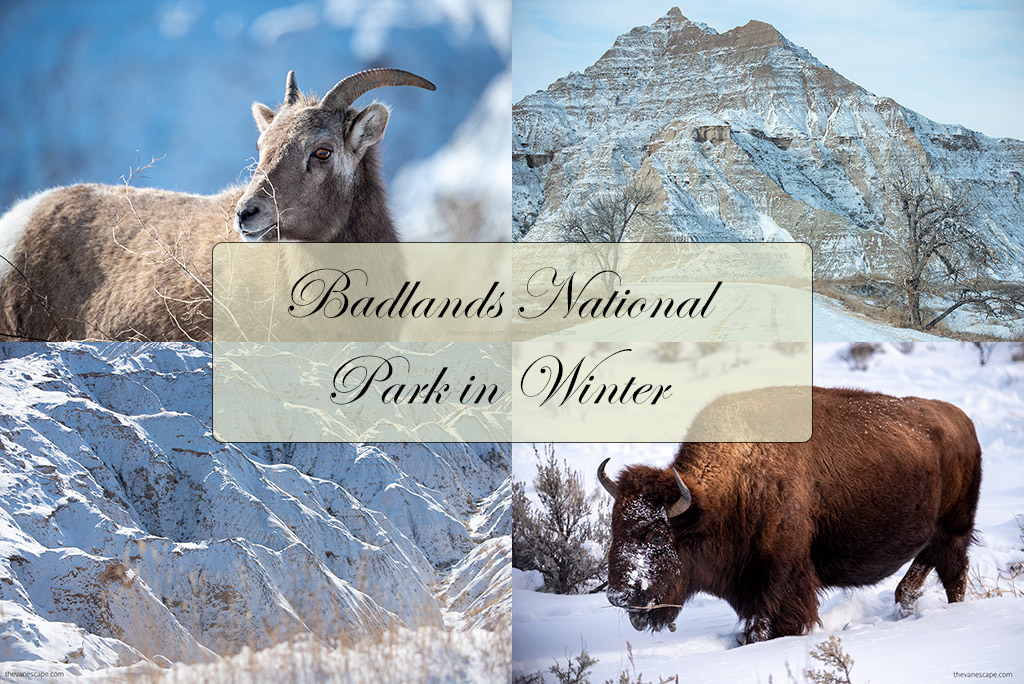 Badlands National Park Facts
Badlands National Park is located in South Dakota, 75 miles east of Rapid City. It protects over 244,000 acres (982.4 km2) of sharply eroded buttes and pinnacles. 26- to 75-million-year-old sediment eroded into spires, buttes, and rugged cliffs. Moreover, the Badlands covers the largest undisturbed mixed grass prairie in the United States. This rugged landscape with vast wild prairies is a home for bison, bighorn sheep, prairie dogs, and black-footed ferrets. Furthermore, geologic deposits contain one of the world's richest fossil beds.
Badlands National Monument, established in 1939, was redesignated into a Badlands National Park in 1978. The National Park Service manages the Park co-managed with the Oglala Lakota tribe.
The movies Dances with Wolves (1990) with Kevin Costner and Thunderheart (1992) with Val Kilmer were partially filmed in Badlands National Park scenery. It is worth seeing them before visiting the park.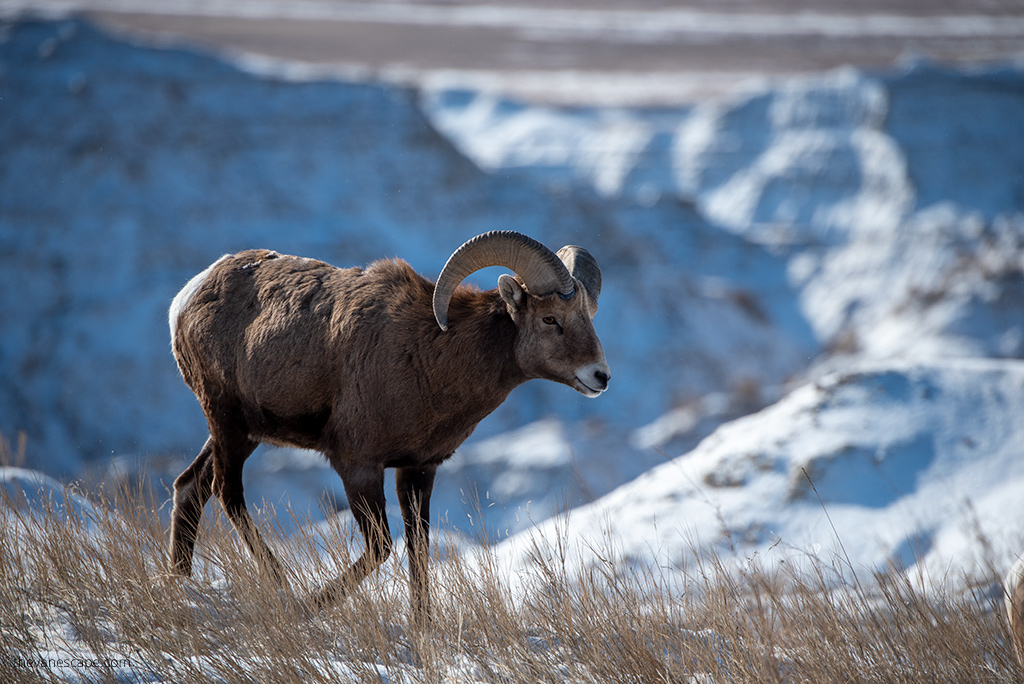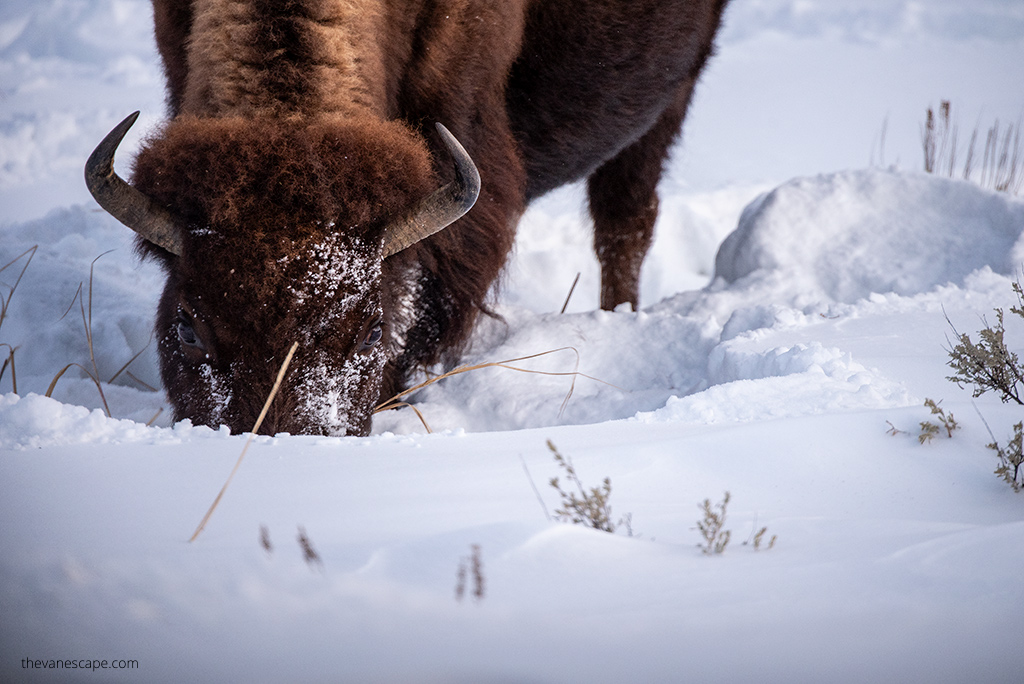 TRIP TIP: Plan a trip to South Dakota? Check also our related articles:
Things To Do in Deadwood, South Dakota
Trip to Crazy Horse Memorial, South Dakota
Trip to Mount Rushmore National Memorial
And if you love winter scenery, check out our tips and photos from breathtaking Yellowstone in Winter!
Is Badlands National Park open in winter?
Yes. The Badlands is open all year round, 24 hours a day. However, some trails and parts of the road may be closed in winter due to the weather. But, it is still possible to visit Badlands in winter. The only open winter information is The Ben Reifel Visitor Center. It is open all year except for Thanksgiving Day, Christmas Day, and New Year's Day. Ranger programs are available only in the summer months. White River Visitor Center is closed during winter. Opening hours of the Ben Reifel Visitor Center check on the park's website. It's a good idea to talk to the Parks Rangers about your trip plans to hear some tips and an actual weather forecast.
The entrance fee is $30 per vehicle and is valid for seven days. But it's worth buying America the Beautiful Pass, an annual card. It costs only $80 and gives you access to more than 2,000 federal recreation sites, including all USA national parks and wildlife refuges as well as national forests and grasslands.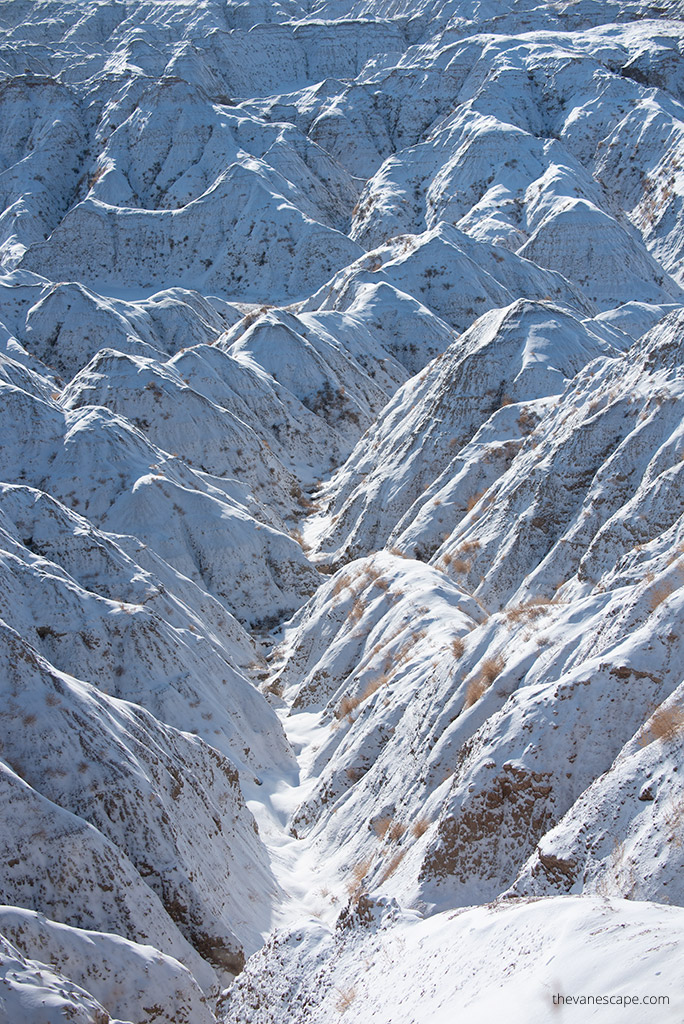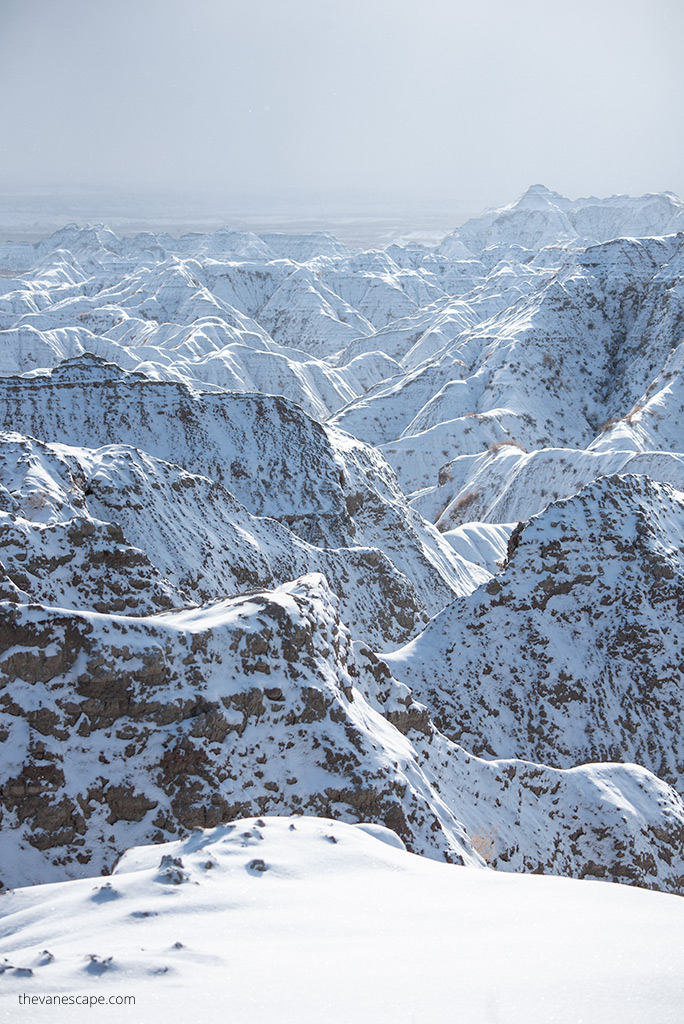 Directions to Badlands National Park
Badlands National Park is located 75 miles east of Rapid City, South Dakota, and only 8 miles from the small town of Wall.
Interstate 90 (I-90) is located directly north of the park and provides access to Hwy 240 Badlands Loop Road. If traveling west on
I-90, take Exit 131 (Interior), and follow the signs directing vehicles south approximately three miles to the Northeast Entrance. If traveling east on I-90, take Exit 110 at Wall, South Dakota.
Badlands National Park Weather in Winter
Does Badlands have snow? Yes. There is a lot of snow in Badlands. Winters in Badlands National Park are cold and might be windy but dry. Winters are typically cold, with 12 to 24 inches of total snowfall. Average January highs are below 32°F (0°C), and average lows are below 10°F (-12°C). The weather in Badlands National Park in winter is variable and unpredictable. So always check the weather forecast.
Before you visit Badlands, check alerts, road status, and conditions on the National Park Service website.
Badlands is such an isolated and remote place during winter that you feel like you are in an alien landscape.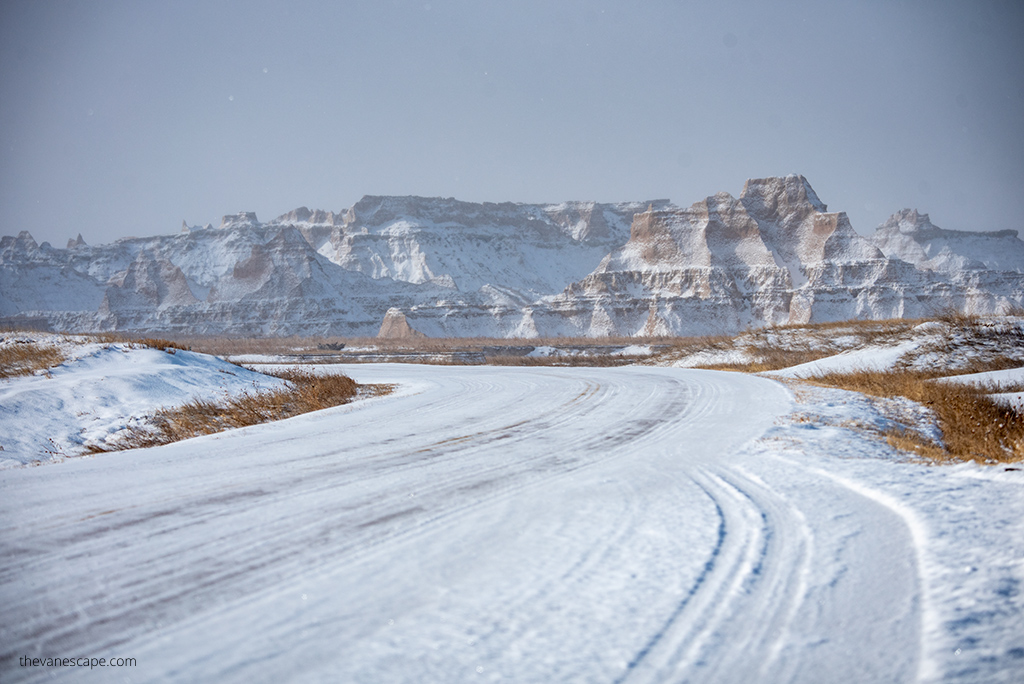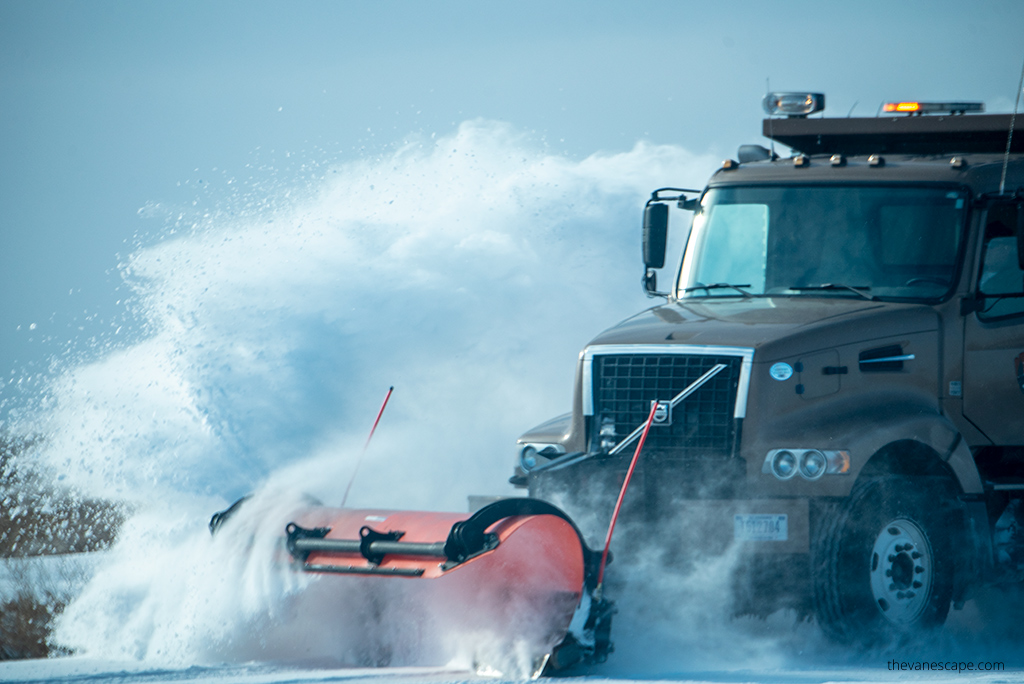 Badlands National Park Map
For a one-day winter trip through the Badlands National Park, the map from the Ben Reifel Visitor Center should be enough. But if you are planning a more extended stay in Badlands, or a visit in the summer or autumn months, it is worth getting a detailed map of the park. It covers the park, including the Palmer Creek Area, Badlands Wilderness Area, Buffalo Gap National Grassland, and Pine Ridge Indian Reservation. Cedar Pass area provides additional detail about this section of the park along with its hiking trails.
If you plan a South Dakota road trip, the best travel guide is Moon Mount Rushmore & the Black Hills With the Badlands. It is a beautiful and detailed source of knowledge about South Dakota, the indigenous tribes Lakota inhabiting the land, nature, and attractions worth seeing.
You must know that there is usually no phone coverage in the park. Consider taking a paper map, offline maps, and GPS devices, especially if you plan a more extended stay. Check also our Day Hiking Packing List before you hit the hiking trail!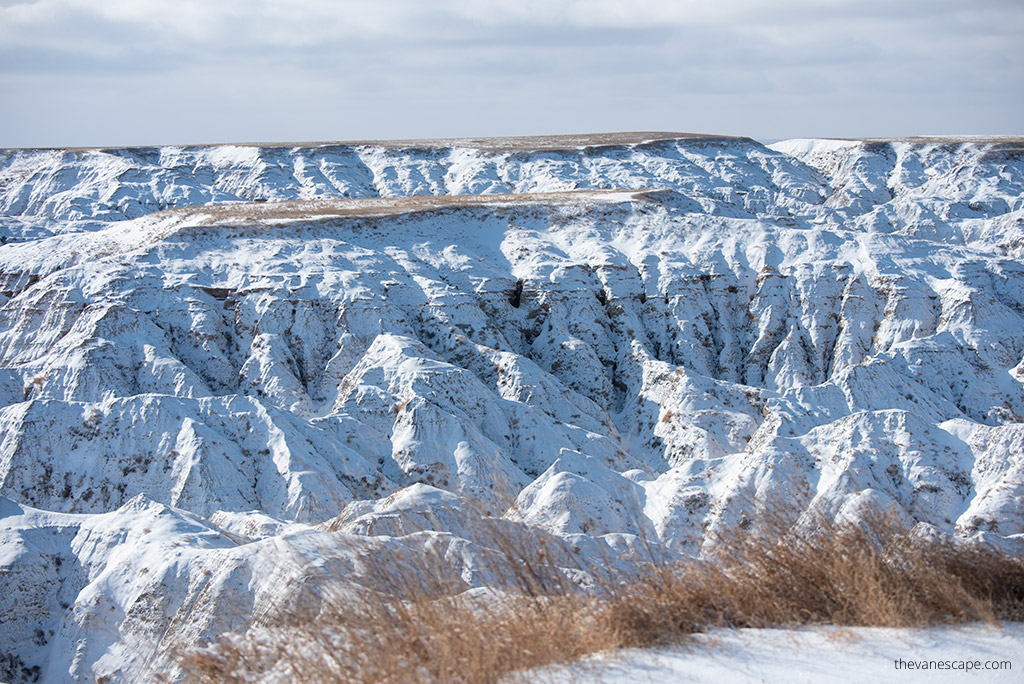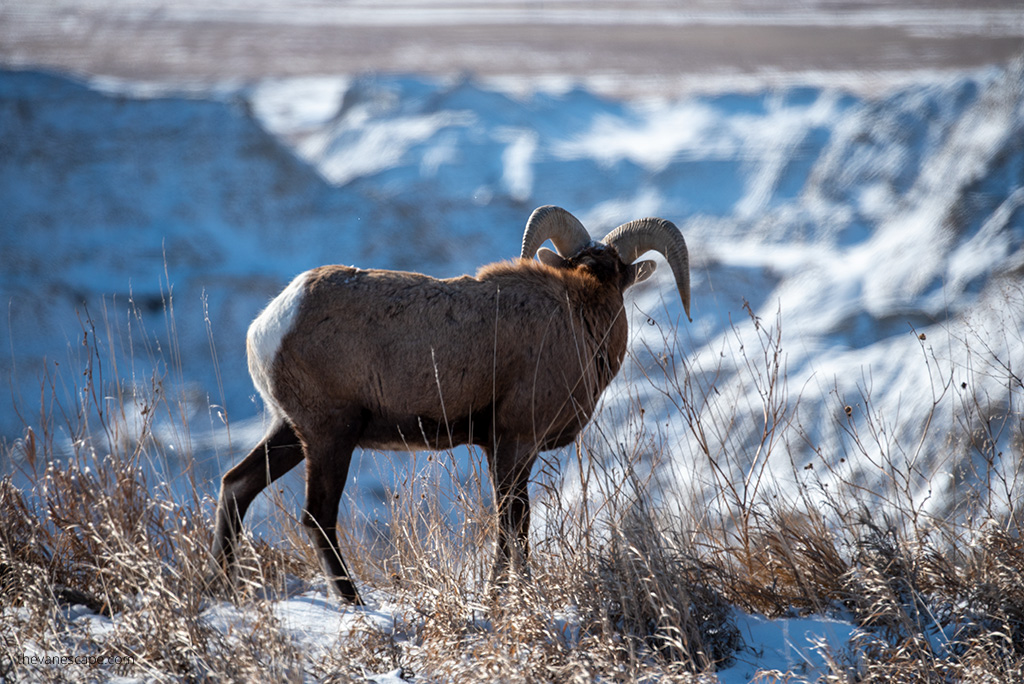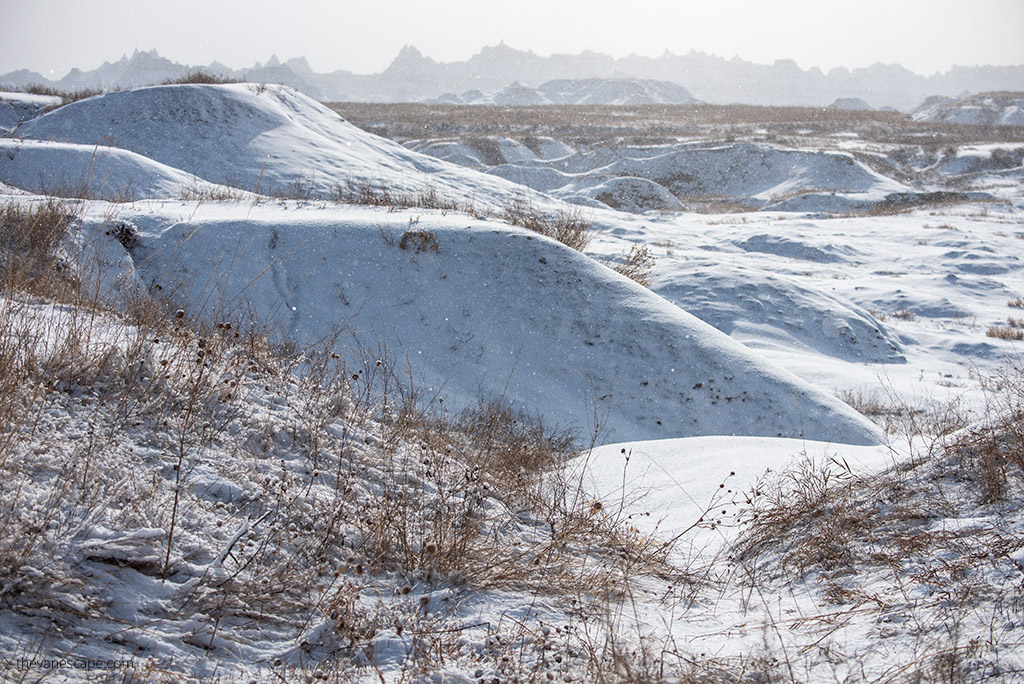 How many days do you need in the Badlands National Park in Winter?
It all depends on your interests and needs. In winter, 3-4 hours or 1 day is enough to drive through the Badlands open roads and make short, accessible hikes. In winter, the landscape in Badlands National Park is harsh and desolate, which makes it fabulous and magical. So, it's worth your visit. You will have an unforgettable experience.
If you like wildlife observation and photography or want to stay at the campsite in winter, you can plan your stay for 2-3 days. We spent only one day in Badlands in winter, as we were on the way to Yellowstone National Park, where we spent the whole week in the winter scenery.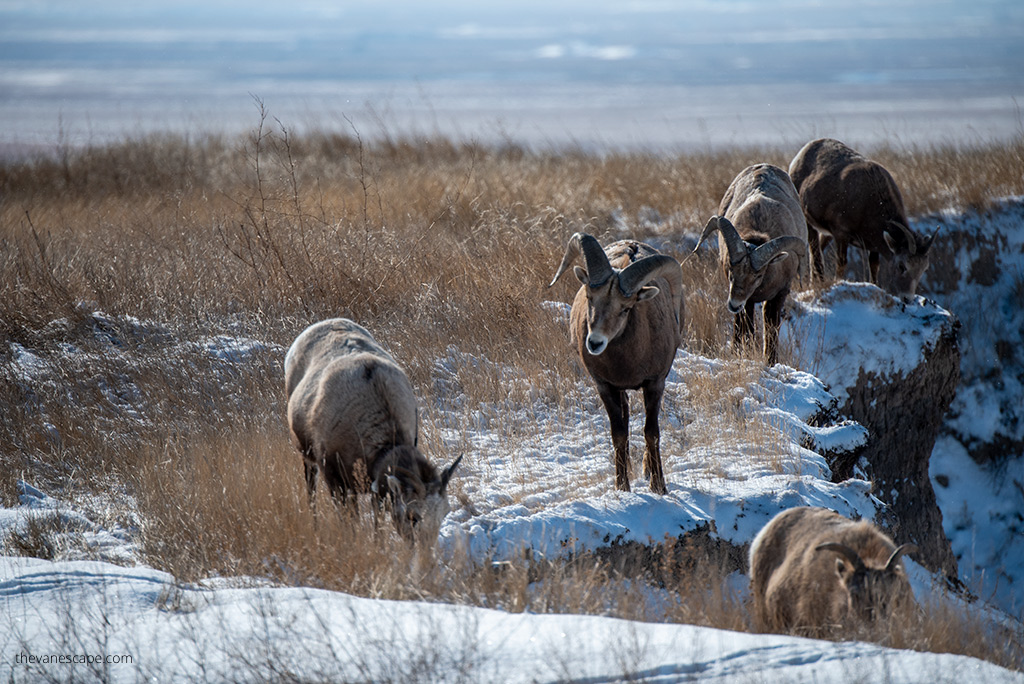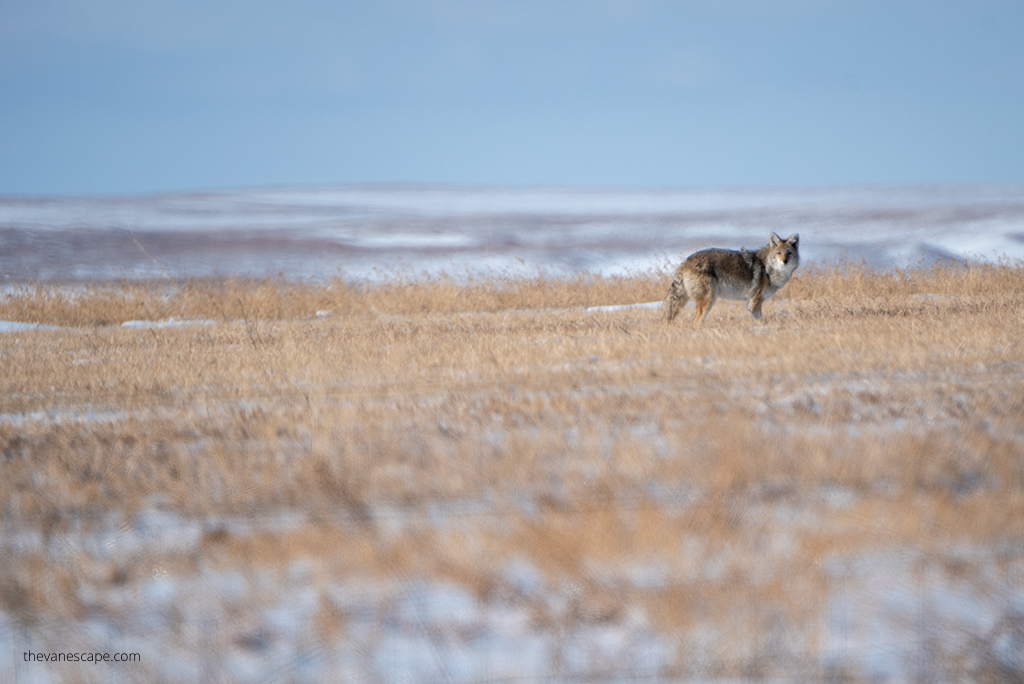 Where to stay during Badlands visit in winter?
We passed some exciting roadside banners on our winter road trip through South Dakota as we drove along Highway I-90 from Sioux Falls. All the signs were highly intriguing and funny and pointed to the town of Wall. That's why we stayed for the night in the Wall. The Wall Drug Store is a series of old buildings with colorful wooden facades created for the Wild West. Time in this town stopped, and we had the impression that we had moved to Western movies. So, on the I-90, you will see billboards for Wall Drug Store over 300 miles.
We stayed in the Days Inn by Wyndham Wall. We were satisfied with the room and service quality; most importantly, the price was affordable. Wall is the closest place to stay to the Badlands.
Another great option is to stay overnight in the fabulous Rapid City, especially if you plan to visit Mt Rushmore, Crazy Horse, and the Black Hills Region. In Rapid City in winter, you will have more hotel options and more open restaurants and shops. But the Wall is only a few miles from the entrance to the Badlands National Park. It has an unusual charm and is worth stopping there for a while.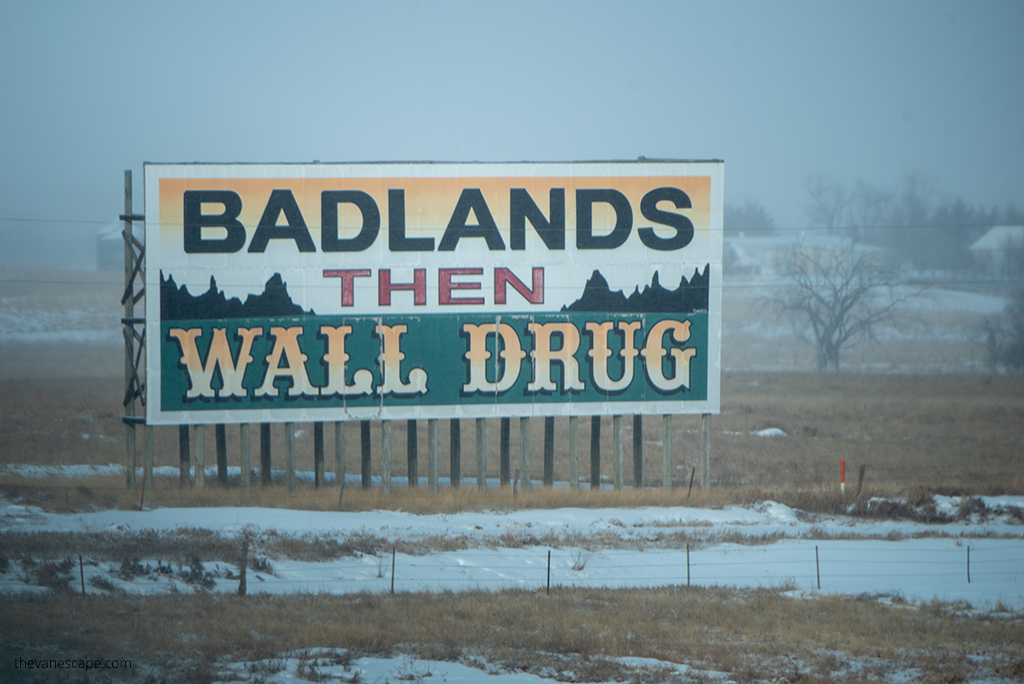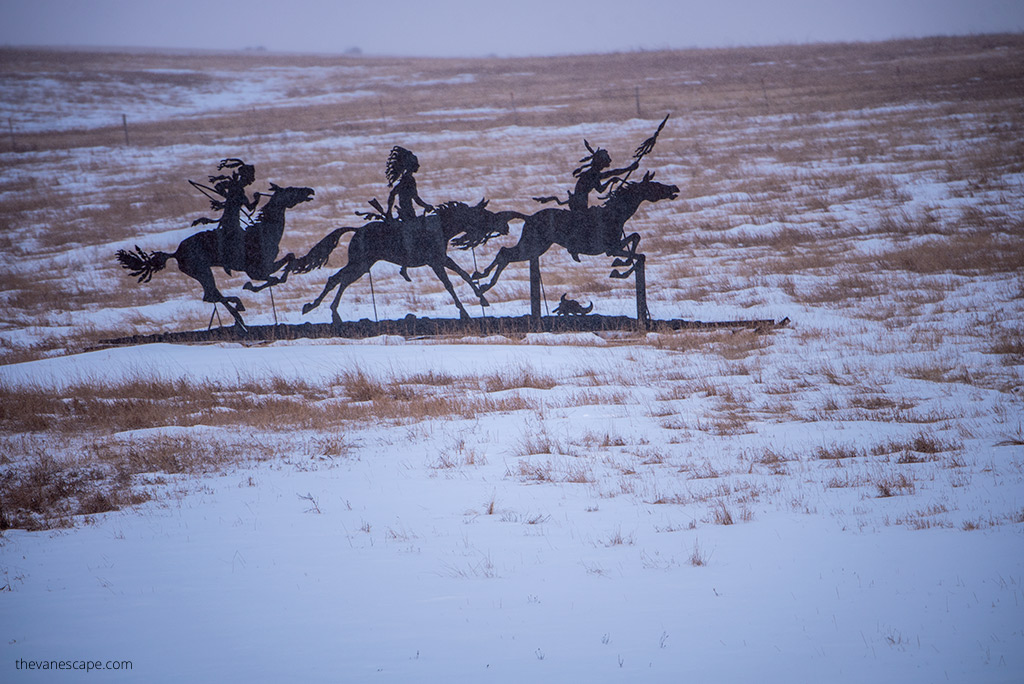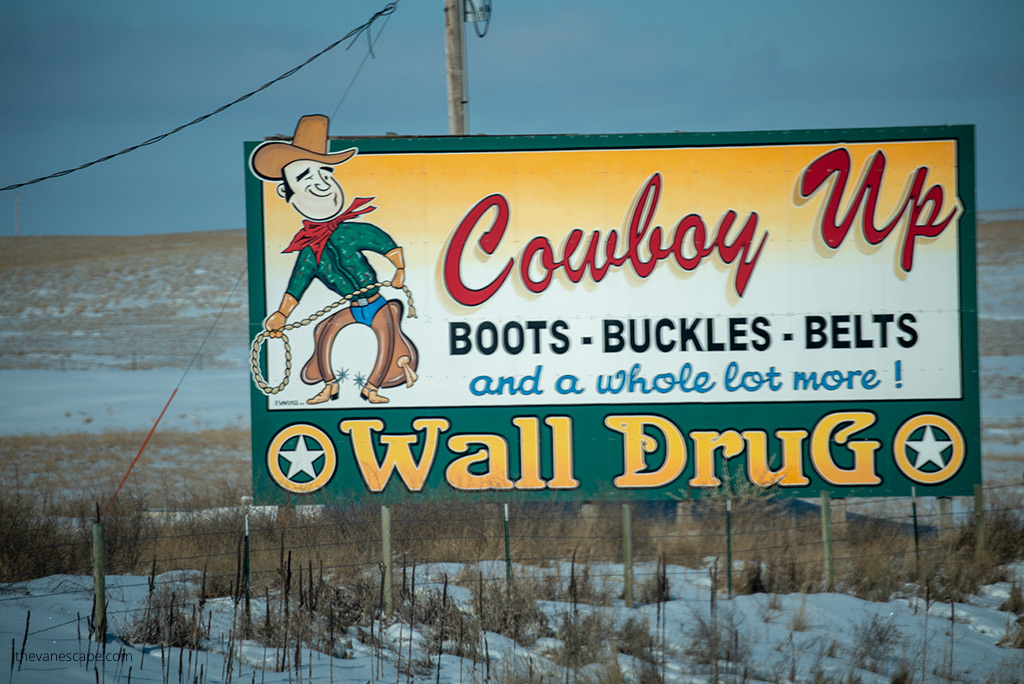 Can you camp in the Badlands National Park in Winter?
Yes. You have a choice of two campsites, one paid and one free. Moreover, back-country camping is also available in the Badlands National Park. Back-country camping is permitted anywhere in the park as long as it is 0.5 miles from a road or trail and is not visible from a trail or roadway. Check the rules on the NPS website.
Open all-year camping is Cedar Pass Campground. It offers a limited section open in the winter months. For additional information, including questions about reservations and fees, contact the Cedar Pass Lodge or call (605)-433-5460.
The road leading to Sage Creek Campground is temporary closures after winter storms, but the campground remains open and is free of charge. There is no problem with sites during the winter due to cold weather. So, if you want to camp in Badlands in winter, prepare yourself and your camping gear for extreme weather.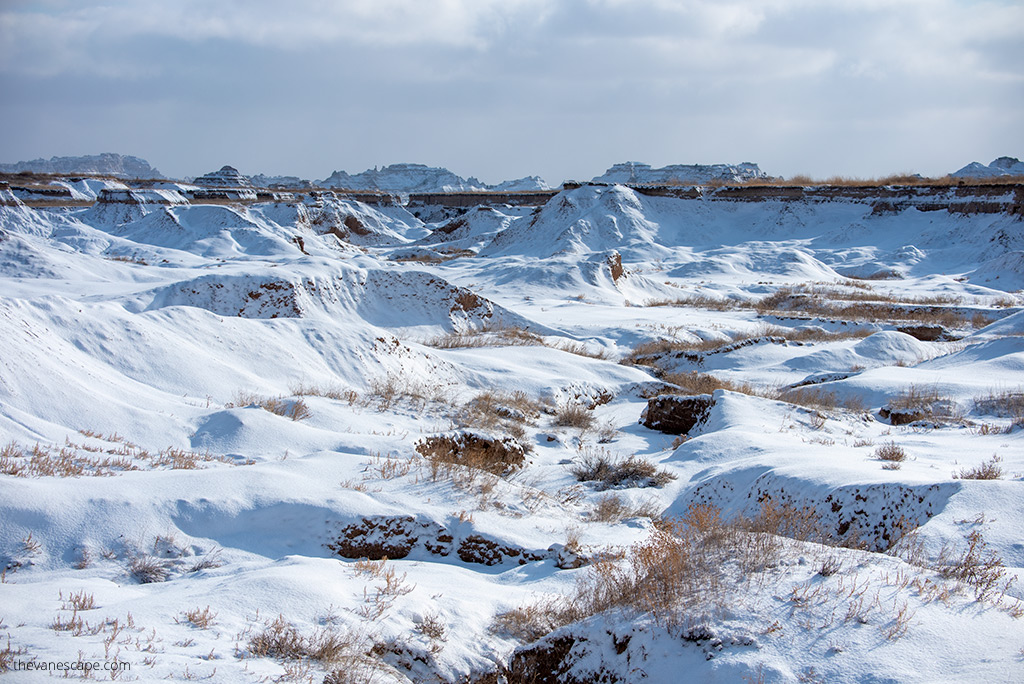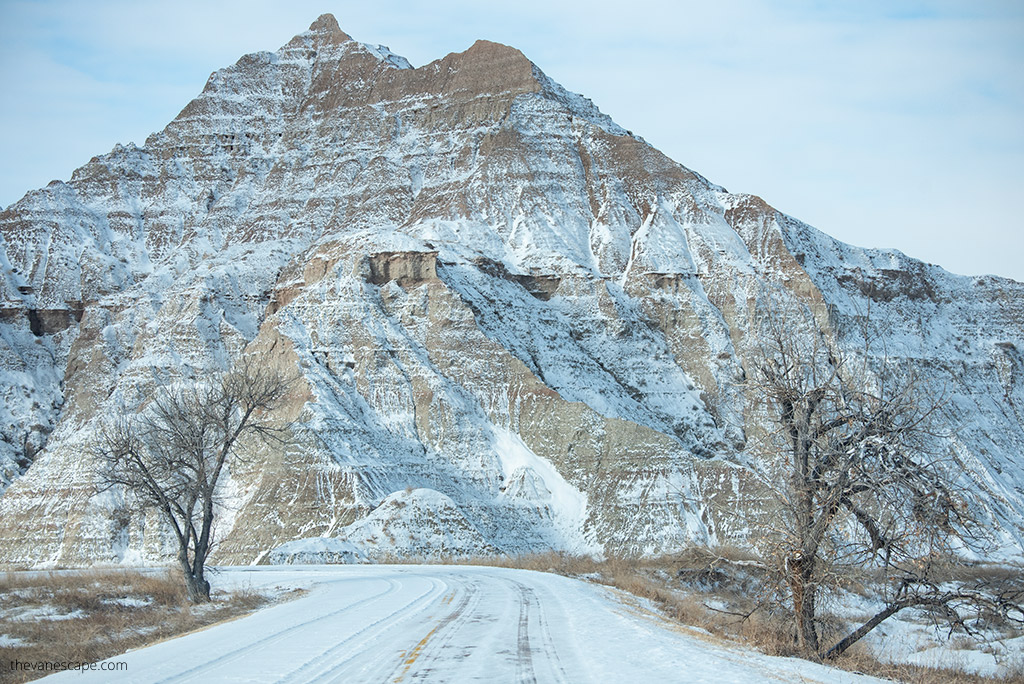 How long is Badlands Scenic Loop?
The Badlands Scenic Loop is 39 miles long. How long does it take to drive the Badlands Loop? It would take about one hour to drive the 39-mile loop of South Dakota Highway 240 between Cactus Flat and Wall's towns without stopping. But the scenery is so fairytale that you stop many times and need at least 2-3 hours to do Badlands Loop Scenic Byway. 16 designated scenic overlooks make for outstanding photo opportunities and wildlife watching.
The best viewpoints on Badlands Loop Road are Big Badlands Overlook, Bigfoot Pass Overlook, Panorama Point, Prairie Wind Overlook, Burns Basin Overlook, Yellow Mounds Overlook, and Pinnacles Overlook.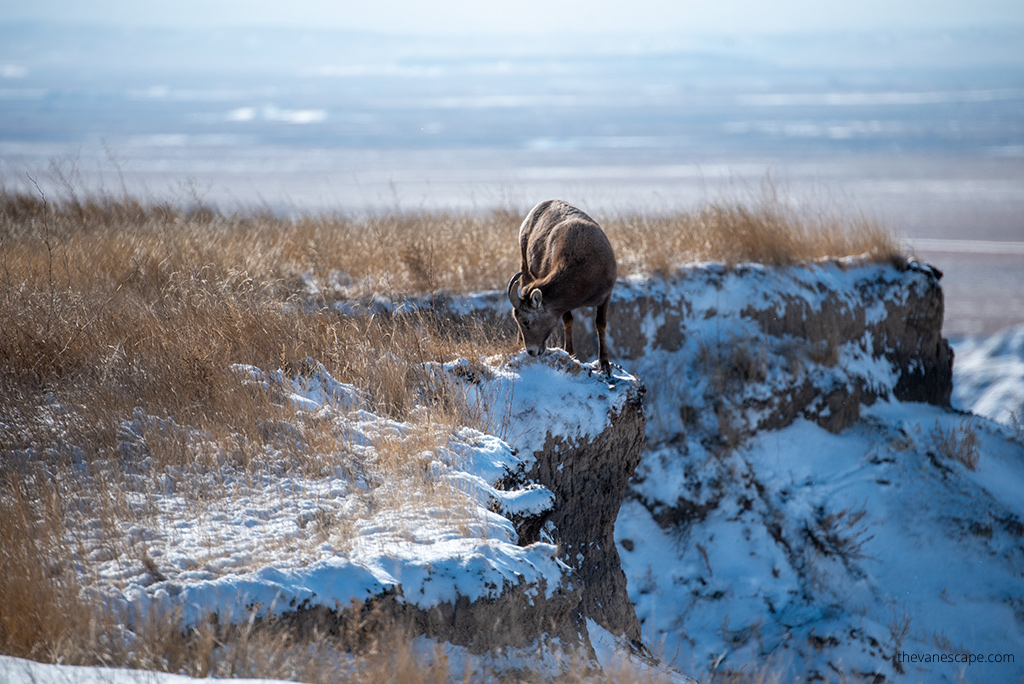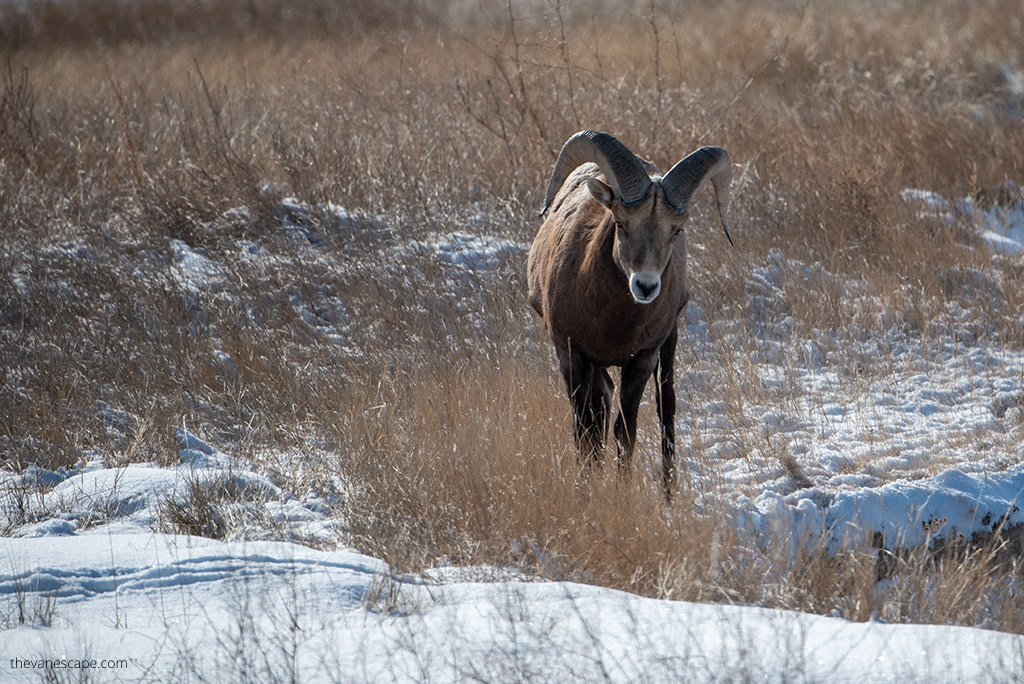 How to prepare to visit Badlands National Park in winter?
Snow Chains, Ice Scraper, and Snow Shovel are necessary if you decide to visit Badlands National Park in winter. Drive slowly and carefully. Pack an extra warm blanket in case your car breaks down. Indeed, it will be some time before you can call for help. There is no phone coverage. Check out our tips on the essentials we always pack for road trips in our Road Trip Packing List Essentials.
Pack warm things if you are planning winter hikes in Badlands or wildlife photography. The frosts are strong, and there are often winds. Dress in layers. Wool thermal underwear is essential for winter hikes. Waterproof hiking boots with good grip or Snow Boots are a must. Winter down jacket, warm hat, and gloves are also necessary. Also, hand and foot warmers were helpful when we hiked.
Trekking poles are also handy when hiking in the snow.
And if you like snow hiking and winter trips, it's worth packing snowshoes. They are great for winter activities.
Don't forget to pack a thermos with hot coffee or tea, sandwiches for lunch, and energetic snacks such as protein bars and beef jerky. Most restaurants and shops are closed in winter. The closes you will find in Wall.
For more suggestions on how to dress and what to pack, check our proven Day Hiking Packing List.
PRO TIP: Before your trip, stop at the Ben Reifel Visitor Center to check the local weather forecast. Park Rangers provide additional safety advice, so tell them about your plan and how long you will stay in the park. Remember that there is no phone coverage in Badlands, so pack a map and GPS devices.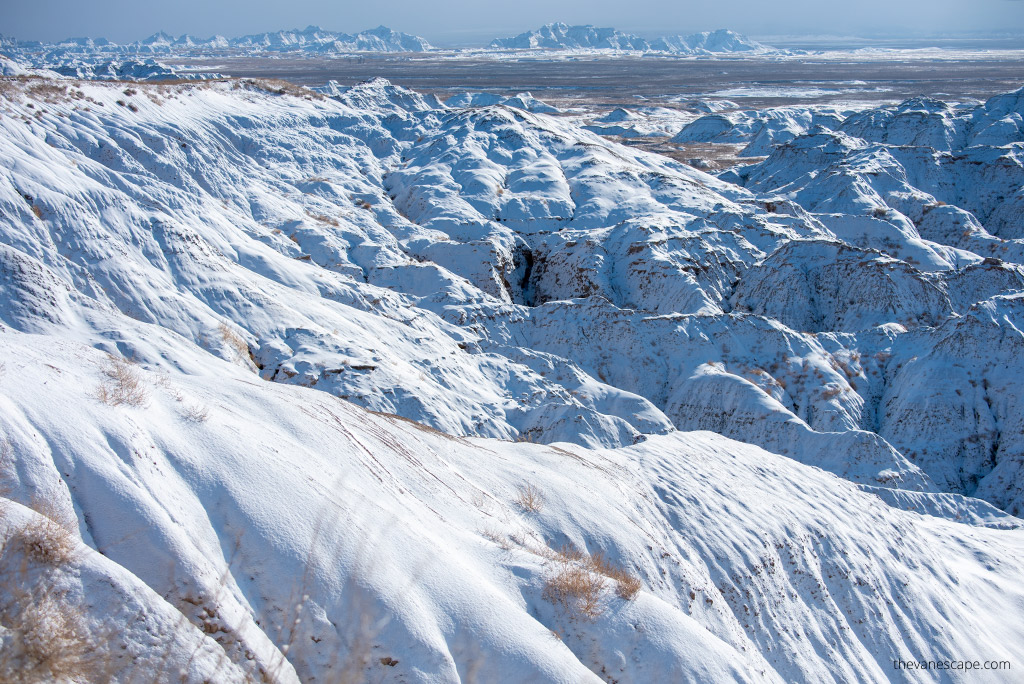 What are the Best Things to do in Badlands National Park in Winter?
Visit Ben Reifel Visitors Center and watch the informative film, "Land of Stone and Light."
Drive a Badlands Scenic Loop – some parts of the interior might be closed, but you can still have a fabulous drive on the main 39 miles long Badlands Loop Road and spot a lot of wildlife. Drive carefully and enjoy the Badlands scenic overlooks.
Snowshoeing is also a perfect idea for winter activities in Badlands National Park.
Wildlife watching. Winter is a particular season for observing wild animals. Due to the small number of tourists, they are close to the main Badlands Loop Road. Besides, they look beautiful in the snow. We encountered bighorn sheep, bison, coyotes, and eagles next to the main road. But do not approach or try to feed animals if you spot them. Keep a minimum of a 100-foot distance from any wildlife.
Hiking in Badlands in winter
Finally, winter hiking is also a great idea and one of the best things to do in the Badlands in winter.
The best hikes in Badlands National Park in winter are:

Door Trail – easy 0.75 miles/1.2 km (round trip)
Window Trail – easy 0.25 miles/0.4 km (round trip)
Fossil Exhibit Trail – easy 0.25 miles/0.4 km (round trip)
Cliff Shelf – moderate 0.5 miles/0.8 km (round trip)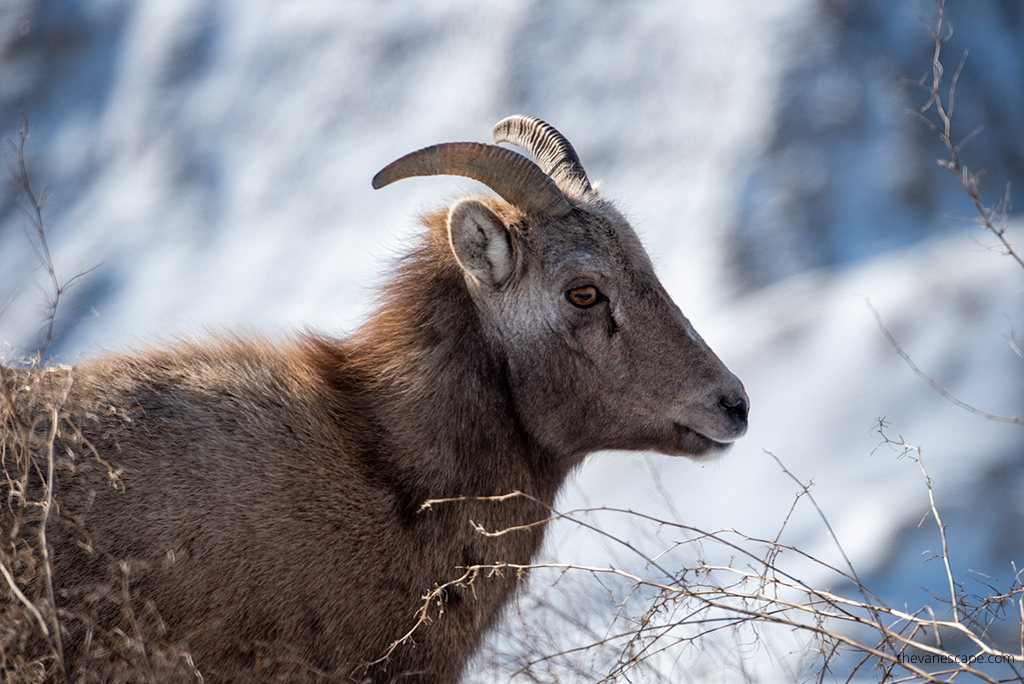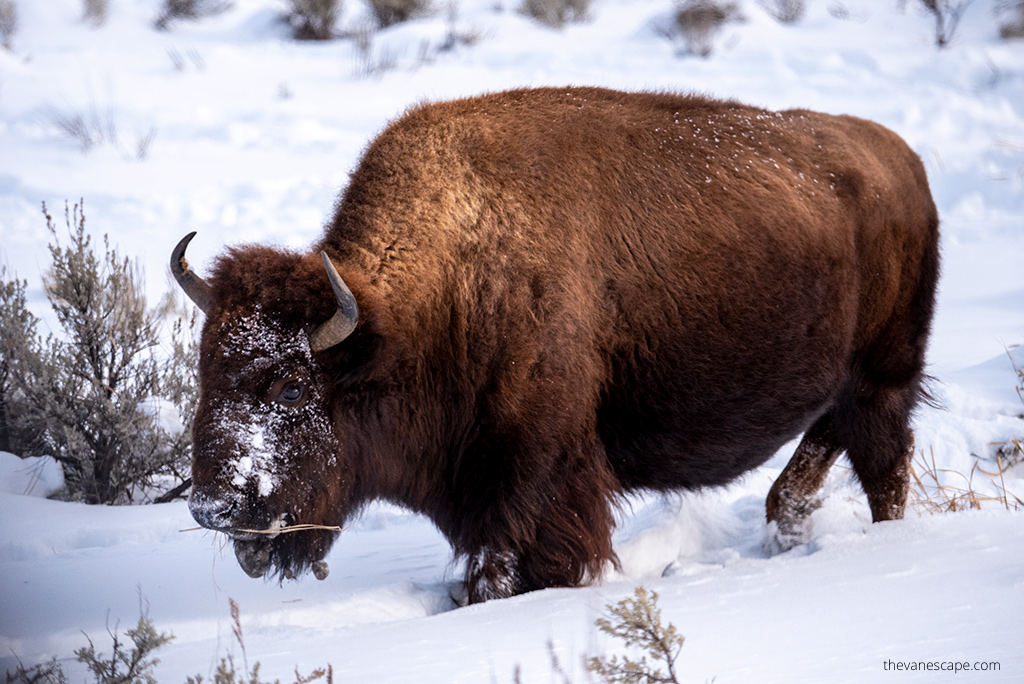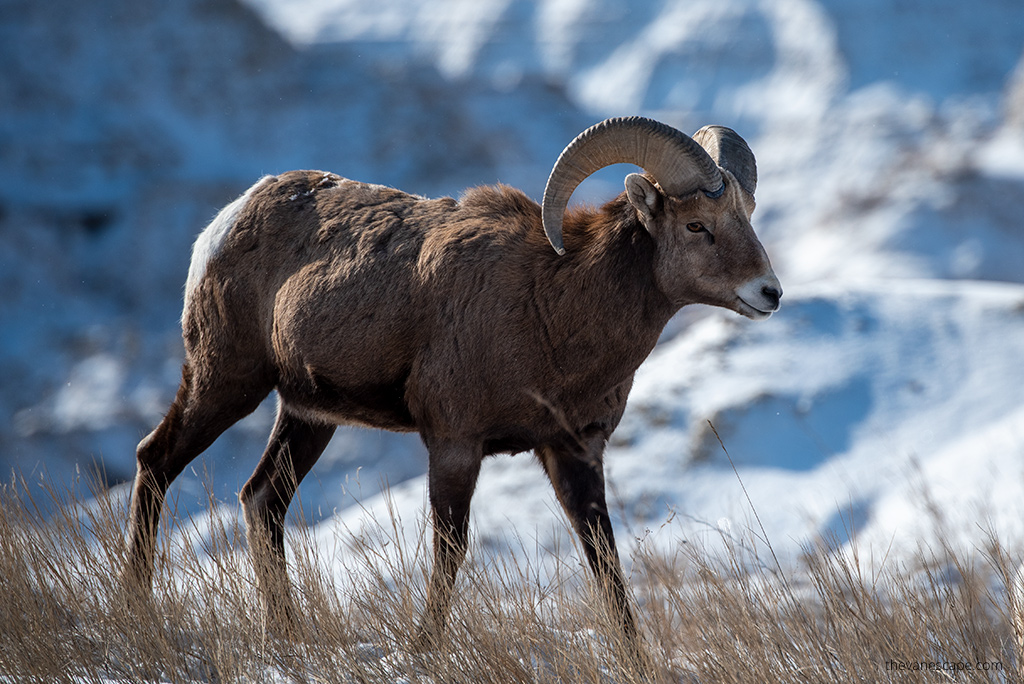 Do you like it? Pin it!