Things to do in Yellowstone in Winter
Dream about winter in Yellowstone National Park? Yellowstone looks brilliant in winter scenery as hot geysers erupt from beneath a fluffy blanket of snow. Majestic bison with frosted noses search for blades of grass. And the silence is broken from time to time by the howling wolves and coyotes. Yellowstone in winter is the perfect time to visit. There are few tourists so that you can admire nature in all its glory.
How to visit Yellowstone in winter? What's open? What is the weather like? What are the Yellowstone winter activities? How to prepare for a winter visit to Yellowstone National Park? What to pack? We help you plan a perfect adventure step by step. So, check our guide with the Best Things To Do in Yellowstone in Winter.
This article may contain affiliate / compensated links. For full information, please see our disclaimer here.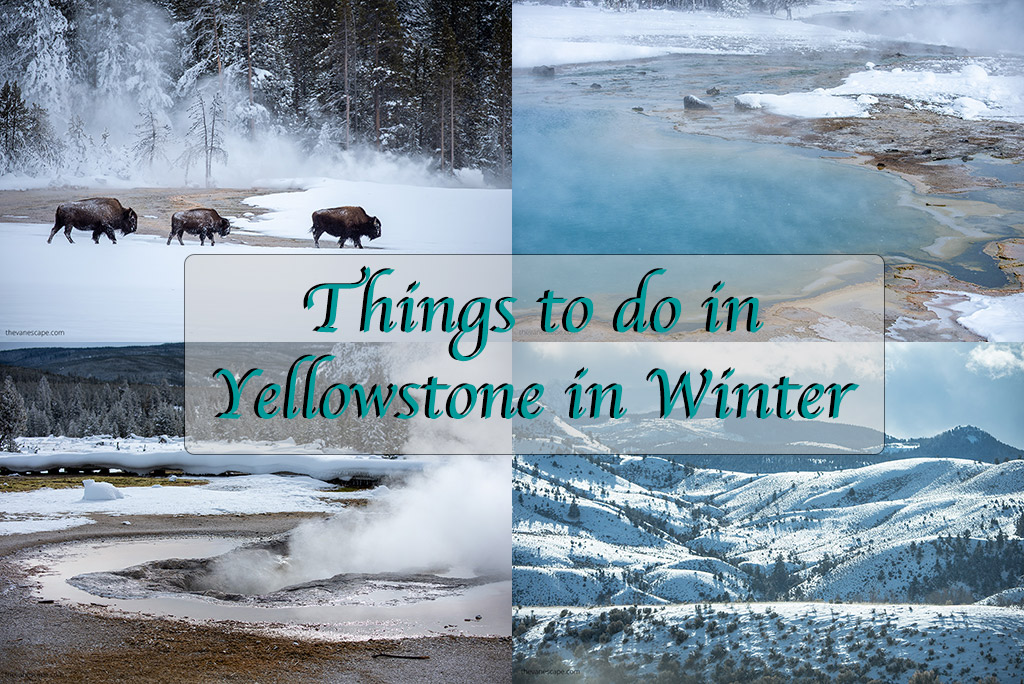 Throughout the winter from December to March, Yellowstone National Park has as many tourists as there are in a single day in July! So, for sure it is worth visiting this park in winter. Instead of the crowds of tourists, you can fully admire the power of nature. Of course, the park is worth visiting at any time of the year due to its unique color scheme of geysers. But winter in Yellowstone is a special time for wildlife observation and photography and for enthusiasts of snow games and activities. So, if you are not afraid of frost and cold temperatures if you like winter activities, and you love nature, check out our detailed guide with the Best Things to do in Yellowstone in winter.
After a week in Yellowstone wonderland, we give you the best tips which help you prepare for the unforgettable Yellowstone winter vacation.
What is open in winter in Yellowstone?
Most important is to know that getting around Yellowstone in winter is much more challenging than other seasons, and you should prepare properly for your Yellowstone winter tours. Moreover, only one road in the park is open for vehicles in winter. Of the 300 miles of road in the Park, only 50 miles of Northern Range are open to regular vehicles. It's an exclusive place during wintertime. And it's not cheap, if you decide on one of the Yellowstone winter tours, as we did. But it's fabulous and worth it. Below we give you details.
Yellowstone entrance fee
Although much of the park is closed in winter, an entrance fee still applies, as in all US parks. That is why it is worth having an annual America the Beautiful Pass. It is worth buying online before entering the park. Even if you decide to buy a package Winter Yellowstone tour, the price does not include entry to the park. In addition, the gate in the winter season is sometimes closed. So if you already have the annual card, you will save time completing the formalities and paying the fee.
Without the annual card, the entrance fee (Seven-day Passes) are:
The private, non-commercial vehicle is $35
Individual (by foot, bicycle, ski, etc.) is $20/person
PRO TIP: Pass is valid for 1 year from the month of purchase, so it's the perfect solution if you plan to visit three or more national parks throughout the year. It cost's only $79.99 per year! America the Beautiful Pass is your ticket to 2,000+ federal recreation sites—including all US national parks.
Yellowstone National Park – directions
In wintertime, the closest open airport to Yellowstone National Park is located in Bozeman, Montana. The large selection of affordable flights you will find on skyscanner.com or TripAdvisor.com.
Bozeman, Montana is 80 miles from North Entrance to Yellowstone National Park and 123 miles from the West Entrance to the park. You can rent a car in Bozeman Yellowstone Int. Airport (we highly recommend having 4WD) and visited the park independently (below details what's open). Or you can buy an organized day tour from Bozeman to Yellowstone.
From Jackson, Wyoming is 148 miles to Yellowstone North Entrance Road, near Gardiner. This gate is the best for winter visits. You can also consider the 4-Day Grand Teton and Yellowstone Tour from Jackson.
In winter, the interior Yellowstone National Park road between these two entrances (West and North) is closed. The circular route is over 168 miles and takes 3-4 hours of driving in winter.
Most attractions and the largest part of the park open in winter are located in the northern part. The only open road for vehicles is also in this part (Northern Range). Therefore, if you are going from Bozeman, go directly to the North Entrance. The town at the entrance to the park is Gardiner.
Park roads open to regular traffic in winter
From early November to mid-April, most park roads are closed to regular traffic. The only open year-round road is from Gardiner – North Entrance to Mammoth Hot Springs and to the Northeast Entrance.
The road is closed east of Cooke City, Montana. So, the Yellowstone's Northern Range is the only area of the park accessible by automobile year-round. It is a fabulous 57-mile drive that traverses the range, offering spectacular views full of wildlife on 600 square miles along the Lamar and Yellowstone river basins. Here you can check details on the official NPS map.
You can drive only this road in a private car by all winter. You need wheel chains and a shovel. Driving without the 4×4 drive may not be possible. But check the road status on the official website before you go.
The only way to get to Yellowstone National Park interior in winter is a guided tour by snowmobile or snowcoach. So, we highly recommend you consider booking a Yellowstone in winter package or tour to make the most of the park if you're keen to see the main attractions of this snowy wonderland. Check our photos and recommendations to see if it's worth going to.
PRO TIP: If you decide to enter Yellowstone National Park with your own car, drive very carefully and slowly. The road is very icy or snow-covered. Wild animals may suddenly jump onto the road. If you don't want to drive yourself, you can also consider a commercial one-day Winter Yellowstone Tour from Gardiner or Private Full-Day Yellowstone Wildlife Safari from Gardiner, which is the perfect option.
Getting around by your own car
Wyoming, Montana, and Idaho get a lot of snow in winter, so many roads are closed. Moreover, most of Yellowstone's interior roads are seasonally closed. If you plan a Yellowstone winter tour on your own or rented car, you must have snow chains, and it the best if you have a 4WD car.
Prepare the car for the road, check the oil level and brakes. In addition to the chains, get a snow removal kit. Prepare well for freezing temperatures. Windshield snow cover and windshield de-icer will also be very handy in Yellowstone. Here is our Road Trip Packing List Essentials, which helps you prepare for your adventure.
It might be freezing. During our Yellowstone winter vacation, eggs and even cooking oil froze in our RV when we left it in the parking, going to the park's interior by snowcoach.
Is Yellowstone National Park worth visiting in winter?
Yes definitely! Below we describe how to getting around the winter wonderland. Our Yellowstone winter trip lasted one week and we would like to repeat this adventure again. You should know that Yellowstone winter vacations are not cheap. The prices of winter tours are pretty high. That's why it's worth it to prepare well for this trip and book everything in advance. We do not regret the money spent, because it was one of our best winter holidays.
How many days do you need for Yellowstone winter vacations?
It all depends on your needs and, above all, your budget. We spent one week of winter in Yellowstone National Park and we would love to do it again. For sure it's worth to spent there at least 2-4 days to enjoy the Yellowstone winter scenery.
In our opinion, one day is too short. If there is a blizzard on that day, you won't see anything. The weather is unpredictable, so at least 2-4 days is the optimal time.
How to get to Yellowstone park interior in winter?
Take a snowcoach or snowmobile
Most of the famous Yellowstone attractions like Old Faithful, Grand Canyon of the Yellowstone, and hundreds of geysers are hidden in the park's interior, which is closed to vehicles in winter. So, how to visit them?
From mid-December to mid-March, Yellowstone roads are open to "oversnow" travel only. This means the only way to visit the park's popular destination like Old Faithful, or the Grand Canyon of the Yellowstone, during winter is by:
We describe each option in detail below. Yellowstone winter travel hours are 7 am-9 pm.
Please note, that mid-November till mid-December and mid-March through mid-April are preparations months for the seasons. So there is no possibility to take a trip to the Yellowstone interior.
PRO TIP: Due to the limited number of services in winter, it is worth booking your Yellowstone winter vacation well in advance, especially if you are planning a trip to the park's interior. NPS provides a list of Authorized Snowmobile and Snowcoach Tour Companies in Yellowstone National Park.
Take a Yellowstone Winter Tour
Moreover, you can take a fully guided Yellowstone winter tour. But most one-day tours are focused on the Northern Range, not on the park's interior. A few day's tours are to the Yellowstone National Park interior. Then, in addition to transport, you are guaranteed the care of an experienced guide who has great knowledge about Yellowstone National Park. What's more, the guide also knows the habits of wild animals very well, so you will certainly have the opportunity to see the most stunning places in the park during such a day trip, and you will photograph or observe wildlife. Below are some tours options.
If you do not wish to drive your own car through the Northern Range, you can visit it on a guided tour. The tour lasts all day long, a large part of which you will spend in the beautiful Lamar Valley, where Yellowstone's wolves most often reside, deer, bison, and coyotes. Here you can check the details.
It's a perfect option if you love wildlife and wildlife photography but you are on a budget. The price comparing to others winter tours are affordable. The attractions are amazing. This trip focuses on wildlife watching on the Northern Range. Yellowstone in winter is the best time for wildlife photography. Here you can book it.
Choose this trip if you are a photographer and dream of photographing wolves in their natural habitat. During our visit to Yellowstone, we did not know that there were special wolf-watching tours that are very active in the park during the winter. Unfortunately, we found out about this tour too late and there were no spots available. We saw other photographers' photos from this trip and we were very envious of them – they were great. They managed to photograph a whole pack of wolves. They had great shots of wolves in snowy scenery. The guides know perfectly well where to spot wolves in winter. They know their habits, so with such a trip, the chances of taking great photos are much more significant than during a solo trip. We know because we tried.
This exclusive tour will allow you to admire two unique national parks in winter: Yellowstone National Park and Grand Teton National Park. A professional guide will look after you, accommodation and meals will be provided. Most importantly, you will have the opportunity to admire the wonderful winter scenery of both parks. This tour includes a tour of the most interesting places in Yellowstone's interior, including the Old Faithful area. Moreover, you will soak at Lava Hot Springs. Here are the details.
It's a perfect guided winter adventure into Yellowstone and Grand Teton National Parks. You will spot winter wildlife from a heated vehicle. What's more, you will take a horse-drawn Elk-Refuge sleigh, and of course, a snowcoach tour in Yellowstone to witness Old Faithful geyser explode. This trip will be a fabulous winter adventure.
Yellowstone Winter Lodging
Where to stay during Yellowstone winter vacations? Below are our recommendations.
Accommodation inside the Yellowstone national park
Hotels & Cabins in Yellowstone in winter
The Mammoth Hot Springs Hotel and Cabins and Old Faithful Snow Lodge and Cabins are the only two places with facilities (lodging and dining) open in winter inside the park. But Old Faithful Snow Lodge is located in the park interior, so you can only get there by snowmobile or snowcoach. We decided to stay 3 nights at cozy Old Faithful Snow Lodge and Cabins, and it was a great choice.
You can only book both places through the official website. And it is worth doing it several months in advance because both are extremely popular.
Campgrounds in Yellowstone in winter
Yellowstone offers 12 campgrounds with over 2,000 sites. But only 1 campground is open year-round. It's Mammoth Campground located at an elevation of 6,200 feet (1890 m). It's five miles south of the park's North Entrance. It cost $25 per night. We traveled by RV, so we decided to stay there for a night. Well, we planned to stay longer, but it was so cold that for the next two nights we decided on a hotel in Gardiner 😉 We were the only RV on the campground. There were no facilities, like electric hookups. The outside temperature at night was -4°F ( -20℃) degrees frost.

Yellowstone winter lodging outside the park
Outside the Yellowstone National Park, you will also find interesting winter accommodation. What's important, the prices are definitely much more favorable than inside the park.
Yellowstone Winter Lodging in Gardiner
Gardiner is the closest town to North Entrance to the Yellowstone. It's a charming town with a lodging and dining option. We stayed there 2 nights at two different hotels because we didn't book accommodation early enough. We can recommend The Ridgeline Hotel at Yellowstone and Absaroka Lodge.
But if you're looking for something more affordable, book your accommodation in advance via booking.com, or TripAdvisor.com. Although there are fewer tourists in winter, there is a problem with accommodation, because some of the hotels, cabins are closed for the winter. So, book your accommodation in advance to saving time and money during your winter holidays. If you decide to take one of the winter trips we presented above – you do not have to worry about accommodation, you will have it included in the price of the winter trip.
Yellowstone Winter Lodging in Cook City
A wide range of accommodations from hotels to cozy cabins also offers Cook City, close to Northeast Entrance.
West Yellowstone Winter Lodging
You can also stay and visit a small part of West Yellowstone in winter. But you must know that it is a 3-4 hour drive to North Yellowstone from West Yellowstone during winter. We stayed there for one night. But the West Yellowstone, in our opinion, has less to offer in winter than the northern part. So if you have little time for a winter visit to Yellowstone, the best idea is to choose the North Entrance area.
Yellowstone winter temperatures
Whether you plan to spend two days or a week in Yellowstone during winter, be prepared for frigid temperatures and a lot of snow. We were in Yellowstone all week in January, and we had wonderful weather. Of course, it was freezing. But the days were very sunny, which made the perceived temperature much higher. During the week, we had a blizzard only once.
During our stay, daytime temperatures were below 19.4 °F (-7°C). Few days were below 14 °F (-10°C). But the sun made us spend long hours actively in the fresh, frosty air. We have had great oxygenation, and we recommend everyone be active in Yellowstone in winter.
The evenings and nights were much colder. There was a severe frost. On the coldest night, the temperature dropped to -16.6 °F (-27 °C). The rest of the nights it was around -4 °F (-20 °C).
Yellowstone winter temperatures range from zero to 20°F (-20°C to -5°C) throughout the day. Sub-zero temperatures are common, especially at night and at higher elevations. The record low temperature is -66°F (-54°C).
What To Pack For Winter in Yellowstone?
It would be best if you prepared for frosty and snowy days. Therefore, the layers are the most important. Thermoactive warm clothing is a must. Please check our Day Hiking Packing List to see what we use. But below, we recommend a few items and tips which are must-haves for Yellowstone winter vacation.
Snow Boots
It's important to know that Snow Boots are a must-have for Yellowstone winter visits. Most of all, they should be warm and have good traction. Moreover, it should be waterproof. Look for something insulated and waterproof. You don't have to spend a fortune on them. Check Snow Boots at affordable prices. We like Sorel for Men and Women. They have great quality. A large selection of snow boots you will find also on the Rei.com outlet.
Gaiters
Waterproof Leg Gaiters which are adjustable for Snow Boots and Snowshoeing are also essential for Yellowstone winter tours. They protect your pants and boots. They will protect you from snow falling into your shoes. You always need to keep your feet dry and warm during your winter hikes. Otherwise, you may cool down your body quickly, which might be dangerous.
Snowshoes
Yellowstone's deep snow in winter is nothing unusual. Snowshoes are essential to prevent you from falling into snowdrifts. When fresh white snow falls, you won't be able to walk with snow boots only. You don't have to buy them. You can easily rent them at Old Faithful Snow Lodge or in Mammoth Hot Springs Hotel. But if you like winter activities, it's definitely worth having your own Snowshoes. If you plan to buy your own consider a set with trekking poles as they are also essential for hiking in the deep Yellowstone snow.
Trekking Poles
Hiking in Yellowstone in winter is much easier with Trekking Poles. But you must have tip suitable for the snow. Here you can check our article on how to choose and use trekking poles.
Hand and Foot warmers
Hiking in winter Yellowstone is a fabulous adventure. But to enjoy this wonderland, you have to feel comfy. After few hours on this fresh and freezing air, it was a fantastic solution to warm up our body by using hand and foot warmers. It's a cheap but the perfect item for winter in Yellowstone. It can save your life if you are surprised by a severe frost.
We have already used these heaters several times in winter conditions. So, pack a few pairs of Hand Warmers and Foot Warmers, or Toe Foot Warmers.
Crampons
Hiking crampons also turned out to be very useful. Roads and trails are icy in places, so pack them up and use them for safety. They do not cost much, are very durable, and make it easier to wander on icy surfaces.
The Best Things To Do in Yellowstone in Winter
Drive the Yellowstone's Northern Range
One of the best things you can do in Yellowstone in winter is taking a drive through the Northern Range, from Mammoth Hot Springs to Cooke City. The views are breathtaking. As we mentioned above, it's the only road you can drive in Yellowstone in winter. You can do this drive yourself or on a guided one-day tour from Gardiner or Bozeman.
Admire Wildlife
Wildlife is very active during the Yellowstone winters. There are not many tourists, so the snow wonderland belongs to wildlife. Bison will cross your path many times. You can spot deer, coyotes. And if you look around carefully, you have a good chance of spotting wolves. They are very active in Yellowstone in winter.
Even if you don't plan to get to the Yellowstone interior, we assure you that you also have a chance to spot much wildlife in the North Range. We spent 3 days in the northern part of the park exploring the Northern Range with Lamar Valley, and we hope we back there one day. It was the most touching wildlife experience in our lives so far. We met photographers and wildlife enthusiasts who spent there even a month or two in winter, and they weren't bored at all.
PRO TIP: Stay away from wildlife. Keep a safe distance. Don't feed the animals. Be extremely careful when you encounter bison. The road is very slippery, and bison stumble with their hooves sometimes if they are scared. They can also start rushing violently, which can be dangerous.
Watch for the Yellowstone wolves in Lamar Valley
Yellowstone in winter is full of wildlife. Driving through the Northern Range can be an unforgettable experience for you because, in Lamar Valley, you have the best chance of spotting wolves. Specialist wolf-watching tours are organized during winter in Yellowstone. Or you can choose a wildlife safari. With an experienced guide, you have a much better chance of seeing a pack of wolves. They know their paths, know each pack's habits, and use special devices to help track down and hear wolves. So, if you have little time for your winter adventure in Yellowstone, this tour is a great option.
But if you look carefully, you have a chance to spot them yourself in the white snow. Yellowstone National Park offers amazing wildlife watching opportunities. We heard and spot wolves several times. Unfortunately, they were far away, and we did not manage to take good photos. However, it was great to be able to observe these predators. We also admired coyotes in Lamar Valley, so we share our photos of coyotes.
Take the Yellowstone Snowcoach Tour
We decided to take a trip to the Yellowstone's interior, and we don't regret the money spent. It was just a few unforgettable days in fantastic scenery. We booked three nights in the Old Faithful Snow Lodge, so we had to get there. The options were by snowmobile or by snowcoach. As we are photographers, we decided to book a snowcoach to take pictures during the drive. It was a fantastic choice. The driver often stops for photos and told us a lot about Yellowstone National Park. We can highly recommend it.
PRO TIP: If you don't want to book Old Faithful Snow Lodge, you can take a one-day (go and back) Yellowstone snowcoach tour. You start your trip early in the morning. You will have some time in the Old Faithful area and will back in the afternoon.
Book your stay at Old Faithful Snow Lodge & Cabins
If you can afford it, book a stay at Old Faithful Snow Lodge & Cabins. At least two or three nights. You will not regret the money spent. It's the only open place in Yellowstone National Park interior in winter. We stayed three nights there and regretted that it was so short! But we couldn't afford a longer stay because we were on a dream journey from Alaska to Florida.
The place is extremely cozy. After a long snow hike, you can warm yourself in the warmth of the fireplace, eat a good dinner and drink some wine. It is a great place to explore the interior of the park. There are hundreds of active geysers in the area that you can admire while skiing or snowshoeing.
PRO TIP: Pack a lot of high-energy snacks. You will save money. Breakfast is included in the price. But thanks to snacks you will save money for lunch and eat later a warm dinner. Take high-energy and protein bars, beef jerky, and other favorite snacks with you. In winter, in frost, our body uses much more energy, and you need to feed it. You'll be very hungry. On such frosty days, you can eat twice as much as usual.
Go Hiking & Snowshoeing
Hiking is possible in Yellowstone in winter. But, the best option is snowshoeing. Well, snowshoes are a must-have. Snow is extremely deep. There are a lot of hiking trails in Yellowstone National Park, which are open in winter. Some you will find near the Mammoth Hot Springs area and Lamar Valley. But the best hiking trails are near Old Faithful because you can admire geysers.
If you don't plan to visit Yellowstone's interior, consider a Private Full-Day Yellowstone Snowshoe Safari from Gardiner.
Go Cross-Country Skiing
Also, cross-country skiing is popular in Yellowstone in winter. The routes are of different difficulty levels. There are many popular trails, but two of the most popular ones are the Biscuit Basin Trail (which goes through the Old Faithful geyser basin) and Blacktail Plateau Trail.
See the geysers against the snow
According to the NPS website, Yellowstone National Park preserves the most extraordinary collection of hot springs, geysers, mud pots, and fumaroles on Earth. More than 10,000 hydrothermal features are found here, of which more than 500 are geysers.
When you wander between them, you feel like you are on a different planet. It is impossible to describe this extraordinary and magical beauty with words. In addition, Yellowstone in winter has a lot of color contrasts. Nothing distracts your eyes because there is only white around. So you can make out dozens of shades in geysers.
You can admire geysers only if you decide to go on a Yellowstone winter tour to the park interior. For us, Yellowstone in winter was one of the most delightful and, at the same time, intimidating places during our 8-month road trip through the US.
Visit West Yellowstone
You can also add a West Yellowstone in winter to your itinerary if you have time. But if you have to choose, take the northern part of Yellowstone National Park. In the west part, we like the most Grizzly & Wolf Discovery Center. It's an amazing place for families.