Carlsbad Caverns National Park Itinerary
Carlsbad Cavern National Park in New Mexico is a phenomenal underground world. A unique place in the world. Fairy-tale shapes are stimulating your imagination in these dark and wet caves. 119 caves with huge rooms covered in spectacular rock formations: stalactites, stalagmites, columns, curtains, and straws. Thousands of bats. So, we prepared a detailed Carlsbad Caverns National Park Itinerary to help you plan your trip to this hidden gem of New Mexico. You will find in our guide the best things to do in Carlsbad Caverns, where to stay when to go, and finally Carlsbad Caverns photography tips.
This article may contain affiliate / compensated links. For full information, please see our disclaimer here.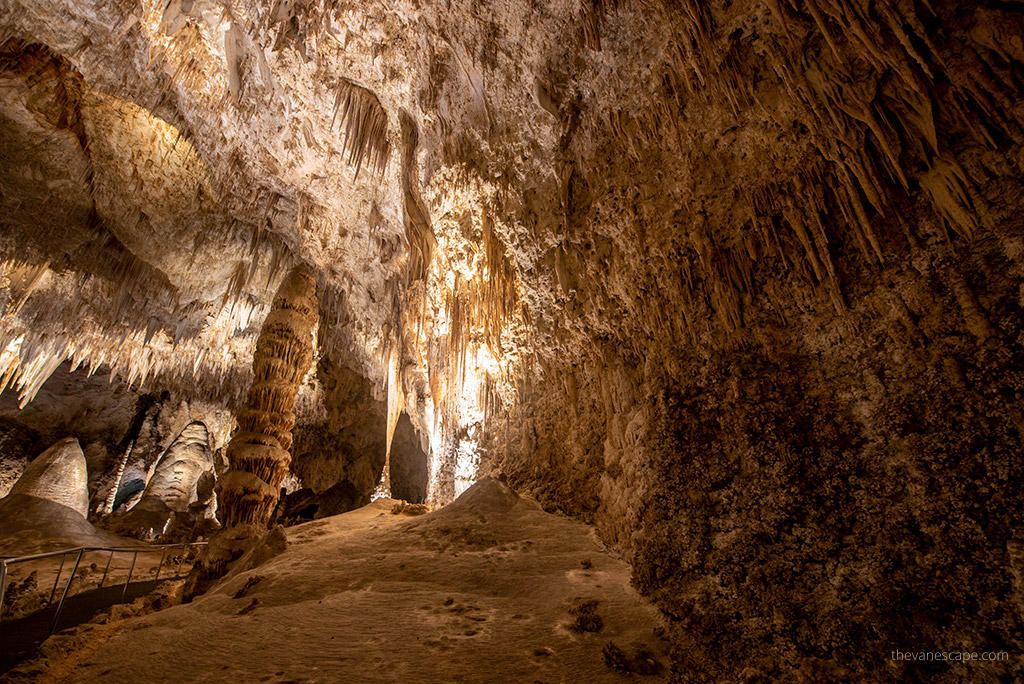 Why Visit Carlsbad Caverns National Park?
We start our Carlsbad Caverns National Park Itinerary with some facts about this underground miracle. We hope it will convince you to add this spectacular place to your New Mexico road trip.
Carlsbad Caverns National Park Facts
There are 119 known caves in the Carlsbad Caverns National Park, and probably are more of them. The famous cave known as Carlsbad Caverns is only one of the caves.
The Big Room (natural limestone chamber) in Carlsbad Caverns is the largest accessible cave chamber in North America. It has 8,2 acres; it is almost 4,000 feet (1,220 m) long, 625 feet (191 m) wide, and 255 feet (78 m) high at the highest point. The Big Room is the fifth-largest chamber in North America and the twenty-eighth-largest in the world.
There are at least 17 species of bats found in the Park. The most common are Brazilian free-tailed bats. They can be seen exiting Carlsbad Cavern each night from May through October.
The caves are chilly at 56 degrees F with 90% humidity all year.
The total area of Carlsbad Caverns is 46,766 acres.
The number of visitors to Carlsbad Cavern in 2019 was around 440700.
There are also aboveground trails in Carlsbad Caverns National Park where you can explore the desert landscape.
Carlsbad Cavern was made a national park on May 14, 1930.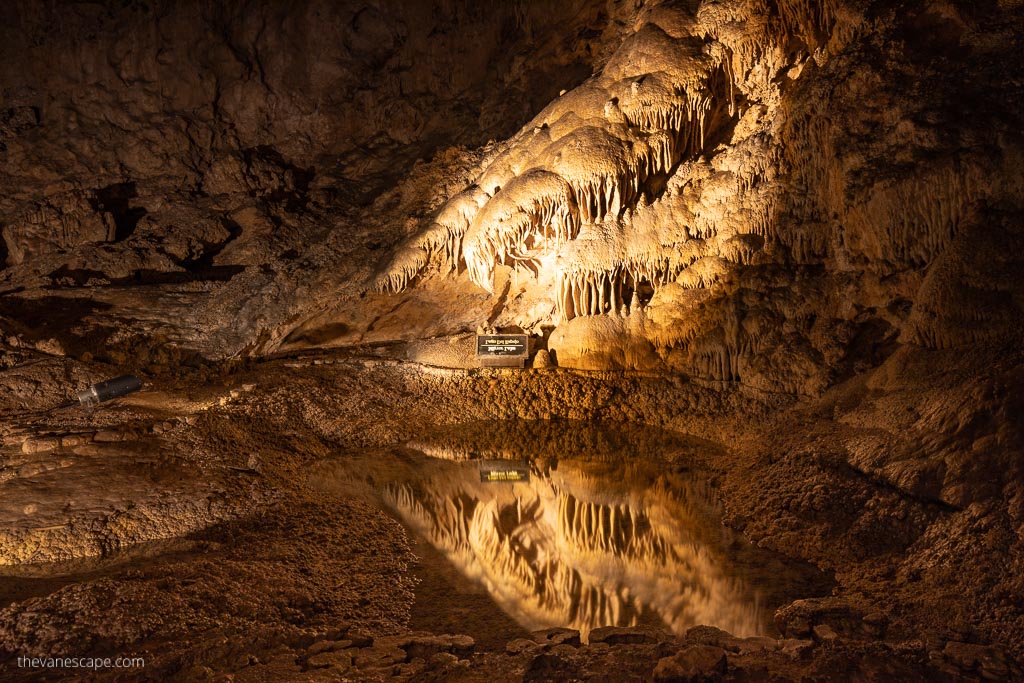 Carlsbad Caverns Geologic Facts
In the caves, the bedrock is limestone created largely by shelled organisms 260-280 million years ago in and near a huge reef.
The caves in the Carlsbad Caverns area were formed between 6 and 4 million years ago.
Weak sulfuric acid created by microbes and natural hydrogen sulfide dissolved the caves in Carlsbad Caverns.
When the area was uplifted, the water table drained away along with the sulfuric acid, leaving behind the caves.
Water dripping in from the surface brings with it some of the limestones and redeposits it as speleothems including stalactites, stalagmites, columns, curtains, straws, and more.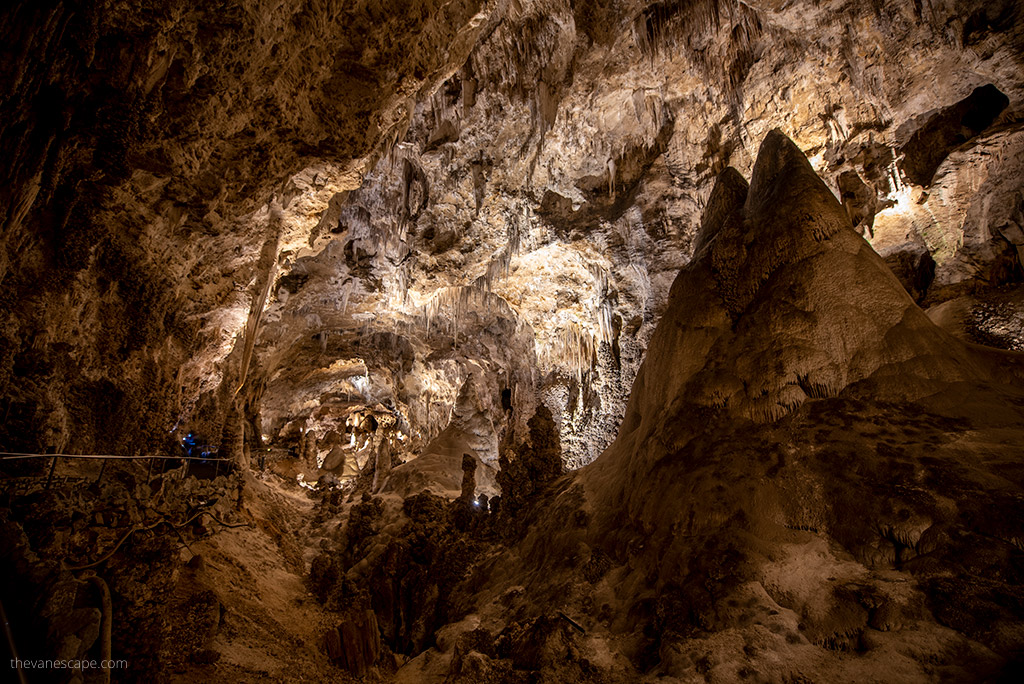 Where is Carlsbad Caverns National Park?
Carlsbad Caverns National Park is a remote area in the Guadalupe Mountains of southeastern New Mexico. It is not so far from the Texas state line. It's around 20 miles southwest of the town of Carlsbad and 35 miles from Guadalupe National Park.
The major attraction of the park is the show cave, Carlsbad Cavern. You can hike to the cave on your own via the natural entrance, named Road To Hell Carlsbad Caverns. It descends 79 stories from the mouth of the cave to the Big Room or you can take an elevator from the visitor center.
| Image | Title | Check | Price |
| --- | --- | --- | --- |
| | Hiking Carlsbad Caverns & Guadalupe Mountains National Parks (Regional Hiking Series) | Check on Amazon | $ |
| | Carlsbad Caverns National Park (National Geographic Trails Illustrated Map, 247) | Check on Amazon | $ |
| | Best Easy Day Hikes Carlsbad Caverns and Guadalupe Mountains National Parks | Check on Amazon | $ |
| | Scenic Driving New Mexico: Exploring the State's Most Spectacular Back Roads | Check on Amazon | $$ |
Reservations Are Required to Enter Carlsbad Cavern
Before going to this underground park, the most important thing to know is that reservations are required to visit Carlsbad Cavern. There are no reservations available at the park. So plan your trip. You can purchase Reservations online or by calling 877-444-6777. Reservations are only for selecting the entry time. So make sure you will be on time. Upon arrival at the visitor center, you must purchase entrance tickets. Also, make sure to visit the official park website before your trip to check actual alerts.
Carlsbad Caverns National Park Itinerary – How to get to the Park?
The most convenient airports to get to Carlsbad Caverns National Park are:
El Paso International Airport (ELP) in Texas, 139 miles by car to Carlsbad Caverns.
Midland International Air & Space Port (MAF) in Texas, 161 miles by car to Carlsbad Caverns
Albuquerque International Sunport (ABQ) in New Mexico, 305 miles by car to Carlsbad Caverns.
Furthermore, US Highway 62/180 provides the sole road access to Carlsbad Caverns National Park. The entrance road, named Walnut Canyon Road, is 23 miles southwest of the town of Carlsbad, New Mexico.
How to get from El Paso to Carlsbad Caverns? The park is about 145 miles east of the city of El Paso, Texas. So, it will take you 2 hours and 15 minutes to drive.
How to get from Albuquerque to Carlsbad Caverns? Albuquerque is 300 miles from the park, and about 4 hours and 40 minutes of driving via US Hwy 285 N.
Trip Tip: Check the best flight options on skyscanner.com. Furthermore, you can find lots of car rental agencies right at these airports. If you need to rent a car, you can compare conditions, and prices and book your vehicle on Rentalcars. However, our favorite rental is Alamo, we've been using it for years, and we can recommend it.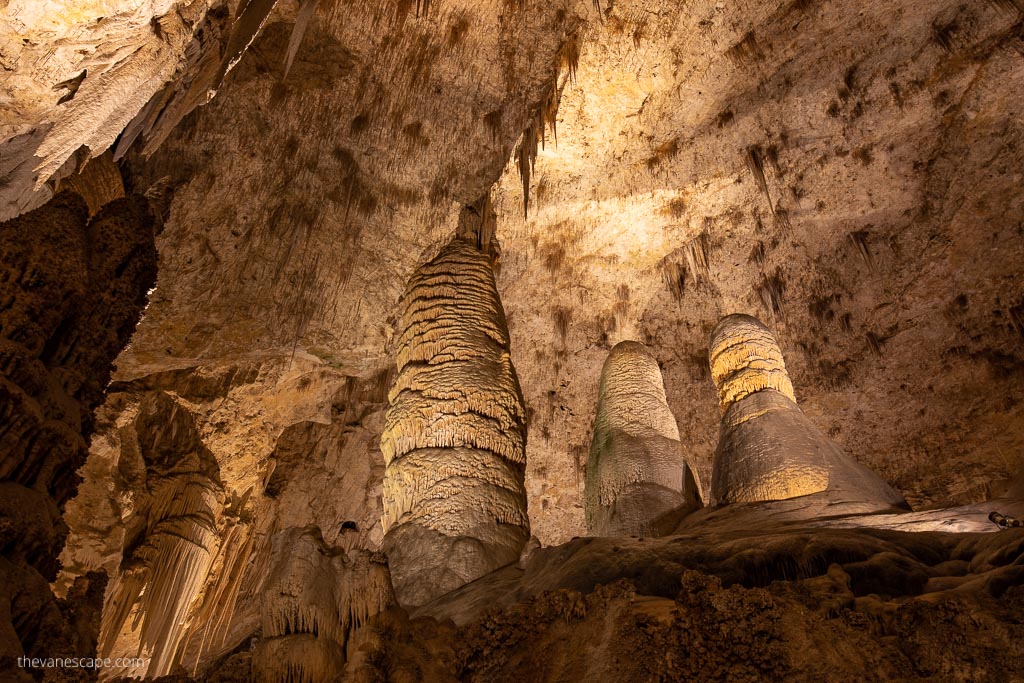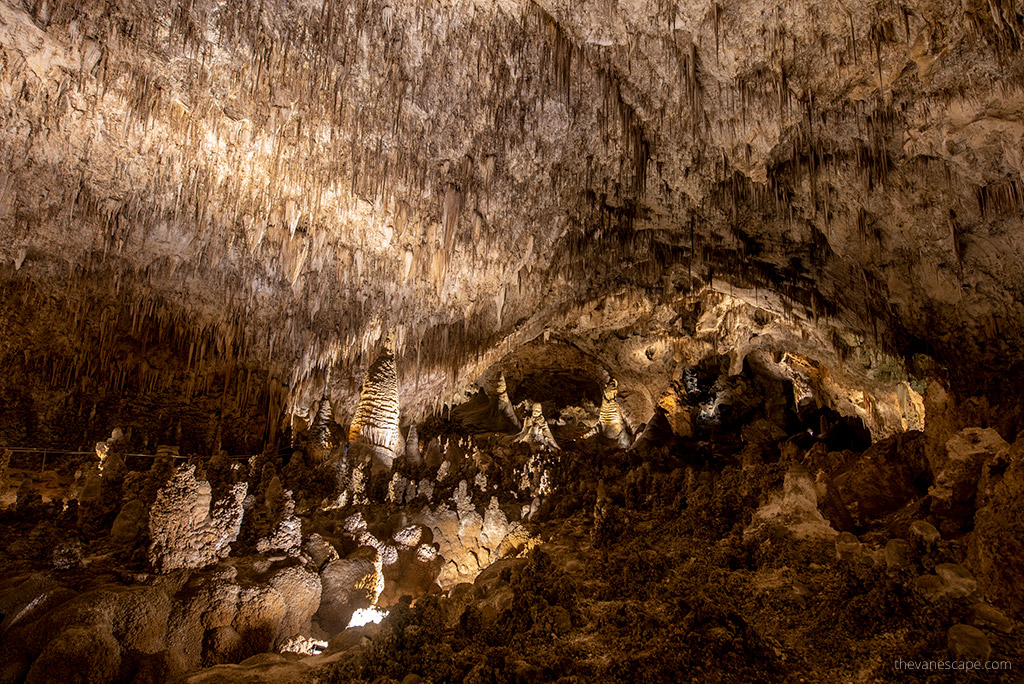 Where To Stay in Carlsbad Caverns National Park?
In this part of Carlsbad Caverns National Park Itinerary, we advise you where to stay. It is not easy to find accommodation in the Carlsbad Caverns, as it is a remote area, so plan your stay. There is no lodging of any sort as hotels or camping inside the park. The best idea for lodging is in Carlsbad town, which is a 30-minute drive away from the entrance to Carlsbad Caverns. It offers a wide variety of all services, including many lodging choices. Furthermore, it is the most convenient base for visiting the park. Below you will find our selection of accommodation near the national park, including the best hotels and camping sites with the highest reviews. So, check prices and availability on booking.com
Hotels near Carlsbad Caverns
($$$) Sleep Inn & Suites is a 2.5-star city-center Carlsbad hotel with an indoor pool. It offers modern furnishing, free Internet, and free parking. Check prices & book it.
($$) Rodeway Inn motel features an outdoor pool. Free Wi-Fi access is available. Free parking for all-size vehicles, including trucks, is provided to guests. Book it here.
($) Super 8 by Wyndham Carlsbad is a 2-star hotel great for families. It offers free continental breakfast, free WiFi, and free parking. It is a very clean & comfortable hotel with a good price. So, you can book it here.
($) Days Inn by Wyndham Carlsbad features family rooms. It also provides guests with a grill. The hotel has an indoor pool, a 24-hour front desk, and free WiFi throughout the property. So, book it online.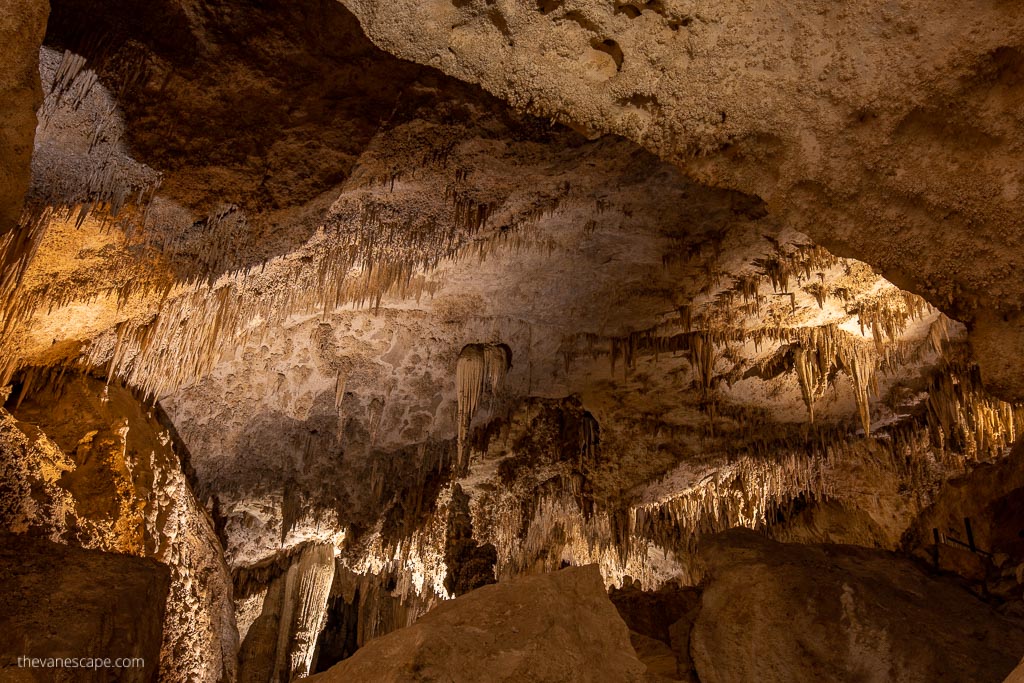 Carlsbad Cavern Camping
As you know, we love RVs, so in Carlsbad Caverns National Park Itinerary we also suggest the best places to stay. There is no overnight lodging or campgrounds in Carlsbad Caverns National Park. Primitive camping is allowed in the backcountry only and requires a free permit, which is issued at the park's visitor center when you arrive. There is no possibility to reserve it in advance. Check Backcountry Camping Permit Terms and Conditions on the park's website.
Overnight RV parking is not permitted in the park.
However, the park is surrounded by Bureau of Land Management (BLM) land. They allow permit-free RV/tent camping. So, contact the Carlsbad BLM office to check your options for free camping.
The closest campground with amenities is available 7 miles (11 km) from the visitor center in White's City, New Mexico. There is a White's City Carlsbad Caverns RV Park, which is open year-round and offers full hookups, water, restrooms, showers, and laundry.
Bud's Place RV Park & Cabins is only 27 miles from Carlsbad Caverns. Convenient to restaurants, and shopping, Guadalupe Mts. Furthermore, it offers Big Rig-friendly sites, 10 bathrooms, fiber optic WiFi, Catch, Release Pond, and more.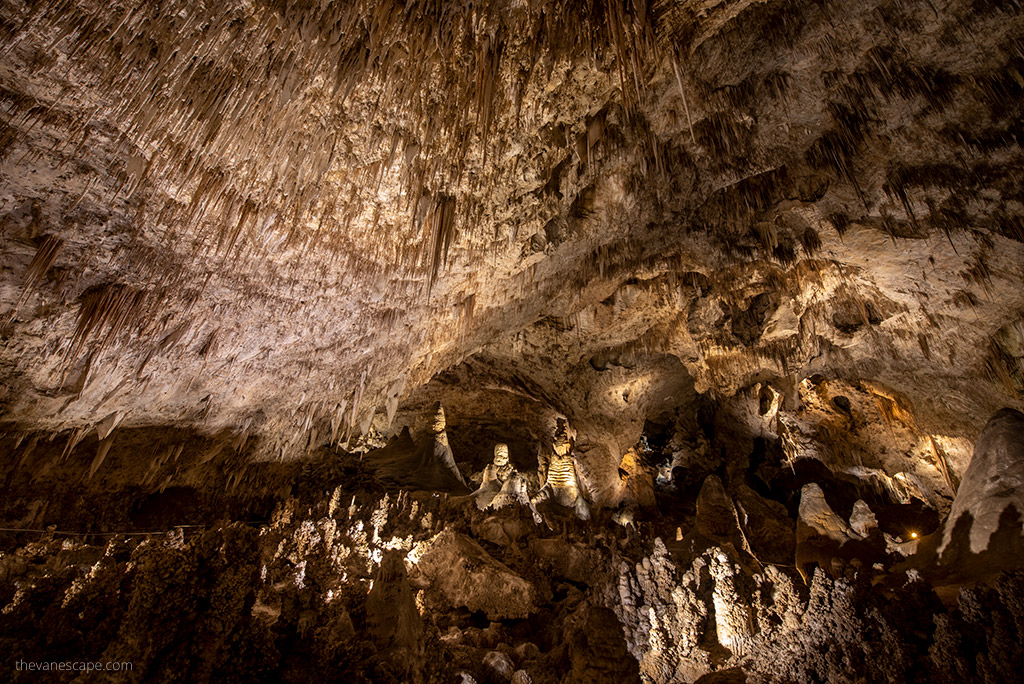 Weather in Carlsbad Caverns National Park
What is the best time to visit Carlsbad Caverns? We have great news for you. In the caves, underground, the weather in Carlsbad Caverns is the same all year round. So, there is a constant 56°F with high humidity. So, take a sweatshirt or jacket to stay comfortable underground. If you would like to admire mysterious creatures – thousands of bats- you should visit Carlsbad between May through October. The best time of year to visit Carlsbad Caverns National Park is winter, spring, or fall. Summers tend to be sweltering hot, with temperatures around 80-100 degrees. Furthermore, in the summer, afternoon rains downpours across the desert. Check weather alerts on the park's website before your trip.

Best Things To Do In Carlsbad Caverns National Park
In this part of the Carlsbad Caverns National Park Itinerary, we suggest to you how to spend the best time in this fantastic national park. If you want to see the most famous caves, reserve a minimum of 3-4 hours for Carlsbad Caverns. If you have more time it is worth considering other trips, which I am describing below. Depending on your interests and possibilities, you will find something for yourself. Remember to purchase your reservation before your trip!
Start at Visitor Center
Visitor Center helps you organize your time. You can check daily tours or pick up early bookings for guided tours. Take the underground map to find out as much as possible about this place. The Visitors Center houses a museum, gift shop and cafe, National Parks bookstore, and the Ranger information counter. You can sign up for the Junior Ranger Program.
Take Self-Guided Tour
It is the best option to admire this beauty. You have two options on the self-guided tour; take the elevator down to the "Big Room" or take a hike down via the Natural Entrance. Take shoes with excellent traction. No food or drink other than water is allowed in the cave, so a good water bottle is a must. Only bring plain water with you because the cave is home to a delicate ecosystem. Taking a Self-Guided Tour is a minimum to do in our Carlsbad Caverns National Park Itinerary. Remember that you must have a reservation to get to Carlsbad Cavern.
Natural Entrance Trail
The Natural Entrance Trail is a fabulous experience. It is a short but steep 1.25 miles down the track. The entrance is called Road To Hell. If you have the time and ability to hike, take this trail. You can reach the Big Room and the central area of the caves. The hike descends 750 feet in elevation. There is a flat cement path, but some areas are steep and slippery. So take your time and take shoes with good traction.
Plan at least an hour or two to hike down this trail one way. But if you want to do Big Room also plan a minimum of 3 hours to enjoy all this underground beauty. Then you can take the elevators to get out of the cave.
The Natural Entrance Trail begins behind the Visitor Center. You have to walk into the museum behind the ticket desk. Then you will walk down the path to the ranger waiting at the beginning of the trail.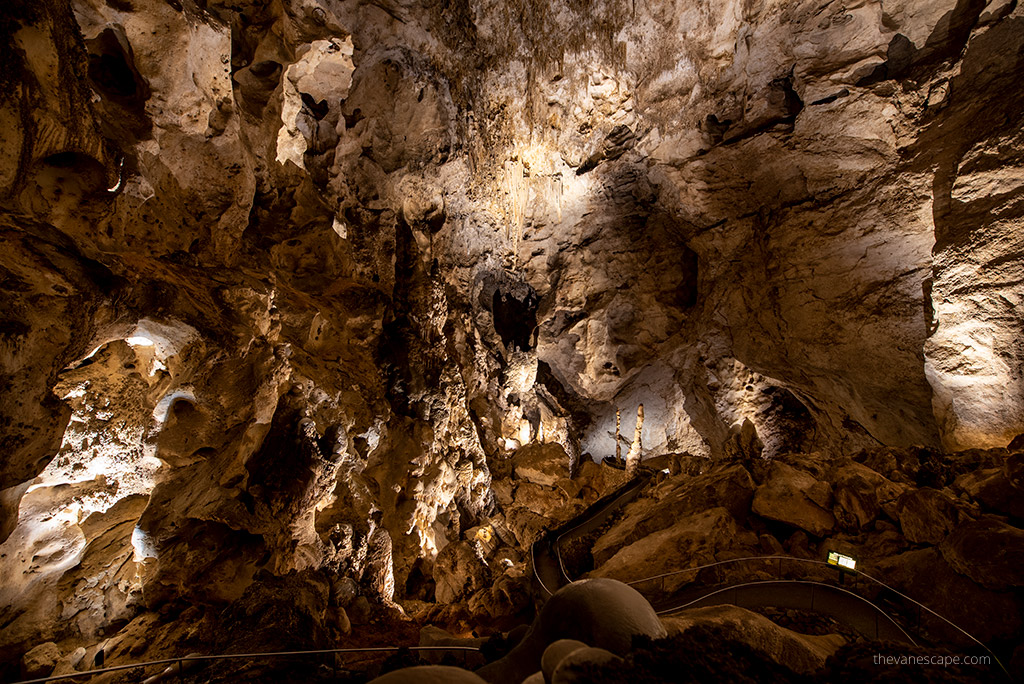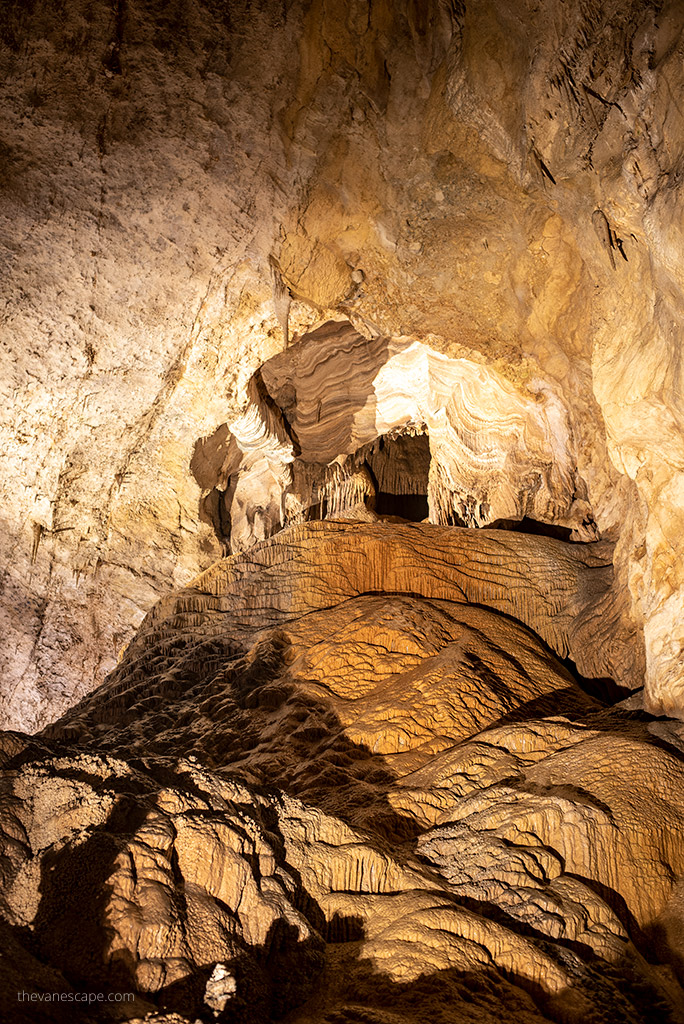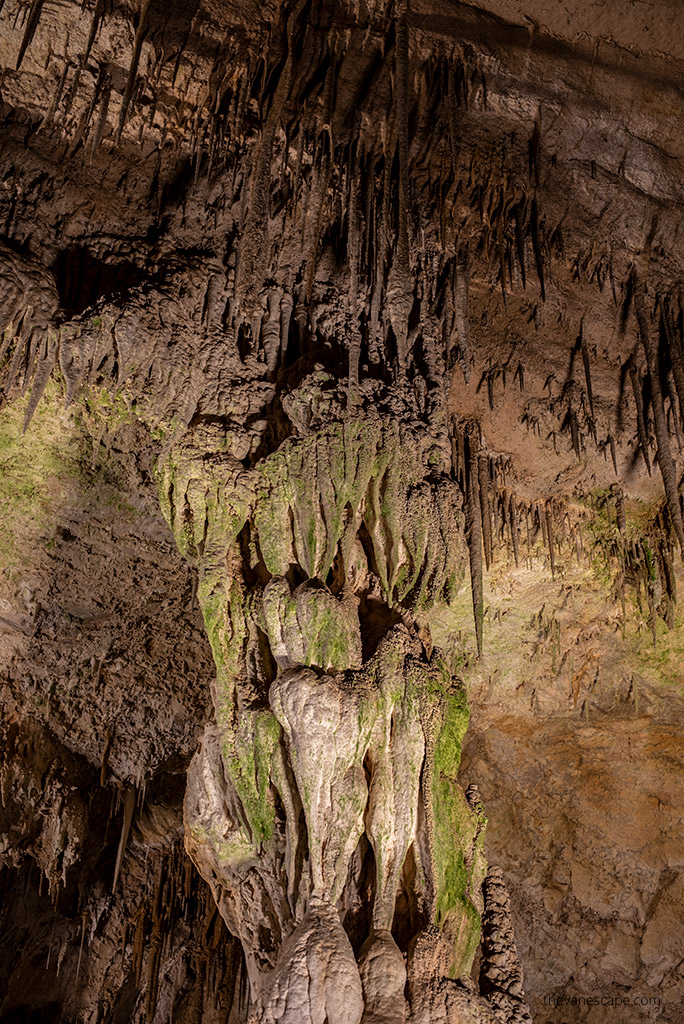 Big Room Trail
The most popular route in Carlsbad Cavern is the Big Room. Due to it being the most crowded trail. The best option is to make both trails the Natural Entrance Trail and the Big Room Trail. But if you are pressed for time and can only do one, take the Big Room Trail. The Big Room is such a humongous, and majestic underground miracle with magical rocks formation that you will be speechless. You can enter the Big Room through the Natural Entrance Trail or through the elevators. If you are short on time and go to the cave via the elevators, the trail will be short, flat & easy. The Big Room is well-named because it covers 357,480 square feet – 8.2 acres.
The most spectacular formations are the Twin Domes and 62-foot (19-meter) high Giant Dome, Chandelier, Rock of Ages, Doll's Theater, Lion's Tail, and Temple of the Sun.
The trail is approximately 1.25 miles long (with a possible shortcut to reduce the distance to 0.6 miles). The cave offers spectacular views, cave formations of all shapes and sizes, and a rope ladder used by explorers in 1924. It takes around 45-60 minutes to complete the full trial. Tickets are required for the Big Room, so you'll need to stop in at the Visitor Center Ticket Desk when you arrive.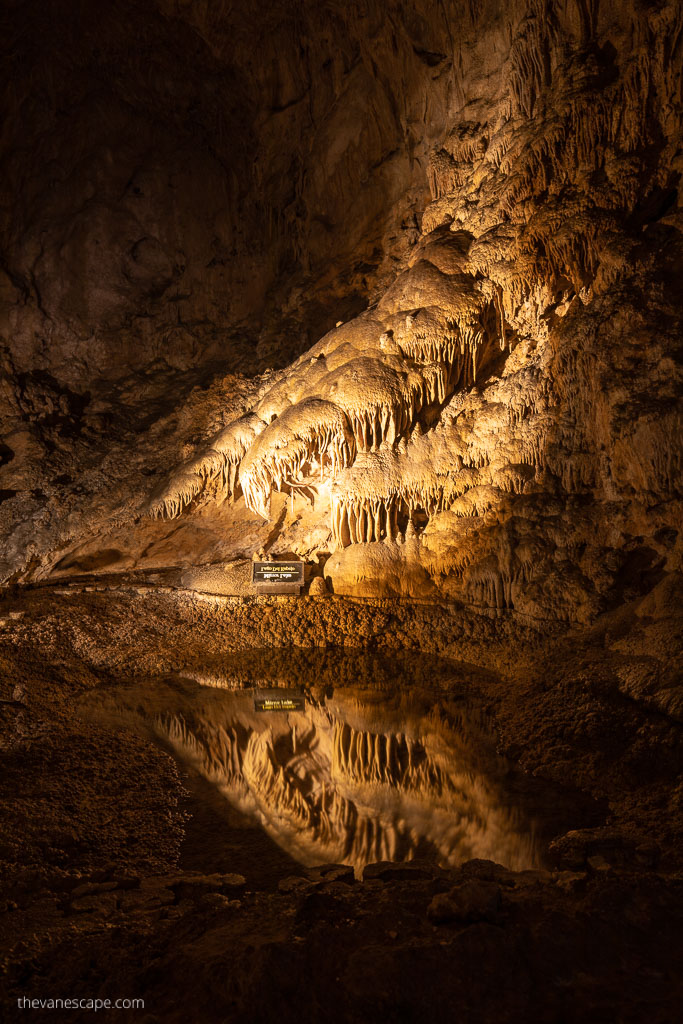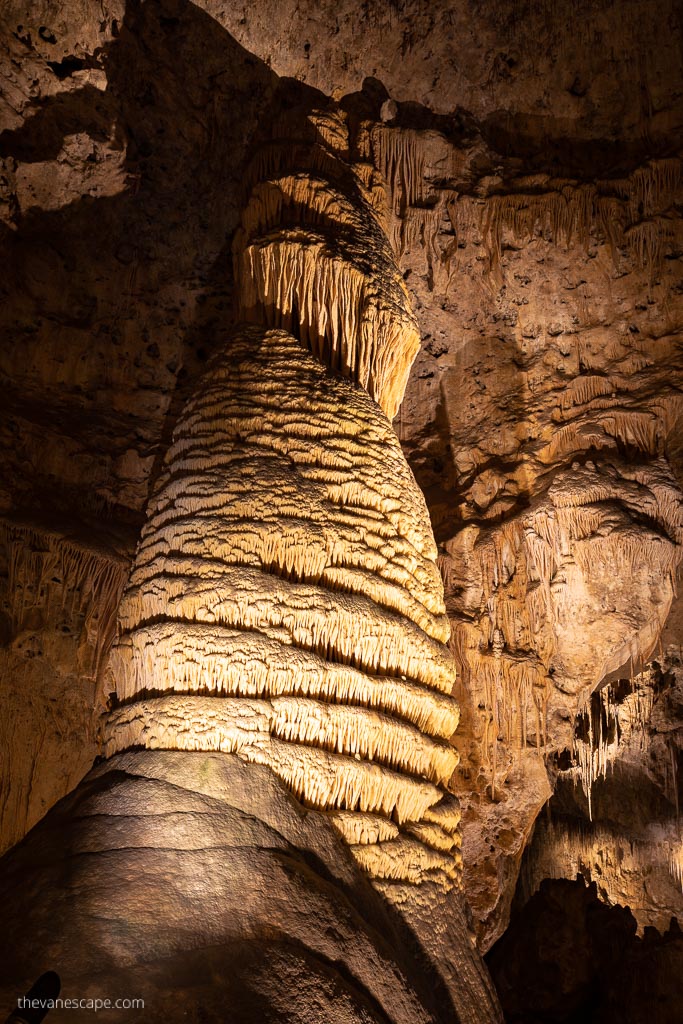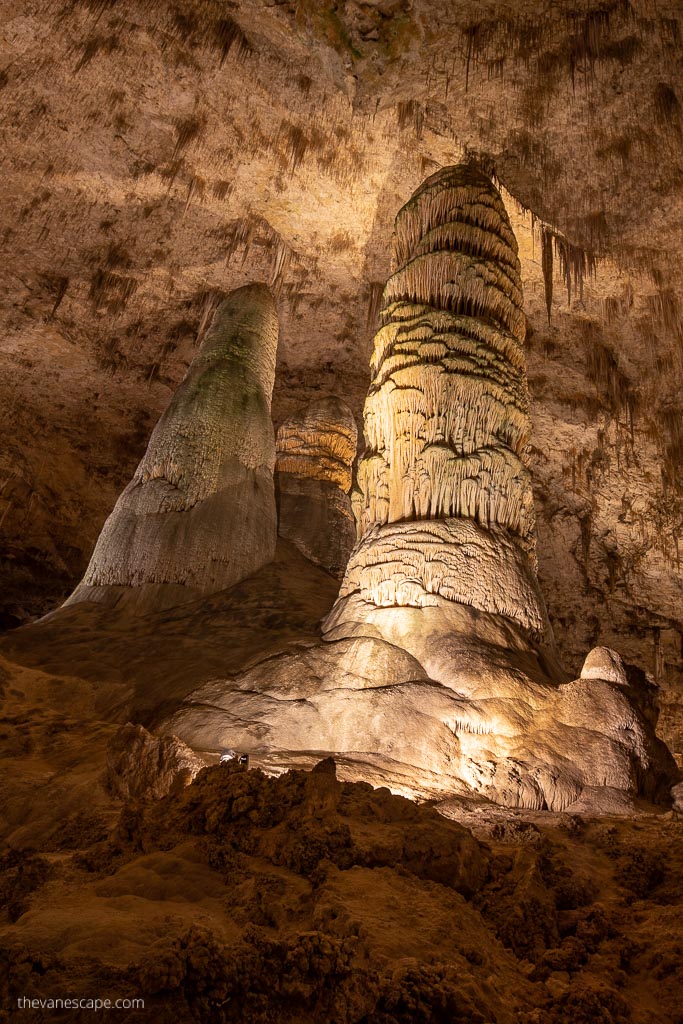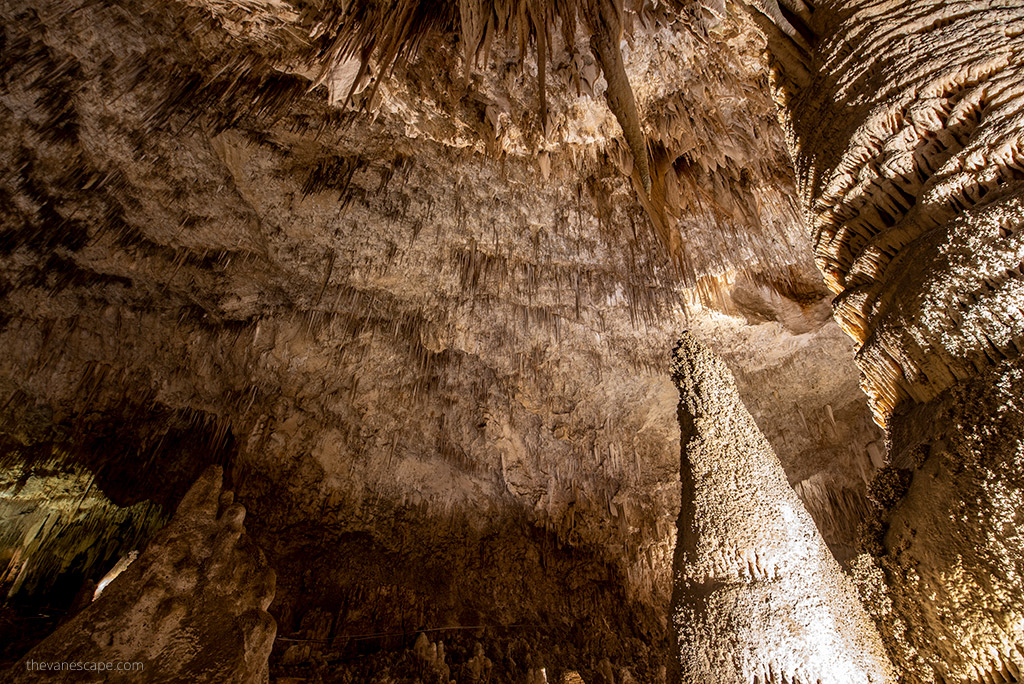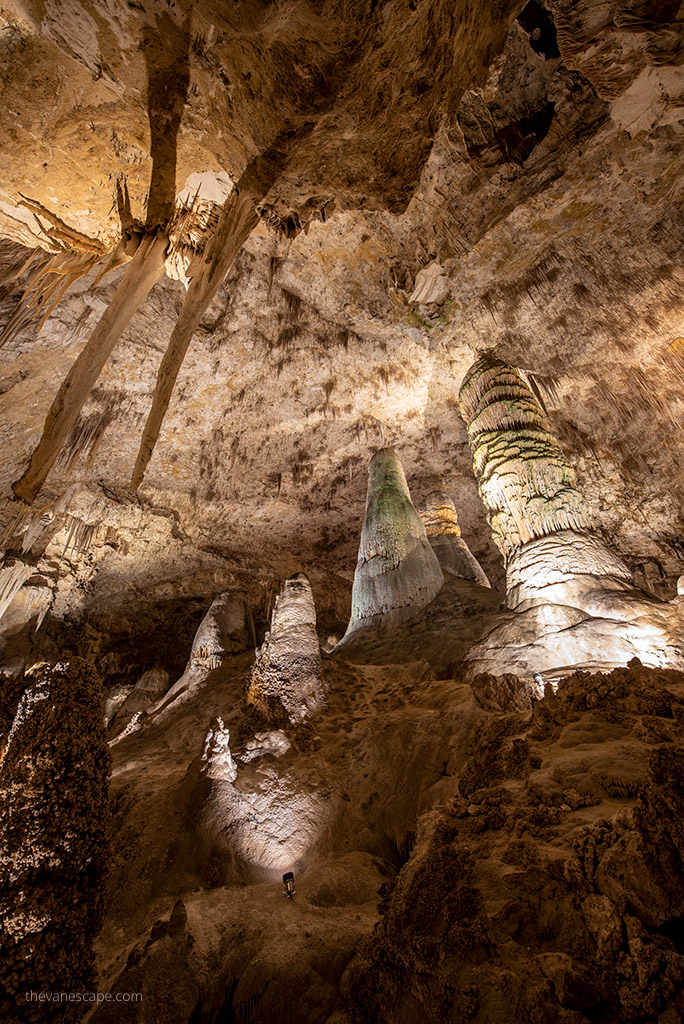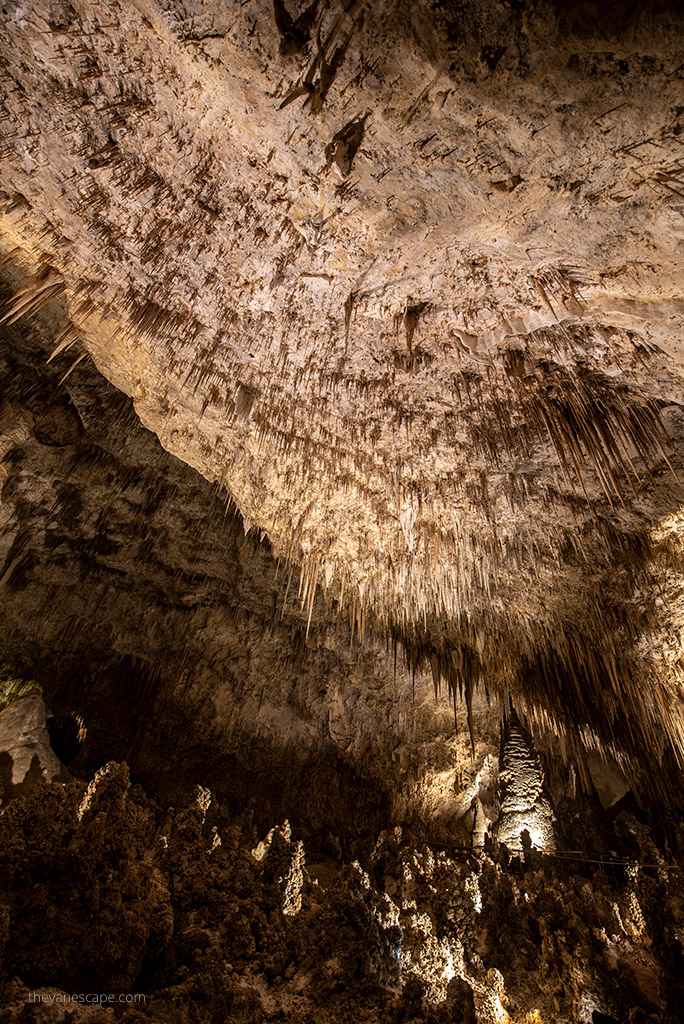 See Road To Hell Carlsbad Caverns
If for some reason, for a lack of time or health reasons, you cannot visit the caves by going through the Natural Entrance Trail, it is worth seeing the entrance itself. They are called Road To Hell Carlsbad Caverns. It is a spectacular & steep road into the darkness. Road To Hell meanders like a serpentine to the pit of Hell. You only see black, and your body is enveloped in coldness and moisture from the deepness of caves. It is an extraordinary experience.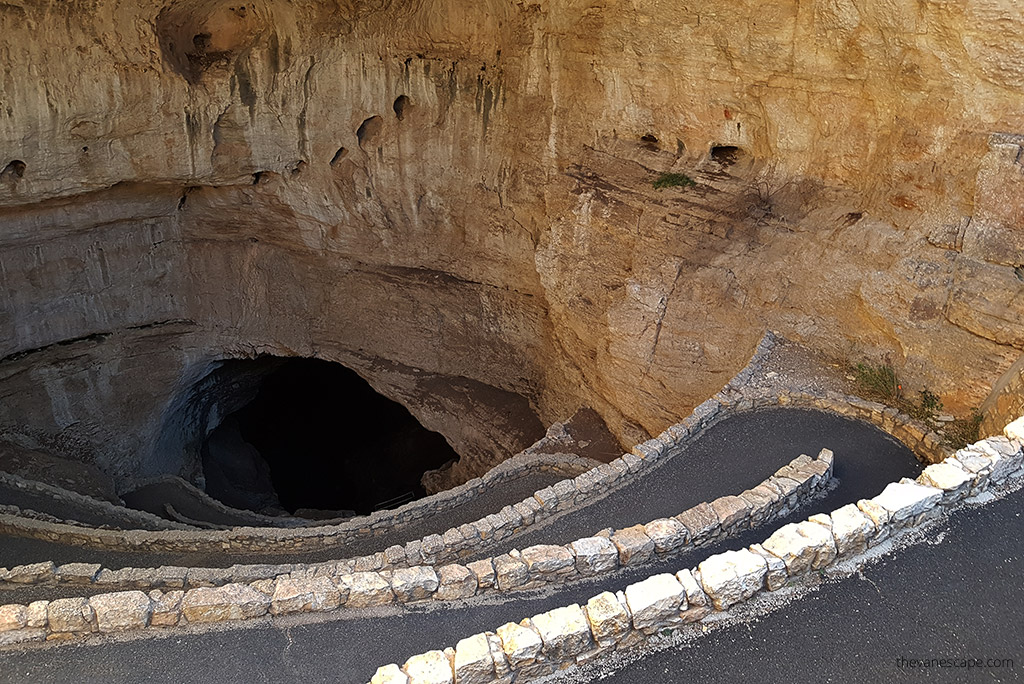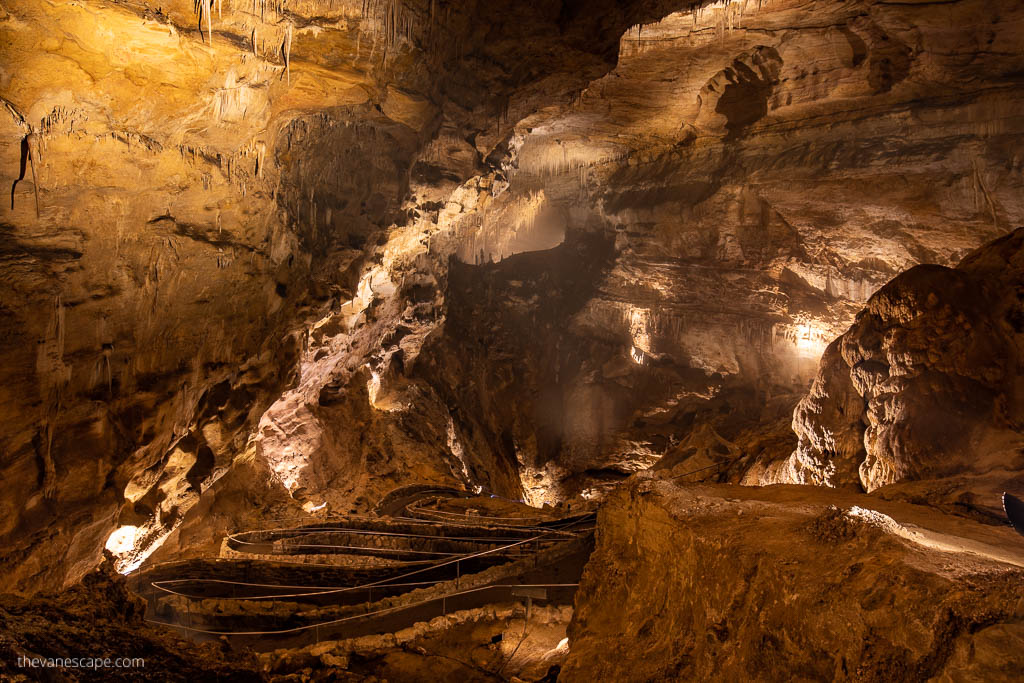 Send a Postcard from Caverns
There is The Carlsbad Caverns lunchroom 750 feet underground, right inside the caves. Furthermore, tourists can write a postcard and mail it from inside the cave and have it stamped with "Mailed from 750 feet below ground".
Bat Flight Program in Carlsbad Caverns
From Memorial Day weekend in May until October, you can see the free Bat Flight Program in Carlsbad Caverns. There are 17 bat species in the park. The large colony of Brazilian free-tailed bats is the best known. So, in the evenings, a ranger talks about the bats before their flight. No reservations are required for this program. It is located at the Bat Flight Amphitheater approximately 30 minutes before sunset. The best bat flights commonly occur from August to September because there are both babies from the year as well as migrating bats from further north.
Furthermore, in the summer, between 200,000 and 500,000 bats leave the cave each evening. It's a wonderful spectacle of nature. During migration, the bat population can reach over one million bats. So, every summer sunset, millions of bats swarm and swirl out of the caves to go eat millions of insects in the Pecos River valley.
The bats typically leave at 28 minutes past sunset, known as civil twilight. Furthermore, the bats typically return to the cave entrance between 4 and 6 a.m. Finally, photography of any kind is not allowed at the Bat Flight. There are no electronics allowed during the program to protect the bats.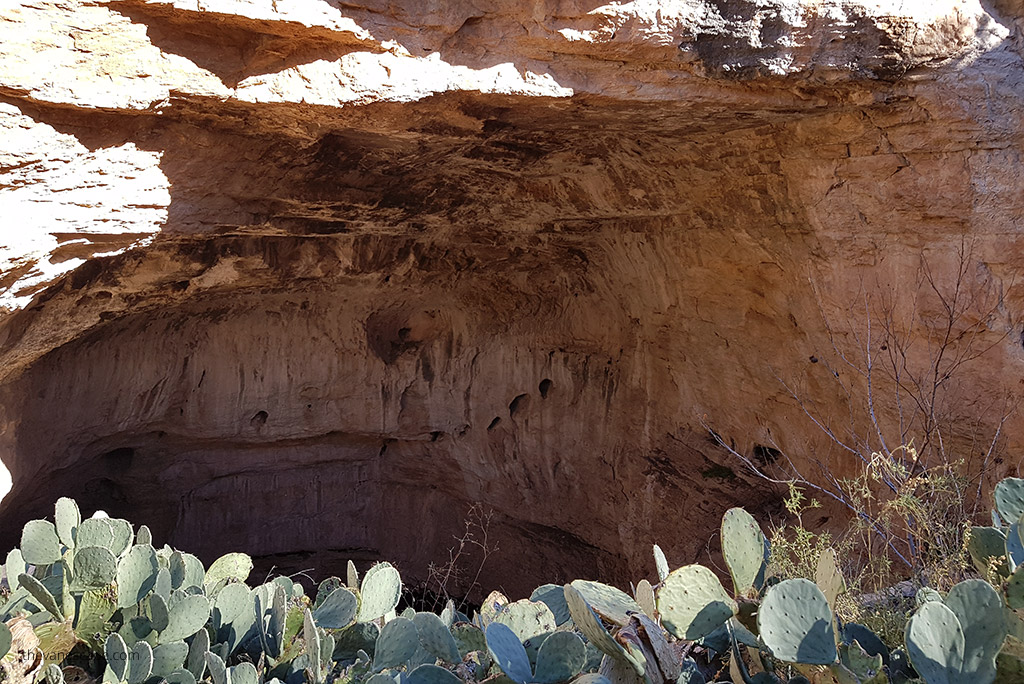 Carlsbad Caverns National Park Itinerary – Take Ranger-Guided Tour
If you have more time to stay in the Carlsbad Cavern National Park than one day, it is worth considering guided tours. The Park offers some adventure tours with a park ranger.
You can see several other, less famous, caves and learn more details about the geology of this place. However, you have to book it in advance on Recreation.gov. Furthermore, tickets are extremely limited. So, make your reservations here. The best tours are:
Hall of the White Giant — it is a challenging, strenuous, 4 hours tour. So, you'll be sweaty and dirty. Furthermore, you will crawl through narrow spaces on your hands and knees and free-climb through the formations, climbing slippery vertical rock. Tour groups are small, so tickets are minimal. Finally, it is the most challenging and strenuous cave trip.
King's Palace Tour is a 1.5-hour ranger-guided tour through four highly decorated chambers that will take you into the deepest portion of the cavern open to the public, 830 feet (253 m) beneath the desert surface. Furthermore, it is the shortest and easiest of the ranger-led tours, but it is beautiful.
Lower Cave Tour is a 3 hours strenuous hike for ages 12 and over.
During this tour, you will venture deep into the cave, descending on ladders and ropes. So, it is a real adventure. Furthermore, the park ranger will take you to the rare cave pearls that were made famous by National Geographic.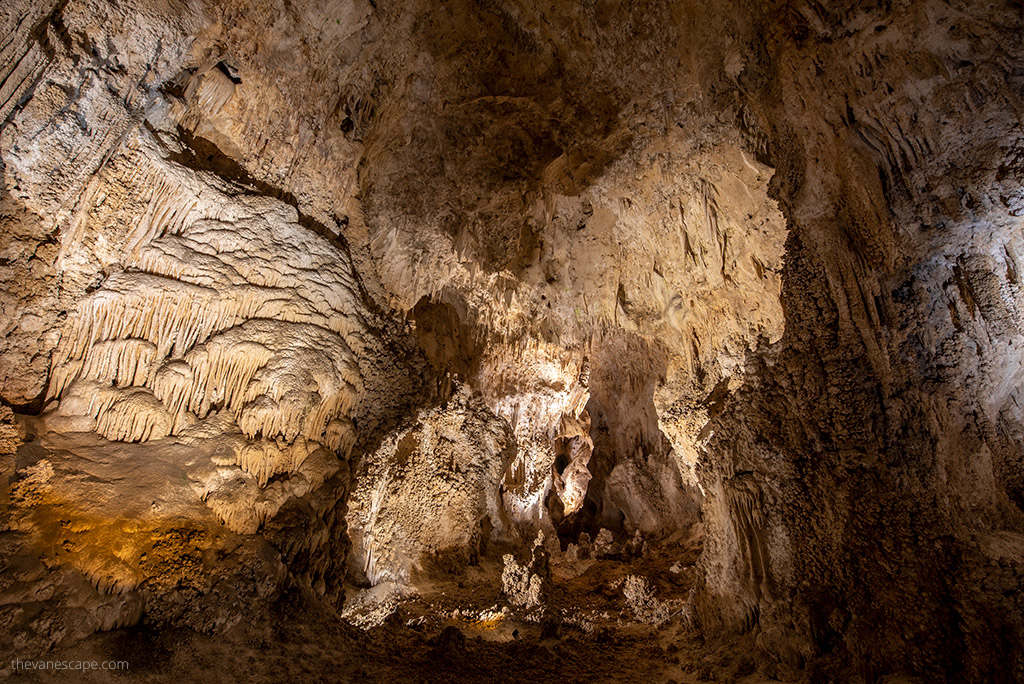 Desert Landscape Activity
On the surface of Carlsbad Caverns National Park, there is a harsh desert landscape. There are more than 50 miles of aboveground trails. So, if you like this kind of landscape and you have extra days it is worth considering hiking or driving in this remote area. All trails in Carlsbad Caverns you will find on the NPS website.
Take a Walnut Canyon Desert Drive
It is a scenic 9-mile drive that takes you through the desert to a few viewpoints. The road is dirt and not recommended for low-clearance vehicles or RVs. Furthermore, you can spot rattlesnakes in this area so be careful, or it is possible to see bighorn sheep.
Have a Picnic at Rattlesnake Springs
It is an oasis in the middle of the desert, with large cottonwood trees and lots of birds galore. Birders love this area so that you can spot wild turkeys and vermilion flycatchers.
But, if you love wildlife and bird watching and you plan your New Mexico holiday, add to your road trip itinerary Bosque Del Apache National Wildlife Refuge. It is a wildlife pearl of New Mexico where you can admire Sandhill Cranes and Snow Geese. So, check our photos & tips from Bosque Del Apache here.
Take a short Chihuahuan Desert Nature Trail
Chihuahuan Desert Nature Trail is a short and easy path. It starts at the Visitors Center and winds around a half-mile loop.
Carlsbad Caverns Photography Tips
The last part of our Carlsbad Caverns National Park Itinerary is a photographic guide. As you know, we love photography, and we share our photography tips from every place we have visited. We hope it will help you avoid our mistakes and prepare for the trip correctly. So, in addition to beautiful memories, bring great photos with you.
Fast Lens Is a Must
Take fast and wide lenses. The faster lens, the better. During this trip, Agnes used the great, wide, and fast lens Nikkor 14-24 mm f/2.8, which is a phenomenal lens. It is perfect for architecture and landscapes also. And when she wanted to get closer to the fantastic shapes of rock formations, she used the fabulous Nikkor 50 mm f/1.4, which is also great. Besides, it is her favorite lens for portrait photography and reportage.
Chris used the perfect Canon 16-35 mm f/4, which, although a bit darker, coped in caves perfectly with Sirui tripod.
Take a Tripod
Tripods are permitted on the Big Room and Natural Entrance trails, but not on ranger-guided tours. A tripod is a must. We have both used Sirui tripods for years. And we love it. Agnes uses the lighter one, and Chris uses a heave one. So, check out more options for these great Sirui tripods here.
However, it is not easy to take good pictures in Carlsbad Caverns, because the path is very narrow. Due to this, you have to watch out for people not stumble in the dark on your tripod. You should notice people first, and you should let them pass. So, you have to focus not only on photos but also on the safety of other visitors. In the darkness, they have no chance to notice your tripod legs. So you must be extremely careful. Sometimes it is annoying, but safety is the most important thing.
So, if you want to avoid crowds and focus on photos, visit the Park after the high season. Even during winter, as we did, or late fall. You won't see bats, but you'll have much better conditions for photographing these unusual & unique rock formations.
Wear Warm Clothes
Pack yourself an optimal way, and don't take too much photo equipment with you, except for the camera and one or two fast lenses. The caves are cramped, so with a large backpack, you will not be allowed inside if there are a lot of people. Take a warm sweatshirt or jacket and beanie, because it will be cool and the photo will take you a few hours. Remember about good shoes because they can be slippery and you don't want to drop equipment on the rock.
Image
Title
Price
Check

Top

Top

SIRUI Carbon Fiber Traveler 5CX Tripod 51.97 inches Lightweight Travel Outdoor Tripod with 360° Panorama Ball Head and Arca Swiss Quick Release Plate Load Capacity Up to 5kgs
$
Check on Amazon

Top

SIRUI AM-225 Lightweight Carbon Fiber Small Tripod with B-00K Ball Head
$$
Check on Amazon

Top

Sirui w-2204 Waterproof Carbon Fiber Tripod, Black & Polished (6435)
$$$
Check on Amazon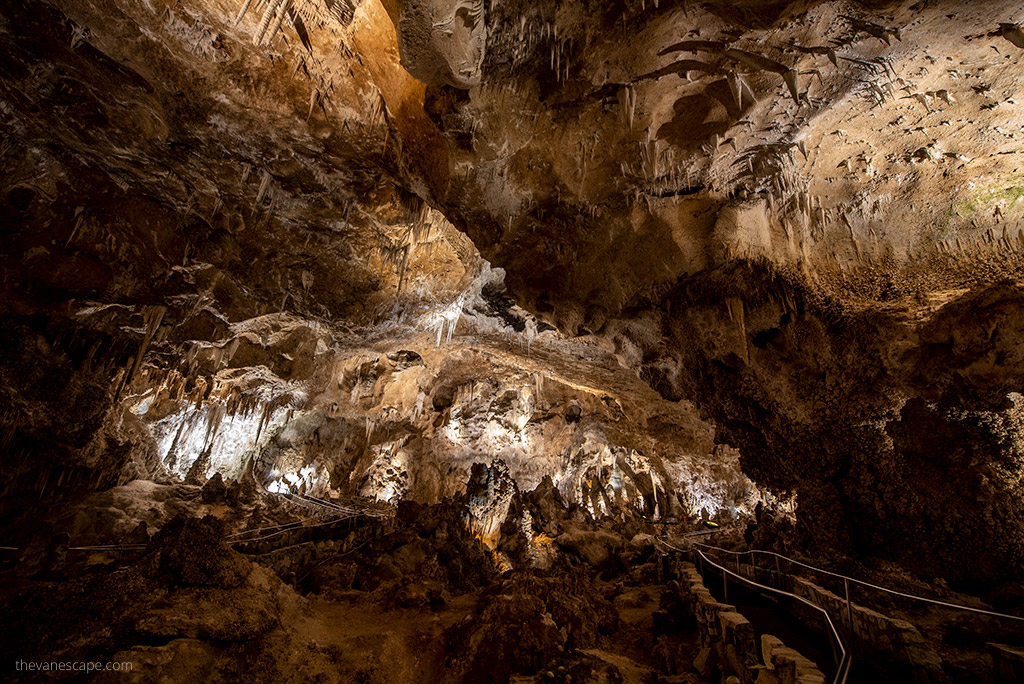 Summary
We assure you that a trip to Carlsbad Caverns National Park will always remain in your memory. The place is magical and breathtaking.
If you like our Carlsbad Caverns National Park Itinerary and are planning the New Mexico road trip, check our related articles, please. We share our experience & tips to help you prepare for your incredible adventure: