Updated on December 13, 2020
Las Vegas is called a new city that never sleeps. It is the capital of gambling for sure, but you will find here also great shops, excellent restaurants, unique entertainment, and mysterious nightlife! But what is the best time to go to Vegas? How to plan a trip to Vegas to fulfill three days perfectly? What to do if you go first time to Vegas? All the information we reveal in our Las Vegas 3 Days Itinerary 2021.
This article may contain affiliate / compensated links. For full information, please see our disclaimer here.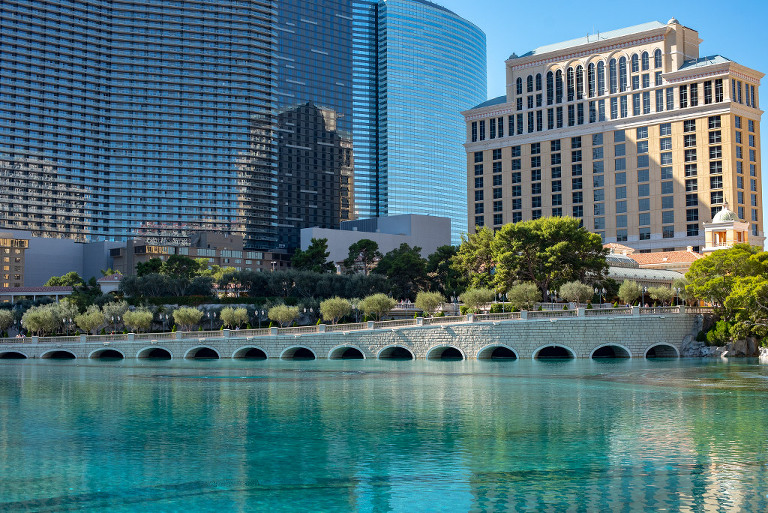 Best Time to Go to Vegas
The best time to go to Las Vegas is between March-May and September-November. There is a couple of reasons for those dates. The weather is favorable – it's not too hot, and swimming pools in most of the hotels are open. And you will find a lot of price deals for hotels and attractions.
How to get there?
Las Vegas McCarran International Airport is very well connected with cities of the USA, but also with Europe and Asia. Except for local airport, people often fly to Los Angeles and drive to Las Vegas. It will be about 5-6 hours of driving, and the distance is 270 miles.
Best Places to Stay in Vegas
Like no other city, Las Vegas has an incredible number of hotels available at excellent prices. The choice is unlimited until there's not an event or conference held in the city. Prices are starting as low as 10 USD/night! Of course, this is usually the base price, and you must add taxes and local resort fee that generally is higher than the base room price. Las Vegas resort fee amounts are published in quantities pre-tax, meaning that the $30 resort fee will cost you $33. But the hotel can also cost $300. Discrepancies are significant.
So, is Las Vegas expensive? Check here.
Most of the hotels in Las Vegas have resort fees as a way to increase their base rate that is usually attractive. If you want to avoid it, you can still find some hotels that don't have a resort fee. Please also remember that in the last couple of years many hotels introduced parking fees, so before deciding where to stay, count all the costs carefully.
Finally, you can think of getting some loyalty card. We are fans of Ceasars Rewards because we saved a lot of money with the membership. And you can get the best room prices. But for sure other hotels have similar loyalty cards.
Buy Las Vegas Pass
If you plan to use many Las Vegas attractions, it might be a perfect idea to buy a pass that will save you 65% of the money! We recommend pass sold by GetYourGuide service that covers over 45 the most famous attractions. It might be valid for 2 to 5 days. Our favorite attractions included in this pass are:
High Roller Observation Wheel at the LINQ: Daytime Pass
Hoover Dam Tour
Hop-On Hop-Off Big Bus Las Vegas 1-Day Standard Tour
Eiffel Tower Experience at Paris Las Vegas – Daytime Ticket
Stratosphere Observation Deck Plus VIP Access
The Roller Coaster at NY, NY
Las Vegas Monorail 24-Hour Pass
Las Vegas Downtown – Fremont St. Walking Tour
and many more
If you decide to stay longer, at least 3 days, Grand Canyon South Rim Tour will be also included in your pass! It's really worth the money.
Day 1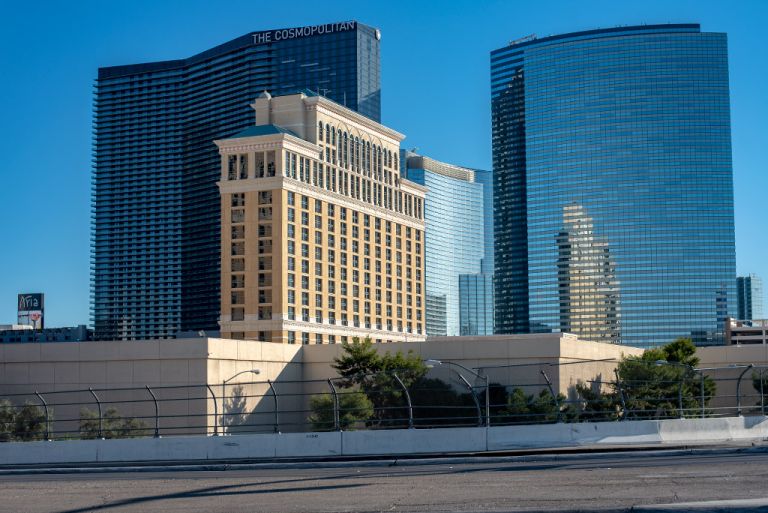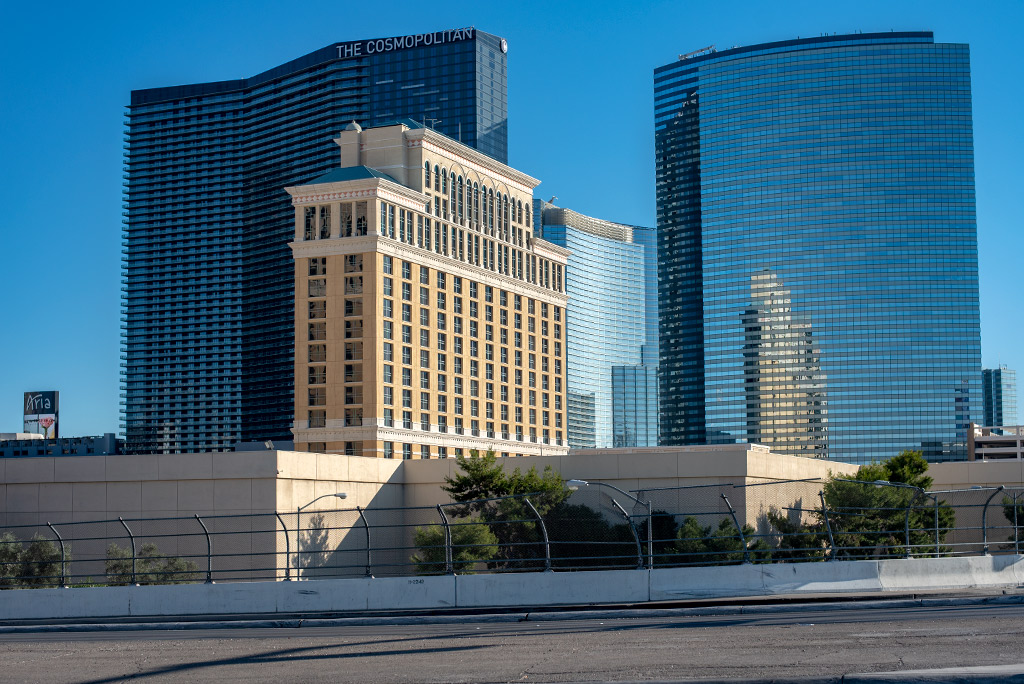 Breakfast
Las Vegas is not the only city of hazard, but also a place to eat in excellent restaurants. So you should start your day with a great breakfast, and there's plenty of places to choose from. We will give here three of our recommendations – you can use one for each day if you want.
Overlook Grill ($$) – You will find this elegant restaurant in The Cosmopolitan Hotel adjacent to Boulevard Pool. The important thing is to remember that this place is open seasonally, so make sure if it is accessible when you visit sin city. We recommend to try their Avocado Toast Benedict or Blackened Mahi-Mahi Sandwich!
Grand Lux Cafe ($$) – There is more than one location of this beautiful place to start your day. Our favorite is at The Venetian Hotel, and we recommend it for breakfast, but it's open 24 hours a day. The best option to start your great day might be one of the morning cocktails accompanied by Chilaquiles or Fresh Garden Omelette.
Bruxie ($$) – You will find this restaurant in New York, New York hotel next to Park Avenue. It should be your choice if you are fun of waffles because they are the best. We were trying Bacon, Egg & Cheddar, and Green Eggs & Ham, and they were delicious! The good news is that if you are late for your breakfast, you can still order it because they serve all day.
Walk or hop-on/hop-off bus ride?
If it is your first time in Las Vegas, just start with the relaxing walk on the strip and see some of the unique hotels. If you don't like walking, you can catch the hop-on/hop-off bus (it costs 50 USD/person/day). What we recommend here is to consider a three-day hop-on/hop-off bus ticket because it is only 23.40 USD more expensive, but includes Eiffel Tower Experience and Night Tour! We are sure it's worth to pay this small amount of money for expanding the bus option to three days and go to those two attractions.
Another option is to use monorail train (tickets cost 13 USD).
Eiffel Tower Experience in Paris Hotel
If you always dreamed of going to Paris and get the elevator to the top of the Eiffel Tower and it never came true, maybe it's time to try it in Hotel Paris, Las Vegas? The replica is half-scale of the original French monument, but the experience is similar. Everything was designed to remind the unique construction of Paris. You will get to the panoramic observation deck and look not only to The Strip but also to mountains around Las Vegas and even Mojave Desert. It might also be a good idea to observe magnificent Bellagio Fountains from this perspective!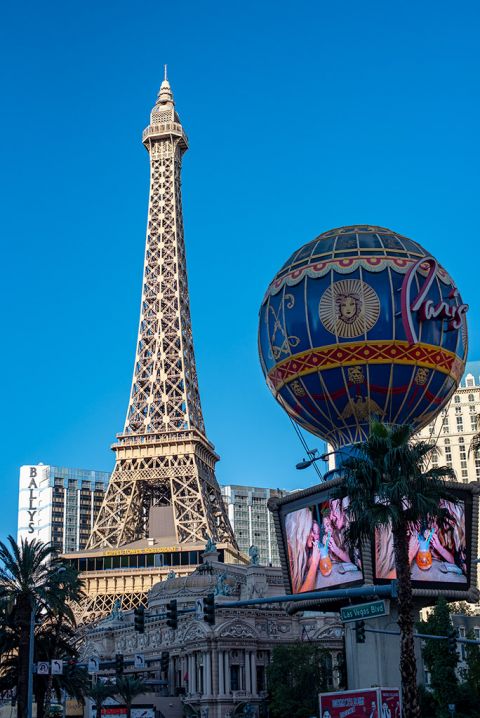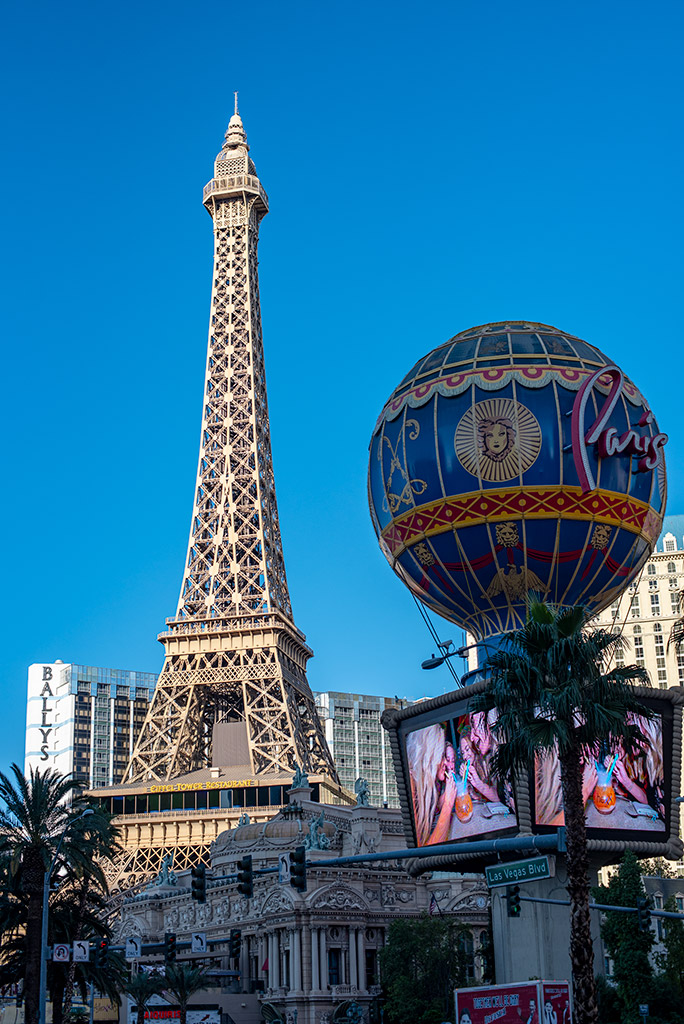 Gamble in Caesars Palace
Fantastic Caesars Palace hotel was opened in 1966 and never lost his level of luxury. At the entrance, you will spot a 20-foot sculpture of Julius Cesar, welcoming you. But for your luck, follow the signs to the Appian Way Shops and find an 18-foot replica of Michelangelo's Statue of David, and touch his big toe for good luck.
A lot of people coming to Vegas and staying in Caesars Palace are asking for room 2452 – featured in the movie "The Hangover". Unfortunately, this room was only inspired by Forum Classic Emperor Suite and built in the studio for movie production purposes.
Gondola Ride in The Venetian
The Venetian is our favorite hotel in Las Vegas, and if it has rooms available, we love to stay here. And what is really strange it can get out of rooms even having 7000 of them (combined with The Palazzo) what makes it the biggest in the United States. We believe that the reason for this is probably the fact that this hotel reminds beautiful Venice Italy with its Grand Canal, and the streets of Venice. You can have a gondola ride here, and it's fun!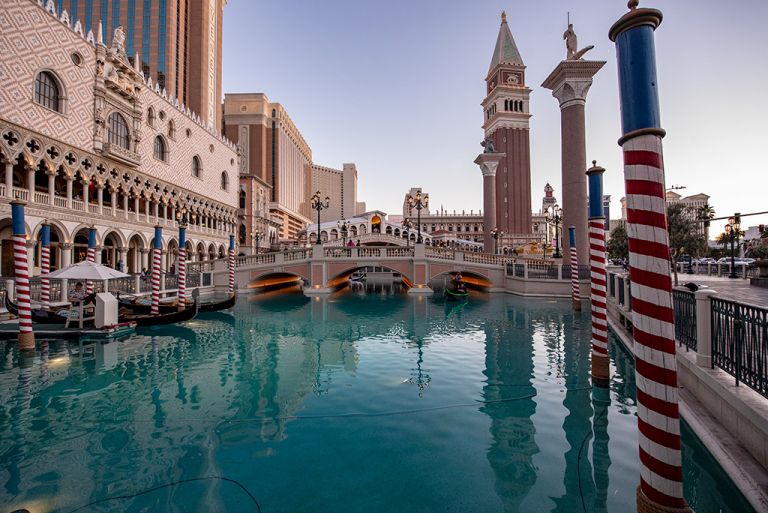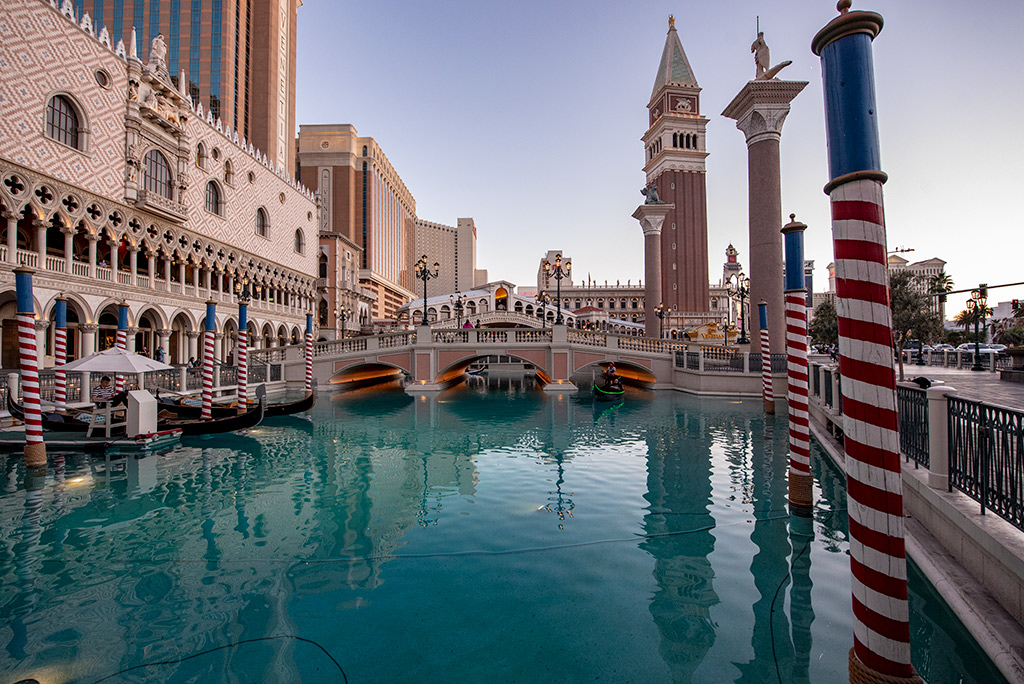 Rides at the top of Stratosphere
Coming to Vegas by car, one of the things you will notice first is the tower of the Stratosphere hotel. It is 1149 feet tall and fits 2427 rooms! It is not only the tallest building in Las Vegas but also in Nevada. You can choose to stay in this hotel not only because of the cheap room price (it is usually less expensive because the hotel is a little bit remote from the main Strip activities) or grand casino but also because of the three rides at the top. You will choose between The Big Shot, Insanity, and X-Scream. All of them are equally terrifying and exciting at the same time.
Fountains at Bellagio
You should plan this attraction if the sun sets and night start to come slowly. Fountains are at its best in the dark with all those lights on. And you must see them in person because they were destined to romance your senses. During the day you can admire them every 30 minutes, but at night even more often – every 15 minutes. At Bellagio, more than a thousand fountains dance in front of the hotel, enhanced by music and light. The display spans more than 1,000 feet with water soaring as high as 460 feet into the air.
And if you plan to visit Vegas and see those fountains, think that you can leave Las Vegas – Entertainment Capital of the World – without seeing one or more of the shows that uphold the city's title! Of course, it is better to book those shows tickets ahead, but sometimes there is a chance to buy them just walking in. So if you are already in Bellagio, why don't you see the "O" by Cirque du Soleil? They weaves an aquatic tapestry of artistry, surrealism and theatrical romance in this timeless production. "The international cast of world-class acrobats, synchronized swimmers, divers, and characters perform in, on and above water to create a breathtaking experience in a magnificent theatre reminiscent of a European opera house."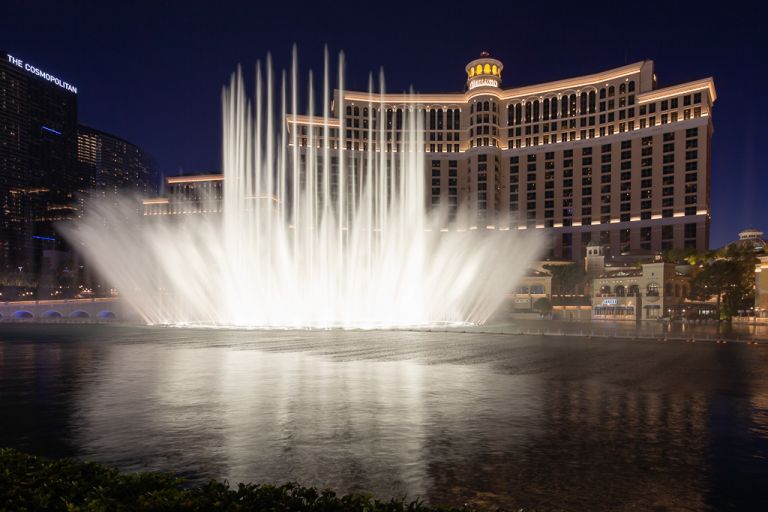 Day 2
On the second day, you can focus on the other part of The Strip around hotels like Luxor, Excalibur, or Mandalay Bay. In this section, we will have some lunch propositions for you as well.
Welcome to Fabulous Las Vegas Sign
The first thing in the morning might be a good idea to take a ride to the famous Las Vegas sign – it will be less crowded, and lines should be shorter to make the must-have selfie or picture. Many people ask how to find the sign? The easiest way is to set up your google maps to 5100 Las Vegas BoulevardSouth. To your surprise, it's not Las Vegas, but the neighborhood town of Paradise.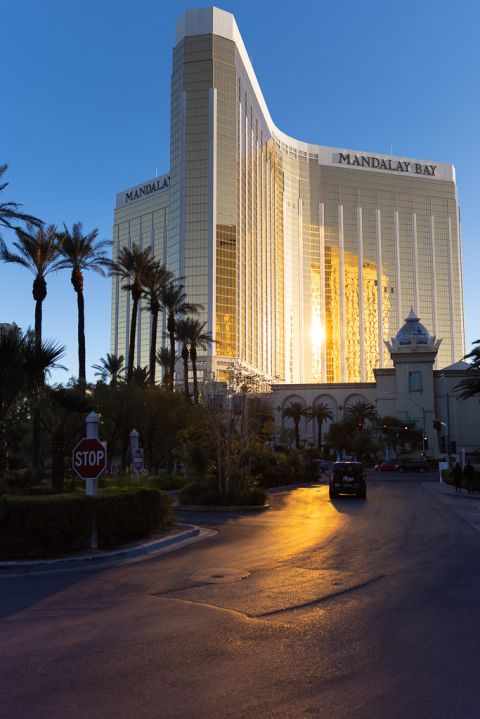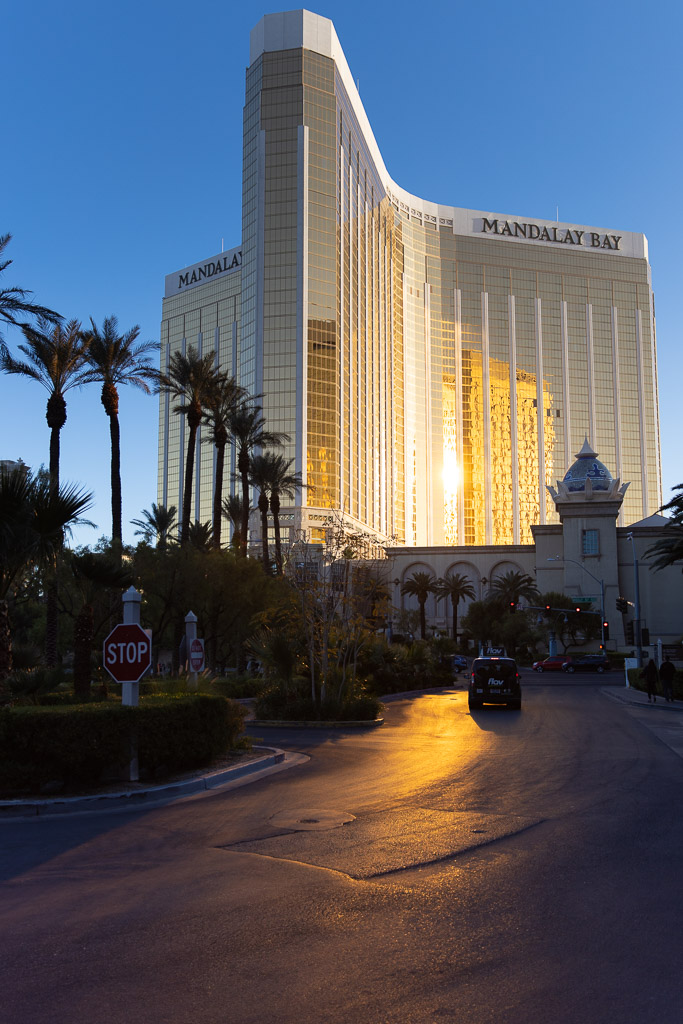 Shark Reef Aquarium in Mandalay Bay
The vast Mandalay Bay hotel stands next to the Las Vegas sign, so it is a good idea to visit it on your way back to the city center. People are usually coming here to awesome gambling, lovely rooms, and epic clubs, but there is more to experience.
The main attraction in this hotel is Shark Reef Aquarium – "See more than 2,000 animals, including sharks, giant rays, endangered green sea turtles, piranha, and a Komodo dragon. This unique exhibit gives you the chance to dive with a higher concentration of exotic sharks than you'd ever find in the wild. Become an Aquarist for a day and feed our stingrays, shark, or turtle in our Animal Encounters program. Shark Reef Aquarium is introducing its newest exhibit – the world premiere of Polar Journey, An Interactive Adventure. Open for a limited time; this interactive experience gives guests a glimpse into the Earth's polar regions and the animals that call them home."
Visit The Luxor Pyramid
Next to the Mandalay Bay, you will pass a tremendous black mysterious pyramid and some Egyptian style monuments. It is The Luxor – once opened in 1993, the tallest building in Las Vegas. The hotel's pyramid is similar in size to the Red Pyramid and the Bent Pyramid of Egypt. When the resort opened, it featured the Nile River Tour, which was a river ride that carried guests to different parts of the pyramid and passed by pieces of ancient artwork on a river that encircled the casino. The casino also featured King Tut's Tomb and Museum, a duplicate of King Tutankhamen's tomb as found in the Valley of the Kings near Luxor, Egypt.
You can enter the Atrium through Great Sphinx of Giza replica at Giza. It covers the moving pathway leading into the Atrium. The fun fact is that the original sphinx is 70 feet high while Vegas replica 110 feet.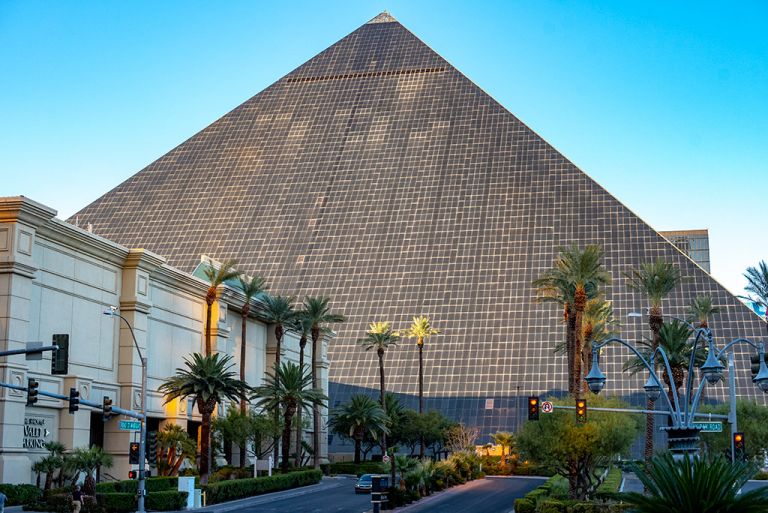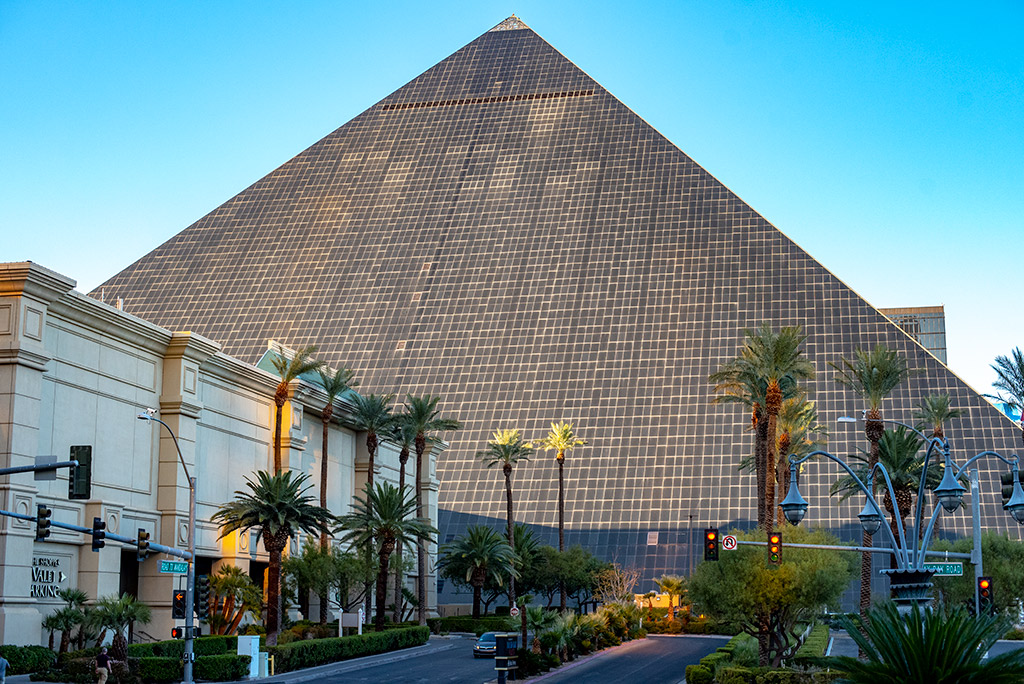 Lunch
We are sharing a few lunch propositions with you below:
Nine Fine Irishmen ($$) – You will find this Irish restaurant in New York, New York hotel. And it is perfect for staying for lunch. Our favorites are Irish Cheesesteak Sandwich and NFI Burger with original Irish beacon.
Maggiano's Little Italy ($$) – If you are more after Italy than Ireland, visit this chain restaurant located in Fashion Show Mall. You can find here all the Italian classics at its best – starters, salads and pastas. We can, for sure, recommend fantastic bruschetta and mozzarella marinara.
Mon Ami Gabi ($$$) – This little bit more expensive restaurant is a different league. Located in Paris Las Vegas hotel, it offers you french style meals, like Oysters du Jour or Scallops Gratinees. But also typical American meals with some french accent like Maine Lobster Roll or regular cheeseburger.
Encounter Medieval Style of The Excalibur
In 1990 it was opened as the largest hotel in the world with over 4000 rooms. Excalibur was designed in line with the "theme resort" strategy popular among some casino operators during the 1990s, which included the traditional Las Vegas gaming experience coupled with family-oriented elements.
You can step in if you like medieval-style scenery (however, it was significantly reduced during one of the recent renovations) or would like to get a reasonable room rate (Excalibur is known for its competitive prices). And you can check if the rumor about the haunted 10th floor is true or not…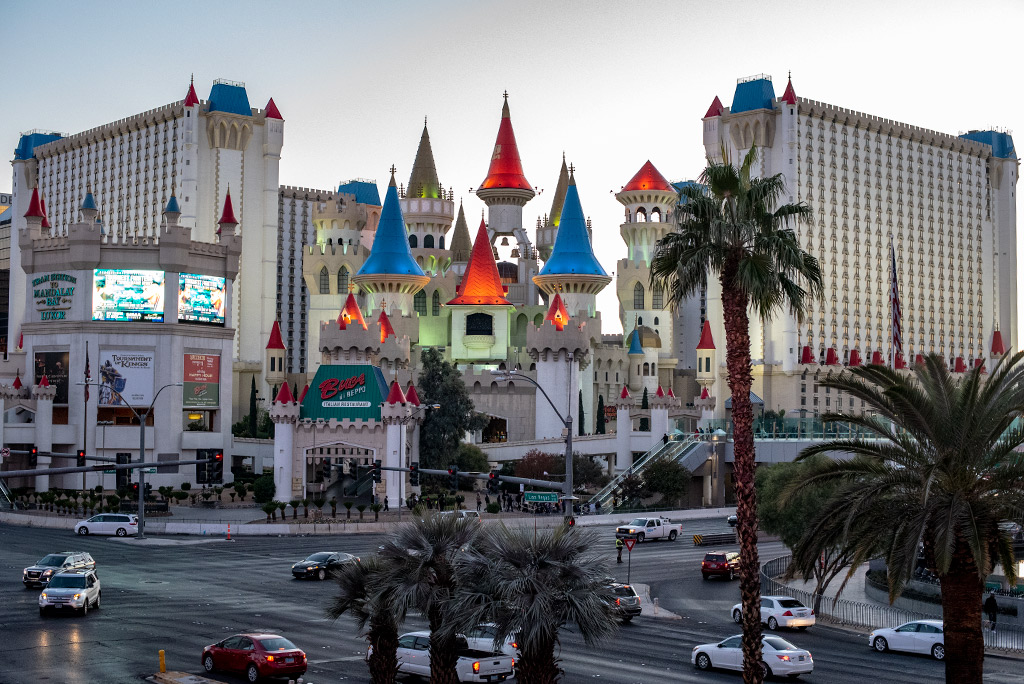 Evening Show in MGM Grand Las Vegas
We already mentioned that The Venetian has 7000 rooms and is considered the biggest in the United States in the "under one roof" category. But MGM Grand with its 6852 rooms is 3rd biggest in the world and 1st biggest in the category single hotel. Similarly to The Excalibur, when it was opened in 1993, it was themed with "Wizard of Oz." At that time, it was a general idea to build more family-friendly objects to attract not only gamblers. It quickly failed, and the hotel was redesigned to get rid of the theme.
But what we would like to emphasize is the show in the MGM Grand Las Vegas – David Copperfield nightly performance. The famous magician has so far sold 33 million tickets and grossed over $4 billion US Dollars, more than any other solo entertainer in history. In 2015, Forbes listed his earnings at $63 million for the previous 12 months and ranked him the 20th highest-earning celebrity in the world.
We strongly recommend to book tickets to this shows and go to see it live. Even if you have seen it on tv, the live show (changing all over the time) is something spectacular. You would not believe what your eyes will see. This man is a legend. The Society of American Magicians awarded him "Magician of the Century" and "King of Magic" – it is a must-see!
Another fantastic show that you will never forget is the Cirque de Soleil.
Day 3
On day three you are probably already a little bit tired with all those luxury hotels, so we propose you different kind of activities, like shopping and one of the best rollercoasters in the United States and eventually lovely selection of places for farewell dinner.
Shopping
Las Vegas is an excellent place for shopping. There are some places you can visit, like Fashion Show Mall, Las Vegas North Premium Outlets, or shops at Planet Hollywood Hotel. Shops in the downtown might be more expensive, but have a better choice of products. If you don't want to break the bank and haven't already won in the casino, you should head to Premium Outlets – they have over 150 stores with reasonable prices and excellent choice.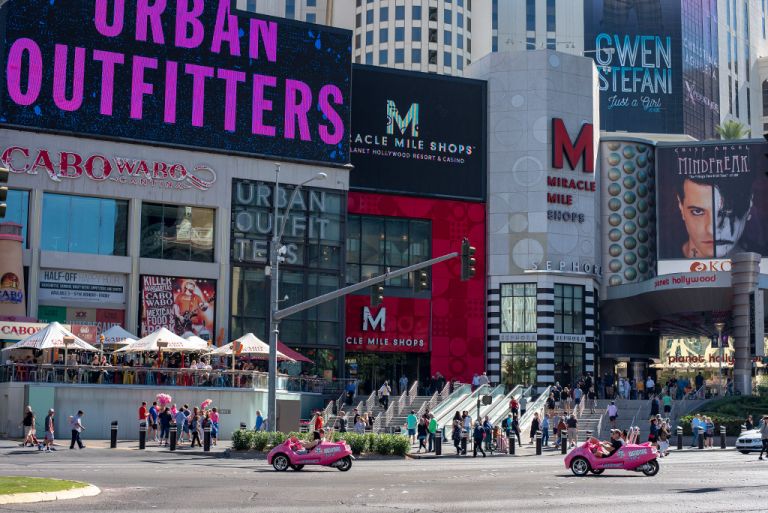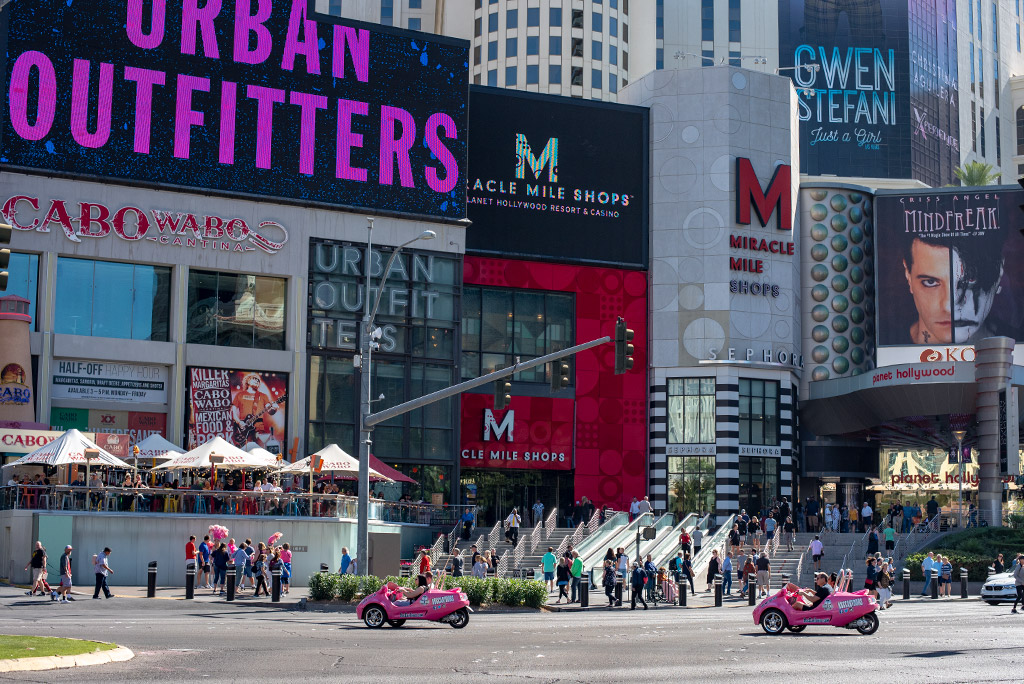 But if you prefer to indulge your shopping fantasies, maybe your option is Fashion Show Mall – one of the largest enclosed malls in the world. They have 250 stores, including such famous brands like Calvin Klein, Guess, Abercrombie & Fitch, or Louis Vuitton, among many others. And believe us, if you start browsing items in those stores, it's hard to stop, so book proper amount of time for this activity in your Las Vegas 3 days itinerary.
Rollercoaster ride in New York, New York
There is a couple of things you notice when approaching New York, New York hotel. For sure, it will be a replica of the statue of liberty, a model of Brooklyn Bridge, and the Rollercoaster. Of course, we don't need to mention famous architectural pearls like the Empire States Building, Chrysler Building, or Grand Central Terminal. You will find it all here.
The best way to see all those attractions of New York at 1/3 scale is to take a roller coaster ride. You might not be able to do it all at the first try (14 USD/one ride), so maybe it's a good idea to take more and ride the whole day? (25 USD/daily pass).
If you are traveling to Las Vegas with kids, it might be an excellent option to visit the part dedicated to children where no real money is used, but you got coupons for winning and swap them for awards. This is probably the only casino-like place where all kids are welcome! After that you can visit Hershey's Chocolate World – your babies will love it!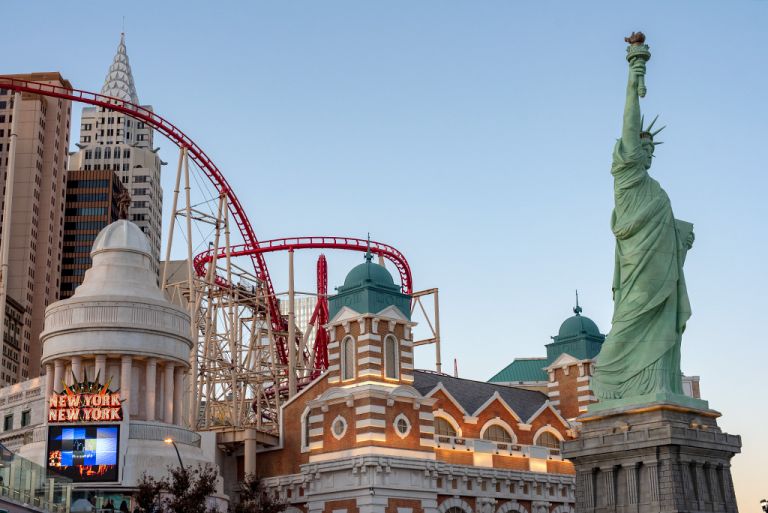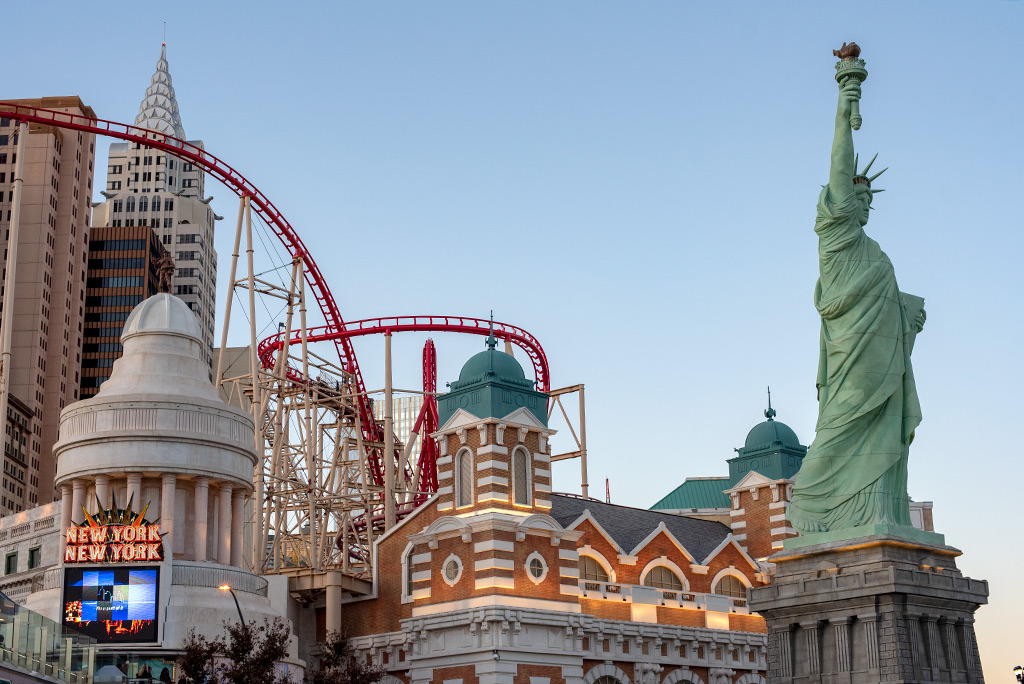 Dinner
Peppermill restaurant ($$) – The restaurant centrally located on Las Vegas Blvd between the Wynn and the Riviera offers you savory dinner. If you trust our personal recommendations, you should order Savory Ribeye Steak or BBQ Pork Ribs accompanied by spinach salad and rosemary rustique bread.
Firefly Tapas Kitchen ($$) – We love Spanish origin cuisine, and this place is an excellent example of it. Of course, it seems that it's not the best idea to order something from the massive selection of tapas for dinner, but I would hesitate. However, if you would like to go the more traditional way, consider Firefly Burger or Seafood Paella. Finish them with caramel flan for dessert.
Crush ($$) – If you decided to see the magic, after the show, you could come into this exquisite restaurant. They have an excellent selection of wines priced reasonably, and you can consider ordering Crispy Shrimp, Togarashi Sea Bass, and Summer Berry Tiramisu.
Things to do in Vegas during the day
Even though we believe in giving you plenty of propositions to fulfill the whole 3 days of your Las Vegas itinerary, it might not suit you best. In case you are looking for some other attractions or just better diversification, read this section carefully.
You can use those hints to extend your Las Vegas 3 days itinerary or to spend some time during the sunny days out of the city. There is plenty of places to visit near Las Vegas by car just an hour or two drive, and it might be a good idea to visit them if you are already in the sin city. Let's briefly describe our best recommendations:
Valley of Fire – You will drive about one hour to reach the Valley of Fire located 50 miles northeast of Las Vegas. It is the state park covering 46000 acres of rock formations made from Aztec sandstone. On a sunny day, those rocks look like being on fire and, thus, the park name. You can spend in the park just an hour or two driving and stopping on the selected overlooks. If you have more time or like to hike, there is more to do – even for a couple of days. Hikes are short and long, even with overnight option (permit required). If you don't have a car, don't worry. You can always book this wonderful excursion on GetYourGuide service!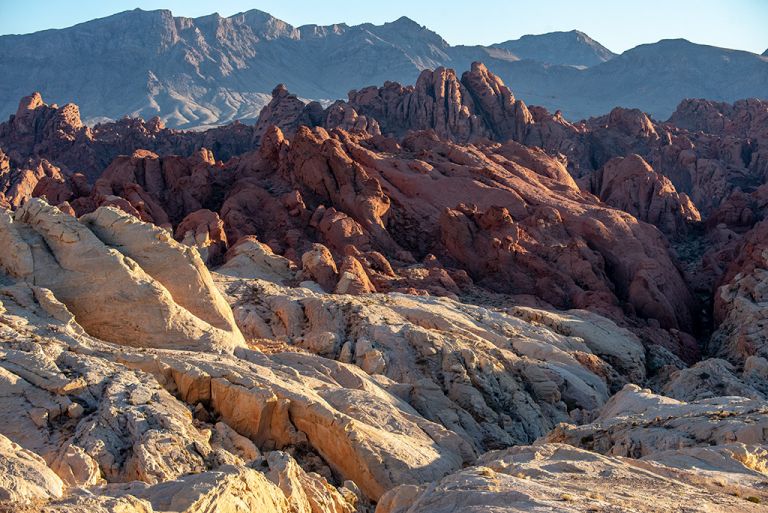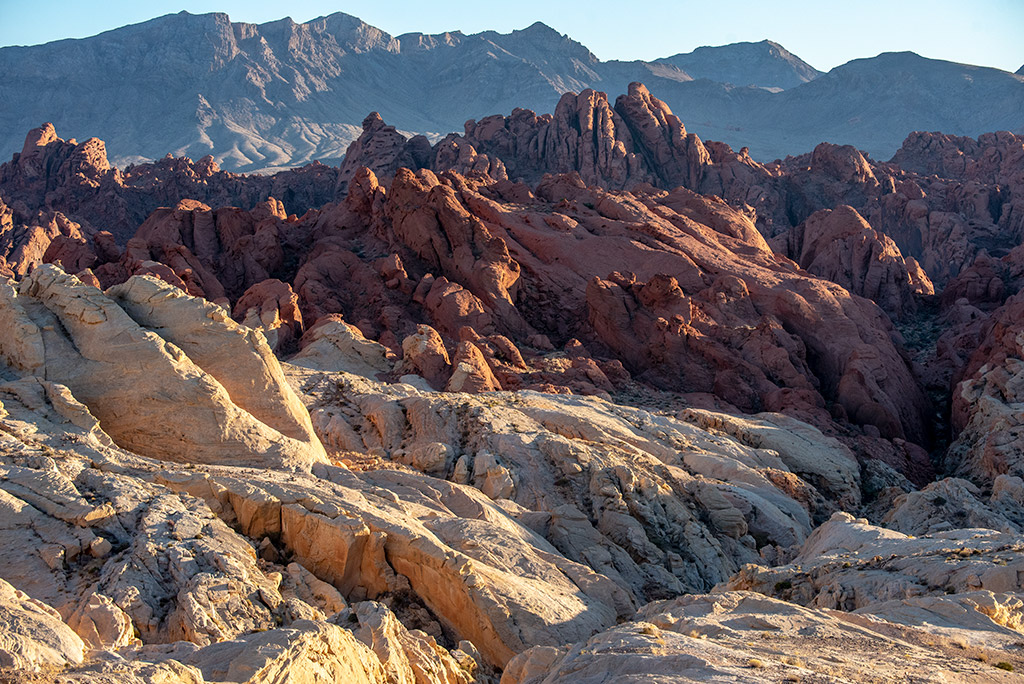 Grand Canyon – It might be not the best idea to drive to Grand Canyon, but still, it's a trendy destination reachable from Las Vegas. The best, but also the most expensive option, is a helicopter tour. It might offer options like Canyon Wind Dancer Helicopter Tour ($500+) or just little longer but cheaper Las Vegas to Grand Canyon West by Coach and Helicopter ($300+). To save your valuable time, you can even book a tour with hotel pick-up and drop-off. The other option is to go for a Grand Canyon West Bus Tour. Or you can do it yourself – it is just 2 hours drive from Las Vegas.
Lake Mead – This 30 minutes drive destination offers a lot, but is barely known to people visiting Las Vegas. Except for quite a popular Hoover Dam with the Powerplant Tour, you have a couple of hot springs, plenty of water activities (houseboat, scuba dive, kayaks or fishing) and hikes. Everyone can find something for himself in this paradise. If you want to go with organized tour, please check Hoover Dam and Lake Mead Lunch Cruise. We definitely recommend it!
Zion National Park – This park is ranked #4 among most popular US parks! So if you are in Las Vegas and have an extra day, why don't you visit this treasure of nature? Of course, we believe that you need much more than a day, but still, one day is better than nothing. The excellent option is to Zion National Park Full-Day Adventure that you can book on GetYourGuide.
Antelope Canyon – For sure, you have seen amazing pictures taken in this canyon plenty of times. It's not located very close to Las Vegas, but still, you can make it. And even better, this excursion might be done together with Horseshoe Bend. We can recommend to book it from GetYourGuide – Antelope Canyon and Horseshoe Bend Day Tour.
Related articles
Las Vegas Photo Shoot Locations – check best spots for photos in sin city.
Arizona Natural Hot Springs – go for half a day hike to beautiful hot springs!
Grand Canyon Viewpoints South Rim – spend a day in Grand Canyon.