27 Top Things to do in Homer Alaska
One of the most beautifully situated towns in Alaska is Homer at Kachemak Bay, which offers many different activities. After a few visits to this enchanting place, we have compiled a list of the 27 best things to do in Homer, Alaska, that will allow you to have great adventures and plan your vacation perfectly. Sea kayaking, world-class fishing adventures, wildlife viewing, bear watching, boating, hiking, tide pooling, and beach walks are just a few of our favorite activities in Homer and at Homer Spit. We will also show you the most exciting galleries, the best restaurants, unique shops, and other places worth visiting during your trip to Homer.
This article may contain affiliate / compensated links. For full information, please see our disclaimer here.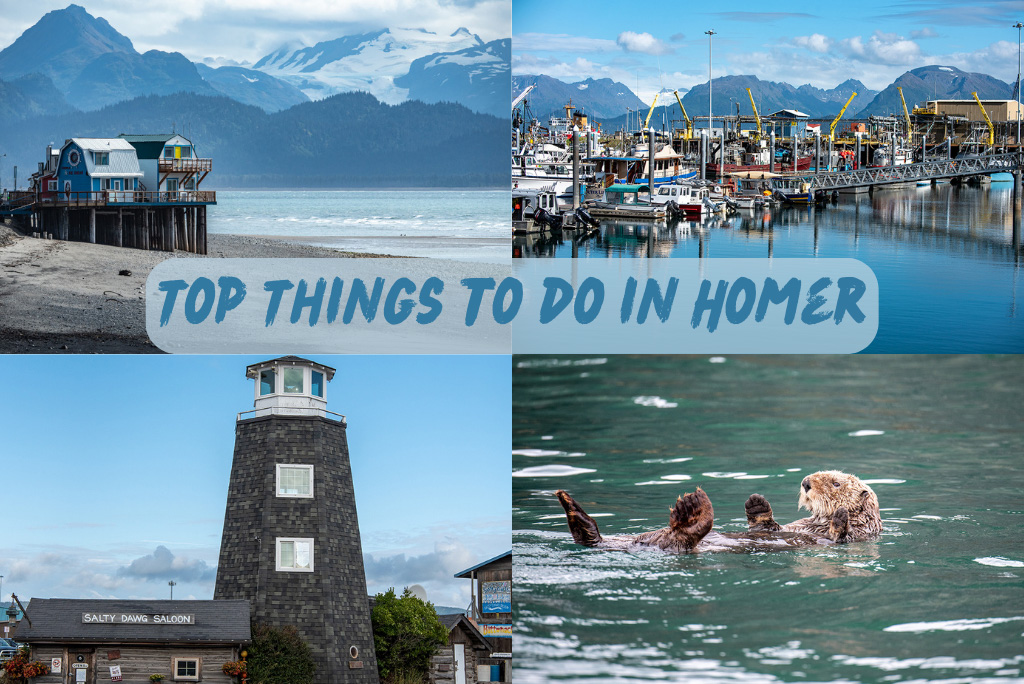 27 Top Things to do in Homer, Alaska – Introduction
With the breathtaking glacier-studded mountains and crystal-clear blue water of Kachemak Bay, Homer is one of the most incredible towns in Alaska that should be on every Alaska itinerary. We've visited Alaska several times and explored Homer each time because we can't resist the charm of Homer Spit. Just as Homer Spit is 4.5 miles long, Homer offers a long list of attractions for travelers to enjoy.
In this article, we'll show you 27 of the best activities in Homer that we've experienced ourselves. This is not a sponsored post; we paid for all attractions we described below. We will show you some activities that have affordable prices or are free. However, there are also pricey things to do in Homer, worth every penny as they're a unique experience. Choose the ones that best suit your interests and travel plans. After analyzing our list, deciding how many days you want to spend in Homer will be easier. In our opinion, 2-3 days are the minimum to take advantage of the attractions of Homer Spit and feel its atmosphere.
We have divided Homer's activities into several parts: the best things to do in Homer on the water, wildlife watching, things to do in Homer for gourmands, the best things to do in Homer for shopping and admiring the art, the best attractions at Homer Spit, and more. Use the table of content for more straightforward navigation.
Top Things to do in Homer Alaska – Water Activities
The Homer Spit on the southern tip of the Kenai Peninsula is a 4.5-mile (7.2 km) long piece of land jutting into Kachemak Bay. The Spit features the longest road into ocean waters in the entire world. As the spit is surrounded by water, we start with Homer's best water activities. With glaciers flowing down to the water, Cook Inlet and Kachemak Bay provide unique and lifetime opportunities to spend time actively.
1. Go for Halibut Fishing
Homer is known as the "Halibut Capital of the World," and halibut fishing is one of the most popular activities. Anglers and fishermen come from around the world to catch the largest fish species. But it's not just professionals who have a lot of fun here. Check out Chris' smile when he caught his first halibut! In Homer, you can purchase Alaska fishing licenses that allow you to go fishing for a day or longer, depending on your needs. It's best to book a halibut fishing trip in Homer, which take you fishing for the day. There is a limit on the number of halibut per person, as fishing in Alaska is one of the most sustainable in the world. The halibut fishing season lasts from April to September. Halibut in Kachemak Bay weigh between 15 and 100 pounds.
Our tip: If you want to fish for halibut, choose this attraction as one of the first things to do in Homer so you can eat the fish you catch. If you're traveling by RV, you'll have food for a few days. If you're traveling in a regular car, having a portable refrigerator and portable grill for camping to enjoy a halibut dinner overlooking Kachemak Bay is a good idea. But if you know you can't manage to eat all your fish, you can always give it to someone. There will be plenty of volunteers at the campground in Homer.
2. Rent a Kayak or SUP on Kachemak Bay
The waters of Kachemak Bay are pretty calm, and it is a great place to rent a kayak and go kayaking around the bay. It is worth buying a trip with a local guide who knows where it is safe. Always check the weather forecast before doing this type of water activity because, in Alaska, it can get dangerous from minute to minute. Rental prices are affordable, so it's worth considering this Homer activity. Especially since the waters of Kachemak Bay are teeming with marine life, paddling gives you a chance to see sea otters, seals, snow-capped mountain peaks, fjords, and distant glaciers. During the trip, the local guide is happy to share information about the bay, the animals you can spot here, and their habits. It is a beautiful adventure. In Homer, we explored the best of Kachemak Bay with True North Kayak Adventures via kayak, and highly recommend them.
Our tip: Dress warmly for this trip because you will be cold on the water. If you do not have a wetsuit, renting it together with the kayak is a good idea. Make sure to pack or rent a wetsuit, gloves, and booties for your Homer water adventures. Check out our separate article if you dream about glacier kayaking in Alaska, as it's also a fabulous experience and one of the best options for glacier kayaking you will find in nearby Seward – Resurrection Bay Kayaking Adventure.
If you prefer river rafting, check out the top things to do in Talkeetna, which is our favorite town north of Anchorage and a great place for rafting.
Top Things to do in Homer Alaska – Wildlife Watching
The wildlife on the Kenai Peninsula is stunning, and Homer is one of the best places in Alaska to undertake activities such as bear-watching, whale-watching, viewing marine wildlife, or bird-watching. Below are our top wildlife activities in Homer.
3. Take Wildlife Tour in Kachemak Bay
During our last visit to Homer, we decided to purchase this Wildlife Boat Tour in Kachemak Bay, and we were delighted with this trip. It's only a 2-3 hours wildlife tour, so it's a great choice if your Alaska itinerary is full of activities and you have limited time to explore all Homer attractions. The boat is only for 6 people, so there is no crowd. You can focus on taking pictures and observing marine wildlife. Moreover, the captain is a true lover and expert in Alaskan nature and tells many stories. Depending on the season, you can see humpback and orca whales, birds, sea otters, and puffins. Finally, the price is affordable, so it's a great choice if your budget is strict. You can check more of our photos and a detailed review of this exciting boat tour in our separate article: Alaska Wildlife Tours in Kachemak Bay.
Our tip: It's worth booking an early morning or late evening tour. Thanks to this you capture images in the best light. The wildlife is also more active in the morning so you can spot animals better. Dress warmly for this trip, as it can be windy on the boat. It is worth wearing something windproof and rainproof. Check out our Alaska Packing List for detailed recommendations. Also, check our Alaska Wildlife Tours in Kachemak Bay review.
4. Take One of the Best Homer Alaska Bear Viewing Tours
Bear viewing from Homer is a great activity. Almost everyone who plans a trip to Alaska dreams of seeing a bear. We are fans of bears, and during each trip, we purchased a bear-watching tour. These tours are some of the more expensive things to do in Alaska, but they are worth the money because they offer the opportunity to observe bears in their natural habitat. Homer is close to two unique and hard-to-reach parks where you can spot brown bears: Lake Clark National Park and Katmai National Park, with the famous Broks Falls.
Bear Viewing in Katmai National Park from Homer
Bear Viewing in Lake Clark National Park from Kenai
Our tip: It's worth booking your Alaska bear-watching trip months in advance to ensure you get the best price and make sure you get to these hard-to-reach parks during peak season.
5. Admire Bald Eagles
Bird watching is one of our top things to do in Homer for a few reasons. First, you don't have to pay for these activities. It's free. Second, this part of the Kenai Peninsula is rich in birds. As we love taking pictures of birds, especially raptors, it's a paradise for photographers. All you need is a camera and mindfulness. Bald eagles you can spot on the beaches along the Homer Spit.
Our tip: Our favorite bald-eagle-watching spot near Homer is Anchor Point. It's 16 miles north of Homer. We were amazed to witness many Bald Eagles feeding at Anchor River State Recreation Area. If you're heading towards Homer from Anchorage, then the recreation area is located on the road system on the Kenai Peninsula. At Mile 156.9 of the Sterling Highway, turn onto Old Sterling Highway and continue over the Anchor River Bridge. Take the first right onto Anchor River Road. If you're staying in a tent or RV, it's also an excellent place for a night because there is camping. The most fantastic activity of raptors can be observed early in the morning when they hunt for their breakfast. It's worth being there around 7 am.
The Best Things to do at Homer Spit
Homer is not only about tours. You can spend here many hours or days and have a great time, so below is our list of top things to do in Homer town and at Homer Spit.
6. Stroll and explore the Homer Spit
The best thing to do in Homer for free is to stroll the Homer Spit. You can walk for hours on this 4.5-mile spit and never get bored. They are beaches, shops, galleries, restaurants, and mountains with glaciers in the backdrop. Homer Spit looks different every time of the day and every season of the year. It will look completely different after sunrise when it is quiet, and the bay's waters will be calm. Different in the middle of the day when you meet other tourists. Even differently at sunset, which is spectacular here.
7. Tack a dollar to a wall in Salty Dawg Saloon
A visit to Homer without having a beer at the Salty Dawg Saloon doesn't count. So be sure to visit this iconic spot, known for the thousands of dollar bills signed by visitors and tacked to the walls. This practice began many years ago when a visitor pinned a dollar to the wall and stated that his friend would stop by later. The dollar was meant to buy the friend a drink. The Salty Dawg was one of the first cabins built in 1897, and soon after Homer became a town site. It served as the first post office, a railroad station, a grocery store, and a coal mining office for twenty years. The place has a fantastic atmosphere and super friendly staff.
Our tip: The building is old and unheated so it can be cold inside. Even on a warm day, take an extra sweatshirt inside for a pleasant time with a beer. The Salty Dawg Saloon is open year-round, in the summer, opening at 10 am for early birds, and stays open late.
8. Explore the Homer Boat Harbor
Homer is famous for its Homer Boat Harbor, which looks very attractive in the background, with mountains and glaciers reflecting on the surface of Kachemak Bay. One of the best things to do for free is a stroll through the Homer marina, along the docks at the harbor. During the summer peak months, the harbor serves up to 1,500 boats. Valdez is our second favorite port in Alaska, which impresses us with its location.
Our tip: The best time to walk around the harbor is just before sunset, in the so-called golden hour. Then you have the best light for photos and the calmest water for pictures of reflections.
9. Go for a hike in Homer Spit
There are over 25 miles of trails at Kachemak Bay State Park, many accessed by boat only. But if you have to choose one, take the most popular: the 4.5-mile trail that follows the entire Homer Spit from start to tip. Homer Spit Trail is a great, easy hike with spectacular views, and you don't need a boat to do it. Other popular hikes in the area include the easy Grewingk Glacier hike or the more challenging Sadie Knob or Grace Ridge Trail hikes with higher elevations.
Our tip: Put on waterproof shoes so you can wade on the beach. The famous Alaskan rubber boots will be a great choice that protects you from water, moisture, wind, and cold. Moreover, they have an excellent soles that will protect you from slipping on rocks or mud.
10. Explore Bishop's Beach Park
Bishop's Beach in Homer, Alaska, is a 1.25-mile-long peninsula that juts into Kachemak Bay. This bay is the most popular beach destination for locals and visitors. The beach is tranquil and breathtaking. Walking on this beach is one of the best things to do in Homer for free. You'll find a 1.2-mile loop trail at Bishop's Beach Park called the Beluga Slough Trail. This trail is relatively easy but offers beautiful views of Homer.
Our tip: Visit this beach at a low tide to see the tide pools. Wear rubber boots and a windproof jacket. This is also an excellent spot for bird-watching. You can admire migrating shorebirds, bald eagles, herring gulls, and harlequin ducks at Bishop's Beach.
11. Try Tide Pooling in Homer
One of the most amazing and unique things to do in Homer is tide pooling. What does it mean? Tide pooling is the perfect activity to take in some fresh ocean air while discovering some of the most incredible creatures Katchamak Bay has to offer: starfish, sea stars, sea cucumbers, sea urchins – and maybe even an octopus. Tidepools form when the tide recedes, leaving seawater in depressions in the sand or on the rocks. Tide pooling is an outdoor activity where you explore these ecosystems at low tide when the tidepools are exposed and accessible so you can observe all the previously hidden habitats. Wear rubber boots and a warm, windproof jacket for this activity.
Our tip: The best spots in Homer with tide pooling are the Coal Point area near Bishop's Beach and Diamond Creek five miles north of Homer. Other great places accessible only by boat or plane are China Poot Bay and Jakolof Bay. Before you try tide pooling learn more about Tidepooling Etiquette.
12. Admire the sunset at Homer Spit
One of the top things to do in Homer is admire the sunset at Homer Spit. Even if you have only one day in Homer, stay for the evening, as it may be breathtaking sunset. We can't guarantee it because no one can predict the weather, but it's worth the wait if the sky is not cloudy and it's not raining all day. Be sure to wear something warmer and windproof because the temperature will drop significantly after sunset. Check out our Alaska Packing List for detailed recommendations on what to pack to Alaska.
Our tip: One of the most epic spots for sunset above Homer Spit is from Skyline Drive Overlook. But any place at the tip of Homer Spit will give you a unique sunset experience.
Top Things to do in Homer Alaska for Foodies
Homer is a foodie town. It's a gourmet paradise. In no other place in Alaska have we eaten such delicious food as in Homer. The best halibut, the best salmon, the best oysters, the best fish and chips, we've eaten in Homer. One of the best things to do in Homer is to try the local cuisine, especially the seafood, which is always fresh and of the highest quality.
13. Try the best Oysters ever at Homer Spit Oyster Bar
We're gourmet oysters and have eaten them in many places around the world, but Homer's oysters are unsurpassed. Fresh, meaty, melting in the mouth, in addition to a glass of wine and a view of Kachemak Bay and glaciers flowing down from the mountains. Paradise. Add Homer Spit Oyster Bar to your Alaska itinerary!
14. Eat lunch with locals at Fresh Seafood Market
Fresh Seafood Market it's not a restaurant, but you can sit at the bar and enjoy freshly caught and freshly prepared local seafood. It's located at Coal Point Seafood Company. Chowder, oysters, crabs – everything is perfect and yummy. It melts in your mouth and is a feast for the palate. Moreover, the prices are much cheaper than in a restaurant. There is also a store inside, so you can buy fresh seafood and make them yourself. There is also an exciting gift shop. It is worth adding this place to your Homer itinerary.
For lunch, we also recommend Little Mermaid. They have the best Alaskan fish chowder and Kodiak scallops. They have also delicious pasta and pizzas. You will have the best coffee and slice of vanilla cheesecake or cinnamon rolls at Two Sisters Bakery.
15. Go for dinner at Captain Pattie's Fish House
Captain Pattie's Fish House is one of our favorite places on the Homer culinary map. We sincerely recommend it for dinner because the seafood here is outstanding, and the service is excellent. Fresh seafood, great fish and chips, delicious pasta with seafood. It is advisable to book a table for dinner in advance.
16. Take a Pint at Homer Brewing Company
If you like beer, be sure to try a beer at Homer Brewing Company on your Homer trip. They offer unfiltered, unpasteurized traditional country ales. Their five flagship beers are available year-round. Try the Old Inlet Pale Ale or the Red Knot Scottish. What surprises us is that they also make teas: The Alaska Chai and the Zen Chai.
17. Taste Alaskan wine from Bear Creek Winery
We love wine and often visit vineyards and wineries during our travels. But when the waiter offered us to try local Homer wine in one of the restaurants in Homer, we were astonished. Does Alaska have its wines? Yes! Bear Creek Winery and Lodging is a country winery known for its fruit wines and fruit-grape wine blends. Their award-winning wines are handcrafted from the world's finest berries. Their wine is excellent! And if you want to make a romantic getaway, you can stay in the cozy accommodation at the winery. One of the top things to do in Homer is tasted this wine.
18. Visit Homer Farmer's Market
It's worth visiting Homer Farmers Market, especially if you are traveling by RV and want fresh products for your road trip. This
bi-weekly market features locally grown and harvested produce, seafood, oysters, flowers, eggs, ham, jam, or honey. Everything is organic and fresh and you support the local agricultural community by shopping there.
Our tip: In the summer months of July and August, it is worth making reservations for a table. Especially for dinner. You will avoid waiting an hour in line.
Top Things to do in Homer for Shopping and Arts Lovers
Homer is home to a rich art scene with many artists and works of art including watercolors, sculpture, glass, woodwork, pottery, metal, photography, and more. If you want to bring back a beautiful and high-quality souvenir from your trip to Alaska, Homer is the right place to find one.
19. Visit the Ptarmigan Arts Cooperative Gallery
Don't forget to include Ptarmigan Arts in your itinerary. This exceptional art gallery has been in Homer on Pioneer Avenue since 1984. Here you'll find local and native artwork and handmade items, including original watercolor and acrylic paintings, pottery, woodwork, jewelry, sculpture, metalwork, photography, Alaskan art prints, and more.
20. Visit Norman Lowell Studio and Gallery
Alaskan Artist Norman Lowell painted Alaska for sixty years and every gallery aspect is expertly positioned and lit to make the most of the art. He painted the scenery of Alaska from his arrival in 1958 from Iowa until his advancing blindness compelled him to finish his work in 2017. It's one of the best places to view art in Homer.
21. Top things to do in Homer – Stroll "Gallery Row"
The "Gallery Row" stretches along Pioneer Avenue between Main Street and Lake Street. Here you'll find the famous Ptarmigan Arts. You'll also find several other places worth visiting if you're an art fan. So if you have time, check out Picture Alaska, Fireweed Gallery, and Bunnell Street Gallery.
22. Walk the shops along the boardwalk on the Homer Spit
One of the best things to do in Homer is window shopping along the boardwalk. The windows of the tiny gift shops, galleries, and cafes are lovingly decorated down to the smallest detail. One day isn't enough to look at them all.
23. Take a look at the Art Shop Gallery
If you are looking for high-quality, beautiful Alaskan souvenirs, visit the Art Shop Gallery. It's a unique place where it's easy to spend money on great Alaskan art, Alaskan Native ivory, bone, and Native crafts, limited edition prints, posters, jewelry, woodwork, and more.
24. Go to the performance at Pier One Theatre
You can visit the local theater if you have time during the evening in Homer and love the arts. The Pier One Theatre has been a community-supported live theater since 1973. Check their performances, especially since 2023 is their 50th season, and they are excited about this anniversary. There will be a lot going on in their art stage.
25. Visit Cultural Centers and Local Museums
If you have more time for your trip, or the weather is bad, then one of the best things to do in Homer, Alaska is to visit the local museums and cultural centers.
The Alaska Islands & Oceans Visitor Center houses interactive exhibits and displays describing the important work and research of the Alaska Maritime National Wildlife Refuge and Kachemak Bay Research Reserve. Located on Sterling Highway 95, visitors can enjoy the exhibit hall, informative videos, regular educational programs, and ranger/naturalist-led walks.
The little Pratt Museum is an award-winning regional museum focusing on natural history, Native culture, historic cabins and forest trails, and marine ecology. In 1982, the Pratt Museum was accredited by the American Association of Museums, making it the first private museum in Alaska to receive this national distinction.
Centre for Alaskan Coastal Studies is an environmental education center that offers natural history day tours for all ages that range from the boreal forest of the Wynn Nature Center on the north side of Kachemak Bay to the south.
26. Visit Ninilchik
It's one of the best things to do near Homer, on your way back, or to Homer Spit. If you're interested in the culture and art of the region, you should make a short trip to the Russian Church of Ninilchik. The visit takes about 15-20 minutes. The site is located 35 miles north of Homer. Built in 1901, the church is a reminder of the Russian fur-trading village this town once was. The historic structure, with its five golden onion domes, offers incredible views of Cook Inlet and the volcanoes on the west side of the inlet. Next to the church is a Russian Orthodox cemetery.
The Best Thing to do in Homer, Alaska, is Taking Pictures
27. Take pictures of Homer, Homer Spit, and Wildlife around Homer
Our favorite and best thing to do in Homer, Alaska is taking pictures. We can do that for hours from sunrise to sunset. Homer Spit provides endless photo opportunities. Wildlife, glaciers, mountains, beaches, marine wildlife, birds. Also, small shops, galleries, and fishermen on fishing boats. The scenery can change dramatically from minute to minute, depending on the weather. The same landscape never looks the same. Homer, Alaska, is the haven for those who love photography. So be sure to pack your camera.
Our tip: Be sure to pack a rain cover for your camera, as showers are frequent. Be sure to bring a telephoto zoom. Thanks to this you will catch glaciers and wildlife. We use NIKKOR 80-400mm f.4.5-5.6G ED VR (Agnes) and Canon EF 100-400mm f/4.5-5.6L IS II USM (Chris). And don't worry about the weather. Even when the sky is cloudy, you can take exciting, dramatic pictures. After every rain, the sun will shine.
Where to stay in Homer Alaska?
During our four trips to Alaska, we stayed in hotels and campgrounds. That's why we're sharing our best-researched Homer spots.
Our tip: Book accommodation in Homer several months in advance if you plan to sleep in a hotel or on a campsite. Thanks to this, you are more likely to have the best place and prices. In the season, prices are several dozen percent higher, and finding a spot is a huge problem. The season is short, and the popularity of Homer is high.
Hotels in Homer
From our experience, we can recommend two places in Homer that are affordable and of a good standard and great service: Best Western Bidarka Inn and Pioneer Inn Downtown. But if you're looking for something fancier with a phenomenal view of Kachemak Bay, consider Otter Beach Lodges on Homer Spit. The location on the beach with a view of the mountains and glaciers is delightful. You can check out more Homer deals below.
Campgrounds in Homer
There are several campsites to choose from around Homer and on Homer Spit. If you are traveling by motorhome, it is worth booking them well in advance. Most camps are only open during the summer months. They are closed from the first week of September. Our number one is Homer Spit Campground. We love this place and highly recommend it. The views are stunning! One of the best things to do in Homer is camping at Homer Spit. We enjoyed our stays at hotels but staying at the campsite (one time in an RV and the next in a tent) was unique because of the proximity to nature.
Another place we can recommend for camping from our own experience is Anchor Point, located 16 miles north of Homer. If you love bird watching and want to watch bald eagles hunting at dawn on the beach – it's worth stopping there. There are 5 campgrounds in the State recreation site. They include Coho, Silverking, Slidehole, Steelhead, and Halibut. If you are looking for camping closer to the beach try spots at Halibut campground.
When is the best time to visit Homer?
The best time to visit Homer is in the summer months, from the second half of May (though it's still quite cold then) to the beginning of September (the campgrounds in Homer are closed in the first week of September because the winter season starts here). June, July, and August are the best months to trip to Homer. These are also the months when wildlife is most active, so you have a chance to see the most marine wildlife life or bears and moose.
Since the season in Alaska is short, it pays to book a trip many months in advance. We usually start planning and booking our Alaska activities in January/February. From our own experience (four trips through Alaska), we already know that the later we start looking for accommodations, rental cars, RVs, or attractions, the higher the prices.
Our tip: If you are planning a road trip to Alaska, check out our detailed and full-of-tips Alaska Itinerary for 2023. If you need more inspiration, browse and read our other Alaska articles. And if you want to prepare thoroughly for your trip to Alaska, check out our Alaska Packing List.
Do you like it? Pin it!