25 Top Things to do in Talkeetna
Check out our list of the 25 top things to do in Talkeetna if you plan to visit this charming and tiny Alaskan town in the foothills of Denali National Park. After three visits to Talkeetna, we share our list of the best Talkeetna attractions, activities, galleries, restaurants, cafes, and lodging. You can spend a day or a week in this town without boring. We present activities in Talkeetna for every pocket, from the more expensive, requiring booking, to the completely free.
This article may contain affiliate / compensated links. For full information, please see our disclaimer here.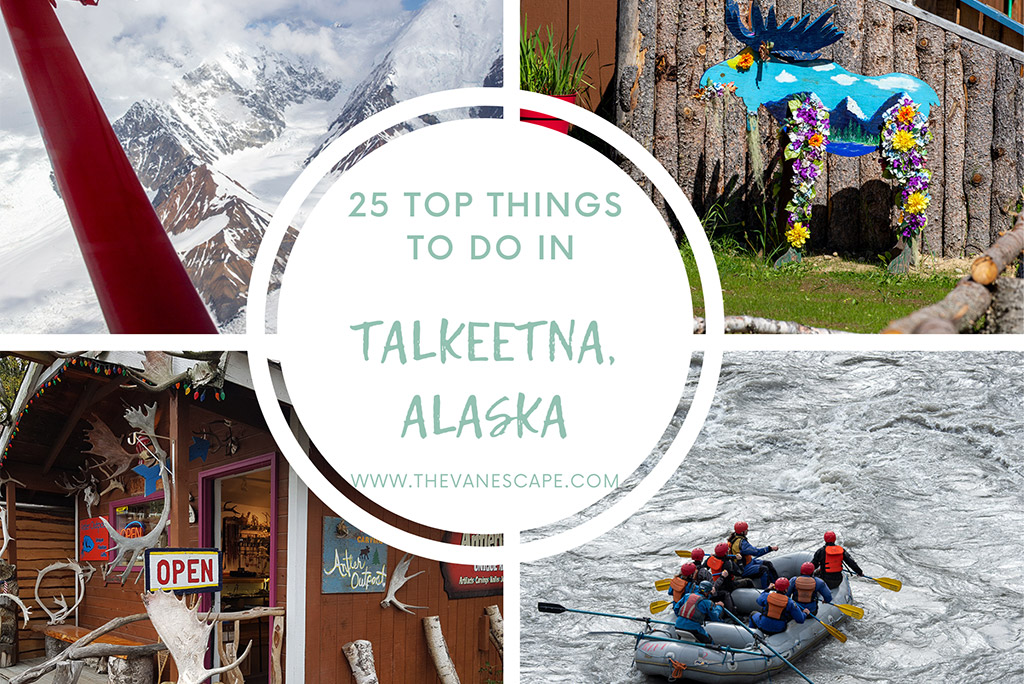 Best Things to do in Talkeetna – Introduction
We love Alaska and have made several road trips around this wildest US state. The tiny town of Talkeetna is one of our favorite (along with Homer on the Kenai Peninsula) Alaskan towns for its unique charm and various activities. Therefore, if you plan a trip to Alaska, check out our 10 Days Alaska Itinerary for 2023 and Alaska Packing List.
This article presents our subjective list of the best activities to try when visiting Talkeetna. We have experienced most of them ourselves and can recommend them with a clear conscience and great pleasure. Some of them are on our bucket list for the next visit to Talkeetna. Please choose from our list of attractions in Talkeetna that best suit your interests, budget, and needs. Plan a great trip to Talkeetna using our list. It's worth spending at least a full day in this town. But if you can, stay here for 2-3 days. We'll also give you tips on where to stay in Talkeetna, including hotels and campgrounds.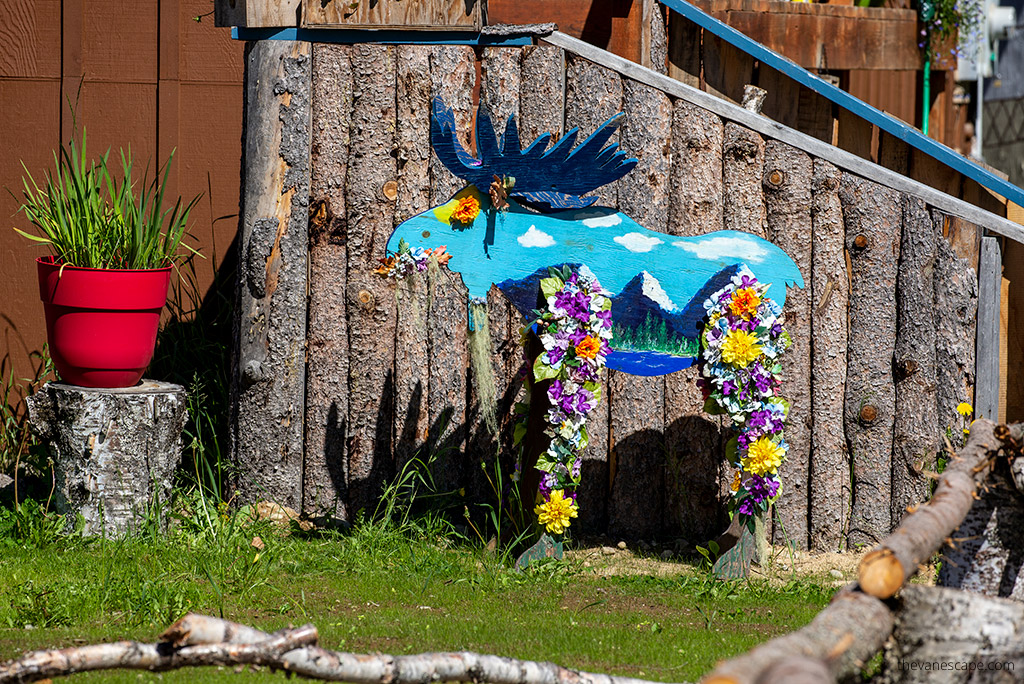 Our list of top things to do in Talkeetna is most suitable for the summer season, from mid-June to mid-September. Some of the following activities are not available outside the tourist season.
We've broken down our list of the 25 best things to do in Talkeetna into things for adventurers, hikers, families, foodies, and more. So use the table of contents for more straightforward navigation.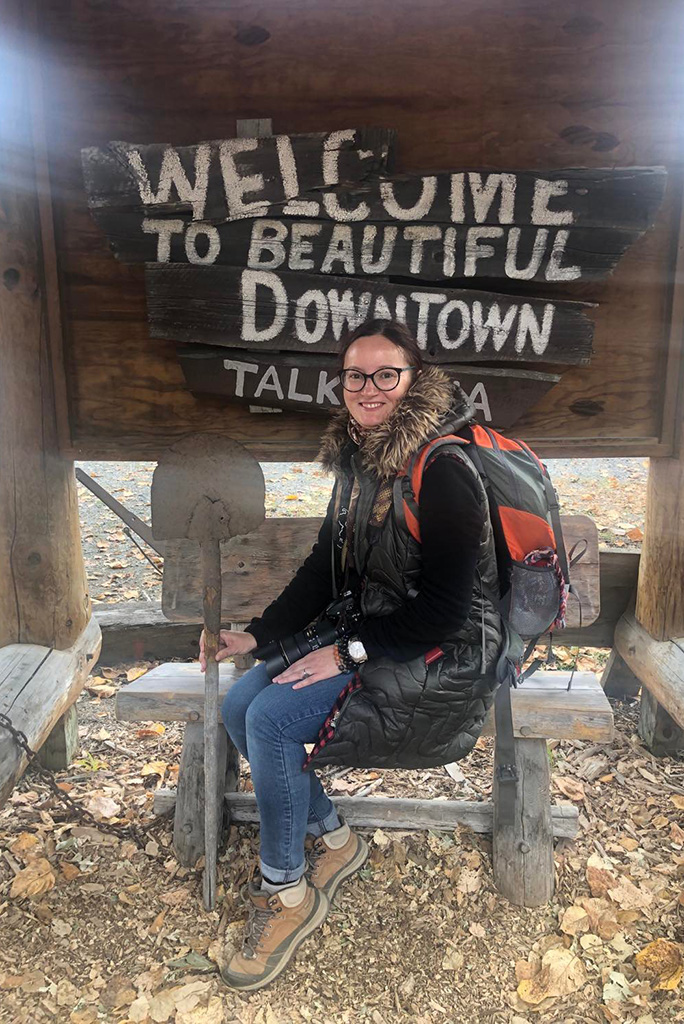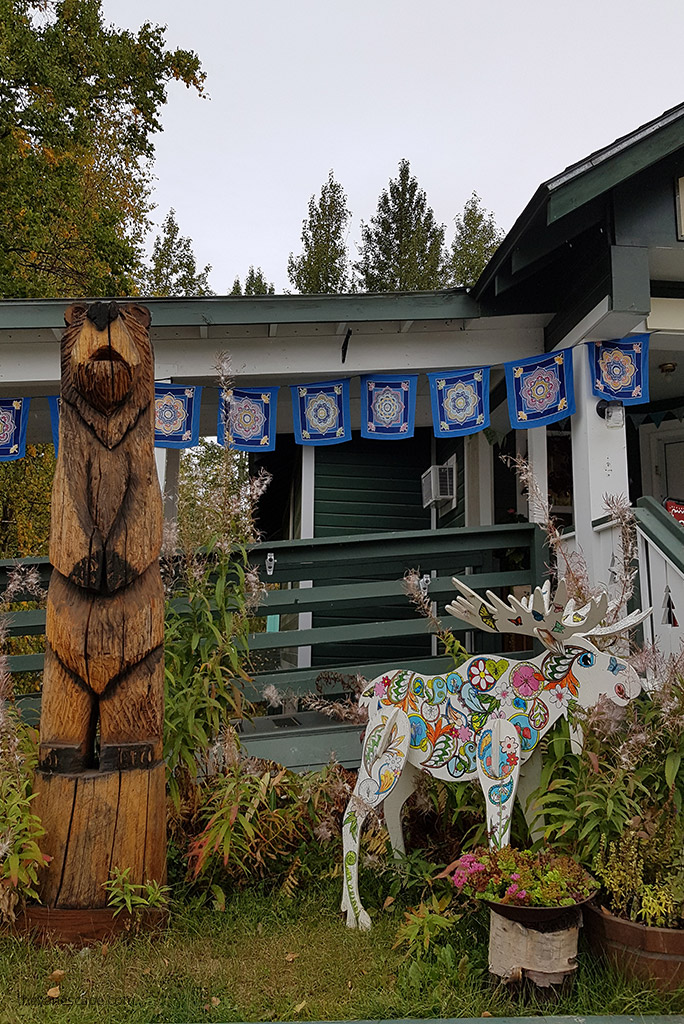 Is Talkeetna Worth Visiting?
Talkeetna is worth visiting, as it's an over 100 years old historic village full of activities and things to do. It is located between Anchorage and Denali National Park and shouldn't be missed on your Alaska itinerary. It's the gateway to Denali National Park. Moreover, this charming town is the starting point for climbing expeditions to Denali, the highest mountain in North America, also known as Mount McKinley, with a summit elevation of 20,310 feet (6,190 meters) above sea level. Every year, around 1,000 climbers attempt to summit Denali, with a success rate averaging 50%.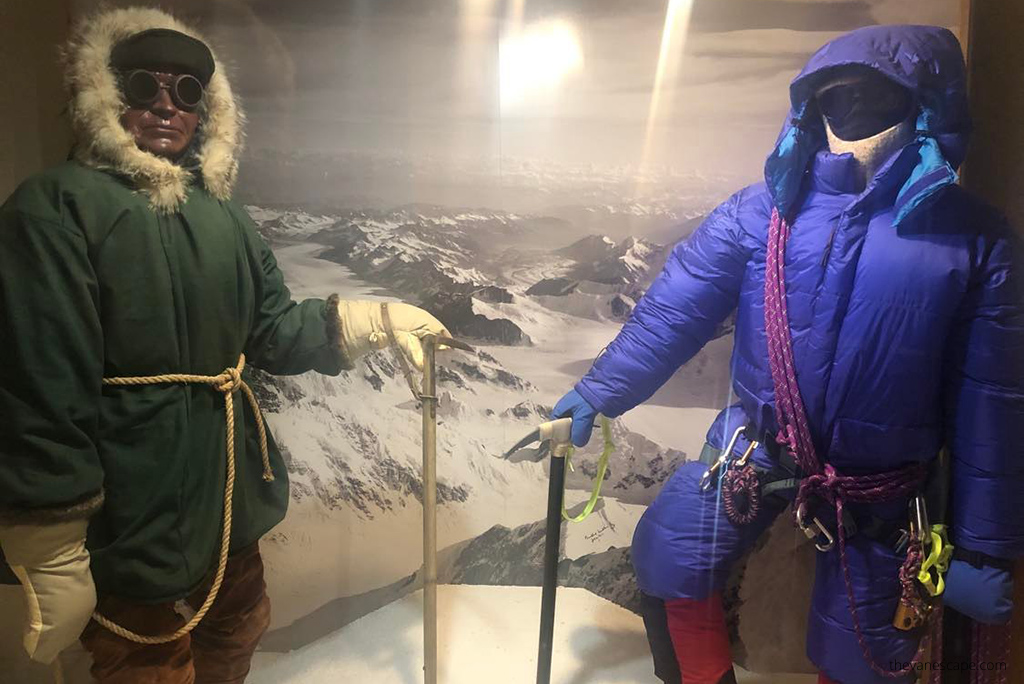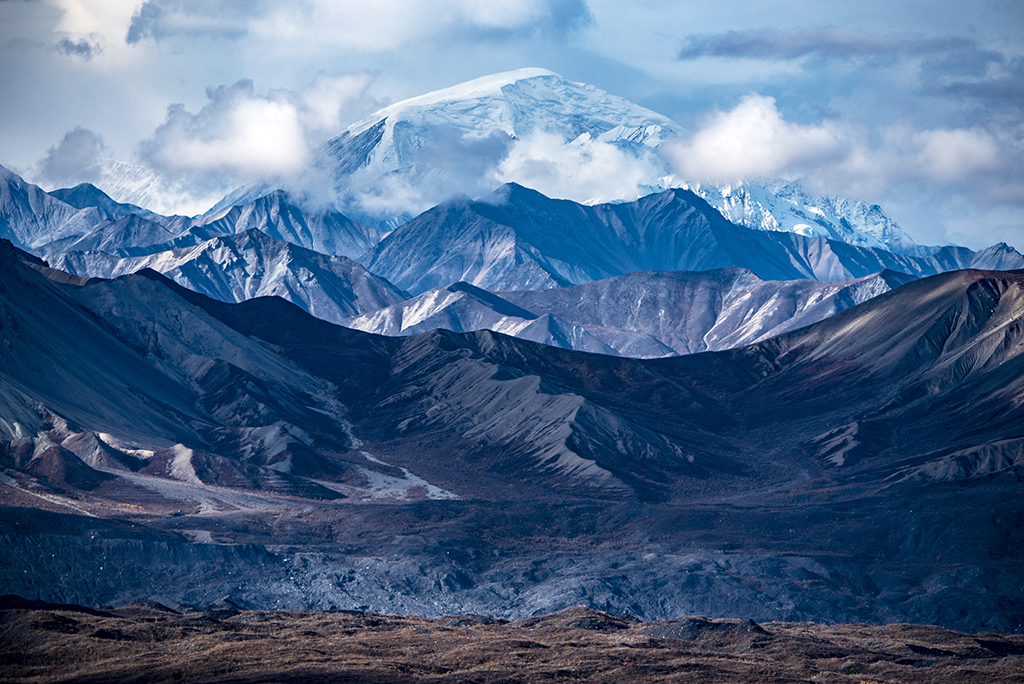 The attractions of Talkeetna are many. You'll find air scenic flight tours, hiking, fishing activities, mountain climbing, ATV tours, zipline tours, gold panning adventures, and much more. People are friendly, and the local community is open to travelers and tourists.
Besides, the scenery is breathtaking, and you can admire the Alaska Range. In addition, Talkeetna has charming accommodations, delicious food, many unique art galleries, and gift stores.
Finally, Talkeetna is such an original and unique place that it inspired the famous television series of the 90s – Northern Exposure. The town in the series was called Cicely. However, the series was filmed not in Alaska but in Roslyn, Washington State.
Make sure to add Talkeetna to your Alaska bucket list because you will love this place.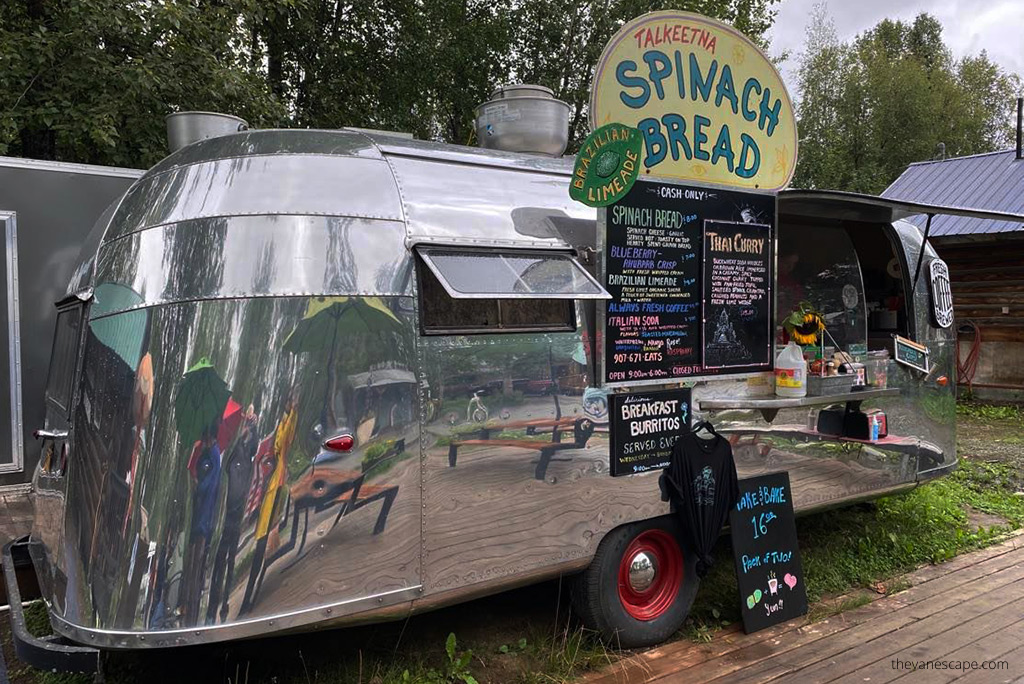 The Best Adventurous Things to do in Talkeetna
Our list of the 25 top things to do in Talkeetna starts with activities that require planning and booking in advance. If you decide on one of those activities, you should book it before your trip, as it's tricky to get a spot during the high season.
1. Take the Scenic Flight over Denali with Glacier Landing
Flightseeing Denali Tour from Talkeetna is one of our best Alaskan experiences. It's our #1 top thing to do in Talkeetna, worth each penny. A scenic flight with a jaw-dropping view of the highest peak in North America is an unforgettable experience. We chose the option of a scenic flight with a glacier landing and a short glacier hike, and it was a great adventure. However, if you are looking for savings, consider just a scenic flight, as the price is more affordable. In a separate article, you can read our detailed review of the scenic flight and more photos. It's a lifetime experience.
TRIP TIP: If you plan to visit Alaska between June and September, it is worth booking your flight months in advance. It's also good to know that this activity is weather dependent, but if your flight is canceled due to weather, you can reschedule or get a refund. We booked our flight with K2 Aviation through GetYourGuide as we have used their services several times. They have a great booking, cancellation, and refund policy.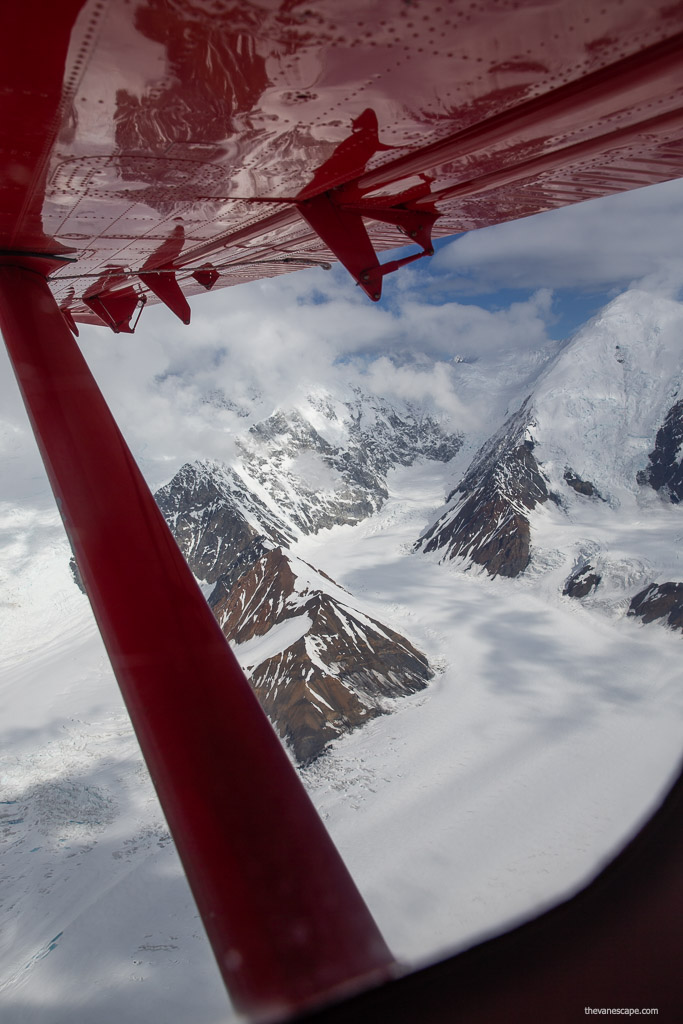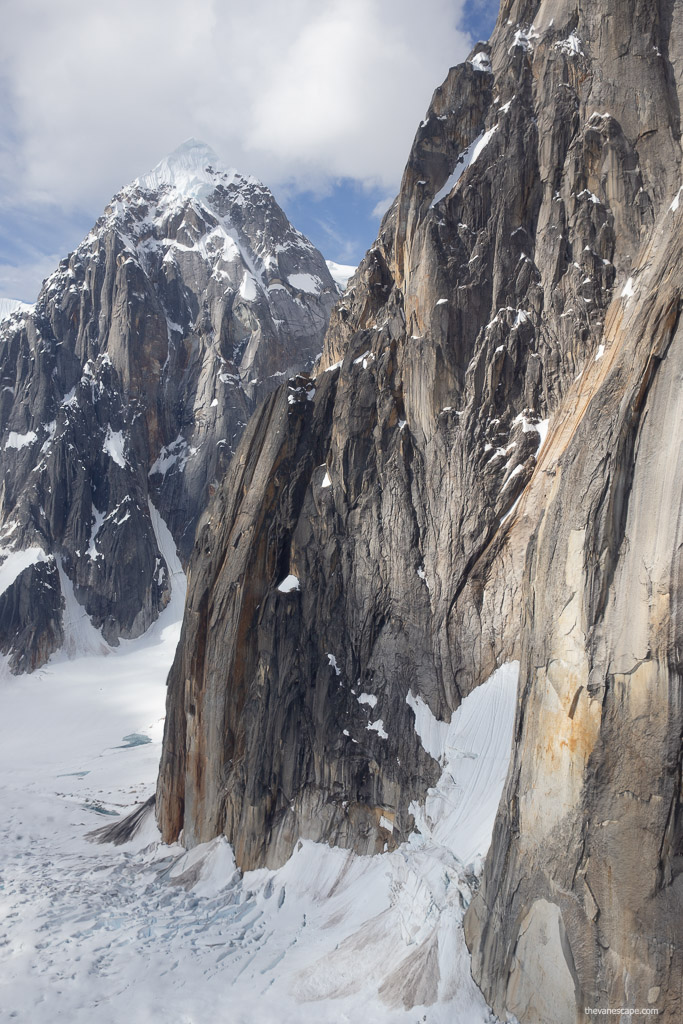 2. Visit Denali National Park and Preserve
Talkeetna is also a great starting point to explore Denali National Park and Preserve. It's 152 miles from the entrance to the Denali and about 2 hours and 30 minutes of driving.
You can go to Denali on your own. In our post, Camping in Denali National Park, you can read about how to organize a trip. But you can also take an organized day tour from Talkeetna to Denali. We recommend this option if you are not experienced in the wilderness.
Another great option to explore the park is a bus tour. You have three options: Non-narrated transit buses, Narrated tour buses, or Free buses. Thanks to this, you will get to know the park in a nutshell. During such a tour, you also have a chance to encounter Denali's Big 5: bears, caribou, Dall's sheep, moose, and wolves. We haven't spotted wolves yet during four trips to Denali, but we know some luckiest who did during a one-day bus trip. Without a doubt, Denali National Park is one of the best places in Alaska to observe wildlife.
Our Tip: If you plan to drive from Anchorage to Denali, check out the best stops along the way and other transportations mode. Check out the detailed Anchorage itinerary if you have some free time in Anchorage.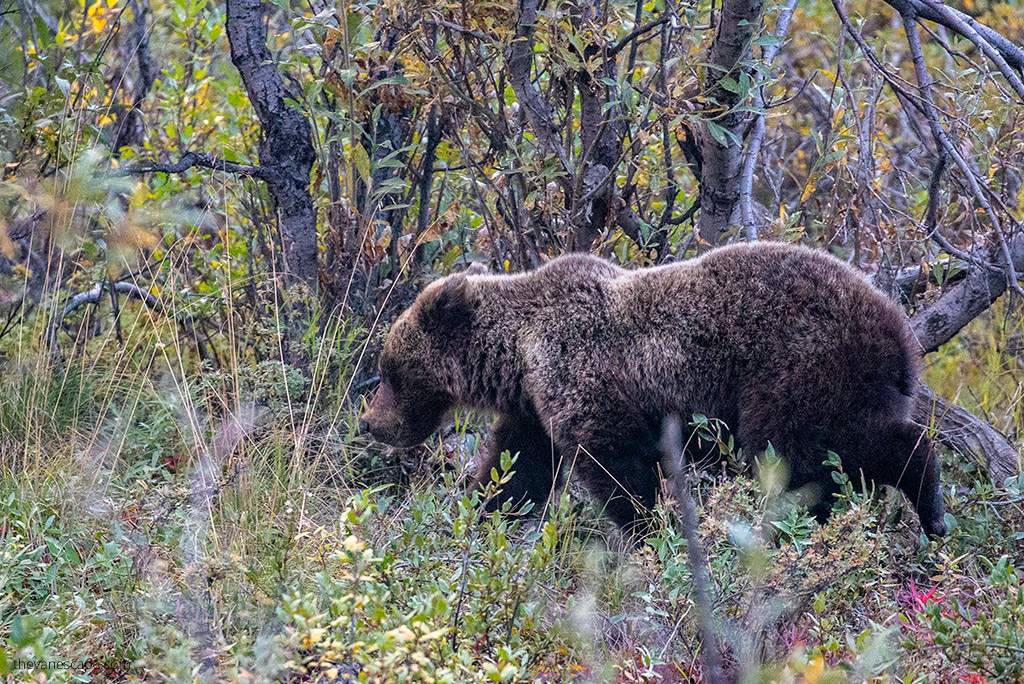 3. Take a Thrilling Zipline Ride or ATV Ride
If you love thrills and adrenaline rushes, book Denali Zipline Tours in Talkeetna. We recommended Viator for booking this tour, as you can cancel up to 24 hours before the experience for a full refund. During the three-hour tour, you'll traverse nine different and exciting zip lines, three suspension bridges, a rappel, and a spiral staircase while strapped in from start to finish – all through and amidst the beautiful boreal forest. You will have a chance to admire the Alaska Range, the Susitna and Chulitna Valleys, and the south side of Denali as you zip from platform to platform.
Another type of great fun in Talkeetna that you can consider is ATV Adventures. You can participate in historic tours, ride an ATV through downtown Talkeetna, and experience a Scenic Trail Ride to DeVore's Historic Homestead. Enjoy a deli sandwich, practice your aim, and pan for gold in Wiggle Creek. ATV rides are another option. On this adventure, you'll ride your ATV through downtown Talkeetna, cross the Talkeetna River Bridge, and ride ten miles of Scenic Groomed Trails.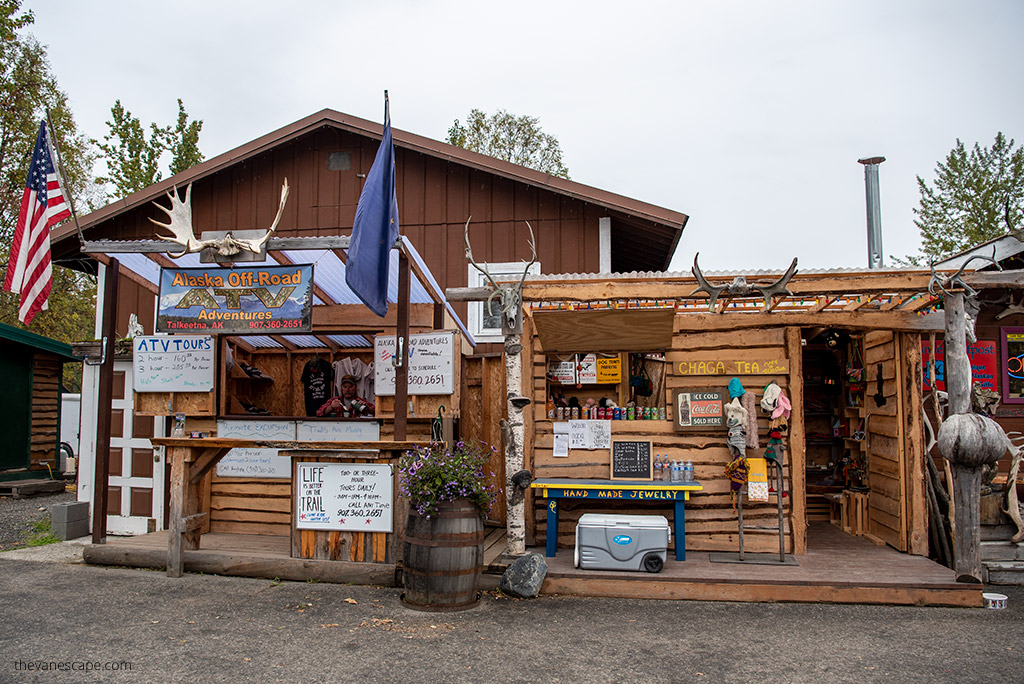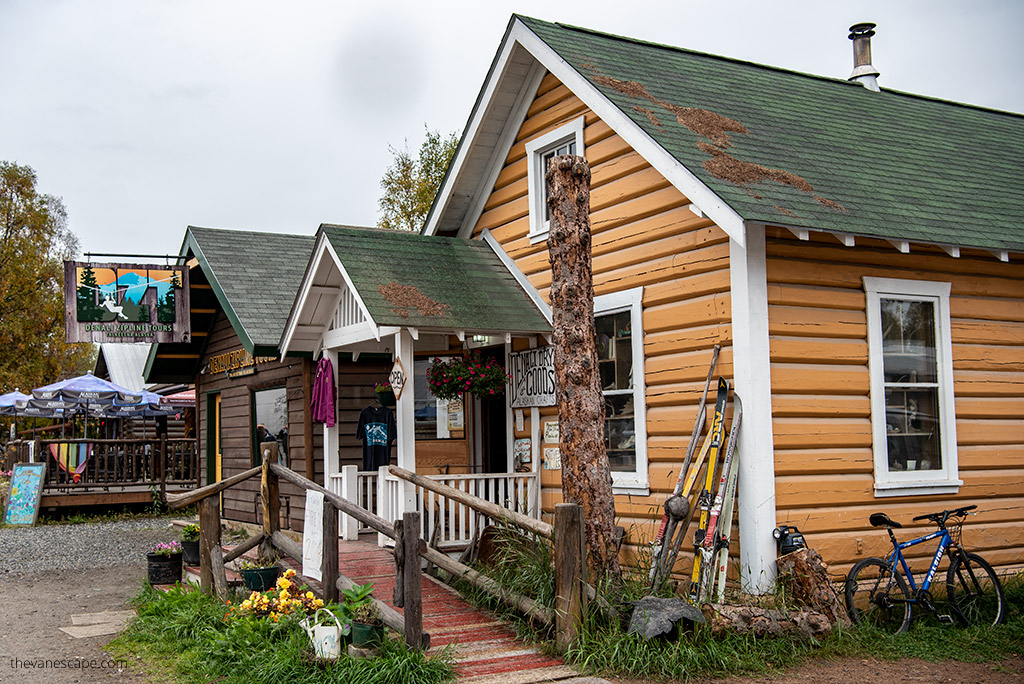 Top Things to do in Talkeetna Historic Town
In this part of our article, we focus solely on Talkeetna and its most exciting places. Bookings are not required for the following activities. It is worth spending at least 2 -3 hours walking around the town, which is quiet from the hustle and bustle of big cities, and whose local community focuses on outdoorsy activities and arts and crafts.
4. Stroll the historic Talkeetna Downtown
With a population of 1,055 in 2020, Talkeetna is a small town with few blocks. There is no typical "downtown." But you have a main historic street, which is worth your strolling, as it has a rich history. It's one of the best things to do in Talkeetna, and it's free.
The Talkeetna Historic District is on the National Historic Places list. You can still admire several buildings from the early 1900s, including Nagley's General Store, Fairview Inn, and the Talkeetna Roadhouse.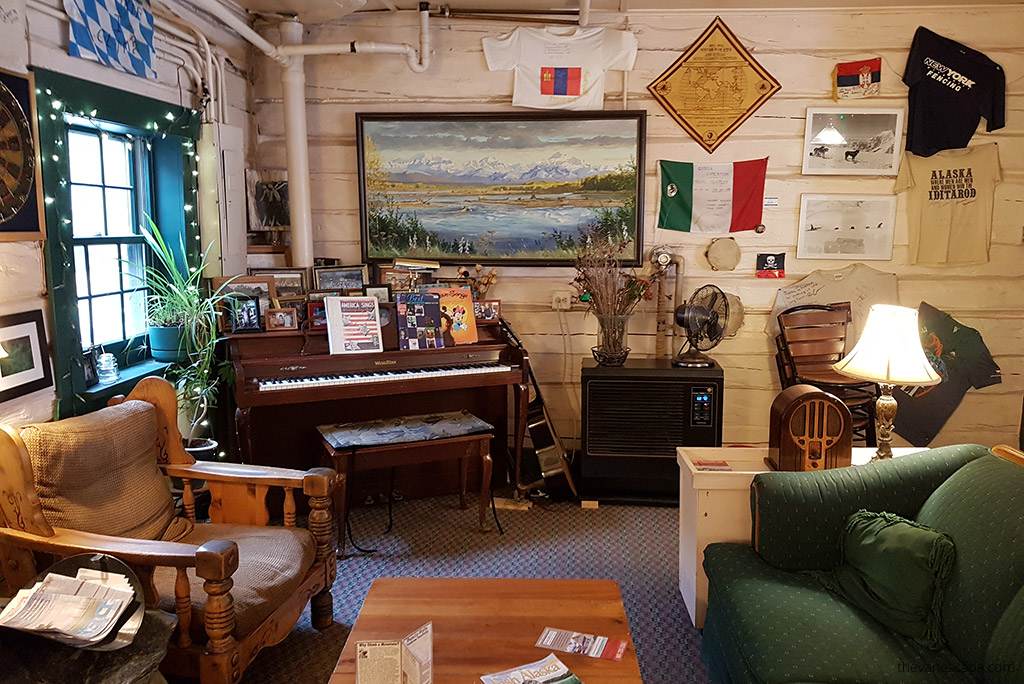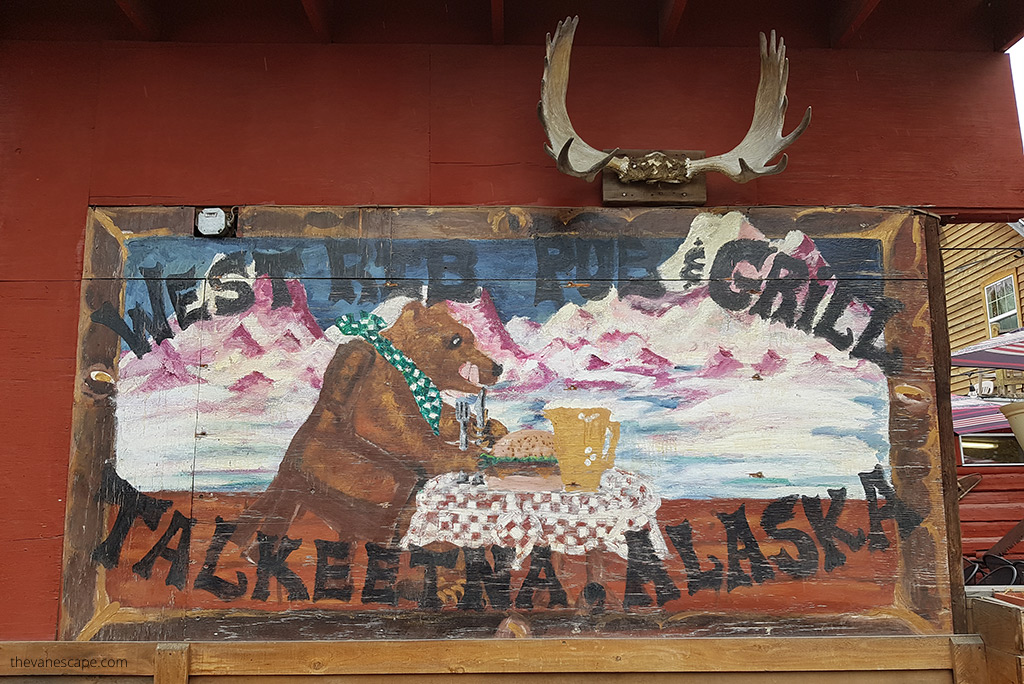 5. Learn about Talkeetna as a gold-mining town

As early as 1896, a gold rush in the Susitna River drainage brought prospectors to the area. The discovery of gold in 1905 in the Yentna-Cache Creek district, west of present-day Talkeetna, brought more prospectors to the area.
6. Learn about Talkeetna as a railroad camp
In 1914, President Woodrow Wilson signed legislation allowing the U.S. government to build a railroad from Seward to Fairbanks in interior Alaska. Talkeetna's history began in 1916 when the area was selected as headquarters for the Alaska Railroad. By the end of 1916, nearly 400 people were employed at the Talkeetna Railroad Camp. There was a post office, sawmill, cigar, donkey store, trading post, and many cabins.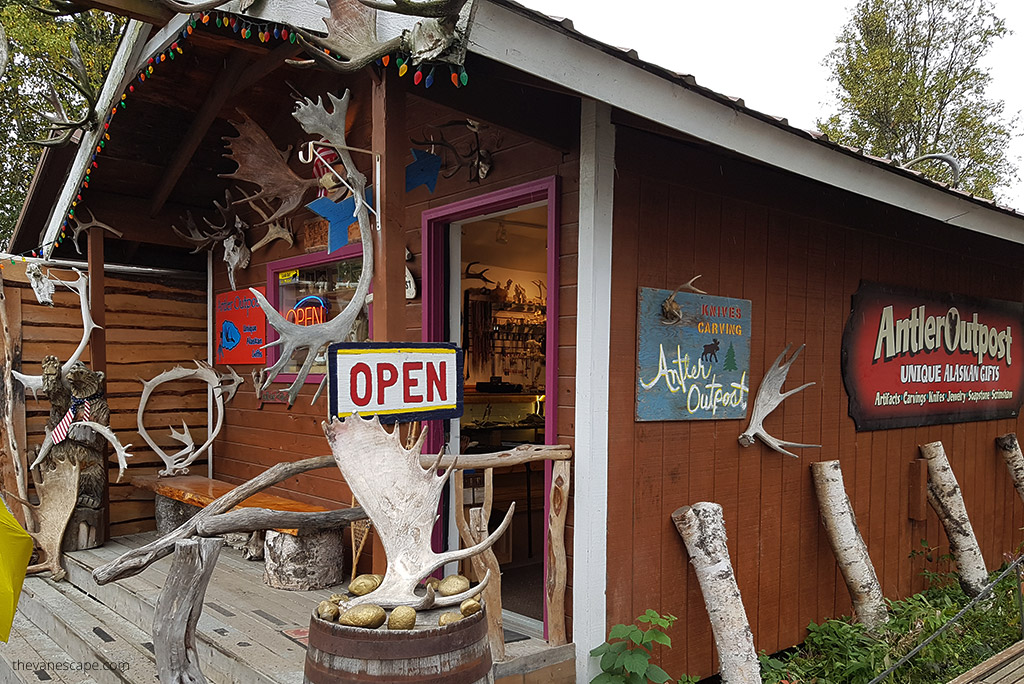 7. Visit the Talkeetna Historical Society Museum
One of Talkeetna's best attractions is to visit the Talkeetna Historical Society and Museum. Don't like history, and the name seems boring to you? Not at all! This place is a must on your trip because here you can learn a lot about the area and the Denali expeditions. We were amazed at how enjoyable this place is. You will learn a lot about the town's past from Native Alaskan peoples, the gold rush era, and the construction of the railway. You will also learn that Takeetna had a Cat-Mayor – Mr. Stubbs.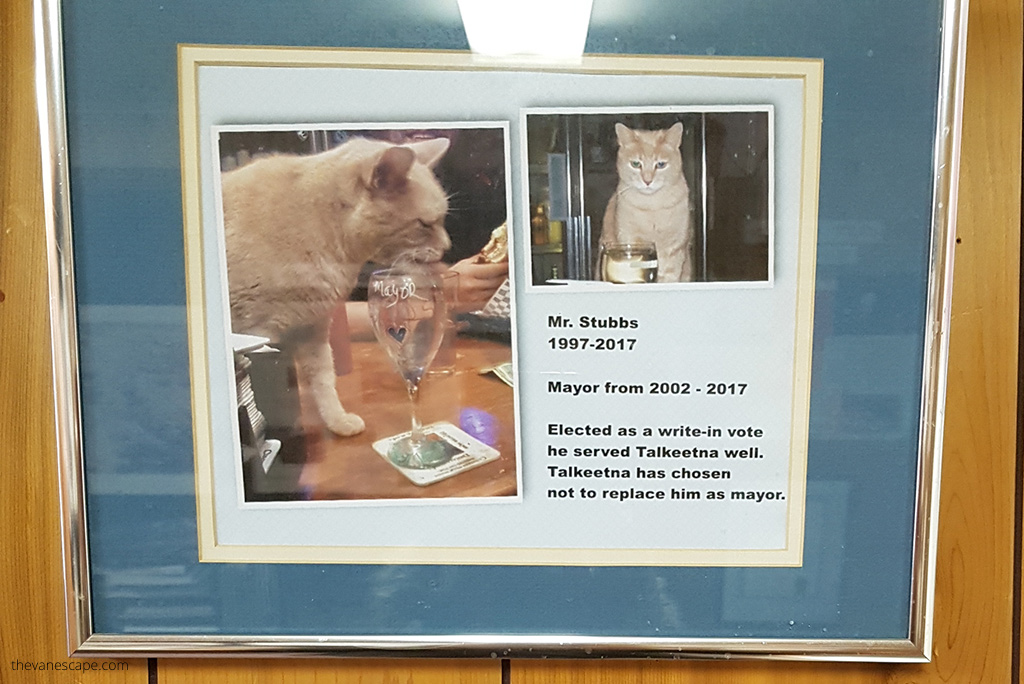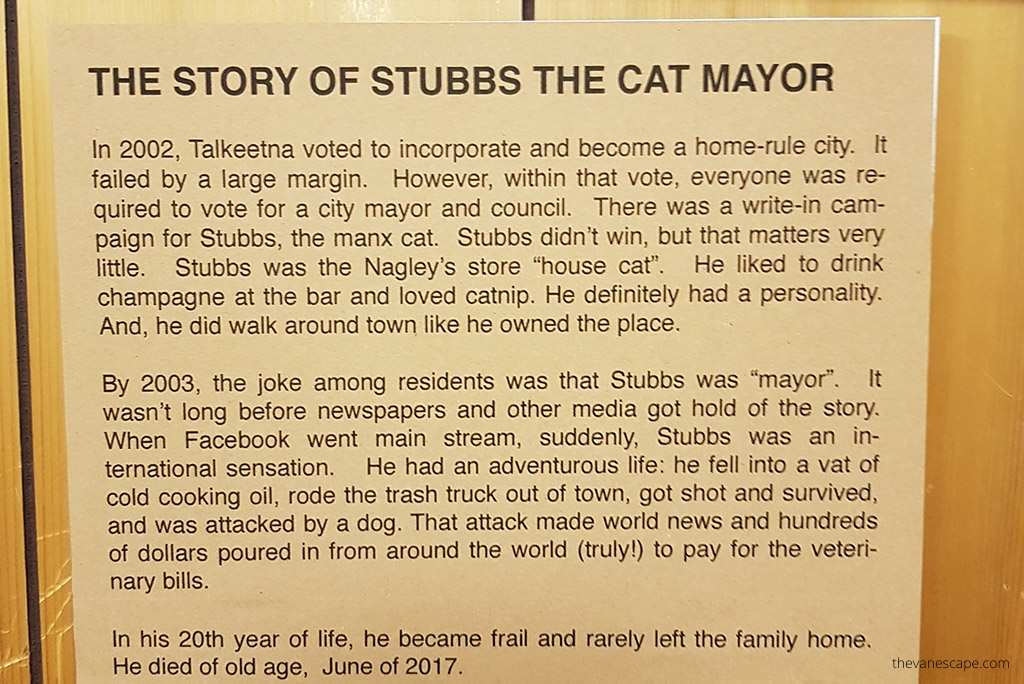 In addition, the Talkeetna Museum is located in the original Territory of Alaska Talkeetna School building, which opened in the 1936-37 school year. Moreover, the price is affordable, only $5 per adult.
Our favorite part is the mountain exhibit, which shows Denali and the surrounding peaks of the Alaska Range as a room-sized model. Here you can learn about the history of mountaineering and expeditions to Denali. The summit was first climbed on June 7, 1913, by Hudson Stuck, Harry Karstens, Walter Harper, and Robert Tatum. On March 1, 1967, Art Davidson, Dave Johnston, and Ray Genet were the first to reach the summit in winter.
TRIP TIP: The Museum is open every day from 9 am – 5 pm in the summer months. Throughout winter, the Museum is only open on the weekends between 11 am – 4 pm.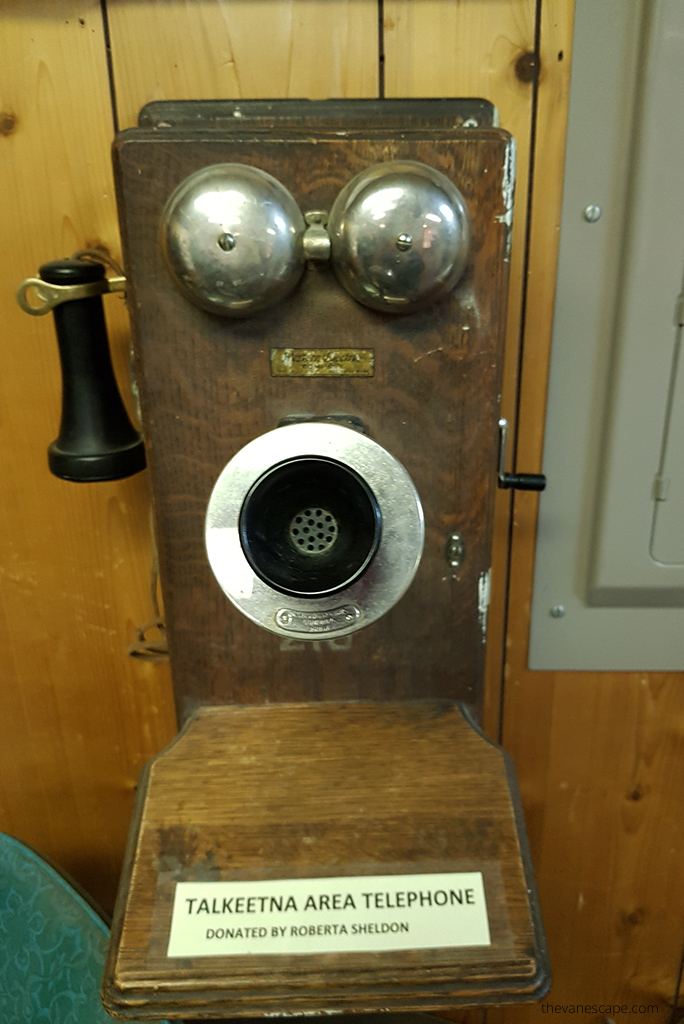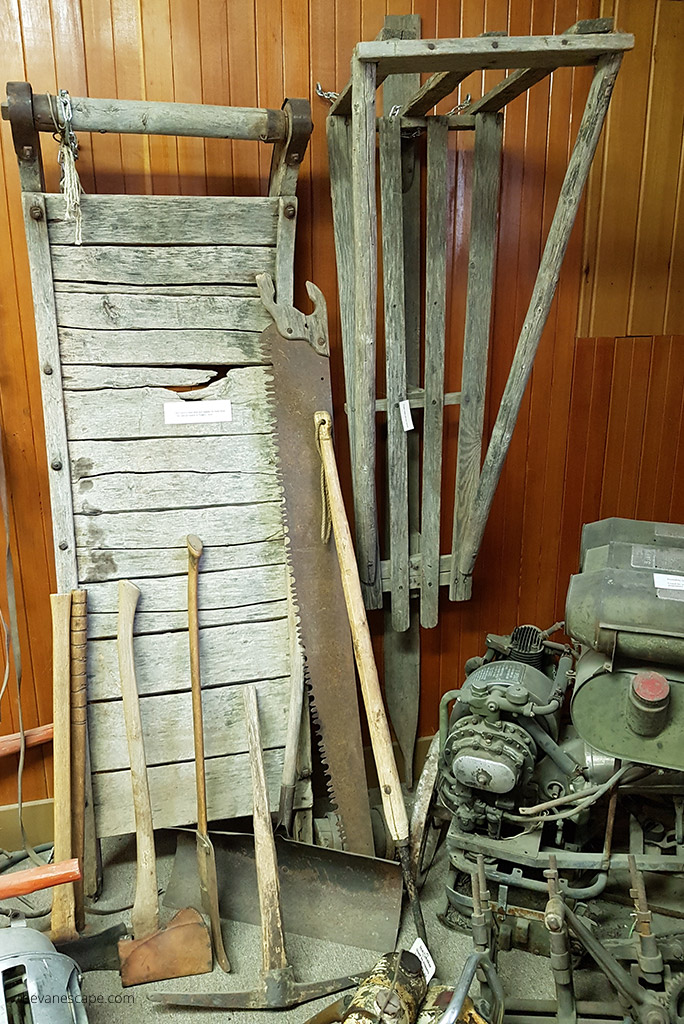 8. Enjoy Live Music at Fairview Inn
When you visit Talkeetna, don't miss the Fairview Inn, which is the centerpiece of the Historic District. The Fairview Hotel was built in 1923 by Bruno (Ben) Nauman, a German immigrant. The Fairview was built during Prohibition and didn't have a bar or saloon at the time. Nauman sold his hotel in 1939, and the building was listed on the National Register of Historic Places in 1984. Check their official Facebook website to see when they have live music.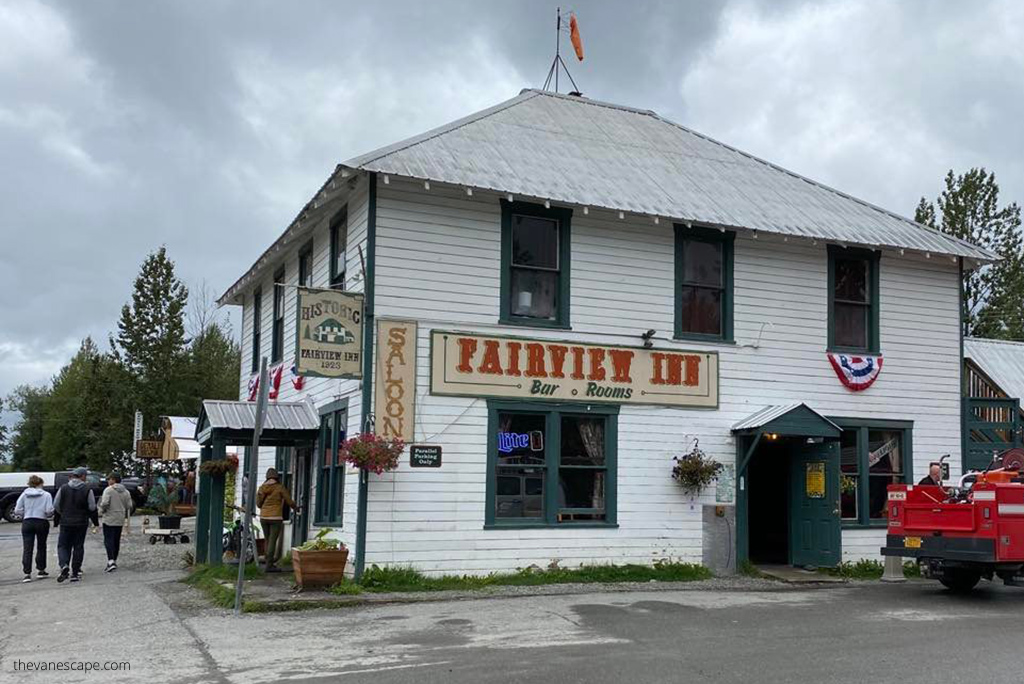 9. Visit Nagley's Store – the Oldest Continually Functioning General Store
According to the Talkeetna Museum, Horace W. Nagley built the core of this log house in about 1917. He already had two other branches, one in Susitna Station and one in McDougall. in 1916, like many others, he opened his store in a wall tent near the Talkeetna River. Nearly 1000 people lived in the railroad boomtown in 1917. Nagley's merchandise was an immediate success.
Nagley's is a must for a good morning in Talkeetna, serving delicious Kaladi Brothers coffee, espresso, and cappuccino. Sandwiches, sodas, and snacks round out your day of sightseeing.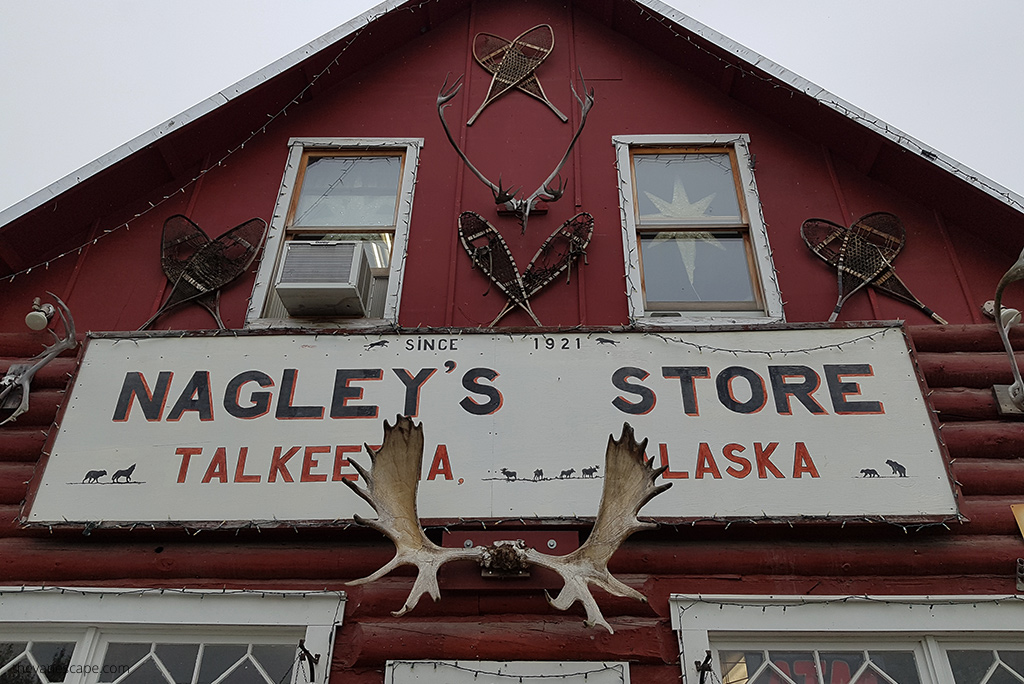 10. Admire Art at the Aurora Dora Gallery & Dancing Leaf Gallery
There are several tiny and atmospheric galleries in Talkeetna. Two of our favorites, which we think are worth stopping by while walking around the town, are The Dancing Leaf Gallery and Aurora Dora Photography Gallery. In the first one, you can admire Contemporary Art by Alaskan Artists. If you are looking for genuinely Alaskan-made products, you are in the right place. They feature a rotation of about 150 local artisans' works. It's a perfect place if you are looking for a unique gift. In the second gallery, you can admire Northern Lights' photographs taken by "Aurora" Dora Redman. She has been photographing the Aurora Borealis since moving to Alaska in 2001. Her pictures are stunning.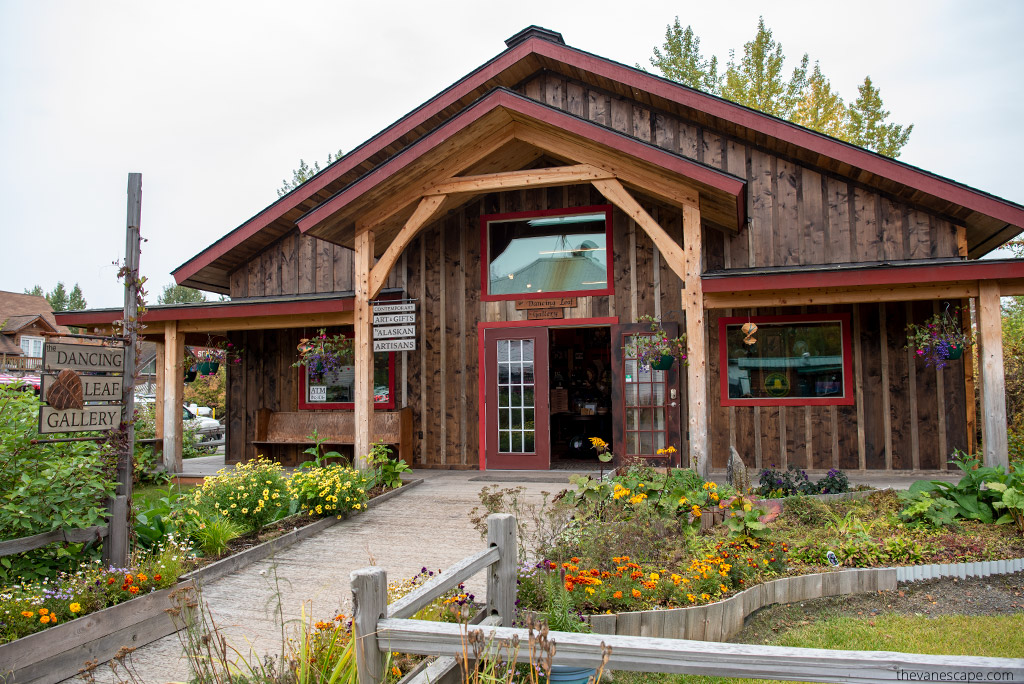 11. Purchase Handicraft at Artisans Open Air Market
One coolest and fun things to do in Talkeetna is visit the gift shops, craft shops, and local markets. Here you will find beautifully crafted local quality products. It is worth supporting the local community by buying holiday souvenirs in Talkeetna. The season is short here, and it is not easy to stay on the market.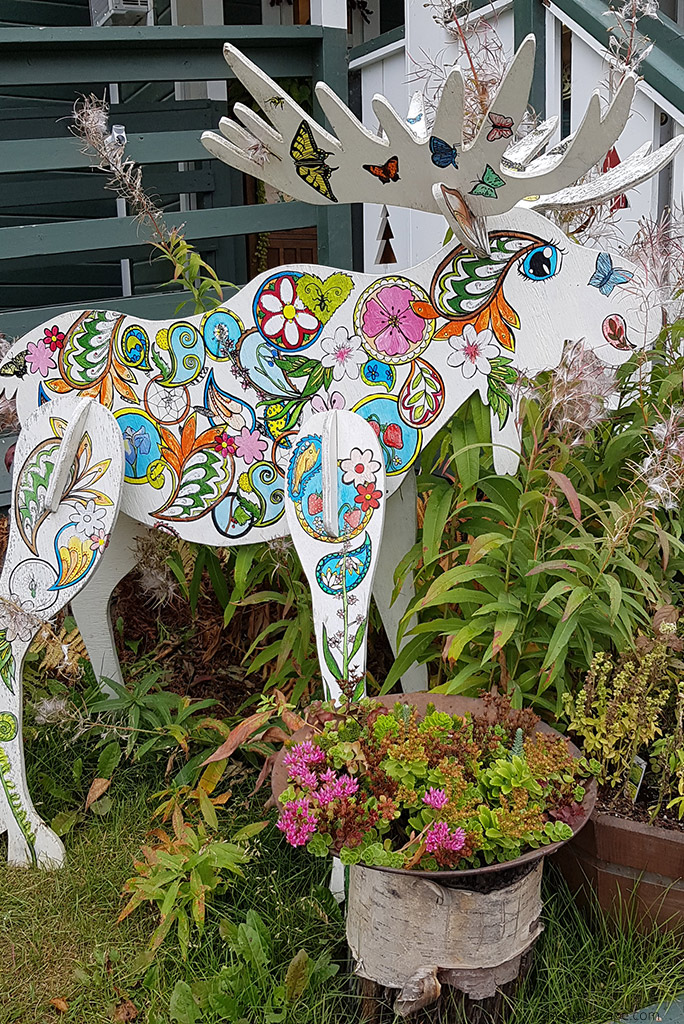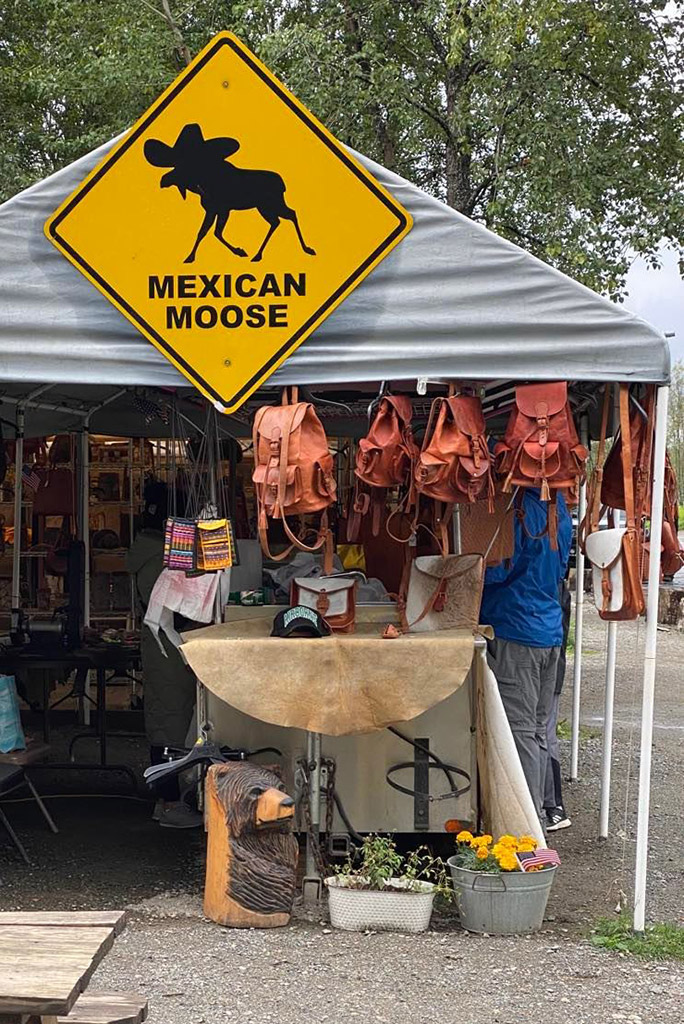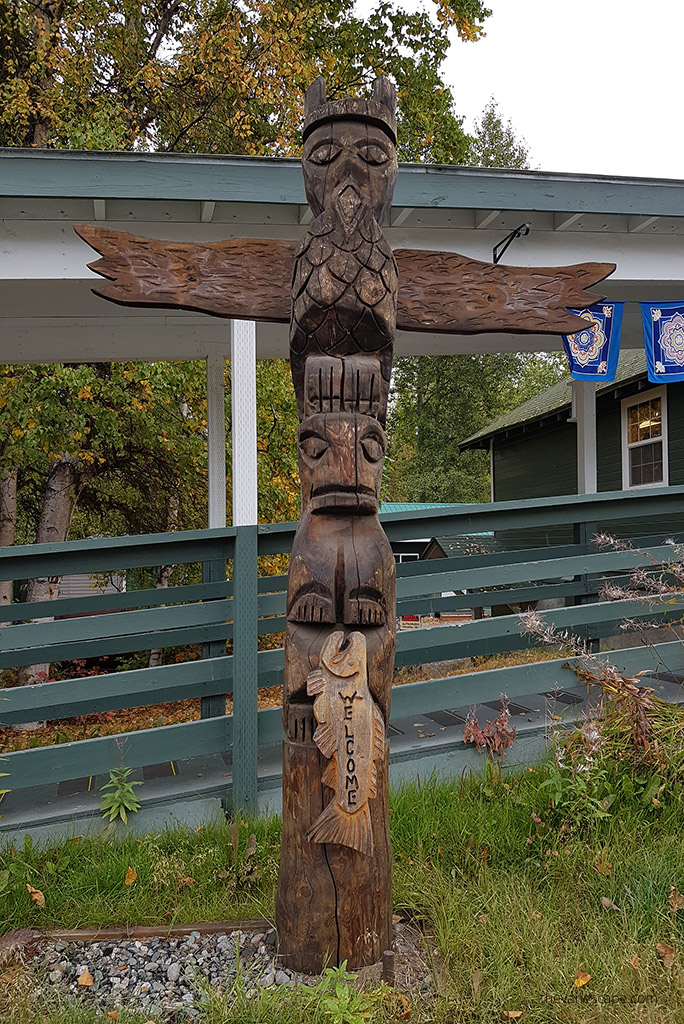 Top Things to do in Talkeetna for Families
If you're traveling with kids, consider our two suggestions below for great activities with children in Talkeetna.
12. Take a Sled Dog Kennel Tour in Talkeetna
If you love dogs, Talkeetna is a place where you can experience Sled Dog Kennel Tour. It's a great family activity. Your kiddos will love it, especially if they can see husky puppies. Susitna Sled Dog Adventures is home to a family of 23 happy huskies, and their humans, Rohn and Alyssa Buser.
Also, an intimate visit to an Alaskan Off-Grid Homestead with Sled Dogs – Talkeetna is a great option. The price is affordable, and most importantly, you get a deeper look into the lives of sled dogs on this unusual tour. You'll visit a real musher homestead with no running water or utilities and learn how Alaskans survived in this harsh climate and depended on their dogs.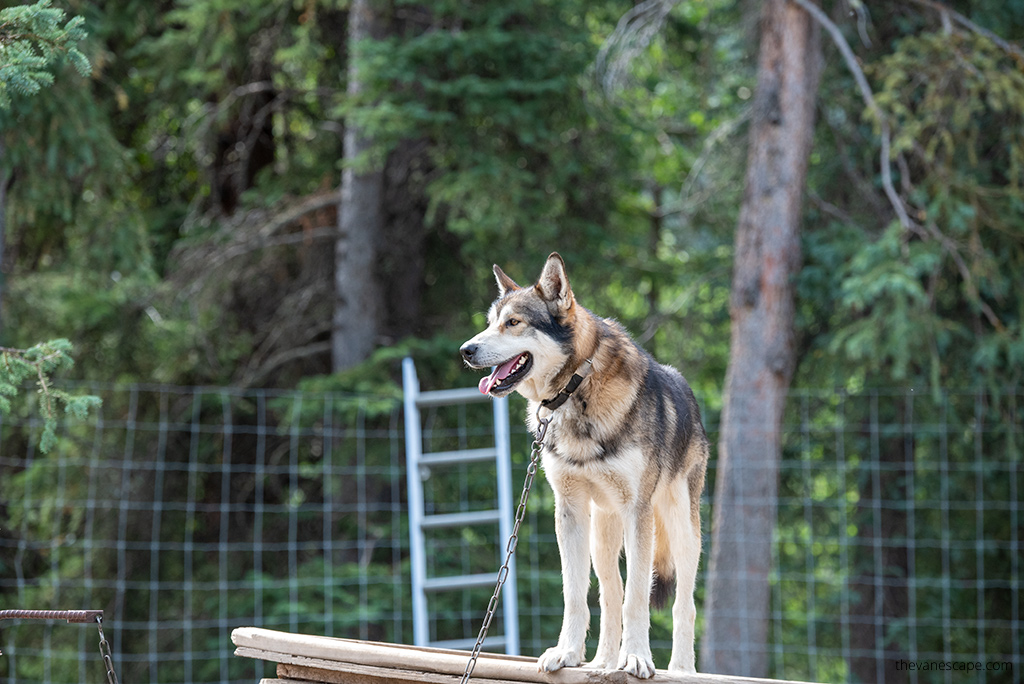 13. Take a Ride at Hurricane Turn Train with the Alaska Railroad
On our Alaska Bucket List for our next trip to Alaska is the Hurricane Turn Train Ride with the Alaska Railroad. Departing from Talkeetna, the Hurricane Turn Train leaves civilization behind for a trip through the wilderness of the Indian River Valley with breathtaking views of the Alaska Range. Along the way, passengers can take advantage of the Hurricane's unique flag stop service to hop on or off anywhere on the route stop.
The route is Talkeetna – Chase – Curry – Sherman – Gold Creek – Twin Bridges – Chulitna – Hurricane.
TRIP TIP: This tour is one of the most popular things to do in Talkeetna, so it's worth booking in advance if you plan a trip during the summer months. We didn't make this tour because we didn't book it ahead, and there were no available seats during our last stay in Talkeetna.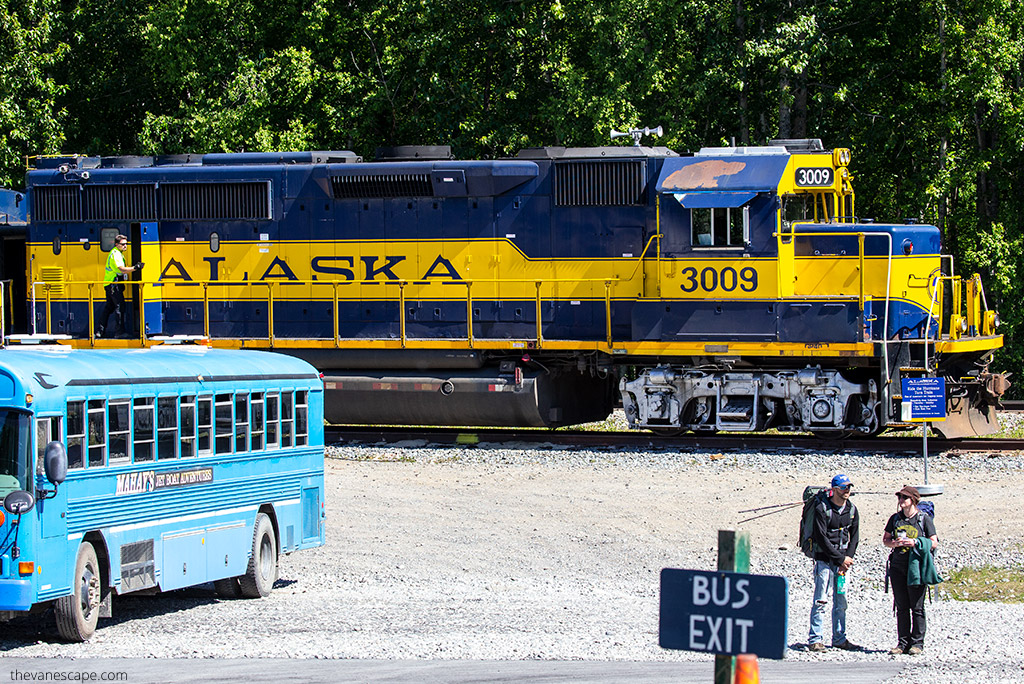 Top Things to do in Talkeetna for Foodies
After an adrenaline-pumping tour and intensive sightseeing in a quiet Talkeetna town, it's worth having a snack. Talkeetna is famous for its places with good food. Below are some favorite spots for foodies to add to your Talkeetna itinerary.
14. Grab Breakfast at Flying Squirrel Bakery or Conscious Coffee
There are several interesting places in Talkeetna where you can eat delicious breakfast and drink good coffee. There are no wrong choices. Our favorites are Flying Squirrel Bakery Cafe and Conscious Coffee.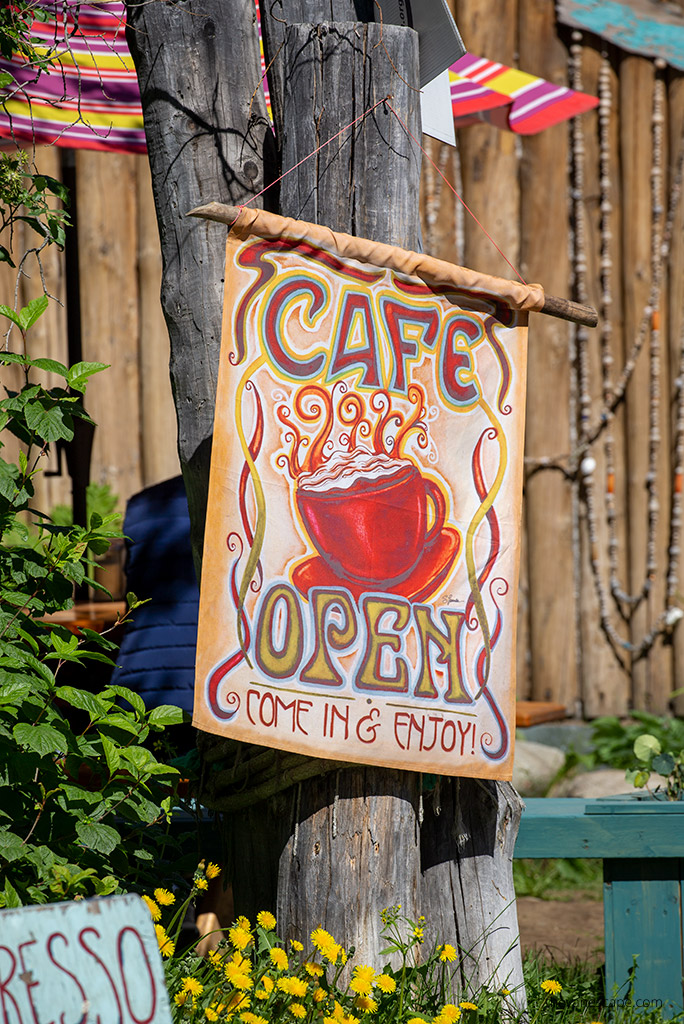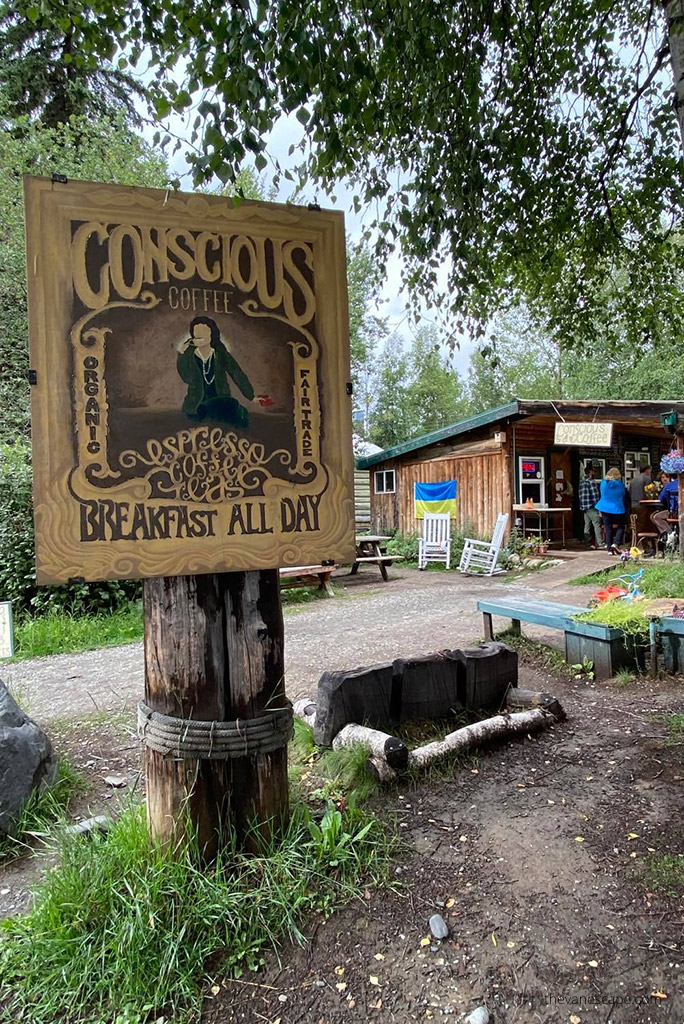 15. For lunch, Enjoy Spinach Bread
The best inexpensive treat to eat in Talkeetna is Spinach Bread. This inconspicuous silver caravan is a must-stop when walking around the town. Fun & Tasty Food Truck is located downtown Talkeetna, and you will not miss it. They serve delicious spinach bread with melt-in-your-mouth cheese. What's more, the service is very friendly, and on the menu, you will find, apart from the classic Spinach Bread, Blueberry Rhubarb Crisp, Flying Cloud Burrito, and more.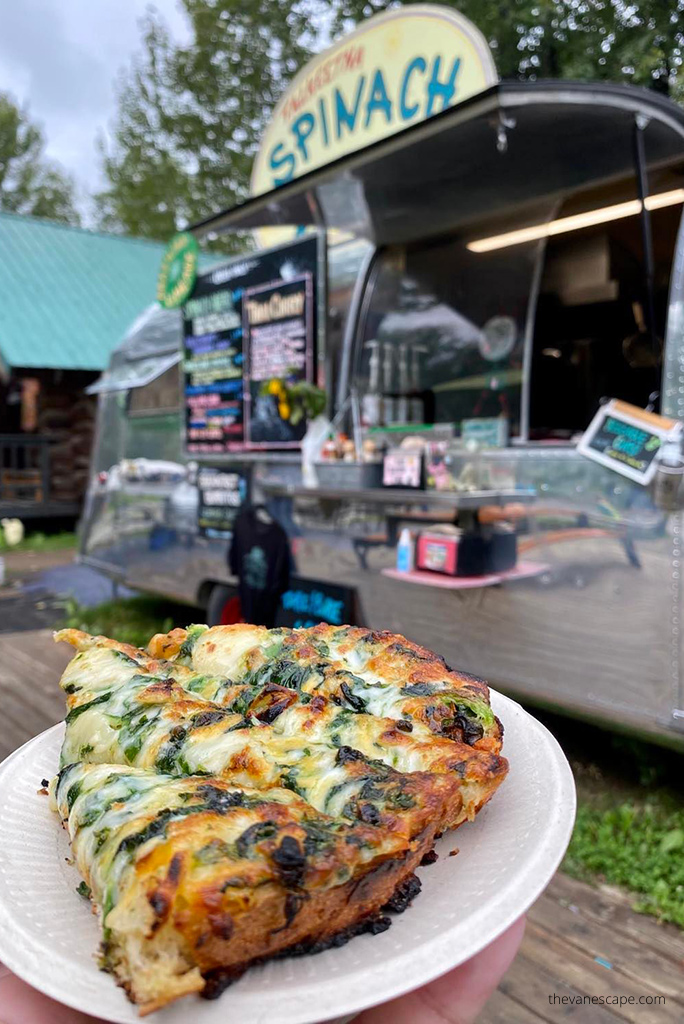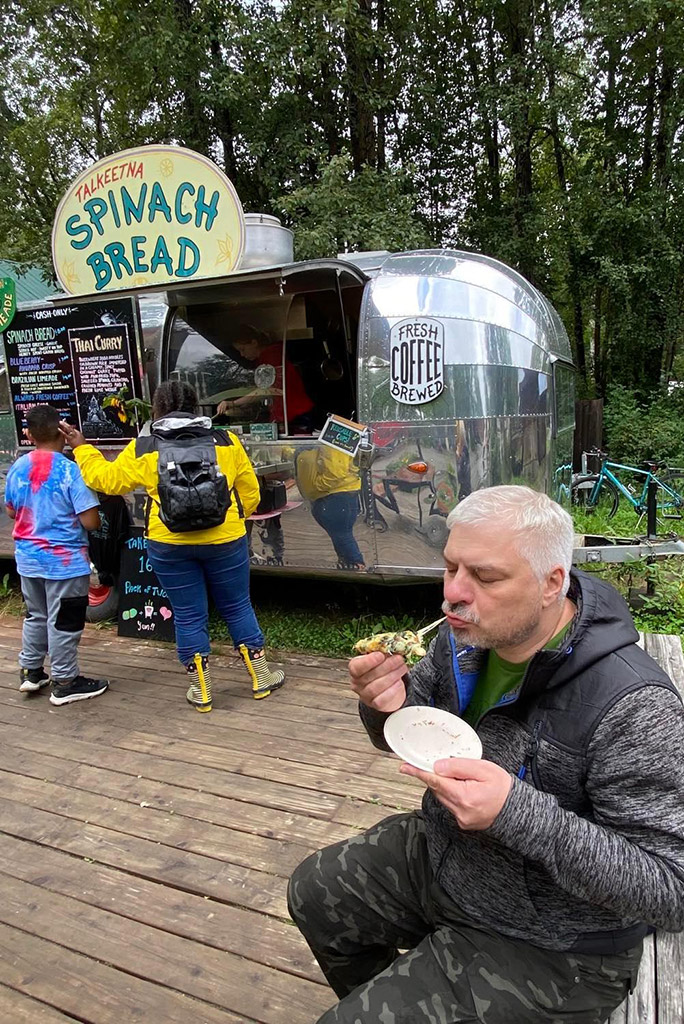 16. Drink a Hot Coffee or Fresh Juice at Uncle Leroy's Coffee
A visit to Talkeetna without a sip of coffee at Uncle Leroy's Coffee in the Old Blue School Bus would be an incomplete visit for us. This place is one of our favorites in town. The bus looks a bit like the green Magic Bus 142 from Into the Wild. Young people serve excellent coffee, the best in this part of Alaska, and great refreshing fruit juices, including hangover juice.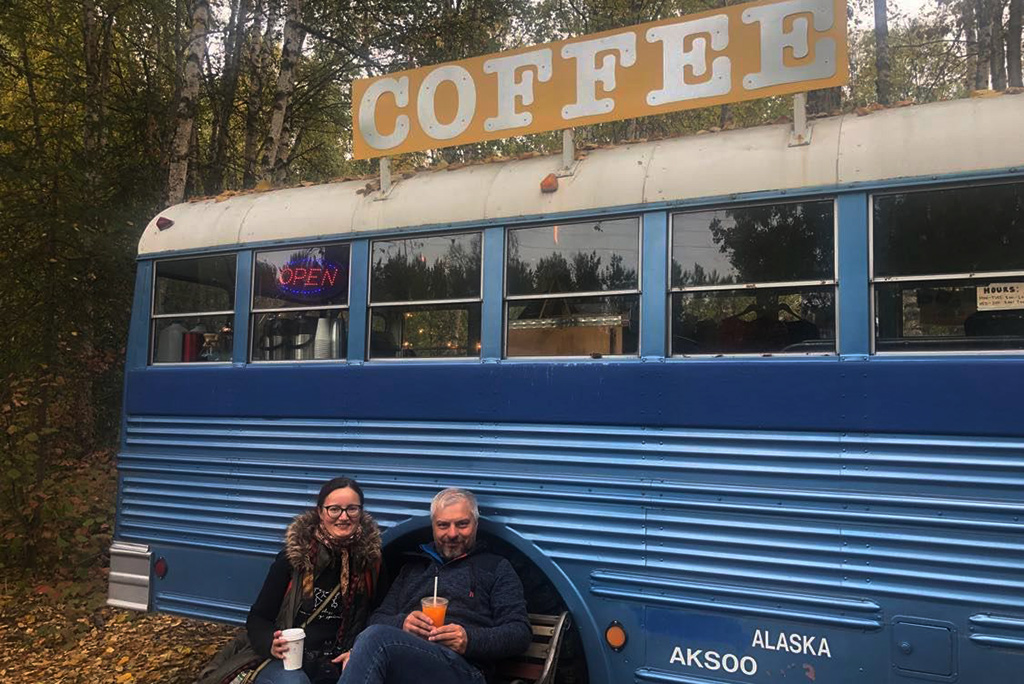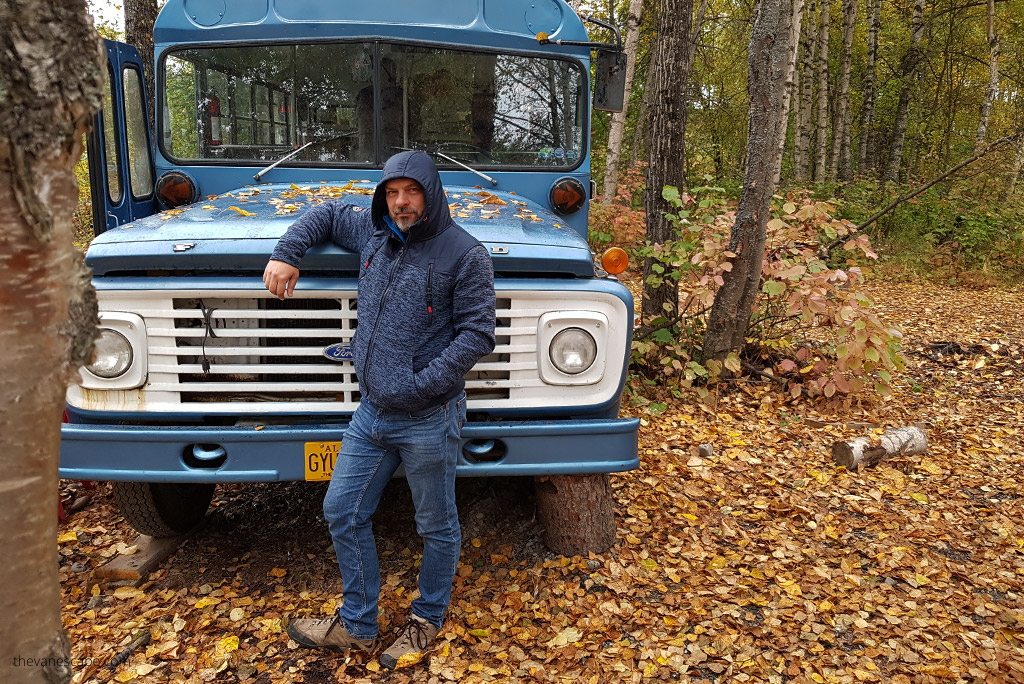 17. Taste Birch Syrup at Kahiltna Birchworks
An exciting idea to spend time in Talkeetna outside the town is to visit Kahiltna Birchworks and try Alaska Birch Syrup. It is located on the Talkeetna Spur Road, only one mile from the Parks Highway (Alaska Hwy 3). It's a perfect place for families, and the syrup is delicious. During the short tour, you will learn how it is produced. And their ice cream is fantastic. We don't have photos, as we ate them so fast.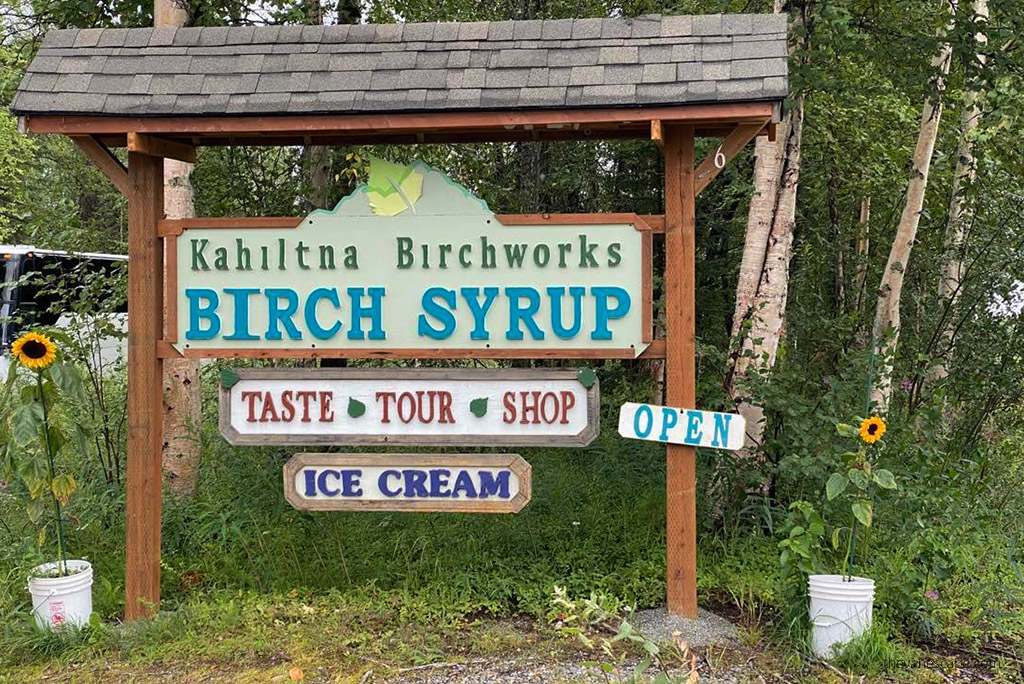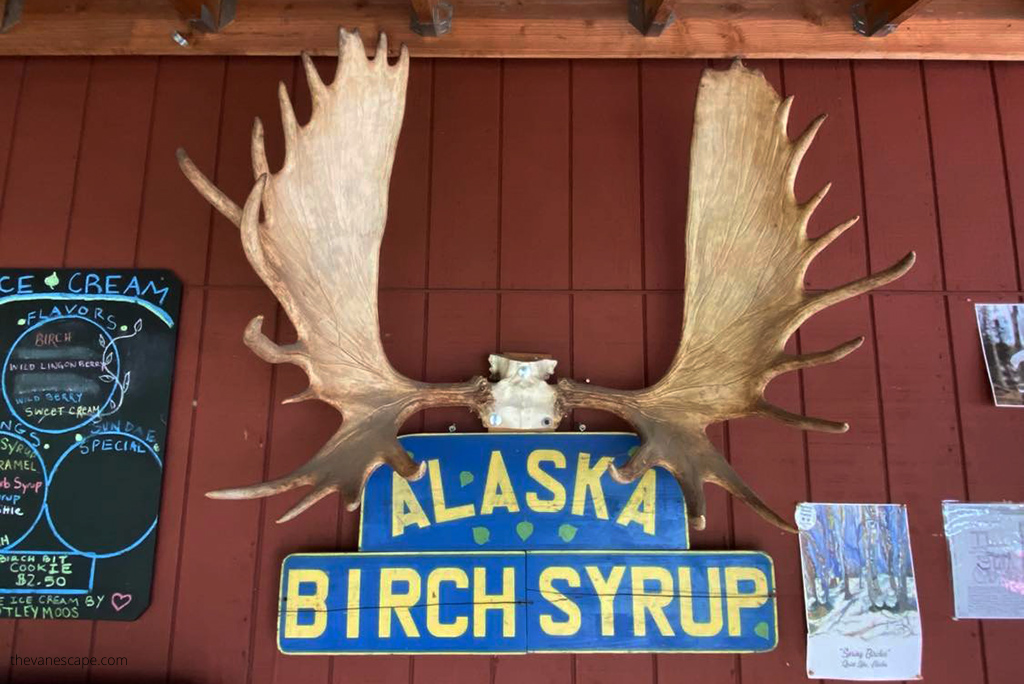 18. Sample the Local Beers at Denali Brewing Company
It is known that not only coffee is good for us, and a bit of a slightly stronger drink will sometimes come in handy, especially in Alaska. In Talkeetna, we recommend tastings at a local brewery from Alaska. Local beers can be tasted in almost every pub and bar, but it is worth going for a tasting at Denali Brewing Company. Tasting Room is open daily from 12pm to 8pm and it's located outside the town at 37083 Talkeetna Spur Rd. But in the Talkeetna Main Street you will find their Brewpub, open Monday – Sunday from 12:00pm – 9:00pm.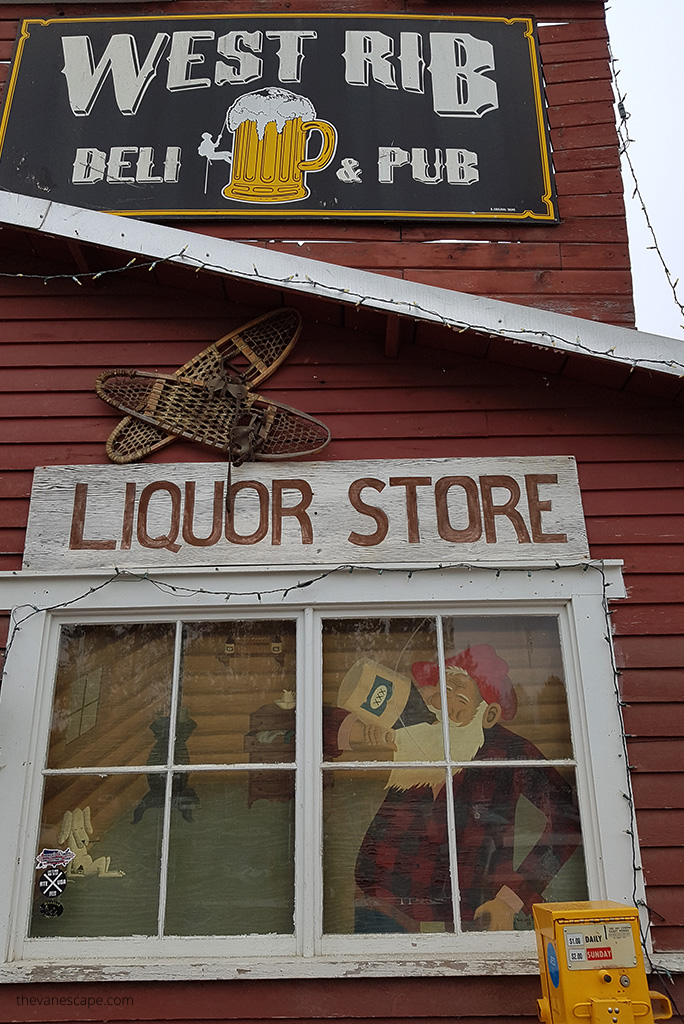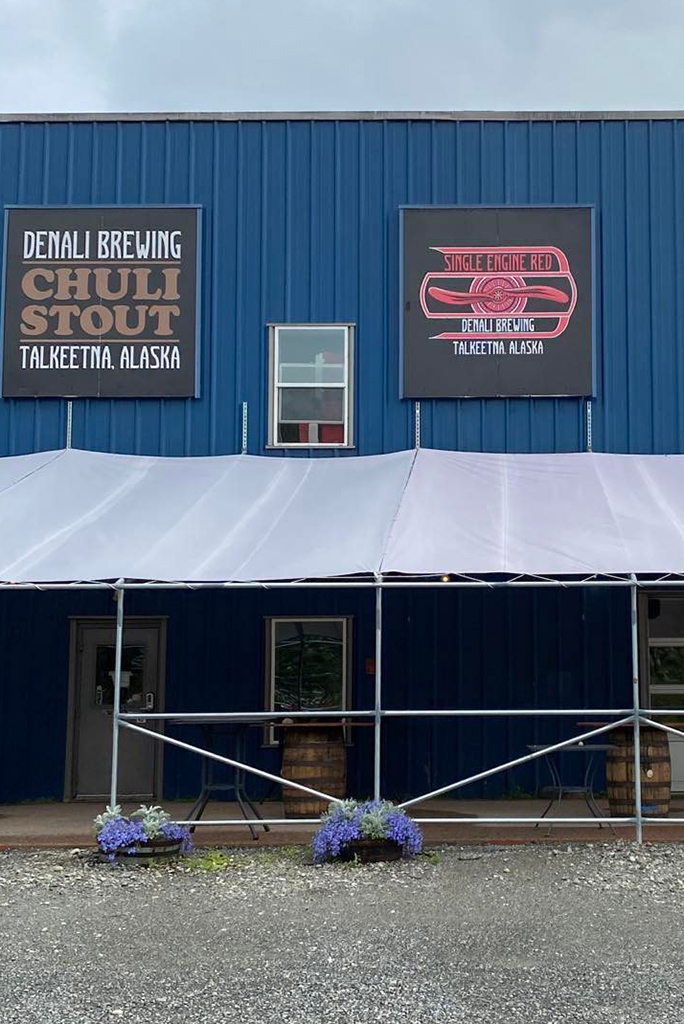 Best Things to do in Talkeetna for Outdoor Lovers
Talkeetna is primarily a town for lovers of outdoor activities and rests in the fresh air. One of the best things to do in Talkeetna is walking and hiking. The scenery is wild, and you can enjoy watching the wildlife. Remember to check out our Alaska Packing List with Printable PDF before you hit the trail.
19. Explore the Talkeetna Riverfront Park
Talkeetna is located at the confluence of three rivers, the Susitna, the Chulitna, and the Talkeetna, and offers fabulous scenery. The rivers set the rhythm of this town. Much depends on the water's condition, the flow speed, and the abundance of fish.
You should definitely visit the Talkeetna Riverfront. You can get there on the main road. There is a park where you can admire the Alaska Mountain Range with the peaks of Mount Denali, Foraker, and Hunter on a clear day. You can rest on the beach with the mountain view or make a trail loop.
TRIP TIP: This area can be quite wet and muddy. Reliable Alaskan rubber boots and a rain poncho will come in handy. Check out also our Alaska Packing List to prepare for your adventure!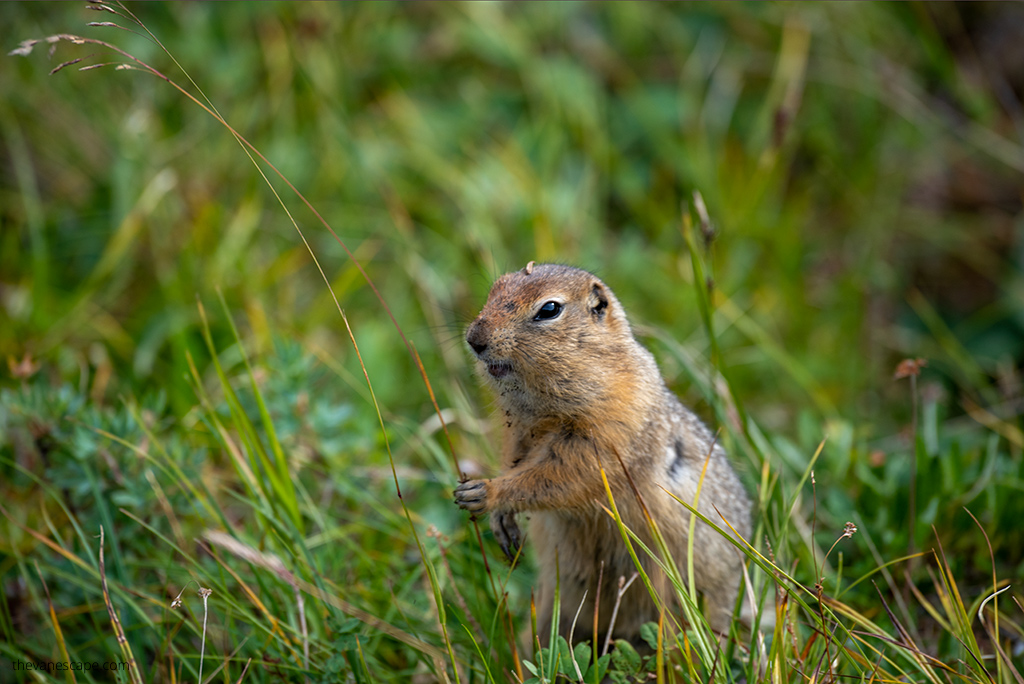 20. Hit the hiking trails in Talkeetna
Hiking is one of our favorite things to do in Talkeetna, and what's important is that it's free of charge activity. The best hikes in the Talkeetna area are:
Otter Lake – 1.9 miles, easy hike
Talkeetna Lake – 3.7 miles easy hike
Talkeetna River Trail to Chase Trail – 4 miles easy hike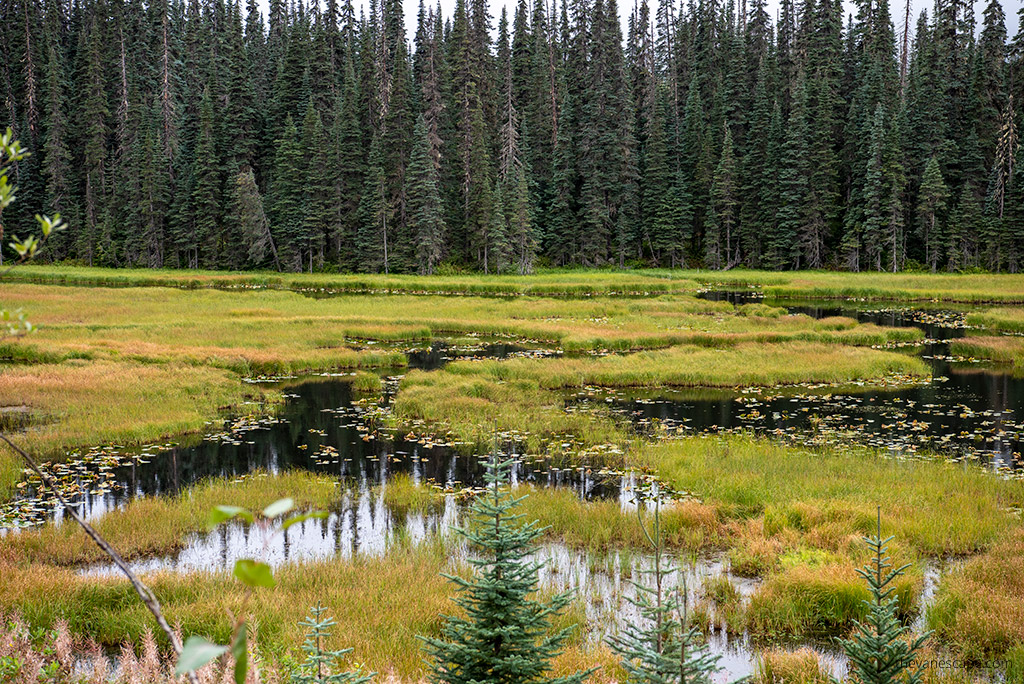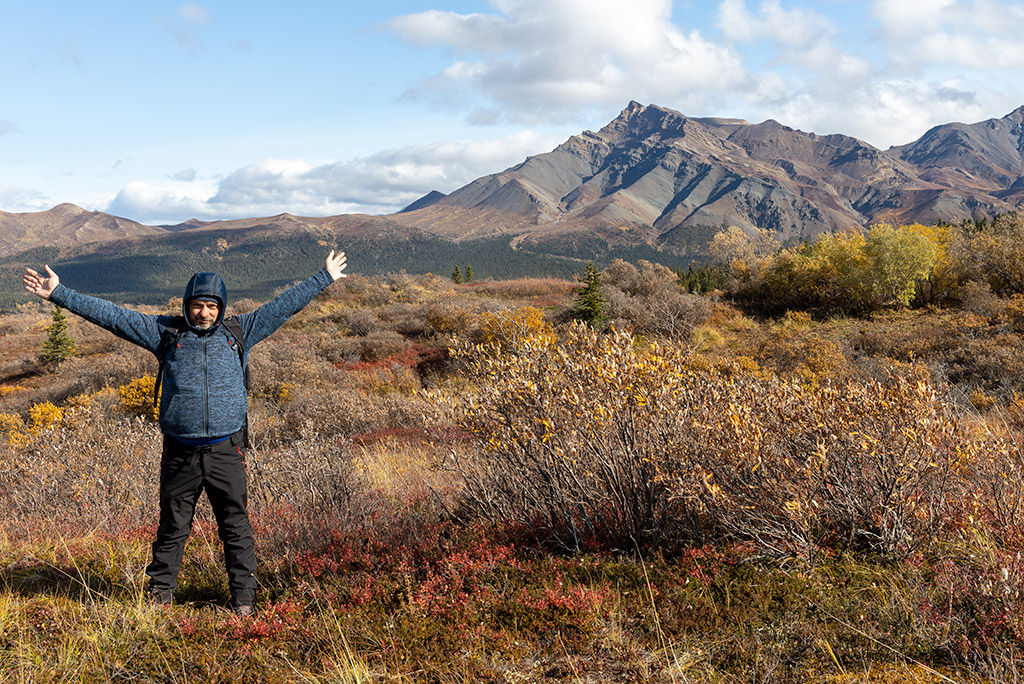 21. Explore Denali State Park Hiking Trails and Wilderness
However, Talkeetna is adjacent to the picturesque Denali State Park (not the same as Denali National Park), where you will find more exciting hiking trails. Park is located at Milepost 134.5 George Parks Highway, approximately 92 miles north of Wasilla; 222 miles south of Fairbanks. The park is along Mile 135 to Mile 164 George Parks Highway (AK-3). Denali State Park was established in 1970 and has 325,240 acres. Park also provides some nice campgrounds and camping spots, and public cabins.
The best hiking trails in Denali State Park are:
Curry Ridge Trail – which is an easy 6.5 miles roundtrip hike
Byers Lake Loop Trai – which is an easy 5.3-mile loop
Moose Flats Loop Trail – very easy 0.5 miles of trail
Ermine Hill Trail – easy 3.7 miles one-way hike
Cascade Trail – moderate 2 miles one-way hike
K'esugi Ridge Trail – 3 days adventures as it's a 29-mile one-way moderate to strenuous hike.
TRIP TIP: Download the free PDF brochure from the park's official website to read details about each trail and look at the overview map.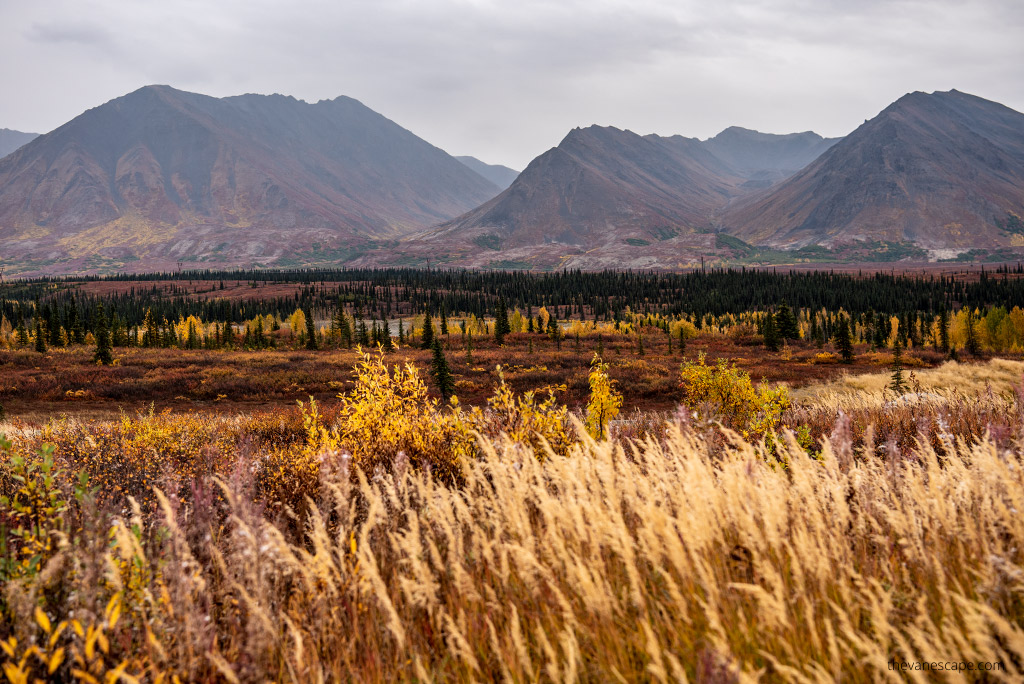 Top Water Activities in Talkeetna
Rivers surround Talkeetna, and water activities are viral here. If you want to opt for some water activities in Alaska, Talkeetna is one of the most exciting places.
22. Try Your Hand at Gold Panning
We haven't tried Talkeetna Gold Panning Tours yet, but it's on our bucket list. For sure, it's a "Real Alaska" experience. As Talkeetna is at the confluence of three rivers, chances for finding gold are pretty high. And even without gold, it should be great fun.
23. Go fishing for salmon, trout, Dolly Varden, or grayling
Homer is the "Halibut Capital of the World"; however, Talkeetna also offers amazing fishing opportunities. You can fish salmon, trout, Dolly Varden, or grayling here. They are a lot of fishing charters in the area. Make sure to contact them before your trip and check the fishing details. Some offer fly-fishing, sport-fishing charters, Jet Boat Trips, Floats, Heli Fishing, Walk-In Fishing, or Mokai Tours. The most popular fishing charters in Talkeetna are:
TRIP TIP: Consider the Talkeetna Alaska Fantasy Salmon Slam Charter because, on this trip, you can catch up to 4 or even 5 species of Pacific salmon in a single 5-hour trip! Silver, pink, and chum salmon are especially common in this area, as well as sockeye salmon, rainbow trout, and Dolly Varden. Plus, you'll get a glimpse of Denali and Alaska's pristine waters. If you plan to fish, you must also purchase Alaska Fishing License. It's $15 for 1 day or $30 for 3 days.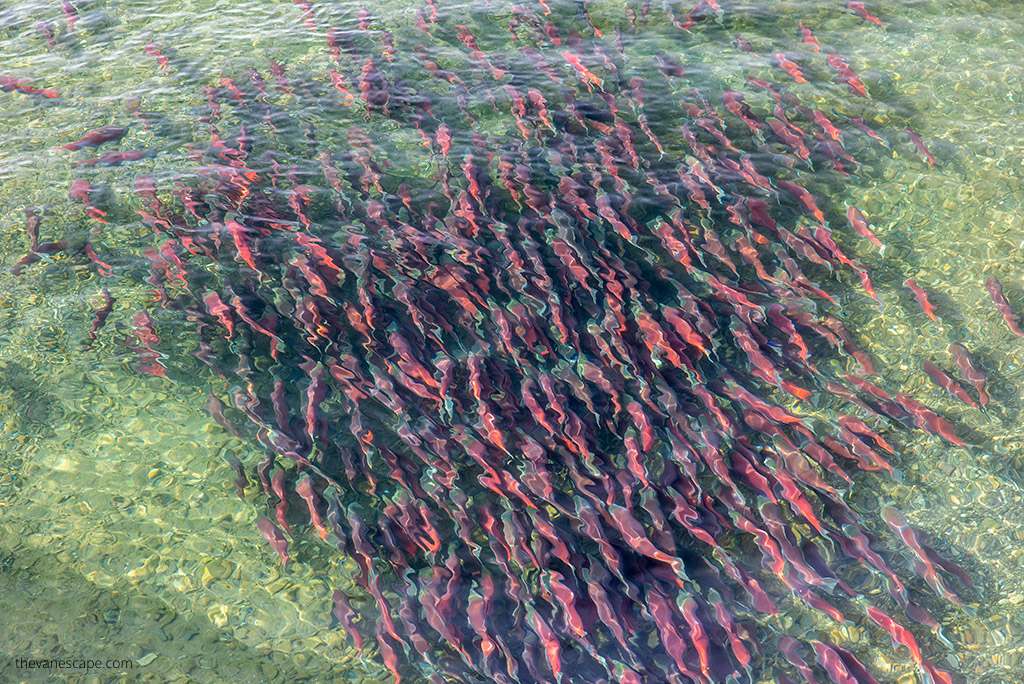 24. Go River Rafting in Talkeetna
Another great things to do in Talkeetna, if you like water activities, is take a river rafting tour. It's an experience similar to a river rafting tour in Denali. But Talkeetna, with its charm and adventures, is also a great place to enjoy this type of trip. In small local businesses, you'll find a tailor-made offer for every budget and level of experience. From easy and chill family two-hour rafting trips to full of thrilling advanced rafting trips. The most popular operators are: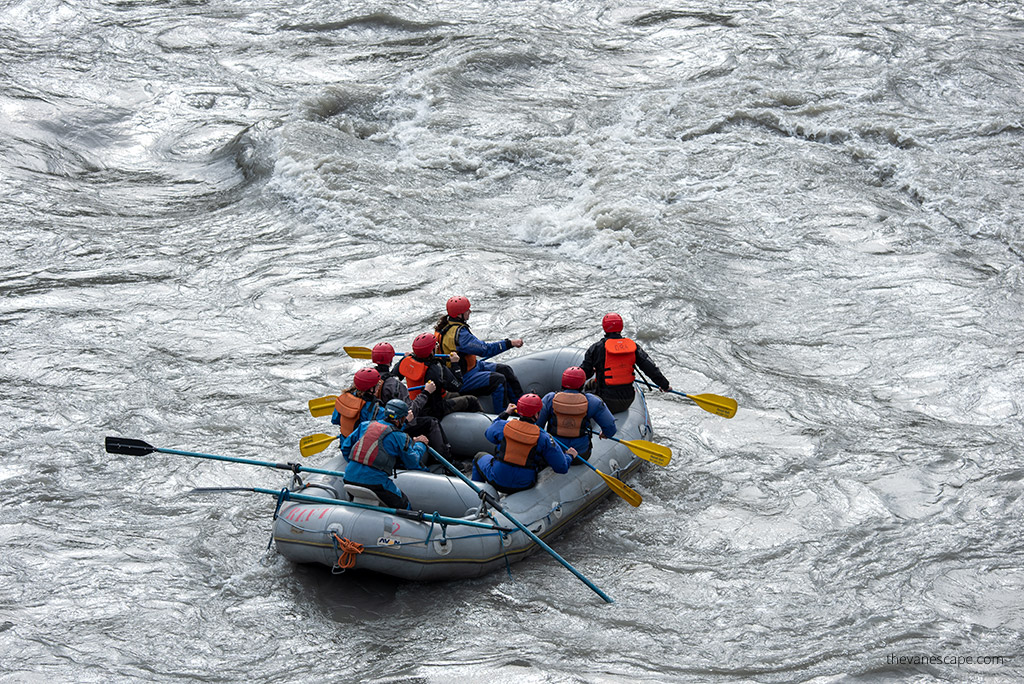 25. Take a Jet Boat River Tour
Yet another water attraction in Talkeetna is the Guided Alaska River Adventures at Speedboat Ride. A local company established in 1975, Mahay's Jet Boat Adventures, offer different types of jet boat river tours. We're always honest with you – we haven't done a tour with them yet, but it's on our list of things to do in Talkeetna next time we visit the town, as the company has good recommendations. One of the highlights of the tour is the Wilderness Excursion. This is a two-hour, 20-mile exploration of the Susitna River. Another option is the Chulitna Gorge Tour, a 3.5-hour extended version of the two-hour tour. For the ultimate Alaskan whitewater experience and a little more excitement, choose the Devil's Canyon Tour.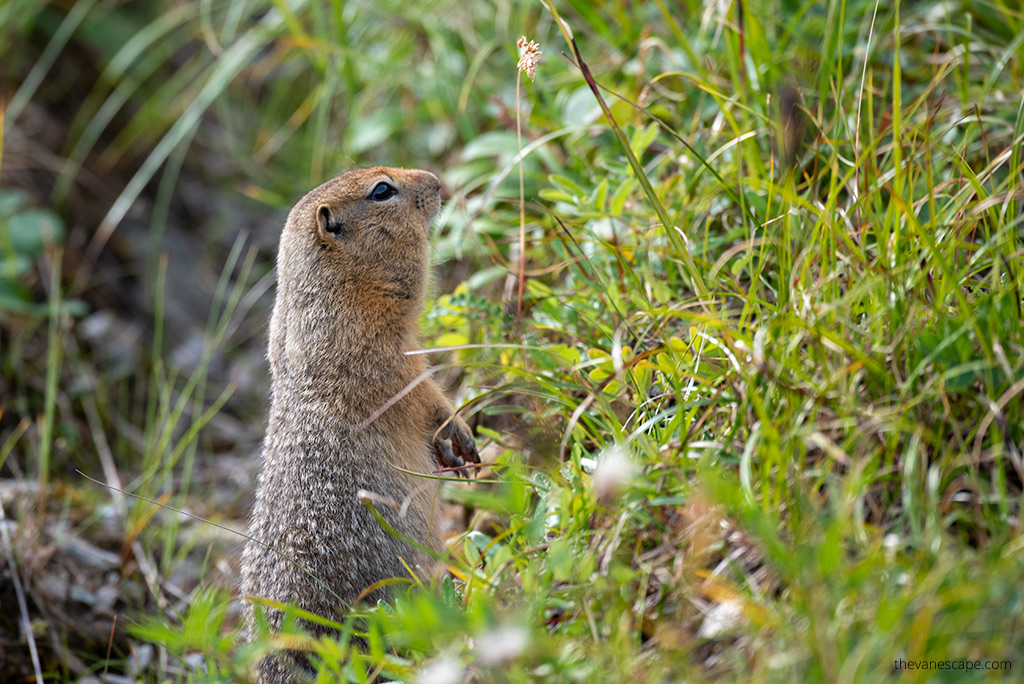 Where to Stay in Talkeetna?
Click on the Best Deals below to find the best deals on your Talkeetna vacation. If you're planning a trip in the summer months, it pays to book accommodation in advance, as prices rise just before the season, and it's often difficult to find accommodation in the Talkeetna area. If you are looking for a campground, choose Talkeetna Camper Park.
How to Get to Talkeetna?
TRIP TIP: If you need to rent a car for your Talkeetna trip, we recommend the local rental company with headquarters in Fairbanks- Alaska Auto Rental. It's a great local company with good vehicles, transparent rental terms, and professional service. We used their services. We rented two cars from them and planned to use their services on our next vacation in Alaska. You can read our review about this rental in Alaska and book a car directly on their website.
Driving Directions from Fairbanks
If you're coming from northern Alaska from the Dalton Highway or Fairbanks, you've got a long way to go. From Fairbanks to Talkeetna is 273 miles, which will take you at least four and a half hours without stops via AK-3 S. But it's a scenic road with Denali National Park along the way. It's worth stopping to see Magic Bus 142 in Healy and the abandoned Igloo City near Cantwell.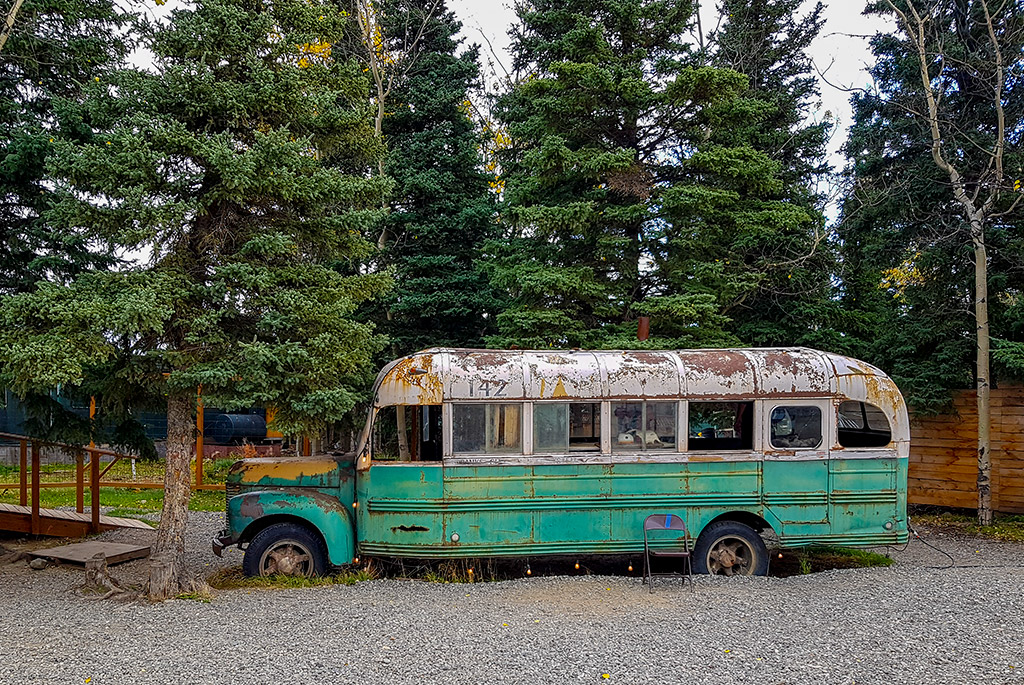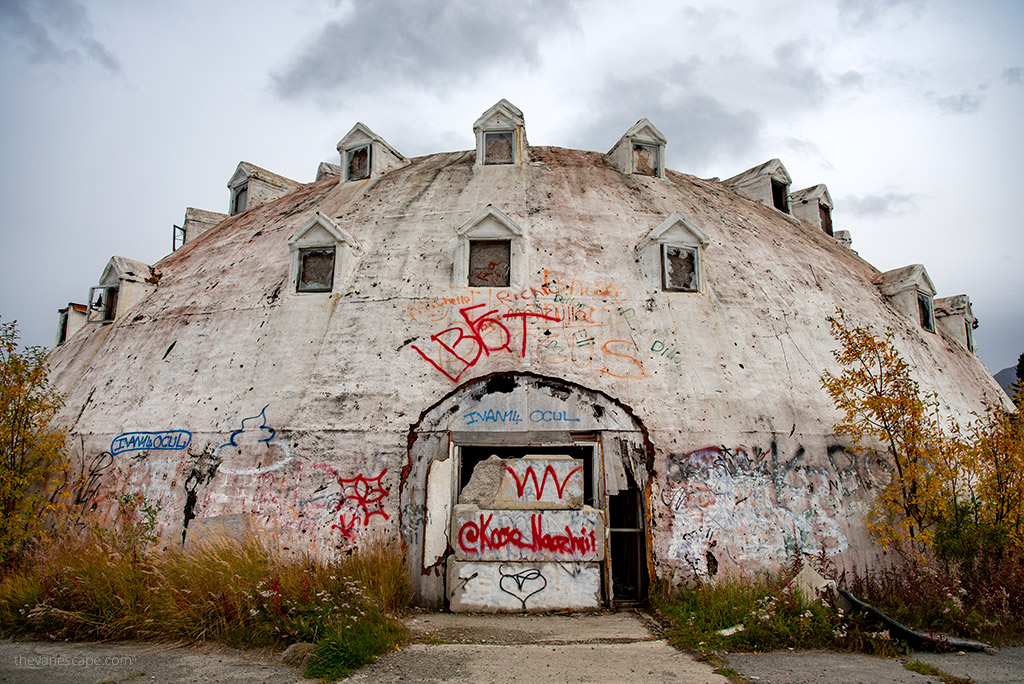 Driving Directions from Anchorage
From Anchorage to Talkeetna, you have only 113 miles and 2 hours of driving via AK-3 S and AK-1 S. So visiting Talkketna might also be a great idea as a one-day trip from Anchorage if you have limited time. However, as there are so many amazing things to do in Talkeetna and so adventurous activities, we highly recommend staying here for at least two days.
Check out also our Alaska Travel & Photography Guide!
Do you like it? Pin it!