The 11 Best Things to Do in Nenana Alaska
What are the top attractions in Nenana? Is this tiny town worth visiting? What are the best things to do in Nenana, Alaska? You can find answers and tips in our article. We'll show you that Nanana is an exciting place with a rich history and worth including it in your Alaska trip.
This article may contain affiliate / compensated links. For full information, please see our disclaimer here.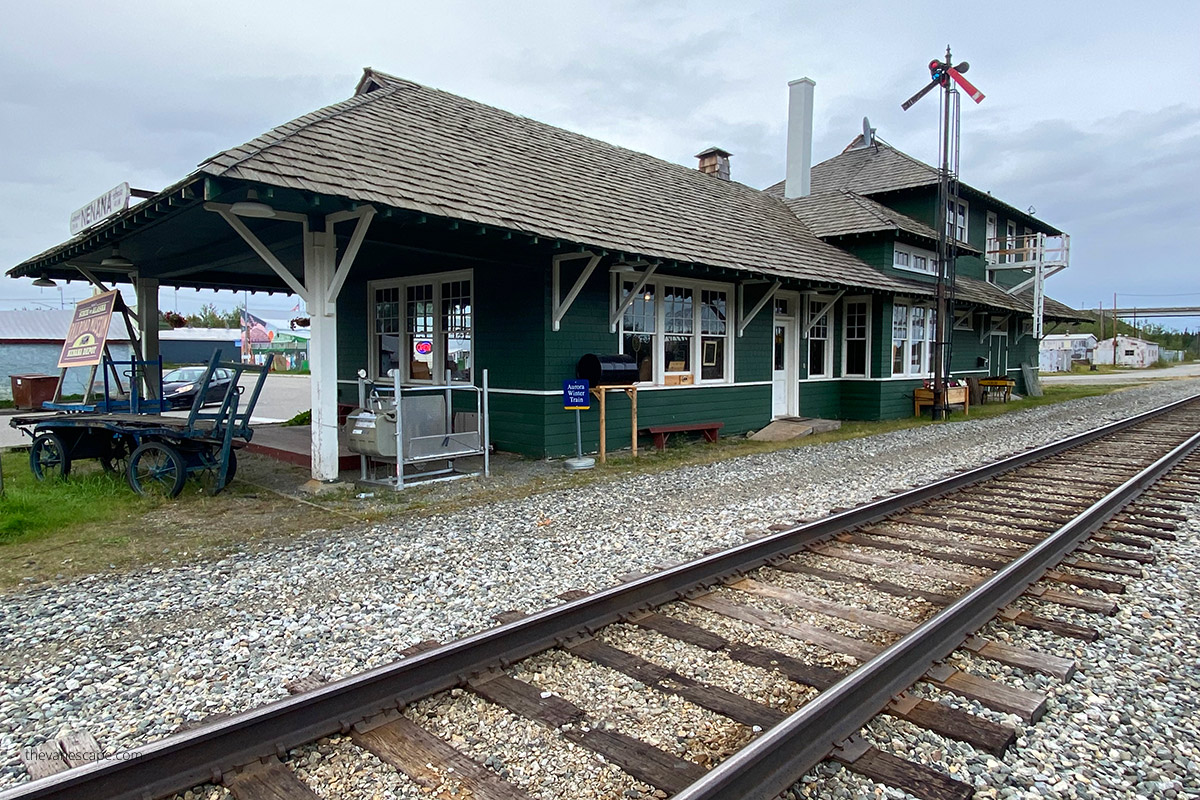 Where is Nenana, Alaska?
Nenana is on the George Parks Highway, 55 miles south of Fairbanks and 305 miles north of Anchorage. It's a perfect idea for a trip while visiting Fairbanks.
We visited Nenana during the last road trip, during the drive from Anchorage to Fairbanks. We were charmed by this small town with a big history and encouraged you to see it. This is a fascinating place worth your time.
How big is Nenana?
Nenana has only 363 residents but has a fascinating and long history and several well-known attractions throughout Alaska worth seeing. The town is small, so 2-3 hours is enough to learn it thoroughly. Below are the travel times, directions from the most important cities, and the top things to do in Nenana.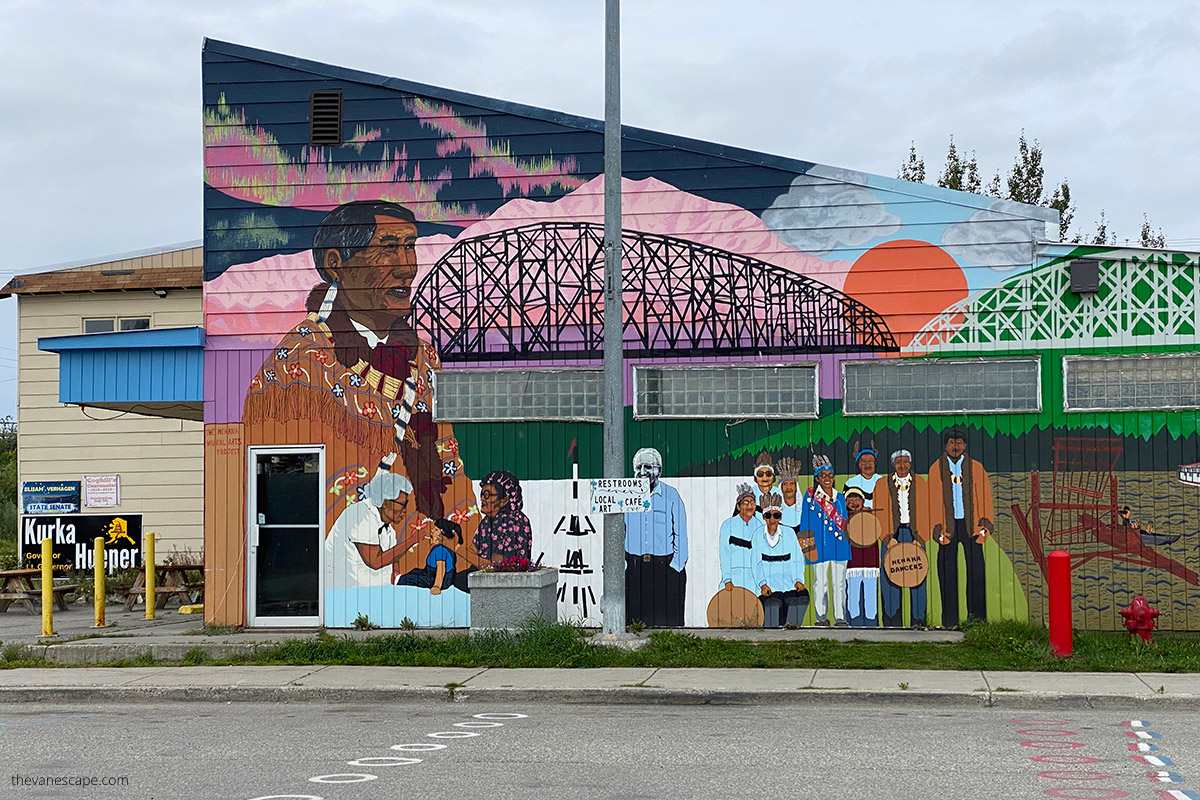 Nenana to Fairbanks
If you plan to visit Fairbanks, you probably dream of popular attractions like Arctic Circle Trip (we love it!) or soaking in Chena Hot Springs (also recommended!). You may even be preparing to travel the Dalton Highway (it was a fantastic adventure).
But if you have a few hours to spare, head over to Nenana; it's only an hour's drive south of Fairbanks. You have 55 miles via Parks Highway. You can combine a visit to Nenana with a stop at the Malamute Saloon and Ester Gold Camp. The following photos and curiosities should encourage you to visit Nenana.
Nenana to Healy
Healy, where the replica of the Magic Bus 142 is located, is only 55 miles from Nenana.
Nenana to Denali National Park
If you plan to visit Denali National Park, then from Denali, you have less than 70 miles to Nenana and less than a 1 hour and 15 minutes drive. So you might want to consider visiting Nenana, especially if the weather in the park isn't conducive to hiking.
Our Tip: As we visited Denali several times, please, check out where to stay in Denali National Park, the best things to do in Denali, the detailed Denali itinerary, and the best hiking trails in Denali.
Nenana to Anchorage
From Nenana to Anchorage is 305 miles and requires at least 5 hours of driving (depending on the weather).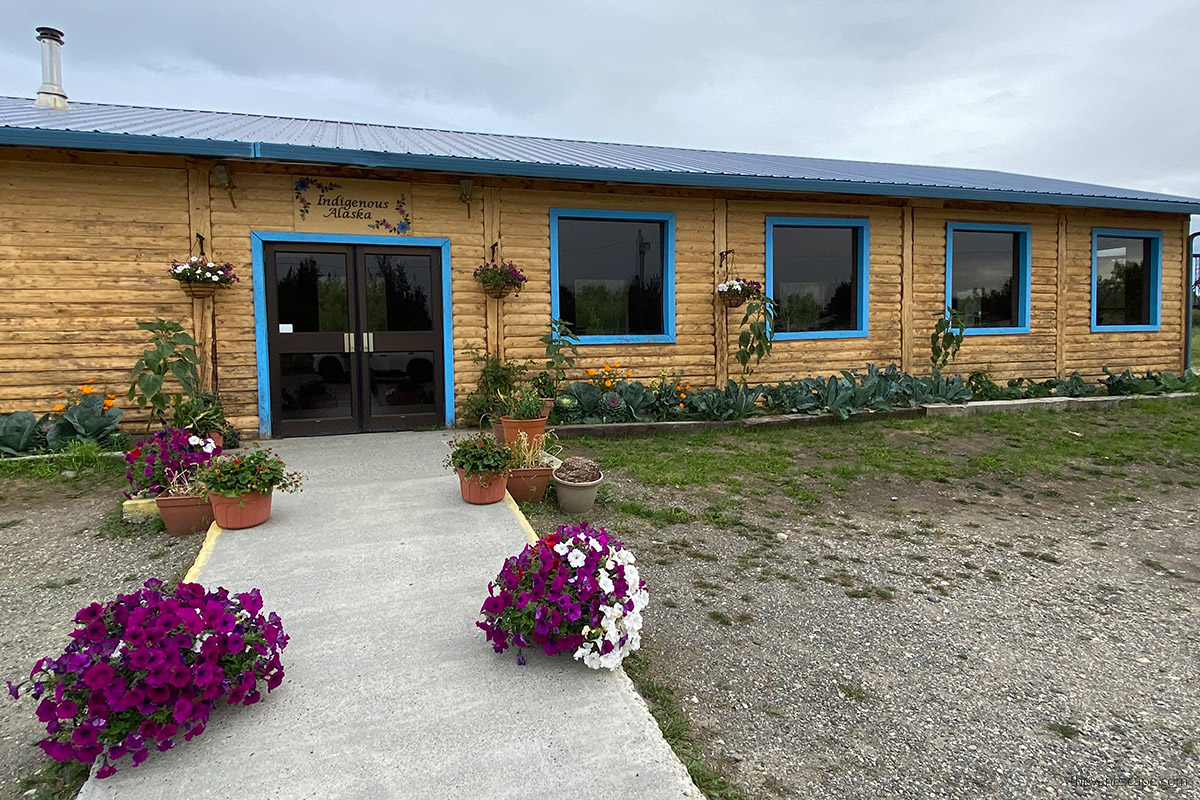 What is Nenana Alaska famous for?
Nenana is famous for its Nenana Ice Classic guessing game. This kind of lottery is based on guessing when the ice will break on the Nenana River in April or May each year. It has been an Alaskan tradition since 1917. The Ice Classic is Alaska's largest guessing game because Alaska doesn't have a typical lottery.
In 1917, a group of engineers doing a survey works for the Alaska Railroad in Nenana bets $800 on guessing when the river would break up. This fun little guessing game has become an incredible Alaskan tradition.
You must be 18 years or older to purchase tickets. You must buy and turn in your $3.00 ticket between February 1st and April 5th to be involved in the Nenana Ice Classic game—details you can check out on the official website.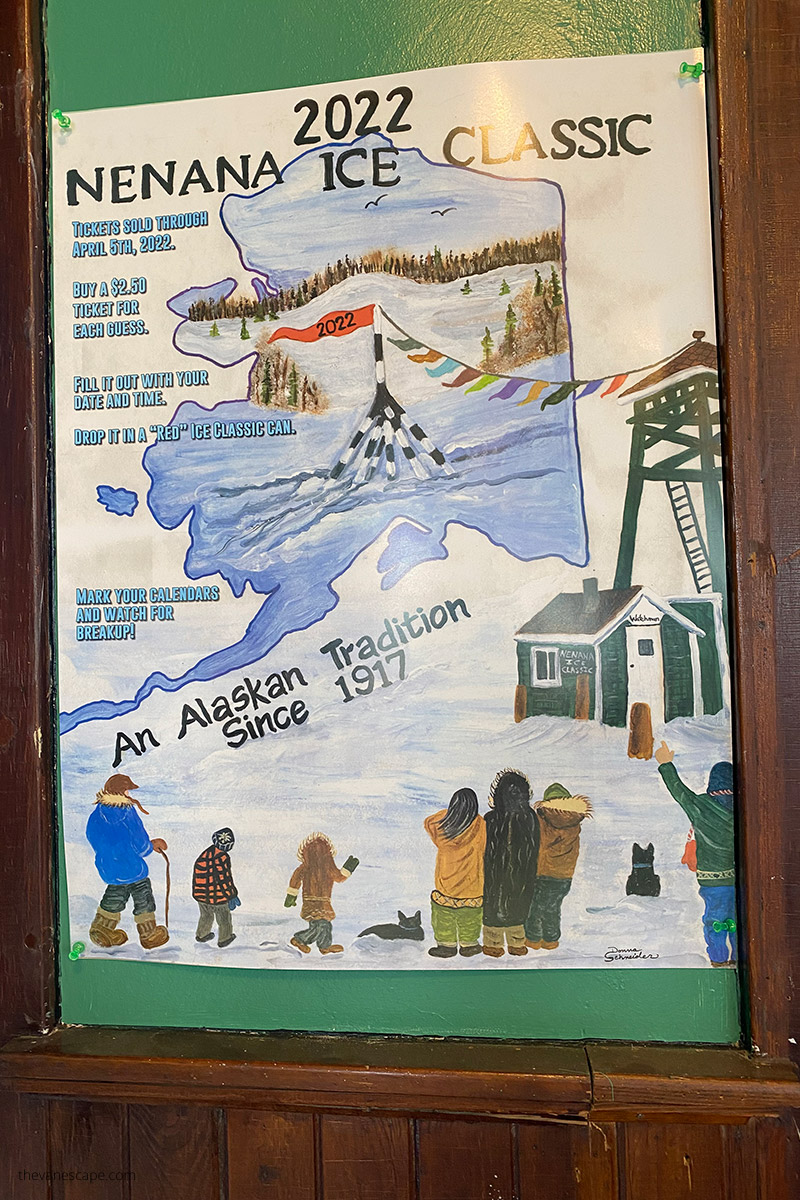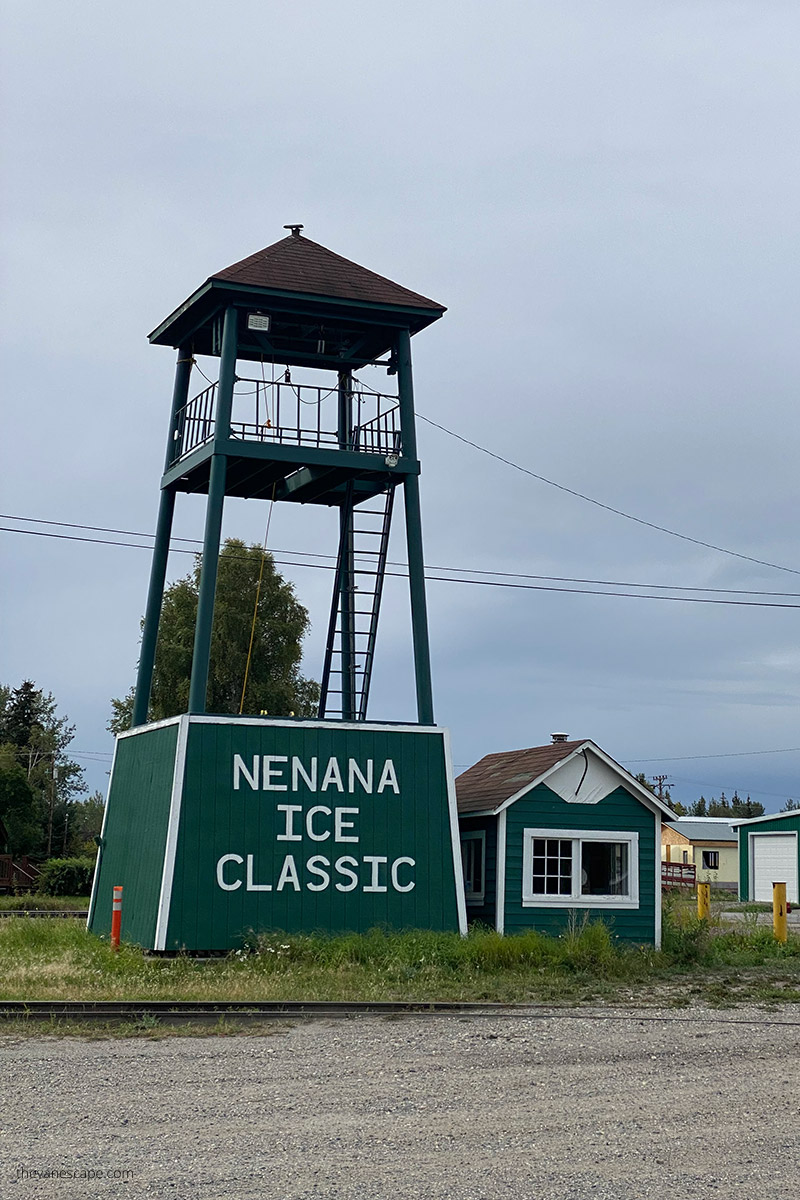 The 11 Best Things to Do in Nenana Alaska
1. Check out the Nenana Visitor Center log cabin
At the entrance to Nenana, there is a small visitor center building. It's a fascinating log cabin structure with a grass-roof planted with colorful flowers in summer. A similar visitor center is located in downtown Anchorage. Even if the Nenana Visitor Center is closed, stop by for a while. Because you will also find a small library with books, an exciting shop with local handicrafts, and the tug boat Taku Chief.
There is also a tribute to the Alaska Territorial Guard placed among some of the historical items of the Nenana area. The plaque reads, "Alaska Territorial Guard 1942-1947 During World War II under the leadership of Major "Muktuk" Marston and 21 paid staff, 6,368 volunteers from 7 native ethnic groups and European Americans, whose collective ages ranged from 12-80 years of age, including some 30 women, watched the northern shores of Alaska for enemy movement and were instrumental in the Battle of Attu, a foreign war battle fought on domestic soil. In commemoration of their personal sacrifices for our "Freedom." Sponsored by Alaska Native Veterans' Association. Artist- James Grant."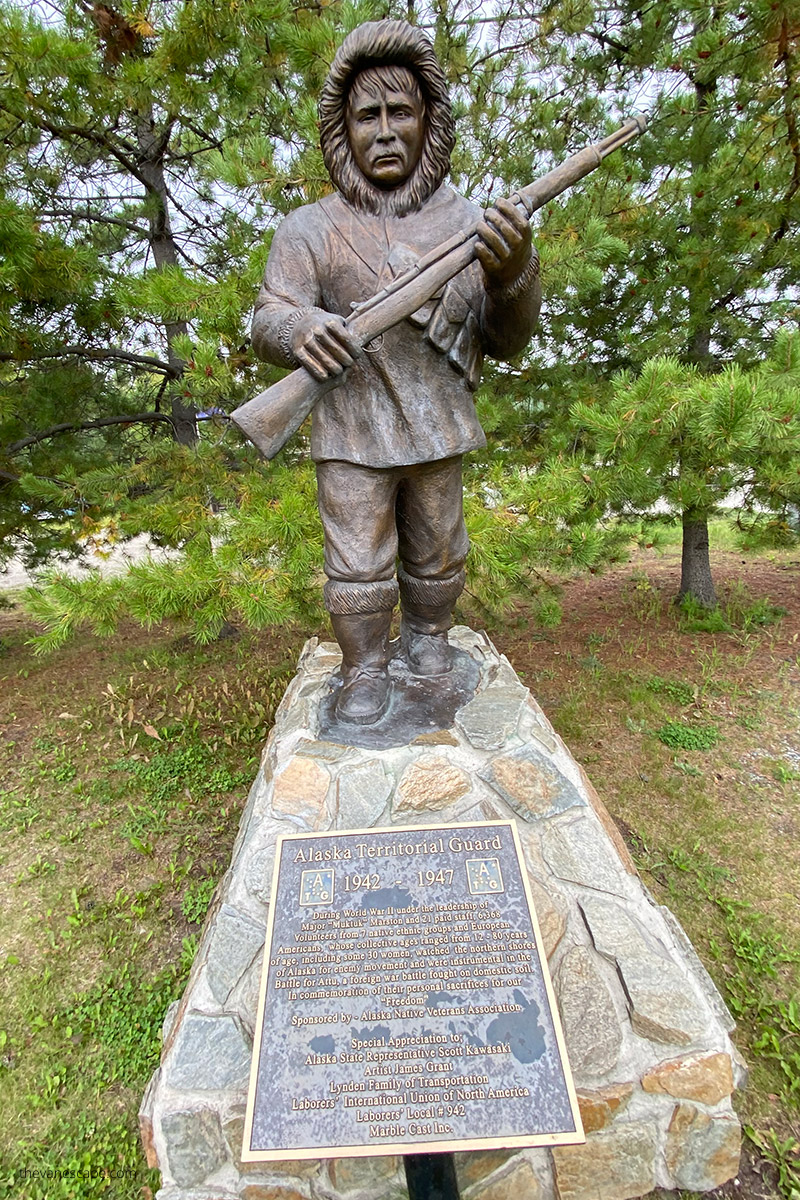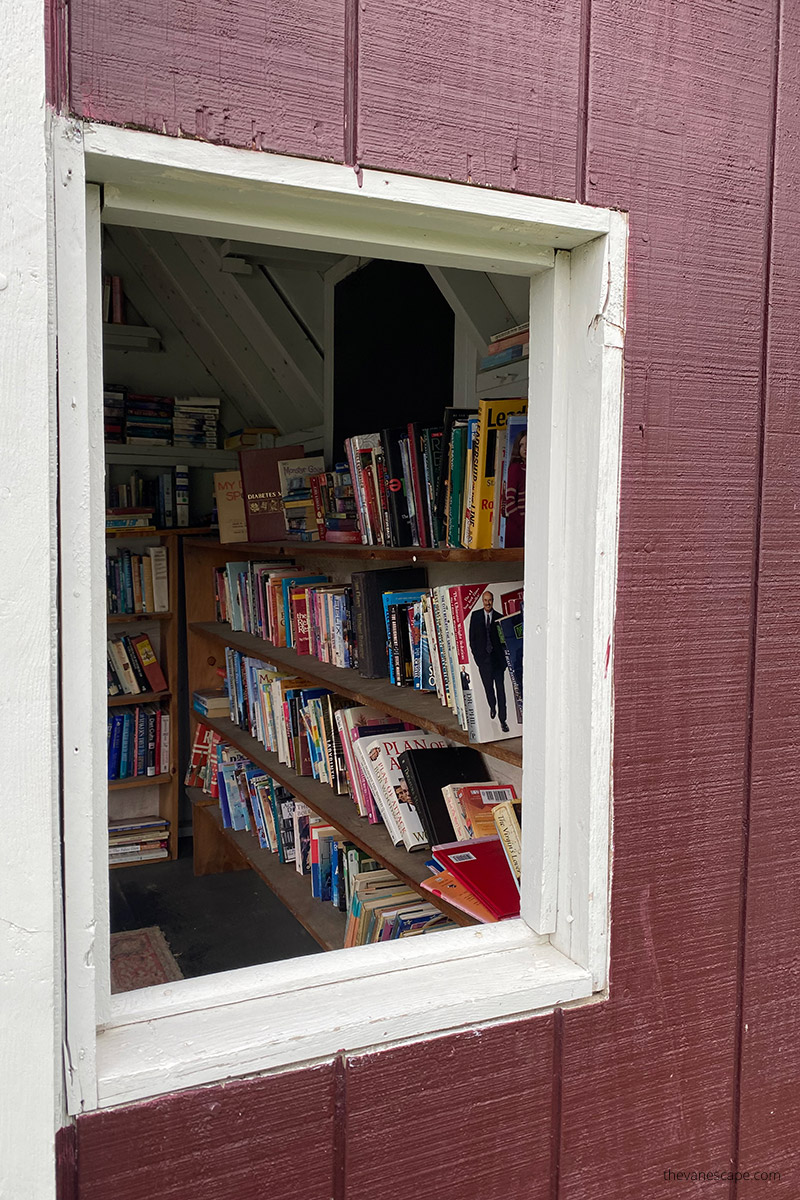 2. Take a picture of the tugboat Taku Chief
Taku Chief is the last commercial wooden tug boat to ply the Yukon and Tanana river basins. The Taku Chief began her career in 1938 in Southeast Alaska. After seven years in service, she was requisitioned by the CAA (The Civil Aeronautics Administration, a precursor to the Federal Aviation Administration) for use on the rivers in Alaska Interior.
In 1956 she joined the fleet of Yutana Barge Lines, and after a colorful history, the sandbars and sweepers finally took her tool. On July 18, 1978, she was condemned. She rests in her last port, Nenana, a tribute to her heartbeat of Alaska transportation. Read more about the history of Taku Chief by Ray Bonnell.
Our Tip: If you're interested in the history of steamboating in Alaska, also visit Pioneer Park in Fairbanks.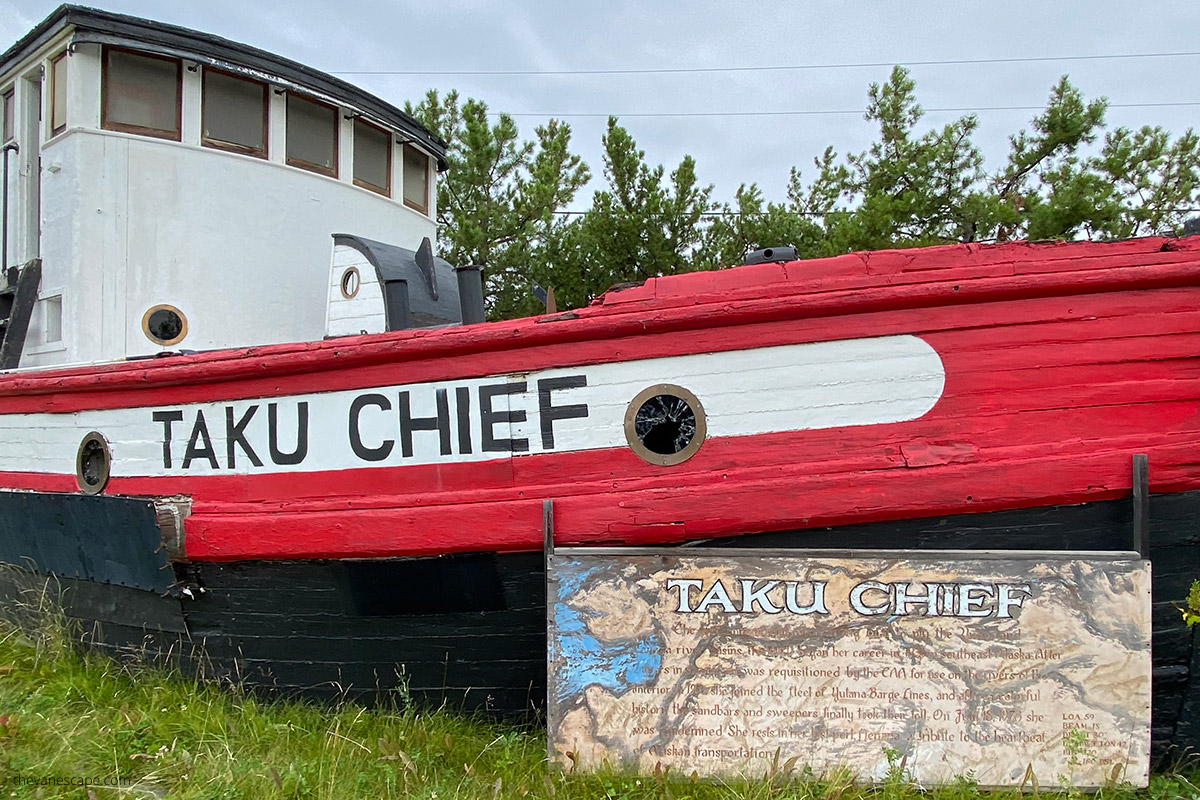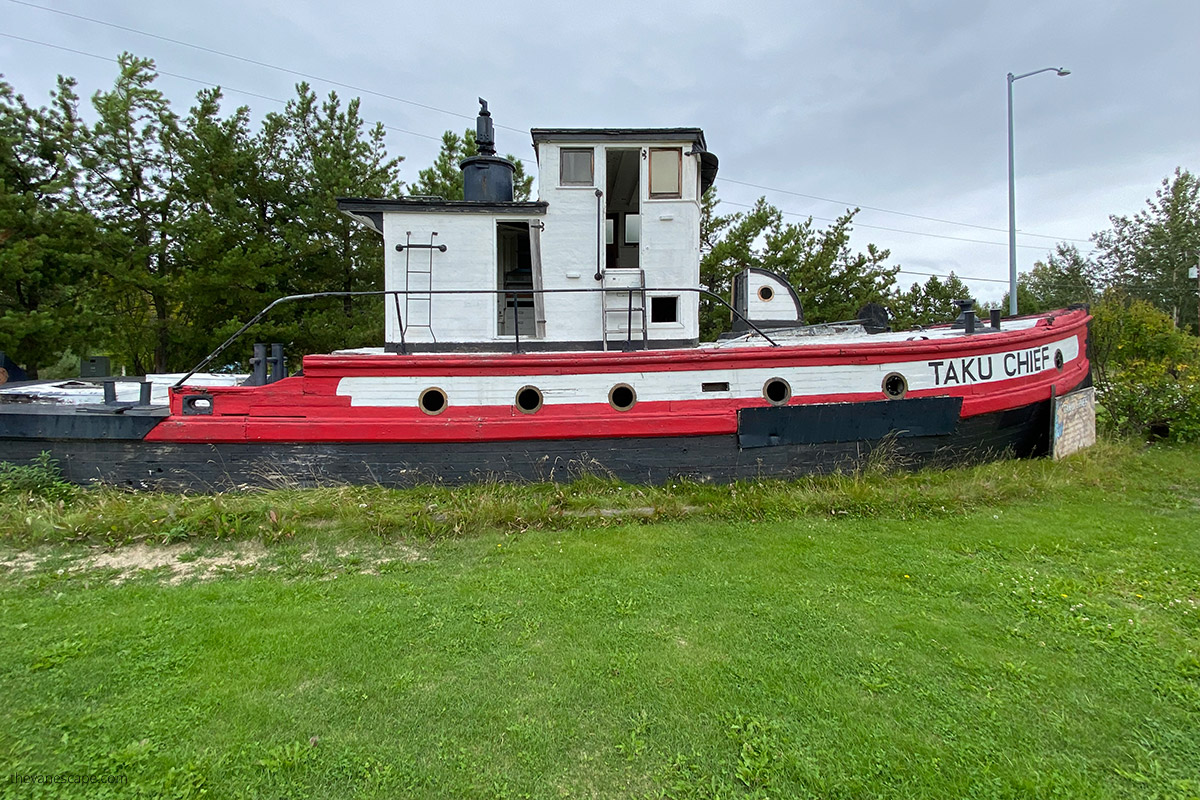 3. Visit Alaska Railroad Museum & Nenana Depot
One of the best things to do in Nenana is visit the Alaska Railroad Museum. Nenana is the place where President Warren G. Harding hammered the final golden nail into the Alaska Railroad in 1923, marking the completion of the 500-mile Alaska Railroad. The Nenana station was built on A Street in 1923 in preparation for President Harding's arrival. It is now on the National Register of Historical Sites. The building houses the Alaska Railroad Museum, which displays railroad memorabilia. Moreover, east of the Nenana station, there is a monument commemorating the moment President Harding struck the golden spike.
This museum is operated by the Friends of the Tanana Valley Railroad, with a working relationship with the City of Nenana to lease the building. Be sure to visit this place full of history and the atmosphere of the railway past in Nenana. Moreover, at Pioneer Park in Fairbanks, you can see the Harding Car, which President Harding used on his journey to Alaska to drive the golden spike in Nenana.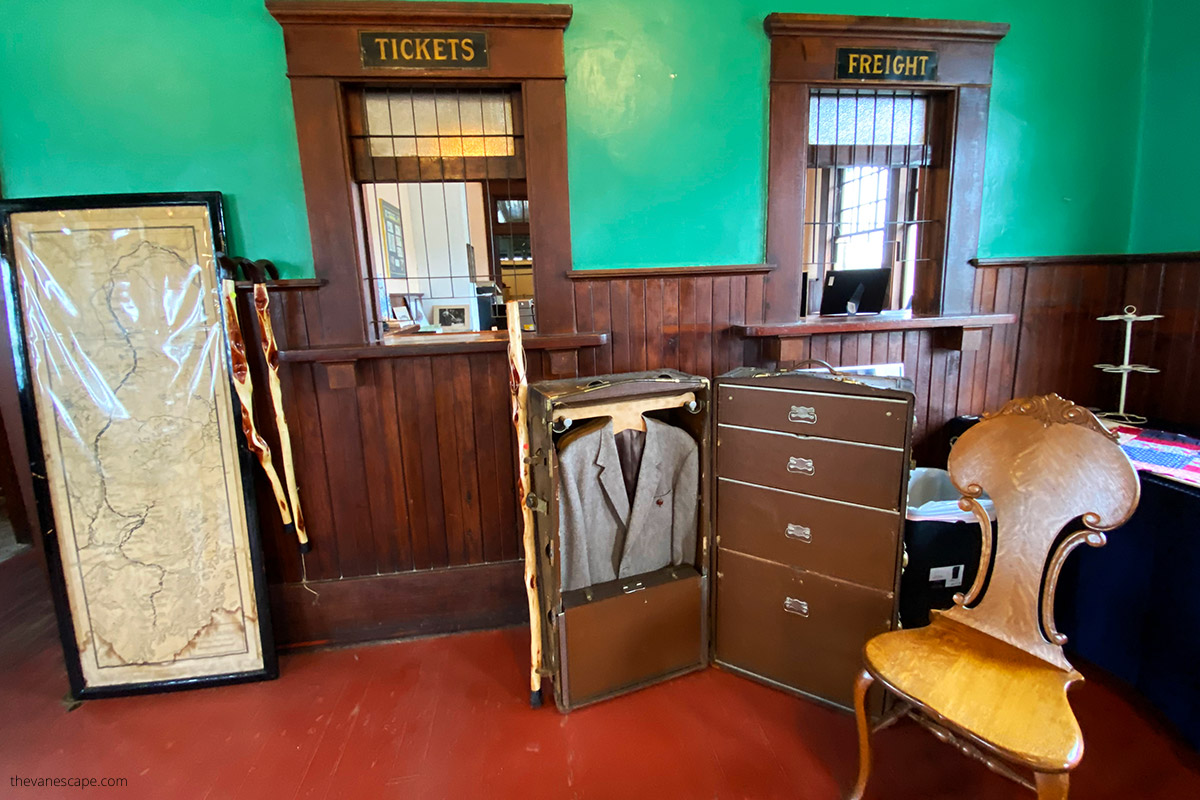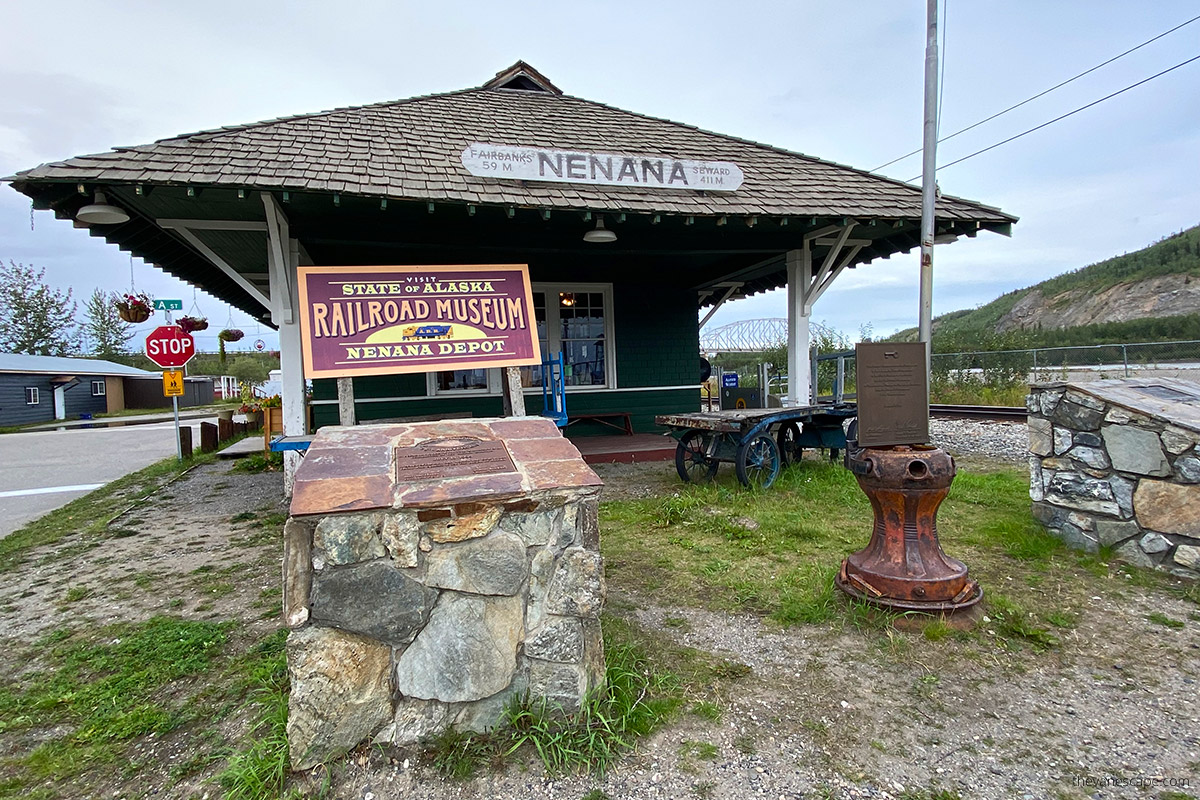 4. See an old and abandoned Alaska Railroad train car
Make sure to see the old, destroyed, and abandoned Alaska Railroad Passenger Car, which sits near the river in Nenana, Alaska. It is a relic of the past, a bit eerie, without windows.
Our Tip: If you like abandoned places and bizarre structures, add Igloo Hotel to your itinerary.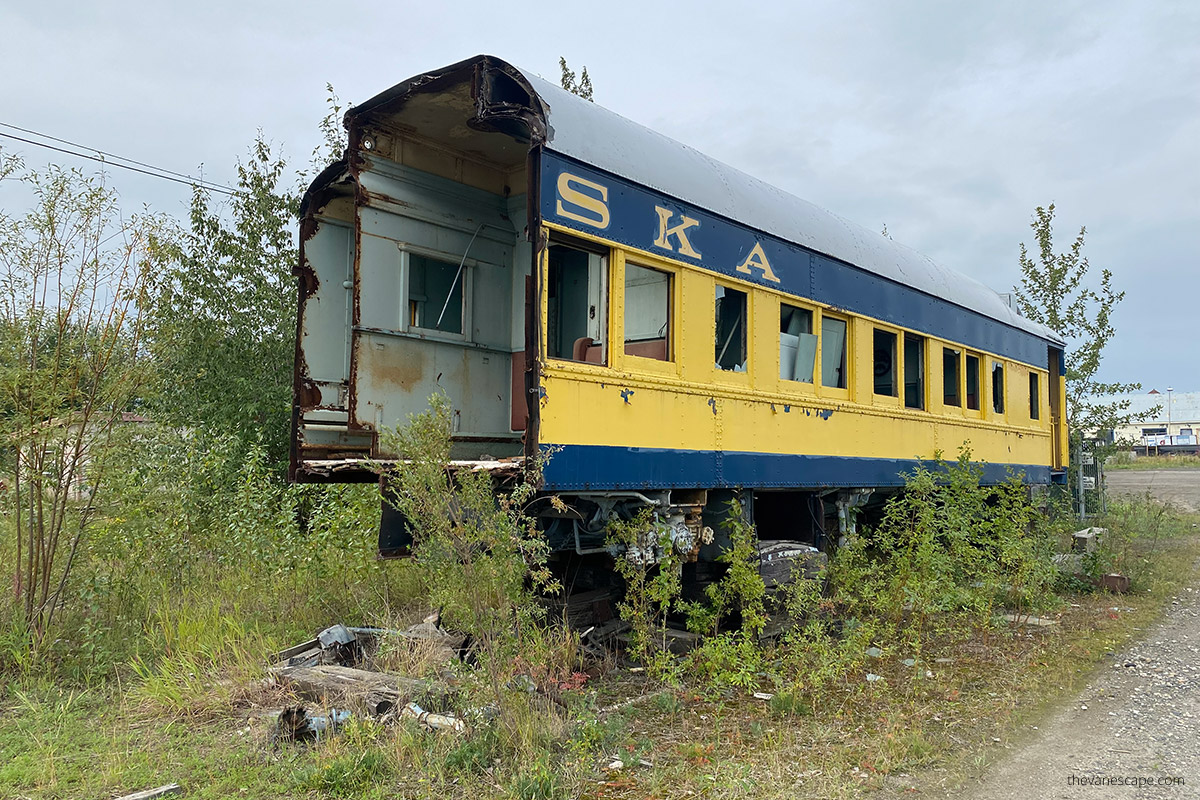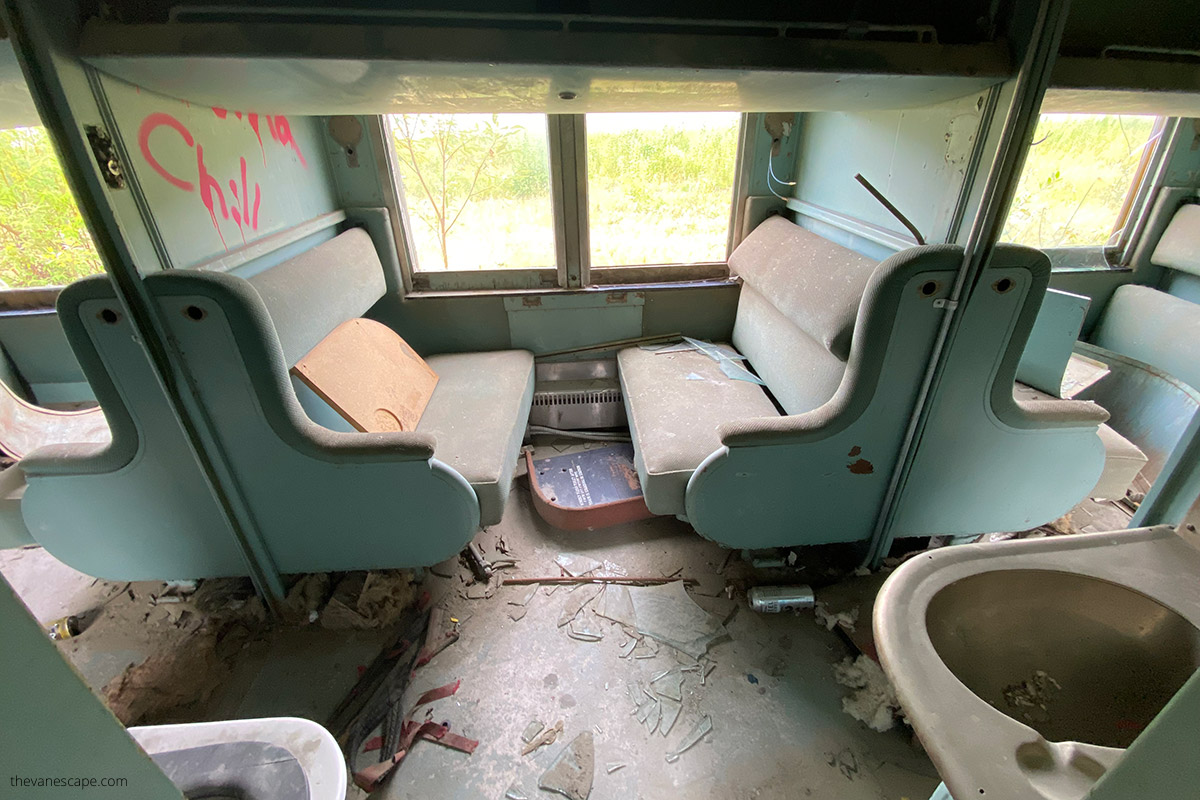 5. Take a picture of the Mears Memorial Bridge
As you walk along the river, be sure to take a photo of the Mears Memorial Bridge. It was completed in 1923. The bridge is 700-foot-long ( 210 m) and was built across the Tanana River as part of the territory's railroad project connecting Anchorage and Fairbanks. The bridge is still the longest span in Alaska and the third longest truss bridge in the United States.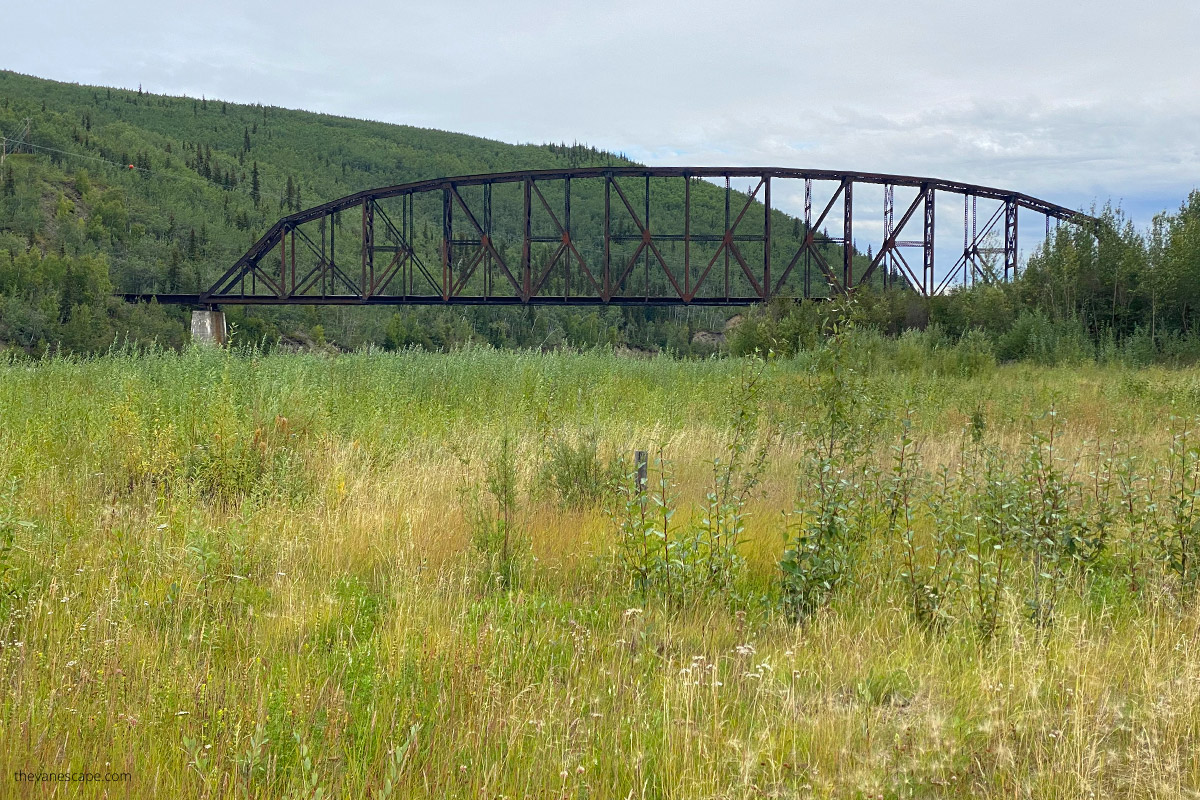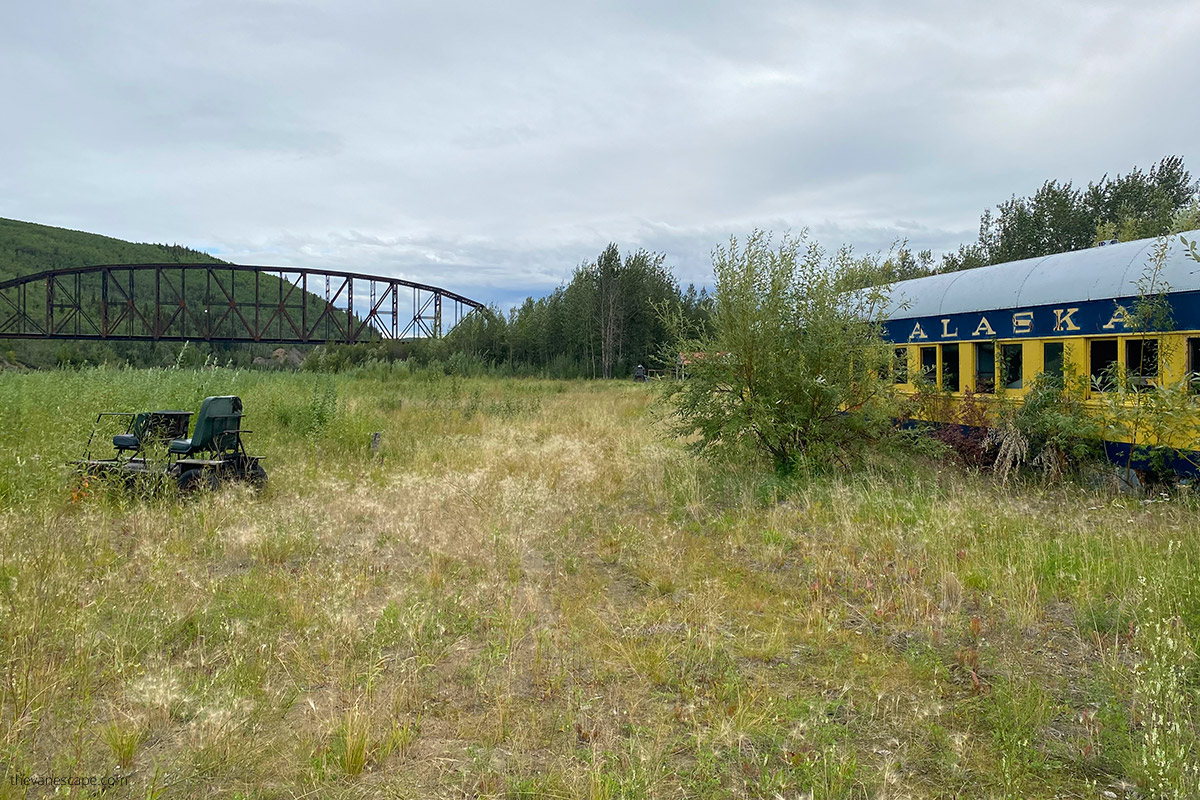 6. Try your luck in the Nenana Ice Classic game
As we mentioned, Nenana is famous for its Ice Classic guessing game. You can try your luck and fill out your coupon. You will receive your ticket at the Alaska Railroad Museum. You will learn the rules on the official website of this highly intriguing game.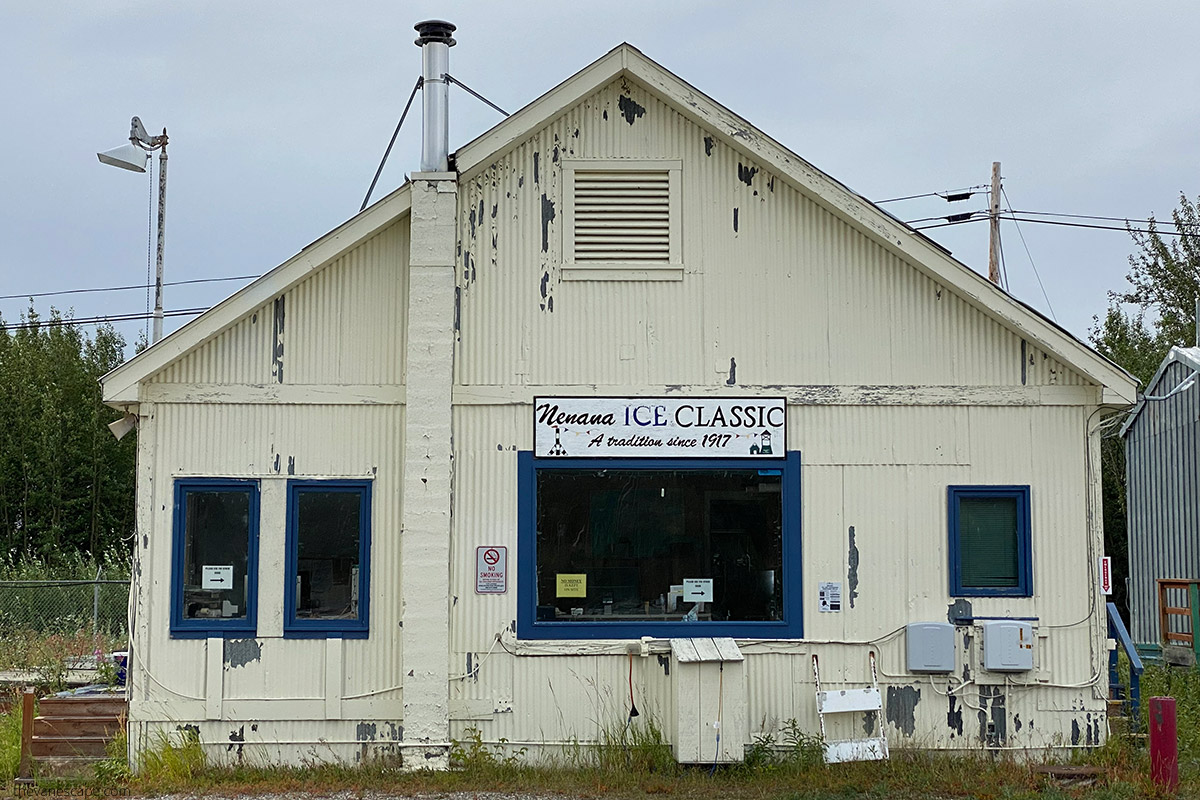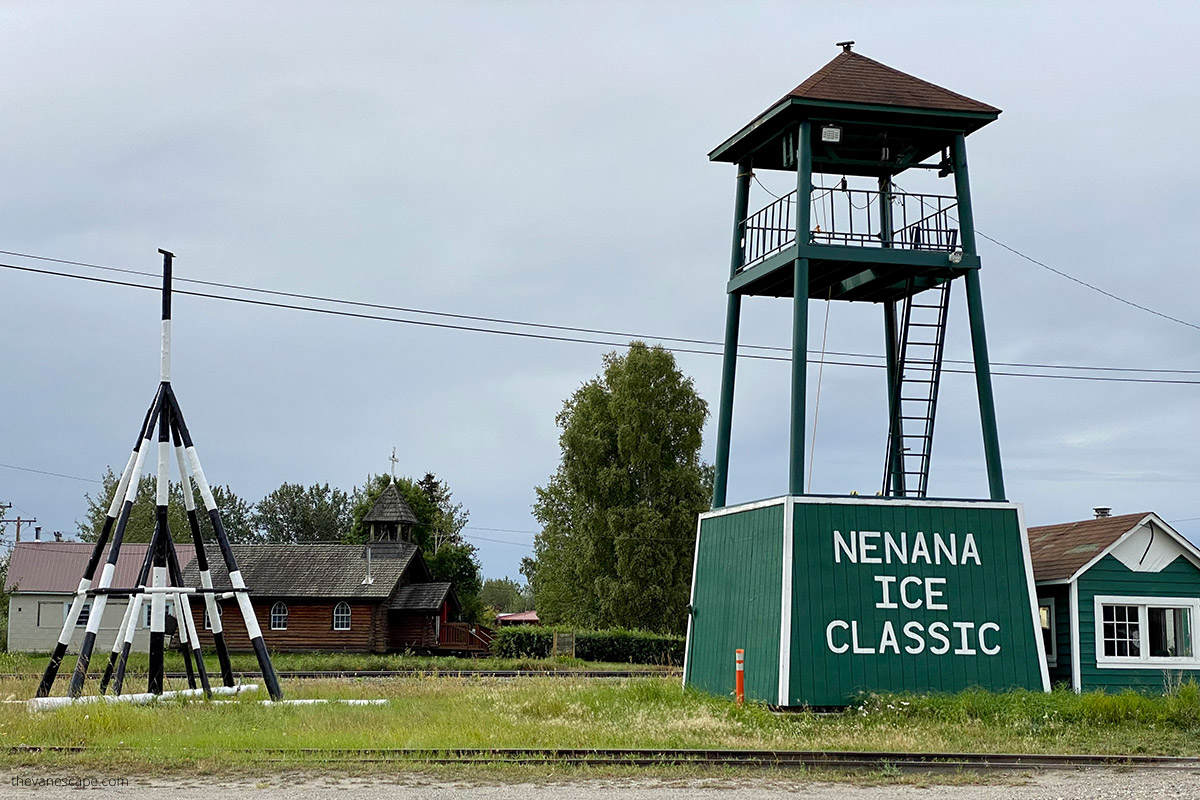 7. Visit Alfred Starr Nenana Cultural Center
The Alfred Starr Nenana Cultural Center on the riverfront displays the history and culture of the Nenana region, including Athabaskan artifacts and costumes, riverboat races, and dog sledding. There is also a gift store with local products. The center is named for Alfred Starr; a noted Alaska Native leader.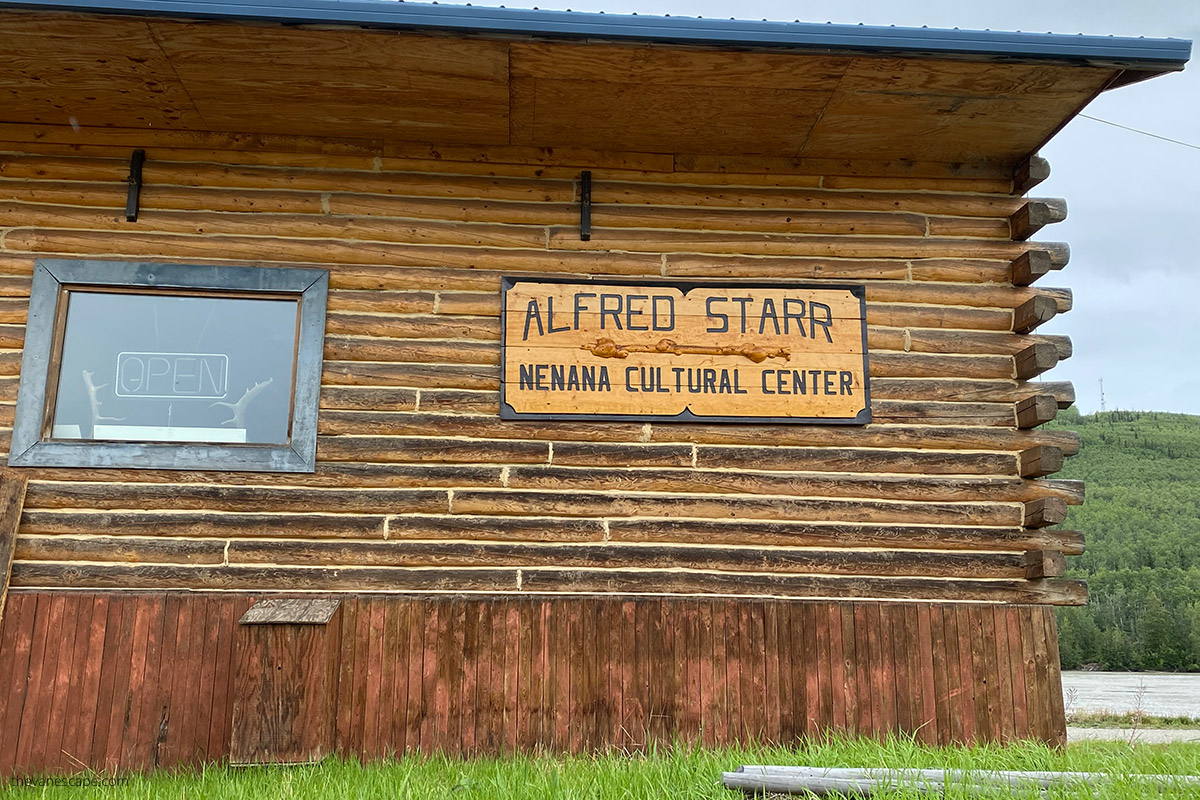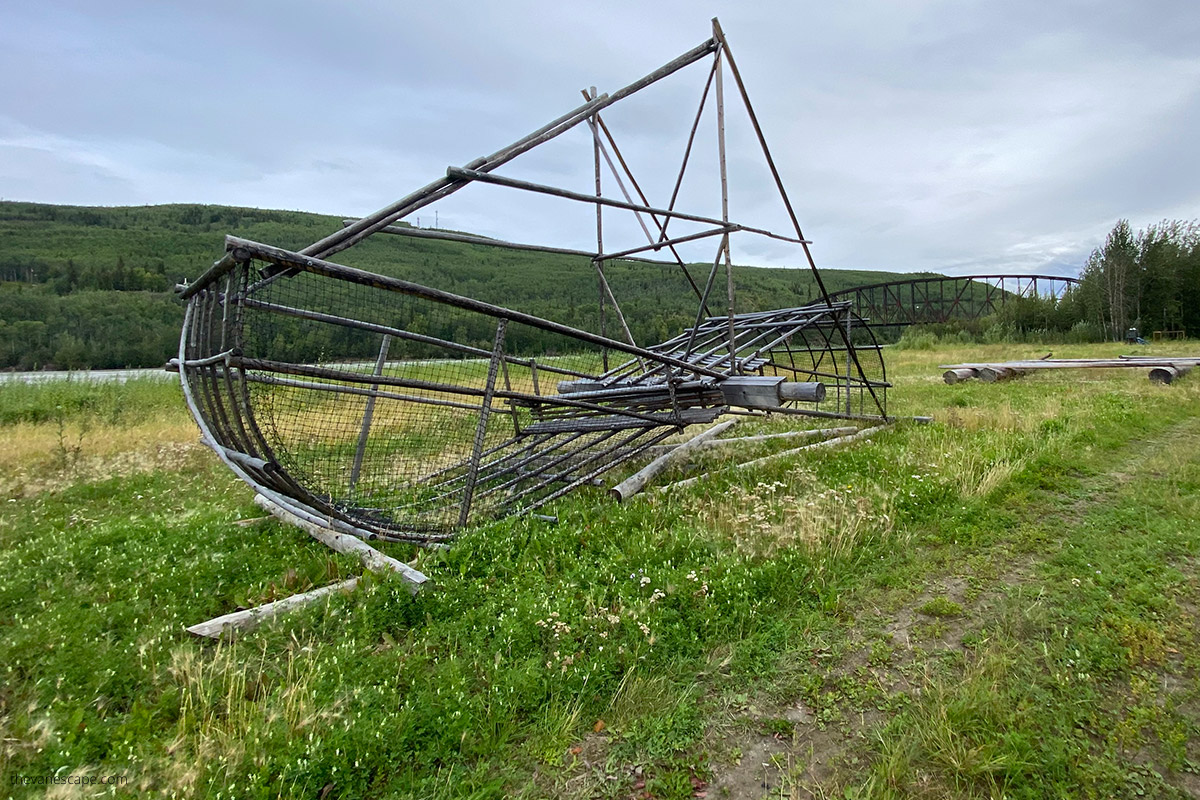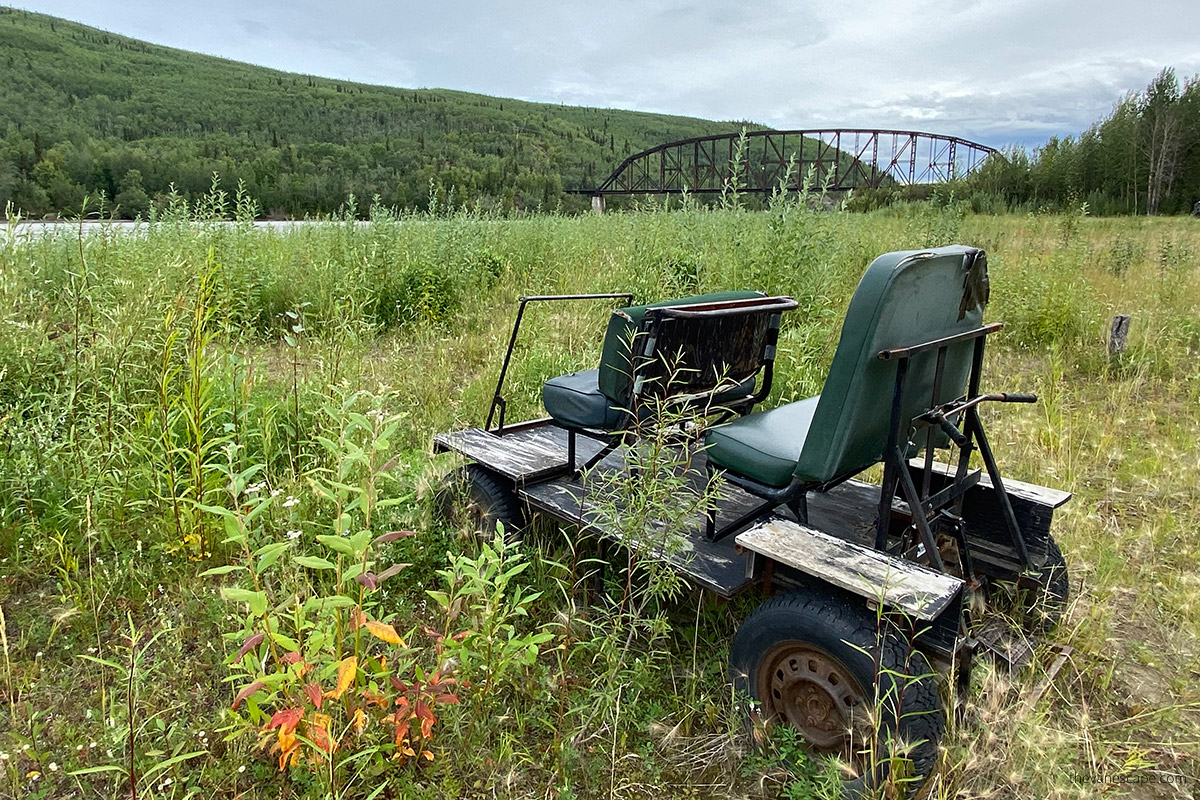 8. Go for lunch at Rough Woods Inn & Cafe
You won't find many restaurants in Nenana. The town is small and usually overlooked by tourists. But there is one place we can recommend because we liked it very much. Visit the family-run, atmospheric Rough Woods Inn & Cafe – an attractive and cozy interior, friendly service, and delicious food. They have a great American breakfast, burgers, and microbrewery with German-style beer.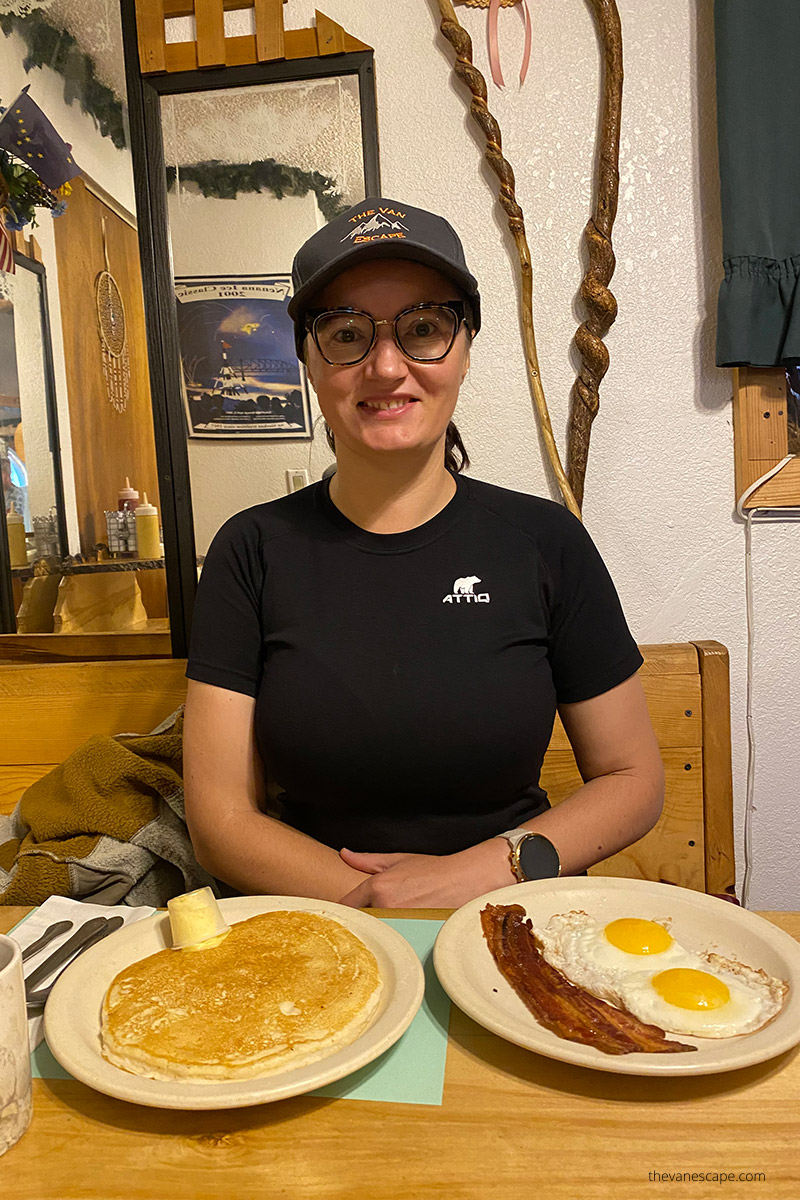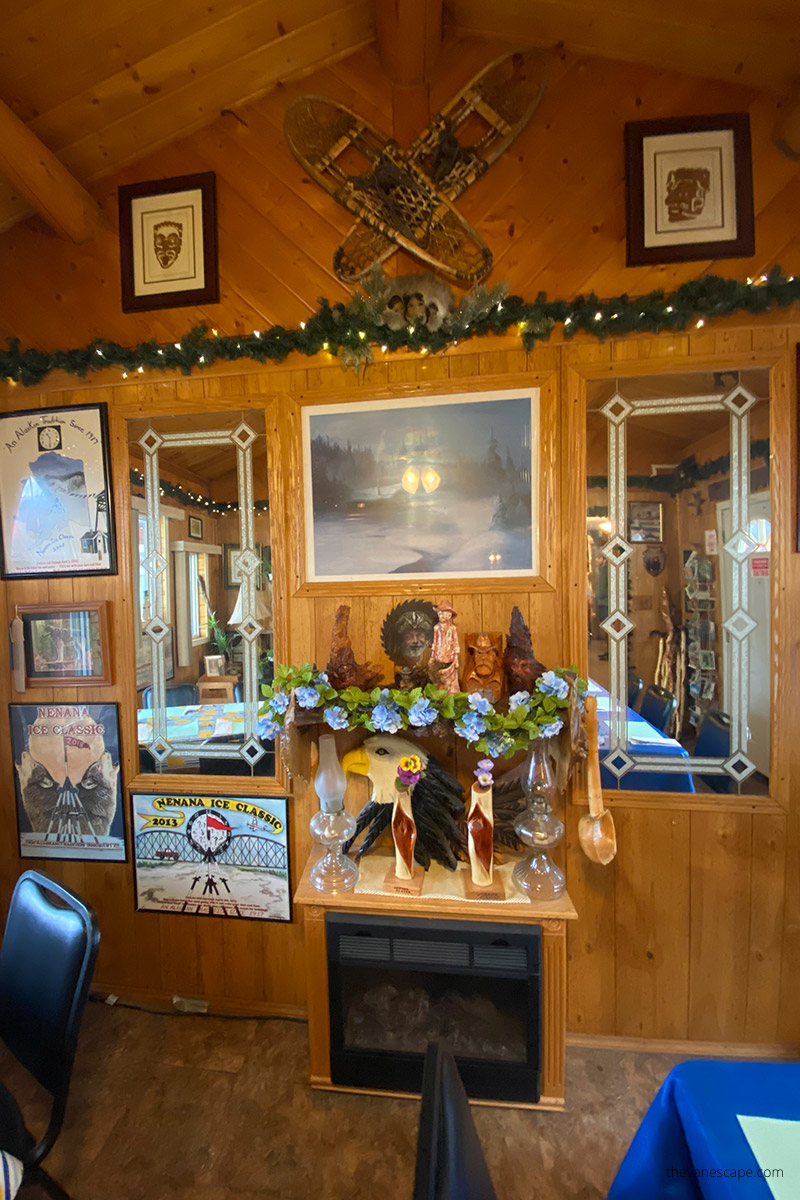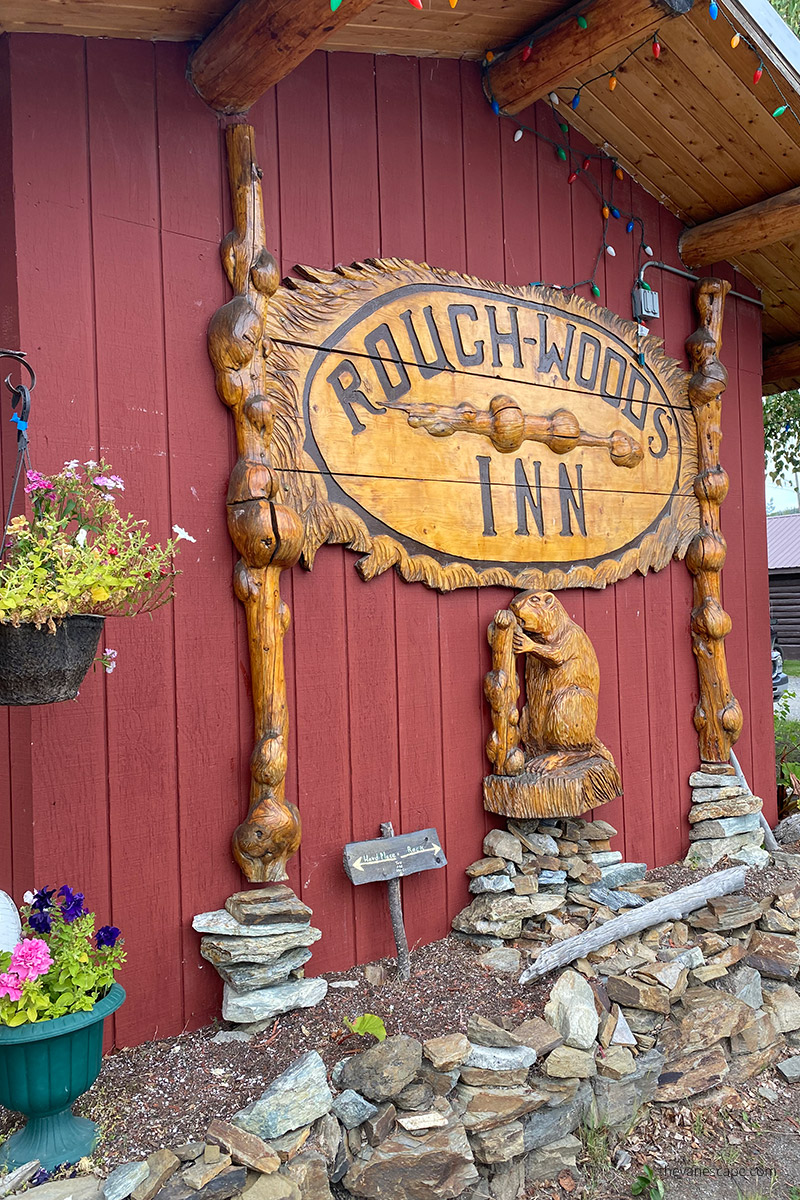 9. Go for a walk on Nenana Streets and visit Alaskan Gallery
While walking around the town, check out the Alaskan Gallery, which supports local artists. Evelyn Adams run the gallery. Here you will see one of the most beautiful pictures of Alaska, but you can also buy handicrafts by Alaskan artists. If you want to bring a souvenir or gift from Alaska for a loved one, it is worth shopping at local artisans.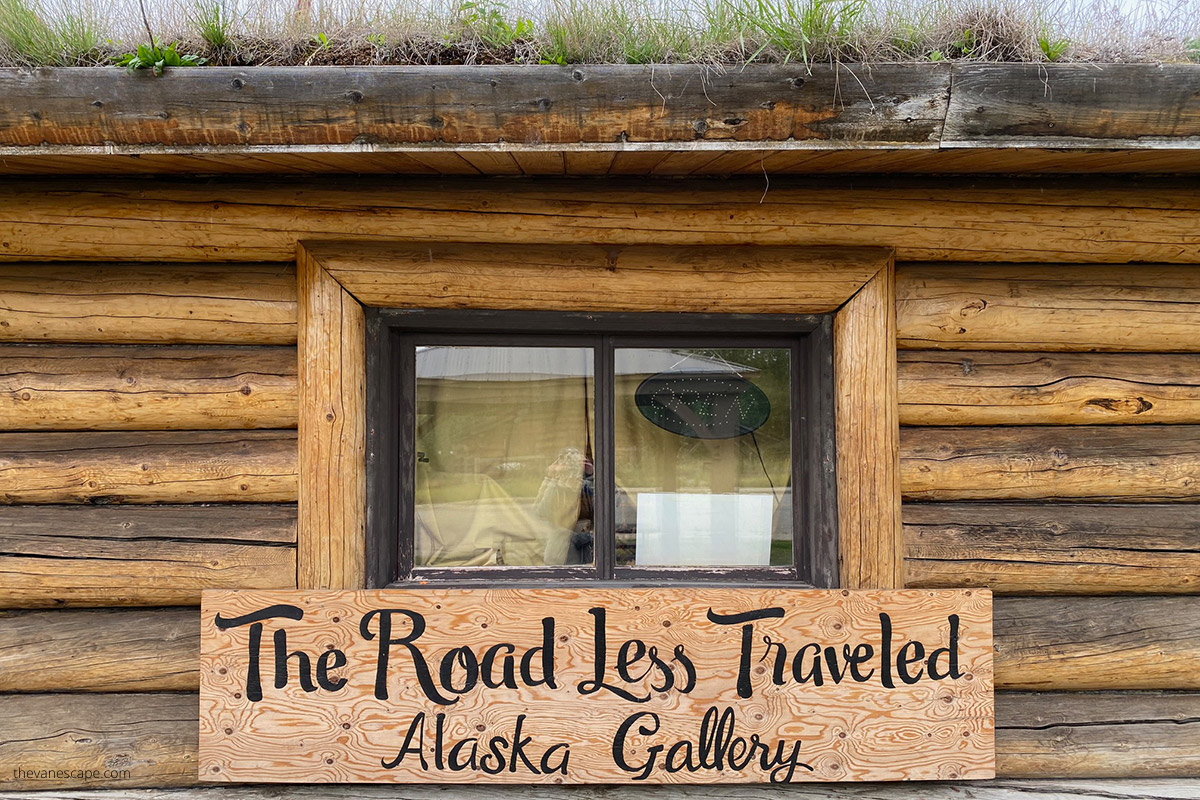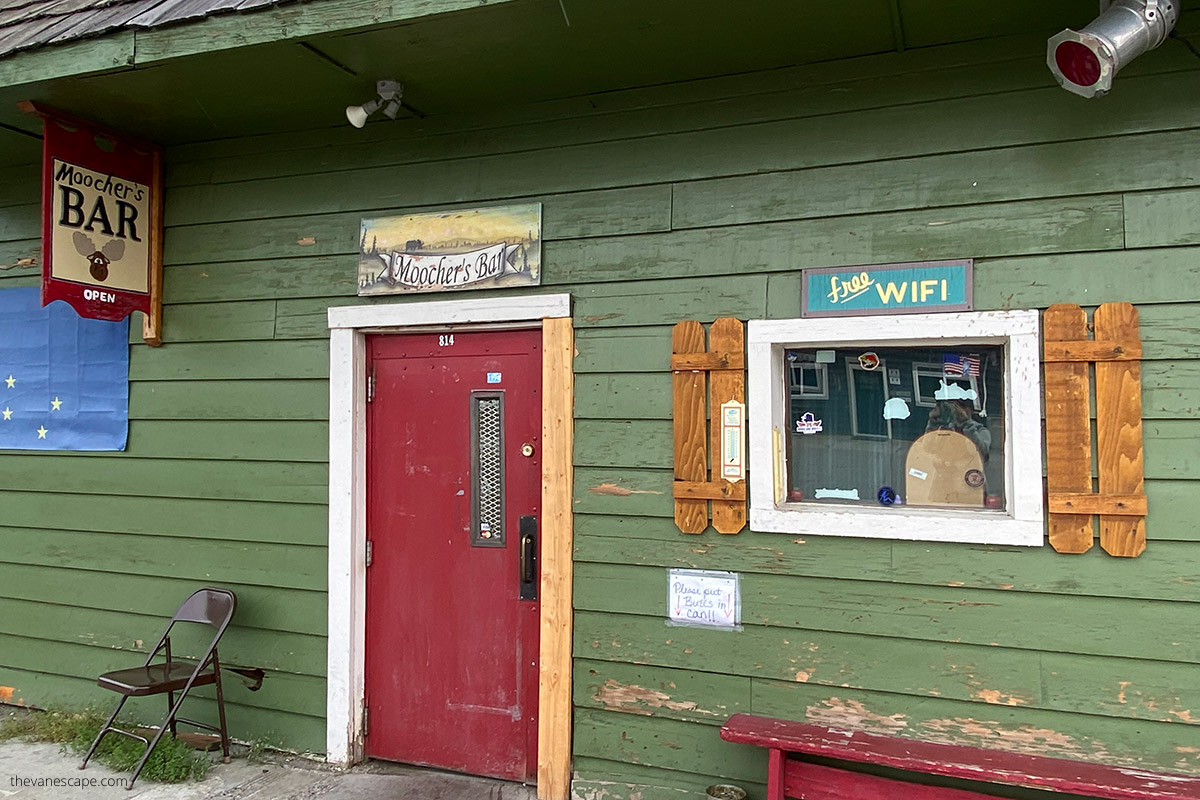 10. Admire murals of Nenana
Walking around this small town, you will also find some interesting murals on the buildings. Try to find them and take a picture. They often feature Native Alaskan and Nenana stories.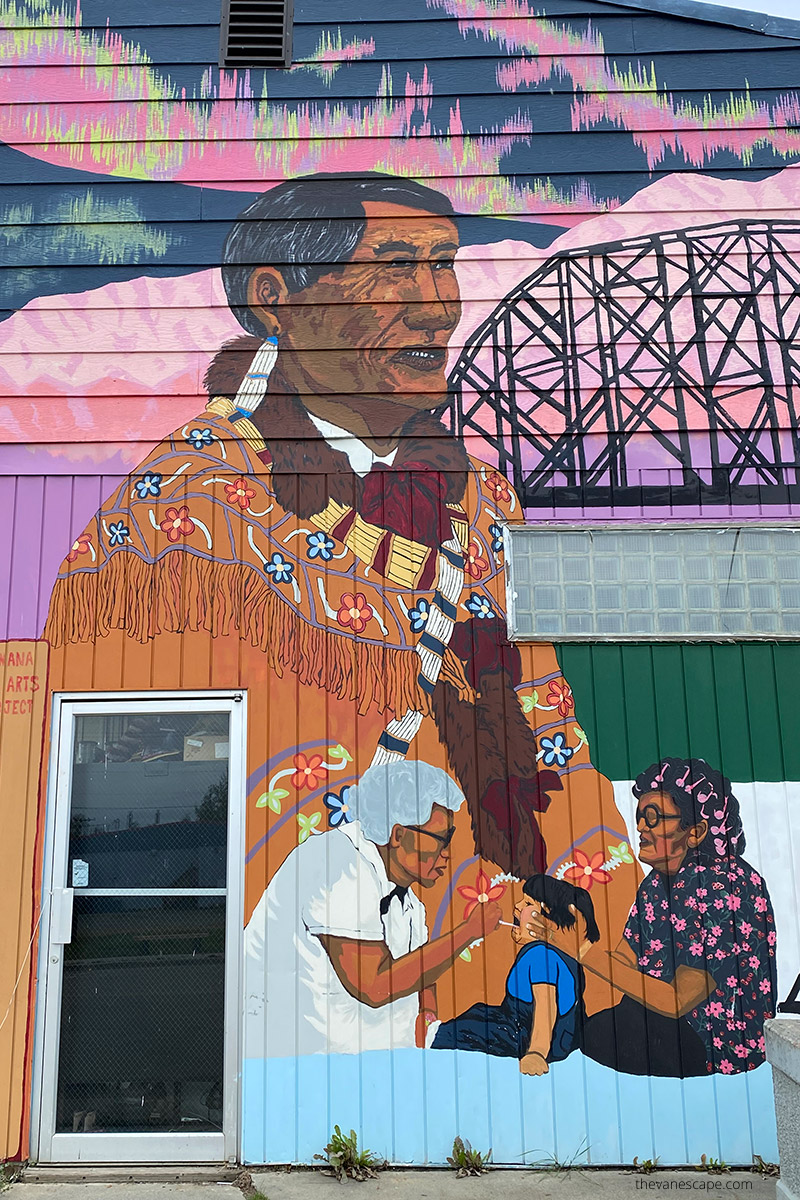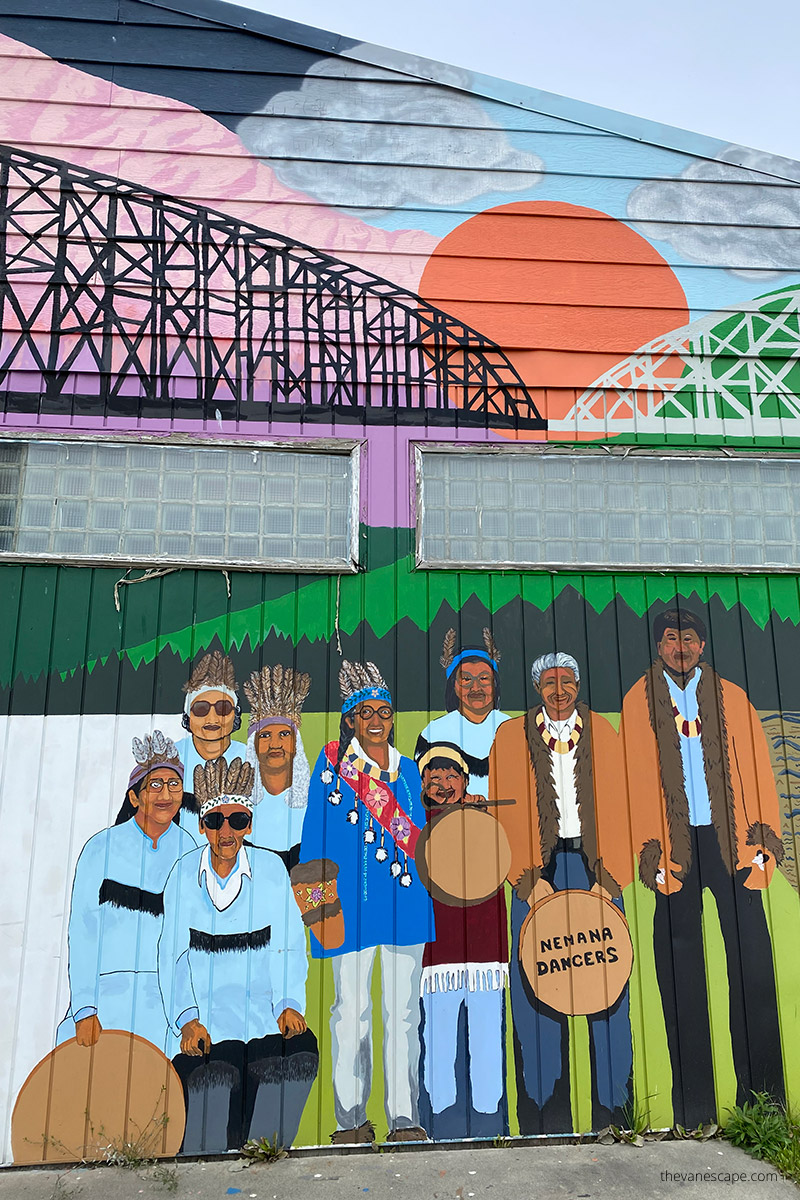 11. Visit Bill Cotter Kennels
A visit to Alaska is often associated with dog sled races. One of the most famous winter festivals, which begins in Anchorage, is the Iditarod Sled Dog Race. Nenana is home to one of the Legendary Dog Musher, Bill Cotter, who runs the Cotters Sled Dog Rides and Tours. You will find it at Mile 307.2 on George Parks Highway. This place is on our bucket list for the next winter trip to Alaska. We want to go on one of the fantastic dog sledding trips this experienced and award-winning musher offers.
What is the history of Nenana Alaska?
Nenana is in the westernmost portion of Tanana territory. The Tanana are among the large Dené language family, also known as Athabascan.
Europeans first knew the town as Tortella, a translation of the Native American word Toghotthele, meaning "mountain that lies parallel to the river." Later, it was named after the river and the nearby Nenana people.
The Nenana people became accustomed to contact with Europeans through trade trips to the village of Tanana, where Russians traded Western goods for furs beginning in 1838.
In 1902, the discovery of gold in Fairbanks brought intense activity to the region.
In 1903, Jim Duke established a trading post and roadhouse to serve river travelers and trade with the community of Nenana.
In 1905 the Episcopal Church built the St. Mark's Episcopal Mission and Tortella School.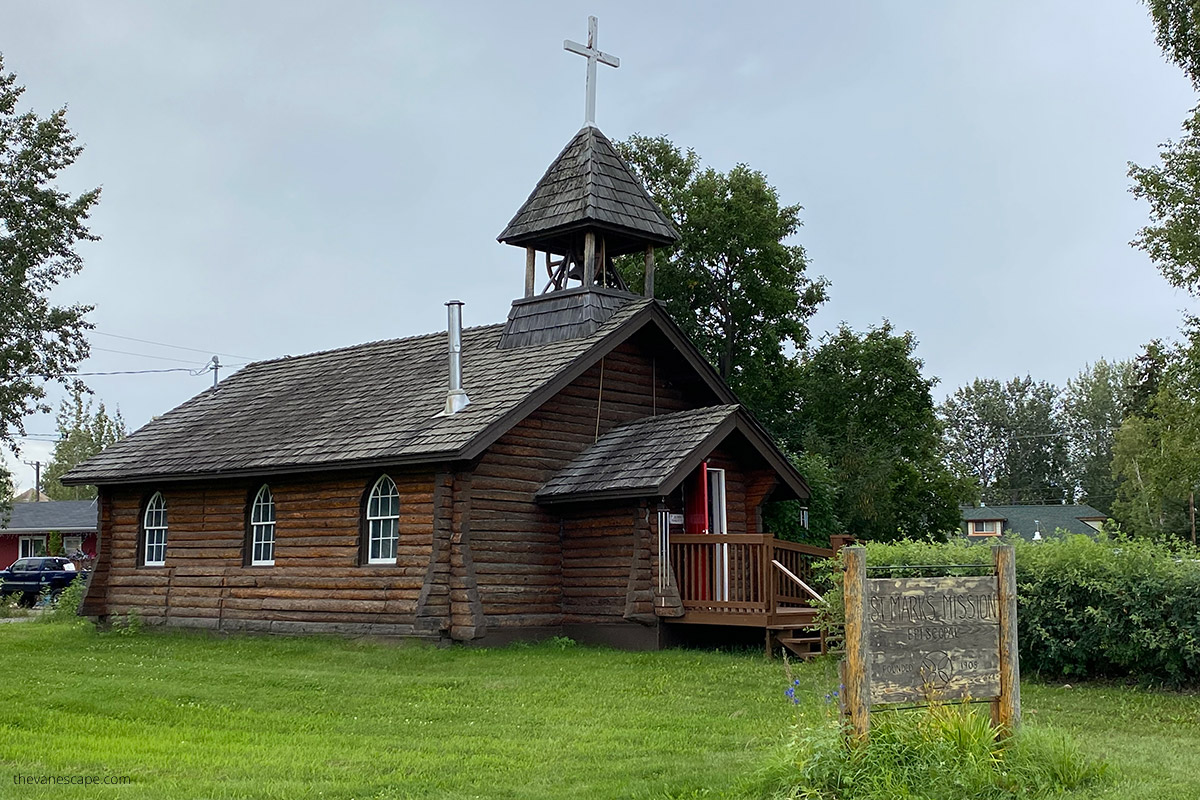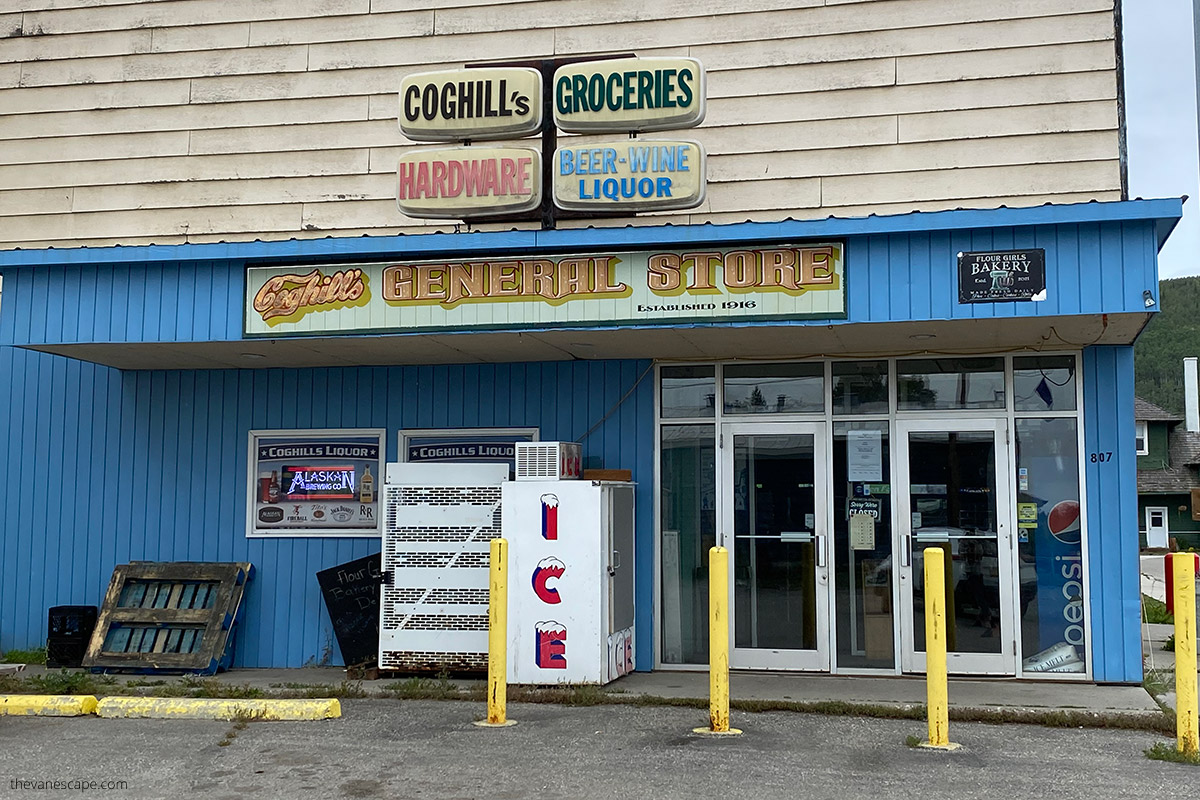 In 1908, a post office was opened.
In 1915, the construction of the Alaska Railroad brought new settlers who doubled the population of Nenana.
The Railroad depot was completed in 1923. In headways, 5,000 residents lived in Nenana.
In 1967, the community was devastated by one of the largest floods ever recorded in the valley.
In the summer of 2008, Nenana also suffered severe damage from flooding. The Tanana River reached its second-highest level since written records began.
Nenana is a home rule city in the Yukon-Koyukuk Census Area of the Unorganized Borough in the interior of the U.S. state of Alaska.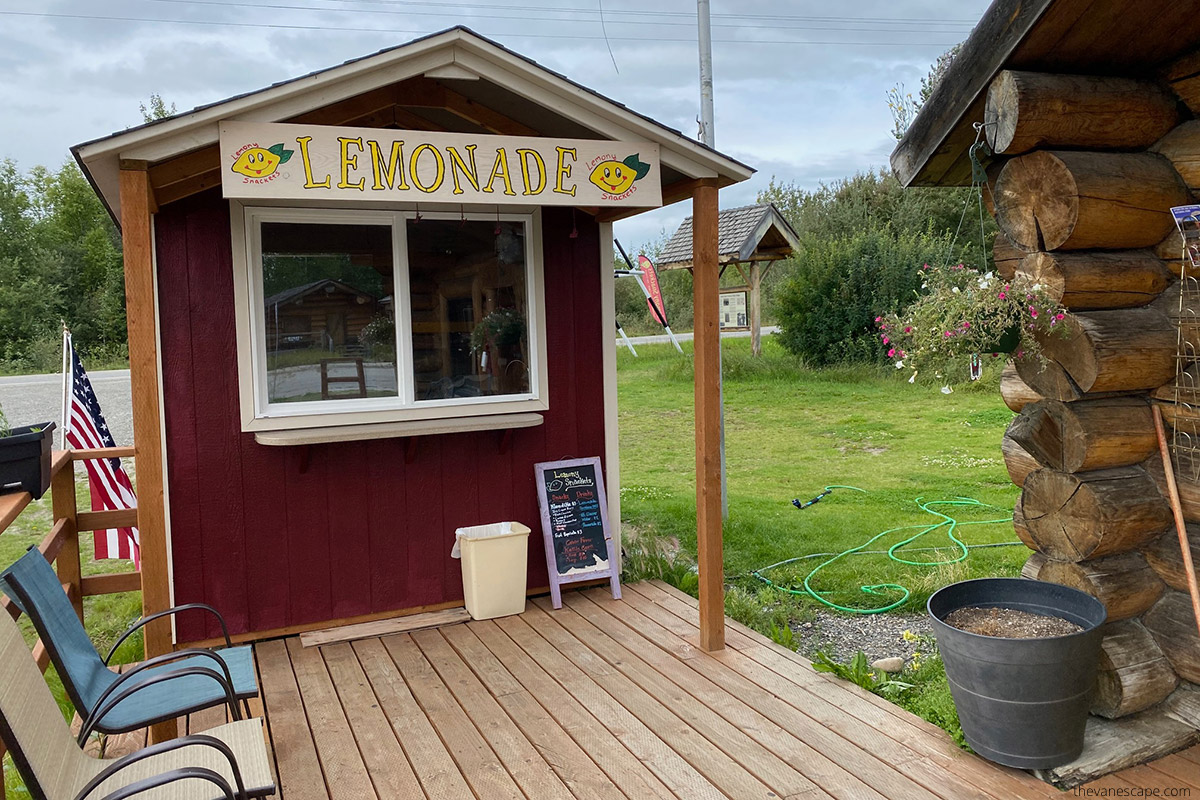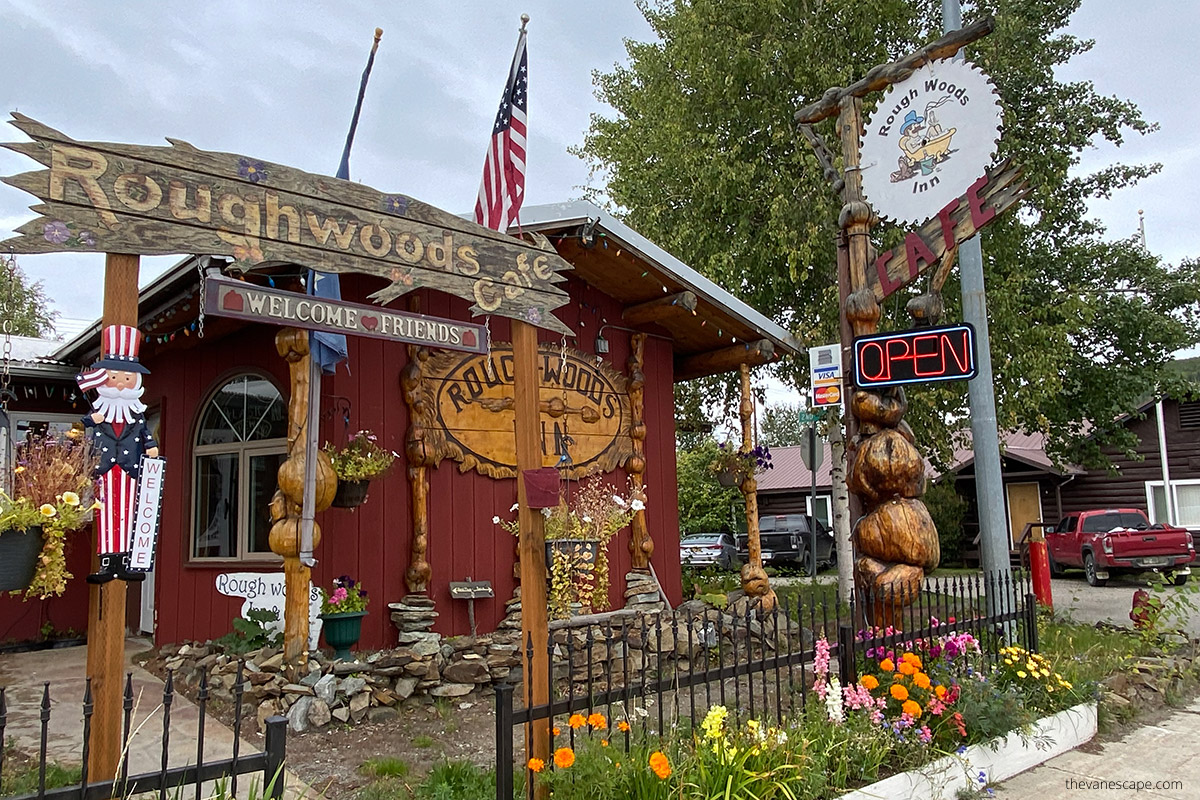 Summary of Attractions in Nenana
Nenana has a great past and an intriguing history, so it is worth visiting. The top attractions to visit and things to do in Nenana are Alaska Railroad Museum & Nenana Depot, Mears Memorial Bridge, tugboat Taku Chief, Alfred Starr Nenana Cultural Center, and Cotters Sled Dog Rides and Tours.