23 Best Things to Do in Denali National Park
Are you looking for the ultimate adventure destination? Look no further than Denali, Alaska's crown jewel. With over six million acres of untamed wilderness, you will find an endless array of things to do in Denali National Park. From hiking, camping, and white river rafting to capturing breathtaking wildlife and landscape photos, Denali is a haven for outdoor enthusiasts and nature lovers. In this comprehensive guide, we'll explore the best things to do in Denali National Park, ensuring your visit is filled with excitement, wonder, and unforgettable memories.
This article may contain affiliate / compensated links. For full information, please see our disclaimer here.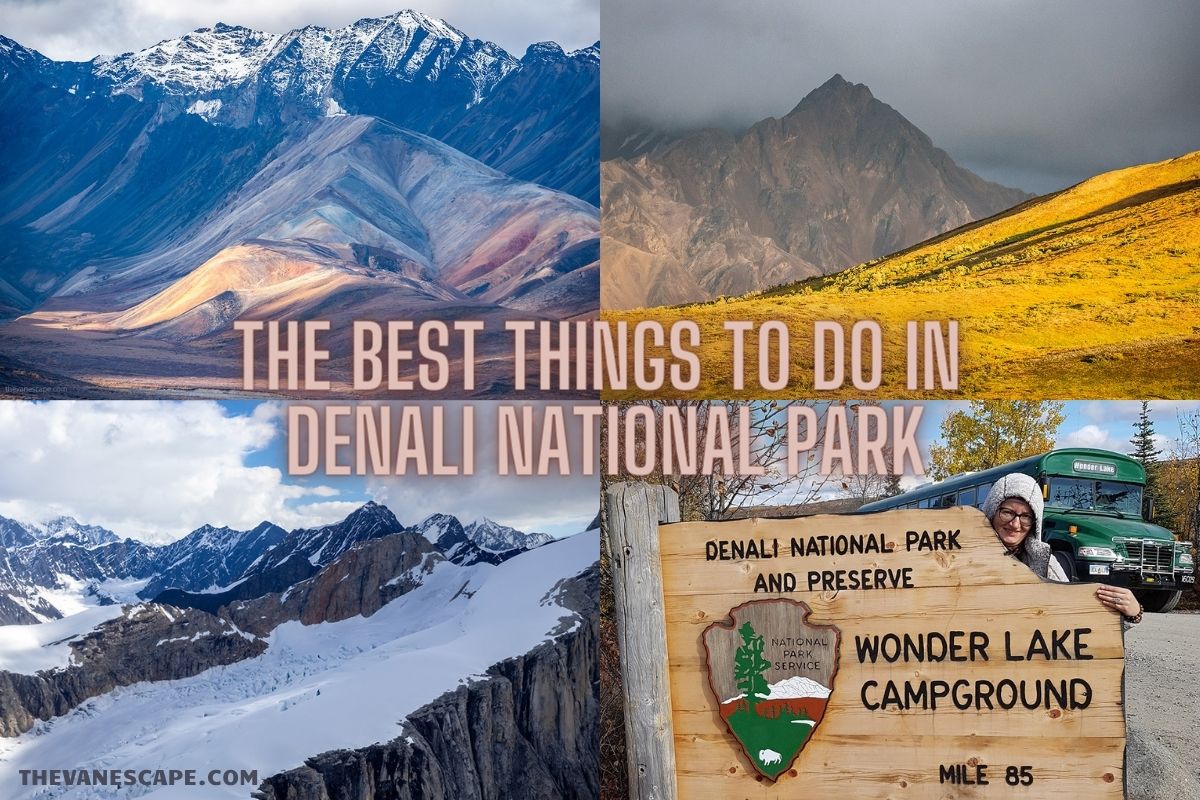 Best Things to Do in Denali – Our Experiences
We've visited Denali several times and still can't get enough of this park with its wildness and unusual attractions. That's why we've compiled a list of the best things to do in Denali National Park, so you can choose the activities that best suit your interests and itinerary. There are no tricks with us. We've experienced most of these activities and share first-hand information with you.
Our top 5 Denali National Park activities include the narrated tour bus, hiking, wildlife viewing, camping, and flightseeing tours. But we show you much more. 23 top things to do to choose from.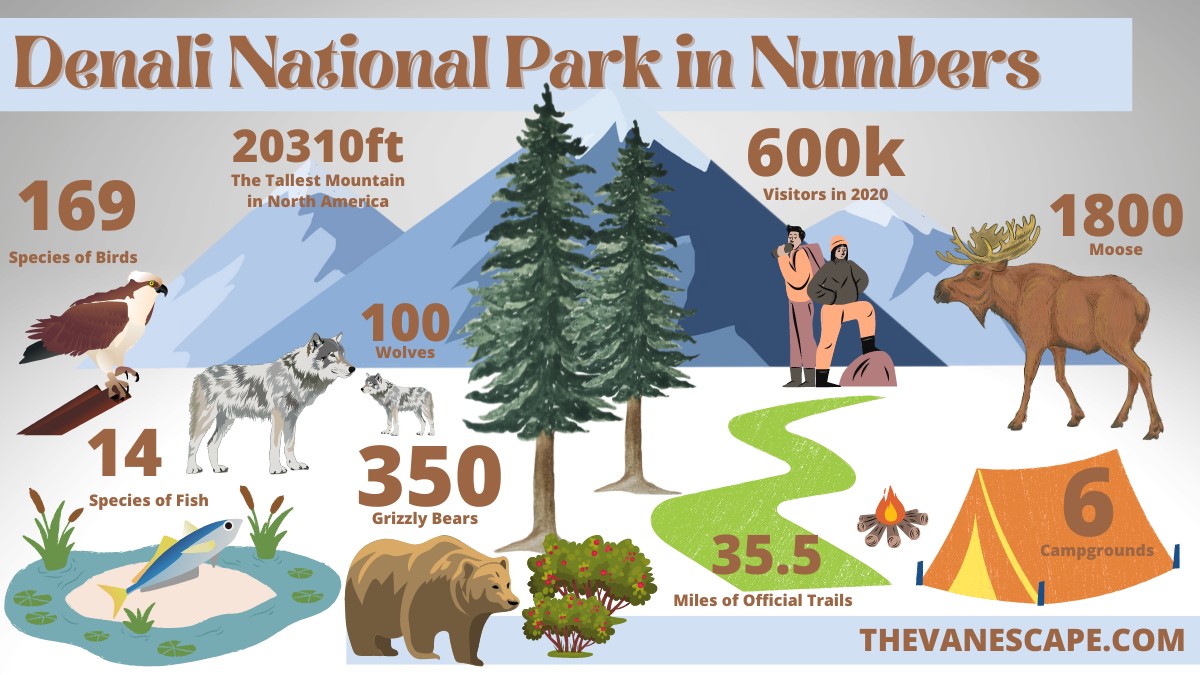 As you begin to plan your adventure in Denali, we invite you to read in-depth articles we've compiled based on several visits to Denali over the last few years: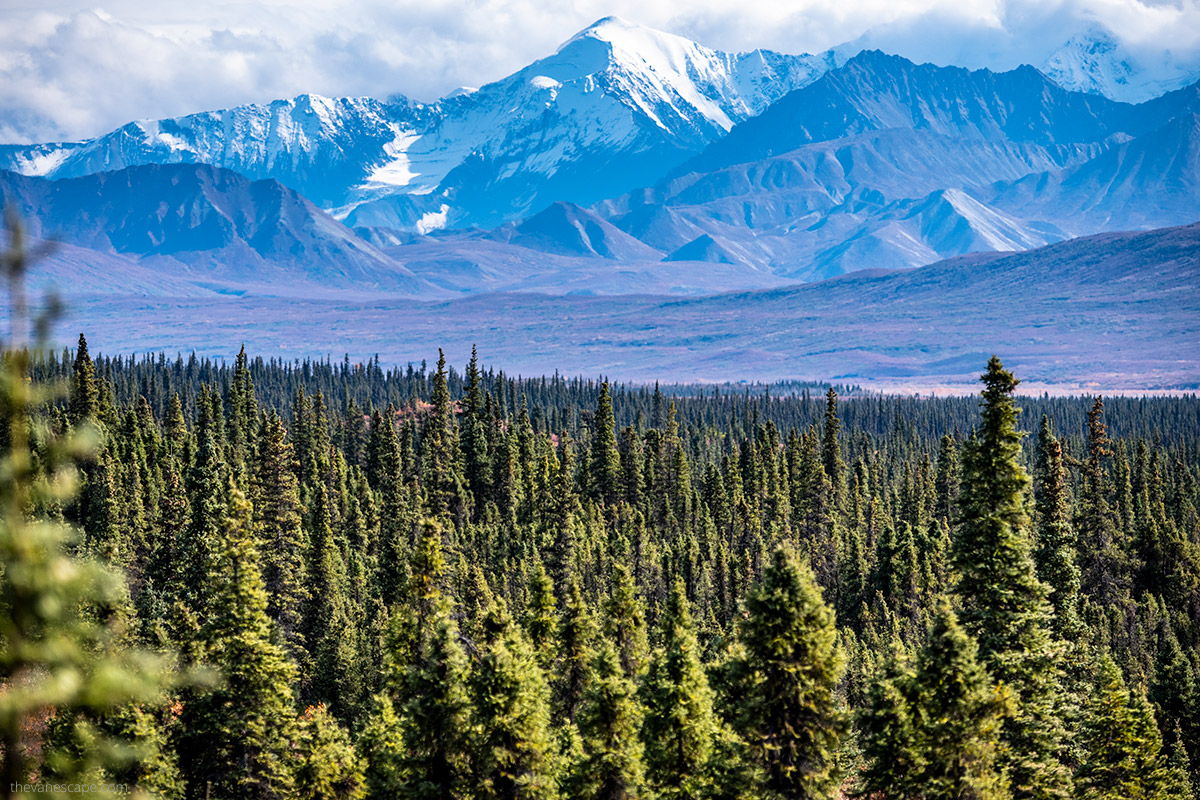 23 Best Things to Do in Denali National Park
1. Gateway to Wonders: The Denali Visitor Center
You should definitely start your trip at the Denali Visitor Center. It's the perfect introduction to the activities of Denali National Park. Here you can view exhibits, participate in ranger-led programs, gather important information about the park, or get free maps.
Upon entering, visitors are greeted with a wealth of knowledge. Interactive exhibits vividly depict the park's various ecosystems, from the high peaks to the dense forests and meandering rivers. These exhibits convey a sense of wonder and appreciation for the natural beauty that lies before us.
Moreover, a network of well-maintained trails surrounds the center. Whether you're looking for a leisurely stroll or a more challenging hike, these trails offer a glimpse of the park's flora and fauna.
Our Tip: If you plan to go camping, off-trail hiking, or backpacking in Denali (which activities we describe below), the Visitor Center is the best place to ask rangers about the current situation. Ask about weather risks, wildlife hazards, and what areas to avoid.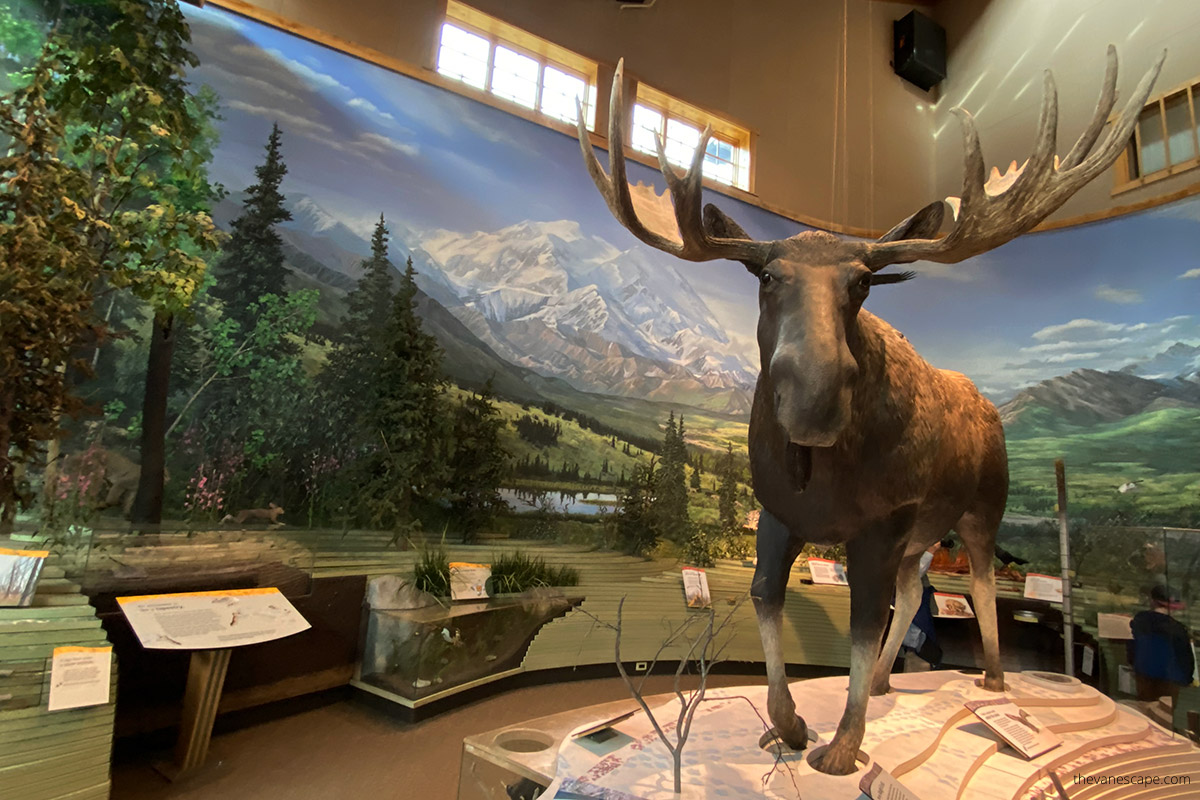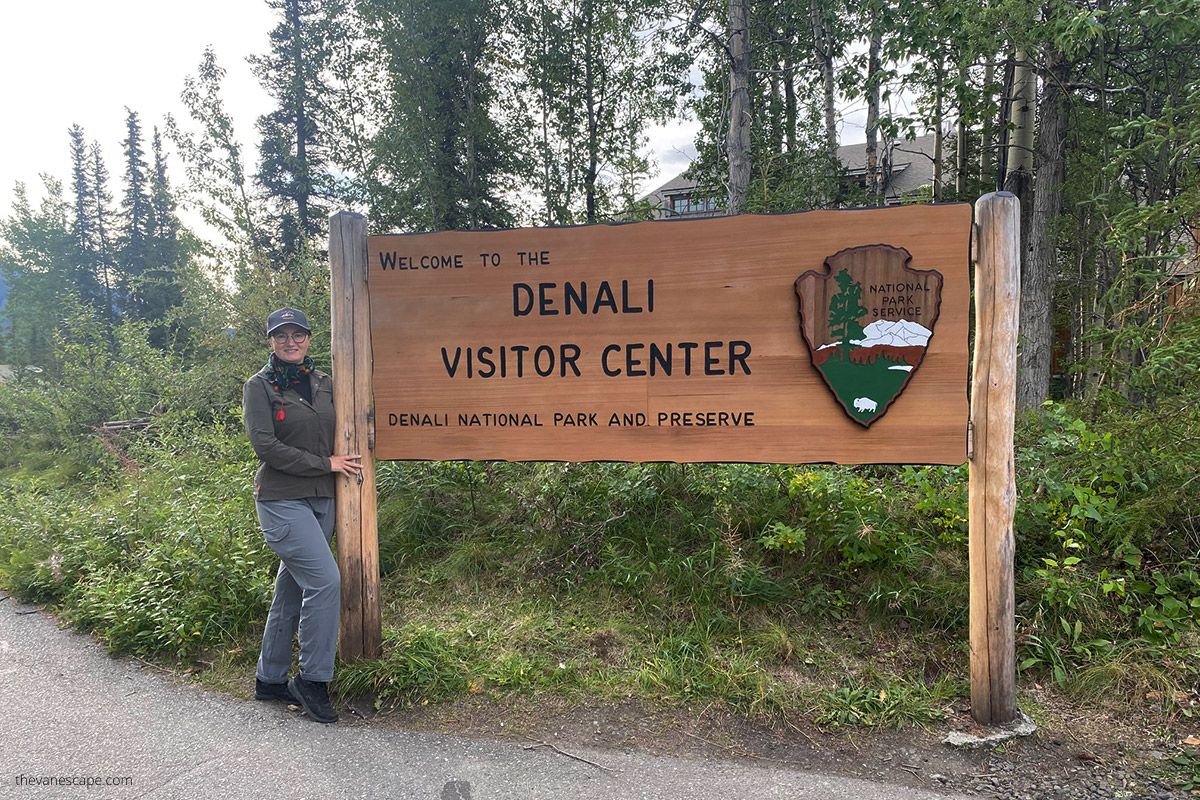 2. Enjoy Denali Bus Tour Adventures
There is only one 92-mile road in Denali, and you can only drive your car to mile 15 between mid-May and mid-September. So the best way to explore the park is by the Denali bus system. You can book a transit bus or a narrated bus tour. We think the bus tour is the best thing you can do in Denali National Park, especially if you are visiting for the first time.
A Denali Bus Tour is one of the top activities in Denali, as you can experience the park's vastness, observe wildlife in its natural habitat, and learn about its rich history from knowledgeable guides. Every turn offers a new spectacle as the bus winds through the park's vast terrain, from the dense green forests to the shimmering rivers that reflect the colors of the sky to majestic Denali itself.
But it's not just about the views. One of the standout features of these bus tours is the knowledgeable tour guides. With their passion for Denali and a wealth of information, they tell of the park's history, ecosystems, and the wildlife that calls it home. Speaking of wildlife, the bus tour is a unique opportunity to spot some of the Big Five of Denali.
Our Tip: Book your chosen tour in advance via the official reservation system. You have several types of narrated guided tours to choose from. We recommend the longest one. Thanks to this, you will experience most of the highlights. In 2023 you can explore the park only to mile 43.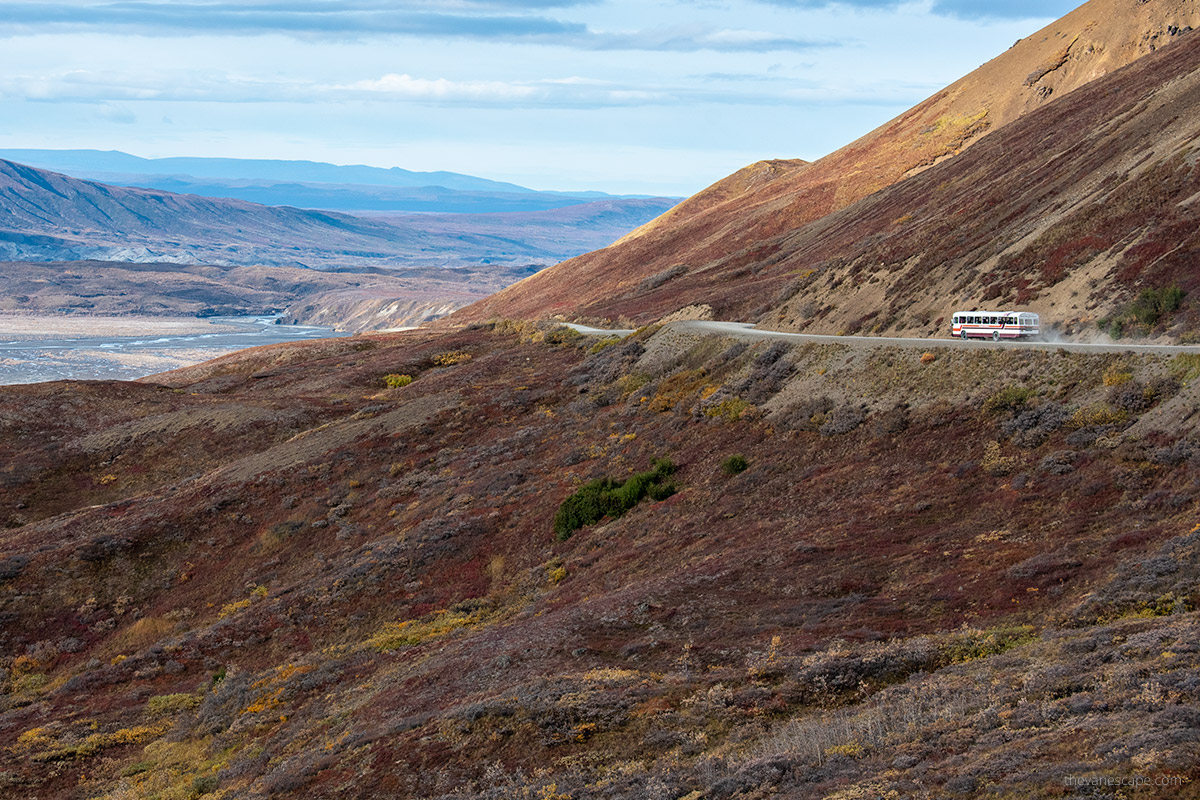 3. Nature's Playground: Exploring Savage River Area
Among the many attractions in Denali, the Savage River Area stands out. Ideal for short hikes and picnics, it offers stunning views and opportunities to spot wildlife.
Located at Mile 15 Savage River Area, it is often dubbed "Nature's Playground." This spot marks the last mile visitors can reach by car, making it a unique blend of accessibility and untouched wilderness. For those without a vehicle, don't worry. A free shuttle service conveniently transports visitors to this natural wonder.
The Savage River Loop Trail is one of the best hiking trails in Denali. We love this 2-mile trek, which offers panoramic views of the river set against the backdrop of the Alaska Range. It's a haven for casual walkers and seasoned hikers alike. Watch for ground squirrels, Dall sheep, and even caribou as you wander.
Our Tip: Whether you want to drive or take a free Savage River Shuttle to mile 15, we recommend the morning hours. On this route, you can see many moose among the trees, which are especially active in the morning. But keep your distance and don't approach them.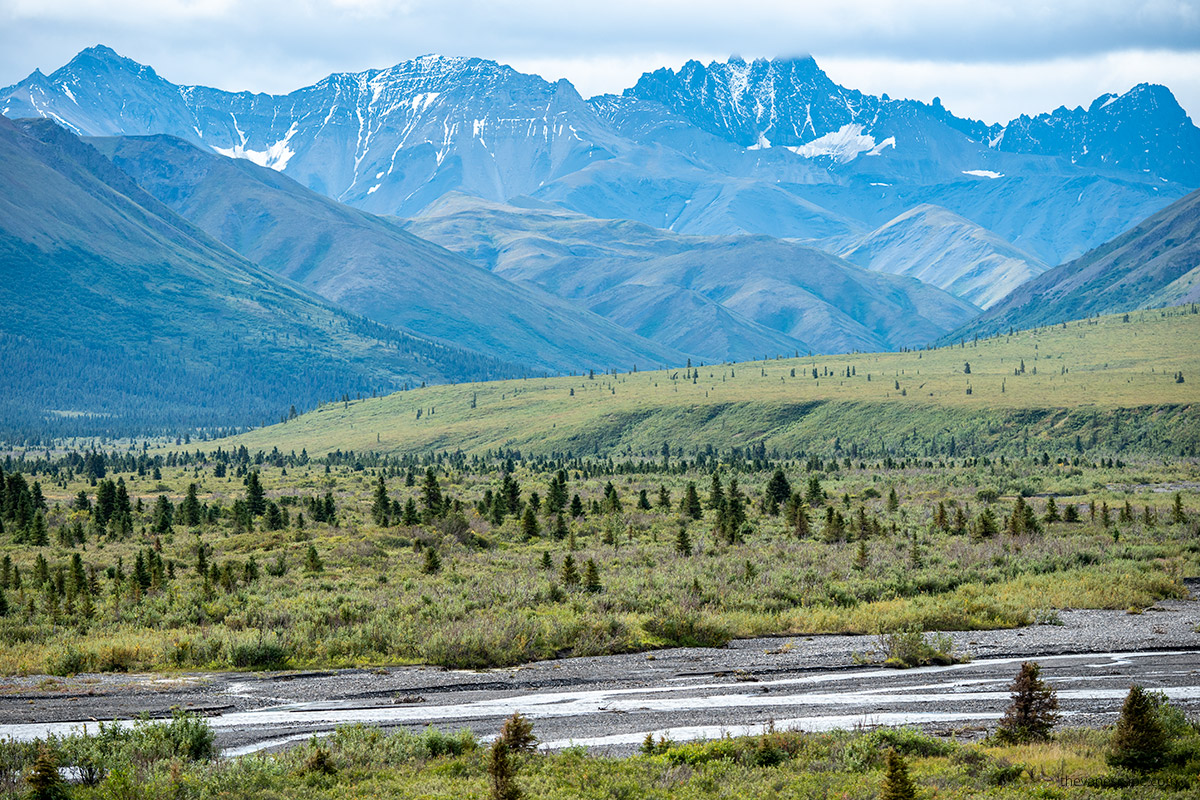 4. Trail Treasures: Hiking in the Heart of Denali
Hiking is undoubtedly one of the best things to do in Denali National Park. With trails ranging from easy to challenging, there's something for everyone.
We have prepared a detailed guide about the best hikes in Denali, including trailhead location and how to get there, distance, and difficulty level. We also provide some essential hiking tips, what to pack, and how to behave in a bear country. Each trail in Denali offers unique charm, from gentle, meandering paths through wildflower-filled meadows to challenging ascents up rugged mountain faces.
The Horseshoe Lake Trail is a great starting point for those new to Denali. This relatively short loop offers serene lake views, opportunities to spot beavers at work, and a gentle terrain suitable for families. The more seasoned adventurers might opt for the Mount Healy Overlook Trail. This challenging hike rewards with breathtaking views from the overlook, capturing the vastness of Denali's landscapes. One of our favorites is McKinley River Bar Trail at Mile 85 in the Wonder Lake area.
Our Tip: Make sure to pack a detailed trail map and carry bear spray in Denali. Maintaining a safe distance from wildlife and respecting the animals' natural habitats is essential.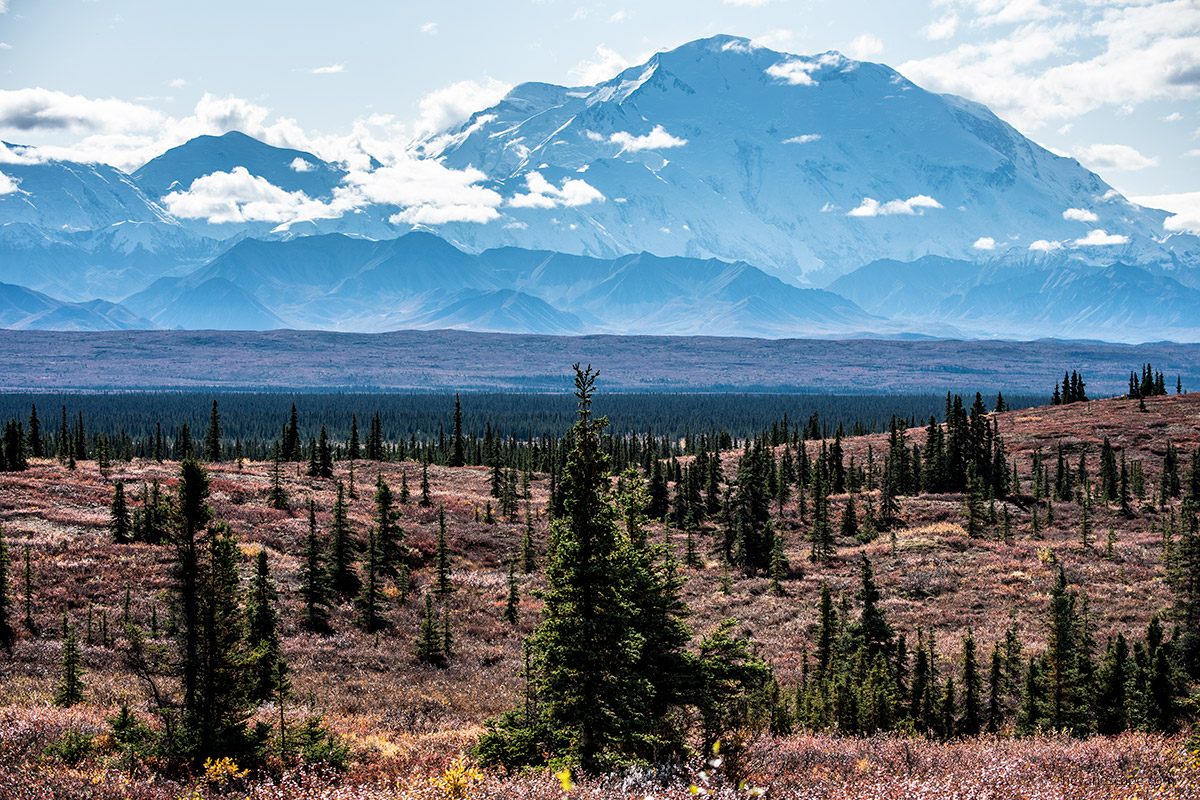 5. Starry Nights: Camping Experiences in Denali
In our experience (we spent several nights at Igloo Creek Campground), camping in this park is one of the best ways to explore Denali. There are six campgrounds to choose from along Denali Park Road.
Camping in Denali is like having a front-row seat to nature's grand theater. But be prepared for this adventure because it is a wilderness area. There is no electricity, no running water, and no showers. You must be prepared for encounters with wild animals.
Safety is paramount in Denali. Campers are advised to store food safely and clean the campsite to avoid attracting wildlife. While the allure of the wilderness is great, you must be equipped with the proper gear, especially given the unpredictable weather in the park.
Our Tip: Book the selected campsite several months in advance, as getting a spot in the season is a problem. You can get to the chosen campground with a free camper bus. Check out our detailed packing list for camping and backpacking in Alaska.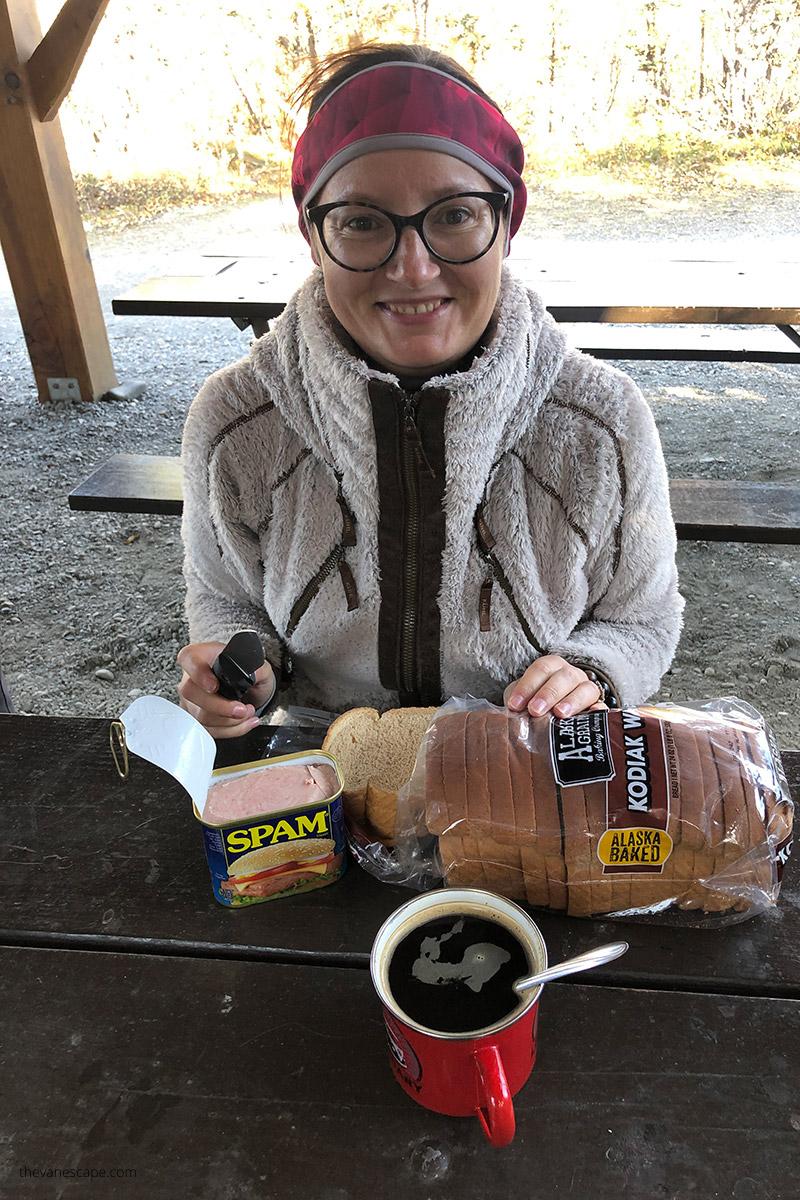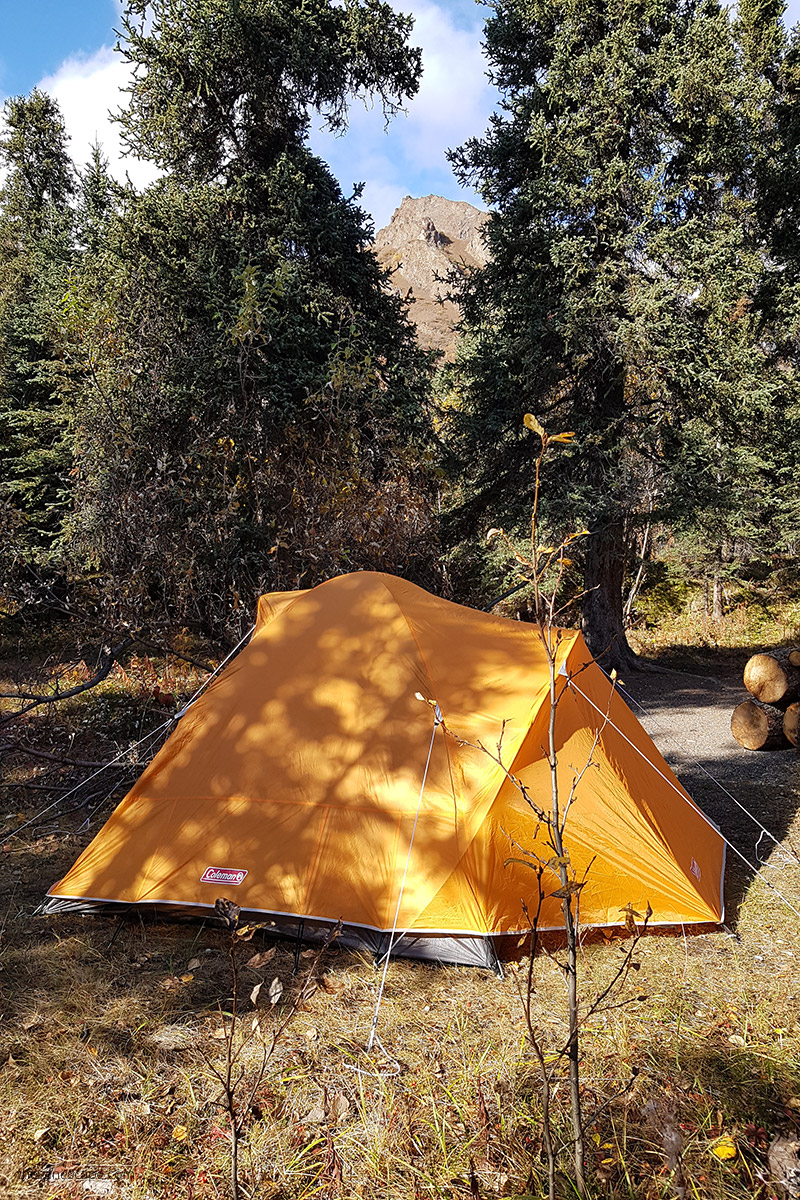 6. Epic Vistas: Eielson Visitor Center Insights
The Eielson Visitor Center is located deep within the park at Mile 66 and offers some of the most spectacular views. It's a must-visit spot when considering what to do in Denali. You can get there only by transit bus or narrated tour bus.
The Eielson Visitor Center is renowned for its breathtaking panoramas. At 3,540 feet, visitors are treated to unobstructed views of the majestic Denali peak on clear days. The expansive windows of the center frame the mountain, offering a picture-perfect view. Inside the center, various exhibits provide insights into the park's geology, wildlife, and history.
Several trails originate from the Eielson Visitor Center. Whether you're looking for a short, leisurely walk or a more challenging hike, there's a trail that caters to your adventure level. Each path offers its unique vantage points and experiences. Our favorite hiking trails in this area are Gorge Creek Trail and Tundra Loop Trail.
Our Tip: Beyond the exhibits and views, the center offers essential amenities for travelers, including restrooms, a bookstore, and picnic areas. It's a comfortable spot to take a break.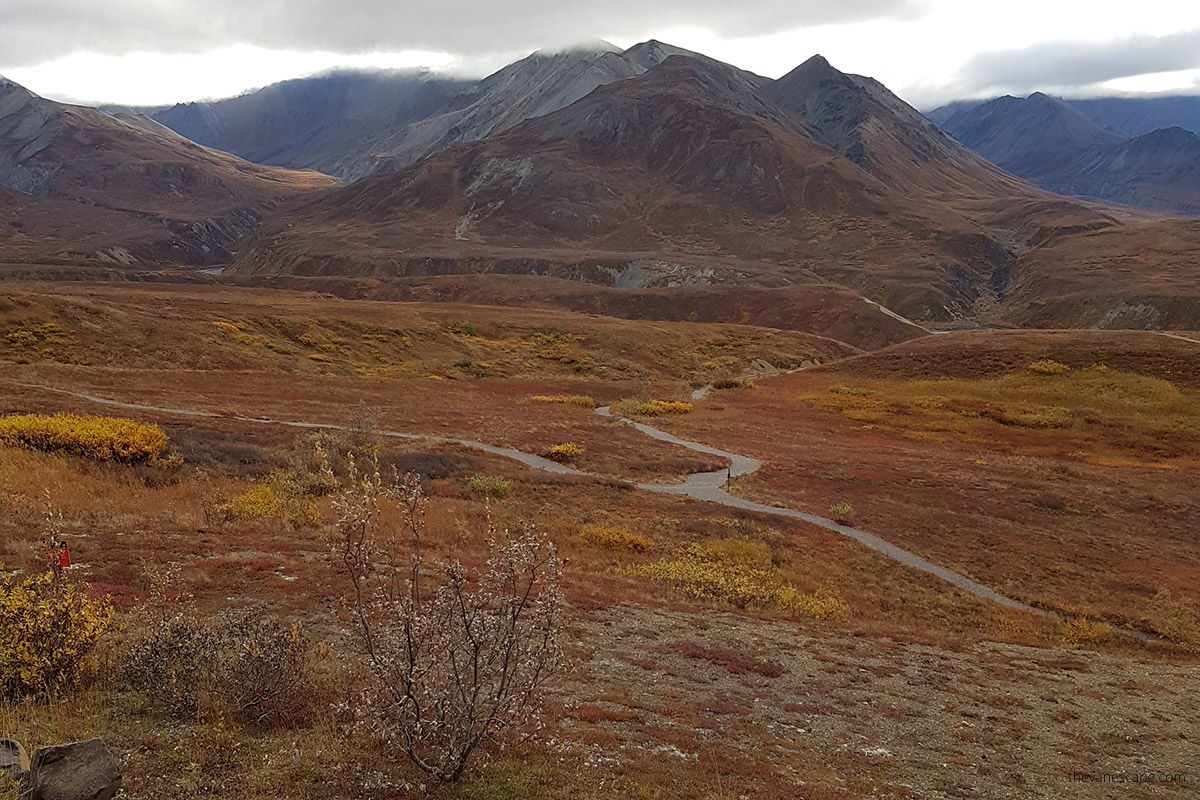 7. Lake of Dreams: Enjoy Wonder Lake
Wonder Lake is a serene spot perfect for relaxation and reflection. Its crystal-clear waters and the reflection of Denali make it a photographer's paradise. Moreover, Wonder Lake offers one of the closest views of Denali. On clear days, the mountain's snow-capped peak stands majestically in the distance, creating a picturesque backdrop to the lake.
For those wishing to immerse themselves in the tranquility of Wonder Lake, there's a campground nearby. But getting a spot there is challenging (we failed), so do it months ahead.
Reaching Wonder Lake requires some planning, as it's located 85 miles into Denali Park Road. Shuttle buses and tour buses provide transportation to the lake, ensuring the area remains undisturbed by heavy traffic. But book your bus ahead as well.
Our Tip: It is the furthest campground from the entrance to Denali National Park, accessible by a camper transit bus if you book your spot ahead. Make sure to pack mosquito repellent, as mosquitos can be annoying. Last summer in Alaska, we also used a mosquito head net.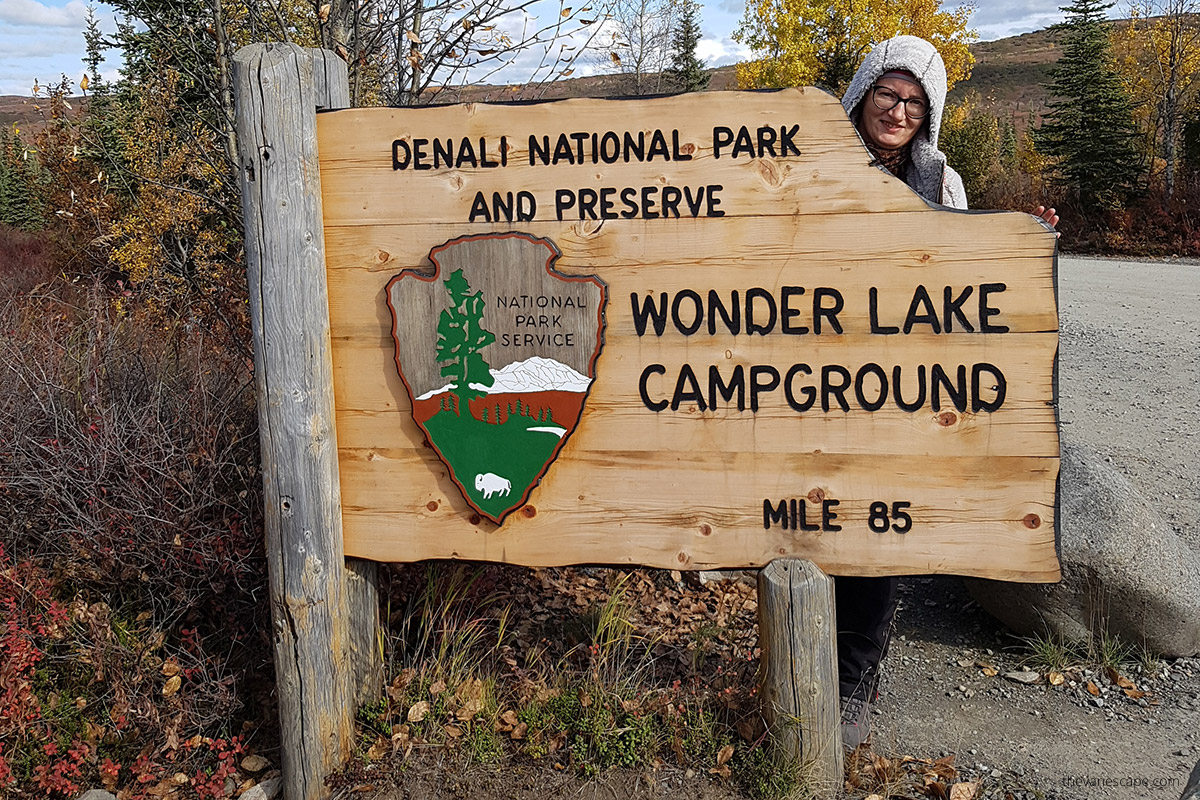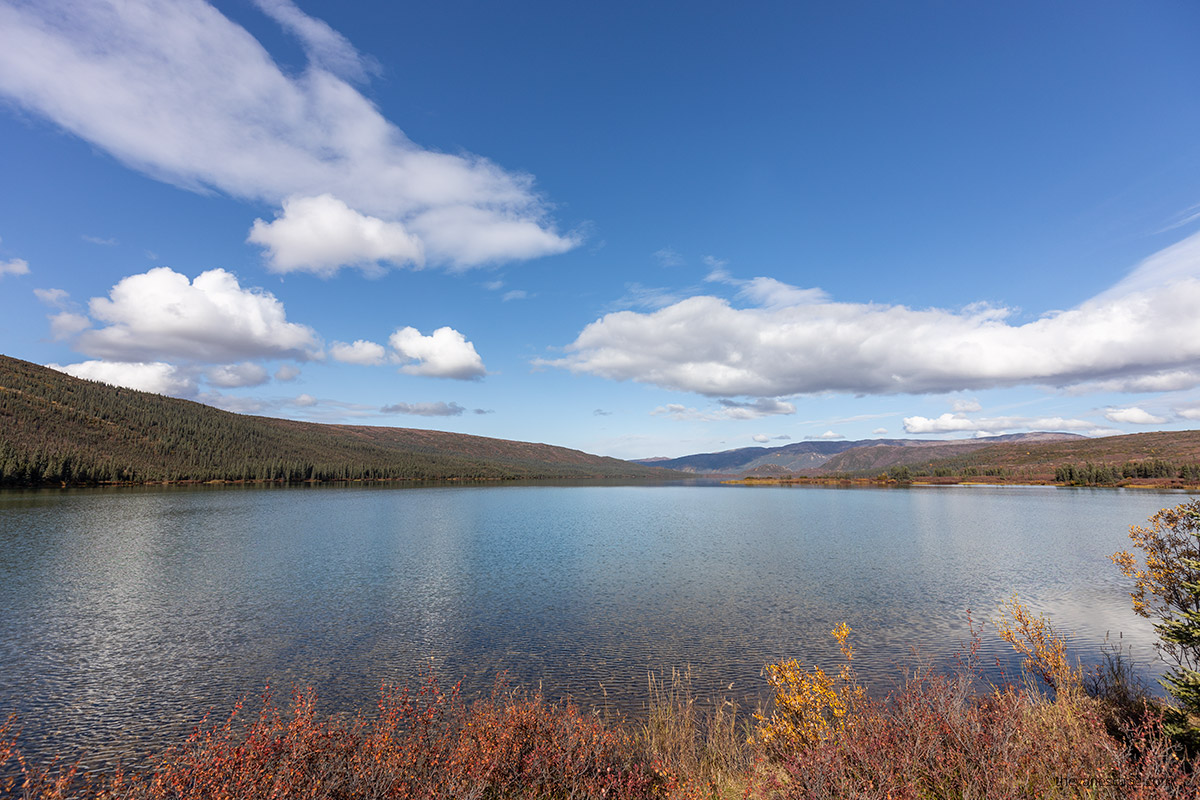 8. Spot the Majestic: Denali's Big Five
One of the top attractions in Denali is its wildlife. From grizzlies to moose, spotting the "Denali's Big Five" is a thrilling experience. Although we have visited Denali several times, we have not yet been fortunate enough to see wolves. We did catch a glimpse of a Dall sheep only from a distance.
Moose, grizzly bears, and caribou were frequently spotted during our wildlife viewing trips. The unpredictability of wildlife watching is its charm – you never know when or if you will see an animal. To avoid repeating ourselves, we suggest you take a look at our guide to wildlife viewing tips in Denali. We'll tell you where they're most common in the park and which trails you can use to see Denali's Big Five.
Our Tip: Never approach wild animals. Admire them from a safe distance. Please don't feed them, don't provoke them. Pack your lightweight binoculars so you can observe them safely. Carry bear spray and learn how to use it.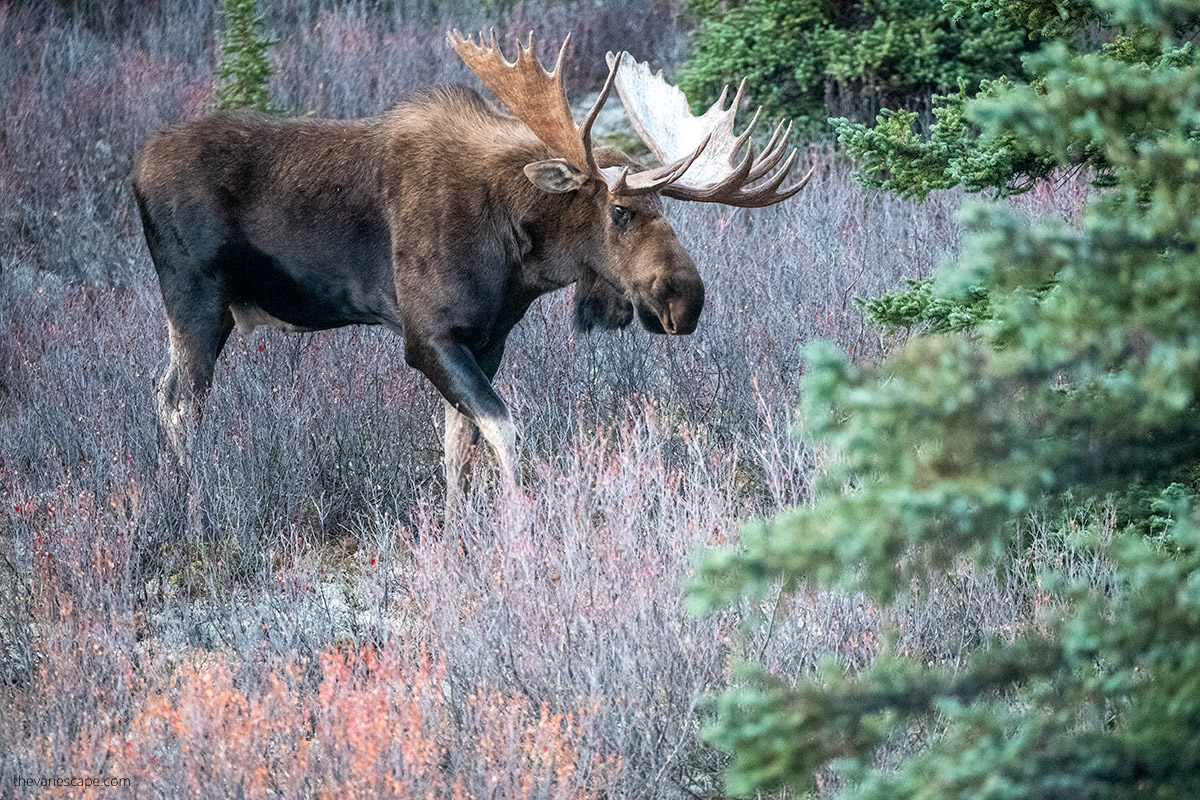 9. Untamed Trails: Off-Trail Hiking Adventures
For those looking for a more rugged experience, off-trail hiking offers a chance to explore the lesser-known parts of Denali National Park. Unlike traditional trails, off-trail hiking in Denali requires finding your own path, allowing you to experience the wilderness more intimately. We've experienced this activity, which is one of the best things to do in Denali National Park if you're an experienced hiker. Here's what you need to know:
Our Tip: Although hiking off-trail promises complete freedom, there may be restrictions in some regions of the park for environmental reasons. So, ask in visitor center about current regulations.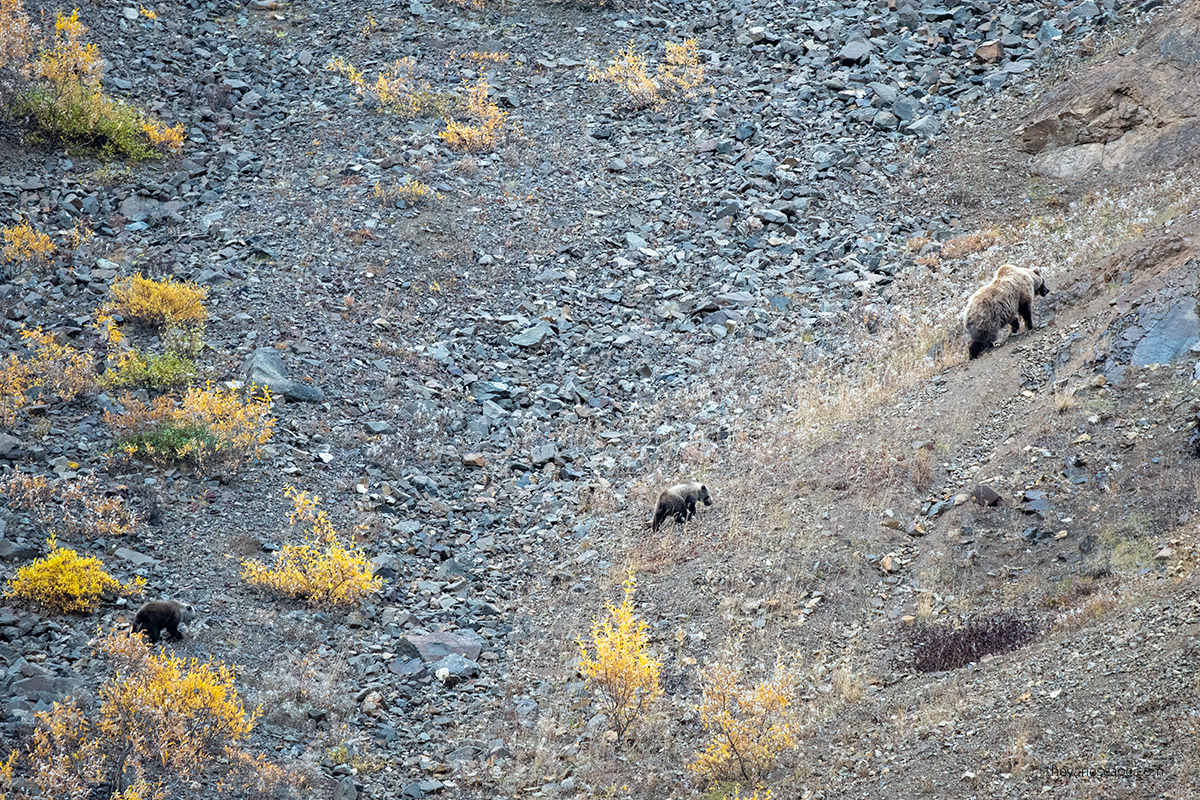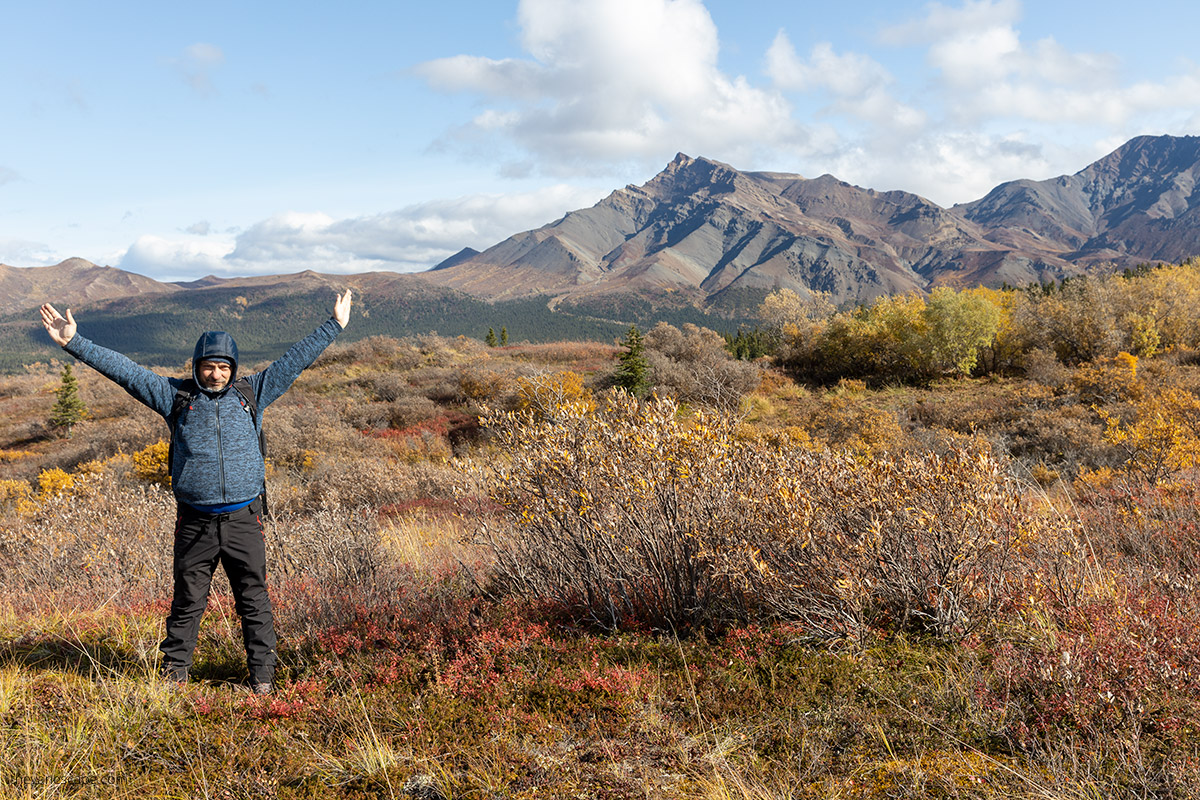 10. Wilderness Wandering: Denali Backpacking Escapades
For adventure seekers, backpacking through Denali's wilderness is a dream come true. It's a unique way to explore the park's untouched beauty and is a top activity in Denali. However, backpacking in Denali is recommended only for those with prior experience. The park's rugged terrain, unpredictable weather, and remote nature demand skills beyond essential hiking. Here's what potential backpackers need to know:
Our Tip: Even if you have backpacking experience in other national parks or other areas, take Denali seriously, don't underestimate this park. Familiarize yourself with park rules. Check out this Water Survival Guide with Life-Saving Methods before you hit the wilderness.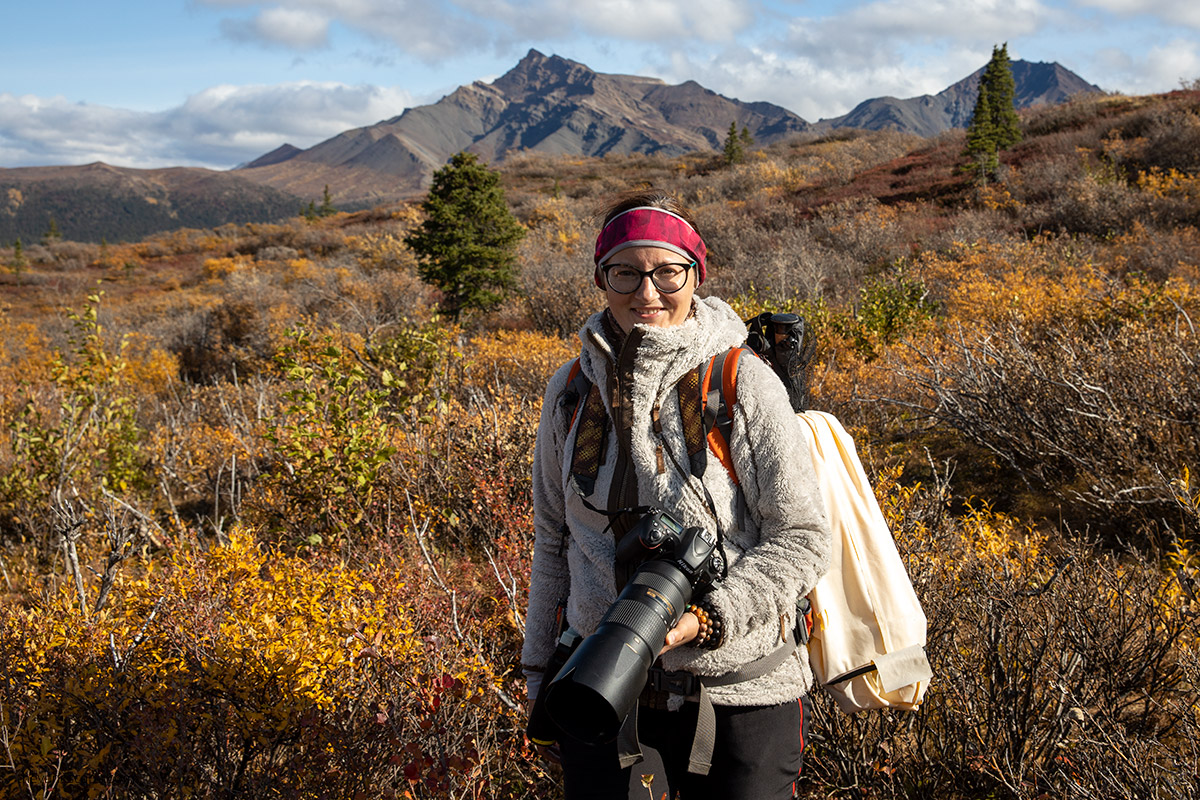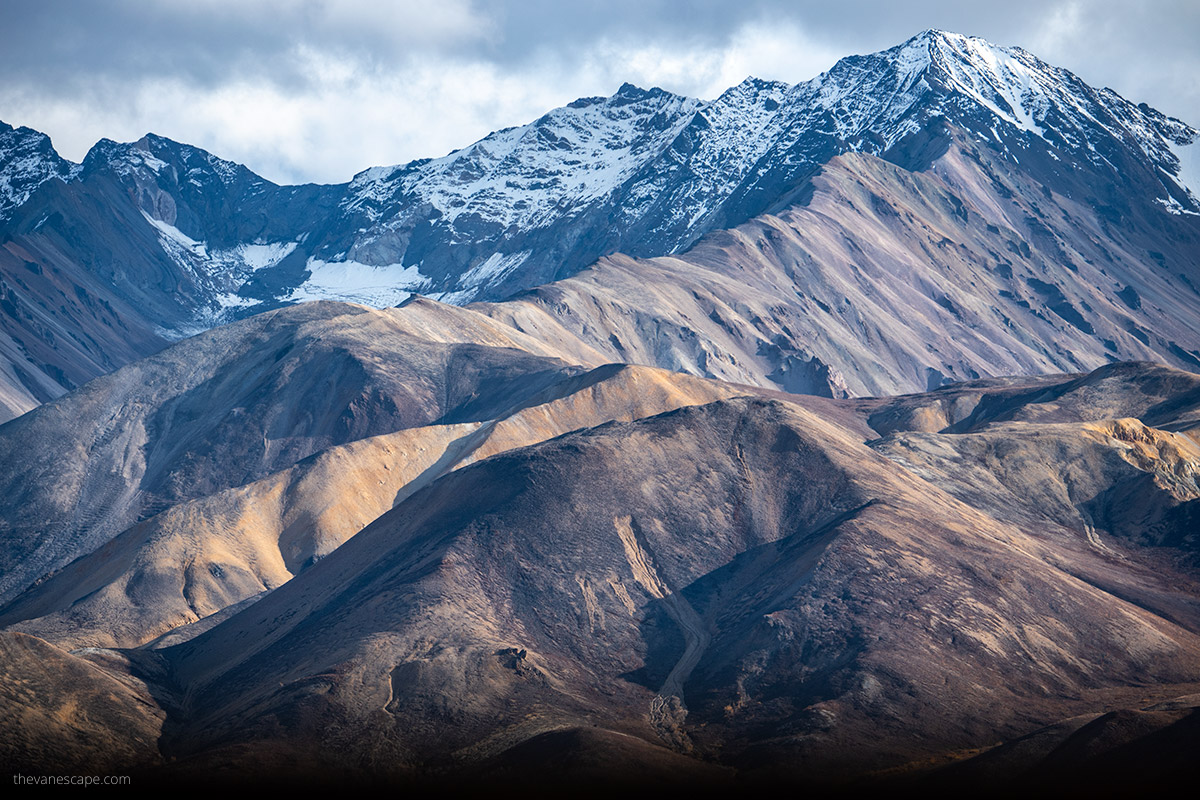 Soaring over the vast landscapes of Denali National Park, scenic flights offer an unparalleled perspective of Alaska's wild beauty. From the comfort of a small plane, you'll have a panoramic view that few get to see. Denali's towering peaks, winding rivers, and vast tundras offer an unparalleled visual spectacle.
Although the park is vast and impressive from the ground, nothing compares to flying near the highest peak in North America. Denali is truly a feast for the eyes with its snow-capped peaks and massive glaciers.
The pilots not only fly the plane but often act as guides. Their commentary, which reveals much about the park's geology, history, and wildlife, enriches the flying experience.
Some flight tours offer an added thrill: landing on a glacier. We experienced one such flight with a glacier landing from Talkeetna, and it was a fantastic adventure. This once-in-a-lifetime opportunity allows you to climb onto ancient ice, surrounded by the majesty of mountain peaks. In addition, the aerial perspective provides unmatched photo opportunities to capture the vastness and diversity of Denali's landscapes. A flightseeing tour over Denali's peaks is one of the best things to do in Denali.
Our Tip: Book your sightseeing flight in advance, preferably at the beginning of your stay in the park. Why? Because they depend primarily on weather conditions. If the weather breaks down, the flight won't take place. But you can postpone it to the afternoon hours or the next day or days. We have had tours in Alaska postponed several times due to weather (including the Brooks Range Scenic Flight). That's why they always take a spot at the beginning of our itinerary. If the weather is bad, we can do them a day or two later.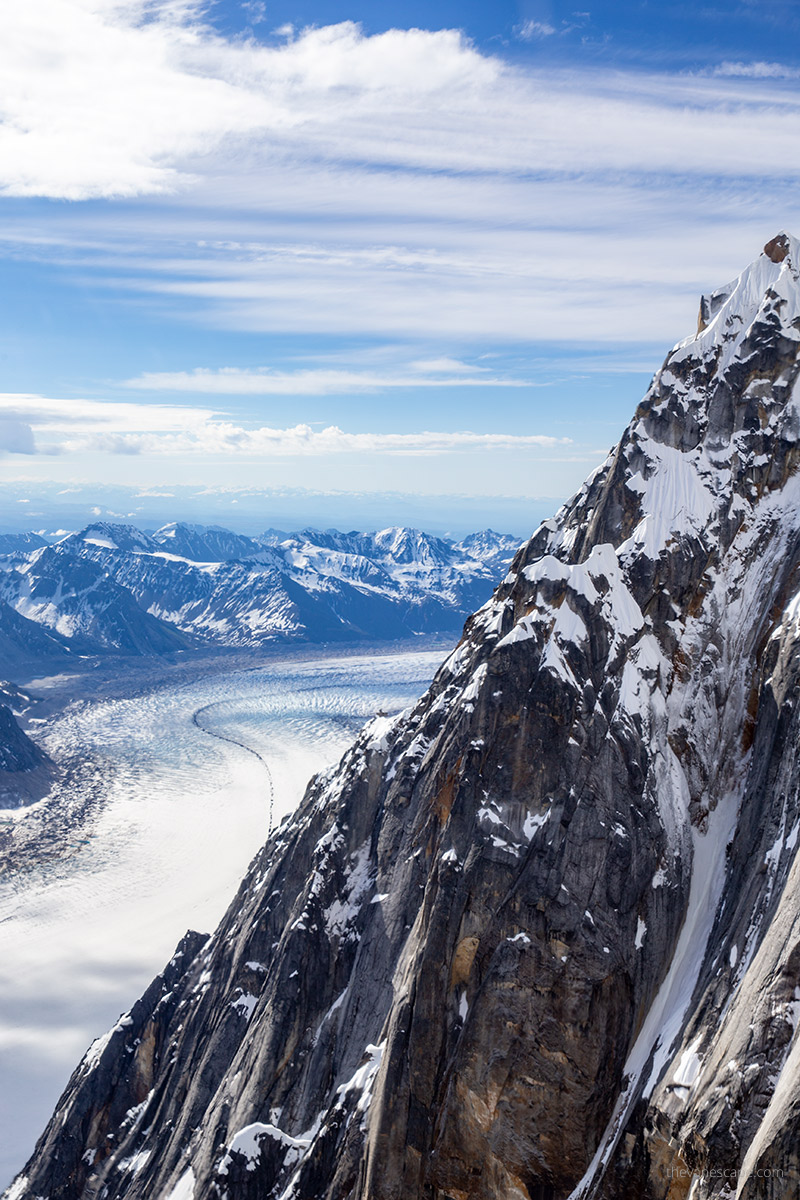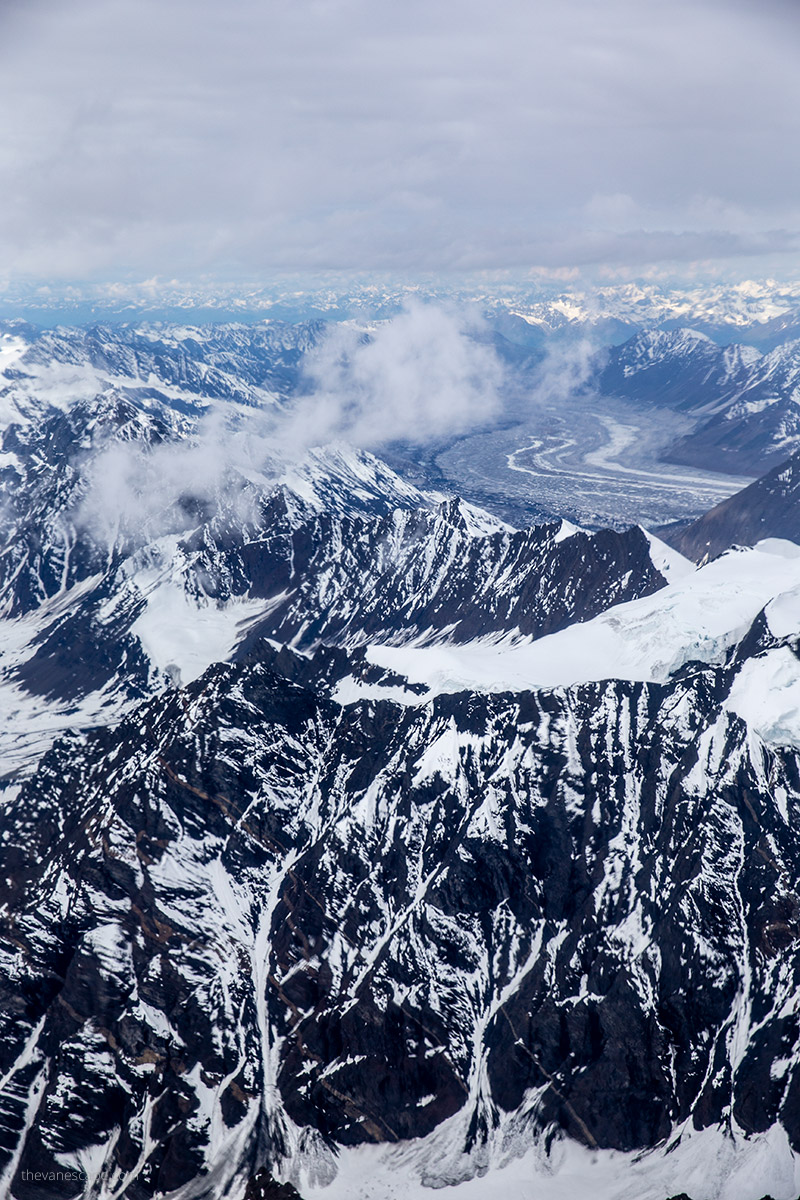 For adrenaline junkies and nature enthusiasts alike, white water rafting on the Nenana River offers an exhilarating blend of adventure and scenic beauty. Denali's pristine rivers, fed by glacial meltwater, provide the perfect backdrop for white water rafting.
All rafting trips are led by experienced guides who put safety first. Before heading out, participants are briefed on safety protocols and outfitted with life jackets and helmets. Denali has something to offer whether you're an experienced rafter or trying it for the first time. Beginners can opt for the calmer sections of the river, while experienced rafters can tackle the more challenging rapids.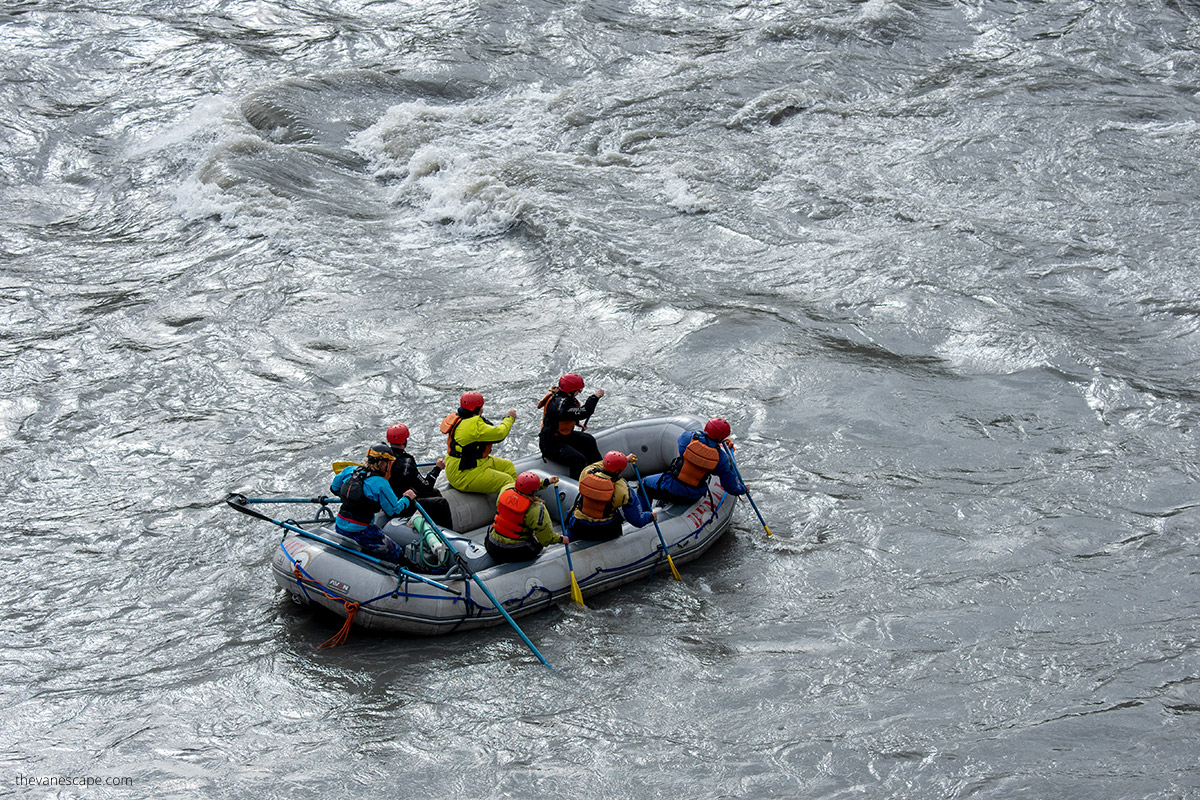 Rafting is a group activity, making it perfect for families, friends, or solo travelers who want to join a team. Conquering the rapids together fosters teamwork.
Our Tip: You don't have to worry about gear, as most rafting operators provide all the necessary gear, including wet suits, rain jackets, and rubber boots. This ensures participants stay warm and dry, even in the chilly glacial waters.
For those seeking a truly sublime experience in Denali, helicopter tours offer breathtaking views of the park's vast landscapes. Unlike any other form of transportation, helicopters offer a 360-degree view of the surrounding area. As you soar over Denali, you'll be treated to sweeping vistas of glaciers, mountain ranges, and pristine wilderness.
Helicopters have the unique ability to hover and maneuver with precision. This gives you a close-up view of Denali's peaks, valleys, and other geological wonders that are difficult to access by land.
Helicopter pilots are not only experienced fliers but knowledgeable tour guides. Some helicopter tours offer the added thrill of hiking in Denali. This gives you the rare opportunity to enter the wilderness, which is exclusive and difficult to access.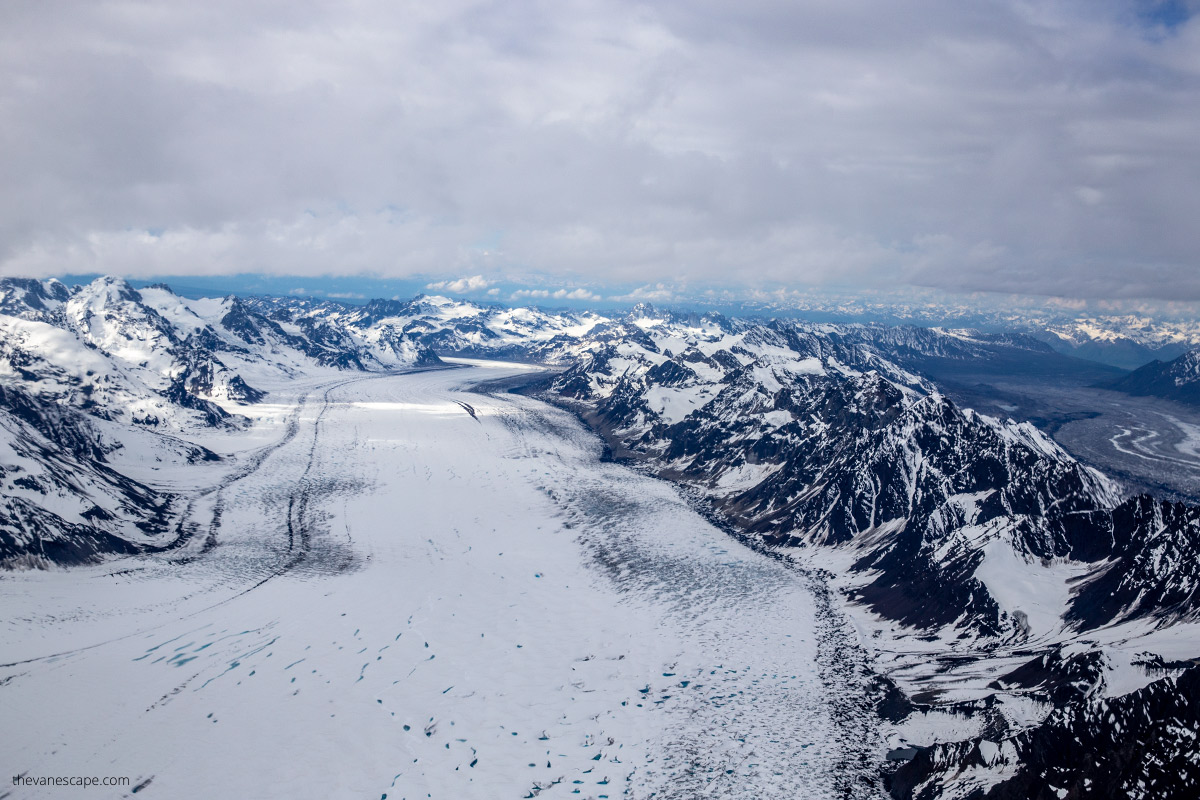 For photography enthusiasts, the aerial perspective offers unsurpassed photo opportunities. You can capture the intricate patterns of the glaciers, the play of light and shadow on the ridges, or the endless expanse of the tundra below.
Our Tip: If you take a helicopter flight with a hiking trip in the park, remember to dress warmly because the temperature will be much lower. Take a hat, gloves, and a warm windbreaker. And be sure to wear hiking shoes with good grip.
ATV tours offer the perfect blend of thrills and scenic beauty for those who are adventurous and want to explore Denali's rugged terrains. Chris thoroughly enjoyed this ATV tour in Denali. ATV tours take you through the lesser-known trails of Denali and give you a unique perspective of the park. You'll ride through dense forests, cross bubbling streams, and climb hills for a panoramic view.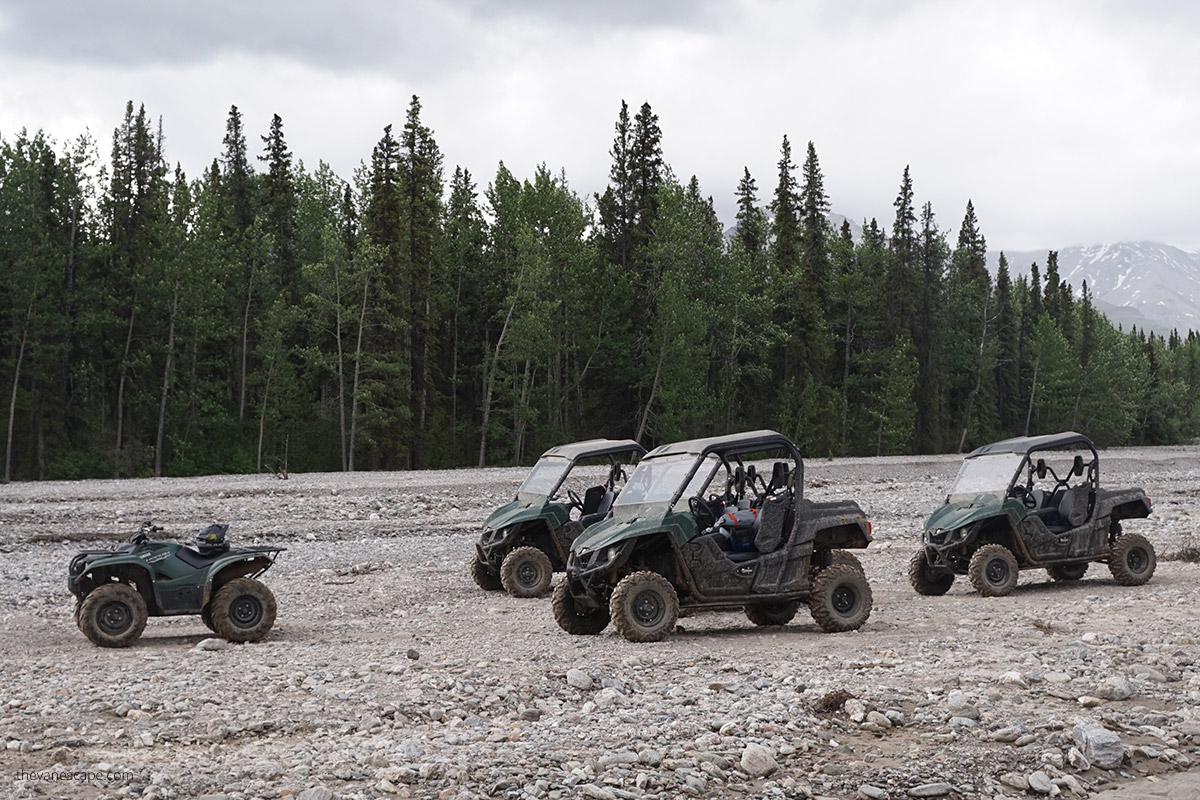 Under the guidance of experienced guides, you can enjoy the ride and learn about the region's flora, fauna, and history. Whether you're an ATV pro or a novice, there's a tour tailored to you. Beginners receive a thorough briefing and safety instructions so they feel safe before heading out on the ATV trails.
Tour operators provide the necessary equipment, including helmets, gloves, and goggles. The modern ATVs are well-maintained and equipped with safety features to handle Denali's rugged terrain.
Our Tip: Be prepared to get a little dirty. Riding through muddy trails and puddles is part of the fun. It's a rugged and authentic way to experience the wild side of Denali.
For those seeking a heart-pounding, bird's-eye view of nature's splendor, ziplining offers an exhilarating way to experience the world from above.
Ziplining sends you soaring above treetops, valleys, and rivers, providing unmatched panoramic views.
Modern ziplining adventures prioritize safety. Before taking the leap, participants are equipped with harnesses, helmets, and gloves. Trained instructors provide a thorough briefing, ensuring everyone understands the dos and don'ts. The sensation of speed, combined with the height and the wind rushing past, delivers an adrenaline kick like no other. It's both thrilling and liberating.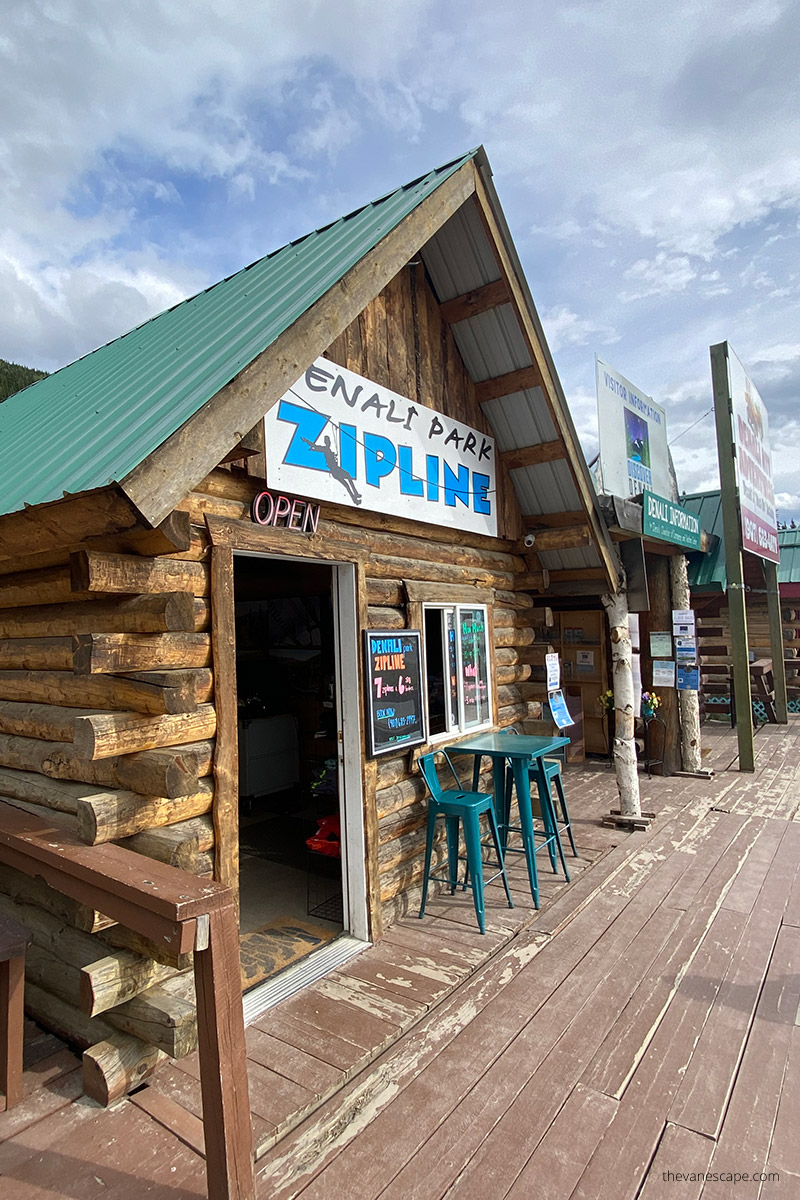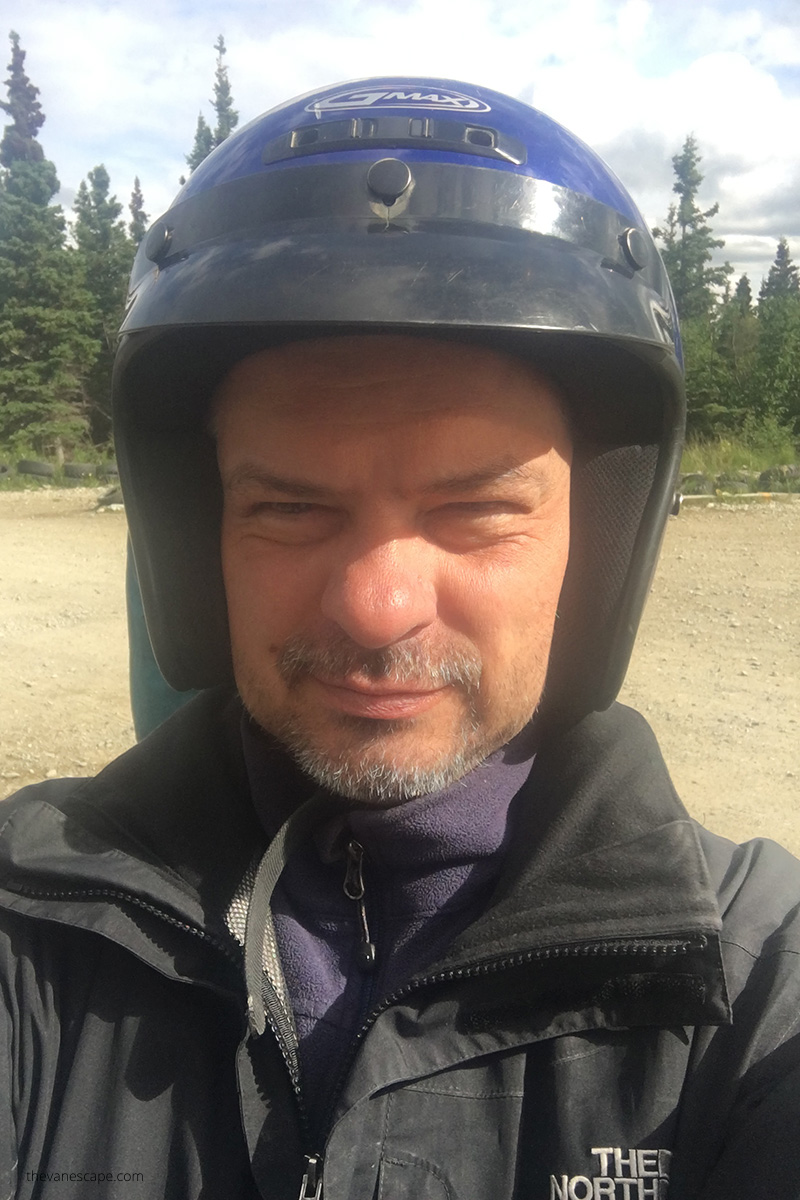 16. Photo Experiences: Capturing Denali's Grandeur
Photographing Denali Peak, North America's highest mountain, is a dream for many. Its majestic presence is a testament to nature's wonders. But the peak is visible only 30% of the days of the year, most of the time it is hidden in the clouds. But don't worry about the weather in Denali. It can be fickle. We assure you that even on a gloomy or cloudy day, you can still capture stunning shots that showcase the grandeur and excitement of the mountains.
Beyond the peak, Denali National Park offers a plethora of photographic opportunities. Every moment is a potential masterpiece, from the vibrant hues of alpenglow at sunrise to the ethereal beauty of the Northern Lights. Wildlife enthusiasts can aim their lenses at grizzlies, moose, and eagles, capturing candid moments in their natural habitat. The vast landscapes, dotted with pristine lakes, meandering rivers, and dense forests, provide endless backdrops for your compositions. So, pack your camera gear and let Denali be your muse, inspiring every click and frame.
Our Tip: Check out What Hike Has the Best View of Denali?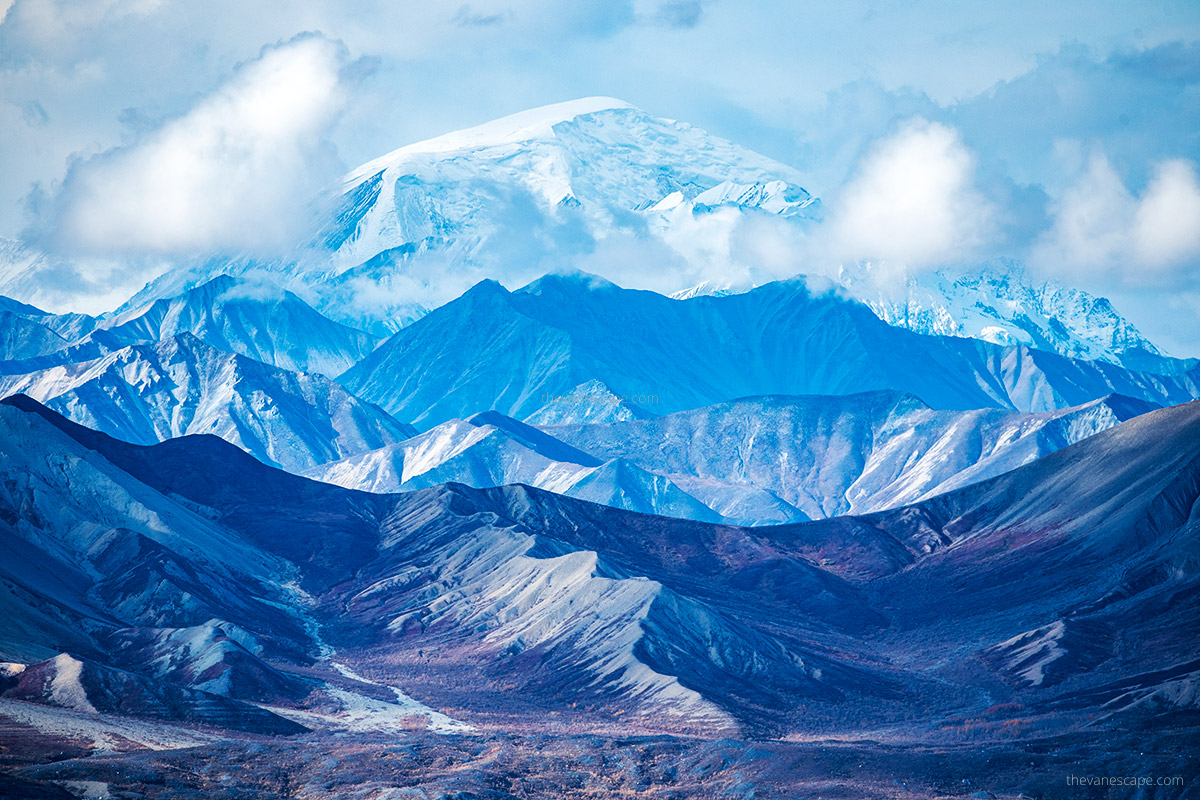 17. Paws & Play: Visit Denali Sled Dog Kennels
A unique activity in Denali National Park is visiting the sled dog kennels. Denali Kennels offers a unique glimpse into the park's history, culture, and the vital role of sled dogs in its operations. Denali's sled dogs are more than just pets; they're working members of the park's team. These Alaskan huskies assist rangers in patrolling the vast wilderness, especially during the snowy winter months.
The kennels regularly host sled dog demonstrations, showcasing these incredible animals' skills, strength, and teamwork. Watch as they enthusiastically pull sleds, responding to their musher's commands. Visitors can interact with the dogs, petting them and even posing for photos. These friendly canines love attention and are always eager to meet new people. Through informative displays and knowledgeable staff, visitors can learn about the region's rich history of dog sledding and its significance to the local communities.
If your interest in sled dogs is piqued, consider taking a sled dog tour in Fairbanks. Not only will you experience the thrill of a sled ride, but you'll also gain deeper insights into the world of mushing.
Our Tip: During the peak season, from June 1 to early September, demonstrations are held thrice daily at 10 am, 2 pm, and 4 pm. In the shoulder season, which spans from mid-May to mid-September, one or two demos are scheduled daily. Free shuttle services depart from the Denali Visitor Center to the kennels around 40 minutes prior to each demonstration. Or you can enjoy a two-mile walk from the Denali Visitor Center.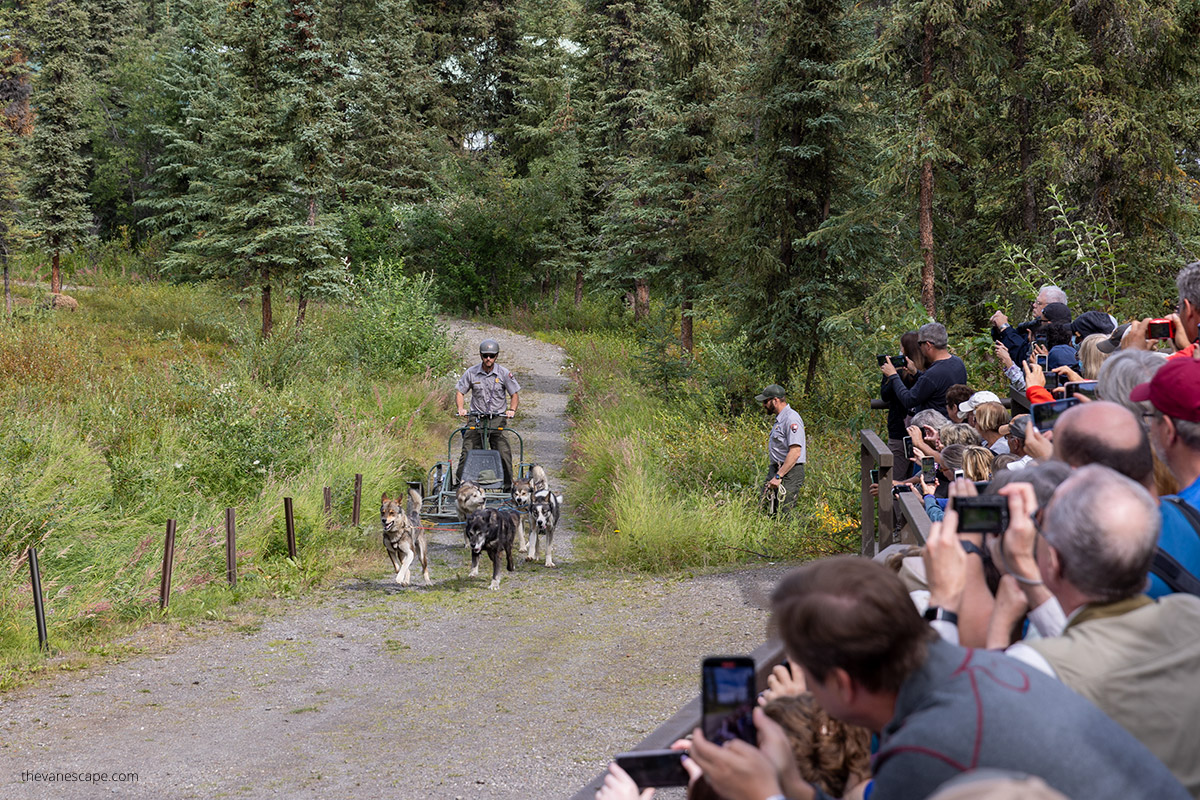 18. Guardians of Nature: Join Denali Ranger Programs
Denali's ranger programs offer insights into the park's ecology, history, and more. It's an educational and engaging experience for visitors of all ages.
These sessions, conducted by passionate and knowledgeable park rangers, dive deep into topics ranging from wildlife conservation to the region's cultural history. It's not just a lecture; it's a storytelling session that brings Denali's tales to life.
For families with kids, the center is a treasure trove of activities. Junior Ranger programs offer young explorers a chance to earn their badges by participating in fun, educational tasks. It's a hands-on way for kids to connect with nature and learn about the importance of preserving it.
Our Tip: Some programs, especially ranger hiking tours, require pre-registration. Therefore, before traveling to the park, it is worth looking at the calendar in the park to see what activities are planned during your stay and which ones require a reservation.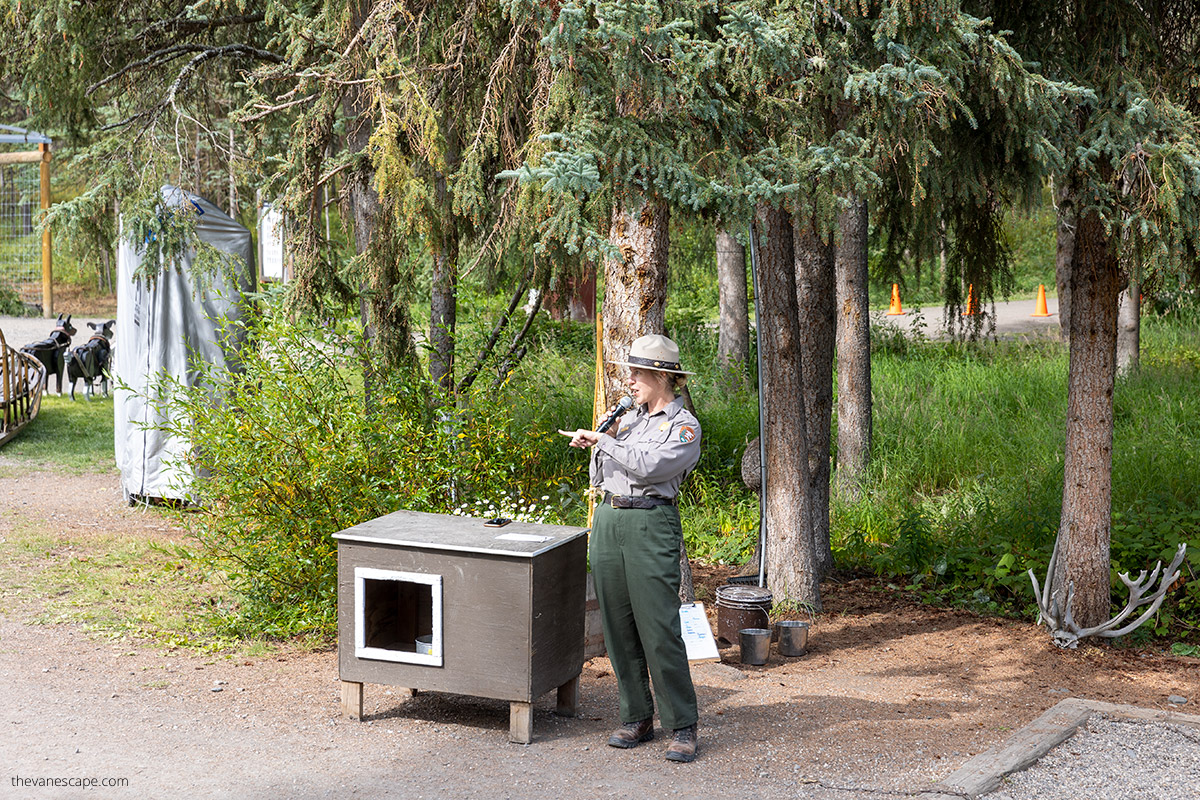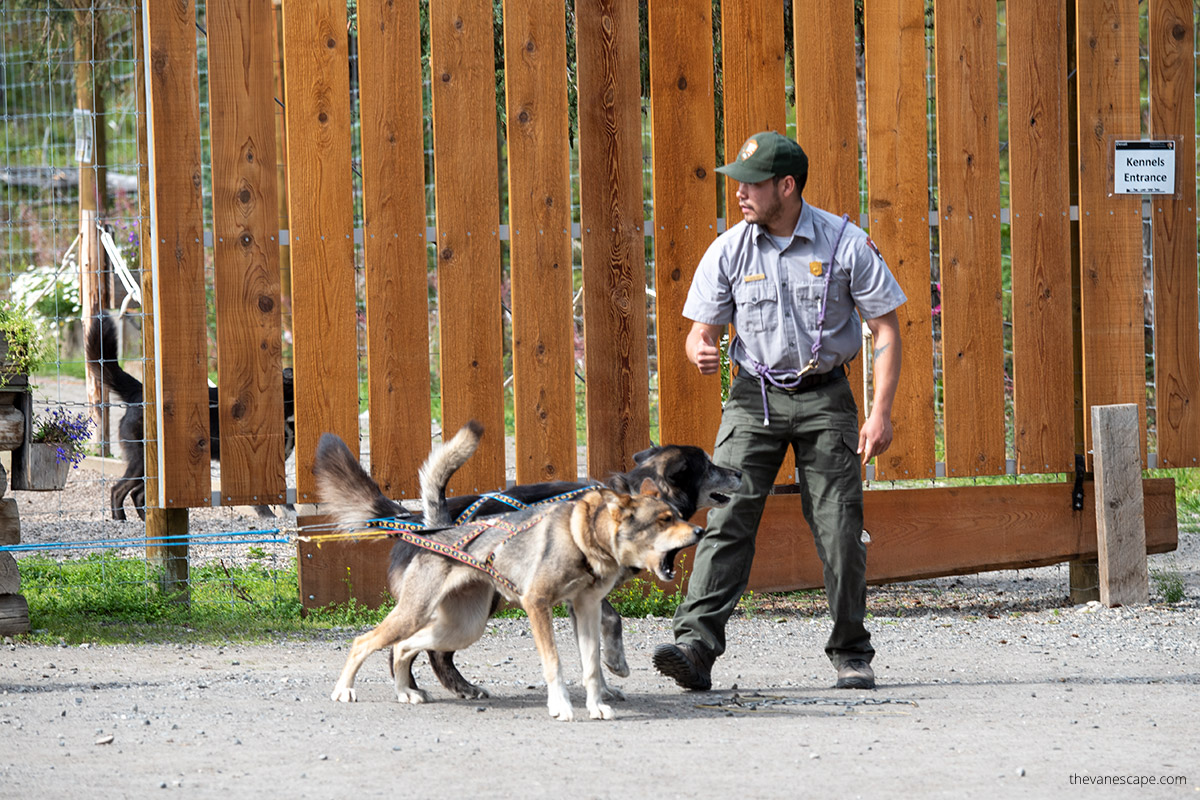 19. Exclusive Access: Win The Denali Road Lottery
The Denali Road Lottery is a golden ticket for those wishing to explore the heart of Denali National Park in their vehicles. This special event, held annually, offers a unique opportunity unavailable during regular park operations.
The Denali Park Road, stretching 92 miles, is typically restricted to park-operated buses for most of the year. However, for a few days each September, winners of the road lottery are granted the privilege to drive this scenic route at their own pace and in their cars.
Winning the lottery means you can stop, photograph, and admire the park's breathtaking landscapes, wildlife, and vistas without the constraints of a bus schedule. It's Denali like you've never experienced before. We dream of winning it.
Our Tip: The lottery application usually opens in early May and runs for a few weeks. Winners are then selected through a random drawing. For a detailed step-by-step guide on how to apply, be sure to check out our comprehensive article on visiting Denali.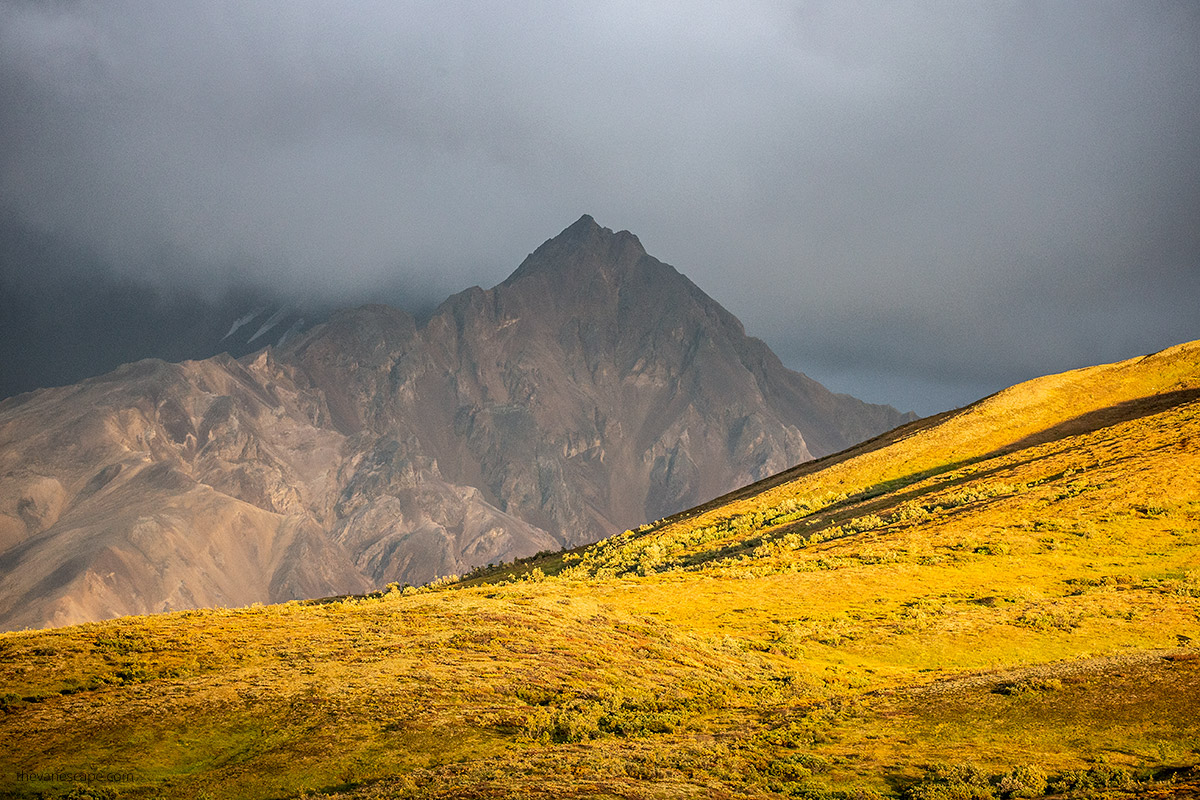 20. Pedal Experience: Biking Through Denali's Beauty
If you like biking and have experience riding uphill, a bike ride through the park is one of the best things to do in Denali. Since Denali Park Road is closed to private vehicles from mile 15, it's still accessible to bicyclists. Cycling in Denali National Park offers an intimate and exciting way to immerse yourself in Alaska's breathtaking landscapes.
Denali also offers a range of biking trails, from relatively flat park roads to challenging mountain terrain. Whether you're a casual cyclist or an avid mountain biker, there's a trail that's just right for you. Biking is a sustainable way to explore Denali. It reduces your carbon footprint and ensures the park's delicate ecosystems remain undisturbed.
If you don't have your own bike, don't worry. Several outfitters around the park offer bike rentals with safety equipment. They can also provide you with maps and suggest routes that are suited to your abilities.
Our Tip: Familiarize yourself with the park's safety guidelines for cycling in Denali. Wear a helmet, carry bear spray, and be prepared for sudden weather changes.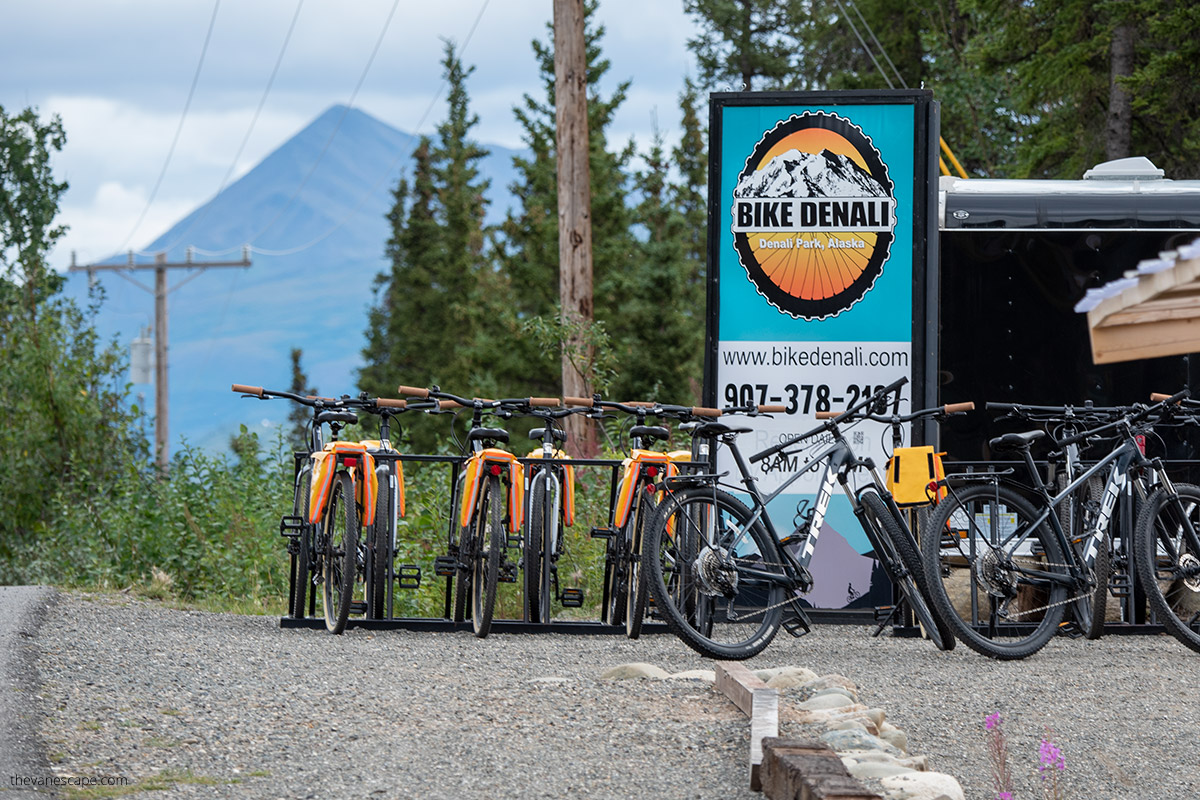 21. Summit Seekers: Climbing the Mighty Denali
For mountaineers, climbing Denali is the ultimate challenge. It's not just an activity but a journey of determination and will. Scaling Denali, North America's tallest peak is a dream for many mountaineers. Standing at a staggering 20,310 feet, this Alaskan giant offers a climbing experience like no other. It's beyond our possibilities, so just tips where you can find more on this topic. Around 1,000 climbers attempt to summit Denali every year, with a success rate averaging 50%.
Our Tip: Registration and mountaineering ranger staff are available year-round at the Walter Harper Talkeetna Ranger Station. While visiting Talkeetna, check out the mountain exhibit at the Talkeetna Historical Society Museum.
22. Alaskan Appetites: Dining in Denali
The Park has no shops or restaurants, so pack snacks and water for trips, hikes, or camping. But you can enjoy great food around the Park, especially in McKinley Park, Healy, Talkeetna, or Fairbanks. You can try local Alaskan cuisine in the various restaurants and eateries around Denali, which offer a range of dining options that showcase Alaskan flavors and fresh, local ingredients.
Start your day with freshly baked pastries or warm up with a cup of coffee at local cafes. Many of them offer stunning views to accompany your meal. Try local specialties like caribou, bison, or elk for the adventurous palate. Or you can dive into dishes featuring fresh Alaskan salmon, halibut, and king crab. Many restaurants pride themselves on sourcing their seafood directly from the state's icy waters. Moreover, Alaskan craft beers are gaining popularity, and Denali has its share of microbreweries. Enjoy a pint while relaxing after a day of exploration.
Our Tip: Check out our favorite places for eating around Denali.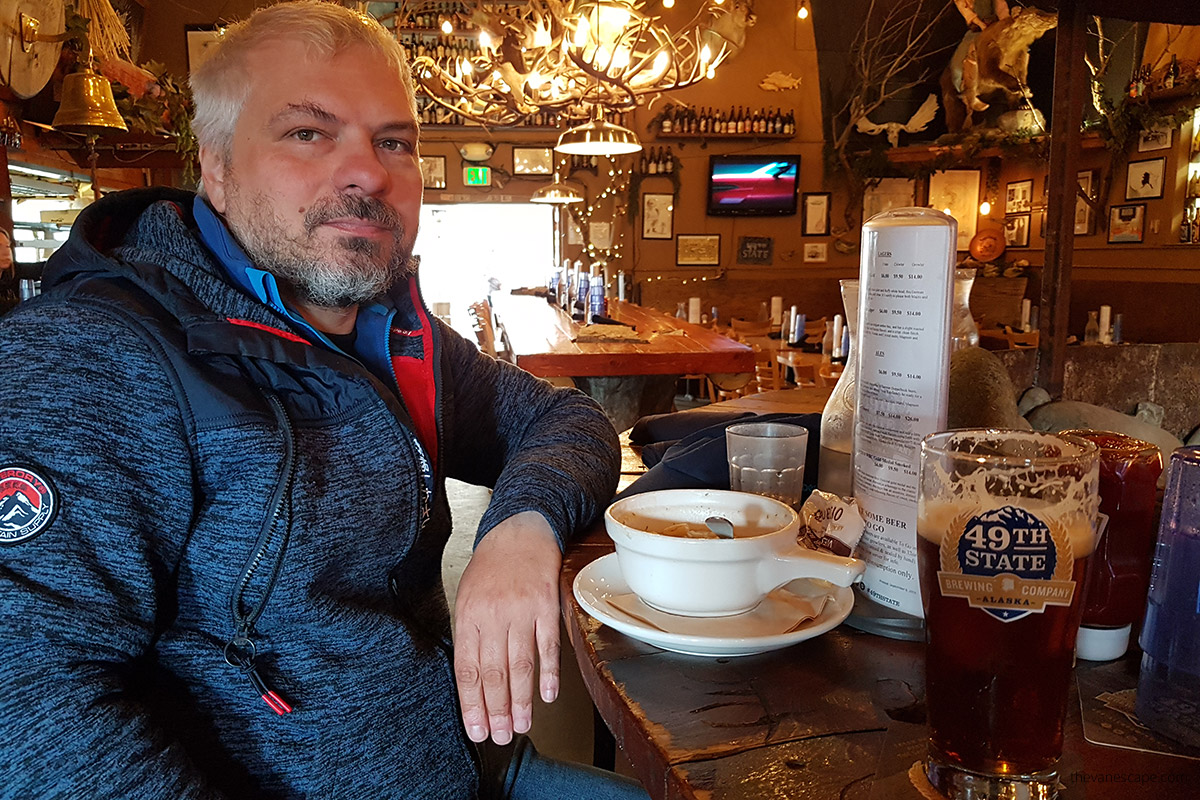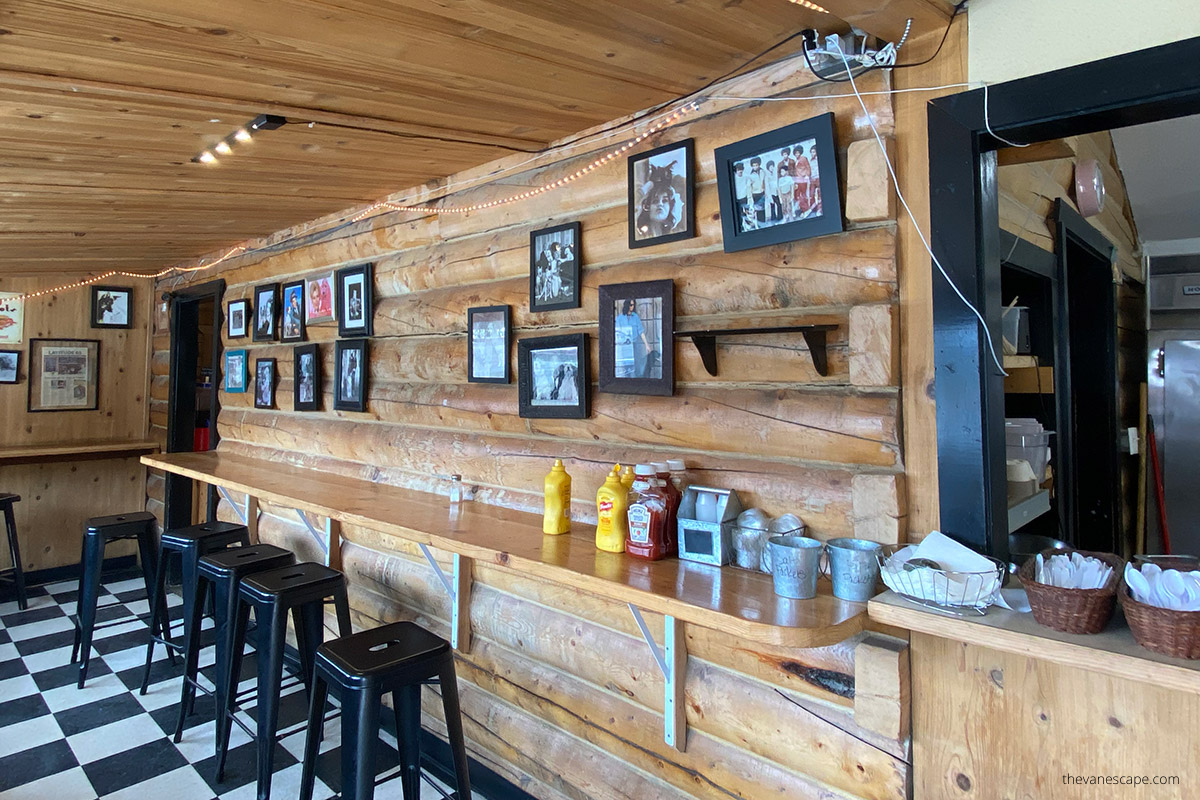 23. Alaskan Treasures: Shopping in Denali
Denali offers more than just natural wonders; it's also a haven for shoppers looking for unique Alaskan souvenirs and handcrafted goods. So you can buy souvenirs, local crafts, and art from the shops around Denali and support small local businesses. The best nearby stores are in McKinley Park.
Local artisans showcase their talents through handcrafted jewelry, pottery, and woodwork. These items make for perfect keepsakes or gifts. You can also discover the rich cultural heritage of Alaska's indigenous communities through intricately designed beadwork, carvings, and woven items. Given Denali's adventurous spirit, several stores specialize in outdoor gear and apparel. Whether you forgot your hiking boots or want a Denali-branded fleece, you'll find it around Denali. You can also dive deeper into Alaskan history, wildlife, and folklore with books penned by local authors. Many stores also offer maps and guides for your Denali exploration.
Our Tip: If you want to make larger purchases, such as food for a few days of camping or backpacking in Denali, we recommend doing so in Anchorage or Fairbanks. In any other town, prices will be much higher, and the selection of products is limited. If you are on a particular diet or have a favorite food, you may not find it in the stores around Denali.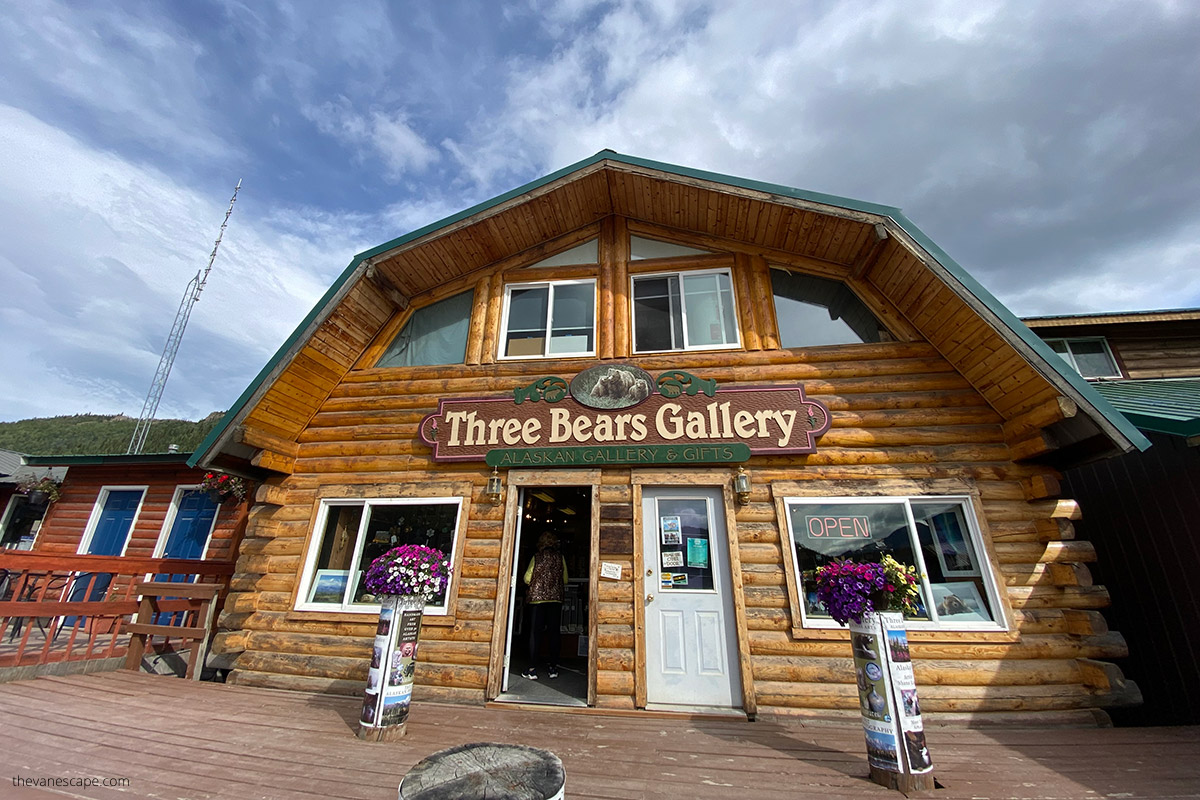 Things to Do in Denali National Park – Final Thoughts
Exploring the things to do in Denali National Park has been a thrilling journey through one of the world's most unique and captivating landscapes. Whether hiking the rugged trails, rafting down turbulent rivers, or simply basking in the awe-inspiring views during the Denali bus tour, the variety of Denali attractions ensures that every visitor finds their perfect adventure. As you plan your trip, remember that Denali is not just a destination; it's an experience. Prepare well for its wilderness to have a safe trip.