The Best Matanuska Glacier Tour – Review
The glowing ice-capped mountains of Matanuska Glacier are breathtaking. Stretches 27 miles glacier is one of the easiest accessible in Alaska. How to get to Matanuska Glacier from Anchorage? How does it look Matanuska Glacier hike? Is it possible to explore Matanuska Glacier without a guide? What is the best Matanuska Glacier tour? Check our detailed guide with lots of tips and photos!
This article may contain affiliate / compensated links. For full information, please see our disclaimer here.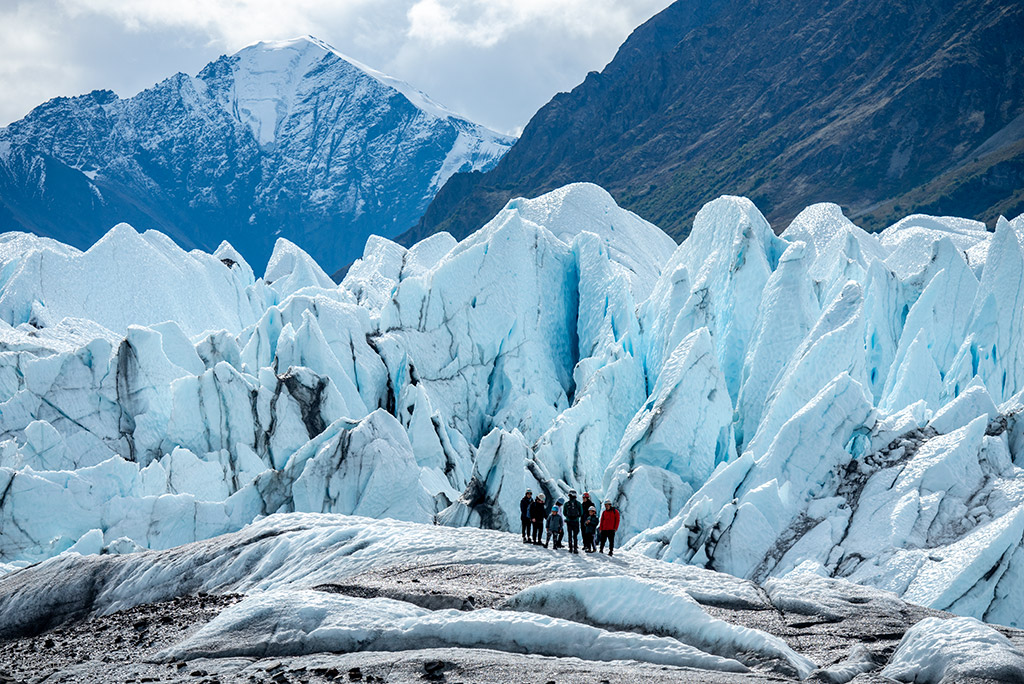 The Best Matanuska Glacier Tour – Introduction
For us, hiking on Matanuska Glacier is an adventure that we will remember forever and which we can sincerely recommend. Today there are 100,000 glaciers in Alaska (less than 1% are known by name) covering 5% of the state. That's 128 times more glaciers than the rest of the U.S. combined. You can't visit Alaska without seeing a glacier close up, glacier walking or hiking, standing on one, or drinking water from its melted ice. It's a lifetime experience, and Alaska is one of the best places on the planet to admire glaciers.
Matanuska Glacier is one of the most impressive glaciers in the world and one of the most remarkable landscapes of Alaska. And for us, Matanuska Glacier Tour was one of the best trips, just after Denali's scenic flight with a glacier landing. The views of this glacier will take your breath away and stay with you forever.
A tour of Matanuska glacier offers endless photo opportunities, and the contrast between the blue waters of the glacier and the lush green of the majestic mountains in the background makes you want to come back. For us, this incredible work of nature it's a must-see during a trip to Alaska. Prepare for this adventure with our detailed guide and tips. After four Alaska road trips, we share the best experiences.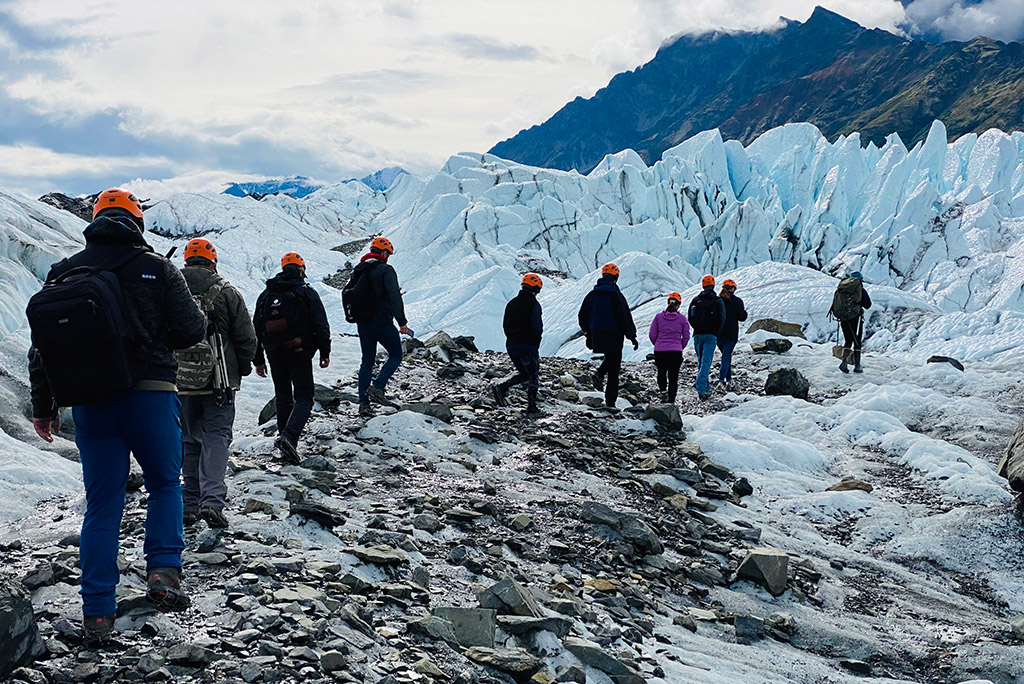 Exciting Facts of the Matanuska Glacier
The Matanuska Glacier is 27 miles (43 km) long and 4 miles (6.4 km) wide. It stretches down from the Chugach Mountains terminating alongside the Glenn Highway into the Matanuska River.
It is also the largest glacier accessible by car in the United States.
The glacier began to retreat slowly about 10,000 years ago and is still an active glacier, flowing at about 1 foot (30 cm) per day.
According to the NPS, Matanuska Glacier is of the more than 100,000 glaciers located in Alaska and one of the only 616 officially named glaciers in Alaska.
The Matanuska-Susitna Valley is also known locally as Mat-Su Valley or The Valley. It was originally inhabited by the indigenous Athabaskan people. Trails along the Matanuska River formed a road system for trade between the Copper River Area and the Cook Inlet region.
The Mat-Su Valley was explored by Russians in 1818. And probably, the origins of the word Matanuska are derived from the Russian word "Matanooski" or "Mednoviska," meaning "copper river people."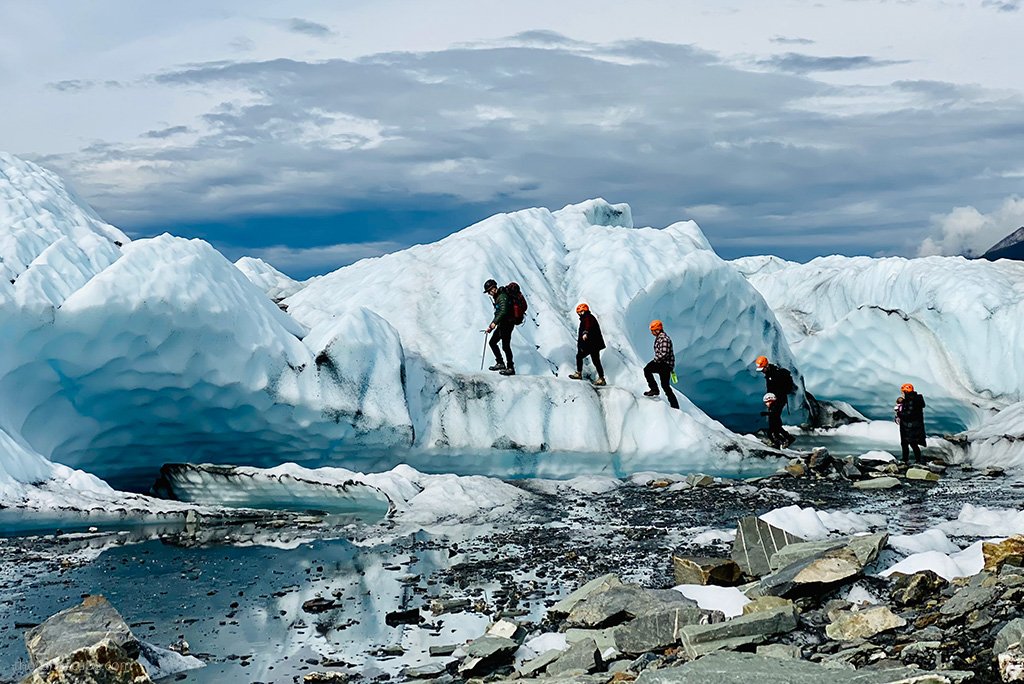 Where is the Matanuska Glacier?
The Matanuska Glacier is in Sutton, Alaska. It lies next to the Glenn Highway about 100 miles (160 km) northeast of Anchorage near the town of Glacier View. it's 2.5 hour drive north of Anchorage. You will find the access road at Mile 102 of the Glenn Highway Scenic Byway. At Mile 102 of Glenn Highway, turn onto South Glacier Park Road. The road is rustic, so drive slowly. Follow S Glacier Park Rd. for 1 mile. Cross a small bridge, and enter the privately owned Matanuska Glacier Park Resort. You will see the Glacier Park Lodge where you will check in for your tour.
If you are driving from Palmer, it's only an hour and a half drive, as it's only 50 miles west of the Palmer area. From Valdez are 205 miles and at least 3 hours and 30 minutes of driving. If you go there from Palmer on your own, consider visiting Musk-ox Farm, Independence Mine, and Hatcher Pass.
Matanuska Glacier Access
Access to the glacier is controlled by Matanuska Glacier Park, a private company that manages the site. There is a fee to enter the area. Matanuska Glacier Park controls the only drivable direct access to the glacier through a combination of private road access and private lands, including the park's lower parking area and the toe of the glacier leased from the Cook Inlet Native Corporation. Matanuska Glacier Park also provides year-round maintenance of the roads and bridges that provide access to the glacier. So, the only way to access the Matanuska Glacier is with guided tours offered by the Park Resort owners or another organized and guided tour.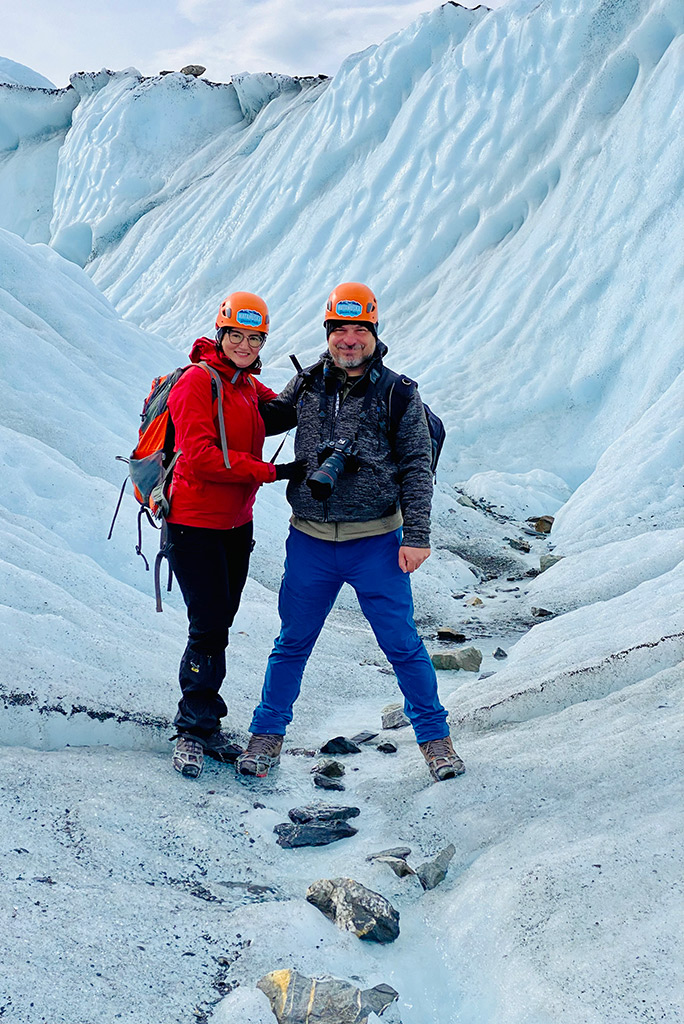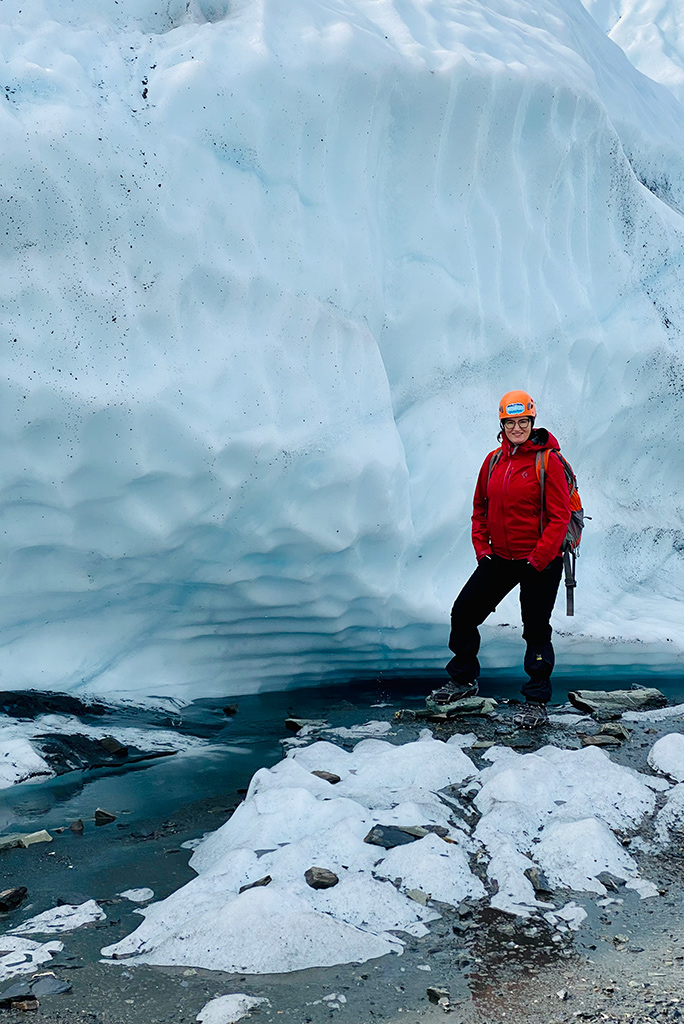 Matanuska Glacier without a Guide?
Beginning in 2021, self-guided Matanuska glacier tours are no longer available. The only way to experience the beauty of this glacier is with guided glacier tours. According to the owner, Bill Stevenson, the ban on self-guided glacier tours has drastically reduced the typical problems of the season, such as minor accidents from slips and falls or littering of the glacier area. Hiking on the glacier has become safer because the guides are very experienced. Moreover, they have a vast knowledge about the glacier and pass it on to the participants of the tours in an understandable way. In addition, the entrance fee includes glacier equipment such as microspikes and helmets. Glacier Tours typically run about 2-3 hours, depending on the weather conditions and abilities of the tour participants.
When is the best time to take the Matanuska Glacier Tour?
You can visit the glacier all year round. We admired it during our summer Alaska road trip in August. But winter is also an excellent, if not the best season to see glaciers, as it is also possible to see the ice caves during this time. Ice caves are actually accessible only in winter. In rare cases, there are ice caves that are also accessible in summer, but the tours usually take longer and are therefore more expensive. On our bucket list is a glacier winter tour to admire those ice caves.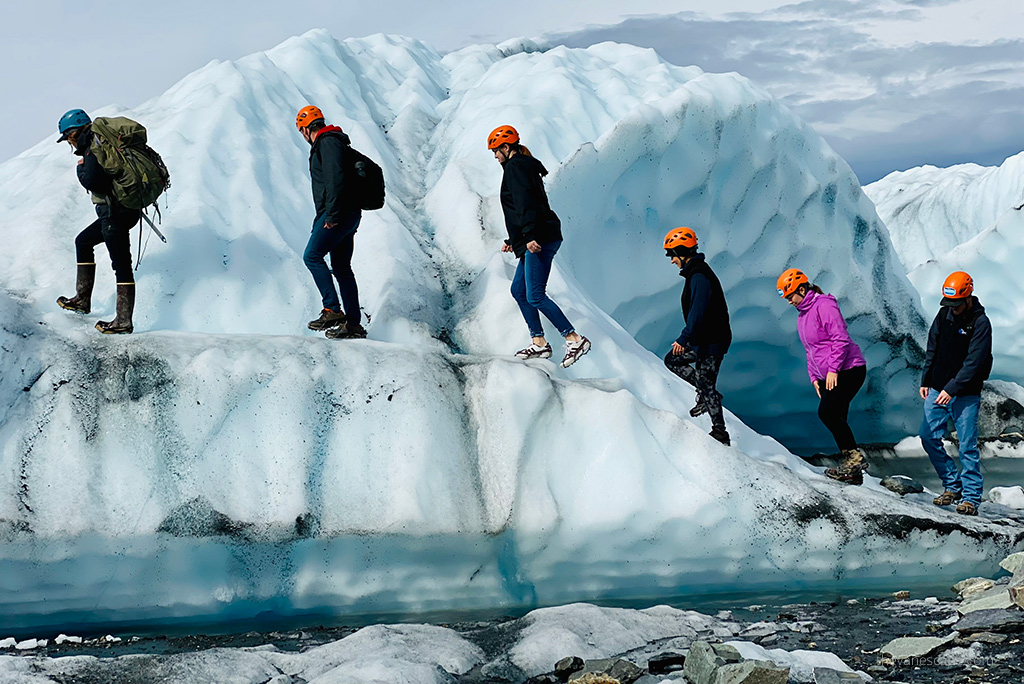 How to Choose the best Matanuska Glacier Tour?
A few local companies offer guided tours of the Matanuska Glacier: MICA Guides, Dr. Sarah Tours, Nova Alaska, or 907 Tours (the last one we highly recommend if you want to take a trip from Anchorage).
Or you can choose directly Matanuska Glacier Park tours, which are offered through the company that manages the glacier.
If you are traveling in Alaska in your car or rented car, you can reach the glacier parking lot on your own. And from this point, join the guided glacier tour. But make sure to book your spot in advance, as the Matanuska Glacier is one of the most popular Alaska destinations. It's on Alaska's bucket list for many travelers.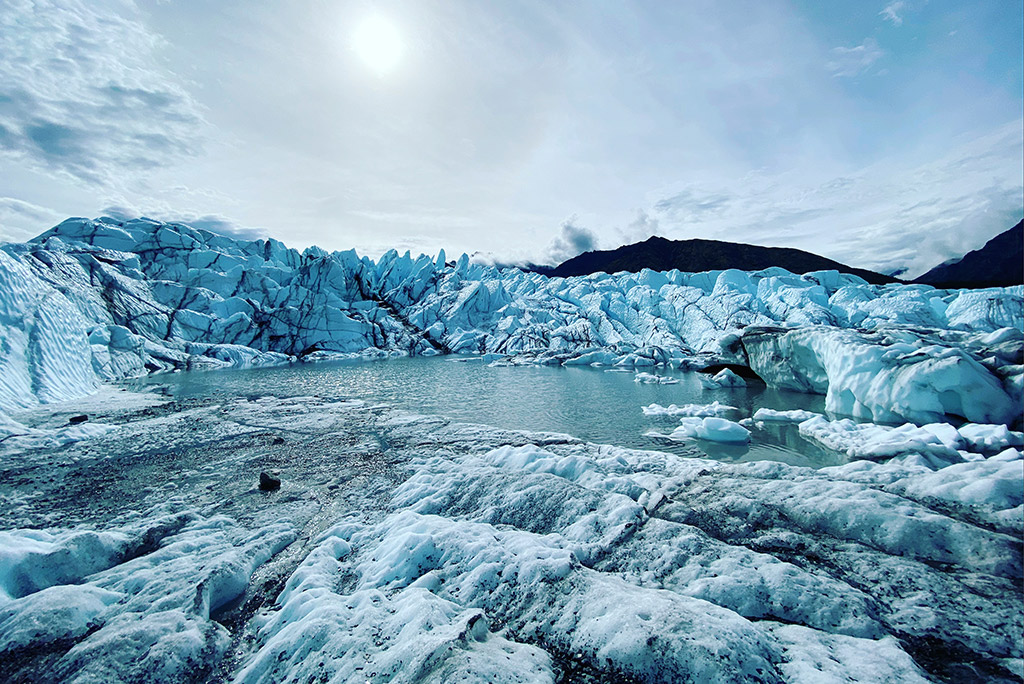 Matanuska Glacier Tour from Anchorage
If you are staying in Anchorage, traveling through Alaska by train, or want to rest from driving, consider an organized day glacier tour from Anchorage. One of the best options to explore one of the most spectacular Alaskan glaciers is taking a day trip from Anchorage. Please enter the number of participants and the planned date of the trip to check its availability and current prices.
Our Tip: If you are visiting Anchorage, check out what to see in Anchorage and when to visit Anchorage.
How does it look the Matanuska Glacier Hike?
Matanuska Glacier hike (if you choose the most popular option) is instead a moderate walk on ice. It's not a challenging and strenuous hike. However, it always depends on your abilities and physical condition. And it depends on the season. As we did a summer hike, we describe only a summer glacier hike for you. Glaciers are always changing so guides may change the routes. Also pictures of landscapes you admire before your hike may look completely different during your visit.
The hiking trail is 1.6 miles one way, partly on the ice. Before venturing out on tour, you will get a helmet and micro-spikes.
Hiking on the muddy and icy dirt
The first part of the Matanuska glacier tour is over the dirty, wet, and muddy ground before you reach the ice. It looks like you're on solid ground, but the dirt is actually on top of the ice and can move under your feet. There are also several metals or wooden grates that you'll have to walk over, marking the way. During this first part, you'll not use the spikes.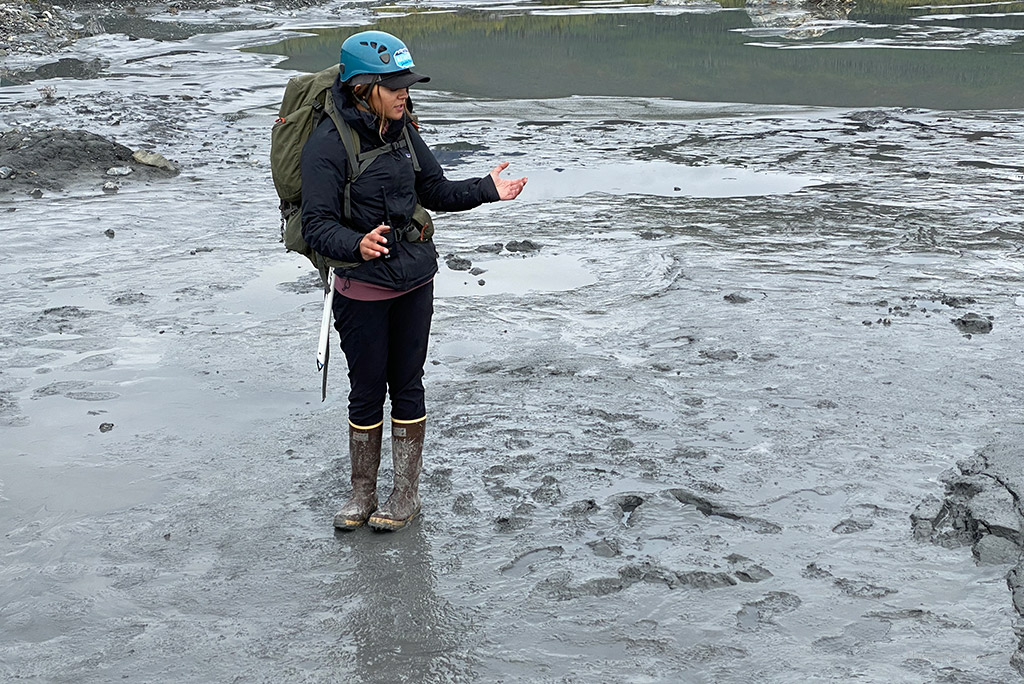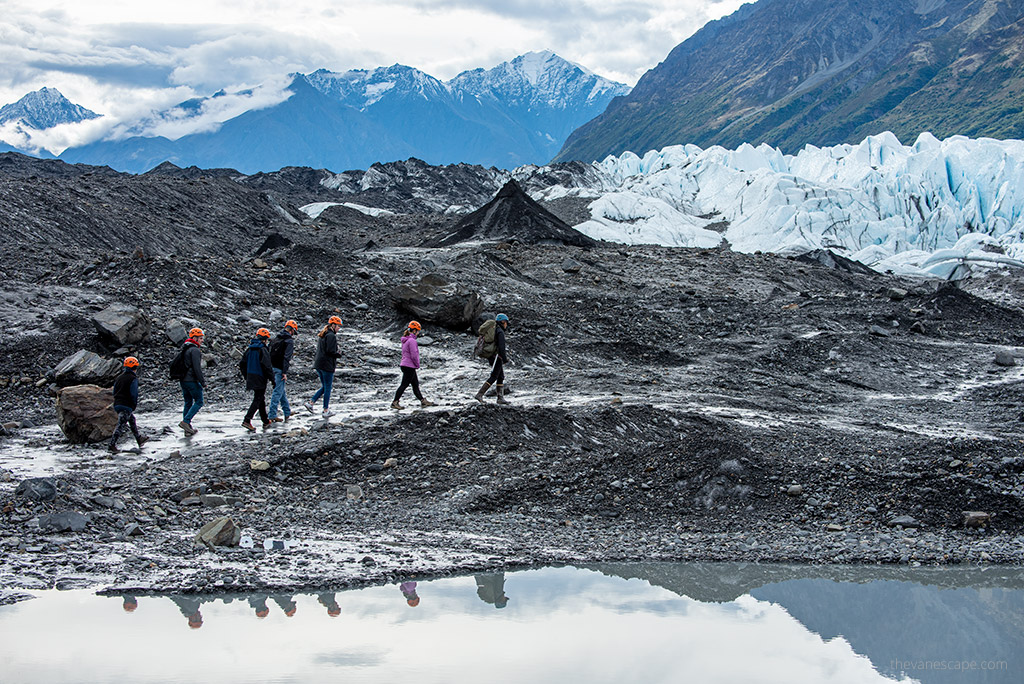 Hiking on the bare glacier ice
After about 15-20 minutes of muddy walking, you reach the bare glacial ice. Here you put on your spikes and start walking on the ice. It's slippery, so be careful and listen carefully to your experienced guide. There are many crevasses and areas of thin ice on the glacier, so watch where you step.
During the Matanuska glacier hike, you will have an opportunity to drink refreshing glacial water, so make sure to pack a reusable water bottle for this trip. The guide will share knowledge about glacier formation, the changes in the landscape, and more. It will be enough time to ask questions and take photos.
Walking back from the glacier
The return usually follows the same route unless the guide decides otherwise. Remember to tip your Matanuska tour guide if you are happy with this glacier experience!
Are Matanuska Glacier Tour and Hike suitable for Kids?
There are no age limitations for this tour. But in some tour operators, the age minimum is 8 years old. Keep in mind that the area is very slippery. And it's easy to trip and fall on the ice. You may also have to take a big step to jump over a crevasse in the glacier.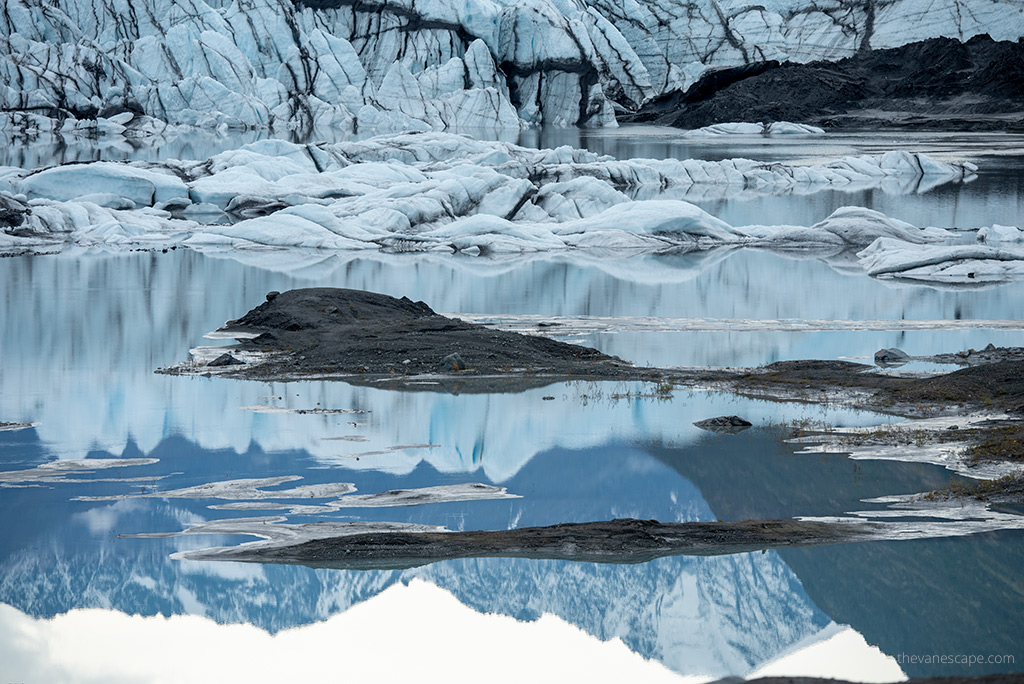 What to wear for Matanuska Glacier Hike?
For summer Matanuska Glacier Hike
Make sure to wear waterproof hiking shoes with good traction. However, the best idea is to wear Alaska Proven Xtratuf Boots. Almost all Matanuska glacier guides are wearing them, as they feature an SRA-rated slip-resistant Chevron outsole that provides excellent traction in extreme conditions. Wear long pants to protect your legs. Take also sunglasses, a hat, and sunscreen, as it can be very bright. Wear layers, as the weather can change rapidly. Temperatures may vary between 50 to 85 degrees Fahrenheit. During our summer tour, we used our windshield jackets, as it was chilly. You will get microspikes and helmets, so you don't have to pack them. Trekking poles are not recommended for this trip.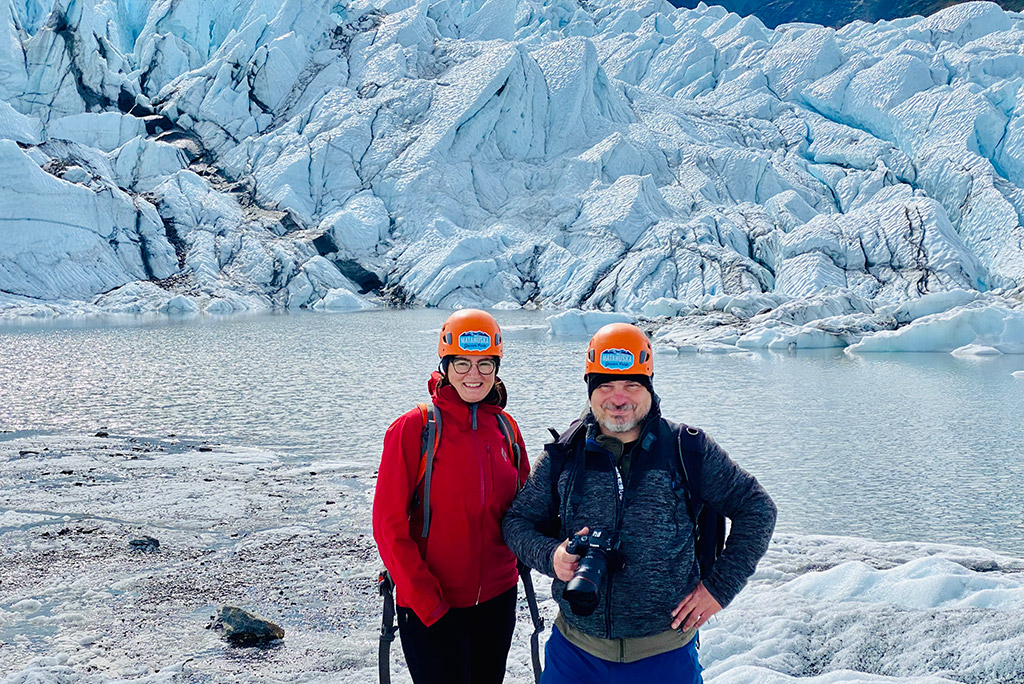 For winter Matanuska Glacier Hike
In winter, temperatures can vary from -30 to 35 degrees Fahrenheit. Therefore, you must bring warm boots, socks, a puff-insulated jacket, snow pants, hats, and gloves. Wear layers. We recommend packing and using hand and toe warmers for the glacier tour in winter.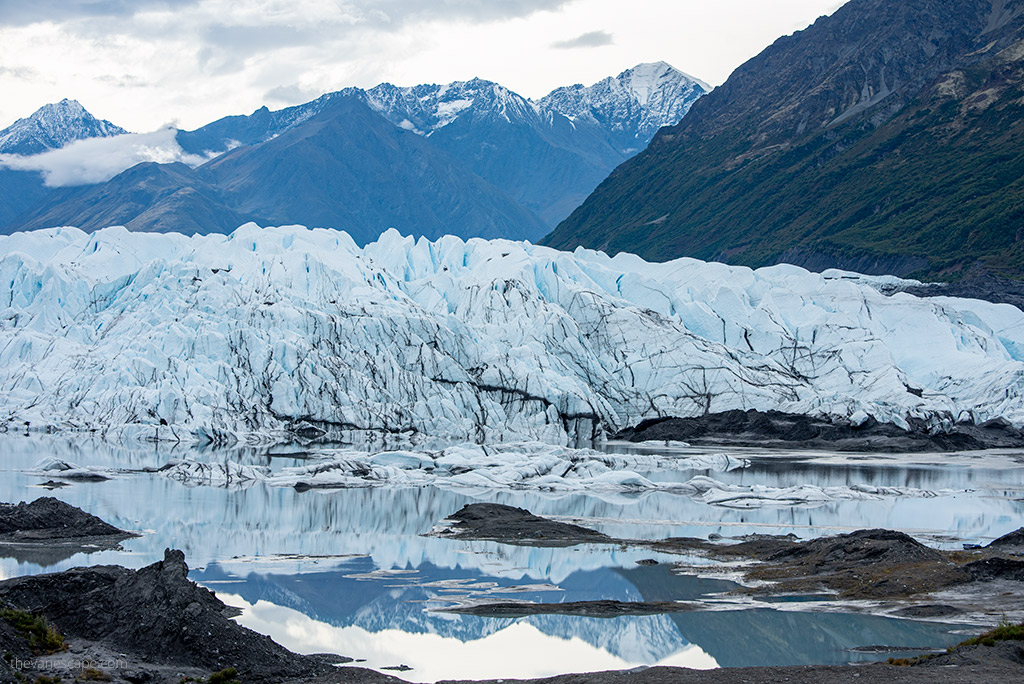 Matanuska Glacier State Recreation Site
The Matanuska Glacier State Recreation Site is a 229 acres (93 ha) park with the best glacier overlook. So make sure to stop here for a while during your trip. It also offers a small campground with 12 campsites. There are also pit toilets, fire pits, picnic tables, and a water pump.
The park is just before the turnoff to reach the glacier, at Mile 101 of Glenn Highway. It's 93 miles from Anchorage and 52 miles from Palmer. During the winter the site is closed. There is no direct access to the glacier from Matanuska Glacier State Recreation Site, but the vistas are stunning.
There is an easy 1-mile nature walk (Edge Nature Trail) accessible from the recreation site with a stunning view of the Matanuska Glacier. It's also the best stop to admire the glacier for people with disabilities who can't hike.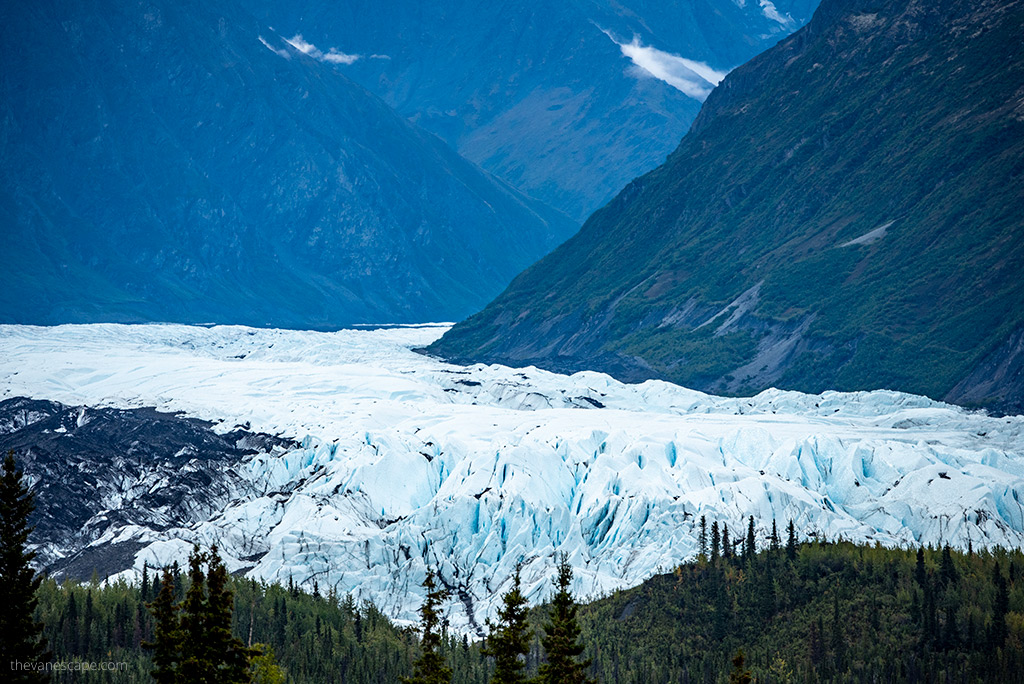 Do you like it? Pin it!