Updated on April 25, 2021
Nevada is rich in hot springs. It might be surprising to you, but it's true – it has about 300 hot springs! So sometimes it's hard to decide where to soak. One of them that we visited recently is Spencer Hot Springs, aka Black Mustang Hotspring at Spencer's Springs. And this is something that we would like to present to you in this short article.
This article may contain affiliate / compensated links. For full information, please see our disclaimer here.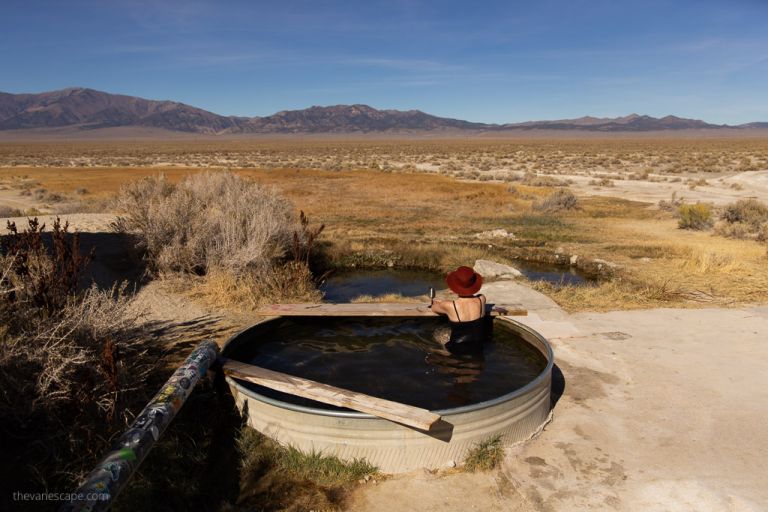 How to get there?
Spencer Hot Springs lies in the northern part of Nevada, just off America's Loneliest Highway (Lincoln Hwy – route no 50), and very close (about 19 miles) to the city of Austin, NV. Traveling route 50 to the west you must turn left ahead of Austin to route no SR376. And of SR376 you must turn left on the gravel road leading you to your destination (about 10 miles).
When you are close to this primitive hot spring it is easy to miss it because gravel roads are going in different directions, so please be careful and set your GPS to 39°19'36.8″N 116°51'35.3″W and drive to the springs itself – you can't park just next to it (don't follow the picture in the article). We recommend taking a GPS and Nevada topographic map for a road trip, as these areas are very often out of cell coverage. We use this atlas, which is excellent.
To get there, usually you don't need any special vehicle – you can make it with regular car.
PRO TIP: If you are a fan of hot springs, Nevada is full of soaking pools. More than 100 of Nevada & California hot springs are detailed in this fantastic book Touring California and Nevada Hot Springs.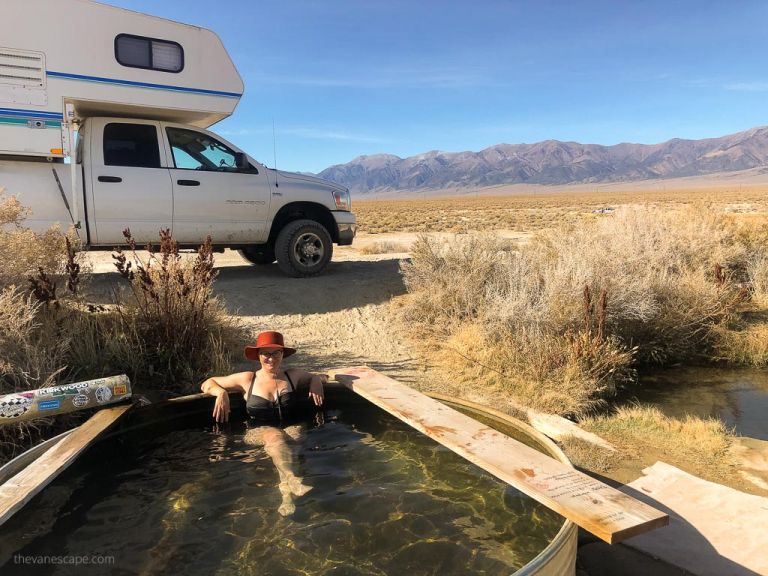 When to come?
Spencer Hot Springs is one of the most reliable hot springs in Nevada – it's equally good throughout a year. The water temperature and pressure are almost the same.
How it looks?
Hot spring is very simple – there is a pipe transporting hot water to the super-steamy metal tub (water temperature here is 100-120F), and from the tub, it is leaking further to a couple of small ponds. Of course, the water in ponds is a little bit colder, so if you don't like it very hot, try to soak in one of the lower ponds (106F and below).
The hot spring is free and public, but usually, there's not too many people. We were alone, and we heard that it's like 2-3 pairs maximum. The tub itself is not big, so it doesn't fit more than 4-5 people at once. But very often people stay there overnight camping in the desert – there is a lot of space around. Remember that clothing is optional.
Don't forget your quick-drying towel and camping glasses for a wine or water in this desert scenery.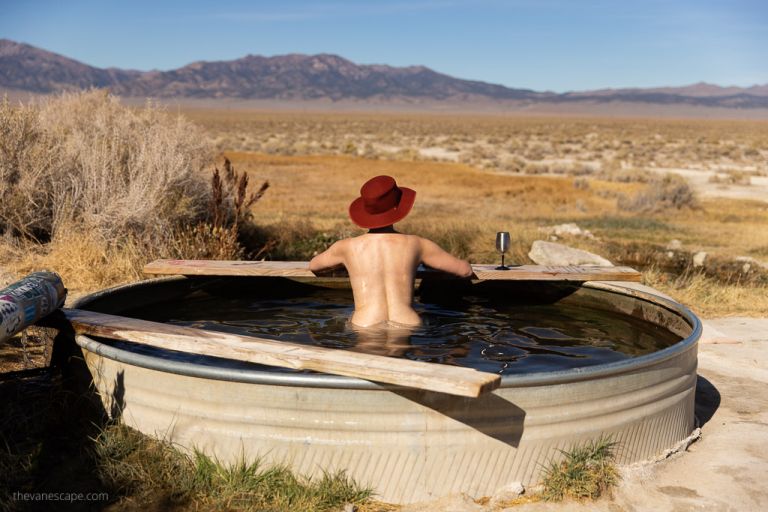 It's worth to know that Spencer's is a cluster of natural springs on public land, managed by the Bureau of Land Management. Sitting in the pool, you will have spectacular views of the Toiyabe National Forest in the middle of the Nevada desert. Sometimes wild mules come and drink the water, so let them do it, please.
Attractions nearby
If you are hot springs fan like us, you should also check two nearby hotsprings – Smith Creek Valley Hot Springs and Diana's Punchbowl. Unfortunately you can soak in the recent one, but it's worth to see it.
You can also visit the city of Austin. It looks like a living ghost town; however, it has a few cafes, hotels, and shops. In 2010 it had a population of 192. We believe now it's much less, unfortunately. The city is interesting from photography perspective.
Austin, Nevada
The city was named after Buell's partner, Alvah Austin, during a silver rush. The valued metal was reputedly found when a Pony Express horse kicked over a rock and observers noticed the silver. In 1862, it was designated as the county seat of Lander County.
Today Austin is a "living ghost town", a well-preserved example of an early Nevada mining town. It contains four churches; both the Catholic church and the Austin Methodist Church were built in 1866. The Methodist Church is now used as a community center. The Catholic Church, St. Augustine's, has been purchased and is being restored as a cultural center for Central Nevada. The Episcopal church, dedicated to St. George and considered by some to be the prettiest frontier church still standing, was built in 1878 and is still in regular use. These three churches are listed as Nevada Historical Marker 67.
Are you a fan of hot springs? Maybe you will be interested in Oregon & Arizona hot springs?
So, check out our posts about Umpqua Hot Springs in the dense forests of Oregon and Alvord Hot Springs hidden in the Oregon desert.
We also recommend the gorgeous Arizona Hot Springs, which is only 40 minutes driving from Las Vegas, so it's worth going there for a hike to get a break from Sin City.