Visiting Pioneer Park in Fairbanks
Is Pioneer Park Fairbanks worth a visit? What are the main attractions in the park? What is its history, and how can you spend a day there? What are the best museums in this park? We liked this place, so join us on a journey through time as we unravel the park's rich history and highlights and create a perfect itinerary for a memorable day in Pioneer Park.
This article may contain affiliate / compensated links. For full information, please see our disclaimer here.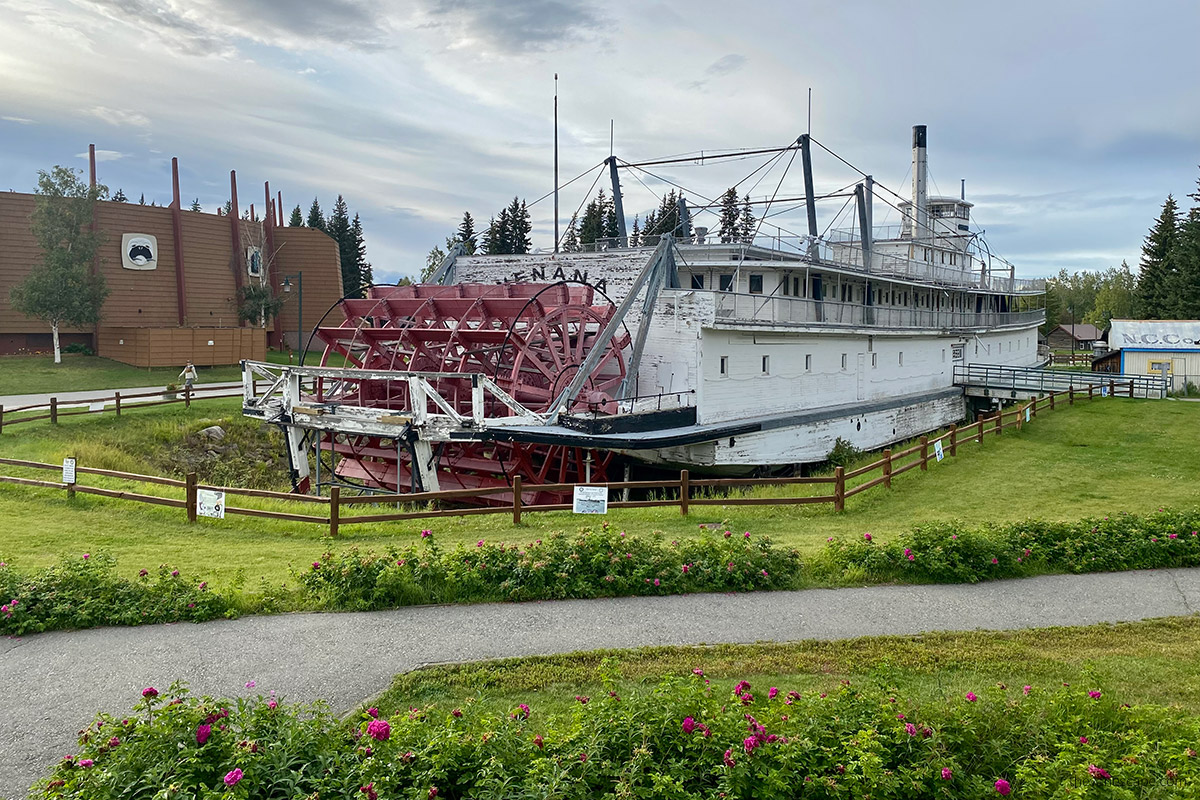 Pioneer Park Fairbanks – Our Experience
One of the best things to do in Fairbanks is visit Pioneer Park. We had the opportunity to visit this place during a recent road trip in northern Alaska. After returning from Dalton Highway and Prudhoe Bay, we had some free time and decided to explore and relax at Pioneer Park.
Pioneer Park is the perfect place to spend active time for families and people who want to learn about Alaska's history interestingly and engagingly. Below we share our photos and impressions of this place, and we suggest the main attractions in the park and how to spend the most exciting time there.
Our Tip: If you are starting your Alaska trip in Anchorage, check out how to get to Fairbanks from Anchorage.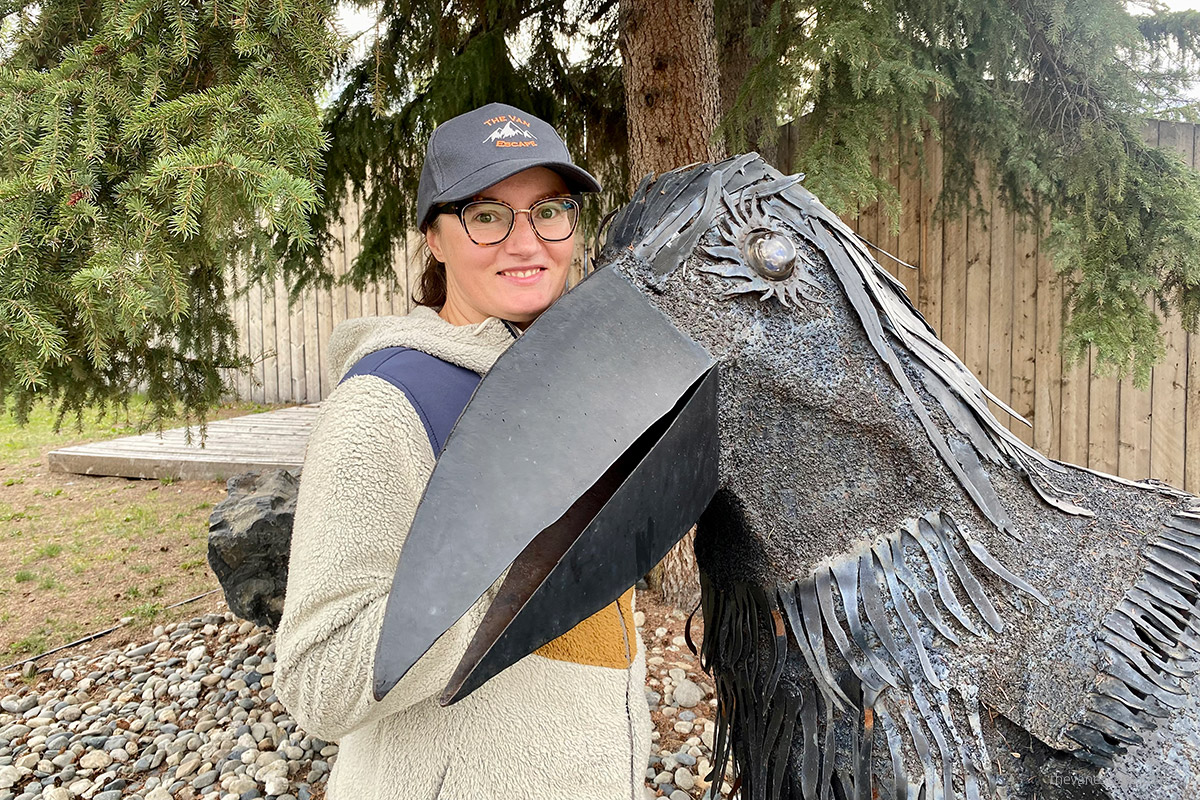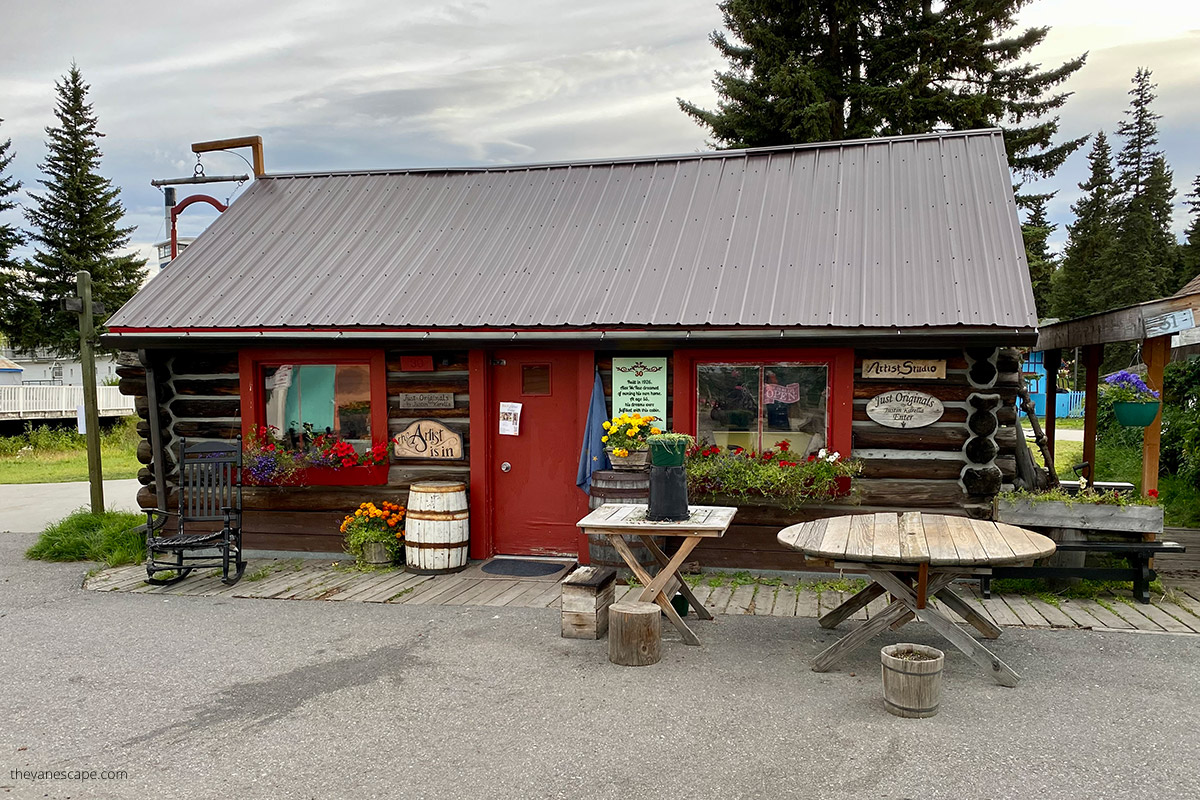 Where is Pioneer Park?
Pioneer Park, a captivating Historical Theme Park, spans 44 acres and is situated right in the heart of Fairbanks, Alaska. You can find it nestled between Airport Way and the Chena River bike path. The best part? There's no admission fee required to enter Pioneer Park. The address is 2300 Airport Way, Fairbanks.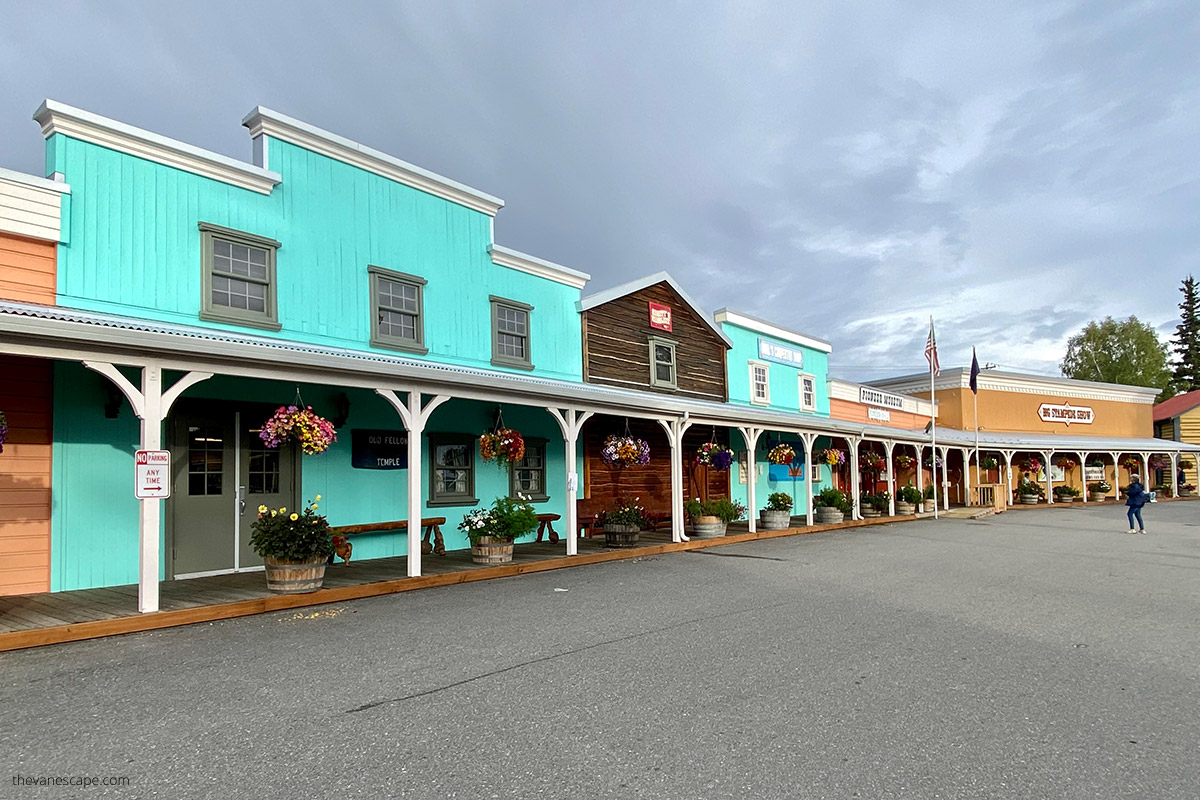 Pioneer Park Hours
Pioneer Park Fairbanks is a year-round destination that has something exciting for everyone. Here you can check out when is the best time for a trip to Fairbanks, including seasons and weather.
Summer season
During the summer season, which runs from Memorial Day weekend in May to Labor Day in September, you can enjoy the park every day from 12:00 pm to 8:00 pm. It's the perfect place to rent a picnic shelter, explore shops filled with local artwork, dine at charming restaurants, visit museums, and partake in community events.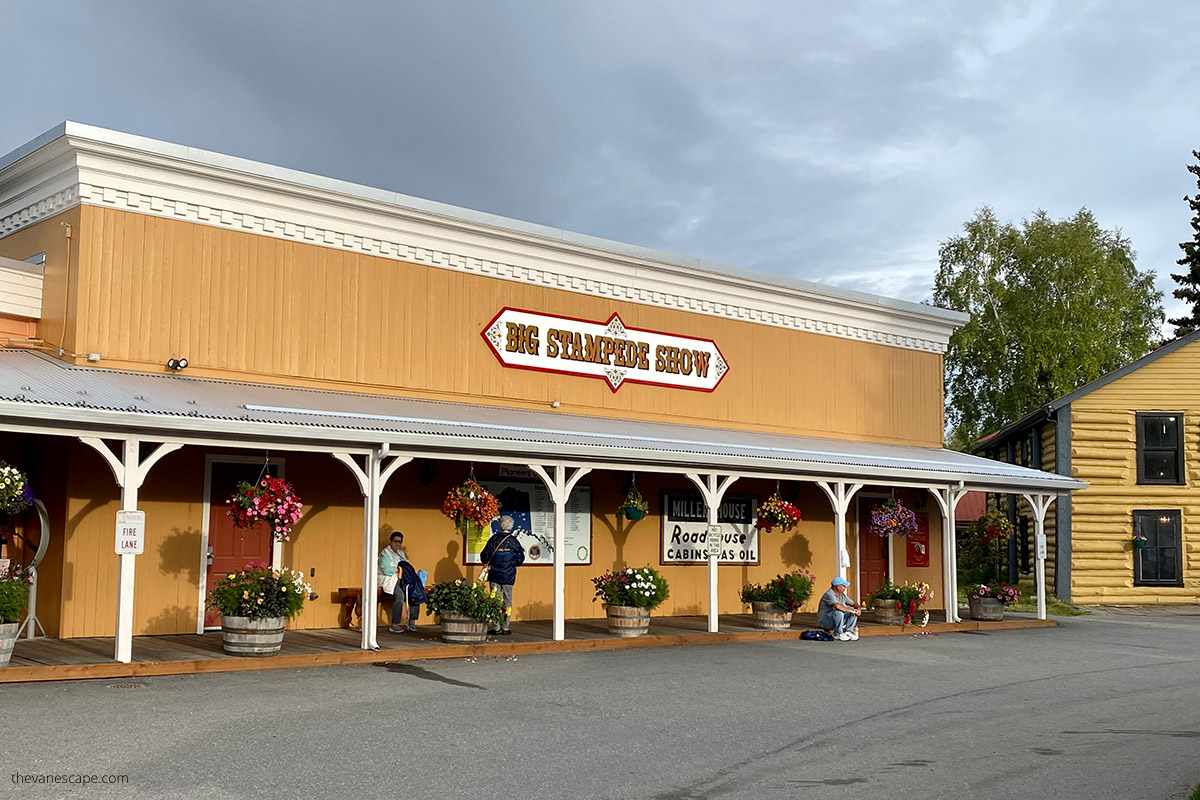 Winter season
Even during the winter season, Pioneer Park has plenty to offer. From 6:00 am until midnight, you have the chance to take self-guided tours of fascinating artifacts, buildings, and the park's beautiful grounds.
Alaska Salmon Bake
The Alaska Salmon Bake is a must-visit for a delicious meal. They're open every day during the summer from 5:00 pm to 9:00 pm. It's authentic Alaskan dining. Check their menu.
Palace Theater
For some evening entertainment, head over to the Palace Theater, where you can catch a show at 8:15 pm. You can book your ticket online or in person at Pioneer Park.
Our Tip: Make sure to visit the Pioneer Park website to check out current events. It's also worth checking their FB profile, as they have up-to-date information. So you can plan your visit better.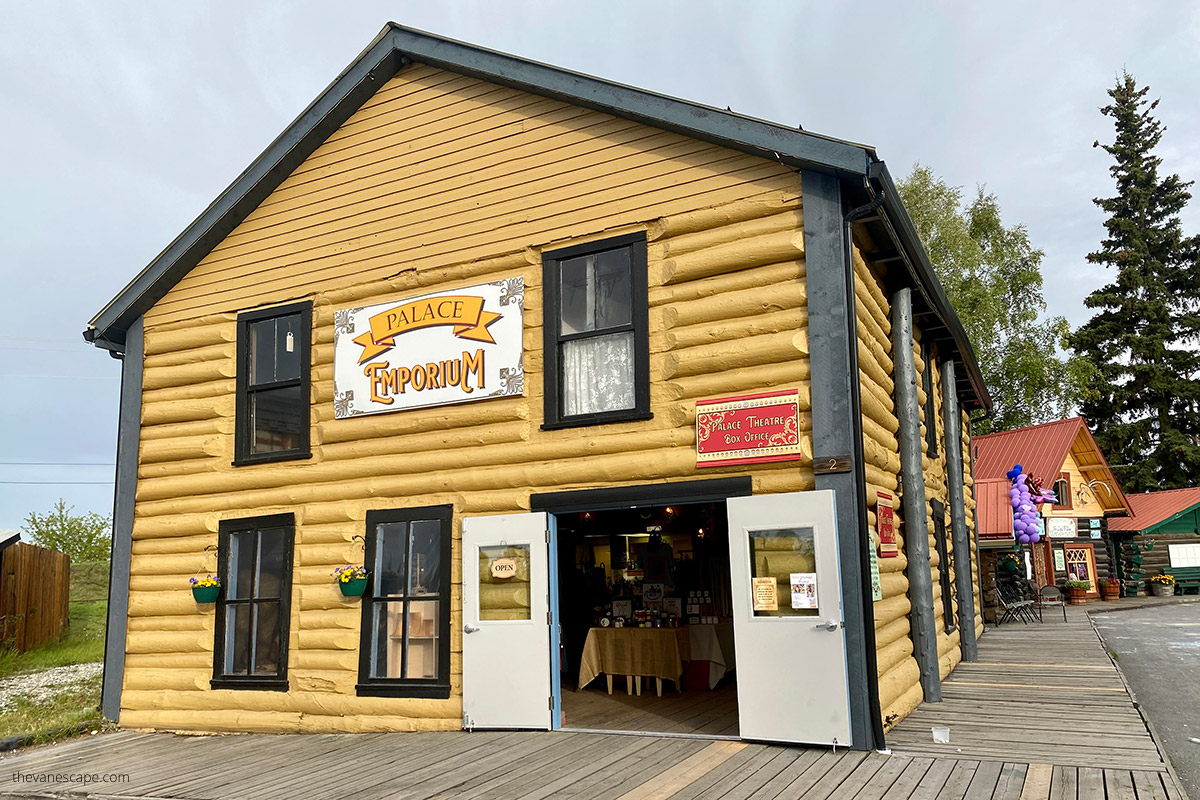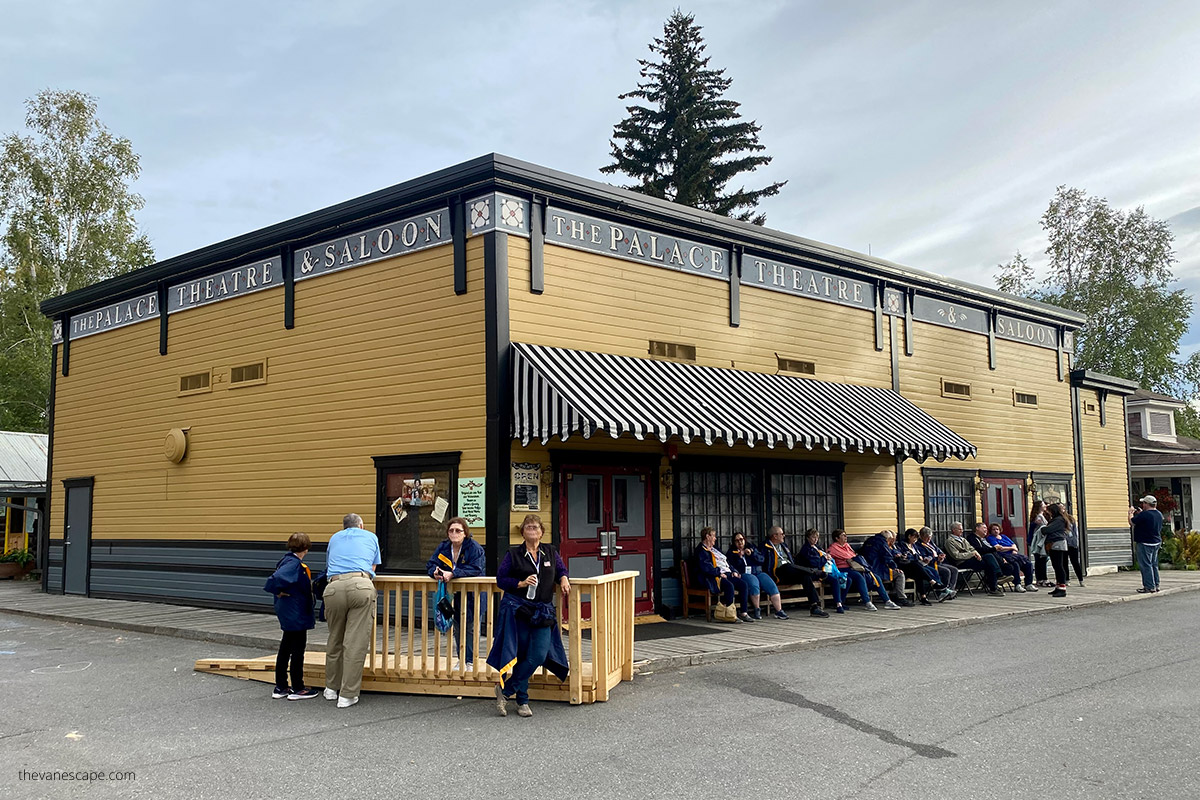 Pioneer Park Admission Fee
You don't have to pay a penny to enter Pioneer Park. It's an entirely free Fairbanks attraction. You can come on over and explore the park at your own pace with a self-guided tour. You can also enjoy the playground and take in the captivating Bear Art Gallery without any cost.
Most of the park's attractions are free. But it's worth noting that a few museums and activities may have a small fee attached. So, you can visit Pioneer Park without breaking the bank.
Is Pioneer Park dog friendly?
Yes, you can bring your pet to Pioneer Park. But all pets must be leashed, and remember to clean up after your pet.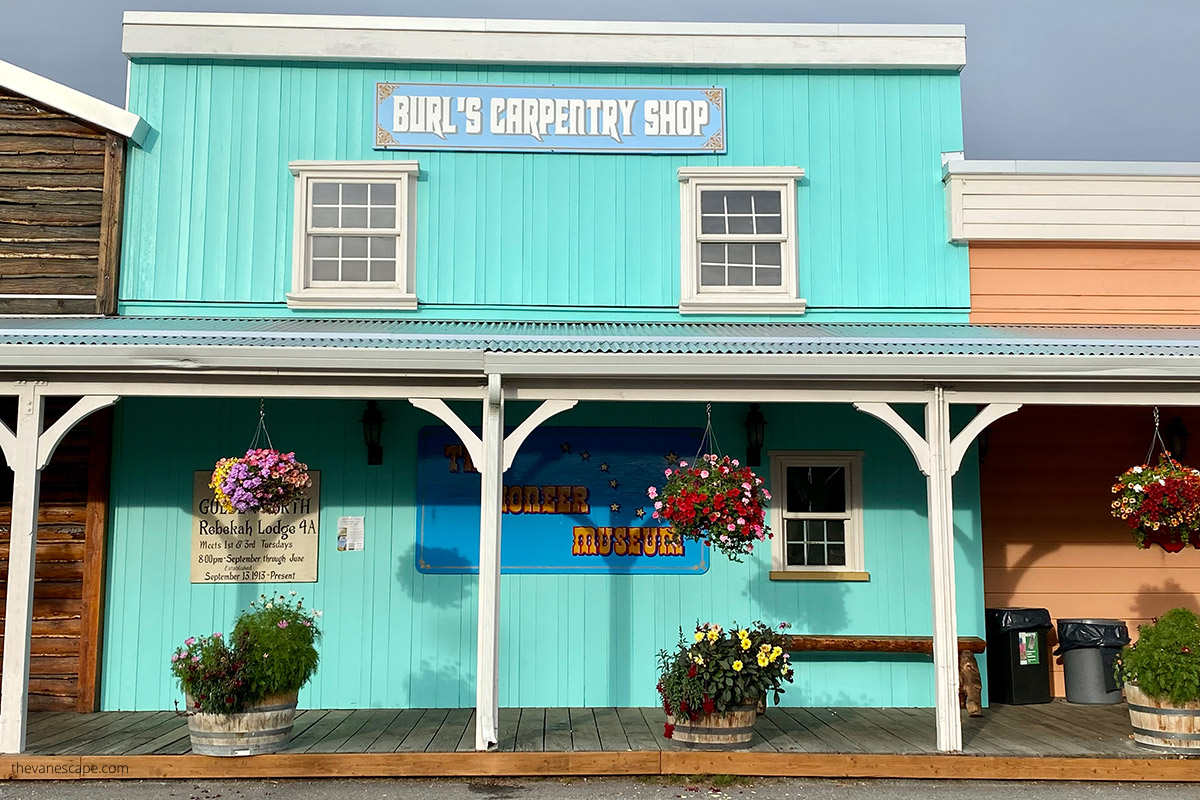 Pioneer Park Museums
Pioneer Park in Fairbanks has some fascinating museums that show the history of Alaska. You won't be bored in any of them.
SS Nenana
The steamer SS Nenana is the "Last Lady of the River." She was constructed in Nenana, Alaska, in 1932 and set sail in 1933. With its wooden hull spanning 247 feet, this remarkable boat transported passengers, freight, and a crew of 32.
The SS Nenana gracefully navigated the Yukon and Tanana rivers for over two decades, providing essential transportation services. However, in 1954, her river journeys came to an end. Recognizing her historical significance, the SS Nenana was honored with the designation of a National Historic Landmark in 1989.
Our Tip: Book this Riverboat Cruise along the Chena River and Local Village Tour from Fairbanks to feel the old-time spirit and imagine that you are on the steamer SS Nenana.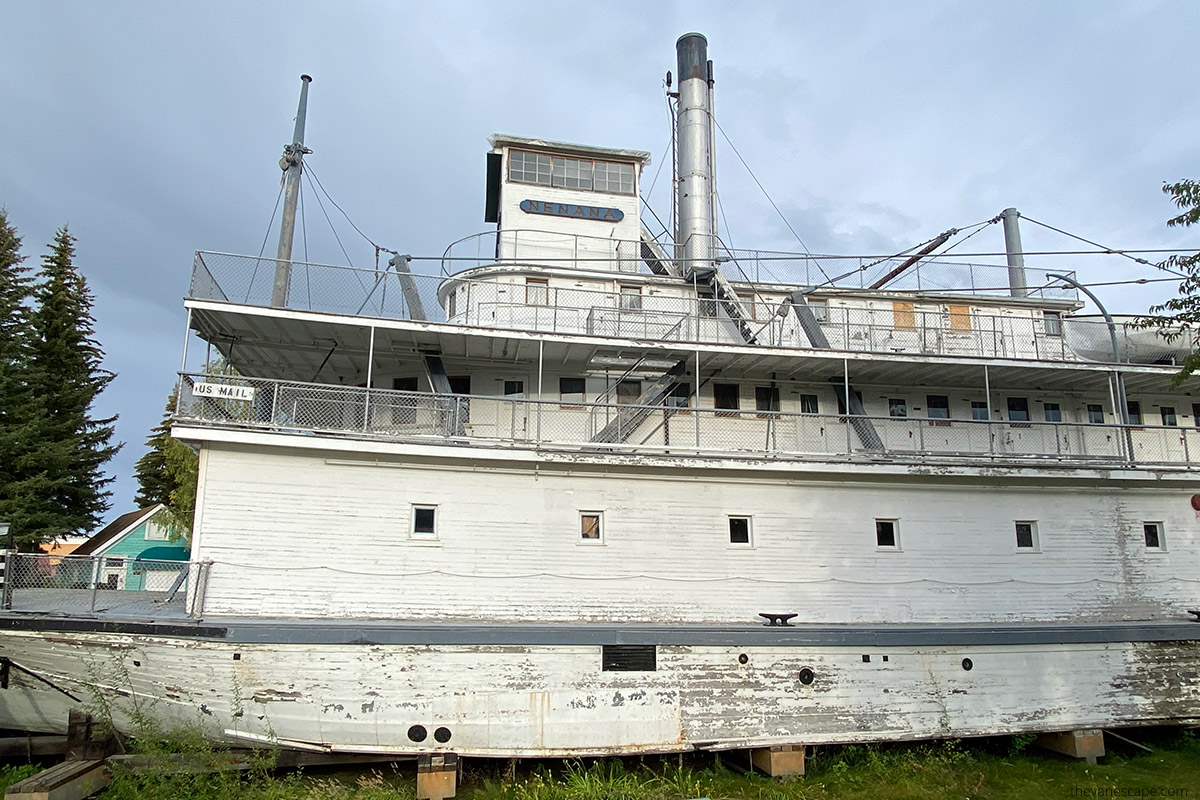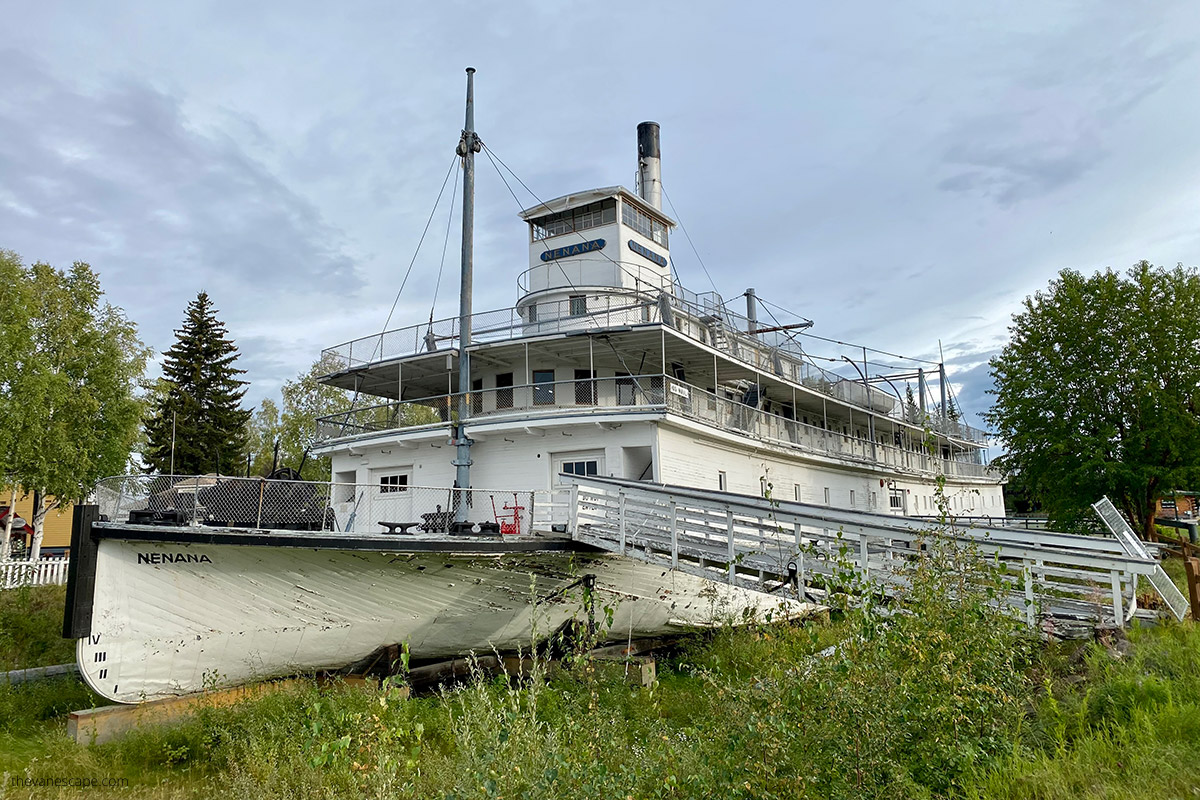 The Harding Car
The Harding Car, also called the Denali Car, is significant in history. It was the train car in which President Warren G. Harding embarked on his journey to Alaska in 1923. President Harding drives the Golden Spike during his visit, symbolically completing the impressive 500-mile-long Alaska Railroad in Nenana. President Harding's visit made him the first-ever President to set foot in Alaska. It's also great to visit the Alaska Railroad Museum in Nenana, only 55 miles south of Fairbanks.
Our Tip: Book this Gold Dredge 8 Historic Train Tour and travel back to the time of the gold rush. You'll have the opportunity to uncover the secrets of the goldfields, try your hand at panning for gold, and enjoy a scenic ride on the Tanana Valley Railroad.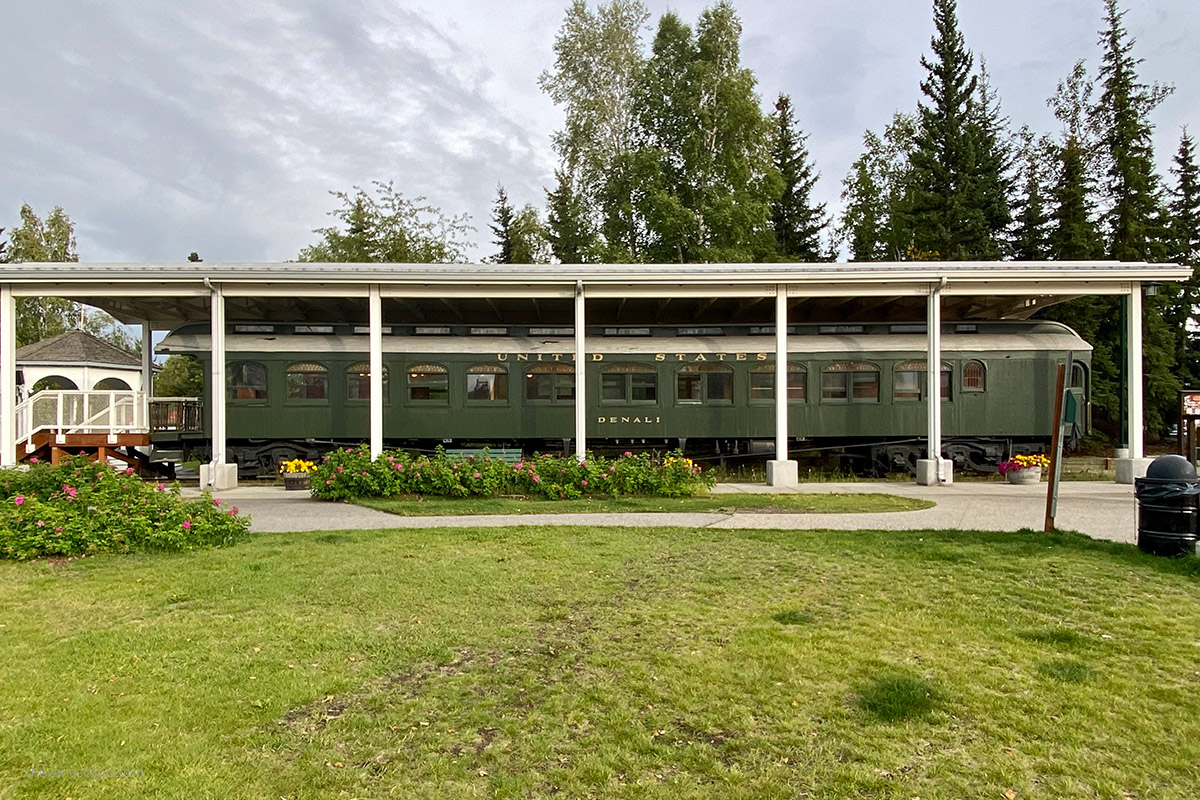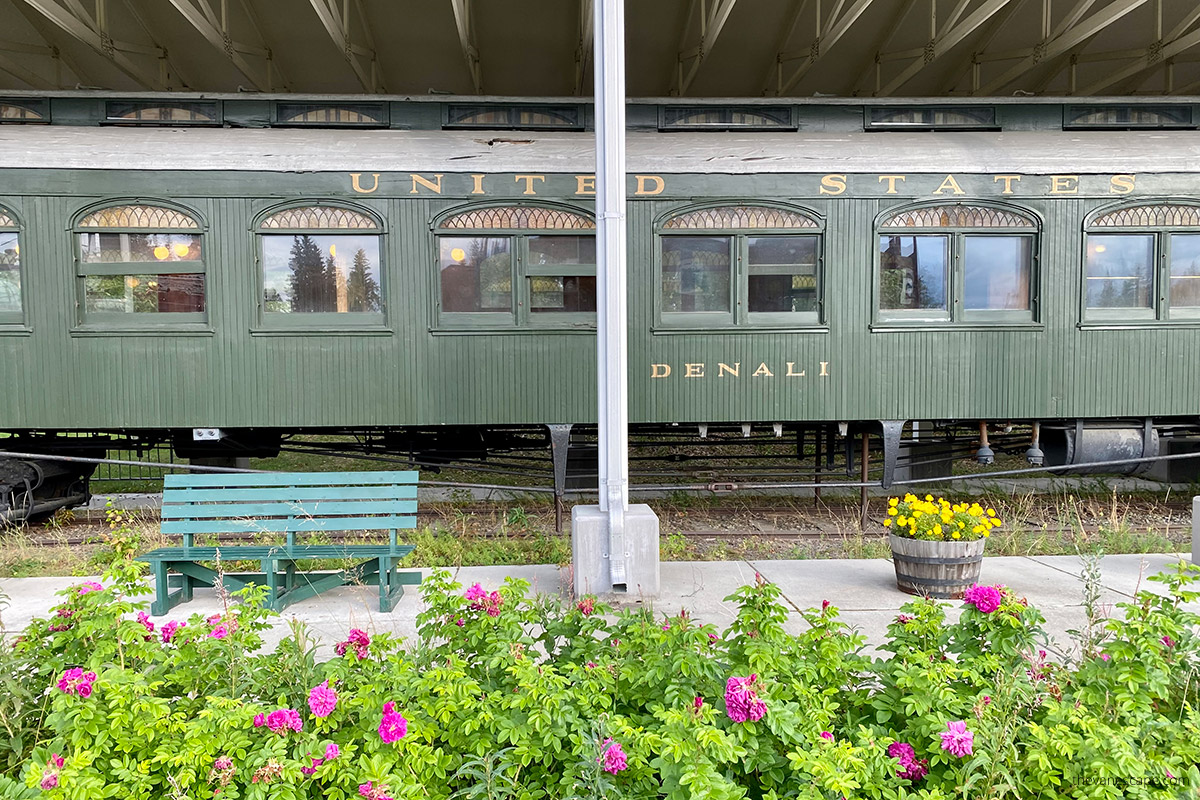 Kitty Hensley House
Since 1967, the Kitty Hensley House Museum has found its home in Pioneer Park.
A remarkable pioneer lady, Kitty Hensley, arrived in Fairbanks in 1907. She owned the Queen Anne-style house that now serves as a museum and owned the riverboat called the "Florence S."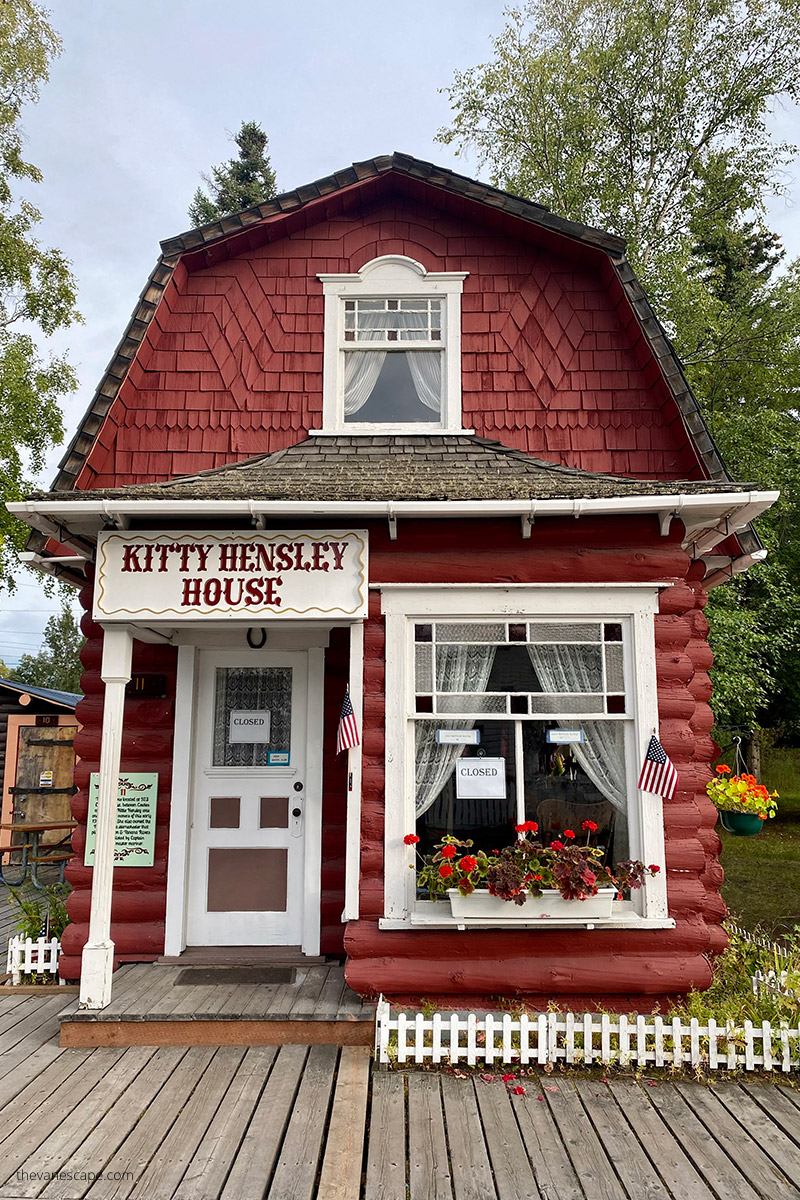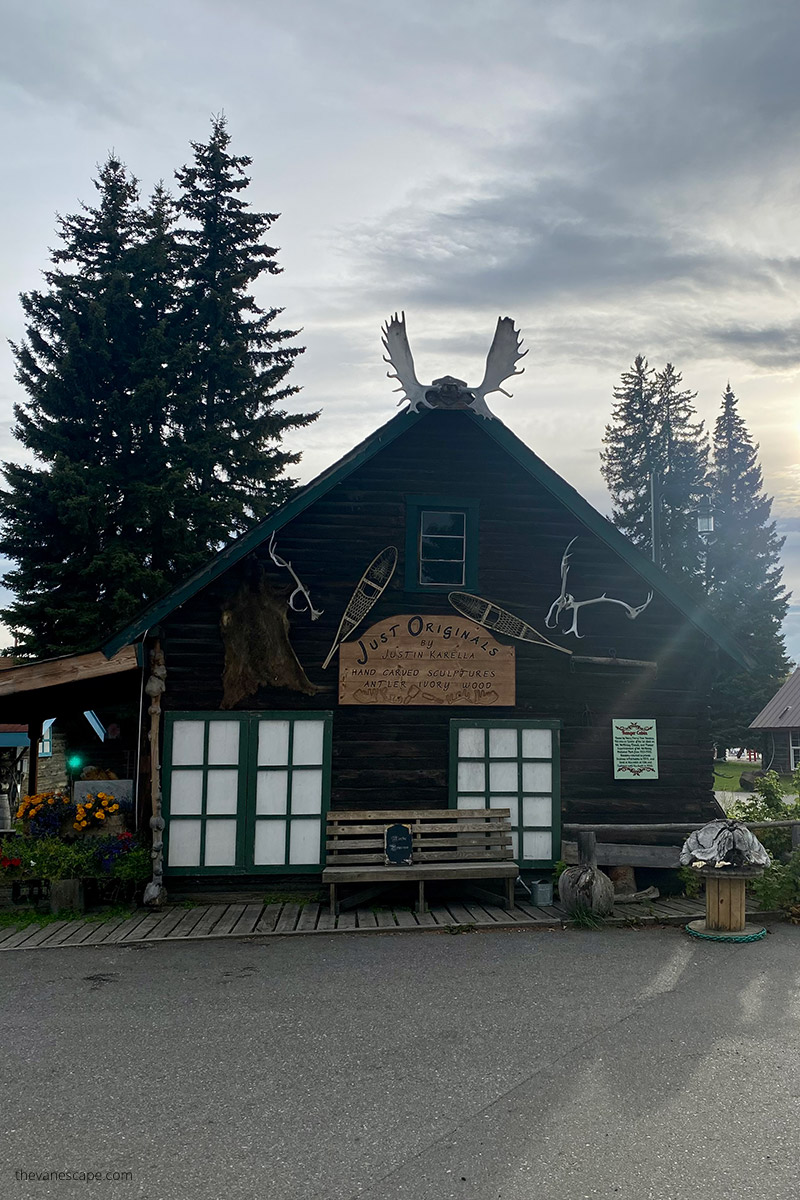 Pioneer Air Museum
Explore the Pioneer Air Museum during your visit. For a fee of $5, you can learn the rich history of aviation. The Interior and Arctic Alaska Aeronautical Foundation operates this captivating museum within the iconic gold dome. Inside, you'll discover a fascinating collection of aircraft and memorabilia. The museum showcases a range of aircraft utilized in Alaska from 1913 to 1948, offering a glimpse into the region's aviation heritage.
Pioneer Museum
The Fairbanks Pioneer Museum features interesting items from areas such as communications, transportation, agriculture, tools, Native culture, and gold mining. Items in these areas were donated to the museum by early pioneers and prospectors. You can learn about the daily challenges of early pioneers and get an idea of what it took to survive in the North.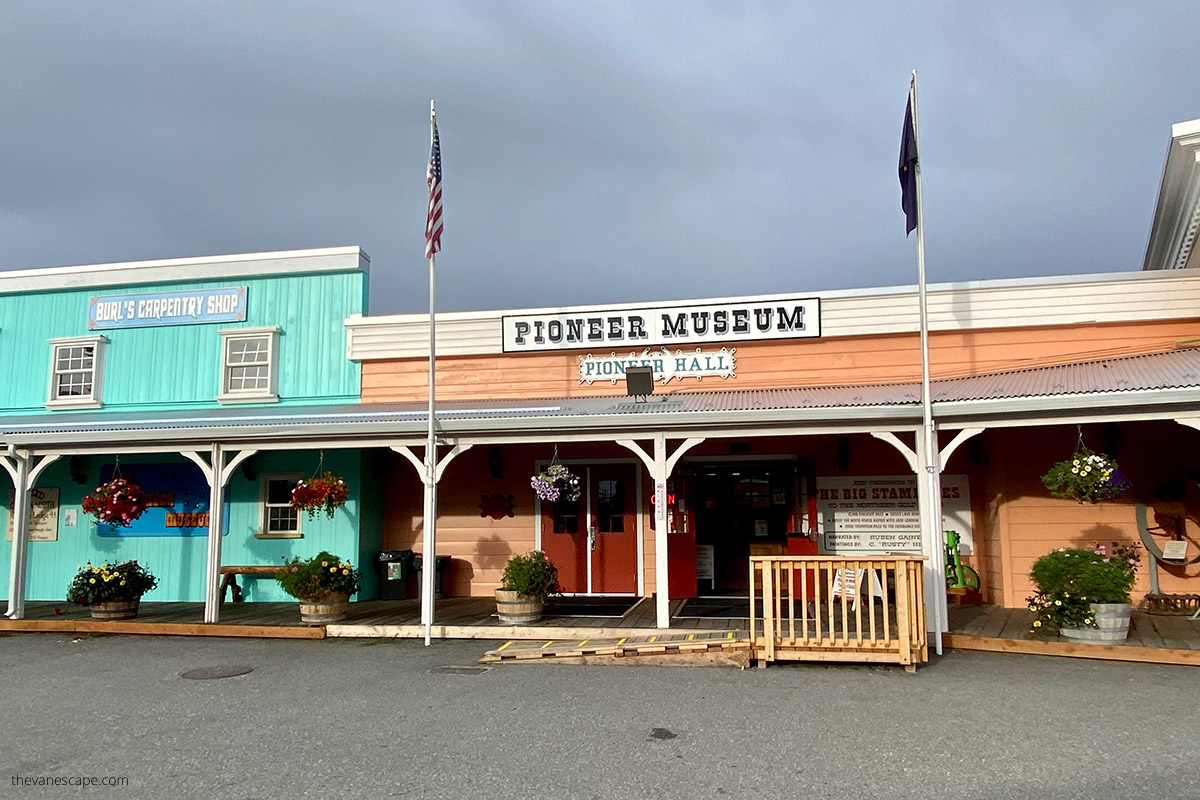 Tanana Valley Railroad Museum
The Tanana Valley Railroad Museum is home to Engine #1, the oldest operating steam locomotive in Alaska and the Yukon Territory.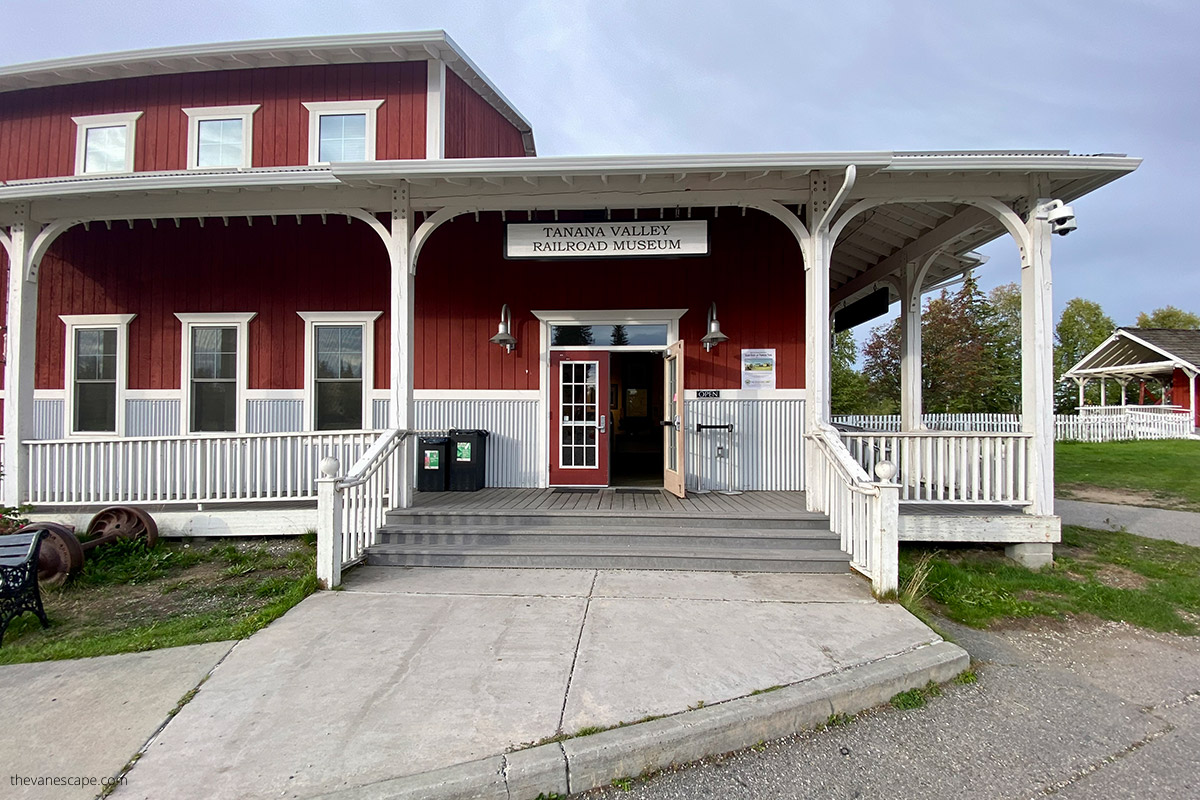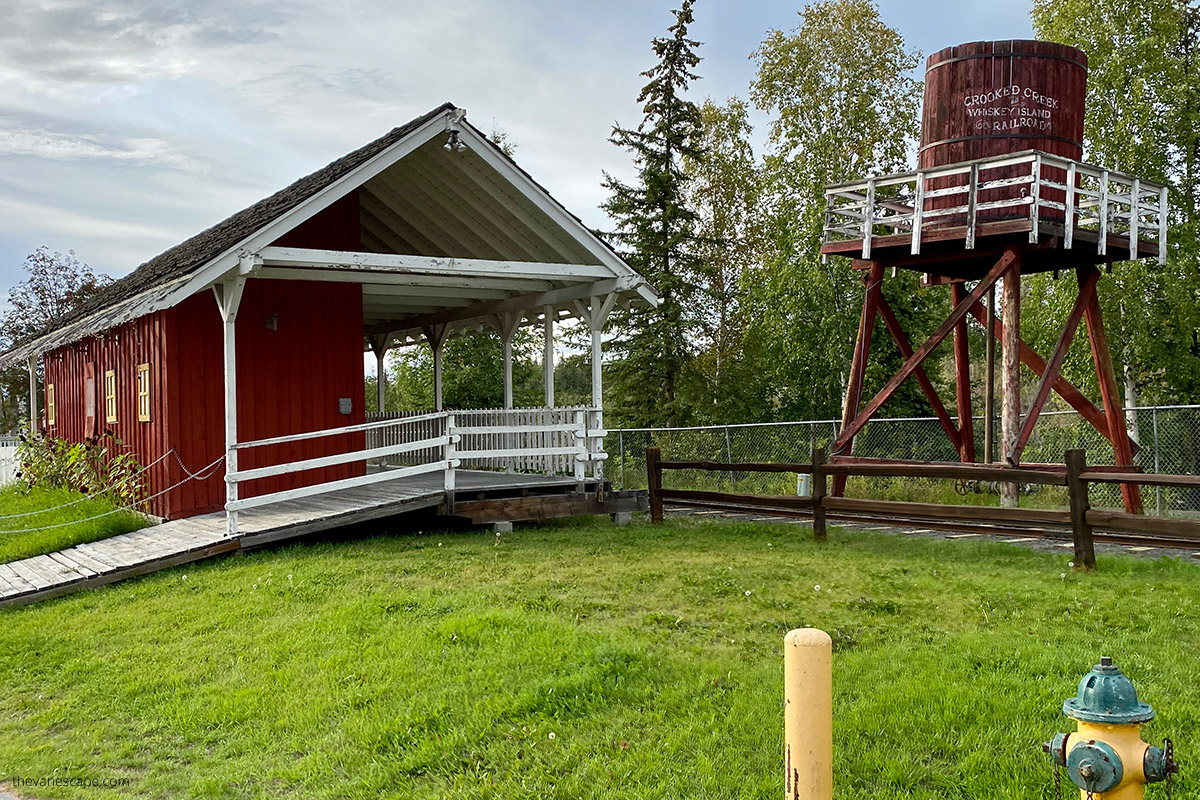 Wickersham House Museum
The Wickersham House Museum, originally located at 1st Avenue and Noble Street, is a significant historical landmark in Fairbanks. Built by Judge James Wickersham in 1904 was the first house in the area made of milled lumber with a white picket fence. In 1967, the house was moved to A-67 and partially restored by the City of Fairbanks in 1977. Recognized for its historical importance, the Wickersham House was added to the Historic National Register in April 1979.
Pioneer Park Activities
In addition to museums, Pioneer Park provides many other exciting activities. Park features a volleyball court, a bocce court, a 3-hole disc golf course, and playgrounds. At the Folk School, you can learn traditional crafts, woodworking, and outdoor skills. There are some dance classes and shows. There is possible to rent a kayak as well.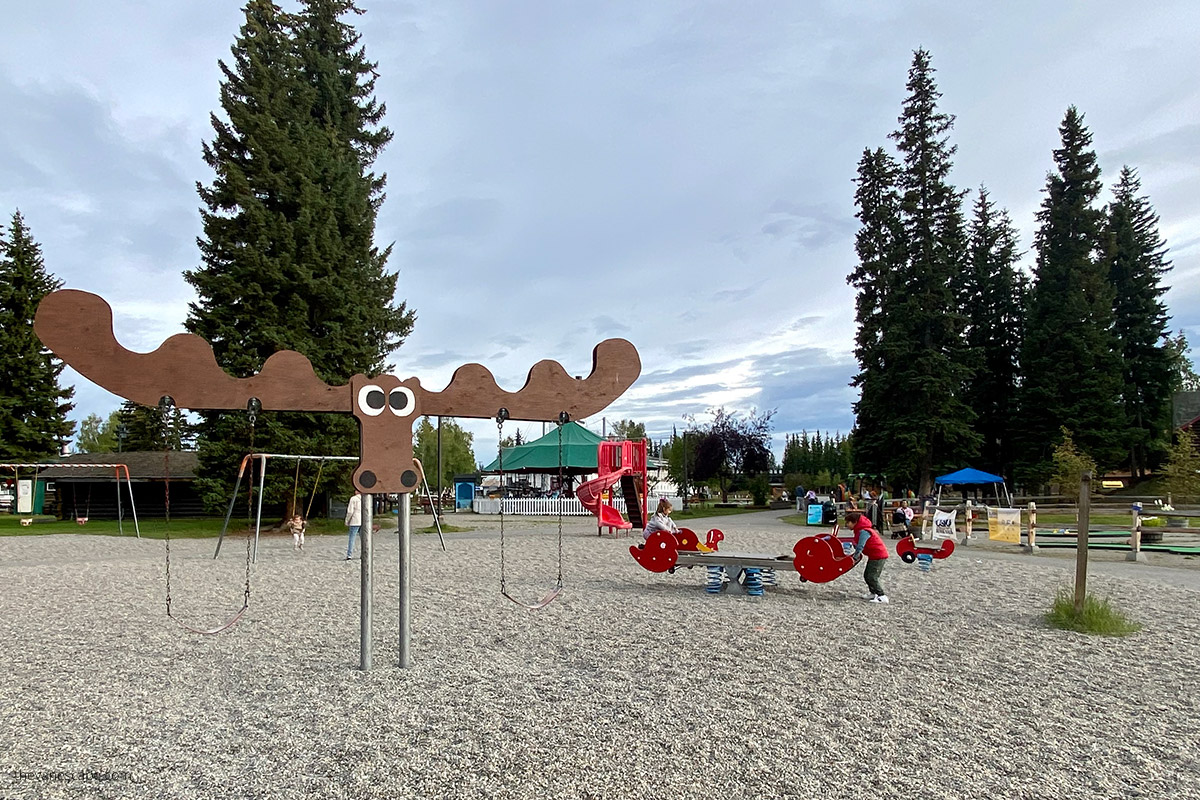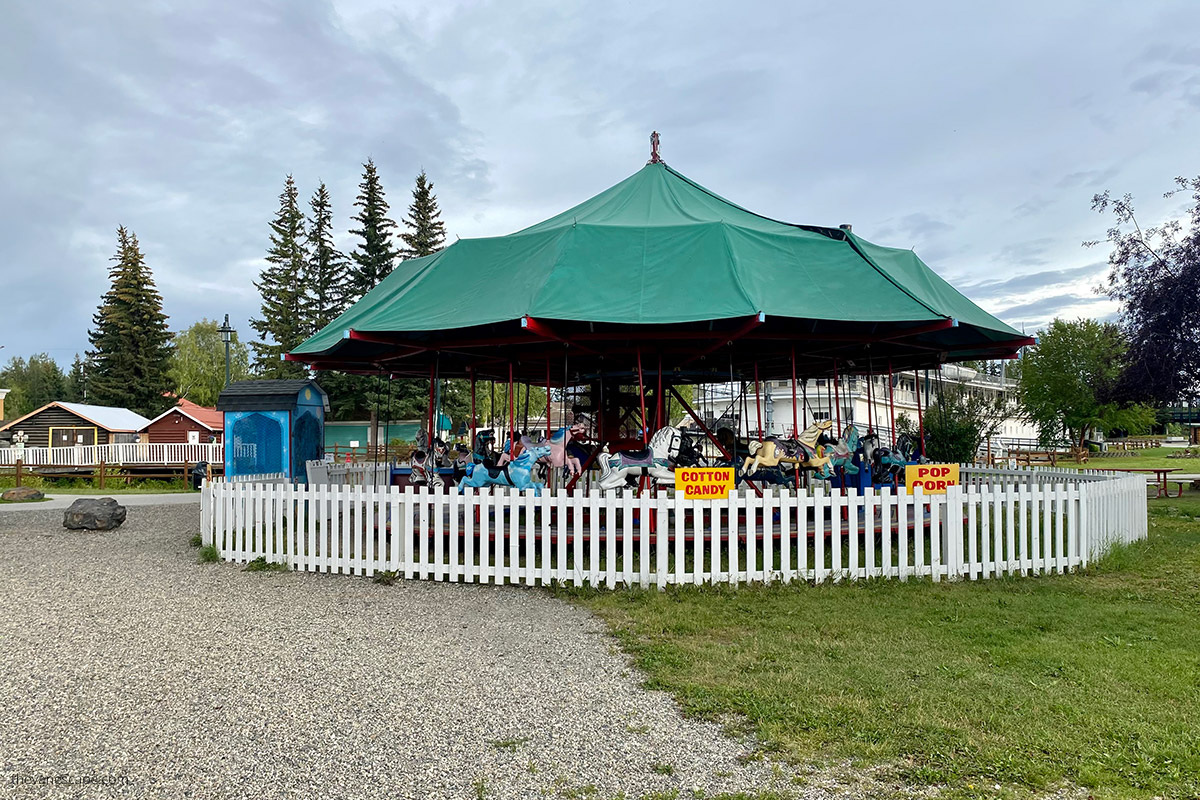 Shopping in Pioneer Park
There are also plenty of local shops in the park. Here you can buy all sorts of souvenirs, ornaments, and handicrafts. If you are planning to buy some souvenirs from Alaska, it is worth supporting the local business and shopping here. Shops sell unique, handmade items by local artists and native Alaskans. You can find a list of all shops on the park's website. The most interesting are The Little Willow, Oh So Wonderful…, Charms by Cj, Fireweed Corner, The Bear Gallery, and North Pole Clothing Company.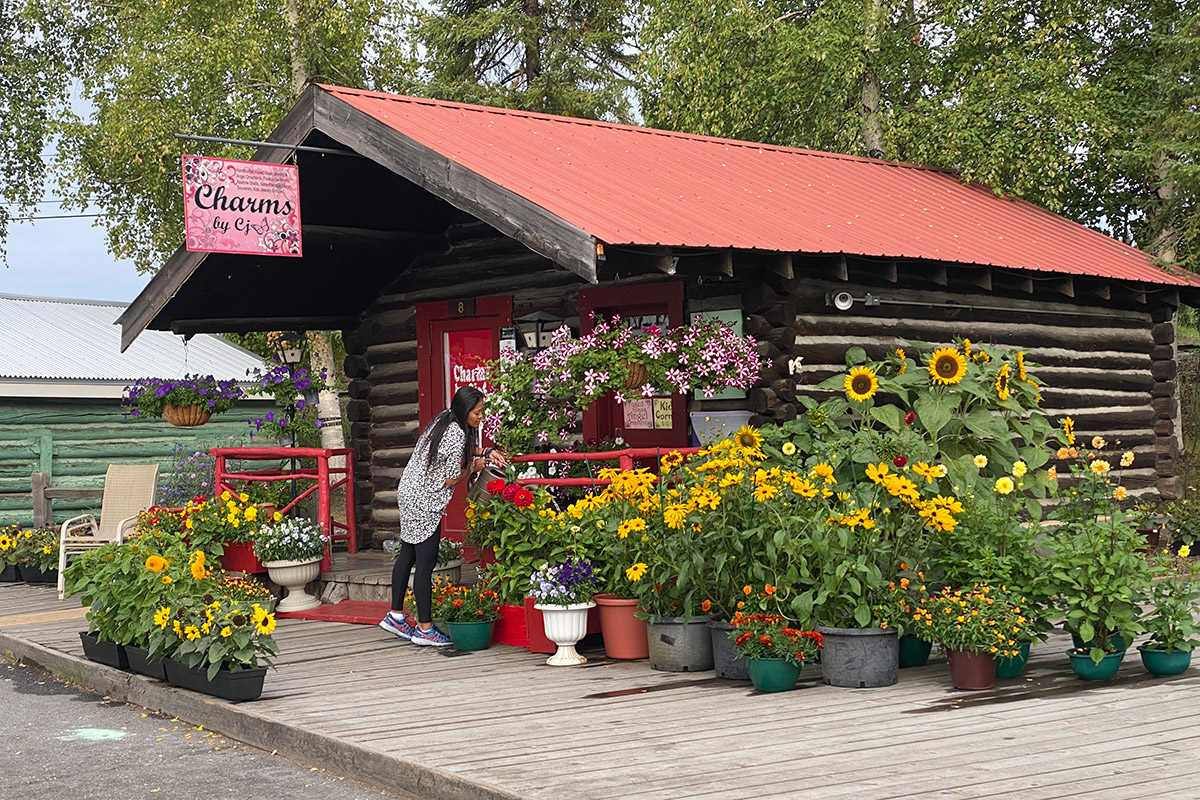 What is the history of the Pioneer Park in Fairbanks?
Pioneer Park has an exciting history. In 1961, the Pioneers of Alaska had a special request to the State of Alaska – they wanted public lands. Their vision was to create a captivating tourist attraction showcasing Alaska's rich history. The Pioneers of Alaska formed a nonprofit organization called Pioneer Memorial Park, Inc to make this dream a reality.
Four years later, in 1965, the Alaska 67 Committee, also known as A-67, approached the Pioneers with an exciting proposal. They wanted to use the park to celebrate the 100th anniversary of Alaska's purchase from Russia.
Under a sublease agreement, A-67 assumed responsibility for the park and opened it as the "Alaska 67 Centennial Exposition". 1968 Pioneer Memorial Park, Inc. officially transferred the park to the State of Alaska. However, the State of Alaska transferred the park to the City of Fairbanks on the same day.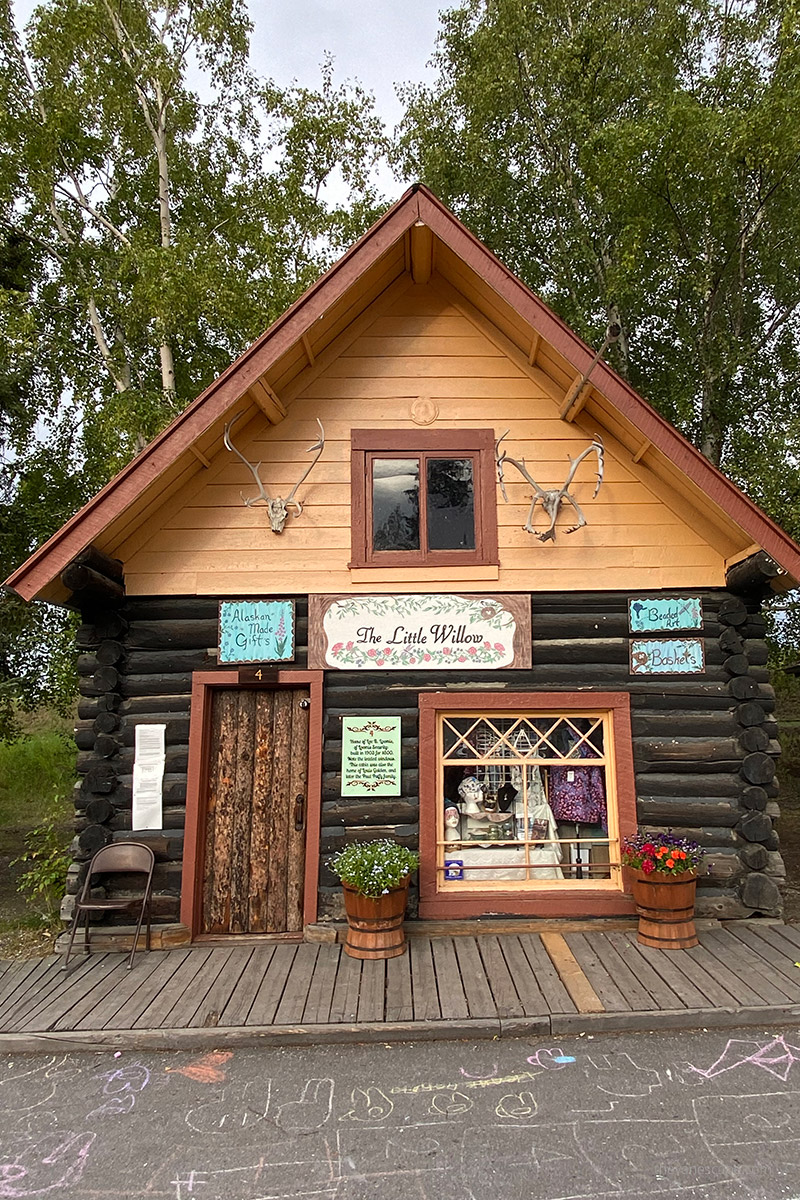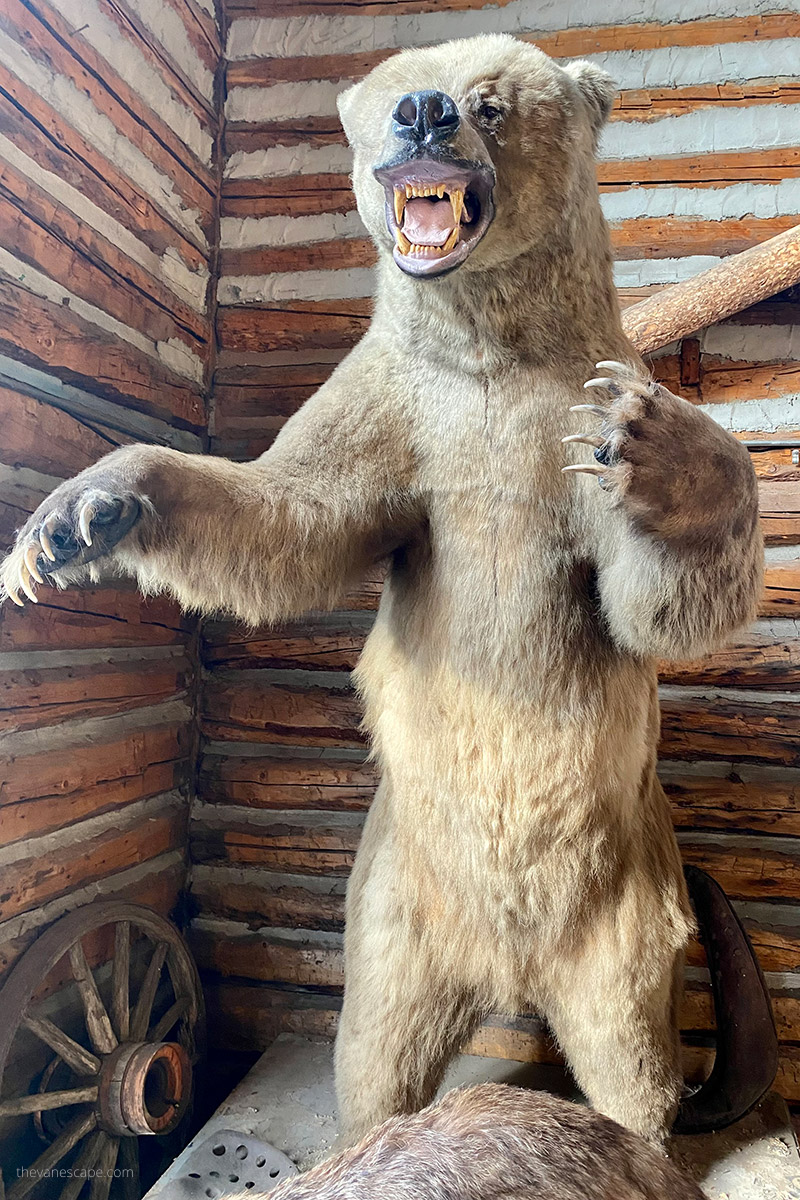 Mayor Red Boucher of Fairbanks gave the park a new name, "Alaskaland." The name change was intended to reflect the park's historical significance better and dispel any misconception that it was an amusement park.
In July 1987, the City of Fairbanks transferred the park to the Fairbanks North Star Borough through an assignment agreement. In 2001, the park was renamed another time, this time to Pioneer Park. The new name was intended to reflect the park's historical significance and eliminate any confusion about its character as a recreational park.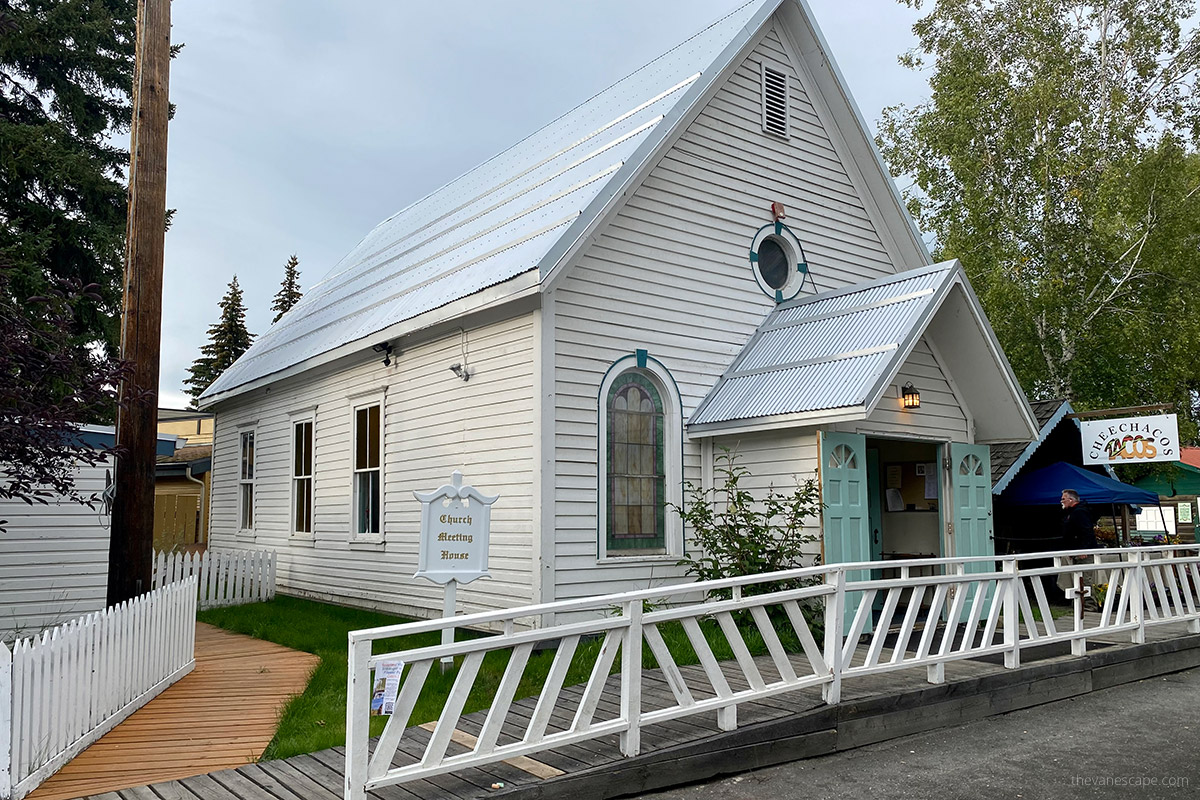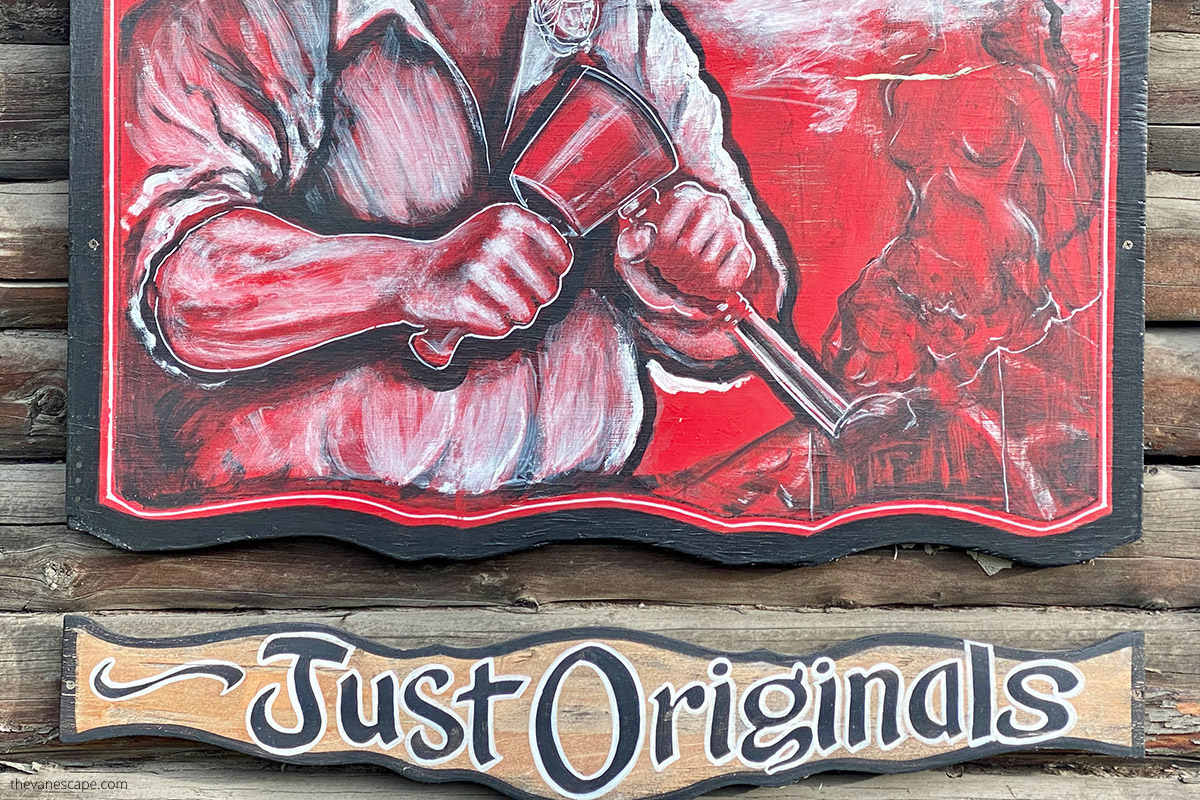 Pioneer Park RV Parking
Pioneer Park has RV Parking for self-contained recreational vehicles in designated parking areas. The cost is $12.00 per night. You can pay in cash or by check with the exact amount at our fee payment locations in the parking lot. However, please note that their camping facilities are dry camping only, which means no hookups are available for sewer or electricity.
A potable water station is provided at no charge during the summer, from May to September.
Pioneer Park RV Parking operates on a first-come, first-served basis, and reservations are not accepted.
Quiet hours are from 10:00 pm to 7:00 am, including using generators.
All animals be kept on a leash or contained within your vehicle. But if you are not present at your RV, all pets must be inside the vehicle.
You can stay at Pioneer Park RV Parking maximum of 5 consecutive nights, not more than 15 nights in any consecutive 30-day period.
Tent camping is not available.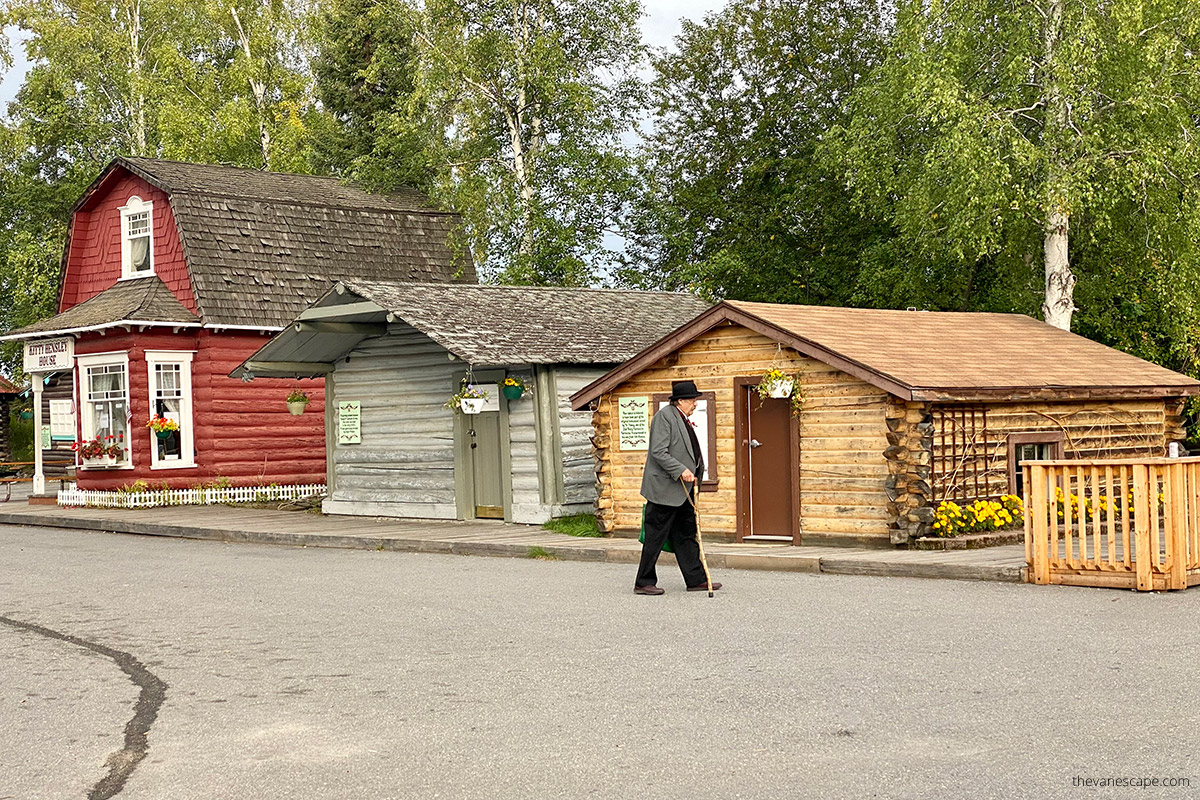 Other things to do in the Pioneer Park Fairbanks area
If you are in Fairbanks, consider a trip to the Arctic Circle. We highly recommend this day tour. On this 16-hour Arctic Circle trip, you'll drive along the famous Dalton Highway. You'll visit the Yukon River, stop at the Arctic Circle Trading Post, and get a glimpse of the tundra landscape.
Another idea is to relax in Chena Hot Springs. We dream of returning to this resort because it is a great place to chill among spectacular scenery. It's also one of the best spots to see the Northern Lights! We recommend this full-day trip from Fairbanks. From your hotel in Fairbanks, you'll drive the scenic 60-mile route to Chena Hot Springs, where you can dip in this legendary resort's large outdoor pool. You can also check out the sculptures at the Aurora Ice Museum.
Another exciting idea is to visit the Ester Gold Camp, just 6 miles from Fairbanks, where you can see historic buildings from the gold rush era.
A visit to Santa's house will also not be missed while in Fairbanks, so head over to the North Pole.
Fairbanks is also an excellent base for exploring Denali National Park.
And if you're driving to Fairbanks from Anchorage by car, check out our best stops along the Parks Highway. We especially recommend visiting Talkeetna, Igloo City, and Healy to see the replica of the Magic Bus. You can see the original 142 Bus at the Museum of the North in Fairbanks.