Review: Is the Norwegian Sun a Good Ship to Cruise Alaska?
If you're considering taking a cruise on the Norwegian Sun Ship but aren't sure it's right for you, we're here to help. We recently spent ten amazing nights on the ship, exploring all its amenities and dining options while sailing through Alaska's Inside Passage. In this thorough Norwegian Sun review, we'll share our personal experiences, tips, and pros and cons to help you determine if the Norwegian Sun is the perfect cruise ship for you. Keep reading to learn more!
This article may contain affiliate / compensated links. For full information, please see our disclaimer here.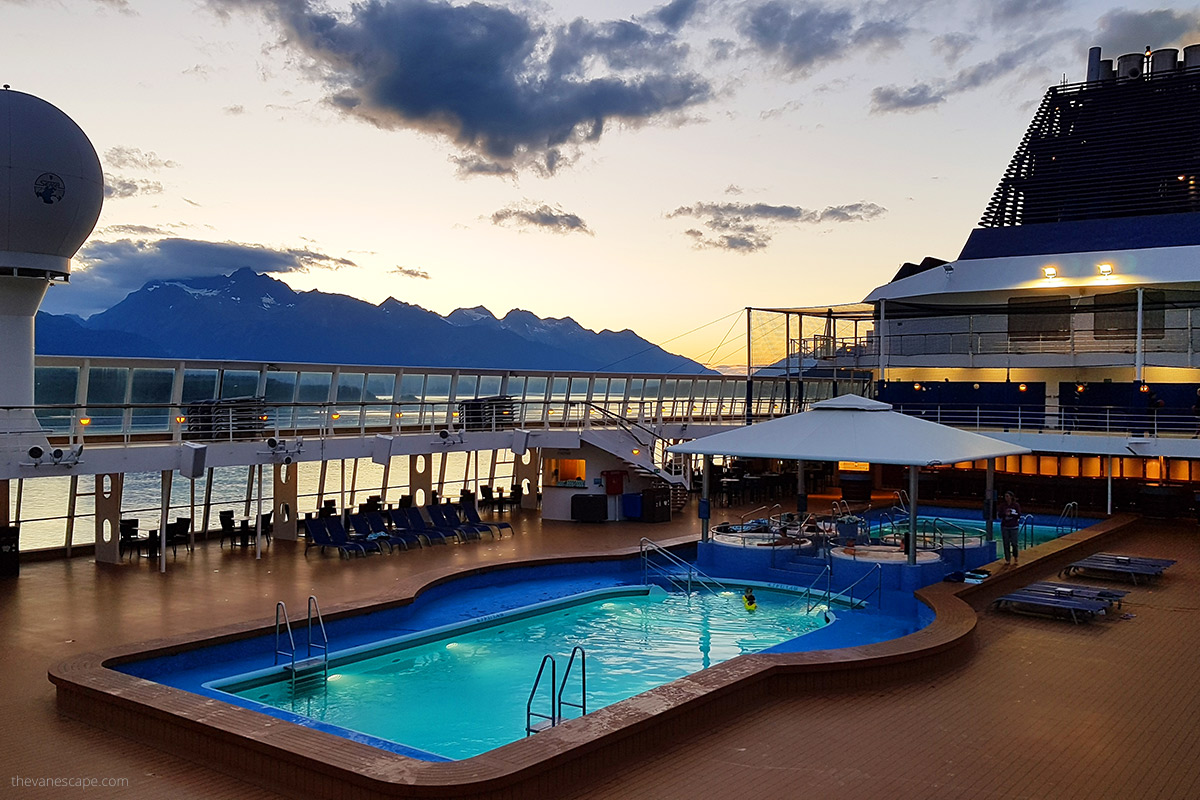 Norwegian Sun Review – Our Experiences on the Ship
An Honest, Unbiased Review of Norwegian Sun Ship
Before we dive deeper into our experiences and insights, it's important to clarify that this is not a sponsored article. We personally purchased the cruise to Alaska from Seattle on the Norwegian Sun. All additional costs, both onboard and off-board—including Alaska shore excursions at each port of call—were covered by us. You're about to read our honest opinions and thoughts about this ship, free from any external influence.
Why did we decide on a cruise to Alaska on Norwegian Sun?
You might be wondering why we decided on a cruise to Alaska on the Norwegian Sun. The answer is simple: the quality-to-price ratio was too good to pass up. When researching options for our next Alaska adventure through Inside Passage, the Norwegian Sun offered luxury and amenities far exceeding its price tag.
But it wasn't just the Alaska cruise price that caught our eye. We're not fans of crowds, and the idea of sailing on a mega-ship with thousands of other passengers didn't appeal to us. The Norwegian Sun, with its mid-size capacity, offered a more intimate experience without skimping on amenities. This ship perfectly fits us, especially since we appreciate peace.
We knew we'd made the right choice when we stepped aboard. The ship's size made it easy to navigate, and we never felt overwhelmed by crowds of people. We could always find a quiet corner to relax, whether a cozy nook in the library or a secluded spot on the top deck.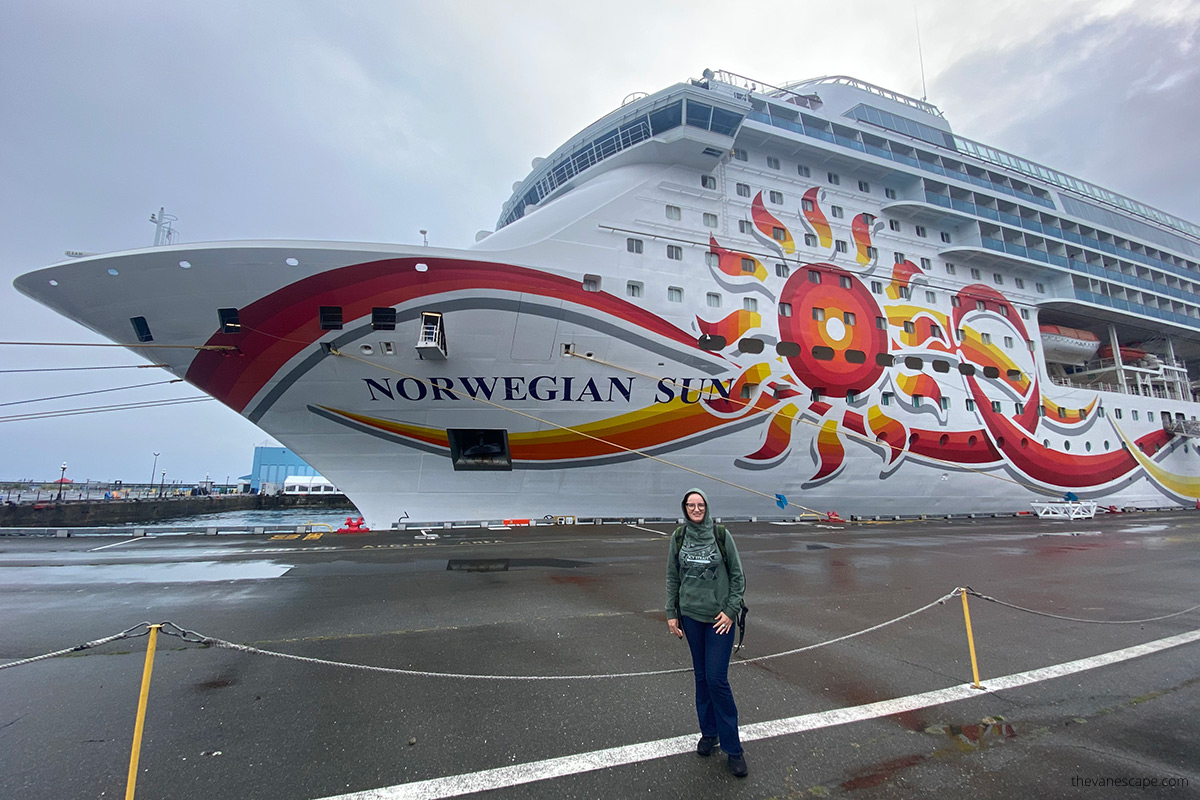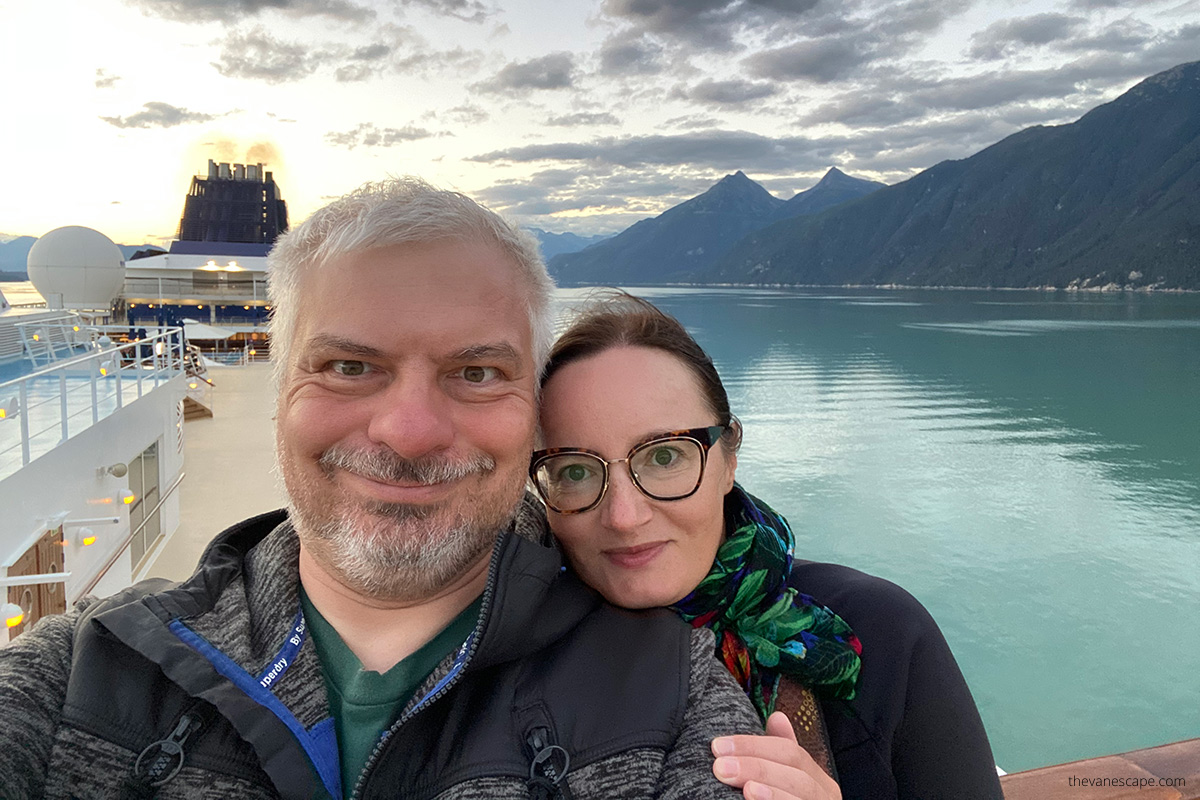 And let's talk about the entertainment and activities. We're not the type to need constant stimulation, so the range of offerings on the Norwegian Sun suits us. We enjoyed a comedy show, live music concerts, dining culinary journey, pool, and spa.
In short, our ten nights and ten days on the Norwegian Sun were filled with moments that make vacations memorable.
Our Tip: This article focuses on the ship, its amenities, entertainment, things to do, and whom it suits most. But also read our detailed Alaska cruise review, where we describe our cruise on Norwegian Sun step by step, all the ports we visited, and much more.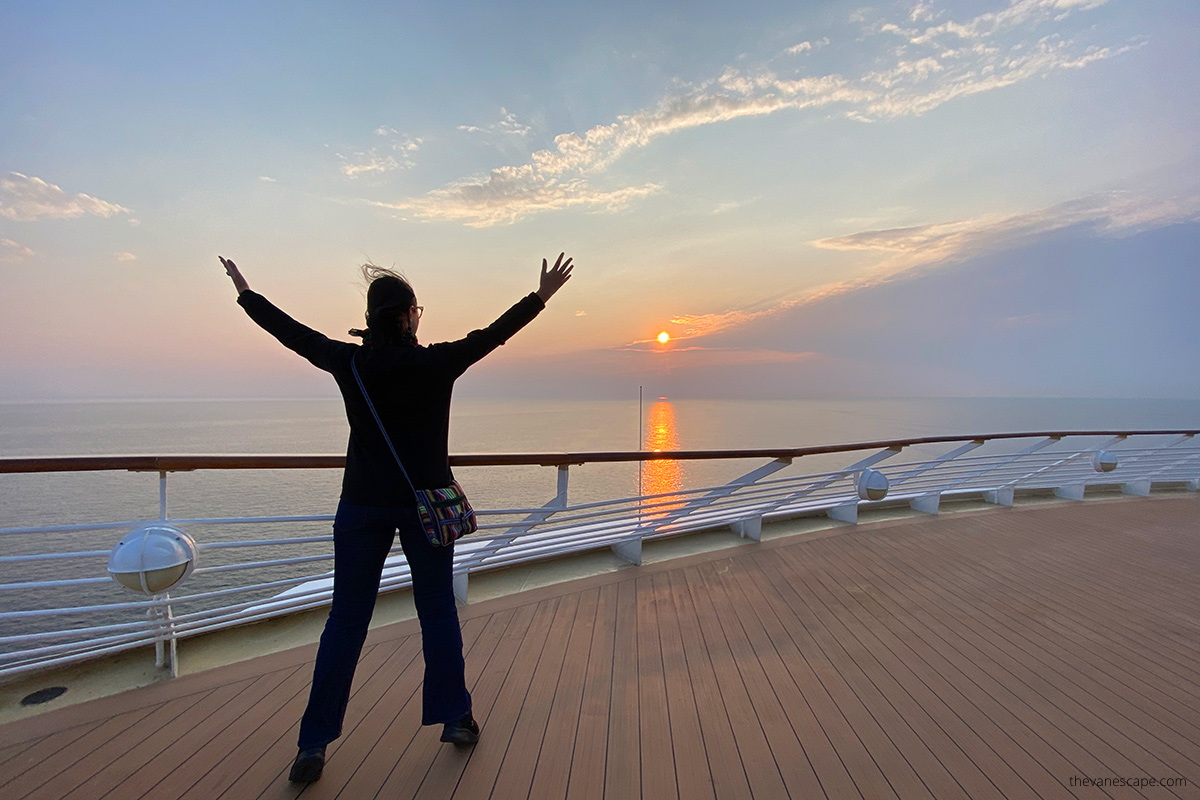 Introduction: Setting Sail to Alaska with the Norwegian Sun
What Makes the Norwegian Sun Cruise Ship Unique?
When it comes to cruising, the Norwegian Sun is in a league of its own, offering a blend of features that make it stand out from the crowd. Let's break down some of the elements that contribute to its uniqueness:
Intimate Yet Spacious: One of the first things you'll notice about the Norwegian Sun is its size. It's not overwhelmingly large, but it's not cramped either. This mid-sized vessel offers a perfect balance, allowing for a more intimate experience without sacrificing the amenities you'd expect from a larger ship.
Diverse Dining Options: If you're a foodie, the Norwegian Sun is a dream come true. From Italian to Asian cuisine, the ship offers a culinary journey worldwide. And let's not forget the Freestyle Dining option, which lets you dine when you want, where you want—no fixed schedules.
Top-Notch Entertainment: Whether you're into Broadway-style shows, live music, or comedy, the Norwegian Sun covers you. The quality of the performances is good, making each night a new adventure in entertainment.
Unique Destinations: While many cruise ships stick to popular routes, the Norwegian Sun offers unique itineraries, including less-visited ports with a more authentic experience, like the pretty new Icy Straight Point.
Exceptional Customer Service: Last but not least, the crew on the Norwegian Sun goes above and beyond to make your journey unforgettable. The service is top-notch, from the attentive waitstaff to the perfect housekeeping team.
Eco-Friendly Practices: In today's world, sustainability matters. The Norwegian Sun has taken steps to reduce its environmental impact, including waste reduction programs and energy-efficient technologies.
Overall – Is the Norwegian Sun a Good Ship?
So, is the Norwegian Sun a good ship? We'll get into the specifics later, but here's our quick take: If you're looking for a cruise to Alaska that offers a blend of relaxation and adventure, the Norwegian Sun checks many boxes. However, like any experience, it's not without drawbacks, which we'll also delve into.
Before we set sail into the details, here are some quick nuggets of what we picked up during our journey:
Tip: The top deck is the place for the best sunset views.
Pro: The food is out of this world, tasty and fresh, not only at the specialty restaurants but in each restaurant on the ship. The same goes for beverages, including alcohol.
Con: The Wi-Fi can be spotty, so plan accordingly if you need to stay connected.
Norwegian Sun Ship Specifications: The Nuts and Bolts
Size and Capacity of Norwegian Sun Cruise Ship
When it comes to choosing a cruise ship, size matters. The Norwegian Sun balances between being large enough to offer a wide range of amenities and small enough to provide an intimate experience. The ship has a gross tonnage of approximately 78,309 and spans 848 feet in length.
With 12 passenger decks, it has a maximum passenger capacity of around 1,936 and a crew of about 906. This mid-sized capacity ensures that you won't feel lost in a sea of people but will still have plenty of opportunities for socializing and activities.
Year Built and Renovations
The Norwegian Sun was originally built in 2001, making it one of the older ships in the Norwegian Cruise Line (NCL) fleet. However, don't let its age fool you. The ship underwent a significant refurbishment in 2018 as part of Norwegian's "Norwegian Edge" program. This multi-million dollar renovation touched almost every aspect of the vessel, from staterooms and public areas to dining venues and entertainment spaces.
During the renovation, the ship received updated furnishings, new decor, and technological upgrades to enhance the guest experience. For instance, the staterooms now feature modern amenities like USB charging ports, flat-screen TVs, and updated bathroom fixtures. Public areas like the atrium and pool deck have also been refreshed, offering a more contemporary look and feel.
The renovation also introduced new dining and entertainment options, ensuring the Norwegian Sun remains competitive with newer ships regarding amenities and guest experiences.
A Close Encounter: Norwegian Sun and the Iceberg Incident of 2022
On June 25, 2022, the Norwegian Sun made headlines when it had a close encounter with a small iceberg on the way to the Hubbard Glacier. While no one was injured and the ship sustained no significant damage, the incident served as a reminder of the unpredictable nature of cruising in glacial waters. Following the incident, the ship safely docked in Juneau, the capital of Alaska, without further issues. However, Norwegian Cruise Line had to cut short the sailing and canceled the Sun's next cruise from Seattle.
Passengers who had been on board the ship were given a complete reimbursement for their trip, along with a credit for a future cruise equal to the full cost of their original fare. Those who had bookings for the June 30 sailing received their money back in full, as well as a future cruise voucher worth half of the fare they had paid. Additionally, they were offered $300 per individual to cover any airline cancellation or modification fees.
Our Take
Though minor, the incident underscores the importance of choosing a cruise line with a strong safety record and experienced crew, especially when navigating the challenging waters of Alaska's Inside Passage. The successful docking in Juneau also demonstrated the crew's professionalism and the ship's resilience. It added an element of adventure and a story to tell, reminding us that cruising in Alaska comes with its own set of unique experiences.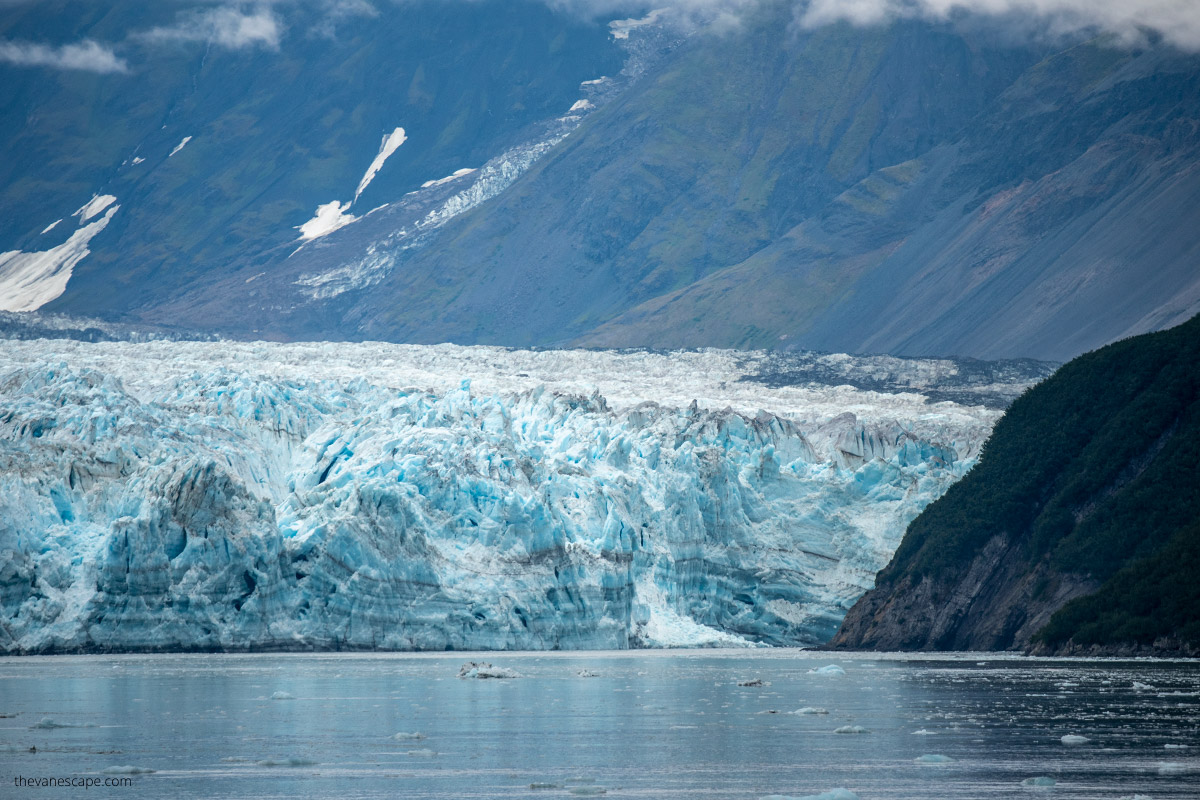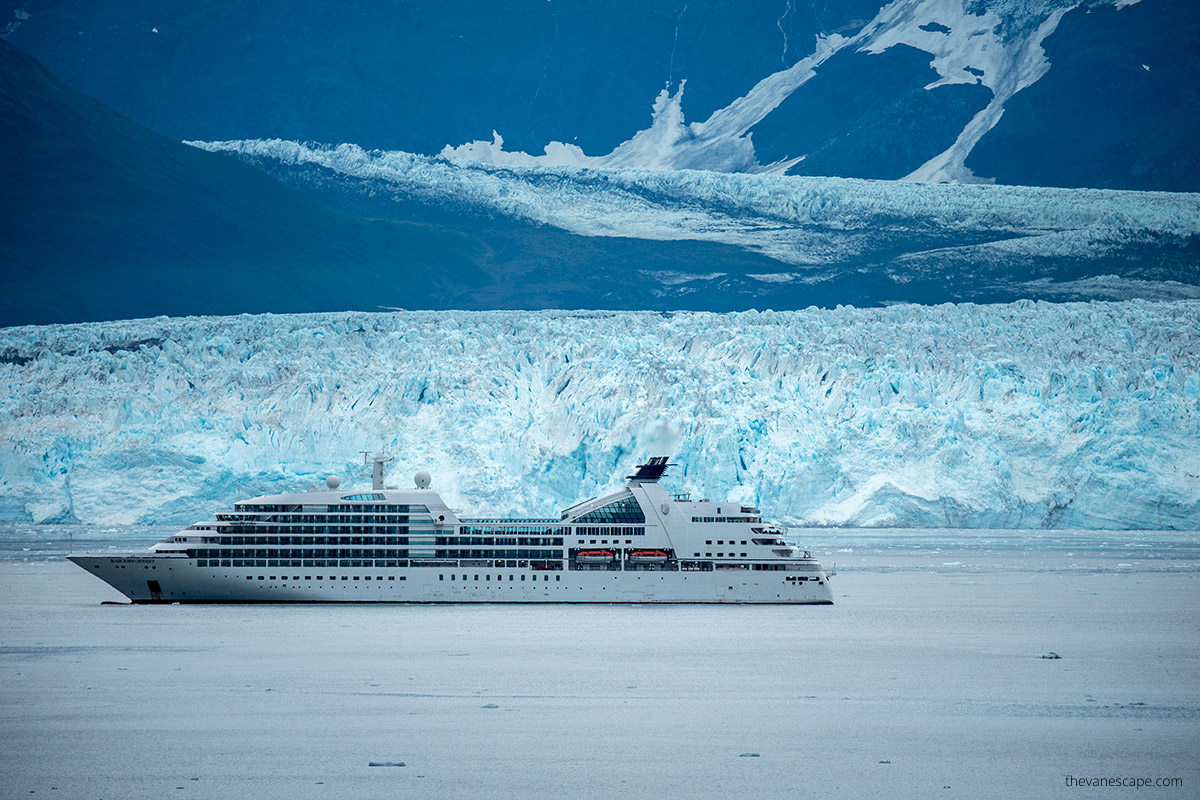 Norwegian Sun Cruise Ship Accommodations: Your Home at Sea
Room Types and Comfort Levels
When you spend ten days and nights on a ship, your room isn't just a place to sleep—it's your home away from home. The Norwegian Sun offers a variety of room types to suit different needs and budgets.
Inside Cabins
These are the most budget-friendly options, offering a cozy space without a window. Ideal for those who plan to spend most of their time exploring the ship and its destinations.
Oceanview Cabins
A step up from the inside cabins, these rooms offer a window or porthole view, allowing natural light to brighten your space.
Balcony Cabins
If you love private outdoor space, a balcony cabin is for you. These rooms offer a private balcony, perfect for enjoying your morning coffee or watching the sunset.
Mini-Suites
These are larger than the standard cabins and offer additional amenities like a sitting area and a more spacious bathroom.
Each room type offers varying comfort levels, from basic yet cozy Inside cabin settings to luxurious touches in Mini-Suites. Amenities like flat-screen TVs, USB charging ports, and room service are standard across all room types.
Luxury Suites and Exclusive Amenities
The Norwegian Sun Ship offers several luxury suites for those seeking the ultimate cruising experience. These suites have exclusive amenities that elevate your cruise to a new level.
Penthouse Suites
These suites offer expansive space, a separate living area, and a private balcony. Guests also have access to a butler service and priority boarding.
Owner's Suites
The crème de la crème of accommodations, these suites offer multiple rooms, top-of-the-line furnishings, and even a private hot tub on your balcony.
Exclusive Amenities
Suite guests enjoy exclusive amenities, including access to a private lounge and dining area, priority reservations for dining and entertainment, and personalized concierge services.
Whether you opt for a standard cabin or splurge on a luxury suite, the Norwegian Sun offers a range of options to make your stay as comfortable as possible.
Our Choice: The Inside Cabin
Budget was a critical factor in our decision to opt for an inside cabin. We wanted to allocate more funds to Alaska shore excursions to fully immerse ourselves in the Inside Passage's ports of call. Knowing that we'd spend minimal time in the cabin—primarily for sleep—and the rest exploring the ship's amenities and entertainment, the inside stateroom met our needs perfectly.
A Note for Those with Mobility Concerns
For elderly guests, those with mobility issues, or couples who want to spend time romantically, we highly recommend considering a stateroom with an outside window or balcony. The Norwegian Sun sails along some truly breathtaking landscapes, and we had the incredible opportunity to witness whales, waterfalls, and glaciers right from the ship. It's an experience not to be missed.
It is worth emphasizing, however, that there are many places on the ship from which you can admire the views. So if budget is essential – you don't have to overpay. Great places to watch the sea are located around the famous Atrium and in our favorite Observation Lounge and Sports Bar.
Budget-Friendly Alaska Cruise Adventure
By choosing the most affordable Alaska cruise package, we also aimed to demonstrate that an Alaskan cruise doesn't have to break the bank. We're passionate about Alaska, and we wanted to show both ourselves and our blog readers that a budget-friendly approach is possible.
Especially when exploring the Inside Passage—an area dominated by islands and limited road access—a cruise can offer a cost-effective and convenient way to see the sights. For more insights into the financial aspects of cruising Alaska, be sure to check out our article about the costs of an Alaskan cruise.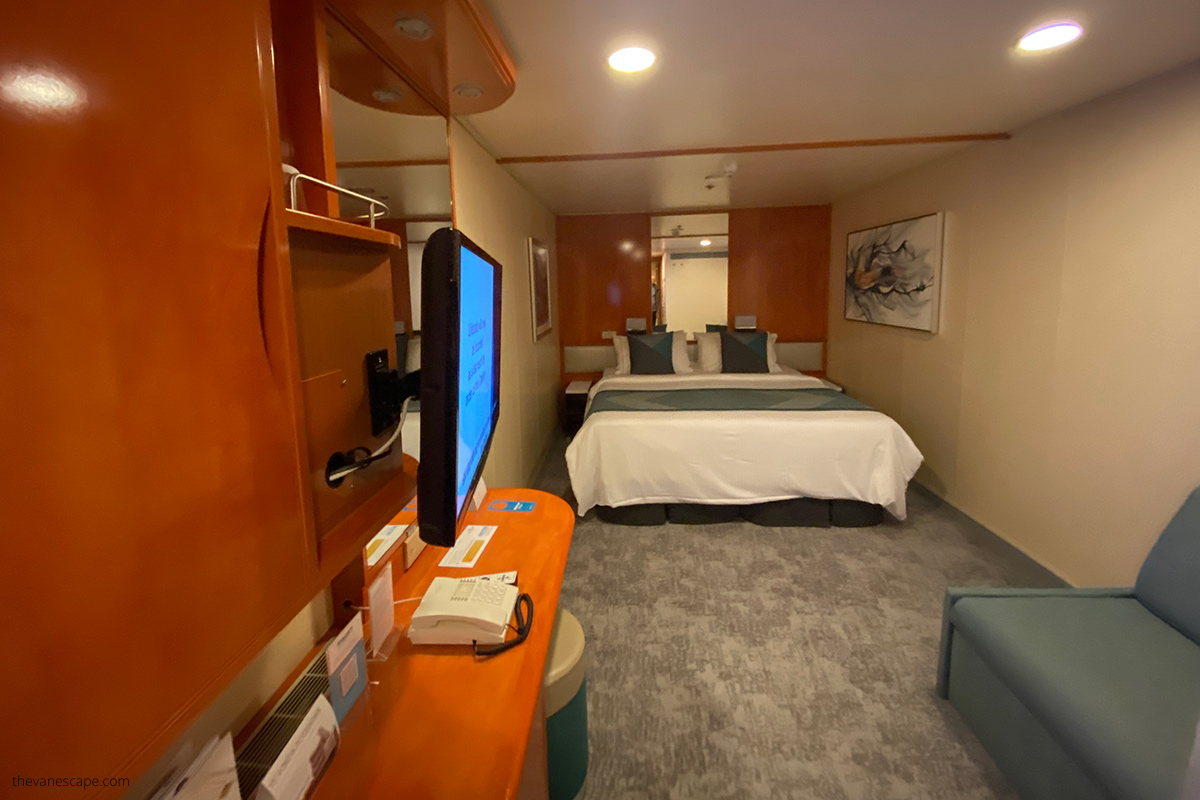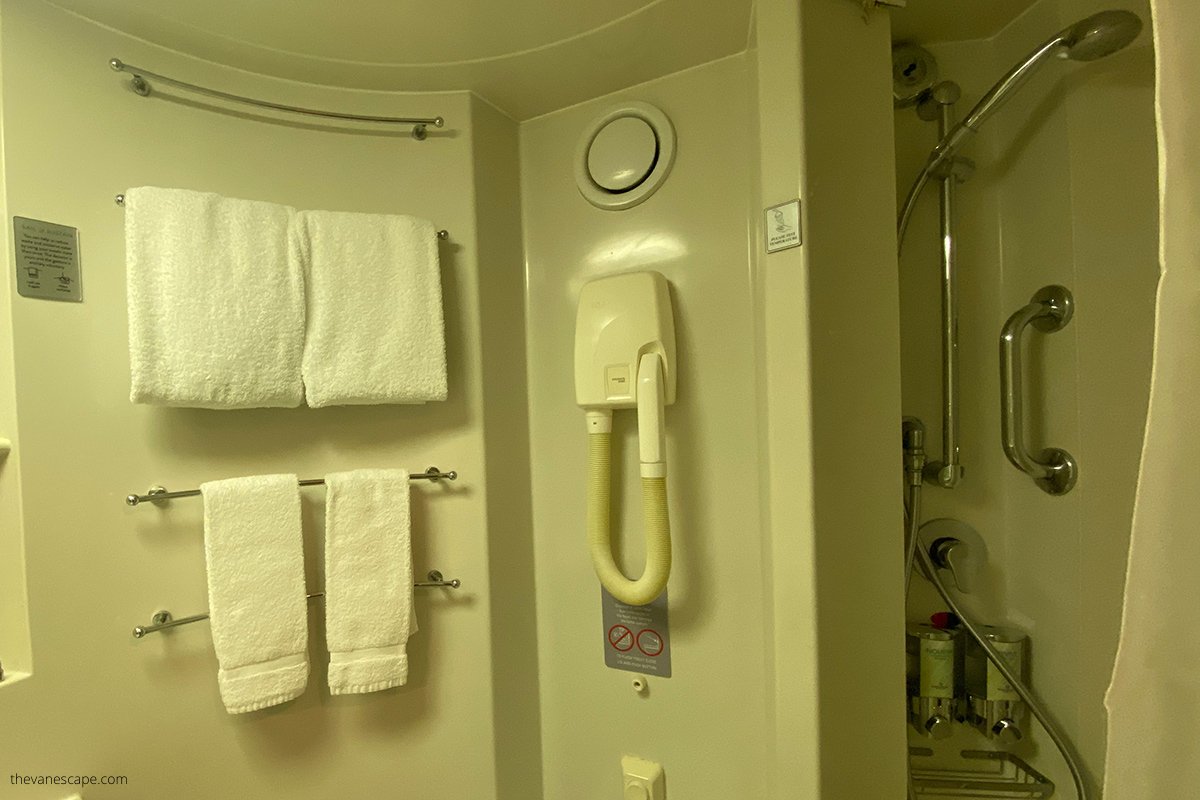 Accessibility at Norwegian Sun Ship: Inclusive Cruising
Accessible Cabins and Facilities
Traveling with mobility challenges can be daunting, but the Norwegian Sun aims to make the cruise experience accessible and enjoyable for everyone. The ship offers a range of accessible cabins designed to accommodate guests with various needs. These cabins are more spacious than standard rooms and feature wider doorways to allow for wheelchair or scooter access. The bathrooms are also equipped with grab bars, a roll-in shower, and other features to make them more accessible.
But accessibility on the Norwegian Sun goes beyond just the cabins. We liked how the ship is adapted to people with disabilities and seniors with mobility problems. The ship itself is designed with accessibility in mind:
Elevators: All passenger decks are accessible by elevators that are equipped with Braille signage and audio cues.
Public Areas: Most public areas, including dining venues, entertainment spaces, and restrooms, are wheelchair accessible.
Pool and Spa: The pool area features a lift, allowing guests with mobility issues to enjoy a swim.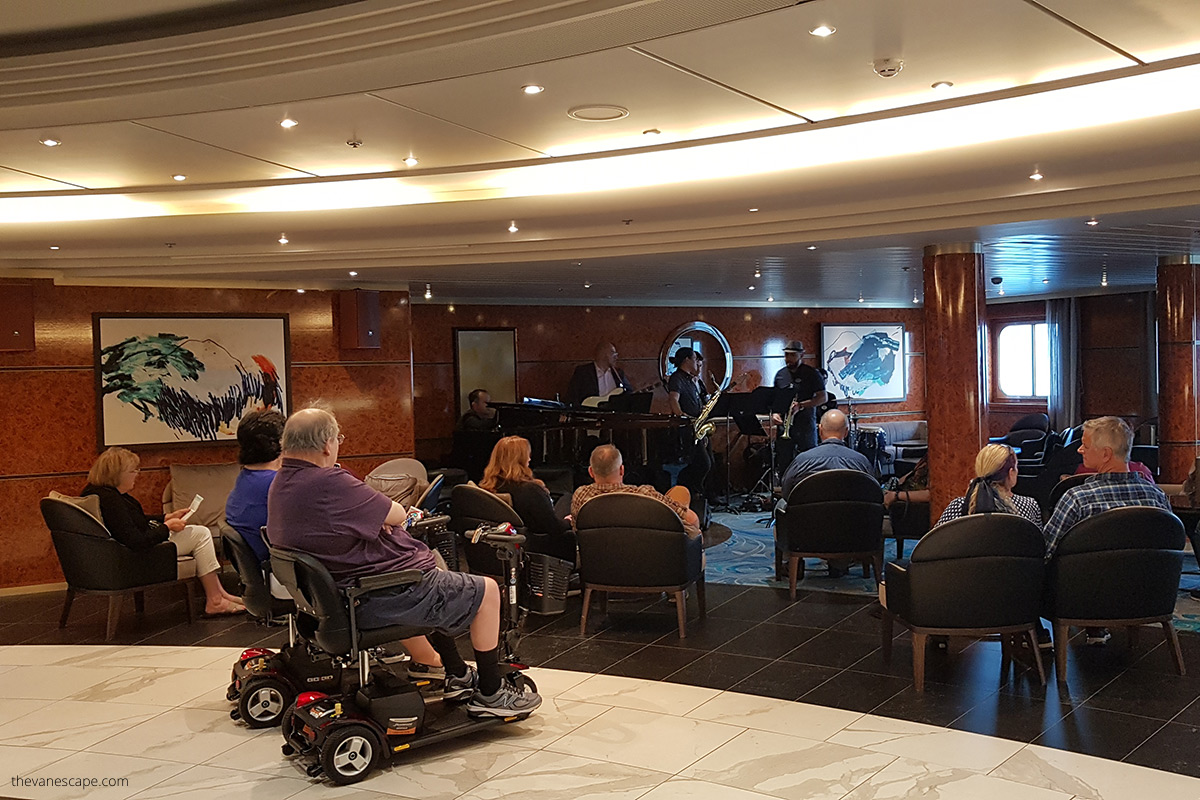 Services for Guests with Disabilities
The Norwegian Sun doesn't just stop at accessible facilities; it also offers a range of services to assist guests with disabilities:
Assistance at Embarkation and Disembarkation: Staff are available to assist with getting on and off the ship.
Wheelchair Assistance: Wheelchairs are available for use on board, particularly for embarkation and disembarkation.
Visual and Hearing Impairments: For guests with visual or hearing impairments, the ship offers services like sign language interpreters upon request, as well as Braille signage and auditory aids.
Dietary Needs: For guests with special dietary requirements, the dining staff is more than willing to accommodate, whether it's gluten-free, kosher, or other specific dietary needs. I appreciate it very much because I am lactose intolerant and gluten-free. The selection of dishes and products was so vast and diverse that I had no problems following the diet.
The Norwegian Sun takes pride in offering an inclusive cruising experience, ensuring that all guests, regardless of their physical challenges, can enjoy their time on board to the fullest.
Our Tip: Check out details about accessible cruising on the official NCL website, which provides information and a Guest Special Needs Request Form.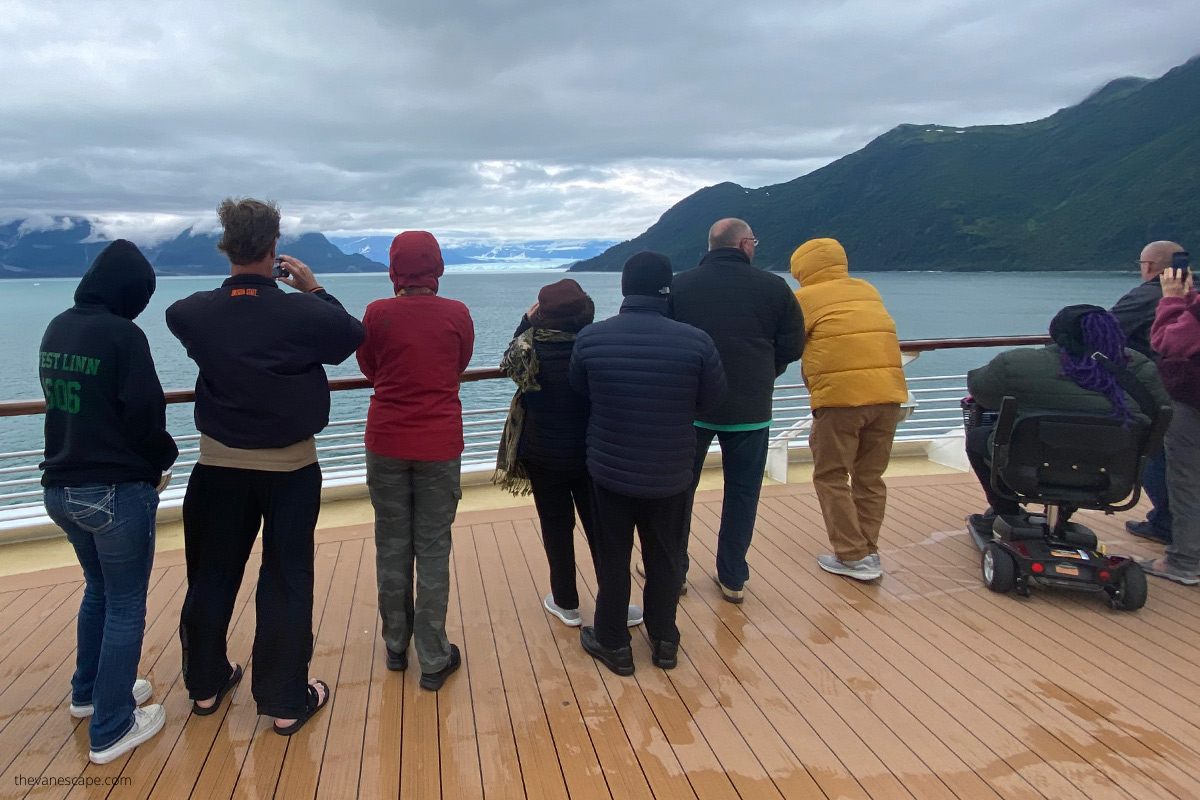 Freestyle Cruising: The Freedom to Choose
The Concept Explained
One of the standout features that drew us to the Norwegian Sun for our Alaska adventure was Freestyle Cruising. But what is it exactly? Simply put, Freestyle Cruising gives you the liberty to tailor your vacation just how you like it. Forget about rigid dining schedules, mandatory formal nights, or any other constraints traditional cruises might impose. With Freestyle Cruising, you're in the driver's seat. You can go elegantly dressed or in sporty and comfortable clothes. The choice is yours, depending on your needs.
Freestyle Cruising allowed us to find that perfect balance between our adventurous nature and the desire for some luxury and relaxation. It's one of the reasons why our Alaska cruise on the Norwegian Sun was such a memorable experience.
How It Enhances the Dining Experience
We're adventure-seekers. Our past escapades in Alaska have included road trips, nights in tents, and stays in campers. So, the idea of being confined to a dinner schedule or a dress code didn't sit well with us. That's where Freestyle Cruising came in as a game-changer.
Flexible Dining Times: We could dine whenever we felt like it, allowing us to fit meals around our adventure-packed days.
A Smorgasbord of Options: The Norwegian Sun offers a plethora of dining venues, from casual buffets to upscale specialty restaurants. This meant we could go from eating in our hiking gear during the day to enjoying a romantic dinner in the evening.
Dress to Your Comfort: This was important for us. We could wear our sneakers, sweatshirts, and jeans during the day and then switch to something more elegant for a date night without feeling out of place.
Personalized Service: The flexibility also extends to the service. Whether we had special dietary needs or were looking for the perfect wine to pair with our meal, the staff was always accommodating.
Ideal for Adventure-Seekers: If you're like us, loving the thrill of adventure but also appreciating a good meal and some relaxation, Freestyle Cruising is perfect. It allows you to balance your adventurous spirit with moments of luxury and indulgence.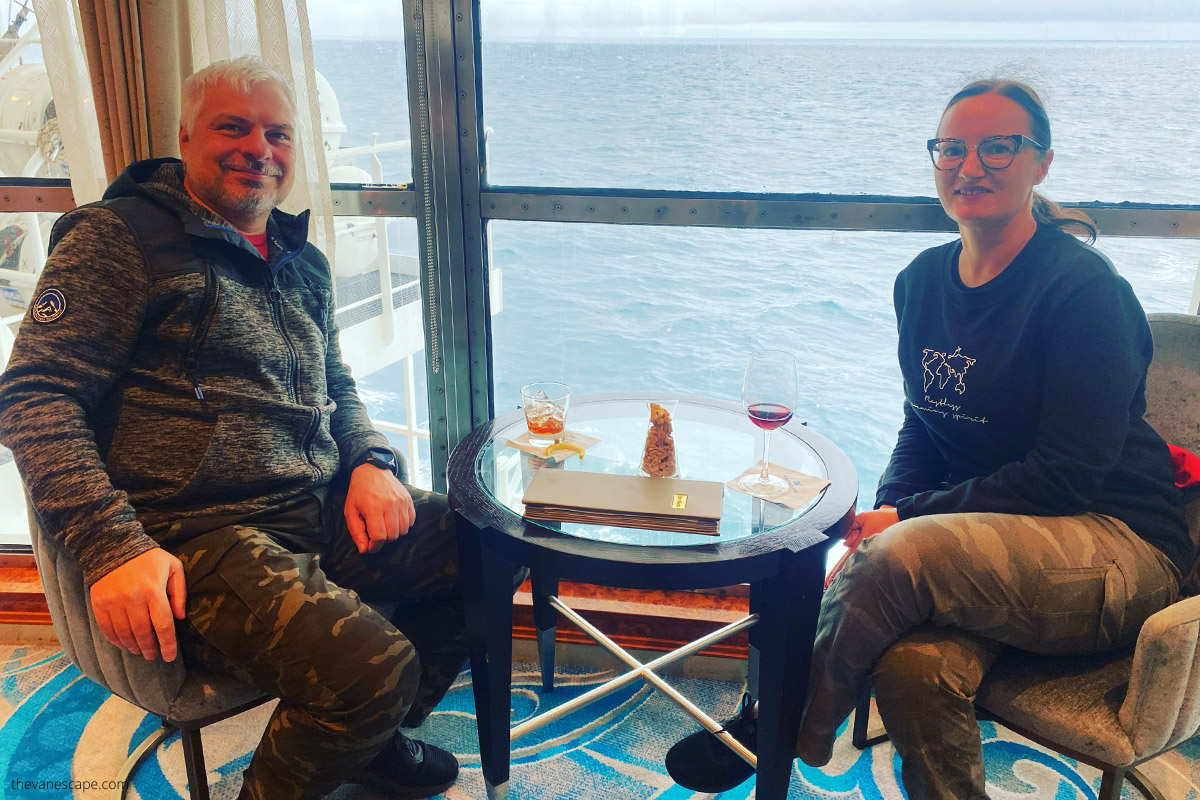 Norwegian Sun Dress Code: What to Wear?
Regarding attire, the Norwegian Sun embraces a relaxed dress code in line with its Freestyle Cruising concept. During the day, casual wear like shorts, leggings, t-shirts, or fleece is perfectly acceptable. In the evening, the dress code varies by venue. While the main dining rooms and specialty restaurants may require "smart casual" attire, such as collared shirts for men and dresses or nice pants for women, no strict formal dress code is enforced.
Our Tip: For those planning an Alaska cruise, we highly recommend checking out our detailed Alaska cruise packing list with a PDF checklist to make the most of your trip.
Dining Aboard: A Culinary Journey at Norwegian Sun
Main Dining Rooms and Buffets

When dining on the Norwegian Sun, you're in for a treat. The ship offers a variety of options that cater to all tastes, starting with the main dining rooms and buffets.
The ship features two main dining rooms—Seven Seas and Four Seasons—each with a unique ambiance. These dining rooms offer a rotating menu of classic and contemporary dishes, from succulent steaks to fresh seafood. The best part? It's all included in your cruise fare.
If you're looking for something more casual, the Garden Café buffet is your go-to spot. Open for breakfast, lunch, and dinner, the buffet offers various options, including salads, hot entrees, and desserts. The food was always fresh and tasty, and the choice and variety exceeded our expectations. Also, the Sports Bar is a great place, which offers the best views from the ship.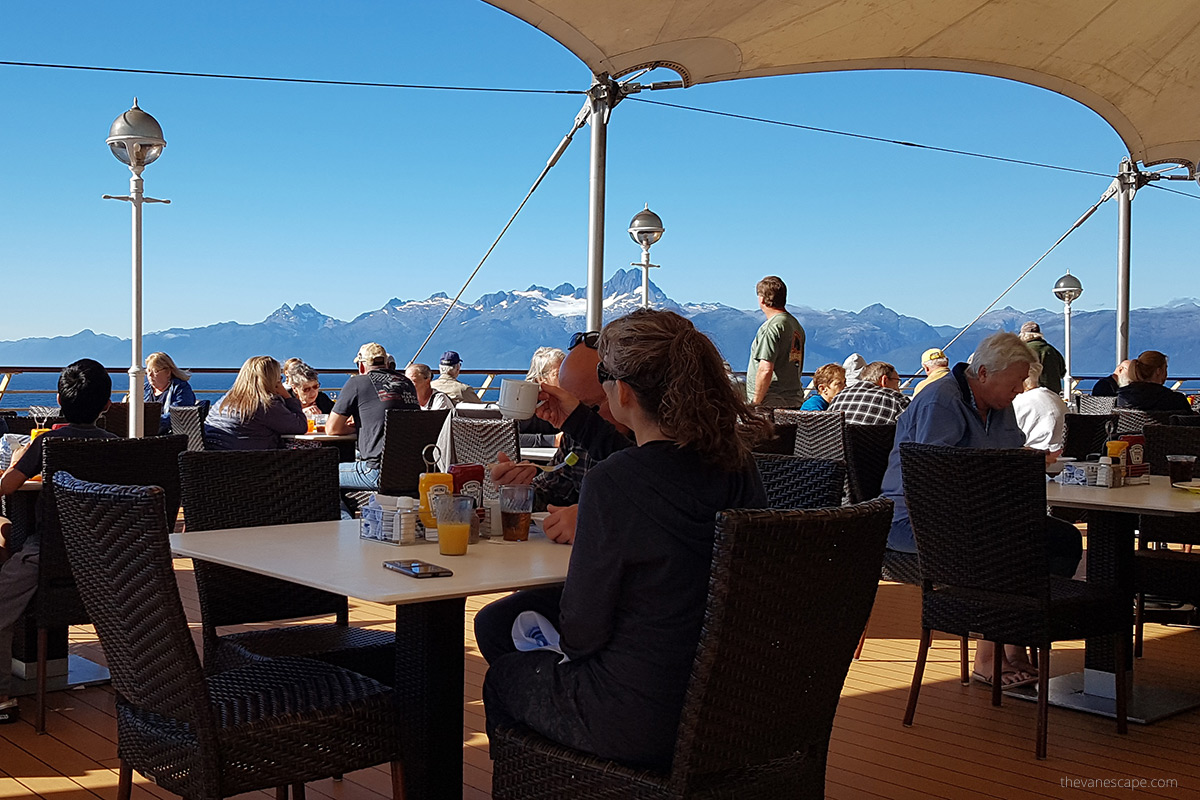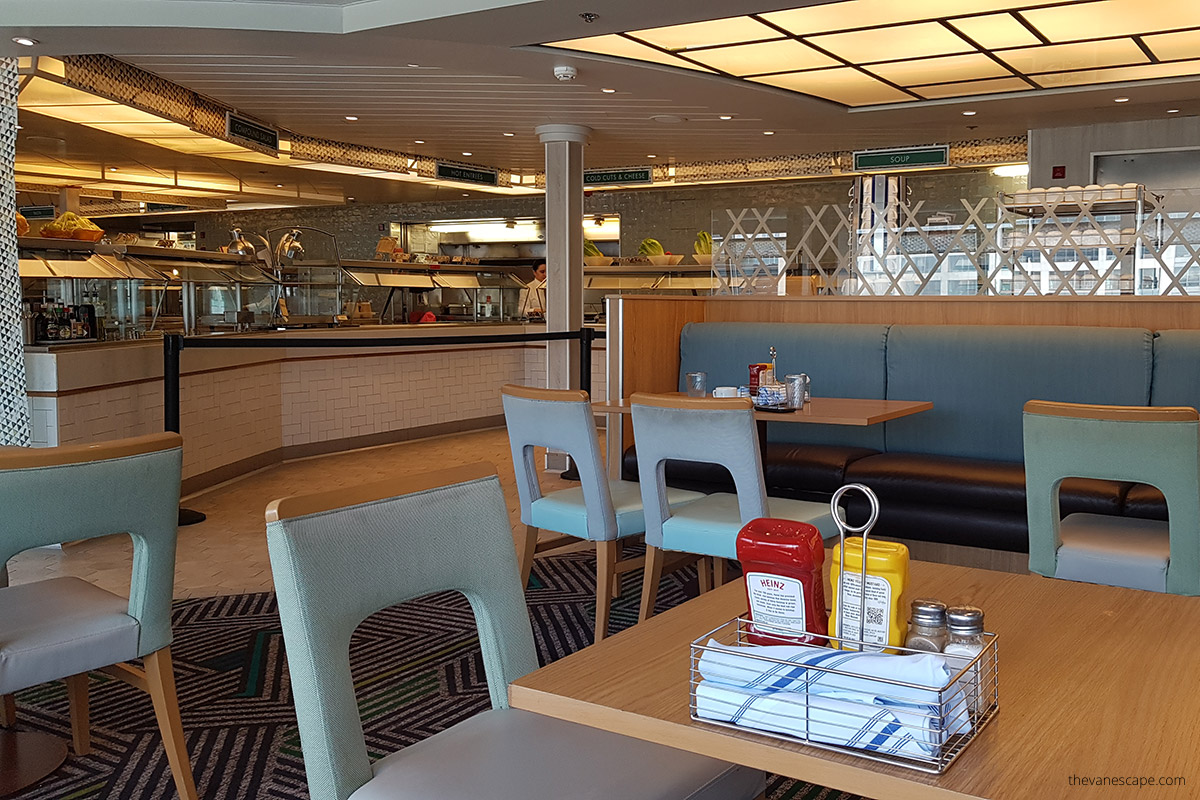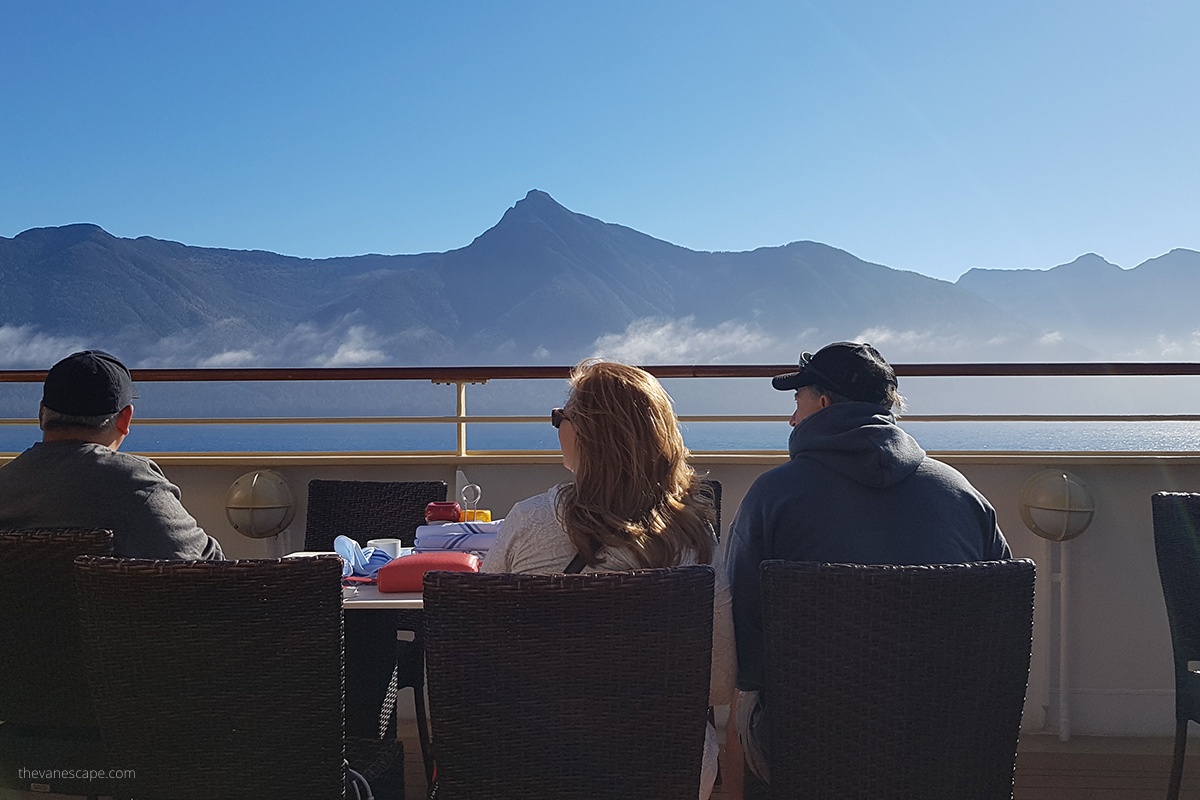 Specialty Restaurants and International Cuisine
For those evenings when you're in the mood for something special, the Norwegian Sun doesn't disappoint.
Le Bistro: This French-inspired restaurant offers a romantic setting with mood lighting and art-adorned walls. The menu features classics like escargot and coq au vin.
Cagney's Steakhouse: If you're a meat lover, Cagney's is a must-visit. This American-style steakhouse serves up prime cuts of beef and a selection of seafood and chicken.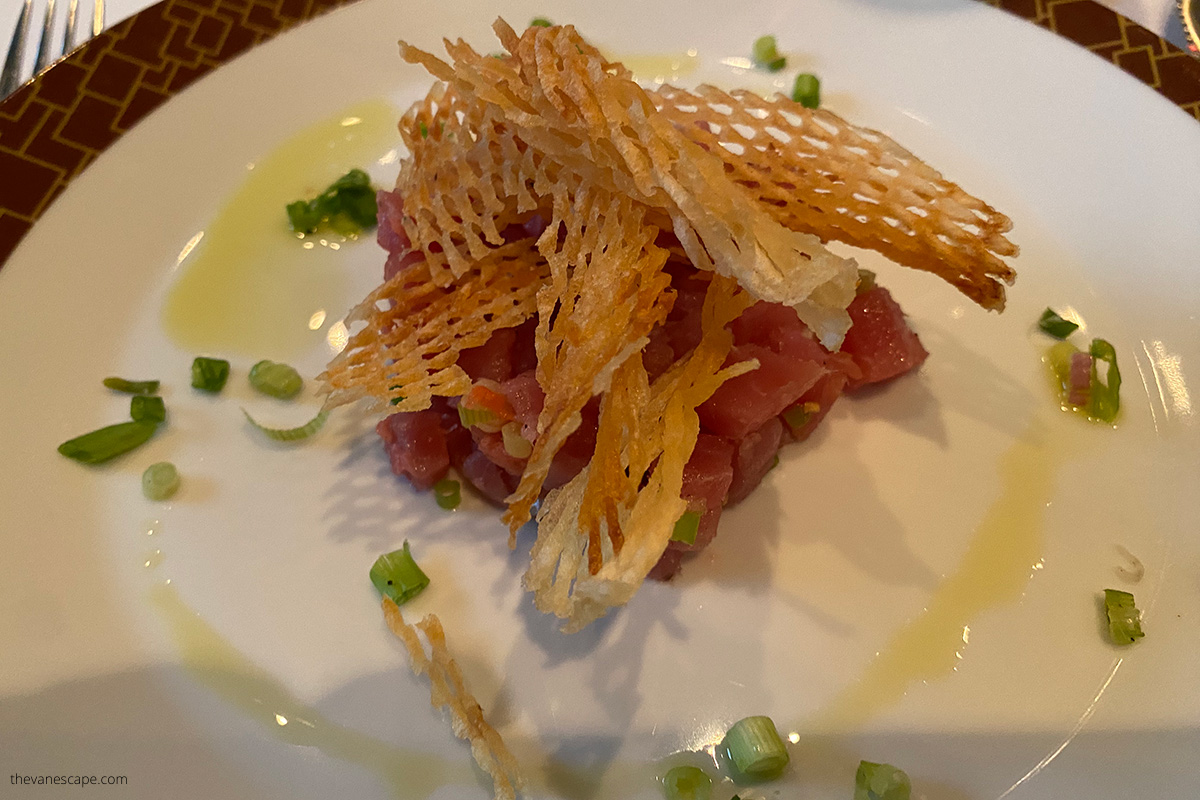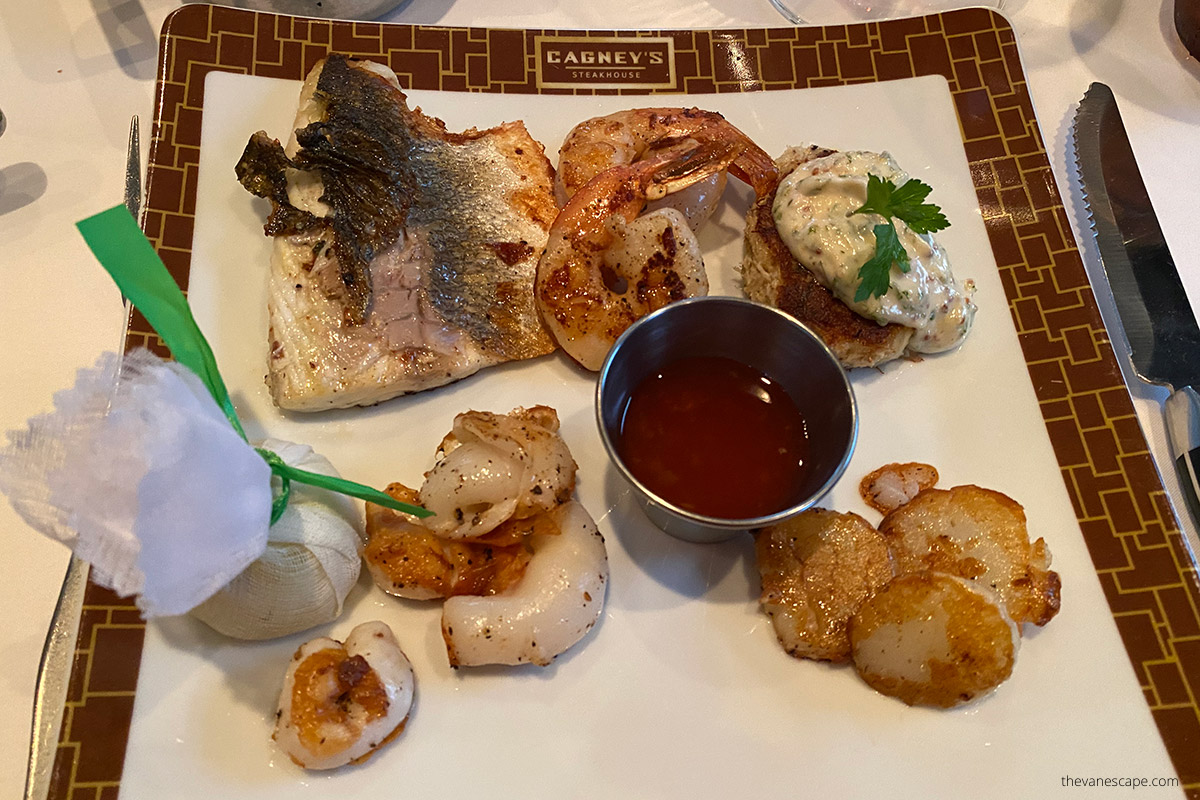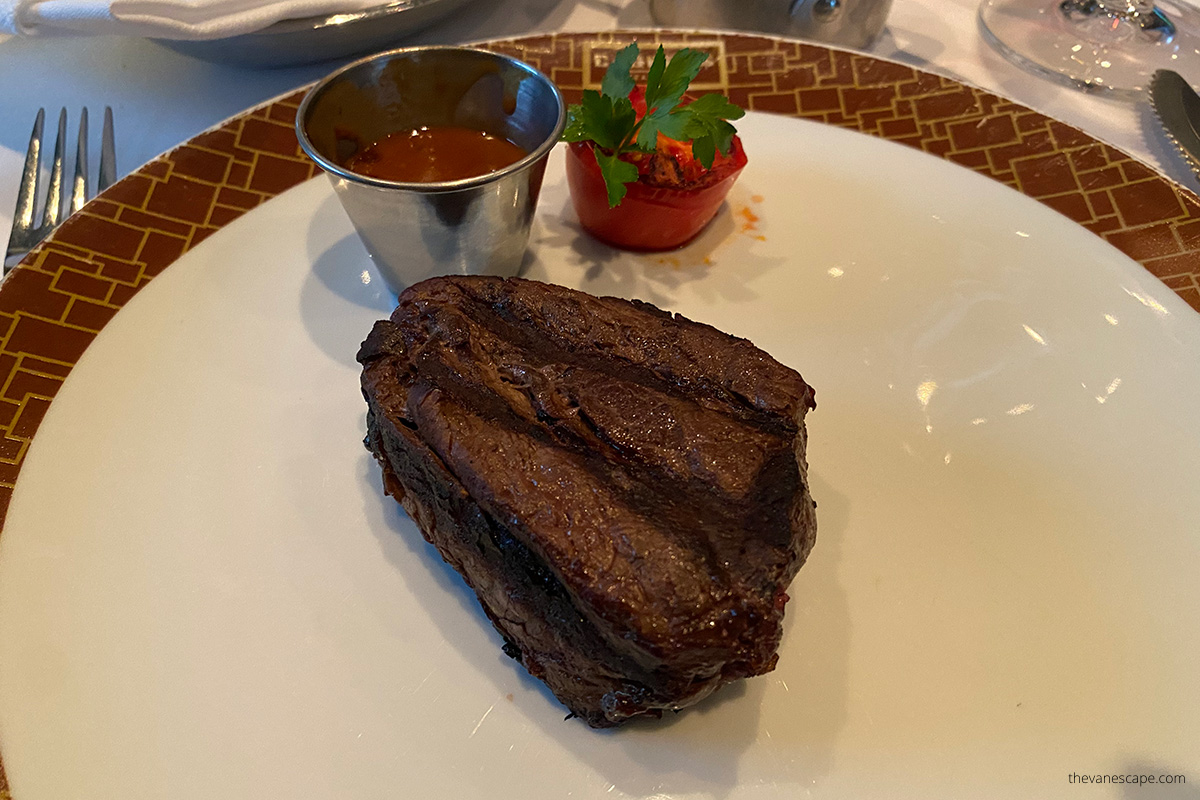 Teppanyaki: For a more interactive dining experience, Teppanyaki offers Japanese hibachi cooking right at your table.
La Cucina: Craving Italian? La Cucina serves a range of Italian favorites, from pasta to perfectly cooked steaks.
Sushi Bar: For those who enjoy sushi, the ship's sushi bar offers a variety of rolls, sashimi, and other Japanese favorites.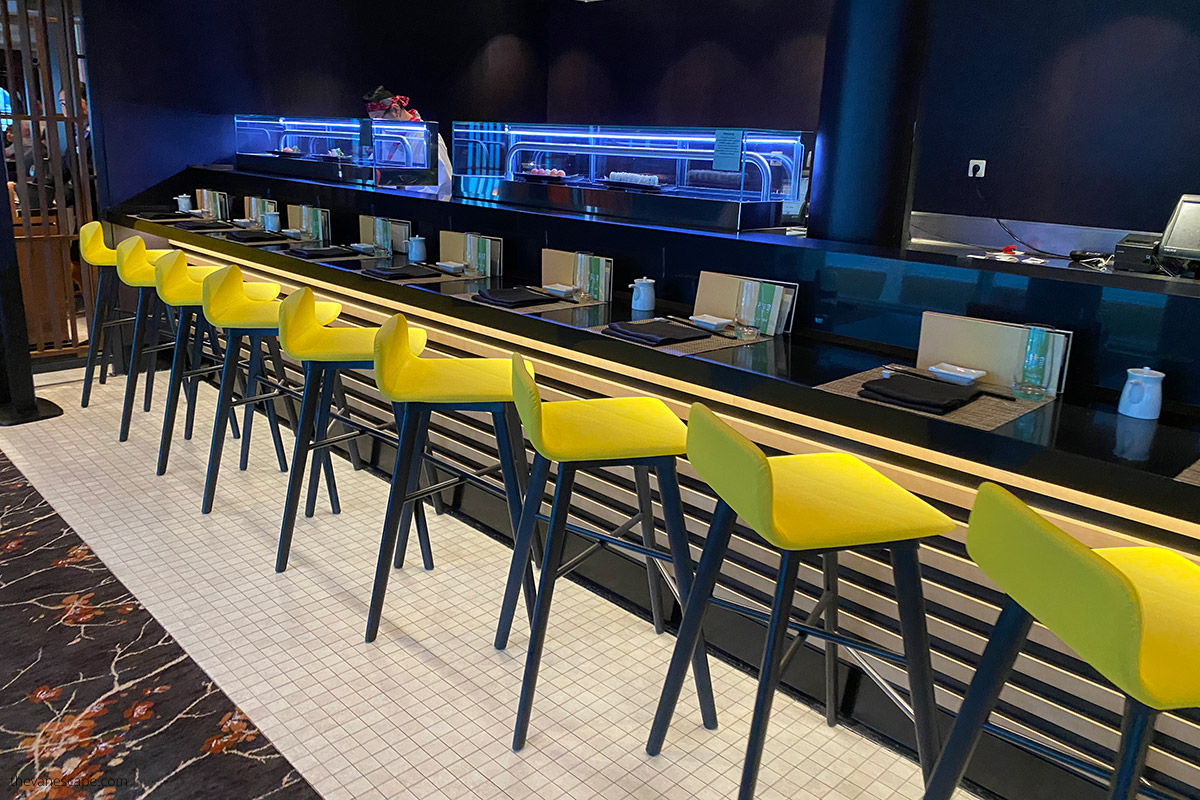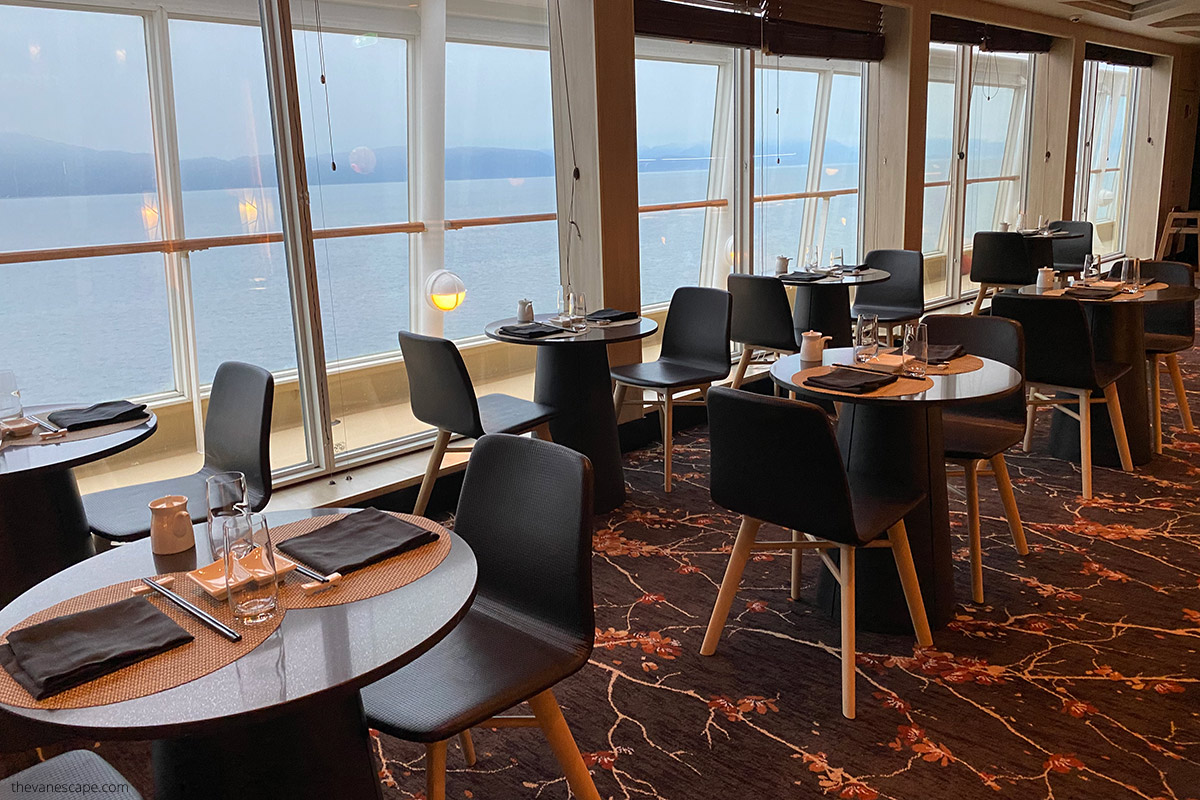 Each specialty restaurant offers its unique atmosphere and menu, making every meal an adventure. Do note that these restaurants come with an additional cost, but the culinary experience is well worth it. In our price of Alaska cruise, we could choose one of those restaurants for one free dinner.
Our Tip: Check our related article: What is the average price for an Alaska cruise? We will show you all costs, expenses during the voyage, additional fares, and much more. Our tips help you plan your cruise budget without surprises.
Cafes, Bars, and Lounges: Sip and Savor
Beyond the main dining rooms and specialty restaurants, the Norwegian Sun offers a variety of cafes, bars, and lounges where you can unwind and enjoy a drink or a light snack.
Java Cafe: Perfect for coffee enthusiasts, this cafe offers a range of specialty coffees along with pastries and light snacks.
Bliss Ultra Lounge: For those looking to kick back with a cocktail, the Bliss Ultra Lounge offers a modern, relaxed atmosphere with various drinks.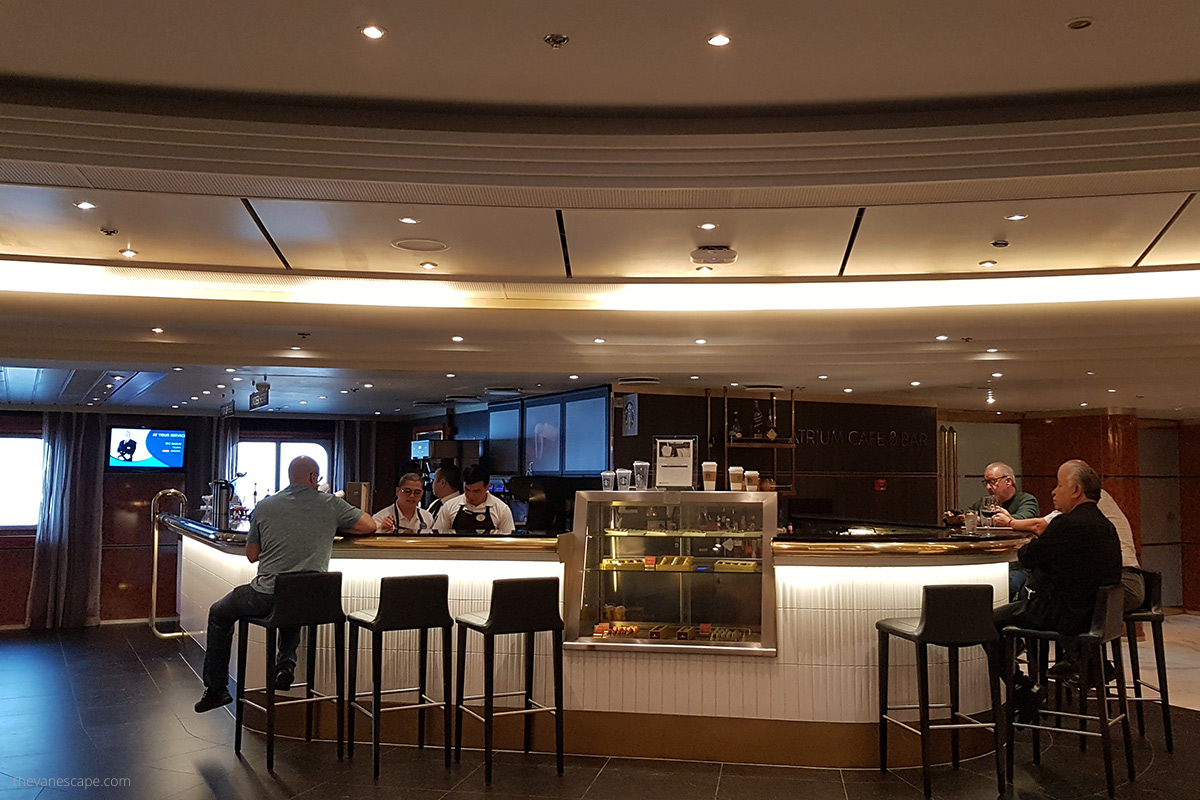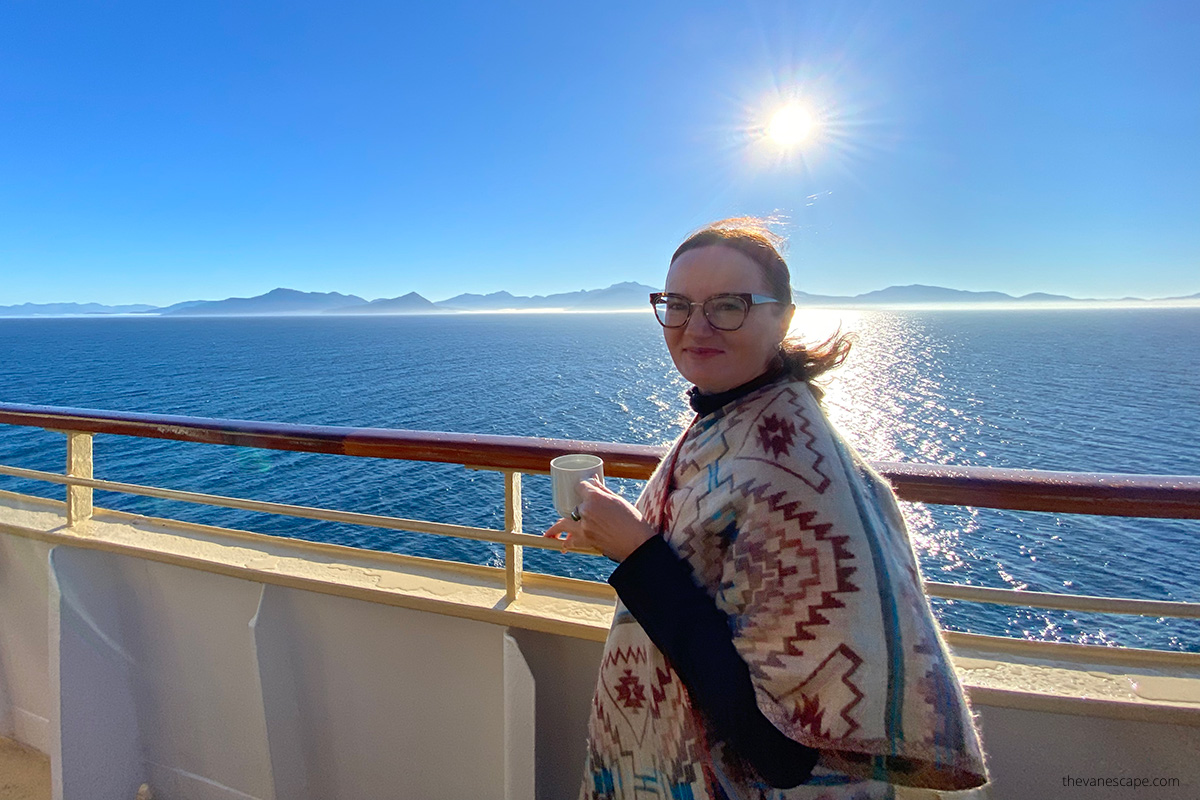 Champagne Bar: This is the place to be if you're in the mood for some bubbly. The Champagne Bar offers a selection of fine champagnes and wines in an elegant setting.
Spice H2O: This adult-only outdoor lounge is ideal for enjoying a drink while enjoying the sea views.
Windjammer Bar: Located on the pool deck, this bar is perfect for grabbing a refreshing drink while soaking up the sun.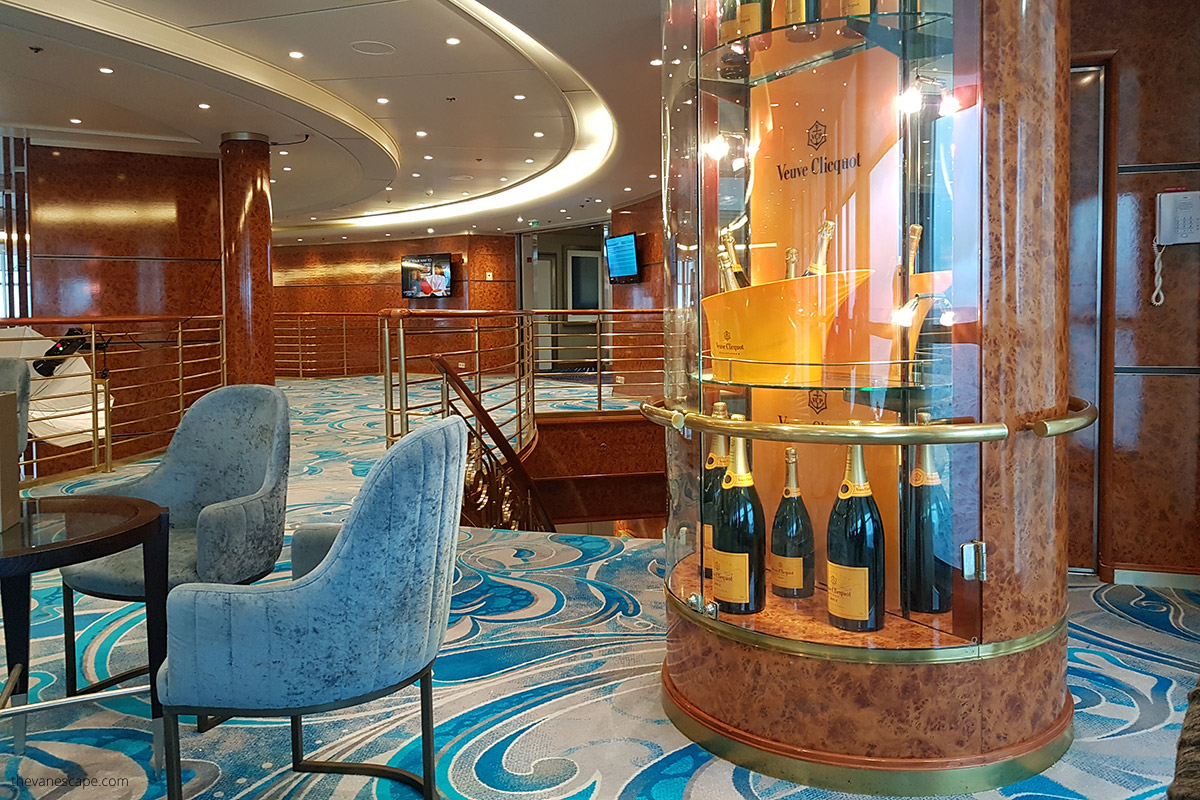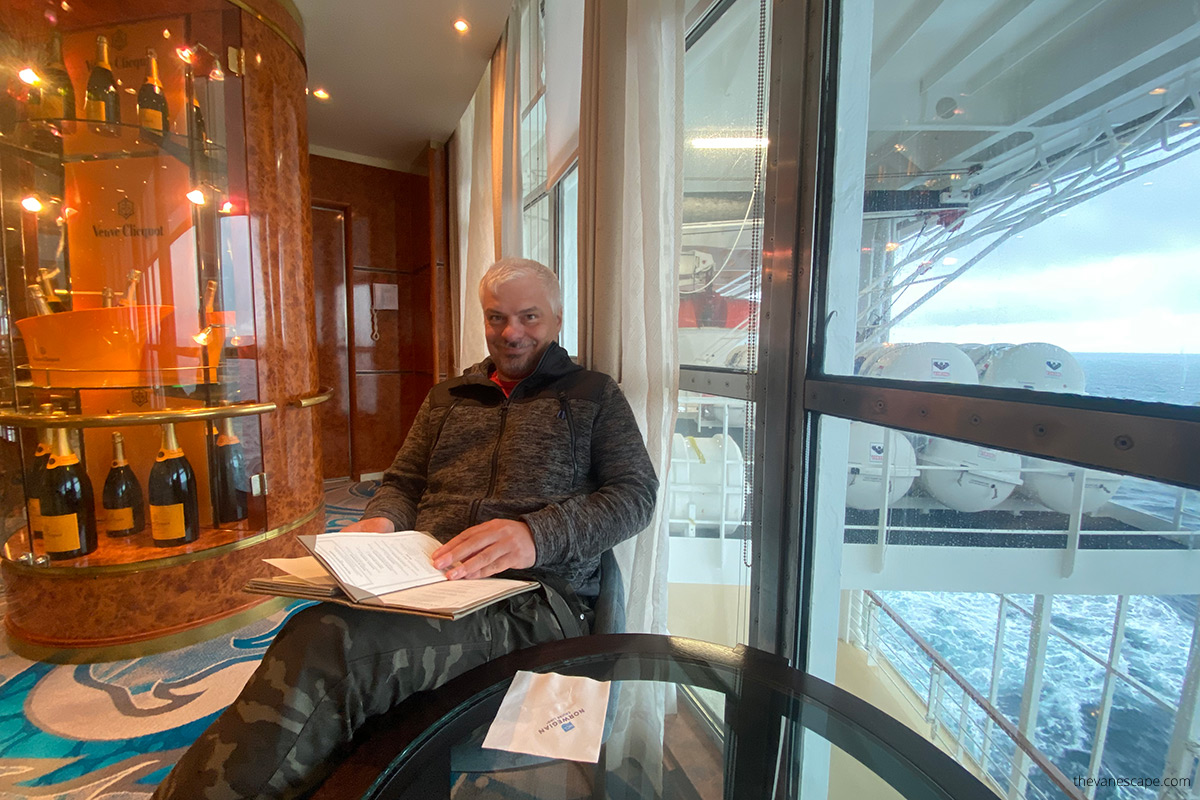 Topsiders Bar: Conveniently near the pool, Topsiders offers a casual setting for cocktails and light snacks.
Observation Lounge: With panoramic windows, this lounge offers breathtaking views, making it a serene place to enjoy a drink.
Sports Bar: For sports enthusiasts, this bar offers a casual atmosphere where you can catch live games on big screens.
Our Take: We found the variety of cafes, bars, and lounges to be a delightful addition to our dining experience on the ship. Whether we were looking for a morning coffee, an afternoon refreshment, or a late-night drink, there was always a spot that fit the mood. Our favorites are Observation Lounge, Champagne Bar, Topsiders Bar, and Bliss Ultra Lounge.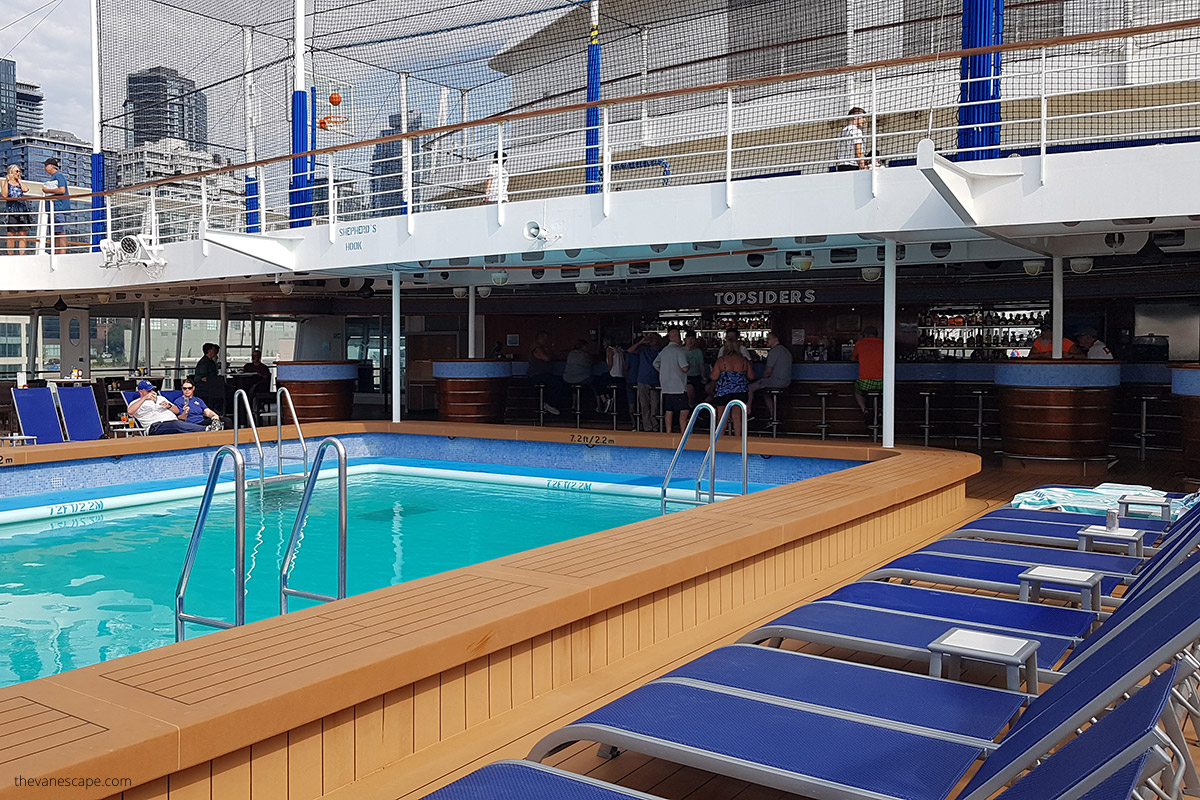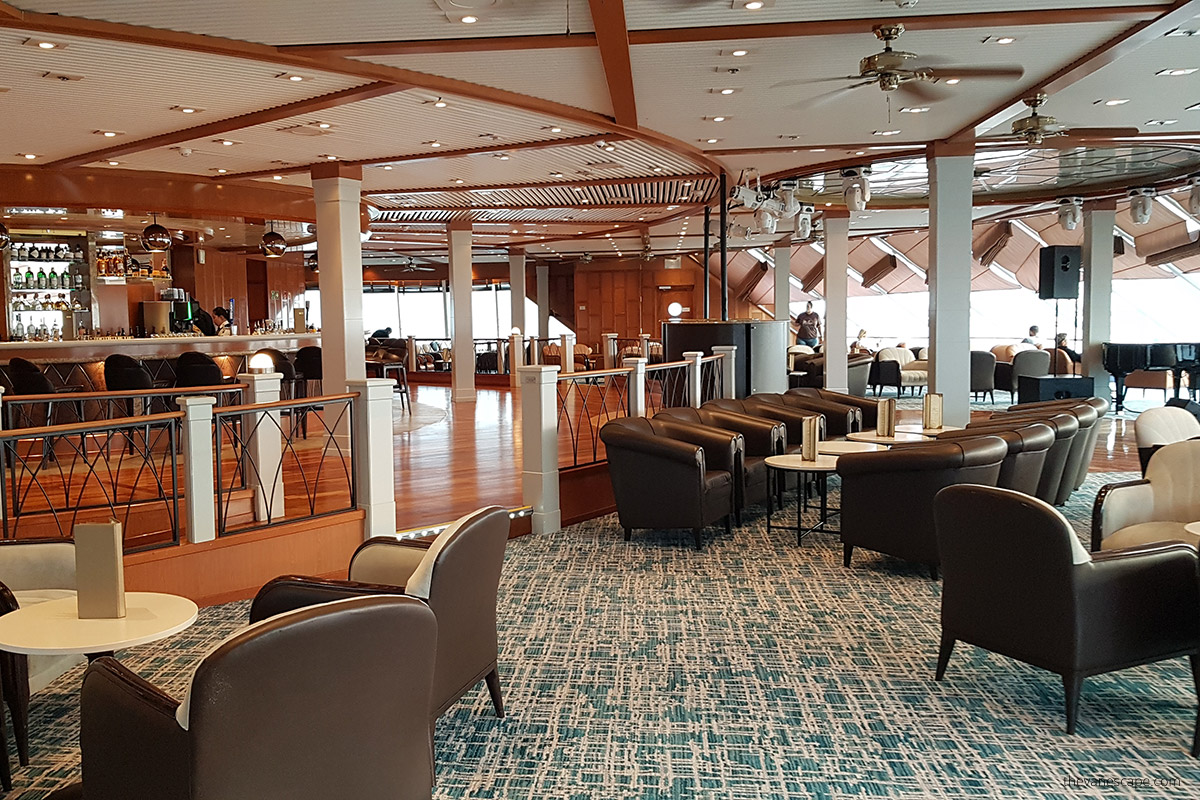 Onboard Activities: Beyond the Horizon
The Atrium: The Heart of the Ship
The Atrium is a stunning open space that spans from the 5th to the 11th deck. Four glass elevators shoot through the area, adding a touch of modern elegance. It is a central hub for various activities and provides easy access to many of the ship's amenities, bars, and restaurants.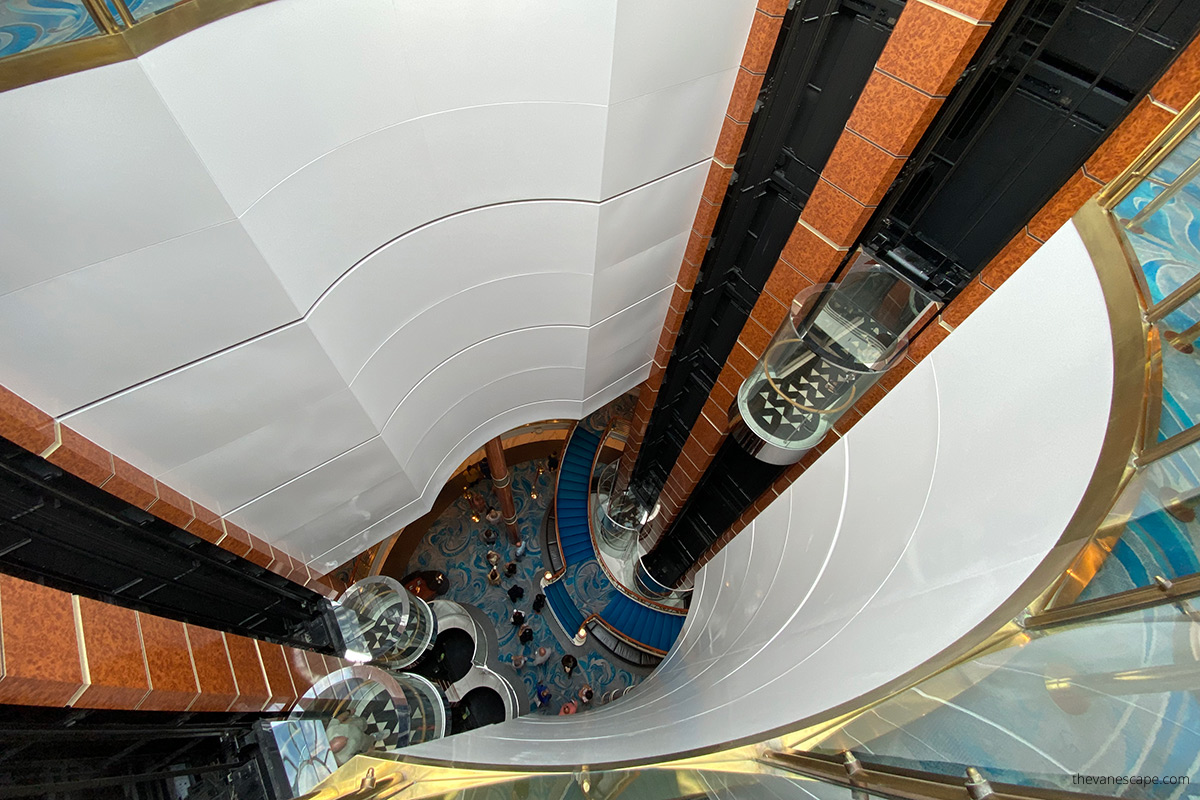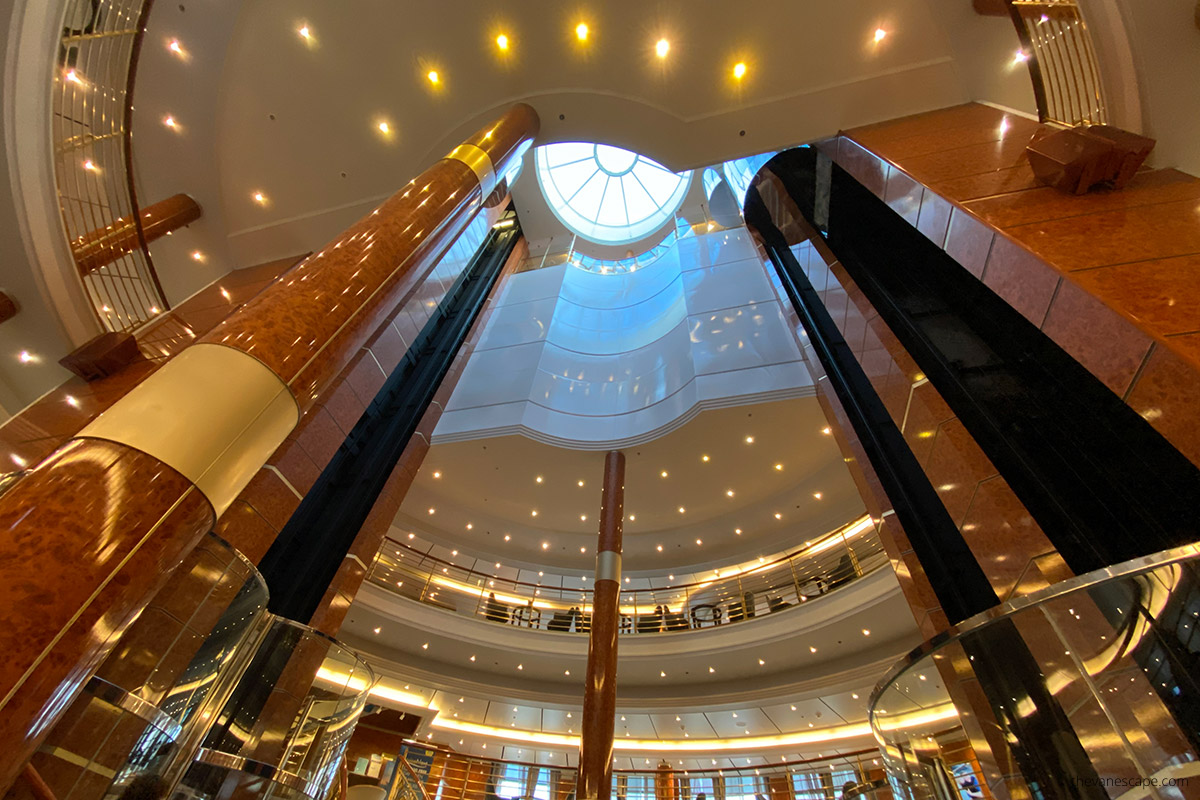 Pools, Spas, and Wellness Centers
When you're not exploring the wonders of Alaska, the Norwegian Sun offers many ways to unwind and rejuvenate right on board.
Pools: The ship features two main pools along with four hot tubs. Whether you're looking to do some laps or just lounge by the poolside with a cocktail in hand, there's plenty of space to relax. The pools are clean and well-kept.
Spas: The Mandara Spa on the Norwegian Sun is a haven of tranquility. Offering a wide range of treatments from massages and facials to acupuncture, it's the perfect place to pamper yourself.
Wellness Centers: For those who like to stay active, the ship's fitness center is well-equipped with modern exercise machines, free weights, and offers a variety of classes like yoga and Pilates.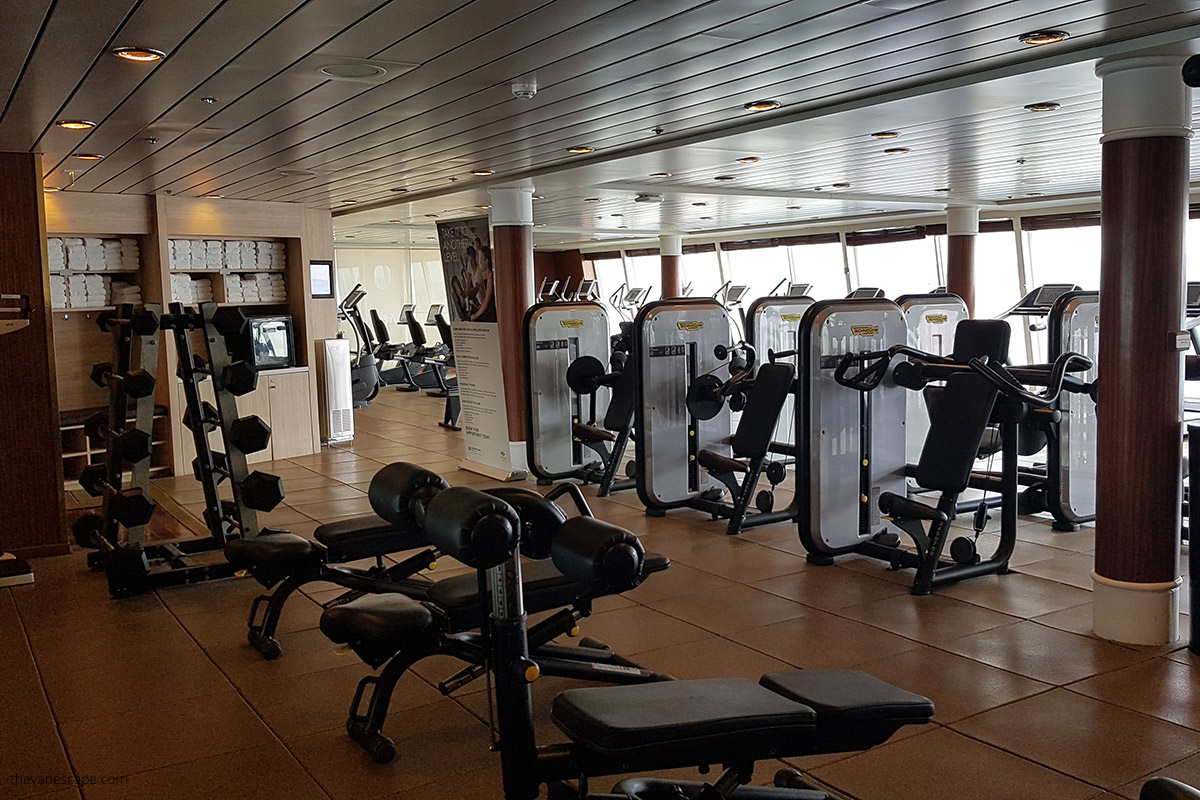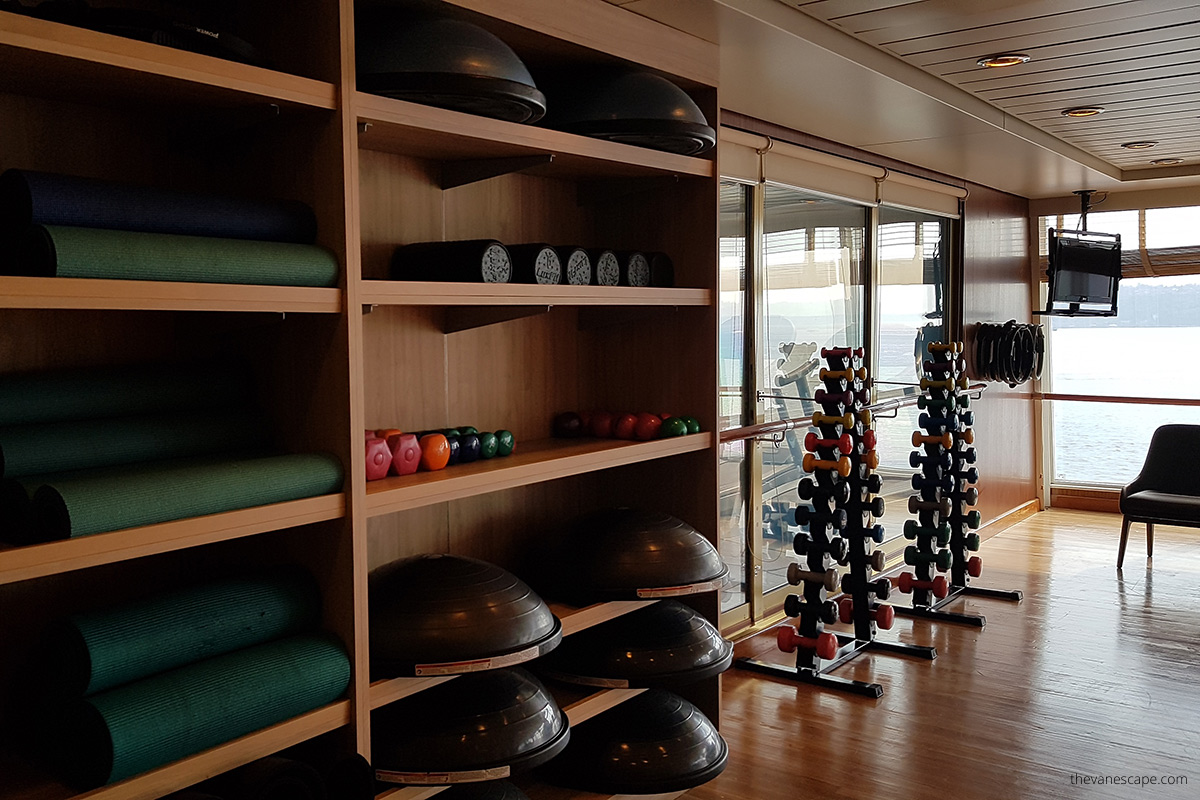 Sports Facilities and Outdoor Activities on Norwegian Sun Cruise Ship
The Norwegian Sun also has something for you if you're a sports fan.
Basketball Court: Fancy a game of hoops? The ship features a full-size basketball court where you can shoot some baskets or join a pickup game.
Golf Driving Net: If golf is more your speed, practice your swing at the onboard golf driving net.
Jogging and Walk Track: For those who prefer a good run or walking, the ship offers a jogging track that circles the top deck, providing stunning ocean views as you get in your daily exercise.
Table Tennis: Located near the pool area, table tennis tables are available for friendly competition.
Shuffleboard: A classic cruise ship activity, shuffleboard courts are also available for a more laid-back kind of fun.
Whether you're looking to relax and rejuvenate or get your adrenaline pumping, the Norwegian Sun offers various activities beyond the horizon of typical cruise ship offerings.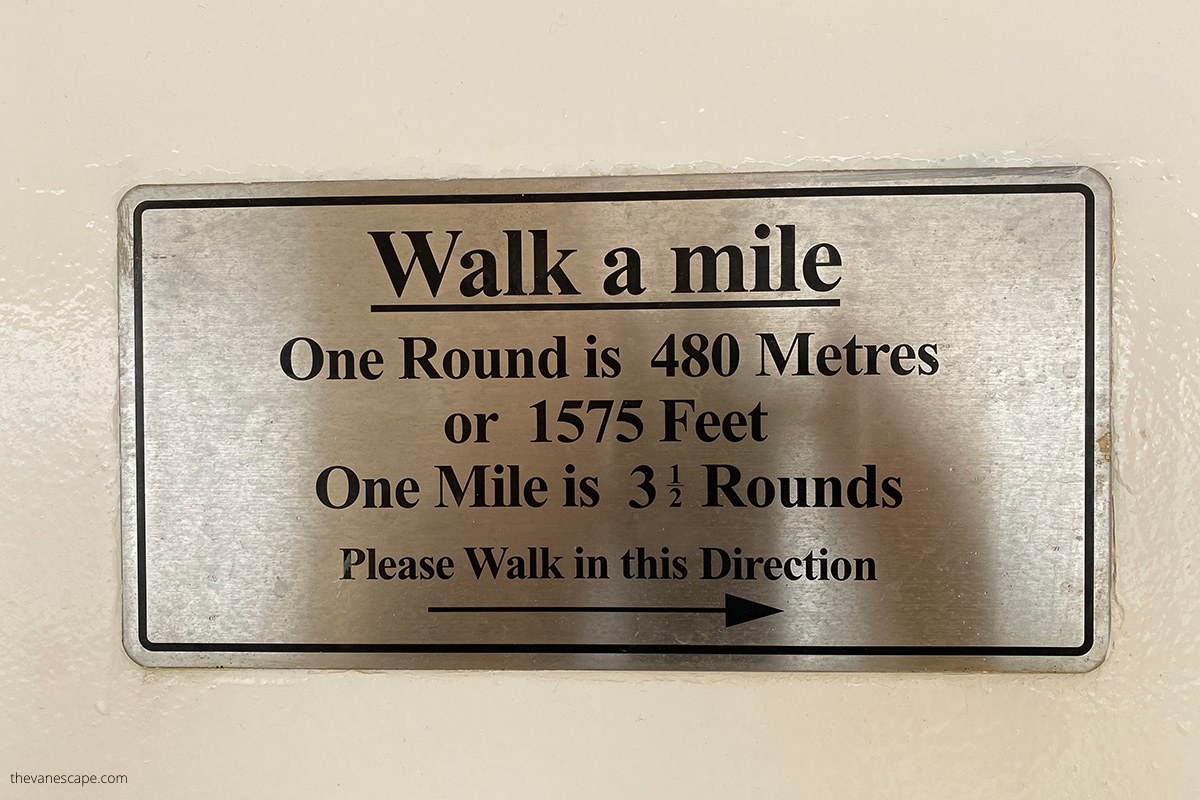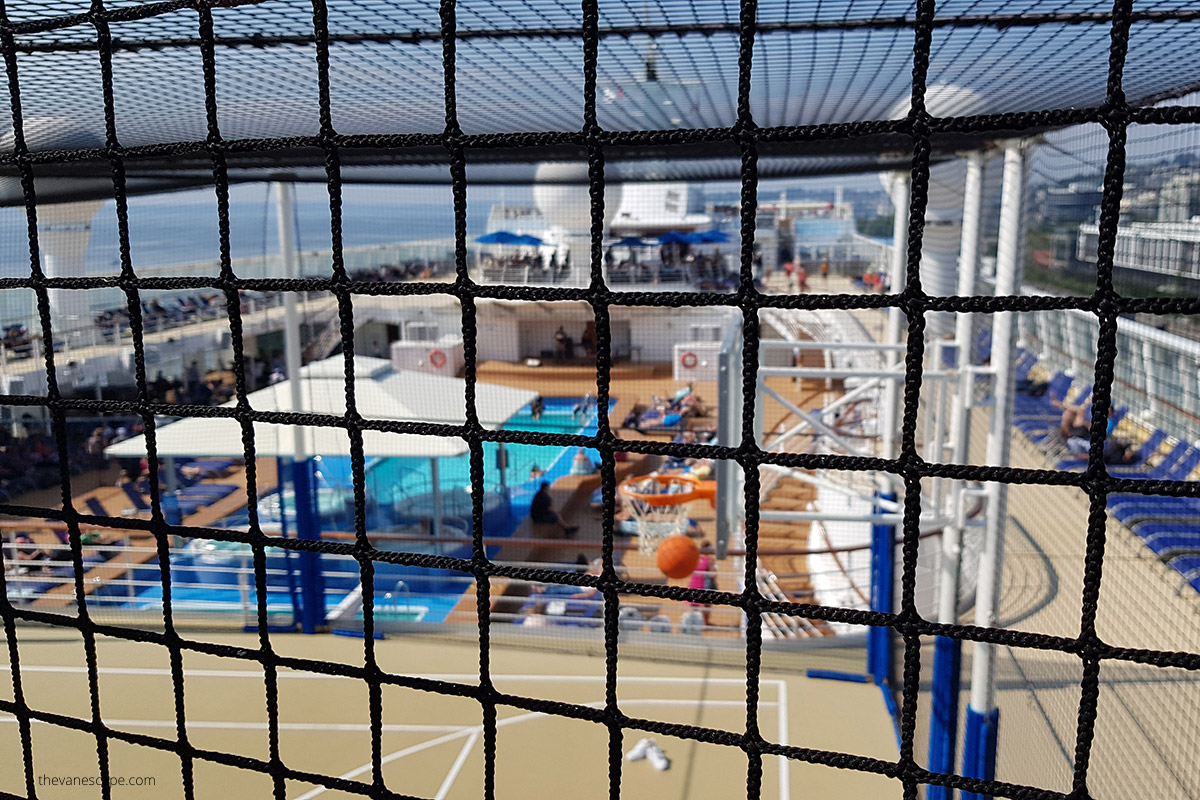 Norwegian Sun Ship Entertainment: From Day to Night
Theater Productions and Live Shows
When the sun sets, the Norwegian Sun comes alive with a dazzling array of entertainment options. One of the highlights is the ship's theater, which offers a variety of productions that are sure to captivate any audience.
Stardust Theater: This grand venue hosts a range of performances, from Broadway-style musicals to magic shows and comedy acts. With its state-of-the-art sound and lighting systems, the Stardust Theater provides a truly immersive experience.
Live Music: Throughout the ship, you'll find live music performances catering to various musical tastes. Whether it's a jazz trio in the lounge or a band by the pool, there's something for everyone.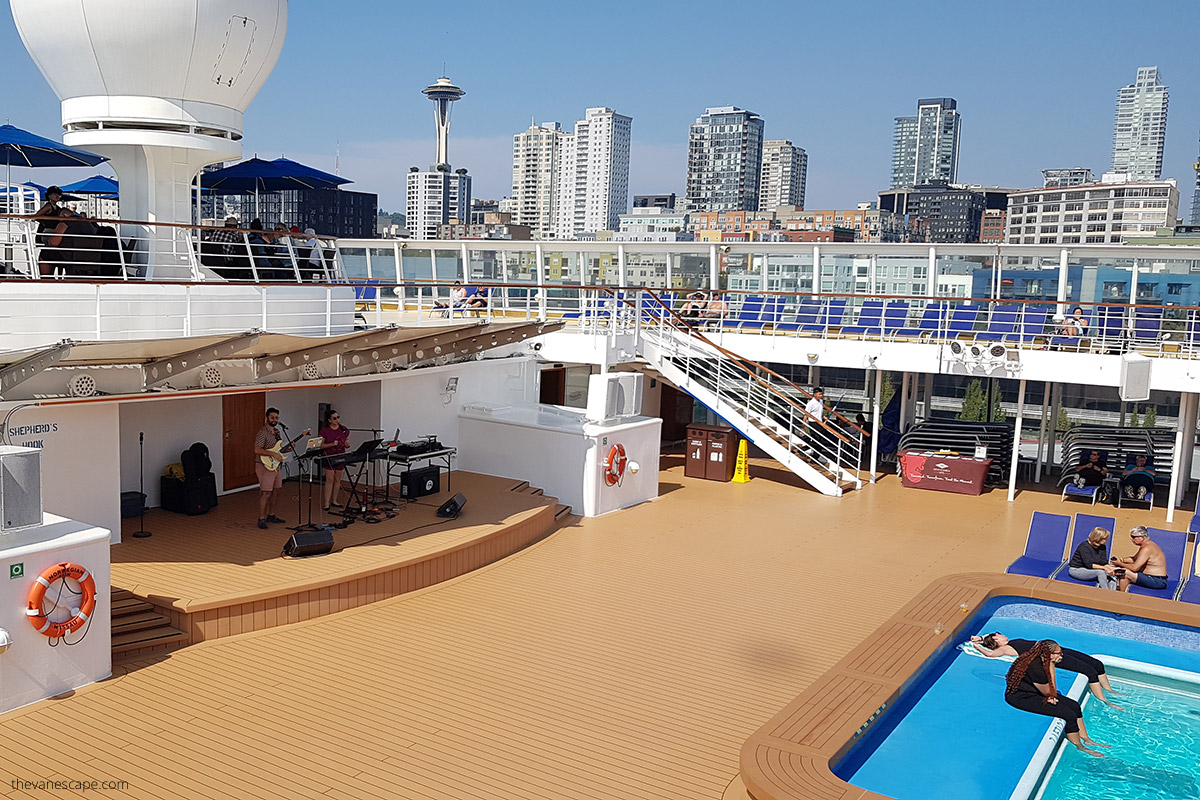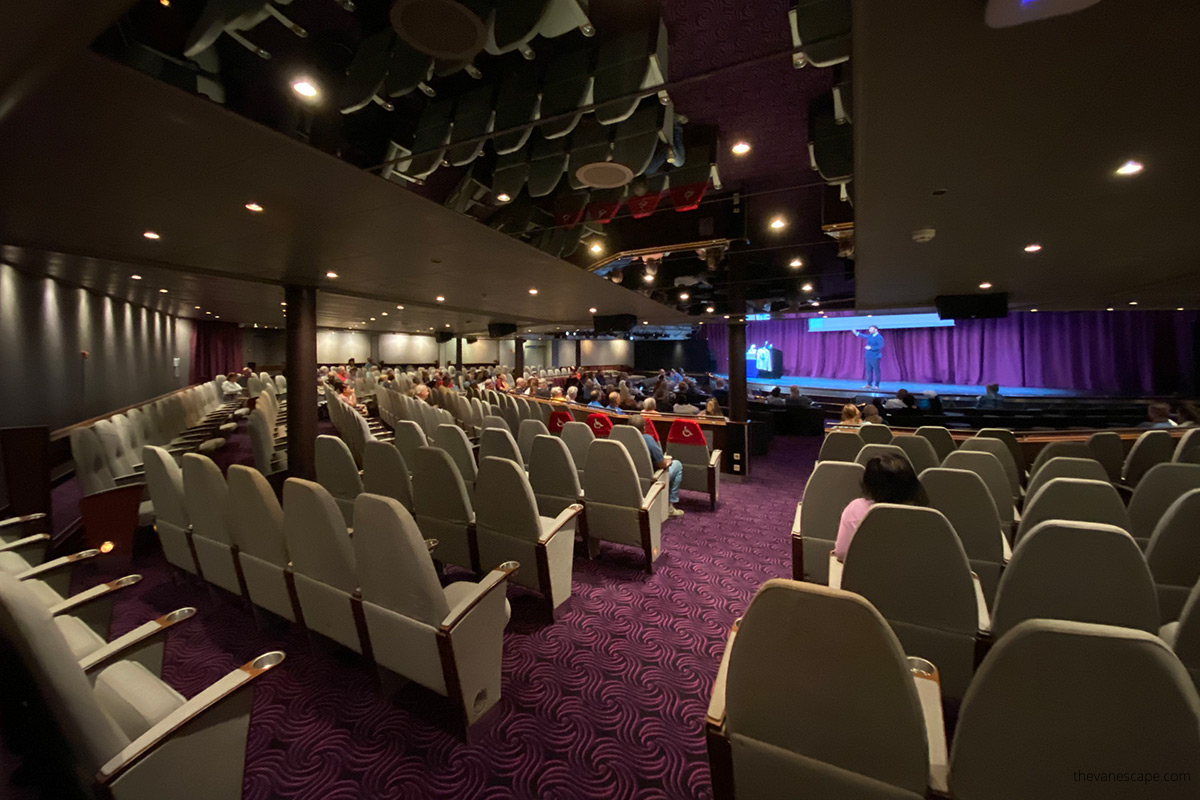 Bars, Clubs, and Evening Entertainment
If you want to continue the fun into the late hours, the Norwegian Sun also has some options.
Dazzles Nightclub: For those who love to dance, Dazzles Nightclub offers a vibrant atmosphere with a great mix of music. The DJ keeps the dance floor lively, from classic hits to modern beats.
Windjammer Bar: If you're in the mood for something more laid-back, the Windjammer Bar offers a nautical-themed setting perfect for enjoying a cocktail and some live piano music.
Bliss Ultra Lounge: This modern lounge offers a chic setting to enjoy specialty cocktails, socialize, and even enjoy late-night karaoke.
Casino: Feeling lucky? The Sun Casino offers a range of games, from slot machines to table games like blackjack and poker.
Themed Parties: Various themed parties are organized throughout the cruise, from '70s disco nights to elegant white parties. These events offer a fun way to socialize and enjoy the ship's entertainment offerings.
Whether you're a fan of live performances or prefer a quiet evening with a good drink, the Norwegian Sun offers a diverse range of entertainment options that will keep you engaged from day to night.
Shopping On Board
The Norwegian Sun Cruise Ship offers a range of boutiques and duty-free shops for those who love to shop. Whether you're looking for designer fashion, jewelry, or souvenirs to take home, you'll find it all here. It's a great way to spend some leisure time and perhaps find that perfect item you've been searching for.
Art Exhibitions and Auctions
For art enthusiasts, the Norwegian Sun Cruise Ship offers a unique cultural experience with its onboard art exhibitions. These exhibitions feature a variety of artworks, including great contemporary pieces. Moreover, the ship hosts art auctions where you can bid on your favorite pieces. It's an opportunity to appreciate art and own a piece that speaks to you.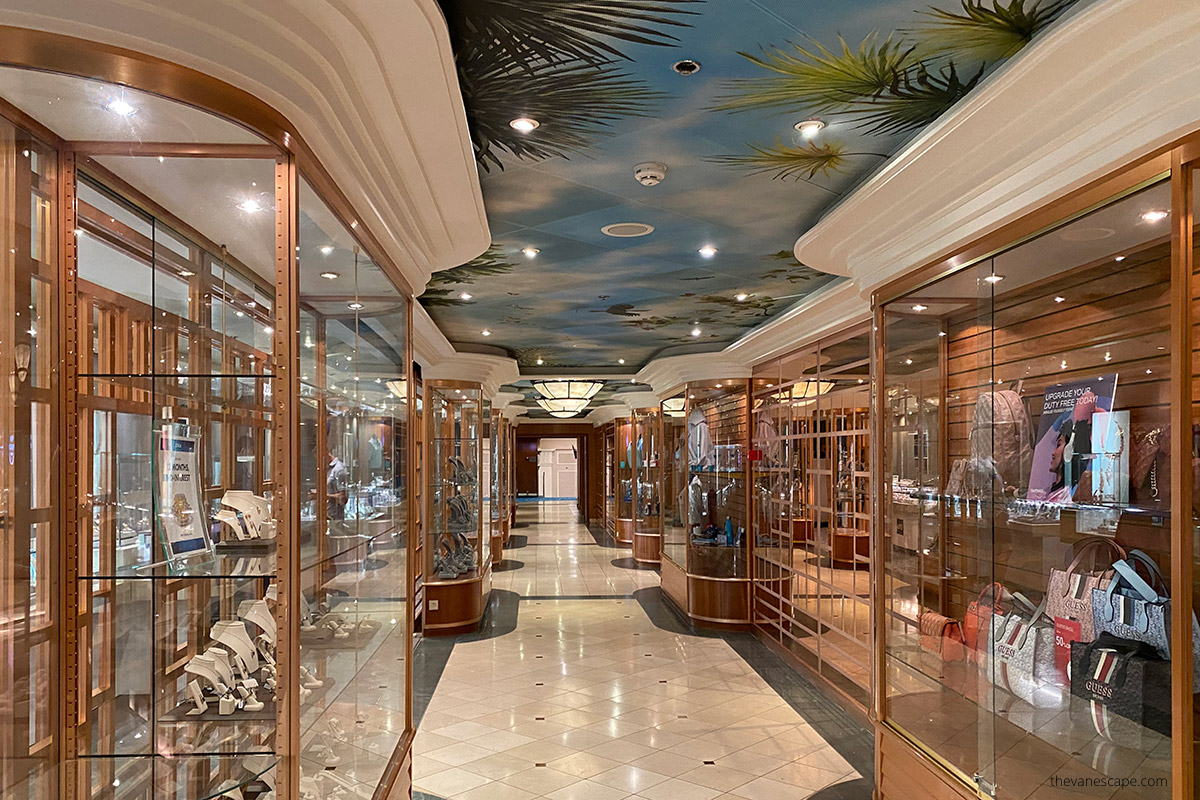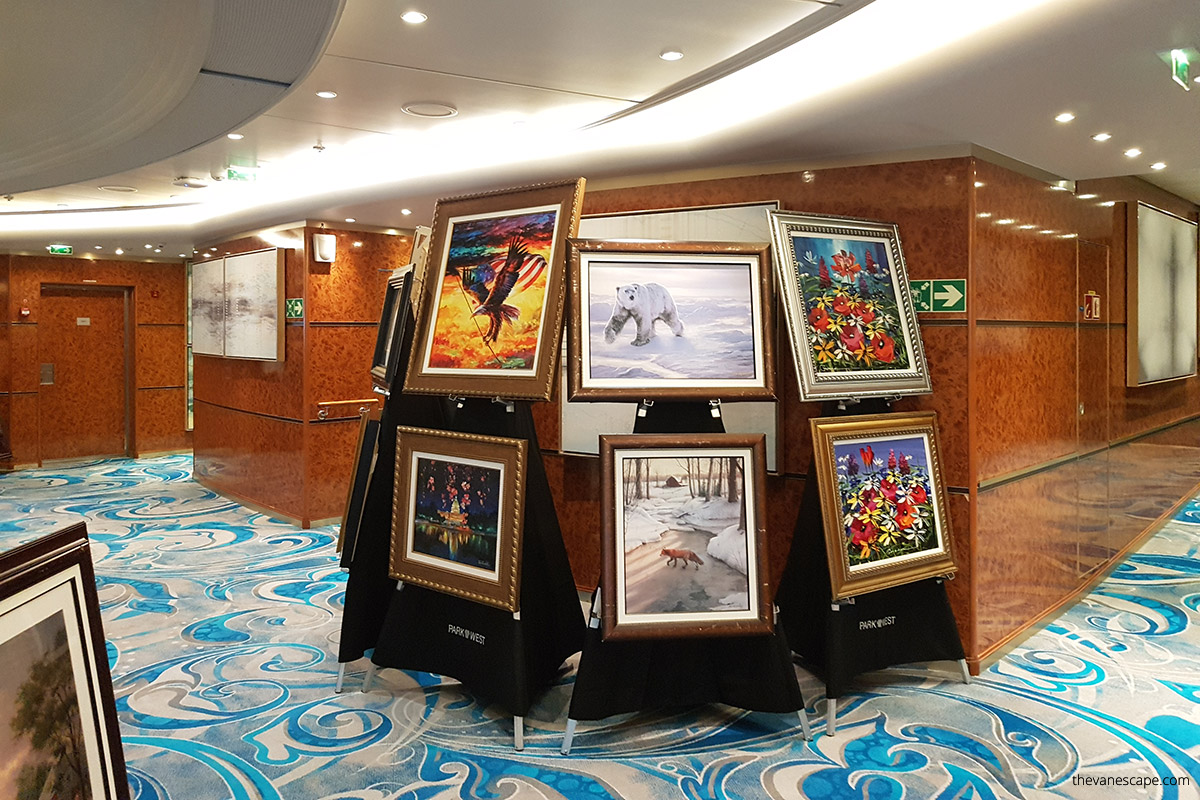 Enrichment Activities
Healthy Lifestyle Lectures: If you're interested in wellness, the ship offers lectures on a healthy lifestyle, covering nutrition and mental well-being. These sessions provide valuable insights and tips on maintaining a balanced life, even while you're on vacation.
Culinary Shows and Workshops: For foodies, the Norwegian Sun offers culinary shows where chefs demonstrate their skills and share cooking tips. If you're keen to get hands-on, you can also participate in culinary workshops, learning how to prepare various dishes from the experts themselves.
Alcohol Tastings: If you're a connoisseur of fine wines, spirits, or beers, the ship offers alcohol tastings where you can sample a range of beverages and learn about their origins, flavors, and ideal food pairings.
Tech and Connectivity: Always Online
Internet Cafe and Wi-Fi Packages
Staying connected while cruising on the Norwegian Sun is possible, but it has some cons. The ship offers an Internet Cafe where you can access desktop computers to check emails or browse the web. Additionally, various Wi-Fi packages are available for purchase, catering to different needs, whether you want to check social media or need to work online.
Mobile App and Onboard Technology
The Norwegian Sun also features a user-friendly mobile app that allows you to plan your day, book excursions, and even make restaurant reservations. The app is well-designed and easy to navigate, making it a convenient tool for enhancing your cruise experience.
Our Experience with Connectivity
Our cruise package included 150 minutes of free onboard Wi-Fi, which sounds great on paper. However, the reality was a bit different. The Wi-Fi quality left much to be desired; it was slow and often unstable. This wasn't entirely surprising to us, given our extensive travel experience in Alaska. Connectivity issues are pretty standard in this remote state, especially when sailing through the Inside Passage, surrounded by islands and glaciers.
A Word of Caution: If you plan to work online during your cruise or require a super-fast connection, you might face challenges. While the app is easy to use and well thought out, the Wi-Fi itself may not meet your expectations for speed and reliability.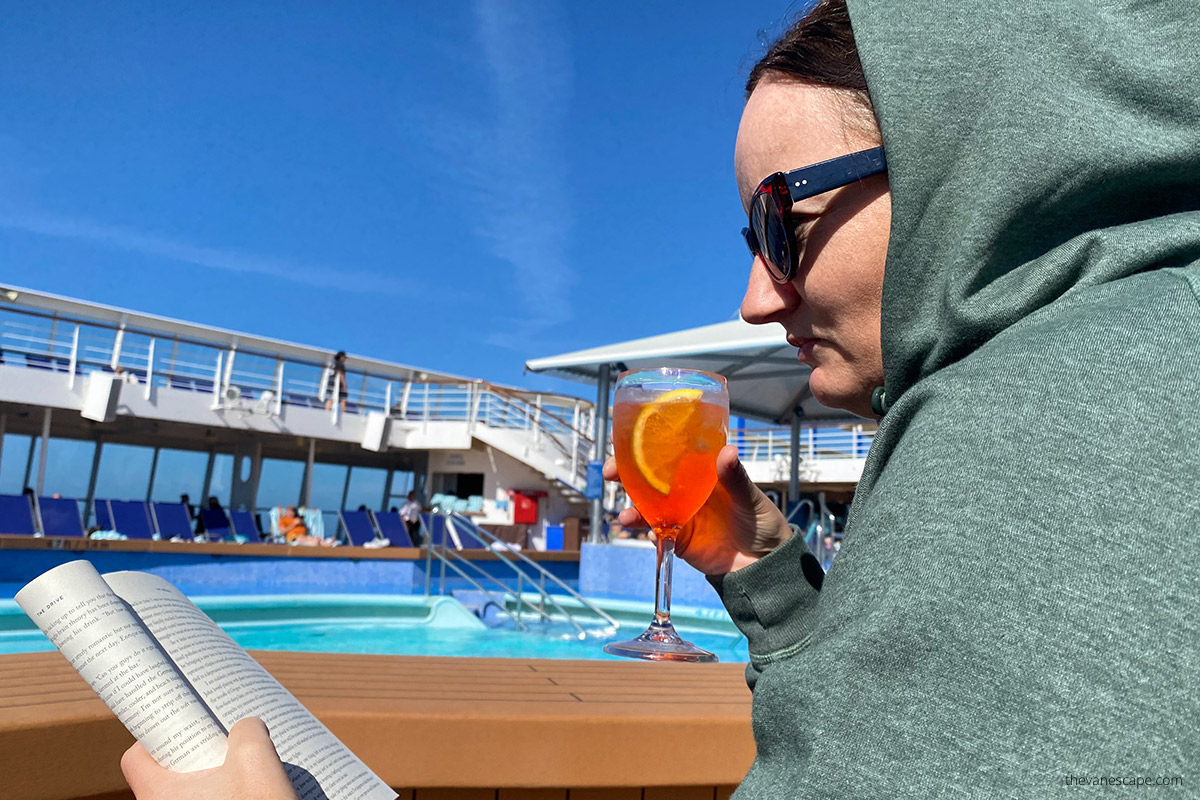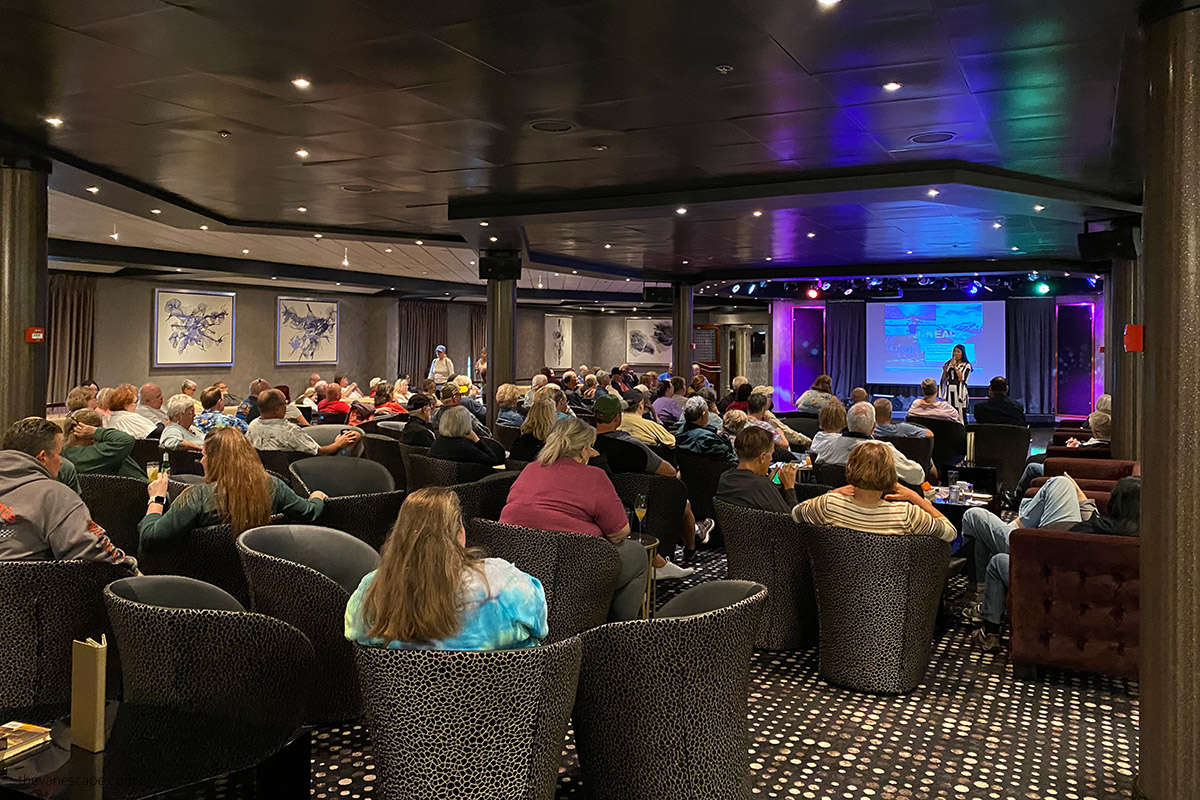 Family Amenities: From Toddlers to Teens
Splash Academy and Kids' Programs
The Norwegian Sun offers a basic range of amenities for families with children. The Splash Academy is the ship's primary kids' program, catering to children aged 3 to 12. Activities range from arts and crafts to simple games entertaining little ones.
Entourage Teen Club and Adult-Only Spaces
For teenagers, the ship features the Entourage Teen Club, a space designed to give teens a place to hang out, play video games, and socialize. The vessel offers adult-only areas like the Spice H2O lounge and the Mandara Spa for parents seeking alone time.
Our Look on Family Amenities
In our opinion, the Norwegian Sun provides basic amenities for families. While the Splash Academy and Entourage Teen Club offer some entertainment for younger passengers, they don't compare to the extensive facilities found on larger cruise ships. For example, ships like the Norwegian Bliss or the Norwegian Encore feature massive entertainment centers with laser tag arenas, go-kart tracks, and expansive water parks.
If you're a demanding customer looking to provide your children with various entertainment options, the Norwegian Sun may not be the best choice. The ship's family amenities are relatively limited compared to what you would find on larger, more family-focused ships.
Service and Maintenance: A Closer Look
Cleanliness and Upkeep
One of the first things we noticed about the Norwegian Sun was its impeccable cleanliness. From the staterooms to the common areas, it's evident that the crew takes great pride in maintaining the ship. Regular cleaning schedules and attention to detail create a sanitary and comfortable environment.
Exceptional Staff
The staff on the Norwegian Sun go above and beyond to ensure a pleasant experience for all passengers. Whether it's the room attendants remembering your name or the waitstaff accommodating special dietary needs, personalized service is commendable.
Customer Support Stands
For any questions or concerns, the ship features customer support stands that are well-staffed and readily available. These stands are strategically located to provide easy access whether you need help with dinner table reservations, shore excursion bookings, or any other inquiries.
Dinner and Shore Excursion Reservations
Making dinner or shore excursion reservations is a breeze thanks to the efficient customer service. The staff know the various options available and can provide recommendations tailored to your preferences. This makes planning your days and evenings on the ship a hassle-free experience.
Our Tip: From our experience, we recommend booking your shore excursion in advance. Check out our suggestions for the best shore excursions in each port.
Support for Shore Excursions
When it comes to shore excursions, the Norwegian Sun offers excellent support. Detailed briefings are provided before each tour, and the staff are always on hand to assist with any last-minute changes or requirements. This support level ensures you can maximize your time exploring various ports.
Freestyle Daily: Your Daily Guide
One feature we particularly appreciated was the Freestyle Daily magazine, delivered to our cabin each evening. This in-cabin publication was a treasure trove of information, making planning our next day's activities easy. It included the weather forecast, highlighted attractions and excursions at the upcoming port, and even outlined onboard activities for sea days.
Freestyle Daily had all the key information we needed to make the most of our time on the Norwegian Sun, from disembarkation and return times to a detailed timetable of the ship's entertainment. It was a convenient and thoughtful touch that improved our overall cruise experience.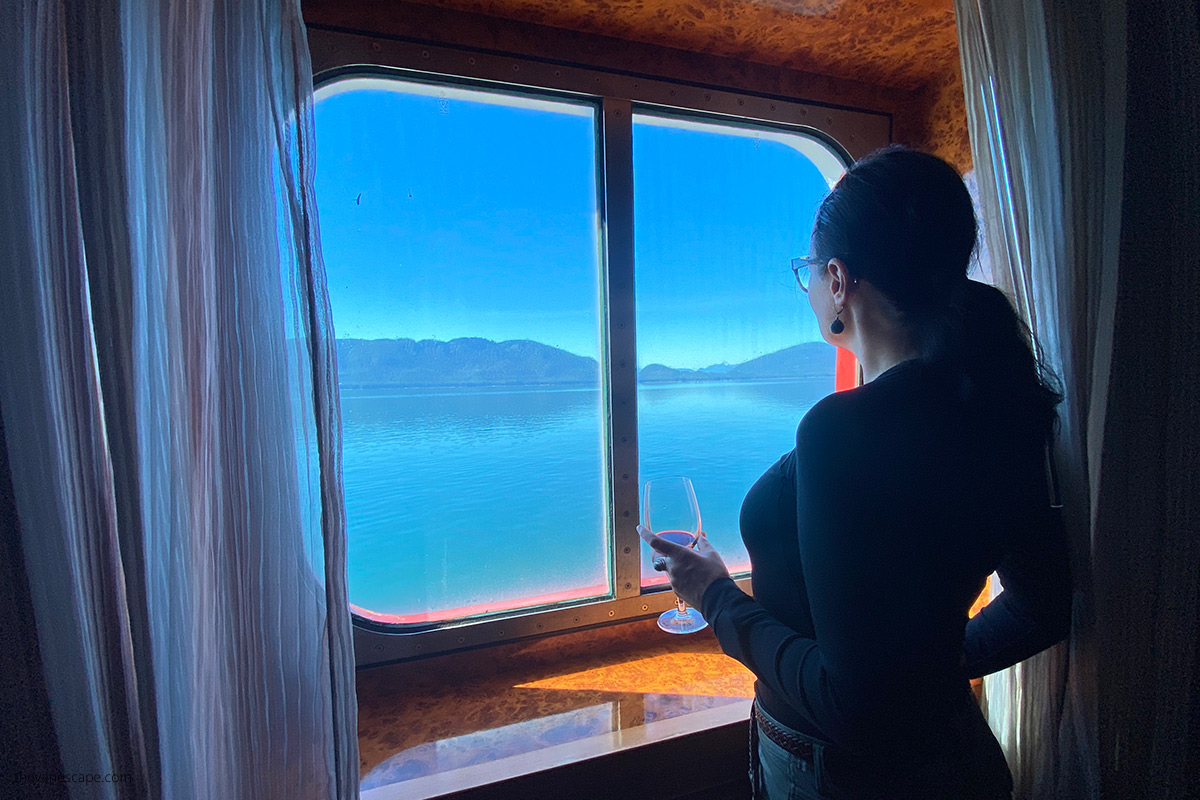 Who Is the Norwegian Sun Best For?
Ideal for Adult Couples, Seniors and Retirees
The Norwegian Sun offers a more intimate and relaxed atmosphere than larger, bustling ships. This makes it ideal for adult couples seeking a romantic getaway or seniors seeking a peaceful cruise experience. The ship's range of dining options, adult-only spaces, and wellness amenities cater well to a mature audience.
Suitable for People with Limited Mobility
One of the standout features of the Norwegian Sun is its accessibility. The ship offers a range of accessible cabins and facilities, making it a suitable choice for people with limited mobility. From wider doorways to ramp access, the vessel is designed to be inclusive for all.
Additionally, the smaller ship is a significant advantage for older adults or those with limited mobility. A smaller deck layout facilitates more efficient and quick movement, making it easier to get from one point to another without much hassle.
A Note on Docking Locations: One downside is that the Norwegian Sun sometimes docks a bit further from downtown areas in some ports. While free shuttle services and assistant support are provided during disembarking or returning, this can be inconvenient. For instance, in Ketchikan, the ship docked 7 miles from downtown, requiring an additional free shuttle ride. In Sitka, the ship anchored offshore, requiring passengers to use tenders to reach land. While staff assistance is available, these situations might pose some challenges for those with limited mobility.
Suitable for Solo Travelers
The Norwegian Sun also caters to solo travelers. With its range of activities and entertainment options, solo travelers will find plenty of opportunities to socialize and make new friends. The smaller ship makes it easier to navigate, adding to the convenience for those traveling alone.
Our Take on Who Would Enjoy Norwegian Sun Cruise Ship
In our experience, the Norwegian Sun is best suited for mature adults, seniors, and those with limited mobility. While it does offer some family amenities, they are relatively basic compared to what you'd find on larger ships.
However, we feel that the Norwegian Sun may not cater to the requirements of younger adults, especially those between the ages of 20 and 30 who seek thrilling entertainment. The ship's relaxed environment and restricted late-night activities may not match the choices of this group.
Therefore, if you're an adult couple, a senior, a group of friends, or a solo traveler looking for a more relaxed and intimate cruise experience, the Norwegian Sun Cruise Ship could be an excellent choice for you.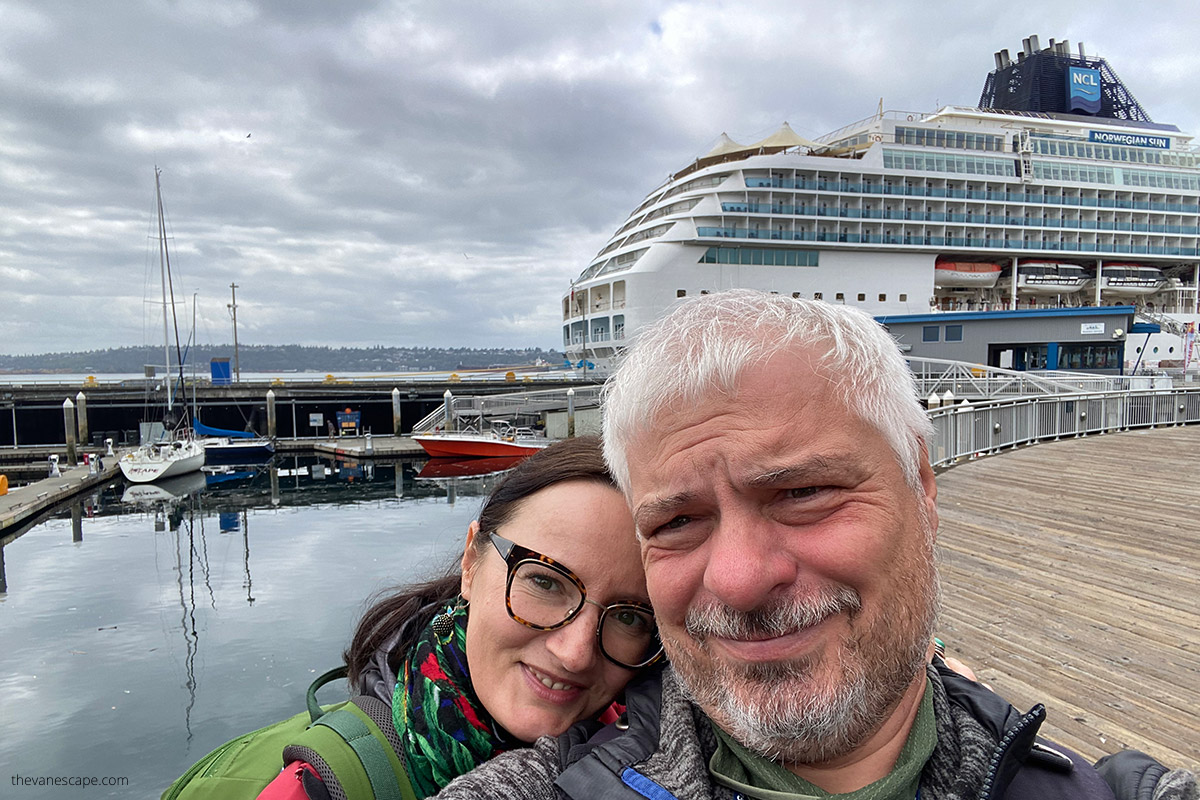 Comparing the Norwegian Sun to Other Ships
Versus Larger Norwegian Ships
The Norwegian Sun offers a more intimate and relaxed atmosphere, which can be both an advantage and a limitation. Unlike larger ships like the Norwegian Bliss or the Norwegian Encore, the Sun doesn't feature expansive entertainment centers with amenities like laser tag arenas, go-kart tracks, or giant water parks. While this makes for a quieter, more laid-back experience, it also means fewer options for families and young adults seeking high-energy activities.
Our Take: If you're looking for a cruise with a wide range of entertainment options and amenities, you might find larger Norwegian ships more to your liking. However, the Norwegian Sun could be better if you prefer a more intimate setting with fewer crowds.
Versus More Modern Norwegian Ships
Concerning modernity, the Norwegian Sun falls short compared to newer ships in the fleet, such as the Norwegian Joy or the Norwegian Escape. These newer ships offer more advanced technology, including interactive touchscreens for more straightforward navigation and state-of-the-art entertainment systems. Additionally, they often feature more contemporary interior designs and updated stateroom amenities.
Our Take: If you value cutting-edge technology and modern aesthetics, you might find newer Norwegian ships more appealing. However, the Norwegian Sun offers a classic cruise experience that still provides a range of amenities and activities to keep you entertained.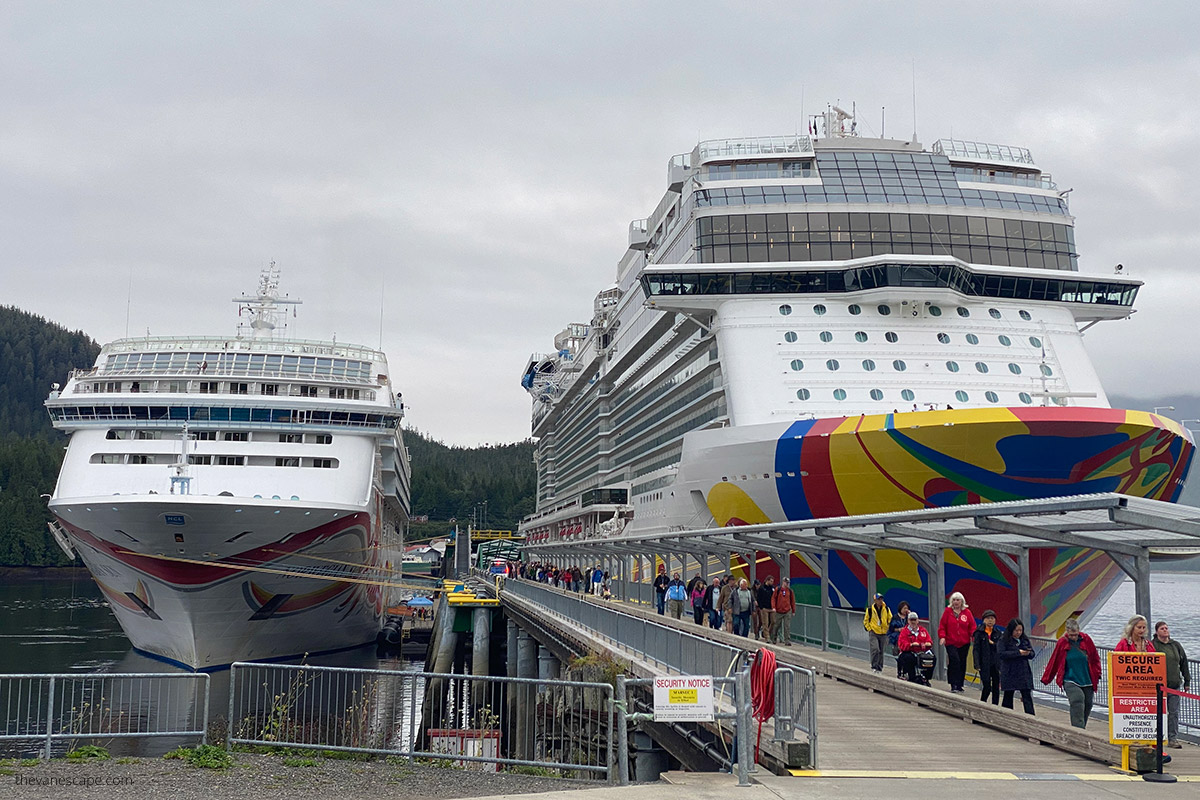 Norwegian Sun Review – Pros and Cons
Highlights of the Norwegian Sun Cruise Ship
Intimate Atmosphere: One of the standout features of the Norwegian Sun is its smaller size, which offers a more intimate and relaxed atmosphere. This is ideal for those looking to escape the hustle and bustle of larger cruise ships.
Accessibility: The ship is well-designed for people with limited mobility, featuring accessible cabins and facilities. Its smaller size also makes it easier to navigate.
Freestyle Cruising: The ship's Freestyle Cruising concept allows for a flexible dining experience, letting you eat when and where you want. This was one of the reasons we chose the Norwegian Sun for our Alaska cruise, as it perfectly aligned with our adventure-seeking lifestyle.
Dining Options: With its Freestyle Cruising concept, the Norwegian Sun offers a variety of dining options that cater to different tastes and preferences.
Adult-Only Spaces: The ship provides adult-only areas like the Spice H2O lounge and the Mandara Spa, allowing for peaceful relaxation away from the younger crowd.
Areas for Improvement
Wi-Fi Quality: Although our package included 150 minutes of free Wi-Fi, the quality was subpar, making it challenging for those who need a reliable internet connection.
Remote Docking Locations: The ship sometimes docks further away from downtown areas, requiring additional transportation. This can be an inconvenience, especially for those with limited mobility.
Basic Family Amenities: While the ship offers family-friendly amenities like the Splash Academy, these are relatively basic compared to what you'd find on larger, more family-focused ships.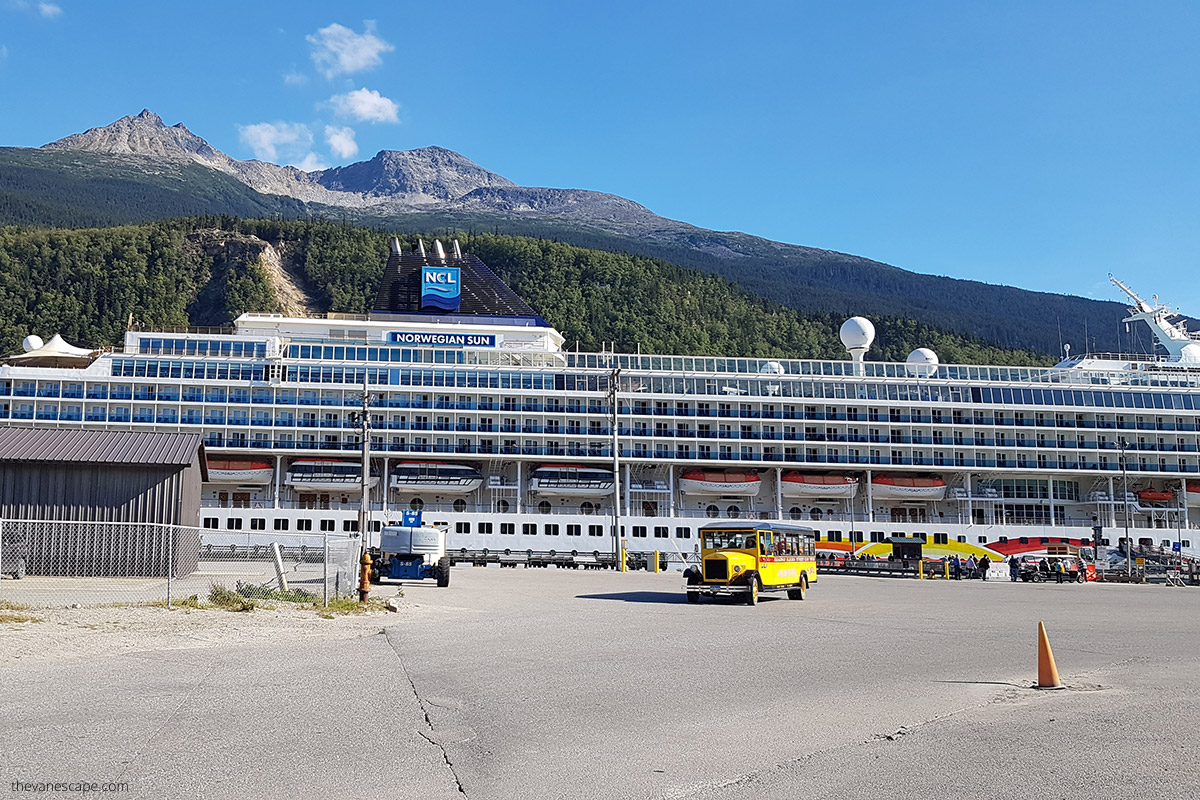 Conclusion: Is the Norwegian Sun the Right Choice for You?
Summary of Key Points
The Norwegian Sun Cruise Ship offers an intimate and relaxed atmosphere, making it an ideal choice for adult couples, seniors, and solo travelers. Its smaller size makes it more navigable, especially for those with limited mobility. The ship excels in personalized service, cleanliness, and dining options thanks to its Freestyle Cruising concept. However, it may fall short for younger adults looking for high-energy entertainment and families seeking extensive amenities for children.
Final Recommendations
If you're looking for a more laid-back cruise experience with excellent service, the Norwegian Sun could be a great fit. Its smaller size and fewer crowds make it a peaceful choice for those looking to escape the hustle and bustle of larger ships. However, if you're a younger adult seeking intense entertainment or a family requiring a wide range of amenities for children, you might find larger or more modern Norwegian ships more to your liking.
For those concerned about accessibility, the ship's design and services make it a suitable option, although some docking locations may pose challenges. The Norwegian Sun offers a balanced cruise experience catering to a specific demographic. Your enjoyment will largely depend on what you're looking to get out of your cruise.
Is the Norwegian Sun a Good Ship for Cruising Alaska?
If you're considering a cruise to Alaska, the Norwegian Sun offers a unique experience. Its smaller size allows for a more intimate connection with the stunning Alaskan landscapes. The ship's Freestyle Cruising concept also aligns well with the adventurous spirit of an Alaskan cruise, allowing you the freedom to explore both on and off the ship. However, be prepared for some logistical challenges, such as remote docking locations, which may require additional transportation.
For More Insights: If you're interested in a more detailed account of our Alaskan cruise, we invite you to read our comprehensive Alaska cruise review aboard the Norwegian Sun. In it, we describe our day-by-day experiences, the Alaska cruise itinerary, the ports of calls we visited, and the many shore excursions we chose.