Killing time, not salmon, in King Salmon Alaska
It may happen to you to have to stay in King Salmon, Alaska, especially if you plan bears watching in the famous Brooks Falls in Katmai National Park. And it might happen to you whether you want it or not. As Alaska is unpredictable! King Salmon is a deserted place in remote Alaska, and the main building there is an airport. People are coming here for fishing or on their way to Katmai National Park. If it happens to you, just read below how to kill your time in King Salmon.
This article may contain affiliate / compensated links. For full information, please see our disclaimer here.
King Salmon, Alaska – Introduction
This post shares tips on what to do and where to stay in King Salmon, a gateway to the Katmai National Park and Preserve. You might get stuck there, as we did. But if you plan a trip to Katmai, check our detailed guide with lots of hints and current prices – Visiting Katmai National Park – how to plan a trip? Also, check our article Best Things to Do in Katmai National Park, as it offers more activities than the famous bear viewing at Brooks Falls.
Welcome to King Salmon, Alaska
– How are you? – local guy drinking something in an almost empty Sockeye Saloon, King Salmon asked Chris.
– Good! And how are you? – answered Chris.
– Great! What do you plan to drink? They don't have draft beers… I recommend the Moscow Mule! It's delicious and strong!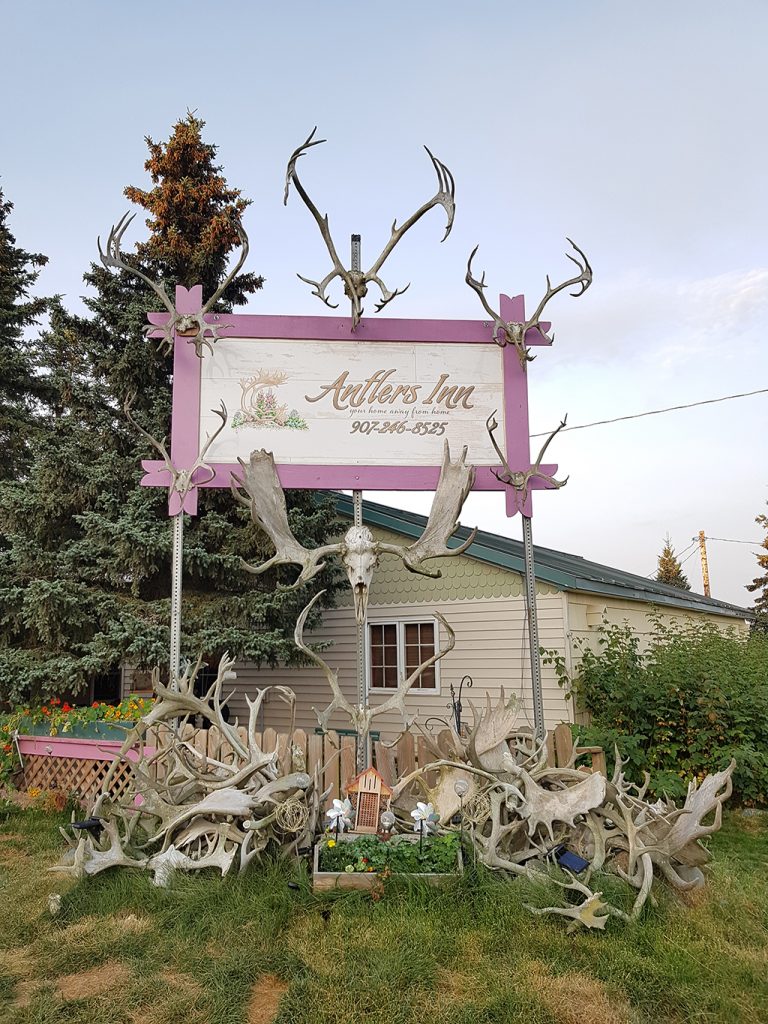 We were wondering how to fill our evening in King Salmon, Alaska. The airline canceled the return flight, and we were stuck for another night in small King Salmon. The village consisted of an airport, two inns, one bar and saloon, and a couple of grocery stores. Everything else was not relevant to us at the time. We stayed for the second time in one of the cabins of the expensive Antlers Inn, just a minute's walk from Sockeye Saloon (according to google maps, it is 37 minutes from the airport, in reality, it was only 5 minutes everywhere!).
The cabins were rather poky but good enough for one night. But… Actually, it was our second night here. Our original flight here a couple of days ago was also canceled, so we were stuck in this place for the second time. If you spend two nights in such a small village (only 374 people live here as of 2010), you feel to know everyone and know everything about the place. This is how we felt, like a local.
It all happened during our dream trip to bear viewing in Alaska. Visiting Katmai National Park and Preserve is one of the best places to admire bears in their natural habitats in Alaska. The fastest way to get to this park is from King Salmon.
Was it the fastest … taking into account our lousy luck with canceled flights, it was not so fast. But the weather in Alaska is unpredictable. And its sudden weather breakdowns cause flights to simply be canceled. Sometimes more often, sometimes less often. Apparently, we were not lucky this time because it was already the second time within a few days.
So Chris joined Rick and ordered Moscow Mule served by Sarah, and we started to talk. Agnes, as usual, was drinking the cheapest and the only red wine one could buy in this deserted place and was taking pictures to kill time. To Chris' surprise, the drink was perfect! He started to talk with Rick, who was working here during the season as a logistic guy, earning very good money and spending almost all of them in the local bars for alcohol and weed – it is legal in Alaska. It is just nothing else to do here.
How it happened that we were stuck in King Salmon, Alaska?
Oh yeah, we owe you the explanation of how we ended up the second night in King Salmon. The original plan was to get to Katmai National Park for the best bear viewing in Alaska. The place is famous for bears in Brooks Falls hunting salmon.
When we flew to Katmai, the weather turned bad. Several more flights to King Salmon were canceled. When we finally got to King Salmon, it was already evening, and in the evening, no plane or seaplane will fly to the remote national park. So we had to stay at King Salmon for the night. After a few days in Katmai National Park, we planned to return to Anchorage. Unfortunately, we only flew to King Salmon because the weather fell again, and all flights to Anchorage were canceled. We stuck for another night in King Salmon.
How to get to Katmai National Park?
The easiest way to get to this park is through King Salmon. You have a couple of options to get to Katmai National Park from Anchorage.
First, you can go on an organized excursion. We highly recommend this option if you don't have as much time to travel to Alaska as we did.
Second, you can catch the regular plane to King Salmon and then charter to Katmai National Park.
Third, a charter from Anchorage to Katmai with a stopover in King Salmon (you must switch the planes from regular ones to seaplanes).
There's a fourth option to get to Katmai by water taxi from King Salmon, but it seemed too dull. We decide to go by seaplane.
TRIP TIP: If you plan to get to Katmai, check out our detailed Guide to Visiting Katmai National Park. We share tips, photos, and current prices. It will help you prepare for this adventure!
A little history of King Salmon Alaska
The only option to get to King Salmon is by air. There are no roads. In the 1930s, the US government built an air navigation silo at the site of present-day King Salmon. During World World II, the US Army Air Forces built an airbase around the silo. In the 1940s and 1950s, the US Army Corps of Engineers constructed a 25km long road from King Salmon to Naknek. In 1956 they opened King Salmon Inn.
King Salmon is government transportation, service, and shipment center for the commercial red salmon and sport fishing industries. The Air Force base was closed in 1993 and keeps caretaker status, and due to this fact, King Salmon Airport is now a public access airport. For us, King Salmon was just a getaway to Katmai National Park!
Where to sleep in King Salmon, Alaska?
So what do you usually do if stuck in such a place? First of all, you arrange a place to sleep. We had a tent, but there was nowhere to put it up. So we had to book a night in Antlers Inn – our first night was 165 USD, but the second was cheaper (winter season just started on Aug 31st) – only 139 USD! The owner was really kind to us, maybe because she was flying with us to King Salmon on this fatal rescheduled flight. And it was the price for a cabin, not a room in the Inn! Of course, we had hot water and a bed, but that's it! Poky, we said…
The Evening in King Salmon
The evening was progressing quickly toward the dark night. We finished the Moscow Mule. Paul – the local guy – joined us at the bar. Our dialogue was going pretty lovely, so Rick decided to buy us a drink – a strange local shot. Chris welcomed this idea really well, and Sarah served them. Rick was surprised how Chris swallowed the drink, and then he realized we are Polish guys, so drinks are our regular diet.
Rick and Paul decided to get a break because it was late, but we agreed to meet later for a pizza in Eddies (it got dark in the meantime, and the guys had to go for something stronger). We moved to Eddies and ordered the only pizza in town! Just frozen pizza prepared in the oven on your eyes. Once is a lifetime experience. Chris ordered a rum shot and Agnes another glass of awful red wine, again the only one available.
When it got completely dark in the village, Rick and Paul joined us back in the Eddies. This time we decided to buy them a shot…. thanks to the Revolut card – we have it, and only it worked in this place! (You should have one for such a trip – just use this link to order yours)
The night was long, so the next day was tough. We woke up with a light hangover and needed a morning coffee. The cabins had coffee machines, so it was on the right side. We quickly packed up and took 5 minutes to walk to the airport. Fortunately, we caught our windy and bumpy flight back to Anchorage.
Before You Go to King Salmon – Practical Information
Who is interested in visiting King Salmon, Alaska?
King Salmon might be interesting for anglers and photographers, but mainly for people on their way to Katmai National Park – this is a kind of gateway to the park. Check out our detailed Guide to Visiting Katmai National Park, which helps you plan a perfect trip! And also, check our photos from bear viewing in Katmai National Park and 13 Best Things to Do in Katmai National Park, as it offers more than bear viewing.
If you don't have time to get stuck two nights in King Salmon on your Alaska road trip – consider one of the organized tours in Alaska with wildlife watching.
Transportation to King Salmon, Alaska
You can get to King Salmon two ways:
There are no roads here.
Lodging in King Salmon Alaska
The town has two Inns – Antlers Inn and Eddie's Fireplace Inn. You can also find some Airbnb options. But they are far from the center. All are relatively expensive and targeted for more extended stays. There is no campground in the town, so make sure to have a place to sleep. Otherwise, you can try to survive too late at night in one of the bars.
Food and drinks in King Salmon, Alaska
There are two main places to eat and drink and a couple of grocery stores. One place is Sockeye Saloon (less famous), and the second Eddies's Fireplace Inn.
Other services in King Salmon Alaska
There is a gas station, post office, bank, car rental, and ATM in the town, as well as a taxi service. Mobile phone coverage is limited, and only Verizon phones were working. Wifi is available only in the Antlers Inn for guests or as a separately paid service.
Do you like it? Pin it!