The best places to visit at Kenai Peninsula, Alaska
Kenai Peninsula with Kenai Fjords National Park is one of the most interesting parts of Alaska. So, we decided to share with you the four best places to visit at Kenai Peninsula & Kenai Fjords National Park, Alaska. They are Homer, Seward, Hope, and Anchor Point. Check our photos and tips.
This article may contain affiliate / compensated links. For full information, please see our disclaimer here.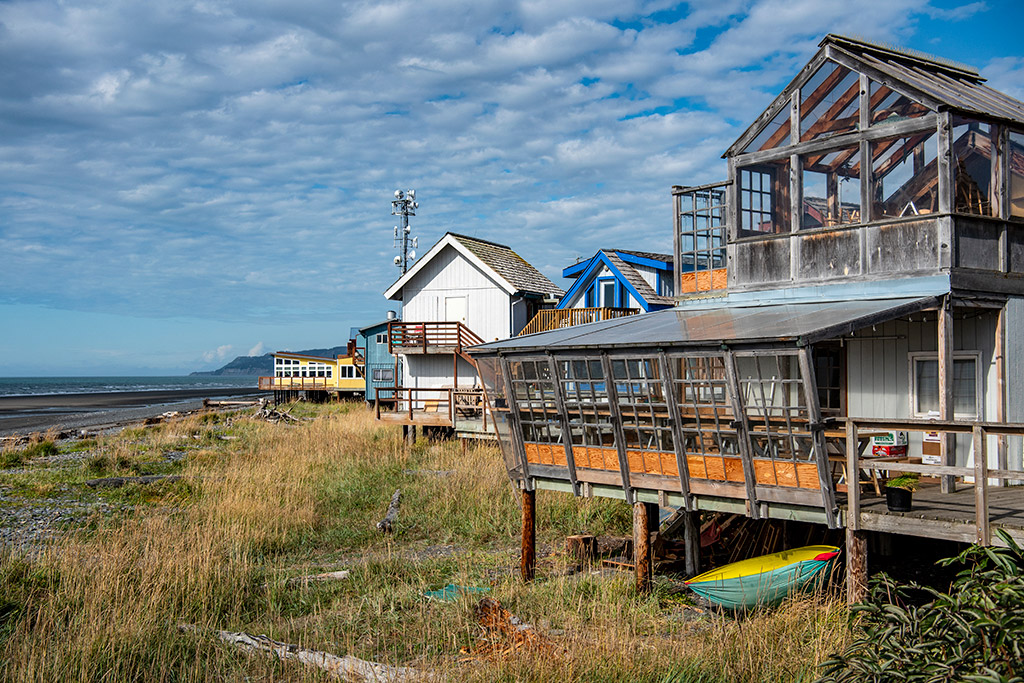 Kenai Peninsula Alaska – Introduction
This post will focus on the best places to visit in Kenai Peninsula, Alaska, that delighted and charmed us during our trips to Alaska. We give you some tips and inspiration from Homer, Anchor Point, Seward, and Hope, all located on the Kenai Peninsula. But if you are planning your dream vacation to Alaska, check other our detailed articles with lots of hints and inspirations: Ready-to-Go Alaska Road Trip Itinerary, 10 Places to visit in Alaska, Alaska Packing List, and Top 27 Things to do in Homer.
Kenai Peninsula – Date in Homer
The best oysters ever! We admitted after eating a dozen fresh oysters in Homer Spit Oyster Bar. Yes, we had a date. Leading a van life on such a small surface is not easy. You are staying with each other non-stop, and of course, sometimes you get tired of your partner.
A date can come to the rescue! So it was the day of our date in absolutely beautiful Homer on the Kenai Peninsula. Delicious fresh oysters, local beer, walking along the beach… All with a view of the sea and glaciers flowing down from the mountains. Number 1 from all places on the Kenai Peninsula Alaska.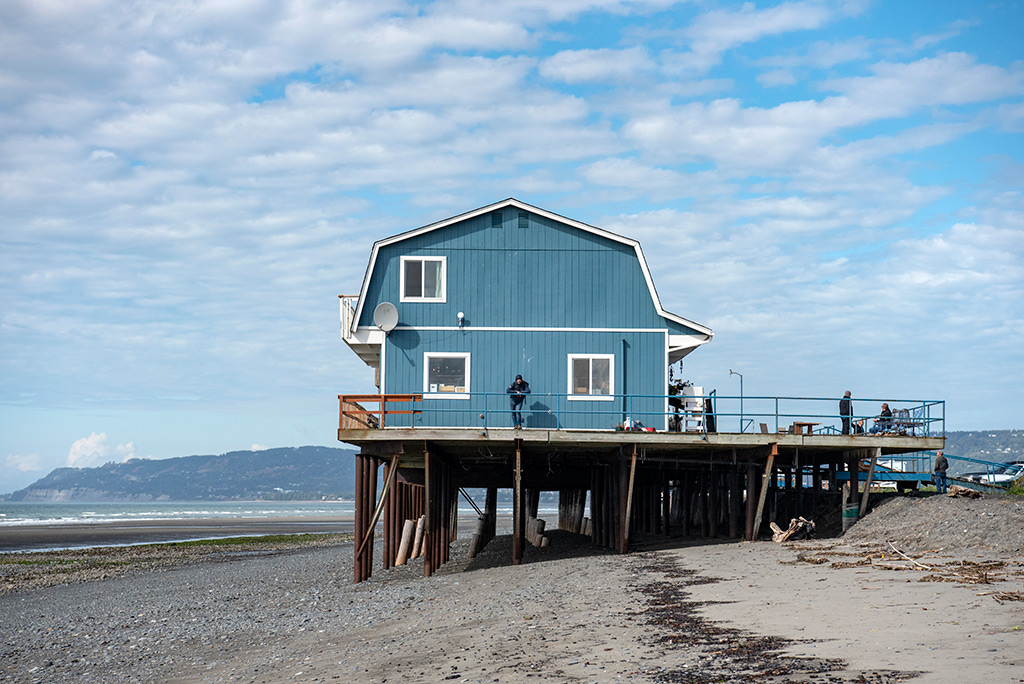 And we were afraid that we would not be able to reach it because fires severely affected Alaska this summer, spread over 1 million ha of forests, and over 200 fire fires. It is 60 percent of all fires that happened in the U.S. in 2019. Fires also devastated the Kenai Peninsula itself, and they closed the road to Homer for many days. Smoke spread not only to the Kenai Peninsula but also reached Anchorage, from which we started our trip to the south. It limited visibility and pinched eyes. A vast tragedy affected the natural environment, people, and wild animals.
After opening the road and reducing the level of fire risk, we decided to go to the Kenai Peninsula.
Why visit Homer at Kenai Peninsula, Alaska?
Homer is not famous, only the best oysters in Alaska. Homer is an extraordinary town surrounded by a bay on one side and mountains on the other. Perfect for an active holiday, fishing, kayaking, and other activities. It is a town located on the breathtaking Kachemak Bay. Homer is located at the end of the Sterling Highway, 200 miles south of Anchorage, surrounded by wilderness and the ocean. Homer offers lots of amazing activities.

In addition, Homer is known as the Halibut Fishing Capital of the World and the City of Peonies. Homer's museums, art galleries, fine restaurants, and oceanfront accommodations will help make Alaska a lifetime memory. This unique combination of location, commerce, beauty, and wilderness makes Homer a wonderful place to visit.
Our memories of Homer
We walked on a long 4.5-mile spit on which the town stretches. Downtown Homer strung along Pioneer Avenue on a sloping hill between high bluffs to the north and Kachemak Bay to the south. It's little wonder that many Alaskans choose to vacation in Homer. The scenery is inspiring and the climate is exceptionally mild. Few small towns have the culinary variety of Homer. Coffee bars are located on nearly every corner next to gourmet sandwich shops and excellent restaurants with great seafood.
On the other side of the bay from Homer, there is Kachemak Bay State Wilderness Park. It is a 350000-acre paradise of glaciers, mountains, protected coves for paddling, and an extensive trail system to explore on foot. The town is famous for charter boats heading out to catch a record-breaking halibut during the summer season.
But we had a date, so we admire this small town and its restaurants.
Salty Dawg Saloon in Homer
One of our favorite places in Homer is Salty Dawg Saloon. The bar is known for the thousands of dollar bills signed by visitors and tacked to the walls. This practice started many years ago, when a visitor tacked a dollar on the wall, explaining that his friend would be by later. The dollar was intended to buy the friend a drink.
| | | | |
| --- | --- | --- | --- |
| | | | |
| The MILEPOST 2022: Alaska Travel Planner | Moon Alaska: Scenic Drives, National Parks, Best Hikes | Moon Anchorage, Denali & the Kenai Peninsula | DeLorme Atlas & Gazetteer: Alaska |
| View Item | View Item | View Item | View Item |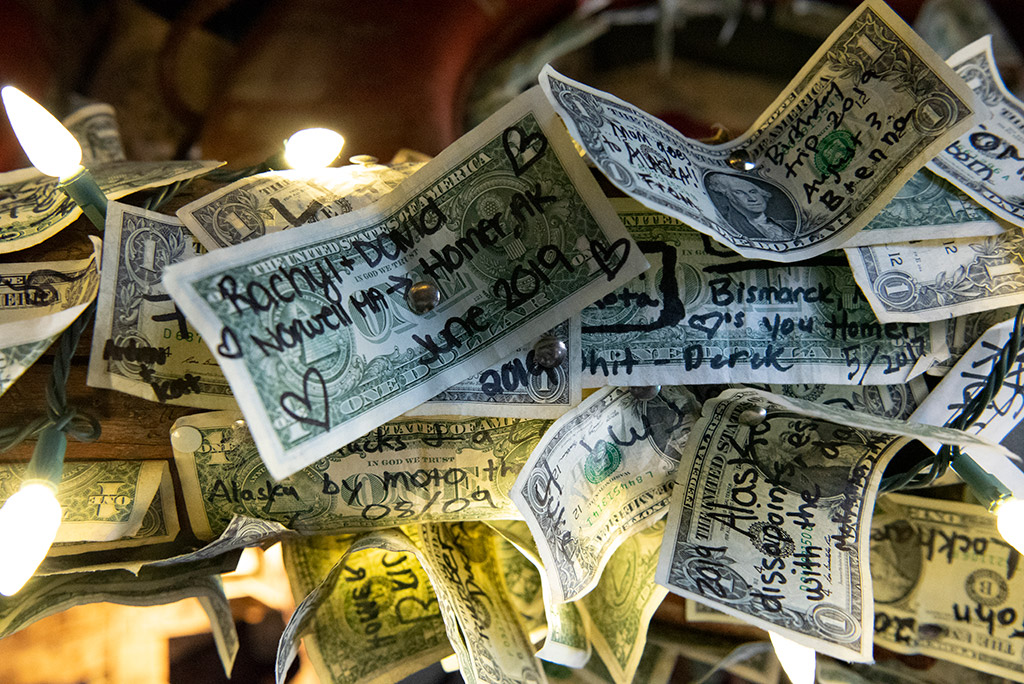 We were walking on an empty beach. It was the beginning of September, few tourists, and most places were closed for the winter season. We were listening to the sound of the sea, the screams of seagulls. We watched fishermen returning from the catch. Homer is long known as The "Halibut Fishing Capital of the World." Homer is also nicknamed "the end of the road," and more recently, "the cosmic hamlet by the sea."
Trip Tip: Homer and Seward are also great starting points for a trip or bear-watching tour to the famous Katmai National Park or Lake Clark National Park. We visited both of them, s check our photos and tips if you plan bear-watching. More about this topic we describe in the article: Bear Viewing in Alaska.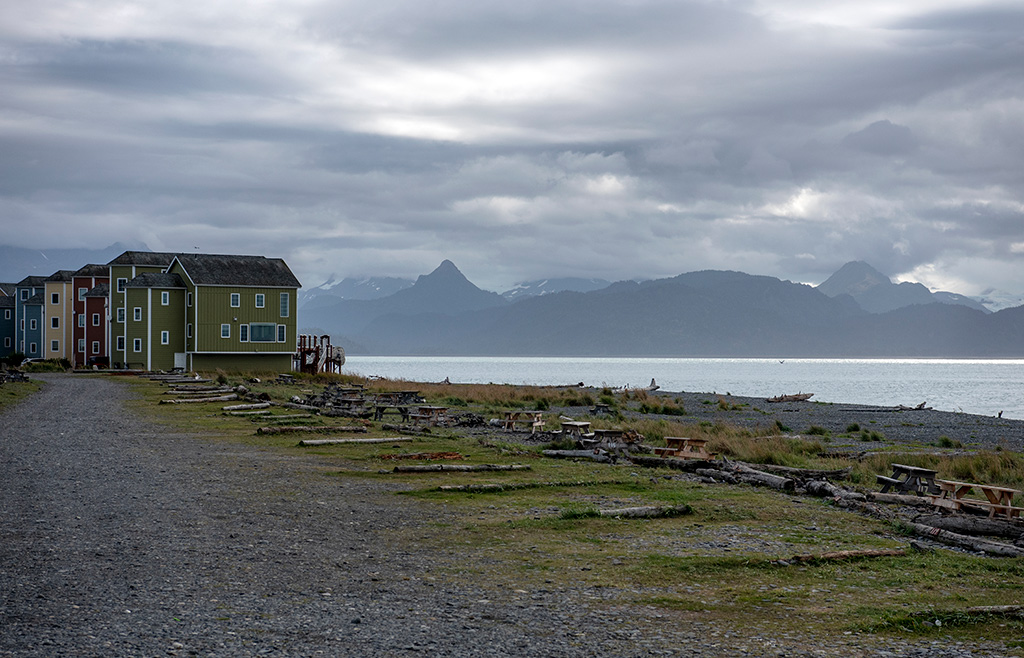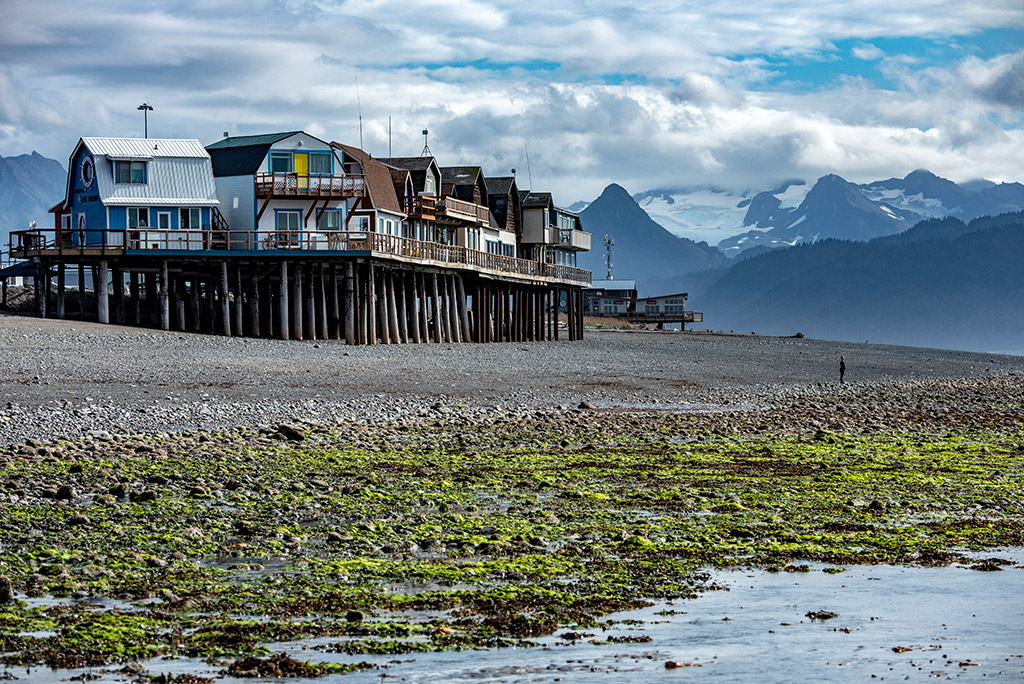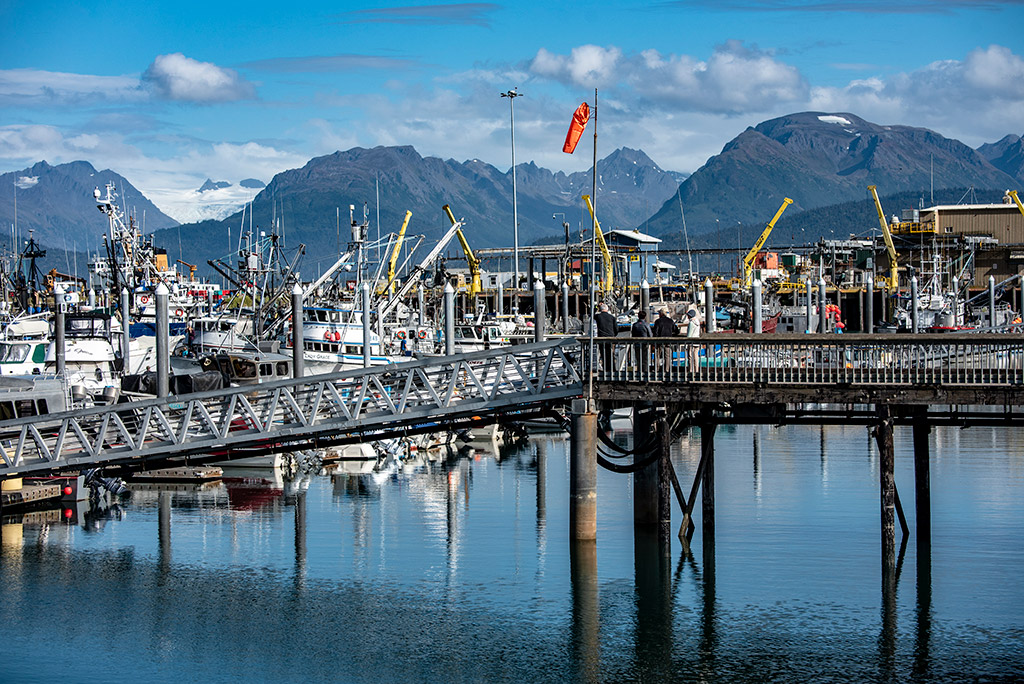 Kenai Peninsula – Bird watching at Anchor Point
Look! It's a bald eagle. Have you seen it? Wooow and another one! And one more! How beautiful they are spreading their wings. Amazing!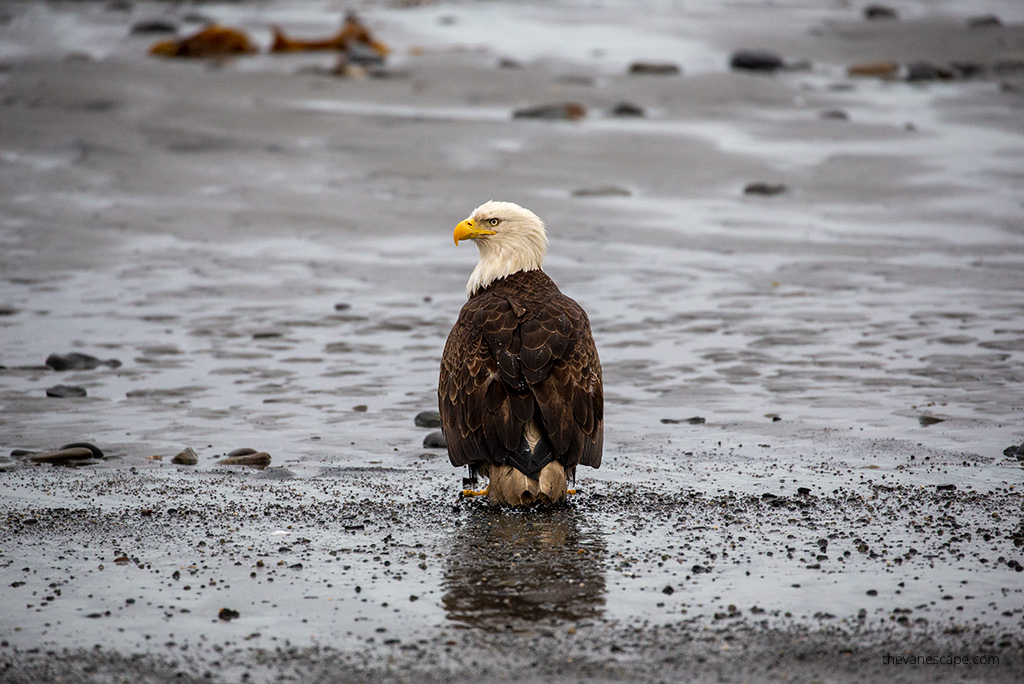 Bald Eagles were flying over our camper truck parked right next to the sea. Sunset began at sea. The sun slowly was hiding behind the horizon. In the distance, we saw snow-covered mountains. Gulls and eagles were flying around us, and seals were swimming in the bay – their skin glistened in the sun. We admired all this beautiful nature from our house on wheels. It created a great opportunity to take photos and drink coffee so close to wildlife. We were in Anchor Point at Kenai Peninsula – the most westerly point on the North American continent, accessible by a continuous road system.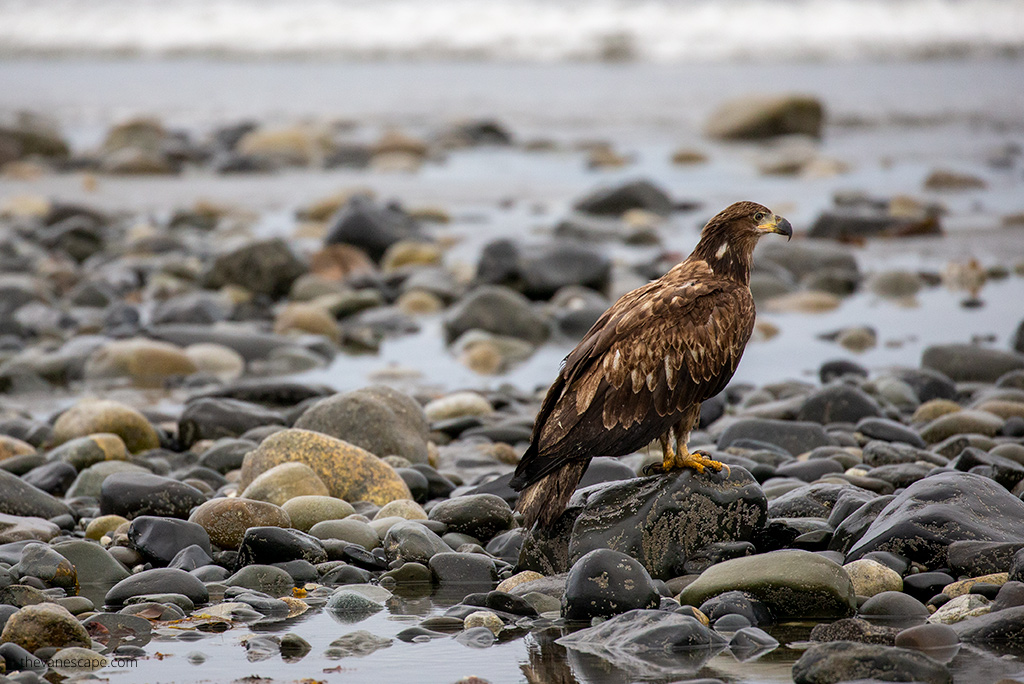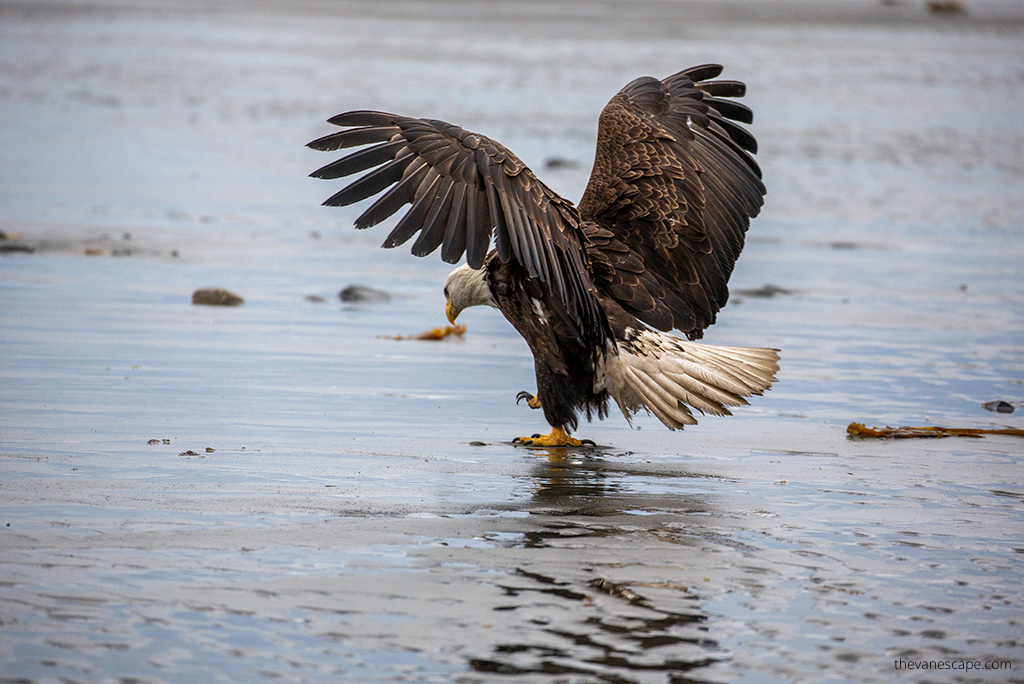 Why visit Anchor Point at Kenai Peninsula, Alaska?
A town of 1,930 residents located 62 miles south of Soldotna and just 14 miles north of Homer, Anchor Point is known throughout the Kenai Peninsula for incredible scenery and around the world for exceptional sport fishing.
Captain James Cook's ship, the HMS Resolution, lost a large Kedge anchor while attempting to sail north against the hard-flowing tidal waters in the area in May 1778. That event led to the name Anchor Point for this quiet coastal community, the gateway to Kachemak Bay.
The area offers birding, hiking, wildlife viewing, and photography.
TRIP TIP: Kenai Fjords National Park is the best place to take Glacier & Wildlife Cruise. If you dream of seeing glaciers, whales, puffins, mountain goats, and more, take a cruise!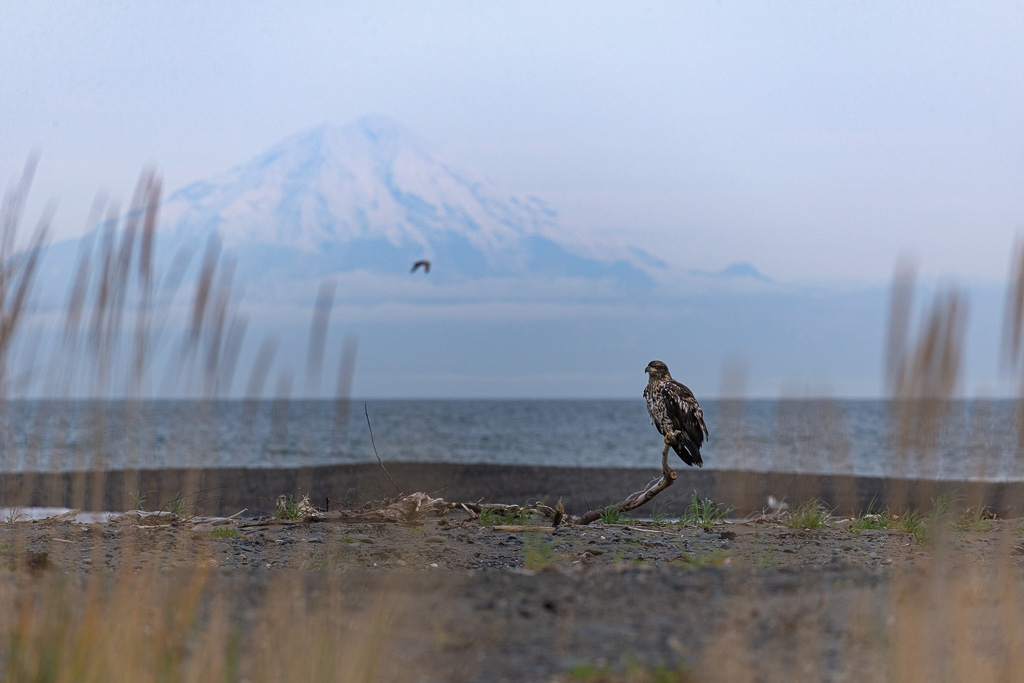 The Anchor River begins attracting king salmon anglers the weekend before Memorial Day and then offers more excitement through the summer and fall with fisheries of Dolly Varden, silver salmon, and steelhead trout. From May to September, local sports fishing charter operators utilize a tractor launch on the beach to put clients on Cook Inlet's big halibut, salmon, and other sport fish. You can also go for bear watching from here.
There are two Alaska State Parks units in the area around Anchor Point. Anchor River State Recreation Area stretches along the banks of the river and down to the beach. Five miles north of Anchor Point is the Stariski State Recreation Site, a small park with a campground on a bluff overlooking Cook Inlet where we stayed for a night.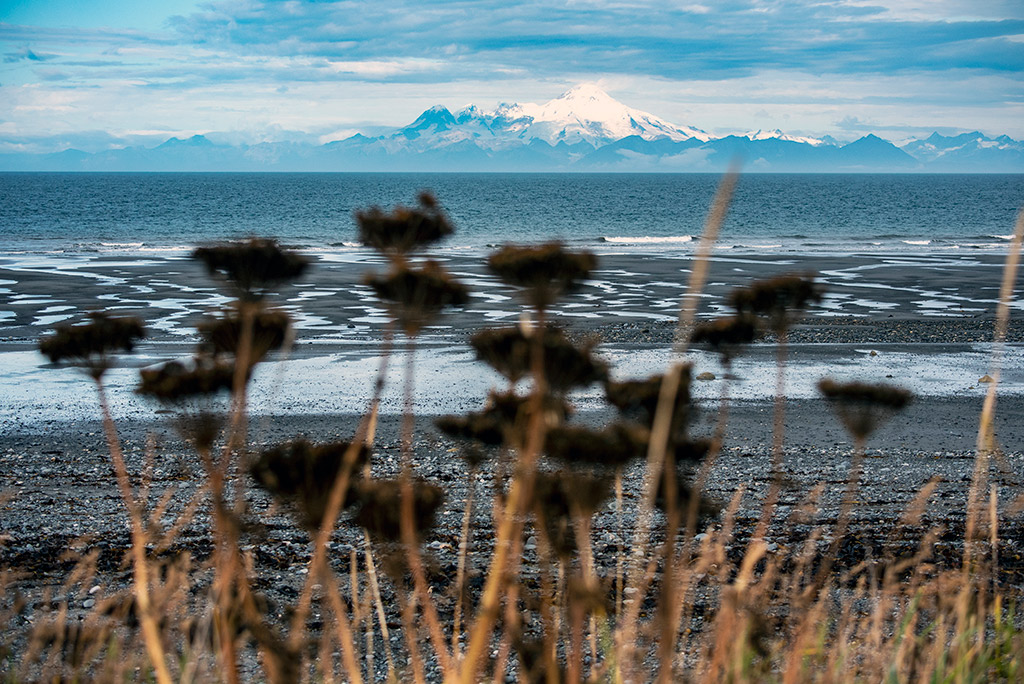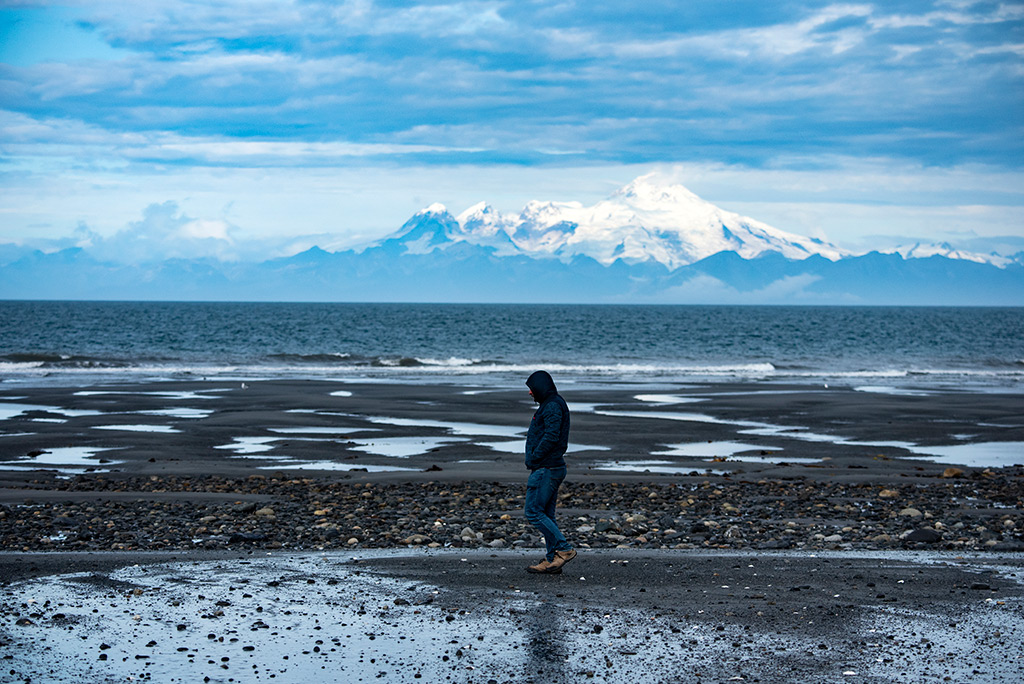 Kenai Peninsula – Seward – Gateway to Kenai Fjords National Park
Seward was in the mist. We came here to go on one of the trails to the glacier, but they just closed it due to the activity of bears in the area. Visibility and weather were awful too, so we see sighted the town walking around the port and visiting cafes. Luckily, the weather improved a bit the next day, and we were able to visit the stunning surroundings.
Why visit Seward at Kenai Peninsula, Alaska?
This city of 2,619 is situated at the terminus of the Alaska Railroad and Seward Highway and is a port of embarkation and disembarkation for many cruises. It is easily accessible from Anchorage and can serve as a base for those who enjoy kayaking, hiking, fishing, whale watching, and glacier viewing. Seward is overshadowed by Mount Marathon, the site of one of Alaska's most famous and challenging races. A friendly wager in 1909 led to this annual 3.1-mile run to the top of the 3,022-foot mountain. The race attracts advanced runners from around the world and is a highlight of Seward's lively Fourth of July celebrations, which are among the best in Alaska.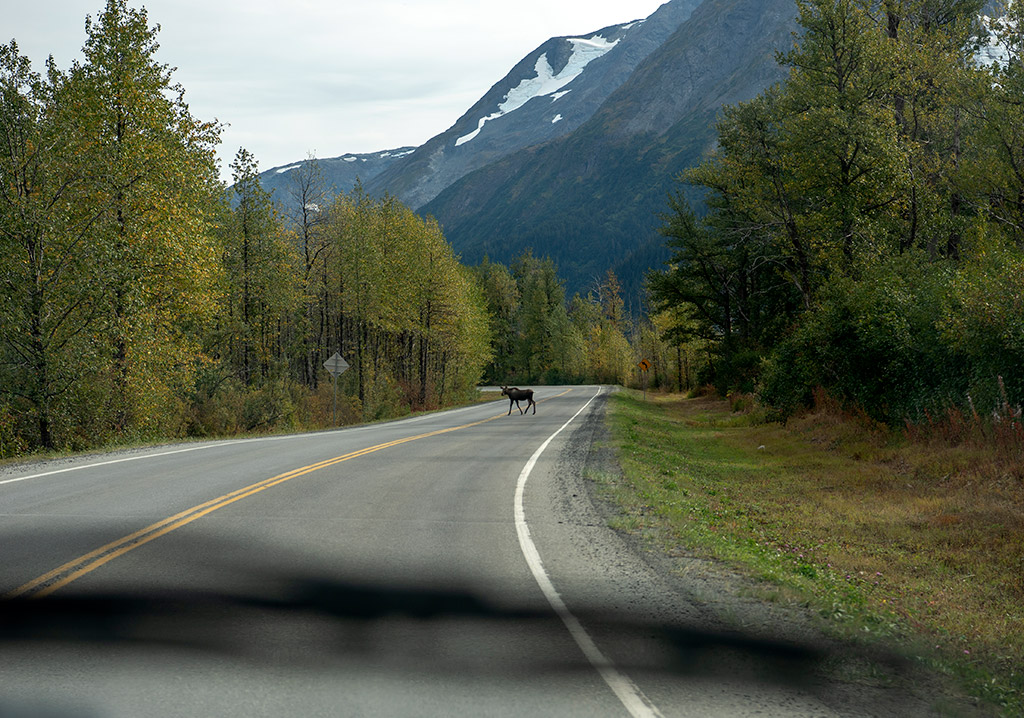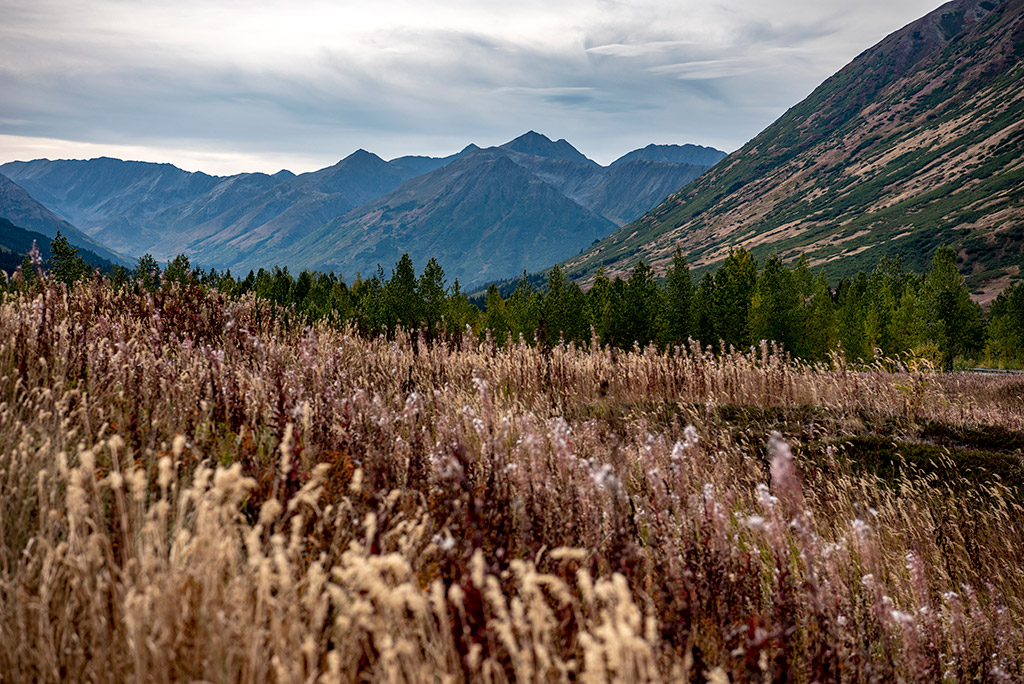 What to do in Seward at Kenai Peninsula?
Seward also serves as the gateway to Kenai Fjords National Park. Created in 1980, Kenai Fjords spreads over 587,000 acres and is crowned by the massive Harding Ice Field from which countless tidewater glaciers pour down into coastal fjords. The impressive landscape and an abundance of marine wildlife make the park a major tourist attraction. Many visitors take a day cruise along the coast south of Seward to watch glaciers calve into the sea and spot seals, sea lions, and whales. Taking a cruise is the best option for admiring and photographing wildlife in Seward, and we can highly recommend this activity. Another popular attraction in Kenai Fjords National Park is Exit Glacier, which lies just north of town.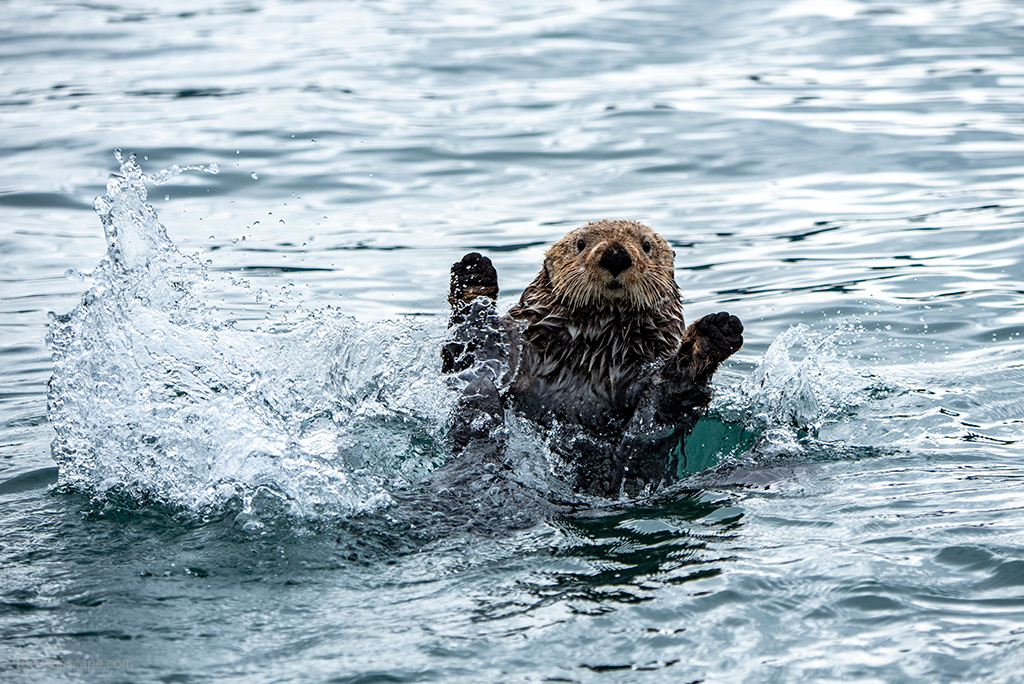 Seward has a large charter fishing fleet that is well developed to take visitors out into Resurrection Bay and further for some of the best angling of any Kenai Peninsula port. The main catch is silver salmon that start to appear in July in large schools to feed on candlefish in preparation for the spawning runs at the end of August. Other species of interest to anglers are king salmon and halibut.
Like many towns in Southcentral Alaska, Seward began a new era of history in 1964 after the Good Friday Earthquake caused fires and tidal waves that destroyed 90 percent of the town.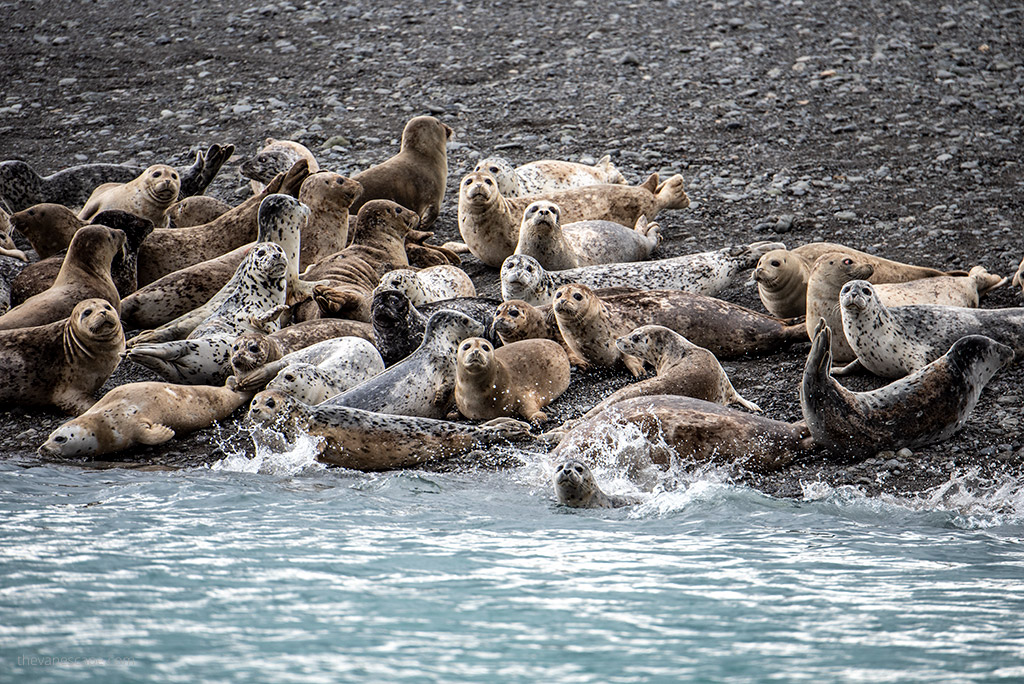 Kenai Peninsula – Is there hope for Hope?
It's strange. No one is here. Complete emptiness. All the shops and the bar are locked. The first days of September – the beginning of winter, the start of the winter season. Everything is closed. We were a bit disappointed with the emptiness of the town Hope we came to see it. Even the famous cafe is closed. Surrounded by snowcapped mountains and panoramic views of Turnagain Arm, the quaint and historic village of Hope is less than a two-hour drive from Alaska's largest city, Anchorage, yet a world away.
The community is made up of log cabins, gold rush-era relics, and 148 residents, but we met only one person.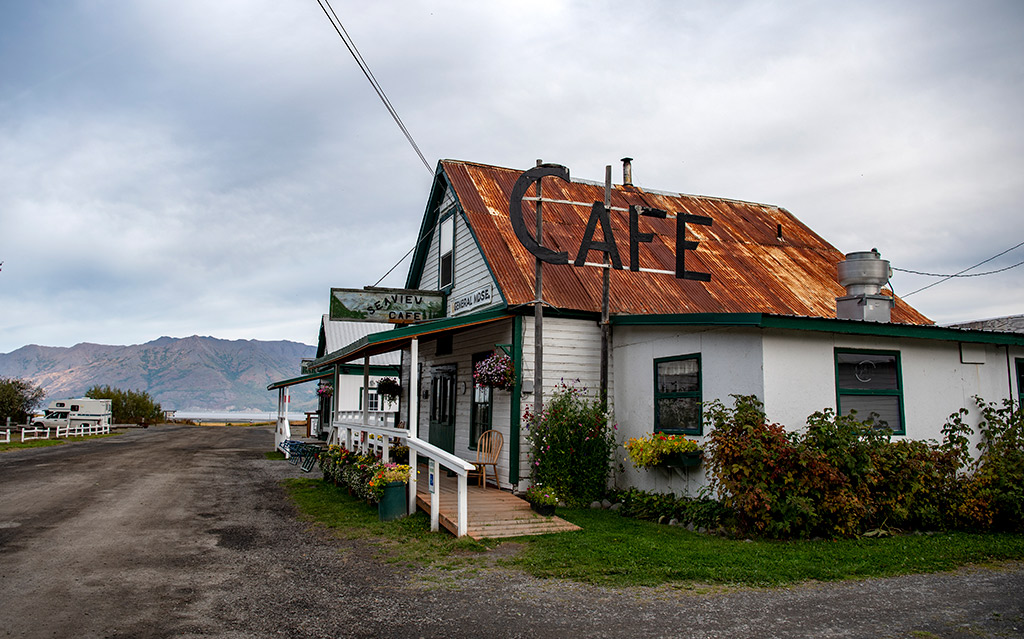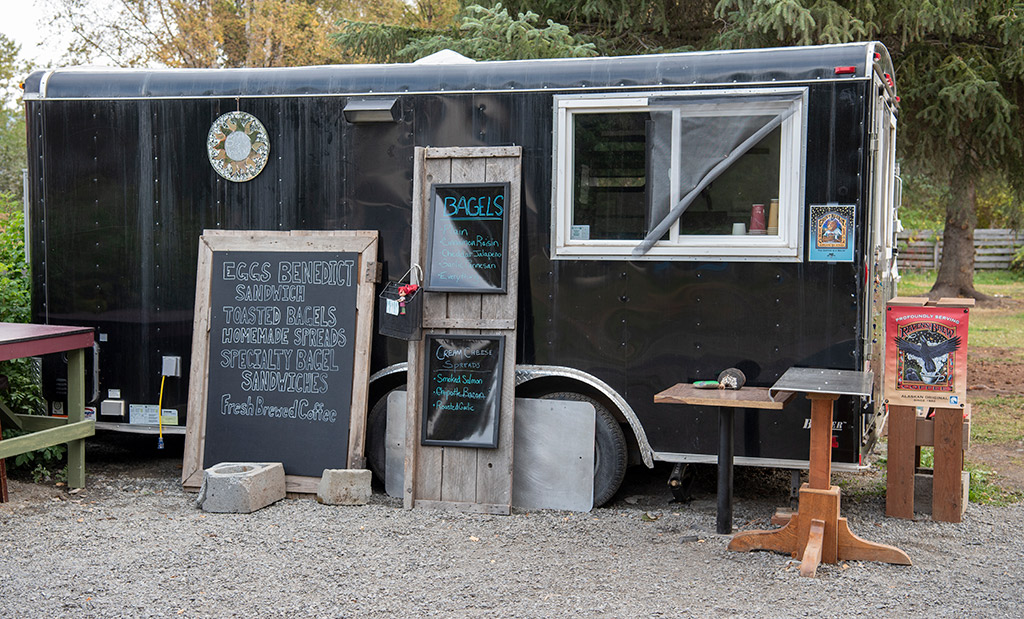 Why visit Hope at Kenai Peninsula?
Hope enjoyed its heyday long before Anchorage was even founded. When the news of the discovery of gold in Six Mile Creek in 1895 reached Seattle, it set off one of Alaska's first gold rushes, and within a year, more than 3,000 stampeders were headed for this slice of the Kenai Peninsula. The community was soon a thriving commercial center with stores, hotels, social halls, community councils, post offices, and saloons.
Hope's heyday was short-lived. By 1898, news of the famous Klondike Gold Rush in Canada's Yukon had spread and most miners in Hope packed up for the Klondike. Among the original buildings still in use is the Hope Social Hall, which was built in 1902. The Post Office opened in 1897, and the schoolhouse opened in 1938. Life moved slowly, and the geography of the region didn't lend much growth to the town. In the years after the gold rush, Hope residents fell back on other Alaska industries such as timber and fishing, as well as some commercial mining.
Nothing changed until early 1964. Like other cities, Hope was dramatically affected by the Good Friday Earthquake in 1964. Significant portions of Hope were destroyed, and most coastal parts of the town sank several feet closer to sea level.
Now, this small town was empty. We walked along with the wooden houses and enjoyed the peace of this place.
Kenai Peninsula Alaska – Anchorage – the Starting Point
You will probably start exploring Alaska from Anchorage. Here is the largest airport with international flights and a starting base for exploring Alaska in both the southern and northern parts. From Anchorage, we set off to explore the Kenai Peninsula too. This is the best place to prepare for a trip to Alaska. For buying the necessary things, food, or equipment. It is also the best place to buy souvenirs.
Alaska's largest city, Anchorage, lies between the mountains and the sea and yet is no stranger to the wilderness. There is no other urban area like it. Among the northernmost cities on Earth, Anchorage is a place with big-city amenities: fine restaurants, museums, theaters, and an excellent music scene.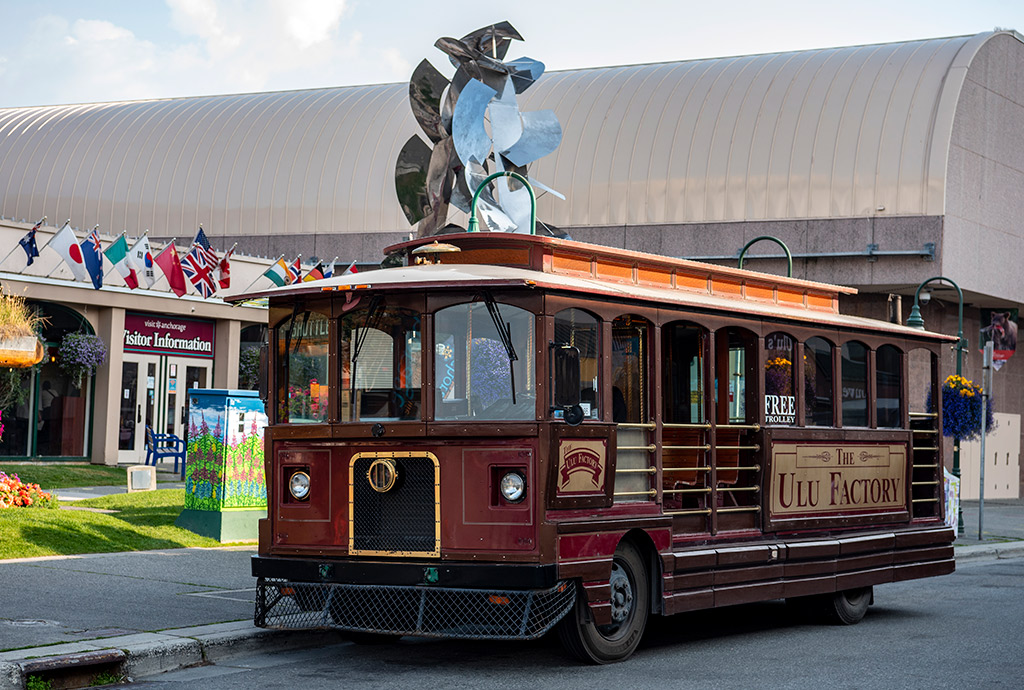 Why visit Anchorage?
Within a short drive from downtown are dozens of wilderness adventures, and a short plane ride opens up the possibility of almost any type of Alaska adventure. That's one reason why Anchorage's Lake Hood is the world's busiest floatplane base. Warmed by a maritime climate, you can spend the day fishing Ship Creek downtown, hiking the nearby mountains, photographing glaciers, and dining at a four-star restaurant.
Within a 15-minute drive from the center is the tree-lined trailhead of Anchorage's most popular hike, Flattop Mountain. In winter, the city transforms into a fluffy white playground, with 130 kilometers of maintained Nordic ski trails, dog sledding, ice skating, snowmobiling, ice sculptures, and more. Just 45 minutes away is Alaska's premier alpine ski resort, Alyeska Resort.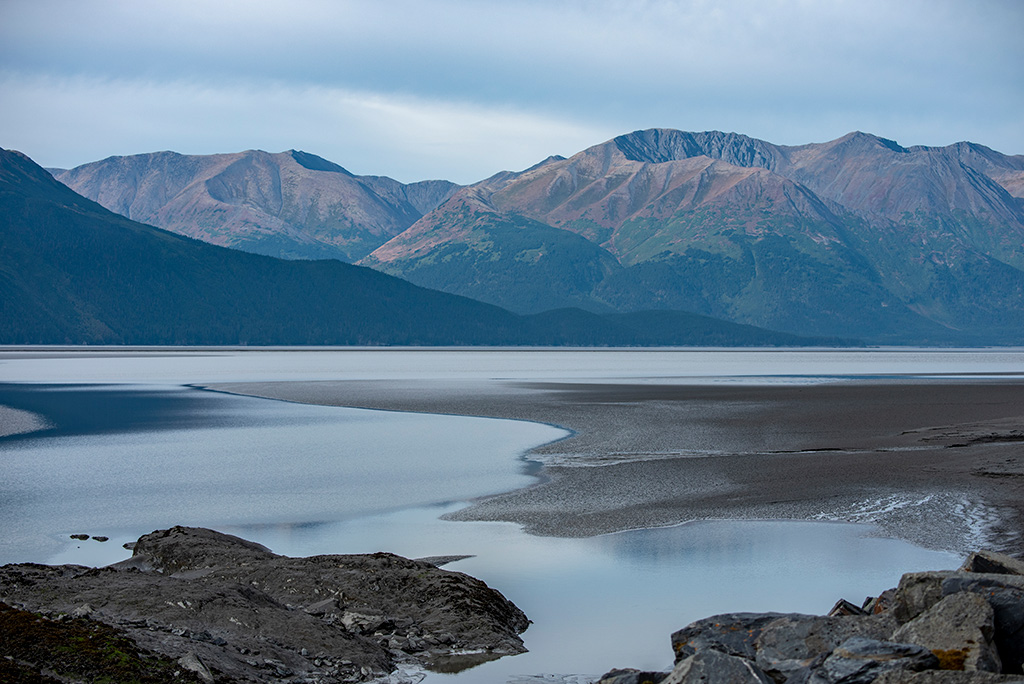 Anchorage wasn't officially founded until 1915, even though British explorer Captain James Cook sailed past the site in 1779, and gold prospectors discovered the bounty of Ship Creek in the late 1800s. It wasn't until the Alaska Railroad set up a construction camp in 1915 that Anchorage was established and became a booming tent city of 2,000 people. Anchorage proved to be the ideal center for Alaska's rail, air, and highway systems with the military build-up of World War II and the discovery of oil in Cook Inlet in the 1950s, adding to its steady growth. After the 1964 Good Friday Earthquake, the city was rebuilding itself when another opportunity arose: the discovery of a $10-billion oil reserve in Prudhoe Bay.
Before you go to Kenai Peninsula Alaska – Practical Information
The Kenai Peninsula is a large peninsula jutting from the coast of Southcentral Alaska. The peninsula extends approximately 150 miles (240 km) southwest of the Chugach Mountains, south of Anchorage. It is separated from the mainland on the west by Cook Inlet and on the east by Prince William Sound. The glacier-covered Kenai Mountains, rising 7,000 feet (2,100 m), run along the southeast spine of the peninsula along the coast of the Gulf of Alaska. Much of the range is within Kenai Fjords National Park.
Choose a trip
If you dream about bear-watching tours check out our tips and photos from the best bear-viewing spots in Alaska.
TRIP TIP: Kenai Fjords National Park is the best place to take Glacier & Wildlife Cruise and other organized trips, like fishing or kayaking. Complete exciting offers you will find on viator.com and GetYourGuide. If you dream of seeing glaciers, whales, puffins, mountain goats, and more, take a cruise! Some recommendations we share in this post.
The northwest coast along the Cook Inlet is flatter and marshy, dotted with numerous small lakes. Several larger lakes extend through the interior of the peninsula, including Skilak Lake and Tustumena Lake. Rivers include the Kenai River, famous for its salmon population. The Kenai Peninsula has many glaciers in its eastern and southern areas. It is home to both the Sargent Icefield and Harding Icefields and numerous glaciers that spawn off them.
The Kenai Peninsula includes several of the most populous towns in South Central Alaska, including Seward on the Gulf of Alaska Coast, Soldotna, Kenai, Sterling, and Cooper Landing along the Cook Inlet and Kenai River, and Homer, along Kachemak Bay, along with numerous smaller villages and settlements.
Accommodation at Kenai Peninsula, Alaska
Accommodation on Kenai Peninsula is well-developed in towns. You can find hotels, lodgings, and campgrounds. In September, the winter season begins, and most campgrounds are closed. So, it's worth checking it before traveling. We share tips on where to stay in our detailed and ready-to-go 10 Days Alaska itinerary.