Have you ever heard of an abandoned Igloo City in Alaska? This decaying Igloo Hotel is eerie, oddly fascinating, and scary. But for sure worth a look if you are headed to Denali or Fairbanks. Igloo City in Cantwell, Alaska, once a great architectural idea, is now almost a ruin. Igloo City hides many secrets. If you want to know them, read our article.
This article may contain affiliate / compensated links. For full information, please see our disclaimer here.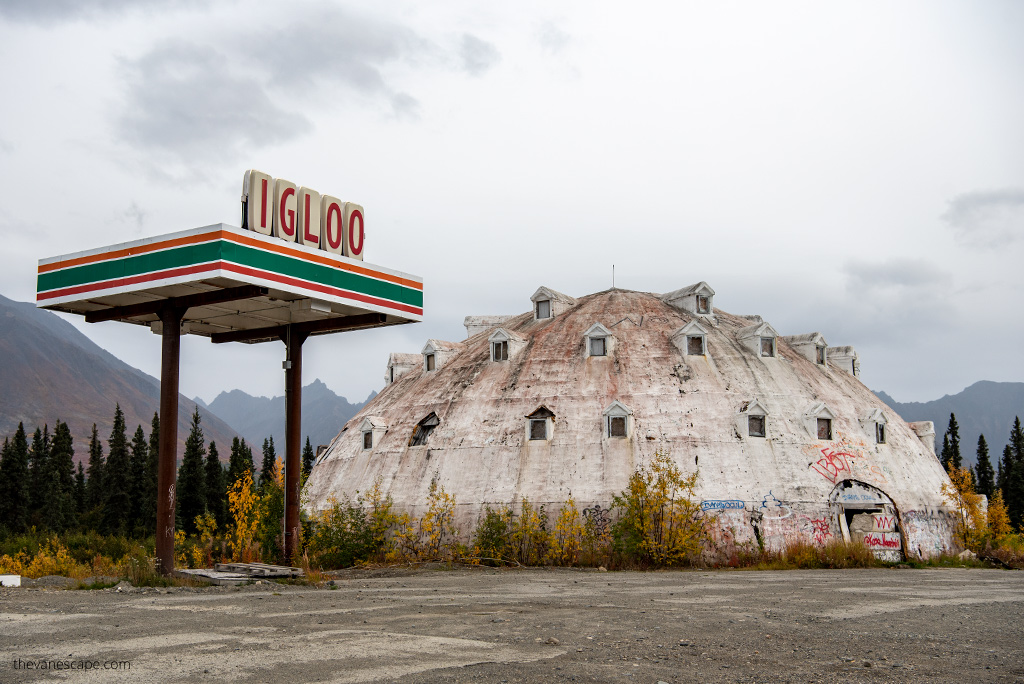 What is Igloo City in Alaska?
Igloo City is almost a ruin of a giant igloo-shaped hotel. The Igloo Hotel was an architectural dream that could not be realized and completed. It is an abandoned facility. Igloo Hotel is fascinating and frightening at the same time. You will not need more than 10-15 minutes to see it on your Alaska Road Trip. Below you will learn more about this strange place and its history. Without a doubt, it is one of the oddest places to see in Alaska, bringing to mind the saying "Only in Alaska." Getting there doesn't require any permits, nor is it complicated, so add it to your Alaska Travel Plan.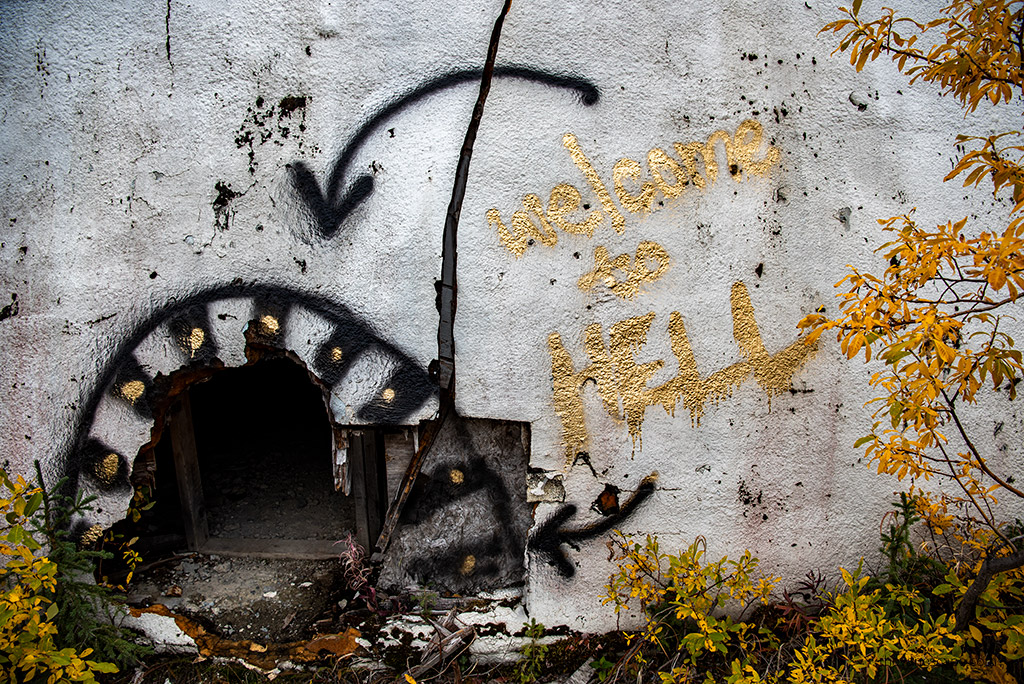 How to get to Igloo City in Alaska?
The nearest town to Igloo City is Cantwell, about 20 miles away, with just under 250 year-round residents. Iglo City is an ideal stopover if you are heading to visit Talkeetna, or for a scenic flight with glacier landing, going to Denali National Park, or Chena Hot Springs near Fairbanks.
The Igloo Hotel is located at milepost 188.7 on the east side of George Parks Highway, it's on the road from Anchorage to Denali. You should see this huge round igloo building on the side of the road. But, please, keep in mind that this is not an official tourist attraction. This place is on private property. So, don't explore on your own, do not enter old buildings.
It's 48 miles south of Denali National Park & Preserve.
Travel time from Anchorage is 3 hours and 25 minutes.
From Cantwell, it is about a 25-minute drive.
If you are coming from the north – from Fairbanks (which offers great attractions to explore), it is about 3 hours and 10 minutes drive via AK -3 S.
But on the way, there is another fantastic place – Magic Bus 142 from Into the Wild that you should not miss.
If you plan to rent a car for your Alaska road trip, consider Alaska Auto Rental local company. Here is our review.
How to visit the Igloo City in Alaska?
Igloo City is not a tourist attraction
First of all, please note that this is not an official tourist attraction and is situated on private property. So you take your own responsibility. The property is 38 acres, with a few abandoned cabins behind the igloo hotel structure and a building that used to house showers and a store next door. A sign still reads, "IGLOO." Signs throughout the property warn "no trespassing." So take a few photos, don't stay here for long, and don't get too close to the odd buildings. We used zoom lenses to have a close-up of the windows and the inscriptions on the walls of the igloo building.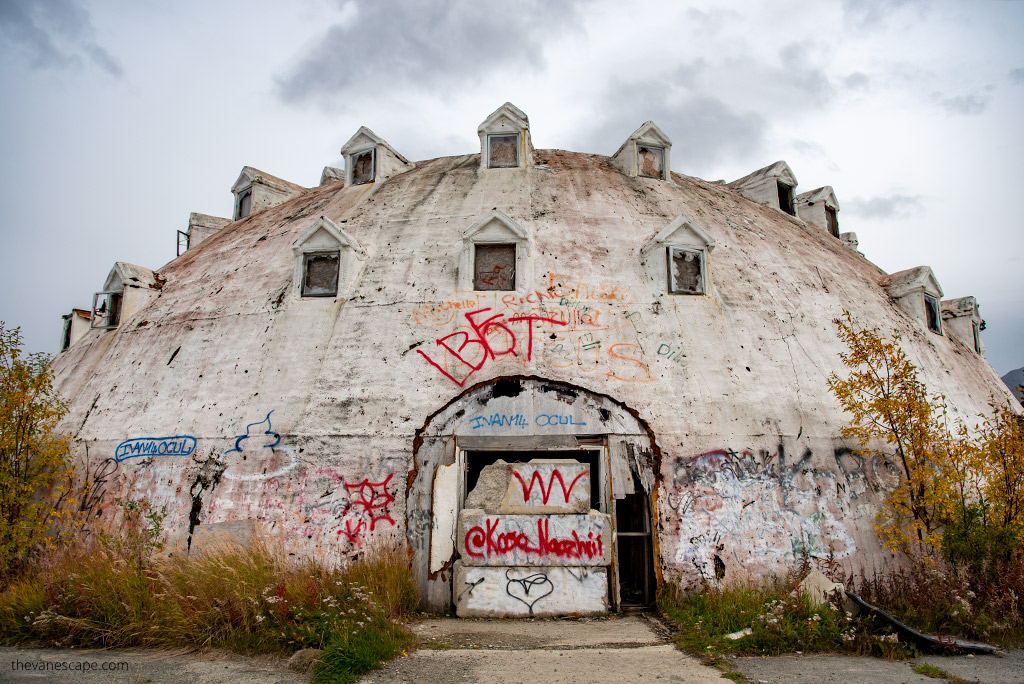 Be careful at Igloo City
Secondly, this place has been devastated in the last decades. It is damaged, and you may be exposed to dangerous elements on your head, so do not get too close to the igloo structure. Don't go inside. It is forbidden. The igloo shape building is in a state of disrepair. Windows are boarded up or smashed, walls are full of ugly graffiti, and broken sheetrock and litter were strewn across the concrete foundation inside. But still, the building shows its meticulous igloo construction and seems pretty exciting.
Wild animals in the Igloo City area
Besides, in such abandoned places and structures, grizzly bears like to hibernate or hide from other predators, such as wolves. It is not difficult to meet predators in Alaska, so do not take any chances because the hotel is in a wild, remote area. There are also many moose in the Denali National Park area. They are not predators, but in periods when they care for and protect their young, they can be aggressive.
Alaska is a very wild and unforgiving state, and exploring remote places is always fraught with risk. So be careful. Prepare well for your trip. You can check out our Alaska packing list. Also, read about what to do if you encounter bears.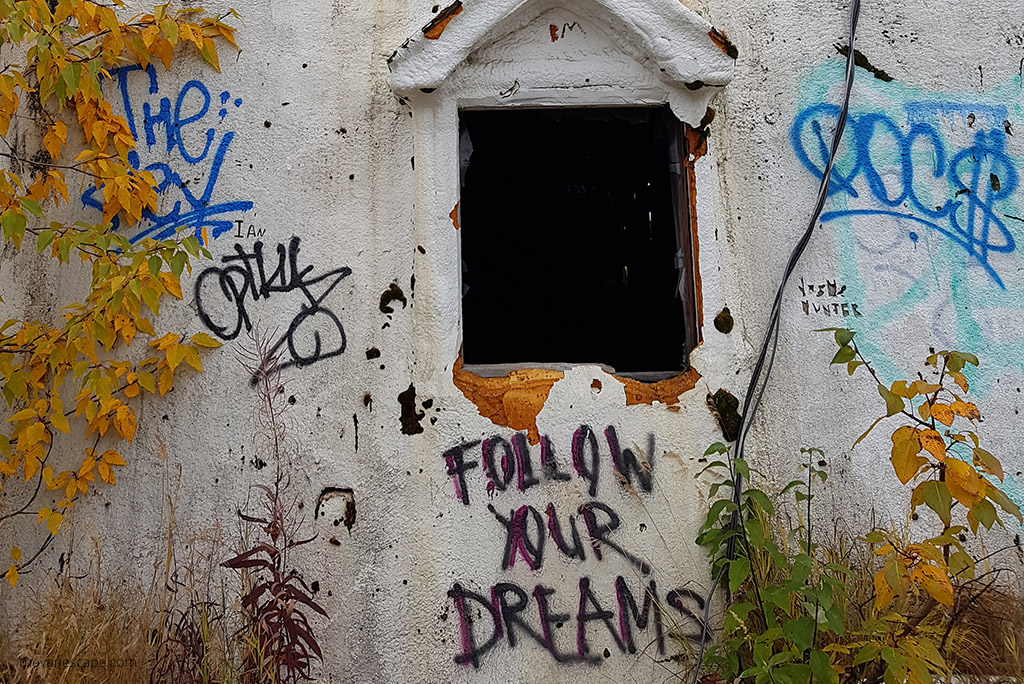 Welcome to Igloo City with a Population of 0
There are many abandoned or nearly abandoned places in Alaska. Some places are only inhabited during the summer season and are deserted most of the year. Among nearly abandoned and unusual places we have reached on our three trips to Alaska are Hope, the Kennecott Copper Mine, and McCarthy.
What is the uniqueness of Igloo City? This place just has never been inhabited. Other places in Alaska were deserted due to the end of copper or gold deposits or various natural disasters, like earthquakes and fires. Igloo City was never completed and therefore never inhabited. Not counting the construction period of this place, when workers worked here, its population was and still amounts to 0. Igloo roadside hotel was never opened to tourists, and it never started to function as a business.
What secrets hides Igloo City in Alaska?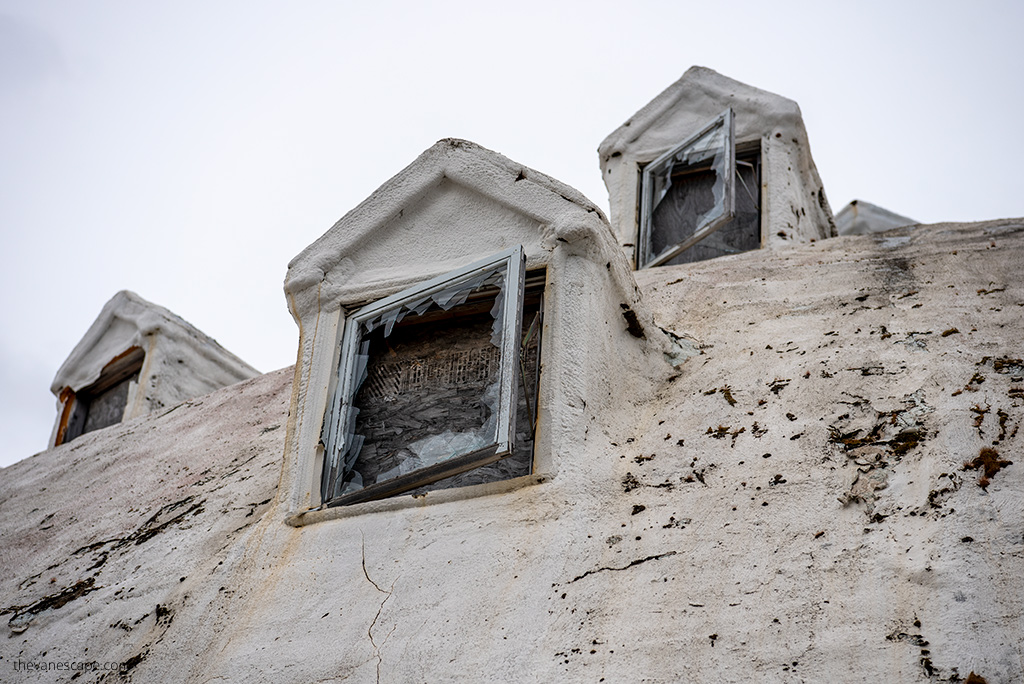 Who invented the Igloo City in Alaska?
The dream of Leon Smith
Igloo City was built in the late 1970s by Leon Smith. Born in Missouri in 1921, Smith had an extraordinary life. After fighting the Japanese during World War II, he captained a tugboat in California. Then he worked farther north as a deep-sea fisherman and logger. Then he and his wife, Elizabeth, moved inland to Alaska. He opened and managed a gas station at milepost 188.5 along the Parks Highway.
He dreamed of building a hotel in the shape of an igloo, modeled after the Inuit tradition of igloo building. In his dream, Igloo Lodge would have 58 guest rooms. Leon Smith had a vision and started his project. According to the article, Smith worked for the Alaska Railroad and dreamed of turning the igloo structure into a resort. He built the igloo using lumber from old railroad camps. He was living with his wife in a 12-by-12 cabin behind the igloo.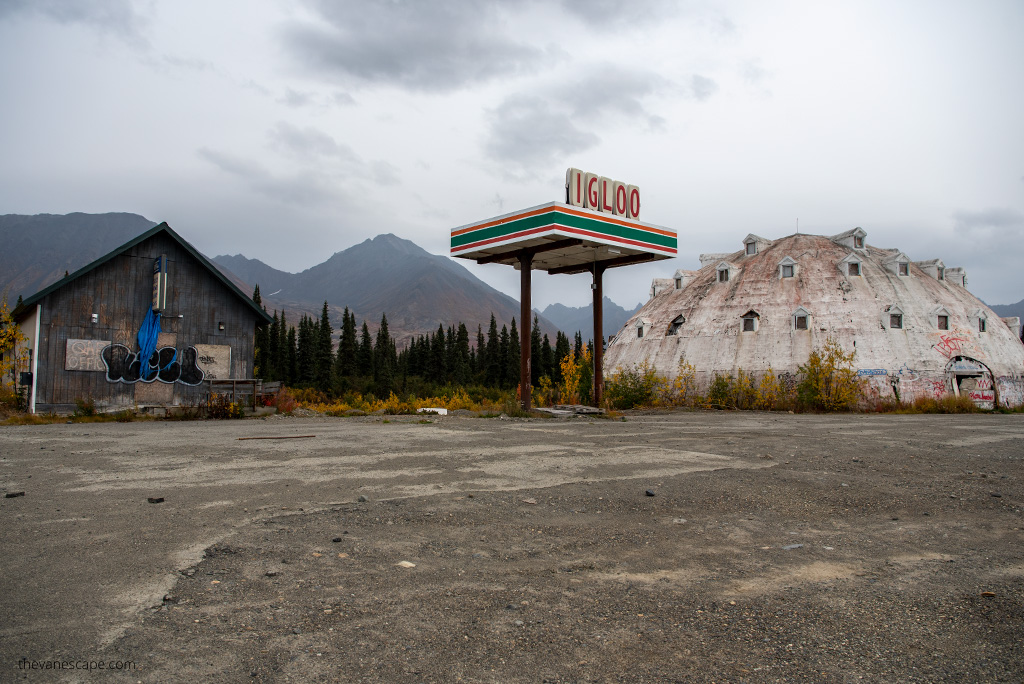 Problems with the construction of the Igloo City
But Igloo Hotel was never completed due to violations of building codes. The Igloo Hotel building's main problem was undersized windows that did not meet the code. Among several other code violations, the inadequate size of the windows is the main reason the building was never operational and never was finished. The dreamer ran out of funds to implement the project and had to abandon his idea. Because the building was too large to demolish, it has remained standing for decades.
Other owners of the Igloo City
The building of the Igloo Hotel was put up for sale. It has had several owners over the years. One of them was Brad Fisher, owner of Mat-Su-based Fisher's Fuel. He operated the gas station next to the igloo for a few years. He also dreamed of turning the igloo into a resort and hotel as envisioned by Leon Smith.
But as gasoline prices skyrocketed, it became increasingly difficult to do more than break even. Since there was no electricity on the property, they had to run everything on a generator – an endeavor that proved costly. They closed their business in 2010.
You can read more about this odd Igloo City in Alaska and its owner here or watch this short movie.
How big is the abandoned Igloo Hotel?
The "Igloo Lodge" is 80 feet high and 105 feet wide. From a distance, it looks like a concrete dome with windows.
As a result, the Igloo Hotel structure is so distinctive that airplanes can see it from over 30,000 feet. In addition, the circular structure, designed to mimic the shape of an igloo, has four stories and is said to be made of 888 sheets of plywood with urethane exterior insulation.