How to Visit Denali National Park?
Denali National Park, with its vast landscapes, diverse wildlife, and unique opportunities for exploration, attracts visitors from around the world. But how does one navigate this expansive wilderness and make the most of a trip to Denali? In this comprehensive guide, "How to Visit Denali National Park," we will delve into everything you need to know to plan and enjoy a memorable visit to this iconic Alaska destination, from getting there by train, bus, or car to the best ways to explore the park, including Denali bus tours and Denali Road Lottery. We give you tips on lodging, dining, and the various activities available in Denali. This article is a one-stop resource for all your Denali travel needs.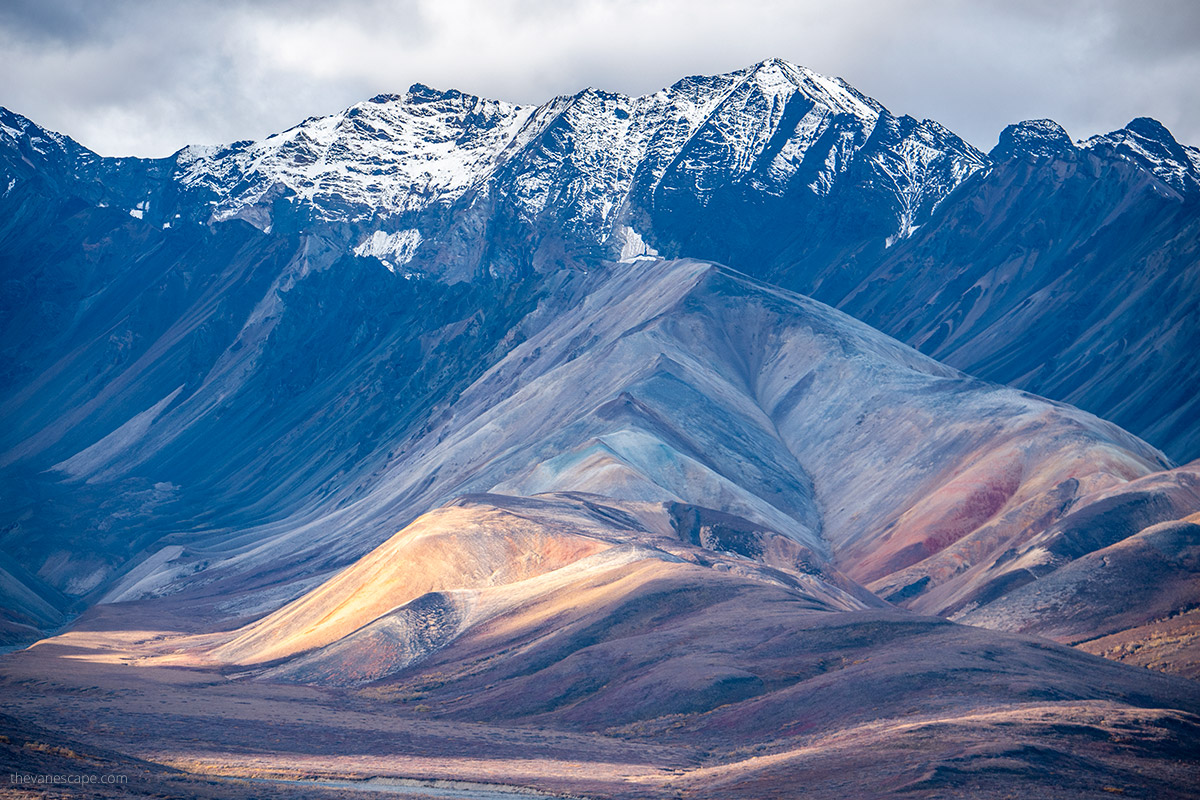 This article may contain affiliate / compensated links. For full information, please see our disclaimer here.
How to Visit Denali National Park – Our Experiences
We have visited Denali, Alaska's renowned national park, multiple times and are returning to it. With its extensive list of attractions and activities and vast size, one trip is insufficient. But planning a trip to Denali can be challenging.
With only one entrance at Mile 237 on the George Parks Highway and a single 92-mile road, Denali has its own set of rules. Private vehicles can only venture up to Mile 15, so understanding the Denali bus system is crucial. Sometimes, reaching Denali by train or bus might be more practical than driving.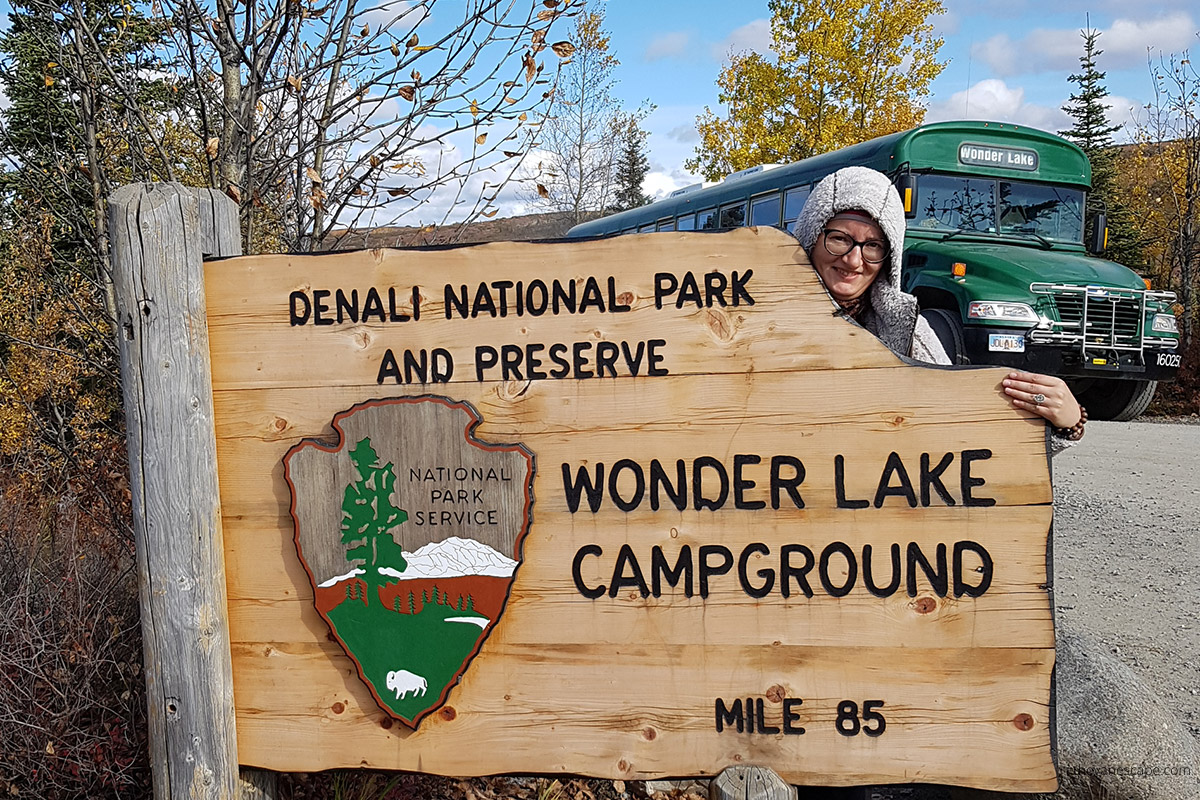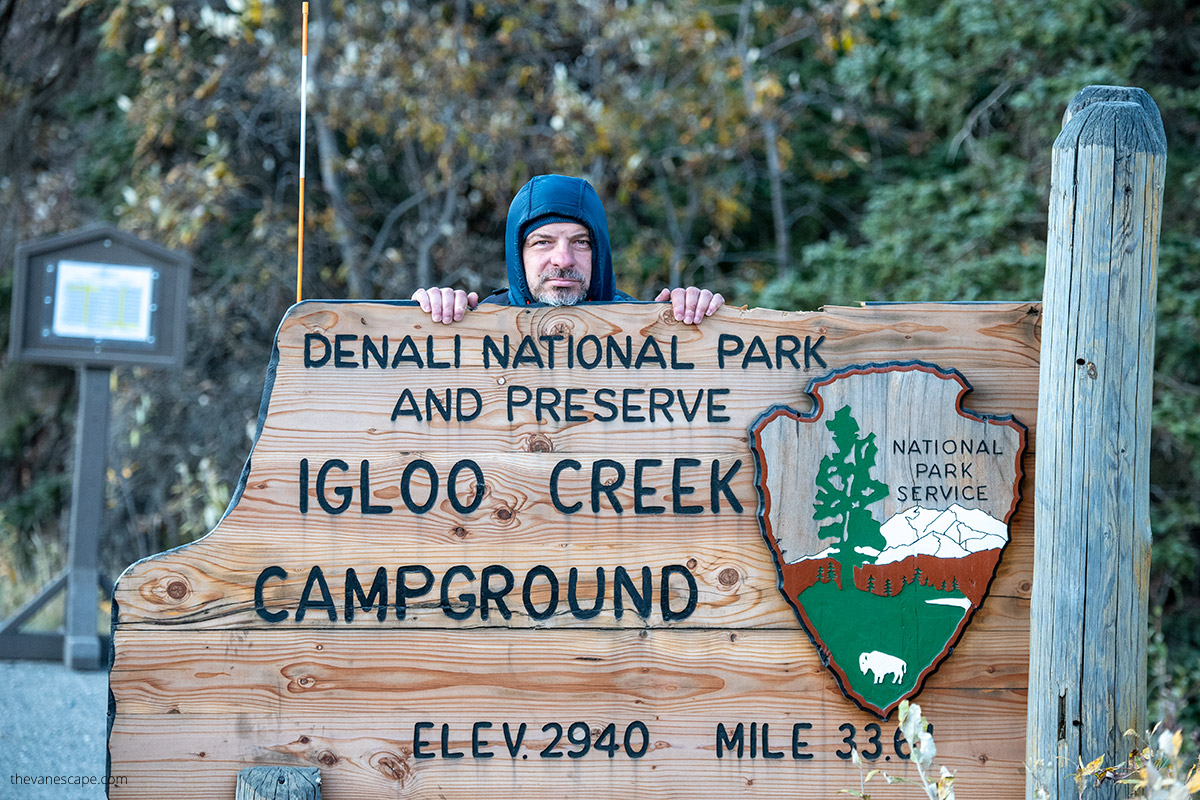 So, in this article, we answer the questions of how to visit Denali National Park. We focus on preparing for visiting Denali. You'll find detailed information on accessing the park during different seasons, differences between transit buses and Denali bus tours, and even how to participate in the exclusive Road Lottery. We will tell you step by step how to plan your trip to Denali and what is the best way to explore Denali. We show you the best activities in this Park and tell you where to eat in Denali and where to find the most breathtaking views of Mount Denali.
Visiting Denali National Park – Your Resources
When planning your trip to Denali, take advantage of our related articles:
Where is Denali National Park, and how to get there?
Denali National Park and Preserve is located in the interior of Alaska. It's halfway between Anchorage and Fairbanks but closer to Fairbanks.
It's approximately 240 miles north of Anchorage, Alaska's largest city, and about 120 miles southwest of Fairbanks, the state's second-largest city. From Anchorage, it's about 5 hours of driving, and from Fairbanks, 2.5 hours.
The quaint town of Talkeetna, often considered a gateway to Denali, is much closer to the park. It's about 103 miles south of Denali National Park's entrance, which usually translates into a 2.5-hour drive.
Denali National Park is approximately 364 miles northeast of Seward, a distance that usually requires about an 8-hour drive.
From Homer, situated at the end of the Kenai Peninsula, Denali is roughly 458 miles to the northeast. This drive typically takes around 10 hours, depending on traffic and road conditions.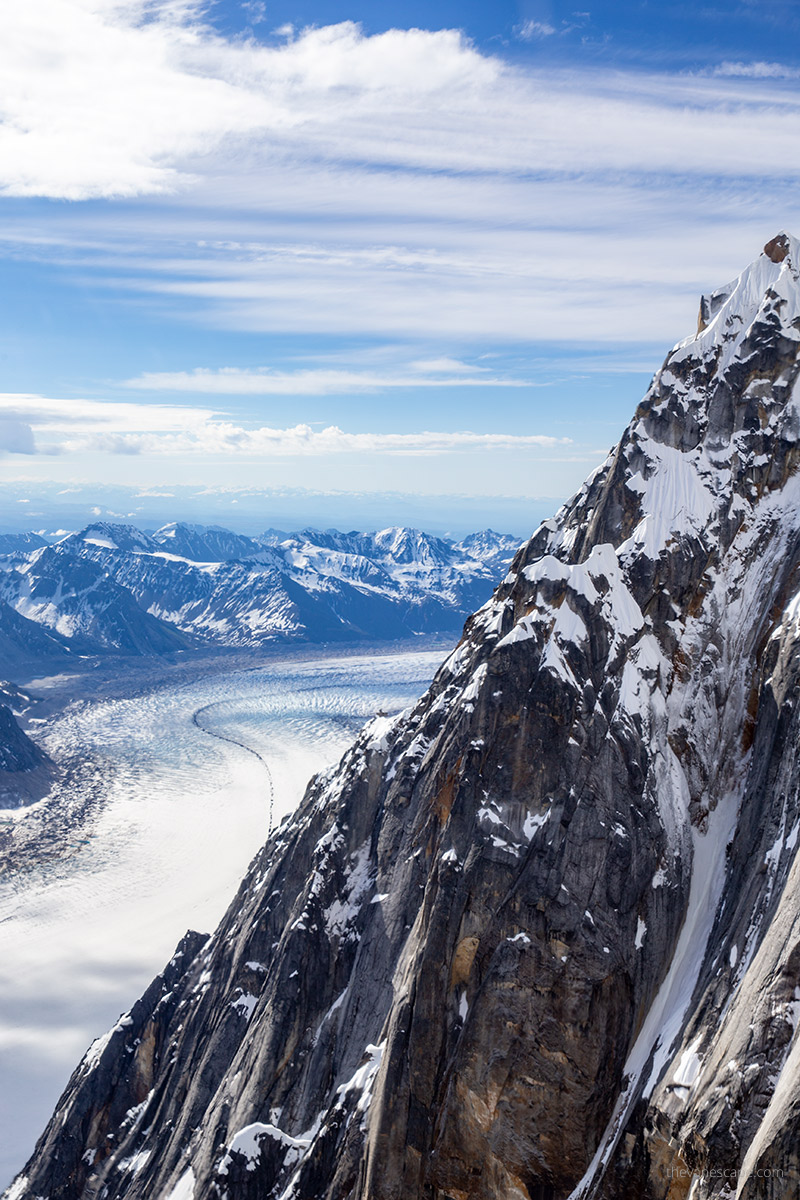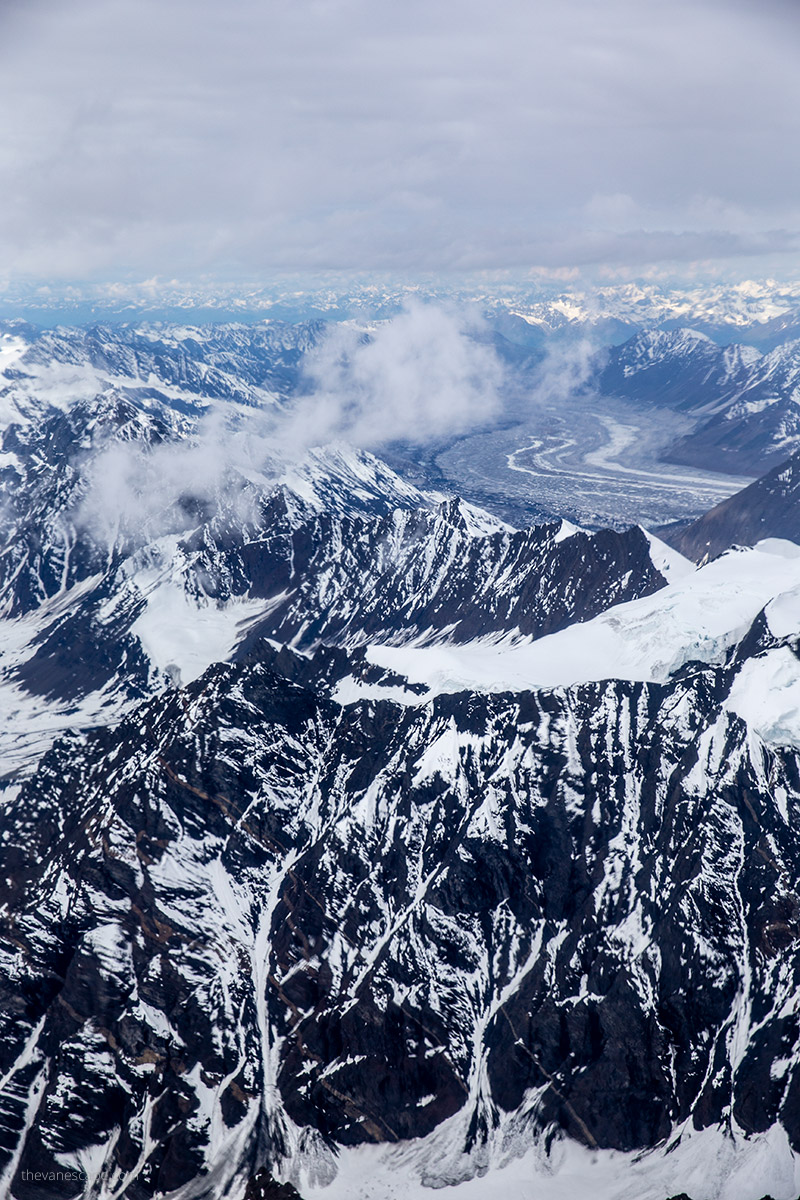 How to Get to Denali National Park?
You can get to Denali by taking a scenic train ride by Alaska Railroad, bus, car driving, or even a flight.
The train ride from Fairbanks is shorter and cheaper than the train from Anchorage. From Fairbanks, it takes approximately 4 hours and provides a different perspective, passing through boreal forests and crossing the Tanana River. Prices start from $85 per adult. From Anchorage is at least 8 hours of scenic drive, and prices for adult begins from $187. The train travels through the Matanuska-Susitna Valley, offering views of rivers, mountains, and potential wildlife sightings.
Check out the best ways to get to Denali from Anchorage to learn details about train rides, bus rides, and driving by car, and choose the best option as we give you each solution's pros and cons and costs.
If you don't know which city in Alaska to start your adventure, check out our article Anchorage vs Fairbanks, from a tourist perspective.
Denali National Park Map
If you plan hiking trails in Denali, we recommend using the National Geographic Trails Illustrated Map, which shows all the marked hiking trails in the park. We have personally used this map for years and find it the best option. If you plan to observe wildlife in Denali, getting the Adventure Set: Trail Map & Wildlife Guide is recommended, as it is a more affordable option.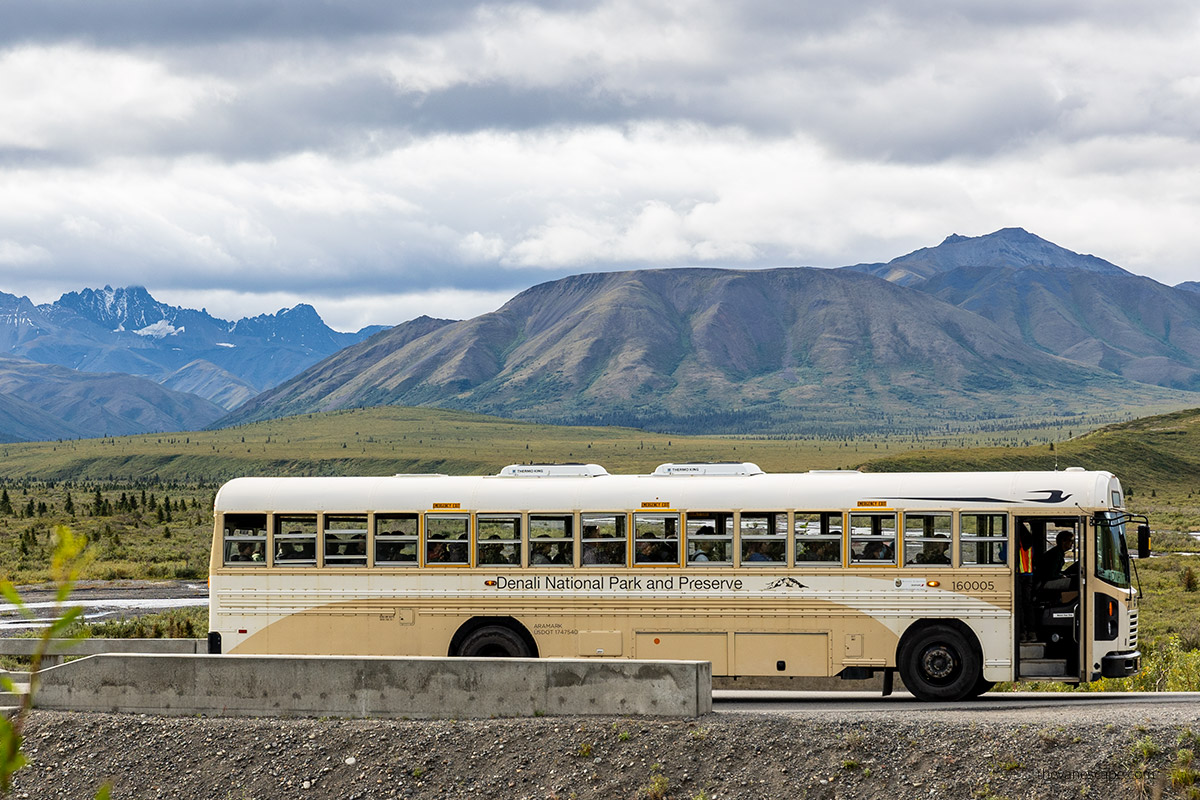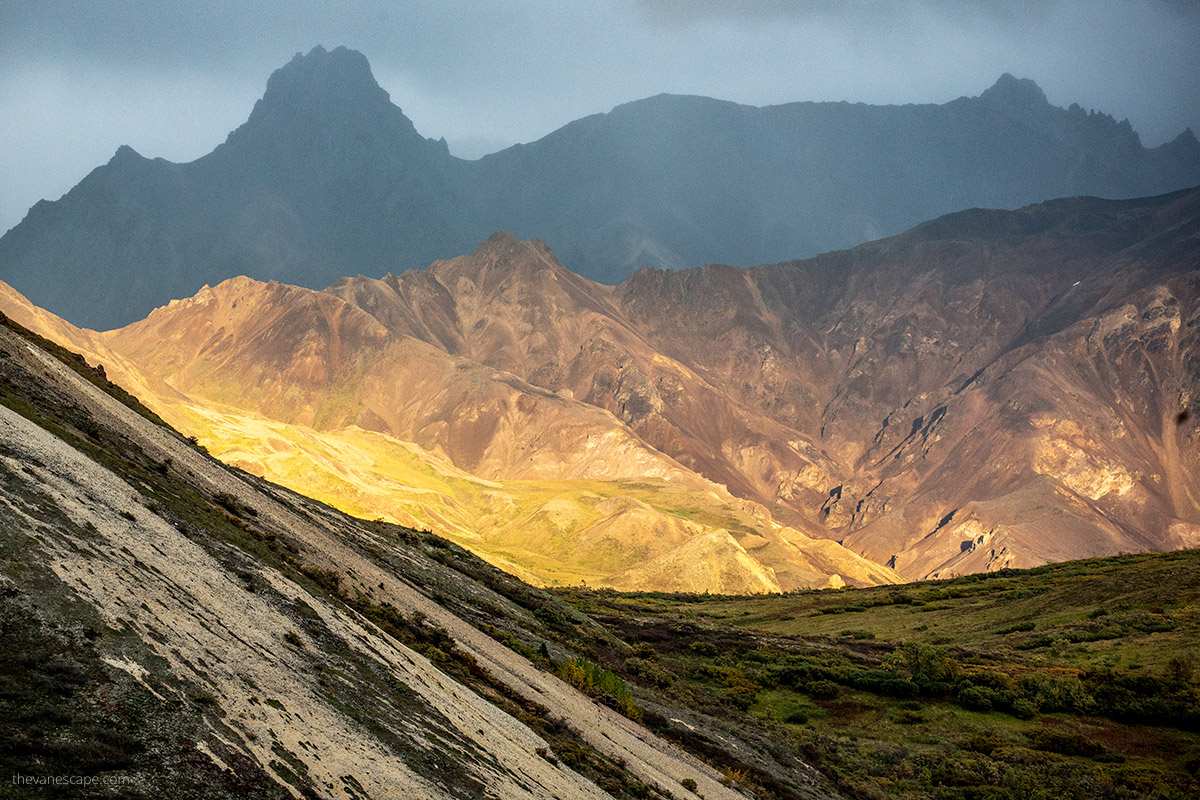 Getting Around Denali National Park
Understanding and arranging transportation around Denali is crucial for your adventure and best experiences. The park has specific rules for visitors.
Denali National Park features a single road, known as Denali Park Road, or Park Road, which spans 92 miles. Private cars are only allowed past Mile 15 to Savage River, with certain exceptions (which we'll discuss below).
From mile 15 to mile 92, visitors can tour the park by bus. However, three types of buses are available in Denali, each with different features and costs. We'll explain their differences and help you choose the best option for your needs. We provide you also details about Denali Road Lottery.
Important Note: In 2023 and 2024, Denali Road is open only to Mile 43 due to renovation. So make sure to check the official website before you go. Still, you can visit Denali, and we tell you how to do that to have a great time.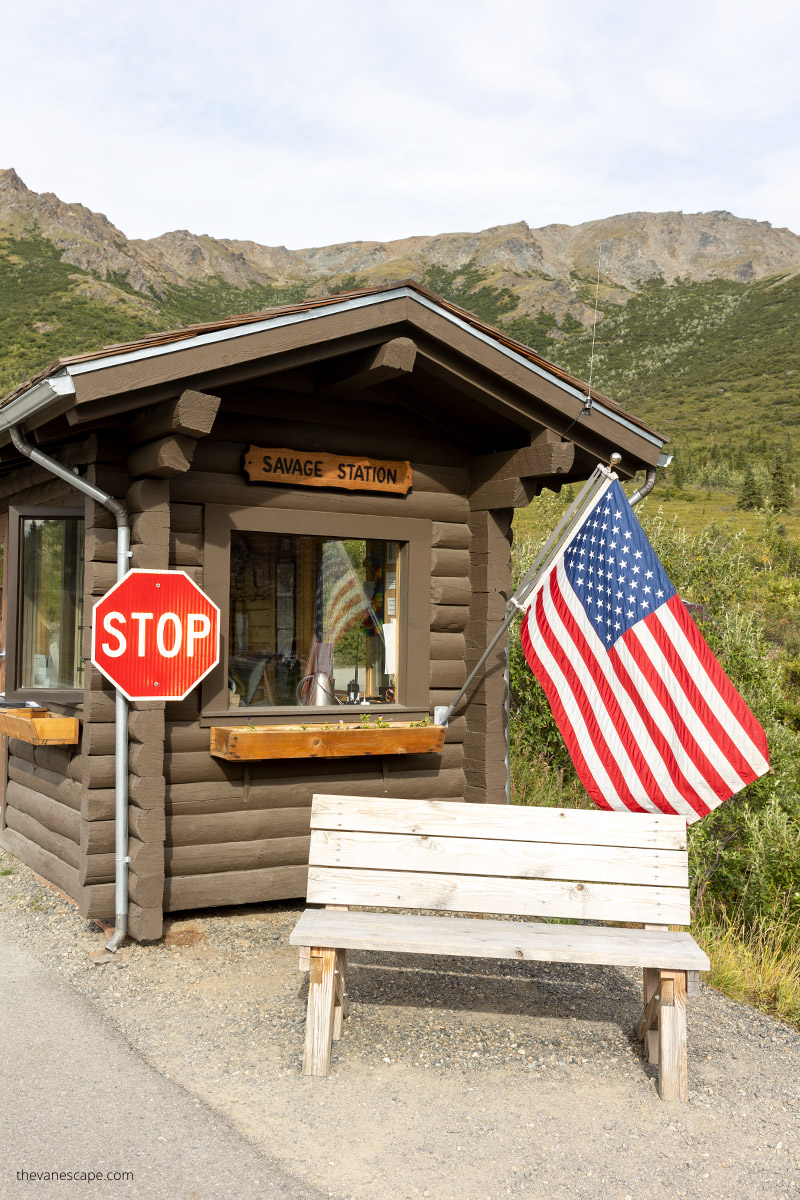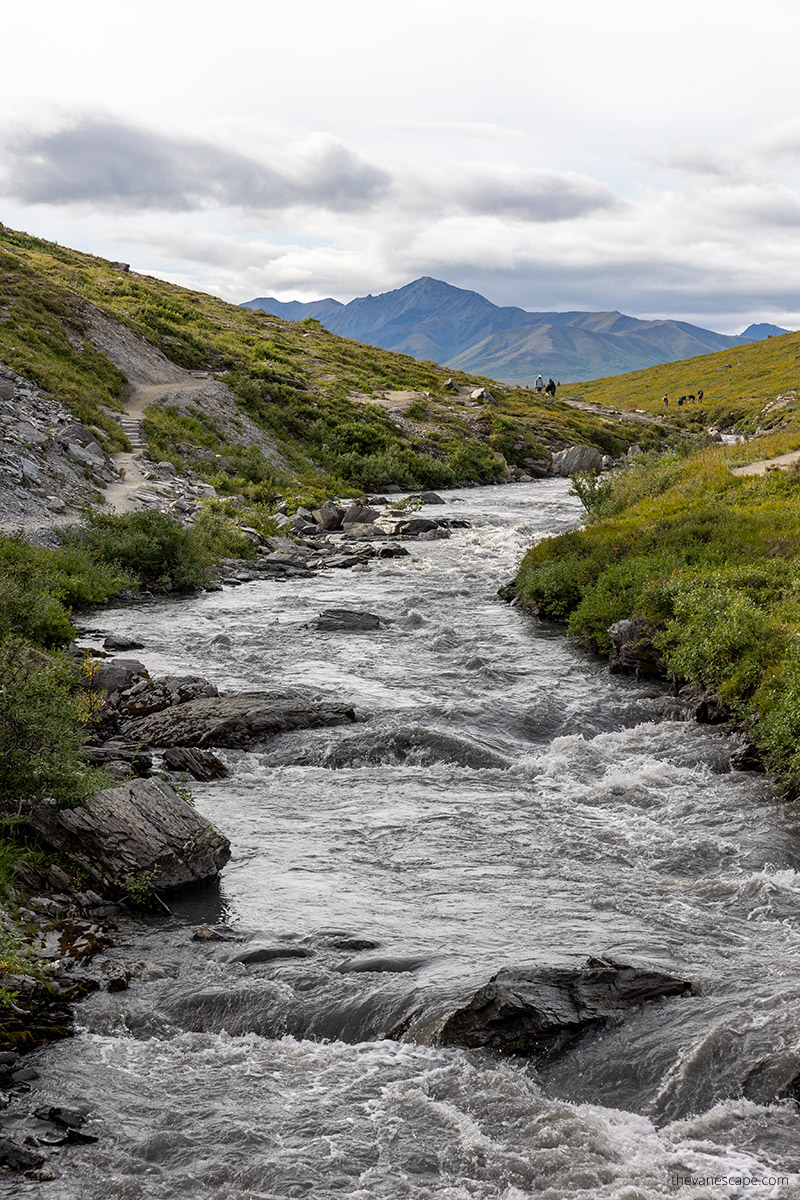 How to Visit Denali National Park by Private Vehicle?
Although the Denali is open all year round, the Denali Park Road is only available for a few months, from late May to mid-September. This is also the best time to visit Denali, as all services are available. Park Road has minimal access to private cars. You can drive only to mile 15. Check out the details below to know if getting around the park in a private vehicle is worth it.
Accessing Denali National Park in Summer (May 20 – mid-September)
During the summer season, typically from late May until the second weekend after Labor Day in September, Denali Park Road is open to private vehicles for the first 15 miles to Savage River. Beyond Savage River, travel is restricted to park buses and bicycles, or you can go on foot. The full length of the road (92 miles to Kantishna) is usually open by June 8, depending on weather conditions. But still, private vehicles are allowed to mile 15.
Accessing Denali National Park in Spring (mid-April until May 19)
In spring, which typically spans from mid-April until May 19, the opening of the Denali Park Road depends on weather conditions and the progress of road plowing. The park aims to open the first 30 miles of the road to Teklanika River by mid-April, but this can vary. It's weather depending.
Accessing Denali National Park in Fall (mid-September to late October)
In the fall, typically from mid-September to late October, the Denali Park Road remains open to private vehicles for the first 30 miles to Teklanika River until the first heavy snowfall. After the annual Road Lottery event (keep reading for lottery details) in mid-September, the road beyond Savage River (Mile 15) is closed to private vehicles. The exact date of road closure depends on weather conditions.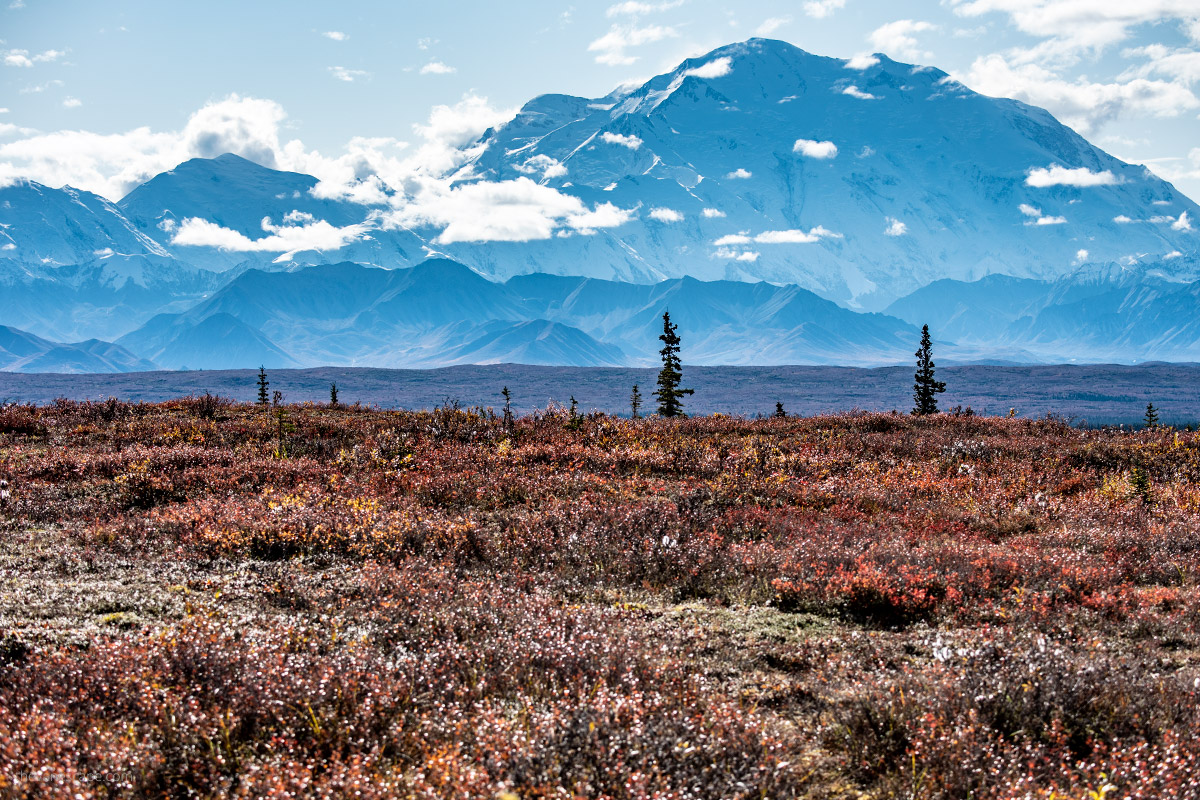 Accessing Denali National Park in Winter (late October to mid-April)
During the winter season, typically from late October to mid-April, Denali Park Road is open to private vehicles for the first few miles up to the Park Headquarters (Mile 3). The road beyond this point is closed due to snow. However, the section of the road from the park entrance to the Park Headquarters is plowed throughout the winter and remains open to private vehicles. The Murie Science and Learning Center (at Mile 1.4) is the winter visitor center and is open daily.
Our Tip: Visiting Denali by car is the best idea if you plan your trip in the shoulder spring seasons or winter, as there is no public transportation in the Denali area outside the summer season. Traveling by car in summer is not the best option due to the restrictions and the short distance you can drive. Plus, the parking lot at Savage River at Mile 15 is relatively small, so you may be waiting in line to park. But is it worth it? If you have a car and some time, yes. We drove to Mile 15 several times to watch moose in the area. But driving a car, it's not the best way to explore Denali. So below, we focus on better options for visiting Denali.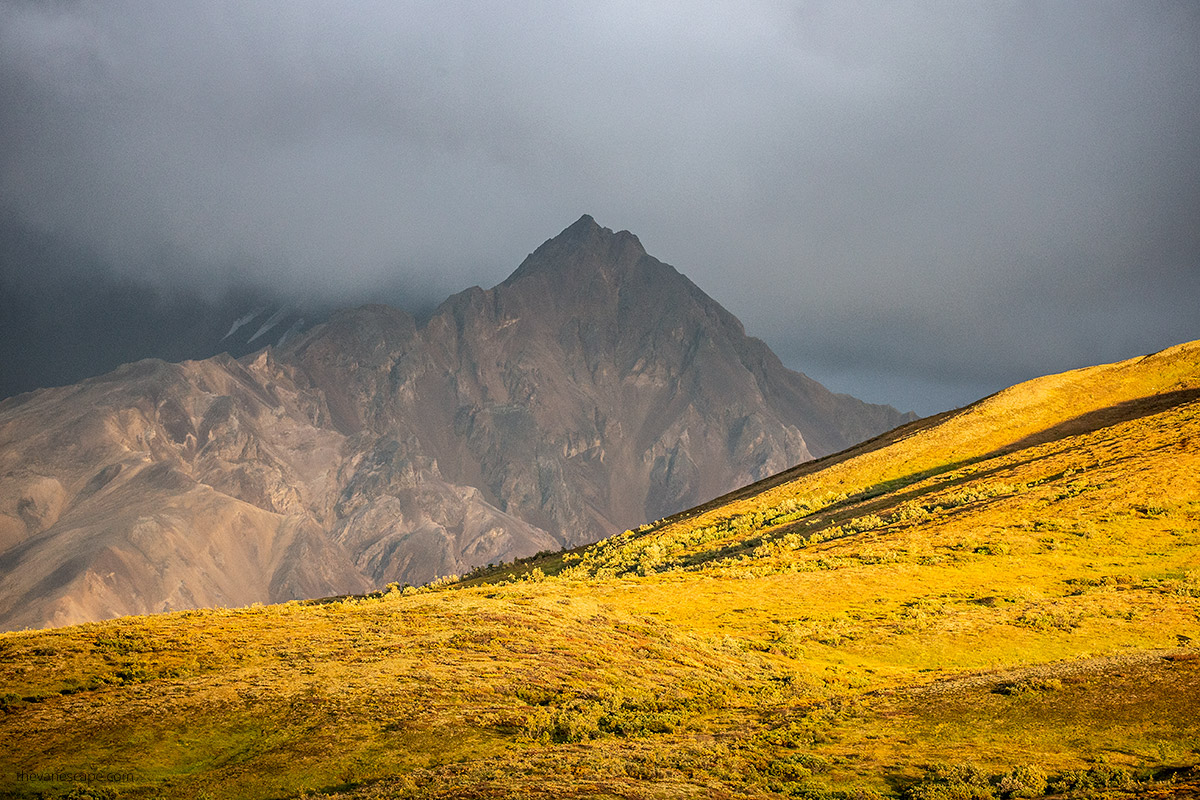 Visiting Denali by Bus – Understanding Denali Bus Tour System
Denali National Park is vast and expansive, and one of the best ways to explore it is by hopping on a bus. The park offers various bus services (Denali bus tours) to help visitors get around and see the sights. Here's a detailed look at the different bus services available in Denali National Park. A bus tour is the best way to explore Denali, especially on the first visit.
Non-Narrated Transit Buses
Transit buses are the primary means of transportation within Denali National Park. These green buses are designed to allow passengers to get on and off along Denali Park Road, making them an excellent option for those who want to hike, picnic, or explore different park areas.
Transit buses operate from May 20 to mid-September, with four different routes available depending on how far into the park you want to go. The buses travel as far as Kantishna, the end of Denali Park Road. However, in 2023 buses will only travel to Mile 43.
When you ride the transit buses, they will make regular stops for restrooms and wildlife viewing. If you decide to get off the bus, you started on. You can easily hop on any non-narrated bus that is heading in the direction you want to go. However, when you re-board, it will be on a first-come, first-served basis, depending on available seats. It can get crowded during the summer, and you may need to wait up to an hour or more for a bus with available seating. These trips on non-narrated buses are more casual, with the drivers providing general park and safety information, helping you spot wildlife along the way, and answering any questions you may have.
Prices and Reservations of Denali Transit Buses
Transit buses start their trip from Denali Bus Depot at Mile 0.75 on the park's sole road. There is a large free parking. Many hotels provide a shuttle to Denali Bus Depot. In our article Where to stay in Denali, we give details about which hotels offer shuttles and which are near Train Depot if you are traveling to Denali without a car. You can purchase your ticket for the transit bus at Denali Bus Depot. However, it is better to make the reservation for the summer season.
In 2023 the price for driving to Mile 43 is $32.75 per Adult (16 and older). Please keep in mind that the cost of a ticket for a non-narrated transit bus does not cover the fee for entering the park (it's $15 per person).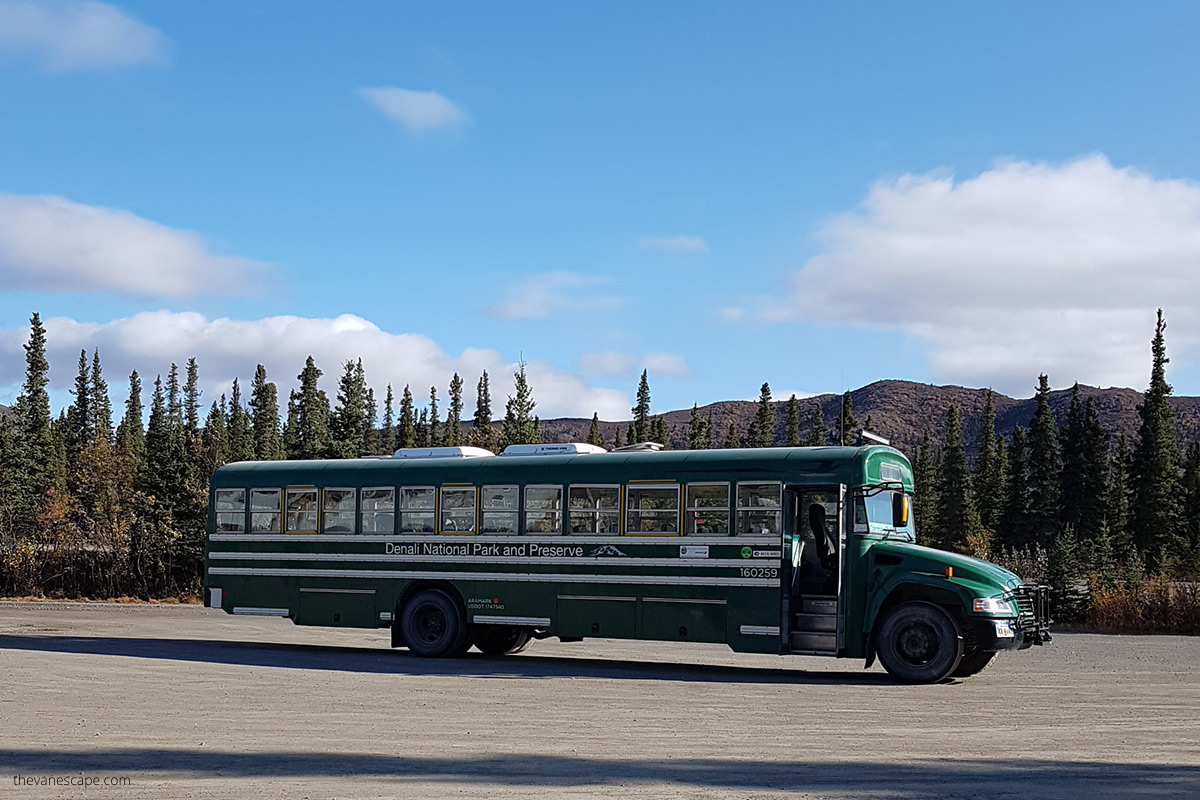 Narrated Bus Tours
Denali National Park offers narrated bus tours if you are looking for a more guided experience. These tan-colored buses are driven by trained naturalists who narrate the trip, offering insights into the park's history, geology, and wildlife. Narrated Denali bus tour is the best way to explore Denali and learn about its highlights.
Unlike transit buses, tour buses have specific start and end points and do not allow passengers to disembark along the way. There are three different bus tours to choose from, each offering a unique experience.
The Natural History Tour is a 4-5 hour round trip that delves into the rich history of Denali.
The Tundra Wilderness Tour is an 8-hour journey that offers the best opportunities for wildlife viewing.
The Kantishna Experience is a full-day tour that takes you to the end of Denali Park Road.
In 2023 only Natural History Tour and Tundra Wilderness Tour are available.
Prices and Reservations of Denali Bus Tours
While the prices are higher, having an experienced naturalist guide on board who specializes in the park's wildlife, geology, and nature offers a valuable opportunity to learn a great deal about Denali.
Natural History Tour costs $114.00 per Adult (16 and older) and $49.50 per Child (15 and younger). Tundra Wilderness Tour is $141.25 per Adult (16 and older) and $63.25 per Child (15 and younger). An adult tour bus ticket includes the $15 park entrance fee. You are entitled to a fee refund if you have an annual or lifetime pass. Book your tour.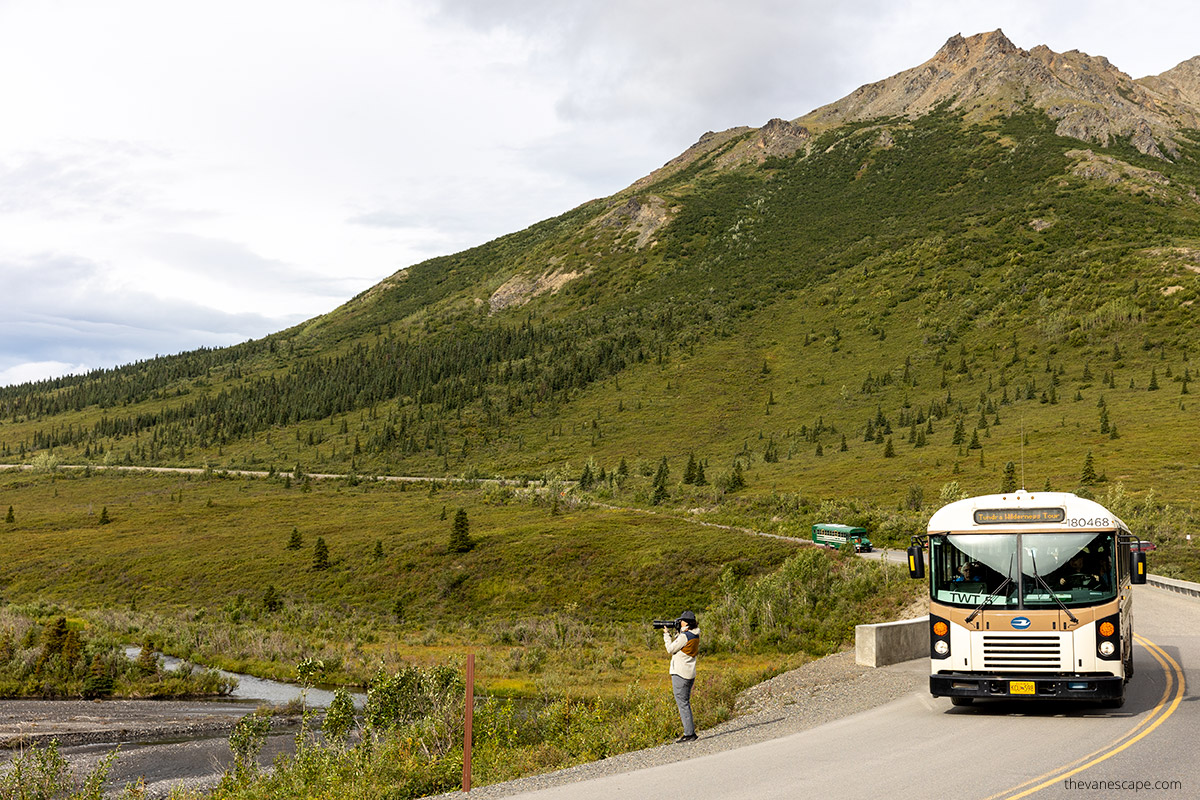 Free Buses
In addition to the transit buses and bus tours, Denali National Park also offers free shuttle buses around the park entrance area. These buses are designed to help visitors travel between the visitor center and other facilities, reducing traffic and parking challenges. This is an excellent option if you have come to Denali by train or bus. You won't need a car to get around the area.
There are three free bus lines: the Savage River Shuttle, the Riley Creek Loop Shuttle, and the Sled Dog Demonstration Shuttle. These shuttles operate daily in the summer and are wheelchair accessible.
The Savage River Shuttle is perfect for visitors wishing to experience a short bus ride into the park. It travels to trailheads at Mountain Vista and Savage River, where parking is minimal. This area offers great hiking trails and wildlife viewing opportunities.
The Riley Creek Loop Shuttle continuously circuits the entrance area, linking all major visitor facilities every 30 minutes. Stops are at the Riley Creek Mercantile, Riley Creek Campground, Denali Bus Depot, Horseshoe Lake Trailhead, and the Denali Visitor Center bus stop.
The Sled Dog Demonstration Shuttle provides round-trip transportation to the popular Denali kennels – sled dog demonstrations. Boarding occurs at the Denali Visitor Center bus stop 40 minutes before demonstration time.
Our tip: Check out the best hotels near Denali National Park with shuttle service to the park entrance and bus depot.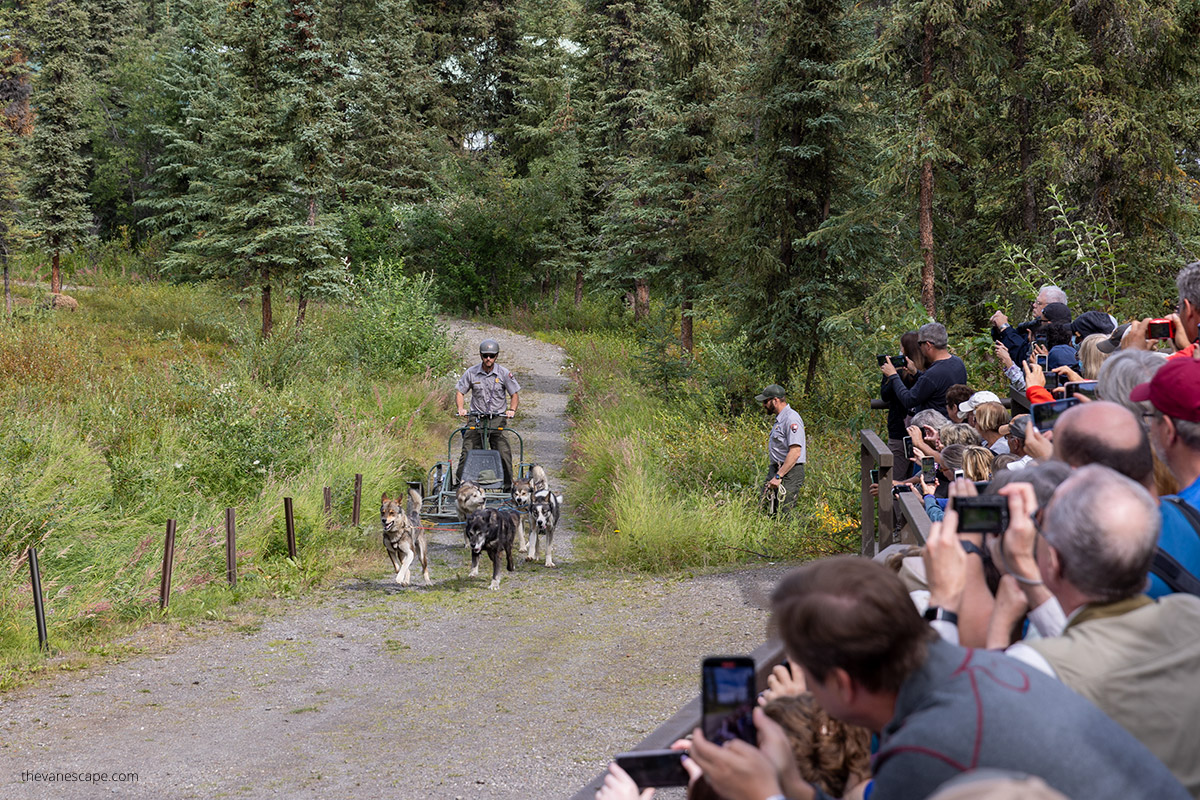 How to Prepare for Denali Bus Tour?
Book your bus ticket in advance (especially the Narrerated Denali bus tour ticket, as they are popular).
Pack water and snacks for the day, as no shops are in the park. You won't buy anything to drink or eat.
When taking the transit bus and planning to disembark, it's essential to be prepared. Wear comfortable boots, pack a light hooded rain poncho, and dress in layers to keep you warm if the weather changes. Also, carry bear spray with you while hiking. We also recommend packing Bear Bells for hiking. Do not approach the wildlife in Denali.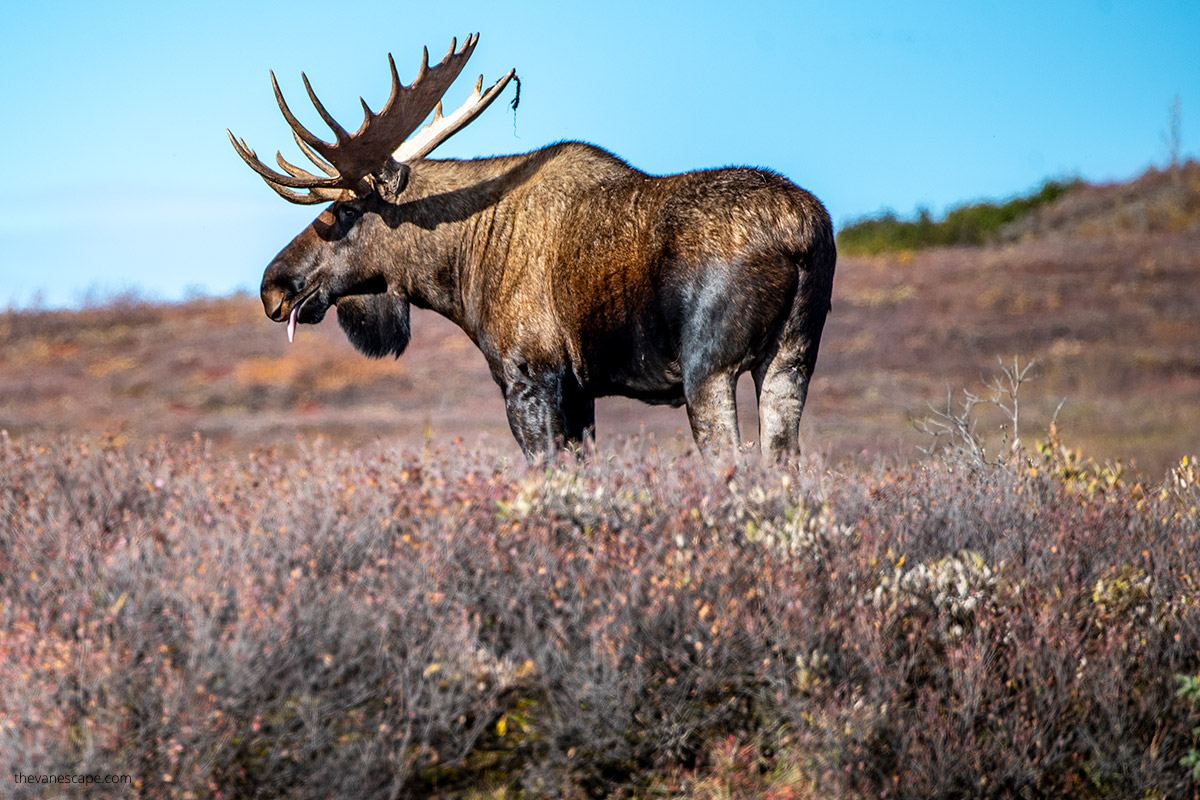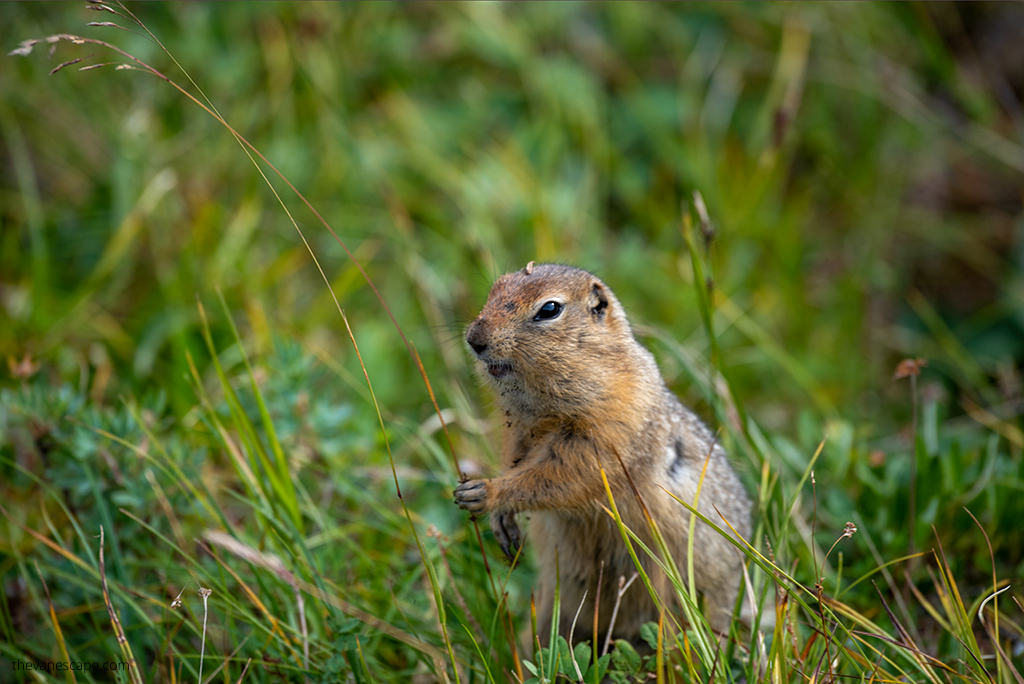 Visiting Denali on Bike – A Unique Way to Explore
Biking through Denali National Park offers a one-of-a-kind adventure that allows you to connect with the Alaskan wilderness on a whole new level. Whether an avid cyclist or a casual rider, biking in Denali is an exhilarating way to explore the park's stunning landscapes. Although private vehicles are not allowed past Mile 15, bikes are. Biking in Denali is seasonal, with the best conditions typically available from late spring to early fall. But as you enter the wilderness area, the grizzly bears' country, follow Cycling Guidelines on the Park website.
Visiting Denali National Park with a Road Lottery
If you happen to have good luck with lotteries, you could consider entering the Denali Road Lottery for a chance to drive your car along the entire scenic Denali Road, which is 92 miles long.
What is the Road Lottery in Denali?
Each September, Denali National Park hosts a four-day event called the "Road Lottery." During these four days, winners of a lottery drawing are given a chance to purchase a single, day-long permit, allowing them to drive as much of the Denali Park Road as weather allows. In years with early snow, Park Road might open no farther than Savage River (Mile 15); in milder years, lottery winners are able to enjoy a trip out to the end of the park road (Mile 92).
An extra (fifth) day of the lottery, called Military Appreciation Day, is open only to active duty military service members and their families.
How to Apply for the Road Lottery?
The Road Lottery typically occurs the second weekend after Labor Day each year (Sep 4). But the application period is usually the month of May. To apply to the lottery, you need to visit recreation.gov and pick your most-preferred date first from the options available. Then, it will let you order the remaining dates however you prefer. If you're drawn, it will assign you your most-preferred date, which hasn't yet been filled up.
If you try to apply outside the application window (May 1—May 31), Recreation.gov will allow you to walk through the first few steps but eventually show you an error message. Applications by mail are not accepted.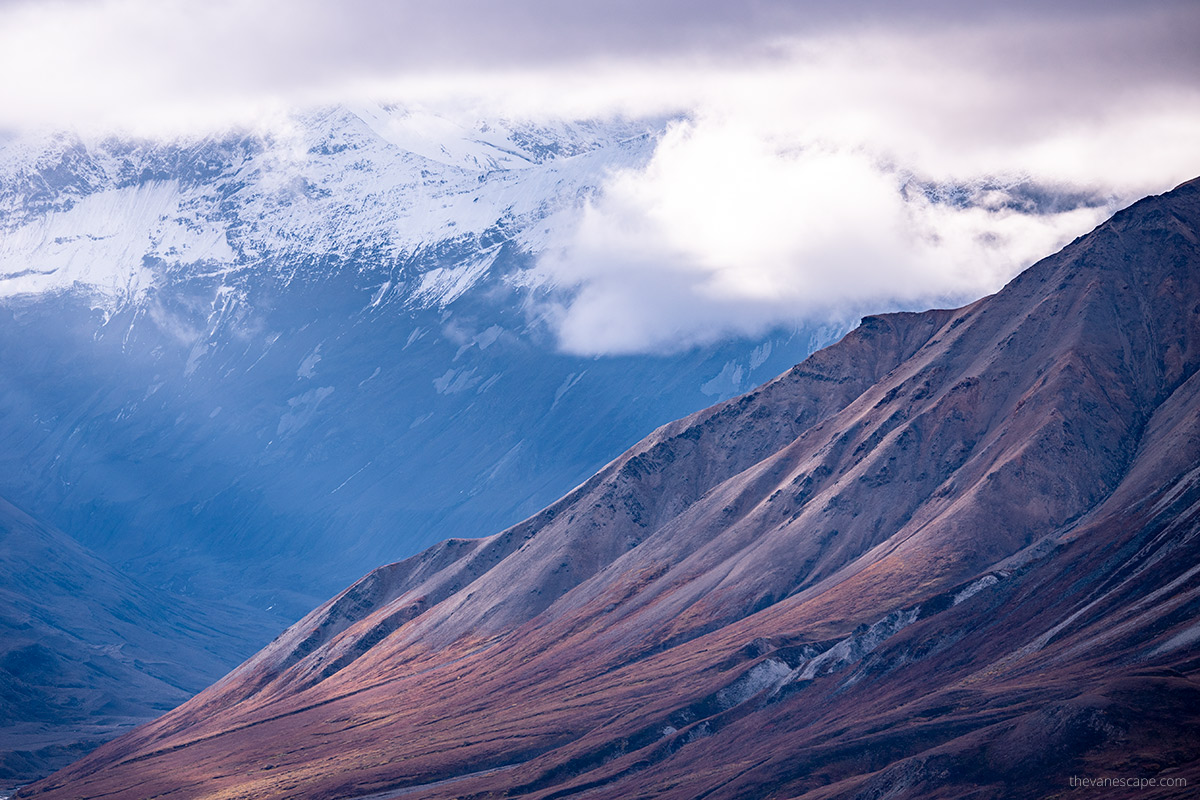 What Happens If You Are Drawn?
Recreation.gov will automatically charge you for the road travel permit, which costs $25 if you are drawn. If the transaction fails for any reason (e.g., an expired card), you will be disqualified from the lottery, and a new applicant will be drawn in your place.
Permit holders for the road lottery may have to pay the park entrance fee of $15 per person (for visitors age 16 or older) on the day of their permit unless they have a federal recreation pass such as the Denali Annual Pass, America the Beautiful – National Parks and Federal Recreational Lands Pass (Annual, Senior, Access, or Volunteer) or the free U.S. Military Annual Pass.
What are the Rules for the Road Lottery?
The drawing of winners occurs in mid-summer. As winners are drawn, they are assigned one of the four possible dates for driving the park road—those dates vary each year, but they are always the second weekend after Labor Day.
Applicants can arrange the available dates in the order of their preference when applying. If drawn, the applicant is awarded their most-preferred date, which still has space in its daily allocation of winners. Chances of winning vary based on the number of entrants each year. The odds of being drawn are around 1-in-7.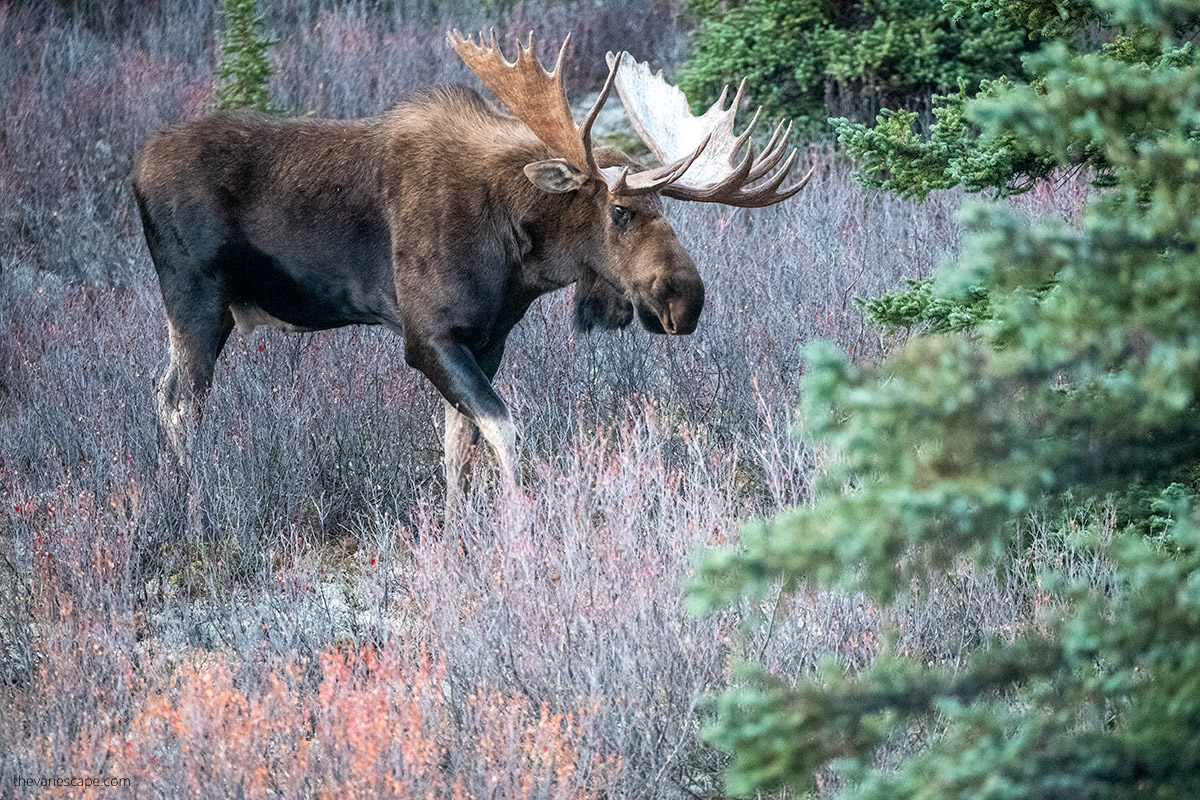 When to visit Denali?
We've compiled a comprehensive guide on Denali's weather patterns and the most favorable times to visit the park, which we highly recommend. To give you a quick summary, we believe that the optimal time to visit Denali ranges from late May to early September. During this period, the park is fully accessible, with Denali bus tours and various other activities. Furthermore, all the shops, restaurants, and lodging in the Denali area are open for the season, facilitating planning for your stay. From mid-September, most services sadly shutter for the season.
Opening Hours and Seasons in Denali National Park
Denali National Park is technically open 24 hours a day, 365 days a year. However, accessibility and services change drastically with the seasons.
Summer Season (Late May – Early September)
This is when the park is fully operational. All visitor centers, campgrounds, and other facilities are open, and ranger-led programs are offered. During the summer season, private vehicles can only drive on Denali Park Road for 15 miles up to the Savage River checkpoint. Beyond this point, travel is mainly restricted to park-operated buses to reduce the impact on the park's ecosystem and wildlife.
Shoulder Season (Mid-April – Mid-May; Mid-September – Mid-October)
As the park transitions between winter and summer, services begin to open or close, respectively. Fewer services are available, but it's a less crowded time to visit. Prices are lower. During the shoulder seasons, when the buses aren't operating, private vehicles can go as far as the Teklanika Rest Area at Mile 30, weather permitting.
Winter Season (Mid-September – April)
Winter brings a quiet, serene beauty to Denali. During the winter months, typically from mid-September to mid-May, private vehicles can access the Denali Park Road only up to Mile 3, to the Headquarters Area. Beyond this, the road is not plowed and is only open to dog sleds, fat-tire bikes, cross-country skis, and foot traffic.
Our Tip: Always check the park's official website or contact the park directly for the most current information, as weather conditions can lead to unexpected changes.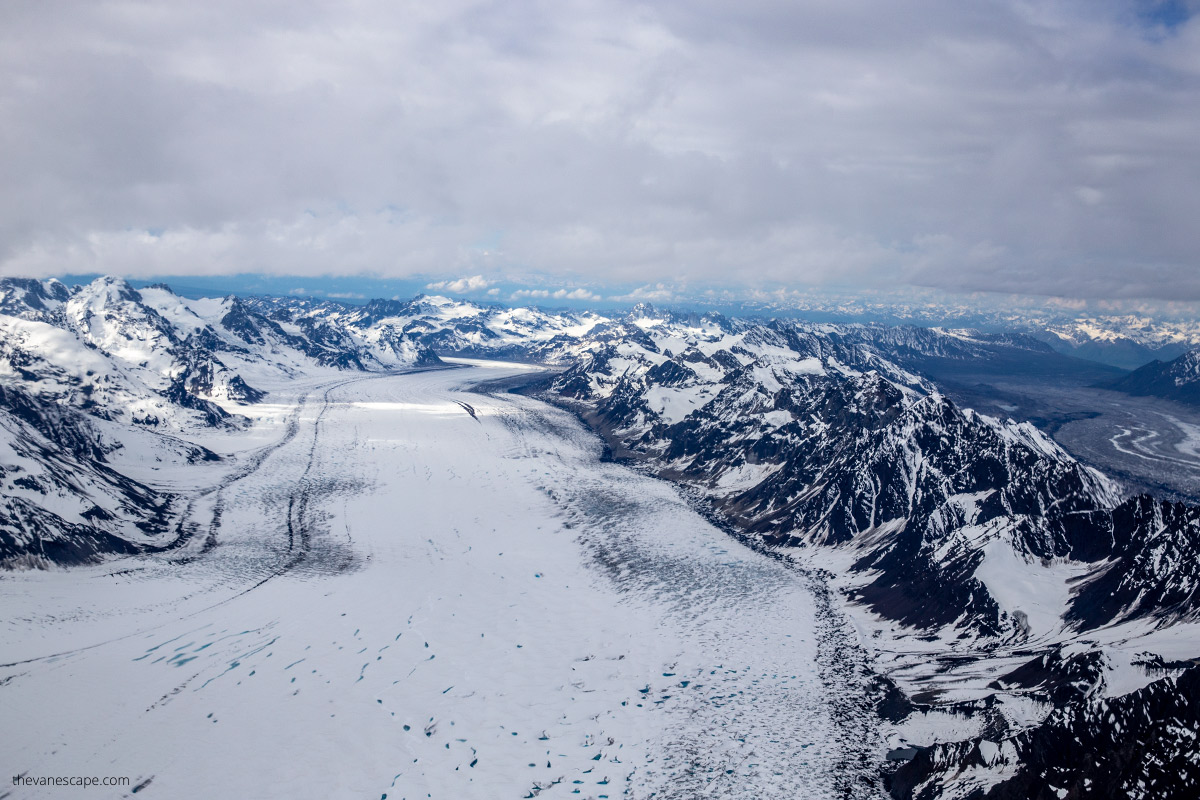 Costs of Visiting Denali National Park
Entrance Fees
The entrance fee for Denali National Park is $15 per person (free for children 15 and under), which covers a seven-day entry. Fees are collected on a per-person basis than per vehicle because of the unique nature of the park's transportation system. America the Beautiful Annual Pass is also honored.
Annual Park Pass
For frequent visitors to Denali, an annual pass is available for $45, which allows unlimited entry to the pass holder and their immediate family for one year.
Bus Tours and Shuttles
The cost to ride the park buses varies depending on the type of bus (narrated tour bus or non-narrated transit bus) and the distance traveled. Prices range from around $33 to $142 for adults, and are less for children and seniors.
Campgrounds
There are six NPS campgrounds in Denali. Fees for campgrounds within the park vary, ranging from around $19.25 – $39.75 per night, depending on the campground and the campsite type. Free Camper Buses in Denali take you and your camping gear to the selected campground.
Make your campground reservations online through a reservation system. Reservations are possible as early as December 1 of the year before you wish to visit. And we highly recommend booking campgrounds inside the park in advance, as they are pretty popular, and the number of sites is limited. Make sure to read the rules on the park website before you go.
Backcountry Permit
Backcountry camping is free. But you must be prepared to survive the wilderness and for wildlife encounters. If you plan to backpack in the Denali wilderness, a free backcountry permit is required. Backcountry permits can be obtained in person at the Backcountry Information Center on the Denali Bus Depot campus from May 12 to September 21. It is important to note that you must acquire a backcountry permit before purchasing Camper Bus tickets at the Denali Bus Depot. Additionally, all members of the backpacking party must attend a backcountry orientation before the permit is issued. During fall and winter, backcountry permits are available at the visitor center.
Other Costs
Additional costs will depend on your personal plans and may include things like lodging, dining, flightseeing tours, guided hikes, or other activities, which we suggest in the Denali itinerary.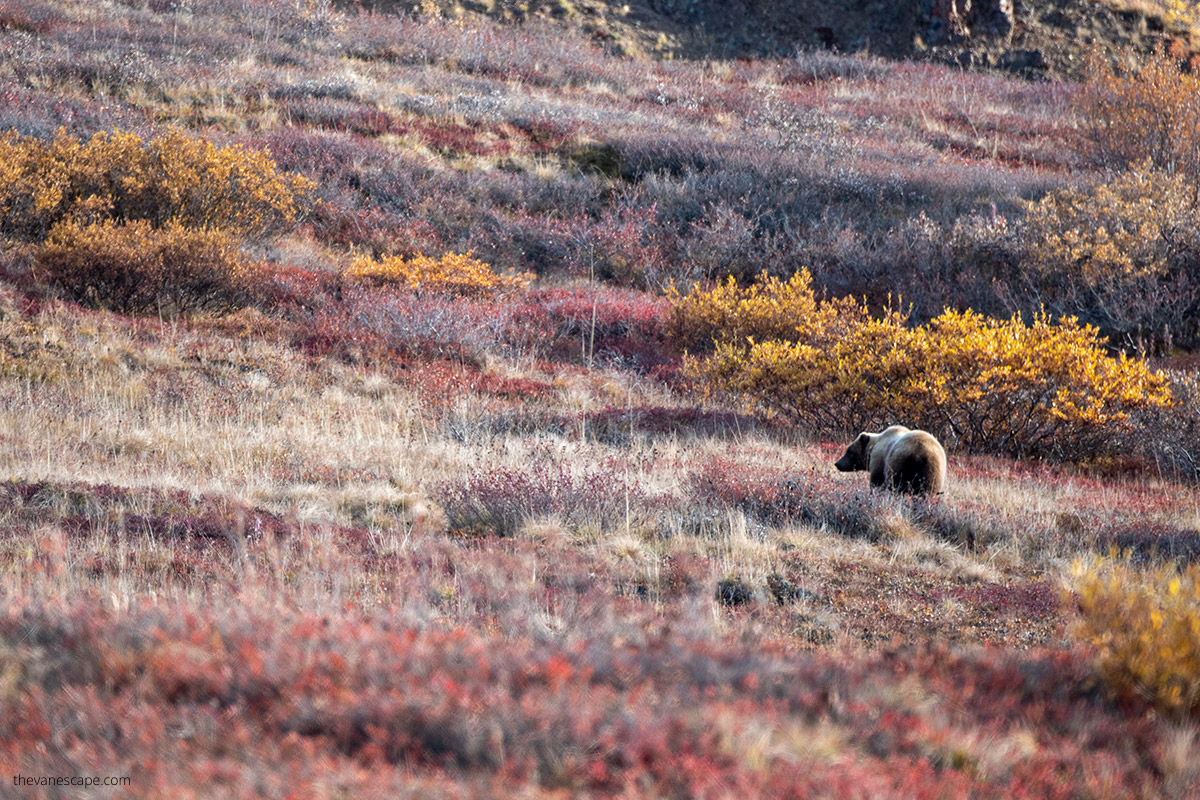 Denali Lodging
When visiting Denali National Park, you have several options for accommodations, both inside the park and in the surrounding area. Booking accommodation in advance is crucial when planning a trip to Denali, one of Alaska's must-see destinations. Due to the short tourist season, demand for accommodation services is high, and prices can be steep. However, booking ahead of time can secure suitable and quality accommodation at a reasonable price. Check out our detailed article about Denali hotels.
Denali Lodging inside the Park
For those who prefer a more authentic wilderness experience, the National Park Service operates six campgrounds within Denali. You can check out our detailed Camping in Denali National Park article for more comprehensive information.
You can also camp out in the wilderness as an experienced hiker. But you must get a backcountry permit and prepare for this adventure, so check out our packing list for camping and backpacking in Denali.
If you seek comfort without sacrificing proximity to nature, consider the Denali Backcountry Lodge or Kantishna Roadhouse. These lodges, located deep within the park, provide comfortable accommodations and guided outdoor activities. But these are the most expensive accommodation in the area. The prices start from $1750 per night. More than 90% of visitors stay near the entrance to Denali (details below).
Denali Lodging Outside the Park (near the Park Entrance)
Numerous lodging options can be found outside the park boundaries, including hotels, lodges, bed & breakfasts, and cabins. The closest to the park entrance is a village known as McKinley Park (aka Denali Park). It's the best choice if you travel by train or bus. And it is the best choice to experience various Denali attractions because the most exciting tours start here. Below, you can check the best deals in McKinley Park.
We provide a detailed guide to accommodations in and around Denali National Park. We suggest hotels that offer a shuttle and are closest to the Denali train depot and which are best to stay if you travel without a car. We also recommend campgrounds in the area.
The town of Healy, located just north of the park, and Cantwell, to the south, offer various accommodations, and it's also a great choice, as the prices are lower. If you have a car, considering those places is a great idea. Check out lodging in Cantwell and accommodation in Healy.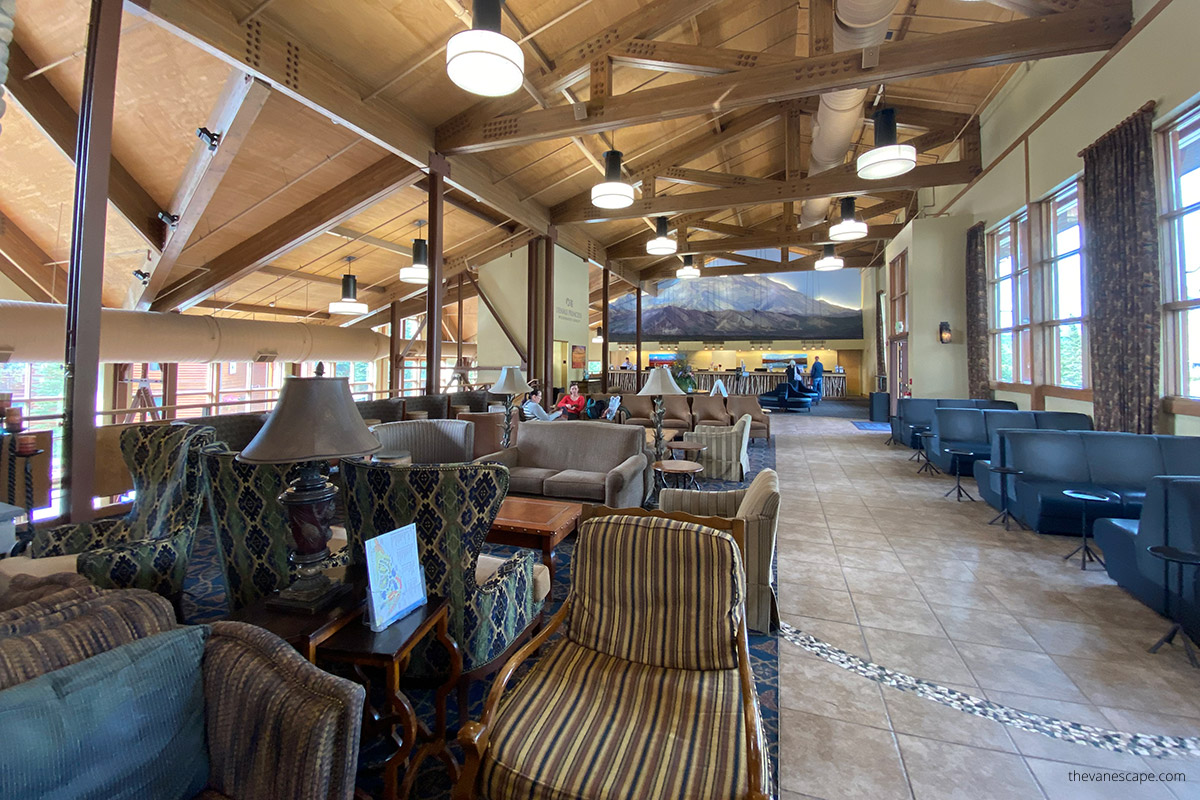 How Many Days to Spend in Denali National Park?
When planning your visit to Denali National Park, we strongly recommend dedicating at least three full days to immerse yourself in this vast wilderness's wonders fully. Denali's remarkable landscapes, abundant wildlife, and thrilling activities deserve more than a quick visit. In our ten days Alaska itinerary, we give you a sample of how to spend two days in Denali, which is a minimum, as it's a vast park with dozens of activities.
To help our readers get the most out of their three-day visit, we've crafted a detailed Denali 3-Day Itinerary. This resource offers a day-by-day guide to experiencing the best of Denali, ensuring you don't miss any must-see sights or experiences. Below we mention the best activities in short in the Park.
A three-day stay offers ample time to explore and experience the key highlights of Denali. It provides an opportunity to embark on the transformative bus tour along the Denali Park Road, explore some of the park's spectacular trails, and spend a day engaging in a chosen activity, whether a ranger-led program, flightseeing with glacier landing, helicopter tour with hiking adventure, or even white-water rafting.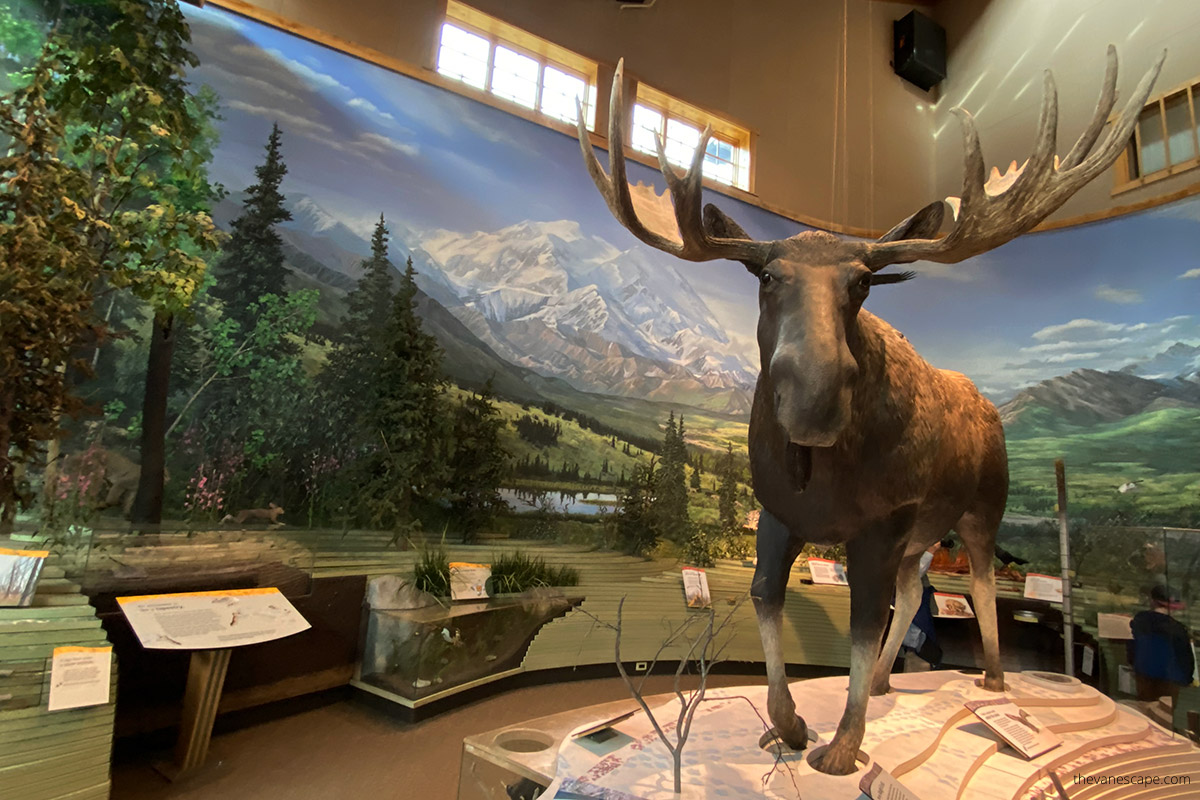 Visiting Denali National Park – The Best Activities
Make a Stop at the Denali Visitor Center
Begin your adventure at the Denali Visitor Center. You can explore interactive exhibits, watch the park film, and join ranger-led programs to deepen your understanding of this incredible wilderness.
Take a Bus Tour
In our opinion, the best way to explore the vast landscapes of Denali is with a guided, narrated bus tour. Narrated tours provide fascinating insights into the park's history, geology, and wildlife. It is also the best solution if you have little time to visit the park, like a day or two. Transit buses offer flexibility to hop on and off at various stops, making it convenient to see the park at your own pace. But we recommend this solution if you have more time to visit Denali.
Enjoy Wildlife Viewing
One of the best things to do in Denali is to witness the majestic wildlife of this Park, including grizzly bears, moose, wolves, and caribou. Guided tours enhance your chances of sightings, and early mornings or evenings are often the best times to spot animals.
Our Tip: Explore more about wildlife viewing in Denali in our detailed article.
Go for a Day Hike – Trail and Off-Trail Adventures
You can go for a day hike in Denali, and there are two options. You can choose a marked trail, or if you are an experienced hiker, you can hike off-trail in any direction. Denali has several marked trails near the park entrance and visitor centers. Pack Trail Map and check our detailed guide about hiking in Denali.
Easy Hikes: Horseshoe Lake Trail offers a gentle walk around a picturesque lake, while Taiga Trail provides an accessible path through lush forests.
Challenging Hikes: Mount Healy Overlook Trail is a steep climb with rewarding views, and Savage Alpine Trail offers a rugged hike through alpine landscapes.
Our Tip: Check out our packing list for hiking adventures in Alaska, as it's crucial for your safety. Suppose this is your first trip to Alaska, and you are new to hiking and wildlife encounters, especially moose and grizzly bears. In that case, you may consider this guided wilderness hiking tour around Denali to gain basic knowledge of the area.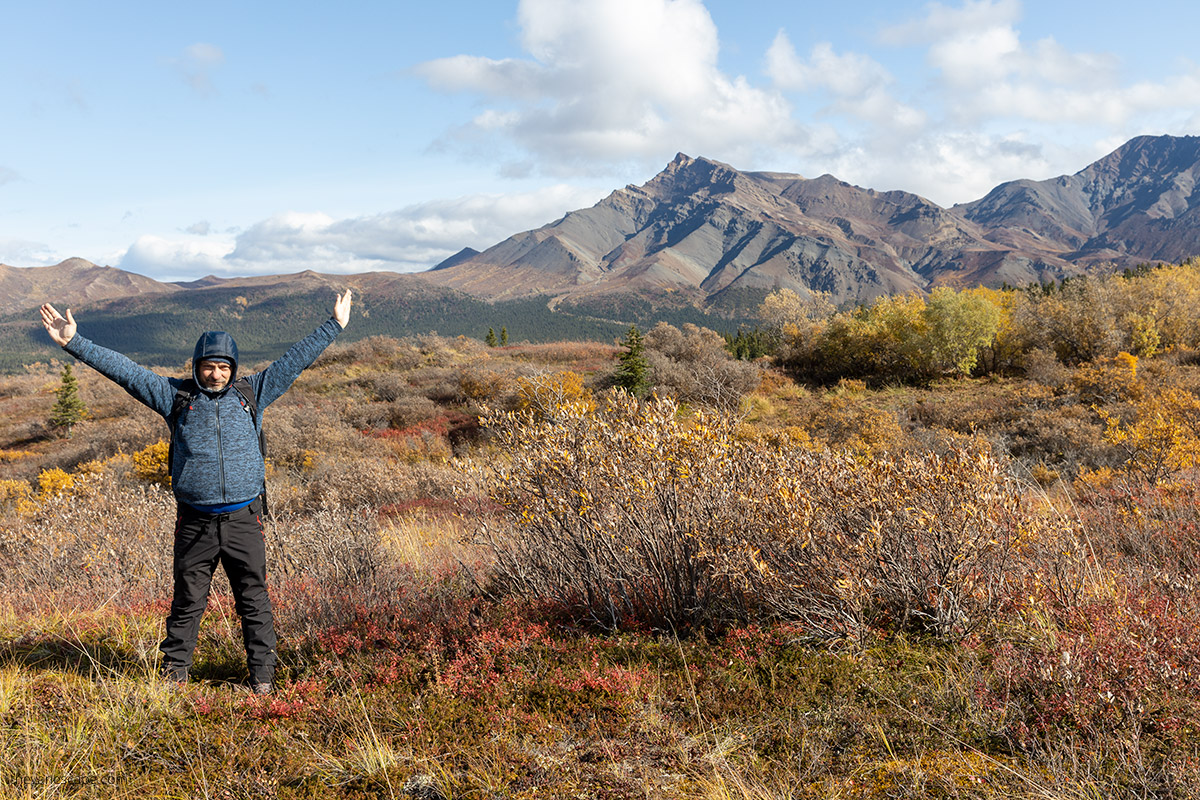 Take a Flightseeing Tour with Glacier Landing or Hike
Taking a flight over Denali with a glacier landing is one of our best Alaska experiences and should be on your bucket list. We had an as well scenic flight over the Brooks Range, but Denali is unique as its majesty and beauty are breathtaking. It's the highest peak in North America, and seeing it from a bird's perspective makes you speechless.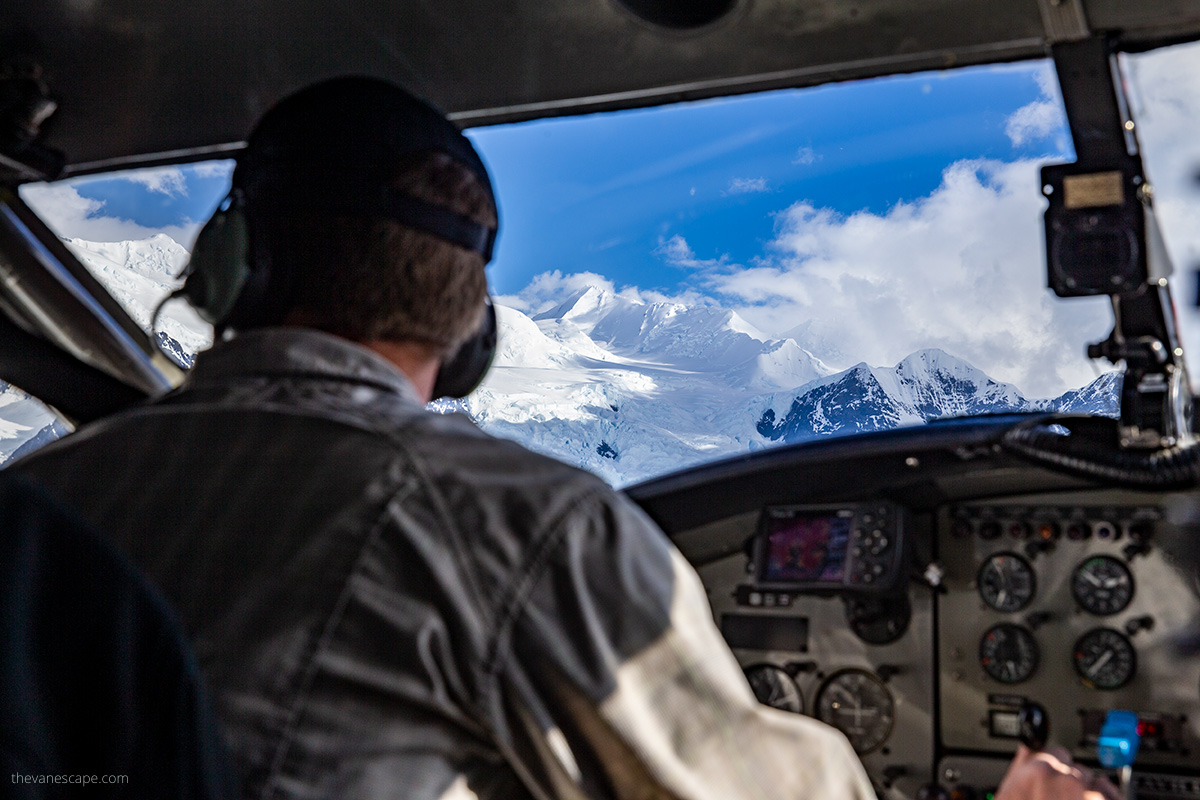 Our Tip: Learn more about scenic flights over Denali in our comprehensive guide. We took a flight from Talkeetna, but similar activities are from McKinlay Park (helicopter tour with glacier landing). You can check availability below.
Camp in Denali
You can connect with nature by camping under the stars. From well-equipped campgrounds to backcountry sites, Denali offers a variety of camping experiences. Find your perfect camping spot with our in-depth guide, as we camped in Denali at Igloo Creek Campground, and it was a fantastic wild experience.

Visit Sled Dog Kennels in Denali
We enjoyed a sled dog kennel demonstration in Denali a lot. If you have time, meet the park's sled dogs and watch demonstrations of their incredible skills. Learn about their vital role in winter park operations and pet these friendly, hardworking dogs.

Fishing and Rafting
It's also possible to cast a line in Denali's pristine rivers, teeming with fish like Arctic grayling and rainbow trout. For adventure seekers, white-water rafting offers an exhilarating ride through the park's turbulent rapids. Or you can enjoy the ATV wilderness ride.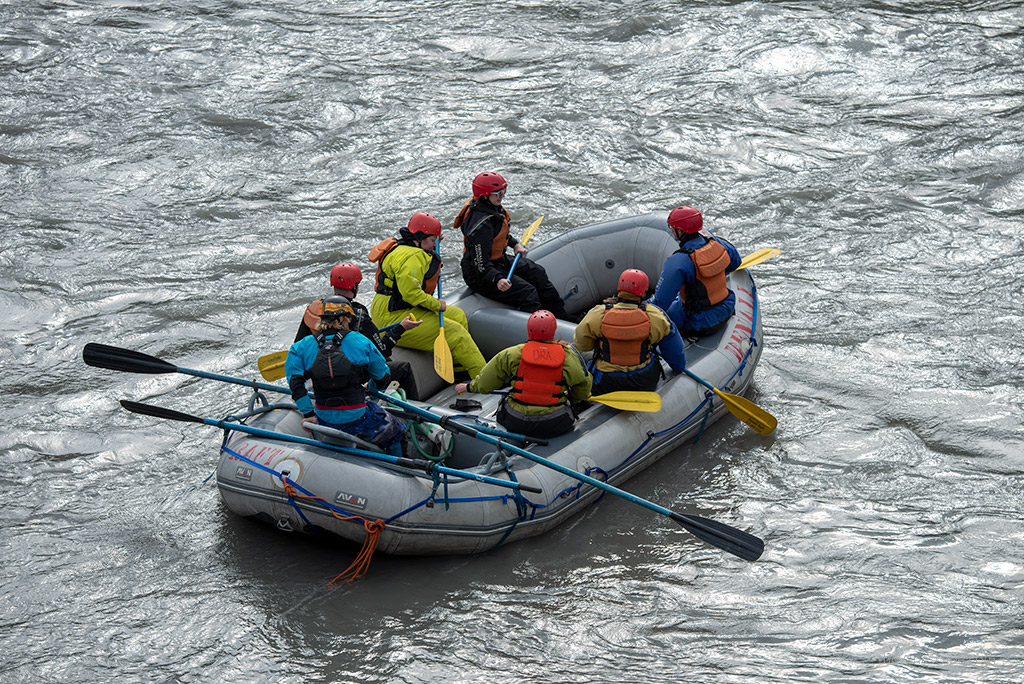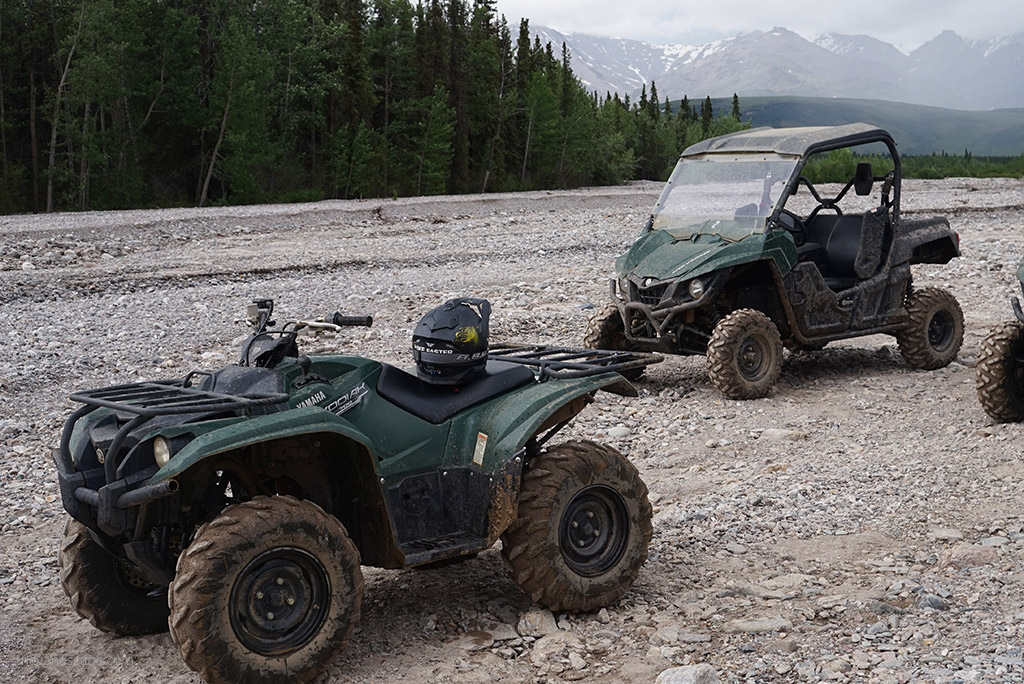 Where to see Mount Denali? The best views of the Mountain
If you plan a trip to Denali, you want to see Mount Denali, the highest peak in North America, which is a breathtaking sight that draws visitors from around the world. Its majestic presence can be admired from various locations inside and outside Denali National Park. Here are some of the best spots to catch a glimpse of this awe-inspiring mountain:
Inside Denali National Park
Wonder Lake: Often considered one of the best places to view Mount Denali, Wonder Lake offers a stunning reflection of the mountain on clear days.
Eielson Visitor Center: Located at Mile 66 on the Park Road, this visitor center provides a panoramic view of Mount Denali and the Alaska Range.
Stony Hill Overlook: Situated at Mile 62.5, this overlook offers an unobstructed view of the mountain, making it a popular spot for photographers.
Reflection Pond: Near Wonder Lake, Reflection Pond offers a chance to capture the mountain's reflection in the water, creating a magical scene.
Polychrome Overlook: Known for its colorful landscape, this overlook also provides a distant but beautiful view of Mount Denali.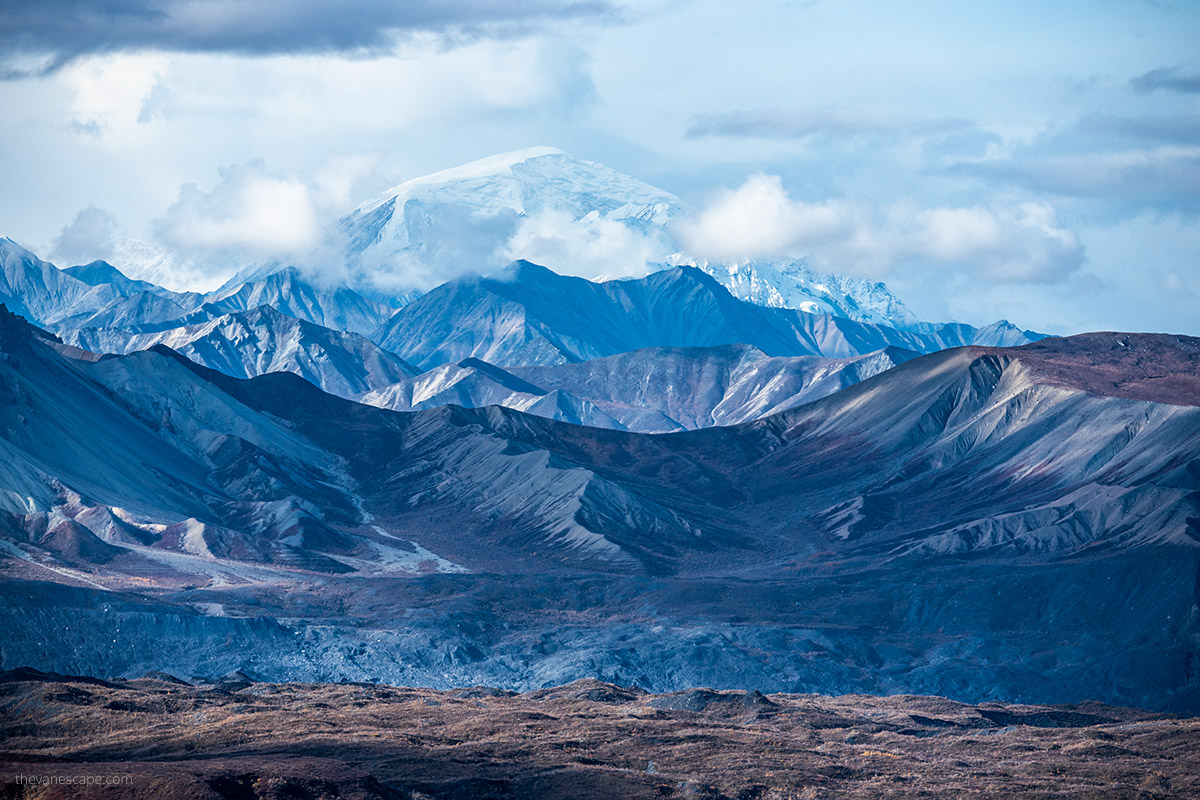 Outside Denali National Park:
Talkeetna: A small town south of the park, Talkeetna offers flightseeing tours that provide an up-close look at Mount Denali. You can also admire this peak from the riverfront in Talkeetna.
Denali State Park: Located east of Denali National Park, this state park has several viewpoints, including Kesugi Ridge, that offer impressive views of the mountain.
George Parks Highway: Driving along this highway, especially between Miles 135 and 185, provides multiple opportunities to see Mount Denali from different angles.
Anchorage: On evident days, Mount Denali can even be seen from Anchorage, particularly from spots like Earthquake Park.
Tips for Denali Viewing
Weather Consideration: Mount Denali is often shrouded in clouds, so clear days provide the best viewing opportunities.
Early Morning or Late Evening: These times often offer the clearest views, with beautiful lighting for photography.
Guided Tours: Consider joining a guided tour or flightseeing adventure for expert insights and access to unique viewpoints.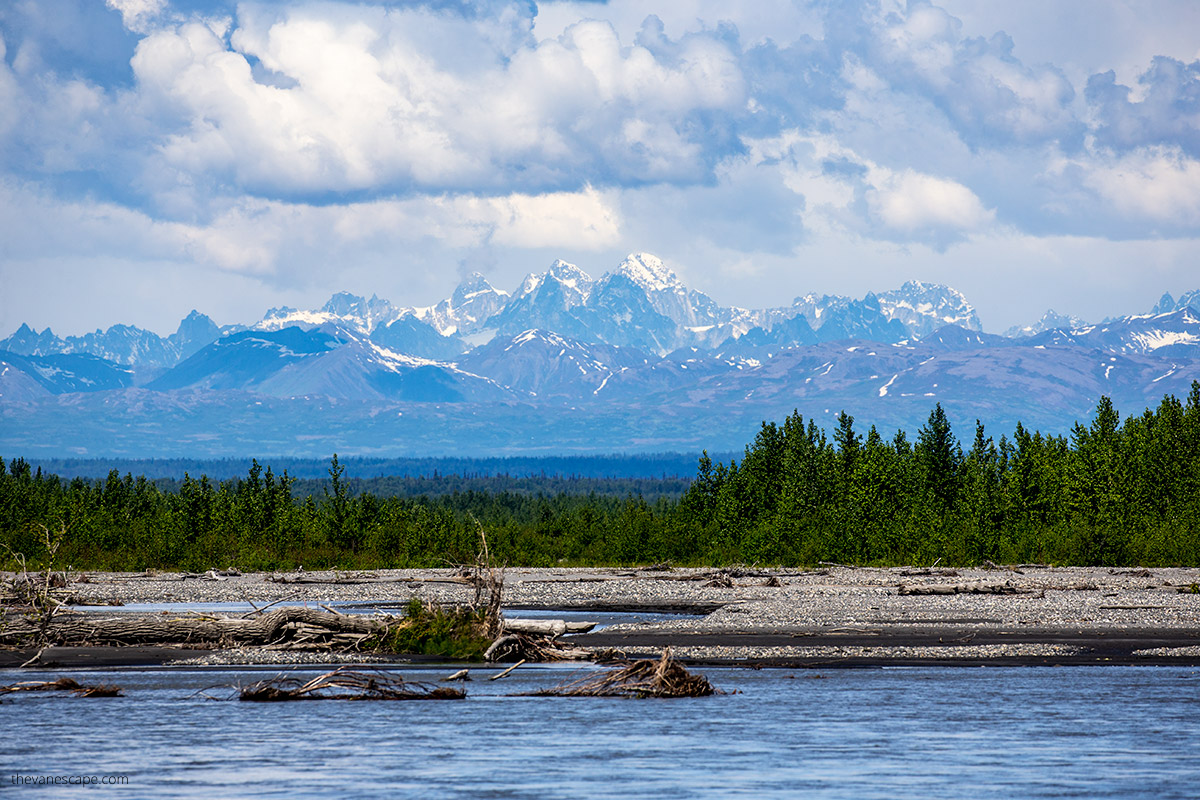 Where to Eat inside Denali National Park?
It's crucial to note that inside Denali National Park, beyond the entrance area, no restaurants, stores, or other services are available. This lack of amenities means you must be well-prepared for camping, hiking, or exploring deeper into the park.
Here are some essential guidelines for those venturing into the wilderness of Denali:
Pack Water and Food Supplies. Since there are no dining facilities within the park's interior, you must bring enough water and food supplies to last your stay. It's essential to plan meals and pack appropriately for the number of days you intend to be in the park.
Use Bear-Resistant Containers while camping and backpacking in Denali. This Park is home to both black and grizzly bears, and proper food storage is vital to ensure both human and bear safety. All food, beverages, garbage, and scented items must be stored in bear-resistant containers or food lockers where provided. These containers prevent bears from accessing human food, reducing conflicts.
Follow Leave No Trace Principles. Practicing Leave No Trace principles helps preserve the natural beauty and integrity of the park. Pack out all trash, leftover food, and litter. Use established campsites and trails to minimize impact on the environment.
Check with Park Rangers. Before heading into the backcountry, checking in with park rangers or the visitor center is a good idea. They can provide up-to-date information on trail conditions, weather, and other essential details to ensure a safe and enjoyable experience.
Where to Eat in Denali National Park, near the entrance?
Eating near the Denali National Park entrance can be an enjoyable experience, with various options ranging from fine dining to casual eateries. Here's a guide to some places to eat near the park, which we can recommend.
Morino Grill
Location: Near the Denali Visitor Center.
Cuisine: Casual dining with sandwiches, salads, and snacks.
Karstens Public House
Location: Denali Square at McKinley Chalet Resort.
Cuisine: Alaskan-inspired dishes, including seafood, burgers, and local brews.
Alpenglow Restaurant
Location: At the Grande Denali Lodge.
Cuisine: Fine dining with Alaskan seafood, steaks, and panoramic views.
49th State Brewing Company
Location: Mile 248.4 Parks Highway, Healy (where is a replica of Magic Bus from Into the Wild).
Cuisine: Brewpub offers craft beers, burgers, pizzas, and local specialties.
Prospectors Pizzeria & Alehouse
Location: In the Denali Lakeview Inn, Healy.
Cuisine: Extensive pizza menu, salads, and a wide selection of beers.
Black Bear Coffee House
Location: Mile 238.5 Parks Highway, Denali Park.
Cuisine: Coffee, pastries, breakfast, and lunch options.
Denali Dog House
Location: Mile 238.9 Parks Highway, Denali Park.
Cuisine: Casual eatery offering hot dogs, sausages, and quick bites.
The Overlook at the Crows Nest
Location: Denali Bluffs Hotel, Denali Park.
Cuisine: Fine dining with Alaskan seafood, steaks, and spectacular views.
Prey Bar & Eatery
Location: Inside the Denali Cabins, south of the park entrance.
Cuisine: Comfort food, cocktails, and a cozy atmosphere.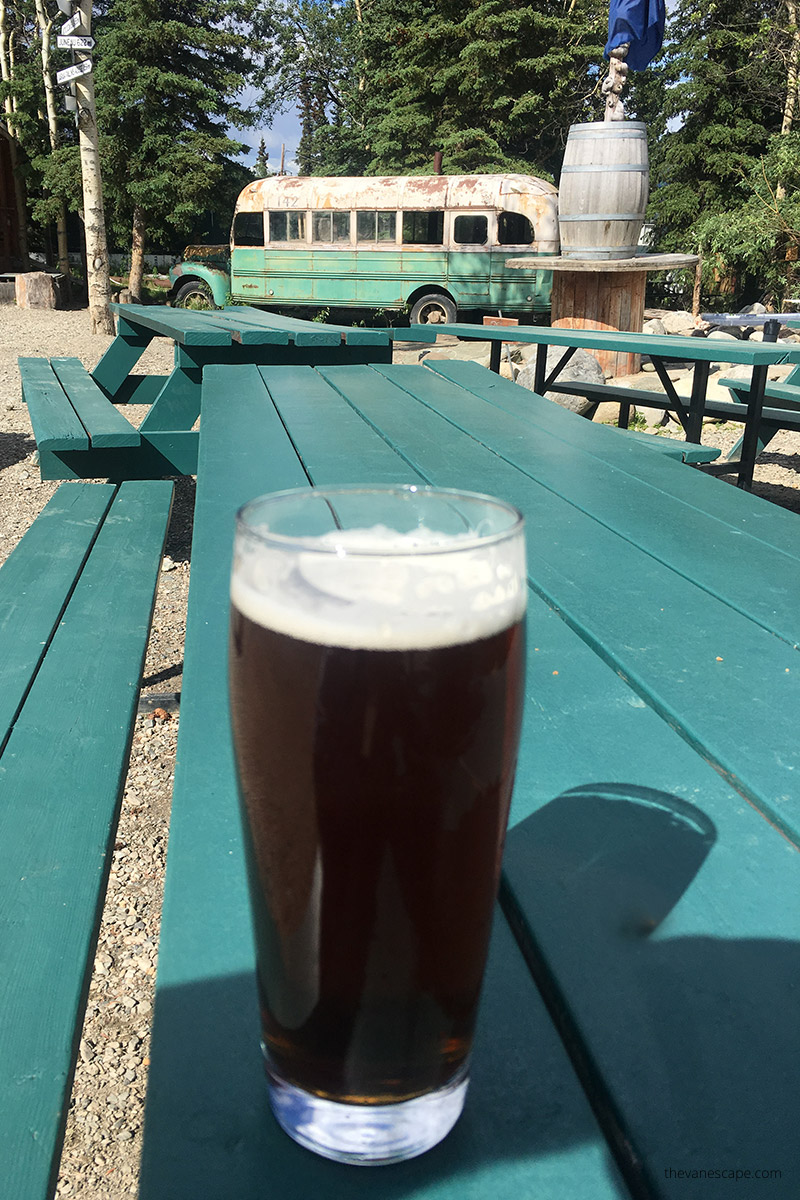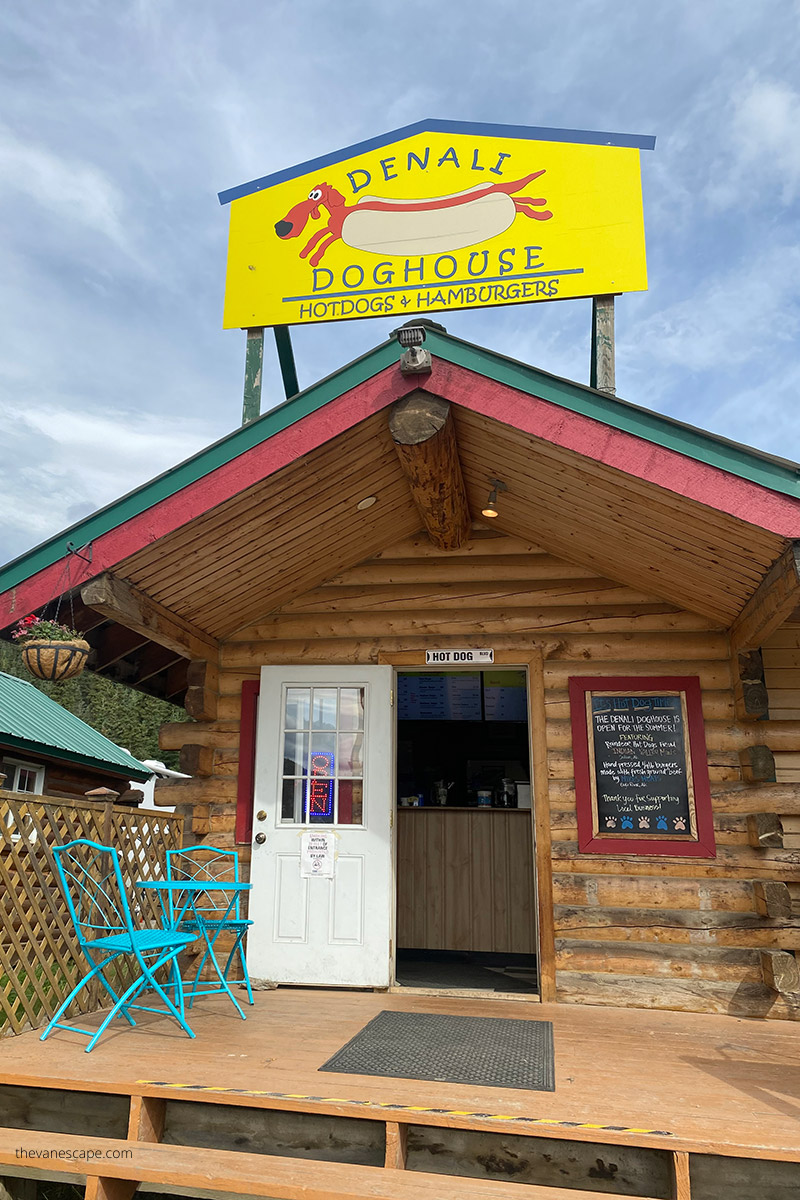 How to Visit Denali National Park – Summary
This guide explores Denali National Park in-depth, based on our multiple visits and experiences. It covers essential topics such as the best ways to reach the park, understanding the unique Denali bus system, and the rules for private vehicles. The guide also offers insights into the best times to visit, the costs associated with the park, and lodging options inside and outside the park.
It further delves into the diverse activities available, from bus tours and wildlife viewing to hiking and flightseeing. The guide also provides tips on where to find the best views of Mount Denali and dining options within the park. Unique features like the exclusive Road Lottery and how to participate are also covered. We hope this comprehensive guide helps you plan and enjoy a memorable trip to Denali National Park.