The Best Ways to Get from Anchorage to Fairbanks
How to get from Anchorage to Fairbanks? You can get there by plane, train, bus, and car. And in this article, we show you the pros and cons of each transportation mode with its prices and time required. Moreover, if you decide to drive from Anchorage to Fairbanks by car, we show you the 15 best stops along scenic Parks Highway and tips on preparing for this road trip.
This article may contain affiliate / compensated links. For full information, please see our disclaimer here.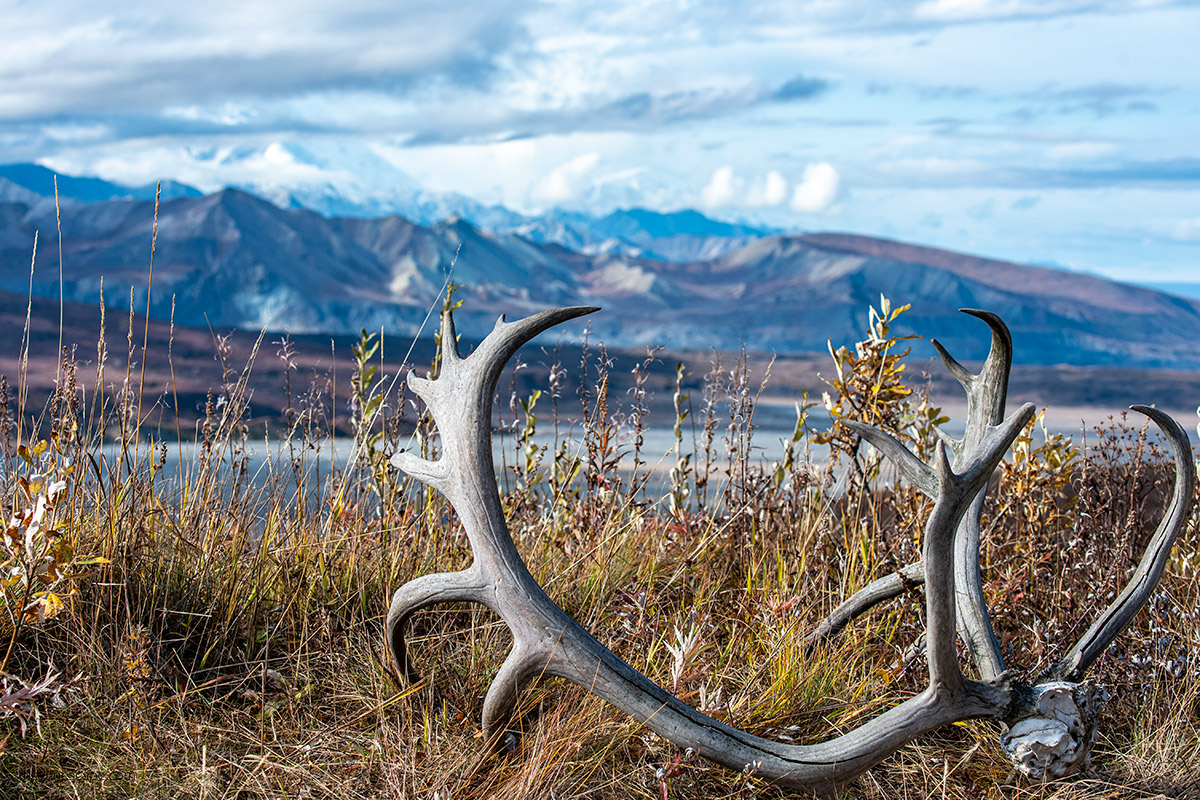 What are the best ways to get from Anchorage to Fairbanks?
Alaska's two largest cities, Anchorage and Fairbanks, are 360 miles apart and at least 6.5 hours away by car. Both cities are worth visiting. So if you have time in Anchorage, check out our Anchorage Itinerary. And if you want to see Fairbanks check out our list of 25 best Fairbanks attractions.
But in this article, we'll show you all the transportation options between these cities so that you can choose the best and most comfortable solution. We'll tell you how to get from Anchorage to Fairbanks:
by plane
by train,
by bus,
and by car.
How long does it take to travel by different means of transportation, and how much do the tickets cost? Which is the cheapest option? And if you decide to drive from Anchorage to Fairbanks, we'll tell you which are the most interesting stops along the way and where to stay. Driving from Anchorage to Fairbanks is our favorite travel option, and we've driven this route back and forth between cities many times. We've also driven across Alaska from the Arctic Ocean via the Dalton Highway to Homer Spit. We know this route very well.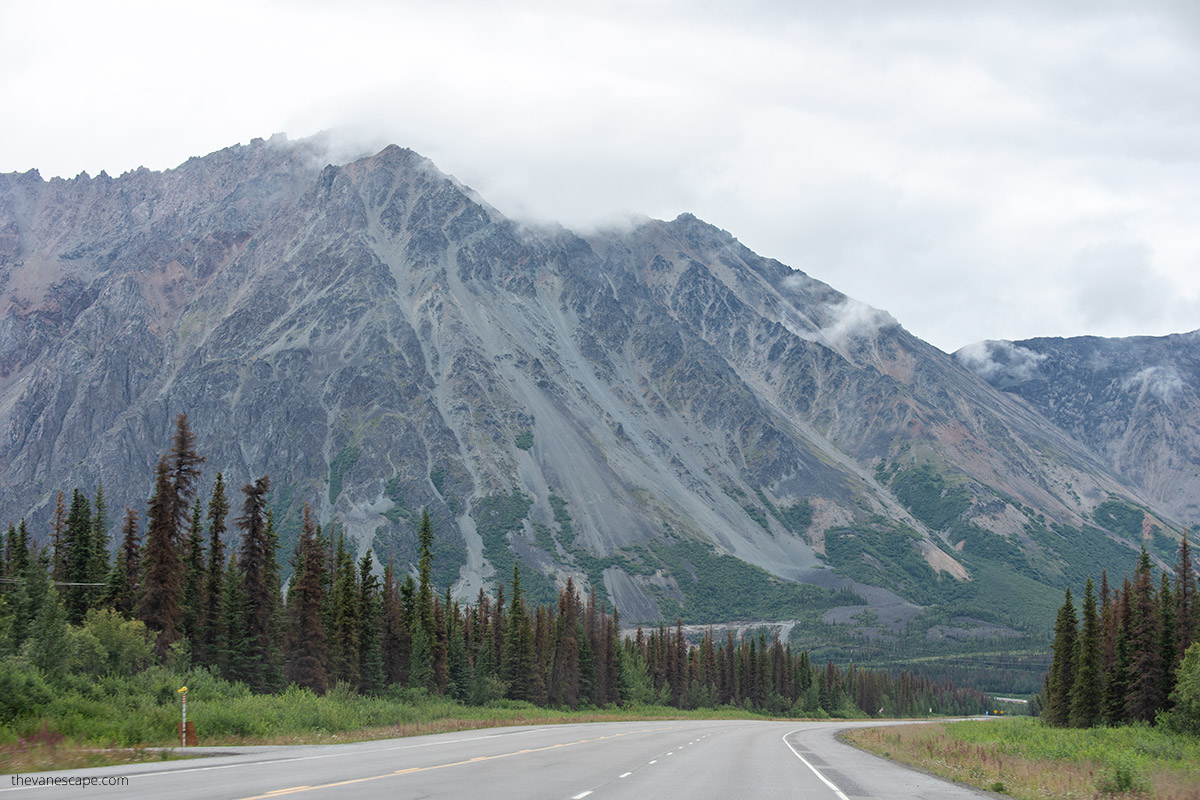 What is the distance from Anchorage to Fairbanks?
The distance from Anchorage to Fairbanks is 360 miles (580 km). Depending on the transportation mode estimated time to get north is:
1 hour by plane
6.5 – 7 hours by car
10 hours by bus
12 hours by train
Anchorage to Fairbanks Flight
Operating Dates: year-round
Price: from $98
Duration: 1 hour
Alaska Airlines offers regular flights from Anchorage to Fairbanks. It's the fastest means of transportation. Anchorage to Fairbanks flight time is only an hour. And what is most important – it's the cheapest means of transportation, because the prices start (even in high season) at $98 one way. What's more, the views on this flight are unique, so try to get a window seat.
Who do we recommend Anchorage to Fairbanks flight?
We recommend this solution for people who travel on a budget.
People who have little time to travel in Alaska.
Travelers who want to focus on exploring the northern part of Alaska, like the Arctic Circle, Prudhoe Bay, or Chena Hot Springs.
People who dream of flying over the Alaska mountains but cannot afford a scenic flight over Denali or Brooks Range. The views aren't as spectacular as they are during the scenic flight because you're flying much higher, but they're still beautiful. On a clear day, it is possible to see Denali and the Alaska Range.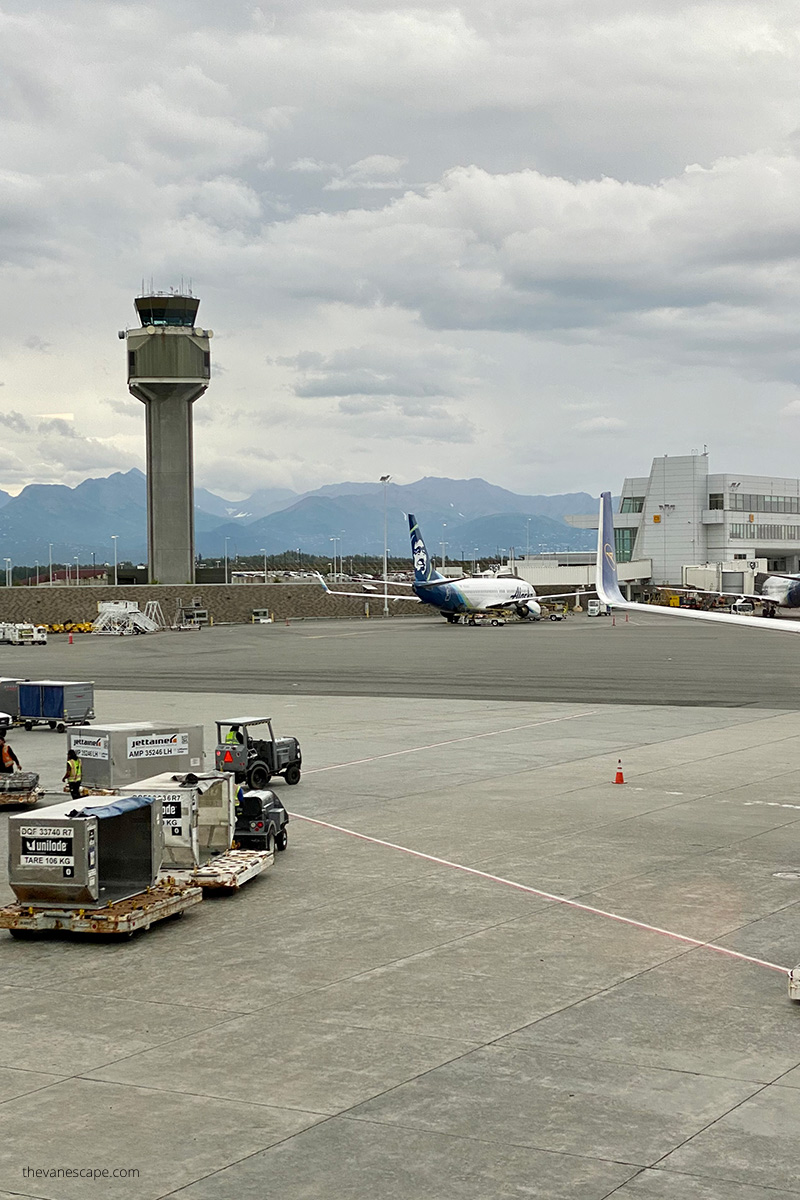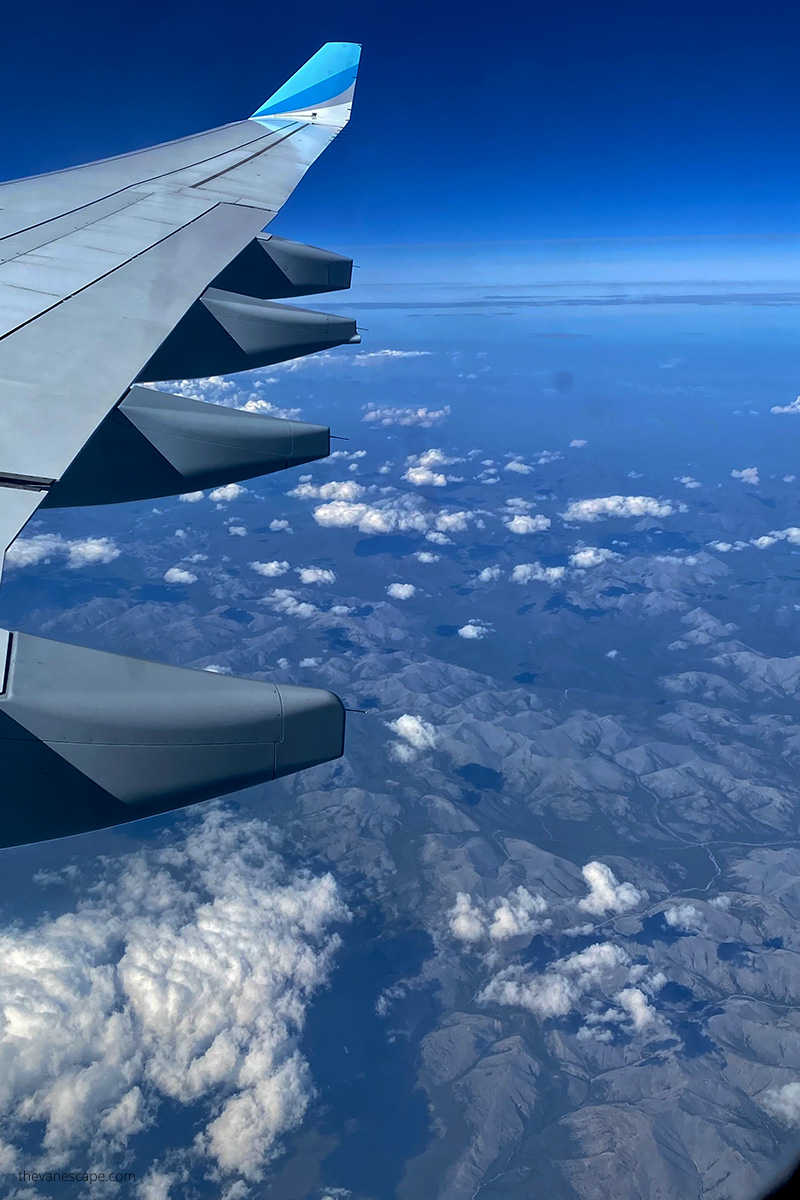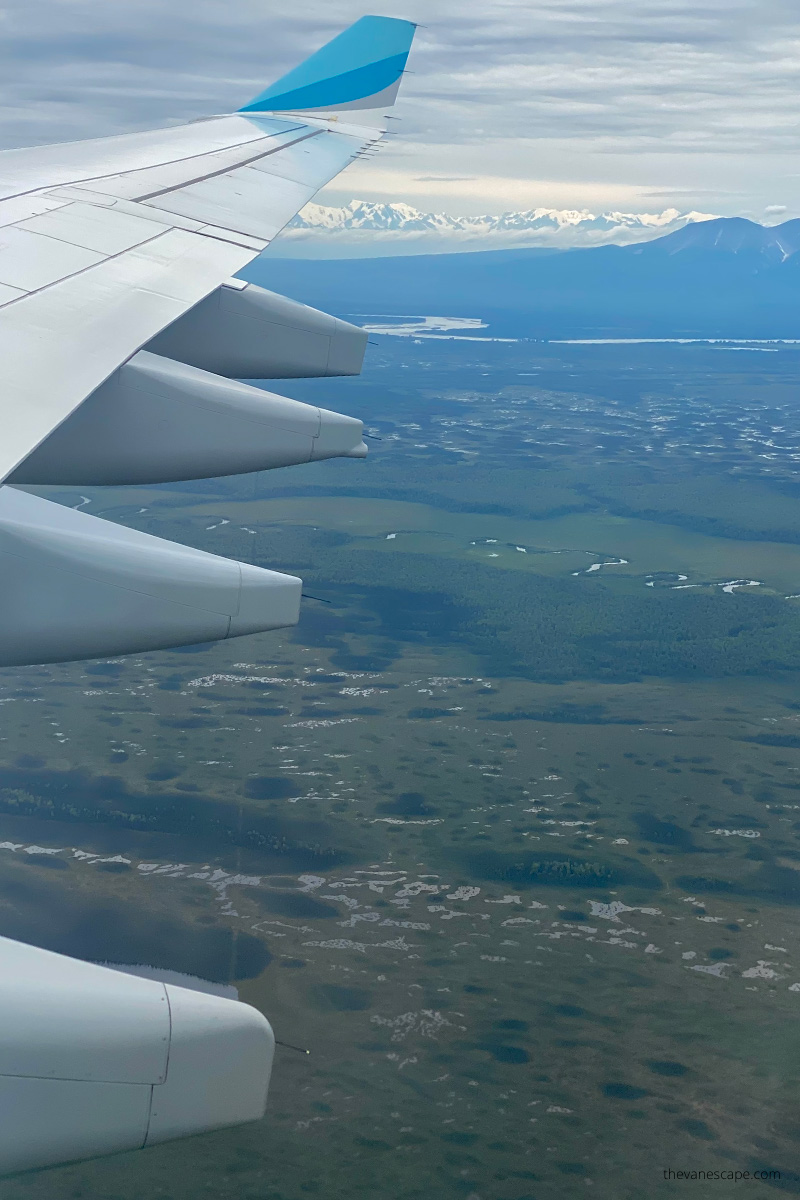 Anchorage to Fairbanks by Train
Operating Dates: year-round; Denali Star Train operates May 10 – September 21, and Aurora Winter Train operates September 24 – May 7.
Price: from $269 Adventure Class per Adult; $135 per Child (2-11 years old); and $489 Goldstar Service per Adult, and $ 279 per Child.
Duration: 12 hours; departure time from Anchorage is 8:20 am; arrival to Fairbanks is at 8:00 pm.
Traveling through Alaska by train is a real adventure. The Alaska Railroad runs on this route all year round. So you can take the train from Anchorage to Fairbanks in summer (Denali Star Train) or in winter (Aurora Winter Train). The train ride is very scenic but is also the longest. It takes almost 12 hours. So you'll spend the whole day traveling. With prices starting at $269 one way, it's not the cheapest mode of transportation, but it's one of the best Alaska experiences. You can stretch your legs as you stroll through the comfortable train compartments. You can also buy meals on board or enjoy a drink (these are included in a premium class ticket).
Our Tip: If you dream of traveling by train through Alaska but are on a budget or have less time for travel, you might consider the shorter route from Anchorage to Denali by train, the train ride from Anchorage to Seward.
Who do we recommend ride from Anchorage to Fairbanks by Train?
Railway enthusiasts.
People who like leisurely travel and admiring landscapes.
Travelers who are not in a hurry.
Photography enthusiasts, because on this route you can take great pictures.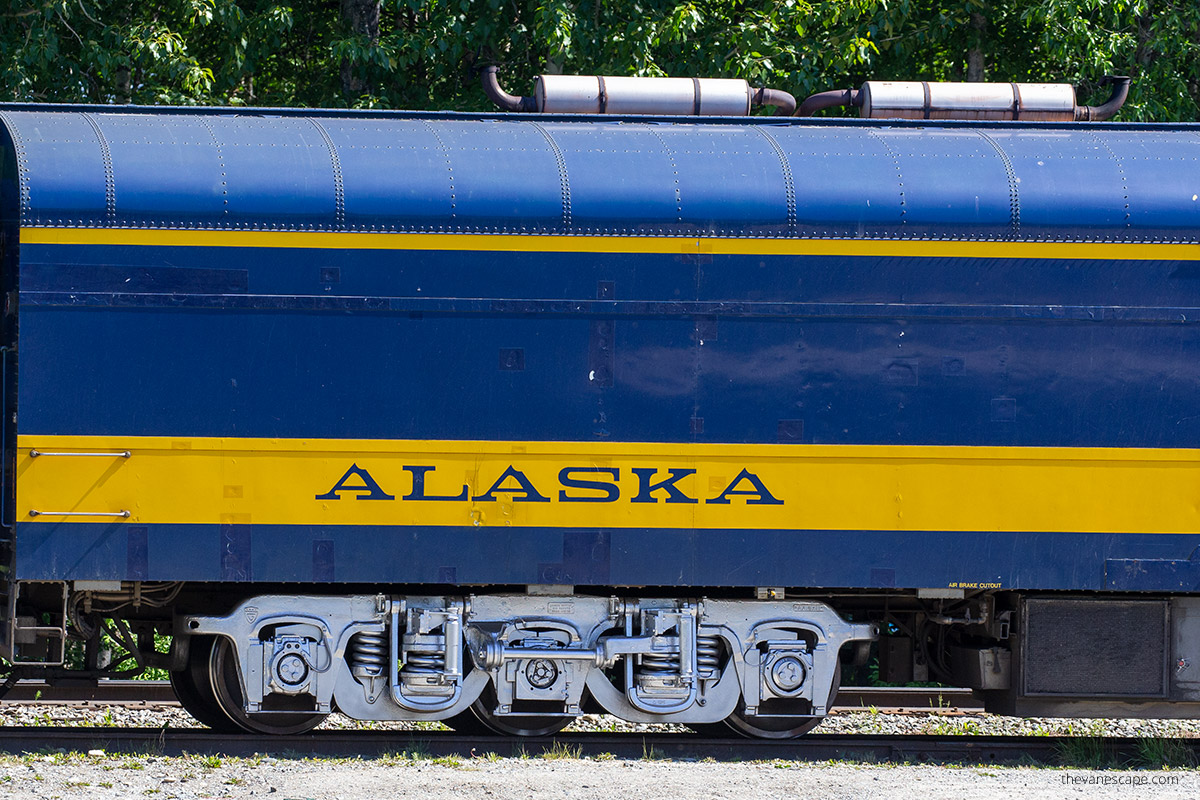 Anchorage to Fairbanks by Bus or Shuttle
Operating Dates: year-round
Price: from $198
Duration: 10 hours
Another type of transportation from Anchorage to Fairbanks is by bus. However, the bus ride on this route is a bit complicated because connections are on selected days of the week, and most of these connections go through Tok (not through Denali and Talkeetna). Therefore, we believe the best solution is to take the Northbound Shuttle. It starts daily in Anchorage and travels on the Parks Hwy past Talkeetna and Denali ending in Fairbanks.
Denali to Fairbanks Shuttle
But if you plan to visit Denali on the way, you can take a shuttle transfer from Denali to Fairbanks, which is a convenient option. Park Connection Motorcoach offers daily buses to Denali from Anchorage.
Our Tip: Due to the limited number of bus/shuttle connections between Anchorage and Fairbanks, don't hesitate to contact the chosen operator beforehand and ensure they offer services on the dates you want. In our opinion, there may be delays on this route by bus or shuttle, so plan your journey carefully if you choose this mode of transport.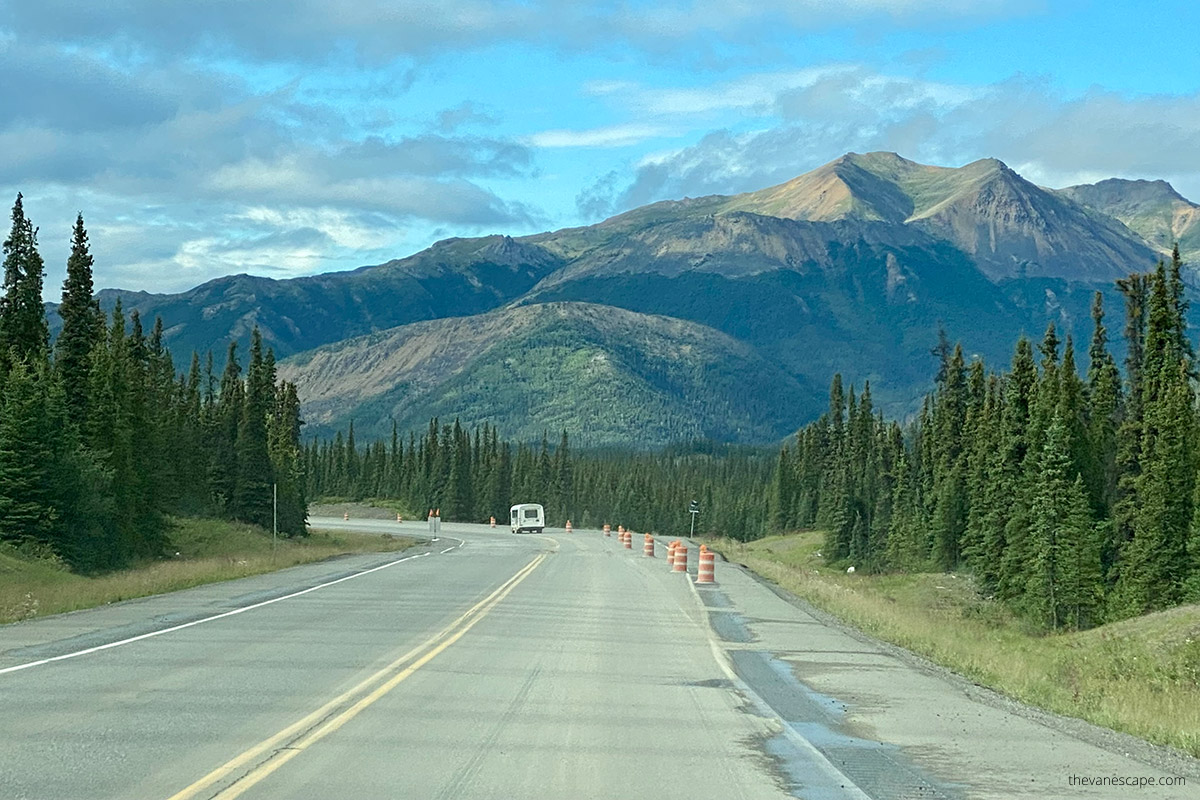 Driving from Anchorage to Fairbanks
You can drive from Anchorage to Fairbanks on your own. You can rent a car in Anchorage, which you can also return in Fairbanks. On our last road trip, we rented a car from this local company Alaska Auto Rental (you can read our review). We also did this route with our own camper truck and rented RV. So we drove this route with different cars.
We drove the route from Anchorage to Fairbanks and from Fairbanks to Anchorage. Moreover, we went through Talkeetna and Denali and a more extended way through Tok and the North Pole. However, this article focuses on the most popular route via Parks Highway.
Our Tip: If you're preparing for an Alaska adventure, look at our 10-day road trip itinerary with numerous helpful tips. And if you're unsure which city to begin your Alaskan journey from, our article Anchorage vs. Fairbanks from a tourist perspective may provide some insights.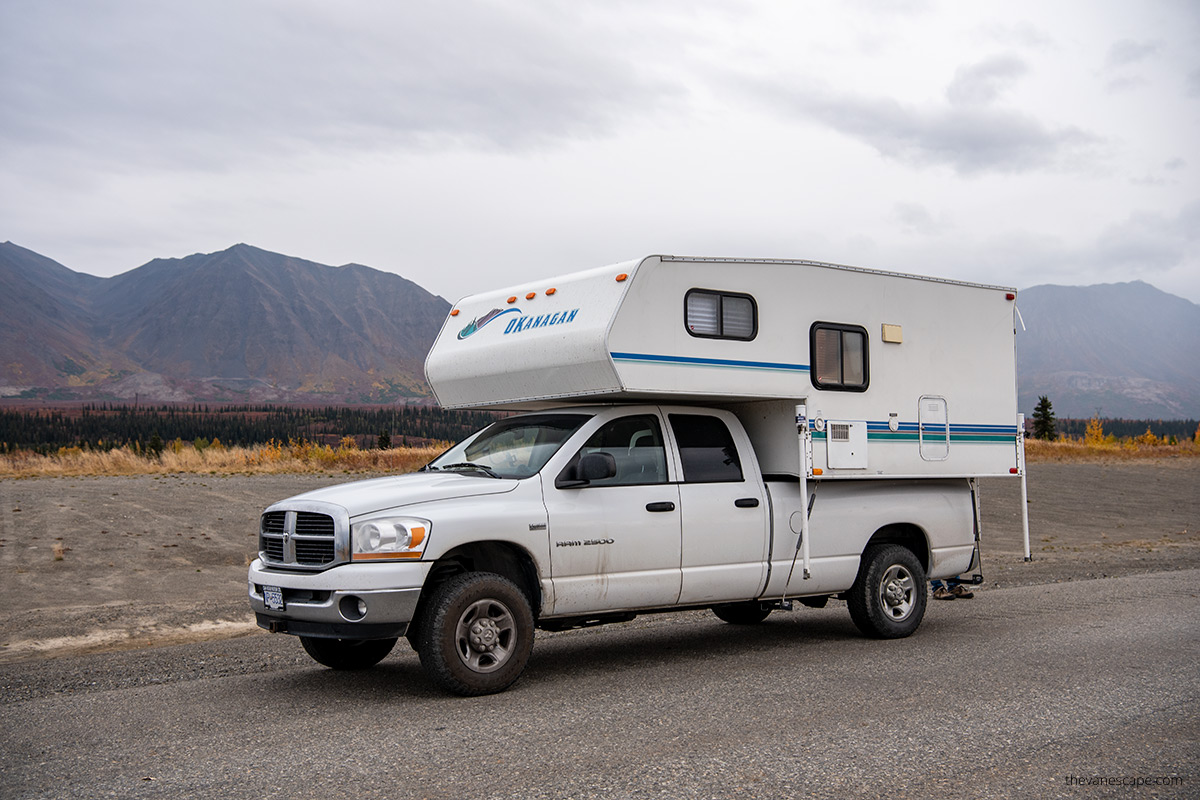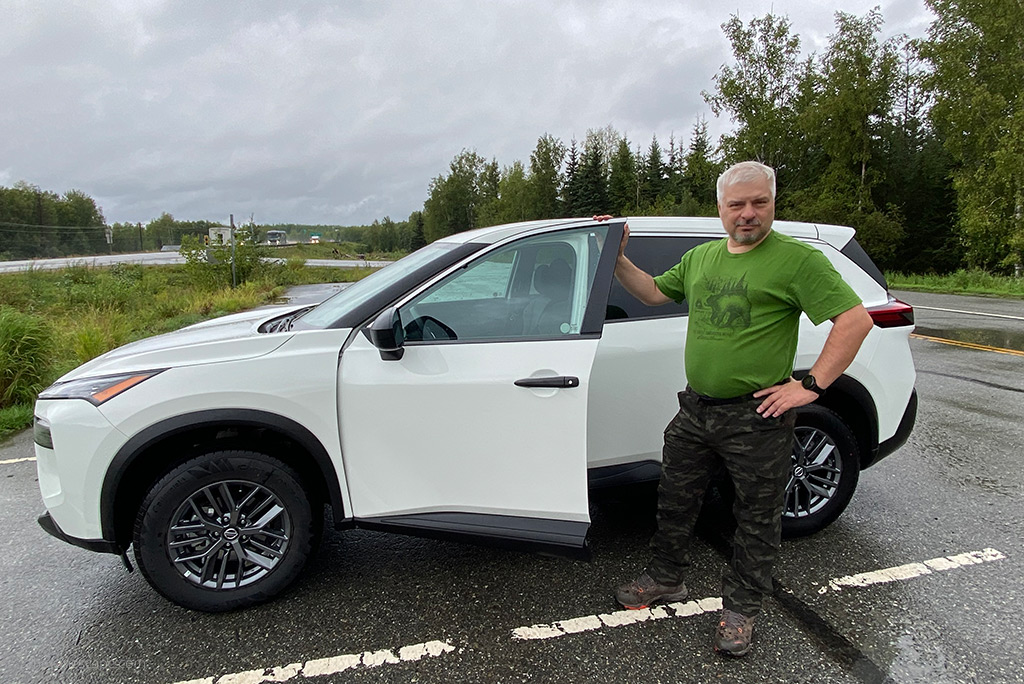 Anchorage to Fairbanks Driving Directions
The driving direction is quite simple. From Anchorage to Fairbanks, you have 358 miles north. Most of this route is via AK-3 N, The George Parks Highway. It runs 323 miles from the Glenn Highway, 35 miles north of Anchorage in the Alaska Interior. It's also known as Anchorage-Fairbanks Highway.
What is Anchorage to Fairbanks drive time?
Driving from Anchorage to Fairbanks will take you at least 6.5-7 hours without stops. Fairbanks is located 360 miles north of Anchorage. But driving time depends on the weather. If it's rain or snow, the driving time might be longer. Also, road work on Parks Highway can slower your driving a bit.
Moreover, you'll have a full day's drive if you make a few stops between Anchorage and Fairbanks (we've listed the best ones below). You can also do the Anchorage to Fairbanks road trip, and then you can spend several days on this route, visiting the most beautiful places in this part of Alaska, including Talkeetna and Denali. Keep reading for hints and details.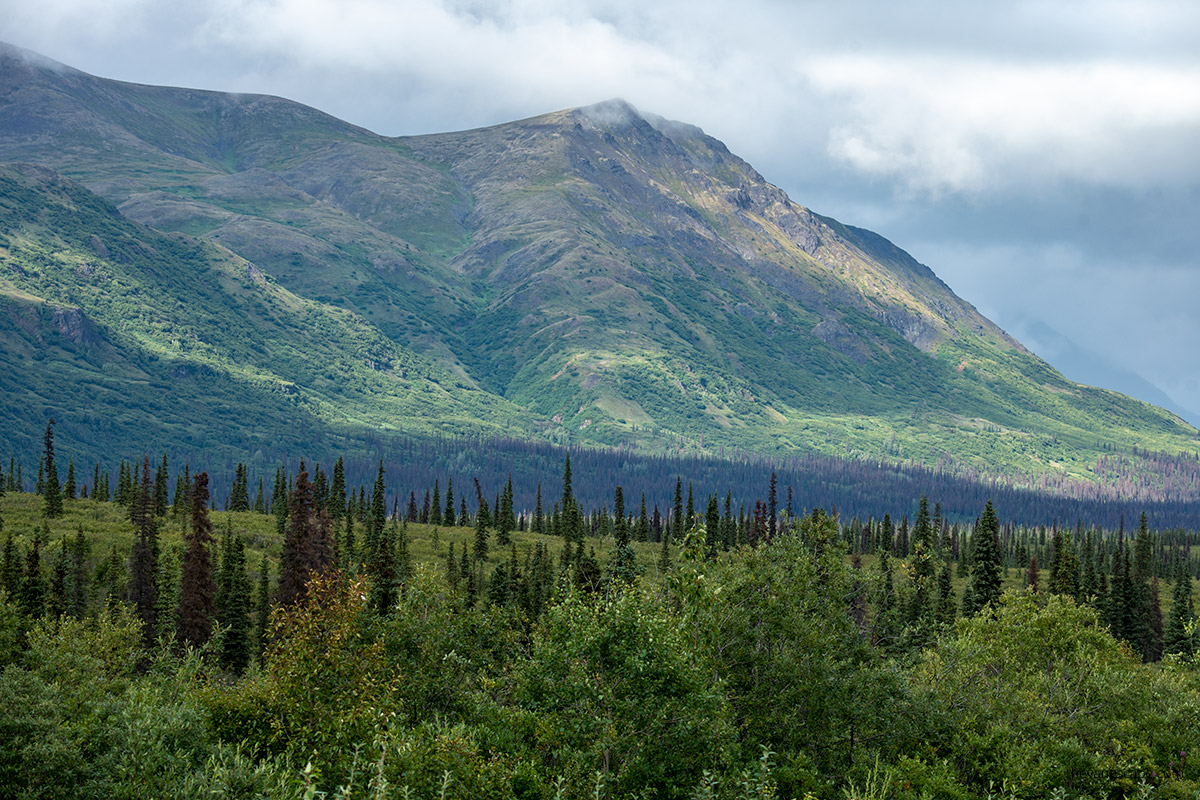 Is it easy to drive from Anchorage to Fairbanks?
If the weather is good, driving this route is not a problem. However, it would be best to make a few stops to rest and stretch your legs, especially since Parks Highway is a highly picturesque route. The road from Anchorage to Denali is paved, flat, and in good condition. A regular car is enough in the summer or fall months; no 4-wheel drive is needed.
Our Tip: Before the trip, it is worth checking the current road conditions or possible road works at the Alaska Department of Transportation and Public Facilities.
Is it safe to drive from Anchorage to Fairbanks?
It's relatively safe. The road is paved, flat, with little traffic. But always be careful and drive according to the rules of the road. Pay special attention to animals on the roadside. We saw moose many times on this route. We also saw bears. Also, be careful with changing weather. If there is rain, fog, or snow, it can be slippery.
Is there cell service between Anchorage and Fairbanks?
You can lose coverage on the Parks Highway in places and drive without coverage for miles. You will quickly have cell service in the most popular spots on the road, especially in Talkeetna, Denali, or Healy. So, download offline maps or pack Milepost Alaska, one of our favorite printed sources of information about Alaska.
Is driving from Anchorage to Fairbanks worth it?
Definitely, yes, it's one of the most scenic roads in Alaska (although all roads in Alaska are picturesque, and it's hard to decide which one is the best). This route is well worth the drive, especially if you have at least the whole day to do it to make some of the most exciting stops (list of the best ones below) along the way.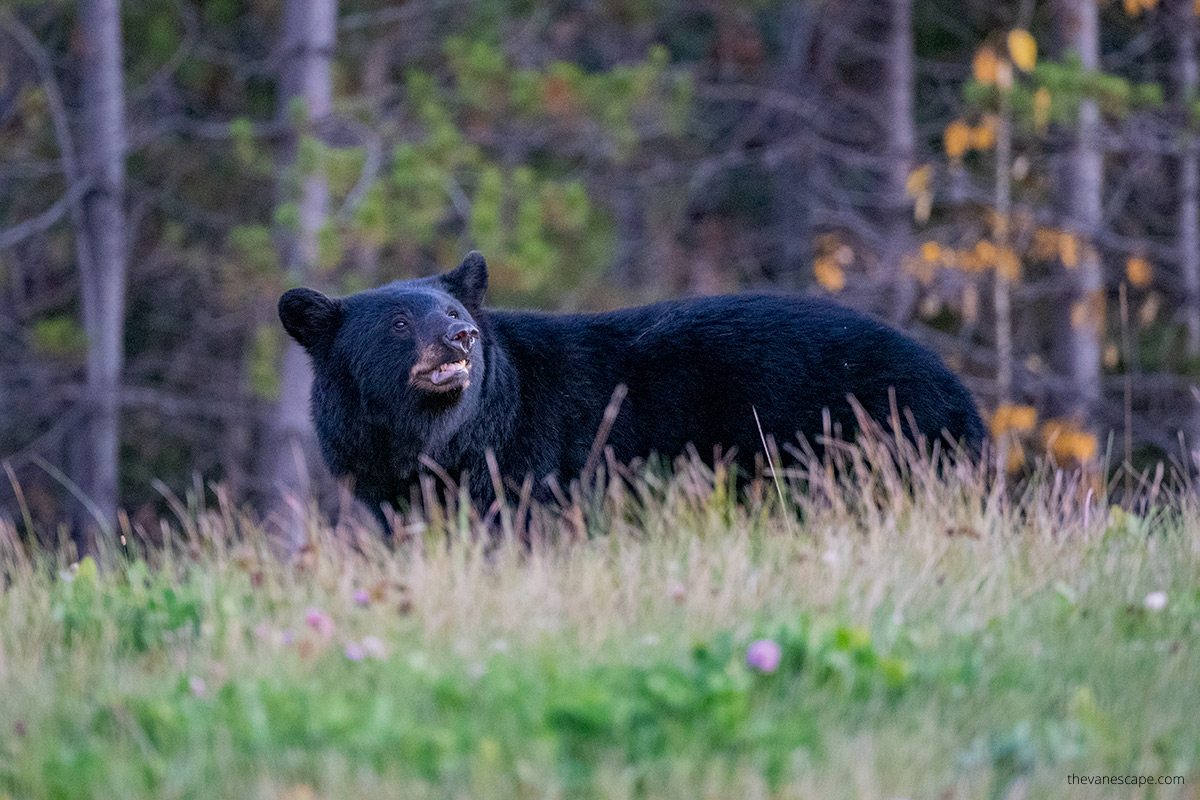 Can you drive from Anchorage to Fairbanks in winter?
Yes, Parks Highway is passable in winter. It is kept in reasonable condition all year round. But, of course, winter driving requires preparation. A tire chain and a 4WD vehicle are needed. Check the weather before the winter trip, as it might be challenging to drive during winter storms. Also, many services are closed for the winter, so pack snacks, food, water, and warm clothes.
15 Best Stops During Anchorage to Fairbanks Road Trip
Below is a list of our best 15 stops on the Anchorage to Fairbanks route. For this route, you can allow a day of driving and even spend a week visiting each place in detail, especially if you want to explore Denali and Talkeetna, which have the most attractions. The following list will help you choose places according to your needs and interests. We give the estimated time you'll need for each stop. If you decide to stay overnight along the way, we also show you the best places to stay between Anchorage and Fairbanks.
But if you only have one day for your Anchorage to Fairbanks road trip, we highly recommend the best 5 stops: Talkeetna, Igloo City, Denali Village, Healy, and Nenana. If you're in a hurry, skip stops below 1 to 5 and stop at Talkeetna.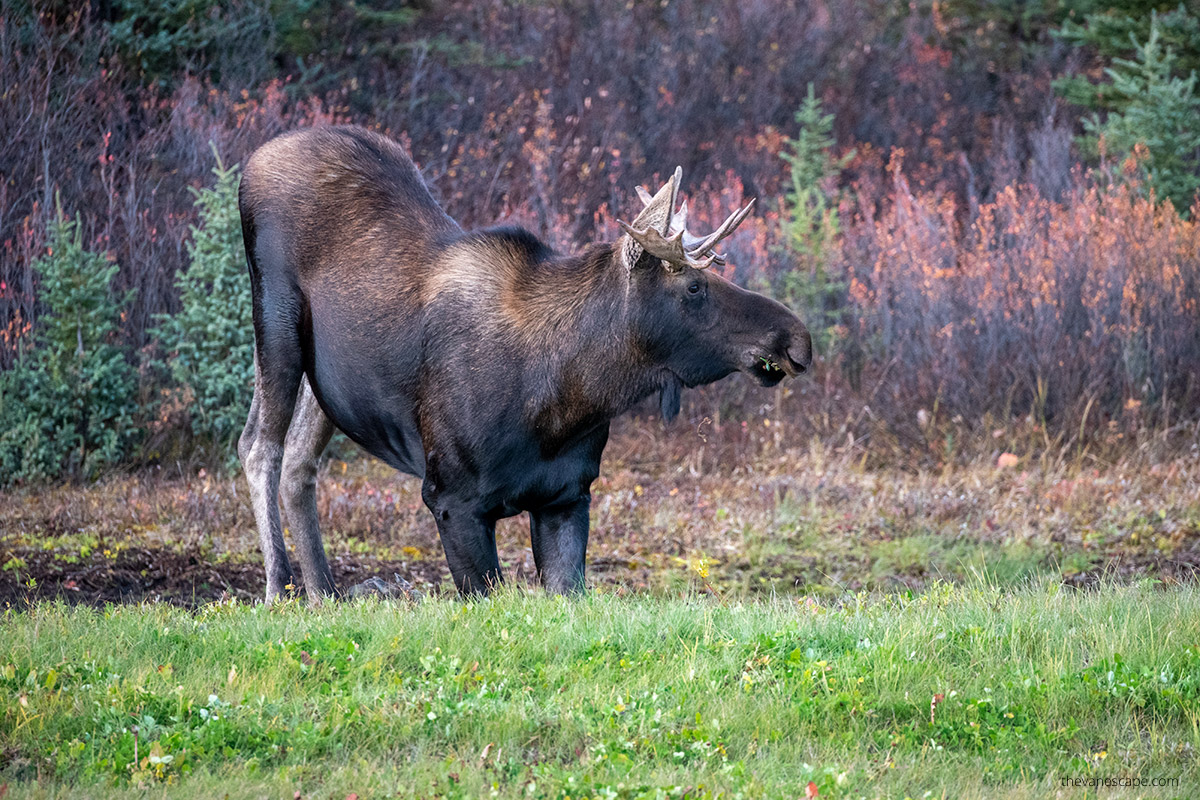 1. Eklutna Historical Park
Time required: 20-30 minutes
Fee: $5 Adult
Eklutna Historical Park has a Russian Orthodox log church and a cemetery with colorful spirit houses. You can visit a similar church in Ninilchik if you want to explore Homer on the Kenai Peninsula.
2. Knik River
Time required: 60 minutes +
Fee: no
You'll have to make a slight detour to get to the Knik River Public Use Area. We recommend this place if you have more time for your road trip from Anchorage to Fairbanks. If you have a day, skip it. Hundreds of miles of trails are here, including Knik Glacier, Knik River, Pioneer Peak, Jim Creek, Metal Creek, and Hunter Creek. The high-elevation Chugach Mountains form the Knik River Valley.
3. Reflection Lake
Time required: 20-60 minutes
Fee: no
​Reflection Lake is located on the Knik River access ramp north of Palmer on the Glenn Highway. Although it's right off the highway, the lake offers a quiet retreat. There is an easy 1.1-mile trail that makes a loop around the entire lake.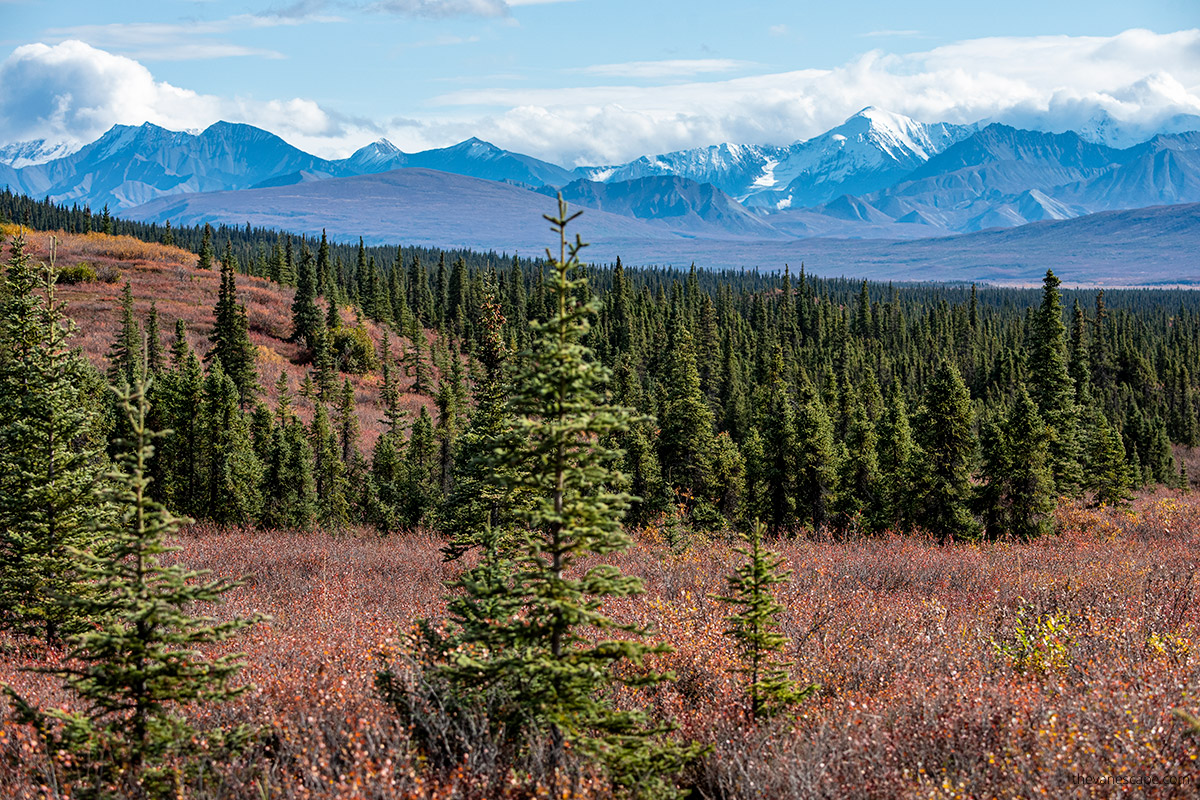 4. Museum of Alaska Transportation & Industry in Willow
Time required: 20-40 minutes
Fee: Adults $8, Children (3-17) $5
It's a self-guided museum four miles from downtown Wasilla. You can see old trains, airplanes, heavy machinery, fishing boats, and cars and explore old farm and oil machinery. The largest exhibit is a train with four old cars and the original Matanuska Train Stop building.
5. Iditarod Sled Dog Race Restart in Willow
Time required: 5-10 minutes
Fee: no
The Iditarod Trail Sled Dog Race officially starts in Willow at the beginning of March. You can take a photo with the Iditador race sign. This is formally called the Iditarod "Restart" because there is also a ceremonial start in Anchorage. It's one of the main reasons to visit Anchorage in winter.
Our Tip: If you have more than one day to drive from Anchorage to Fairbanks, you can also plan to visit Palmer. Then you can see the historic gold mine (one of the best in Alaska) and drive over Hatcher Pass to Willow. And then from Willow, continue to Fairbanks. But for this route, you need a 4 WD car and an overnight stay (preferably in Talkeetna or Denali).
6. Talkeetna Turnoff
Time required: 1 hour – several days
Fee: no
Talkeetna has so many attractions that you can spend even a few days here. But you can also drop in for an hour for a walk around the tiny town, drink coffee or eat spinach bread. This is our favorite stop on the route between Anchorage and Fairbanks, one of the coolest towns in Alaska.
From Talkeetna, we made this Flyer Flight Tour with Glacier Landing, one of our best Alaska adventures.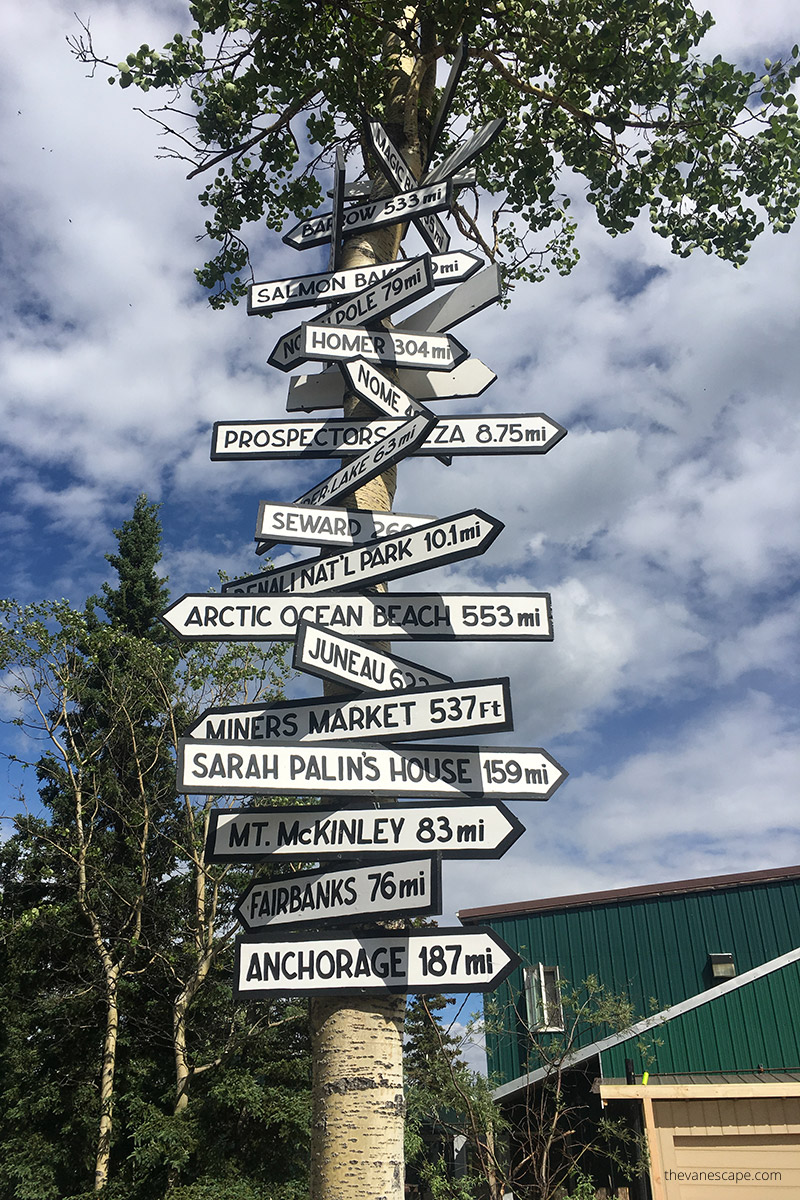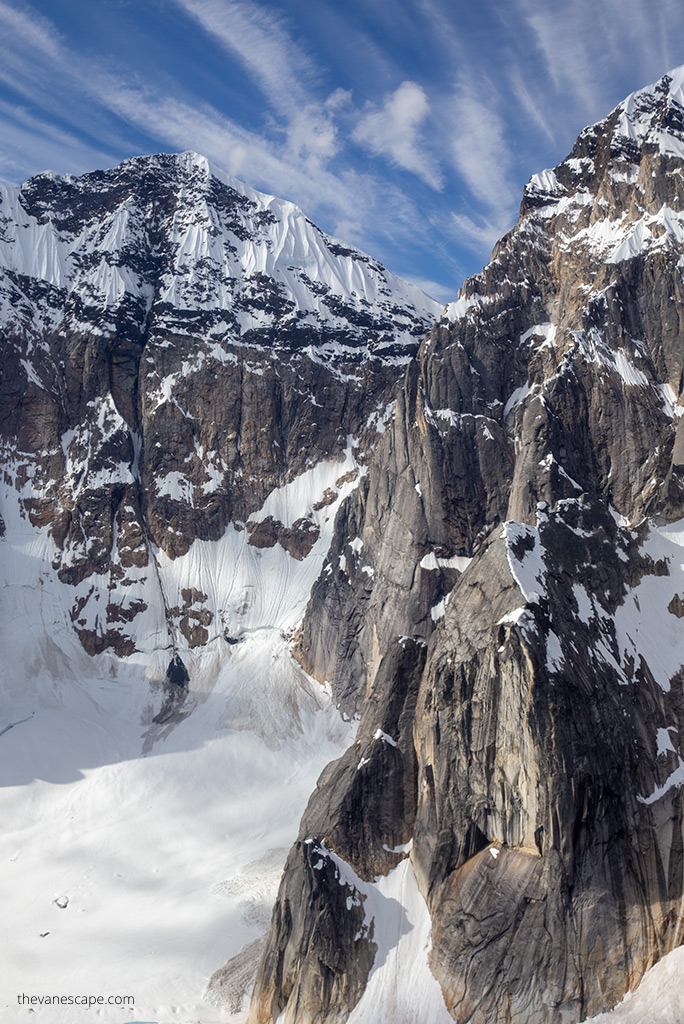 7. Kahiltna Birchworks
Time required: 15-30 minutes
Fee: no
If you would like to try Alaskan birch syrup, then when leaving Talkeetna, you can stop for a while at Kahiltna Birchworks. Entrance to the shop and seeing the garden where the syrup is made is free. But of course, you have to pay for the delicious syrup—an exciting place for a short stop.
8. Denali Viewpoint South
Time required: 30-40 minutes
Fee: no
Denali View South is located at Mile 135.2 of George Parks Highway, about 40 miles from Denali. If the weather is good and has perfect visibility, it offers a spectacular view of Denali Mountain. There is also Denali South View Campground, with 9 campsites. At Mile 162.7 is another wayside with a different view of Denali. It's Denali View North with a Campground & RV Park total of 20 sites.
9. Alaska Veteran's Memorial
Time required: 5-10 minutes
Fee: no
The Alaska Veteran's Memorial is located in Denali State Park at mile 147.1 between Anchorage and Fairbanks. The memorial consists of five 20-foot-tall concrete panels, each representing the Army, Air Force, Navy, Marines, and Coast Guard, arranged in a semicircle. A statue of two Alaska Territorial Guards carved by Canadian sculptor George Pratt greets you at the entrance. The Memorial is closed during winter.
10. Igloo City
Time required: 5-10 minutes
Fee: no
If you like quirky, abandoned places, the Igloo Hotel is one you should see, especially since this stop won't take longer than a few minutes. Located at mile marker 188.7 on the east side of the George Parks Hwy, this abandoned hotel is one of the weirdest buildings you can spot in Alaska.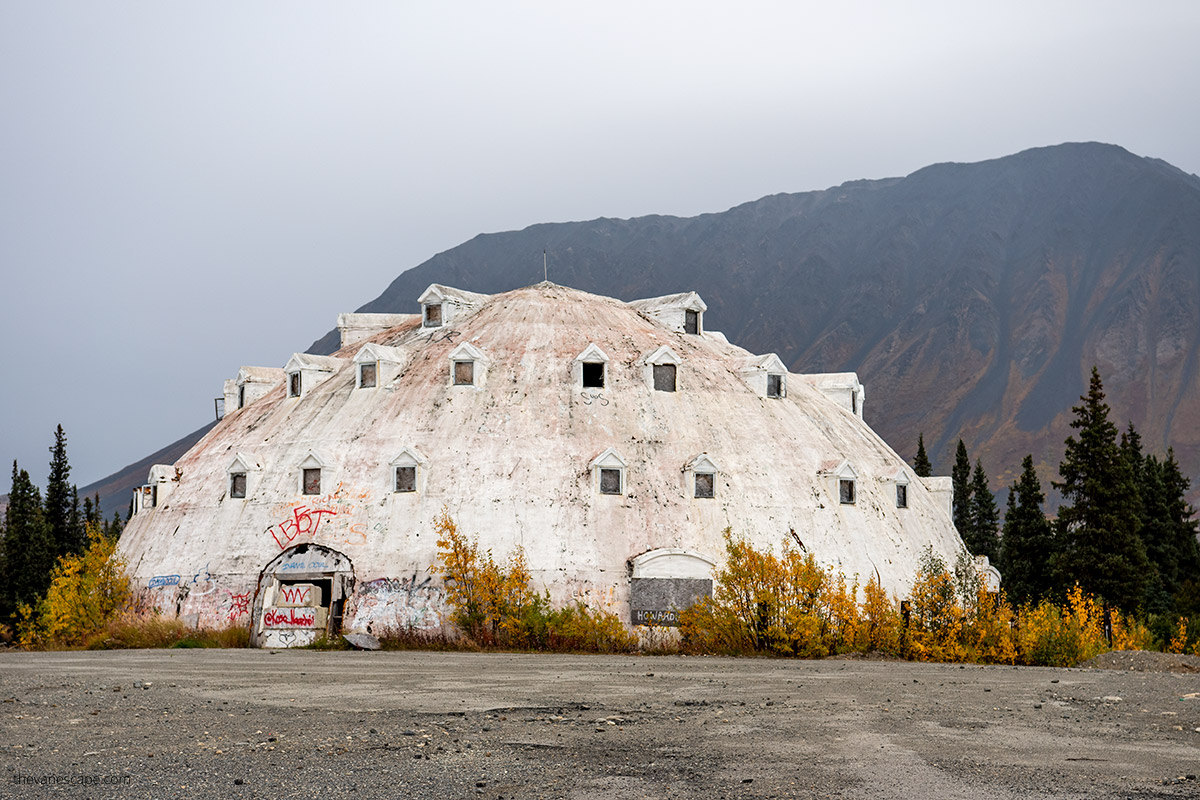 11. Denali National Park
Time required: half day – several days
Fee: yes
You should plan at least 2-3 days for visiting Denali National Park; one day is the minimum. We've been to this park several times for a few days each time, and it's still not enough for us. We love hiking trails in Denali, wildlife viewing in Denali, staying at Denali campgrounds, and exploring the park wilderness. But if you don't have that much time and are traveling by car – you can drive to mile 15 Denali Park Road (only this mile can be reached by private vehicle).
It shouldn't take you more than 3 hours to drive through this short stretch of the park, with stops for photos and a short walk along the river at mile 15. But during the day, it can be a problem to park at mile 15 as parking is limited.
Our Tip: If you have a beautiful sunny day and excellent visibility – it's worth the drive to mile 15 in Denali. But if there are clouds or rain – skip this stop. You can also plan your trip from Anchorage to Fairbanks with a longer stop in Denali, so check out where to stay in Denali (including hotels and lodges), our Denali itinerary for 3 days, and top things to do in Denali.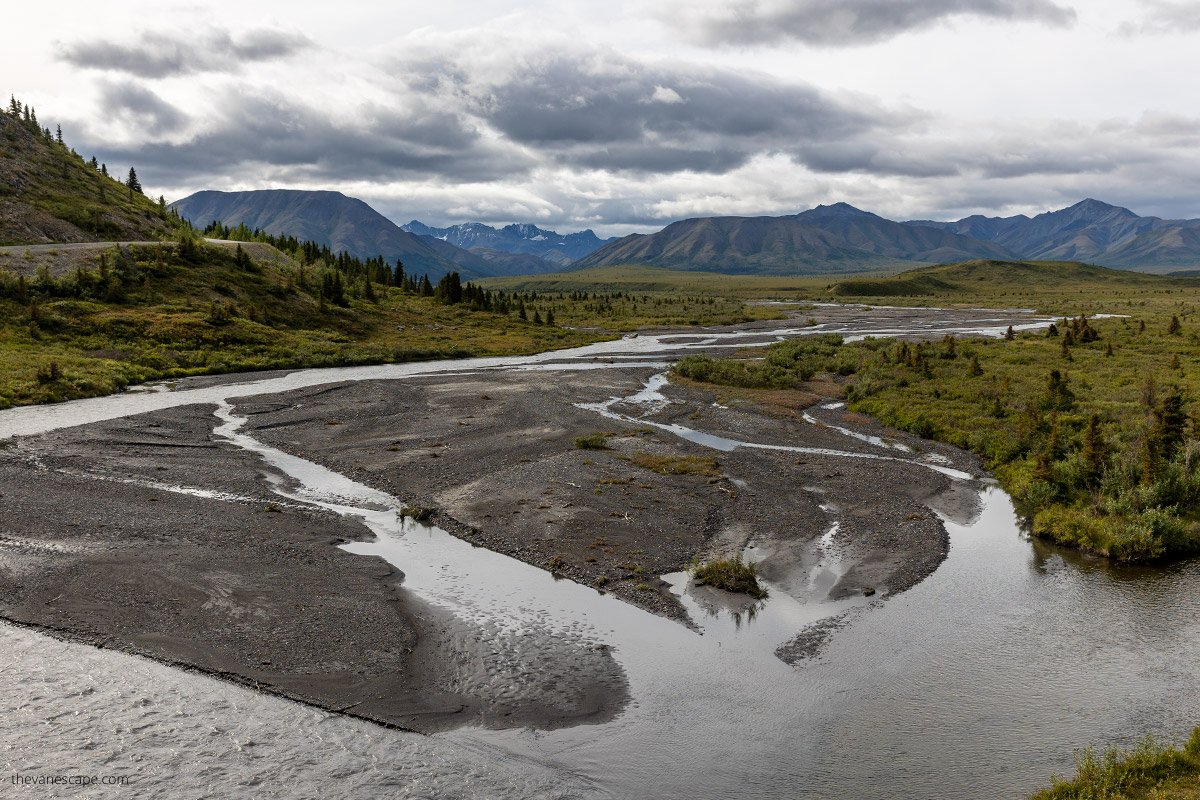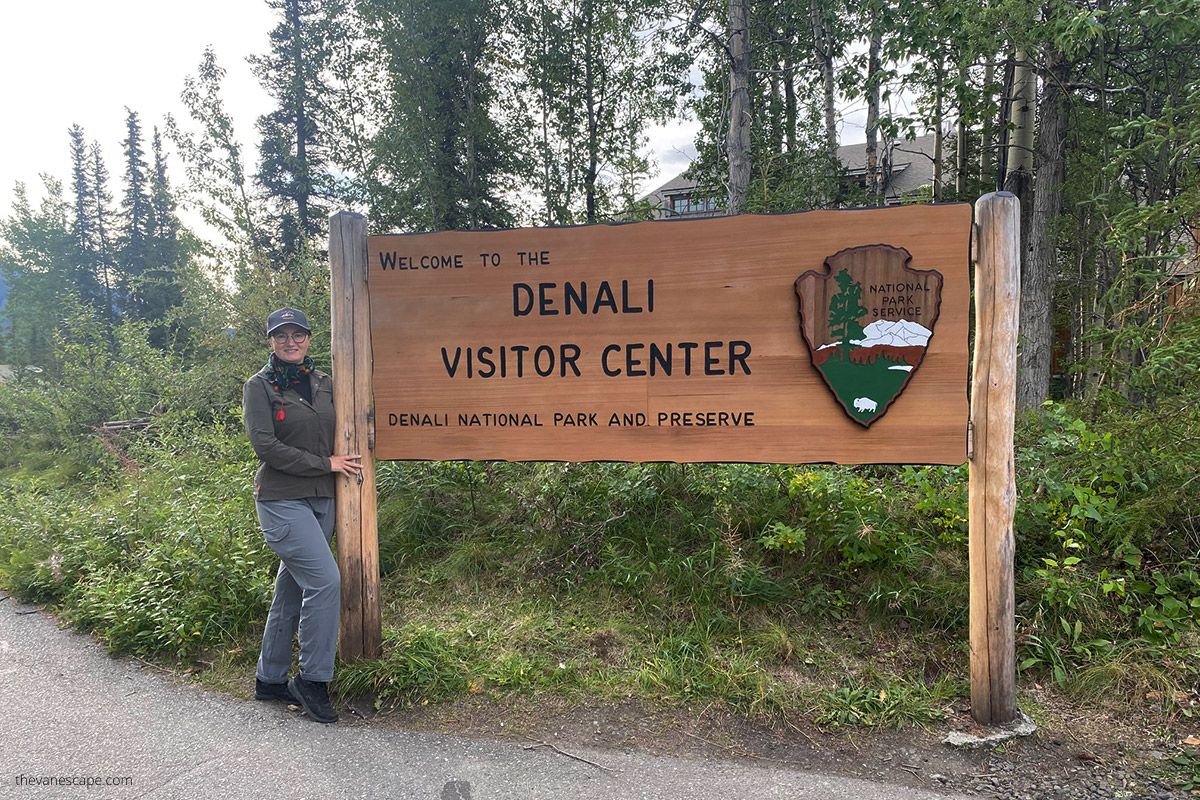 12. Denali Village
Time required: 60 minutes – several days
Fee: no
Denali Village is the gateway to Denali National Park. Most of the hotels, services, and Denali tours are here. You can stop here for an hour to grab a bite to eat, gas up your car, or take a short walk. And you can stay here for a week without getting bored.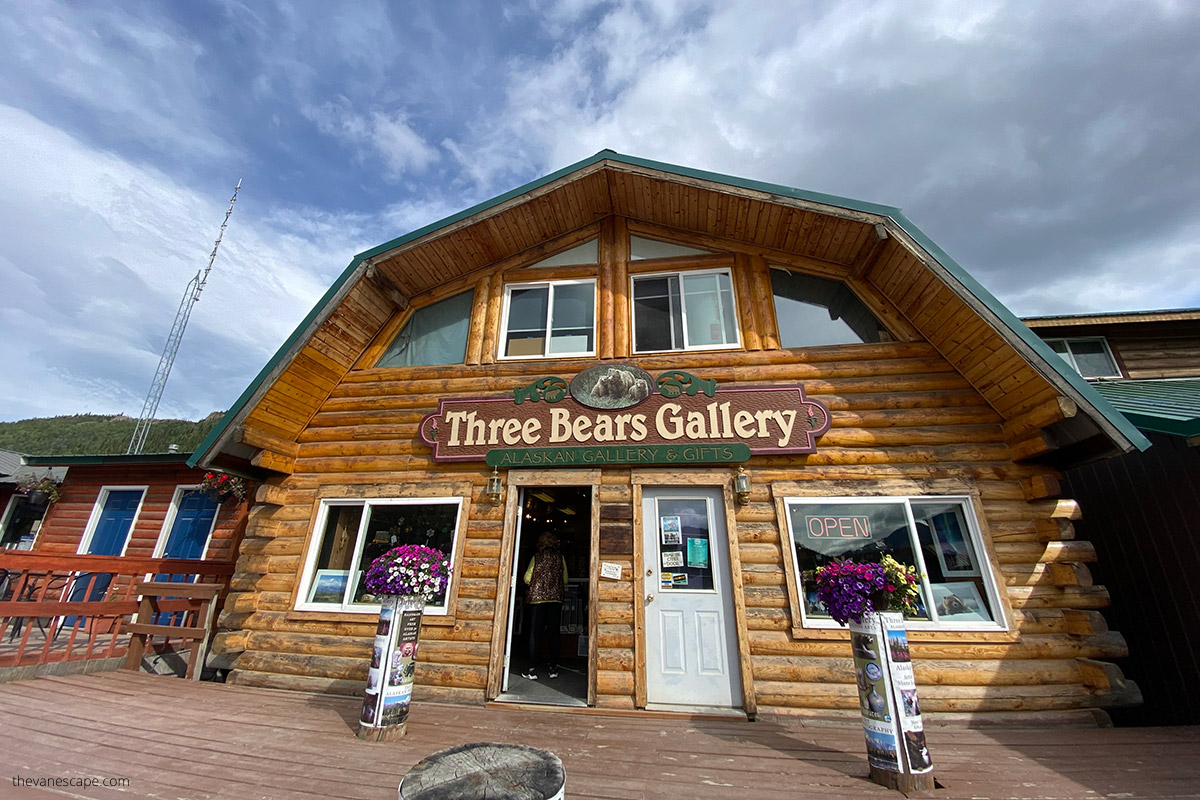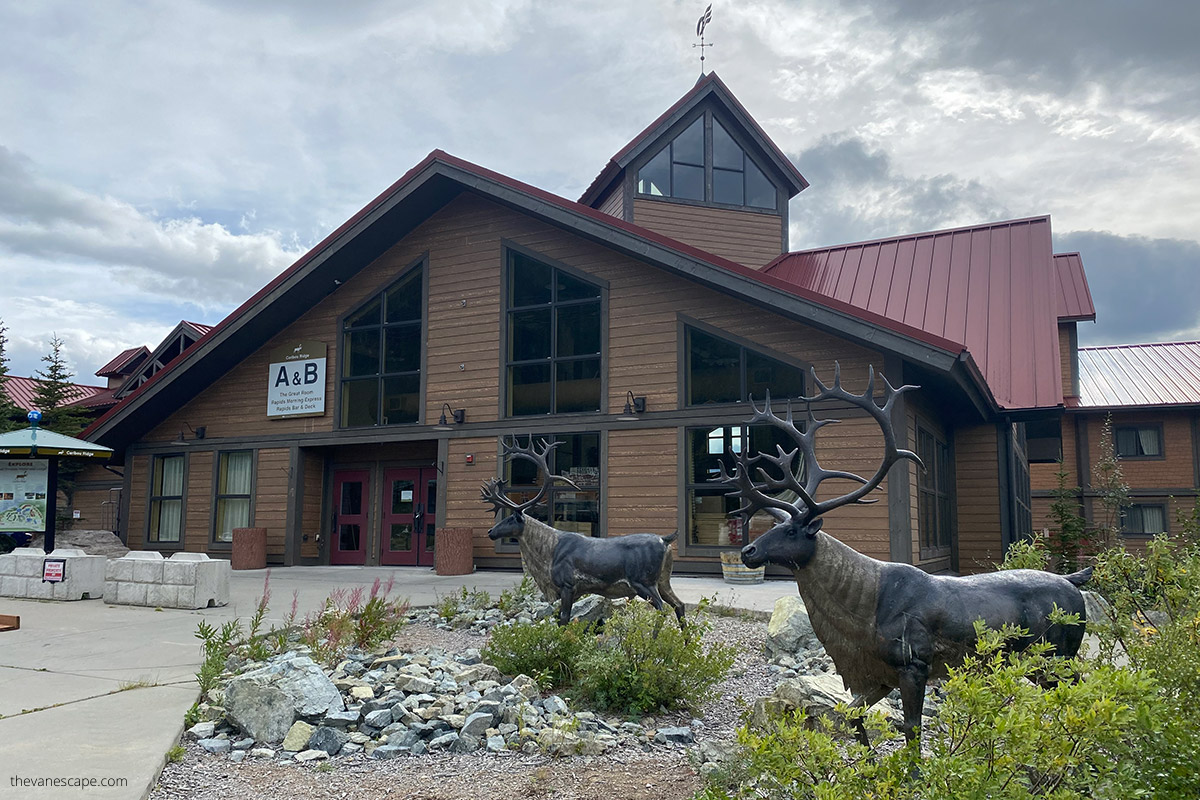 13. Healy
Time required: 20-60 minutes
Fee: no
If you remember the moving book and movie Into the Wild, you must stop at Healy. A replica of bus 142 is here, which was prepared for the film (the original bus is in the Museum in Fairbanks). We always stop here. In fact, the replica of the bus is located on 49th State Brewing, a great restaurant, and we can't resist this spot.
Every time we come here, we get hungry just thinking about this place because the food here is great. The other day we even ate 30 minutes before we got to Healy (so as not to spend money here, but we spent it anyway). Their other restaurant is one of the best places for dinner in Anchorage.
14. Nenana
Time required: 20-60 minutes
Fee: no
Nenana is famous for its Ice Classic, a lottery to guess when the ice will break up on the Nenana River in April or May. It is a tradition that has been going on since 1917. But there's much more to see in Nenana, so it's worth coming here. This historic town is one of our best stops on the drive from Anchorage to Fairbanks or back. Here you will find interesting old architecture, beautiful murals and one great local restaurant, which we recommend for a meal.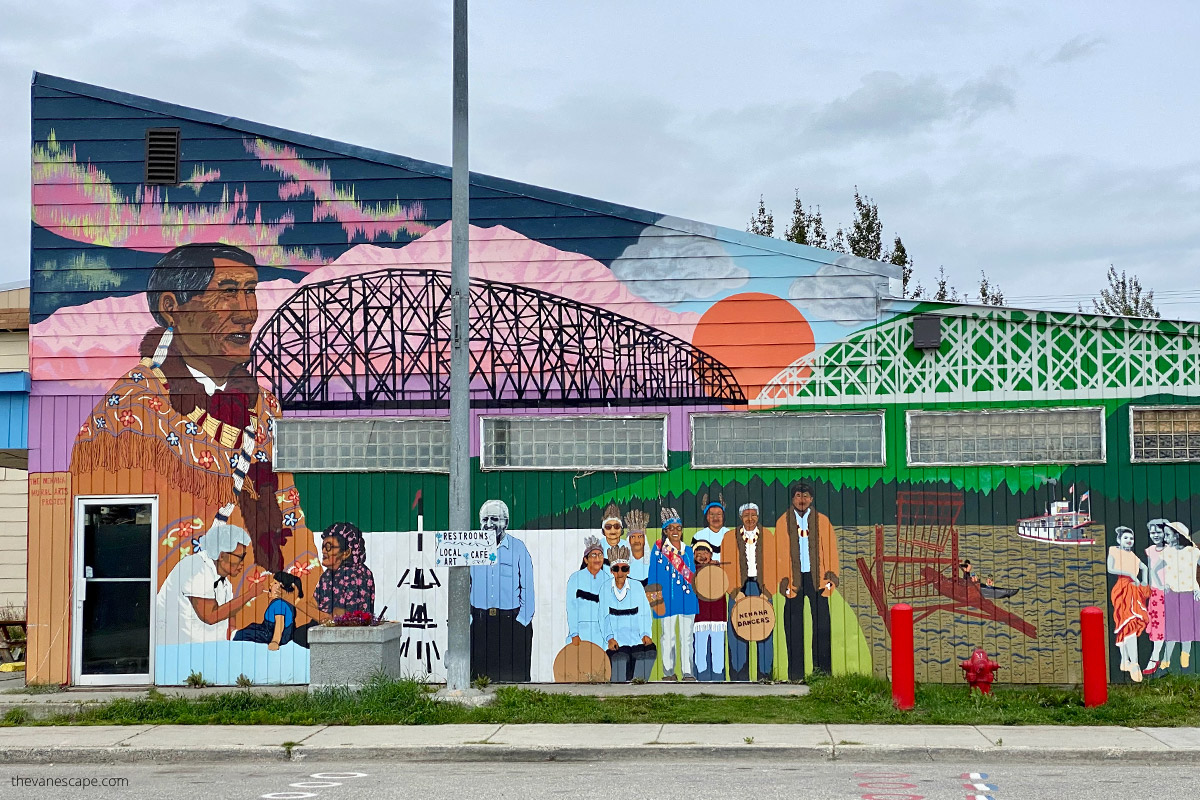 15. Ester Gold Camp and Malemute Saloon
Time required: 20-30 minutes
Fee: no
If you like places where time has stood still and want to see Alaska's appearance during the gold rush, you must visit Malemute Saloon in Easter Gold Camp. It's located just outside of Fairbanks. It's on the National Register of Historic Places list. The Assay and Blacksmith store date back to the early 1900s when Ester City was a small mining town. The remaining buildings date from 1920 to 1960 when the camp served as a residence and logistical support for a large Fairbanks Exploration Company dredging operation.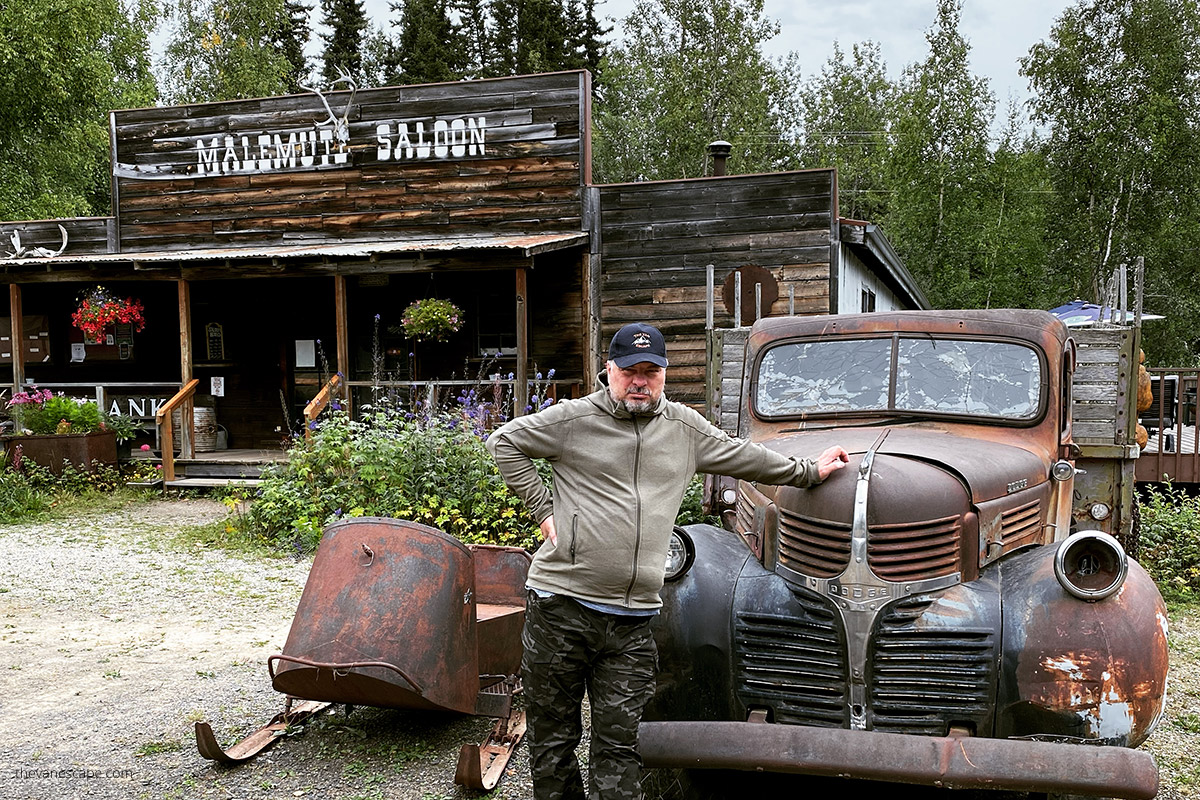 Places to stay between Anchorage and Fairbanks
If you are looking for places to stay between Anchorage and Fairbanks, the best you will find is Talkeetna, Denali Park Village, and Healy.
Hotels
If you plan to travel on this route during the summer months – we recommend you book your hotel in advance, as in summer, the prices can break your budget, especially if you plan to stay overnight in McKinlay Park near Denali. Slightly cheaper is in Healy. Looking at the map below for the best accommodation options with their exact location on Parks Highway is best.
Campgrounds
We traveled this route several times, sleeping in a tent or RV. Our favorite campgrounds are Talkeetna Camper Park, and Tatlanika Trading Co. & RV Park at mile 276 on the Parks Hwy, between Nenana and Healy. We stayed there several times and sincerely recommended these places.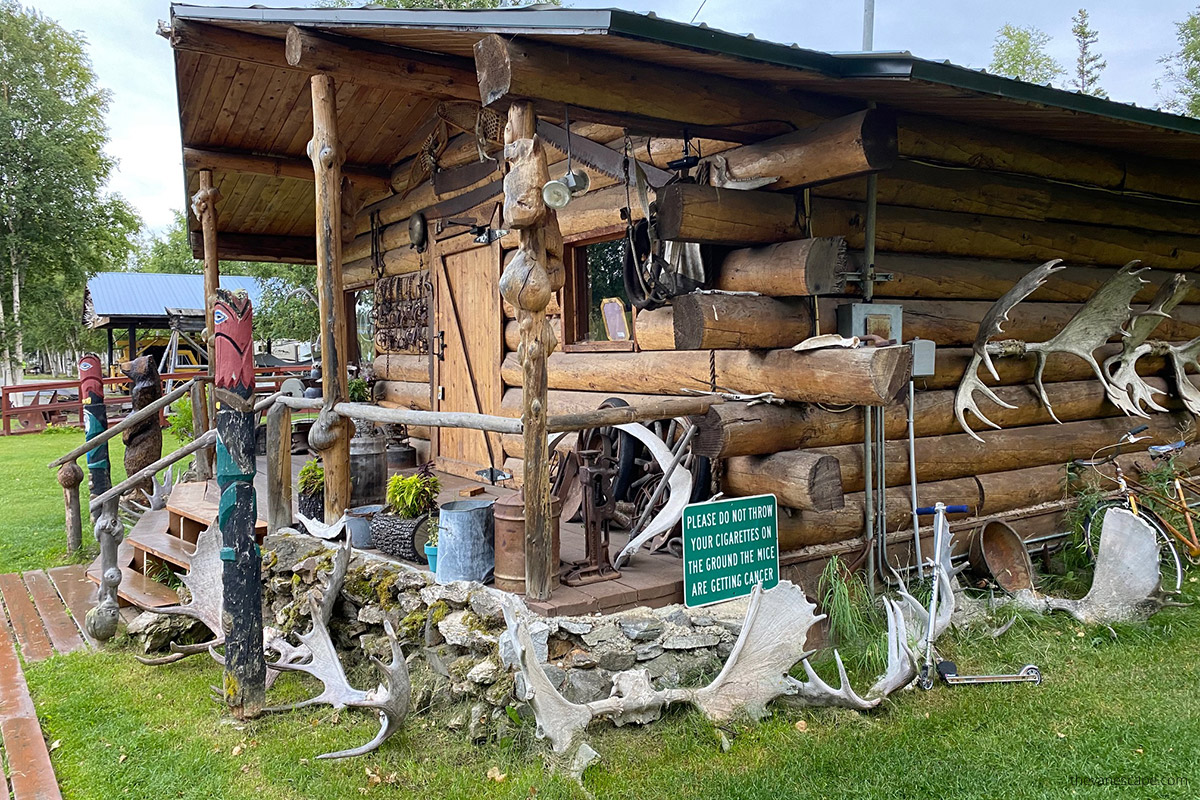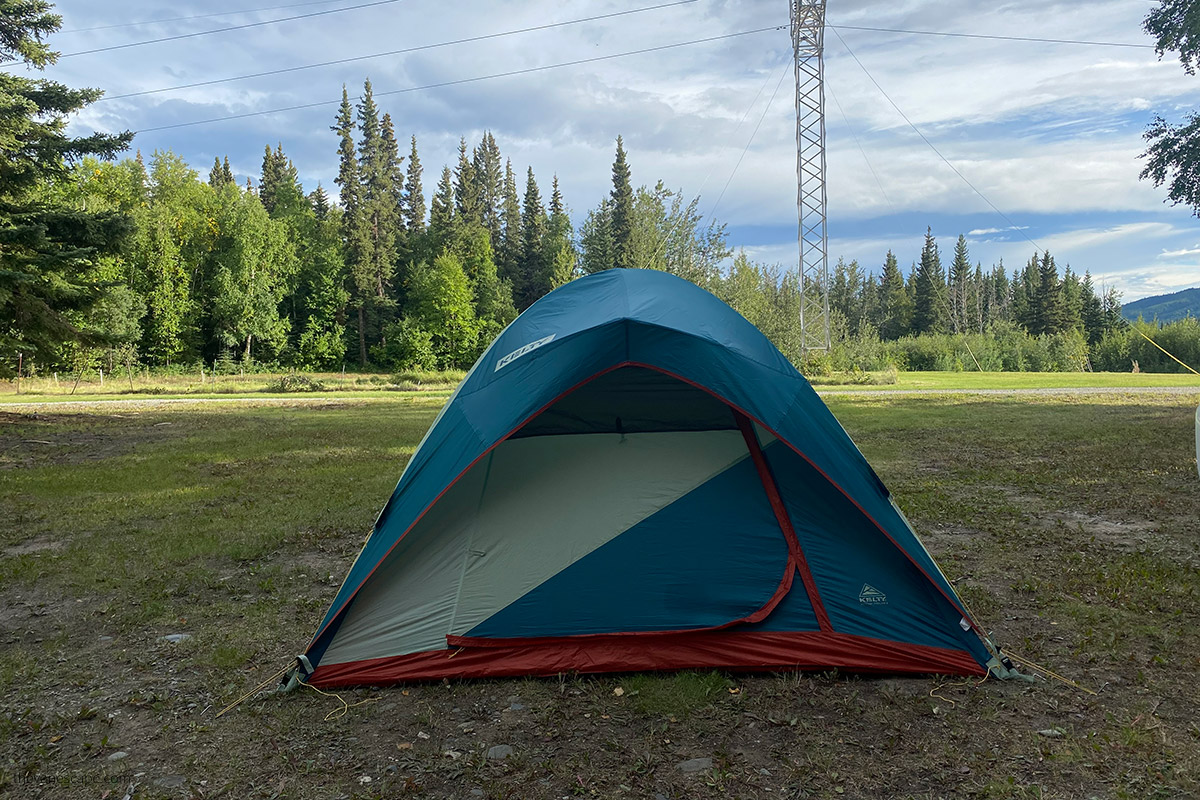 Getting from Anchorage to Fairbanks – Summary
The drive from Anchorage to Fairbanks, with stops in between, is our favorite option for travel between these cities because of the scenery. However, if you're short on time, the flight is the best and cheapest mode of transportation. Alaska Airlines offers great connections at excellent prices. If you have more time, you should opt for the Alaska Railroad, as it's a fantastic adventure, but you'll need a whole day for it. Taking the bus/shuttle might be a bit risky on this route as there are no regular schedules.
A good solution is also to combine transportation modes between Anchorage and Fairbanks. If you don't have time and travel on a budget, you can take a plane from Anchorage to Fairbanks and return by car. Or if you have a little more time, you can take the train and return by plane or car.