How Much Does an Alaskan Cruise Cost? A Budget Guide 2024
Ah, Alaska—the Last Frontier! A place where majestic glaciers, awe-inspiring wildlife, and untouched landscapes beckon. You're not alone if you've ever dreamed of cruising through this stunning state. But one question often looms large: How much does an Alaskan cruise cost? We have compiled a thorough analysis of Alaskan cruise prices for 2024. We show you all additional unexpected costs to factor into budgeting your trip.
This article may contain affiliate / compensated links. For full information, please see our disclaimer here.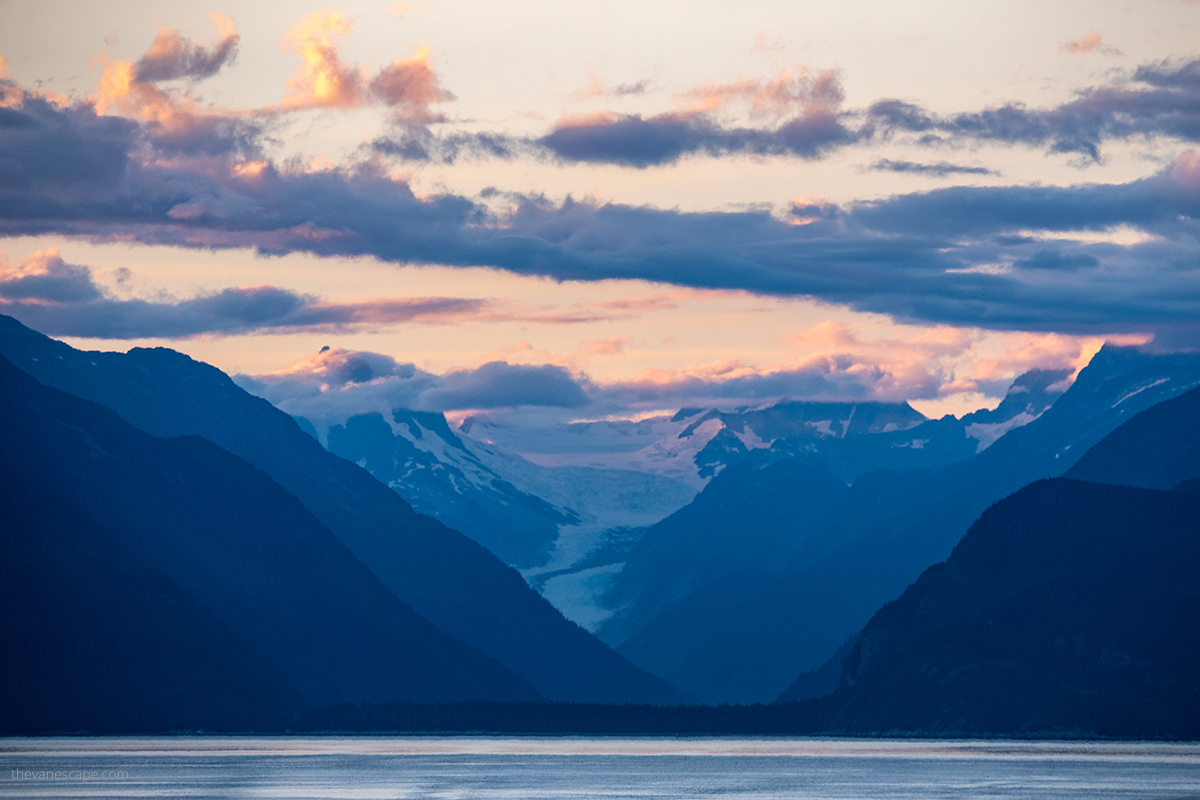 Alaskan Cruise Prices in 2024 – Introduction
Ever watched those Alaska cruise advertisements flaunting week-long trips for just $600-900 and thought, "Is this for real?" If it seems too good to be true, that's because it often is. While these low starting prices can grab your attention, they're just the tip of the iceberg. The actual cost of an Alaskan cruise can climb into the thousands when you factor in additional expenses like shore excursions, specialty dining, and more.
In this comprehensive guide, based on our experiences and analysis, we'll break down the cost of an Alaskan cruise, from the type of cabin you choose to hidden fees that catch you off guard. We'll also delve into factors like shore excursions and itinerary choices that can affect your overall Alaskan cruise prices. And if you're wondering how to budget for this once-in-a-lifetime trip, we've got you covered with practical budgeting tips.
Spoiler Alert: Don't miss the last section of the article, where we'll reveal exactly how much our Alaskan cruise cost us, giving you a real-world example to help you plan your dream Alaskan cruise in 2024.
Factors Affecting the Cost of an Alaskan Cruise
When it comes to planning your dream vacation aboard an Alaskan cruise, understanding the various factors that influence the average cost for an Alaskan cruise is crucial. Several elements can significantly impact your overall expenses, from the time of year you choose to sail to the type of cabin you book. Let's dive into these factors to help you make an informed decision.
Seasonality
The Alaskan cruise cost can vary greatly depending on when you decide to set sail. The Alaska cruise season typically runs from May to the end of September, with peak months being June, July, and August. During these high-demand months, you can expect to pay a premium. If you're looking for a budget-friendly option, consider cruising during the shoulder seasons of May and September. Make sure to pack properly for your Alaska cruise.
Type of Cruise Line
The cost of an Alaskan cruise also depends on your chosen cruise line. Mainstream cruise lines like Norwegian Cruise Line (our pick), Carnival, and Royal Caribbean offer more affordable options, from around $100 to $200 per person daily. On the other hand, luxury lines like Seabourn can cost upwards of $300 to $500 per person daily. Your choice will depend on the kind of experience you're looking for.
Length of Cruise
The duration of your journey is another factor that affects Alaskan cruise prices. Most Alaskan cruise tours run for 7 to 12 nights; the longer you stay, the more you'll pay. The most popular are 7-night cruises. We chose a ten-night cruise to spend more time in Alaska. Longer cruises often offer a more comprehensive experience, allowing you to explore more destinations.
Type of Cabin
Your choice of cabin can significantly impact how much you end up paying. Inside cabins are generally the most budget-friendly, costing between $75 and $150 per person daily. If you're looking for a room with a view, ocean-view cabins can range from $100 to $200 per person per day. For those wanting a more luxurious experience, balcony cabins and suites can cost anywhere from $100 to $300 and $250 or more per person per day, respectively.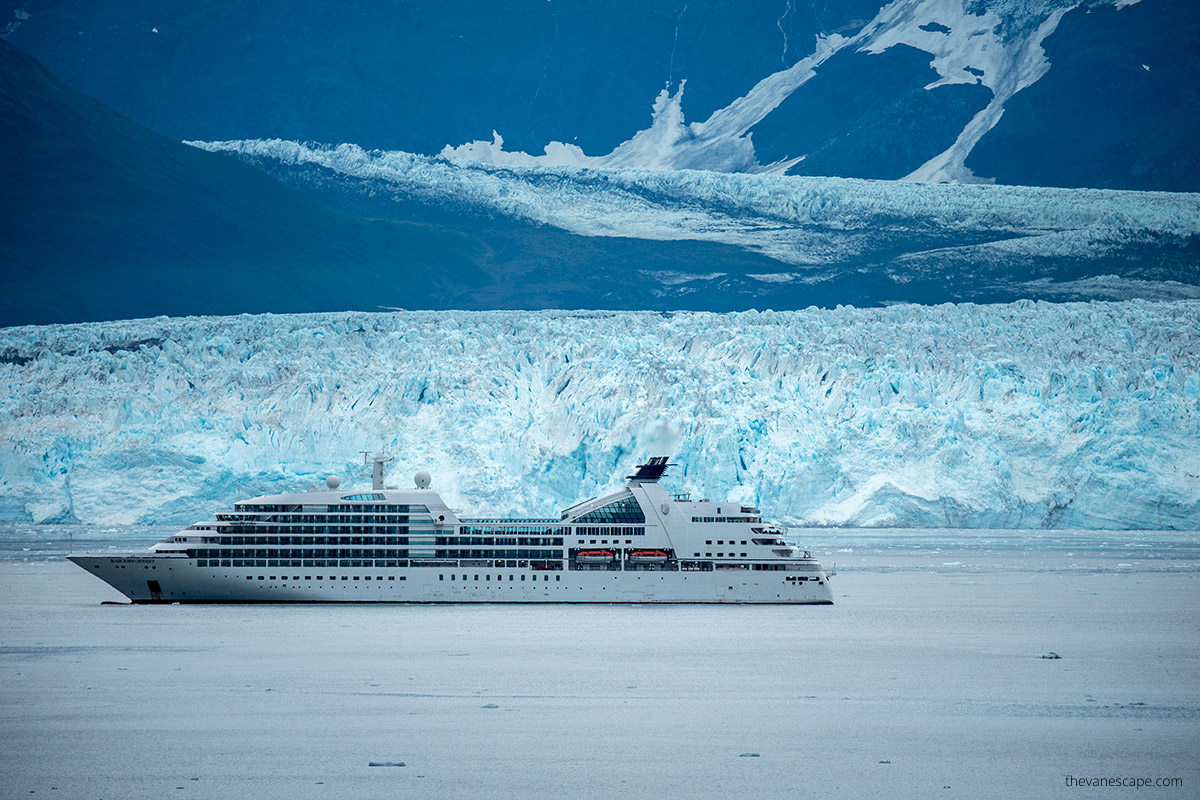 Alaska Cruise Itinerary
The itinerary you choose can have a significant impact on your Alaskan cruise cost. Different Alaska cruise routes offer varying experiences and come with their own price tags.
Inside Passage: This is one of the most popular routes. It offers a scenic journey through Southeast Alaska's waterways. Cruises on this route are often more affordable and shorter in duration.
Gulf of Alaska: Some cruises stop at Wittier and Seward ports, offering a different perspective of Alaska. These itineraries can be longer and may cost more as you sail north. Adding a land tour to places like Denali National Park or the cities of Fairbanks or Anchorage can significantly increase the length and cost of your trip. These add-ons provide a more comprehensive Alaskan experience but require a larger budget.
Additional Costs
Don't forget to factor in additional costs like port taxes, fees, and onboard spending. These can add up and should be included in your budget when considering the prices for an Alaskan cruise. Below, we give you details about additional and hidden costs.
When planning your Alaskan cruise, it's easy to focus solely on the ticket price. However, the advertised Alaska cruise prices are often just the tip of the iceberg. Several hidden costs can sneak up on you if you're not prepared. Let's delve into these often-overlooked expenses that can affect the prices for an Alaskan cruise.
Port Taxes and Fees
One of the first hidden costs you'll encounter are port taxes and fees. These are mandatory charges that are rarely included in the advertised Alaskan cruise cost. Depending on your Alaska cruise itinerary, these can add up to several hundred dollars per person. These charges are usually paid upfront when you pay for your cruise or added to your onboard account, so it's crucial to budget for them when considering the Alaskan cruise cost.
Personal Experience: Governed taxes, port expenses, and fees were added to our booking components to our reservation process. Below you can see example.
Gratuities
While some cruise lines include gratuities in the overall cost, many do not. You'll need to budget for tips, ranging from $13 to $20 per person daily. These are usually automatically added to your onboard account but are often overlooked.
Personal Experience: During our 10-night Inside Passage cruise on Norwegian Sun, we were surprised to find that we were charged $20 per person per day for gratuities. We had missed this information when booking the cruise. It's worth paying attention to this detail and adding the cost to your budget to avoid any surprises.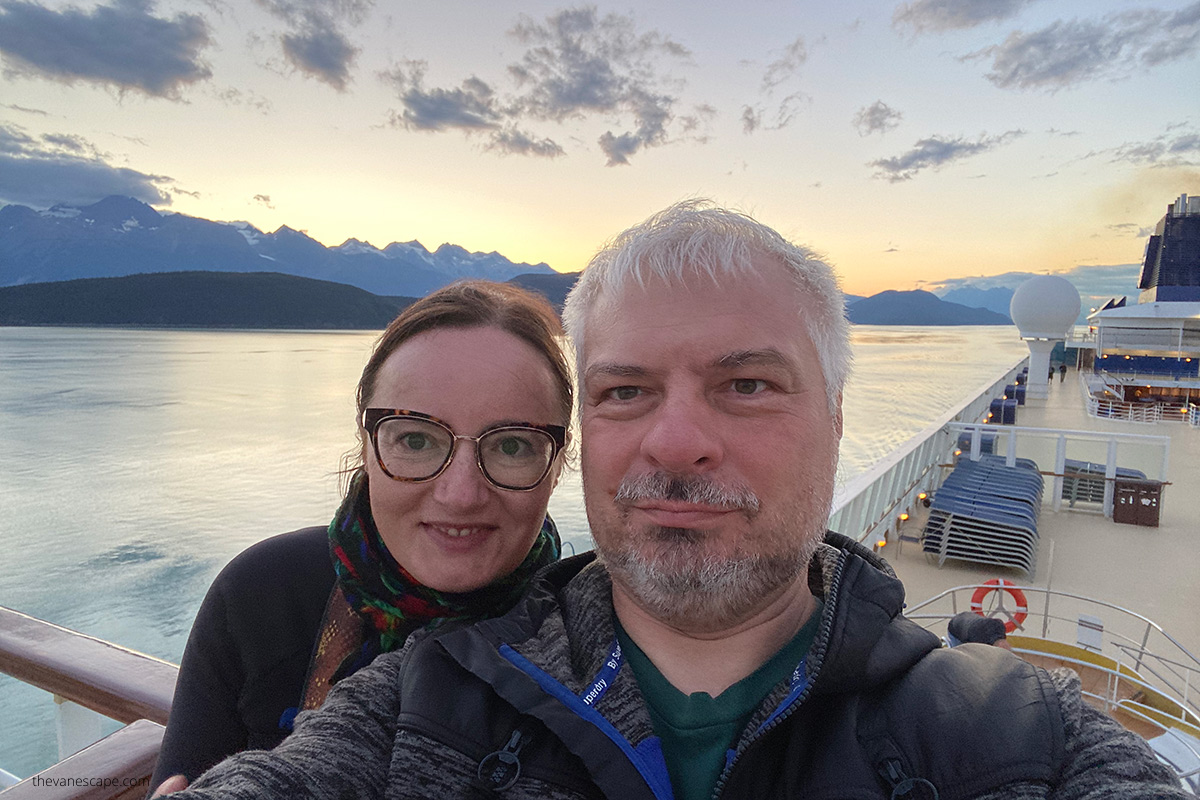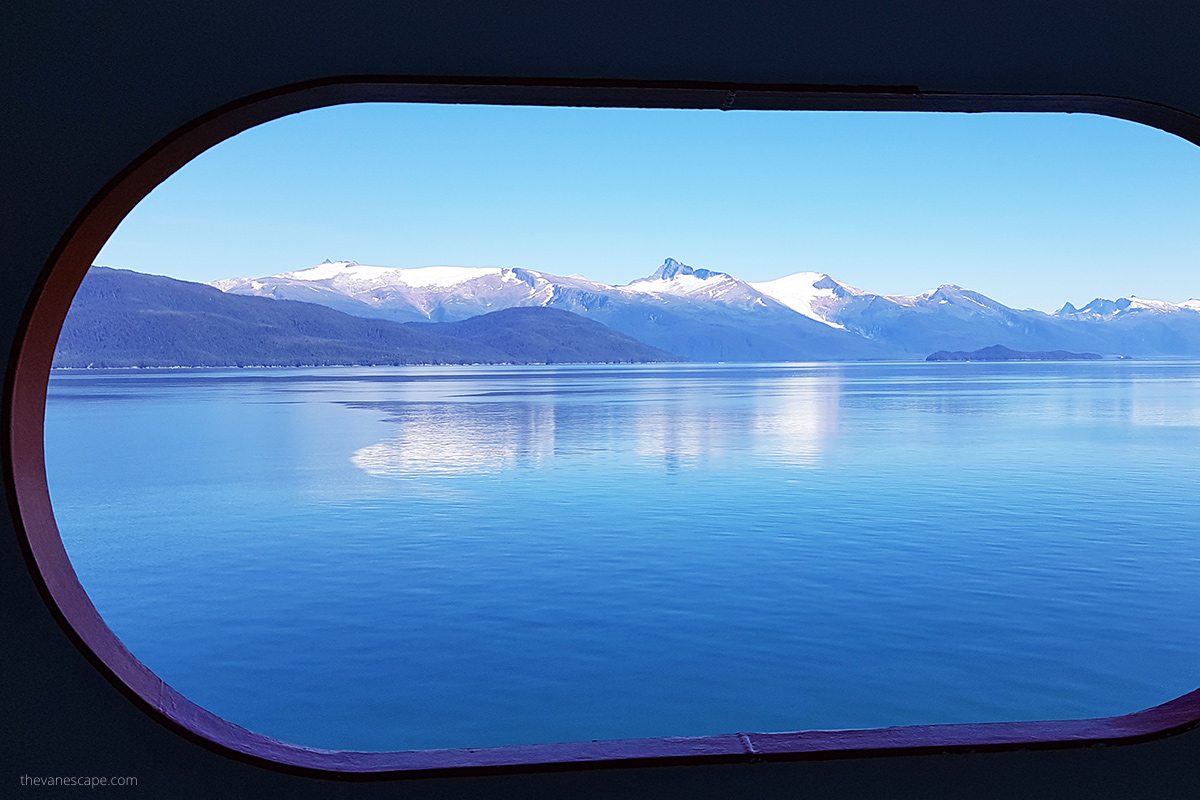 Internet and Communication
Staying connected at sea is not cheap. Internet packages can cost upwards of $25 per day, and onboard messaging apps may also come with a fee. Make sure to factor these into your budget if staying connected is essential for you.
Personal Experience: Our Alaska cruise price included 150 minutes of free Wi-Fi per person in our package. This was a great solution and was enough for basic usage, like checking emails and social media. So, we didn't have to spend a fortune on internet access.
Onboard Activities and Amenities
While many activities on the ship are included in your ticket price, some come with an additional fee. For example, amenities like spa treatments, specialty fitness classes, and certain onboard activities like laser tag or go-kart racing can add to your Alaskan cruise prices.
Our Tip: Get to know your cruise ship's offer. Price lists of services are available on the cruise lines' websites. Then, you can set a specific budget for your pleasures on the ship, such as massages or beauty treatments.
Specialty Dining
Most cruises offer various dining options, but not all of them are included in your ticket price. Specialty restaurants often require an additional fee or a la carte pricing, which can quickly add up if you're a foodie looking to explore different cuisines.
Personal Experience: On our cruise aboard the Norwegian Sun, we opted for the Meal Specialty Dining Package. This allowed us to choose one dinner in one of the ship's specialty restaurants. It was a great way to experience gourmet dining without the extra cost, as it was included in our package.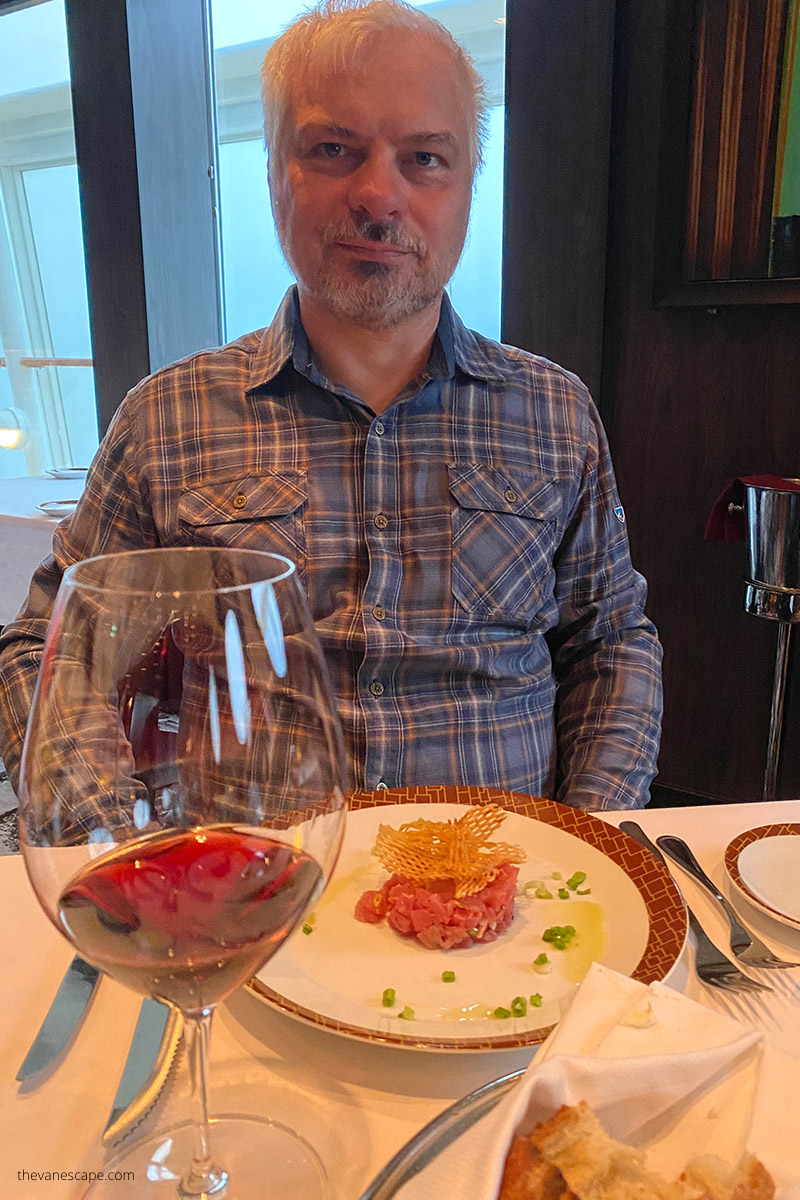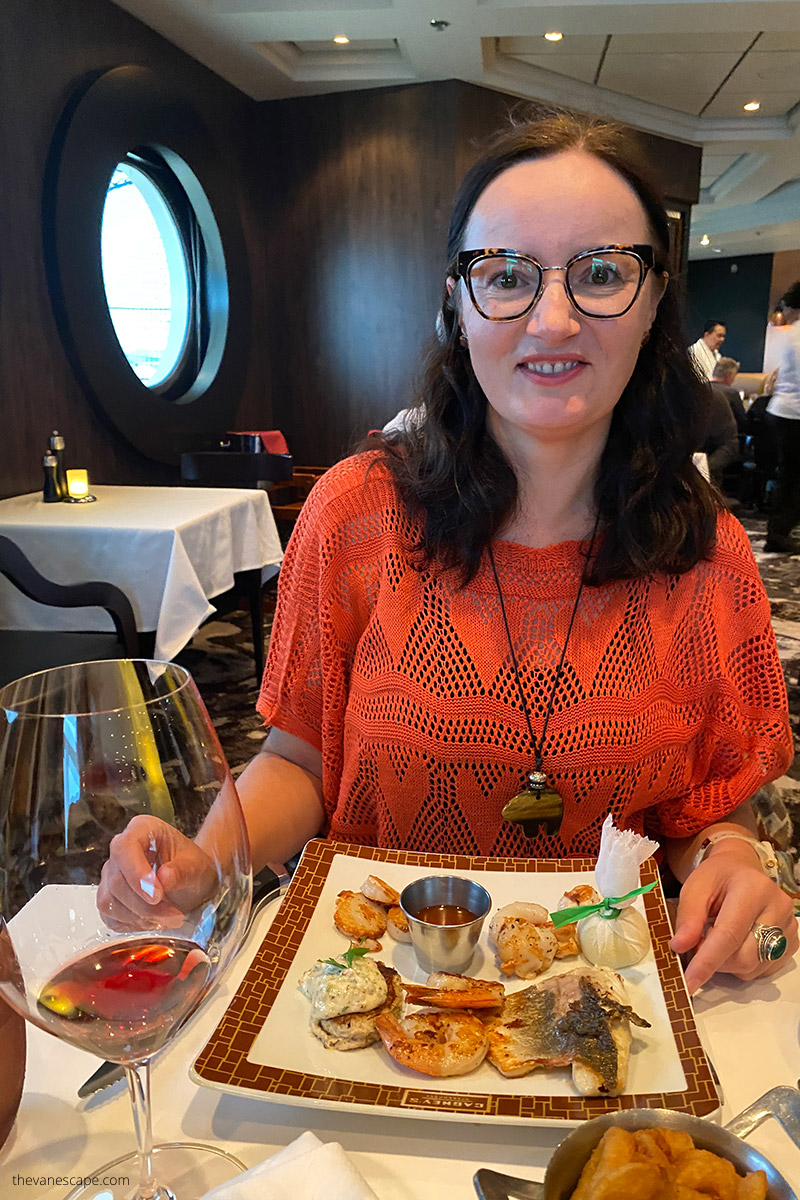 Unlimited Beverage Package
Many cruisers opt for an Unlimited Beverage Package to make their onboard experience more enjoyable. However, it's essential to read the fine print. The package usually covers drinks priced under $15. You'll have to pay the difference if you order a more expensive drink.
Personal Experience: We found that the Unlimited Beverage Package had its limitations. While it was great for mixed drinks and beers, it posed a challenge for wine and Scotch enthusiasts. Most better wines and premium Scotch were priced just above the $15 limit. After much searching and tasting, we found some wines under $15 that we enjoyed. Cocktails under $15 were excellent.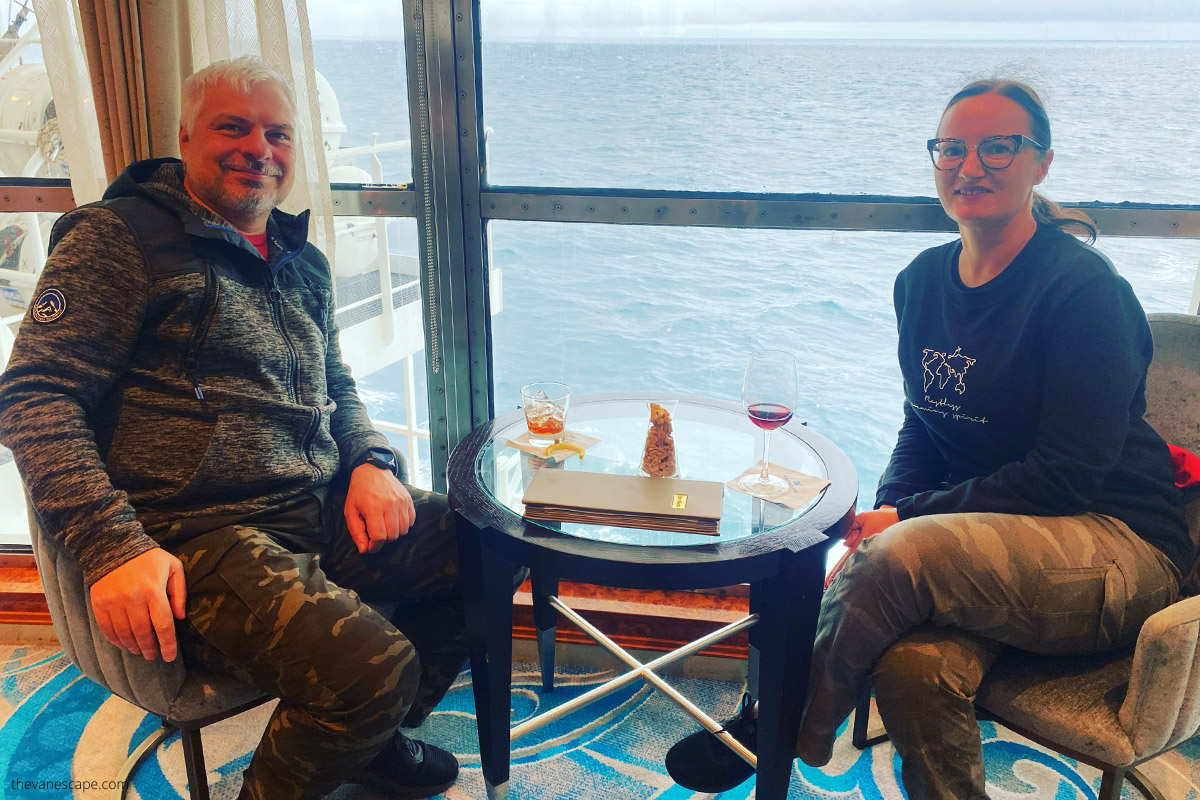 Alaska Shore Excursions
Shore excursions are one of the most exciting parts of any Alaskan cruise but can also be one of the most expensive. Whether it's a helicopter tour of a glacier or a kayaking adventure, these activities are generally not included in the cost of an Alaskan cruise and can range from $70 to over $600 per activity.
Our Tip: Check out our guide to the best Alaska Shore Excursions with many tips because we've made a lot of tours, from whale watching, bear watching, scenic train rides, helicopter rides, and historical tours. It will help you to choose shore tours that suit your needs and budget.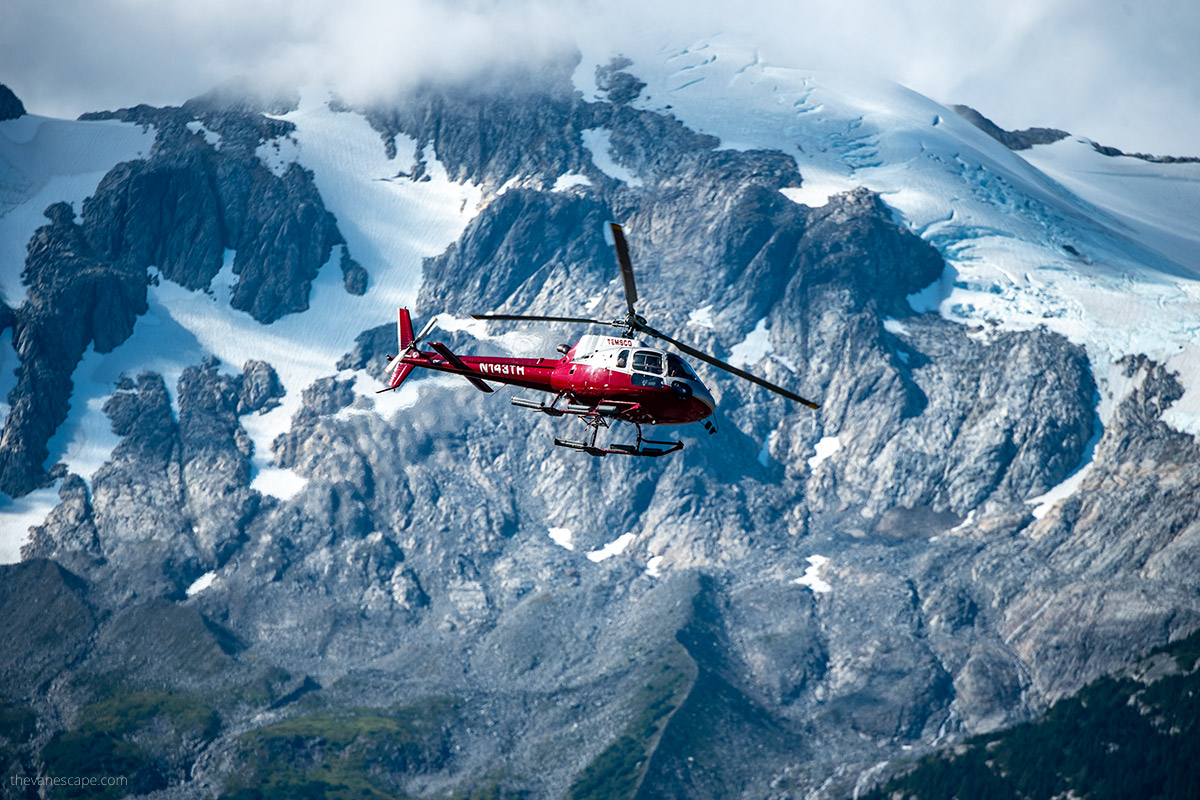 Travel Insurance
While optional, travel insurance is highly recommended, especially for a significant investment like an Alaskan cruise. The cost can vary, but expect to pay around $100 to $200 per person for basic coverage.
Souvenirs and Onboard Shopping
The opportunities to shop onboard are plentiful, from duty-free shops to art auctions. However, these purchases can add up quickly and are not usually considered when considering the average cost of an Alaskan cruise.
By being aware of these hidden costs, you can budget more accurately and avoid surprises that could damage your dream Alaska vacation. The next section will discuss whether these additional costs make an Alaskan cruise worth it.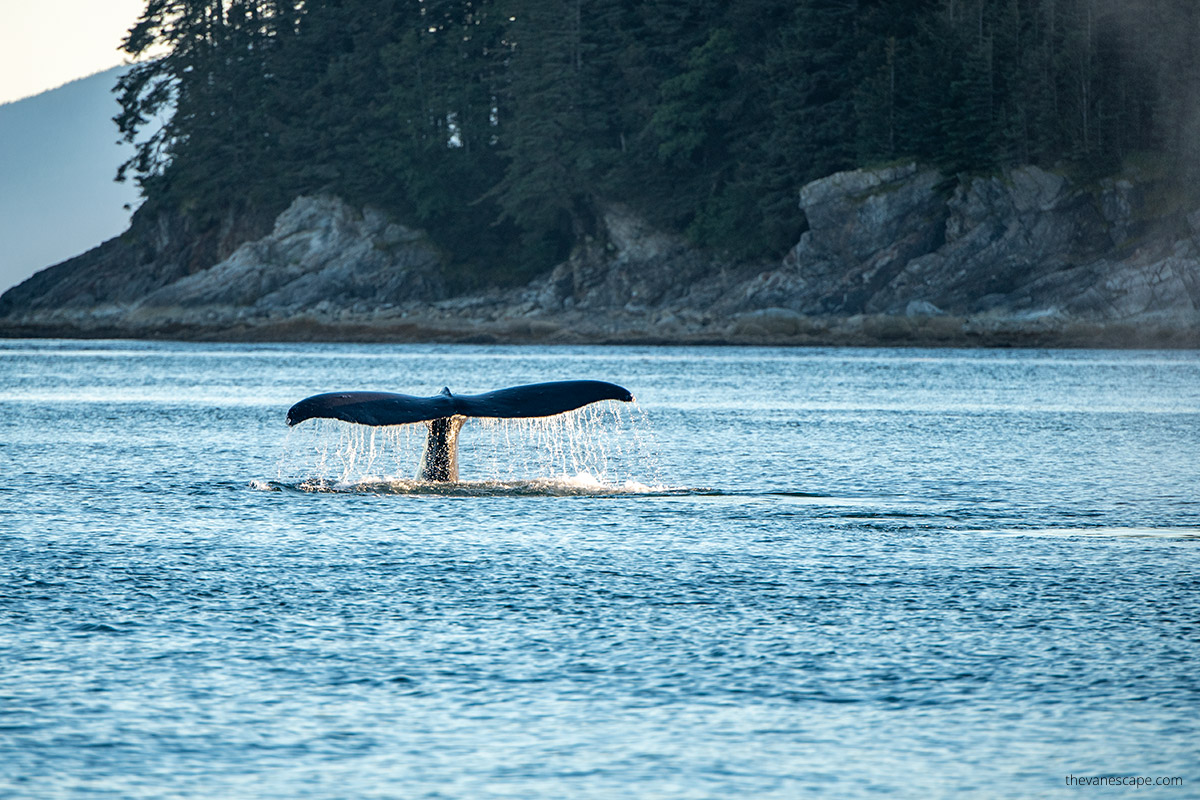 Shore Excursions: Are They Worth It?
One of the most exciting aspects of an Alaskan cruise is the opportunity to explore the breathtaking landscapes and unique cultures of the ports you'll visit. Shore excursions offer a convenient way to do this, but they come at a price. So, the question arises: Are these excursions worth the additional cost of an Alaskan cruise?
Types of Shore Excursions
Alaskan cruises offer a wide range of shore excursions, from helicopter tours of glaciers to wildlife watching, whale watching, scenic train raids, and kayaking adventures. The activities you can participate in are as diverse as Alaska itself.
Cost of Shore Excursions
Shore excursions can significantly impact your Alaskan cruise prices. Prices can range from as low as $70 for a simple walking tour to over $600 for more extravagant experiences like a helicopter tour. Budgeting for these activities is essential, especially if you plan to participate in multiple excursions. The average price per person per tour is $200.
Value vs. Cost
While these excursions can be pricey, they often offer once-in-a-lifetime experiences that are hard to replicate. For example, how often do you get the chance to kayak near a glacier or take a dog sled ride? These unique experiences can make the additional cost worthwhile.
Do It Yourself Alternatives
If you're on a tight budget, there are DIY alternatives. Many ports offer local tours and activities at a fraction of the cost of official shore excursions. However, these come with their own set of challenges, such as coordinating transportation and ensuring you return to the ship on time.
Personal Experience: We invested in several shore excursions during our Alaskan cruise and found them worth every penny. We took a shore excursion in each of our ports of call. The experiences were thrilling and well-organized, making for hassle-free adventures. Some we booked via our cruise line, and some we DIY. Pros and cons of each solution read in our article: Alaska Shore Excursions on Your Own.
By weighing the cost against the value of the experiences offered, you can decide whether shore excursions are worth the investment for you. The following section will explore additional expenses when budgeting for your Alaskan cruise.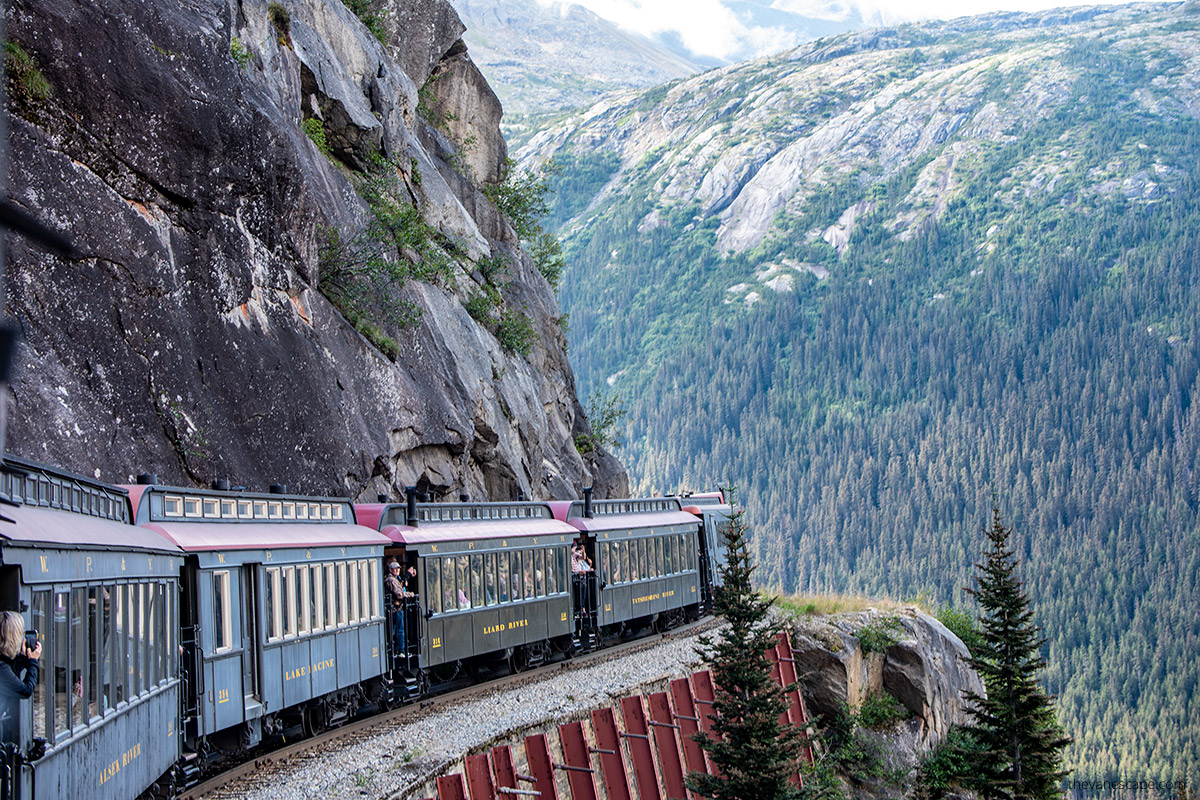 Additional Costs to Consider
While we've covered the major factors that contribute to the cost of an Alaskan cruise, there are some additional expenses that you should be aware of. These costs may not be the first things that come to mind when planning your cruise, but they can add up and should be included in your budget.
Airfare
Unless you live near the departure port, you'll likely need to fly to the city where your cruise begins. Airfare can vary widely depending on your location and the time of year. Make sure to factor this into your overall Alaskan cruise cost.
Personal Experience: We found that Seattle is a fantastic port to start and end your cruise. The city offers a wide range of domestic and international flight connections, making it convenient for travelers. Plus, Seattle is not an overwhelmingly large city, and the cruise port is located downtown, adding to the ease of travel.
Pre-Cruise and Post-Cruise Hotel Stays
Many people choose to arrive a day or two before the cruise departs or stay a few days after it ends to explore the departure or arrival city. Hotel costs can range from $100 to $300 per night, depending on the location and quality of the hotel.
Travel Insurance
While not mandatory, travel insurance is highly recommended for any cruise, especially one as significant as an Alaskan cruise. Basic coverage can cost around $100 to $200 per person and provide peace of mind in unexpected events like medical emergencies or trip cancellations.
Transportation to and from the Port
Getting to and from the port will incur some costs, whether a taxi, Uber, a shuttle, or public transportation. Budget at least $20 to $70 for this, depending on the distance and mode of transportation.
Onboard Spending Money
While onboard, you might want to shop, try your luck at the casino, or enjoy some premium beverages. Setting aside some spending money for these activities is a good idea.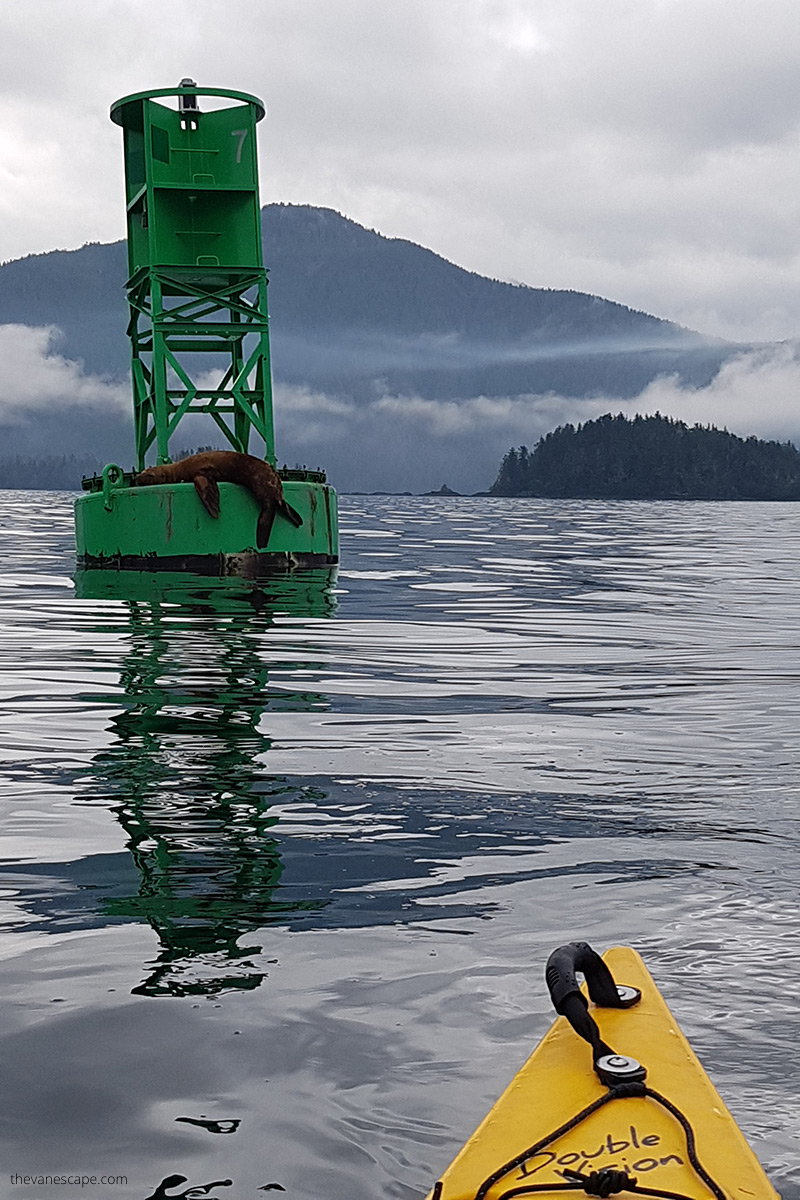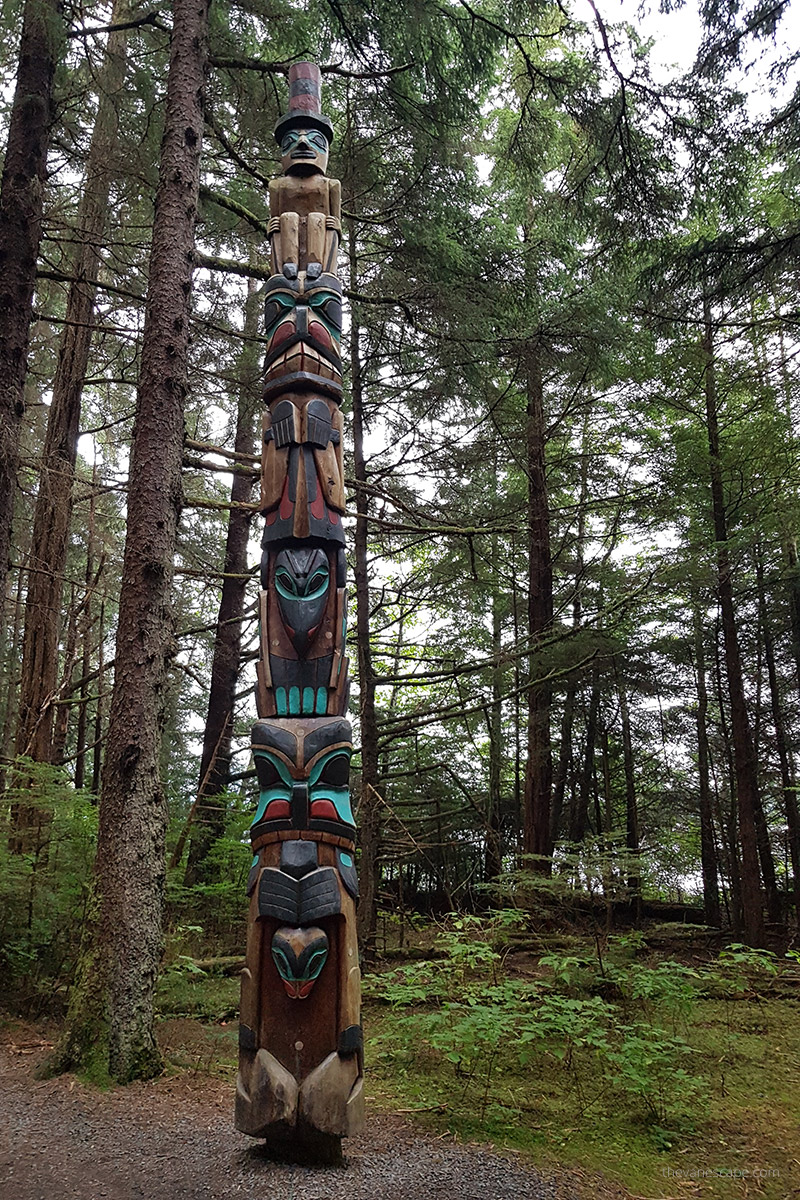 Savoring Local Flavors: Budgeting for Meals in Alaskan Ports
While the cruise ship offers a variety of dining options, you'll also have the opportunity to explore local cuisine during your time in the ports of call. Eating on land can be a delightful experience, but it's essential to budget for this as it can affect your overall Alaskan cruise cost.
Types of Food Available
From fresh seafood in Juneau to local delicacies in Skagway, each port offers a unique culinary experience. Whether you're looking for fine dining or a quick bite, you'll find various options to suit your taste and budget.
Cost of Meals on Land
The cost of eating out can vary widely depending on the port and the type of restaurant. Casual dining spots may charge around $20 to $40 per meal, while upscale restaurants can cost $30 to $50 per person or more.
Budget-Friendly Options
If you want to save money, consider local food trucks, markets, or small eateries that offer authentic and budget-friendly meals. These can be a great way to experience local flavors without breaking the bank. Or pack some snacks and a bottle of water for your shore excursions.
Personal Experience: We found that setting aside a budget for meals on land allowed us to enjoy local foods without worrying about overspending. It also added a layer of cultural experience to our trip, making it even more memorable. But it was pricey. We paid $120 for two and a glass of wine in Icy Straight Point for lunch in Skagway for $20. For a grilled salmon $20. These are just some examples.
By accounting for these additional costs, you'll have a more accurate picture of the average cost for an Alaskan cruise and can budget accordingly. In the next section, we'll share some tips on how to save money without compromising the quality of your experience.
Planning and budgeting for meals on land can enrich your Alaskan cruise experience without any financial surprises. In the next section, we'll discuss tips on how to save money on your Alaskan cruise.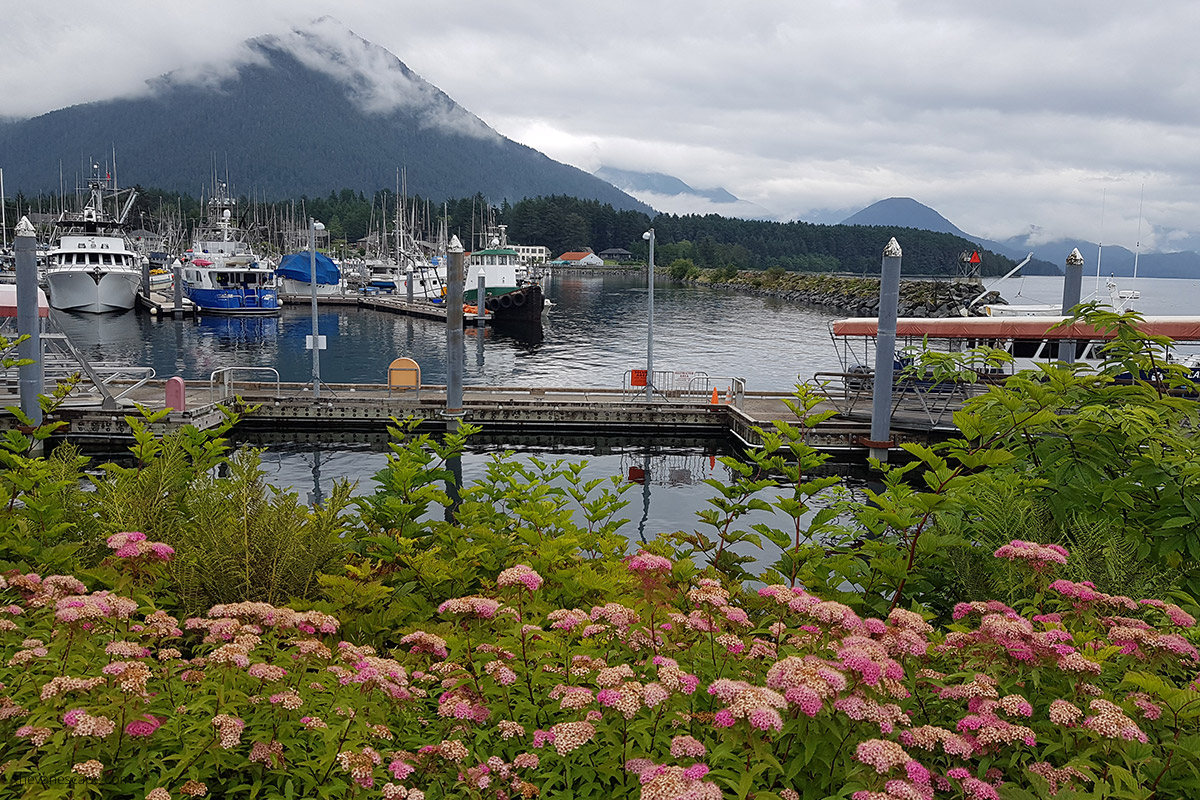 What is the Average Price of a 7-day Cruise to Alaska in 2024?
We looked into the average pricing for a one-week Alaska cruise set for 2024. We focused on the top five cruise lines consistently receiving positive customer reviews. We picked the peak season for our study, specifically mid-July 2024.
All the cruises we considered start and finish in Seattle, Washington, and include a mandatory stop in Victoria, Canada—important to mention due to passport requirements for Alaska cruises. While the itineraries differ slightly, they all feature the stunning Inside Passage.
Most of the cruises last for 7 nights, except for Norwegian, which offers a 9-night cruise during the dates we examined. We gathered our data from Cruise Direct and provided pricing for one adult person, both an inside cabin (no window) and a pricier balcony cabin. The cost for a cabin with a window typically falls somewhere in between. Note that the prices don't cover tips, drink charges, or any other hidden fees.
A reasonable budget for a 7-day Alaskan cruise (Inside Passage route), including some shore excursions and extra amenities, could range from $3,000 to $5,000 per person.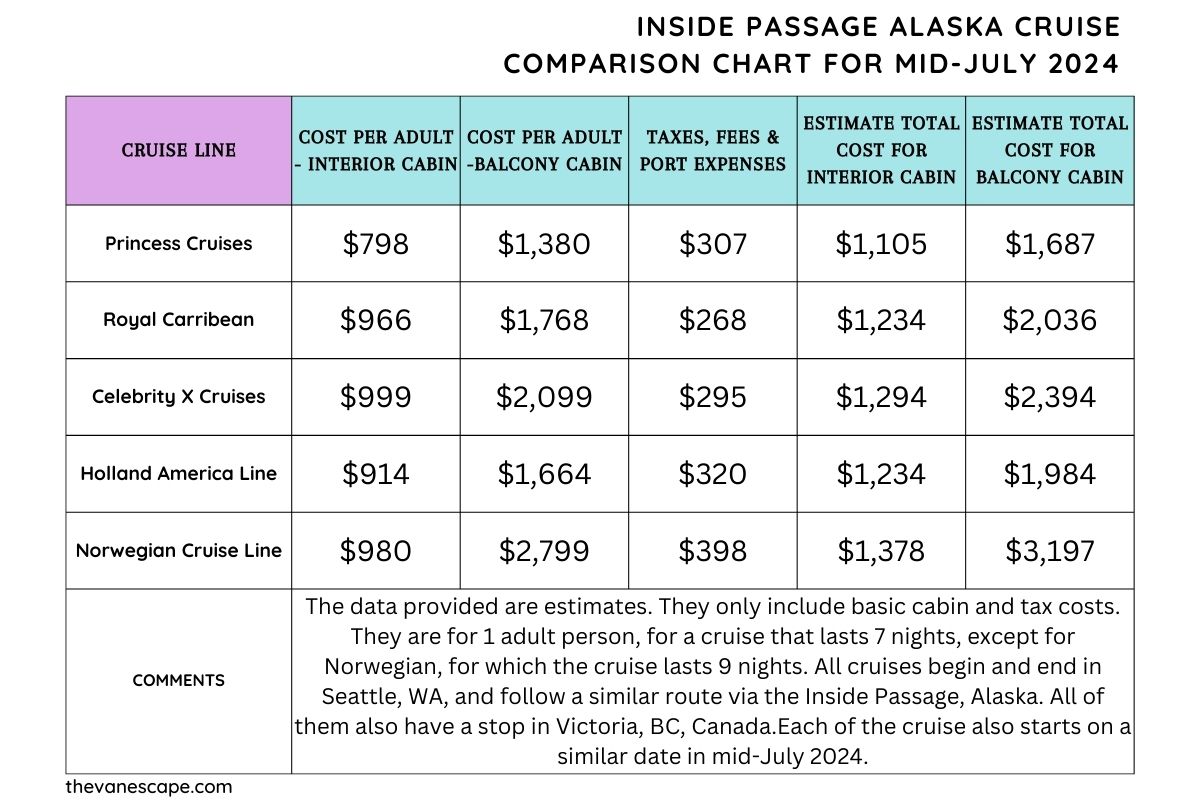 Our Personal Experience: How Much We Paid for Our Alaskan Cruise?
So, you're wondering what the real price tag is for an Alaska cruise, factoring in all the extra expenses we've discussed in this article? We're an open book and happy to share our complete budget, including any additional costs we encountered.
We opted for a 10-night stay aboard the Norwegian Sun, choosing an inside cabin with no window to keep costs down. We skipped any extra paid activities or dining options on the ship.
That said, we didn't hold back regarding shore excursions at each port we stopped at. For details on the specific excursions we took—like whale and bear watching, scenic train journeys, and more—check out our separate article on the subject.
Here's the full breakdown of our Alaska cruise expenses, including the cruise itself and extra trips, airfare, hotel stays, etc.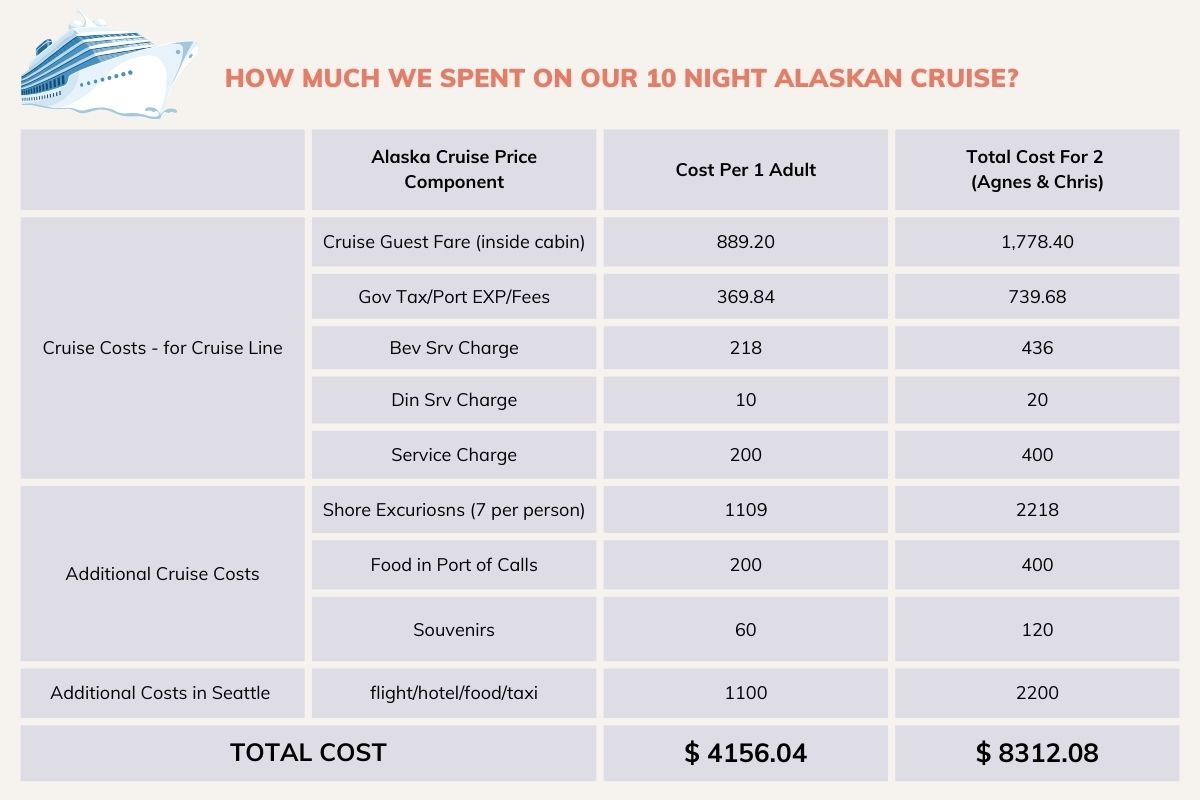 Could we have cut costs further? Honestly, we couldn't have trimmed down the expenses on the cruise ship any more than we did. We already skipped all the extra paid activities, so it could have been pricier if we'd indulged in those.
The only areas where we could have saved money were by skipping the shore excursions or forgoing the local delicacies like fresh salmon or crab at the ports. But doing so would have meant missing out on the true essence of Alaska, its unique attractions, and its incredible wildlife. In the end, we don't regret spending a single penny.
Alaska Cruise Prices – Frequently Asked Questions
What is the average cost of a 7-day cruise to Alaska?
The average price for a 7-day Alaskan cruise can range from $1,300 to $3,500 per person, depending on the cruise line, type of cabin, and time of year.
How much is an Alaskan cruise with a balcony?
The cost of an Alaskan cruise with a balcony can vary widely but generally starts at around $1,600 per person and can go up to $4,000 or more, depending on the cruise line and duration of the cruise.
How much should I budget for an Alaskan cruise?
The amount you should budget for an Alaskan cruise can vary widely based on several factors, such as the type of cabin, length of the cruise, shore excursions, and additional expenses like airfare and pre-cruise hotel stays. A reasonable budget for a 7-day Alaskan cruise, including some shore excursions and extra amenities, could range from $3,000 to $5,000 per person.
How much does an all-inclusive cruise to Alaska cost?
An all-inclusive Alaskan cruise, which typically covers meals, drinks, and sometimes even shore excursions, can cost anywhere from $4,000 to $9,000 per person or more.
Is food free on an Alaskan cruise?
Most mainstream Alaskan cruises include basic meals in the ticket price. This usually covers buffet-style dining and certain sit-down restaurants on the ship. However, specialty dining options, premium beverages, and certain snacks may cost additional.
What is the cheapest month to cruise to Alaska?
The cheapest months to cruise to Alaska are generally May and September, which are considered the shoulder seasons. However, the weather can be less predictable during these months.
How Much Does an Alaskan Cruise Cost? Final Thoughts
Planning an Alaskan cruise is no small feat, and as our comprehensive guide illustrates, there are numerous factors to consider when budgeting for this experience. From the type of cruise line and cabin to the hidden costs like port taxes and onboard amenities, the actual price of an Alaskan cruise can be significantly higher than the initial ticket price. Yet, as our personal experience shows, the value of the journey often outweighs the cost.
The allure of Alaska's breathtaking landscapes, unique wildlife, and rich cultural experiences make it a destination worth every penny. While it's possible to cut corners here and there, some experiences, like shore excursions and sampling local cuisine, are integral to the Alaskan adventure and shouldn't be missed.
Our journey aboard the Norwegian Sun is a testament to the importance of thorough planning and budgeting. We opted for a budget-friendly cabin and avoided extra onboard costs, but we didn't compromise on the experiences that make Alaska unique. From whale watching to scenic train rides, each shore excursion added a layer of depth to our trip, making it unforgettable.
So, is an Alaskan cruise worth it? Absolutely. It's an investment not just in a vacation but in a wealth of experiences and memories that will last a lifetime. If you're contemplating this incredible journey, our advice is to plan meticulously, budget wisely, and savor every moment. After all, Alaska is not just a destination; it's an experience that stays with you long after you return home.