The Best Homer Bear Viewing Tours in 2023
Are you looking for the best Homer Bear Viewing tours? You've come to the right place! Is Homer a good place for bear viewing? Is it worth taking Brooks Falls Bear Viewing tours from Homer? Or visit Lake Clark National Park? We give you answers to all your questions as we share our experiences, tips, and photos from bear-viewing adventures.
This article may contain affiliate / compensated links. For full information, please see our disclaimer here.
The Best Bear Viewing Tours from Homer in 2023
If you're planning a vacation to Homer between mid-June and mid-September, keep in mind that this is the best time to see bears in Alaska. And one of the best places in the world for bear viewing is Katmai National Park, home to over 2,000 brown bears. From Homer, you can reach Katmai's famous Brooks Falls, where bears catch salmon to store their fat reserves for the winter. We'd love to go to Katmai again because it was one of the most exciting bear-watching in our lives, and we already have a few of them behind us. And Brooks Falls Bear Viewing from Homer is our pick!
Brooks Falls Bear Viewing from Homer
It's an all-day adventure and a lifetime experience. You'll reach Brooks Camp from Homer by floatplane. Then you'll have time to enjoy Katmai National Park and watch bears hunt salmon in their natural habitat at Brook Falls.
Homer Bear Viewing – Our Experiences
At the outset, we'd like to emphasize that this isn't a sponsored post. We're sharing our thoughts and picks for the best Homer Bear Viewing tours in 2023 based on our past experiences. Our regular readers know that we are passionate about wildlife photography and love to observe and photograph bears in their natural habitat. On each of our travels to Alaska, we have purchased bear-viewing tours, also from Homer.
On our blog, you will find some earlier articles about bear watching in Alaska, which is our favorite state, and we visit it often.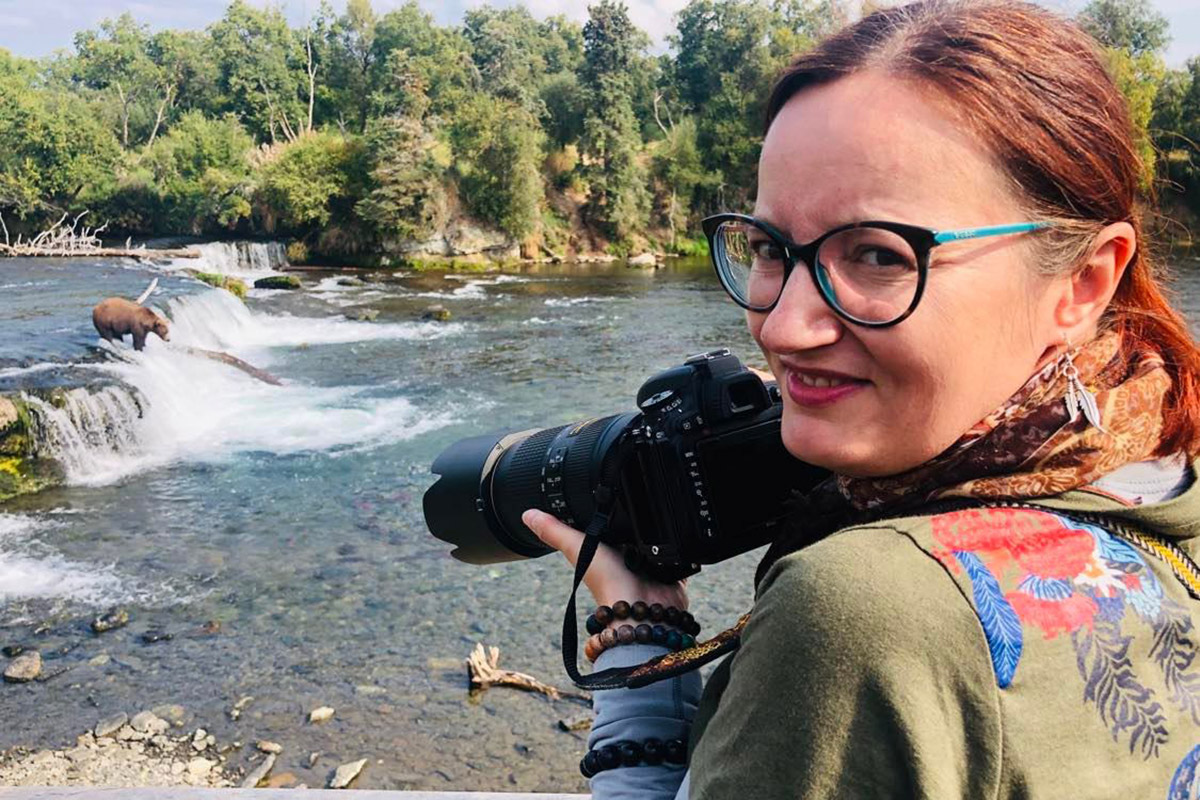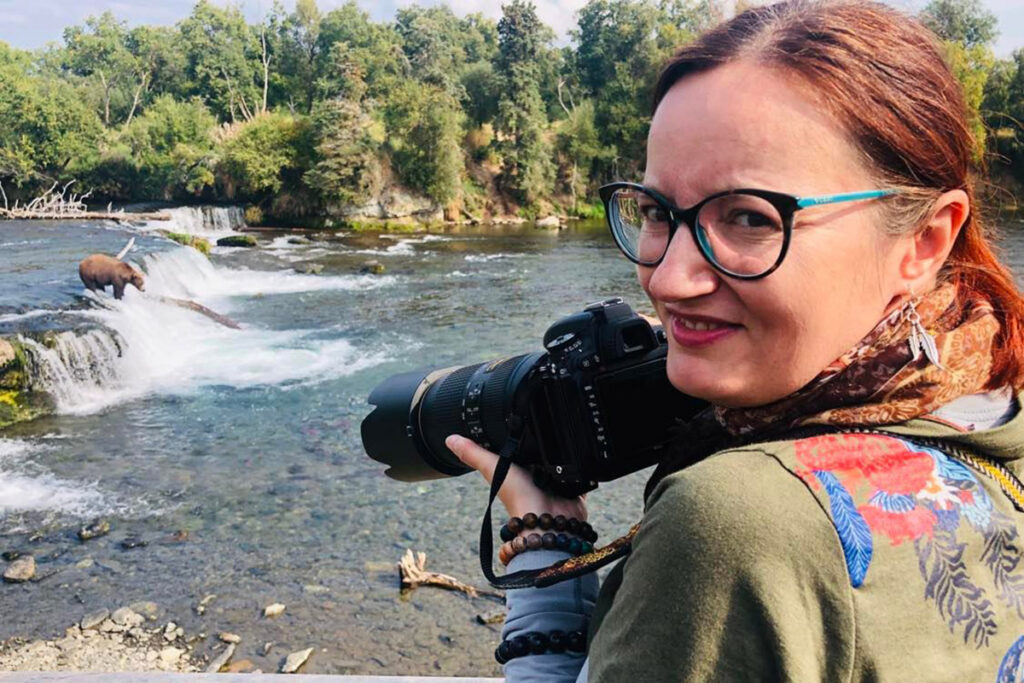 Is Homer a Good Place for Bear Viewing?
Homer is a perfect gateway to some of the best bear-viewing spots in Alaska. Homer is the closest town to two remote Alaska national parks, which are not accessible by road: Katmai National Park and Preserve (with famous Brooks Falls) and Lake Clark National Park and Preserve. No roads lead to those parks, and they can only be reached by boat or small aircraft, typically floatplanes. From Homer, these two parks are the quickest to reach. In Homer, you can find some tour operators with whom you can go on a bear-watching tour. We explain the details below.
Moreover, Homer is one of the most beautiful places on the Kenai Peninsula. One of our favorite towns where we spend a lot of time enjoying the many attractions that Homer offers travelers. Include Homer in your Alaska itinerary, whether you decide to go on a bear-watching tour or not.
Brooks Falls Bear Viewing from Homer
One of our readers asked us if it is worth taking a full-day Brooks Falls Bear Viewing tour from Homer, as it's costly. You have to make those decisions yourself. We know how much it costs because we also had very high costs for a trip to Katmai National Park. You can say that these are exclusive tours, but you have a 100% guarantee to see brown bears in their natural habitat. Also, the bears catch salmon and eat it right in front of your eyes. This is a fantastic once-in-a-lifetime experience. We loved seeing the bears at Brooks Falls Katmai and spent a few days there. We'd love to go there again, no matter the cost.
Some of the national parks in Alaska are difficult to access. And unfortunately, it costs a lot to get to them. The last time we were in Alaska, we spent much more to get to the Gates of the Arctic National Park with Coyote Air, and it was only a day trip. But our impressions are unique, and we don't regret the money spent. When we bought a bear-watching tour at Lake Clark, that was also only a day trip. But what a spectacular experience. We are happy that we experienced those tours.
What are your options for seeing brown bears in Brooks Falls from Homer in the 2023 season?
Homer: Brooks Falls Entry Ticket with Bear Watching Flight
One of the best options from Homer is Brooks Falls Entry Ticket with Bear Watching Flight. It is best to book a flight to Katmai, where you already have a park entrance ticket. Unfortunately, organizing a trip to Katmai on your own is not much cheaper, and winning the lottery to spend the night in a lodge in the park is also a real challenge. We wasted two days and two nights at King Salmon, where we got stuck due to bad weather conditions. So we spent even more money. We had to buy two extra nights and spend money on food, plus we lost two precious vacation days. Therefore, we sincerely recommend the option of a day trip.
What's included?
The price is included returned floatplane flight from Homer to Brooks Camp and a ticket to the Katmai National Park. It's genuinely a scenic flight. Staff will provide instructions on bear viewing conditions on the camp platform and bear etiquette. When you reach the park, you'll receive a safety briefing from park rangers at the visitor center. Afterward, you can set out on your adventure through the park at your own pace. You don't need a guide at Brooks Camp because an easy and convenient trail leads you to the bear-viewing platform. Afternoon you will be back to Homer.
Important Info about this Tour
The weight limit is 220lb/102kg, including equipment (also photo equipment). Guests over 275lb/125kg can participate but must pay for two places.
Weapons or sharp objects are not allowed.
It is not recommended for children under 3 years.
Enter your planned trip date below and check availability.
What to Pack?
This is a one-day trip with a very limited weight limit (you'll be weighed before boarding the plane. It's not a nice feeling, especially for a woman with complexes, but those are the safety requirements). We have done flights like this before where we were weighed. Now it's fun for us, but we felt a bit uncomfortable the first time.
For sure, pack your camera and binoculars. Layer up because the weather in Alaska is unpredictable, pack a lightweight rain poncho and a camera, and use mosquito repellent beforehand. Check out our detailed list of essentials for a trip to Alaska.
It's only a few hours, so eat a good breakfast in the morning so you won't be hungry in the park. You can't take food with you to Brooks Falls so as not to attract bears. So all you have to do is pack a few sealed energy bars and eat them at the designated eating areas at Brooks Camp. Water is the only beverage you can consume outside of designated areas. You can also enjoy lunch or coffee at Brooks Lodge, which is open for one-day visitors.
Guided Expedition- Brooks Falls Bear Viewing & Flightseeing from Homer
This Guided Expedition from Homer has a slightly different and broader scope than the previous one. This is both a bear-watching tour and a guided hike in the wilderness of Katmai National Park. Because you are accompanied by a guide all the time, you have the chance to learn a lot about the park, the region, volcanoes, and wildlife. The price is, of course, a bit higher because a guide accompanies you. The decision is yours. If your goal is to watch bears – it is definitely (in our opinion) a better choice to buy only a flight to Katmai. Especially since you can also walk on the beach and have several short trails at Brooks Camp. But a guided expedition option is worth considering if you want to experience both bear watching and hiking in the wilderness during one day trip, as there are many things to do in Katmai besides bear viewing.
What's included?
During this guided expedition, you'll get a scenic flight to Katmai National Park. After landing in Katmai, you will hike for 3 to 5 miles (4.8 to 8 km) among sedge meadows and salmon-filled streams with a professional guide. Depending on the month, you'll see a different part of the park for a chance to see bears in their natural habitat. In early summer, you'll come to Hallo Bay, where the bears eat shells, roots, and grass. If you plan your trip in mid to late July, you can watch bears catch and eat salmon at Moraine Creek.
Important Info about this Tour
The aircraft has a limited weight capacity, guests who exceed 220 lbs (102 kg), including gear, should contact the tour provider. Guests of 275 lbs (125 kg) or more, including equipment, must pay for two seats.
It's unsuitable for children under 12 years and adults over 75 due to physical demands.
What to Pack?
Due to the limited weight, you can only take a small carry-on backpack or bag. Therefore, from our experience, we recommend packing only essentials. We always pack high-energy snacks and sandwiches for such trips (nothing crumby and no fish products). Of course, if you take any medications, be sure to take them with you. A camera and binoculars are handy on this trip because the views are amazing.
Wear layers and fleece, and take two pairs of thick socks. Wear pants with a belt loop to secure hip boots, as you will be provided with hip boots for hiking. Bring a windproof jacket and gloves. Pack also a lightweight rain poncho in case of rain.
Pocket-size insect repellent may be helpful (we always use at least 40% deet in Alaska as others don't work on the pesky Alaskan mosquitoes. The area in Katmai National Park is boggy, there is a lot of water and tall grass around, and you can be a tasty snack for mosquitoes. On a recent camp on the Dalton Highway, mosquitos almost ate us alive, so we also used a mosquito head net on the face. It was a reasonable and affordable purchase for Alaskan adventures.
Lake Clark Tour from Homer
As we mentioned, from Homer, you are also close to Lake Clark National Park. You are only separated from it by the picturesque Cook Inlet. You can fly to the park from Kenai (Alaska Bear Hiking Experience by Plane from Kenai) or Seward (Guided Bear Viewing at Lake Clark from Seward). Kenai is only a 2-hour drive from Homer, so it's worth considering this trip. In detail, we have presented you with a review of our bear-watching trip to Lake Clark. In short, we will say that we were delighted with the one-day trip to Lake Clark National Park. There were a lot of bears, the experience was terrific, and we plan to go back there. Moreover, this trip is slightly more affordable than the Katmai trip, so it's worth considering if you're on a budget. There was no such restriction on the weight of passengers as well.
Boat Tour from Homer
But there is another option you can consider. We especially recommend it to people who exceed a bit the permissible weight for small airplanes. Boat tour from Homer to Lake Clark. The bear-watching guided boat trip begins about 20 miles north of Homer at Anchor Point, one of the best places in Alaska to spot Bald Eagles. From this point, it is the closest to Lak Clark. Your boat cruise is shorter, so you have more time to observe bears in Lake Clark. Captain Mel Erickson has been a guide in Alaska for 33 years and has extensive knowledge of Cook Inlet navigation. Chris made this trip with his friends. And it's worth considering as the price is affordable!
Do you like it? Pin it for later!