Hatcher Pass Alaska – How to Plan a Trip?
Are you planning a trip to Hatcher Pass, Alaska, but wondering if driving on the Hatcher Pass Road zigzag is a challenge? Or don't know if the road is open? Dreaming of taking fantastic photos of the old abandoned gold mine and mountain meadows? Check out our detailed guide to exploring Hatcher Pass, how the weather is, what to do there, and how to drive the scenic Hatcher Pass Road. We'll tell you how to plan a fabulous trip through the Talkeetna Mountain Range in the Matanuska-Susitna Valley.
This article may contain affiliate / compensated links. For full information, please see our disclaimer here.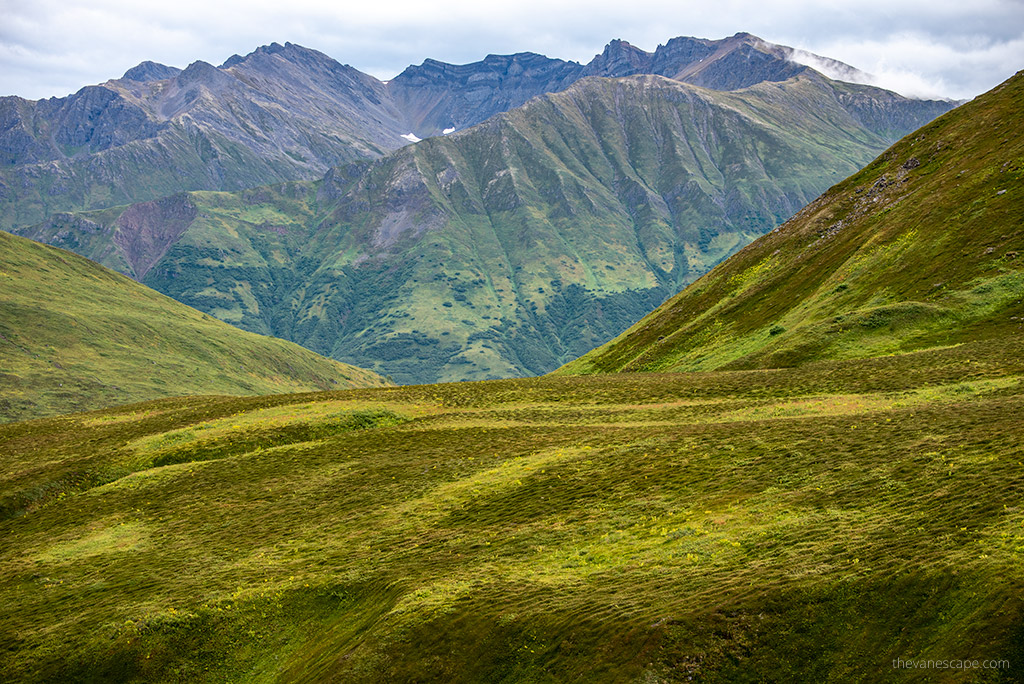 What is Hatcher Pass?
Hatcher Pass in Alaska is one of our favorite and most scenic places in the Anchorage area. You can drive here on one of the most scenic roads in the Last Frontier state – the Hatcher Pass Road runs 60 miles from Palmer to Willow. Moreover, you will find excellent mountain trails of varying difficulty, an abandoned gold mine, and incredible wildlife. You can spend a day here or even 3 – 4 days exploring the Hatcher Pass hiking trails. In this article, you'll learn how to prepare for your visit and what to see and do.
Hatcher Pass is a mountain pass with an elevation of 3,886 feet (1,148 m) that runs through the southwestern part of the Talkeetna Mountains in the Mat-Su Valley area. Robert Hatcher was a prospector and miner who found gold in this area in 1906 and for whom the pass is named. You can read more about the gold topic in our article about the Independence Mine at Hatcher Pass. The nearest towns are Palmer and Wasilla. Anchorage is 68 miles south of Hatcher Pass. Most of the pass is inside the Hatcher Pass East Special Management Area, which includes 75,000 acres (30,000 ha) of wilderness.
TRIP TIP: If you like abandoned, mysterious places with a unique history, check out our article about Kennecott Copper Mine and Igloo City in Alaska.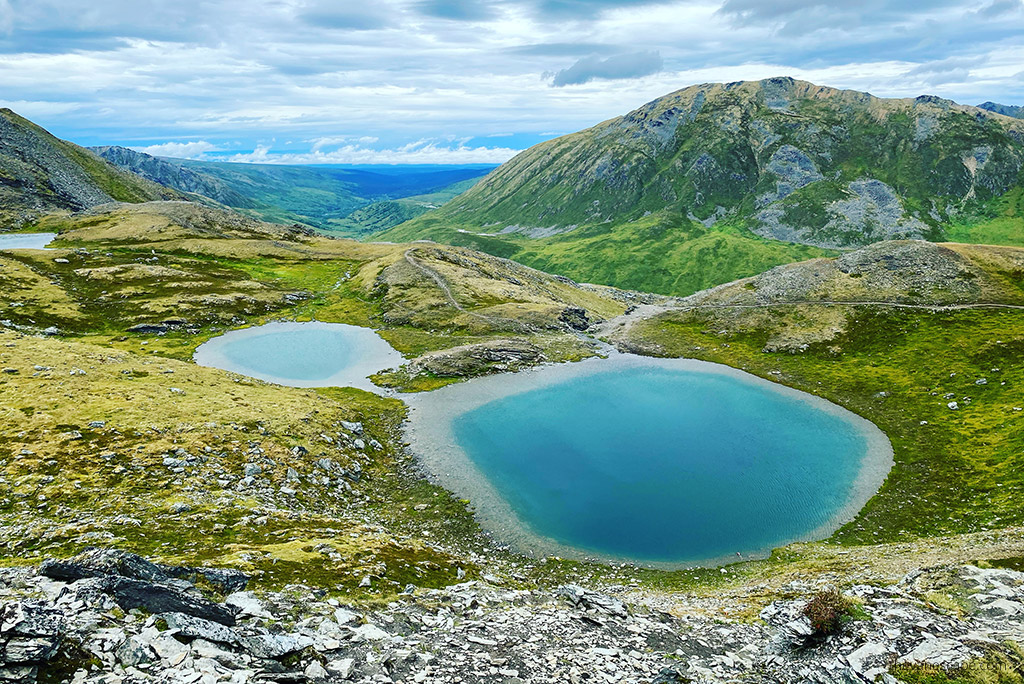 How to get to Hatcher Pass?
Depending on how much time you have for your Alaska itinerary – you can spend a day or several days at Hatcher Pass. It's a place that will delight you and is worth adding to your Alaska Bucket List, especially if you have a few days in Anchorage. It's a perfect day trip idea from Anchorage. Below are the most common directions.
Driving directions from Anchorage
The easiest and fastest way from Anchorage is the Glenn Highway (AK -1 N). Follow AK -1 N about 36 miles to Trunk Rd in Matanuska-Susitna. Take the Trunk Rd exit from AK -3 N. Continue on Trunk Road. Take N Palmer-Fishhook Rd to Fishhook-Willow Rd/Hatcher Pass Rd in Fishhook. You'll reach the Hatcher Pass Lodge and Independence Mine State Historical Park from this side. Driving time to this point is about 90 minutes, about 60 miles. Then you can take a gravel road over the pass's summit and to Willow. From the gold mine to the Willow is 30 miles and at least an hour over a mostly gravel road. Below we provide more details about Hatcher Pass Road and how to prepare for this ride.
Another option is driving through Palmer. You're going Glenn Highway through Palmer and turn left onto Palmer-Fishhook Road.
It's also possible to take Wasilla-Fishhook up from Wasilla, but this road is winding and twisting. It'll take longer.
The longest route is via Willow. You can dive via Willow Fishhook Rd and Hatcher Pass Rd. This way you will enter Hatcher Pass Road from its gravel side. You'll have 103 miles to the mine and a minimum of two and a half hours' drive. In our opinion, the most beautiful and exciting route is from the Palmer side.
Driving directions from Palmer
From Palmer is only 20 miles via Fishhook-Willow Rd. Coming from Palmer is a great idea, as the road is paved until Independence Mine State Park and then turns gravel road. Along the side of the road, you'll be admiring the river, partially lined with cliffs. The road from Palmer to the mine is well-maintained and in good condition. Along the way, make sure to stop for a wile at Little Susitna River Overlook.
If you have little time – it's worth getting only to the mine from the Palmer side, as the road is the best. This is the suggestion we present on day 5 of our 10 days Alaska itinerary. But if you have more days to explore Alaska, it's worth spending at least a day or two here. If you decide to stay in Anchorage for a few days visiting Hatcher Pass is one of the best day trips from Anchorage in summer. If you have some spare time is also worth visiting the Musk Ox Farm in Palmer to admire glacial mammals.
Driving directions from Willow
If you're coming from Willow, the first 10 miles of the road are paved. Then it turns into an unpaved gravel road that crosses the highest point of the pass and remains unpaved until you reach Independence Mine State Historical Park. Below is more detail about the conditions of this road and officials' recommendations.
TRIP TIP: You will find the best photo locations and adventure destinations in Alaska in our Alaska Travel&Photo Guide. As we have visited Alaska four times so far, you can also check all our Alaska articles to find more inspirations for your travel. Make sure to download our Alaska Packing List with a printable PDF checklist.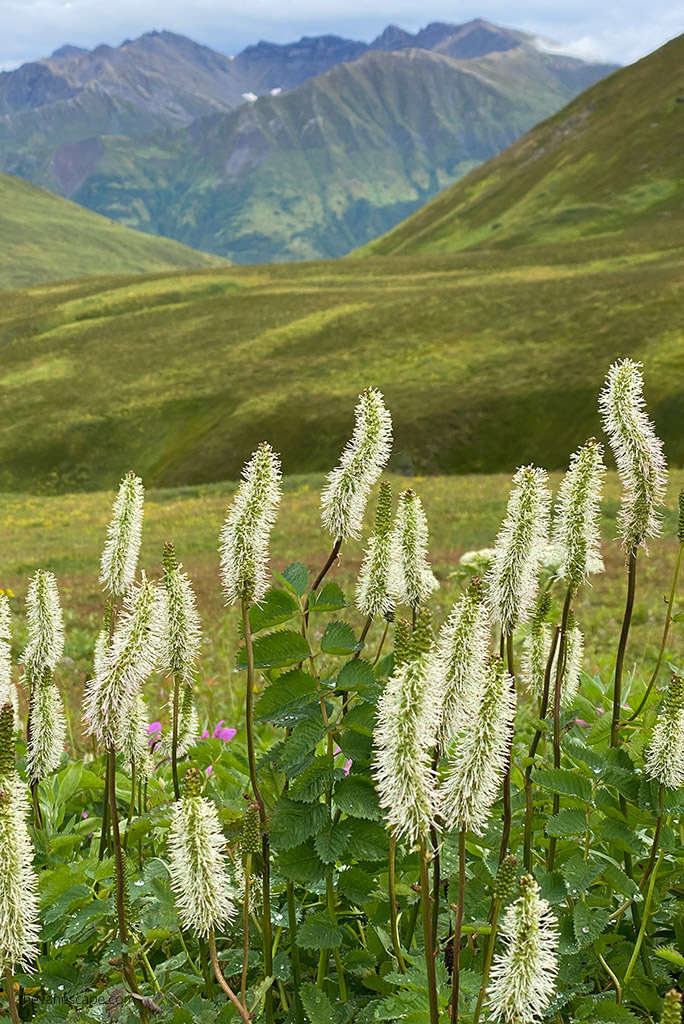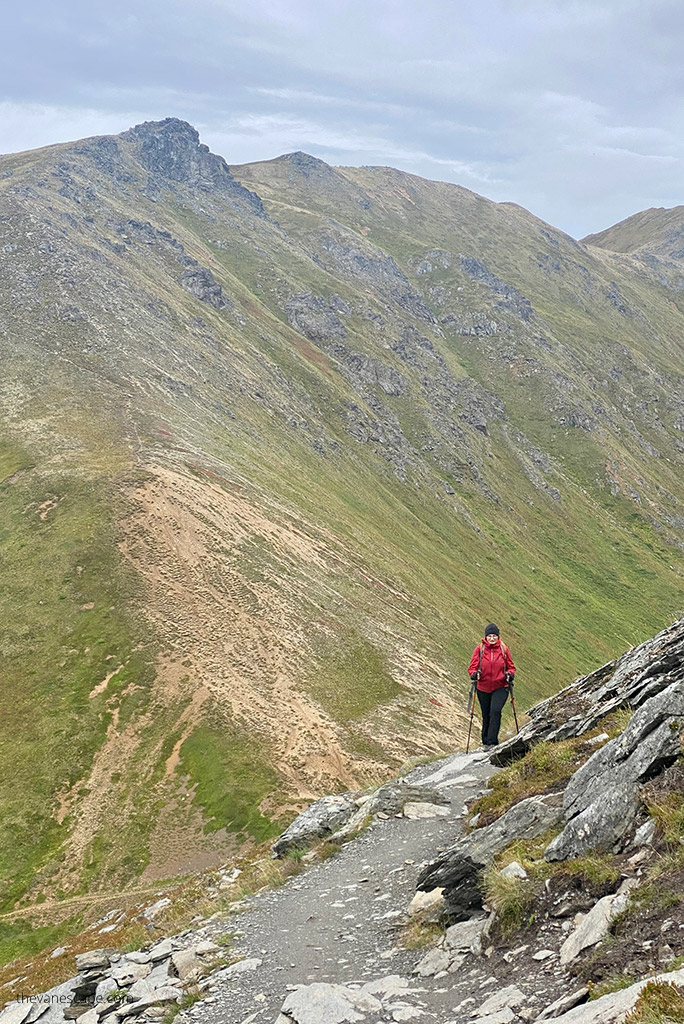 Hatcher Pass Road Scenic Drive
What is a Hatcher Pass Road?
The scenic Hatcher Pass Road is also known as Fishhook Road. These names are used by locals interchangeably. You also find both names on Google Maps by checking the route and arrival time. It connects Willow and Palmer so you can drive from either of those directions. It's a beautiful old wagon road that runs through a valley in Talkeetna Mountain. Gold miners used the original road in the 1930s and 1940s. If you want to traverse the entire awe-inspiring route from Palmer to Willow or from Willow to Palmer, you'll have to drive about 60 miles (96 km). The road winds a picturesque serpentine through the mountains, with the highest point of the pass at 3,886 feet (1,148 m) above sea level.
TRIP TIP: As the route passes through mountains, the trip depends on Hatcher Pass weather, so check the weather forecast and Hatcher Pass Webcam before setting out. For part of the year, the road is closed. Below, we will provide more details.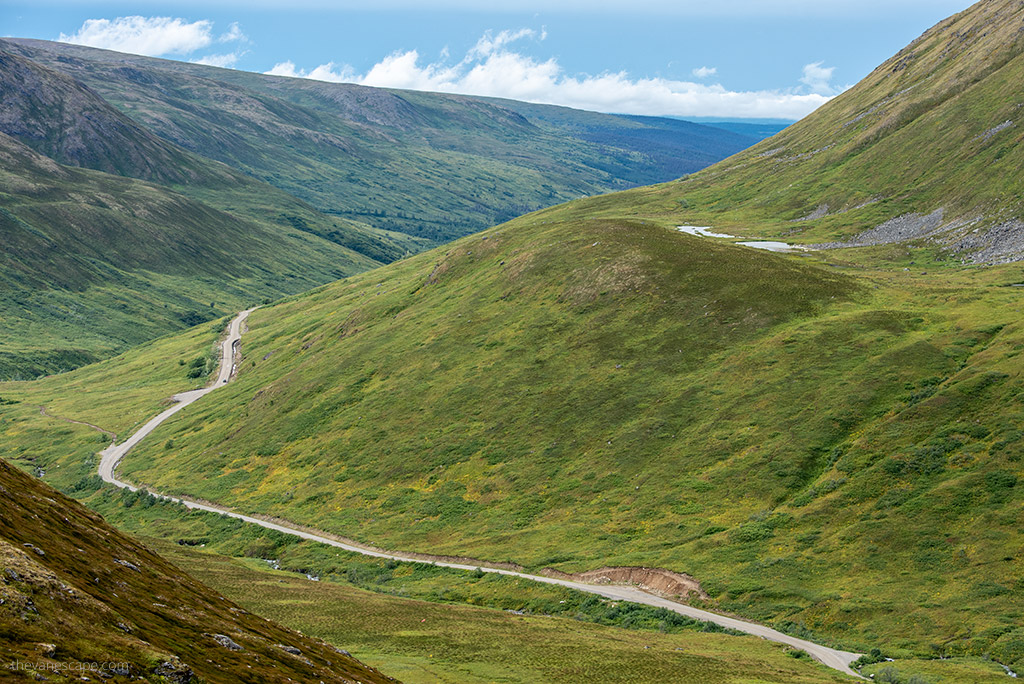 What are the Hatcher Pass Road Conditions?
The conditions on this route are subject to weather conditions. ​Is it paved? Yes, partly. Hatcher Pass Road is paved from the Palmer side to Independence Mine State Historical Park. From mile 17.5 to mile 32.5, however, it's graveled and can be rutted, especially after rains. There are switchbacks and occasional potholes, and there are no guardrails.
It's not a difficult road, and it's not a challenge. It's not as technical and bumpy as the route to the Kennecott Copper Mine or the famous Dalton Highway. But, of course, you have to use caution. Because of its proximity to this scenic route from Anchorage, it's also popular with locals, so that it can get crowded in high season.
Is Hatcher Pass Road Open Now?
The time the road is open depends on the weather at Hatcher Pass and how much snow is on the road, as it's not cleared of snow in the winter. The central part of the road is usually closed by snow from October 1 through May 31. Generally, the road over the Hatcher Pass summit is open only from about July 1 through September 15, depending on snow conditions. Usually, it's open around the 4th of July, so travelers with high-clearance vehicles can drive through to Willow. As it depends on the weather, check the official website before your trip.
Which Vehicle is Suitable for Driving the Scenic Road?
Check the rental company's terms and conditions if you want to travel this distance by rental car. Some car rental companies prohibit driving on this gravel road with their vehicles. So make sure you're allowed to drive the Hatcher Pass Road to avoid fines for breaking the terms of the contract. On our last trip, we used the local Alaska Auto Rental company. They rent cars for gravel roads (you need to choose Gravel Highway Vehicle). We were delighted with this rental. You can read the terms and conditions on their website. Also, you can check out our review of this car rental company. According to the official website, RVs or large vehicles aren't recommended for driving this route.
It is worth having a 4WD car for this route in the winter or after heavy rains. But during the summer, you will drive this route in a regular car with a high clearance, respecting the rules and driving carefully. But always remember that if you plan to rent a car, you need to check if you can drive this route at all. Many rental companies only allow driving the paved section of the road from Palmer to the Independence Mine.

Hatcher Pass Weather – When is the Best Time for a Visit?
As we wrote, the entire route is passable only for two months a year – July and August. You can see the Chugach Range, Alaska Range, and Palmer's Pioneer Peak if the weather is good. Make sure to check out our Alaska Packing List before your trip. In other months you can drive to the gold mine. But in winter, it is also possible to visit Hatcher Pass and practice winter sports. It is a trendy place for winter fun. Snowshoeing is one of the top things to do in Hatcher Pass during winter months. As the area is pretty remote and far from big cities, it's also possible to see Aurora Borealis (Northern Lights) in this mountain scenery.
10 Top Things to Do in Hatcher Pass
Take Pictures of the Red Huts of the Hatcher Pass Lodge
These red wooden huts against the background of majestic and raw mountains look simply fabulous. You have the impression that you have moved to the land of dwarves. You have a great view of the cottages from the trails and parking lot at the mine. It's worth taking a picture of them.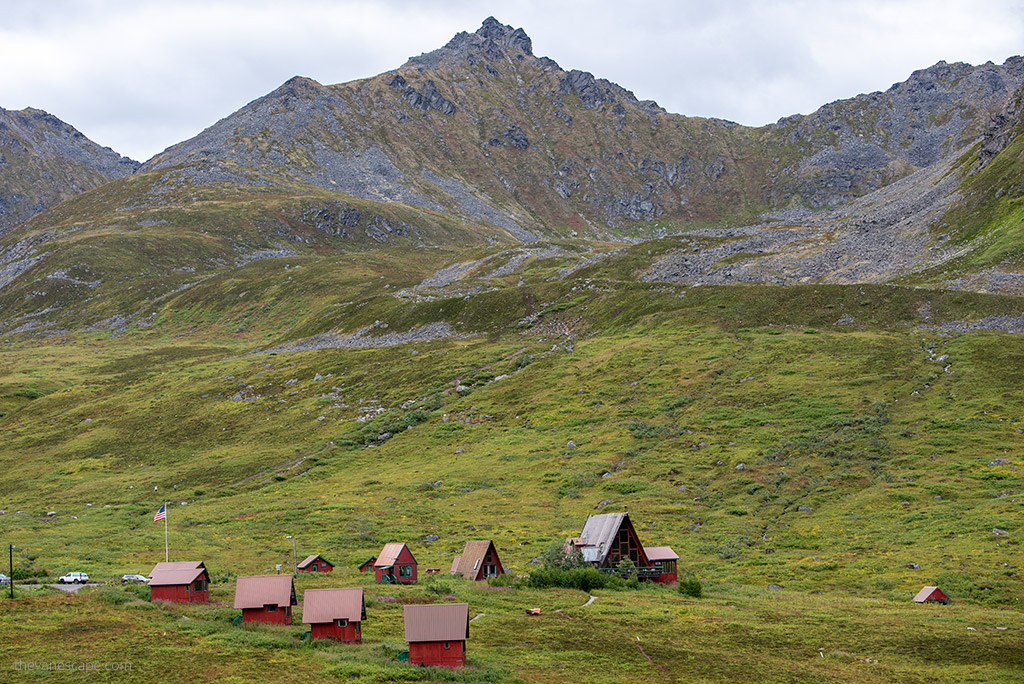 Visit Independence Mine State Historical Park
This place is one of the best preserved and most exciting objects from the time of the Gold Rush. That is why we have dedicated a separate article to it with lots of photos and tips on visiting the mine. Please, take a look at it before your trip.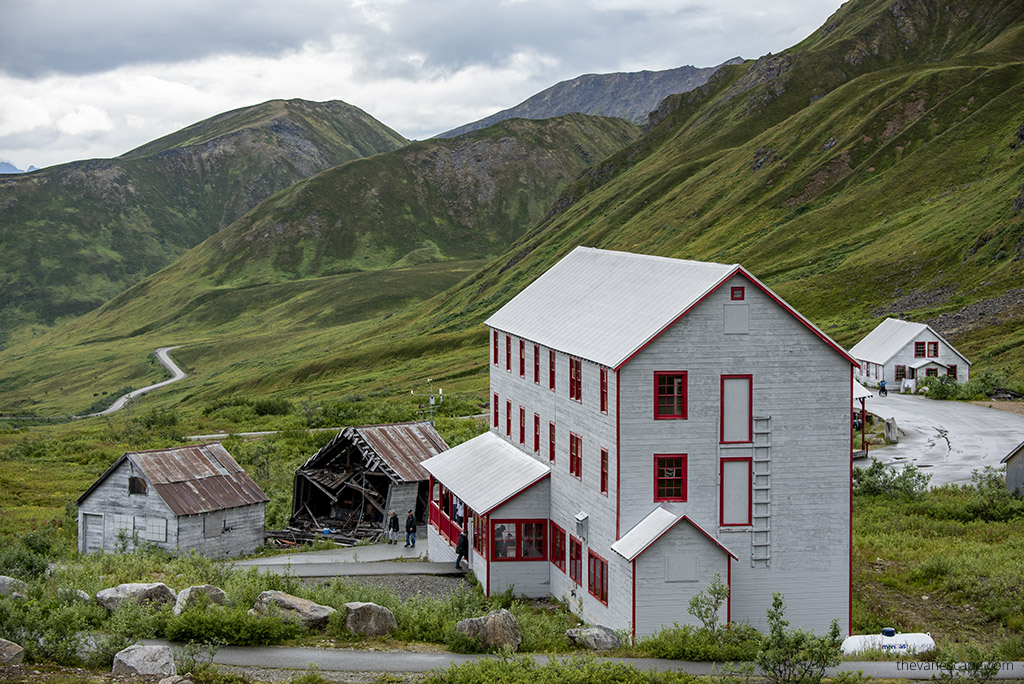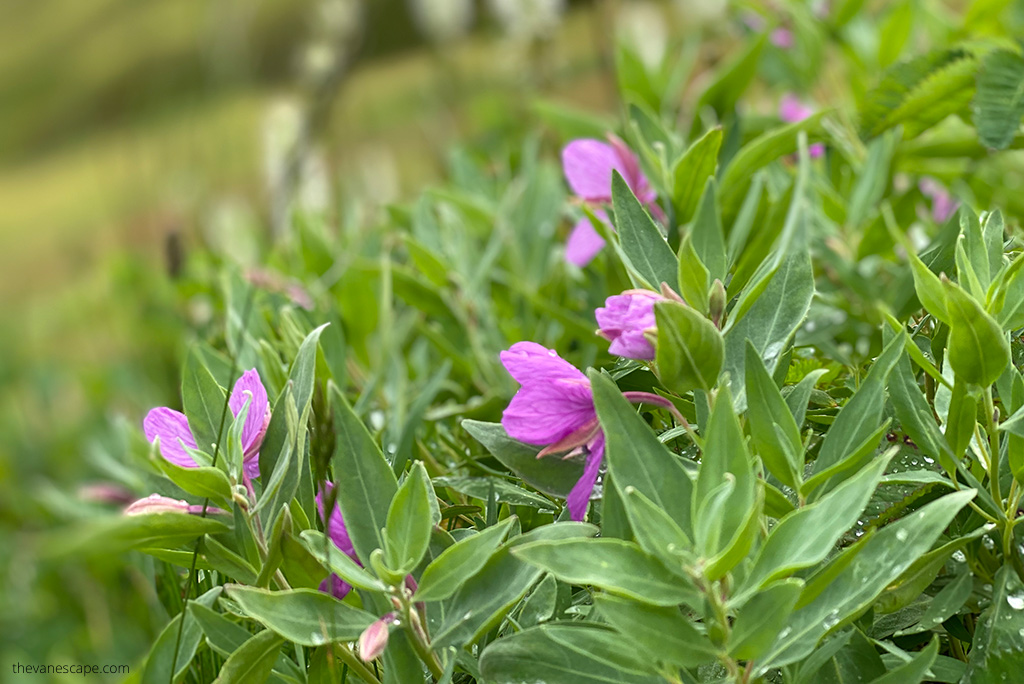 Enjoy Summit Lake State Recreation Site
At Mile 19.3, you will reach Summit Lake State Recreation Site. What to do there?
Take a Picture of Hatcher Pass Sight Post
Of course, it is worth stopping for a moment at the highest point of the pass, 3,886 feet (1,148 m). There is a small parking lot for a dozen cars and a plaque with the summit height at which you are. The views are fabulous, so take a photo and stretch your legs. Interesting mountain trails also start from this point. One of our favorites is April Bowl Trail, and then hiking along the ridge to Hatch Peak, which we describe in detail in this article.
Admire the Turquoise Color of Summit Lake
The pass's summit also has a view of a small turquoise lake – Summit Lake. You can go there for a short walk or admire the view from the summit. The water is icy.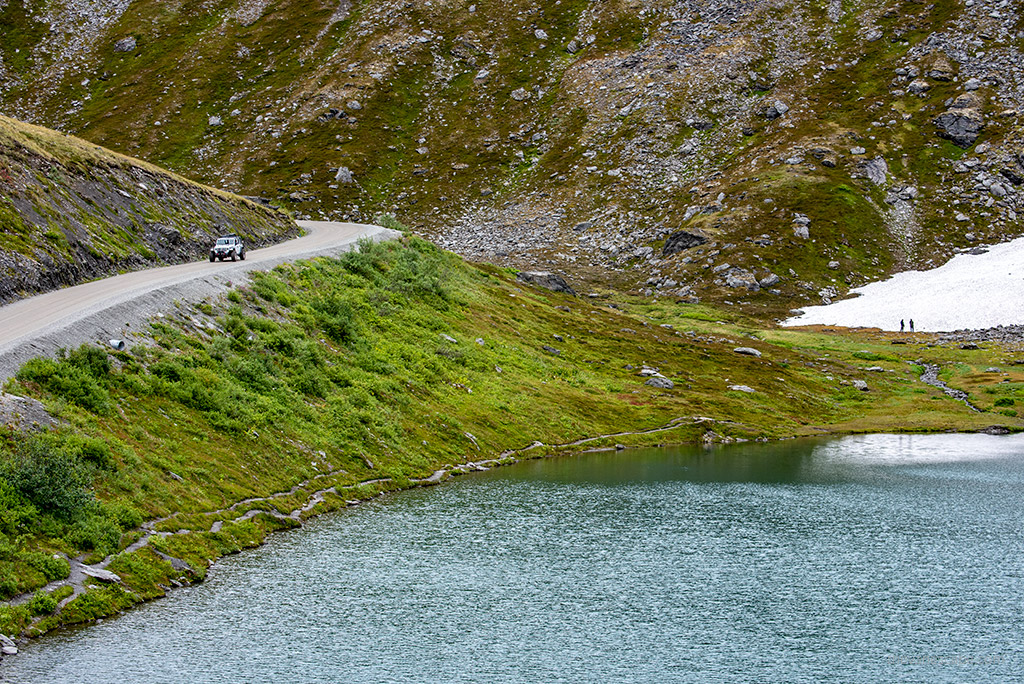 Go for a Hike
Hiking is one of the top things to do in Hatcher Pass, so check out our list of the best Hatcher Pass Hikes to choose something for yourself. Even if you only have one day to explore the area, you can still drive the Hatcher Pass Road, visit the Independence Mine, and walk at least one or two trails there. Since there are many more trails, we have collected them in the best Hatcher Pass hikes. Gold Cord Lake, Reed Lakes Trail, and April Bowl Trail are favorites. Before you hit the hiking trails, check out our detailed Alaska Packing List.
TRIP TIP: Suppose you want to explore this area more detail and go hiking at Hatcher Pass. In that case, we recommend this book: Day Hiking Southcentral Alaska: Anchorage Area, Kenai Peninsula, and Mat-Su Valley. It contains 100 day hikes in the Anchorage area. It covers Chugach State Park, the Matanuska-Susitna Valley, the Hatcher Pass, Eagle River, Palmer, and Wasilla.
Enjoy Blueberries Picking
The slopes of the mountains are covered with berry bushes. In season, especially around the Independence Mine, you can pick juicy wild berries and enjoy their taste with a view of the surrounding hills.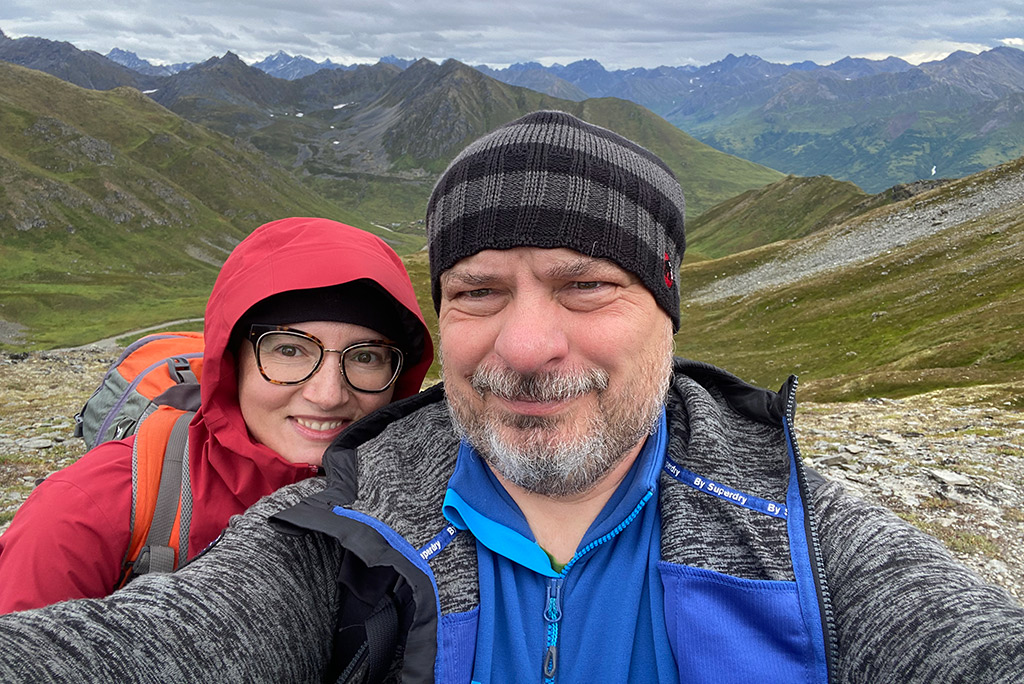 Drive the Scenic Hatcher Pass Road
If the route is passable, the weather is good, and your rental company allows you to drive the entire way – it's worth doing. The whole route is highly picturesque. And it could be an exciting trip. But if time is short, drive only the top of the pass and turn back to Plamer. Views are the best on this stretch of the route, and there are the most exciting hiking trails.
Visit Backcountry Huts
Suppose you have more time to explore and are experienced backpacking in the wilderness. In this case, the Alaska Mountaineering Club operates a series of mountain huts deep in the mountains: Bomber Hut, Snowbird Hut, Dnigi Hut, Mint Hut, and Seth Holden Hut. You reach them via the 50-mile hike from hut to hut in the backcountry. This trail usually starts from the Reed Lake Trail or Gold Mint Trail. On Snowbird Glacier, you can see parts of the B29 bomber wreck.
Where to Stay in the Hatcher Pass area?
Staying in Palmer
Usually, we travel with a budget in mind because we want to spend as much time as possible on the trip and take advantage of as many attractions as possible. Therefore, we base our choice of accommodation on price. It has to be clean but inexpensive, especially in Alaska, where attractions like a scenic flight over Denali, a hike on the Matanuska Glacier, bear viewing trips, or a wildlife cruise cost a lot but are unique experiences. Therefore, in this area, we are staying in the small town of Palmer. Accommodation here is at reasonable prices. It may not be the prettiest town in Alaska compared to charming Homer or Talkeetna. But in our opinion, it's excellent as a base for exploring Hatcher Pass. On the map below, you can find the best deals.
Hatcher Pass Lodge
The great idea is to stay in atmospheric wooden red huts on the pass—prices per night start at $150. Contact the property directly to book your stay in this magical place. What's important, the rustic but charming huts are open year-round.
Hatcher Pass Cabins
At the entrance to Hatcher Pass in the Talkeetna Mountains stands cozy log cabins. This place seems the perfect choice if you want to stay in a quiet area outside of town. Prices start from $134.
Hatcher Pass Camping
Two camping areas are situated along Hatcher Pass Road in the Hatcher Pass East Management Area. These are Government Peak Campground (mile 11) and Gold Mint Trailhead (mile 14). Both campgrounds have access to well water. If you plan to camp in the backcountry, you must ensure that your campsite is set up at a distance of at least 0.5 mile from any facility or road.
Hatcher Pass Huts
The Mountaineering Club of Alaska manages three huts, namely Snowbird, Bomber, and Mint. These huts are offered on a first-come, first-served basis.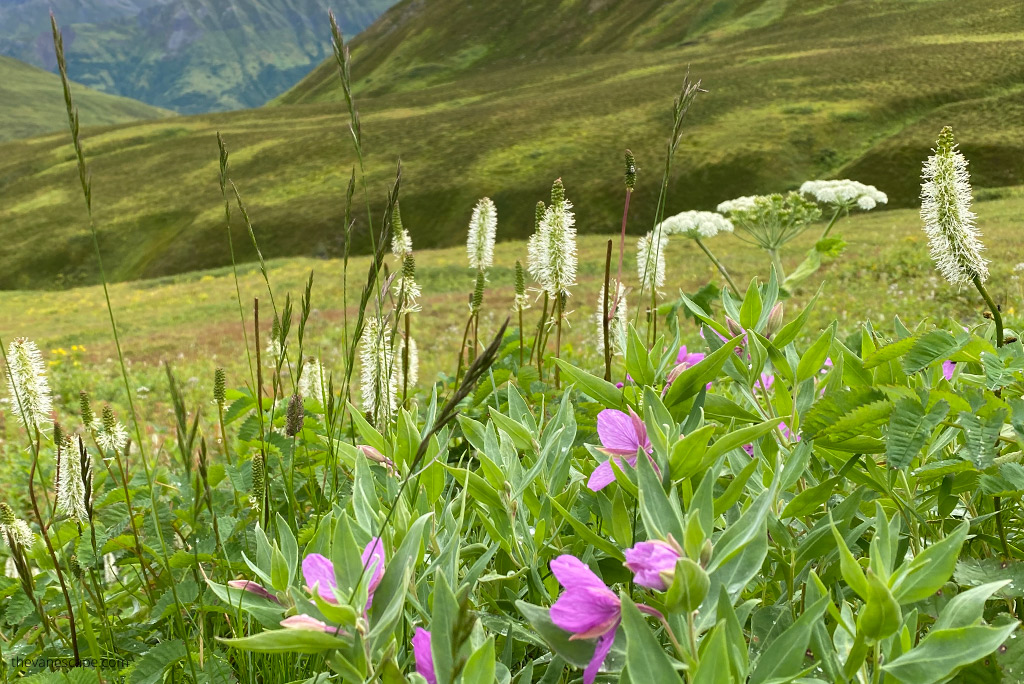 Do you like it? Pin it!