Guide to Liard River Hot Springs
A guide to Liard River Hot Springs will help you prepare for an amazing experience. Soaking in Liard River Hot Springs is a fabulous adventure, as it's a truly magical area. One of the largest Canadian hot springs, located along the Alaska Highway in British Columbia is the perfect break from the road. In the boreal forests, steam rises above water, and mist, and streaming hot water cascade between rocks and mossy trees, making this place mystical. Soaking up in hot springs is a great relief for muscles and a perfect rest for the soul. So, check our tips.
This article may contain affiliate / compensated links. For full information, please see our disclaimer here.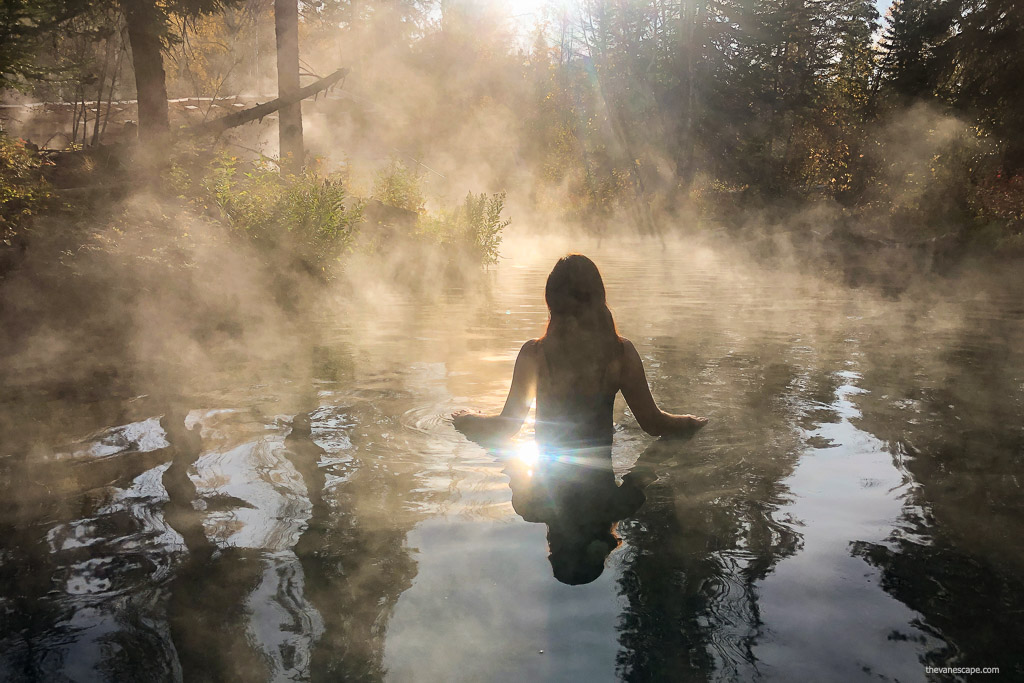 What is Liard River Hot Springs?
Liard River Hot Springs complex in Northern British Columbia is a truly magical place where you can soak in hot water and relax, enjoying the pure wilderness around you. It's the second-largest hot spring spot in Canada. But Liard is actually the largest natural hot springs in Canada. What's more, the Liard River Hot Springs has ecological significance and is well known for its natural setting in a lush boreal spruce forest. The place is often called "Tropical Valley " due to the lush plant life influenced by the warmth of the springs.
You can stay there for a day, few hours or a few nights. The overnight possibilities are Liard River Hot Springs Campground and Liard Hot Springs Lodge. Below we present details, prices, and amenities about those places. If you are a fan of Into the Wild, it is worth knowing that Chris McCandless / Alex Supertramp enjoyed these hot springs in 1992. Here you can see our pictures from the replica of the Magic Bus 142 in Alaska.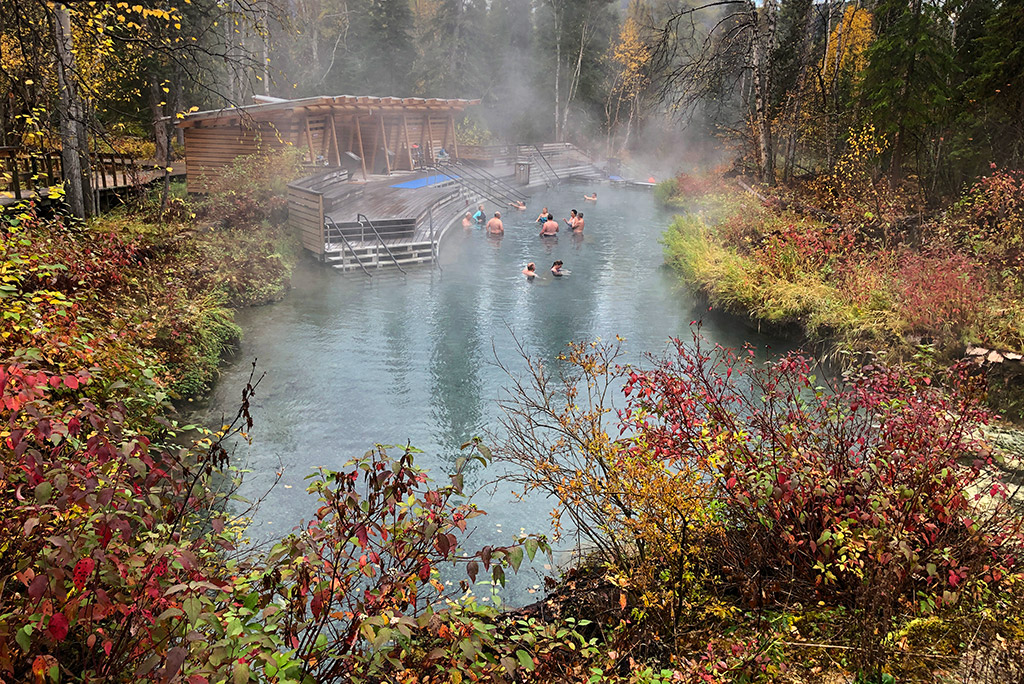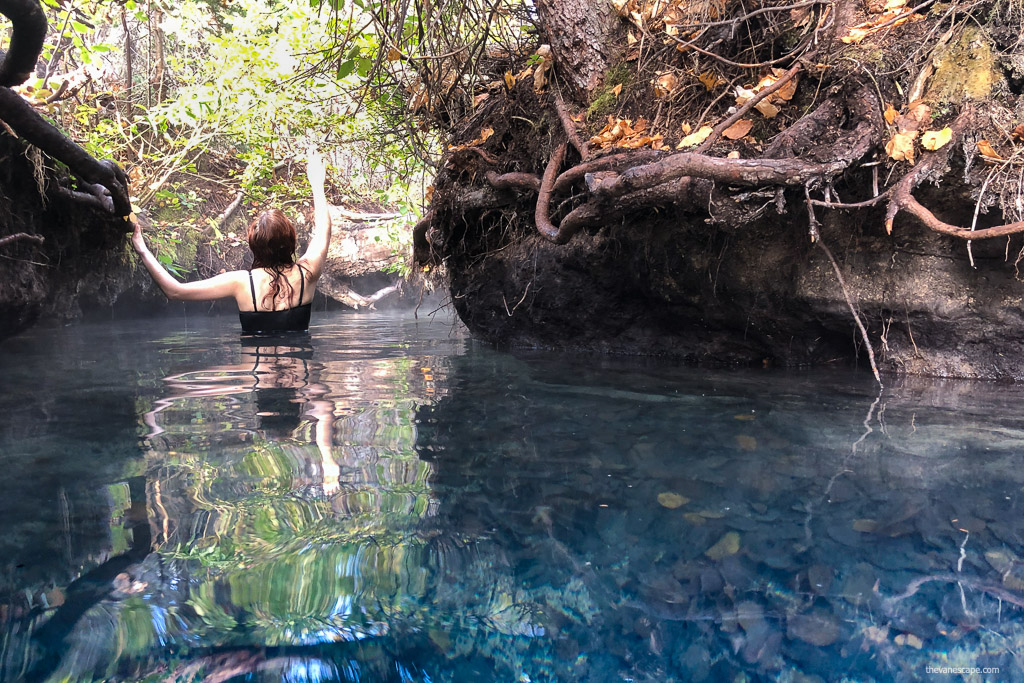 Where is Liard River Hot Springs?
Located along the fabulous Alaska Highway at Historic Mile 496 (kilometer 765) in Liard River Hot Springs Provincial Park is a convenient stop on the way to or back from Alaska, Yukon, or Northwest Territories. It's in Northern British Columbia, between Fort Nelson – 307 km (191 miles south-east) and Watson Lake – 218 km (135 miles north-west). Approximately 60 km (37 miles) north of Muncho Lake Provincial Park.
Guide to the Alaska Highway: Your Complete Driving Guide
Need-to-know information about the incomparable 1,500 miles of Alaska highway

Spotlight on more than 200 destinations

Spectacular full-color photographs

Tips on where to spot wildlife, favorite fishing holes, and more

Expert input on vehicle prep, what to pack, and where to camp, great for RVers
Amenities & Facts about Liard River Hot Springs Provincial Park
Some Facts & Water Temperature
Liard River Hot Springs Provincial Park was established in 1957. The park's size is 1,082 hectares. The park is part of the larger Muskwa-Kechika Management Area. There are hot springs in the park open to the public called Alpha pool. You can also soak in the river stream. The waters temperatures in Liard Hot Springs range from 42°C (108 °F) to 52°C (126 °F). So, don't forget to pack a large water bottle to stay hydrated.
Amenities in Liard River Hot Springs Provincial Park
Facilities in Liard Hot Springs include a wooden change house and composting toilet. Wooden stairs lead into the water. In the main Alpha Pool are benches, so you can sit comfortably and enjoy the scenery. There is also a deck where you can keep your things. But there is no place to lock up items. Some facilities and hiking trails in the park are wheelchair-accessible. Next to the boardwalk are picnic areas and a playground.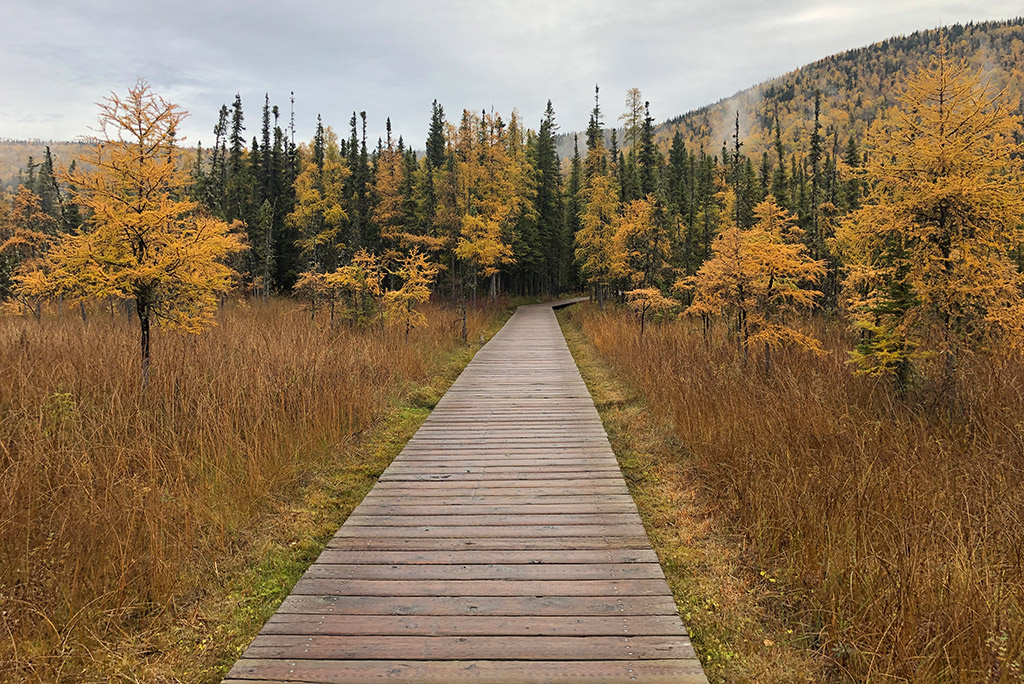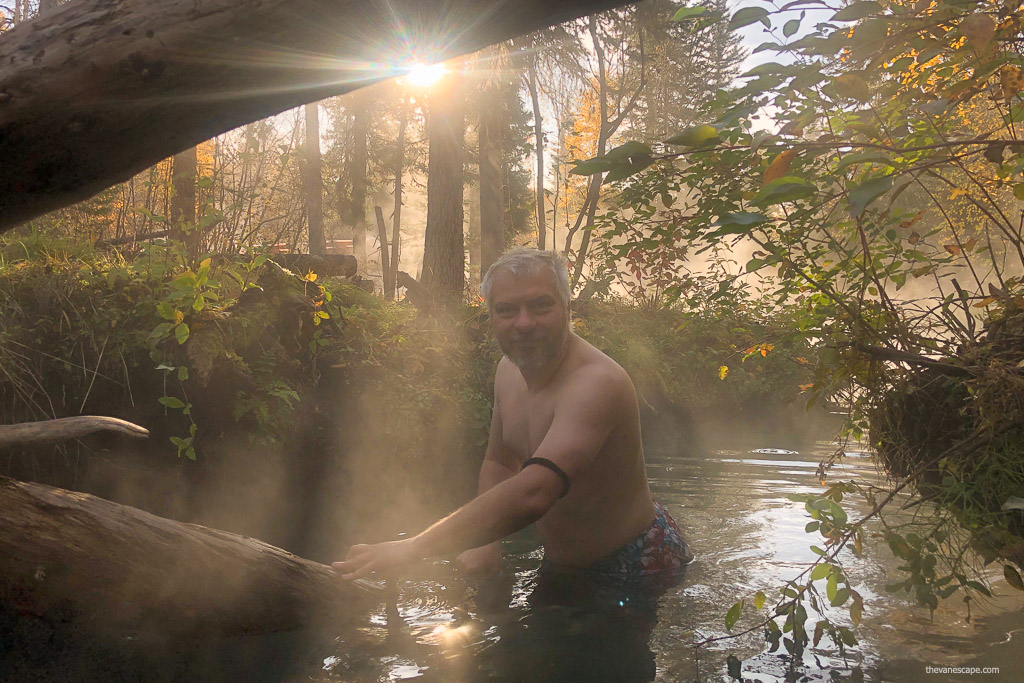 Access to Liard Hot Springs
A short, easy, and scenic hike is necessary to get to the hot springs. It takes about 5-10 minutes. As soon as construction on the Alaska Highway was underway in 1942, the Alaska Highway construction crews built the first boardwalk and all facilities. There is a 700-meter (2,297 feet) boardwalk, which leads you to the hot spring pools. It passes through a warm water swamp and deep boreal forest. Early in the morning, mists above the swamps and over the hot pool make this place magical. It's possible to spot a lot of bird species and mammals. We were lucky to observe moose with a young calf feeding in the swamps. There are also bears and bison in the area of the park.
Liard River Hot Springs Park Rules
Swimwear is obligatory. Nudity and alcohol are prohibited. It's a family-friendly hot spring. Please respect the rules and stay away from wildlife. Tourists can only walk on the boardwalk and designated trails to not disturb wildlife and plants.
Pets are not allowed in the hot springs' water and hot springs area. So, you must leave them in the campground. They are welcome in the campground, but they need to be kept on a leash all the time. Please respect the Leave No Trace rules.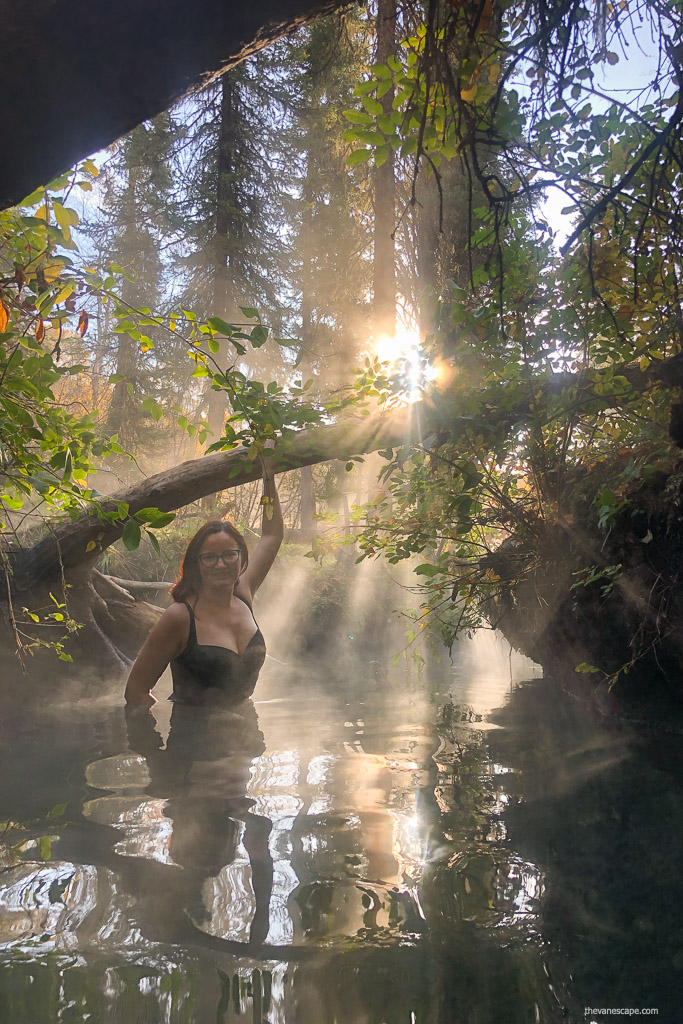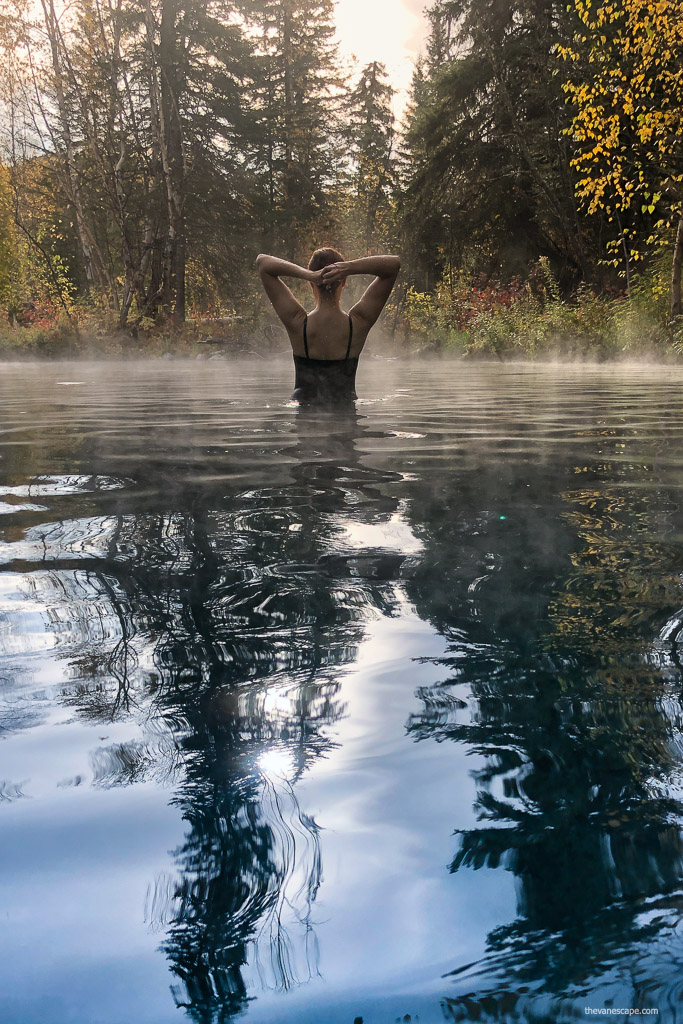 How much cost to soak in Liard Hot Springs?
From April 1 to October 31, there is a day-use fee of $5 for adults, $3 for children, or $10 for families. But if you stay at the Liard River Hot Springs Campground for a night it's free. Annual passes cost $10 for adults and $20 for families. It's important to know that fees are payable in cash only at the park. There is the staffed gatehouse, which also functions as a local visitor center. Liard River Hot Springs Provincial Park is open year-round.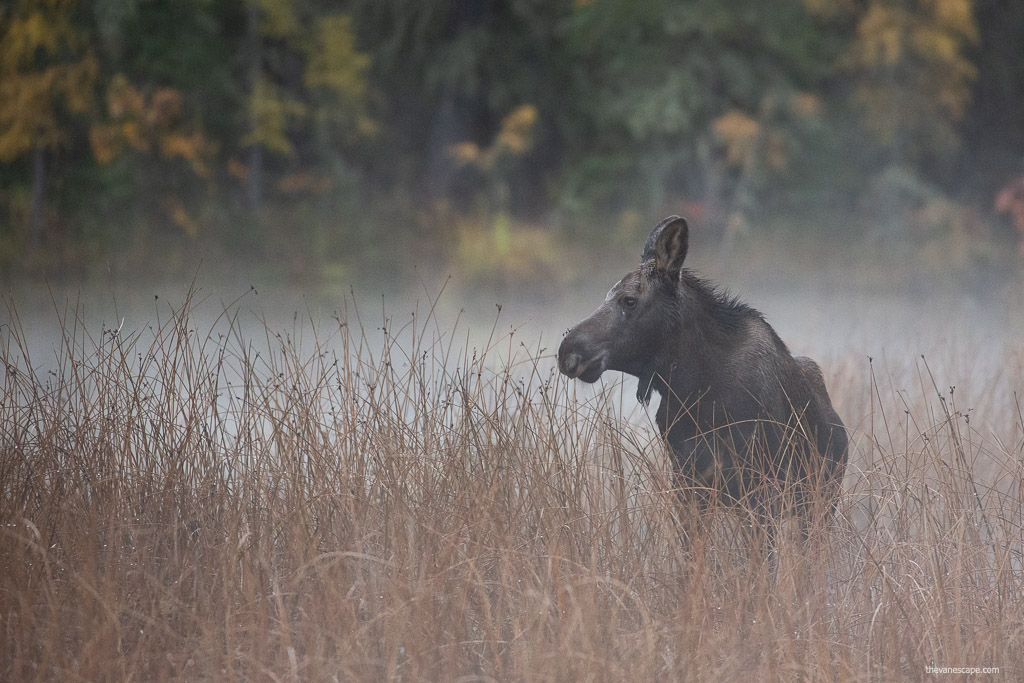 Guide to Liard River Hot Springs – What to pack?
Pack only the essentials for your walk to the hot springs. Don't forget a swimsuit as it's obligatory, a quick-drying towel and a bottle of water. The best choice will be an insulated sports water bottle, which keeps your drink cold for up to 24 hours, and hot for 12 hours. Pack also a flashlight if you go for an evening soak, as a boardwalk has no lit.
The bottom of the pool is covered with nice and gentle gravel, and the water is clear and blue. So you can walk barefoot on the bottom. However, if you want to take a walk on a hot river and its meanders, you may need water shoes to avoid injuring your foot on some protruding branch. In winter wear a hat and pack warm clothes. Mosquitoes can be tiring in summer, so bring repellent. Remember to remove silver jewelry, as it will become discolored due to the sulfur.
| Image | Title | Check | Price |
| --- | --- | --- | --- |
| | Wise Owl Outfitters Camping Towel Ultra Soft Compact Quick Dry Microfiber - Great for Fitness, Hiking, Yoga, Travel, Sports, Backpacking & The Gym - Free Bonus Hand Towel 24x48 MB | Check on Amazon | $ |
| | IRON °FLASK Sports Water Bottle - 32 Oz, 3 Lids (Spout Lid), Vacuum Insulated Stainless Steel, Hot Cold, Double Walled, Thermo Mug, Standard Metal Canteen | Check on Amazon | $$ |
| | High-Powered LED Flashlight S3000, WdtPro Super Bright Flashlights - High Lumen, IP67 Water Resistant, 3 Modes and Zoomable for Camping, Emergency, Hiking, Gift | Check on Amazon | $ |
| | VIFUUR Water Sports Unisex Shoes Black - 11-12 W US / 9.5-10.5 M US (42-43) | Check on Amazon | $ |
Guide to Liard River Hot Springs – Where to stay?
You can choose between a Liard River Hot Springs Campground in the woods just off Liard Hot Springs or the Liard Hot Springs Lodge across the road. There is also a small Mould Creek Campground in the area.
Liard River Hot Springs Campground
Campground Fees and Amenities
There are 53 campsites in Liard Hot Springs. The campground is open with full services from May 1 – Sep 30. Liard River Hot Springs Provincial Park offers vehicle-accessible campsites. The camping fee is $26.00 per party/night. It includes access to the hot springs. Camping fees are payable in cash only at the park. Winter Camping is also possible. Winter camping is $16/night and includes access to hot pools.
This park only has pit toilets. Two hand pumps are available in the campground. Taps are shut off during the off-season. So, there is no water available from mid-Oct-May. There is no electricity as well at the campground. It does not have RV hookups. There is no cell service, wifi, or showers. You can get wifi and rent showers at the Liard River Hot Springs Lodge across the highway. Campfires are allowed and campfire rings are provided at each campsite. However, park authorities encourage visitors to conserve wood and protect the environment by minimizing the use of fire and using camp stoves instead. There are also picnic tables.
The campsites are large, with plenty of space and trees between them. So, it's with to pack a hammock to enjoy the scenery. Here you can check how to choose the perfect hammock for your adventures. The sites are big enough to accommodate RVs and trailers up to 32'.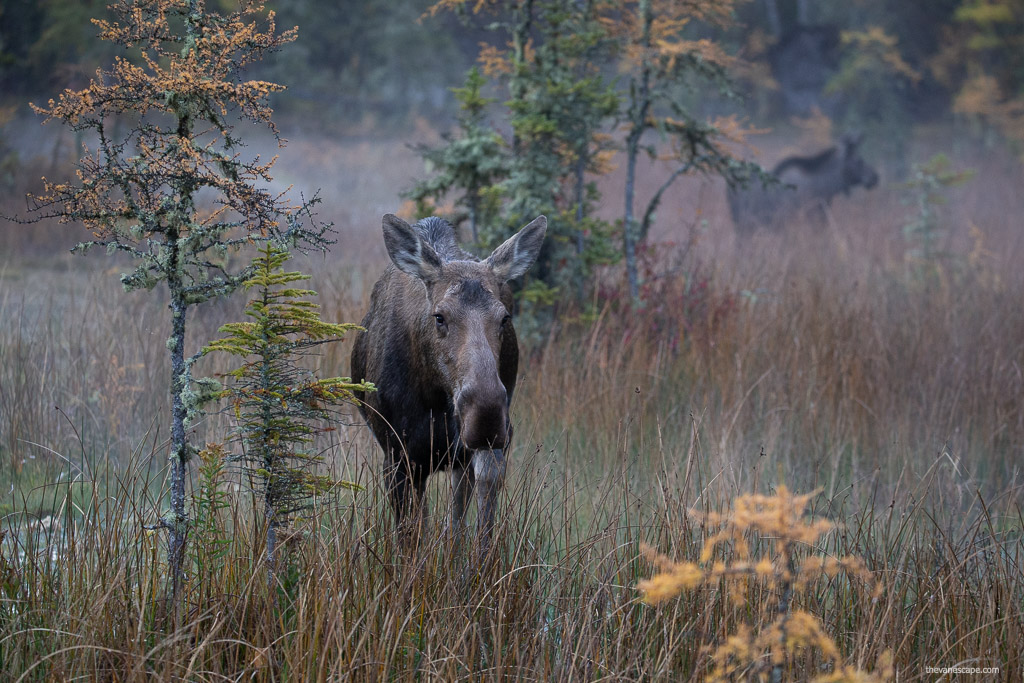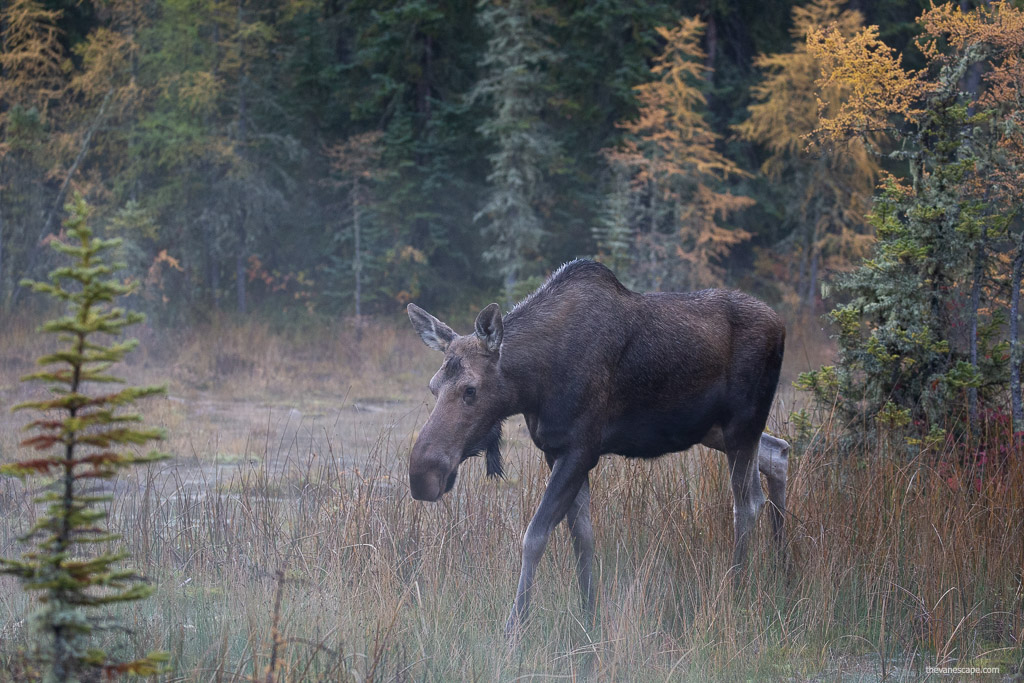 Campsite Reservations
The Liard River Hot Springs Campground fills quickly during the summer months, so it's worth making a reservation. You can book your campsite via the Discover Camping website (you have to choose the right park from the list: Liard River Hot Springs and enter the dates of your stay). When reservations are not available all campsites function as first-come, first served. 21 sites are reservable and 32 sites are first-come, first-served. Checkout is at 11 am, so try to arrive shortly after to find a site.
Liard Hot Springs Lodge
Across the Alaska Highway is the 12-room Liard Hot Springs Lodge. It's open year-round for accommodation and fuel. It's the only place next to the park, where you can buy some food. The lodge also features camping facilities and 20 pull-through sites for RVs. You can choose between rooms (single, double, families) or off-grid cabins. They offer also 33 RV sites,13 smaller back-in sites, and 9 tent sites. They have gas/diesel and a store, where you can buy some snacks. What we love the most is their restaurant. The food was really great, and the staff was friendly. It's a perfect place for lunch or dinner on the way. There is also wifi access. The speed is not fast (it's Alaska Highway), but it was enough to check emails. We can highly recommend Liard Hot Springs Lodge. The phone number is 250-776-7349. The email address is [email protected]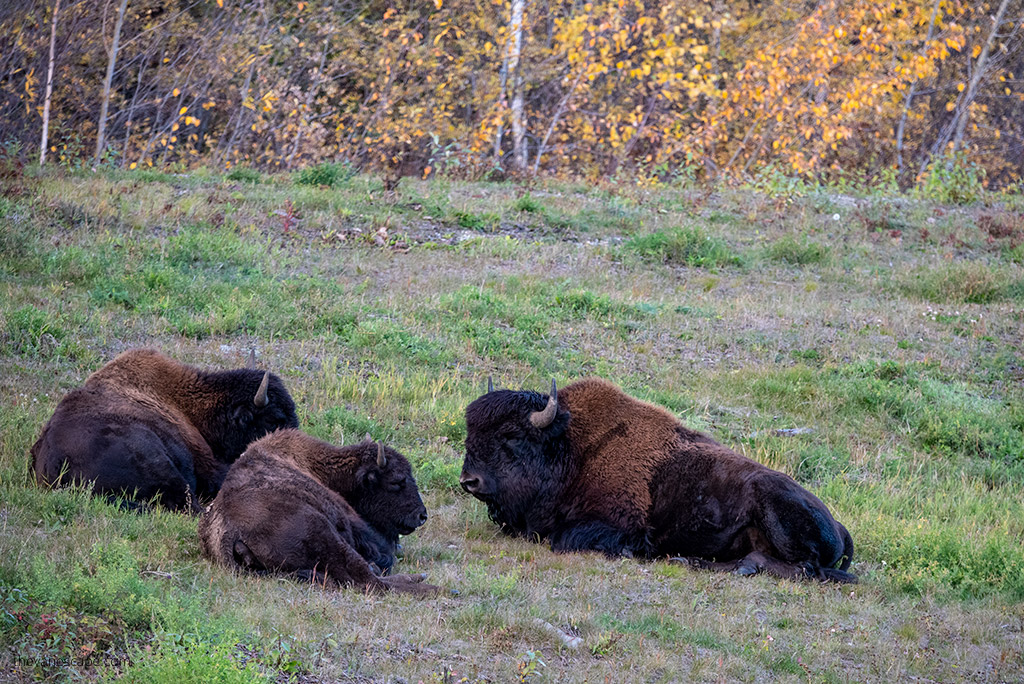 Mould Creek Campground
Next to the Lodge, you can also find Mould Creek Campground. It is just 0.5 miles (650 meters) down the road. It has 10 extensive sites and a few little cabins.
Liard River Hot Springs Bear Attack
Friends often ask us if this place is safe because they have heard about bears attacking tourists in the area. Unfortunately, such a tragic incident occurred years ago, when a black bear killed a woman and a man. There are many wild animals in this area. Apart from the bears, near the park, there are often bison. As everywhere in the wilderness, you should be careful. You should respect wildlife and follow the basic safety rules.
It's camping in bear country. But Liard River Hot Springs Provincial Park is the first one to have an electric fence installed. Thanks to this solution, visitors and wildlife are safe by reducing human-wildlife interactions at the park. But it would be best if you always take basic precautions. Food at the campground store in a Bear Canister and use Smell Proof Zip Bags for your cosmetics or snacks. When going to hot springs, do not take any food or cosmetics with you to not attract bears and other animals with the smell. Just take the water bottle to stay hydrated. If you are going to walk around the area, you can bring Bear Bells or Bear Spray.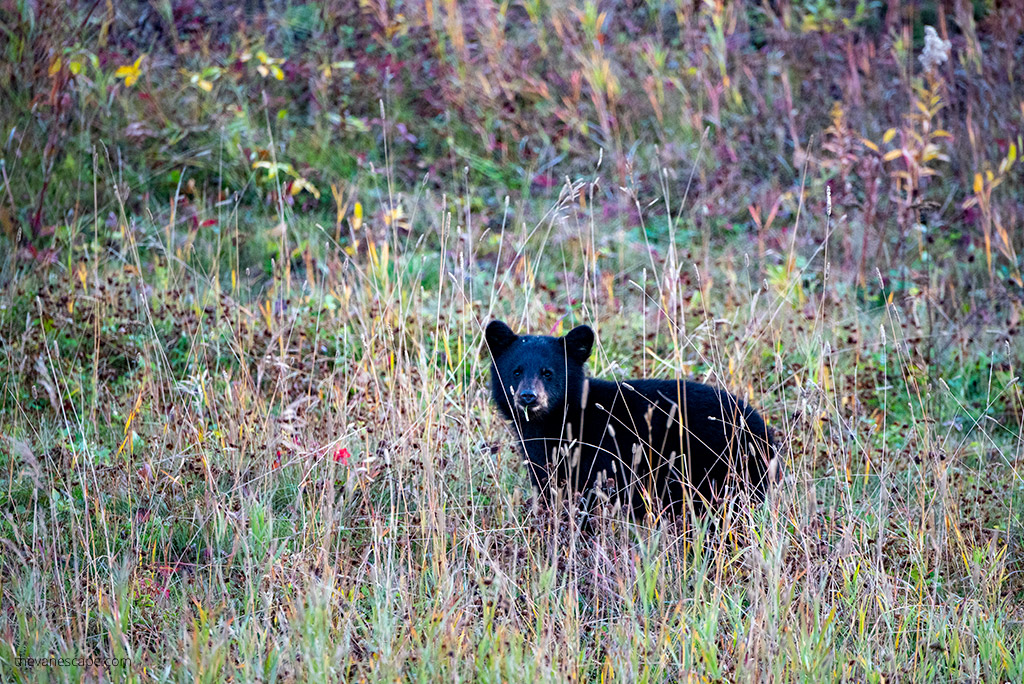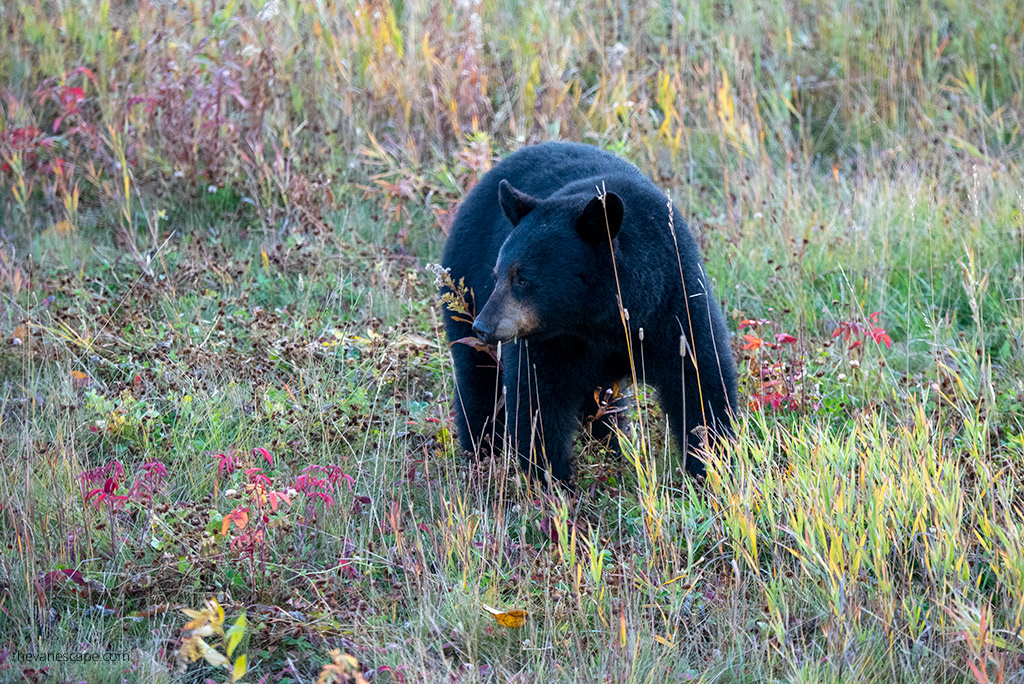 Guide to Liard River Hot Springs – Activities Available at the Park
Swimming and Soaking in Hot Spring
You can soak or bathe in the Alpha pool, which is shallow. But there are no lifeguards on duty, be careful. The water is hot. Staying in such hot water for too long can make you faint. Take frequent breaks to cool your body down and drink plenty of water to stay hydrated.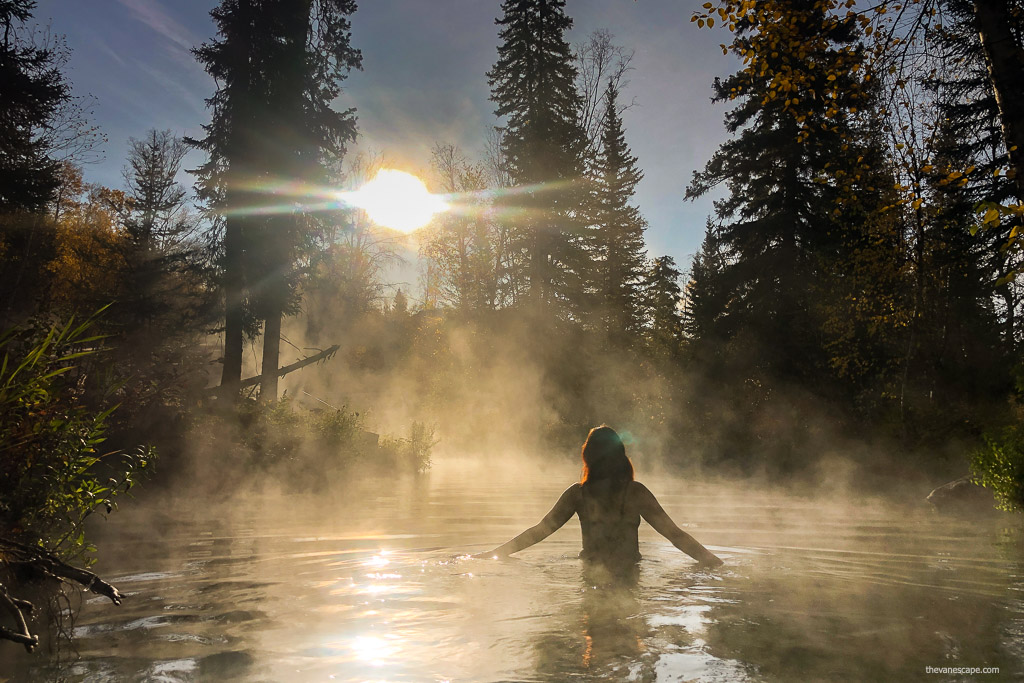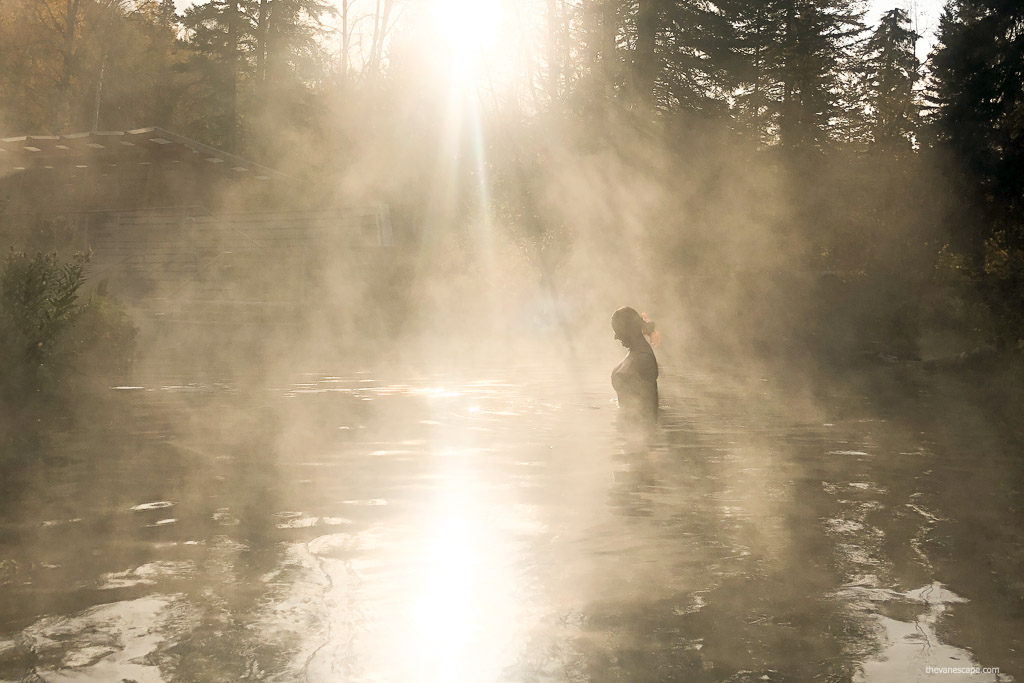 Wildlife Viewing
Liard River Hot Springs Provincial Park is full of wildlife. It's a perfect place for photographers and nature lovers. It's easy to spot black bears, bison, and moose in the area. Early in the morning and in the evening, it's easy to encounter moose feeding in the warm water swamps. According to the park's website, 104 birds and 28 species of mammals have been counted at Liard River Hot Springs. Mallards and Canadian geese are known to breed in the area. Shorebirds such as the solitary sandpiper and snipe breed in the swamp. Gulls, swallows, blackbirds, kingfishers, and nightcrawlers are often seen near the swamp, while flocks of waxwings use the black spruce trees along the edges of the marsh as perching areas. Many species of woodpeckers, thrushes, warblers, and sparrows have also been observed in the park.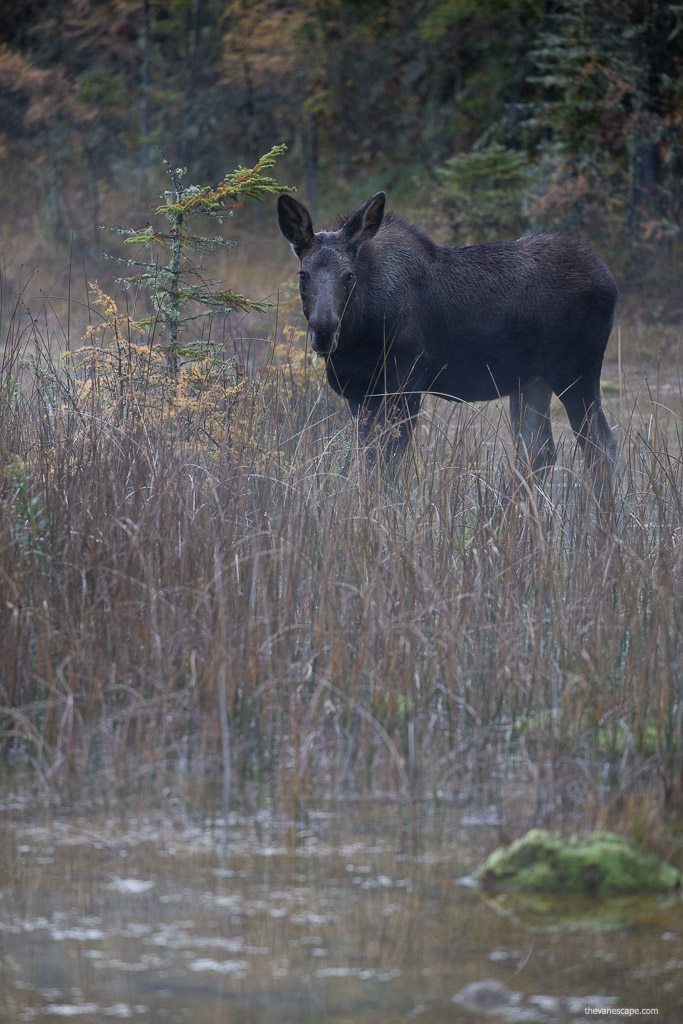 Hiking in the Liard River Hot Springs area
When walking or hiking, please be sure to stay on designated trails. Shortcutting trails destroys plant life and soil. What's more, it's an area full of wild animals, so be careful, and respect all park rules. Pets must be on a leash at all times and are not allowed in beach areas or park buildings. Don't forget to clean up after your pet. Backcountry areas are not suitable for dogs as there is a black bear and bison area.
We hope our Guide to Liard River Hot Springs was helpful. Enjoy your stay in this magical place!