Safety Tips for Driving the Dalton Highway
Driving the Dalton Highway is a fantastic adventure. But before you embark on this challenging route, check out Dalton Highway Safety Tips. Our detailed article will help you prepare for an epic journey – driving one of the most beautiful, longest, and wildest routes in the US toward the Arctic Ocean, Alaska. How to prepare your car for a trip to the Dalton Highway? What to pack on the Dalton Highway? What to expect, and what are the driving rules on this route? From the following Dalton Highway Safety Tips, you will learn everything you should know before you leave Fairbanks and hit the remote north.
This article may contain affiliate / compensated links. For full information, please see our disclaimer here.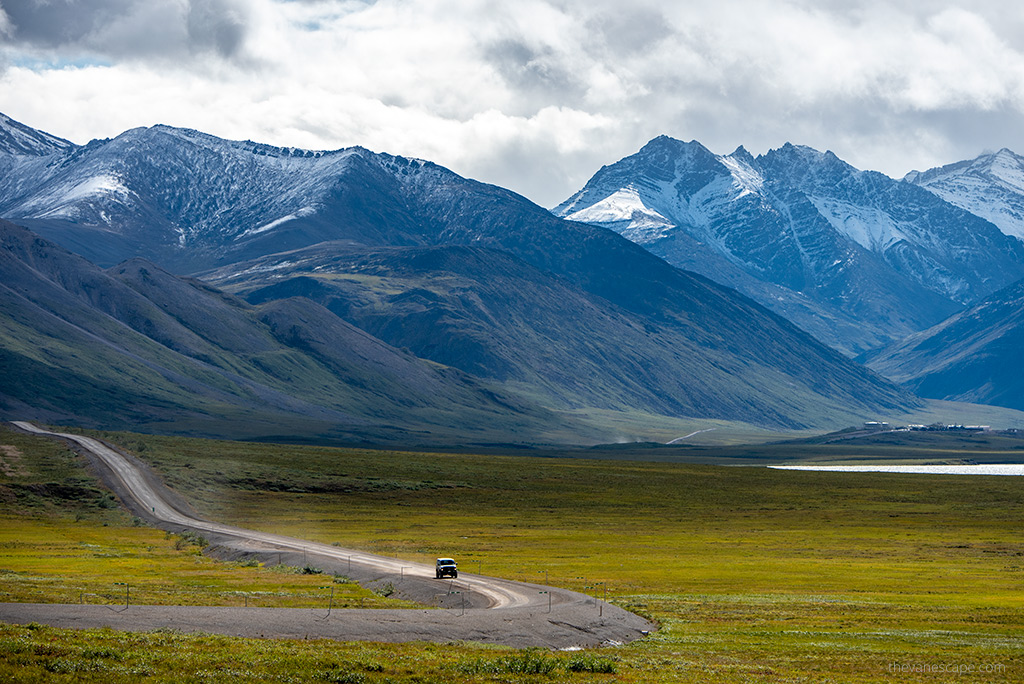 Driving the Dalton Highway Safety Tips – Introduction
This is our next article on the Dalton Highway because as long as this famous Alaskan highway is – 414 miles one way, so many surprises await you along the way. In the first article of this series, we informed you about the most important things about the Dalton Highway: where it starts, where it ends, where you can refuel on the way, where you can rent a car, what is the best time for a trip, how is the weather on a Dalton, what are the best maps of this route, and what are the road conditions on the Dalton Highway. We have also provided you with some interesting facts about the history of the Dalton Highway.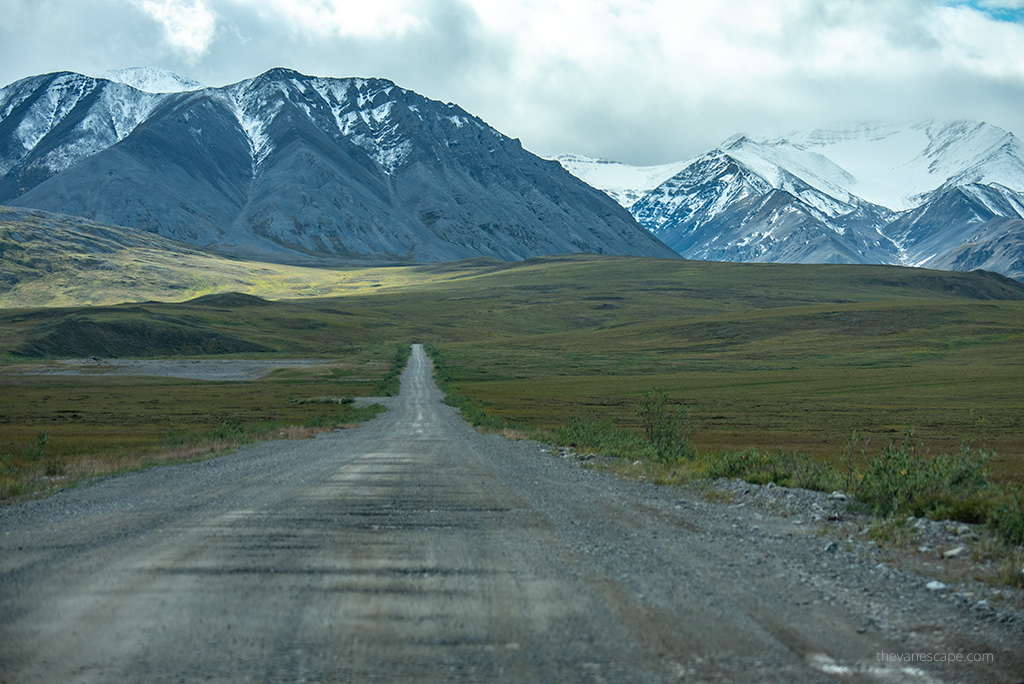 In this article, we will focus on the specific preparations for your Dalton Highway expedition. It's almost 1000 miles round trip, so you must prepare for the journey, as facilitates ends just after Fairbanks. Since once you enter the Dalton Highway, you will not find anything on the route, and services are limited. Food, gas, and vehicle repair services are minimal.
So, you must prepare perfectly in Fairbanks before you start your drive. We spent 10 days in Dalton in August 2022 and reveal our tips. How to prepare a car? What should you equip the car with? And what should you pack for the Dalton Highway? What to expect on this famous truckers' route? How much costs to drive this road? Finally, what are the safety rules for driving on Dalton Highway? Read this article before you hit the road. Use the table of contents for straightforward navigation.
Also, check out our article about camping along the Dalton Highway, so you know where to stay safe for the night. We present all possibilities: campgrounds, public lands, hotels, and cabins along the route.
Dalton Highway Safty Tips – Know Before You Go
Medical Facilities
There is no medical support and no medical facilities (public or emergency) on the 500-mile stretch between Fairbanks and Deadhorse. You must be self-sufficient while driving the Dalton Highway and know how to help yourself and others in the event of an accident. The highway does not have exits, making it very hard for drivers to access emergency services in case of an accident. So be sure to pack a well-stocked First Aid Kit and BleedStop powder for your trip. It is also worth buying additional travel insurance for this trip. Make sure to pack your personal medication.
Phone Coverage & Internet
Regarding phone and internet coverage between Fairbanks and Deadhorse – you need to be prepared that the service is very limited. Our cell phone coverage (AT&T) ended at Elliott Highway before we entered Dalton. We had no service on most of this route. We used WiFi for a fee at Coldfoot Camp. It's also available at Yukon Crossing for a fee. Verizon cell service and AT&T service are available north of Atigun Pass, and in Coldfoot, but do not expect too much. It's also possible to use calling cards at the Yukon River Camp (mile 56), Coldfoot (mile 175), and Deadhorse (mile 414).
Tell your family and friends that you are planning this trip, and let them know what car you will be traveling in. Leave your Dalton Highway itinerary with them.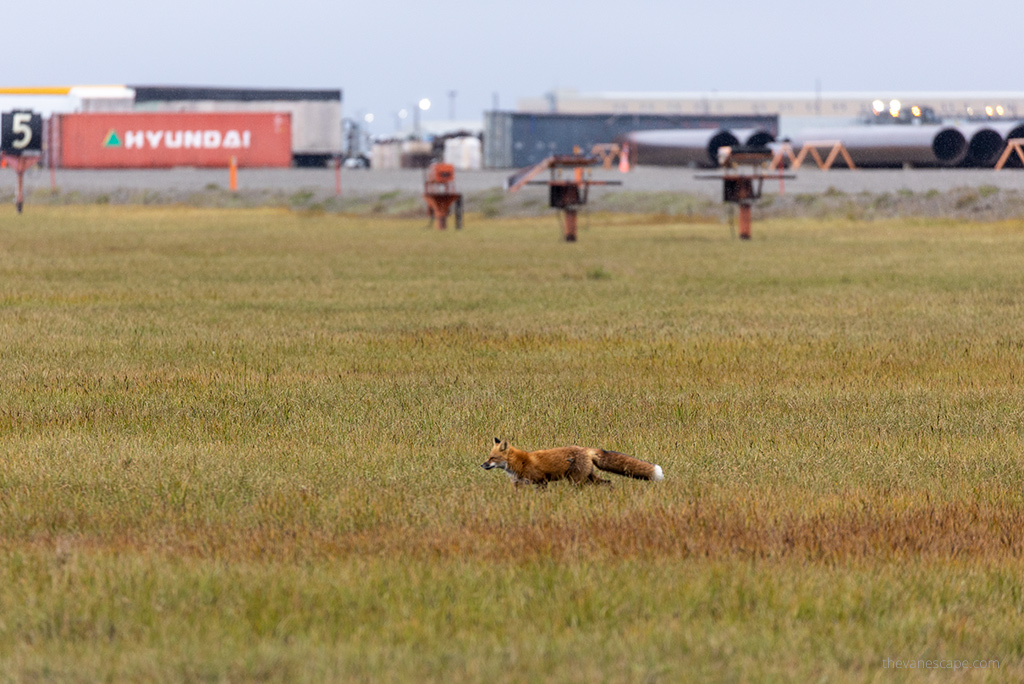 Satellite Phone
We didn't have a satellite phone with us. But you can rent it in Fairbanks if you think you need it. Before renting it, ensure the gear covers the Dalton Highway area, as some satellite phones do not work within the Brooks Range. It is worth having it, especially if you plan to do some mountain hiking at the Brooks Range, or if you plan a visit to the Gates of the Arctic National Park or Arctic National Wildlife Refuge. If you plan hiking and camping in the wilderness, for sure is worth taking a satellite phone for your safety.
Paper Map
Make sure to pack a paper map of Dalton Highway. In our opinion the best one, which describes the route mile by mile is Milepost. Before you hit the road, download for your phone whatever you need during your drive. On the Dalton, you will have a problem downloading anything.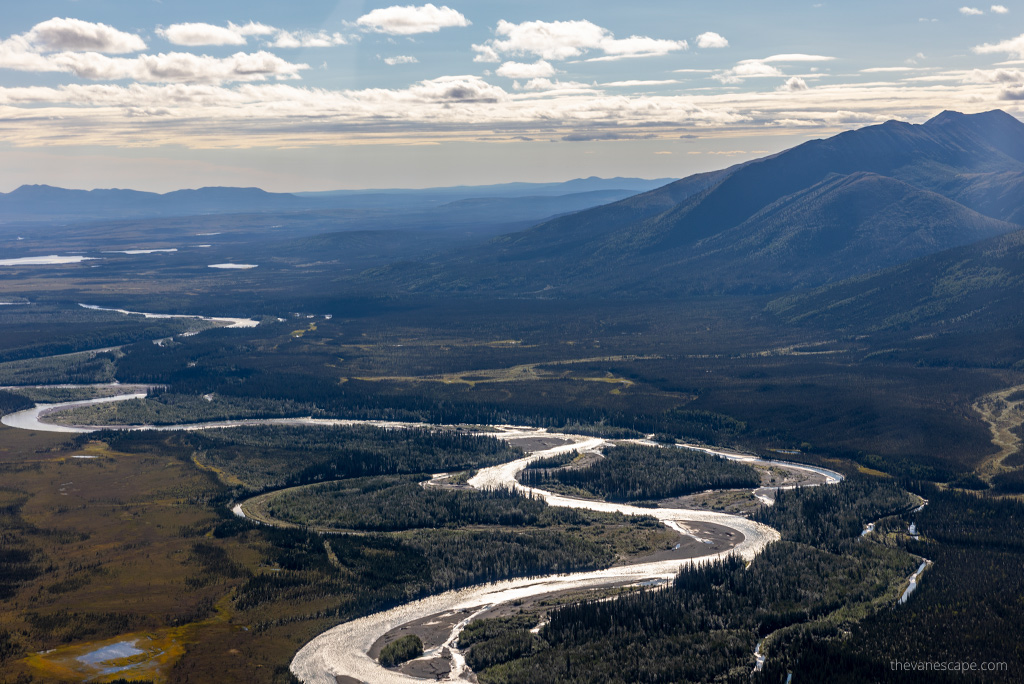 Drinking Water & Food
Water on Dalton Highway
Giardia, which causes diarrhea, is widespread in Alaska waters. You should treat the water first if you use stream water for cooking or drinking, according to the BLM rule. So you must boil water rapidly for 5 minutes or use iodine tablets, water purification tablets, or a water purification filter system.
It would be best if you packed a drinking water supply for this trip. You will replenish drinking water at several points along the route, including at the campgrounds. We recommend packing at least 2-3 gallons of drinking water, then topping up your tank at each point. We used Camping Water Container during this trip.
Food on Dalton Highway
There are no groceries or shops on this route. Only at the end of the Dalton – at Deadhorse, it's a grocery, but not well equipped. You must pack all your food with you, bearing in mind that you are in the wilderness so that any smell can attract wild animals, such as bears, coyotes, and wolves to you. Check below our Dalton Highway Packing List to see what food is worth packing for this trip. Warm meals can buy at miles 56 (Yukon River Camp), 175 (Coldfoot Camp at Truckers Cafe, where food is delicious), and 414 (Deadhorse).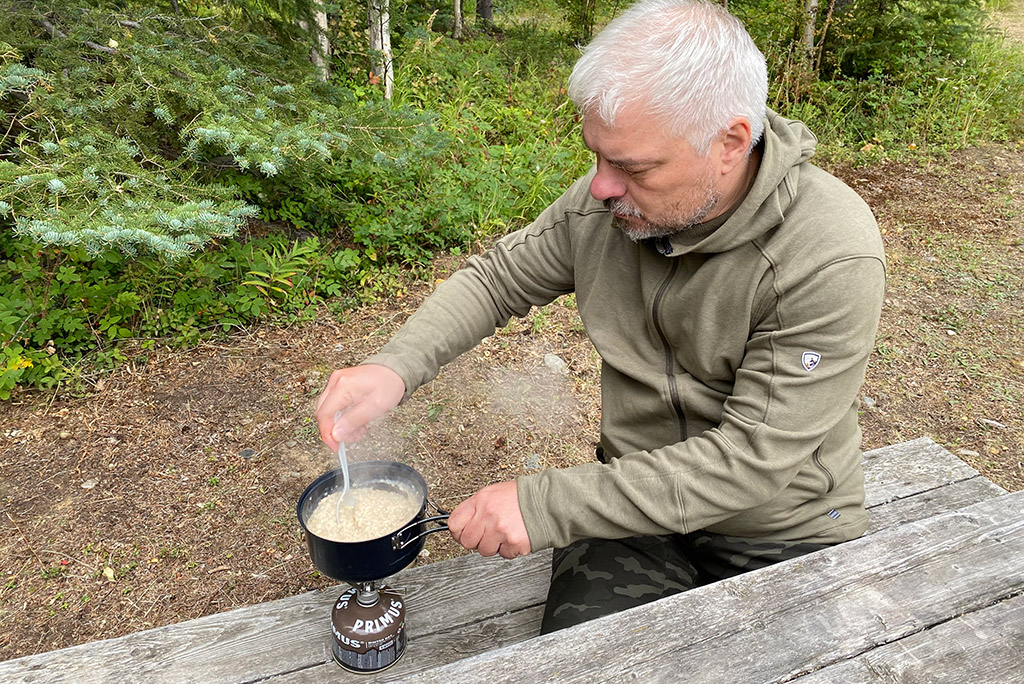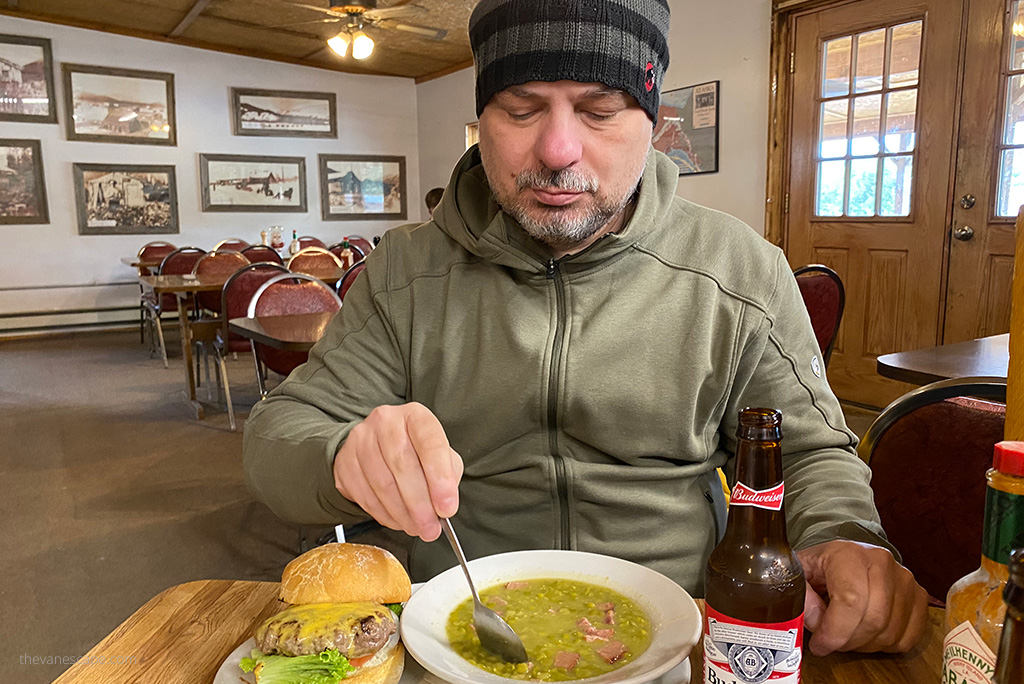 Budget for Dalton Highway
When preparing to travel, remember you must have enough supplies and money for 1000 miles (1610 km). There are no banks or ATMs on the route. You will find the ATM only in Deadhorse at the end of the route. So take some cash. Of course, you can pay by credit card on the way, but the terminal might be damaged or has no range.
Gasoline
The biggest cost on this route is fuel, which is much more expensive than in other parts of the US and even in the lower parts of Alaska. Planning a South Alaska itinerary, fuel is much cheaper. In August 2022, we paid 7.499 per gallon in Coldfoot and 8.079 per gallon in Deadhorse in Prudhoe Bay.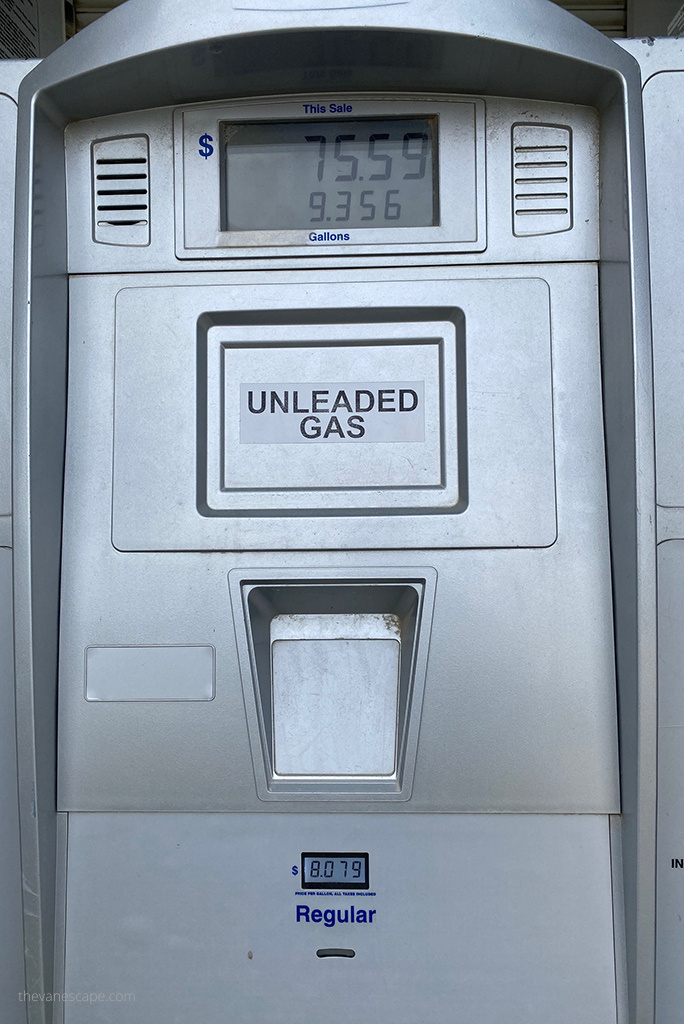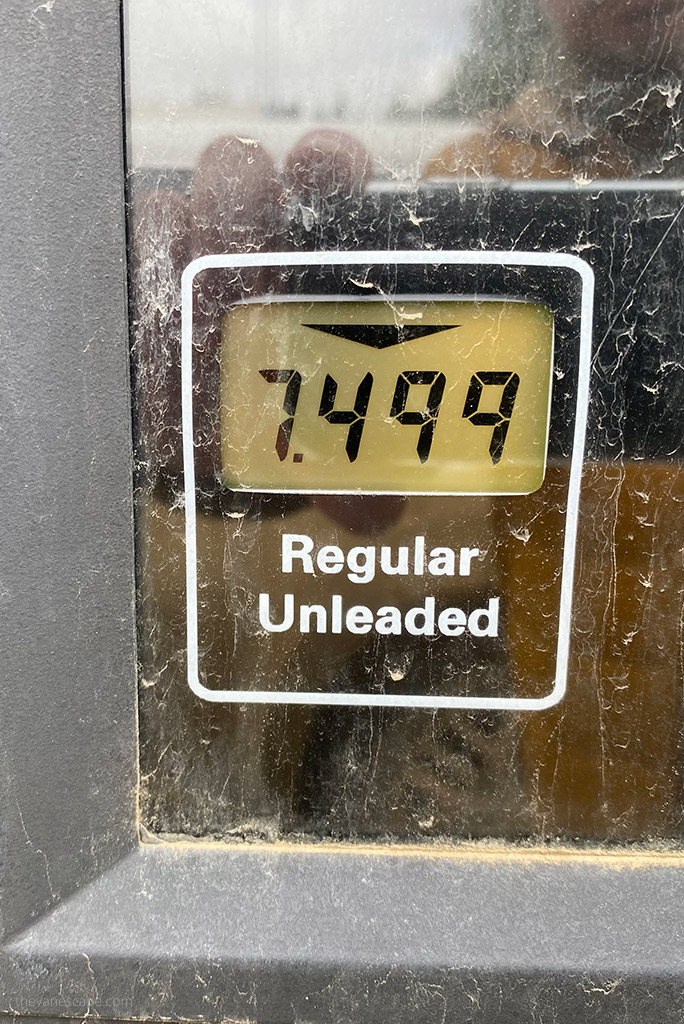 Lodging
Lodging also costs a lot, the number of which is minimal on the route. Details on this subject we give in an article Dalton Highway Camping Guide and the remote town of Wiseman. We slept in a tent, as camping on Dalton is cheap or free. Loges and hotels on the way cost more than $200 per room. Campgrounds are around $15 – $20 per site. Or you can stay overnight at public lands managed by BLM, which is free. More detail in a separate article.
Food
You must pack food and snacks as there are no groceries along the way. Prices of warm meals along the way start from $15 for simple lunch. They are only three places on the entire Dalton Highway where you can buy something to eat.
Activities
When planning your budget, consider the activities you want to experience along the Dalton Highway. The road ends at Deadhorse, about 8 miles (13 km) from the Arctic Ocean. You can't drive, walk or cycle to the Arctic Ocean. There is no public access. You can get the Arctic Ocean only on an authorized tour, which is $70 per person. If you decide to take a scenic flight over the Gates of Arctic National Park with Coyote Air, you must reckon with the cost of $900+ for two people. If you want to go hiking and explore this remote and wild national park, you have to be prepared for the price of $2200+ for one day trip for two people.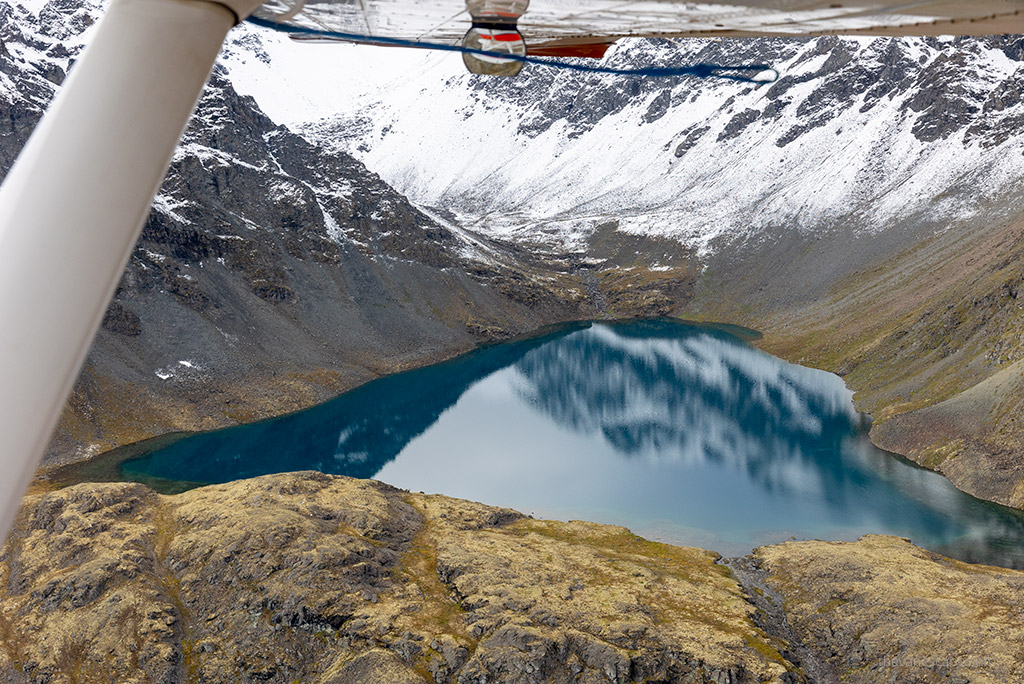 Preparing Car for Driving the Dalton Highway
Do you plan to drive your own car, RV, or rental car on Dalton Highway? Please read the following tips as proper car preparation for driving this gravel, remote, and challenging highway is essential to your safety. It would be best if you started preparing for your journey before you leave Fairbanks. You have to drive 830 miles round-trip in a very wild and inaccessible northern part of Alaska via the Arctic Circle, Antigun Pass, almost to the shore of the Arctic Ocean, with extremely limited services. But practically, it's a 1,000-mile journey because all amenities, most services, and coverage end just outside Fairbanks, on the Elliot Highway.
Rental Car for driving the Dalton Highway
In our previous article, in part about Dalton Highway Car Rentals, we mentioned all companies where you can rent a car for your Dalton trip. From our experience, we can highly recommend Alaska Auto Rental, which we choose. It's a local company with a long history based in Fairbanks. We highly appreciate their service and cars. You can check our detailed review and photos.
Most rental companies prohibit driving the Dalton Highway and other gravel highways in Alaska. Even renting a 4WD or off-road jeep doesn't mean you can go it on Dalton Highway. Traveling on gravel highways with a standard rental vehicle might violate your rental agreement. In Fairbanks, only the four companies we mentioned in the previous post, including Alaska Auto Rental, have cars adapted to this challenging and demanding journey. You must inform the rental company that you plan to drive the Dalton Highway as the route requires other insurance and equipment.

What is the best Vehicle for Dalton Highway?
The best vehicle for Dalton Highway is a well-prepared and well-equipped car. Driving should be done in a pickup truck, SUV, or car with high ground clearance. Small cars and motorcycles are strongly discouraged, as the road is extremely primitive in some places. The best vehicle for Dalton is a comfortable vehicle with good traction and low consumption levels. But the driver's skill and caution are the most important things while driving Dalton Highway.
What car did we have on Dalton Highway?
Our gravel highway vehicle, Nissan Rogue, from Alaska Auto Rental was equipped with two spare tires and a CB radio. It is the primary and critical equipment for safety on this route, as recommended by BLM. What's essential, Gravel Highway Vehicles from this rental also follow a thorough preventative maintenance program and undergo a safety inspection before each rental. Also, we had to provide proof of full coverage (liability, comprehensive, and collision) of automobile insurance issued by a US insurance company. The service helped us complete all the formalities.
Required driver skills on the Dalton Highway
The driver should be able to drive in truly adverse weather conditions, including poor visibility, heavy rain, and snow storms. In August we experienced fog, rain, snow, a lot of mud, and moments of icy roads. So the driver should have the experience to deal with icy, slippery conditions. The driver should always be cautious and watch out for unexpected massive potholes and road damage caused by extreme weather phenomena and oversized trucks. Motorists should also be especially careful when passing trucks, as flying rocks can shoot directly at your windshield. These huge trucks can be a little bit scary on this road.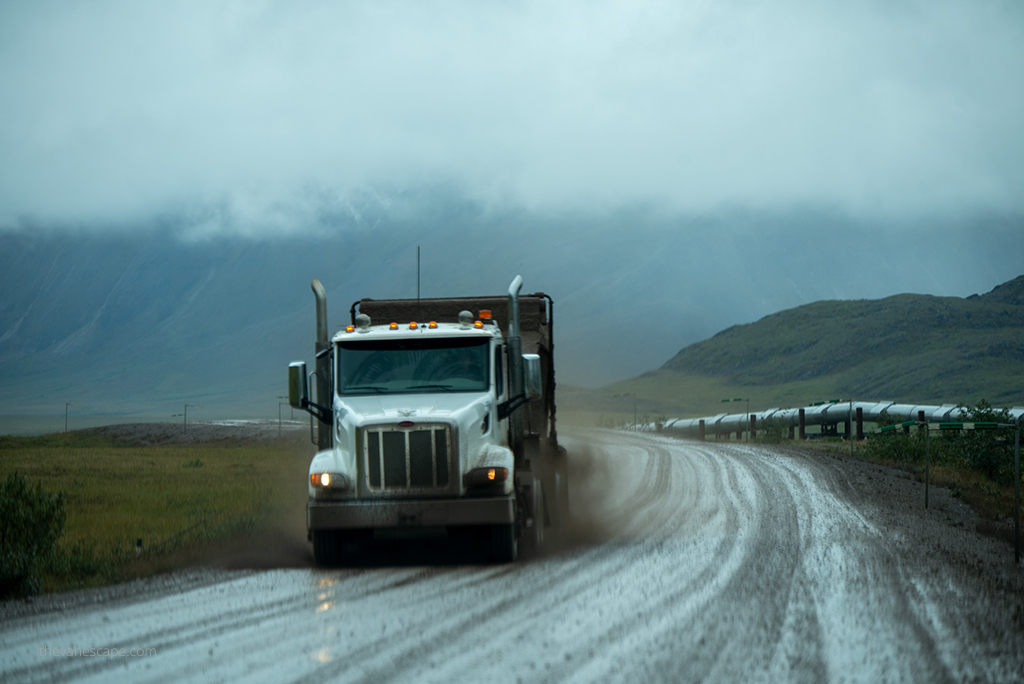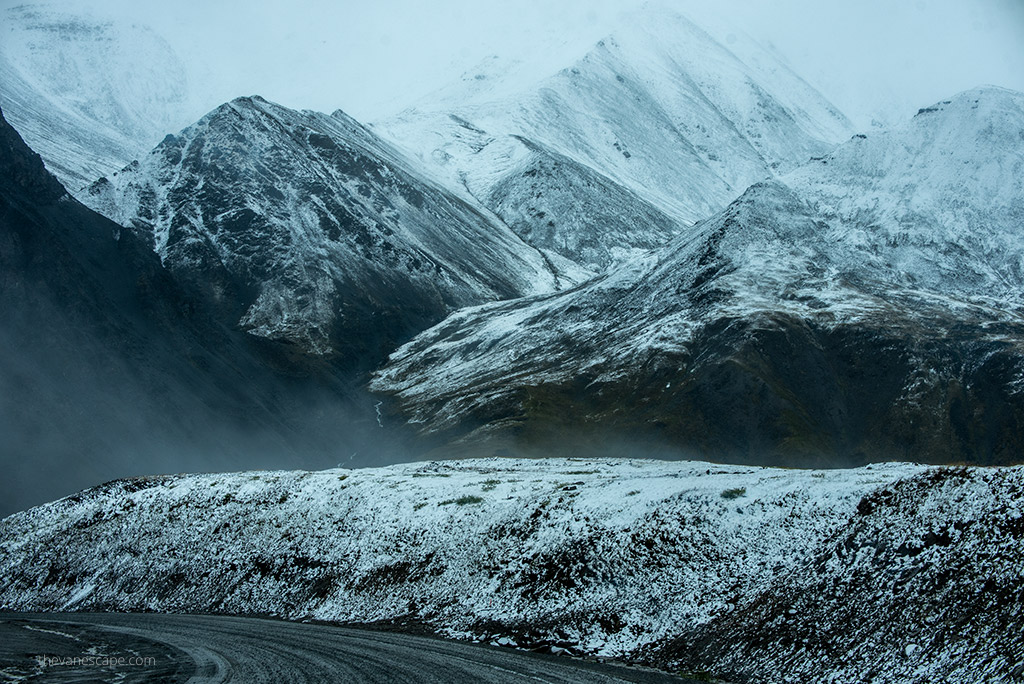 If you have time, we invite you to watch this short 3-minute video to see what to expect on the Dalton Highway.
How to equip a vehicle for driving the Dalton Highway?
Two full-sized spare tires
At least two full-sized spare tires are recommended for the Dalton Highway journey. It's the basis of Dalton Highway Safety Tips. Vehicle repair services are extremely limited.
Tire jack & tools for flat tires
You must be fully prepared to deal with a car fault along the route yourself. You must be self-sufficient, as the repair services are available only at Fairbanks and Deadhorse. So there are no services within a distance of 500 miles.
CB Radio
Our rental car was equipped with a CB radio, which is very important on this route. BLM and the Alaska Department of Transportation recommend preparing a vehicle with a CB radio. There is often no internet or phone coverage on Dalton. There is often poor visibility, fog, or rain on the route. Truck drivers and road workers monitor and use Channel 19. With CB radio, you can contact them, ask about traffic, the visibility and safety on the route (especially at Atigun Pass), or warn others of the danger if you witness an incident. Also, you can use a CB radio to call for help in a critical emergency.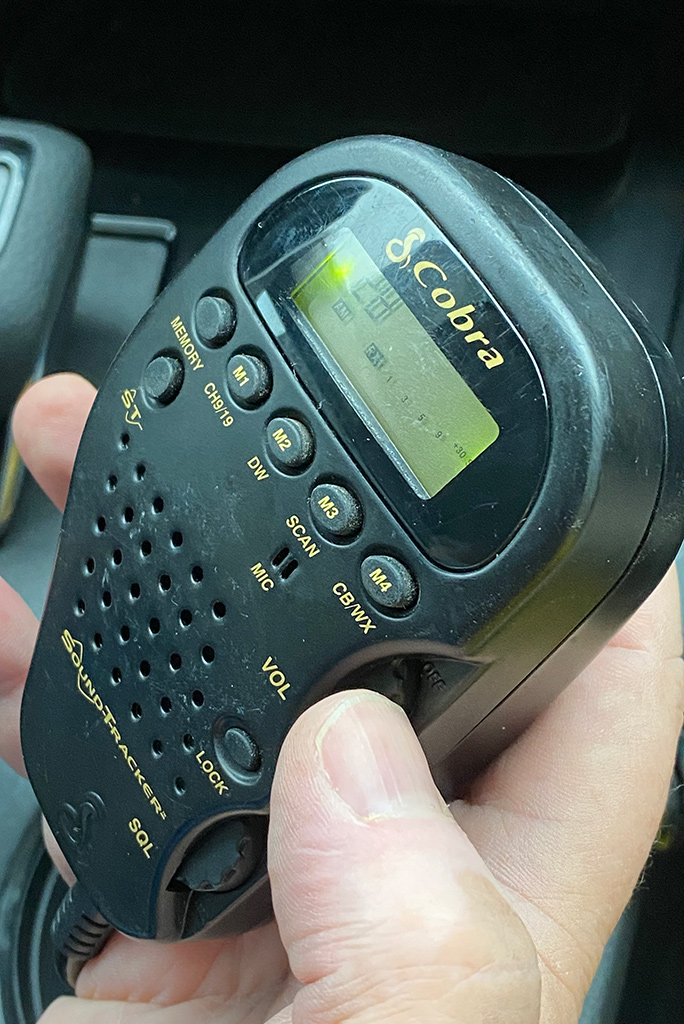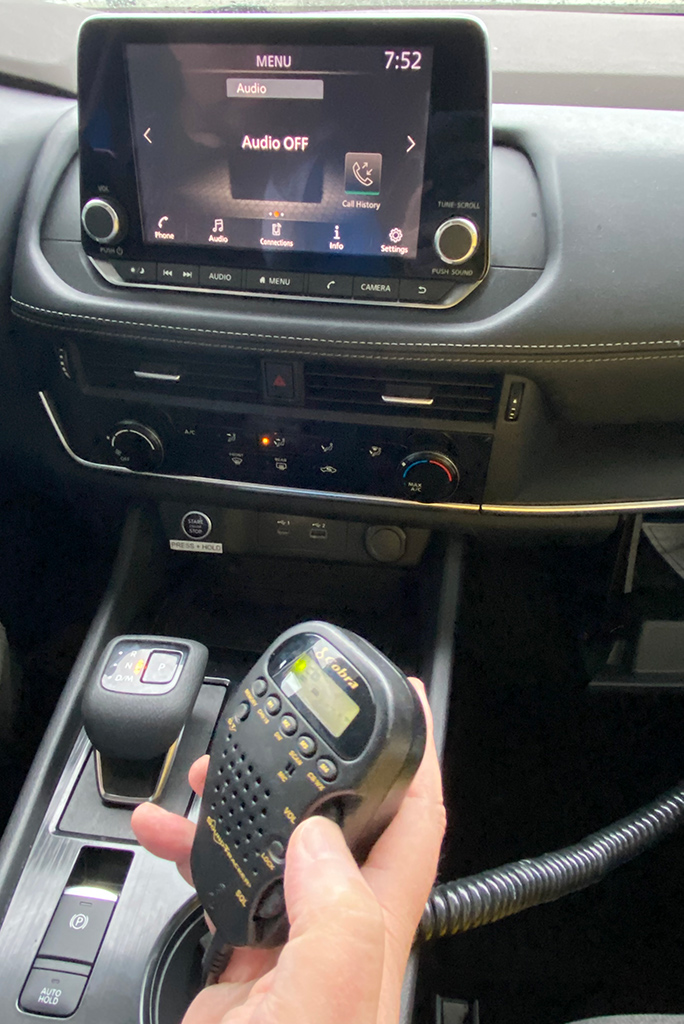 Extra gasoline
Gasoline prices on the Dalton Highway are the highest in the United States. So it pays to check how much the car you plan to drive on this route will use. It's worth taking an extra fuel tank, especially if the car you plan to drive uses a lot of fuel, or if you're traveling in an RV. It is worth carrying 1 or 2 jerry cans for 10 gallons of extra fuel, especially if you travel on a budget. On the Dalton Highway, you have only 3 places where are gas stations: Yukon River Crossing (Mile 56; only open from Mid-May to Mid-September); Coldfoot (Mile 175); Deadhorse (Mile 414; gasoline is available from three stations). As a result, plan your fuel usage carefully, and fuel up when you can.
Motor oil & Wiper fluid
Also, pack Motor oil & Wiper fluid. There are no services along the way, so prepare yourself. Especially wiper fluid is a must, as the road is gravel and dirt. You will use it all the way, as your windshield and back shield will need it.
Emergency flares
Be sure to pack safety flares. Flares are ideal for a variety of applications. You can quickly warn others and signal for help.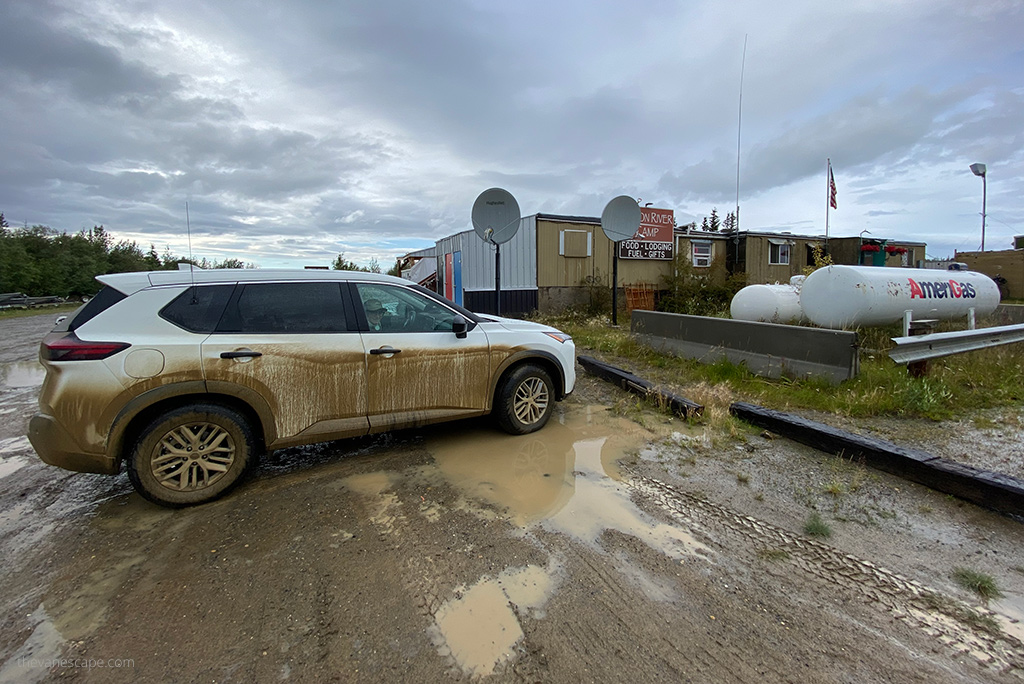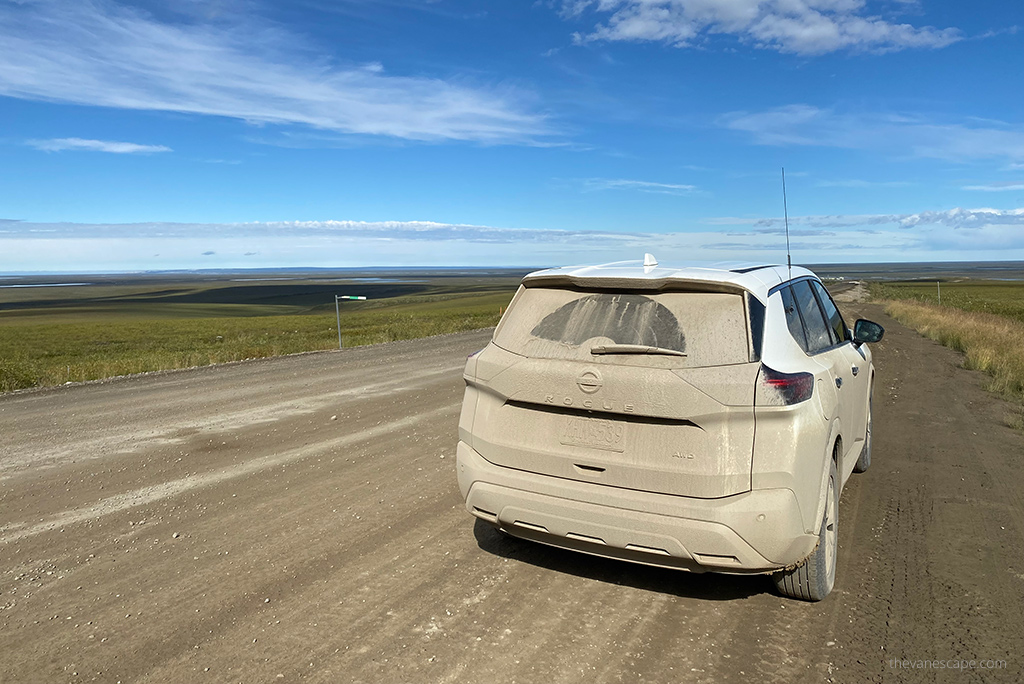 Dalton Highway Safety Tips – Check your car before you leave Fairbanks
Be sure to check that you have a fully roadworthy car before you drive onto Dalton Highway. Because we rented a car at Alaska Auto Rental – our car, in accordance with the company's policy, was additionally checked before the route. Make sure: all vehicle tires are properly inflated, check that the brakes are working properly, check all vehicle fluids, and check worn hoses and belts.
Driving the Dalton Highway – What to Pack for a Trip?
If you've made sure your car is ready to go and equipped with all the necessary items, it's time to pack your bags. What to pack on the Dalton Highway depends on how much time you plan to spend on the trip, what activities you plan to do during your trip, and in which month you plan to go. Below is our absolute must-have for this route, which is essential for your safety. If you plan to camp along Dalton Highway, check our separate article, as we provide more tips there.
First-aid-Kit and Personal medications. We have already written about it, but we would like to remind you again that a well-equipped first aid kit is the basis of your safety on this remote and challenging route. Don't forget to pack it.
Drinking water. Pack a drinking water supply and, in addition, it is worth taking drinking water purification tablets. Many streams and rivers are on the route, but due to Giardia bacteria, you must treat the water before drinking it.
Ready-to-eat food and snacks. In the article Dalton Highway Camping, we describe what we packed and ate on this route. Due to the many of bears and other wild animals in the area, you must be very careful at the campsite and stops to avoid attracting wild animals with smells. Pack fast and ready-to-eat food and hiking snacks. Be very careful how you store your food. Please read our tips on camping safety.
Bear Spray and Bear-resistant food containers. Be sure to store food in the campsite in Bear-resistant food containers. It's a must due to the lot of wildlife in the area. Also, pack bear spray and have it handy while hiking or camping. More safety tips we provide in a separate article.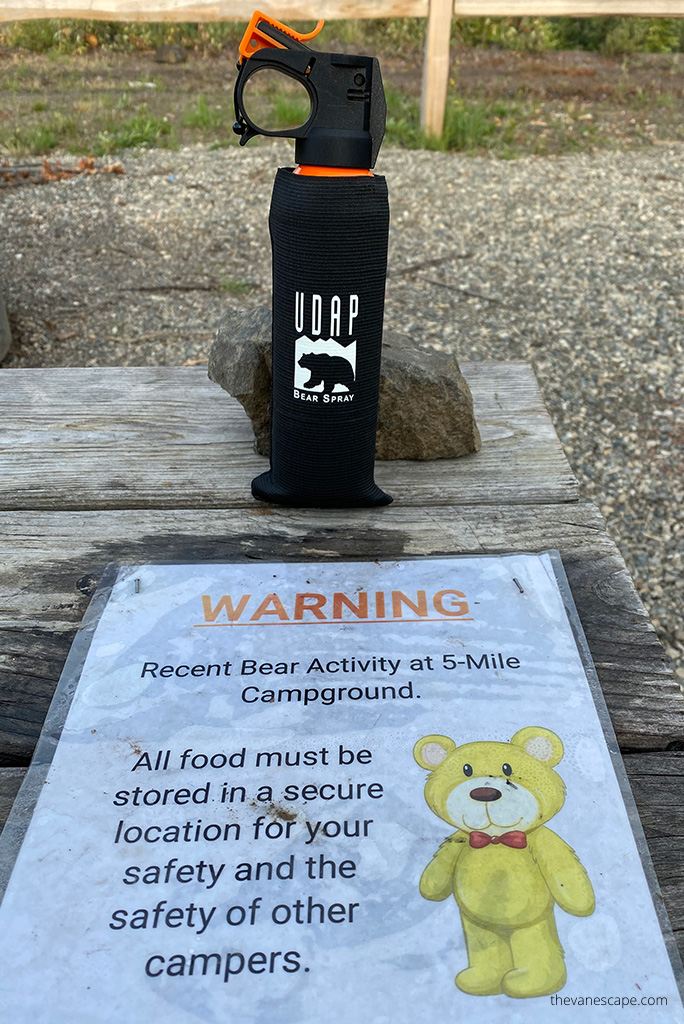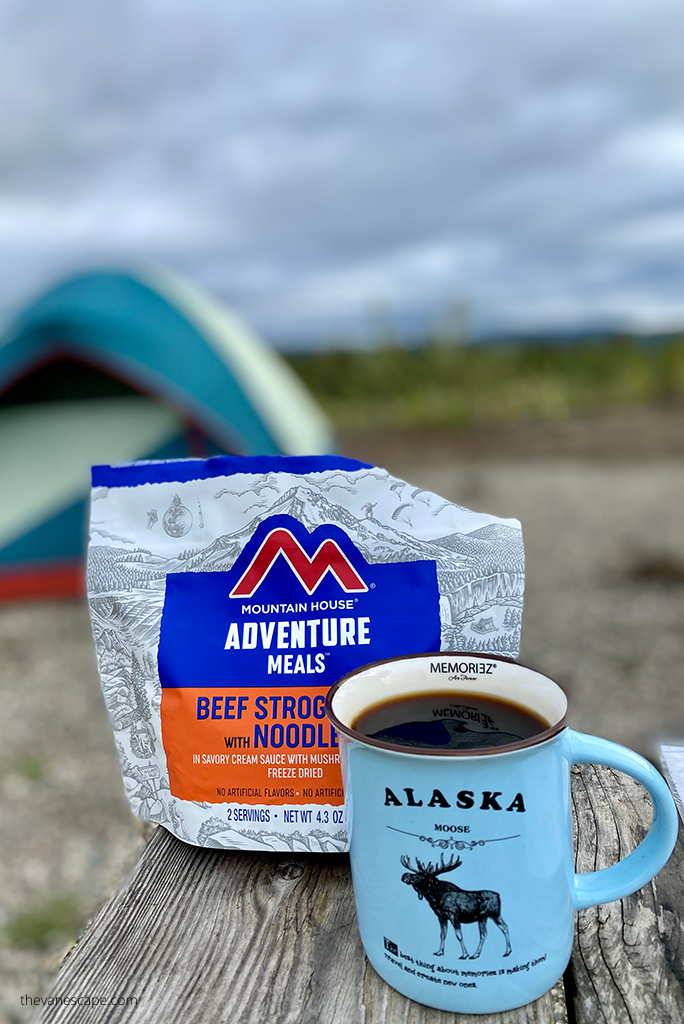 Insect repellent and Head Net. Intrusive mosquitoes on this route are every traveler's nightmare. We didn't believe it until we experienced the hundreds of mosquitoes cutting through every garment. Make sure to pack the Head net. The price is affordable, and it's a helpful item. Also, pack insect repellent containing DEET at least 40%.
Camping Gear. A warm and waterproof tent, warm sleeping bags, and comfortable mats are the basis of the equipment you should have. Of course, you will also need a set for making morning coffee or preparing a hot meal. Details about our camping equipment, what worked and what turned out to be unnecessary, are described in a separate article.
Waterproof comfy boots. This route has a lot of dust, mud, and wetness. Bring comfortable waterproof shoes. After this trip, they may already look less attractive, so take comfortable shoes you will not regret.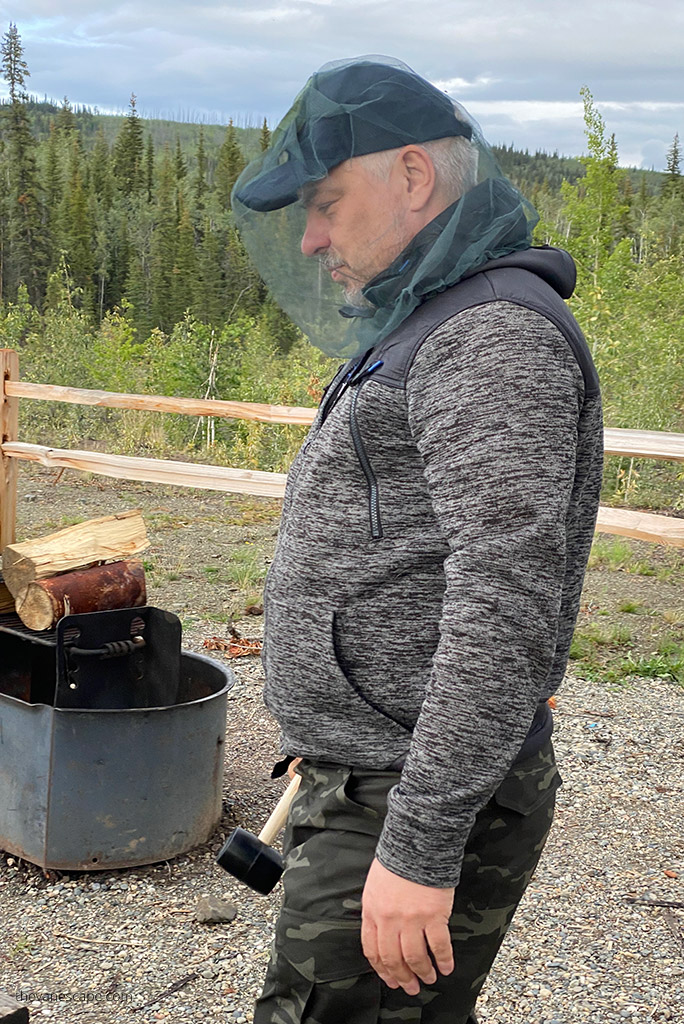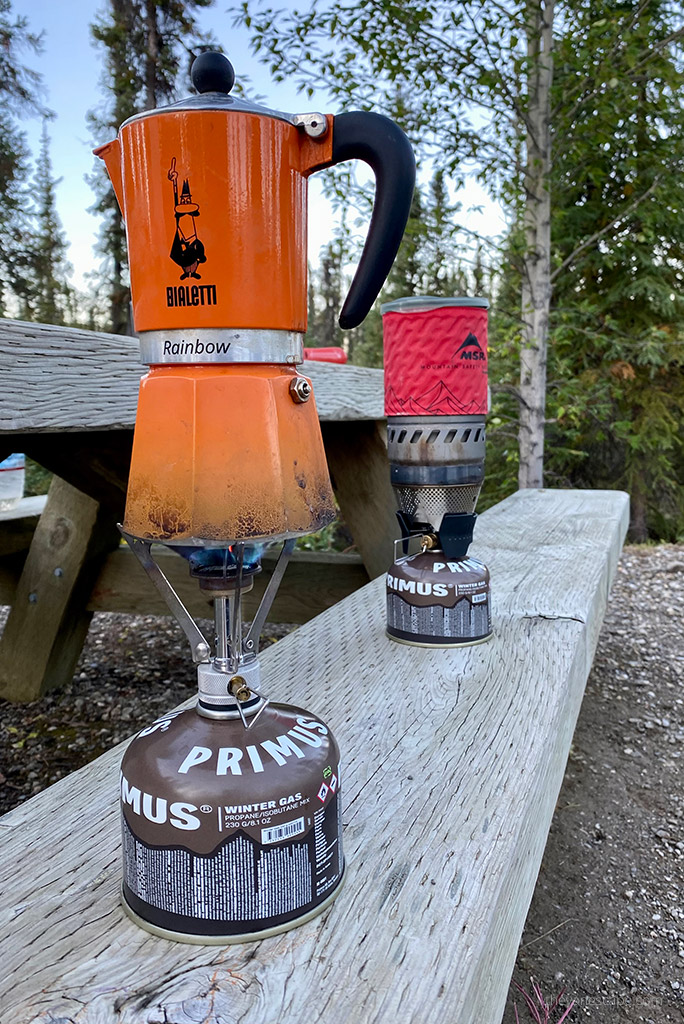 Warm clothes. Regardless of the weather forecast, pack warm clothes, and be sure to pack a hat and gloves, a windproof jacket, and a warm fleece. As we mentioned earlier, our coldest morning was 32°F (0°C) in August, and our warmest day on Dalton was 68°F (20°C).
Rain jacket. Pack waterproof clothing. A raincoat with a hood will come in handy often on Dalton Highway.
Toilet paper and hand sanitizer. There are not many pit stops along the way, and you must be self-sufficient in terms of hygiene. Pack everything you need, like biodegradable toilet paper, cosmetics, and hand sanitizer. Remember to not leave traces.
Garbage bags. Pack all your rubbish carefully in bags. Dispose of garbage only in designated areas and in bear-proof containers.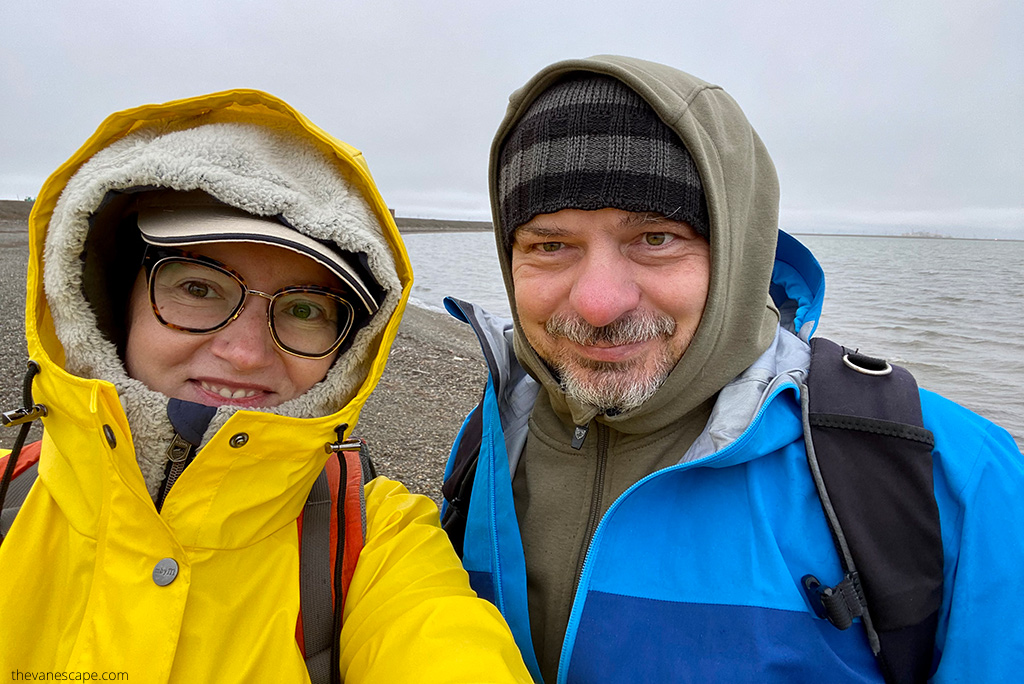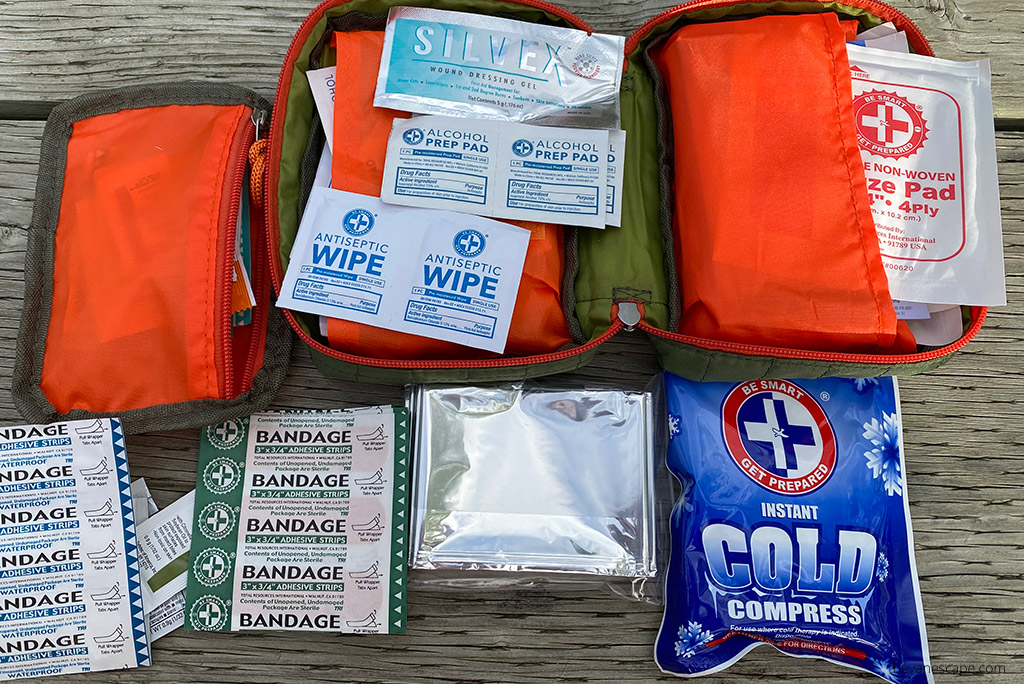 Dalton Highway Safety Tips – Check Before you Hit the Road
Check current Dalton Highway road conditions before departing Fairbanks at Alaska Statewide Driving Conditions.
Also, check the extended weather forecast via the National Weather Service Forecast. But no matter the weather forecast, be prepared for it to break down. You must be prepared for all seasons and the most difficult driving conditions, even in the middle of summer. As we did, you may encounter snow and ice north of Coldfoot, especially on the Atigun Pass, even in summer.
Check if there are planned road reconstructions during your trip. It will help you plan your travel better if you know they might be road works and on which sections of the Dalton Highway. Road construction can cause some delays.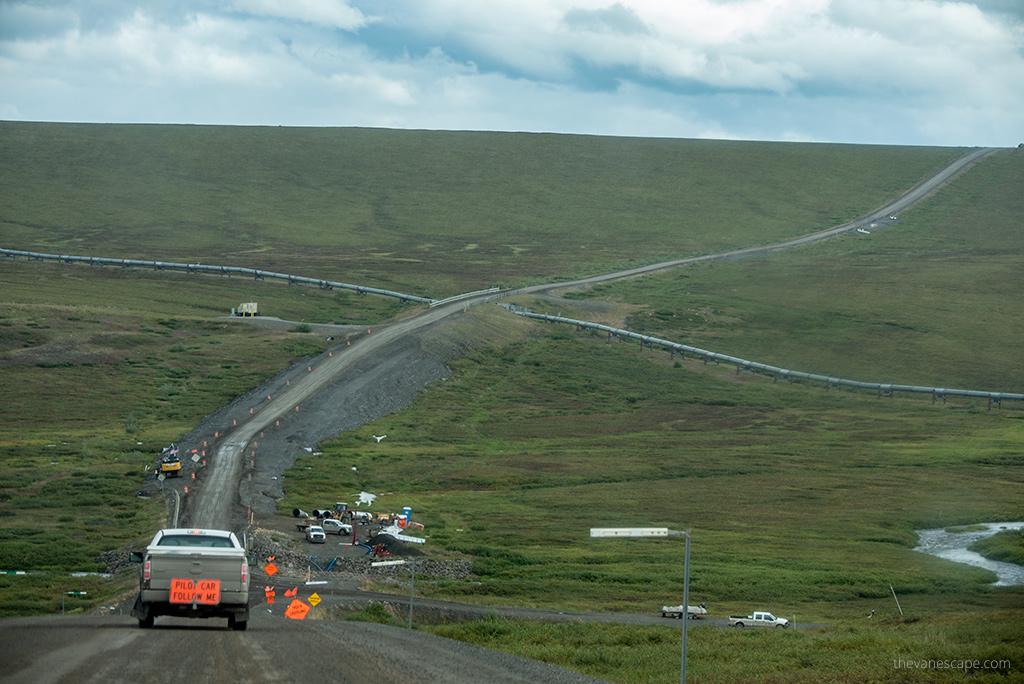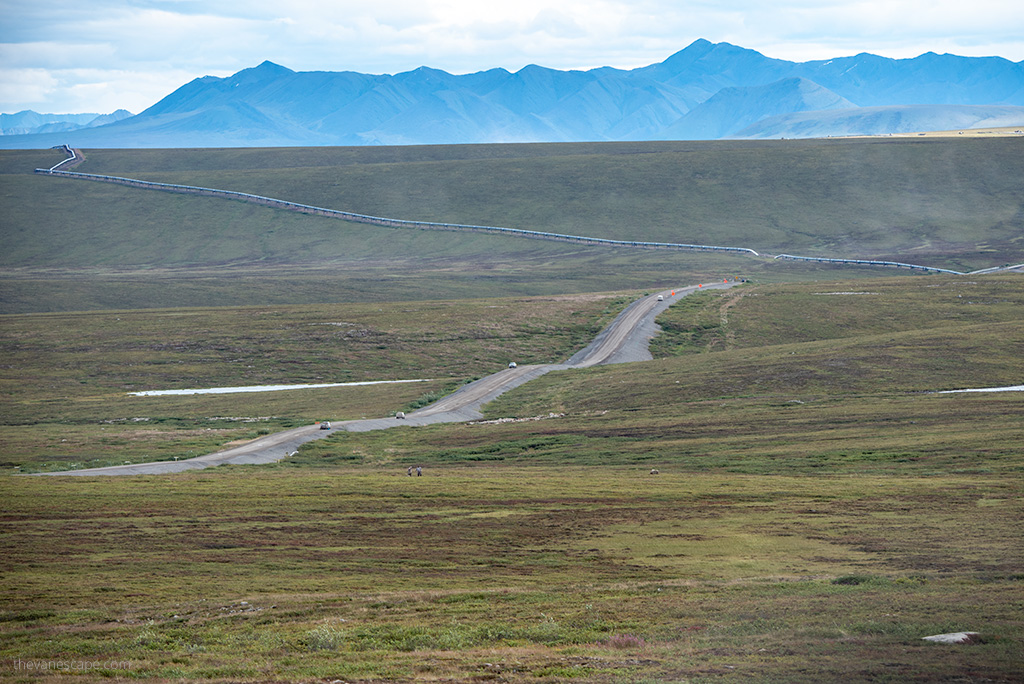 Driving the Dalton Highway Safety Tips
Reset your trip meter at the start of your trip
The Dalton Highway begins 84 miles north of Fairbanks. When you see a road sign – stop on the shoulder at the intersection and reset the meter. This way, you won't miss attractions along the route and can refer to all Milepost tips. Remember that the famous "Dalton Highway Sign" is just over 1 mile into the highway.
Keep Lights On All the Time while Driving on Dalton Highway
The primary safety rule which is mandatory on this route is to drive with your lights on so that other users can see you. Large tractor-trailers heavily use the road that kick up thick clouds of dust, mud, and gravel, significantly reducing visibility.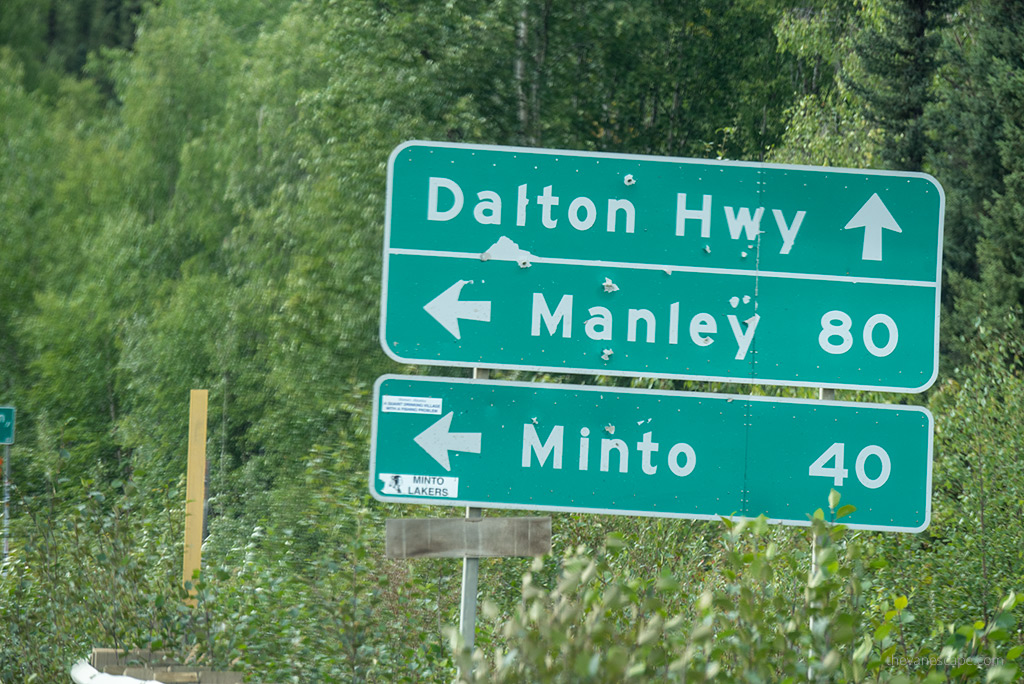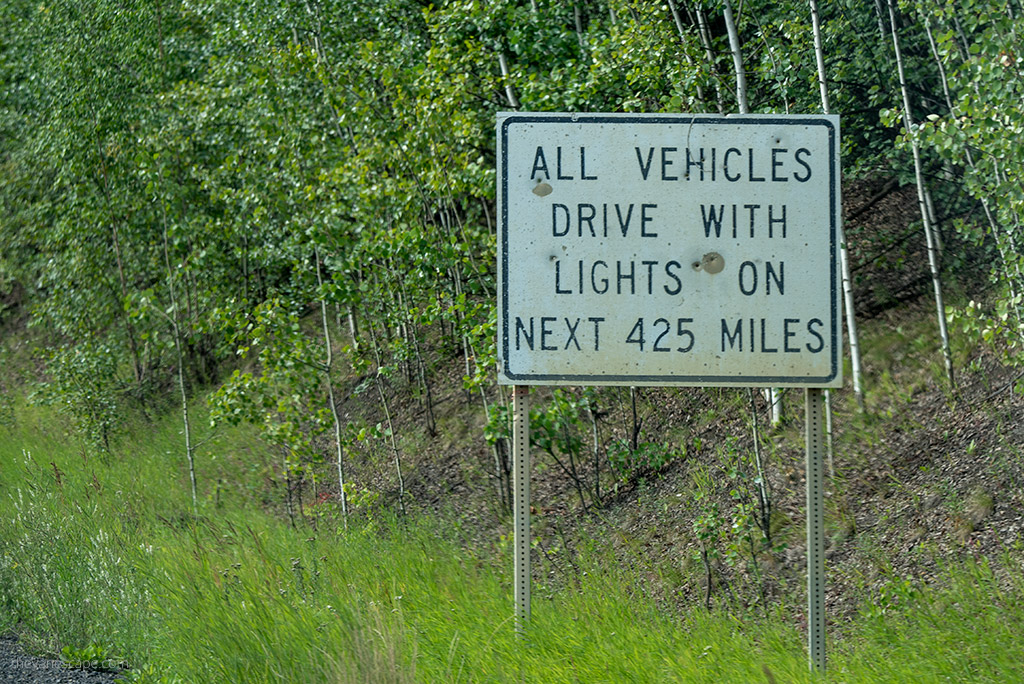 Keep Your Lights Clean
Keeping the headlights and taillights clean is also necessary to be visible from a distance to other road users. This route has a lot of dust and mud, so headlight cleaning should be done at every stop you make.
Be Respectful of Big Trucks
In the first part of our Dalton guide, we informed you about the history of this road. It is an industrial road built for trucks delivering supplies to the Trans-Alaska Pipeline. It is called Haul Road or Ice Truckers Road. The primary safety rule on the Dalton Highway is: big trucks and road maintenance equipment have the right of way.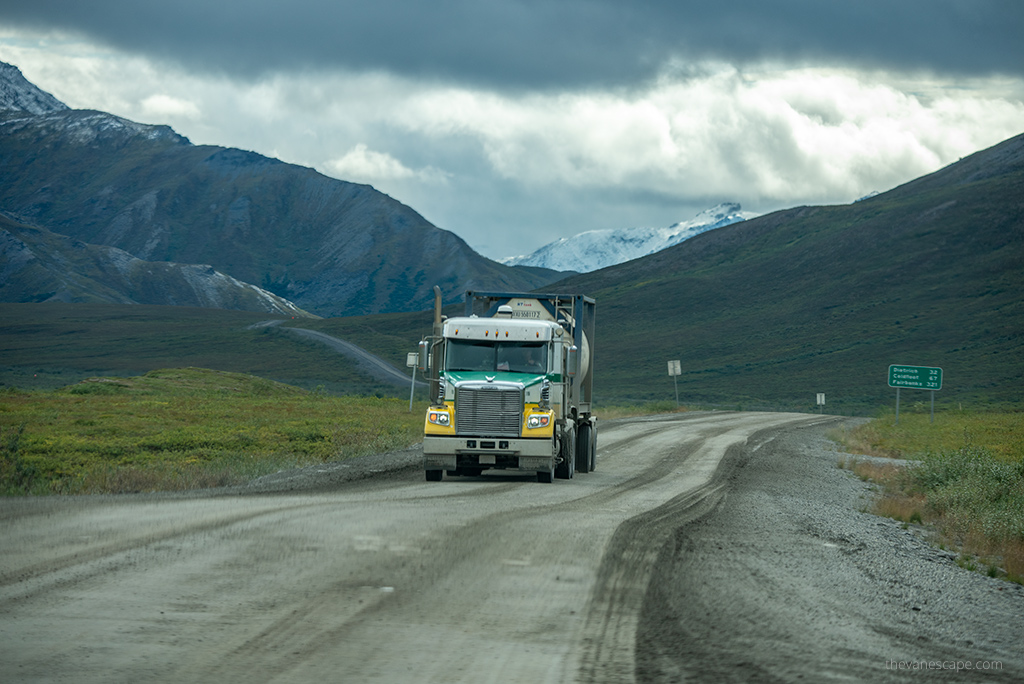 Slow down when passing other vehicles
Slow down to 25-30 mph or less when passing other vehicles to avoid damaging them with flying rocks. Trucks drive faster – so, as they have the right of way, slow down and pull over to give them room. It's also for your safety, decreasing the speed at which a rock could be thrown into your windshield. Also, expect blinding dust when vehicles pass.
Check your rear-view mirror regularly
If a truck comes up behind you, let them pass. Trucks are faster. Slow down, pull over (when it is safe to do so), and put on your blinker to indicate that they can pass you. Slower traffic should stop in a safe place and allow other vehicles to pass.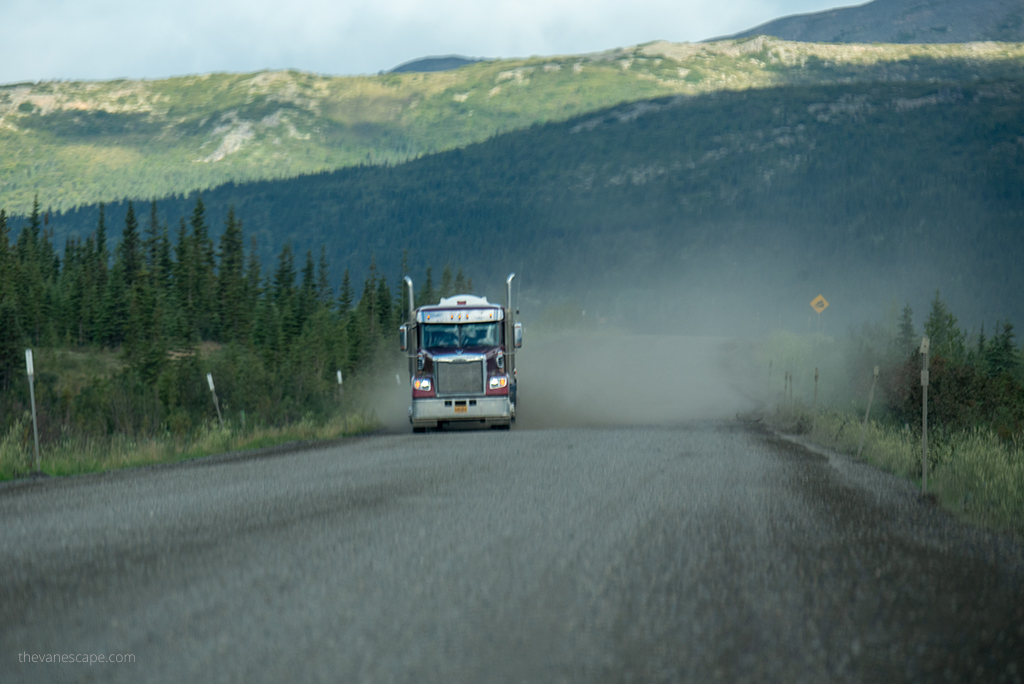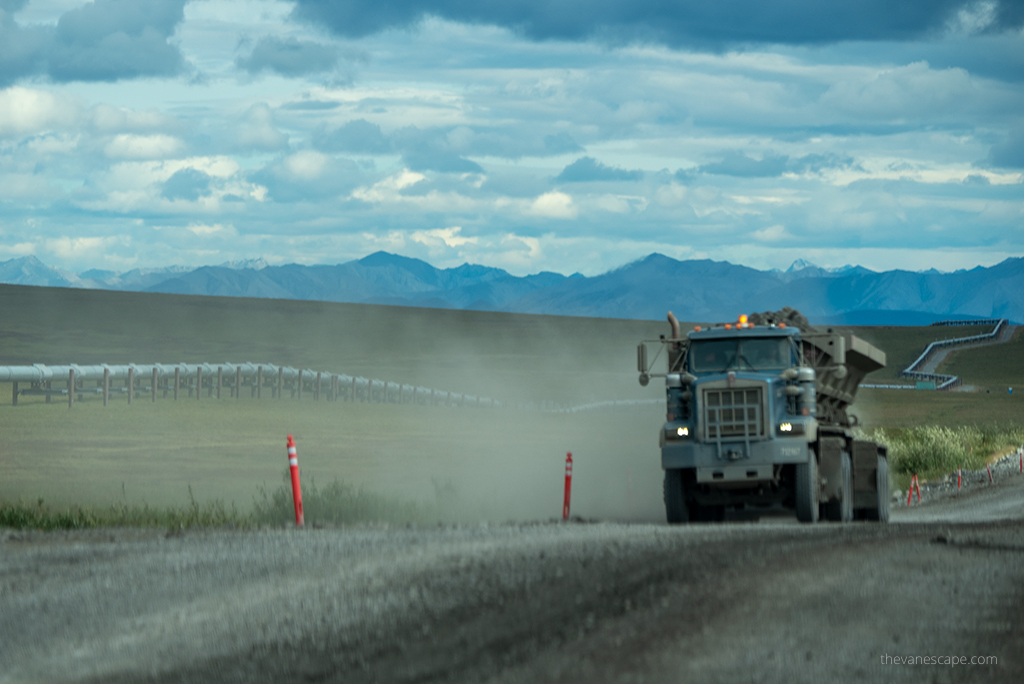 Try to Stay Up to Speed
The speed limit for most of the Dalton Highway is 50 miles per hour. This is both for safety and efficiency. But slow down when Dalton Highway road conditions are wrong or you don't feel comfortable with this speed. However, leave room for others, especially trucks, to pass you.
Stay on the right side of the road & Don't stop in the middle of the road
Don't stop on bridges, hills, or curves. Don't stop on the road. Trucks can be moving fast, and the braking distance of the truck is very long. If you stop on the road, the truck cannot brake on time. You can stop only in designated places. There are lots of pull-offs for taking pictures or breaks. All the time stay on the right side of the road.
Be Respectful of Motorcycles, Bicycles, and Wanderers
The Dalton Highway has recently become a popular route for adventurous motorcyclists and bicyclists. But it is dangerous for them. There is a lot of loose gravel, rocks on the road, potholes, and dangerous drops. Slow down when passing them in the opposite direction to avoid pelting them with loose gravel or rocks and to avoid covering them in dust that could impair visibility and cause them to hit a pothole.
But our biggest surprise and one of the most exciting encounters on this route was meeting a hiker. Oli the Walker was finishing his four years walk from Ushuaia, Argentina to Deadhorse, Alaska. He was walking from Argentina to Prudhoe Bay on foot! He had his things in the baby carriage. We are impressed that he managed to go through such a dangerous route.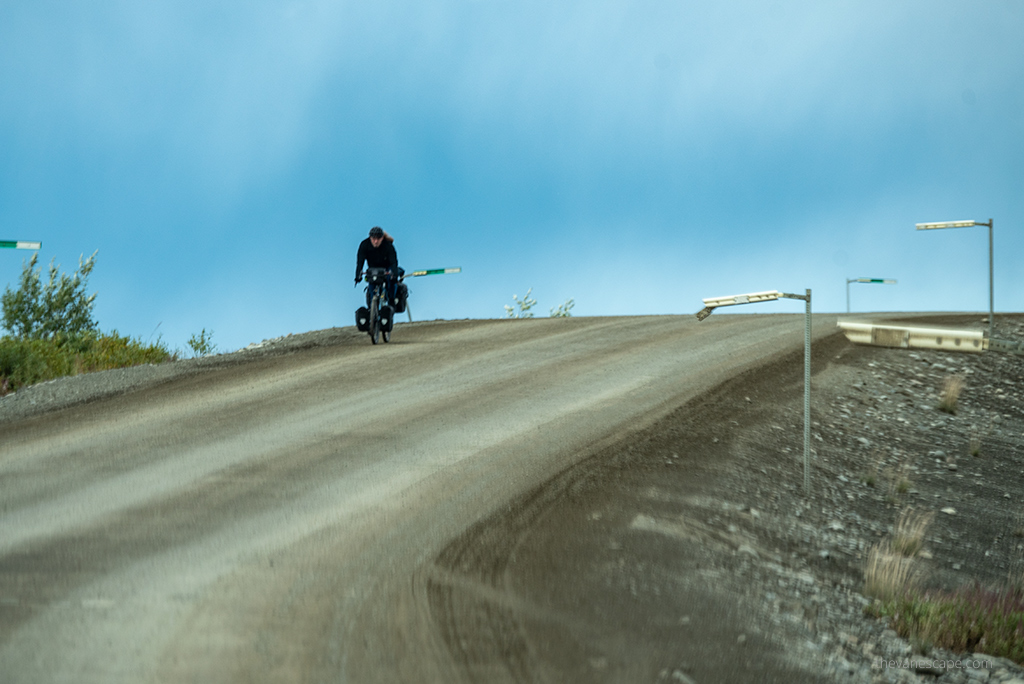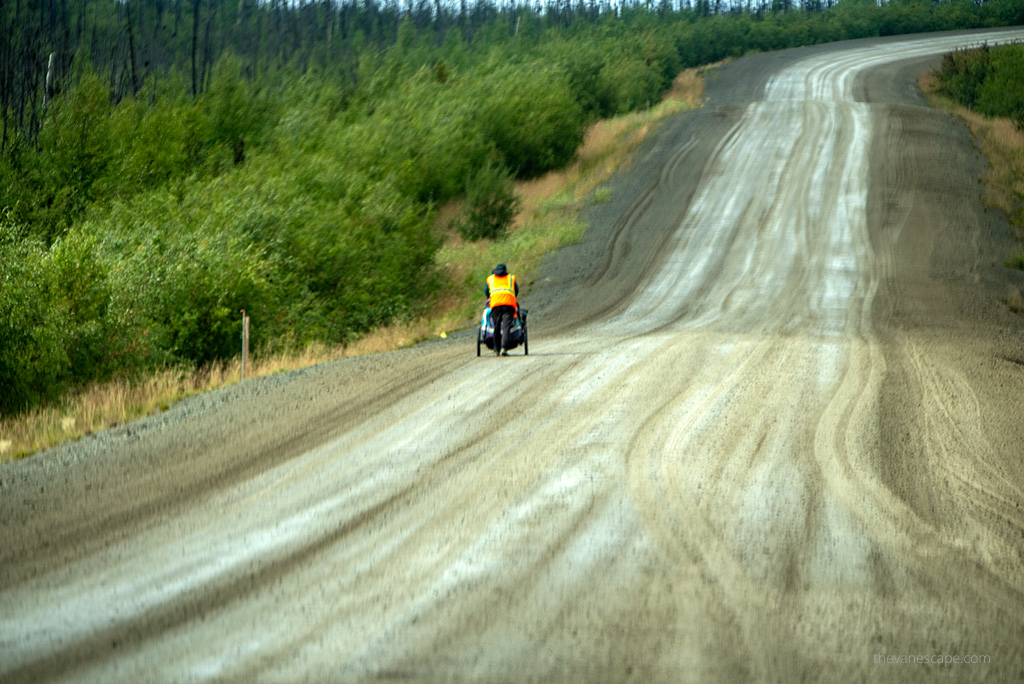 Do not put your emergency flashers on unless it is an emergency
Use emergency flashers only if you really need help or are in an emergency. Motorists will stop to offer assistance when they see a vehicle with emergency flashers on. Do not waste their time if you are not in danger.
Stop and offer assistance if someone needs it
If you see someone on the side of the road, who might need help, stop and ask if you might help.
Dalton Highway Safety Tips – Wildlife on the Road
Driving the Dalton Highway is a fantastic adventure; you can spot wildlife along the road. But you must be extremely careful, as it might happen that animals will pop out unexpectedly on the road. The Dalton Highway area, with its boreal forest and the Brooks Range, is home to many species. Caribou, moose, grizzly bears, black bears, wolves, coyotes, red foxes, muskoxen, and Dall sheep traverse this route. There are hundreds of arctic squirrels along the road. If you spot wildlife, pull over to a safe location before stopping. Don't stop on the road to photograph a wild animal. This can be very dangerous because the truck behind you cannot brake in time. Finally, read our Dalton Highway Camping article to prepare for wildlife encounters while camping in this wilderness.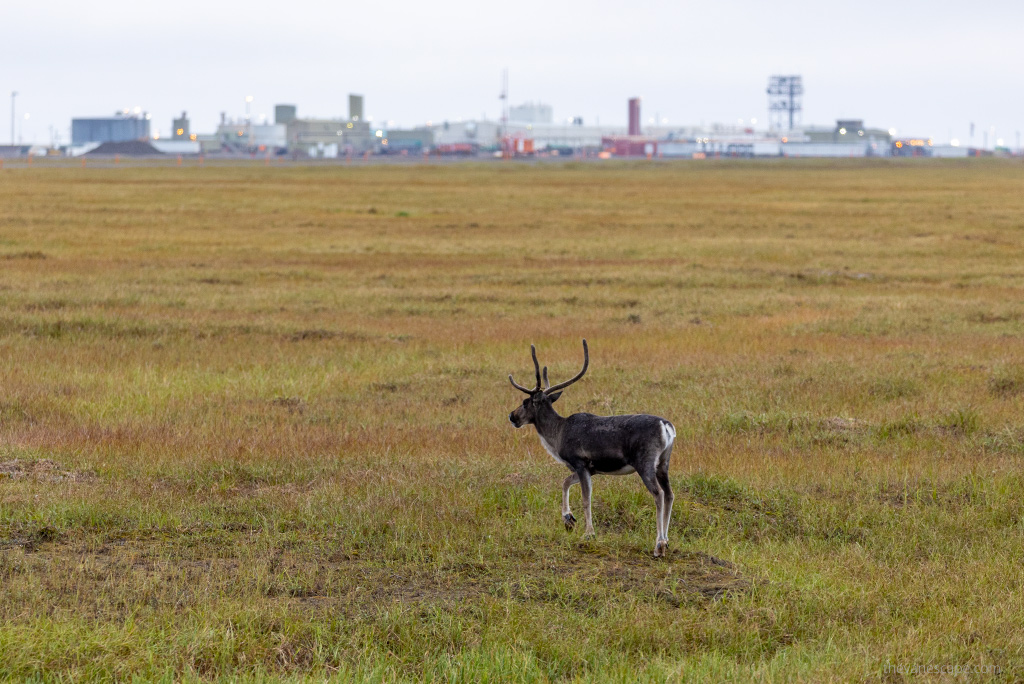 Dalton Highway Safety Tips – Taking a Pictures
This remote Alaskan road is exceptionally scenic and photographic. Driving along the Dalton Highway, you want to take pictures constantly. From the mighty Yukon River, the Brooks Mountain Range, the Arctic tundra, the taiga, and the boreal forests to the Arctic Ocean, the extraordinary landscapes that the Dalton Highway offers travelers will take your breath away. But you can't take photos easily because you can't stop for a great shot in the middle of the road.
Most readers know that we love photography and are great lovers of landscape and wildlife photography. But driving the Dalton Highway requires extreme caution and attention. How did we take photos along the way? What are our safety tips for taking pictures of Dalton Highway?
Take pictures through the windshield using the telephoto lens
In our case, Chris was driving the car, and Agnes took pictures through the window using telephoto lenses. Unfortunately, the road surface is uneven. There are many potholes, and many photos taken while driving is out of focus. But we followed the safety rules – we didn't stop in the middle of the highway to get pictures.
Stop at a designated places
We stopped at every designated pullout along the Dalton Highway to take pictures. We were helped by Milepost, in which, mile by mile, piece by piece, is written down the most exciting places on the route and the best viewpoints. Having Milepost with us, we were prepared for each designated pullout. It also made taking pictures through the windshield easier because we knew after which corner we could expect a fascinating view.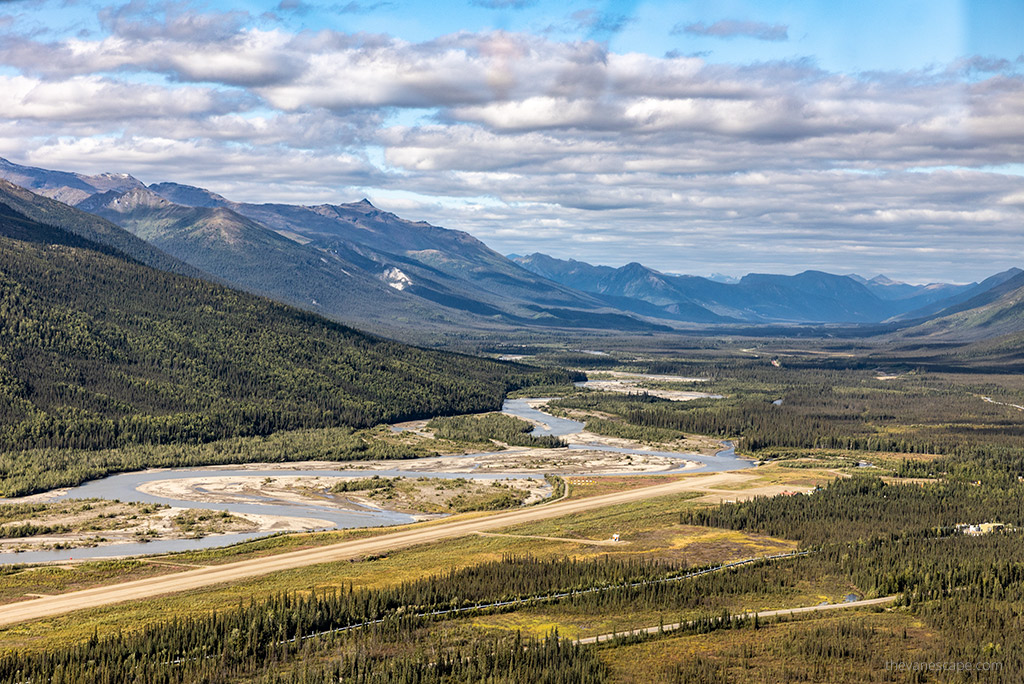 Dalton Highway Safety Tips – What to do in case of Emergency?
Use CB Radio if no phone coverage
In a critical emergency, if you have no phone coverage, you can use CB radio (Channel 19) to call for help and relay messages to the State Troopers. But it might take hours to wait for help.
In the cell phone range
If you have phone coverage, call the Troopers at 800-811-0911 or 907-451-5100. If you want to report wildfires, call Alaska Fire Service: at 800-237-3633.
In case of car trouble
Towing services are only available in Fairbanks, Coldfoot, and Deadhorse. If your vehicle breaks down, pull off the road as far as possible and set flares. You may have to wait hours for help. And towing service is extremely expensive on this road.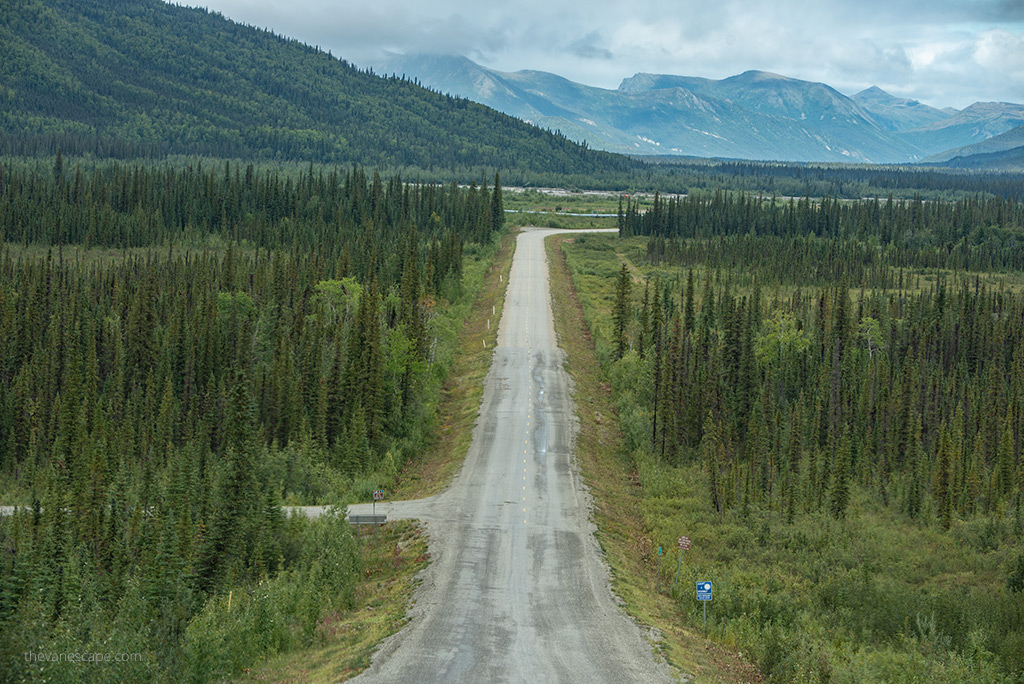 Dalton Highway Safety Tips – Related Articles
Articles about the Dalton Highway
Before you hit the Dalton Highway, we encourage you to check out and read our related articles about this scenic road, as we spent there a lot of time, and share our first-hand experiences:
Articles about the Dempster Highway
The only way to reach the Arctic Ocean in North America is through these extremely challenging and beautiful roads, the Dalton Highway in Alaska and the Dempster Highway in Canada. Yes, we love such trips to hard-to-reach places, and we have also prepared a series of helpful articles for you based on our first-hand experiences. If you like road trips on challenging and remote roads, check out our series of articles on the Dempster Highway in Canada, which will also take you to the Arctic Ocean! Being that route is fantastic!
More Alaska Inspirations from our First-Hand Experiences
After all, if you plan another Alaska road trip, check our few more articles, as we visited Alaska several times and made different road trips through this amazing state each time. As a result, you can find all our Alaska travel resources.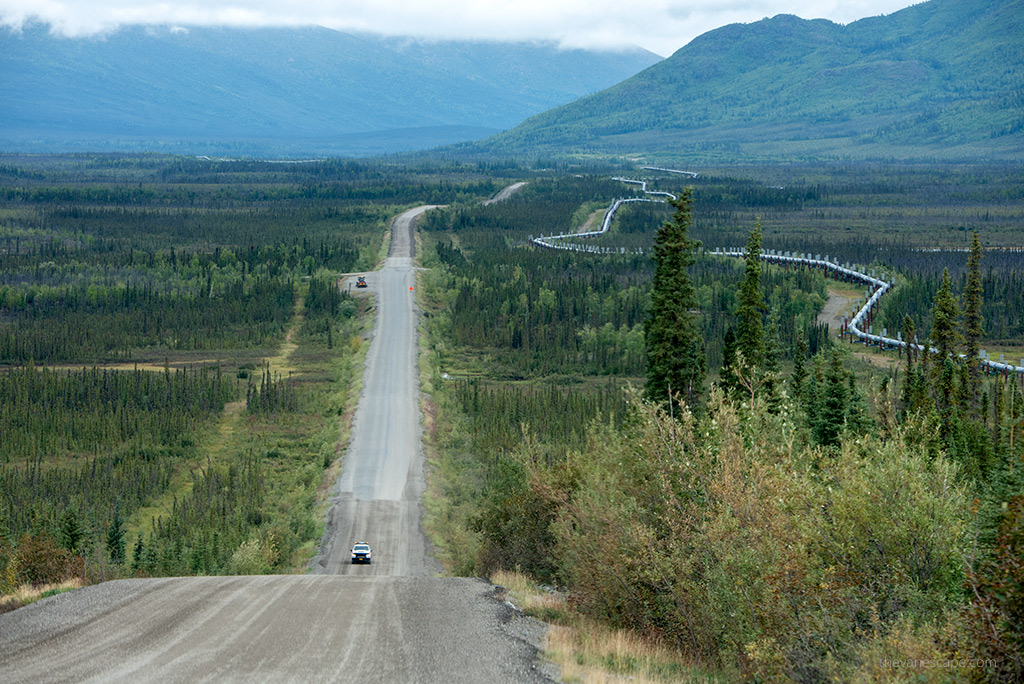 Do you like it? Pin it!