Denali National Park Itinerary
Planning a trip to the awe-inspiring wilderness of Alaska? Look no further than our comprehensive Denali National Park Itinerary. Nestled in the heart of Alaska, Denali National Park is a haven for nature enthusiasts, adventure seekers, and those looking to escape the hustle and bustle of everyday life. This guide is designed to help you make the most of your time in this breathtaking destination, offering a detailed 3-day itinerary that covers all the must-see spots and hidden gems.
This article may contain affiliate / compensated links. For full information, please see our disclaimer here.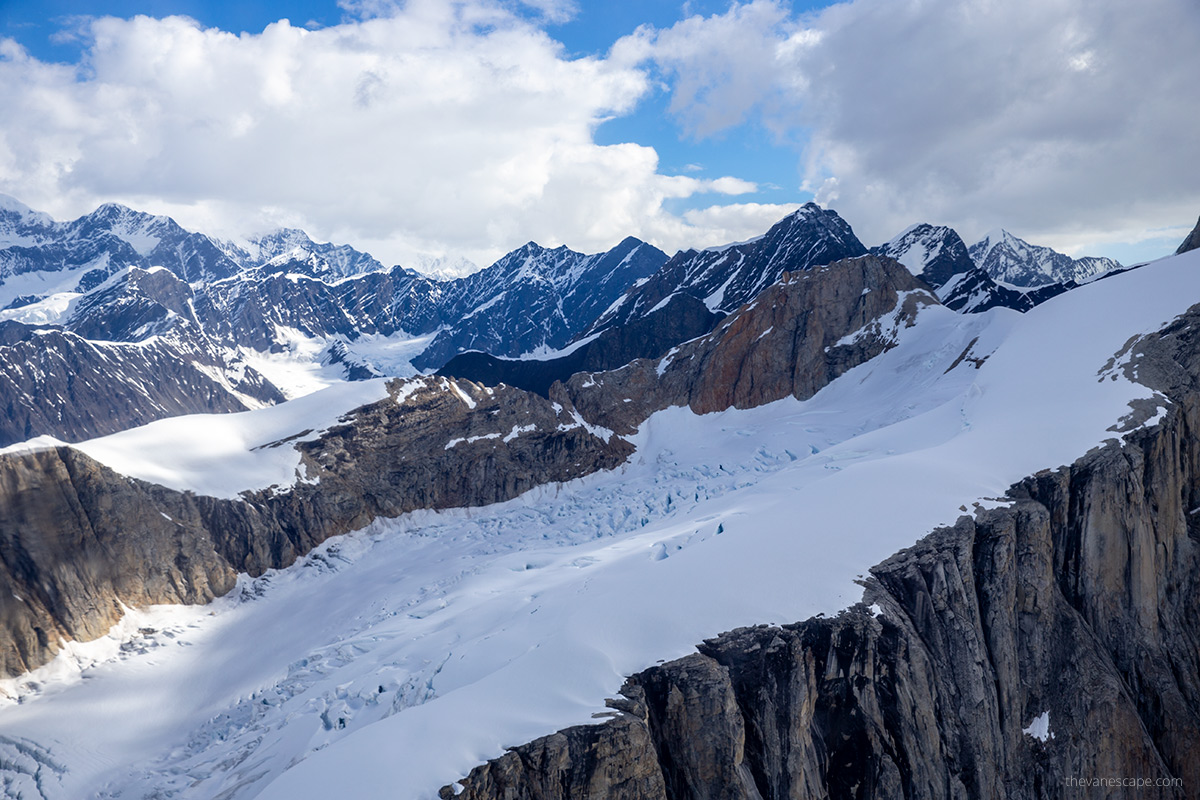 Denali National Park Itinerary – Our Experiences
Having journeyed through Denali National Park on multiple unforgettable occasions, we've been captivated by its wild beauty and thrilling activities. Drawing from our personal adventures and the moments that took our breath away, we've crafted this Denali National Park itinerary just for you. Inside, you'll discover essential planning tips and handpicked attractions designed to guide you on an extraordinary adventure through Denali. Let us lead you into the heart of Alaska's wilderness.
Overview of Denali National Park
Denali National Park is more than just a park; it's a natural masterpiece that spans over 6 million acres of untamed land. Home to North America's tallest peak, Denali, which stands at a staggering 20,310 feet, the park is a mosaic of diverse landscapes. Denali's scenery is nothing short of spectacular, from lush forests and sparkling lakes to icy glaciers and towering mountains.
Wildlife thrives in this pristine environment, allowing visitors to spot grizzly bears, moose, caribou, wolves, and countless bird species. Whether hiking Denali scenic trails, taking a bus tour along the park's only road, or simply soaking in the views, Denali's natural beauty will leave you spellbound.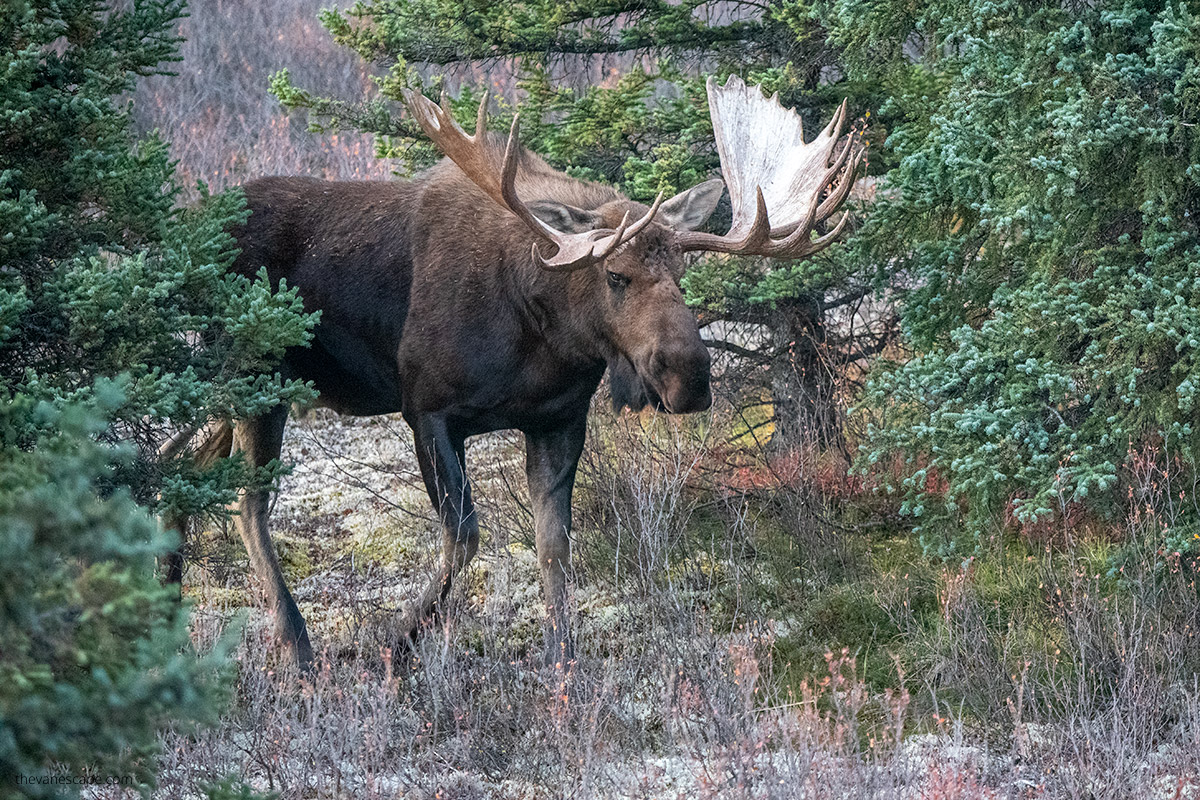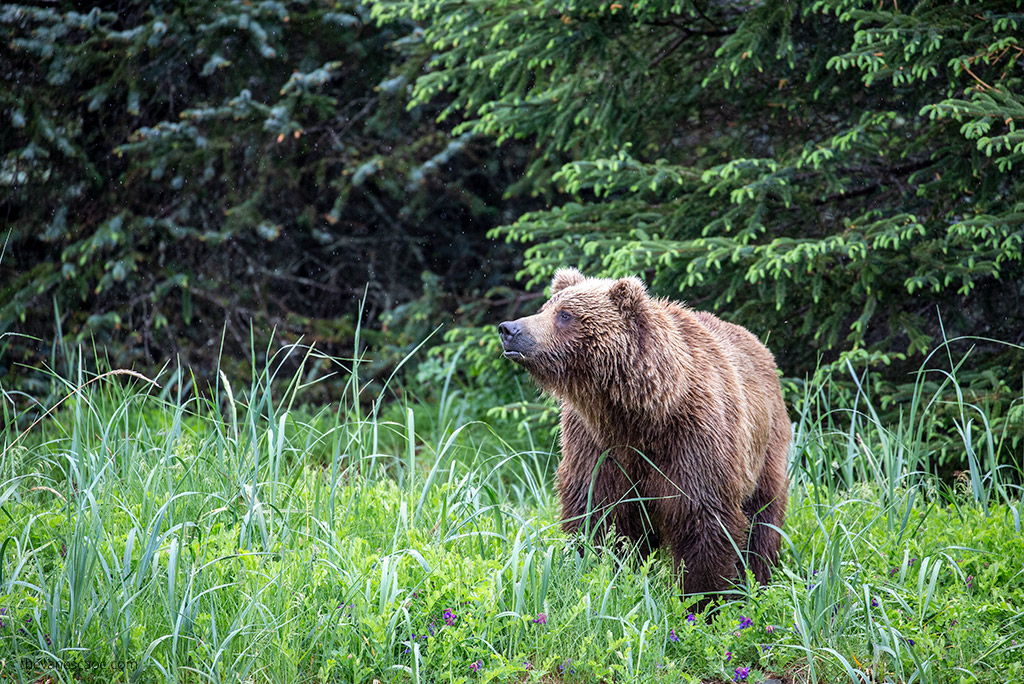 Purpose of the 3-Day Denali National Park Itinerary
Our Denali National Park Itinerary is crafted with precision and passion, ensuring you experience the best of the park's offers in three days. We understand that time is precious, and this itinerary is designed to maximize your adventure without feeling rushed.
Day 1: Explore the visitor centers, enjoy a dog sled demonstration, experience Denali from the sky with a helicopter tour, and embark on a leisurely hike.
Day 2: Dive deep into the wilderness, take a guided tour, and witness the majestic wildlife.
Day 3: Explore the Savage River Area, and choose your adventure whitewater rafting or explore Denali's backcountry on an ATV tour.
This 3-day itinerary is more than a schedule. It's a journey that captures the essence of Denali National Park. It's suitable for all ages and fitness levels, offering flexibility and options to cater to your interests and needs. If you have more time to visit Denali, we will also tell you how to spend it.
Before You Go: Essential Preparations
Embarking on a journey to Denali National Park is an exciting adventure requiring careful planning and preparation. From choosing the best travel options to finding the perfect place to stay, knowing what to pack, and determining the ideal time to visit, this section will guide you through the essential steps to ensure a smooth and memorable trip.
When to Go to Denali?
Timing is key when planning your trip to Denali. The best time to visit Denali is from May 20th to mid-September. During this period, the only road in the park is open, and buses are operating, providing access to the park's stunning landscapes and attractions. Restaurants, hotels, and campgrounds are also open, ensuring a comfortable and enjoyable stay.
However, it's essential to note that this is the peak tourist season in Denali. The popularity of these months means that accommodations and activities can fill up quickly. To secure your preferred lodging and experiences, booking all your stay and activities ahead is wise. Planning in advance guarantees availability and allows you to tailor your trip to your interests and needs.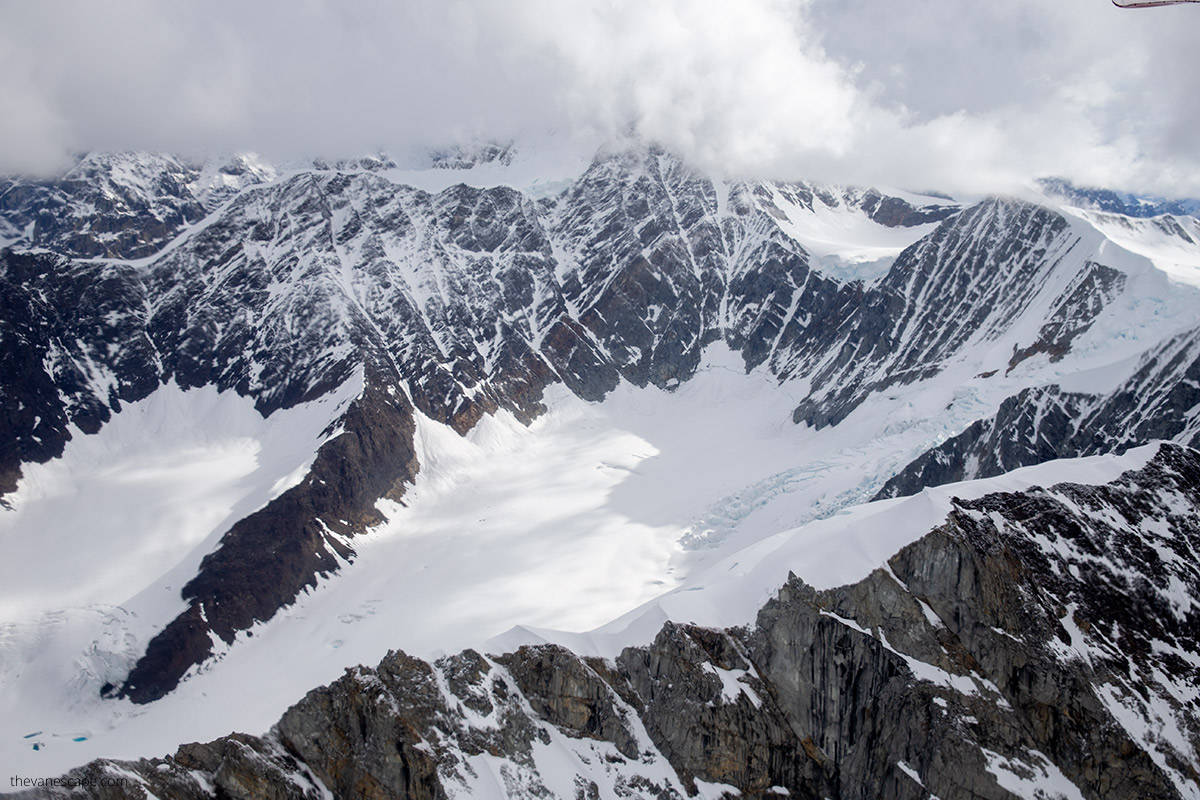 Traveling to Denali
By Air
Anchorage's Ted Stevens International Airport is Alaska's main and largest airport, serving as a common starting point for many travelers. You can catch a connecting flight from Anchorage to Fairbanks International Airport, which is also the cheapest and fastest option between those cities. Fairbanks is the nearest major airport to Denali, located approximately 125 miles away. Several airlines operate flights to both Anchorage and Fairbanks, connecting them to major cities across the U.S. Car rentals are available at both airports.
By Train
The Alaska Railroad offers a scenic and relaxing way to reach Denali. You can take a train from Anchorage to Denali, which is the most expensive and longest but scenic journey, which takes at least 8 hours. Or you can take a train from Fairbanks, and travel takes 4 hours. Enjoy picturesque views of Alaska's wilderness as you travel in comfort. We describe this topic in detail, so look at the best ways to get from Anchorage to Denali. Some Denali hotels offer a free shuttle from the train depot, and to the park entrance.
By Car
If you prefer the freedom of a road trip, renting a car and driving to Denali is a great option. The drive offers stunning vistas and the flexibility to explore at your own pace. The Parks Highway (AK-3) is the main route to the park. Driving from Anchorage will take about 5 hours. From Fairbanks will take about 2,5 hours. Last time we rented a car from local Alaska Auto Rental. Check out the 15 best stops between Anchorage and Fairbanks to plan your road trip.
By Bus
Various tour operators and shuttle services offer bus transportation to Denali from Anchorage. The Park Connection Motorcoach offers the best deals. It's a convenient and budget-friendly option, especially if you prefer not to drive. You can take a private shuttle from Fairbanks if you don't want to drive, as the price is affordable and driving time is about 3 hours.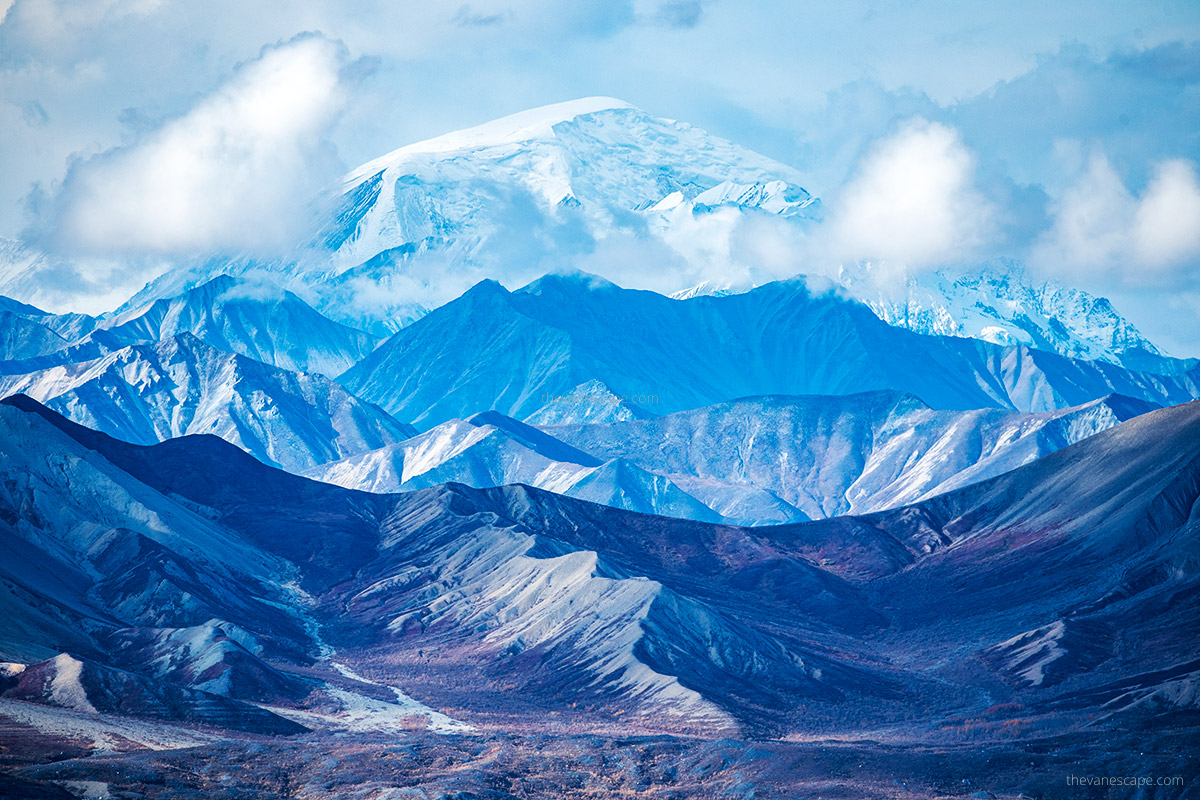 Accommodation Options
Hotels and Lodges
Denali offers a range of hotel and lodge options, from luxury resorts to cozy cabins. For stunning views and modern amenities, consider staying at properties like the Denali Bluffs Hotel or the Grande Denali Lodge. Both offer a free shuttle to the train depot and the Denali visitor center. Below you can check out the best deals.
Campgrounds
For nature enthusiasts, Denali's campgrounds provide a more immersive experience. Riley Creek Campground and Savage River Campground are popular choices, offering basic facilities and easy access to hiking trails. We stayed at Igloo Creek Campground, which was also a perfect choice. Book NPS camping in advance.
RV Parks
Traveling with an RV? Denali's nearby area has several RV parks that cater to different needs and budgets. Check availability and book in advance, especially during peak season. RV sites offer Riley Creek Campground and Savage River Campground, but they are trendy, so book your spot ahead.
Our Tip: We suggest booking three nights in Denali for this itinerary, as we provide you with a plan for three full days of activities. However, if you can stay only for two nights, you can easily shorten a bit and modify this itinerary for your needs. We describe in detail the best places to stay in Denali.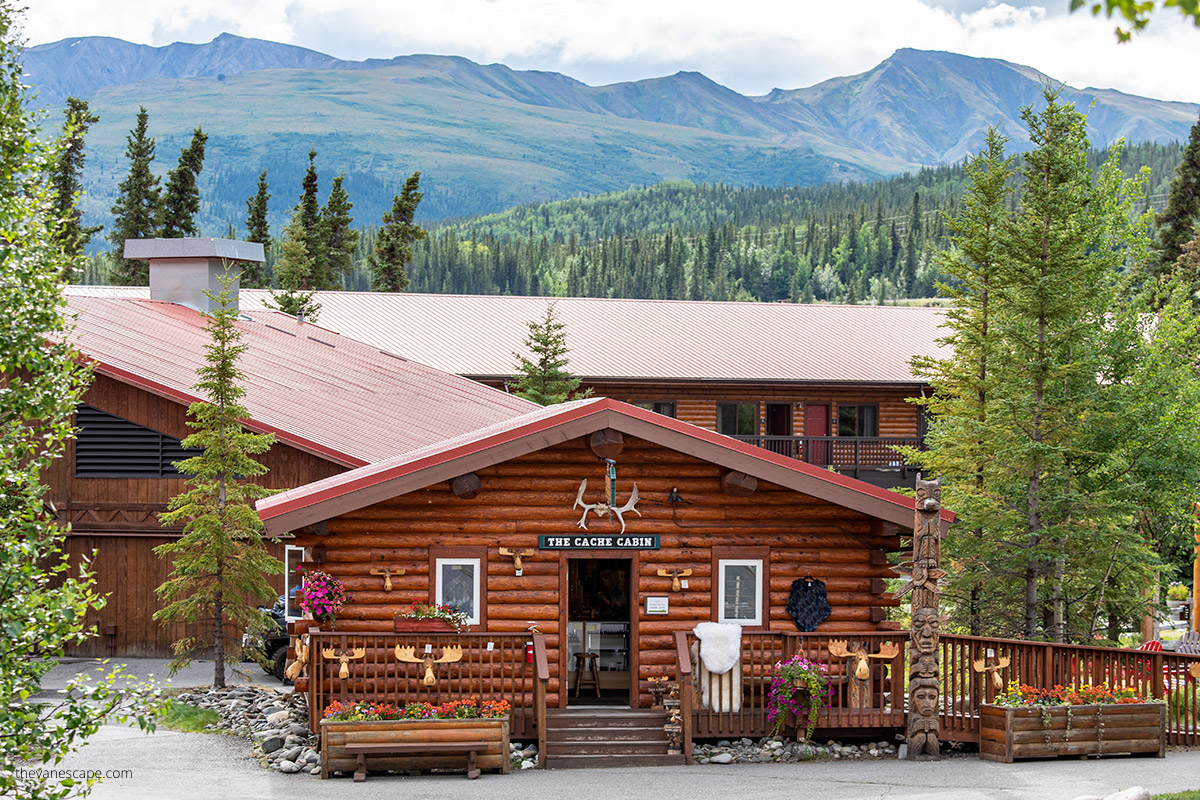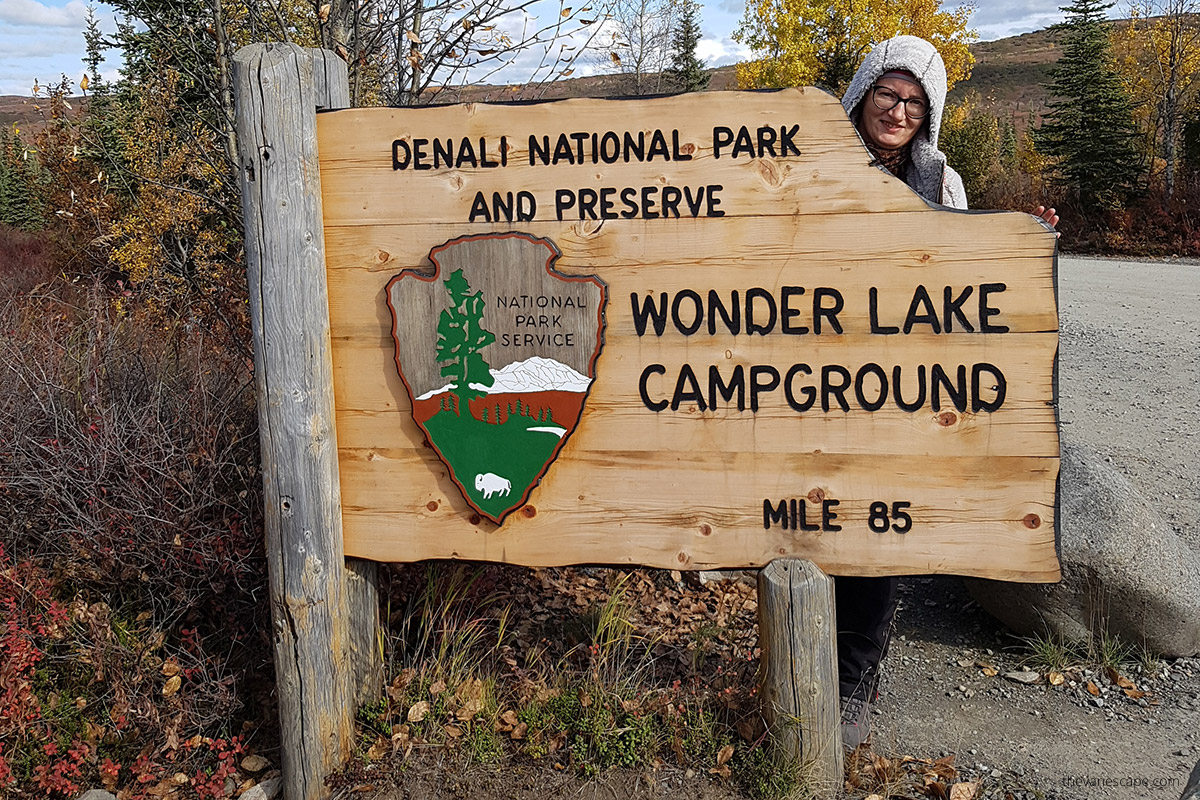 Packing Essentials
Our Tip: Several trips to all regions of Alaska, from the Arctic Ocean to Homer Spit, have taught us what is helpful in Alaska and what is unnecessary. Therefore, we encourage you to familiarize yourself with our detailed packing list for an Alaskan trip.
Getting Around Denali
Navigating Denali National Park offers a unique experience, as private vehicles are only allowed up to mile 15 of the park's only road. Beyond this point, the park preserves its pristine wilderness by limiting access to authorized buses. You can drive your own vehicle up to mile 15, where you'll find the Savage River Check Station. Parking is available, allowing you to explore the nearby trails and viewpoints.
Free Shuttle Buses: To make your exploration more convenient, Denali offers free shuttle buses that run to mile 15, including stops at the park entrance area and the sled dog kennels. Accessing some of the park's popular attractions is a hassle-free way.
Transit and Tour Buses: To get inside the park, you have two main options for further exploration:
Transit Buses: Non-narrated transit buses allow you to hop on and off at various stops, providing flexibility to explore at your own pace.
Narrated Tour Buses: Guided tours led by knowledgeable guides offering insights into the park's history, geology, and wildlife. These tours are available in various lengths and themes.
Our Tip: In our article How to explore Denali National Park, we provide more details about getting around Denali. Moreover, we explain what the Denali Road Lottery is.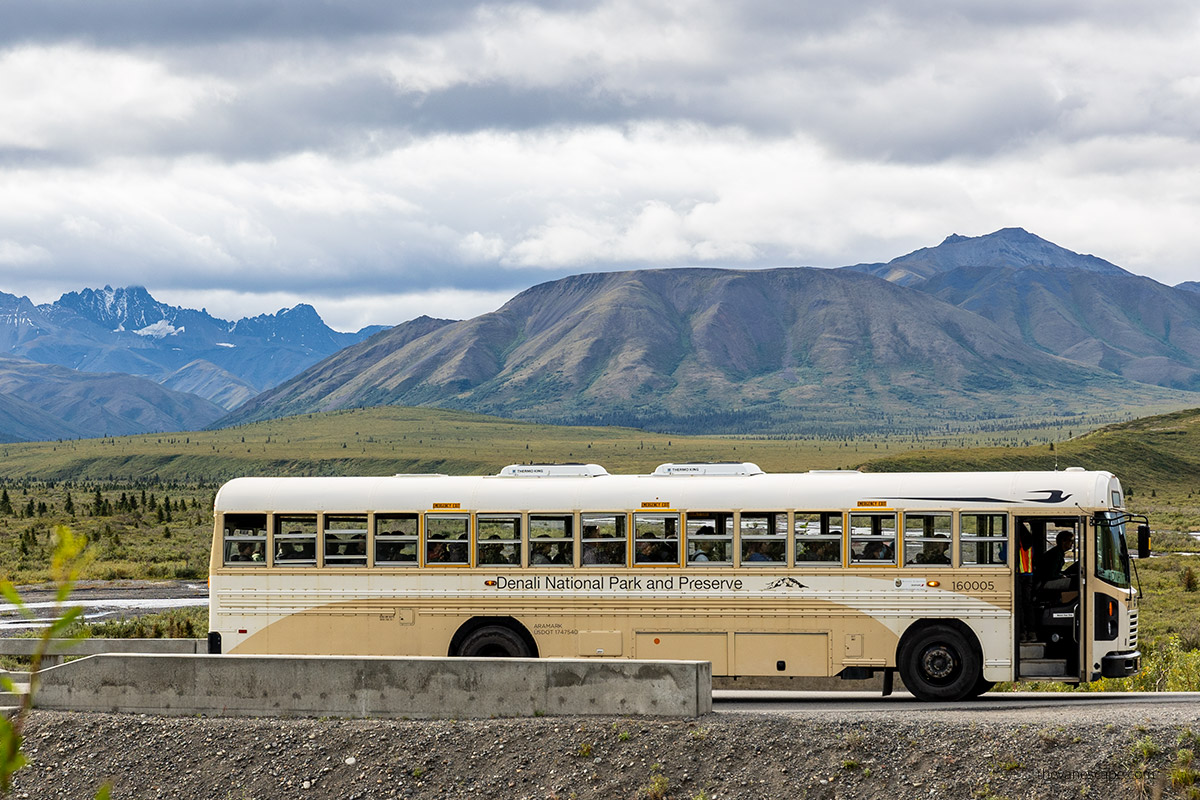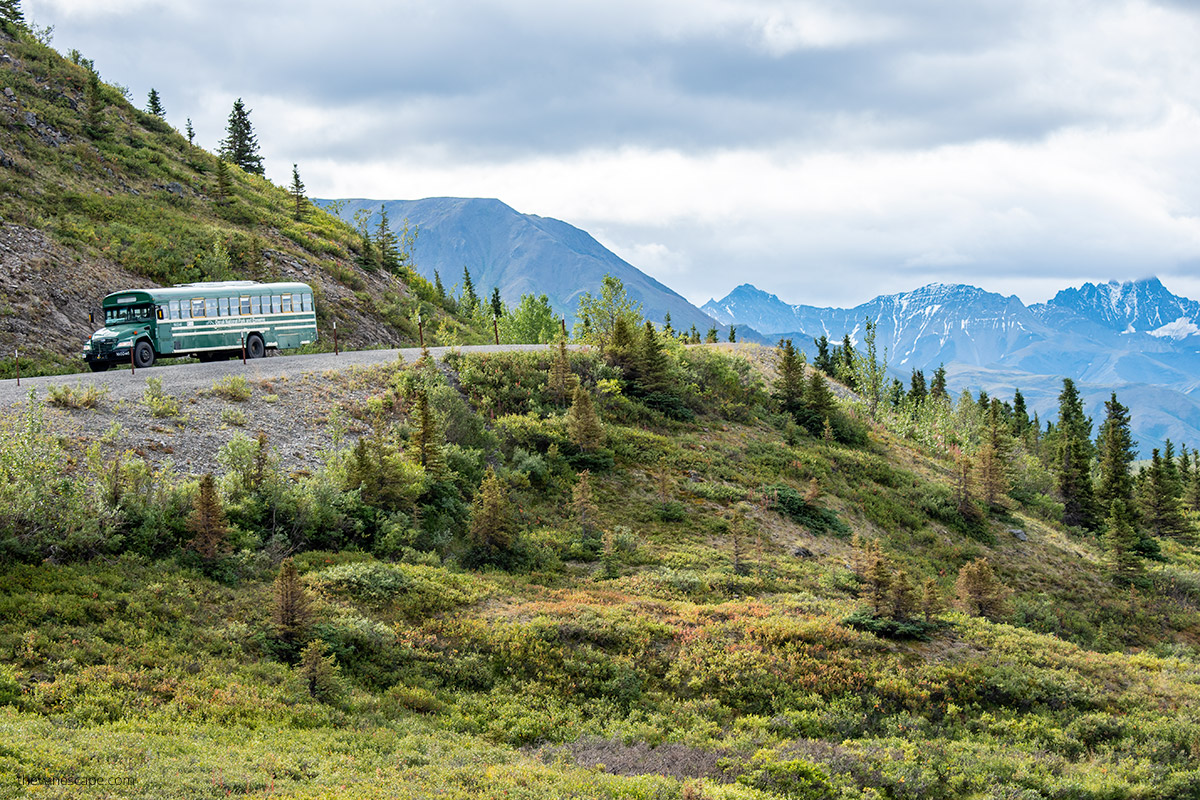 Day 1 Denali Itinerary: Arrival and Aerial Exploration
Morning: Exploring Visitor Center Area and Dog Kennels
Get oriented at the Visitors Center. See the exhibits, chat with park rangers, gather maps, and plan your adventure (especially if you plan some off-trail hiking or backpacking).
At 10 am is the first Sled Dog Demonstrations at nearby kennels. You can get there by free shuttle or an easy 2-mile walk. Free buses leave the Denali Visitor Center for the kennels approximately 40 minutes before each demonstration (about 9:20 am).
Or you can go for a hike in the Visitor Center area. We suggest a pleasant 2-mile Horseshoe Lake Trail of moderate difficulty to start your adventure with Denali. But if you prefer challenging trails and are an experienced hiker, the Mount Healy Overlook Trail is one of the area's most challenging and beautiful trails. It is a strenuous hike, 2.7 miles one way.
Our Tip: We've compiled a detailed guide to all the marked hikes in Denali National Park, broken down by difficulty level, location in the park, and how to get to the trailhead. So, you can choose hiking trails tailored to your needs. Make sure to pack a map.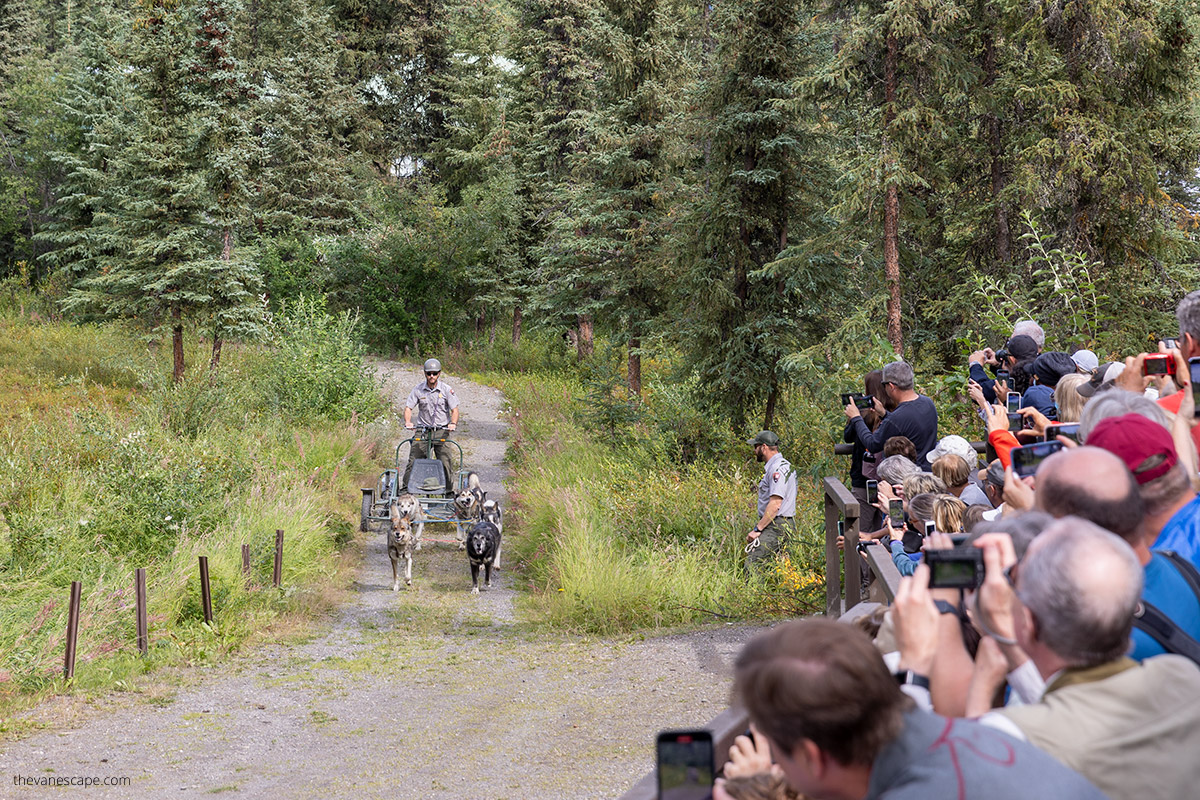 Lunch in McKinley Park
McKinley Park, or Denali Park, is the tourist village closest to the park entrance. There are bars, restaurants, and a hot dog or burrito stand. Depending on your budget and culinary preferences. Check out: Prospectors Pizzeria and Ale House, The Black Bear, or Denali Doghouse. It is also the only place you can buy snacks for the following days in the park or a raincoat if you forgot it.
Afternoon in Denali – Aerial Exploration
Embark on an unforgettable helicopter flight or small plane scenic flight over Denali's breathtaking landscapes. Witness the grandeur of North America's tallest peak and the park's diverse terrains from a bird's-eye view. Here's why scheduling your scenic flight on the first day is a smart move:
Weather-Dependent Adventure: All helicopters and plane flights in Denali are highly weather-dependent. The weather in this region can be unpredictable, and flights may be canceled due to safety concerns.
Flexibility to Reschedule: By scheduling your flight on the first day, you allow yourself the flexibility to reschedule if necessary. If the weather turns bad and your flight is canceled, you can easily reschedule it for your third day in Denali. This ensures that you don't miss out on this once-in-a-lifetime experience.
A Grand Introduction: Starting your trip with an aerial view provides a grand introduction to the park. It sets the tone for an extraordinary adventure and offers a unique perspective that ground-level exploration can't match.
Our Tip: Our choice is this Helicopter Flight with Glacier Landing. But if you have more time, consider Helicopter and Hike Adventure, which is on our bucket list for the next Denali adventure. However, the most affordable options are Denali Peak Sightseeing by Small Plane and Helicopter Ride over the Alaska Range.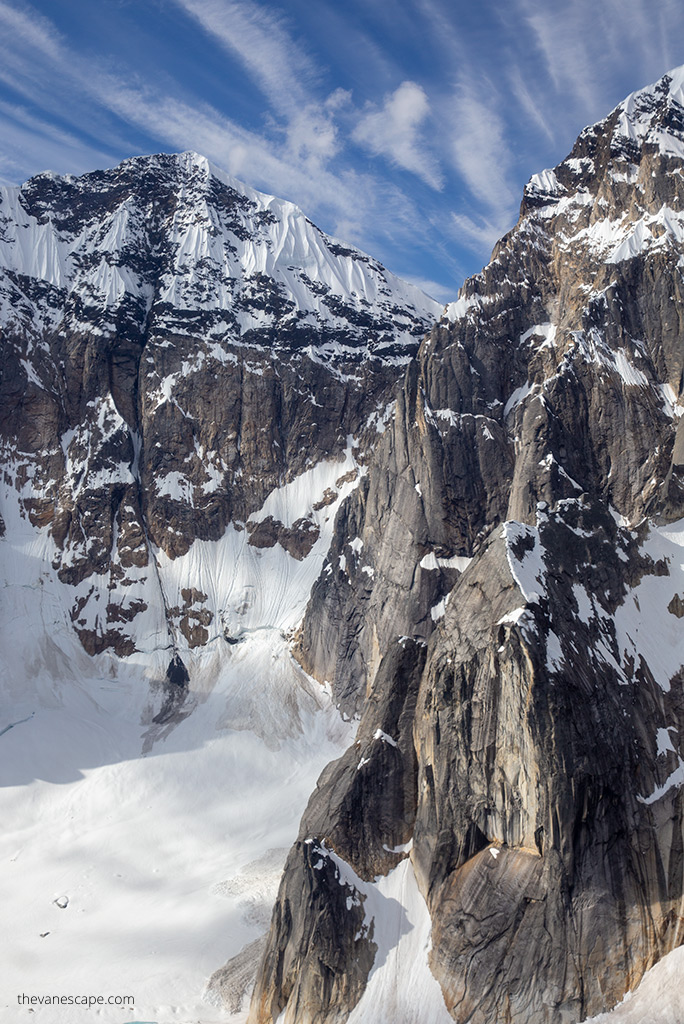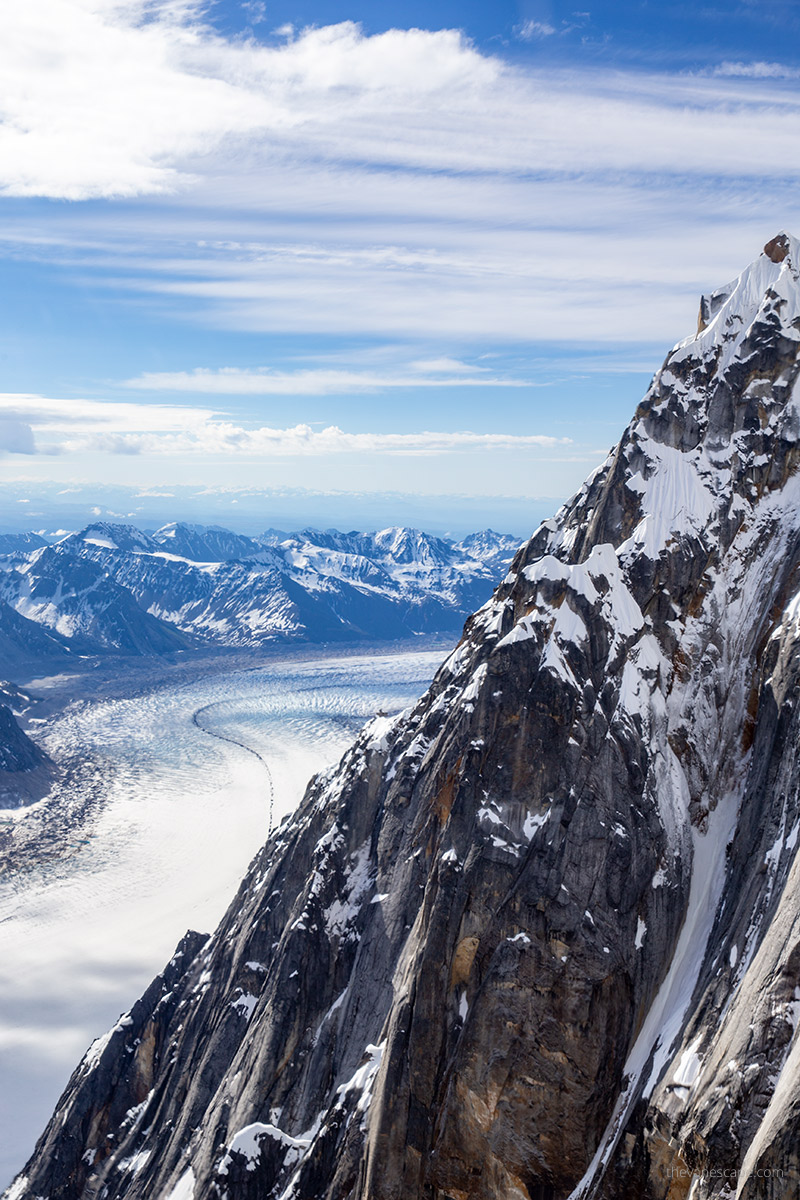 By placing the scenic flight on the first day, you enhance the excitement of your arrival in Denali and strategically plan for potential weather challenges. It's a decision that combines thrill and practicality, ensuring that your Denali National Park Itinerary is both exhilarating and well-thought-out. Scenic flights operate several times daily. By booking them in advance, you can select the best option.
Our Experiences: This advice comes from our experiences. We have already made several trips to Alaska. And we've had different scenic flights canceled a few times, including a flight over the Brooks Range. Or we've been stuck for two nights at King Salmon trying to get to Katmai National Park. While visiting Talkeetna, we took a scenic flight over Denali with a glacier landing.
Late Afternoon
From June to the end of August, Days in Denali are very long (Midnight Sun), so if you have some time left, you can take a stroll around the Denali Visitor Center or spend some time at McKinley Park and prepare for another day full of adventures.
Evening in Denali
Enjoy local cuisine at a nearby restaurant and shop for unique souvenirs. Check out: Mountaineer Grill & Bar at Denali Bluffs Hotel, The Overlook at The Crow's Nest, or The Alpenglow at Grand Denali Lodge. Also, The Denali Princess Wilderness Lodge has several dining options. Reflect on the day's experiences and look forward to the adventures ahead.
Day 2 Denali Itinerary: Immersion in Wilderness and Wildlife
Morning: Denali Bus Tour
Start your day early with a pre-booked bus tour that takes you deep into the heart of Denali National Park. The park's only road is restricted to private vehicles, making bus tours ideal for exploring. Choose from options like the Tundra Wilderness Tour or the Kantishna Experience, depending on your interests and time.
As you journey along the winding road, keep your eyes peeled for Denali's iconic wildlife. From majestic grizzly bears and elusive wolves to graceful caribou and moose, the park is a haven for animal enthusiasts. Don't forget your camera, as photo opportunities abound!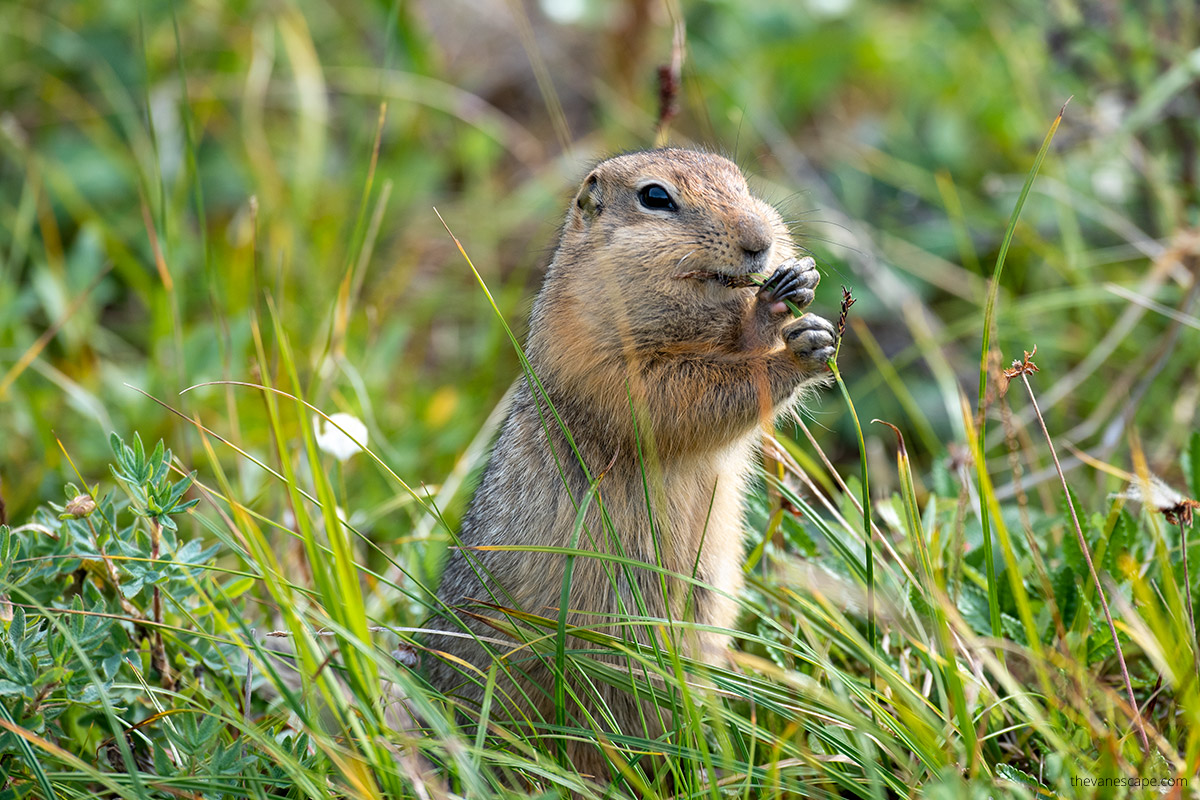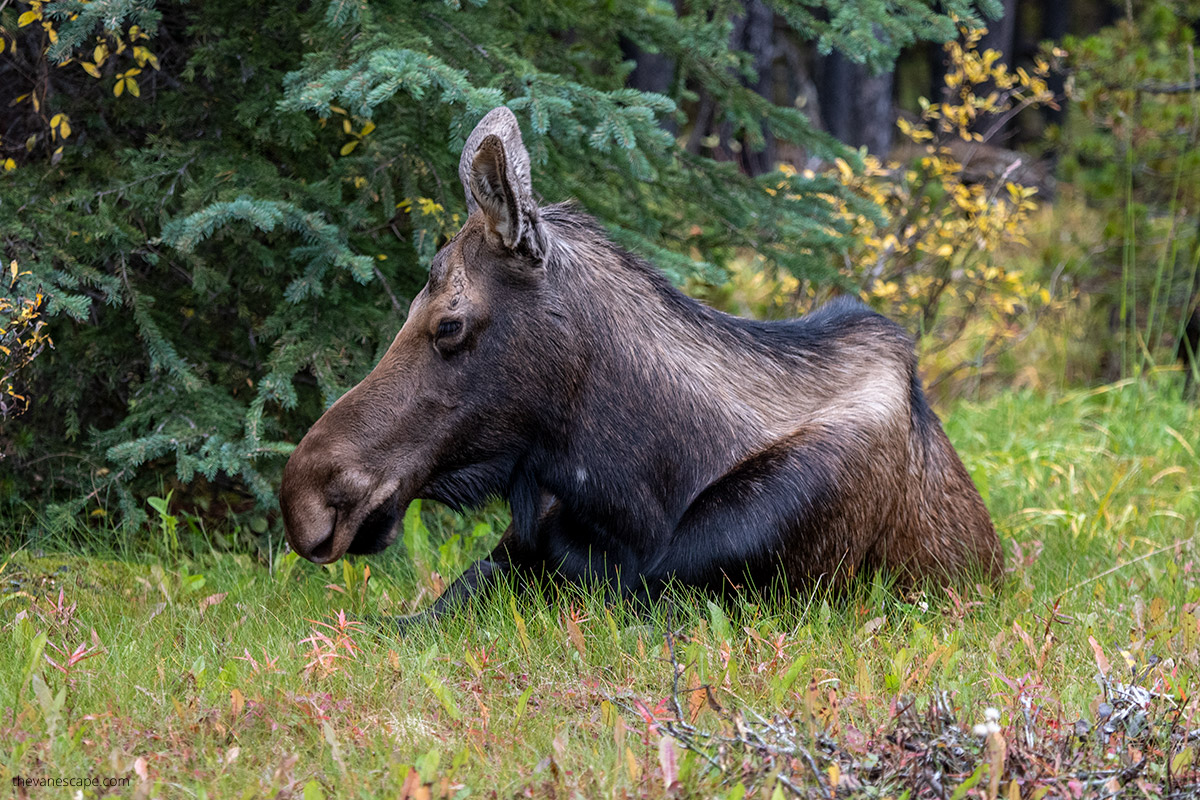 Lunch: Picnic in Nature
Pack a picnic lunch and enjoy it at one of the designated stops along the bus tour. Surrounded by unspoiled landscapes and the soothing sounds of nature, this meal will be a memorable experience. Many bus tours also offer snack and meal options, so you can choose what suits you best. However, keep in mind that there is no possibility of buying food inside the park, so it's always better to pack more snacks in case of some delays.
Afternoon: Hiking Exploration
After returning from the bus tour, hit the trails near the Denali Visitor Center. Denali offers a variety of hiking options, ranging from easy nature walks to challenging backcountry treks. If you're interested in guided hikes, park rangers often lead informative walks, sharing insights about the local flora, fauna, and geology. It's a great way to learn more about Denali's unique ecosystem.
Evening: Stargazing or Northern Lights (Seasonal)
As the sun sets, the magic of Denali continues. If you're visiting during the late summer or early fall, you may be treated to the mesmerizing dance of the Northern Lights. Find a quiet spot away from artificial lights, lay back, and watch the sky come alive. Even if the Northern Lights aren't visible, stargazing in Denali is a breathtaking experience. The clear, dark skies offer a celestial showcase that will captivate you.
Dinner: Local Cuisine
End your day with a hearty meal at one of Denali's local restaurants. From fresh Alaskan seafood to comforting home-cooked dishes, the culinary scene in Denali is diverse and delicious. Make reservations in advance, especially during peak season, to ensure a table at your preferred dining spot. Check out where to eat in Denali.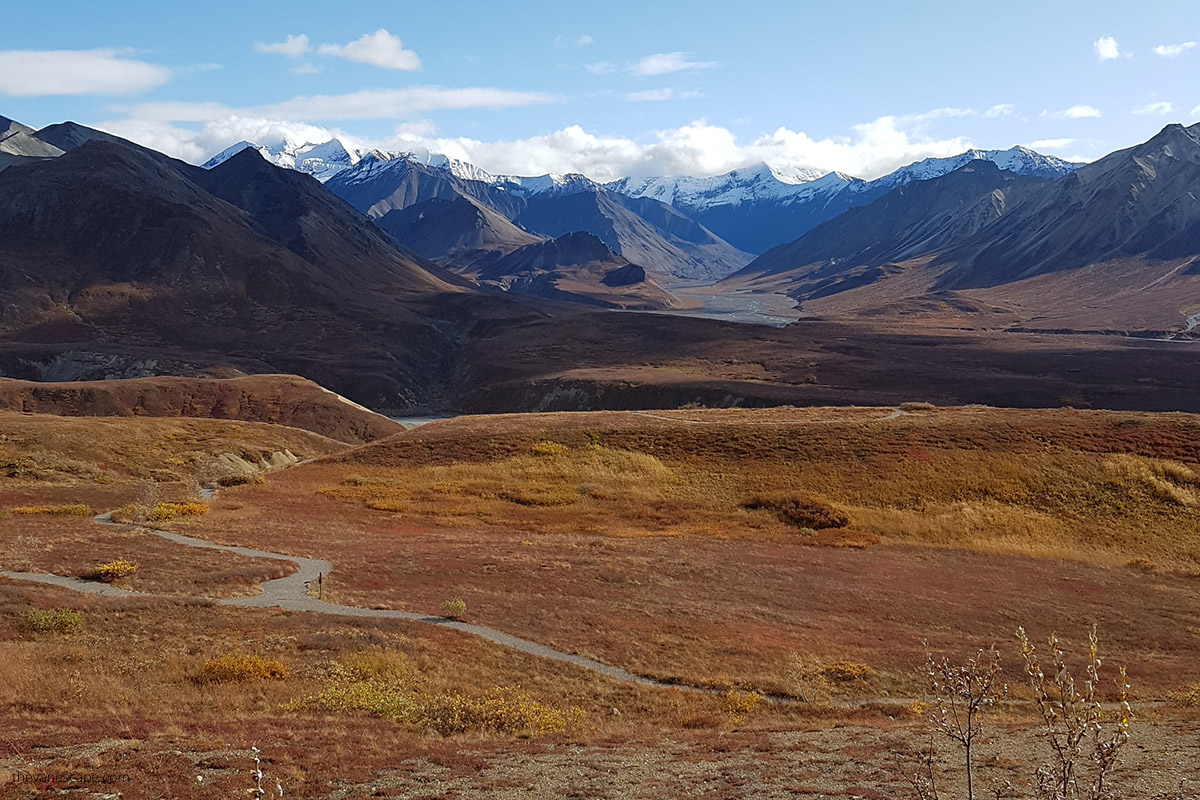 Day 3 Denali Itinerary: Exploration, Adventure, and Culture
Morning: Explore the Savage River Area
Start your final day in Denali by exploring the captivating Savage River area. This park region offers a blend of accessible trails and stunning vistas, making it a favorite among visitors.
Take a leisurely walk along the Savage River Loop Trail, a gentle 2-mile path that follows the river's course. The trail offers excellent opportunities to spot wildlife, including Dall sheep, caribou, and various bird species. Don't forget your binoculars and camera!
For those seeking a more challenging hike, the Savage Alpine Trail provides a steeper climb with rewarding panoramic views of the Alaska Range and the surrounding tundra. The trail is approximately 4 miles long and offers a moderate to strenuous hike.
Whether you choose a relaxed stroll or an invigorating hike, the Savage River area perfectly starts your day, immersing you in Denali's natural beauty.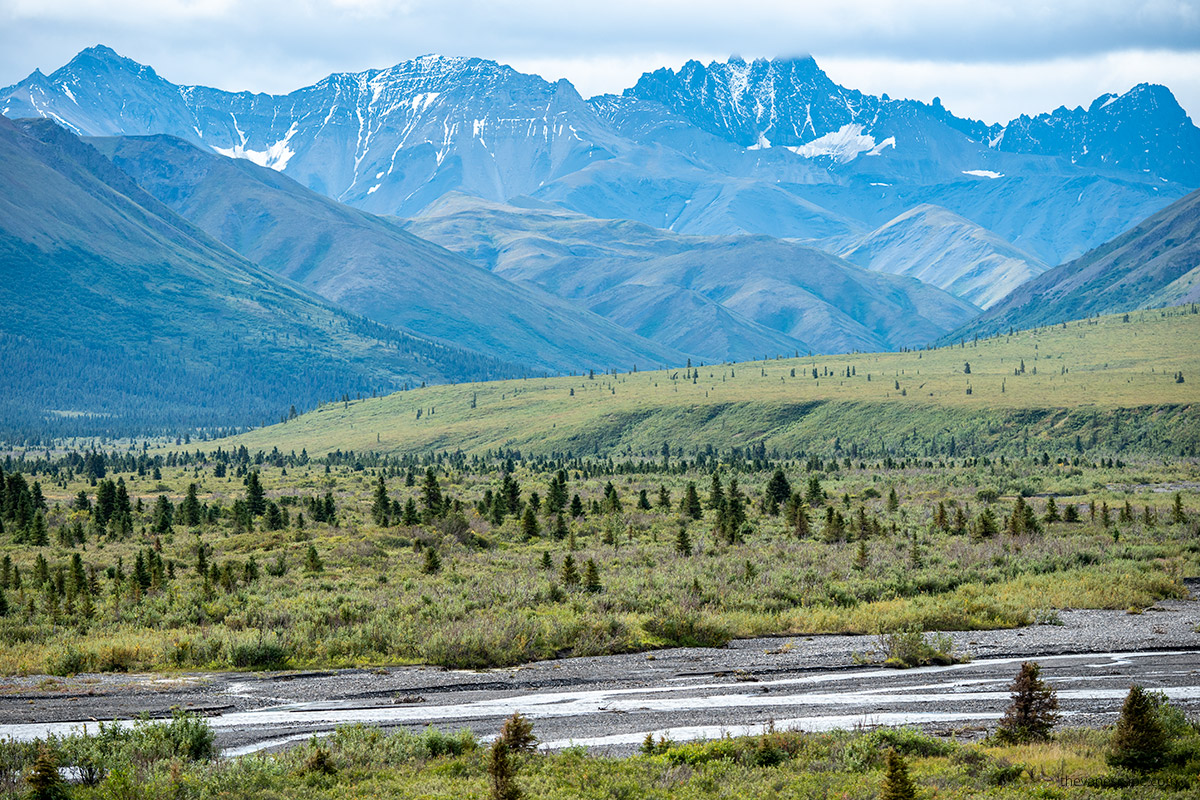 Lunch: Local Eateries or Packed Picnic
Enjoy lunch at one of Denali's local eateries, savoring Alaskan flavors, or opt for a packed picnic if you prefer to continue your outdoor adventure.
Afternoon: Rafting or ATV Tour
After lunch, it's time to choose your adventure: take on the waters of Denali with a guided whitewater rafting trip on the Nenana River or explore the rugged trails on an ATV tour.
Rafting: Join a guided whitewater rafting trip for a thrilling ride down the Nenana River. With options for different skill levels, you can enjoy the excitement of the rapids surrounded by stunning scenery.
ATV Tour: If you prefer land-based adventure, an ATV tour offers an exhilarating way to explore Denali's backcountry. Guided tours are available, taking you through forested trails, across riverbeds, and to viewpoints overlooking the Alaska Range. It's a fun and unique way to experience the park's diverse landscapes.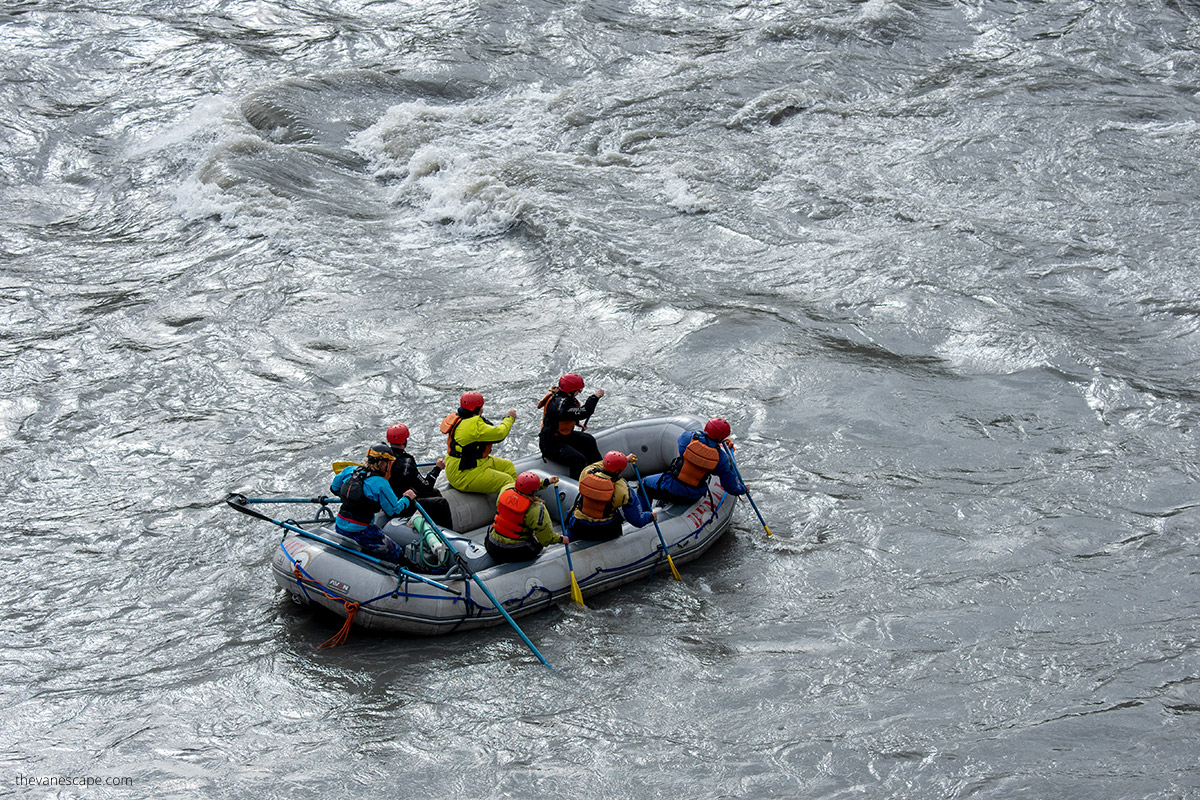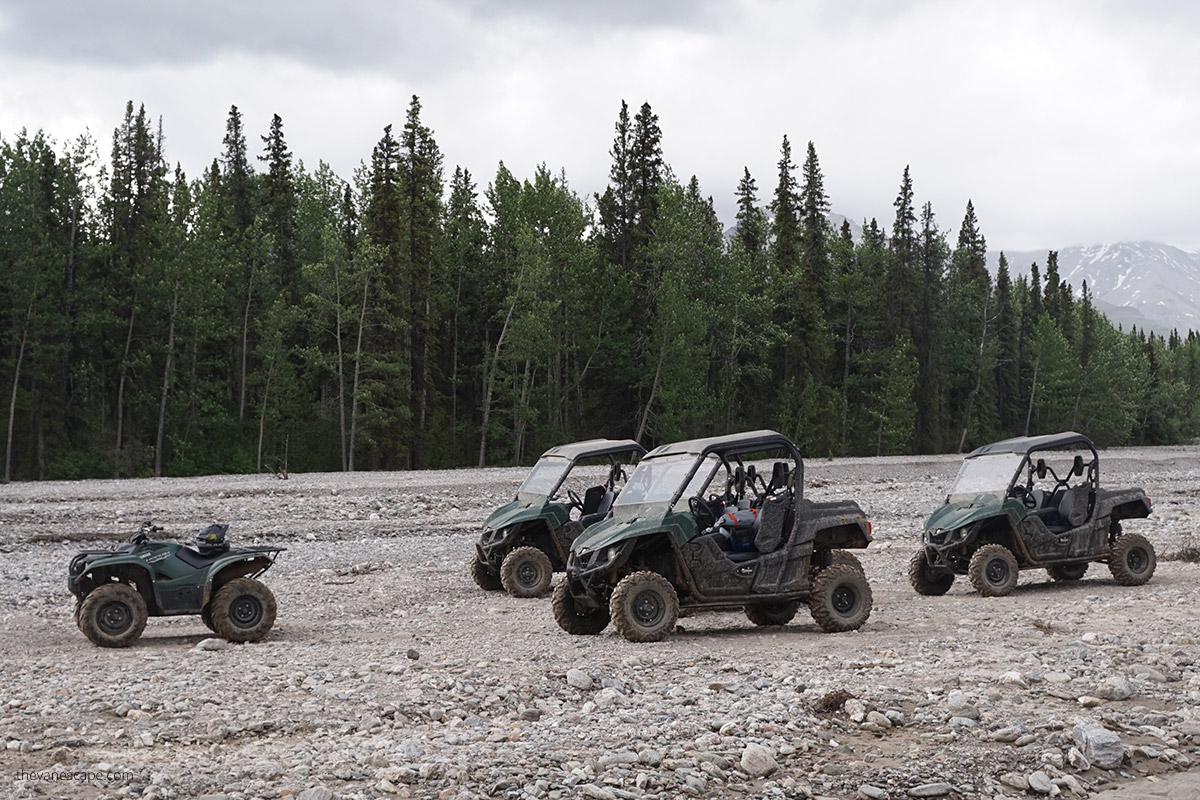 Evening: Explore Local Culture and Art
Spend your last evening exploring the local culture and art of Denali. Visit art galleries showcasing native Alaskan art, and purchase some souvenirs. It's a wonderful way to connect with the community and appreciate the creativity inspired by Denali's natural beauty.
Our Tip: Denali is a treasure trove of outdoor adventures. Beyond the itinerary outlined here, countless other activities cater to all interests and fitness levels. Our comprehensive guide to the best things to do in Denali offers detailed insights and other recommendations to help you maximize your visit, depending on your interest. If you plan a road trip that least 10-14 days, check out our full-of-inspiration 10-day Alaska itinerary.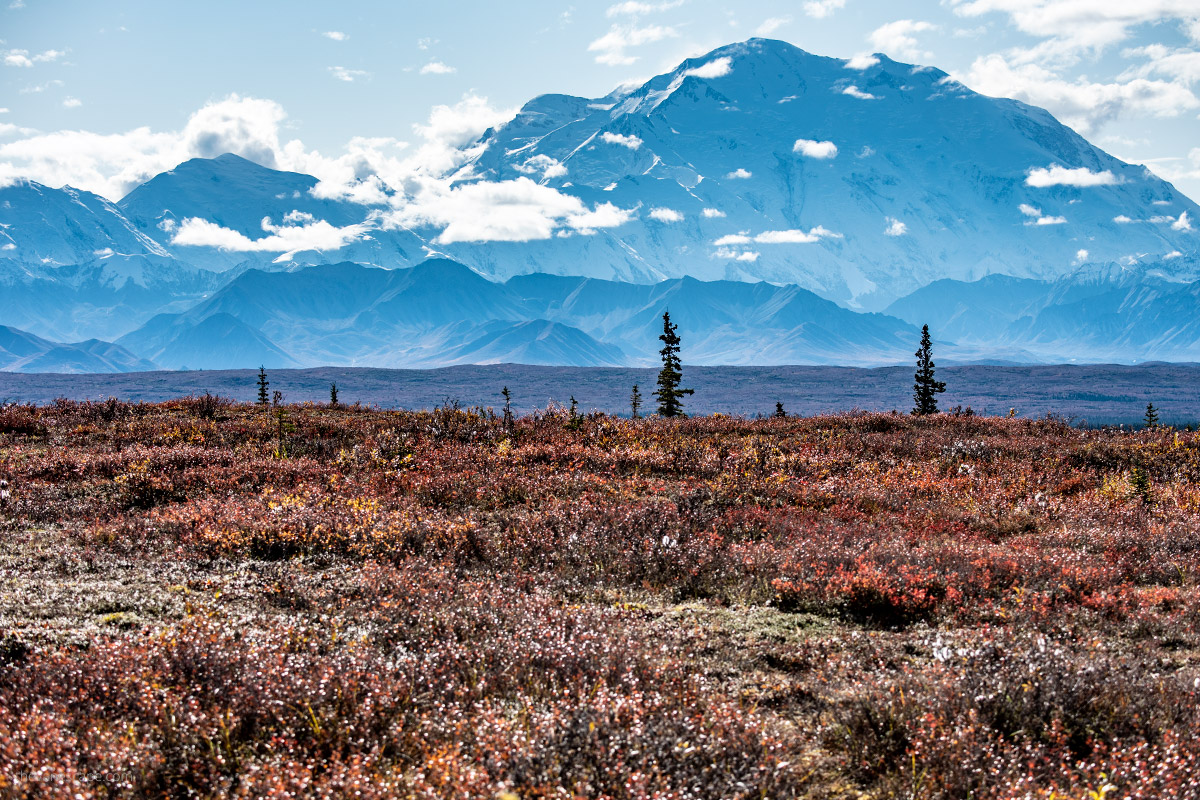 Denali National Park Itinerary – Final Thoughts
Embarking on a journey through Denali National Park is more than a vacation; it's an exploration into the wild heart of Alaska.
This 3-day Denali National Park Itinerary is your roadmap to a world filled with natural wonders, thrilling adventures, and serene landscapes. From the towering peak of Denali to the gentle flow of the Savage River, every moment spent in this park is a celebration of nature's grandeur.
Our carefully crafted itinerary ensures you don't just visit Denali; you experience it. Whether it's the exhilarating flight over the park's vast expanse, the intimate encounters with majestic wildlife, or the thrill of rafting down the Nenana River, each day is designed to immerse you in the essence of Denali.
We've poured our own experiences and love for this park into these pages, hoping to inspire and guide you on a journey that's uniquely yours.