Camping in Denali National Park
How to prepare for camping in Denali National Park? How to move around the Park? Which of the six NPS campgrounds should you choose for your adventure in the Park? What amenities are there at each Denali campground? And what to pack for camping in Denali? We share our experiences and tips. Moreover, we give you essential regulations and changes for the 2023 season.
This article may contain affiliate / compensated links. For full information, please see our disclaimer here.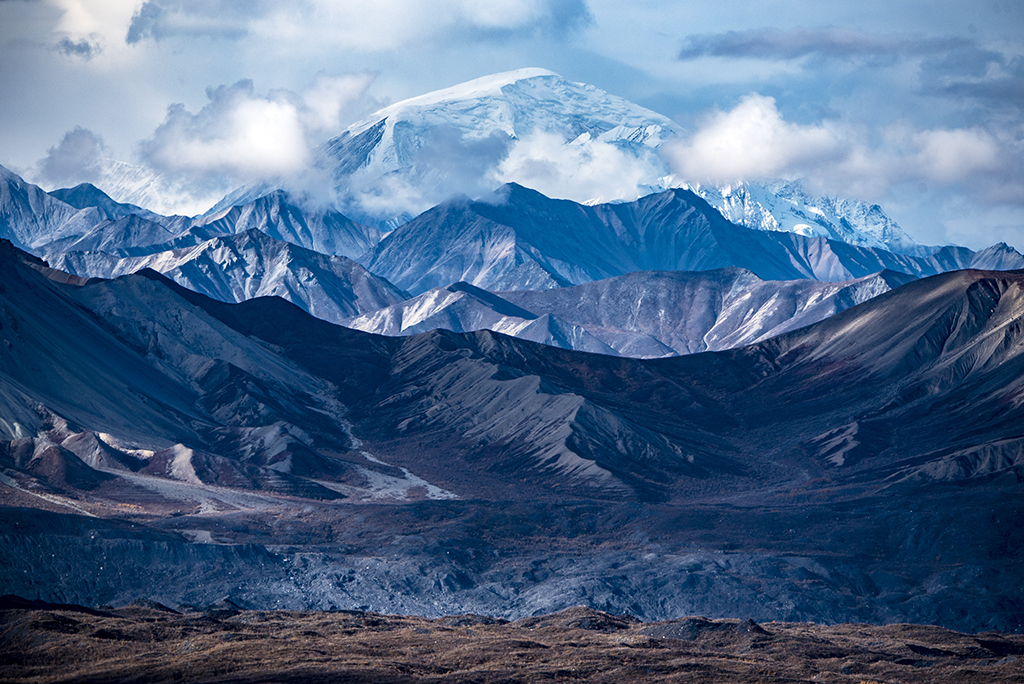 Camping in Denali National Park – Our Experiences
Visiting Denali National Park is a must-see on any road trip in Alaska. So far, we have visited Alaska several times, and each time we were also in Denali. Here we share our first impressions from our first stay in Denali campground. The park is magical. But camping in Denali National Park requires good preparation. This vast national park is extremely wild and inaccessible.
We camped in one of six Denali campgrounds (Igloo Creek Campground) and shared our experiences. We will tell you about the rest of the campgrounds, their connection, and what facilities each has. We hiked in Denali. Moreover, we took bus tours in Denali and other Denali tours and will give you some hints about that.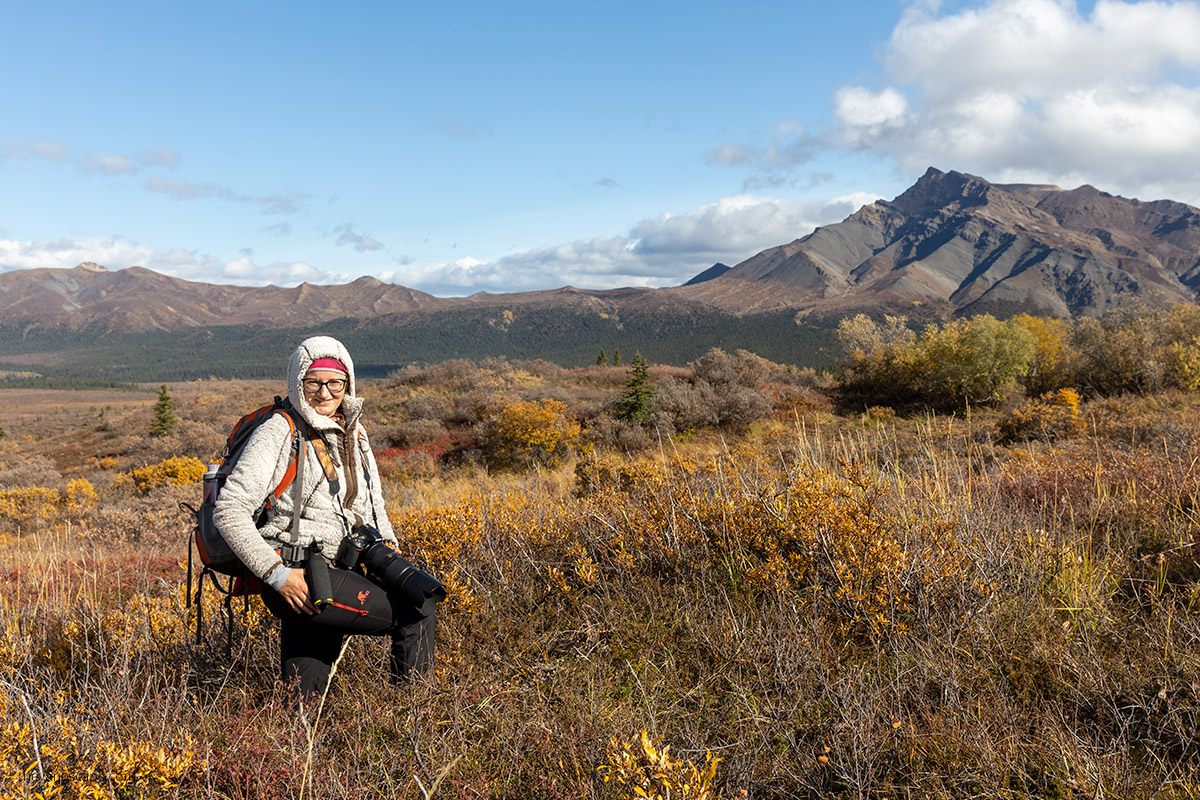 Check Before You Go Camping in Denali National Park
We recommend checking out our related articles for a successful camping adventure in Denali National Park.
Discover how to explore Denali National Park, including driving conditions for private vehicles and how to enter the Denali Road Lottery. We also provide details on the three types of Denali tour buses available for exploring the park.
Additionally, find out the best time to visit the park, what is open each season, and what weather to expect.
For wildlife enthusiasts and amateur photographers, our guide to wildlife viewing in Denali offers the best spots to meet the Denali Big 5.
If you run out of campsites inside the park, you can find out where to stay in Denali outside the park.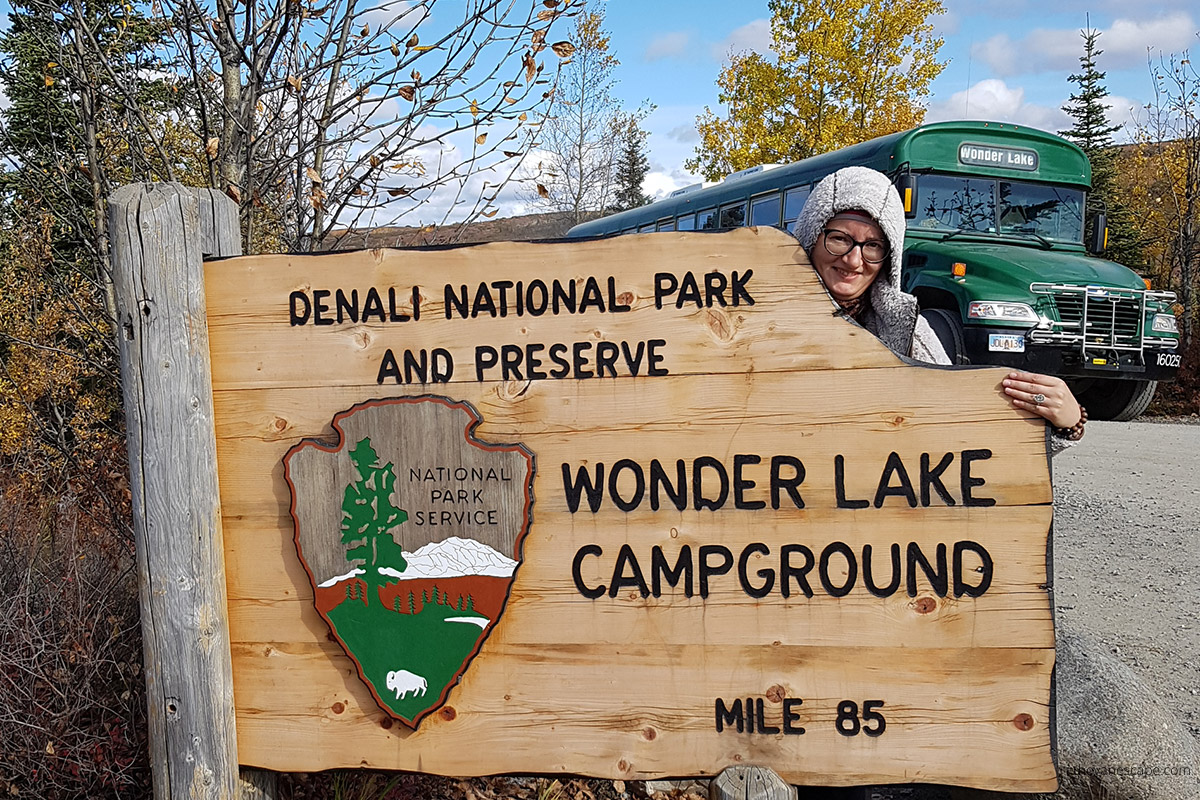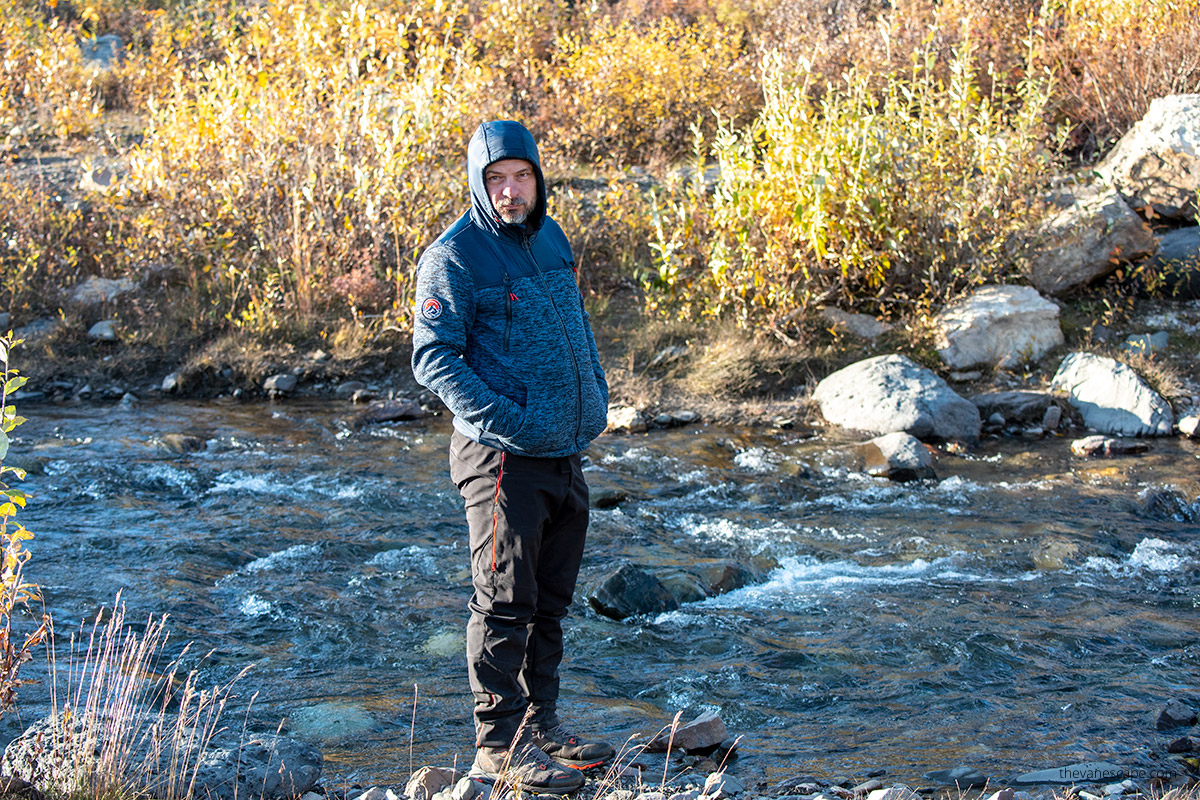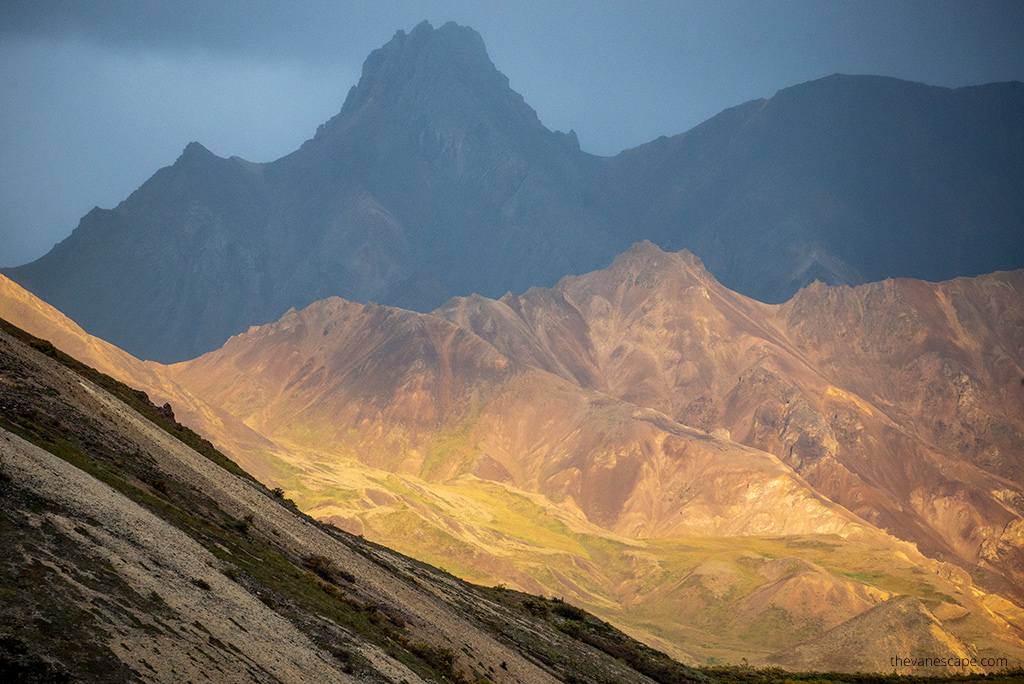 Camping in Denali National Park – Important for the 2023 Season
Due to Park Road renovation in Denali National Park, a large part of the only route in the park is closed to tourists. The summer season begins on May 15 each year. In Summer 2023 (through 2024), part of Park Road will still be closed at Mile 43. But it is still worth visiting Denali in 2023. We help you plan your trip with those changes. We tell you which campgrounds are open and which one to choose for your trip.
Non-Narrated Transit Buses and Narrated Tour Buses will travel no further than the East Fork Bridge (Mile 43 of the 92-mile-long Denali Park Road)
Eielson Visitor Center is closed.
Wonder Lake Campground is closed.
So before your trip to Denali National Park, check the official park website.
Below you will find detailed information about the whole road in the park while it's open and about all campgrounds. We tell you what to do and what to expect for season 2023 and which campgrounds will be available to reserve. All you need to know to prepare for the 2023 Alaska trip.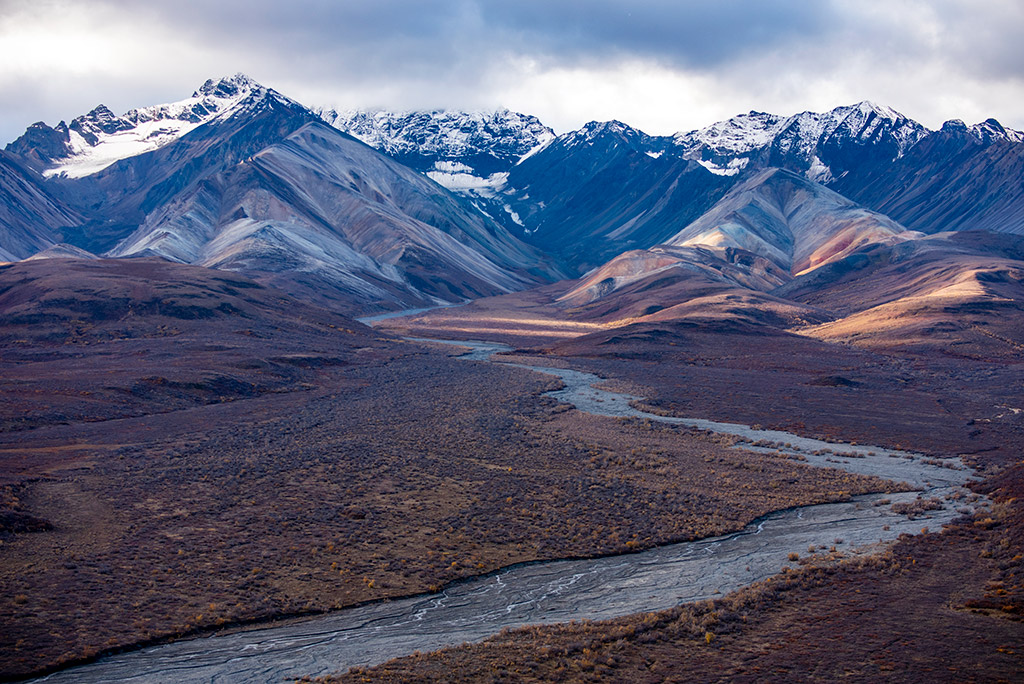 No cars are allowed beyond mile 15 in Denali
Denali National Park and Preserve have only one road and park entrance. The scenic road is 92 miles long and runs from east to west. It is a scenic road made mostly of gravel. Be prepared for a lot of dust and dirt. The way starts in a low, forested area but rises and falls through mountain passes. And you can admire the highest mountain in North America – Mount Denali, also known as Mount McKinley, 20,310 feet (6,190 m) from the road.
You can go to this Denali park road in your own car only to Mile 15. If you want to go further, you have to take a bus. Yes, the first impression might be annoying. What? Why must I go by bus? Why do I have to sit with dozens of people on a bus if I have a comfortable car? We thought the same till we understood the idea of nature protection. We assure you that a Denali bus tour system is the best solution. We saw the most wildlife in Denali during the bus tours.
If you plan to camp in Denali, taking a bus is necessary. Moreover, there are also free Camper Buses in Denali for transporting visitors to campgrounds and backcountry units within the park.
There will always be a good economic argument to overcrowd an experience until we redefine what a good economy is. National parks don't happen by accident. They are established – and preserved by the great force of character, heroic at times, often tedious and downright hard. This is stewardship. (text by Kim Heacox).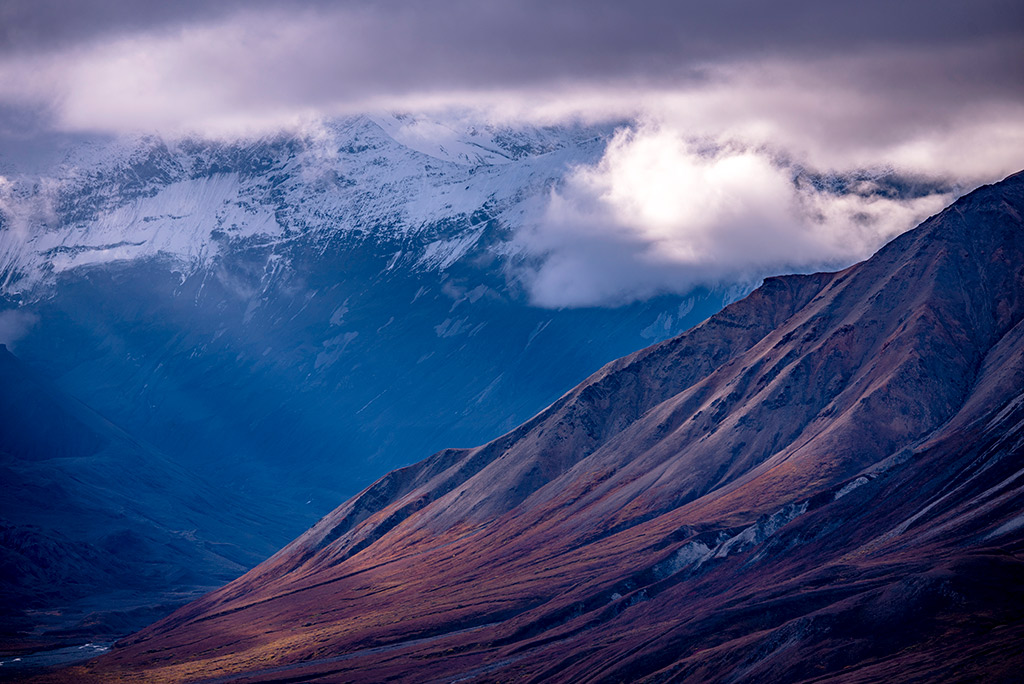 Hundreds of thousands of park visitors travel by bus every summer on this single road through the park. The bus system reduces traffic and roadside disturbances so you can better see wild nature. You can go on a one-day trip by bus or stay overnight at one of the six Denali National Park campings. Here you can check the Denali bus system. But we describe the details below.
TRIP TIP: If you plan to rent a car for your Alaska trip, consider Alaska Auto Rental. We used the cars and services of this company during the Dalton Highway trip, and we can honestly recommend it. You can read a detailed review here.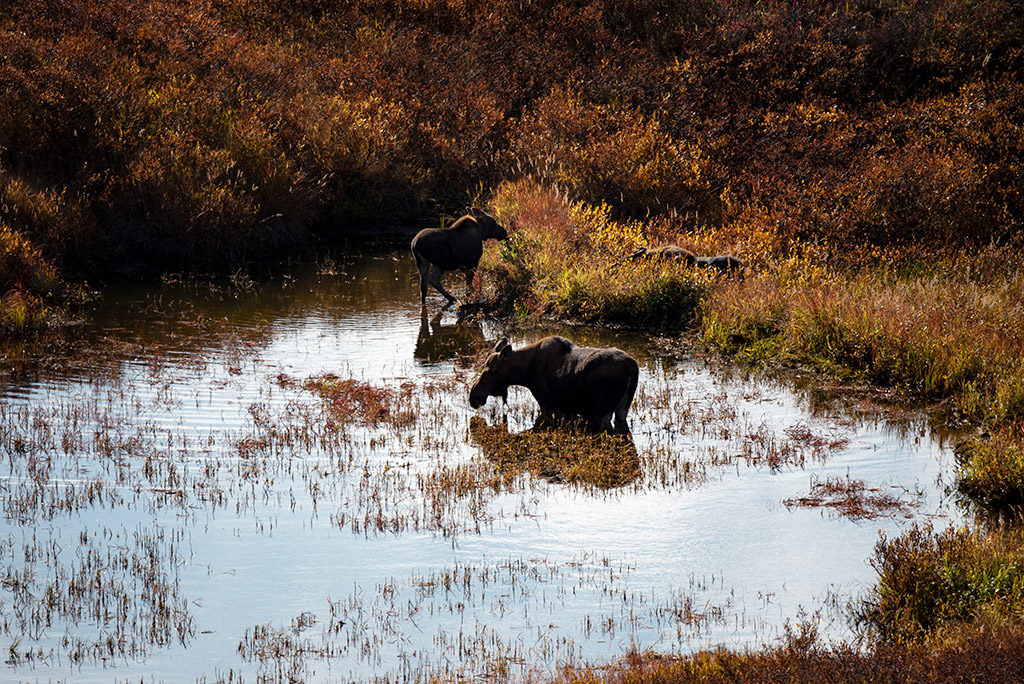 Camping in Denali National Park – Six Campgrounds
If you would like to stay in a tent in a Denali National Park campground, you have six campgrounds available in Denali National Park (below is a description of each). They are very rustic. No showers, no electricity, no Internet. But they are located in picturesque places. It's worth staying there to be closer to this beautiful wild nature and take some hikes. It's also a better chance to see wild animals. You should book a place in advance because sites are also limited. As for season 2023, part of Denali Road is closed. Make sure on the official website which Denali campgrounds are still available for booking.
Camping Fees
Summer season 2023 in Denali National Park is May 20 – September 15. Campground fees vary slightly, but sites are around $19.25 – $39.75 / per night. Camping is free in winter (roughly late September to early May each year).
How to book a campground in Denali?
You may make reservations online through an official reservation system website. Reservations are possible as early as December 1 of the year before you wish to visit Denali National Park.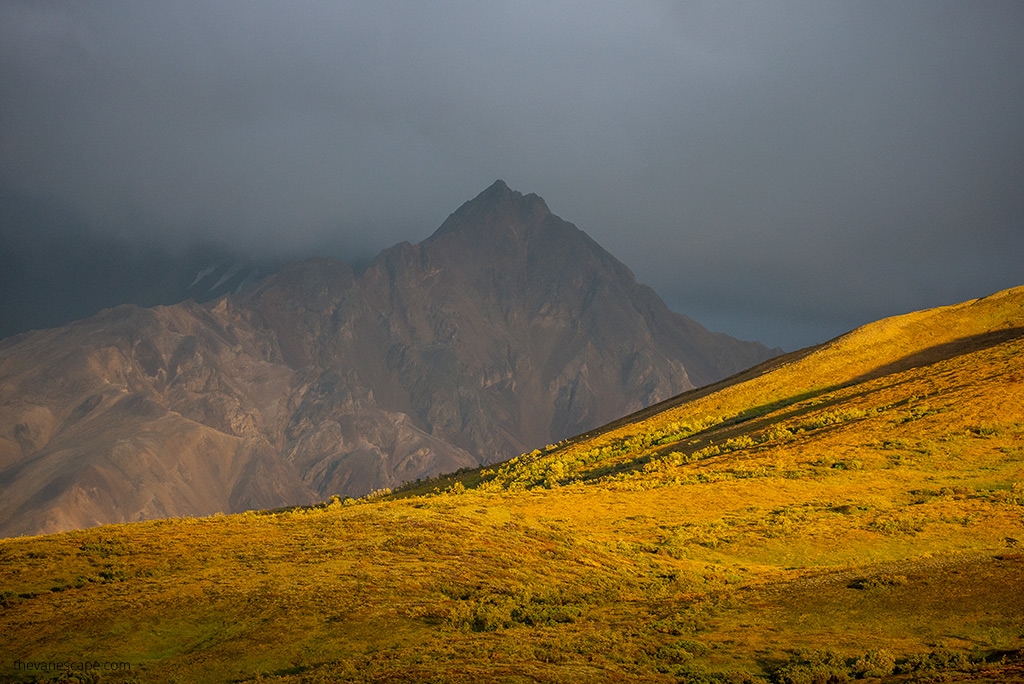 Camping in Denali National Park – Six Campgrounds Description
Riley Creek Campground in Denali National Park
The Riley Creek Campground is on Mile 0.25. It's open year-round, and this campground charges fees only in summer. It is open to both RVs and tents. It is conveniently located near the park entrance and has amenities like a mercantile with shower and laundry facilities, a dump station, and potable water. Check its website.
Savage River Campground in Denali National Park
The Savage River Campground is on Mile 14. Remember that Denali Road is open for private vehicles to mile 15. This campground is open only in summer from mid-May to mid-September. This campground is open to both RVs and tents. It is located in a spruce forest setting and offers a more secluded camping experience. Check its website.
Sanctuary River Campground in Denali National Park
The Sanctuary River Campground is on Mile 23. It's open in summer only from June 8 to mid-September, this campground is open only to tents, and access is by bus. It is a small, quiet campground located along the Sanctuary River. Check more details.
Teklanika River Campground in Denali National Park
The Teklanika River Campground is located on Mile 29. It's open in summer only from May 20 to mid-September. This campground is open to both RVs and tents. However, it requires a minimum 3-night stay if you drive to the campground. It is located along the Teklanika River and offers a more remote camping experience. Check its website.
Igloo Creek Campground in Denali National Park
The Igloo Creek Campground is on Mile 35 of Denali Park Road. It's open in summer only from May 20 to mid-September, this campground is open to tents only, and access is by bus. It is located in a small, intimate setting surrounded by mountains and Igloo Creek. We stayed a few nights at this campground. It's a beautiful, peaceful place, and we highly recommend it. The camping fee included a bus service in the price. The rule is that if you are staying in a campground, you can get in and get off the green buses on the road. We provide more details below. But it's closed in the 2023 season. Check out the details.
Wonder Lake Campground in Denali National Park
The Wonder Lake Campground is on Mile 85. It's open in summer only from June 8 to mid-September, this campground is open only to tents, and access is by bus. It is located near Wonder Lake and offers stunning views of Denali on clear days. It's closed in the 2023 season. Check its website.
Our Tip: You may make Denali campground reservations online through a reservation system on the website. Make reservations months in advance as places are limited, and camping in Denali National Park is in high demand among wildlife lovers and outdoor enthusiasts.
Camper Buses in Denali
You don't have to worry about getting your backpack, all your camping gear, and food to the campsite of your choice. Special Camper Buses in Denali are dedicated and configured to accommodate campers, backpacks, and even bicycles. Camper buses transport visitors to campgrounds and backcountry units within the park. Camper buses may only be reserved in advance for those visitors with campground reservations or a backcountry permit. Campers at Riley Creek Campground and Savage River are ineligible to buy camper bus tickets since they can drive or ride a free shuttle to their campground. Camper buses are marked with a small tent icon to differentiate them from regular transit buses. Camper buses typically run yearly from June 1 to mid-September (weather permitting). Before June 1 each year, campground and backcountry users can ride regular transit buses.
Camping in Denali National Park – Igloo Creek – Our Experiences
We stayed in a tent at Denali National Park camping during our first visit to Denali. We choose Igloo Creek Campground. We decided to take some hikes to have more opportunities to take landscape and wildlife pictures of Denali National Park. If you are camping in the park, you can get off and get on the bus whenever and wherever you want to hike. We reached our Igloo Creek Campground on Mile 34. Then we chose our site and put up a tent. It's important to pack food and cosmetics in bear-proof containers; we did it.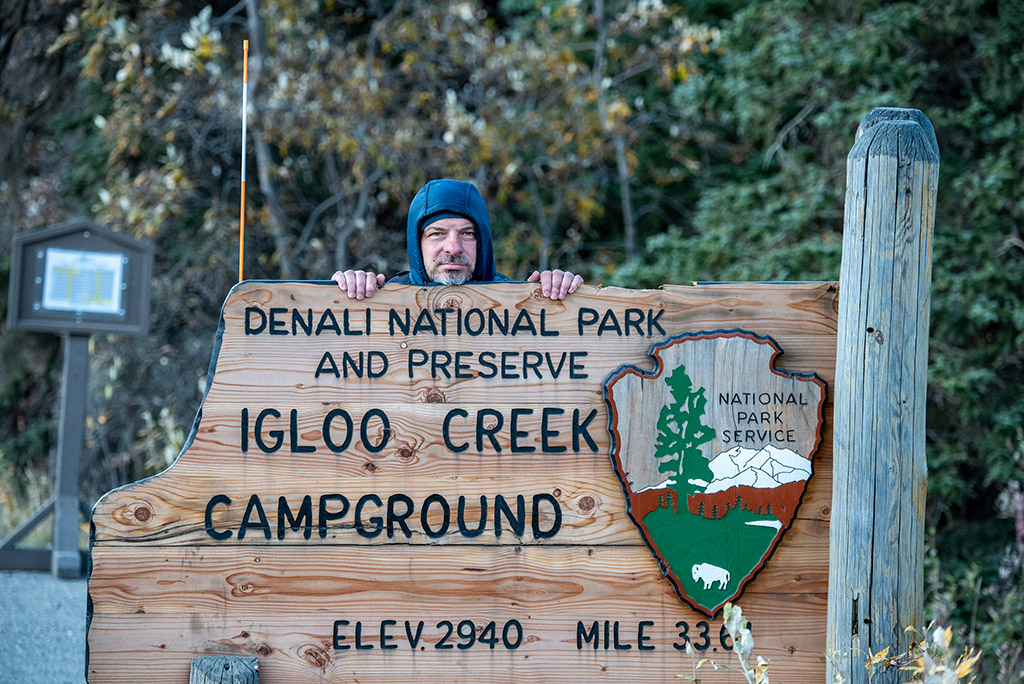 If you are driving from Anchorage, Talkeetna is the last stop before Denali, where buying necessary things such as food or gas is good. We took our bear bells and bear spray and went for our first hike. It's essential to prepare for encountering a bear in a bear country. Respecting bears and learning proper behavior can help you avoid conflict. It's worth knowing the most crucial bear safety rules.
We decided on an easy hike around Cathedral Mountain. But it wasn't easy at all. Denali is a wilderness. There are no marked trails beyond the Visitor's center, so you need a compass and a good map, a watch with GPS, or even better, you should take a Handheld GPS if you plan to do anything far from the main road. Check our Alaska Packing List before you hit the mountains!
The trail wasn't easy because there was no trail. And we didn't use to go off the trail. It was so easy to lose the path. But the hike was amazing, the autumn colors so beautiful and impressive. Ultimately, we were exhausted, and a little bit frightened because of this emptiness, space, and silence. When you live in a city and are still in a rush, you forget how silence sounds.
PROTIP: If less experienced, consider an organized guided mountain hike. Here you can check our photos & tips from the flight tour over Denali, which was an amazing experience!
After returning to the campground, we prepared our simple but hot meal on our ultralight trekking stove. It was much colder after sunset. We were prepared for winter with mummy sleeping bags which helped us survive till morning. Taking them was a great idea because the temperature goes down to almost 32 degrees Fahrenheit (0 Celcius degrees) at night. We woke up before sunrise, awakened by silence. Mists hovered over the mountains. In the morning, we washed our faces in an icy stream. Denali National Park has no power, showers, or Wi-Fi on campgrounds. Simplicity.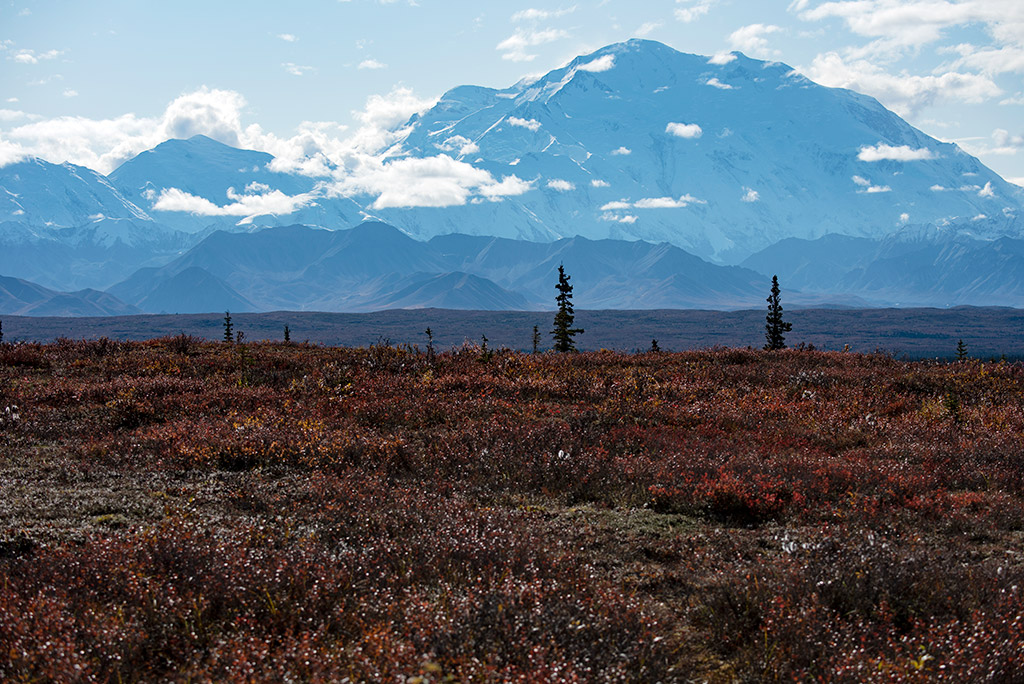 End of the road in Denali National Park
In the morning, we took the first green bus from the road and decided to go to the end of Denali National Park road. It was a great trip. We did not expect that it would be possible to take so many exciting and good photos of the bus windows. But the driver stopped very often. So we could easily take pictures of the beautiful mountains and animals.
From the Eielson Visitor Center, we had an excellent panorama view. On the way, we also encountered moose, caribou, and grizzly bears next to the road. The weather was great, the morning fog had fallen, and the light was beautiful. More information about photo opportunities you will find in the Photography hints section.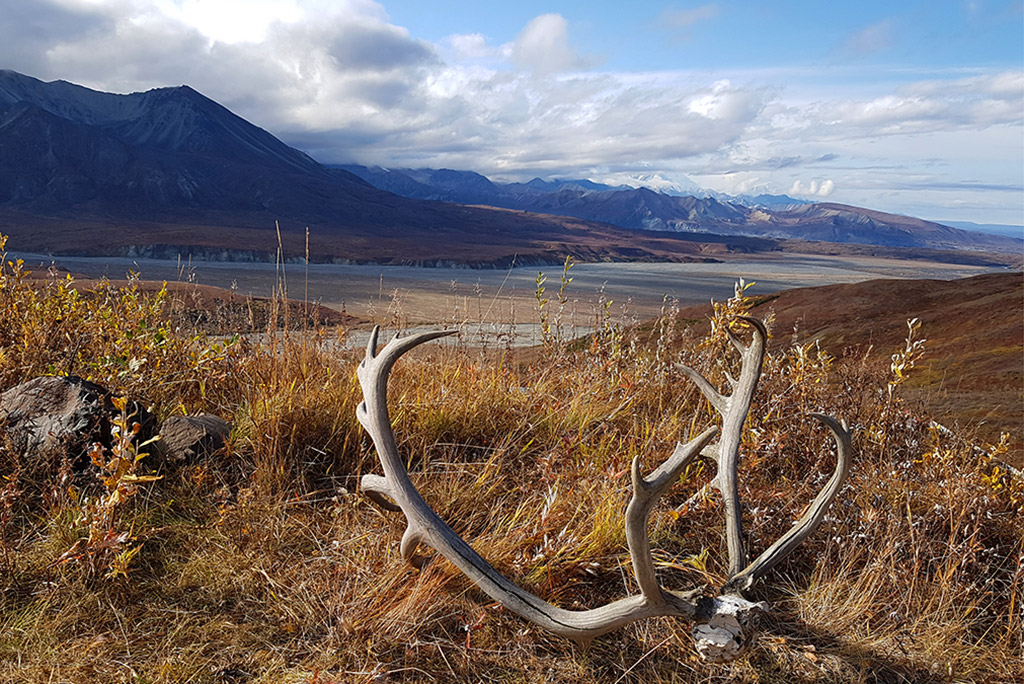 When we got to Wonder Lake, we took off the bus and went for a short, beautiful trail. We took an easy two-mile hike from the Wonder Lake Campground to the McKinley River. This is part of the climbers' historic route to Denali (Mt. McKinley). It's easy to imagine what it must have been like as you walk in the shadow of the great one. The weather was great so we could admire the highest peak in North America – Denali.
We returned by the last park bus, with another nice driver. We must admit that the national park service is at the highest level. Each of the drivers told a lot of stories related to the park. They also shared an excellent knowledge of the habits of wild animals. They shared their experiences and were given useful hints.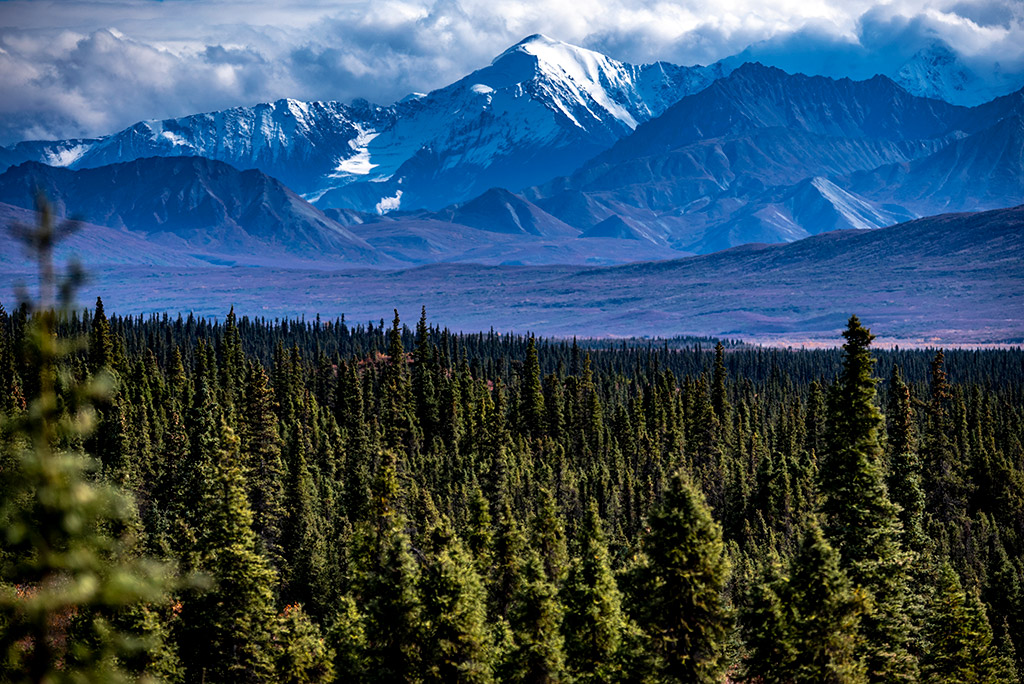 The setting sun illuminated and warmed the colors of the autumn mountains. Suddenly the driver stopped. On our left, right next to the road, there were two mighty, majestic moose. Their massive antlers swayed sideways. They were so close! It was a fantastic experience! We explored the park near our campsite for three days and traveled by bus along the road. It was a great experience that we plan to repeat soon. We visited Denali a few more times since camping there but without camping, as a day trips.
Please check the video below – it was recorded with a fantastic DJI Osmo Pocket camera. Check also our review here.
Practical Information about Denali National Park Camping
How to get to Denali National Park and Preserve?
Denali National Park and Preserve, located in Interior Alaska, is accessible by train or car. Located at Milepost 237 on the George Parks Highway (Alaska 3), Denali National Park & Preserve is 237 miles north of Anchorage and 125 miles south of Fairbanks. Commercial airlines, like Alaska Airlines, fly into Fairbanks and Anchorage annually.
Car or RV
Car and RV rentals are available in Anchorage and Fairbanks, and we share our opinion about the rental car in Anchorage in our 10 Days Alaska Itinerary for 2023. Check day 1. Check our review of Alaska Auto Rental, as we can highly recommend this rental company, which offers great cars and services.
Shuttle service to Denali
It is possible to take a shuttle service from Fairbanks, the fastest and the most economical way to transfer between Denali National Park and Fairbanks.
Train to Denali
The Alaska Railroad Corporation makes daily trips from Anchorage to Denali. If arriving via the Alaska Railroad, don't forget to book your shuttle service between the Denali National Park & Preserve Train Depot and your hotel. The depot is located several miles from most hotels, and taxi service is not readily available.

Where to stay – lodging outside Denali National Park
Accommodation options in Denali are very limited and rather expensive. We strongly suggest booking them as soon as possible and far in advance. Check the Denali lodging section or check below.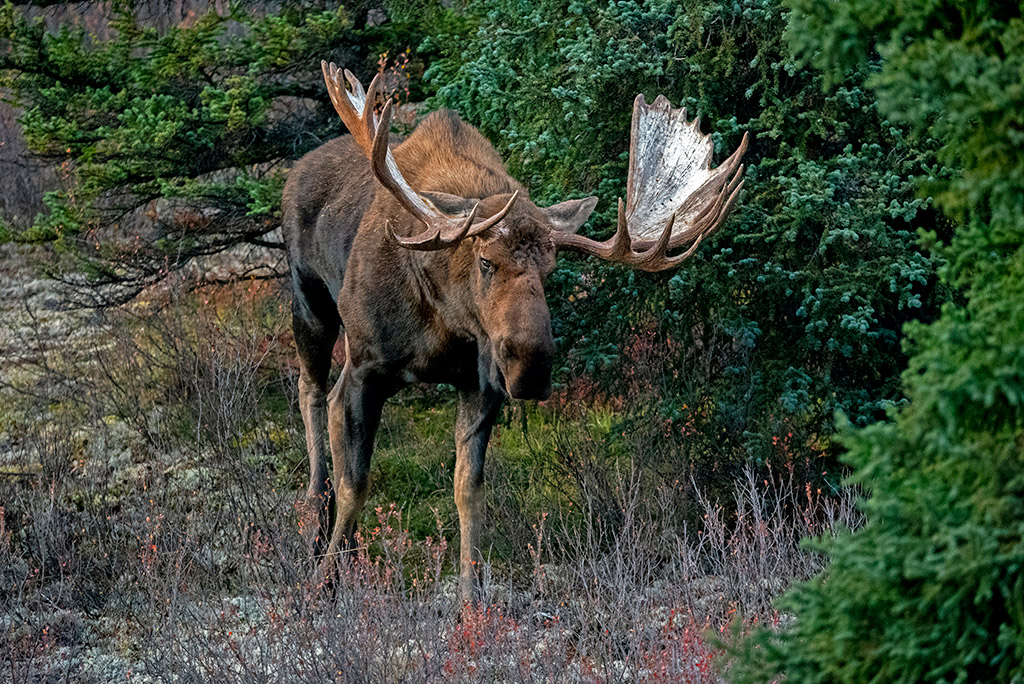 What to pack for Denali National Park Camping?
Denali National Park is a vast area, wilderness, and some threats. Therefore, prepare well for this adventure. Camping in Denali National Park might be challenging. Check our Alaska Packing Lis carefully. After three road trips in Alaska, one of which lasted over a month, we know how to prepare and what to pack. So, check our detailed tips.
What to do in Denali National Park?
Enjoy the wild nature! It's a beautiful experience. In our 10 Days Alaska Itinerary for 2023 we give you detailed suggestions on what to do for two days in Denali. Check it, please. And if you have questions – ask.
Even if you have only one day to spend in Denali – it's worth doing it! It's still a chance to take magnificent wildlife and landscape photos from the bus. If you have more than one or two days to spend in this park, some of the organized Denali tours are worth considering.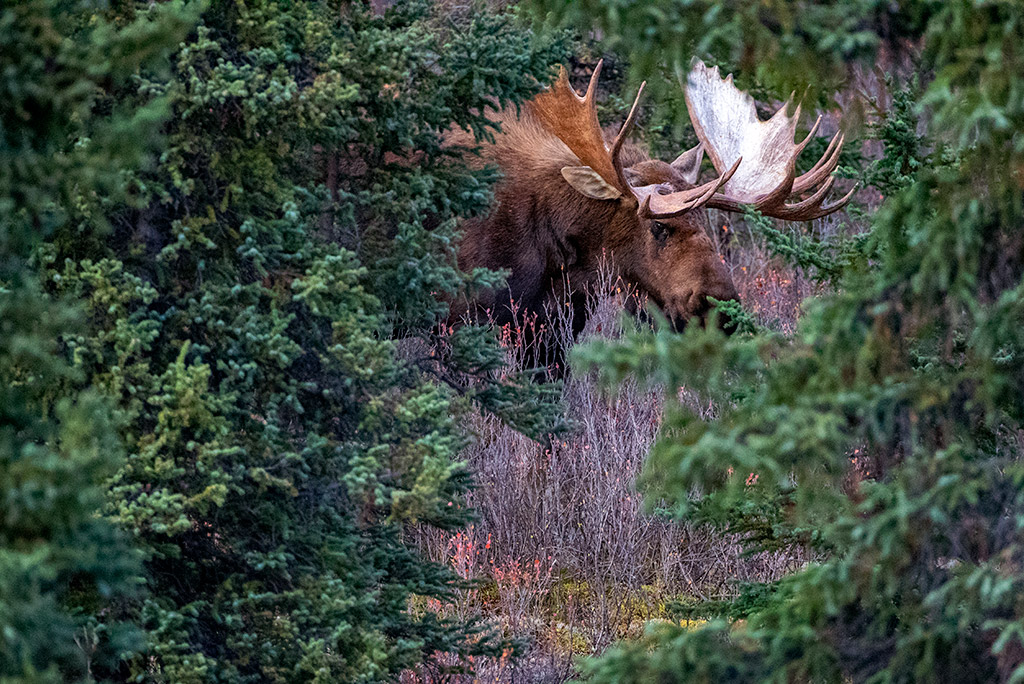 Denali tours are well prepared. You get the chance to know the exact information about the park, its flora, and its fauna. And above all, during organized Denali tours, you have the opportunity to take magnificent wildlife and landscape photos because the guides know where to go. You can also take advantage of various organized activities you cannot experience alone.
The most exciting suggestions are:
Denali flightseeing. Flight over the mountains is possible from Talkeetna. Denali Flight with Glacier Landing was a fabulous experience. It wasn't cheap, but worth the price, especially the flight with glacier landing, which we highly recommended. It's a fantastic experience. During your flight, you can take great mountain photos and Kahiltna Glacier photos, the longest in Denali National Park, during glacier landing. Here you can check our photos from our flight over Denali and our review! A cheaper but still great option is Denali flightseeing without glacier landing. Below you can check the availability of the trip we bought, it was terrific, and we dream of repeating it.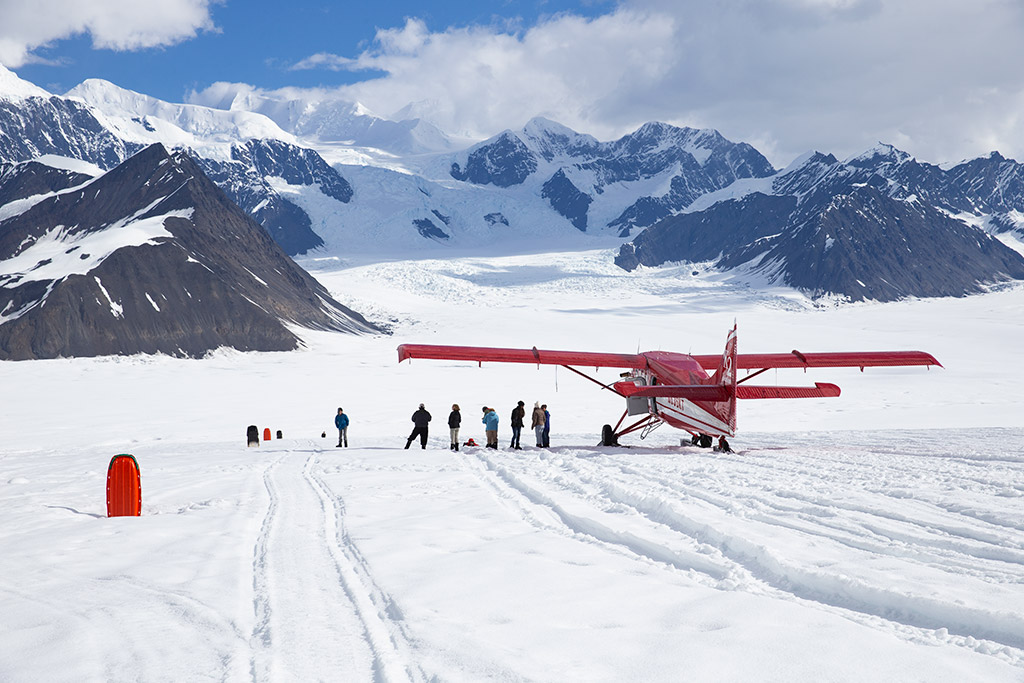 If you are in Denali during Aurora season, it's great to catch Northern Lights. If you don't have experience, it's worth doing it with guides during the Denali Aurora tour. They know the ideal location for stargazing and catching the elusive Aurora Borealis.
If you like increasing your adrenaline during off-road adventures, you can consider jeep or safari Denali tours: Denali Backcountry Safari or Denali Highway Jeep Excursion. But during these tours, it's rather difficult to take photos.
If you like flora and fauna and maybe macro photography, a short hike with a guide along the tundra and taiga is worth considering. The guide teaches you about the Denali area's local wildlife, flora, and history during the Denali Midnight Sun Backcountry Hike.
Where to eat in Denali National Park?
There is no food available in the park. There is no store, no restaurant or bar. You have to take food with you. Regardless of whether you go on a 1-day bus trip or decide to stay a few days at the campsite, you need to buy and take all the food yourself. Denali has several shops before entering the park, but the prices are quite high. So it's better to think carefully and shop early for your needs. The Riley Creek Mercantile is the last stop where you can buy something. It's located 1/2 mile along Park Road at the west end of Riley Creek Campground. The Mercantile offers firewood, groceries, clothing, and other services and conveniences, but prices and choices are higher.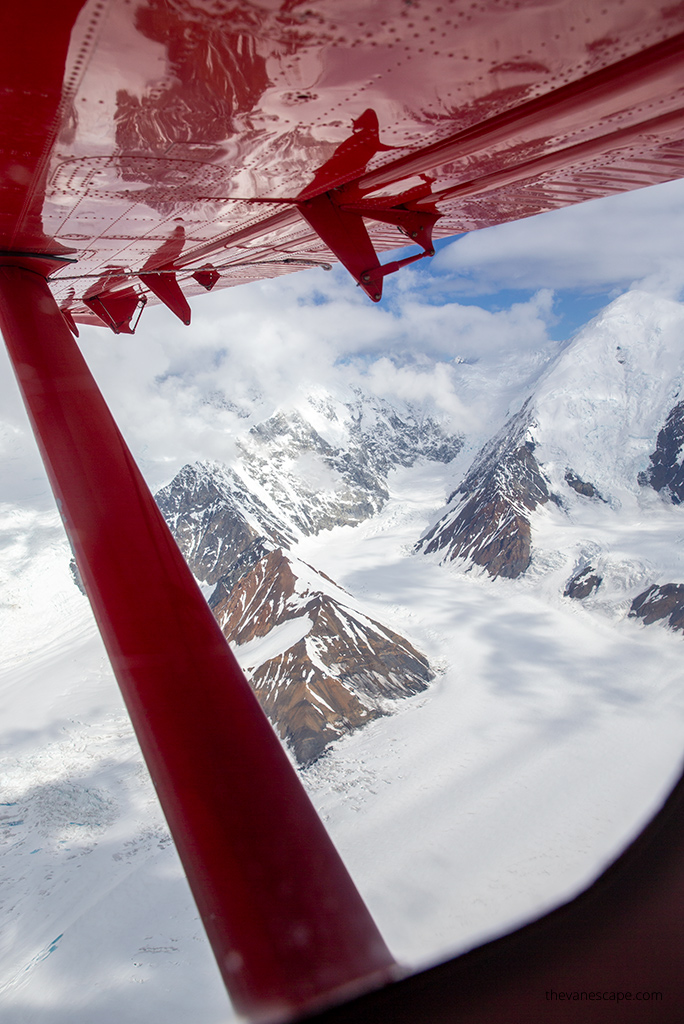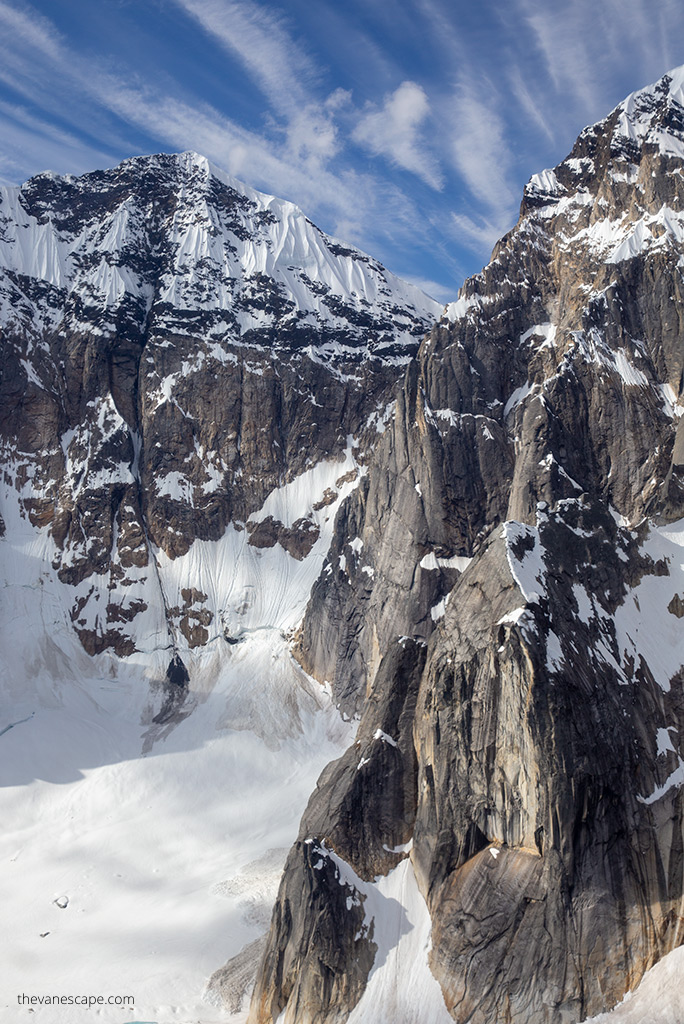 Photography Hints for Denali National Park
More Photography Tips you will find in our Guide for Wildlife Watching in Denali.
What season is best for Alaska photography?
The season lasts 4 months – from Mid-May to Mid-September. From mid-September, Denali roads and campgrounds are closed for the winter season. Visiting Denali is possible during winter, but you need permits, so please check it.
What time of day is best?
The best time for taking photos in Denali is the morning for sunrise and the afternoon for sunset. So it's worth staying for a night in Denali. But if you are going by bus and have only one day – you still have many opportunities to take great shots of wildlife and landscapes. You can also check recommendations in our 10 Days Alaska Itinerary for 2023.
What photographic opportunities are in Denali National Park?
You have plenty of opportunities. It depends on how long you will stay in Denali and how the weather will be.
If you take only a one-day bus trip, take the longest one. Then you can see some wild animals: bears, moose, caribou, and a wolf. Wildlife can be seen just about anywhere in the park. The longer a bus trip you take, the better your odds of seeing wildlife. The bus driver gives people time to take photos. They are also some longer stops during the trip.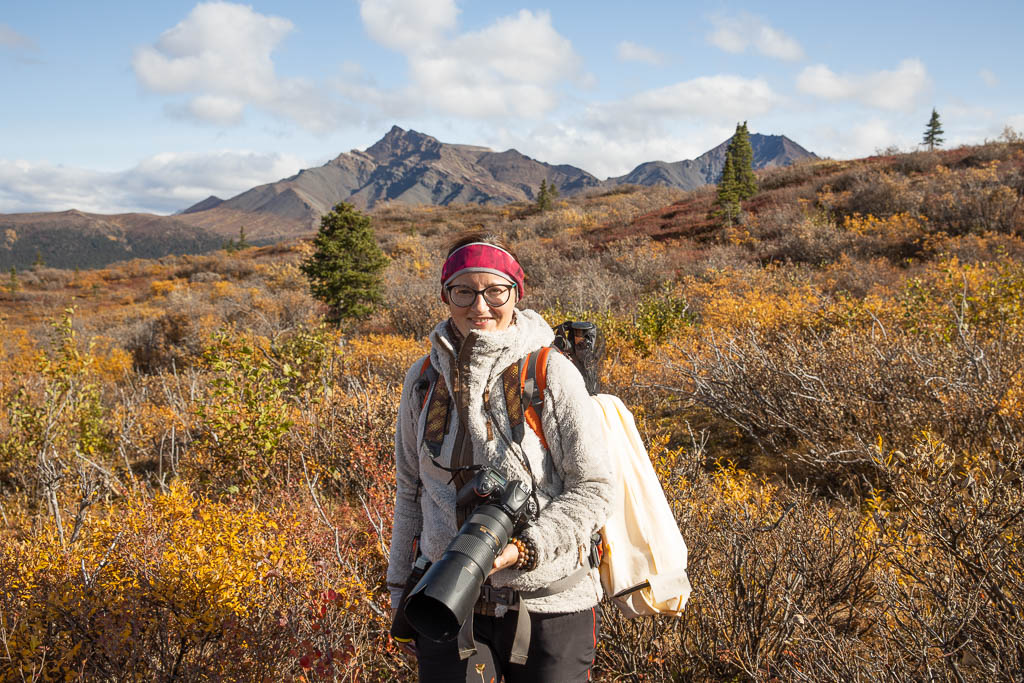 Mount Denali dominates the landscape, so you can take a picture if the day is clear. There are few viewpoints on the road where it is possible to see McKinley. A great view is at Stony Dome, located at mile 62. You can reach this point with the Eielson, Wonder Lake, or Kantishna transit buses; or the Kantishna Experience Tour. One of the most iconic and photographed images of the mountain is from Reflection Pond, just beyond mile 85. Check our 10 days plan to see bus trip recommendations. You can see mountains of every size and shape. Fall colors are amazing, but also, during summer, the views are breathtaking.
TRIP TIP: If you like organized photo tours, consider Denali Photo Excursion or Backcountry Photo Excursion in Denali.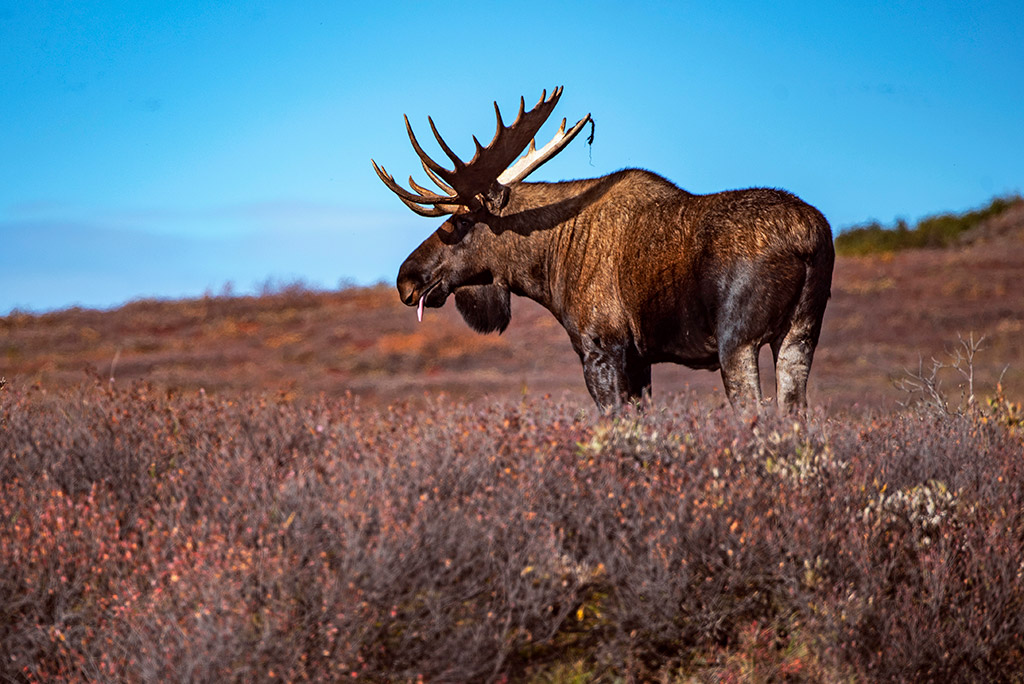 What gear should you take?
Long lenses would be the best for wildlife and landscape. Our choices are light and flexible: Nikon AF-S NIKKOR 80-400mm f/4.5-5.6G ED VR (Agnes' choice) and Canon EF 100-400mm f/4.5-5.6L IS II USM Lens (Chris' choice).
For landscape photography, sometimes it is better to use a wider lens. We had regular 24-70/2.8. Agnes used Nikon AF-S FX NIKKOR 24-70mm f/2.8E ED Vibration Reduction Zoom Lens, and Chris used Canon EF 24-70mm f/2.8L II USM.
Regarding the camera choice, Agnes used Nikon D750, and Chris Canon EOS R. Both cameras were ideal for Denali due to their quality and flexibility. They were light enough as well to pack into a camping backpack.
Tripod is necessary for landscapes for sunrise and sunset. We are using Sirui, but you can try one of those. If you have only one day trip, you probably won't use it.
If you will stay longer in the Park, remember that there is no electricity. So take spare batteries and memory cards. Agnes uses SanDisk, and Chris is a fan of Lexar memory cards.
Does it require any hiking or other activities?
You can take all day round trip by bus. And it doesn't require any activities. But hiking in Denali is a great experience. Before you go, prepare yourself to encounter a bear.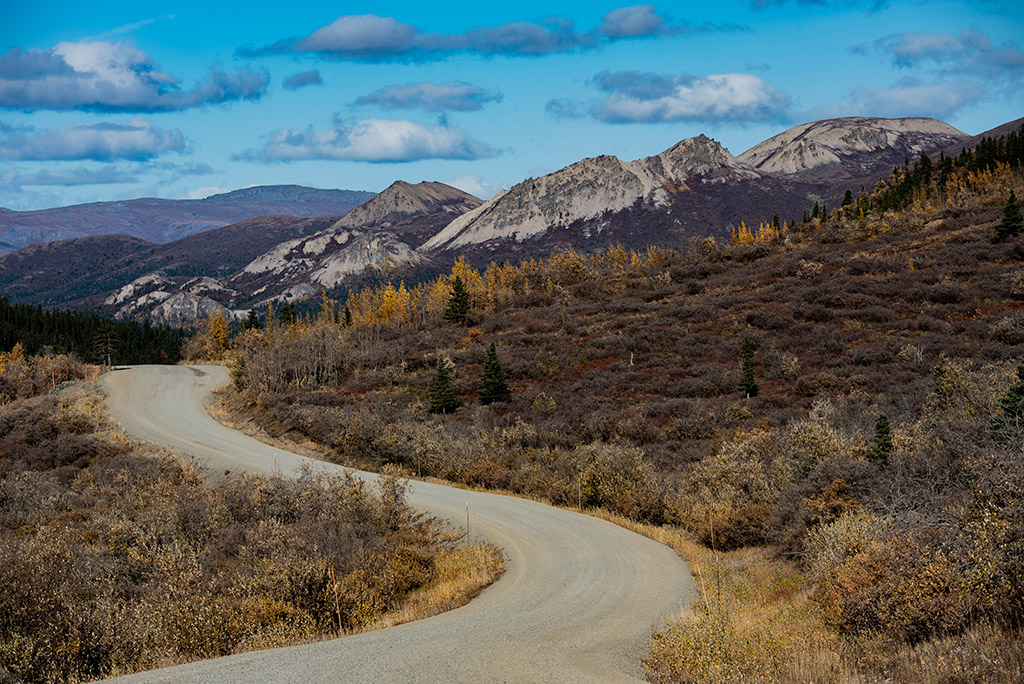 What kind of clothes do you need?
You have to be prepared for the four-season, especially if you are going to Denali. It might be warm during the day, but it can still get cool in the evenings and mornings. So for us, the best idea is to pack thermal underwear. Most notable in the mountains are hiking waterproof boots. A windbreaker jacket is a must-have as well. And if you would like to stay a few days higher in the mountains, especially in Denali National Park, you should be prepared even for winter. A winter waterproof jacket, winter hat, and gloves will be needed. More tips you will find in our Alaska Packing List.
How long I need to get great pictures here?
Spend there as much time as you can. It's a fantastic place for photographers and worth spending as much time as possible to take magnificent, unique photos there. Your chances depend mostly on the weather if you have only one day. It might be raining, a cloudy day, and your chances are much lower. So 2-3 days for taking photos in Denali should be a minimum, and the week in Denali National park would be perfect.
Plan Camping in Denali National Park? Check out other Alaska articles to find more inspiration
If you don't already have a specific itinerary for Alaska, please browse through some of our articles below to find the most exciting activities that match your interests and needs. Finally, oll our articles about Alaska you can find here.