7 Things to Do in Deadhorse, Prudhoe Bay in 2023
Have questions about how to spend the day in Deadhorse, Alaska? What are the top things to do in Deadhorse, Prudhoe Bay? How to see the Arctic Ocean? How to plan a trip to this remote Alaska location, and what to expect? Check our tips and photos! We give you a detailed list of the top 7 Things to Do in Deadhorse Prudhoe Bay in 2023.
This article may contain affiliate / compensated links. For full information, please see our disclaimer here.
7 Things to Do in Deadhorse, Prudhoe Bay – Our Experiences
We have often been to Alaska, but Deadhorse in Prudhoe Bay is one of the most remote places we've reached so far. To get there, we traveled the gravel, 414 miles one way Dalton Highway, one of Alaska's most beautiful but also the most demanding routes. You need to be well-prepared for the journey through Dalton. Our dream was to dip our feet in the icy Arctic Ocean. Is Prudhoe Bay worth visiting? What are the most exciting things to do in Deadhorse in Prudhoe Bay? And where did this strange name come from? How to get to the Arctic Ocean in Alaska from Deadhorse? What is Prudhoe Bay weather like? After spending a few days there, we share our experiences and give you many tips to prepare for this far-north Alaska adventure.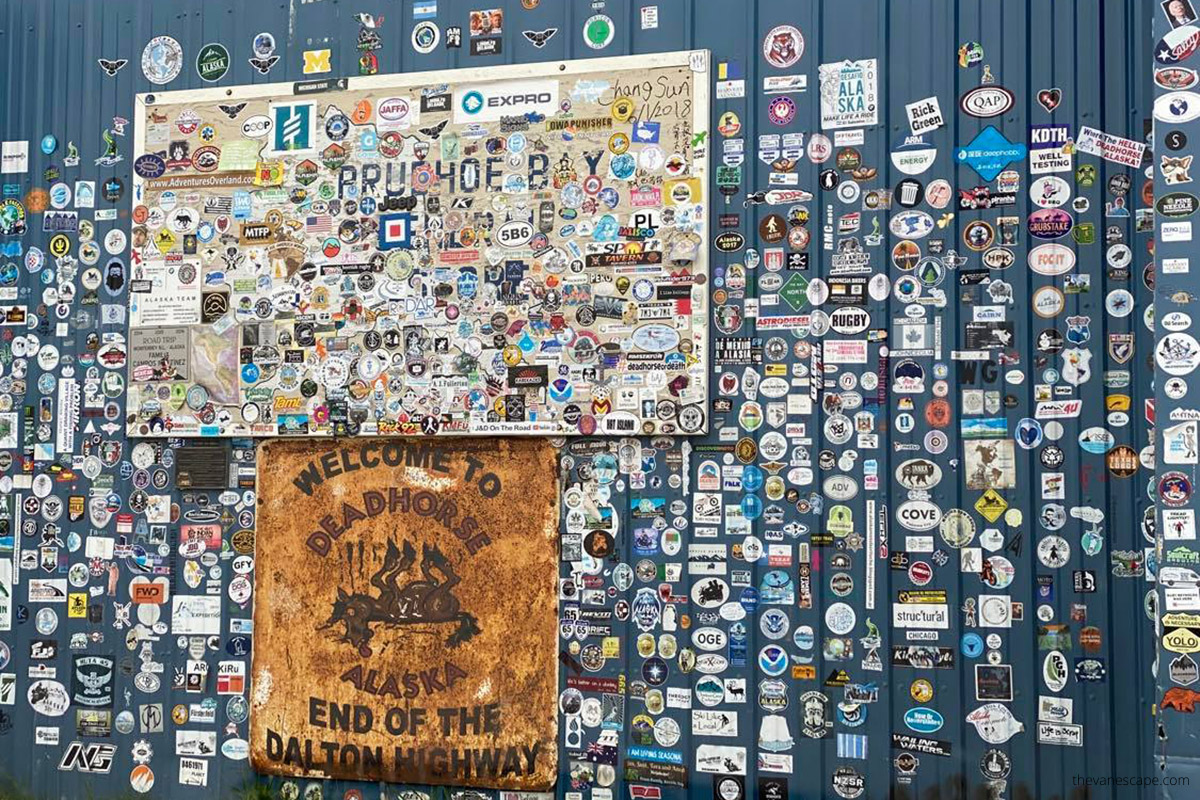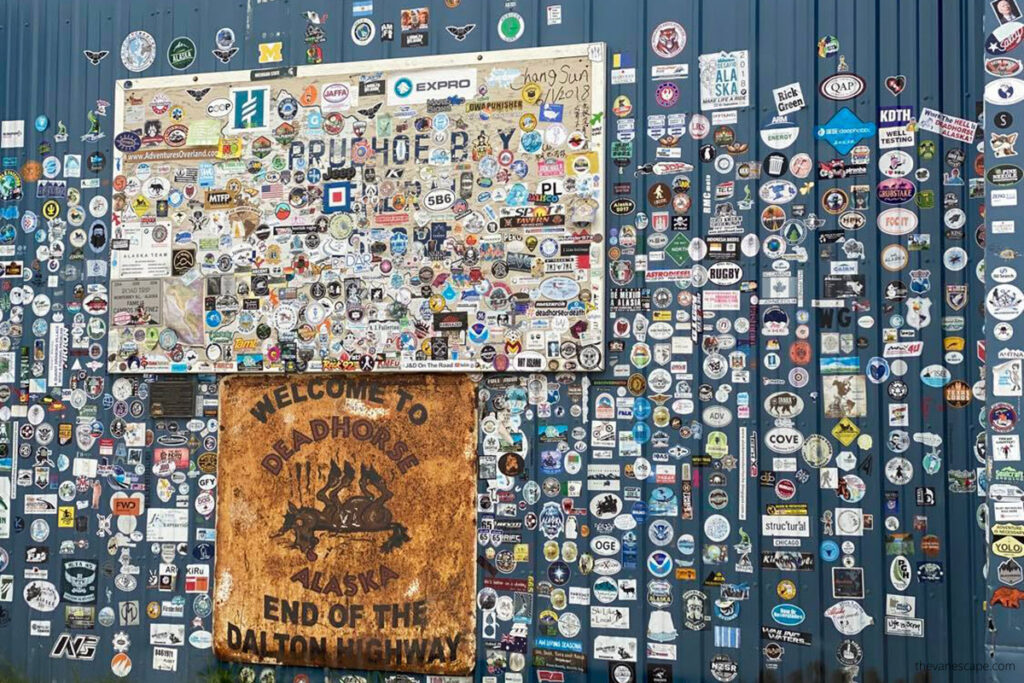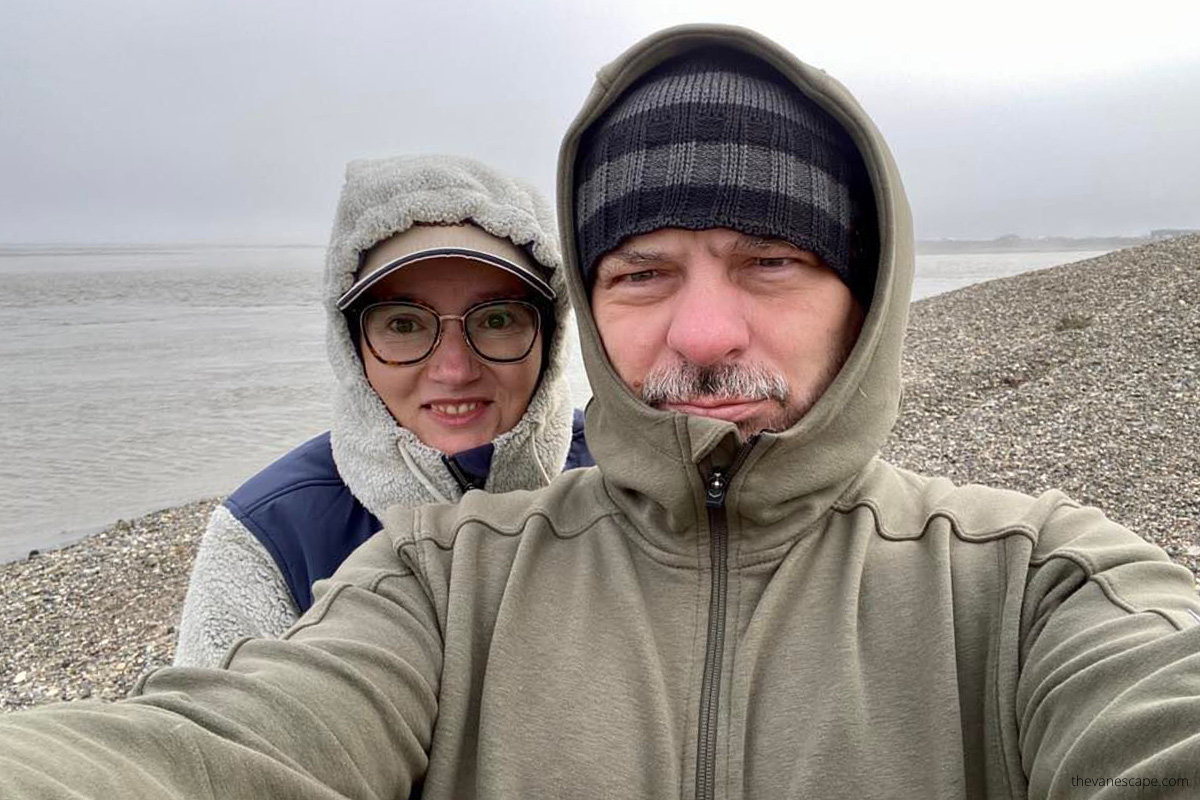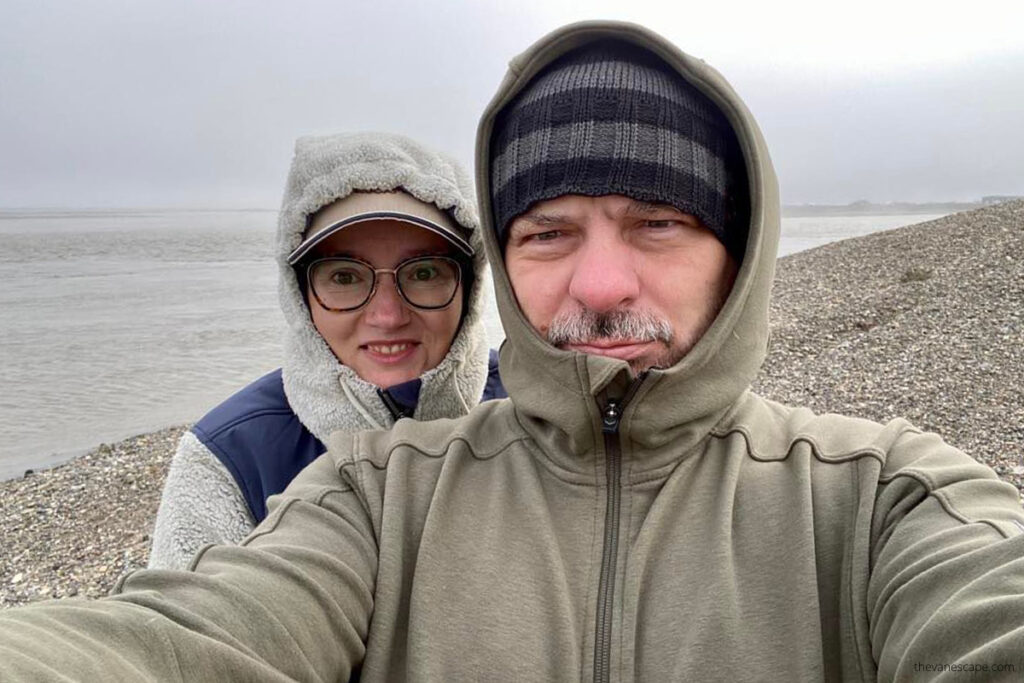 Before you read on, please watch this 3-minute video of our route to Deadhorse in Prudhoe Bay via Dalton Highway.
Where is Deadhorse, Prudhoe Bay?
Prudhoe Bay is in North Slope Borough in the northernmost part of Alaska, on the coast of the icy Arctic Ocean. It's 240 miles north of Coldfoot, 300 miles of the Arctic Circle, 498 miles from Fairbanks, and 1072 miles from Homer. Prudhoe Bay is known for its oil fields, the largest in the United States and North America.
The largest town in Prudhoe Bay is Deadhorse. It's 10 miles from the Arctic Ocean. This is where you'll get when traveling along the Dalton Highway. The whole life goes on in Deadhorse. There is an airport, stores, and hotels. But Deadhorse is not a typical Alaskan town like Talkeetna or Homer. The Deadhorse is a very industrial place, which consists mainly of facilities for the workers and companies that operate at the nearby Prudhoe Bay Oil Field. Most of the buildings in Deadhorse are modular, prefabricated types that sit on gravel surfaces in the tundra swamp. Nearly all are oilfield or pipeline support businesses, such as drilling, construction, and maintenance. From Deadhorse via the 800 miles-extended Trans-Alaska Pipeline System (TAPS), oil from Prudhoe Bay is transported to Valdez on the south-central Alaska coast.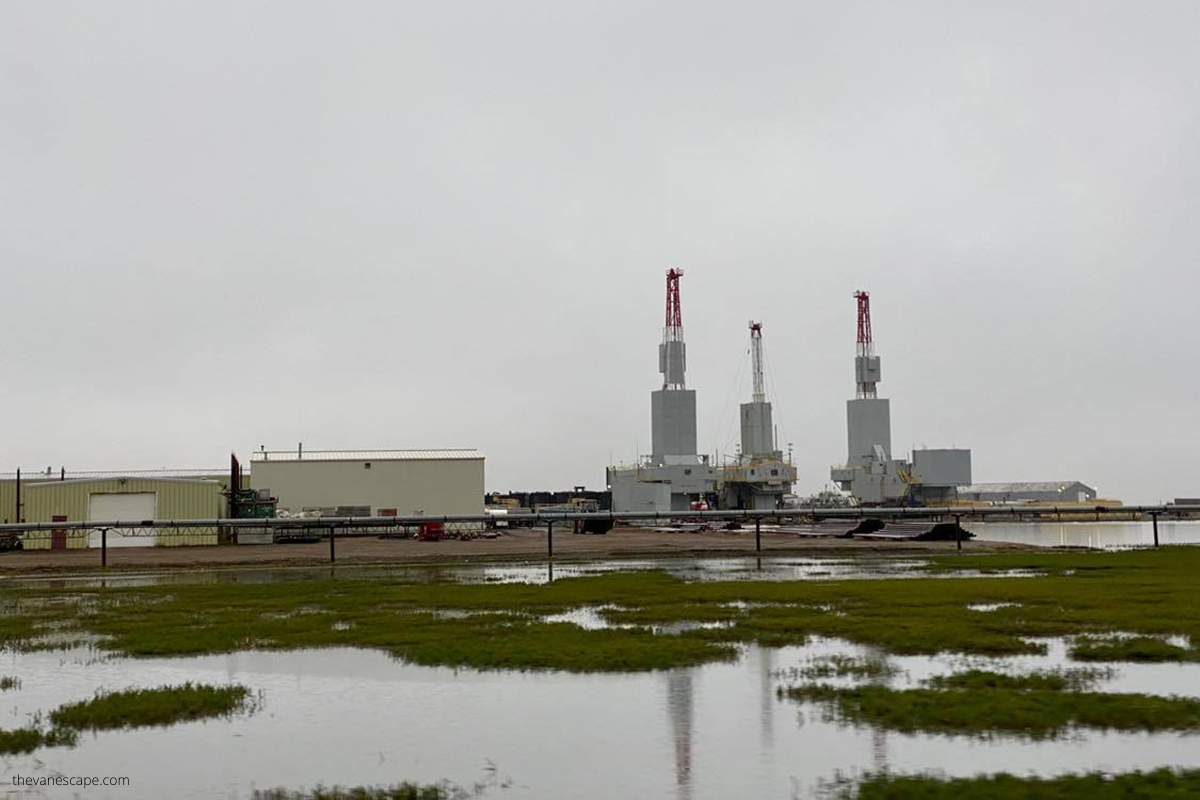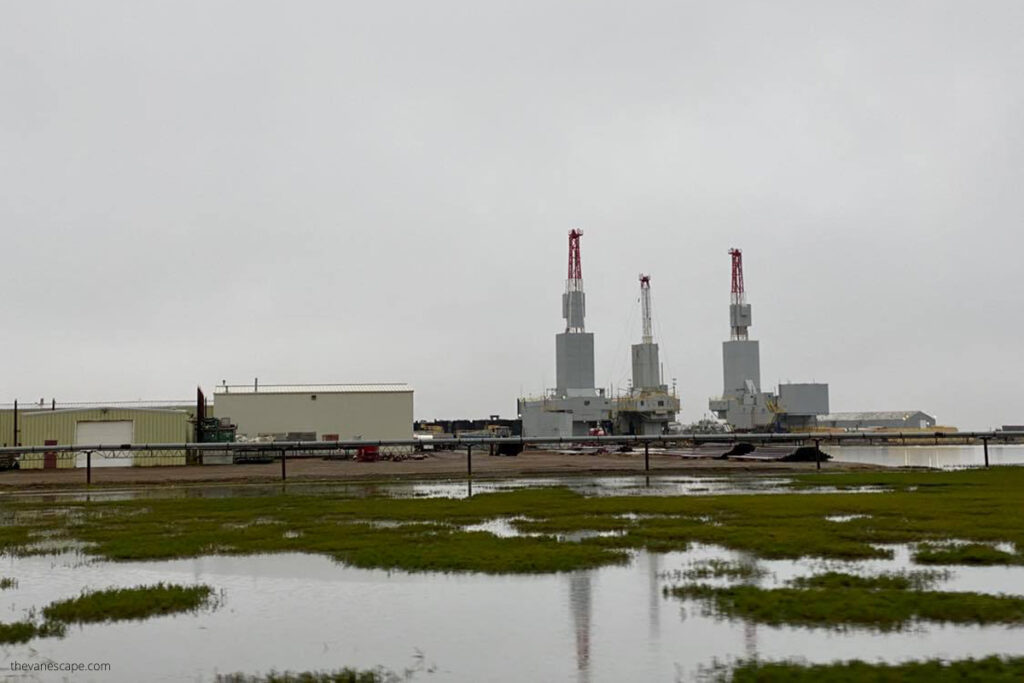 How to Get to the Deadhorse and Prudhoe Bay?
Access to Prudhoe Bay and Arctic Ocean Access Restrictions
It's crucial to know that access to Prudhoe Bay is restricted. Also, there are Arctic Ocean access restrictions. Access to the Arctic Ocean and Prudhoe Bay oil fields by personal vehicle isn't permitted. So what to do when you get to Deadhorse? How to get to the Arctic Ocean in Alaska? You can take an Arctic Ocean shuttle from Deadhorse. Below we give you details of which tour we booked, as access to this area is restricted to oilfield workers and tour groups with special permits. As the area of Prudhoe Bay is full of industrial machinery, heavy equipment, oversized trucks, docks, and near oil fields, visitors are not allowed to move independently for safety and security reasons.
Driving the Dalton Highway to Deadhorse
You can get to Deadhorse on your own by traveling over the Dalton Highway. However, this 414-mile-long gravel route requires a lot of preparation and more time. Moreover, most rental companies don't allow driving this route. We had a vehicle adapted for this route rented from a local company Alaska Auto Rental in Fairbanks. This is one of the few rental companies allowing driving the Dalton, so look at our review.
Look at our previous articles to carefully plan your trip to Deadhorse and Prudhoe Bay if you want to drive the Dalton Highway on your own. There are plenty of unique places to see along Haul Road. Check out our related articles for tips and more inspiration. We suggest how to prepare the vehicle for the route, the safety rules, where gas stations are, where you can eat something tasty, and where to sleep. Finally, we list the highlights along the fabulous Dalton Highway. We spent over ten days, and we want to repeat this trip.
The route is full of potholes and dangerous turns but also stunningly beautiful. While driving the Dalton Highway, you will cross the Yukon River, the Arctic Circle, and Atigun Pass. You can admire the spectacular Brooks Range Mountains, Gates of the Arctic National Park and Preserve, and the Arctic National Wildlife Refuge, which are along the way. Moreover, you have excellent wildlife viewing opportunities, including caribou, grizzly bears, moose, arctic foxes, and musk oxen. Also, more than 200 species of birds are in this area. Throughout the way, you can also observe the serpentine of the Trans Alaska Pipeline integrated into the mountain landscape. We liked this view.
Arctic Ocean Tours from Fairbanks
If you don't have much time but want to drive the Dalton Highway, see Deadhores and Prudhoe Bay, and dip your feet in the Arctic Ocean, consider a guided Arctic Ocean Tours from Fairbanks. Thanks to this, you will see the most interesting points on the route and visit Deadhorse with a local guide. You will learn exciting facts about the oil fields, deposits, and annual production. Moreover, you will learn about gold mining history in the area, visiting the town of Wiesman and Coldfoot Camp. These types of trips usually last 3 or 4 days, depending on your chosen option.
Air Taxi to Deadhorese and Prudhoe Bay
The third option to get to Deadhorse and Prudhoe Bay is via daily jet service from Anchorage or Fairbanks. Alaska Airlines has flights to Deadhorese from Anchorage. Or you can hire an Alaska air taxi to get there as well. This is the quickest but most expensive way.
Top 7 Things to Do in Deadhorse Prudhoe Bay in 2023
1. Take a Shuttle to the Arctic Ocean
If you dream of seeing the Arctic Ocean, reserve your Arctic Ocean Shuttle at Deadhorse Camp. They offer Arctic Ocean Shuttle between the 26 of May and to 10 of September. It costs $69 per person. We made this trip and can recommend their service. You must book a tour at least 24 hours ahead. Moreover, for security reasons, before allowing you on the oil field. The Arctic Ocean tour from Deadhorse lasts 2 hours. Visitors are bused past the oil field to the Arctic Ocean shore. There is no other way to get from the end of the Dalton Highway road to the water.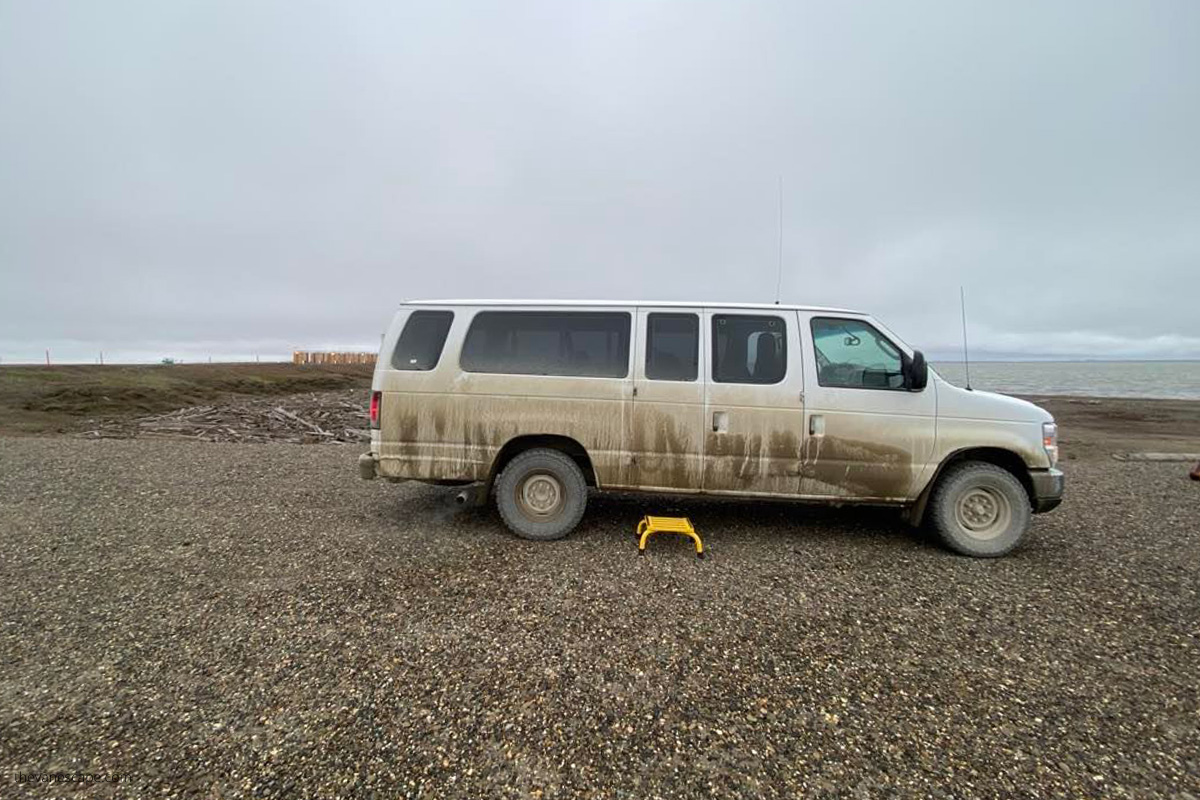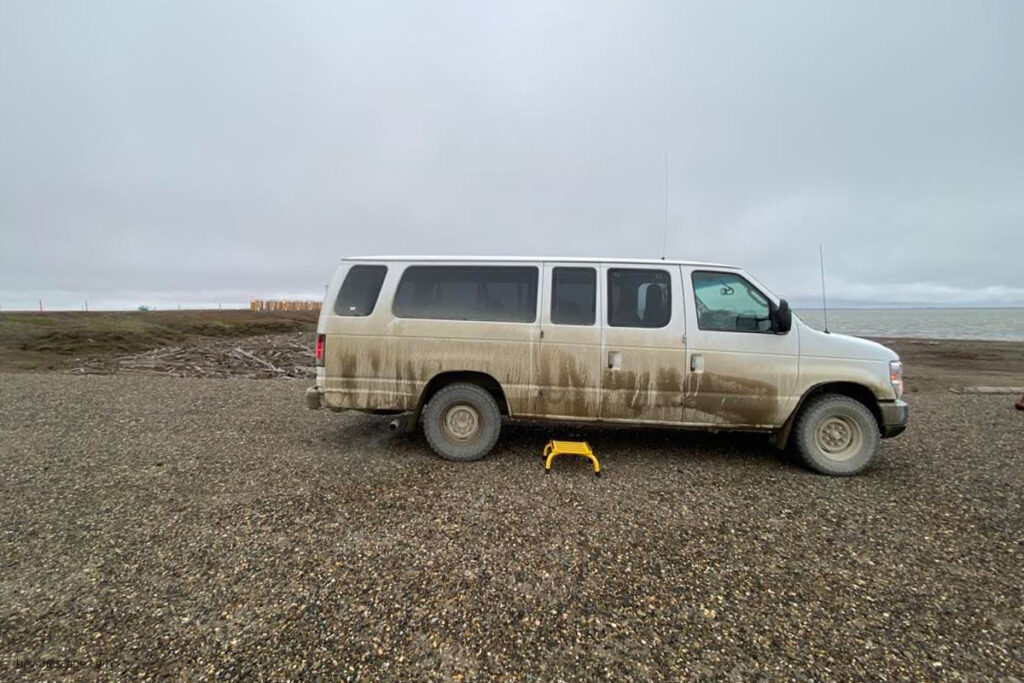 It was our second time over the Arctic Ocean. A few years earlier, we had reached the Arctic Ocean at Tuktoyaktuk while traveling on the Dempster Highway in Canada. However, it is challenging to compare the two places. Prudhoe Bay has a decidedly industrial feel to it. It looks more natural in Tuktoyaktuk. But the Arctic Ocean is just as icy, and both routes simultaneously are equally challenging and beautiful.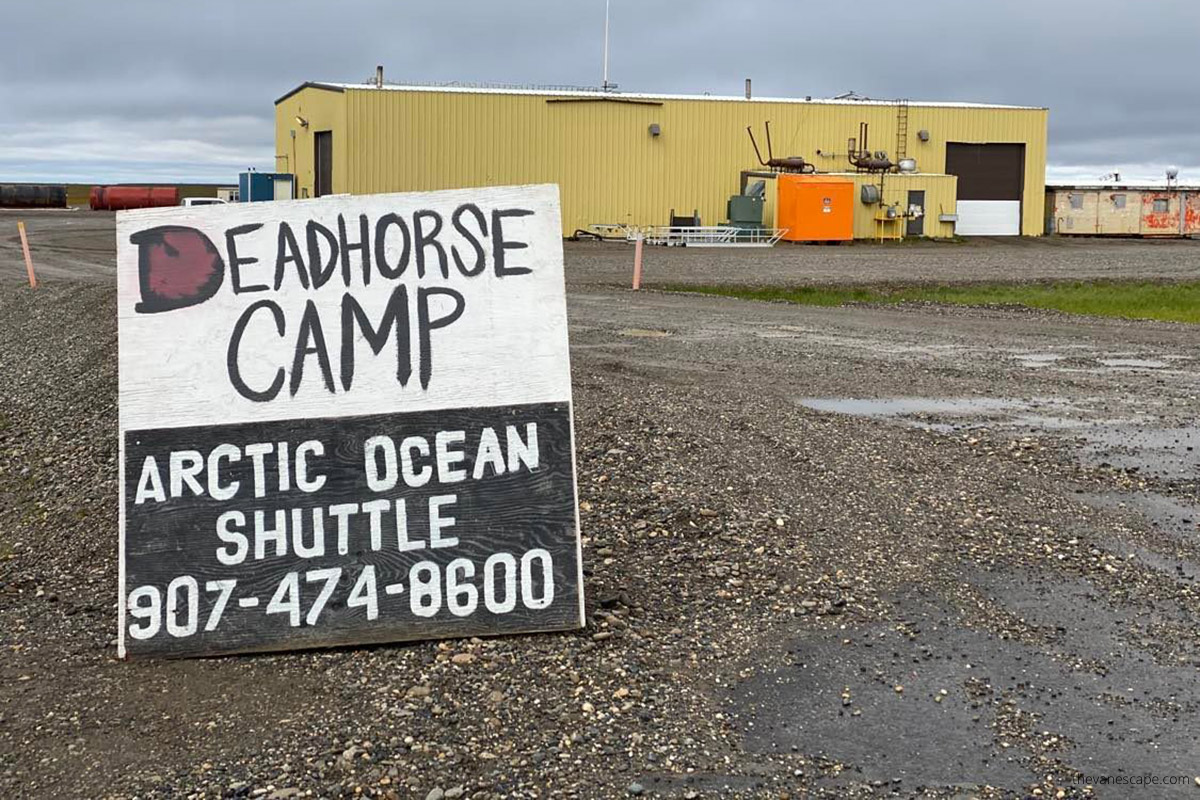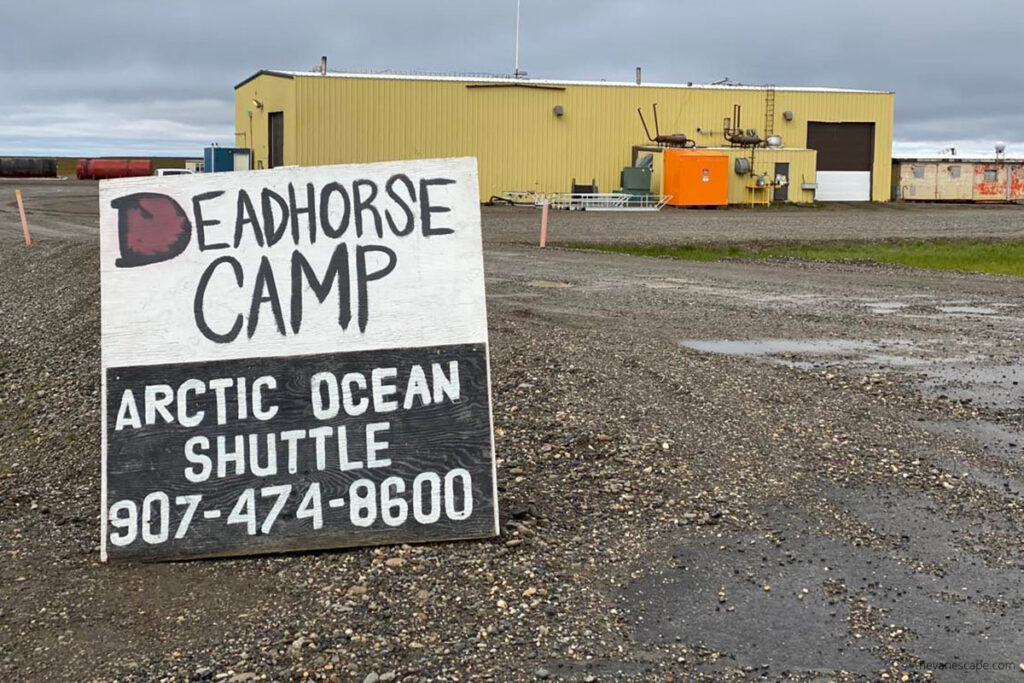 2. Dip Your Toes into the Arctic Ocean
If you like icy water, you can dip your hands or toes in the cold water of the Arctic Ocean. You can even take a short bath. A few daredevils in our group, including our guide, dipped in this icy water, as you can see in the video at the beginning of the article. For us, the water was too cold. The air temperature was 33.8 ℉ during our trip, even though it was August.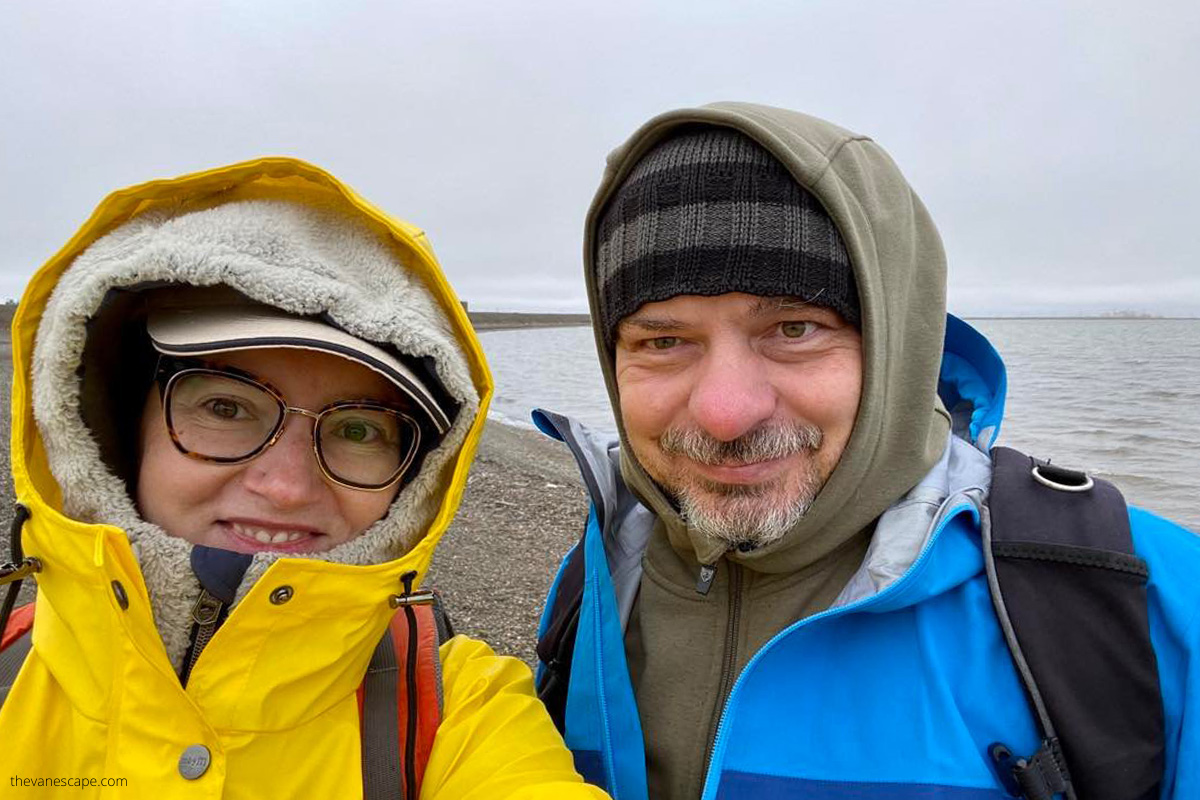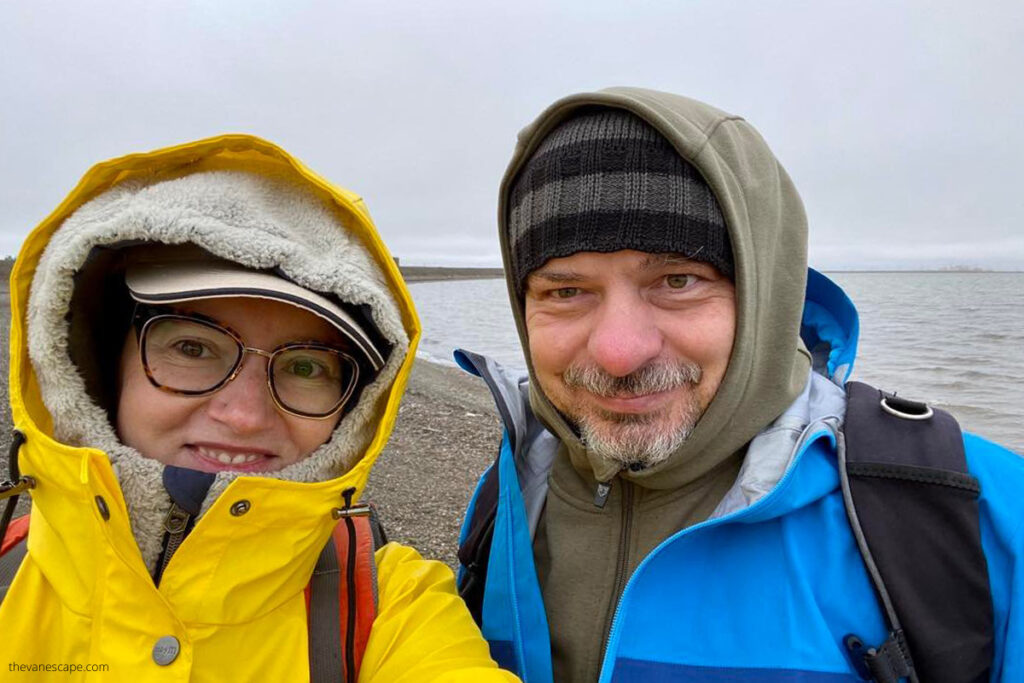 3. Visit the Oil Fields in Prudhoe Bay
During your trip to the Arctic Ocean, you will pass the oil fields and see a lot of industrial machinery. There are also some tours dedicated to the oil fields. But due to restrictions and security reasons,, you will not see too much.
4. Admire the Fragile Vegetation of the Tundra
During your Arctic Ocean tour, also focus on the marshy tundra and shallow lakes in Prudhoe Bay and Deadhorse. The freezing temperatures and short growing seasons prevent the growth of trees in the tundra, making it a treeless area. The vegetation of the tundra consists of dwarf shrubs, sedges, grasses, mosses, and lichens. The Arctic tundra is a landscape of stark contrasts. Although a few hardy species- including ptarmigans, ravens, and snowy owls- remain on the tundra year-round, most Arctic birds are migratory. Thousands of swans, terns, geese, ducks, loons, shorebirds, razorbills, and songbirds arrive in spring. The long daylight hours of the short northern summer provide rapid growth of plants, insects, and fish eager to complete their life cycles before fall.
The North Slopes tundra has rich biodiversity and some of the highest densities of Arctic birds breed here. For us it's one of the best things to do in Deadhorse and Prudhoe Bay.
However, the biodiversity is affected by the Prudhoe Bay Oil Field, which is the largest oil field in North America. Oilfields are operated with respect for the ecosystem and the environment, but pollution accidents do occur. In the summer, workers must prevent damage to critical habitat for migrating caribou and waterfowl in the wet, fragile tundra. Workers are even prohibited from entering the tundra.
5. Admire Wildlife in Prudhoe Bay
During your trip to Prudhoe Bay, you also have a chance to spot various wildlife. The area is full of waterfowl, red foxes, and caribou. As wildlife photography enthusiasts, we were surprised by the number of animals in such an industrial Prudhoe Bay area. Many caribou walked and grazed in the marshy area beside the industrial buildings. We saw several species of birds and red foxes. When driving the Dalton Highway, watch for Muskox along the road from Happy Valley to the Franklin Bluffs.
6. Take a Photo of Grizzly Bears at Deadhorse Camp
Moreover, the area of Prudhoe Bay is a home for grizzly bears. And you have to be very careful when spotting grizzly bears. They are very dangerous and powerful. They are also often hungry and looking for food. You don't want to be a tasty snack for them. We were a bit scared of these bears as they were bigger than we had seen in other parts of Alaska.
A bear viewing in Alaska is one of our favorite activities. We had the opportunity to observe and photograph bears in their natural habitat in Lake Clark National Park or Katmai National Park. But the grizzly bears in Deadhorse seem wilder. Most of the men who work in this oil field area wear a gun in case of a bear attack. We slept in a tent along the Dalton Highway. But in Prudhoe Bay, it was impossible to pitch a tent because of the large number of bears. You can spot bears all along this route, but they are extremely dangerous in the north.
So if you want to take a picture of a grizzly bear, be extra careful. Don't get out of the car or walk towards it. Use a telephoto lens. Familiarize yourself with the rules of safety in a bear country.
7. Enjoy the Midnight Sun
In the summer, you can enjoy the midnight sun in Deadhorse. The midnight sun doesn't set for almost 64 days, with constant daylight from May 20 to July 22. We were in August, and in mid-August, at 1 am was still light enough to enjoy the wild Alaskan scenery and views of tundra and Arctic vegetation and wandering caribou.
But in winter, the Prudhoe Bay area gets 55 days of darkness, from November 24 to January 18.
Lodging in Deadhorse
You must know that Deadhorse is not a place for a romantic getaway. The hotels are basic, with no comforts or modern amenities, but they are clean. Apart from staff eateries in hotels, there are no elegant restaurants here. You can't buy alcohol here, either. However, tourists can use this cafeteria-style dining at hotels.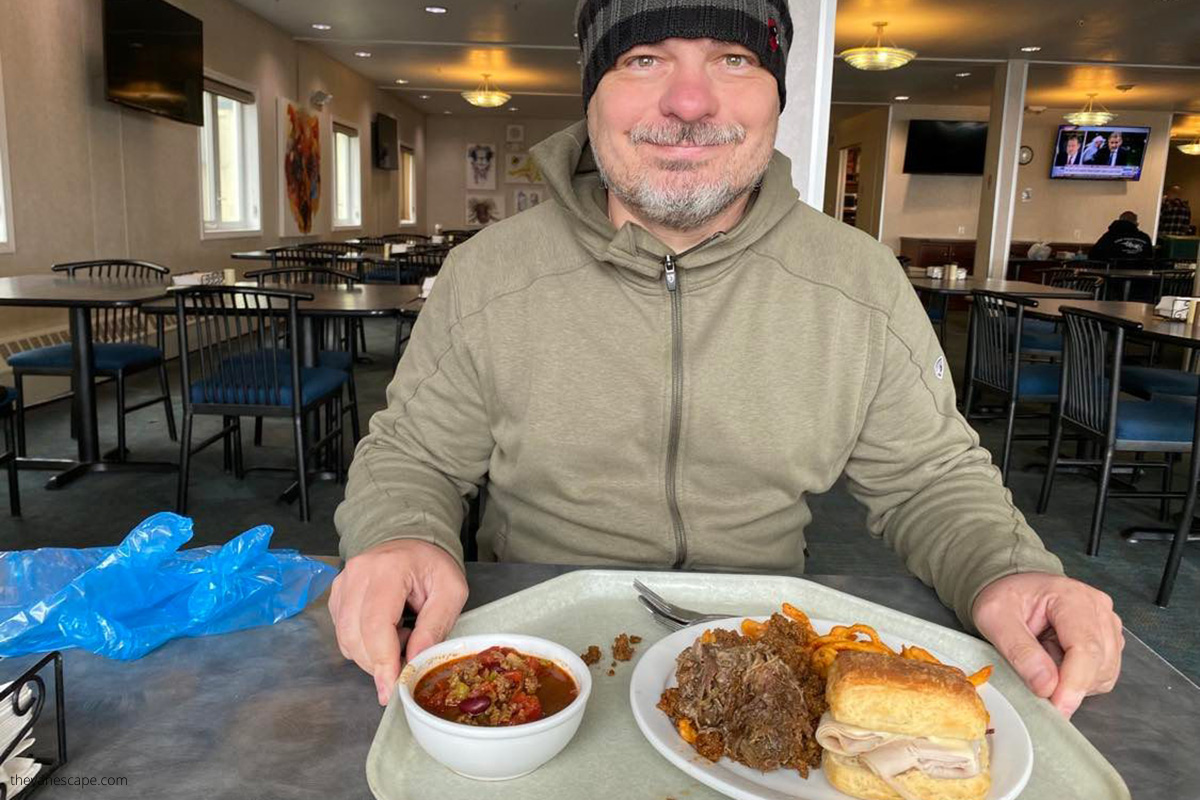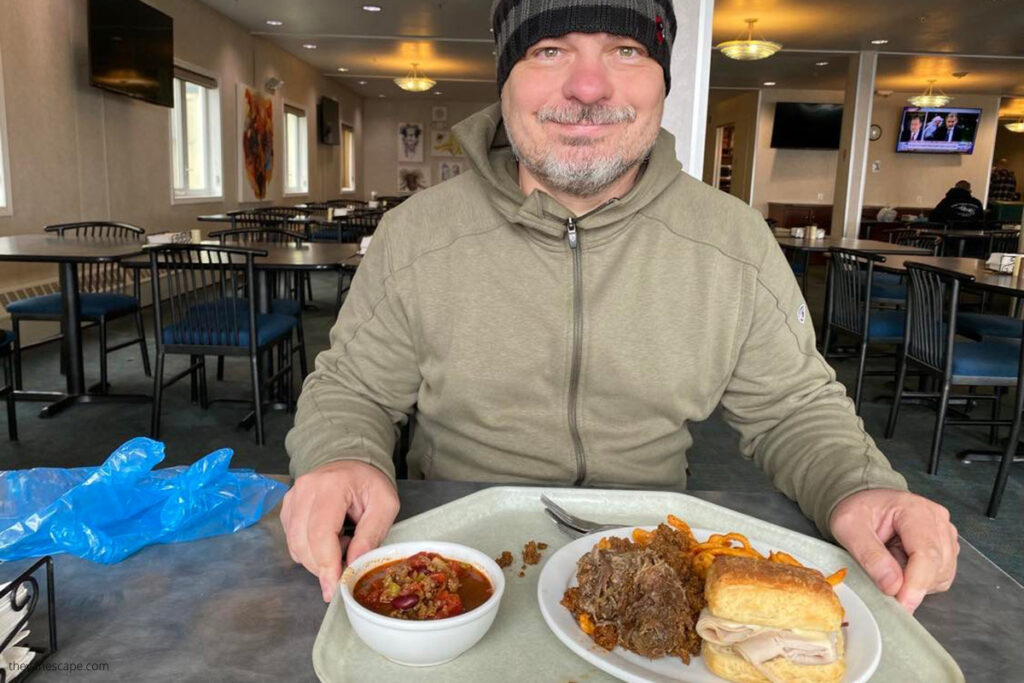 When planning your stay, book accommodation in:
Is Prudhoe Bay Worth Visiting?
In our opinion, yes. But only if you take more time to travel, and apart from Dedhorse and Prudhoe Bay, you will also see other interesting places along the Dalton Highway. If we were to see only Deadhorse and the Arctic Ocean, due to the industrial area and many restrictions, we would not revisit it. But suppose you combine sightseeing Prudhoe Bay with a visit to the Gates of the Arctic National Park, Coldfoot Camp, the historic village of Wiesman, or a scenic flight over the Brooks Range (we took this scenic flight with Coyote Air). In that case, it's worth adding Deadhorse and Prudhoe Bay to your journey through Alaska's northern and rugged part. This trip is an adventure.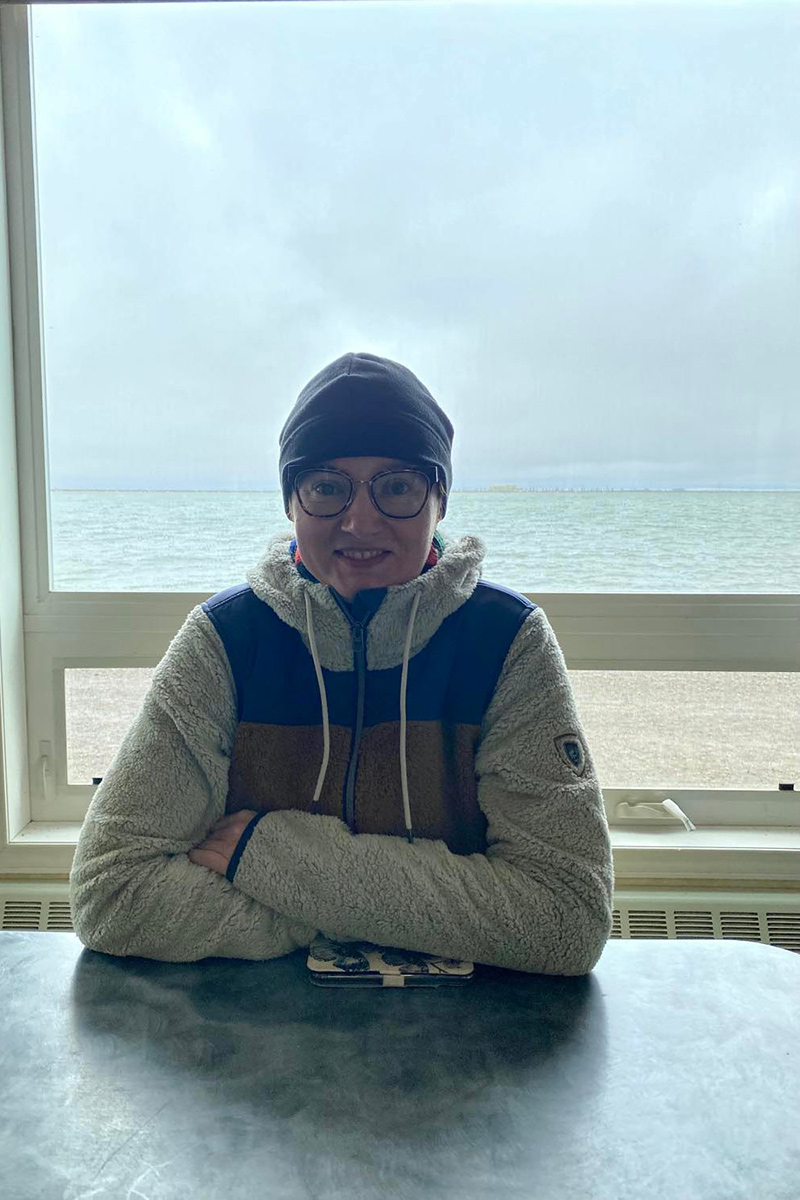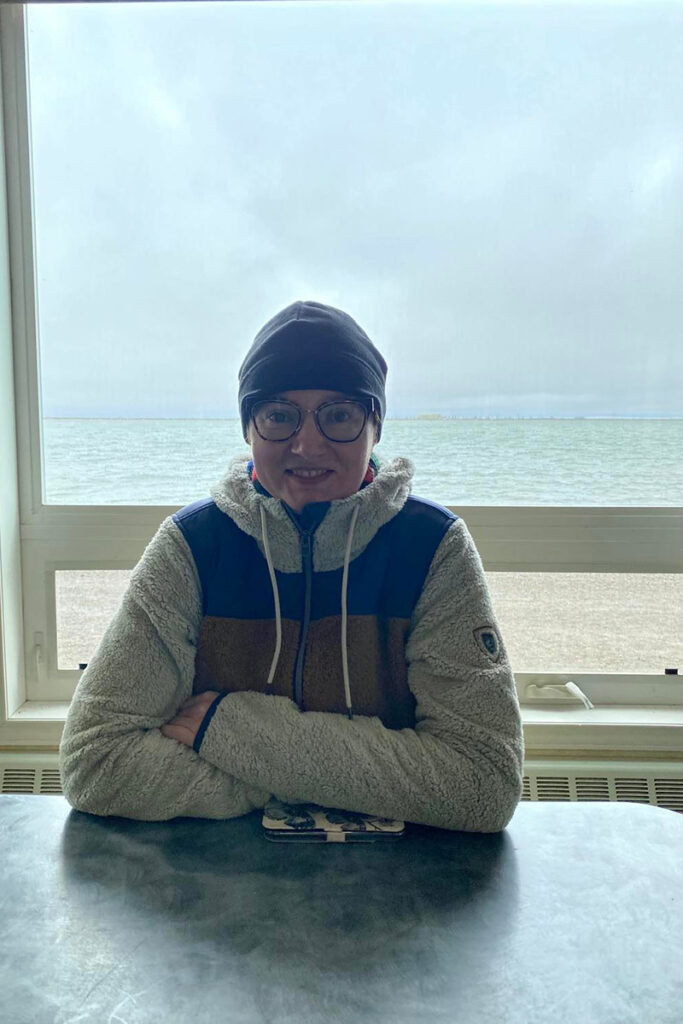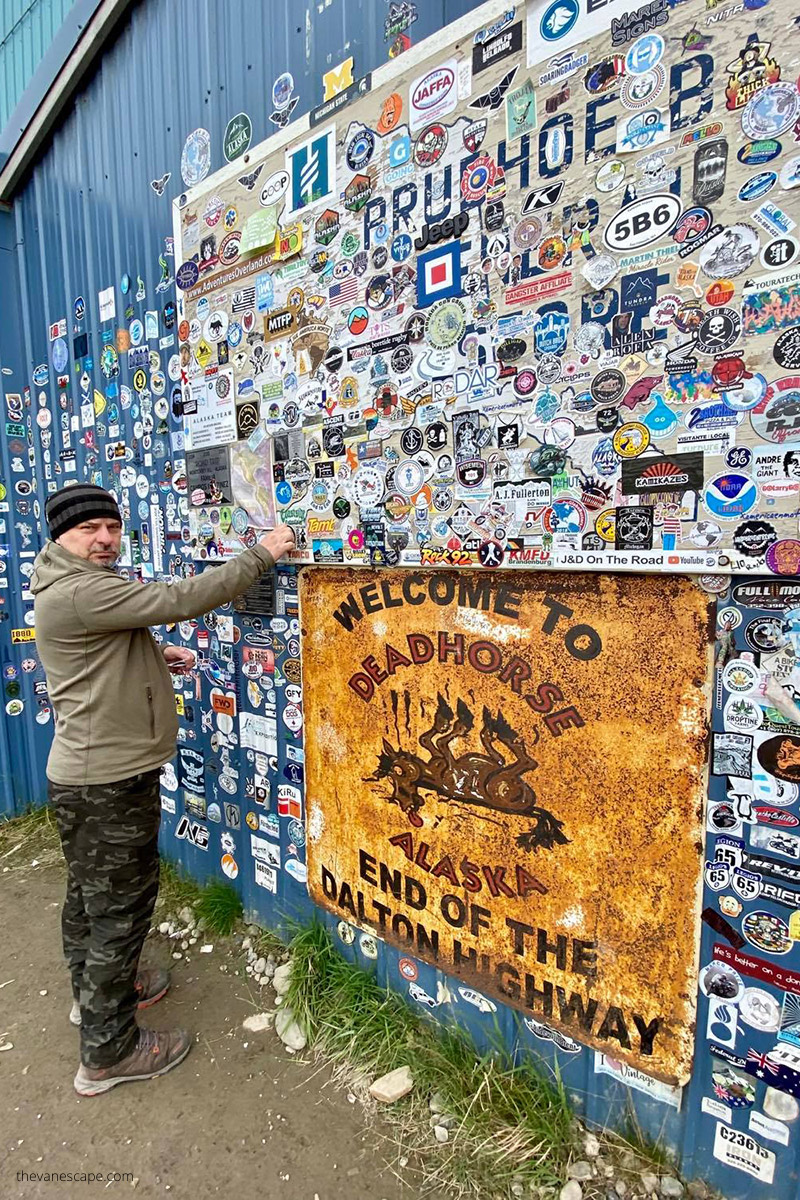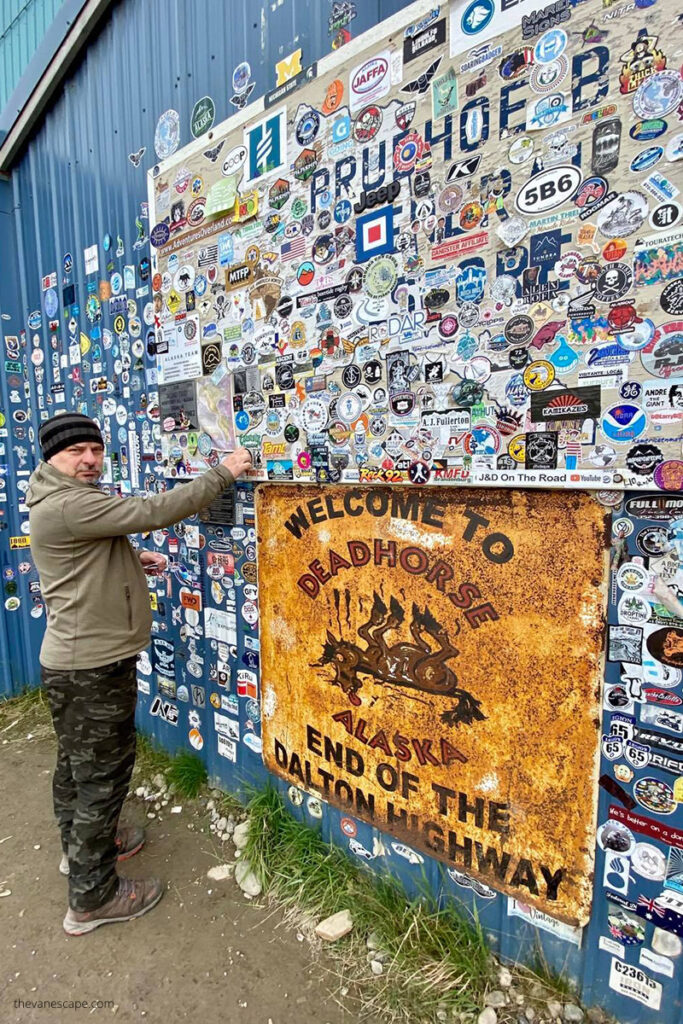 Do you like it? Pin it for later!